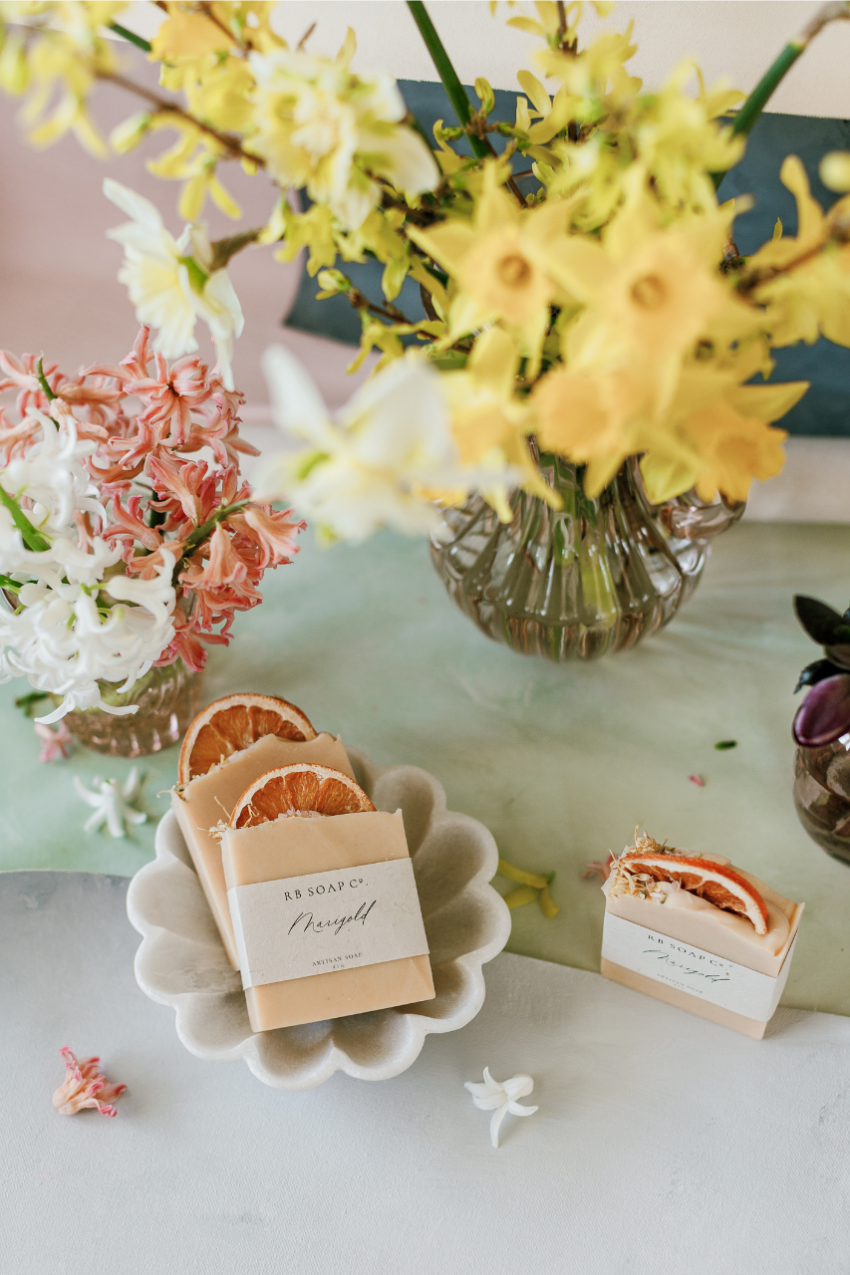 At Christmas I declared it the most wonderful time of the year. But I retract my statement!

I think spring – always have, admittedly – is the loveliest.

Wednesday, April 26th (SAVE THE DATE!) is the RB Soap Co. spring launch and the collection is a colorful nod to the shifting seasons. You may recognize that most of the soap bars created for this launch are familiar staples in the shop but with slight enhancements like an black charcoal streak through our Queensland bar and a dehydrated citrus slice sitting atop each Marigold bar. And always inspired by flowers, flowers, and more flowers, you'll see each bar is topped appropriately with a heavy textural mixture of botanicals, seeds, and salts. This line up is really beautiful and I think you'll agree.

Please soak up the following gorgeous product images taken by my friend and colleague Samantha James Photography but more importantly notice if anything catches your eye for purchase on Wednesday! I've sprinkled my own commentary throughout this post to help you with your shopping efforts when the shop opens at noon EST. My hope is that customers' carts and, shortly thereafter, their homes, are filled quickly with these stunningl soaps!

Alright, let's dive in, shall we?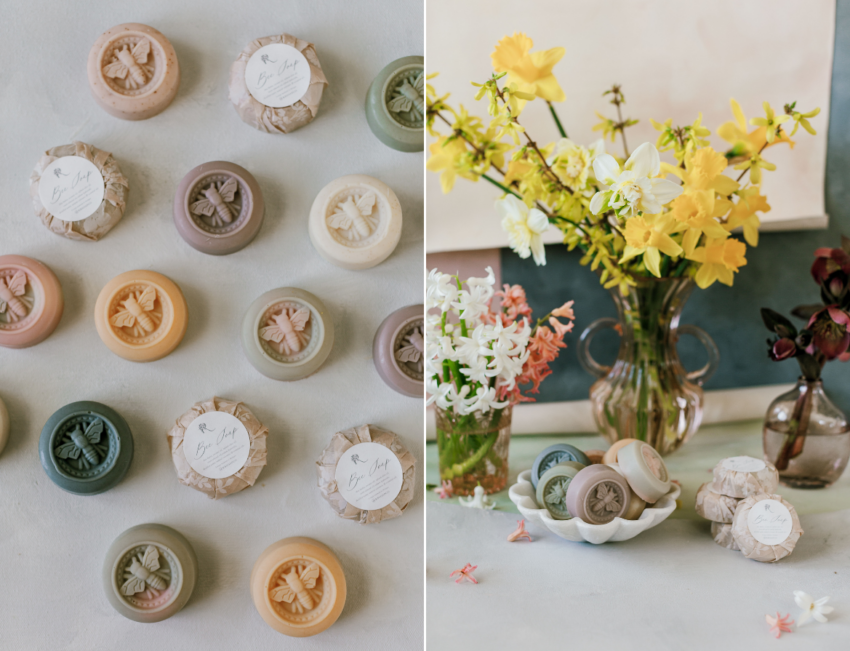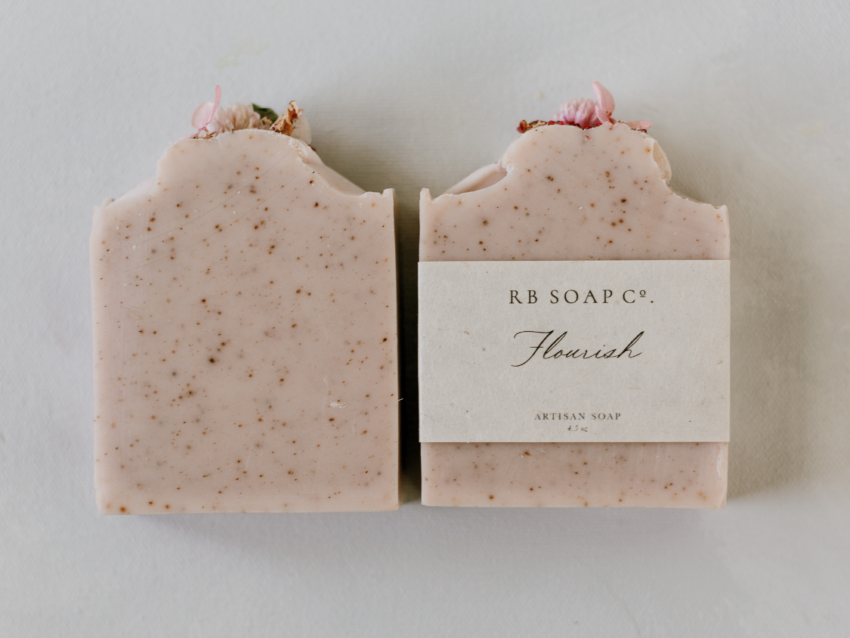 Flourish is a new spring-inspired soap made with a delicate mixture of rose clay and hibiscus flower powder to get a soft speckled pink hue. The aroma of the bar is mild but unique with a blend of lavender, orange, cedarwood atlas, and anise. Then the tops of the bar are decorated with a bevy of different pink toppings from dried globe amaranth, pink rose petals, and raspberry seeds. I have a feeling this bar will sell out the quickest this launch thanks to it's rosy color and textured tops!

ALLERGEN NOTE: Hibiscus flowers are cross harvested with peanuts and while rare it is possible that peanut shell fragments can be found within hibiscus flower powder. Since our soaps are made with sweet almond oil and this likely eliminates those with nut allergies from our customer base entirely it is worth noting this small risk here for anyone with peanut allergies.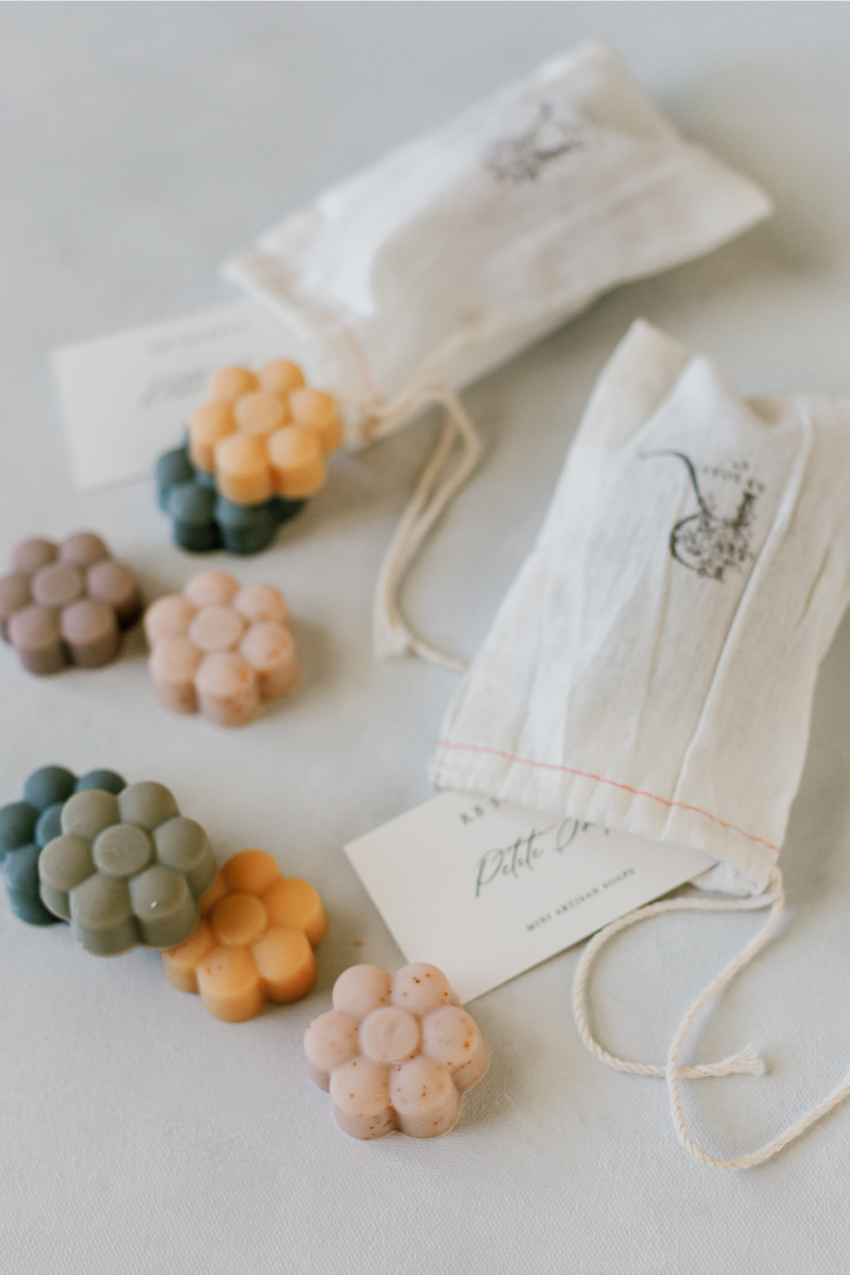 Petite Soaps are also making a return! These sweet little flower shaped soaps come four in a drawstring muslin bag with an ingredients label tucked inside. I often tuck a Petite Soap in my bag when I'm packing for a short trip and don't want to be stuck with hotel soap or I always place one on our guest room's nightstand if someone is staying the evening with us! They are fuss-free and a great accompaniment to any larger gift or basket. Each drawstring bag retails for $10.00.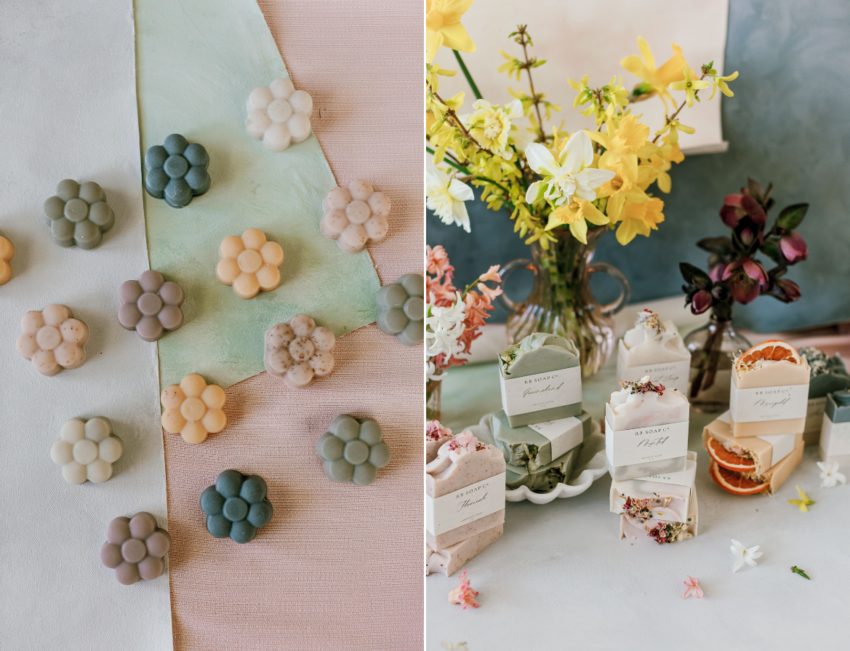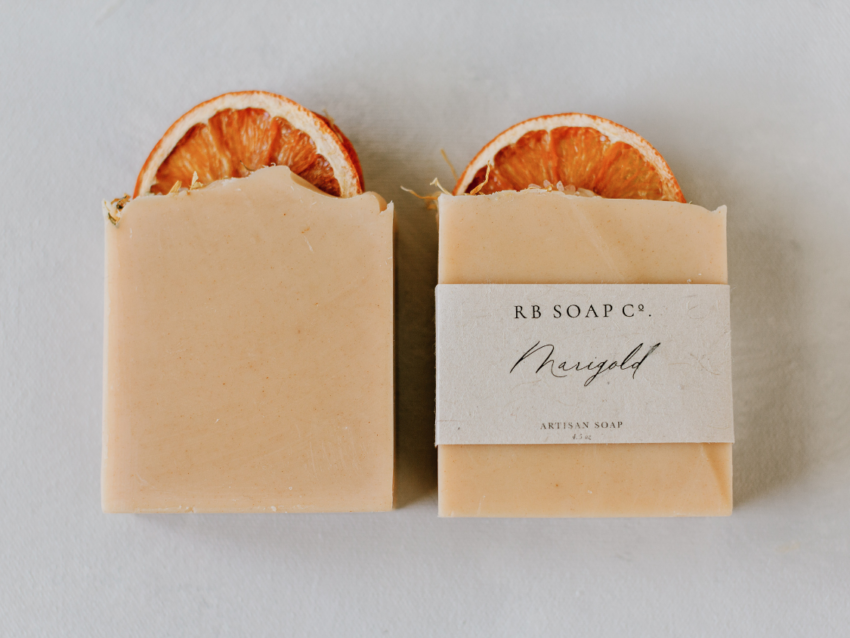 And sweet, sweet Marigold! How pretty is SHE?

There is a loyal Marigold fan base here at RB Soap Co. and I think they are going to be delighted when they she her fancy new upgrade! A food-grade safe, dehydrated citrus slice is popped into the top of each bar, surrounded by pink sea salt, and dried calendula petals. This soap bar and all of the other 4+ oz bars retail for $9.00 each.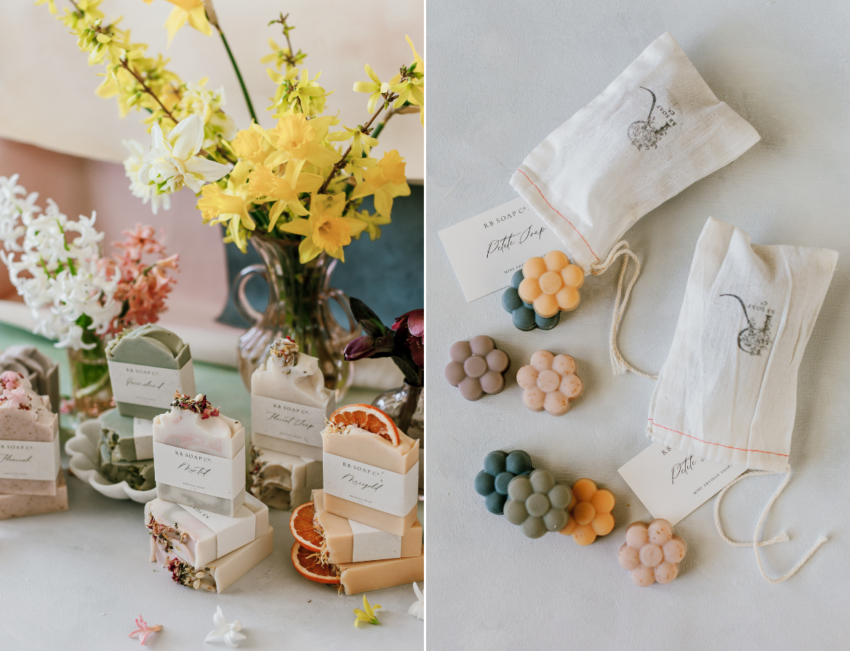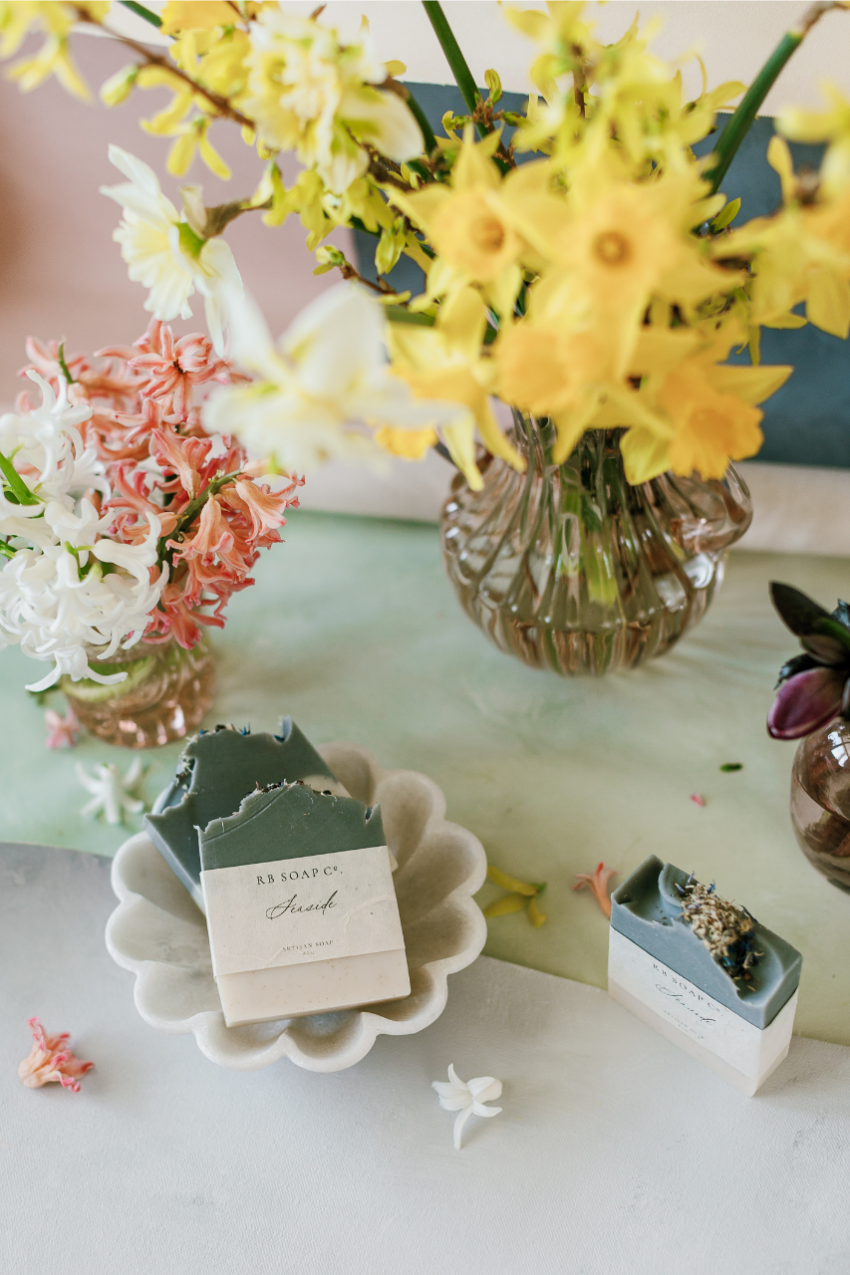 If you have been around since our first launch in 2020 you may remember Queensland. This tea tree, rosemary, and eucalyptus scented soap bar was inspired by my early love for The Body Shop's tea tree oil, which is the first bath product I can recall my mother purchasing for me. I have memories of going into The Body Shop with her and sniffing every single product but always coming back to the camphor-like aroma of tea tree oil. I suppose the scent is pretty nostalgic now! For this launch I went with an earth-green tone bar but added a horizontal charcoal line for visual interest.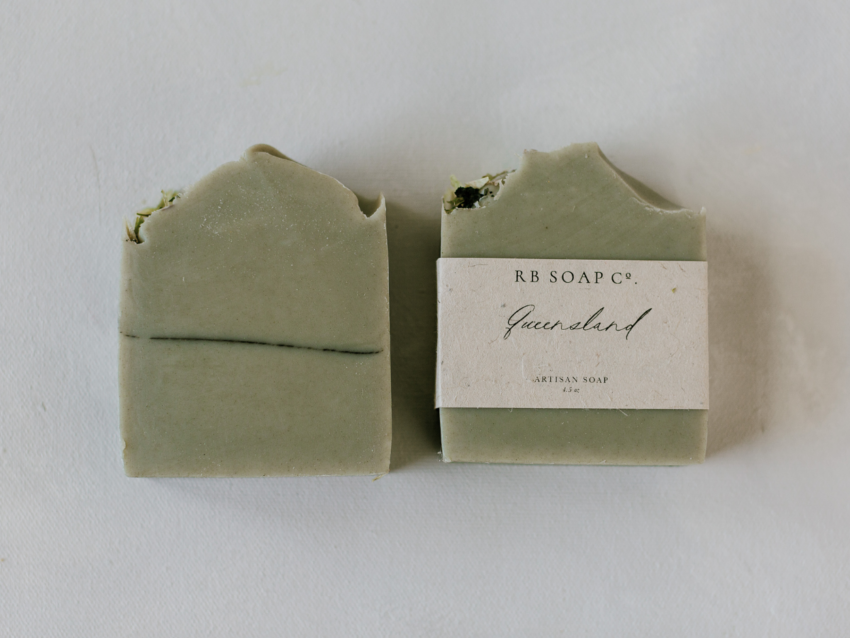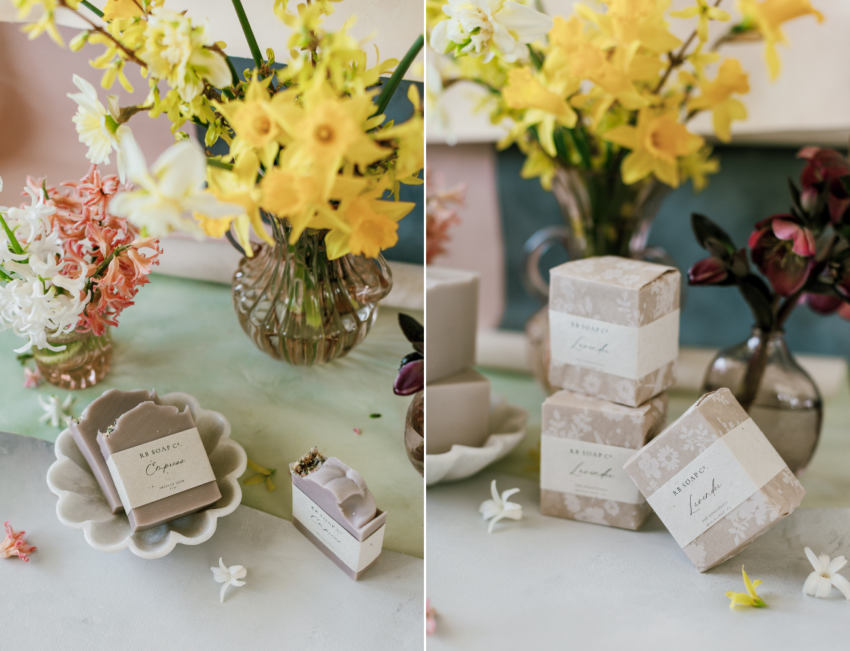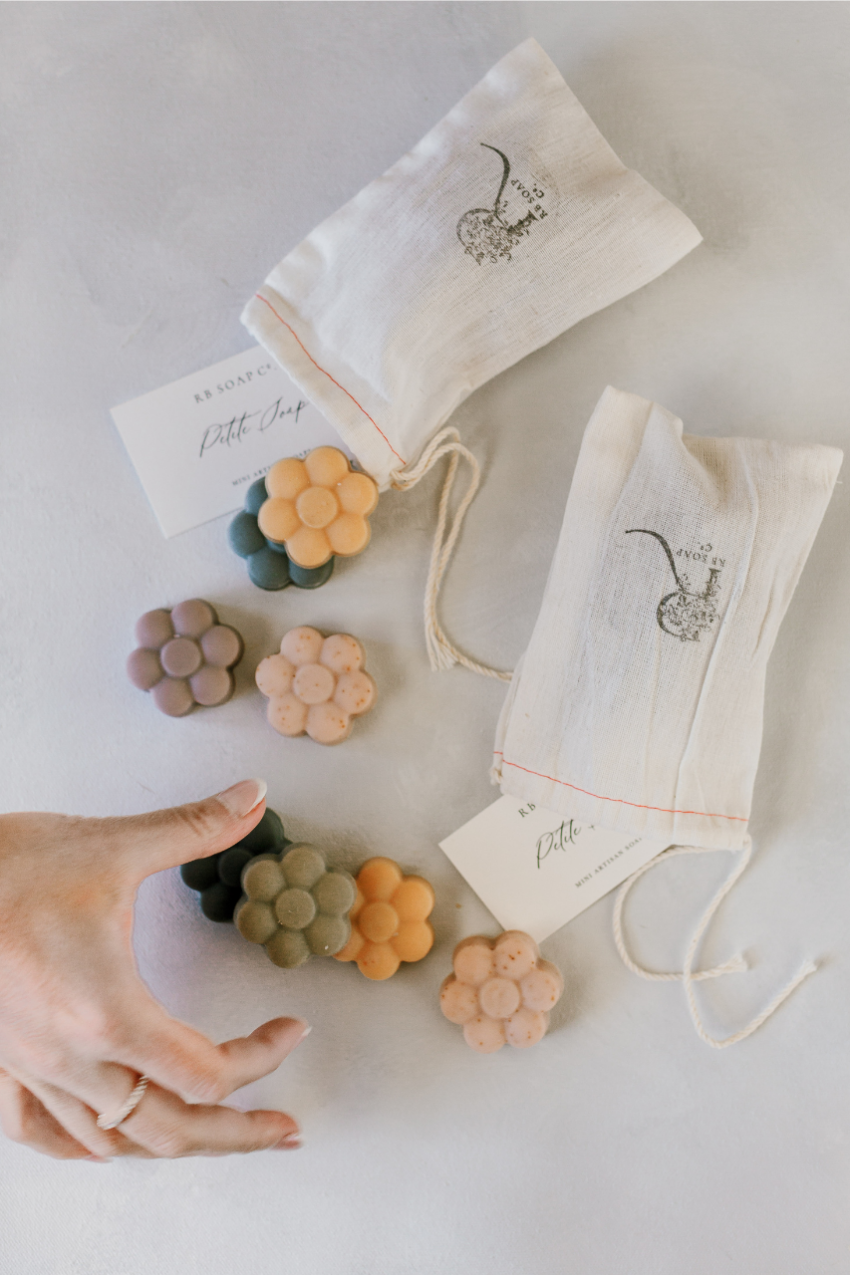 I also made sure Seaside made an appearance this launch. For those who know my penchant for 30A this shouldn't come as a surprise but this bar requires a little extra work to get the two-toned look reminiscent of a blue wave against a white sandy beach so it often gets left out! Seaside is lightly scented with rosemary, bergamot, cedarwood atlas, and lavender, speckled with ground up walnut shells, and then topped with cornflower petals, vitex berries, and nettle root. She's a beauty!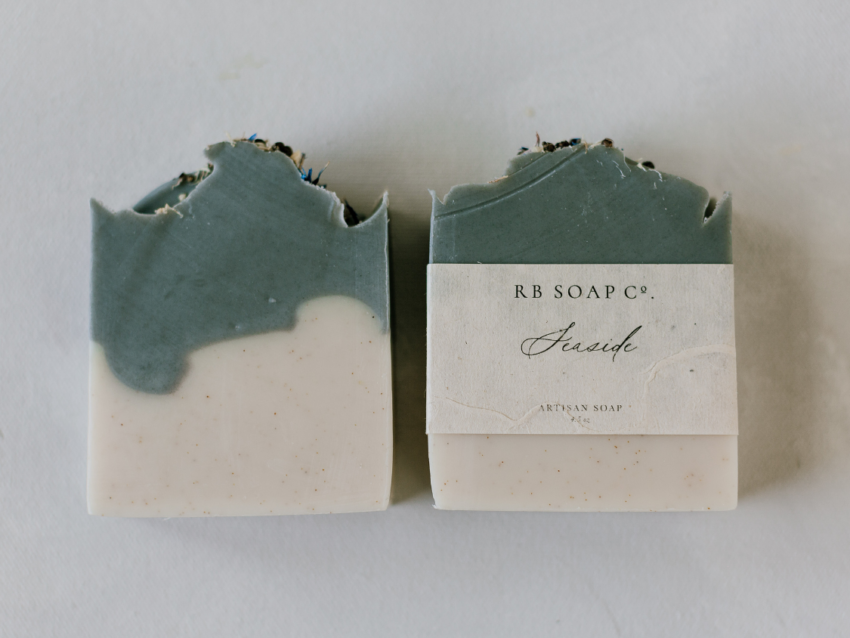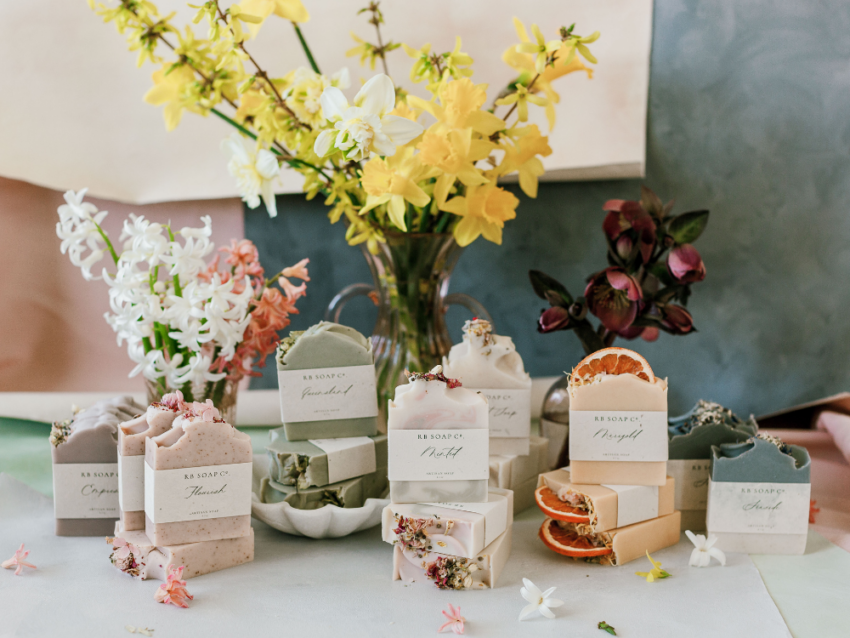 Empress is back! Lavender, patchouli, and geranium blend together in this purple-hued bar for a sultry and rich aroma. I always joke that Empress is perfect for my most 'mature' of customers because I have many women north of 60 who often tell me patchouli is their favorite scent. Combined with the geranium I think it makes the older scent feel a little more youthful!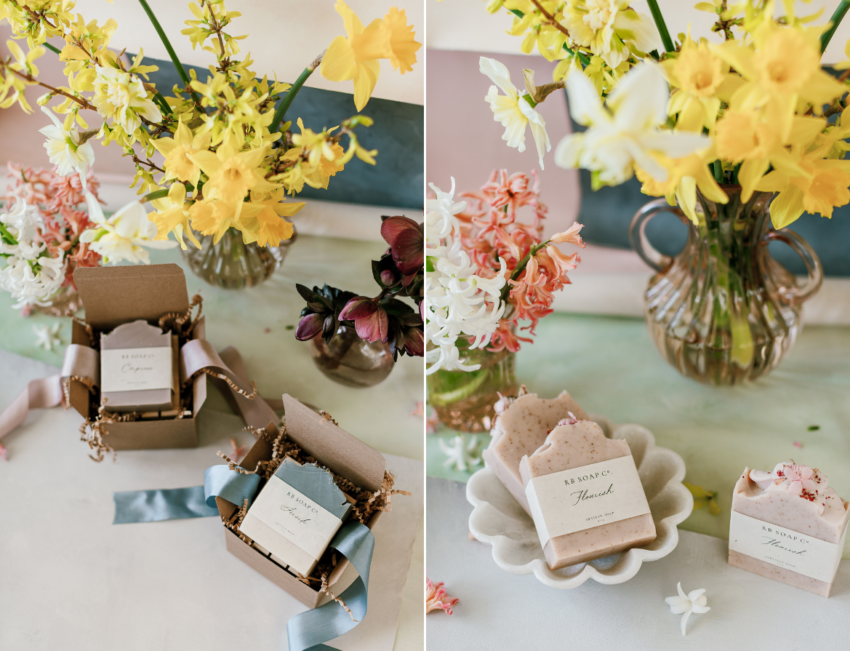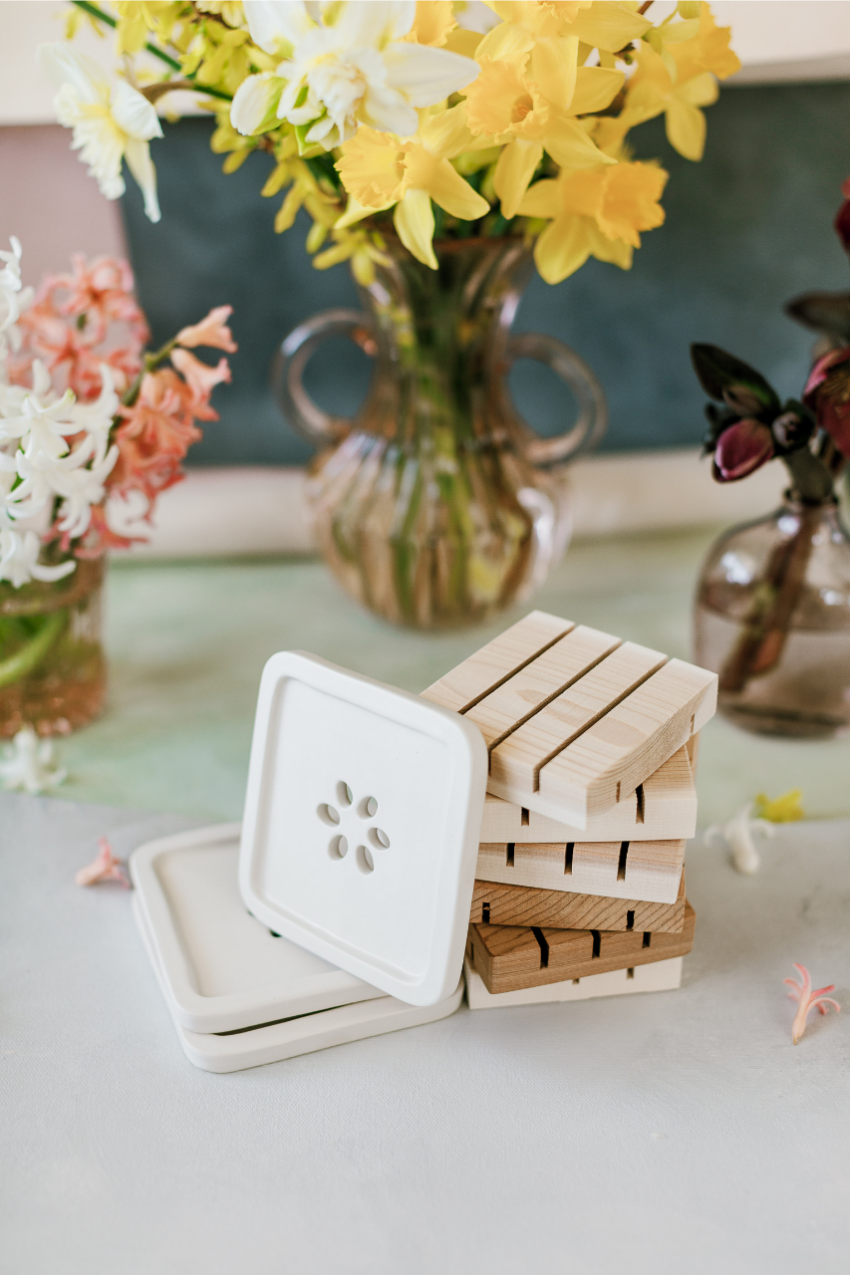 Both our ceramic soap dishes – complete with flower petal shaped drainage holes – and red cedarwood dishes are restocked. Soap dishes are not only an appealing way to enhance your soap purchase but they allow your bar to last longer by keeping it dry and high! I also like to suggest customers leave their wet soap bars standing up vertically on their dishes. This eliminates the risk of the bar drying and sticking to the dish, which I know from experience is a bit of a pain to troubleshoot!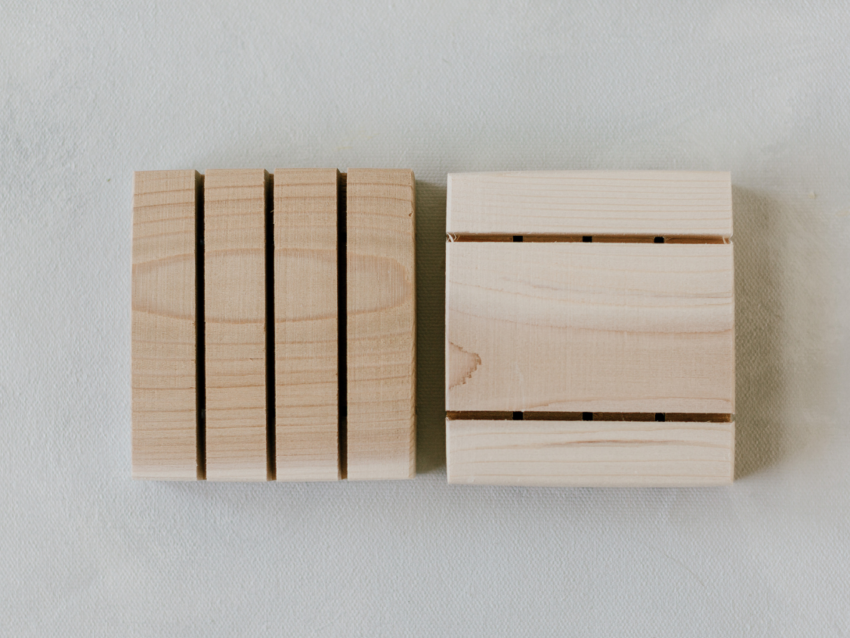 And Bee Soaps are back! They retail for $3.75 a piece and are always, always the first product to sell out!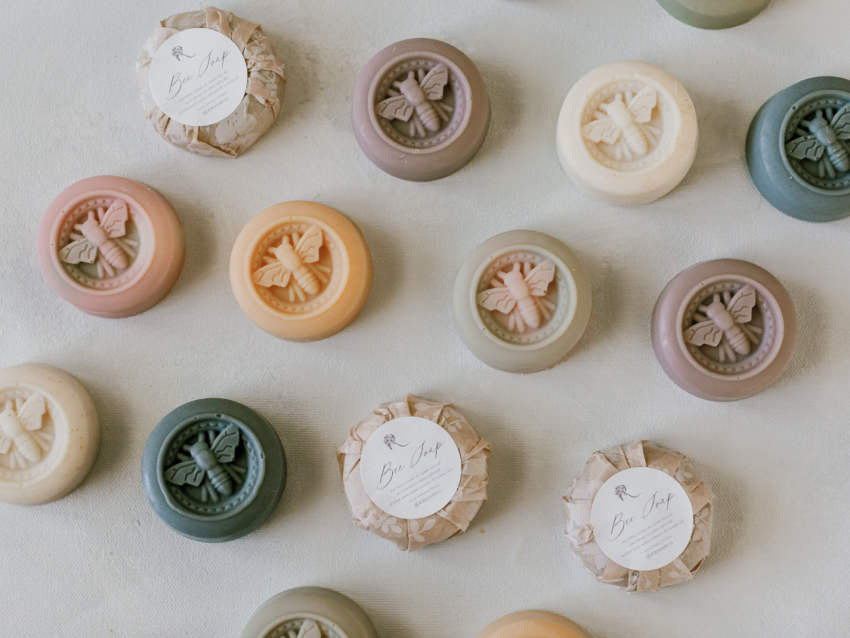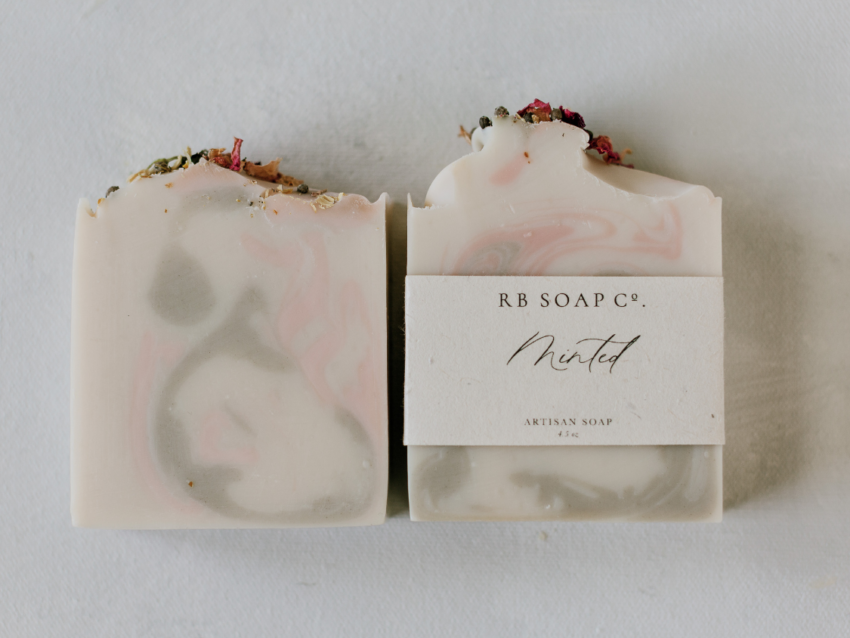 Leading into our more neutral toned bars!

Minted is one of my customer's top three favorites and likely because of the fresh, clean smell from the blend of peppermint, eucalyptus, and spearmint essential oils. It's an invigorating choice of soap if you turn to your shower to start your day but also a beautiful choice for your kitchen sink if you love to cook and find yourself washing your hands often. Yet my favorite part of Minted is the soft green and rose ripple. It's a fun bar to make and even more exciting to cut to see how those ripples end up forming inside each soap loaf.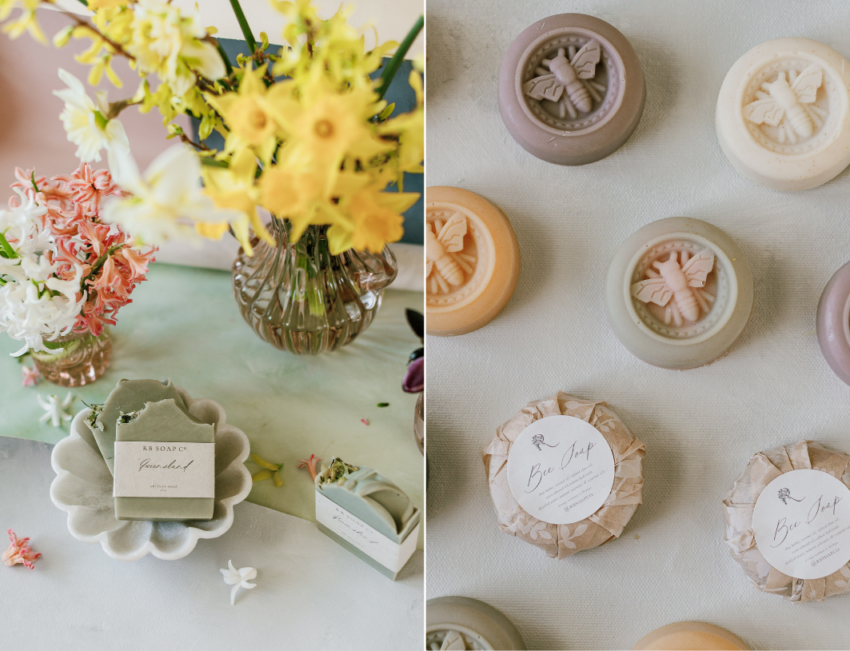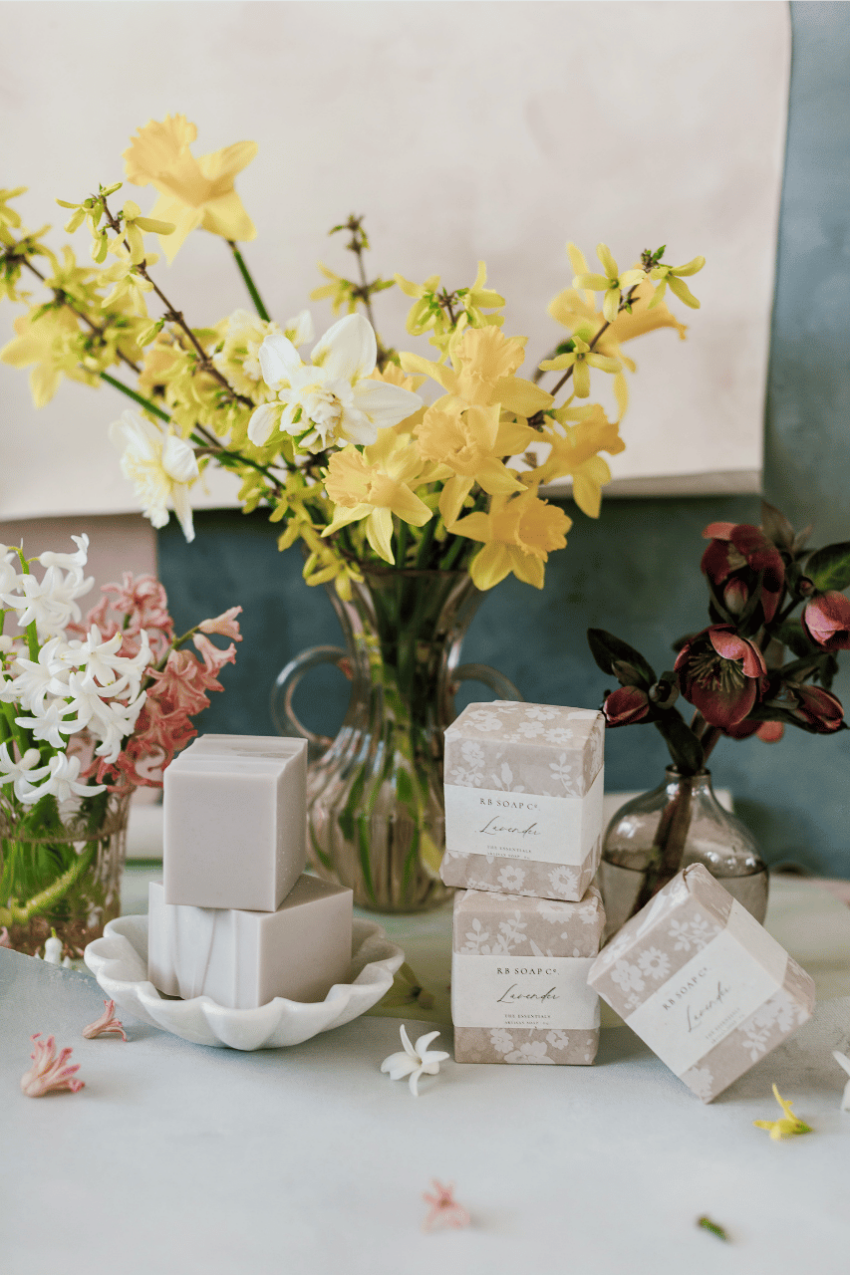 Our lavender bar from The Essentials line is also back this launch and these bars are extra big! Like 8 ounces big! The only soap in the shop without botanicals or swoops this bar is for the minimalists or those who love the rounded edges of a well-used soap bar (like me!). What I mean by that is after enough uses the hard edges of any square soap bar become rounded and the bar feels a little more natural in your hands.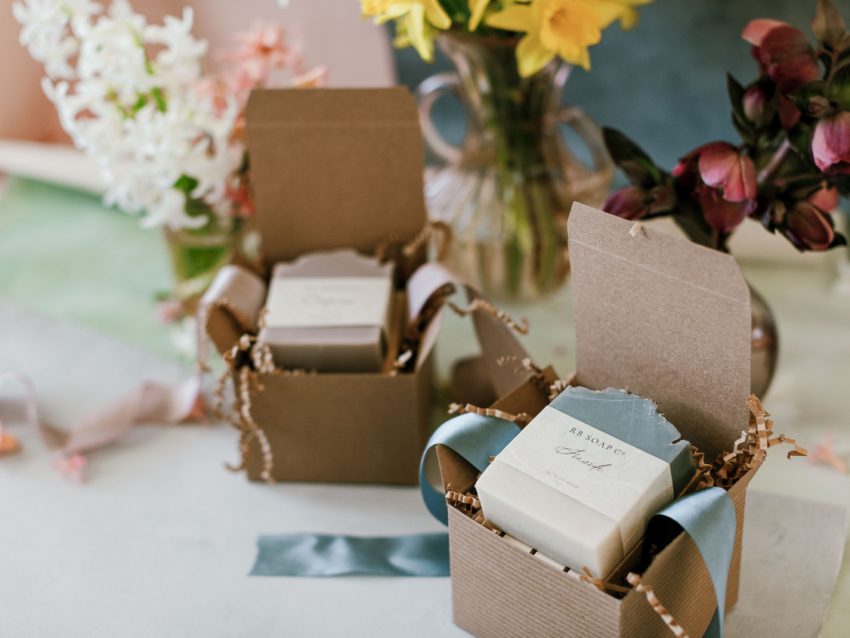 As usual, customers will be able to add a kraft gift box so that any soap and dish bundle in their order can be packaged up and ready-to-gift. This is a perfect gift idea for the end of the school season (teachers love my soap, I promise!), Mother's Day celebrations, low-ticket thank you gifts, or just to say 'I'm Thinking Of You'. I always try to match each soap bar to a color coordinating ribbon but there is a 'notes' section in the check out process so if you have a special request please add it there.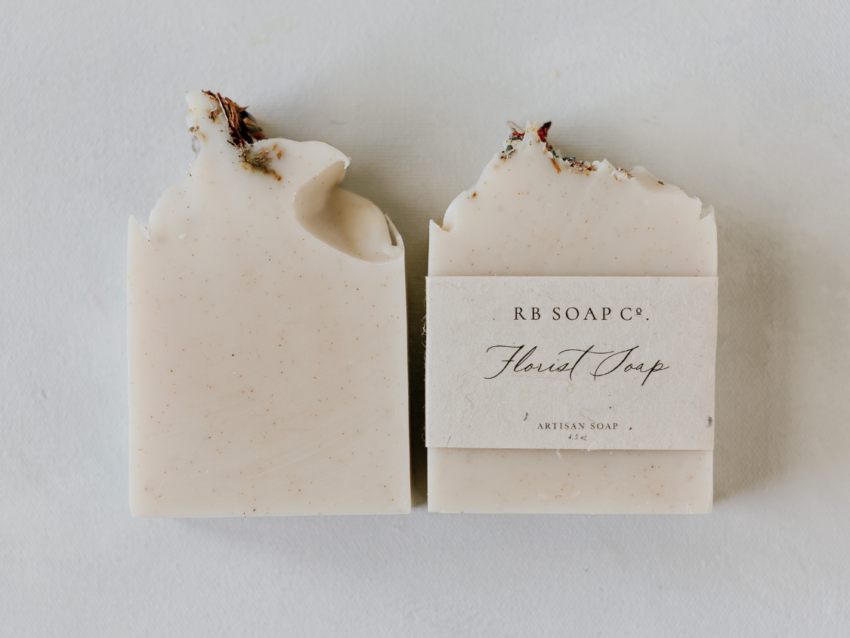 And last but not least!

Aesthetically, she may arguably be the most simple but Florist Soap is one of my forever favorite bars. The combination of essential oils is one of the strongest (longest-lasting) ones in my inventory and the slight grittiness from the ground up almond shells feels good on my skin. This bar is also the bridge between my two companies, bringing together my work as a floral designer and my creative pursuits as a soapmaker. So often I feel like I run two very different businesses but then I am always reminded how closely the two endeavors are as they both focus on serving others well through beautiful tangible elements.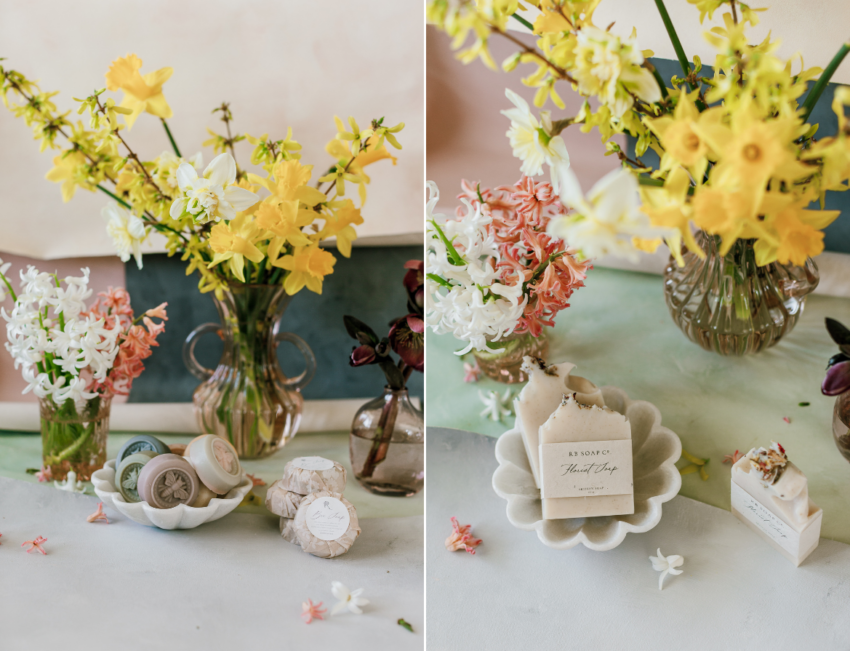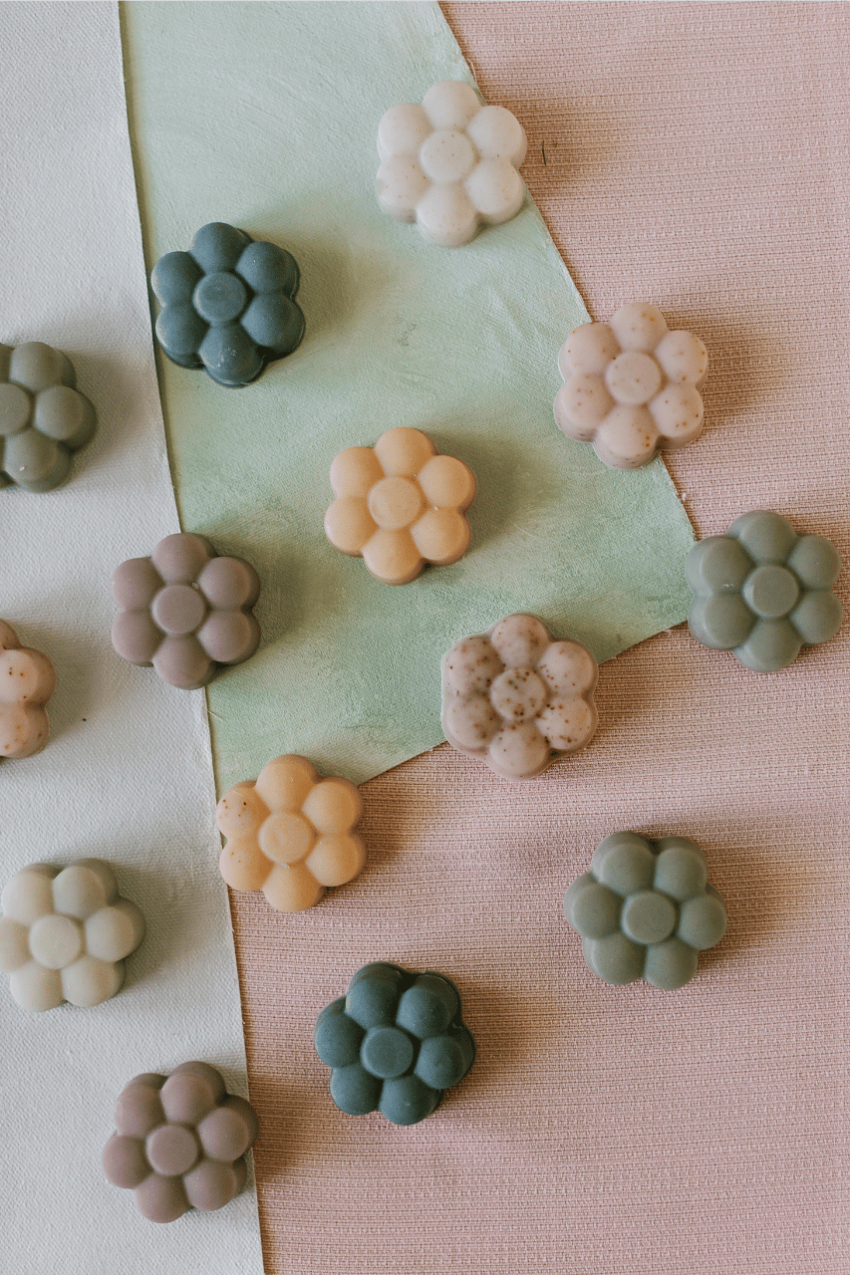 My hope is you'll join me on Wednesday, April 26th at 12:00 pm EST when the shop opens and the above handmade delights are available for purchase. Having my products in both your homes and the hands of your loved ones is a treat that I cherish and honor I take seriously. Please email me with any launch questions at hello@rhiannonbosse.com and I'll do my best to assist you ahead before the launch Wednesday afternoon.
With love and excitement, Rhi