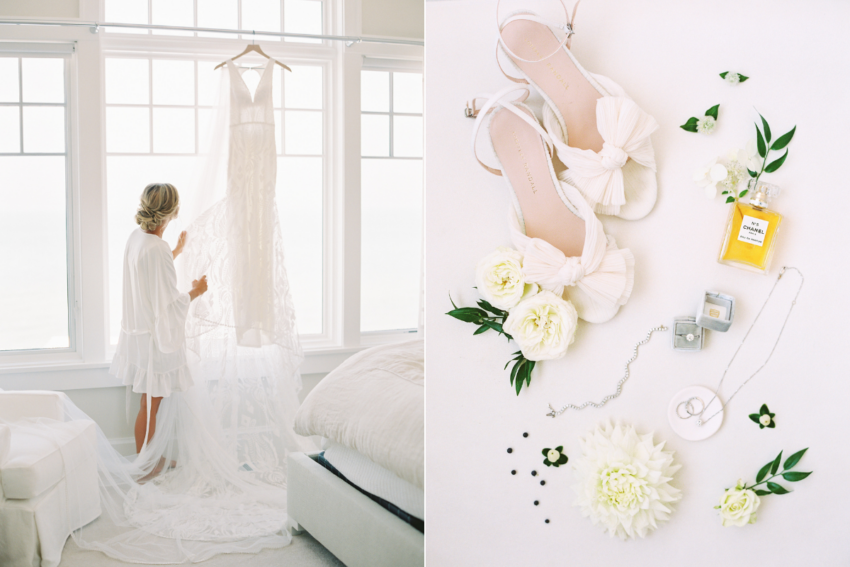 If you didn't know any better you might look at Kenzie and Zach's wedding photos and assume their special day took place somewhere seaside at a brochure-worthy all inclusive resort.

The views alone of the picture perfect water carry the nostalgia of the ocean and the respite that, for me, comes with any tropical retreat. But the pictured water is in fact our beloved Lake Michigan and the magnificent backdrop for this wedding is the bride's parent's private lakeside home; the space where our beautiful bride Kenzie's older sister Meg was married years ago and likely where her two little sisters will one day marry, too, when the time comes. We always believe weddings are the most special when you are surrounded by both the people and the places you love most.

But weddings are also the most special when they are filled with beautiful things and I have built my business on this as a foundational truth. Naturally, we anticipated Kenzie and Zach's wedding for months and months knowing the neutral palette was going to really shine against the lake, and that both the client's love for flowers and trust in our creative process would compliment the design work done by Cassie and her planning team. Just when I thought cream and French blue weddings had their time to shine, a wedding like this comes along. Those patterned linens, the natural wood chairs! Michigan grown dahlias, gomphrena, and zinnias! The textures and tones really came together so perfectly.

Finally, I must mention we had the pleasure of working alongside some of our most favorite professionals at this celebration. From Kelly Sweet Photography and the team at White Dress Events, to the Farmhouse Deli crew and Coastline Studios, there was a huge team that made this event possible. Everyone took on the tricky terrain (more than 40 stairs down to the beach where the tent for almost 275 people awaited) and temperatures that were in fact quite tropical (low 90's and not a cloud in sight!) with poise and professionalism. It was a very hot day. Perhaps you can tell. But apart from how beautiful this wedding was and how lovely the clients were it was really such an honor to be a part of such an incredible team.

Congratulations Kenzie and Zach! The best is yet to come. Thank you for allowing us to be a part of your story.

Enjoy my favorite images below, captured perfectly by Kelly Sweet.