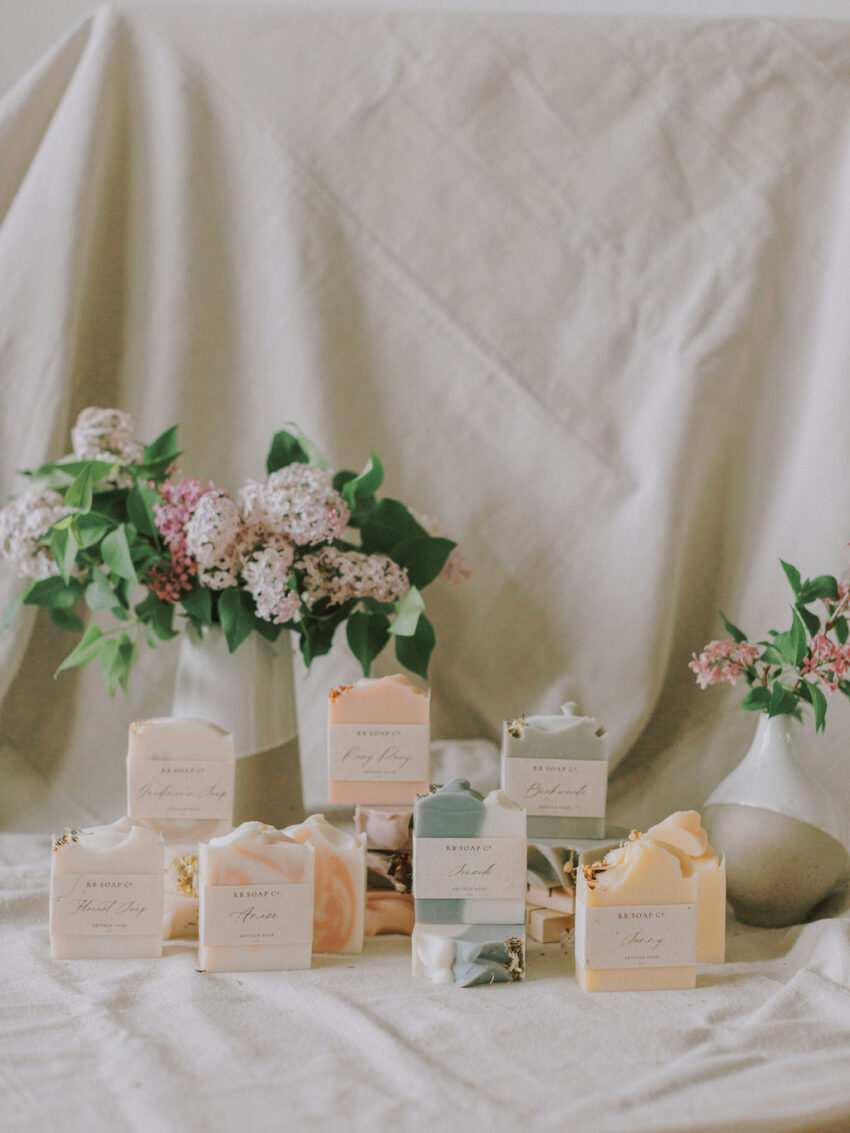 It's soap launch week, folks! And with the anticipation for this overdue launch I am especially excited to share this preview with you.

Earlier in the year (we're talking January and it's now August, oy!) I had the vision to center a product launch around the things I love most about the spring season: newness, nature coming back to life after a long winter, and my favorite, fresh flowers. But our 2022 wedding season started earlier than what's typical on April 1st with a destination (for us) wedding that preceded what's been without a doubt the busiest professional season of my life. Each month I would think, 'Ok, next month is an ideal time to launch these products!' but then a mock up would get scheduled, an event would require more attention that I expected, and there were personal obligations I could not move or cancel. And so we landed in July and I knew immediately this launch had to happen in August or it wouldn't happen at all. I couldn't let another month pass by and especially so since fall and even winter branded things are starting to roll out already. It turns out life keeps moving even and you either make the time for something or you don't.

That said, I'm really jazzed about the products for this launch. I say this everytime I preview products ahead of a launch but that's the beauty of hosting only a handful of capsule launches each year. I get to take time and space to be intentional with products that excited my customers as much as they excite me and even if it takes me a little longer to get them out into the homes and hands.

Let's dive in to this floral-themed collection of products, shall we?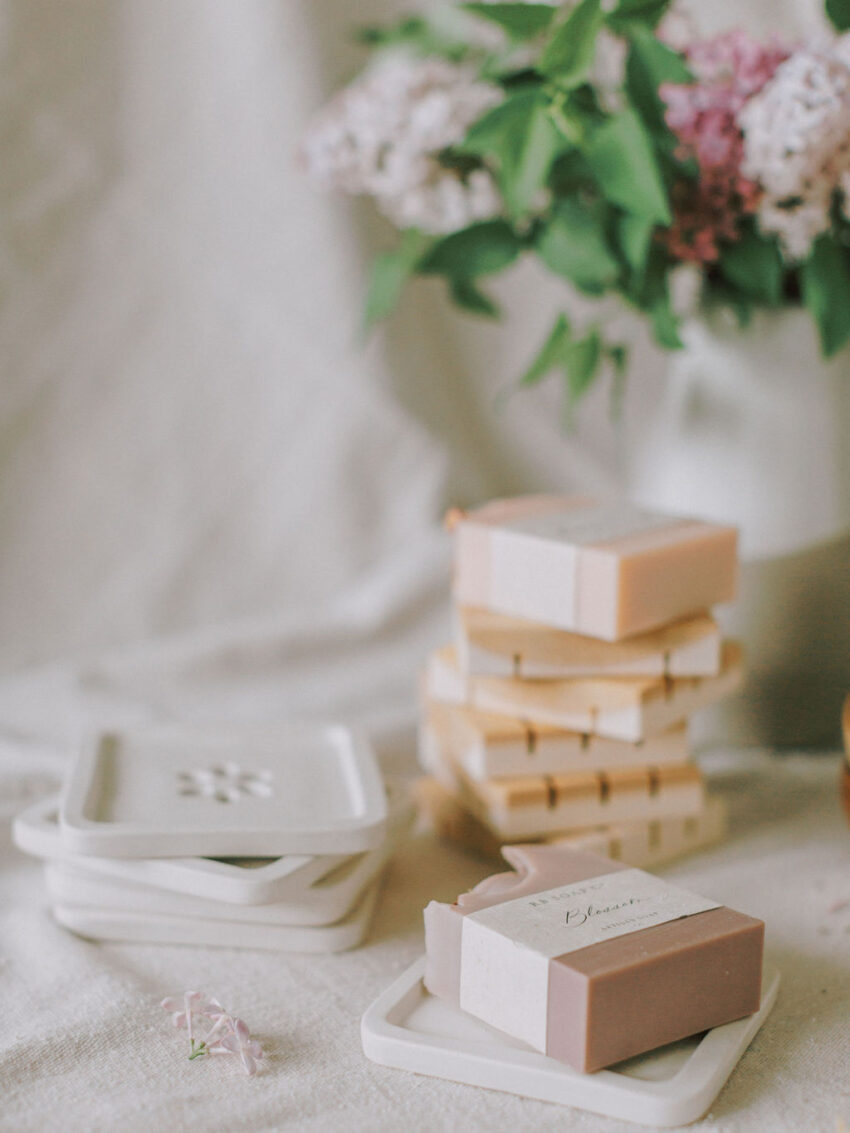 In the 4 ounce soap bar category we have the following soap bars:
First up I'd like to introduce you to Blossom, a lovely two-toned soap bar made possible with purple Brazillian clay. Blossom is a twist on a few different purple-colored soap bars offered in past launches but is the most grown up and sophisticated version yet. Clary sage, geranium, and jasmine absolute really shine in the aromatic profile while the two different shades of dusty purple feel classy (a feat for what I think is often a more obnoxious color). The bars are topped with dried dahlia petals from Floret's field (leftovers from our collaboration last year!) and the colors of the petals with the soap itself makes this one of my favorite bars this launch.
A new bar, a sister soap if you will to Florist Soap, is called Gardener's Soap.

I actually created Florist Soap early in my soapmaking journey as a full-circle nod to my floral business and solution to scrubbing my dirty hands after long design days. My hands are always filthy and often stained from hours of processing flowers and I wanted something scrubby to get the grime off. But launch after launch I thought about how so many actual gardeners and hobbyists probably have even dirtier hands than I do being in actual dirt, and how delightful would it be for these very floral-centric folks to have a bar of scrubby, cleansing soap next to their gardening or utility sink before heading back into their home. So Gardener's Soap was born! It's very earthy with notes of patchouli and petitgrain but balanced out nicely with a little ho wood. I kept the finely ground walnut shells in the recipe to mimic the scrubbiness in the Florist Soap and then added a rhassoul clay ripple for a beautiful aesthetic. This bar is really the perfect gift for anyone with a green thumb or summer garden at peak bloom right now.
If you're partial to a pink toned soap or have ever used RB Soap Co.'s signature Pink Petals bar then you won't want to miss Rosy Posy. Made with the most luxurious of essential oils for the daintiest and most authentic of floral aromas, this bar is the epitome of femininity. Rosy Posy offers a darling color created with rose clay and a scent made possible with clary sage, geranium, lavender, and rose absolute. It's the perfect bar to gift to a friend, house on the side of your powder room sink, or indulge in at the end of a long day.
For the Marigold fans you'll delight in Sunny, which is my sweeter more subdued version of the OG yellow-hued soap bar many RB Soap Co. customers know and love. While I could have brought back Marigold with great success I wanted to create a slightly improved bar that felt happy and bright but without the punch that the aroma of lemongrass punches. Marigold never makes it past my kitchen sink whereas Sunny totally makes the cut for the bathroom sink or shower. And because darker toned lemongrass oil is omitted from this recipe the yellow tone of the final bar is that much softer than it is with Marigold resulting in a really, truly, Sunny selection!
Calling all lovers of the woods! Or camping connoisseurs! Or the outdoorsy types! Backwoods is the perfect bar for you and likely one of the most unique soap bars I've ever made, right up there with Grove from 2020. Made with an essential oil blend of lemon and eucalyptus the bar smells strongly of citronella and offers the nostalgic aroma of camping, being in the woods, and savoring time in the purest of natural spaces. A small amount of lavender essential oil is used in the recipe to round out the scent profile and a healthy dose of French green clay gives Backwoods an earthy sage tone that pairs perfectly with Mother nature herself.
And a few fan favorites are back!

Seaside flew from the shop shelves FAST last year likely because of it's two-tone appearance but also, I believe because of what seems to be a collective love for 30A, which is what I named this bar after. While I loved the 2021 version of Seaside, there was an essential oil in the mix (clary sage) that felt a little too intense and offered almost a metallic aroma. So I took that essential oil out for the 2022 Seaside soap run, replaced it with cedarwood atlas, and voila! It's easily my favorite bar for this launch.

If I had to only ever make and use one type of soap from here forward it would be Florist Soap. I love the grittiness of the ground up walnut shells, the creamy white hue of the soap, the slight pop of color on the top thanks to the dried botanicals used as decor, and the strong herbaceous profile that is both relaxing, awakening, and soothing to me. This soap is also where I feel like my two passions collide best and it remains close to my heart for that reason alone. So Florist Soap is back! You're welcome.

And finally, there a handful of Anise bars available this launch and I really hope customers take a chance on it. The Anise smell is very subtle and soft with a faint baked goods aroma that smells like baked goods fresh out of the oven. And in my opinion it's one of the prettiest bars with a vibrant pale pink ripple through a soft butter hued soap bar. Don't miss this treasure of a soap!
All of the 4 ounce bars are listed at $9.00 each and come wrapped in our signature botanical seed labels. We are transitioning to new labels for future launches due to our printer's ongoing difficulties with the seed paper and while I'm sure Nellie and I will come up with a beautiful new label alternative I did want to make note of this change for customers who adore the current labels.

Which speaking of botanics! I couldn't resist a little edit to our Petite Soaps, which are now mini blooms.

Look at these!
Aren't they darling?

The Petite Bloom Soaps come packaged in a RB Soap Co. stamped drawstring muslin bag, each bag with a random assortment of four mini soaps. A little ingredients card is tucked into each bag so that should you choose to gift these the recipient has everything they need to know. I say this often but only because I practice what I preach: these little soaps are perfect for getaways and trips, gym bags and guest suites, and small gifts or favors. Each bag of mini soaps retails for $10.00.
And The Essentials!

Because I removed the lemongrass from the Marigold recipe to land on the new Sunny soap bar I decided to bring back the Lemongrass variety within The Essentials line so that this scent was offered somewhere in this launch. While it's not one of my favorite aromas I know it's loved by many, and even better that The Essentials' bars are extra plentiful at 6.5 ounces each making them last longer than the 4 ounce bars shared above in this preview. Clean topped this bar is the perfect option for the most simplistic of soap users.
And there's more! Here are a couple new products and a few familiar faces to share with you!
Our all natural organic room mists are back. There are two unique varieties to choose from. A Eucalyptus (balanced with lavender) blend and a Rose Geranium blend enhanced with jasmine absolute. They are both so lovely and my go-to in our powder room, laundry room, and even at my office desk. Just a few sprays freshens up a space without the lingering chemical scent that so many fragrance-based sprays leave behind. I also use the Eucalyptus spray on my pillow at night as a way to unwind before trying to drift off to sleep. The mists come in 2 oz amber glass bottles making them perfect for travel or gifting. Each bottle retails for $16.50.
And did I mention there will be select bath accessories available on Thursday, too? From handmade ceramic soap dishes from my gal Kels in the Studio (complete with flower petal shaped drainage holes), our signature red cedarwood dishes with drainage slats that get thoughtfully tied with complimenting silk ribbon to each soap bar, and rose bud loofahs in the loveliest shade of mauve (a made in the US product!) you'll be able to enhance your soap usage with thoughtful and functional products like these. The loofahs retail for $13.00, cedarwood dishes with silk ribbon ties are $5.00, and the ceramic soap dishes custom made in Canada retail for $27.50.
We also now offer cotton and muslin woven face cloths, which I highly encourage you to invest in.

Using one of these at the end of the day to wash my face feels like such an understated and simple luxury. The woven pattern feels soft on my face and the dimensions of the cloth, along with the rounded edges (sounds so silly but trust me) feels less bulky than some thicker, larger washcloths. The cloths come in a sweet 'Petal Pink' hue or a classic white and retail for $7.50. A gift stack with a wash cloth, soap bar, and dish, would be the ultimate gift for a friend, teacher, neighbor, or loved one.
And I couldn't possibly let a launch go by without offering the fan favorites: Bath Bevies, Bee Soaps, Bath Truffles, and soap end bundles.

There will be a selection of all four items this launch and I expect them to fly fast!
Bee Soaps are as offered in a variety of different aromas and colors, each one wrapped in a printed tissue paper and sealed shut with a branded label. These adorable mini soaps are sold individually for $3.75 a piece and are truly the cutest little soaps that fit snug in the palm of your hand. Psst! If you are looking for a large quantity of Bee Soaps please email me for custom order details.

Bath Bevies are my take on the traditional bath bomb but with a silky grown up twist. The Bath Bevies made for this launch include an invigorating and earthy Eucalyptus Mint option made with French green clay and a vanilla-sweet Lemon Cream variety that smells absolutely delicious. I never have the patience to make as many Bath Bevies as I'd like to but I know for those who adore their time in the tub these are one of the first things that get added to their cart on launch days! Bath Bevies retail for $10.50 and come wrapped in tissue with a color-coordinated silk ribbon and tag. The presentation of the Bevies is just as special as the experience using one.
And Bath Truffles? Did you know my husband makes these for every launch? It's his contribution to the soap business and he gets great delight hand scooping each one (with a spring release ice cream scoop, may I add) before lovingly stamping the bottom with the branded RB. Bath Truffles are essentially solid bubble bath and when gently crumbled under warm or hot running water will lightly foam in the water making for a bubbly, silky, and velvety soaking experience. They are loved by many and for good reason! Three different truffle hues and scents are available up for grabs (pale purple: lavender, geranium rose: pink, and orange cream: butter yellow), with two same-variety truffles per bag for a retail investment of $10.00.
Now a few important details about Thursday!
The launch is scheduled for Thursday, August 11th. The shop will open at noon EST. Please know that the products listed in the shop now until 11:59 am on Monday are simply placeholders! Sometimes the shop opens about 30 seconds before noon to compensate for any glitches that might make a on-the-dot noon launch tricky but most repeat customers say refreshing the URL right at noon is the best way to access all available products.

Once something is gone from the shop it is gone; this is the nature of handmade products and certainly ones that take multiple steps to create like cold-process soap! I always carefully count my inventory before a launch and then reduce that inventory number by just a few to compensate for any mistakes made when packaging up orders. I am a one woman show and I want to do my best to ensure that if (when!) I make a mistake I am able to correct it. It's not feasible for me to just make one new bar of whatever variety in a possibly overlooked order so this inventory approach is a safety net I depend on. If no orders are missed then the remaining inventory is always listed back in the shop and paired with a social media announcement so that customers can prepare accordingly.

Finally, I'm requesting this in the kindest of ways but if you're a customer and have an issue with your order OR you are a potential customer and you have questions, please email me. On launch day I do not start to package up orders until an hour or two after launch time. There's traditionally a mad rush of traffic to the site within the first ten minutes of launching with a steady stream of orders for the 50 minutes that follow. I've learned that sitting and waiting to tend to customer service needs in that first hour is a much more fruitful use of my time that packing up orders so again! Please email me day of with issues or questions and I will do my best to ensure you get a response back promptly. A DM or message request on Instagram is likely to be missed!
If you have questions before Thursday please email me at hello@rhiannonbosse.com. I'm here to help!

I hope to see you Thursday at 12:00 pm EST when the shop doors officially open at last!

All photos in this post were lovingly captured by Samantha James Photography.