I'm not sure where to even start with a preface to this wedding.

There's so much I can say about Payge and Matt, the planning process I came out of planning retirement for, the exciting and bright design plan the bride and I collaborated on, the team who travelled with me across two states to make this wedding happen, and the professionals who worked tirelessly behind the scenes like a well-oiled machine. There are endless stories to tell and they are all great stories! This was a wedding hat came together with very few hurdles, if any, and as someone who manages so much of the behind the scenes where hurdles are common, this was a great delight.

As for Payge and Matt, our bride and groom, they are such a treasure to me. Payge is the beauty and brains behind Wink Digital, the agency responsible for the RBC website and the RB Soap Co. online shop. Over the last six years she's become a friend through endless creative projects and the various correspondence those projects have required. I've known of Matt through these conversations (he also works at Wink alongside Payge) and knew perhaps more than Payge did initially, that they would end up together like this. When I made the decision to close the planning side of my business in 2019 Payge made sure to remind me that when the time came for her to plan a wedding I would be the one to do it. And I did. Thankfully. Because I cannot imagine the honor going to anyone else.

The result of those efforts is captured in the following images from Dawn Derbyshire. You'll see a lot of color, pattern, texture, and vibrancy, which is no coincidence. Payge's personal and professional aesthetic is very bright and incorporating that through every part of the wedding – from attire and and stationery, to linens and florals, to even the spectacular wedding cake – was our number one focus. With a lot of intention and taking big risks, we couldn't be more thrilled with the way this celebration came together.

Payge and Matt, we love you! That's all. Let's party again, soon. Say, in December?

Catch more of this wedding featured on Green Wedding Shoes!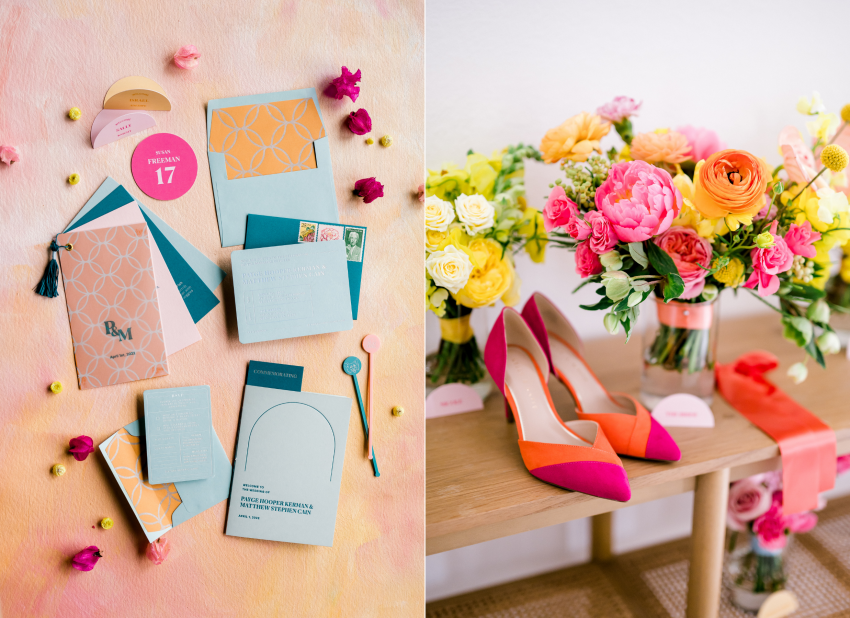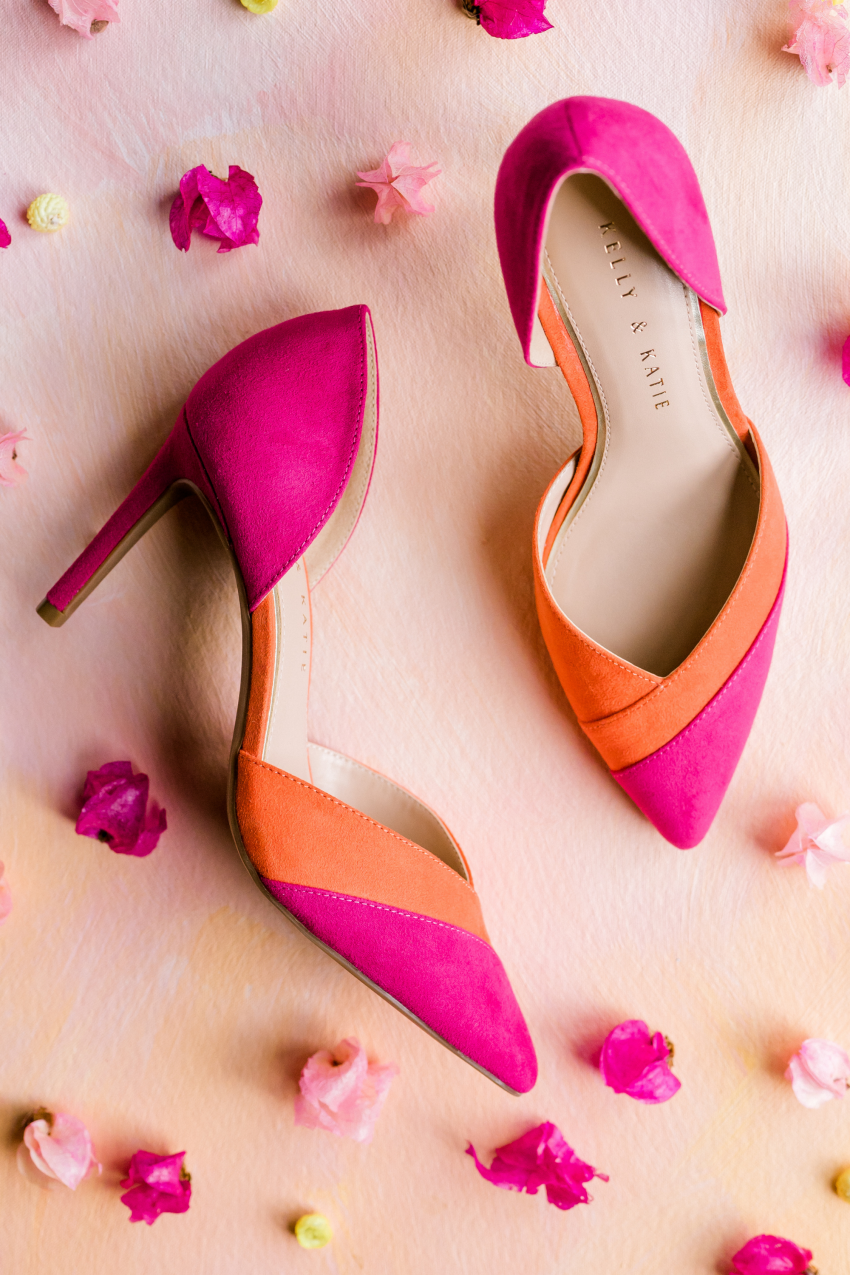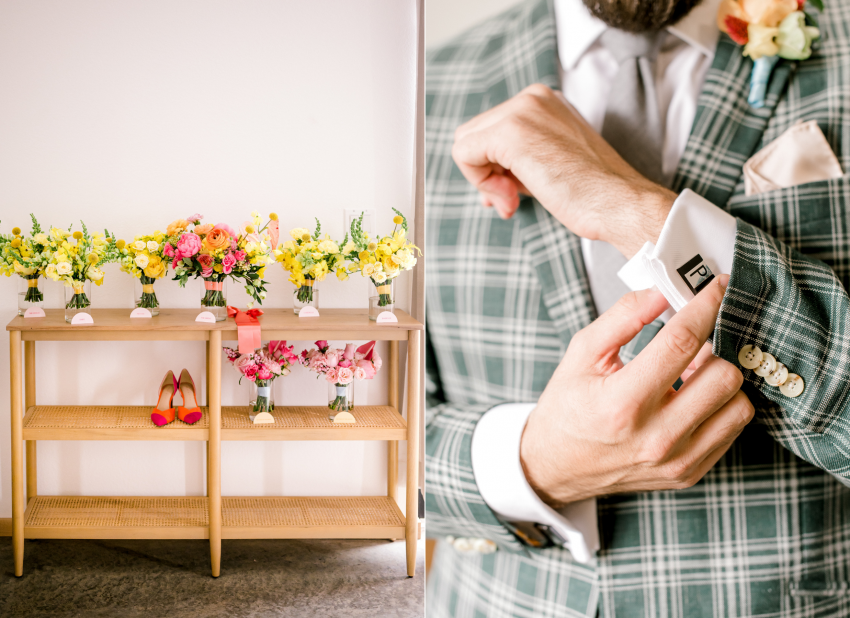 Have you seen a more radiant bride? Payge's Lavienne gown was custom made with a beautiful orange and pink ombre fabric layered underneath her tulle skirt. The gown was paired together with fuchsia and orange heels and a bright colored hair comb tucked into her red locks. It was SUCH a fun aesthetic and really fit Payge's style without feeling overly traditional or stuffy. JL Make Up & Beauty Boutique handled the beauty services for the day and they did a beautiful job!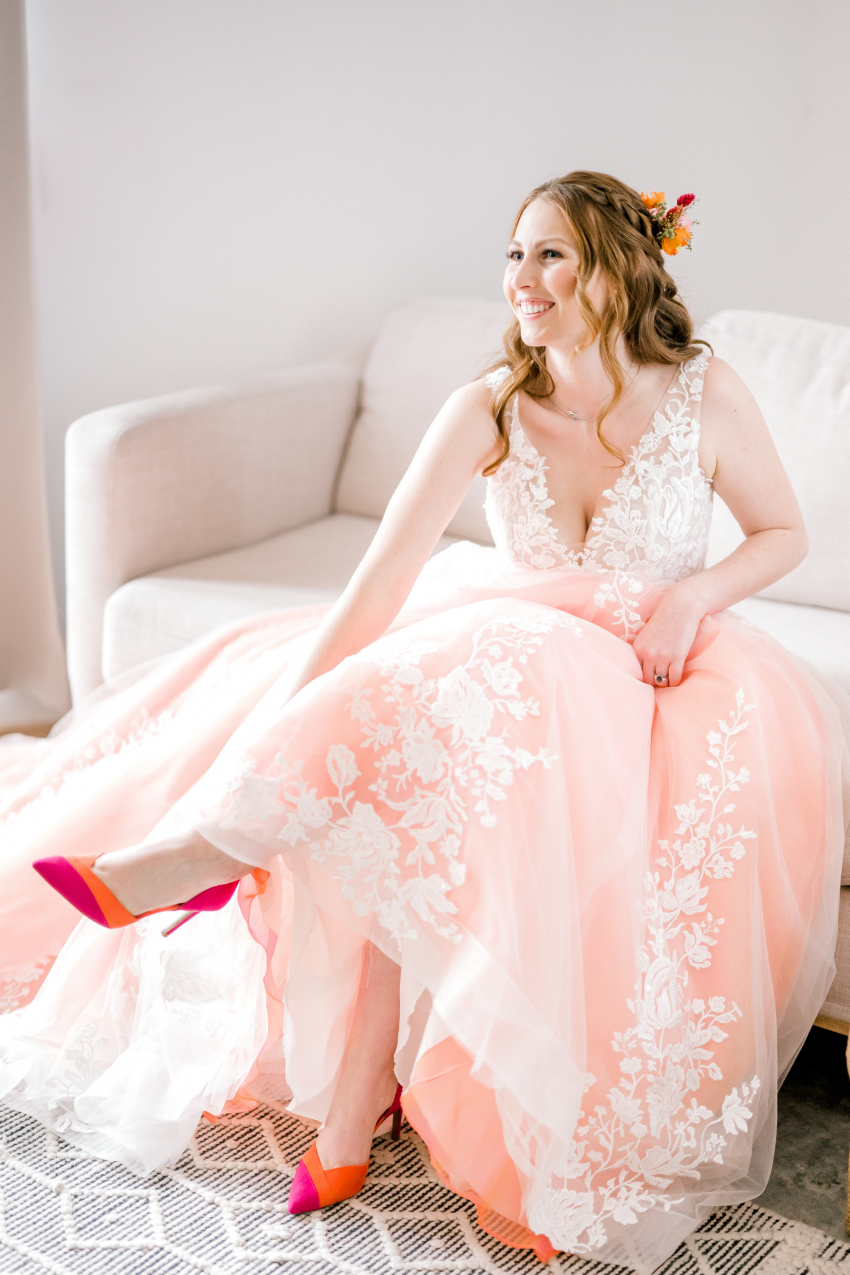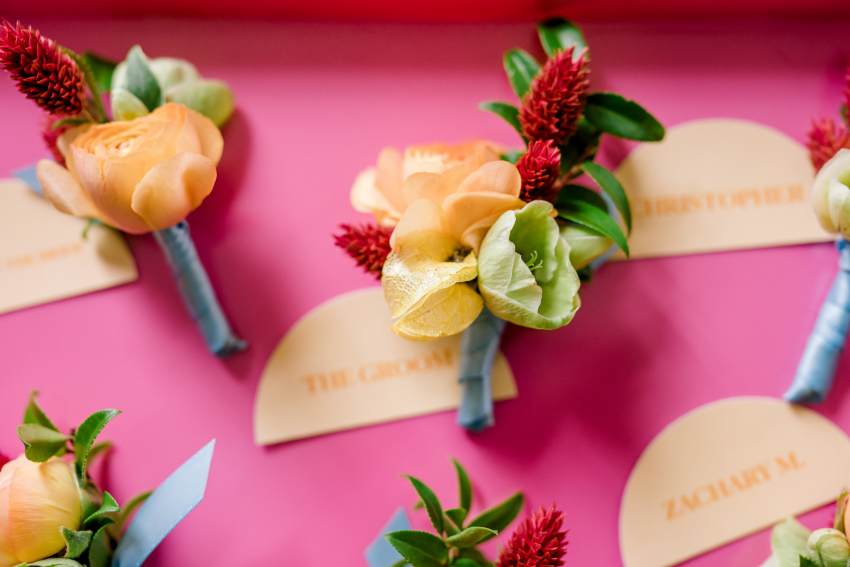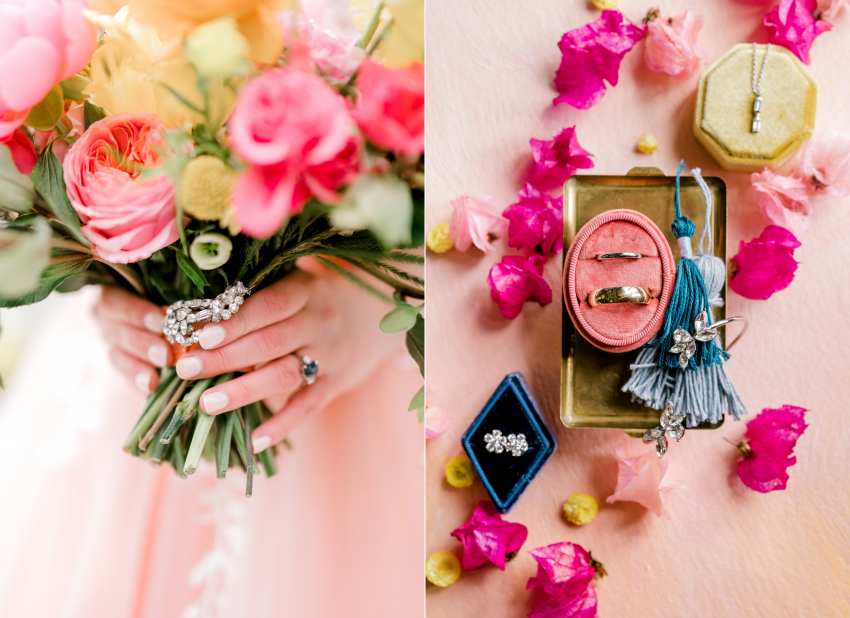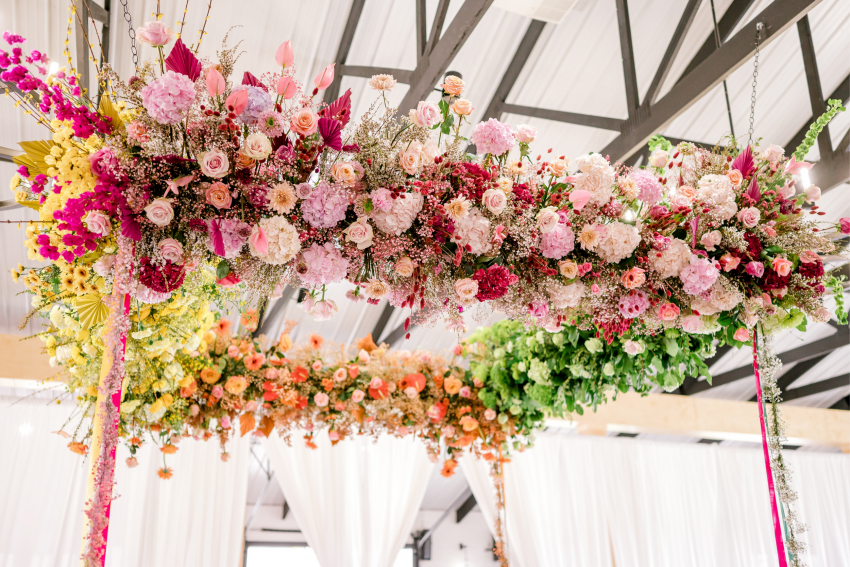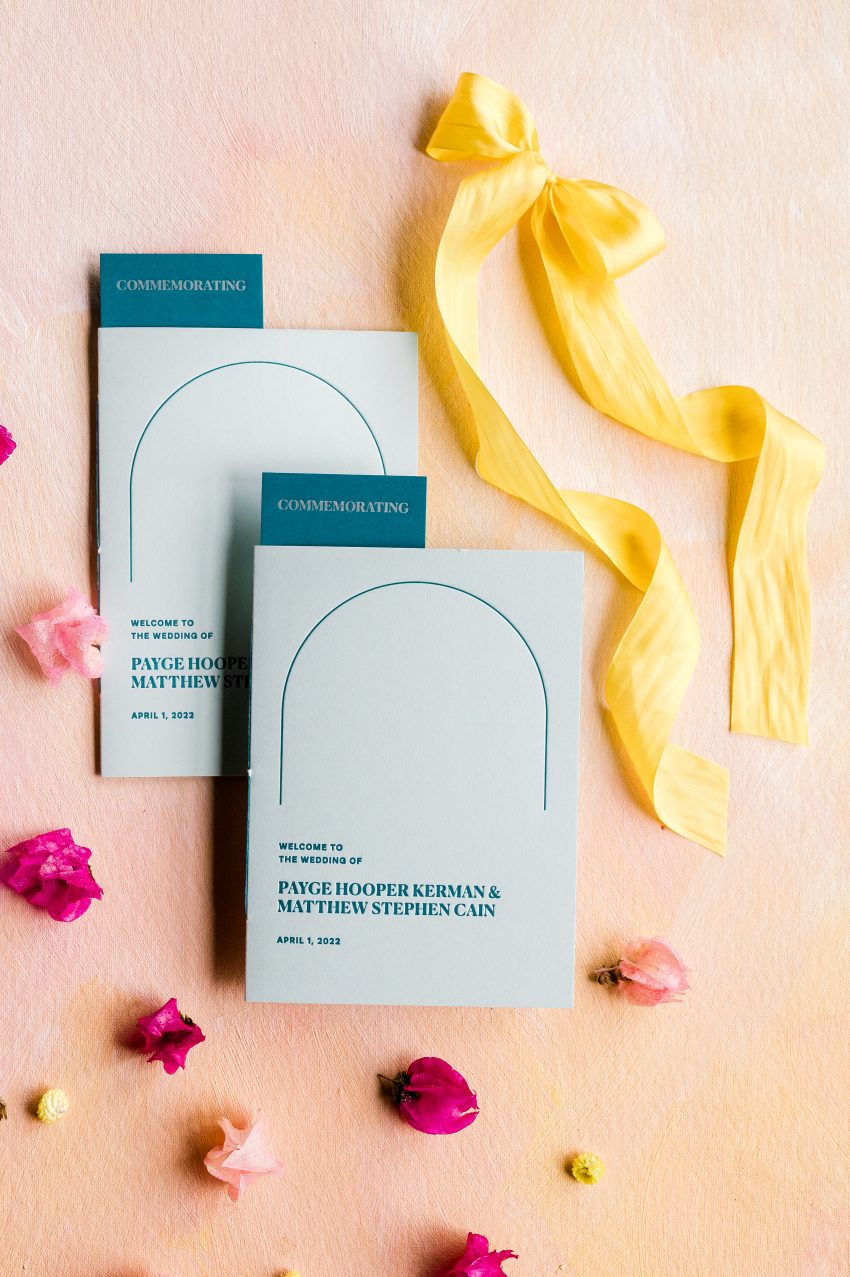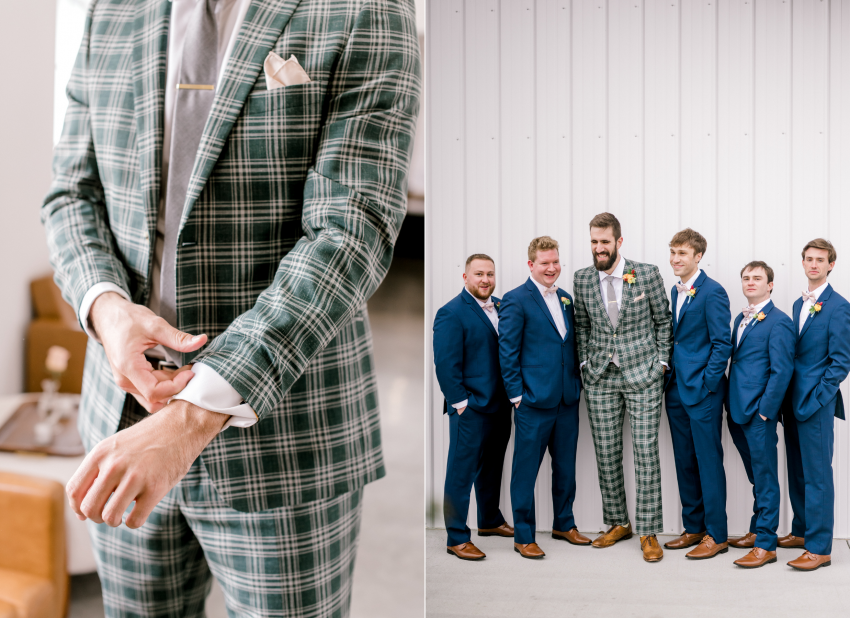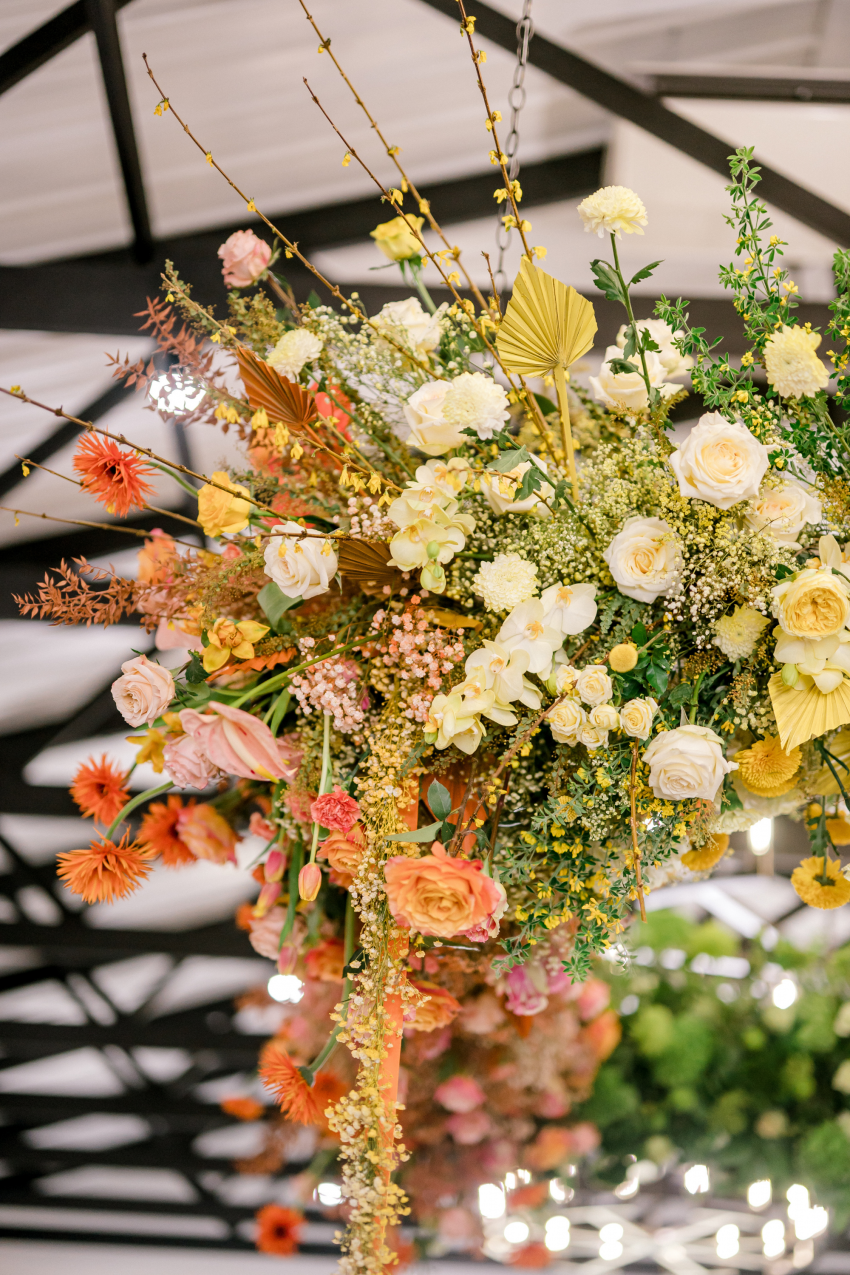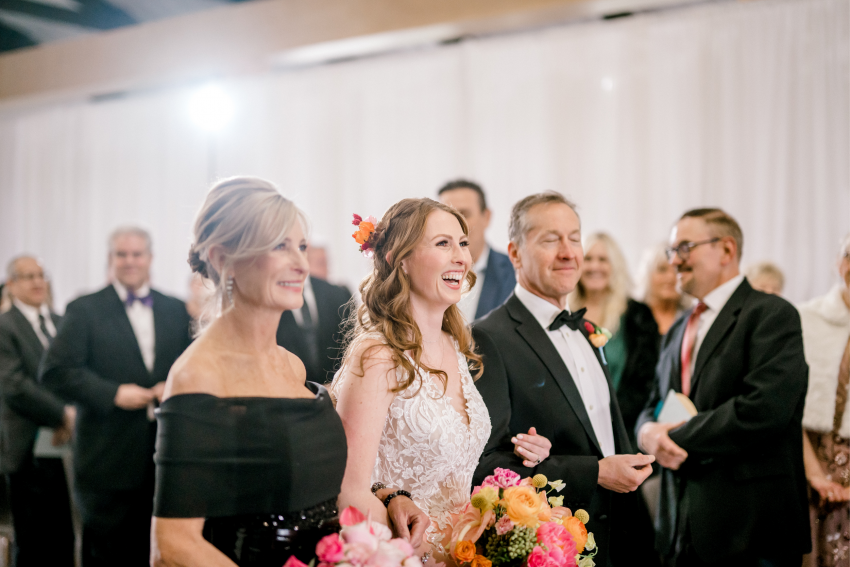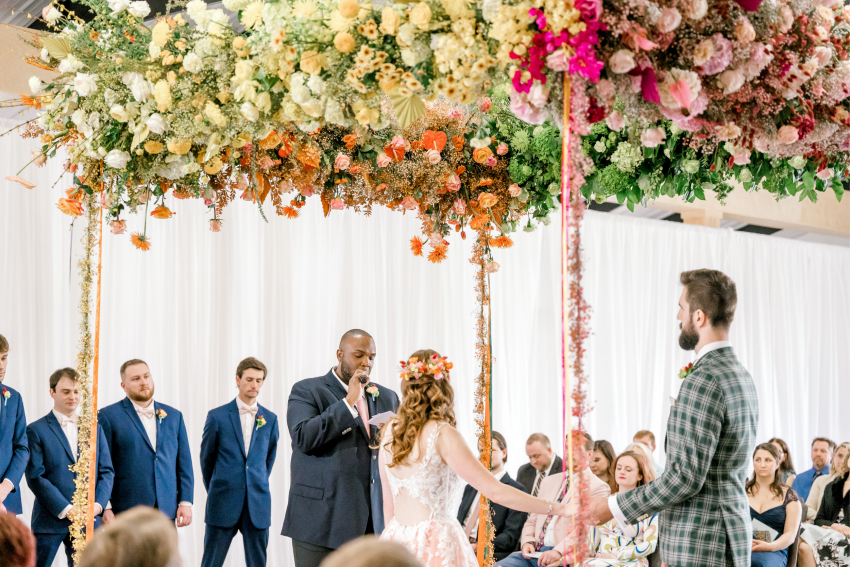 Perhaps one of the most striking details at this event was the floating flower chuppah for Payge and Matt's ceremony. It might be one of my favorite installations we've ever created. Not only did we have an already onsite structure to work with (The Harper Event Venue and their in house team is incredible! Hi, Natasha!) but we had the day before the wedding to get started on our installation's mechanics, which made the process of building this out creatively fulfilling and fun. We played music while we worked, took turns tackling each side with our sole ladder, and multiple times would stand back and say, 'wow' before we were even finished.

To keep the chuppah Payge-and-Matt-esque and stay in line with the wedding aesthetic, I suggested color blocking the four sides of the structure with the wedding's most dominant colors. I then suggested that at each corner where two colors meet we have ribbon tails that stream down to the kiss the floor and give the illusion of a four-post structure, albeit a very whimsical one. Day-of we decided to add Baby's Breath painted garlands for a little extra oomph to the strands and voila! This magic unfolded.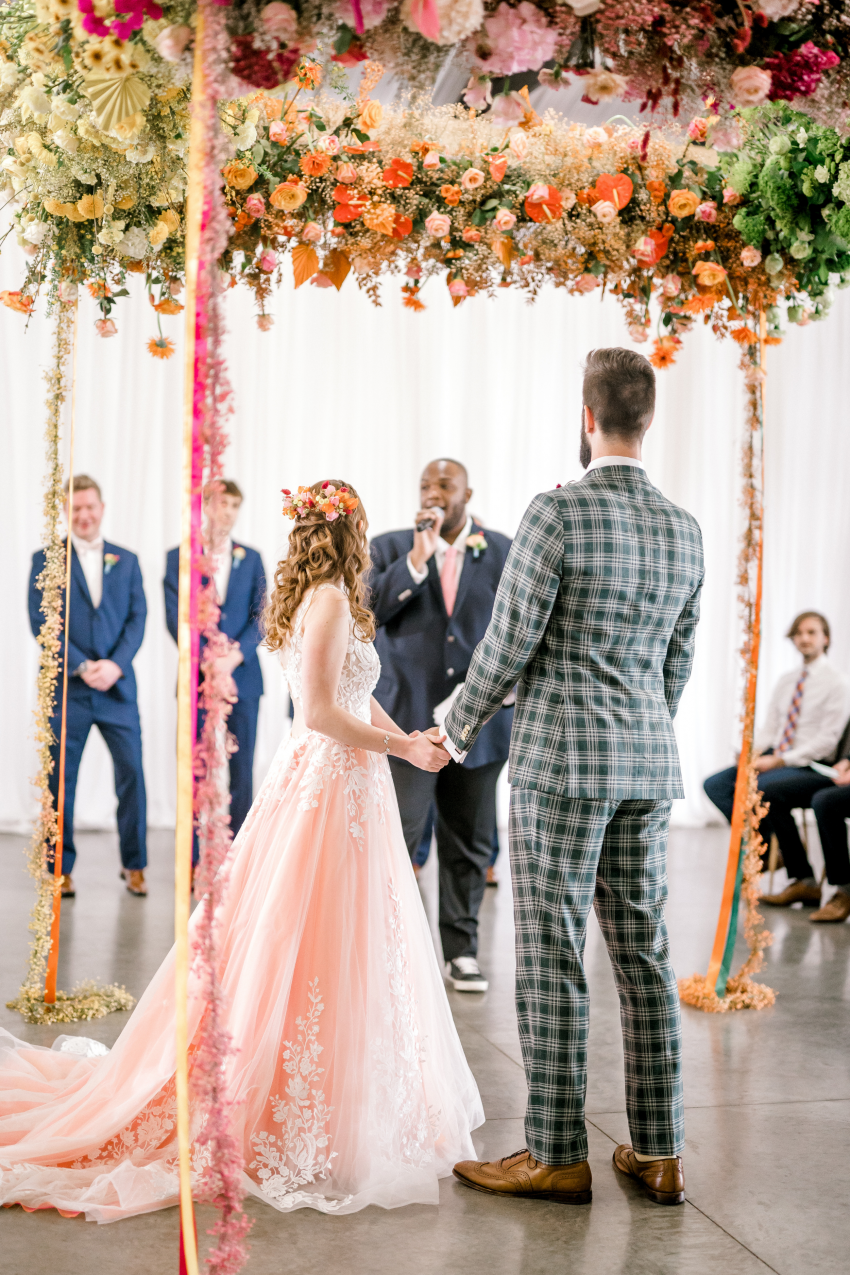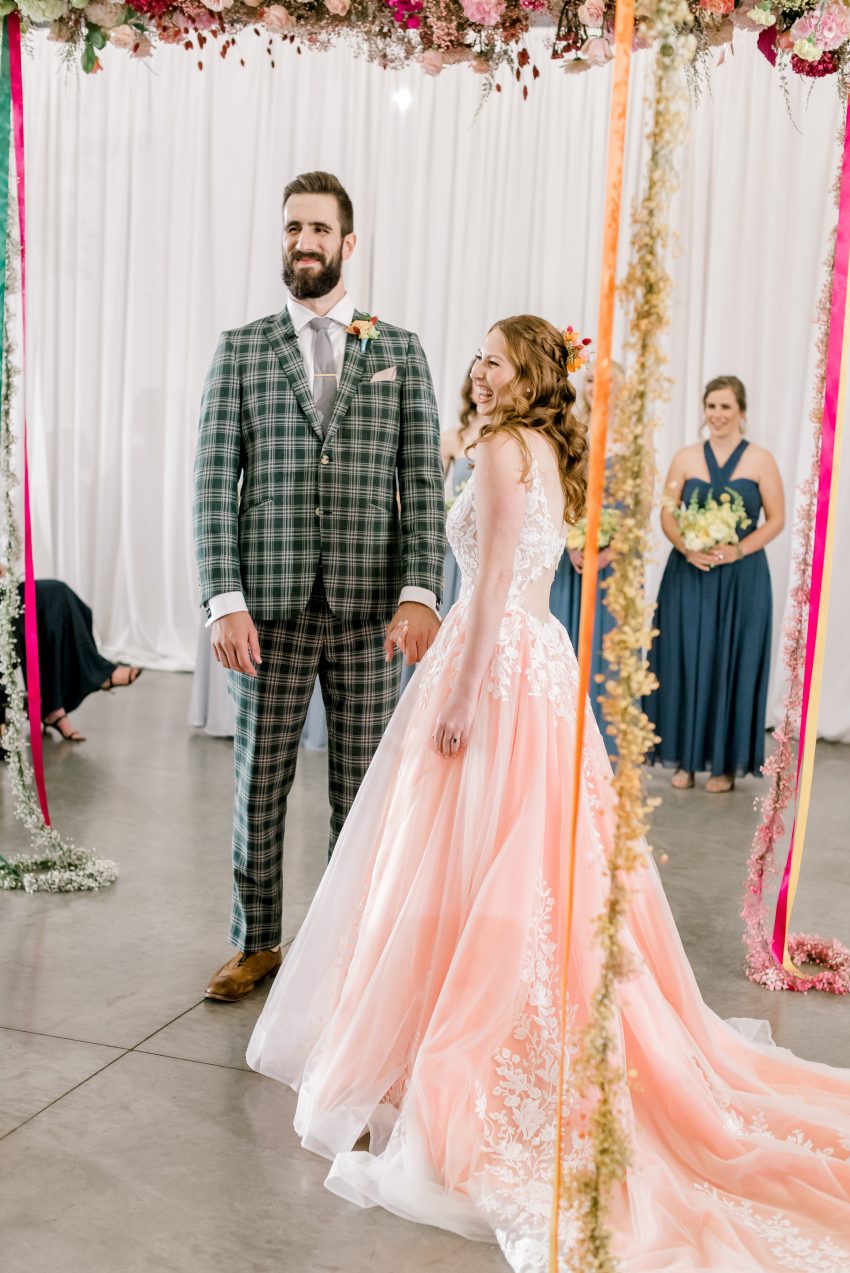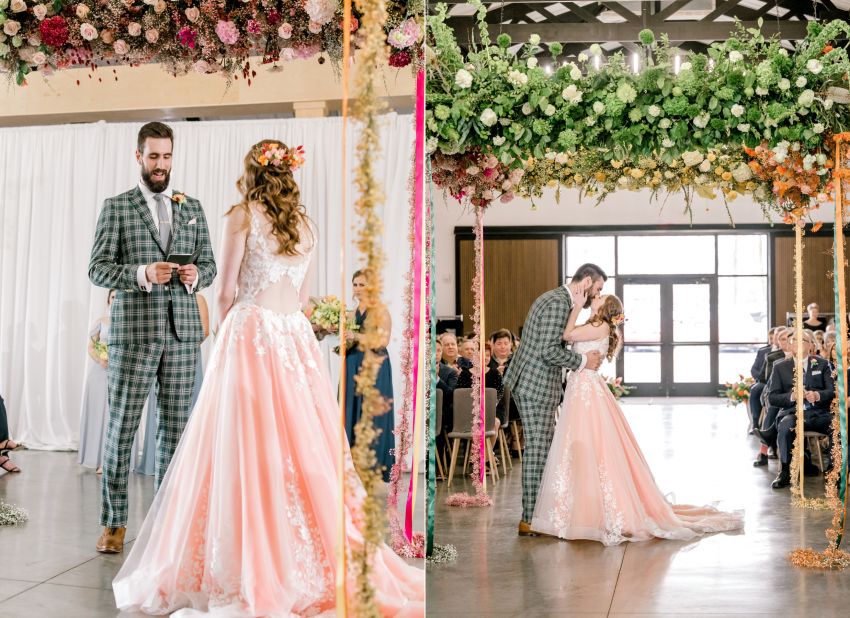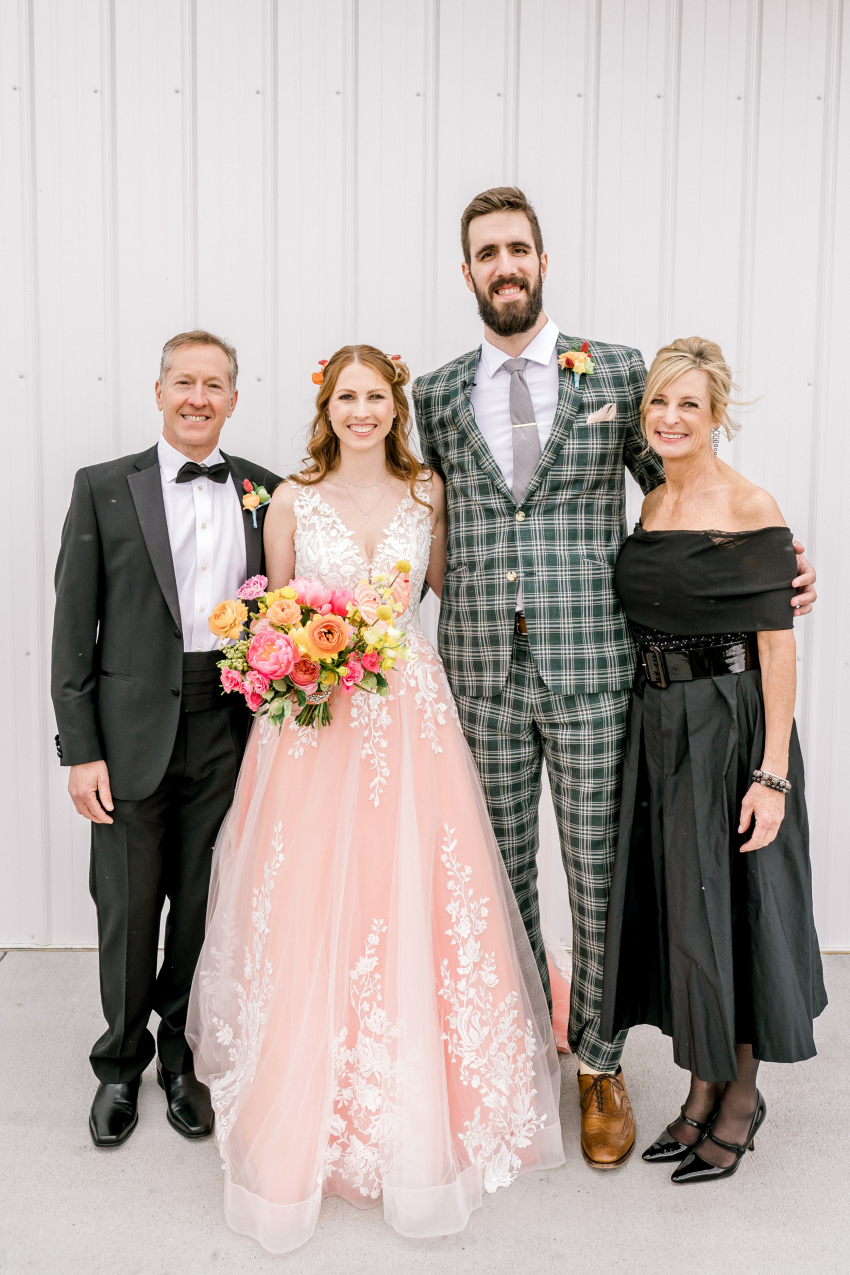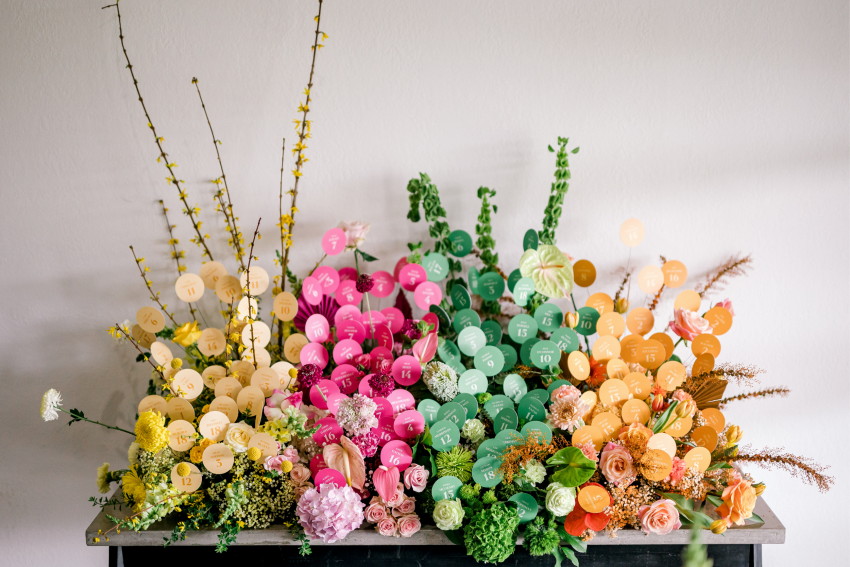 Another fun detail worth mentioning is the escort card display.

This was an idea I had early in the design process and involved a tabletop floral installation with the escort cards tucked into the flowers almost as if they were blooms themselves. But! I wanted the flowers to be color blocked like the chuppah, which meant coordinating the guests' escort cards (alphabetically) with the colors in four quarters. There was a vision but it didn't really come to life until we built this onsite. Payge's bridesmaid and employee Michelle helped create the branded round escort cards that were then tucked into the flowers with thin gauge floral wire at different lengths for guest's convenience. A small display and a true labor of love!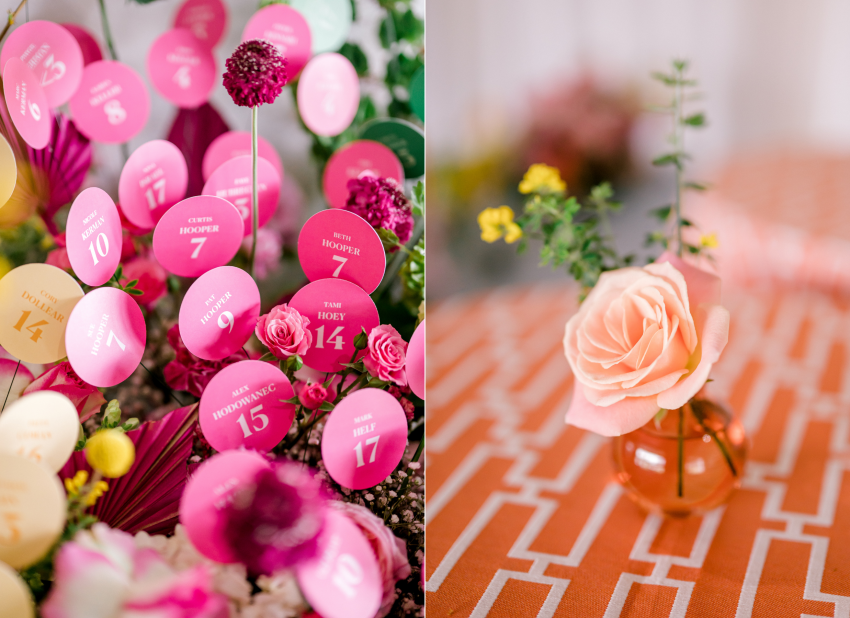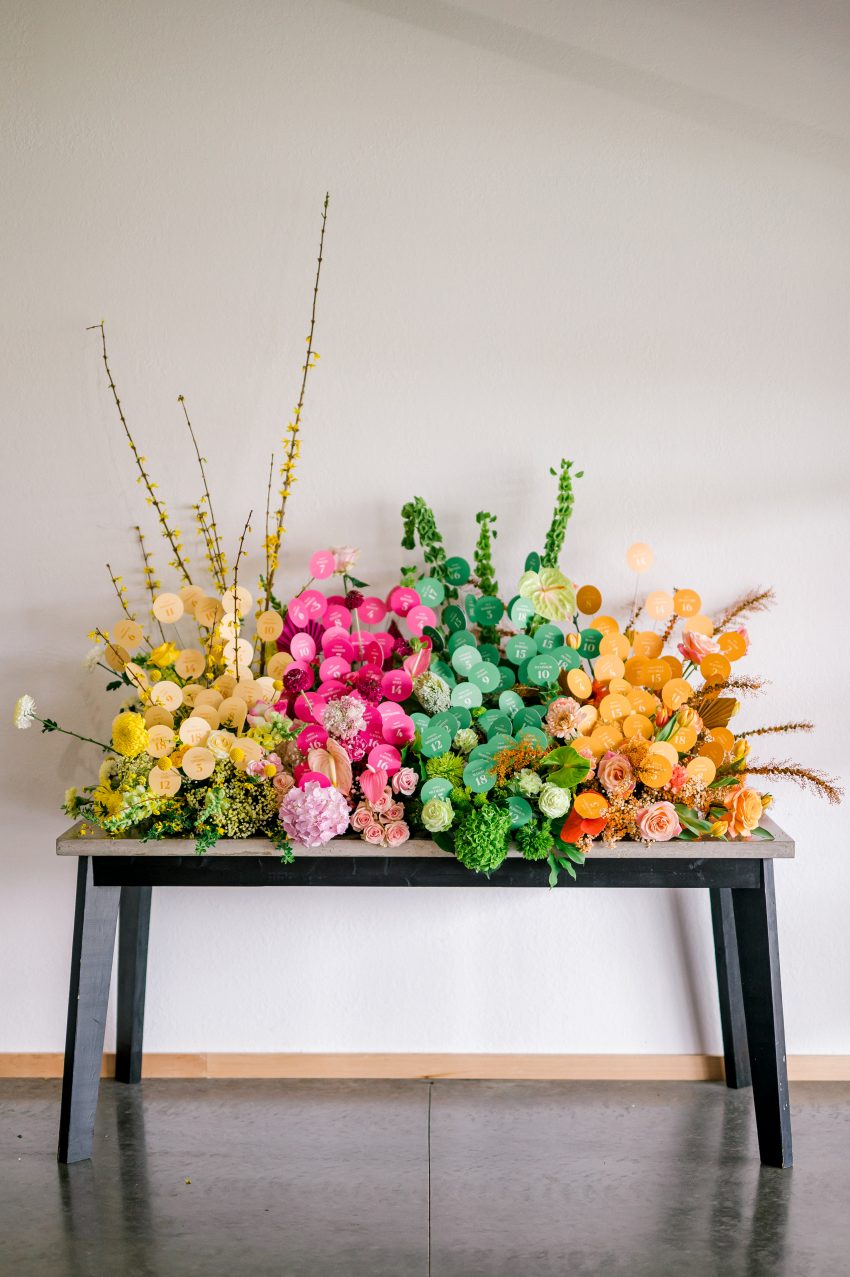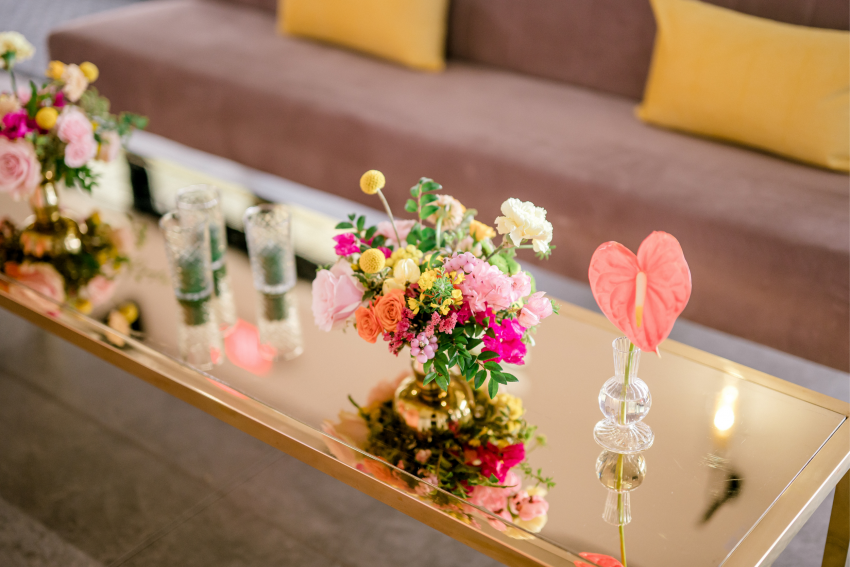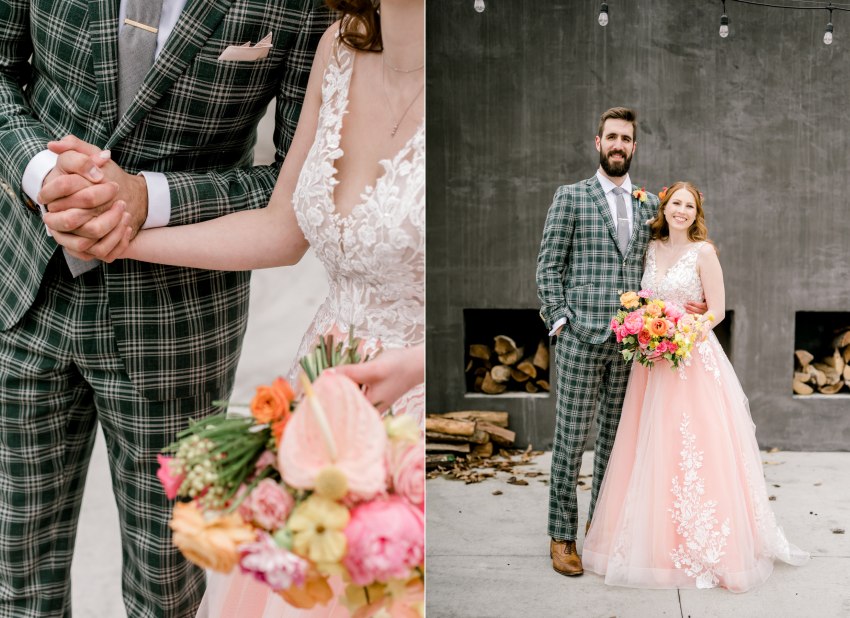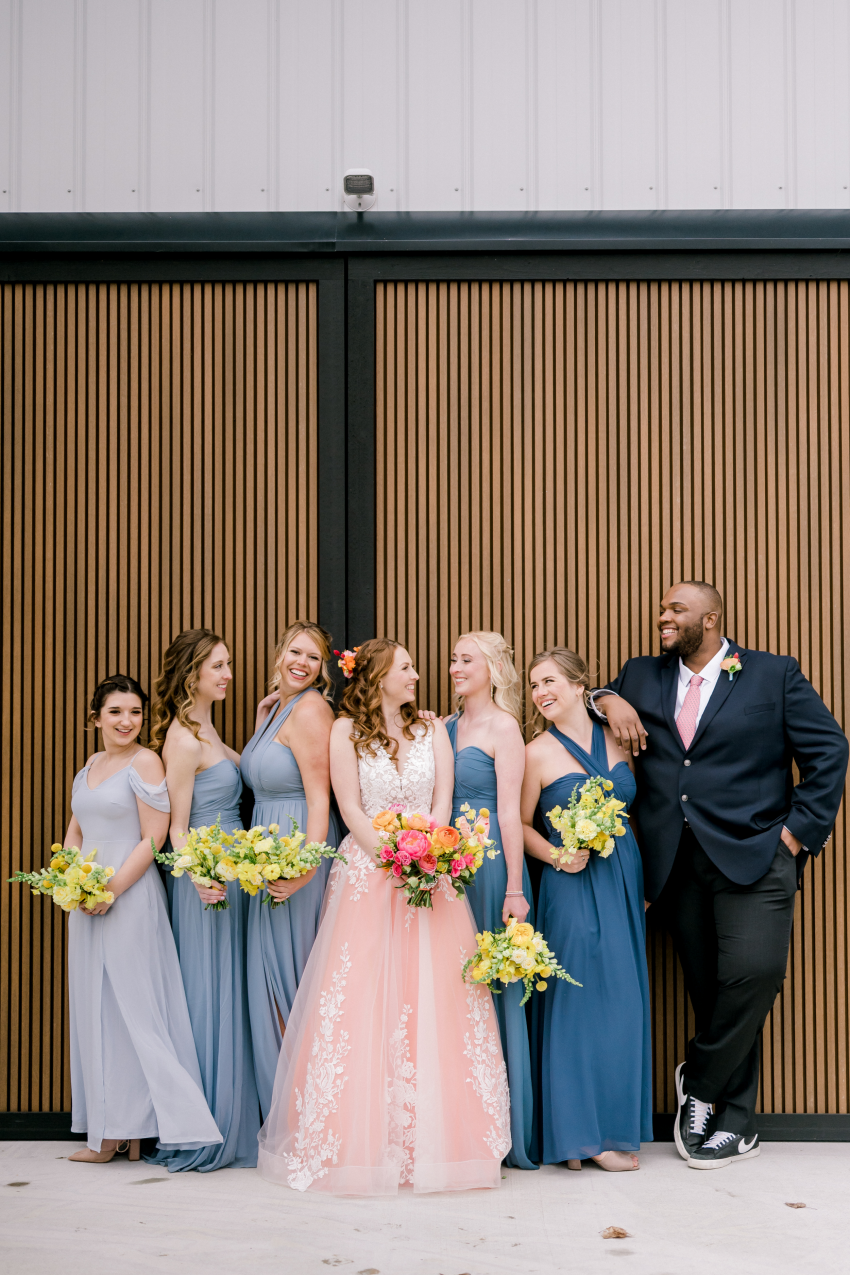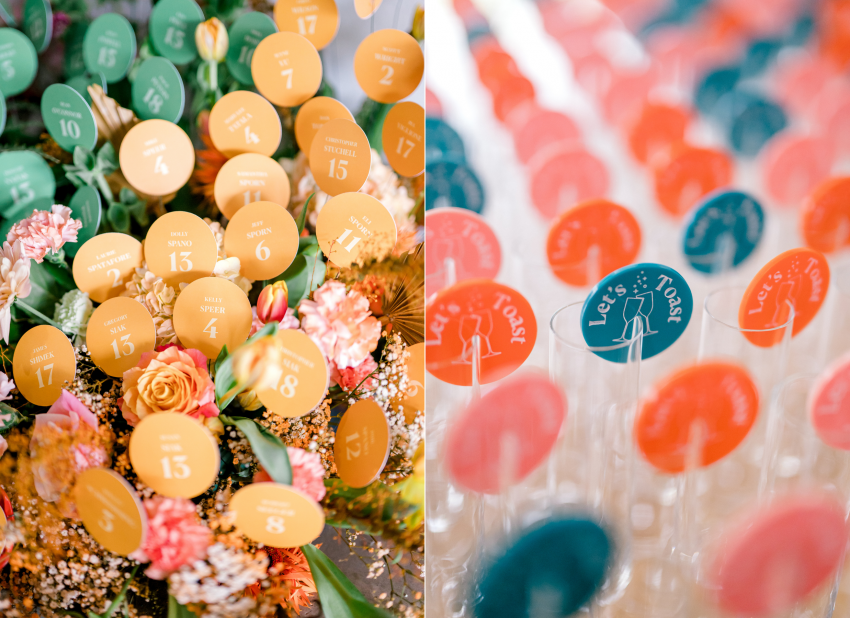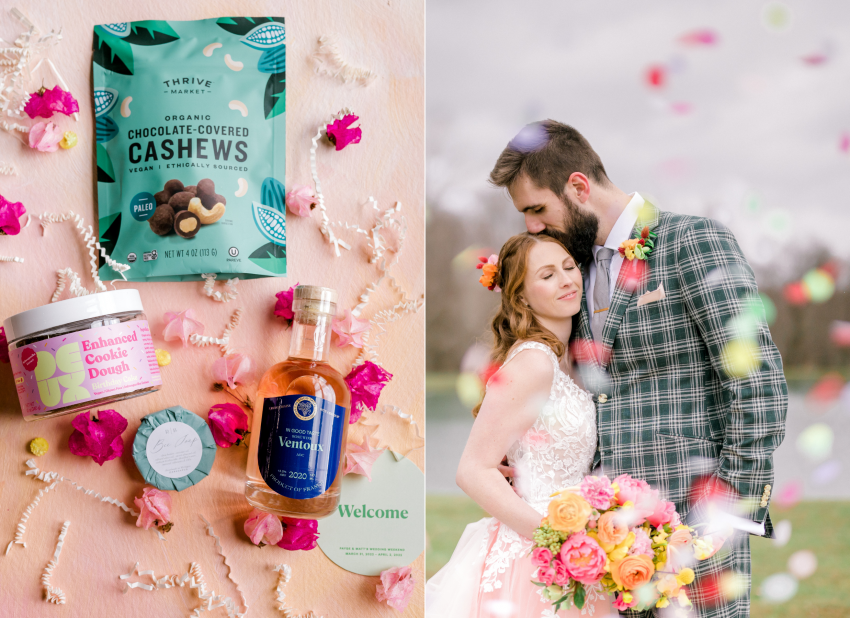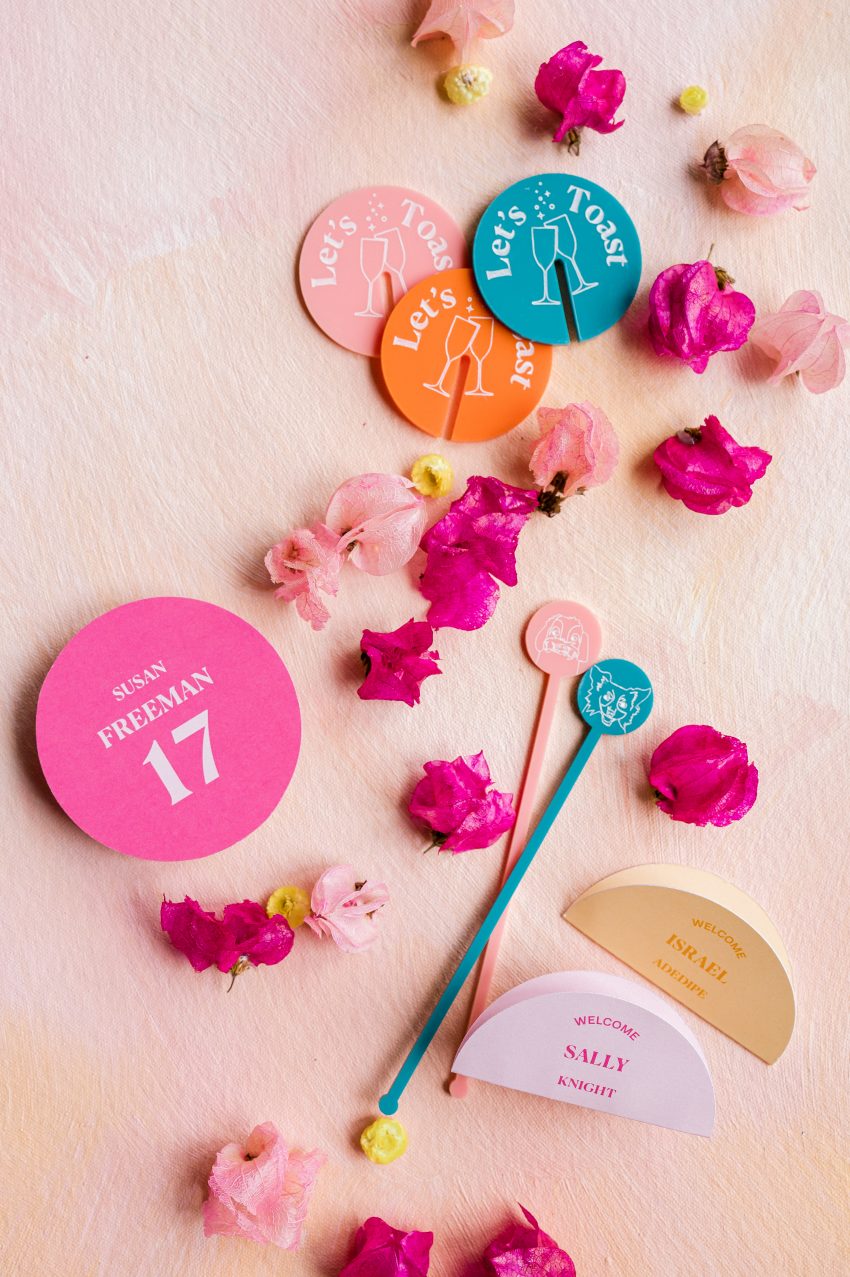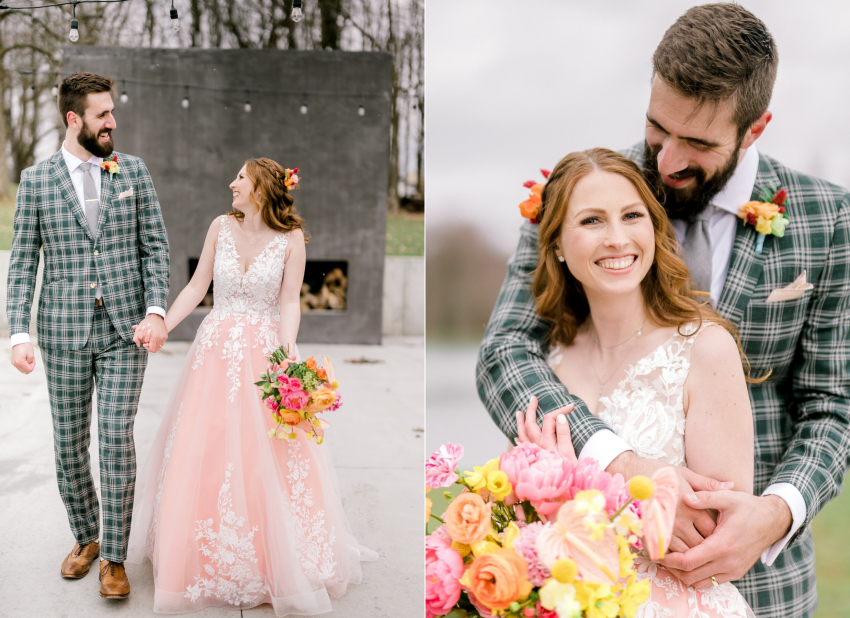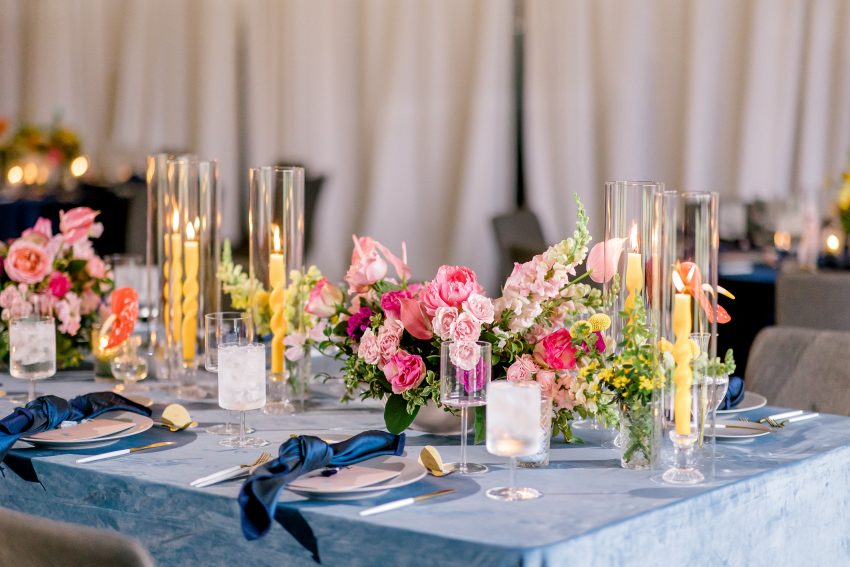 And then we have our reception set up! It's likely you can tell from the photos but this wedding required a room flip and just a quick 45 minute one at that. This meant getting all guests out of the space post-ceremony, pulling all pre-set tables from behind the drapes, setting remaining tablescape details, placing chairs around tables, pulling off the ribbon streamers on the chuppah to create a true hanging installation, setting up Tasty Bakery's stunning wedding cake under the floral installation, lighting endless candles, and getting the final room capture in photos and video. What a team effort this was! One well worth it of course. It was such a special sight!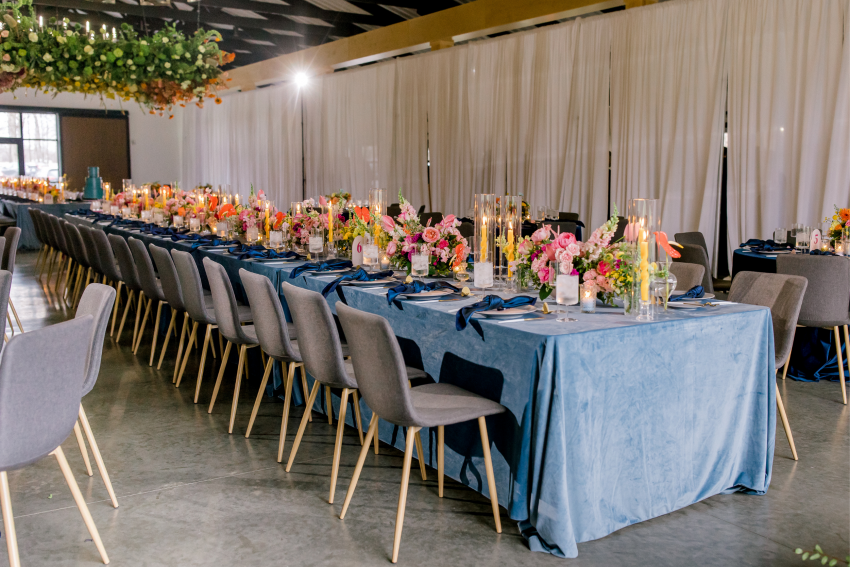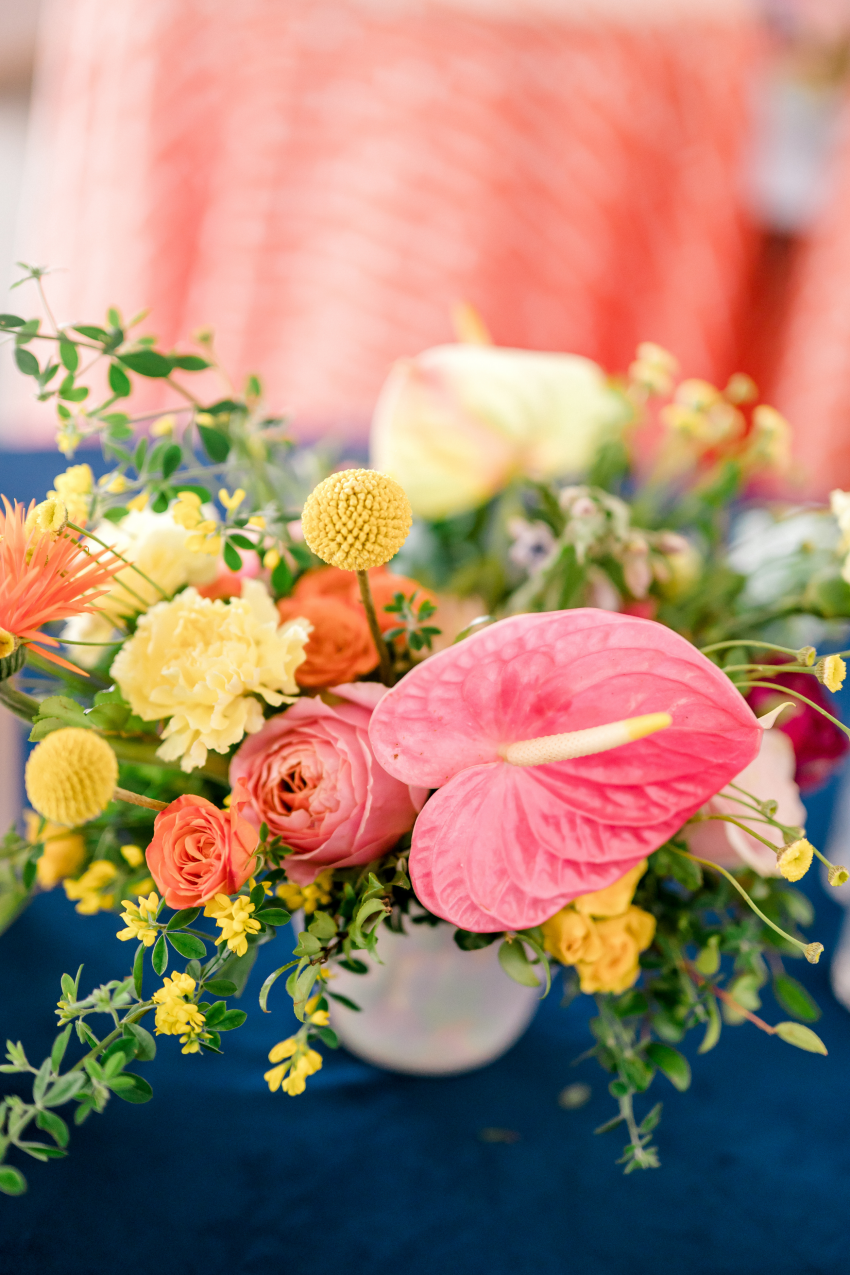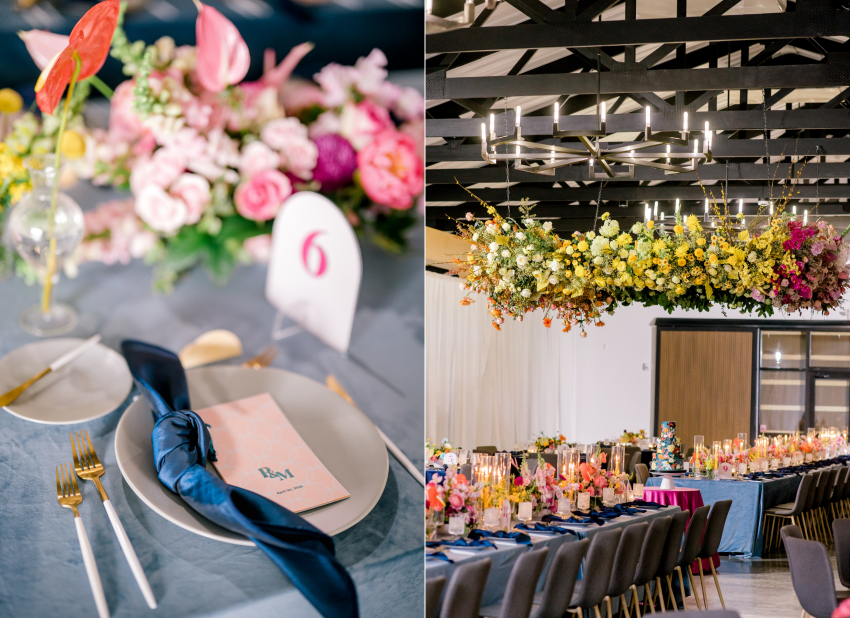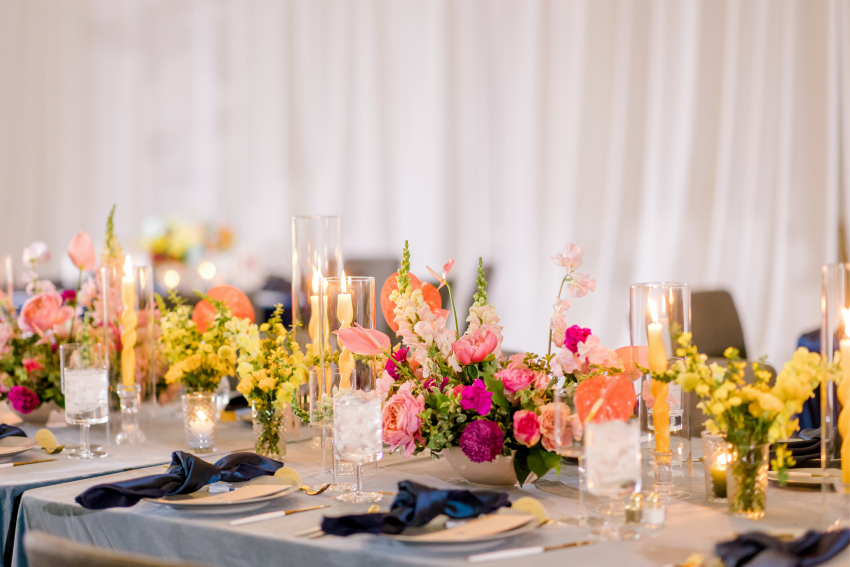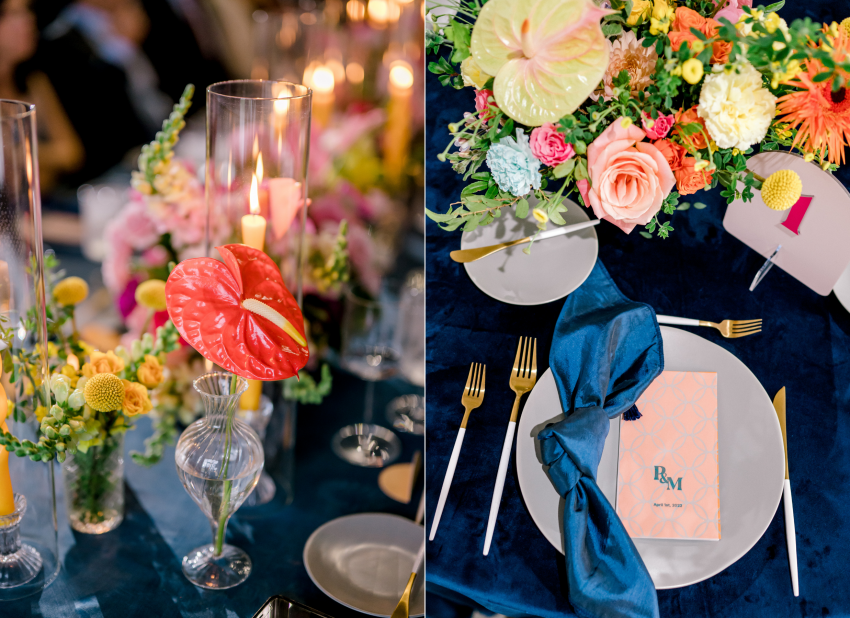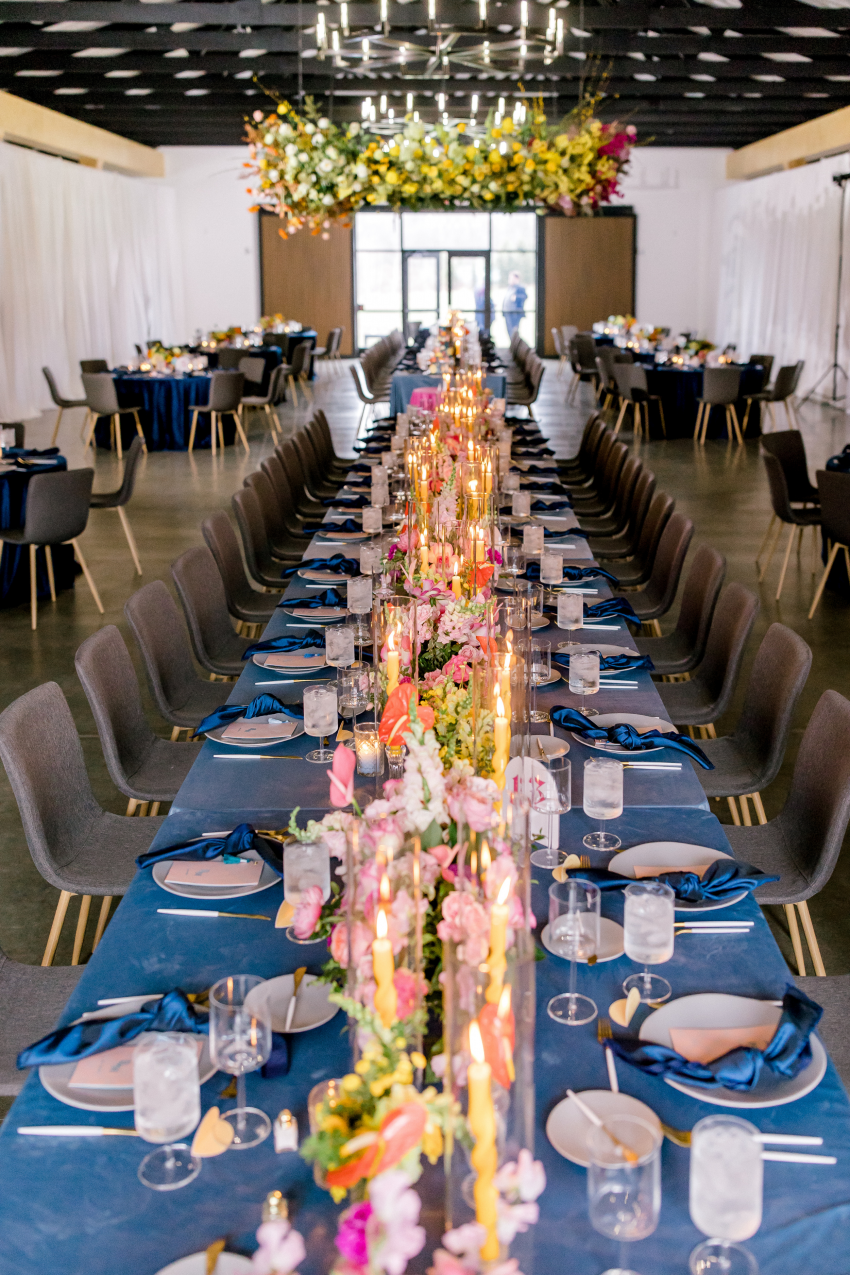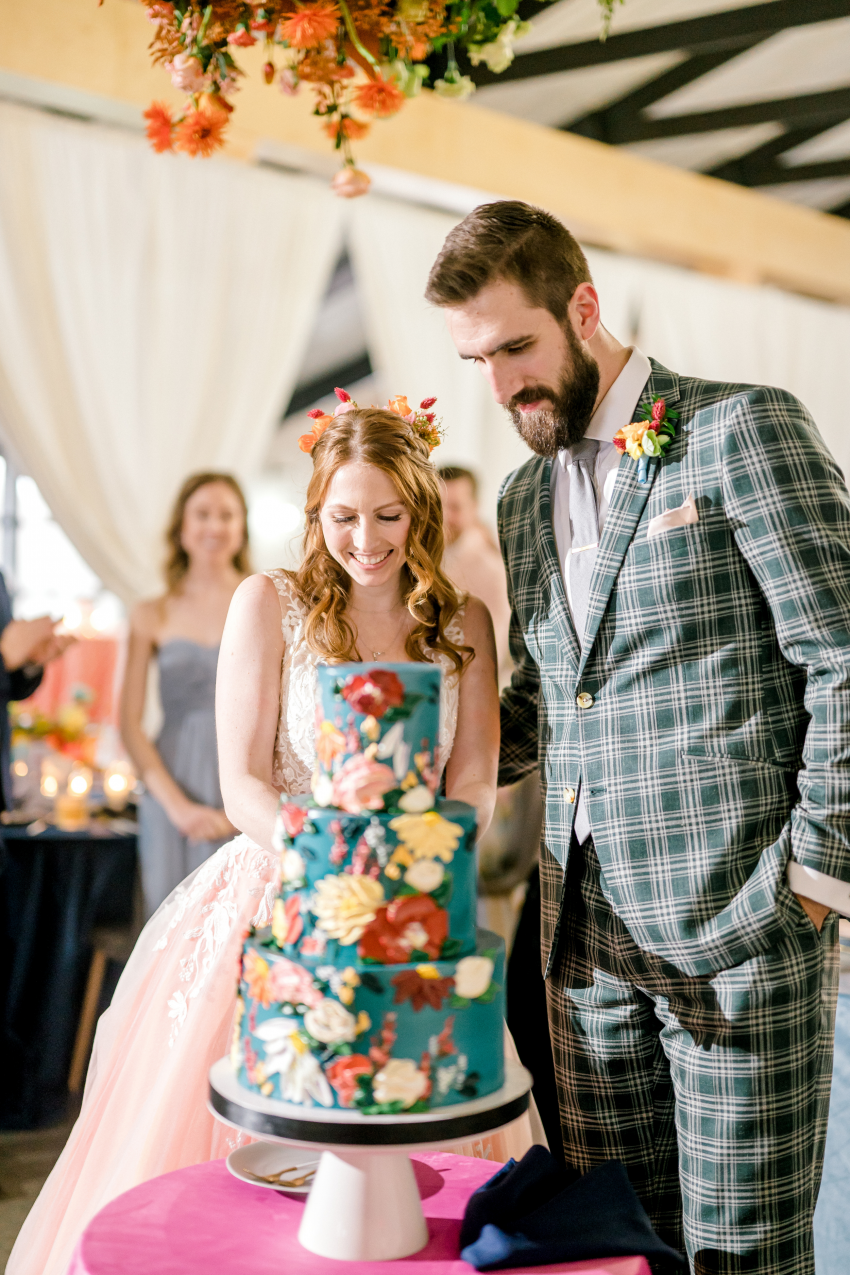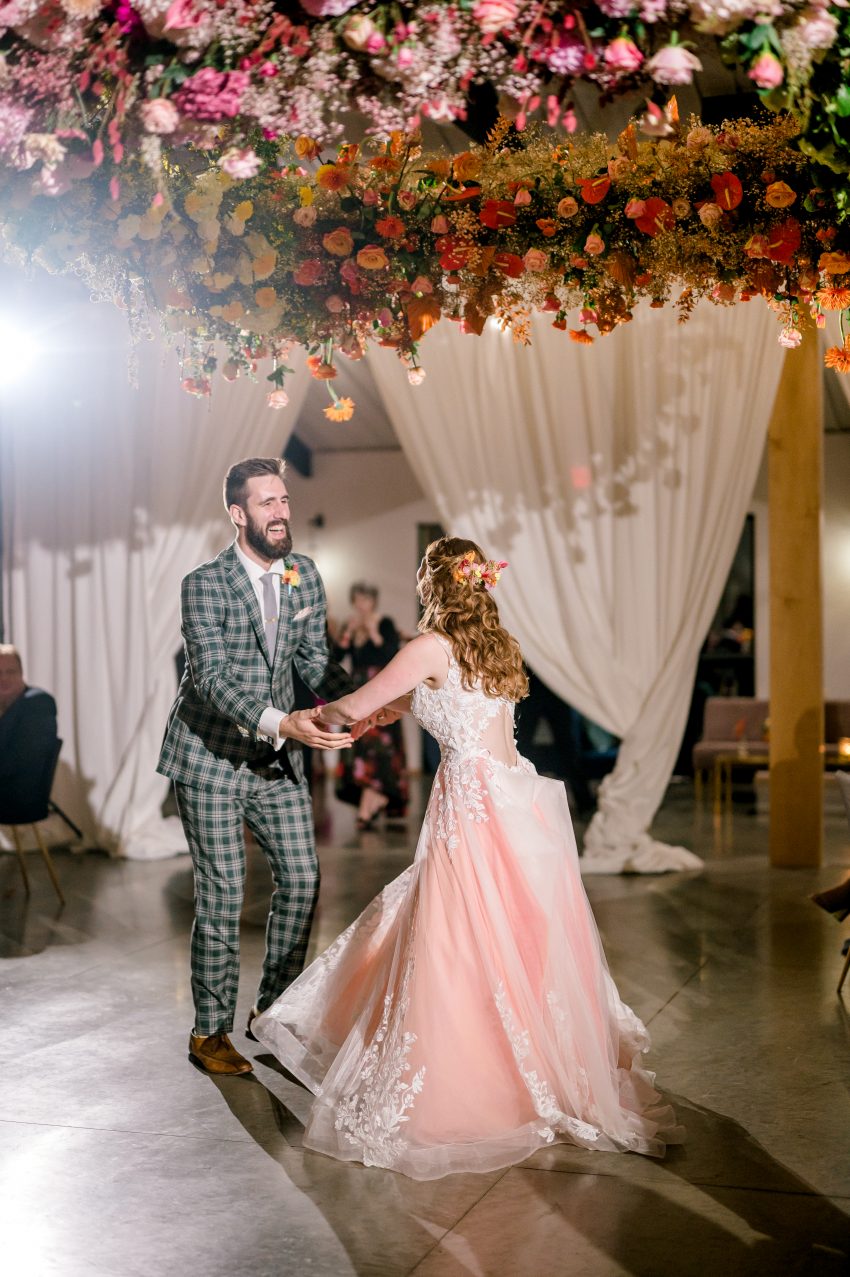 And the party? This group was well versed with having fun. From Payge and Matt's first choreographed dance as a couple (pictured above; look at that joy on Matt's face!), the always-fun horah, which brought Matt's head very close to the pink side of the hanging installation (pictured below for good measure), and even a few grandmothers thrust into the middle of the dancing group to show off their dance moves, we enjoyed our time on the perimeter of the room watching everyone enjoy an evening together. There's really nothing sweeter than a wedding that's finally to the dancing portion of the evening without any issues!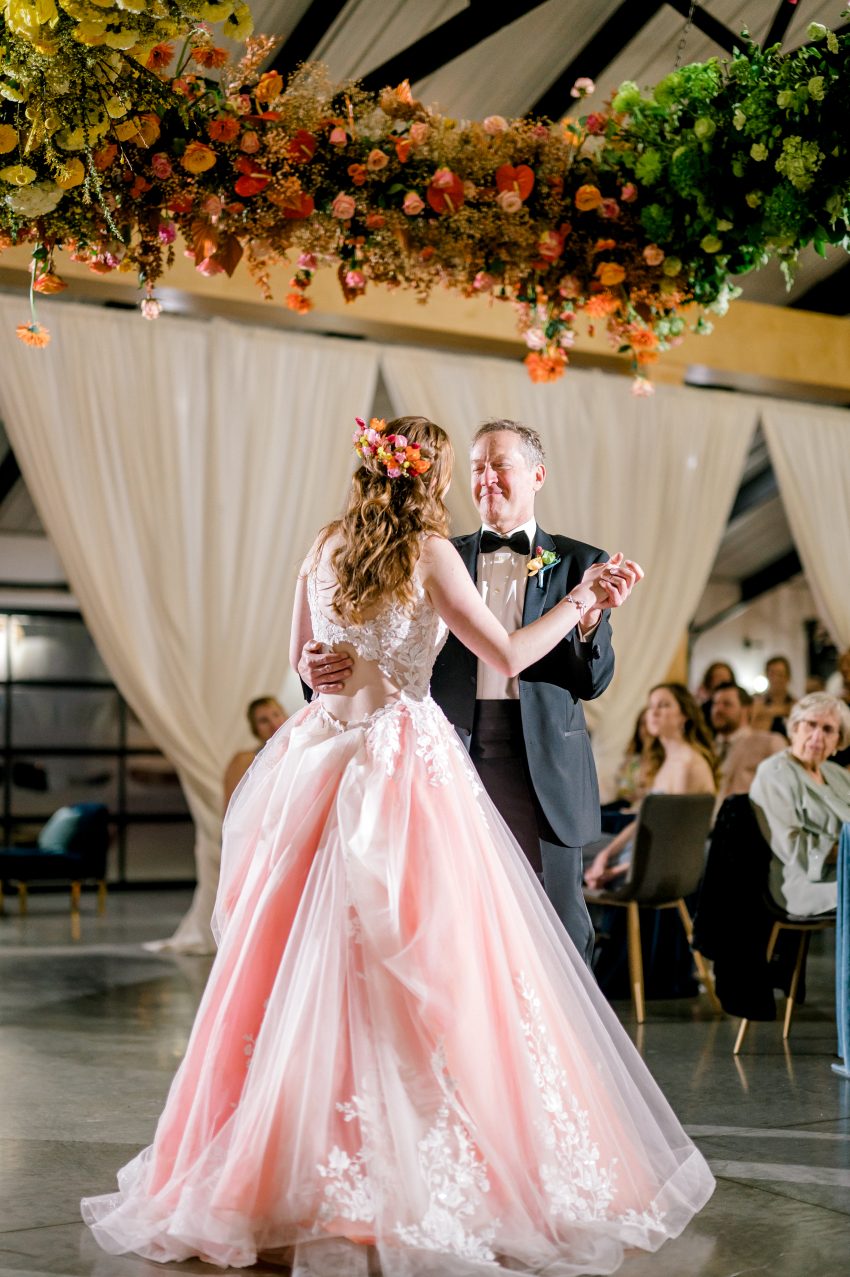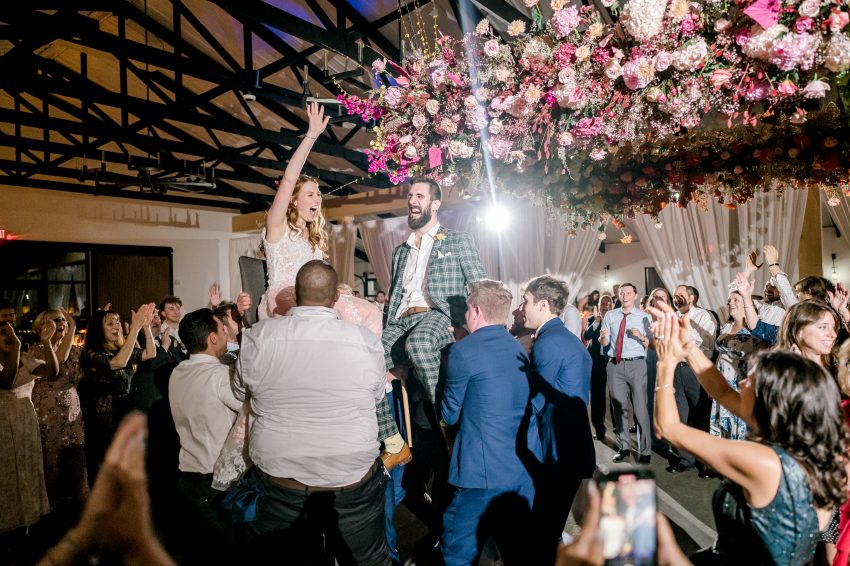 A special thank you to every single professional who made this event sparkle!

Planning, Design, Floral: Rhiannon Bosse Celebrations / Photography: Dawn Derbyshire / Videography: Aaron Woods Productions / Venue: The Harper Event Venue / Catering: Medure's Catering / Cake: Tasty Bakery / Stationery: Design x Michelle / Bridal Gown Designer: Louvienne through Lovely Bride / Rentals: All Occasions / Flatware: Treasury Rentals / Ceremony Music: Drella String Quartet / Entertainment: DJ Thomas P Walter / Linens: Special Occasion / Draping: Gray Phoenix