Man, I feel like a broken record because I preface a lot of my positive feelings around each holiday with what I'm about to say BUT, I love Easter. I love the significance behind the holiday (or shall we say, the 'reason for the season'), I love how Easter usually lands at the very beginning of spring here in the Midwest when we are all so thirsty for a change in the weather, I love the hope that Easter brings, but then on more of a novelty level, I adore the creamy pastels, chocolatey treats, fresh flowers, patterns, and sweet touches that always seem to come hand-in-hand with the occasion. Easter packs a serious punch in our family and I typically embrace it with all I've got!

This year we will be in Florida for the holiday so our Easter plans are being rescheduled for the following weekend when we can all be home together to celebrate. We will be sitting down to a late brunch with the most delectable of savory and sweet treats, and likely, a fresh loaf or two of sourdough bread (since that's a thing I can make now!). The table will be set with our best china, flatware, and monogrammed napkins, I will bring my floral skills to the table – literally – with a beautiful arrangement, and surprises and delights tucked around the house for the kids to enjoy are a given. I'm already on the edge of my seat thinking about it all!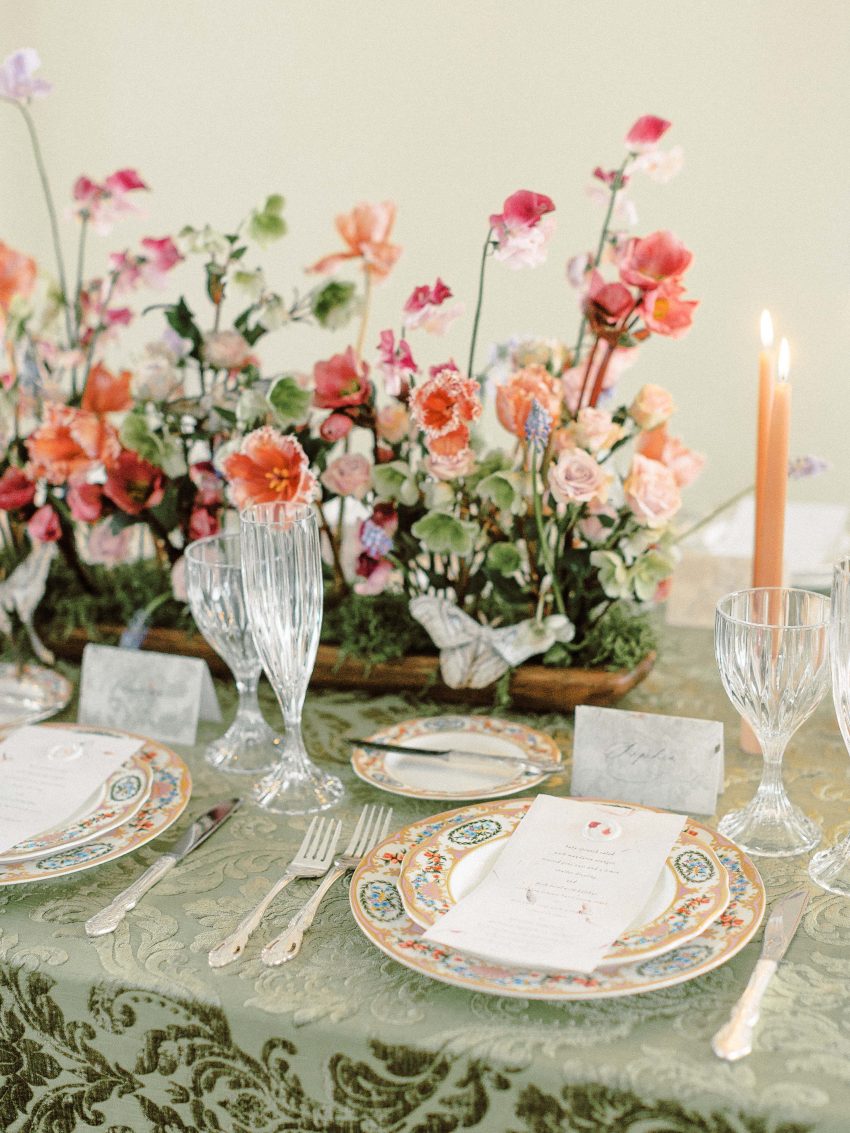 If you're keen on Easter, or in the very least, love an opportunity to put together a fresh new tablescape, I've selected a few of my favorite Easter and spring-inspired goods below for you. I've already picked up a few of these items myself and am eagerly awaiting our return back to Michigan from Florida, so I can start to pull everything together. I know our family always feels so special when they can sit down to both a beautiful table AND a delicious spread of home-cooked food! And I feel lucky to be able to offer that to them.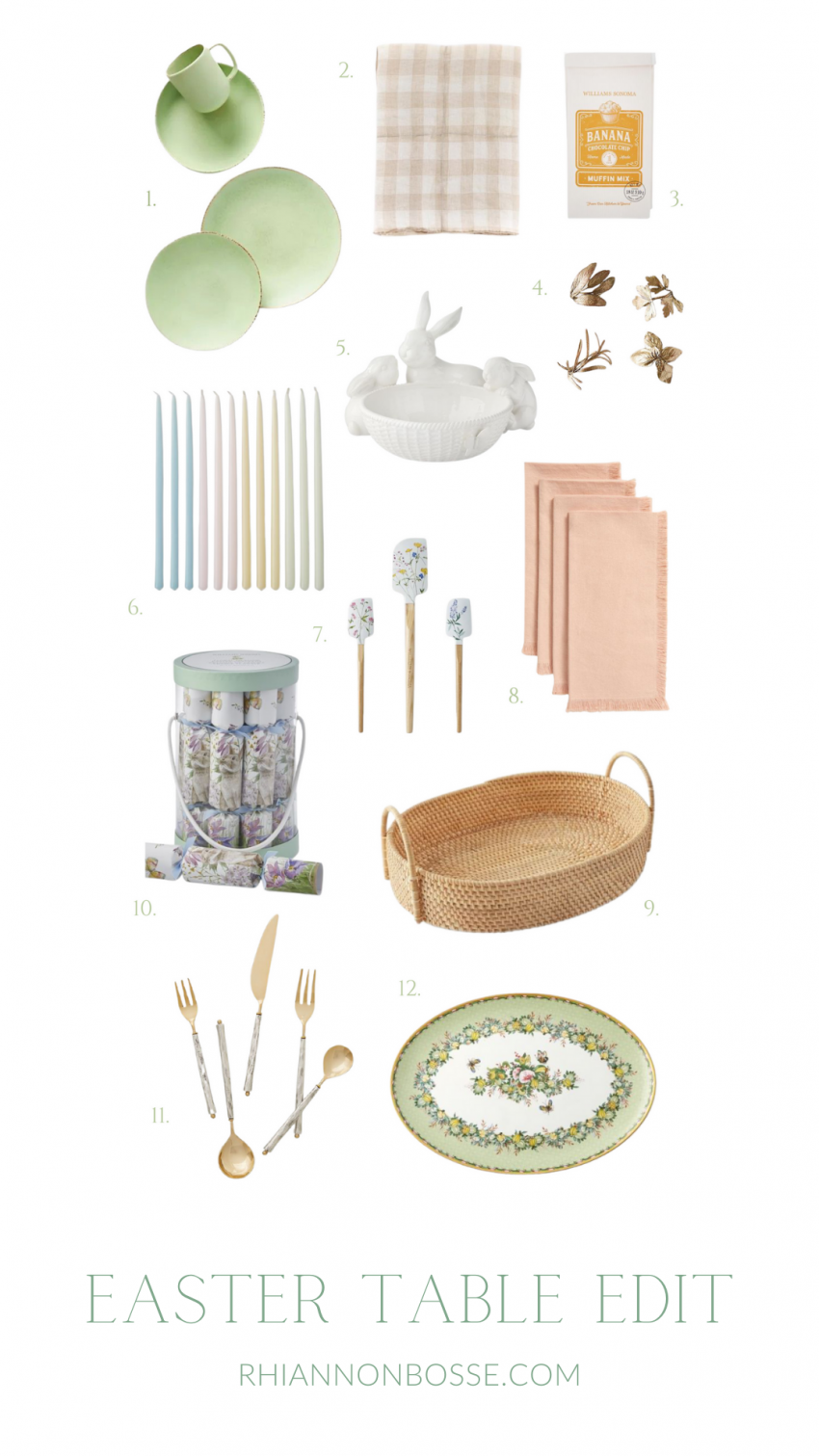 1. Green China When I look for whimsical china, I never look further than Anthropologie. These minty colored side plates and coordinating mugs are so fresh. Just pulling them out of the cupboard would put a smile on my face! I'm also impressed with Anthropologie's china quality. We have a dessert plate set from Anthro and its held up exceptionally well for us.

2. Buffalo Check Tablecloth I've really been into tablecloths and placemats lately, so much so, I've started to house my personal stash in a new easy-to-access place where I'm more inclined to pull them out for everyday meals. If the last year of the pandemic taught me anything, it's how important meals shared around the table are, and how there's no better time than today to make them special. This cream colored print is so soft and delicate, which is a nice change from a usually vibrant colored print.

3. Quick Bread Mix If you're not into the whole make-your-own-bread process like me, these William and Sonoma mixes are the real deal. I purchased a few mixes last fall when those lazy summer days turned to cool evenings and was very impressed with how delicious the end result turned out to be. It's also nice to have these on hand for unexpected guests or those weekend mornings when you're looking for something delicious to bake in a jiffy. You make the bread into loaves or muffins if that's easier for your crew!

4. Metallic Napkin Rings These pewter napkin rings are a little pricey for what they are but I couldn't resist putting them into this round up because they are so whimsical and lovely. I think napkin rings can get a bad reputation for being outdated and stuffy but these are proof the very opposite. These playful, kid-friendly, and less expensive bunny ear rings also caught my eye!
5. Sculptural Bunny Bowl I just pulled out our Easter decor last weekend and Lachlan had a blast counting all of the bunnies included in my haul. It turns out if there's a bunny figurine or better yet, a BOWL with a bunny or a few, AROUND IT, I'm all for it. Obviously I had to include this here! Fill the bowl with gravy or hollandaise sauce. Put some Cadbury Mini Eggs in one and display the bowl on your coffee table. Or fill it with fresh fruit preserves to serve with biscuits! Here's a smaller, less-pricey option for your consideration.

6. Pastel Tiny Taper Candles After reading The Lifegiving Home in 2019 and making an effort to make our everyday feel more joyful (more here), even if simple in theory, candles have become a big part of our meals. While a thick pillar candle in a hurricane glass feels a little less risky on a table surrounded by kids, it's hard to deny the magical quality of a tablescape adorned with taper candles. Even more attractive is the delicate tones and tiny – adorable! – size of these pastels beauties.

7. Printed Spatulas Lachlan and I just had a chat yesterday about spatulas and how they are such an important kitchen tool. This made me realize we don't hardly have enough of them in our kitchen because they really are used daily around here! If you have littles and plan to include them in your holiday baking and cooking, these printed ones would be a fun – and beautiful – way to make the occasion feel festive. Or pair these with one of the bread mixes shared above and voila! The perfect adult-friendly Easter gift!

8. Dusty Pink Cloth Napkins An eco-friendly alternative to paper napkins is cloth napkins and these pale pink ones fit the bill for Easter brunch. The fringe detailing on the edges makes them feel less plain and the price is right for something you can use over and over again. Bonus: this napkin comes in a few different colors if the pink feels too sugary for your tastes.

9. Light Woven Oval Tray The rattan trend is still holding strong into 2021 and rightfully so. In my opinion, anything woven feels timeless and fresh. This woven basket would be perfect lined with a cloth napkin and used to house fresh rolls or breads. Or if you plan on baking anything like a casserole that is meant to be served right out of the dish, pop the dish right into the basket for a more pleasing presentation. Or! Fill the basket with takeaway treats for your guests or the kids in attendance. The options are aplenty.

10. Easter Favor Crackers I remember my mom having favor crackers as part of a Christmas tablescapes when I was little and I was DELIGHTED over this small little gesture! While certainly not a necessary part of any tablescape, for me, if there's a popper at my placesetting I know the host means business. The vintage print on these is so beautiful and the periwinkle ribbon is an upscale touch.

11. Gold Enamel Flatware We upgraded our special occasion flatware last year to gold enamel flatware from Treasury Rentals and what a difference this makes on our set tablescapes! A set of flatware reserved for special occasions is the pinnacle of hosting and feels like the ultimate status of adulting. I couldn't resist the darling handles of these pieces and how unique they are!

12. Green Patterned Serving Dish If there's one thing we use for every single meal that involves more than our immediate family of four, it's our collection of serving dishes. I'm picky with adding to our collection because we are short on space here but I'd make an exception for this oval-shaped beauty. It reminds me so much of the tablescape I designed in the above photo! Here's another option that's a little less pricey. And here's an adorable Easter egg shaped plate, too.
What does Easter look like in your family and home? I'd love to know more below! Xo