We been in our home for just about 9.3 years now.

I have never lived in one place for longer than five years so this feels like an exceptionally special feat! Even more special? We built our home after getting married in 2010, making this our first official house as husband and wife, and one that's only ever been lived in by us. I have so many thoughts on what makes a home, building, and forever homes but that's for a different day!

What I DO want to share today, are a few photos of our updated kitchen. Our kitchen is the one space in our home that I wish were bigger. Our closet, all four bedrooms, bathrooms, basement, living room, and even our yard, are all spaces that feel appropriately sized to our lifestyle and current needs. But our kitchen? Man, we are always bumping into one another, using our dining room table or even space in the garage to place extra pans and pots during holiday cooking extravaganzas, and when people are over, gathering around an island meant for only two to sit at feels awkward. The kitchen always feels like it's lacking in size.

But perfection isn't the name of the game! And for our daily routine and rhythms in this current season, our space works out well even with its quirks. Even better, we've spent the last two years slowly chipping away at upgrades to the kitchen so not only is it a space that's aesthetically more our style but also one that will greatly inspire new homeowners when the time comes for us to move on.

I can't wait to share a little peek here with you. But let's start with some photos from our kitchen the week we moved in!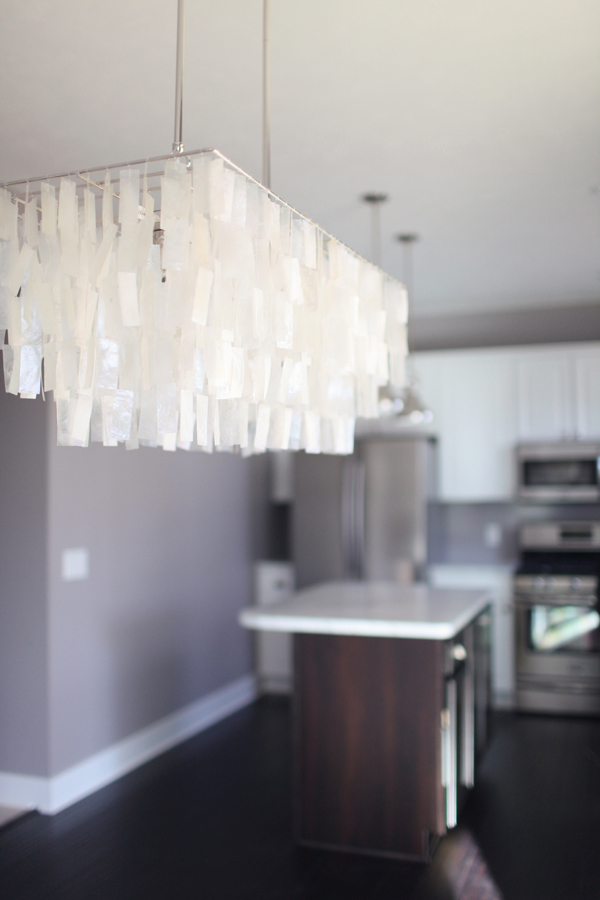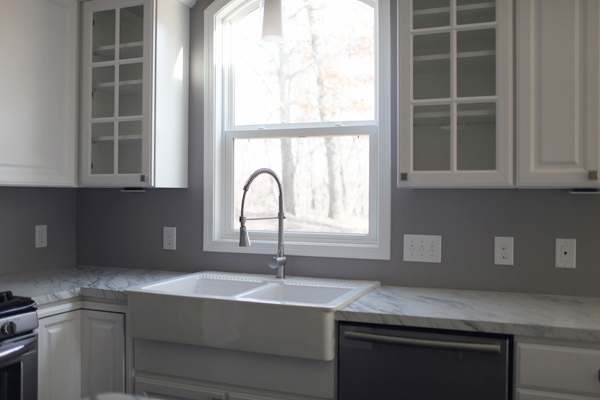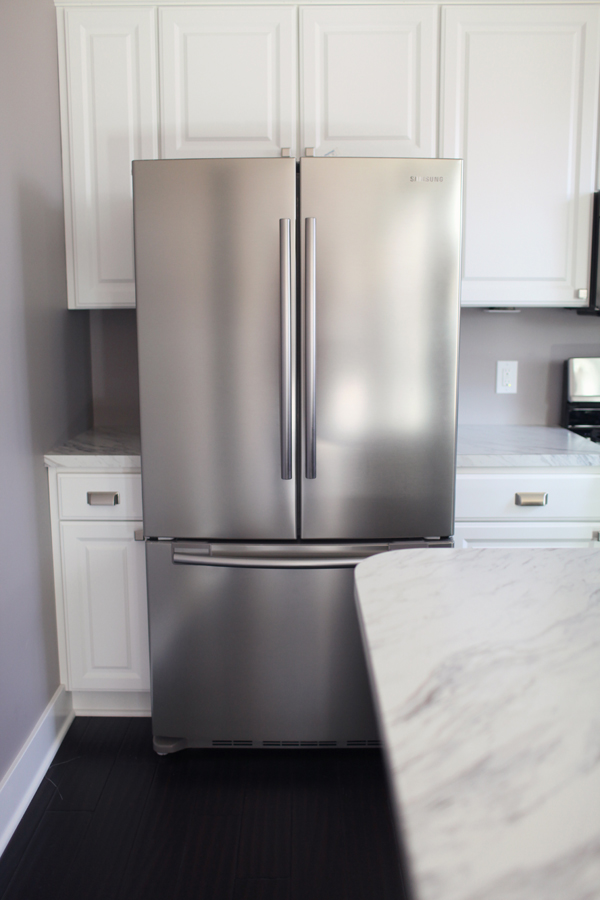 Our kitchen when we moved in was pretty on par with the kitchen trends of 2011: dark hardwood floors, gray walls, white cabinets, farmhouse sink, faux marble countertops (gosh, we thought we were so savvy faking a marble look with really really affordable laminate countertops), and a capiz shell chandelier over our IKEA dining room table. I remember thinking our new space was so beautiful and we were so lucky to call this home ours. I smile now because it really was so lovely at the time! But change was inevitable.

Here's what the space looks like now.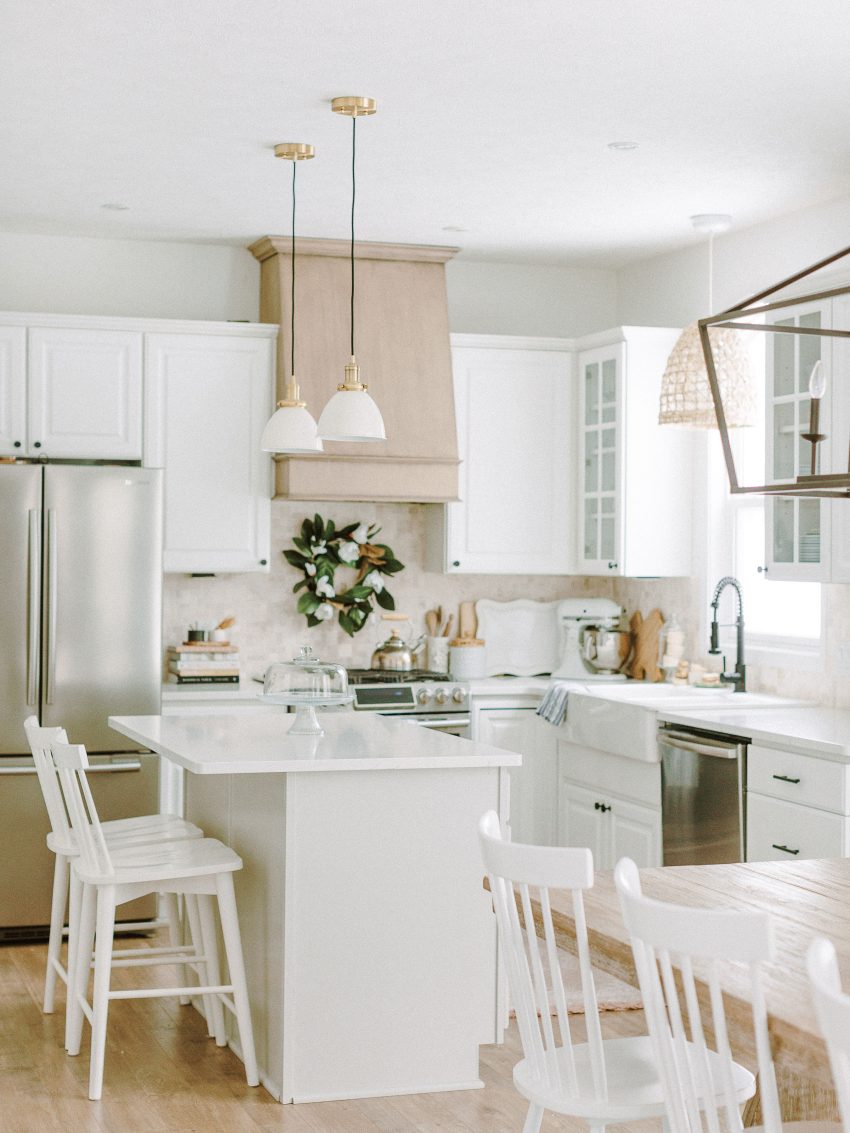 Isn't it delightful?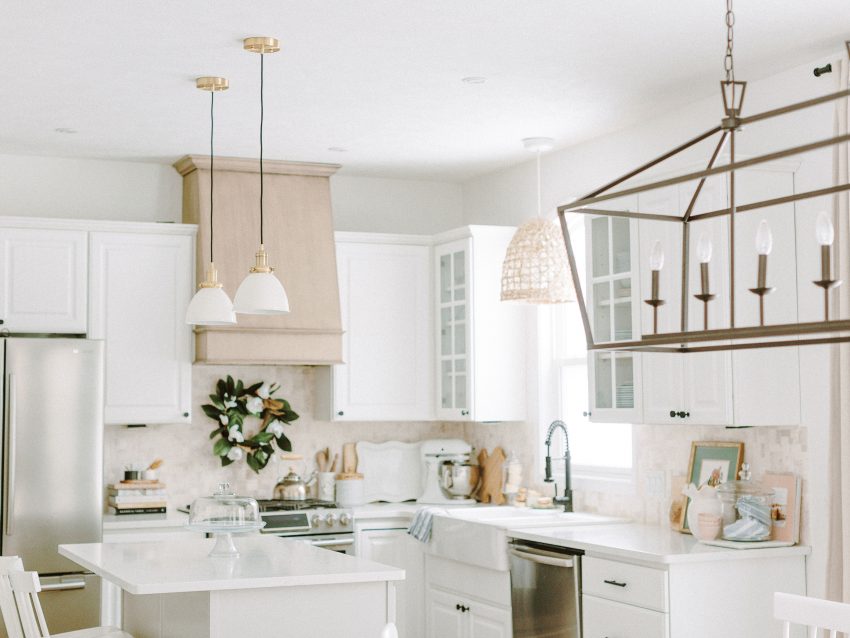 Perhaps the biggest change aside from the paint refresh and lighter floors is the custom oven hood that I am beyond fond of.

Our clunky microwave used to hang between a set of upper cabinets and our old stove. The whole set up just felt heavy, especially with it being one of the main focal angles of the kitchen. When our microwave finally broke last fall, followed by our stove breaking, and then our (my?) burning desire to redo our cracking backsplash, I knew I could convince Andrew to redo this part of the kitchen in a really beautiful and impactful way. We worked with Jim Talsma here in Grand Rapids to custom build a hood and the end result far exceeded my expectations! It's absolutely the best part of the space now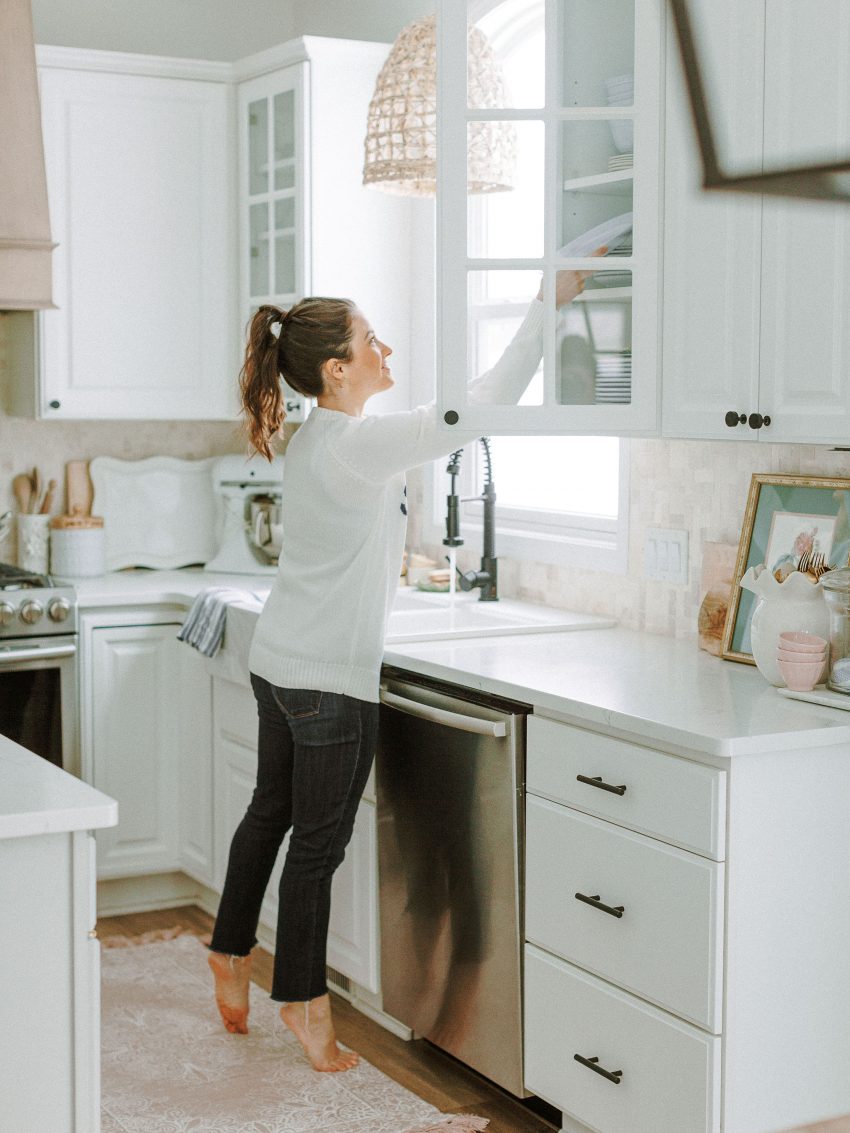 We also made a few upgrades to the space that not only improved the aesthetics of the kitchen but also the resale value for when we one day move. These changes included upgrading the light fixtures, appliances (minus the fridge and dishwasher), and sink and cabinet hardware. We had new backsplash from The Tile Bar installed and our laminate countertops replaced with quartz from a local Grand Rapids company. Then our kitchen island was painted in a light gray color, which made a big difference from the dark wood color it used to be. Little by little we made change after change until the entire space was truly transformed.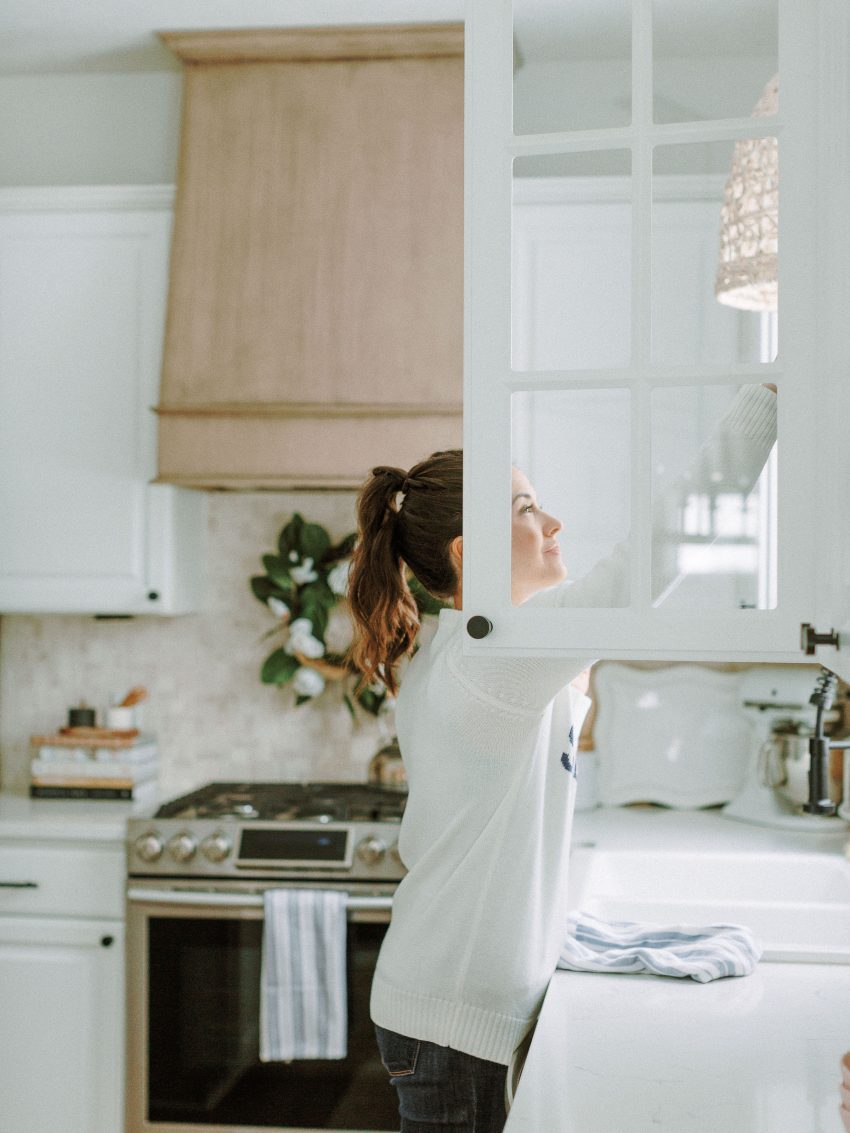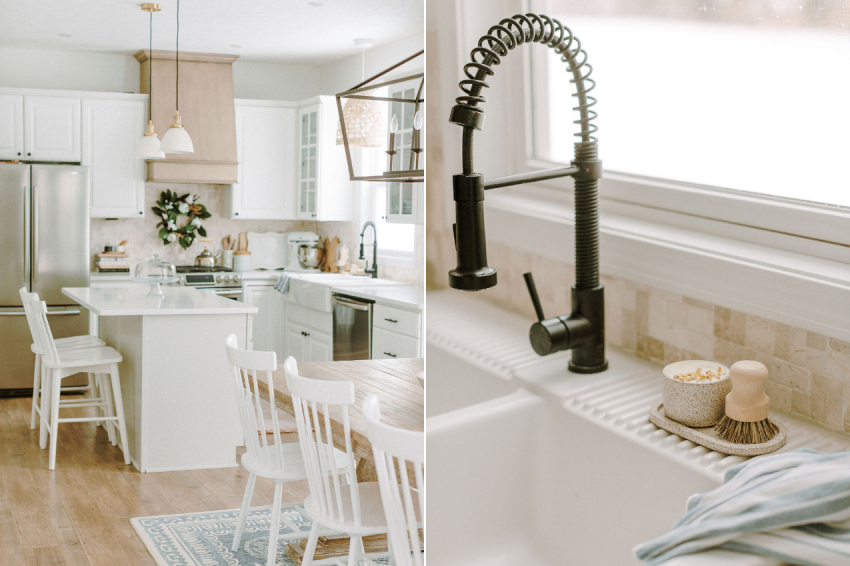 We dream of one day having a similar, but larger, space just like this one whenever we move into our forever home. We would love a larger island with room for six barstools and three walls of cabinets instead of just two! We'd also love a kitchen with a breakfast nook separate from a formal dining room. Finally, the ultimate dream? A walk in pantry with a coffee bar and open shelving for my cake stand collection. Should this blog still be around when 'one day' gets here, then I promise I share it with you.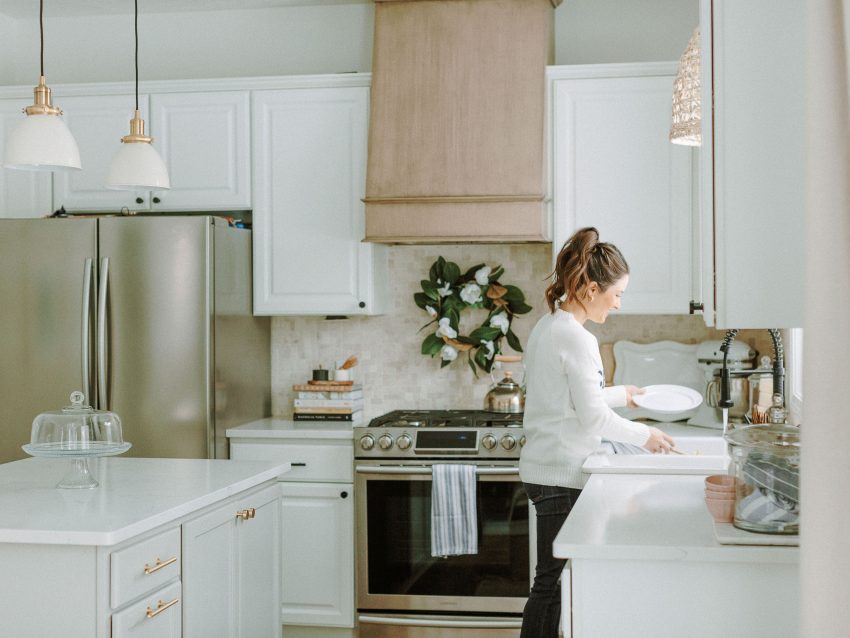 And because inquiring minds will want to know!

Since our original microwave broke we didn't feel it was necessary to immediately find a place to put the replacement. I use a microwave in the studio to melt my soap butters so when we need to microwave something we trek down there to do it. If anything, I've enjoyed not having the convenience of a microwave in our kitchen because it forces us to think about and prepare our food differently. But when it comes time to sell our home we will reroute power to the pantry and put a microwave there on one of the shelves.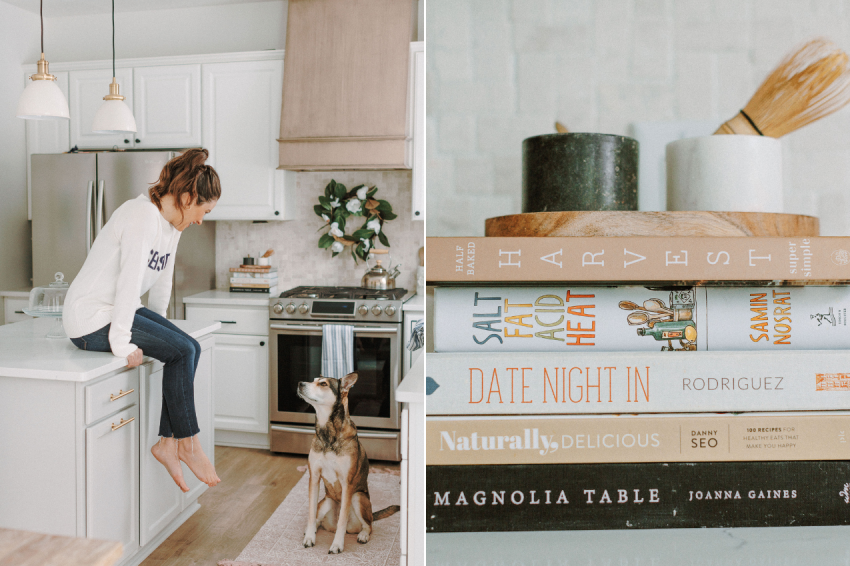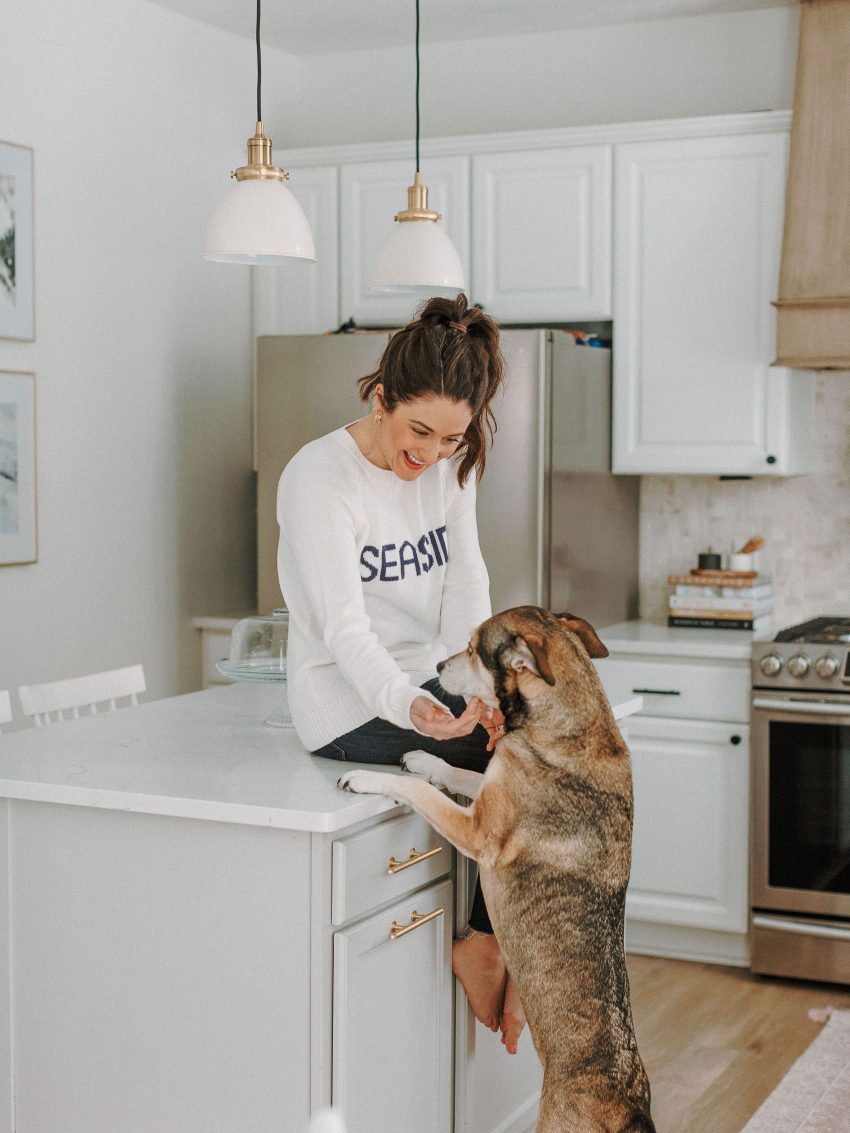 Here are sources for items shown in the photo! Thanks for joining me in my kitchen! Xo

. . . . . . . . . .
Seagrass Pendant / Dining Room Light Fixture / Island Pendants / Backsplash Tile / Seaside Knit Sweater / Island Stools / Farmhouse Dining Chairs / Pink Rug / Black Sink Faucet / Cabinet Hardware / Matte Gold Pulls / Gold Wall Frames / Artwork: One, Two, Three, Four / Photo by Samantha James Photography / Dining Room Table (similar) / Blue Dining Room Rug /