The first RB Soap Co. product launch of 2021 is JUST around the corner, friends! As such, I'm excited to share more about what's dropping next Monday on March 1st. You can find all of the inspiring photos, important commentary, and more sprinkled in the post below. My friend Samantha James Photography helped bring my vision to life and I truly hope you love this preview as much as I do!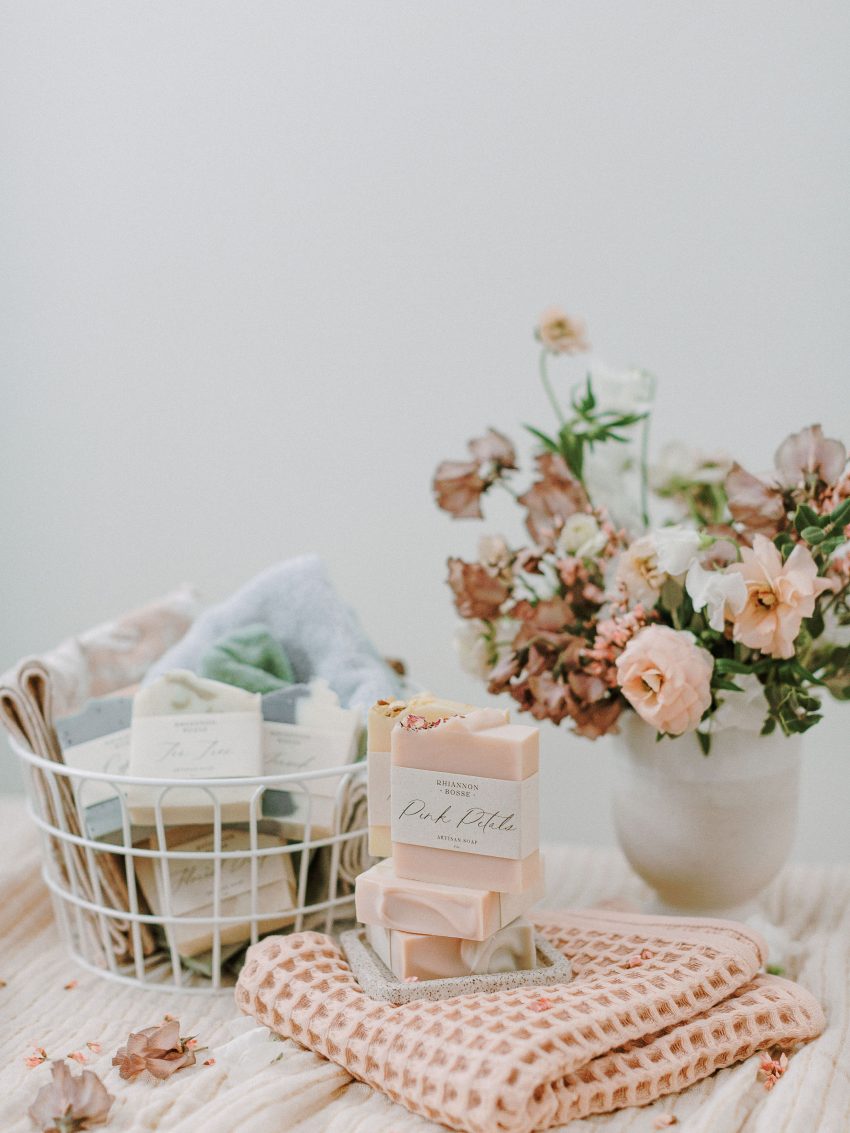 My inspiration for this launch was to include many of my customers' favorite soap bars – ones that have been around since my first launch in 2020 – but to also include a few new bars that feel fresh and new. Since March is still very wintry in the Midwest a spring-inspired product line up felt a little premature. But March is also the time of the year where it seems spring is collectively on our minds and we all crave more warmth, sunshine, and newness – and especially so after a year of the global pandemic and a shifted reality for all of us. So this launch feels symbolic of the newness I hope this season brings on all fronts!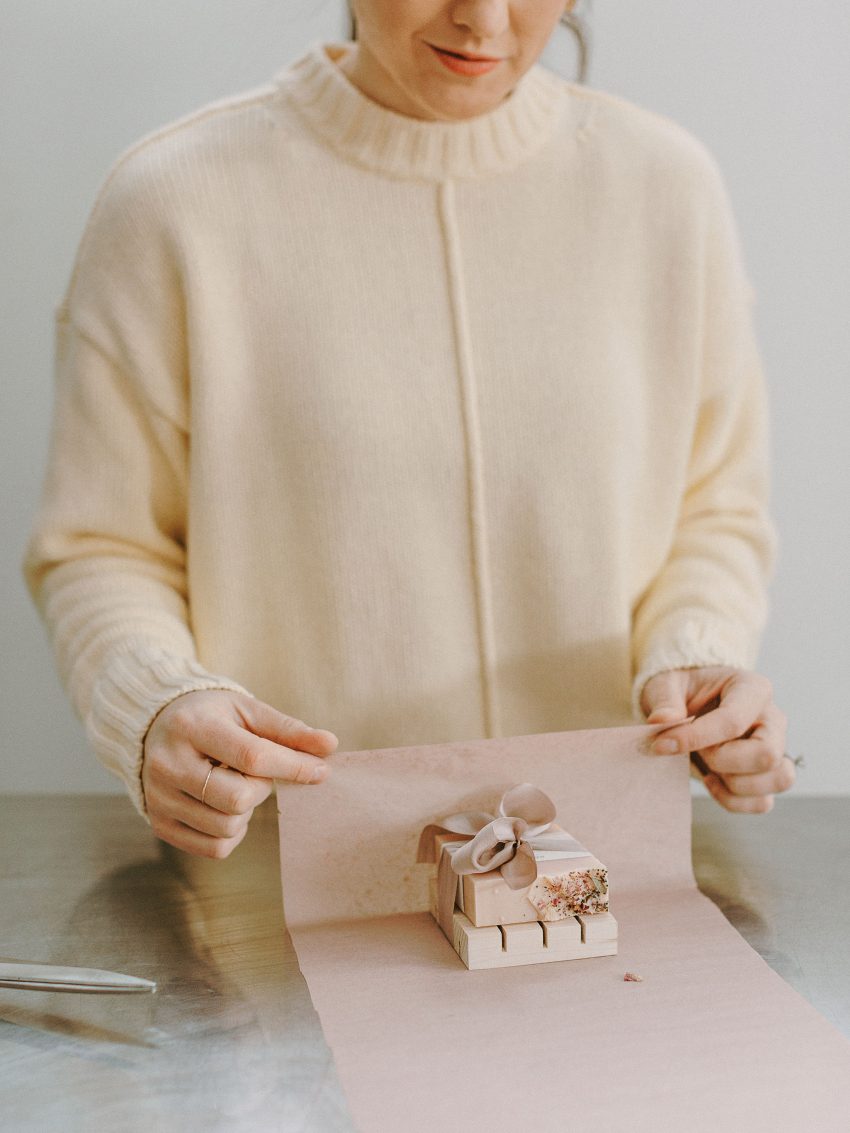 So let's start with my soap bar line up!

Pink Petals and French Mint are two top favorites so they get listed first. Pink Petals is the first soap bar I ever mastered and will always be a nostalgic soap. It's one of my most feminine smelling bars but also the one that looks the most feminine because of its pink tone and the botanical adorned tops. French Mint on the other hand, is an invigorating bar balancing together intense peppermint essential oil with the sweetness of spearmint essential oil. Calling it 'minty' would be obvious but it's just that! This particular batch was made to result in an ivory-colored bar with a soft sage and blush ribbon rippling through each bar. It's quite striking!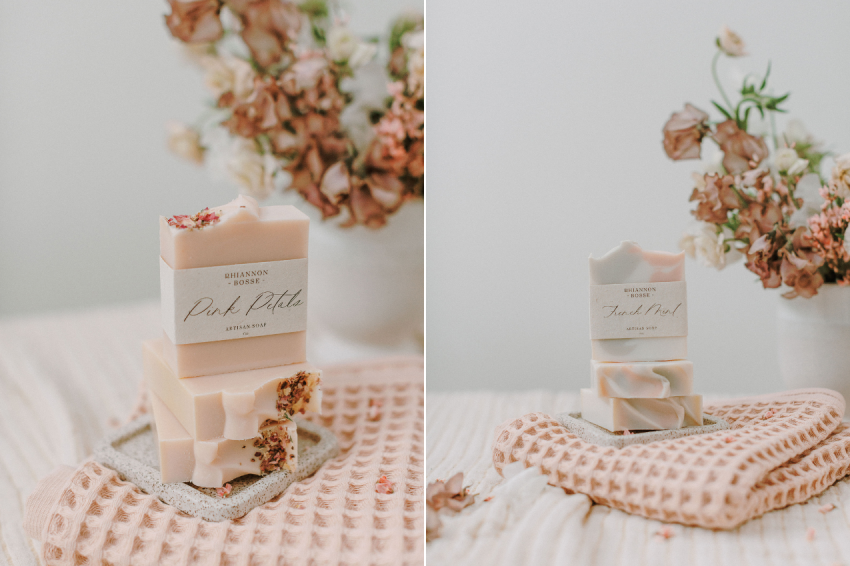 Marigold is another RB Soap Co. original and a favorite for many customers. In my opinion it's the perfect kitchen sink soap thanks to the vibrant citrus essential oils that can combat many cooking odors that linger on our hands. But that cheery yellow color is so happy making this a versatile soap for just about anywhere! This particular batch comes with botanical covered tops for a little extra pizzazz.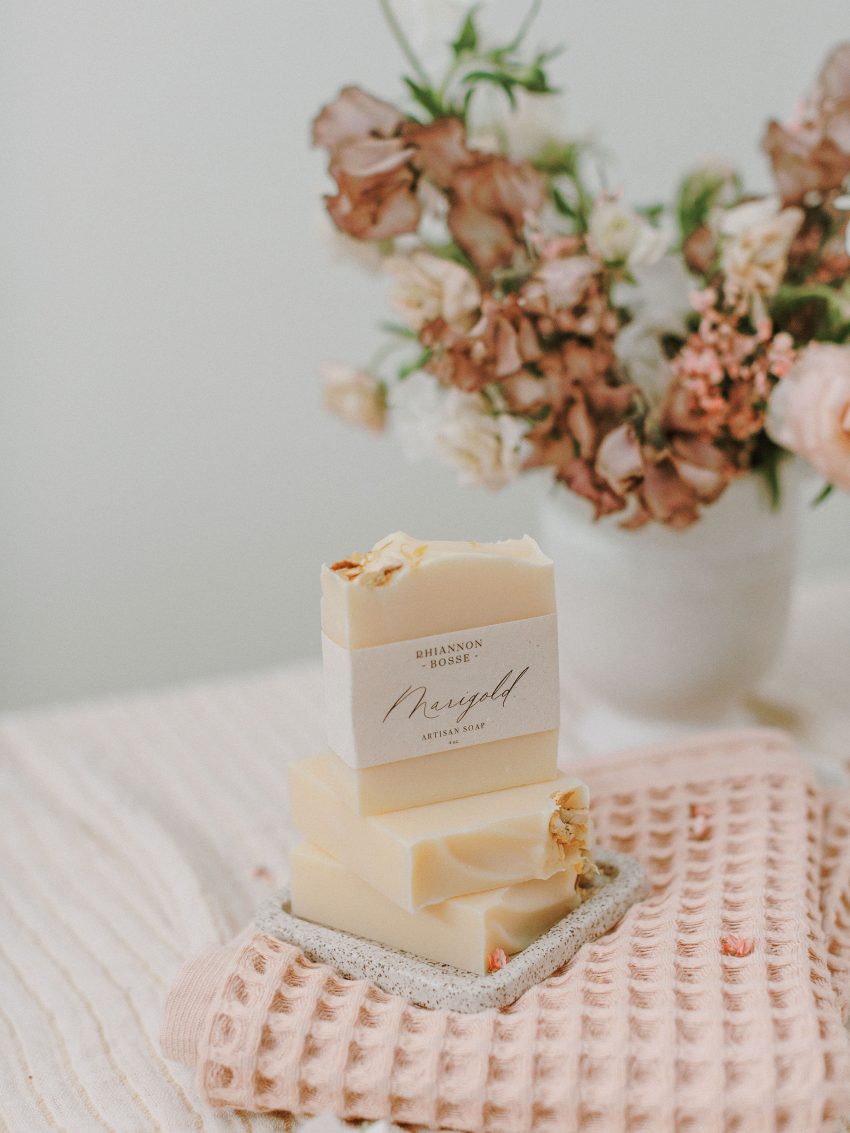 Terrazzo and Tea Tree are up next in the line up.

The Terrazzo bars in this drop feel very Easter-inspired – lavender and yellow soaps shreds were added to an ivory soap base but then a soft pink soap batter ripple was added for an extra visual interest boost. This batch is lightly scented with lavender and despite an interesting aesthetic is a pretty simply scented soap option. However, the Tea Tree bars in this line up are really special. These two-toned bars naturally colored with spinach powder have high peaked tops covered in different seeds and salts. And the medicinal tea tree scent is balanced together nicely with a little spearmint essential oil. This is such an awesome soap bar to use on your back, chest or face if you're looking for a gentle skin cleanser for problematic skin.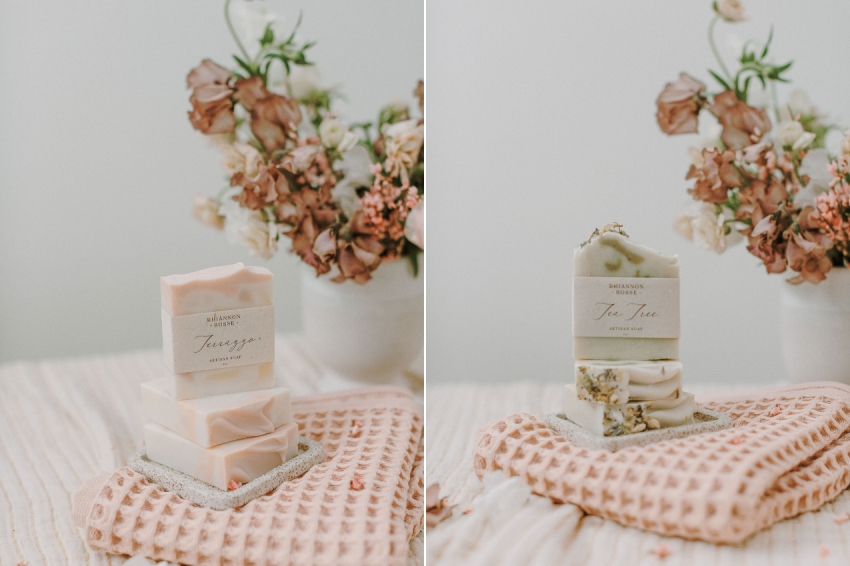 This next bar is one I know so many customers have expressed interest over! And rightfully so.

I think Seaside is one of the loveliest soap bars I've ever made. With a bold two-toned blue and white design and stiff wave-like peaks topped with seeds and botanicals, it's so striking. While the bar doesn't exactly smell like the ocean or Seaside for that matter, it does smell really fresh and unique. The blend of essential oils in this bar include rosemary, clary sage, bergamot, grapefruit, and lavender. It's a toughie to verbally express how this bar smells but in three words I'd say, herbaceous, aromatic, and crisp.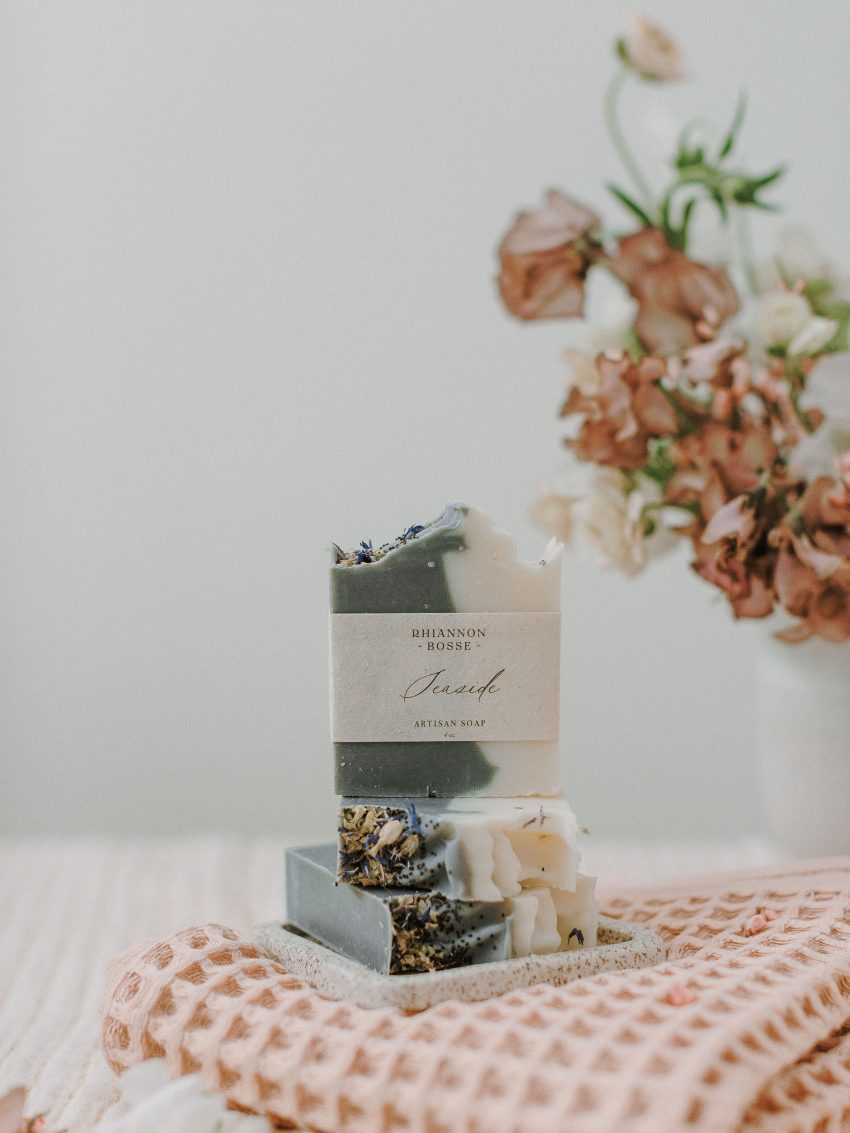 Cypress is a masculine and earthy bar with poppy seeds folded in for an exfoliating soaping experience. This was a 2020 holiday soap bar but one that was very popular for many customers wanting to buy soap for the men in their life. It felt imperative it come back for this spring launch! And Florist Soap is another exfoliating soap bar but instead of poppy seeds there's ground up walnut shells for an even scrubbier soaping experience. This bar is perfect for gardeners, florists, or anyone who gets their hands dirty often and is looking for a natural way to get them clean. Florist Soap is also one of my most favorite scent profiles; peppermint, ginger, lavender, and eucalyptus oils come together for a spa-like aroma that's hard to beat!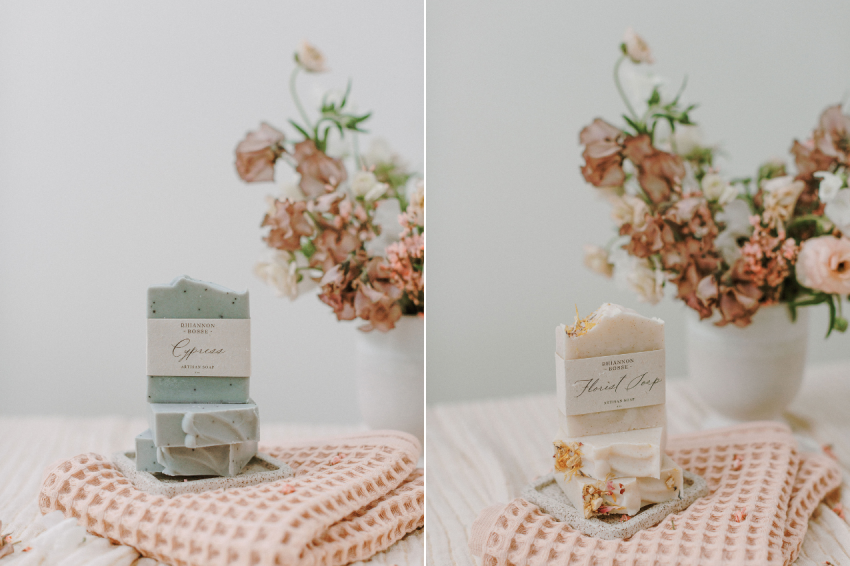 And for the purists! Simply is back for a limited run. Simply is the purist soap bar I carry because it's unscented and uncolored. It's really just a beautiful fuss-free bar of soap! I've fulfilled a few custom Simply orders in the past and knew it would be nice to have these on hands for this launch in case anyone with scent sensitivities was looking for the perfect bar of soap. If that's you, Simply is your bar!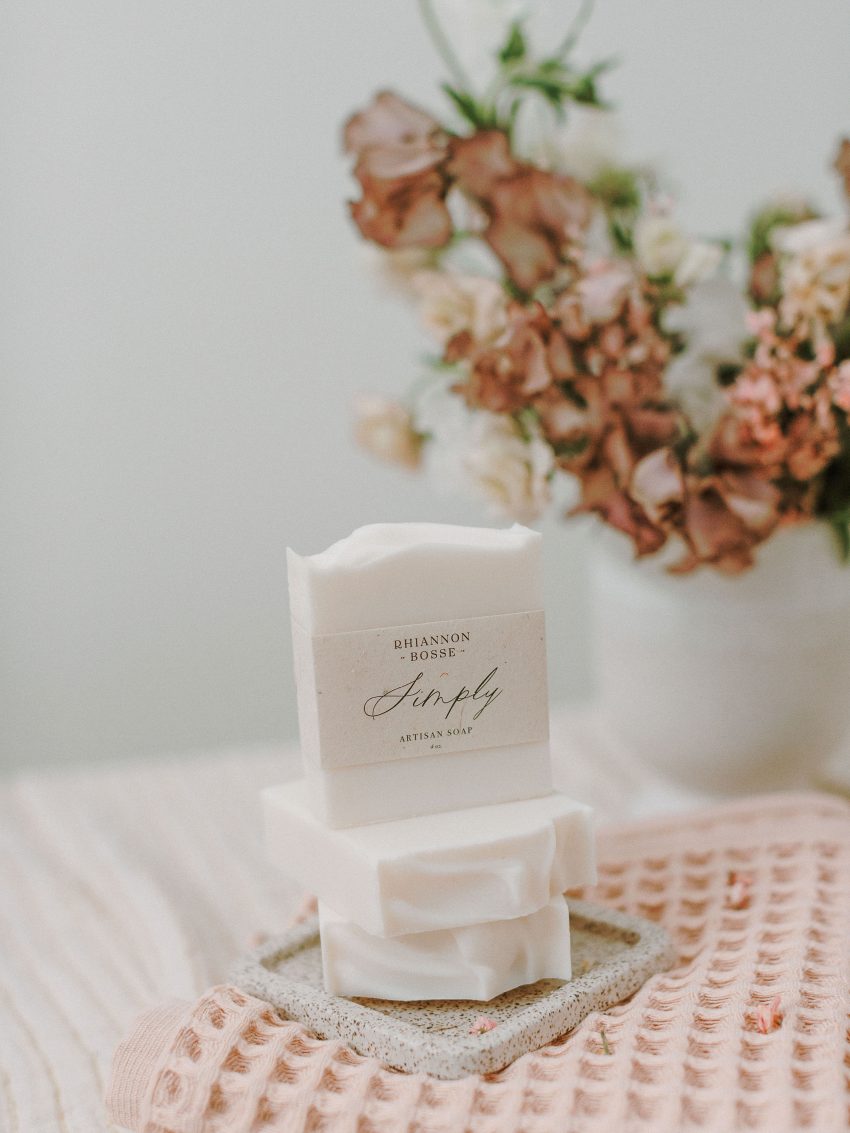 And here they all are lined up in a row! Goodness, they are lovely, yes?

As always, 4+ ounce soap bars are $9.00 each and come adorned with an eco-friendly plantable seed paper label.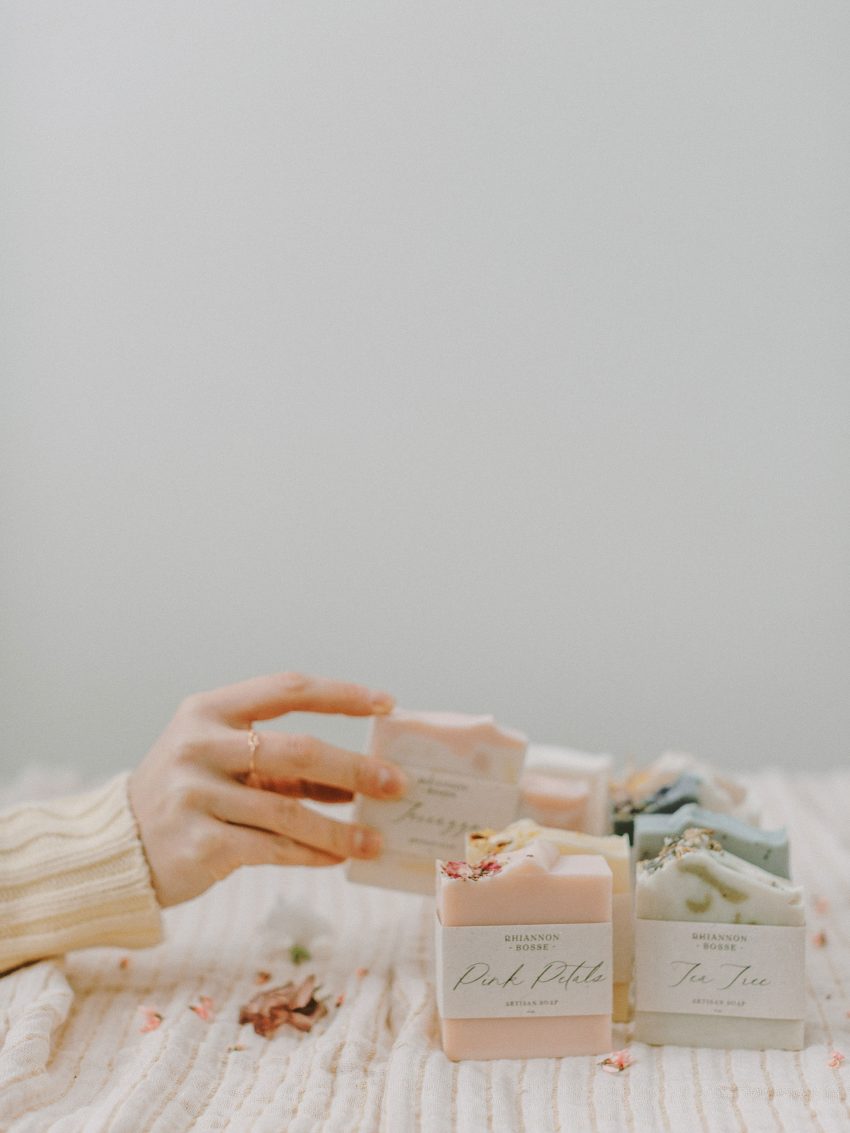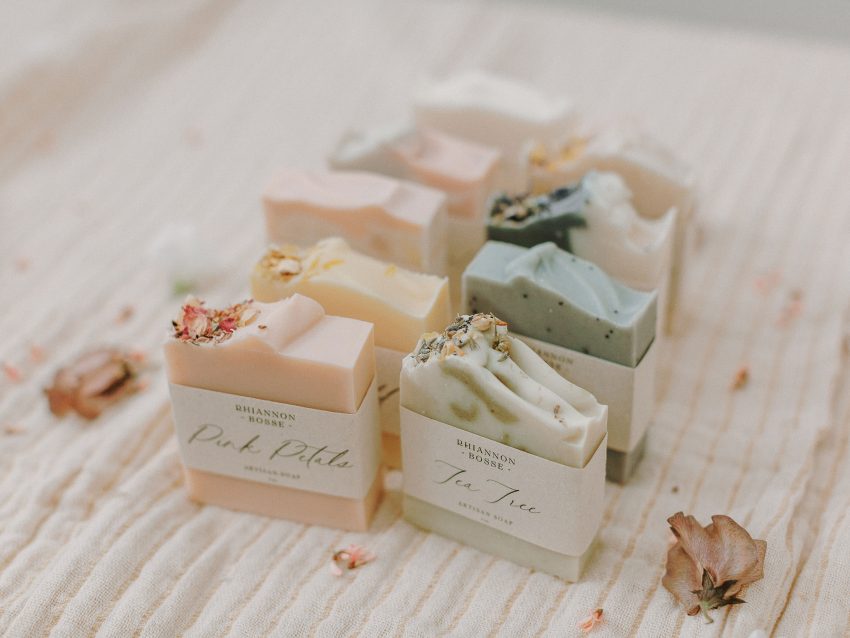 Soap end bundles will also be available for $10.00, and come in a Kraft paper bag. These are such a wonderful investment if you aren't particularly set on a full bar or don't mind an imperfectly perfect slice of soap! Each bundle comes with five slices in various scents and colors that are bundled at random by yours truly. They are a way to ensure nothing goes to waste around here.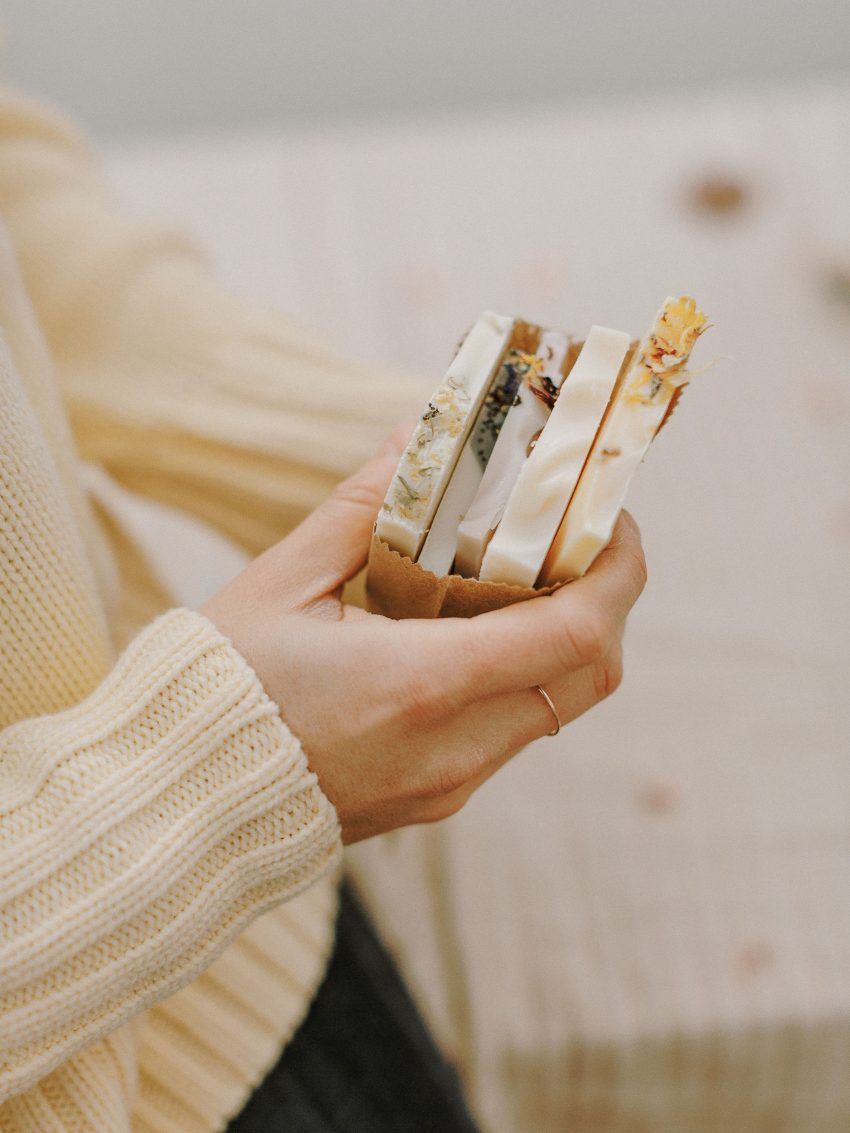 And Petite Soaps will be up for grabs! I have a very limited quantity of Petite Soaps for this launch so if you're especially looking for a bag or two of these cutie minis, you'll want to be ready to shop right at 12:00 pm EST! Petite Soaps typically sell out quick and I get it! They are very cute. Otherwise, if you have a need for a custom order of Petite Soaps I'd be delighted to fill that for you with availability in my production schedule for April. Petite Soaps make for perfect small gifts, favors, and sucrées.
Petite Soaps come in sets of five packed in muslin drawstring bags with a small plantable seed label insert.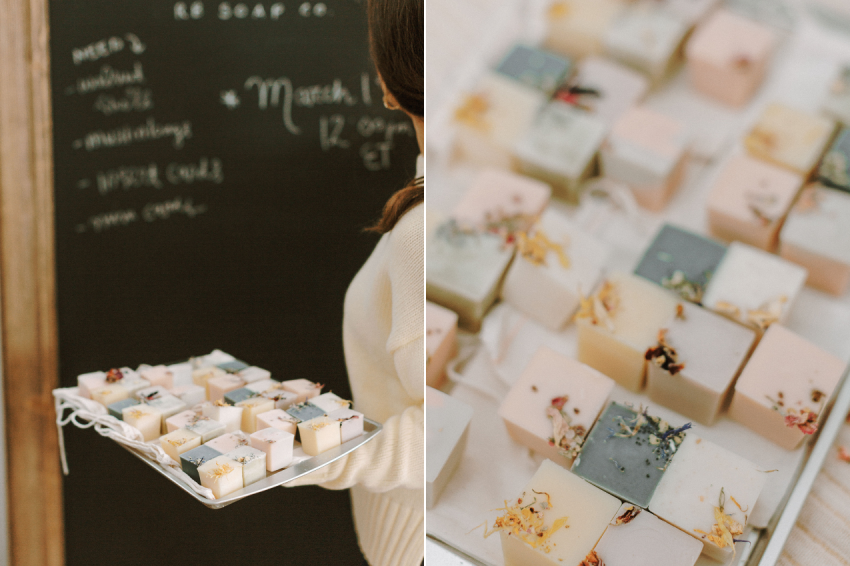 If you need a soap dish to pair with any of your bars, I have two options for your consideration. The first is my standard red cedarwood dish which is considered to be a 'soap saver' because the slat design in the wood helps excess water drain off of your precious soap. Wood soap dishes are sold for $5.00 a piece and come with a beautiful silk ribbon which ties the soap to the dish. Typically, the ribbon I use for each respective order is based on what hue I believe will look loveliest with each soap bar color!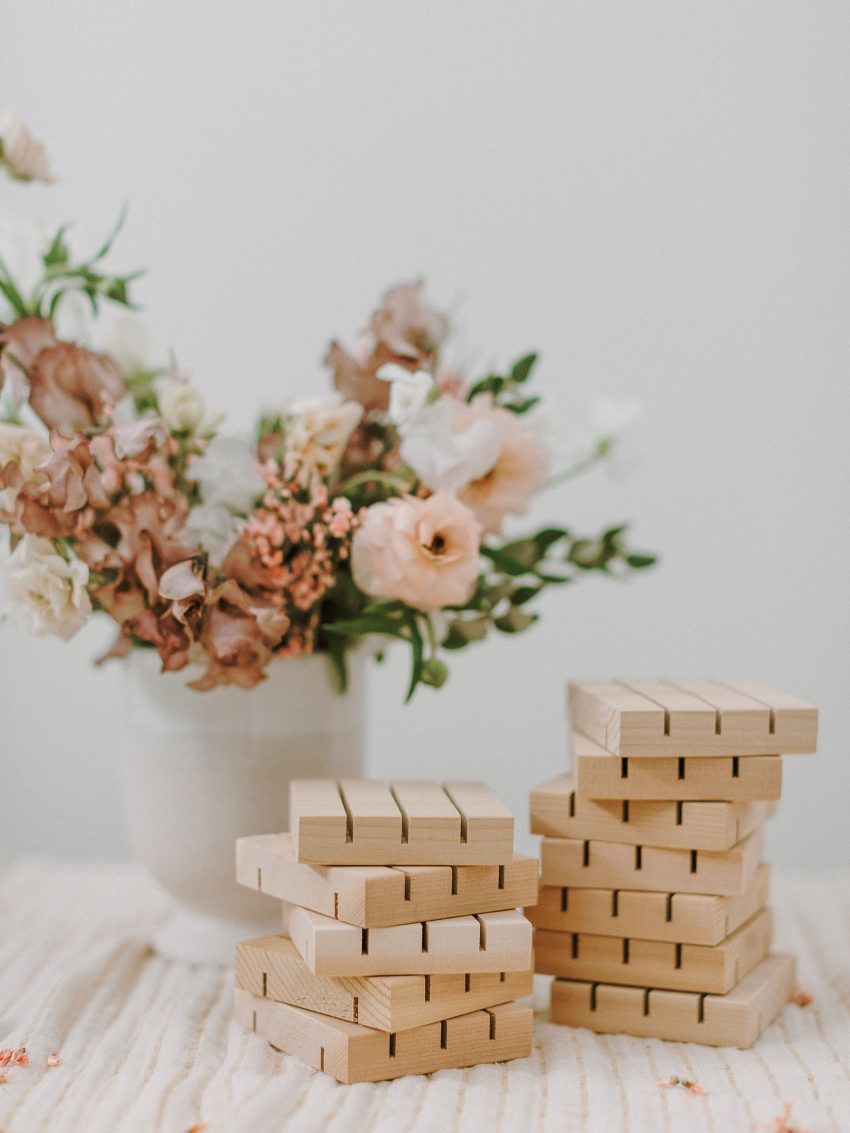 Like this mauve color! Isn't it so lovely and soft? Each launch week brings me the task of tying hundreds of bows.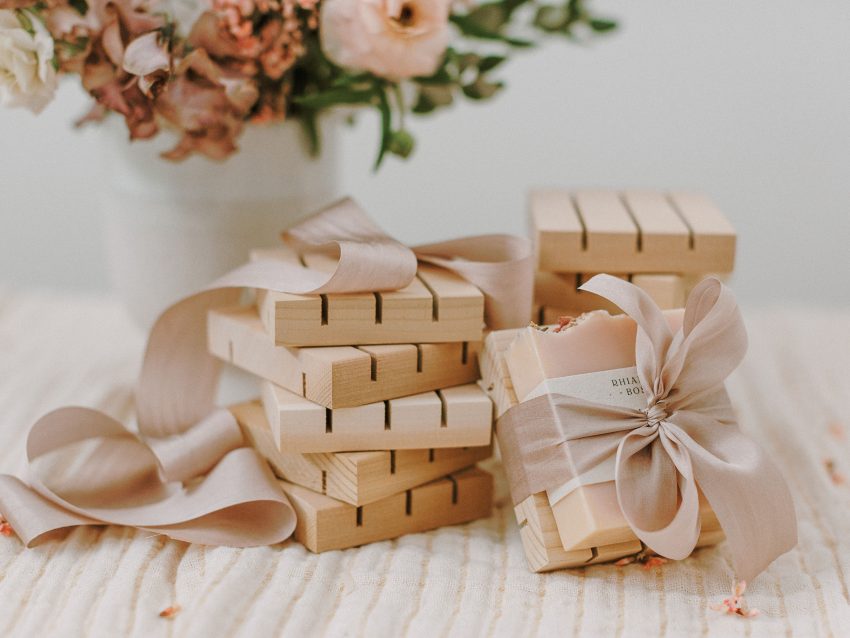 And then I'll have a limited amount of these stunning speckled ceramic soap dishes handmade by Canadian-based ceramicist Kels in the Studio. These dishes are really one of a kind and meant to house your soap bars for years to come. Even more special is the floral petal shaped drainage holes, which are a fun nod to my work as a floral designer, too. The dishes have a small lip to prevent soap bars from sliding off and are square to fit my bars best. Please bear this in mind when selecting this as your soap dish option!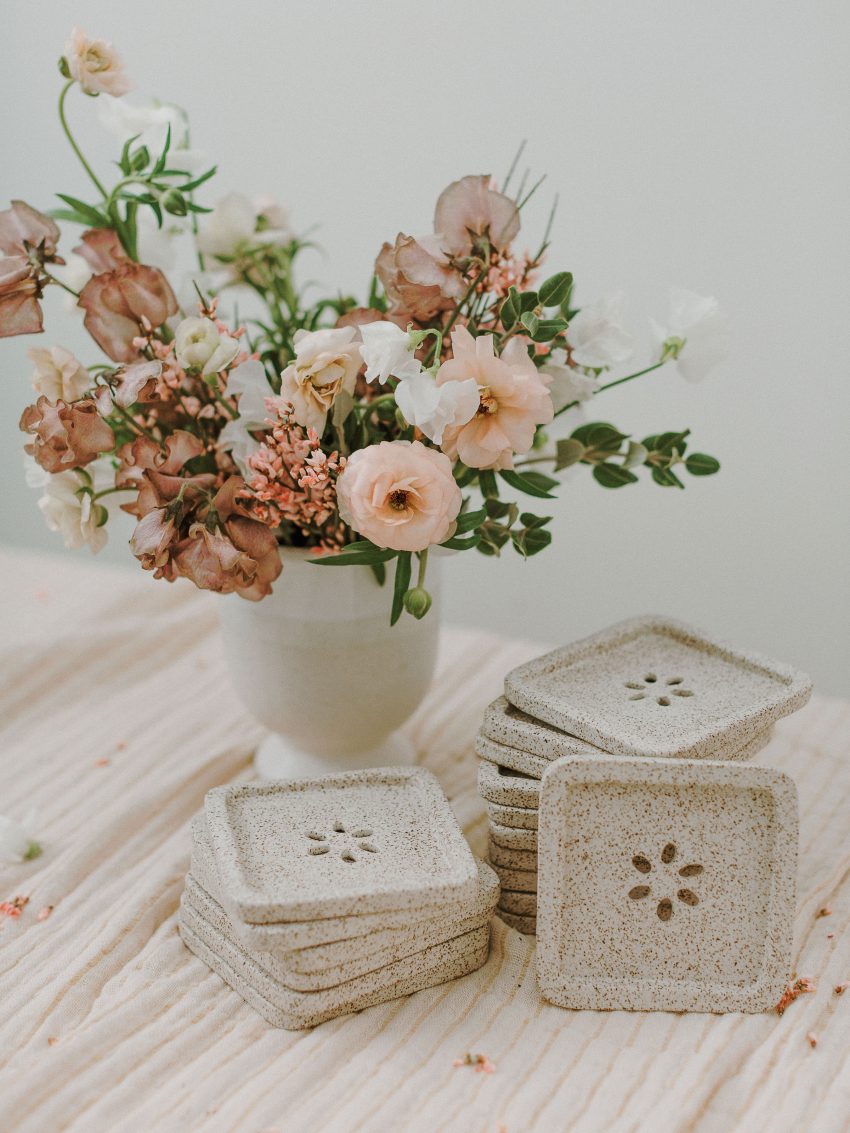 Speckled ceramic soap dishes will retail for $25.00 and will come carefully wrapped in corrugated cardboard tied up with white baker's twine. Because these dishes are so delicate they won't come directly fastened to a bar but if you purchase one and would like the wrapped dish fastened to a soap bar with silk ribbon please include a note in your order so I may include the ribbon.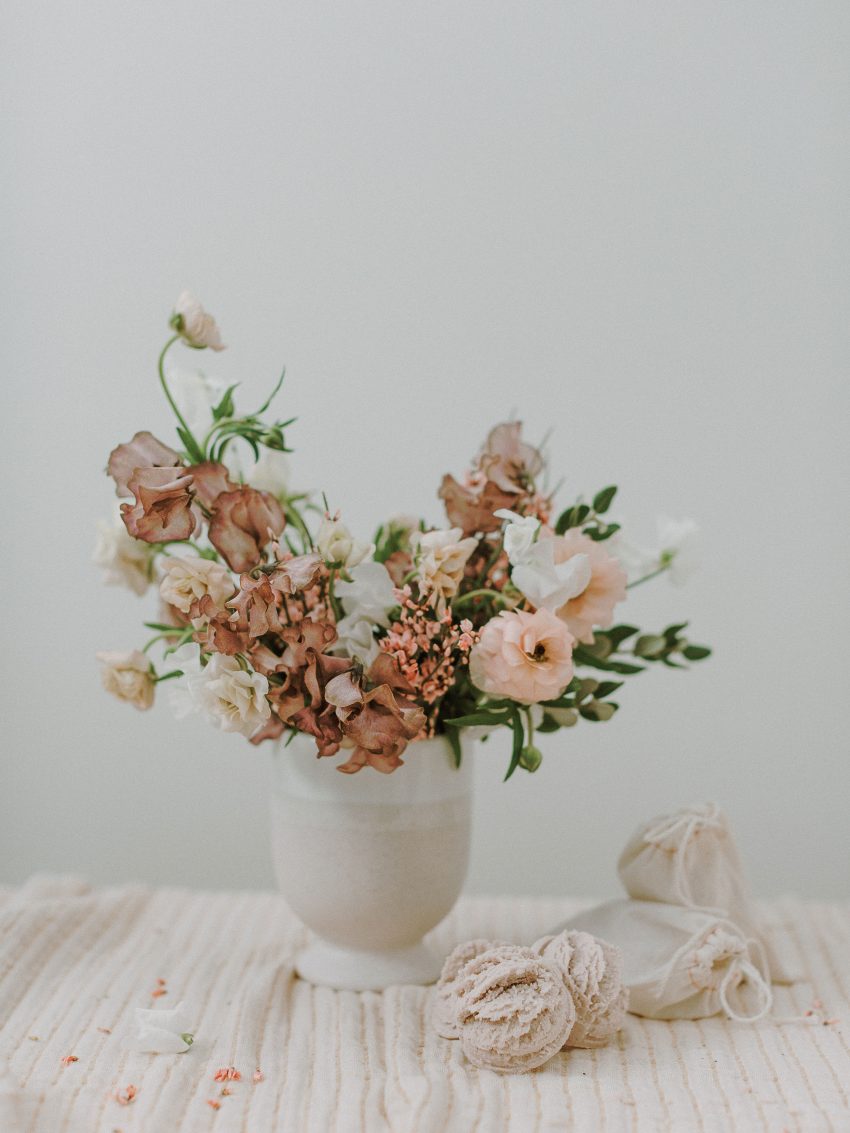 And to round out the bath and shower product line up I will have three different varieties of bath truffles! Another customer favorite, bath truffles are the sophisticated cousin to bath bombs and instead of being dropped directly into water are lightly crumbled under hot water. This allows the truffles to melt and foam into your water, creating a silky and luxurious bathing experience that's really unlike anything else. I even have non-bath-taking customers who swear by these as a relaxing foot soak, they are that lovely! Truffles are sold in packs of two for $10.00 and come packaged in a drawstring muslin bag with a plantable seed paper insert card. I'm offering Lavender (pale purple truffles), Eucalyptus (ivory truffles), and Grapefruit & Bergamot (pale pink truffles) truffles this launch.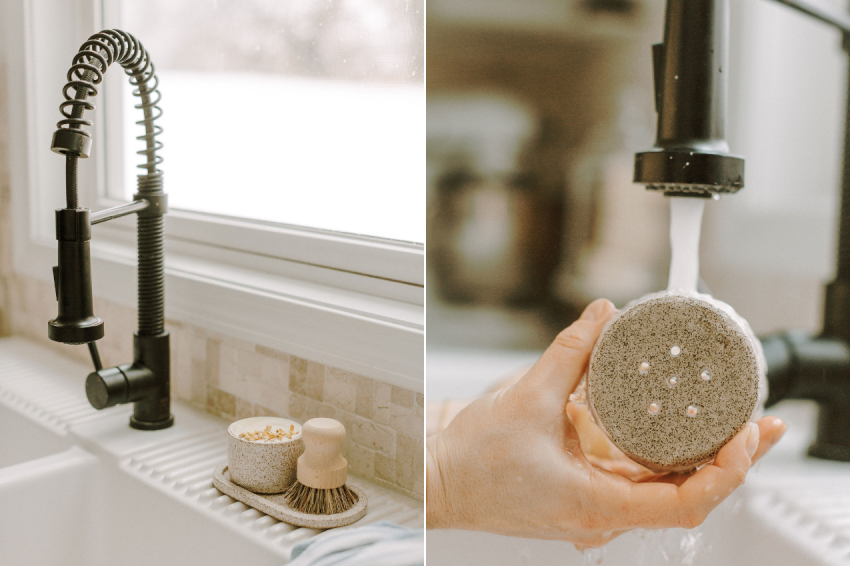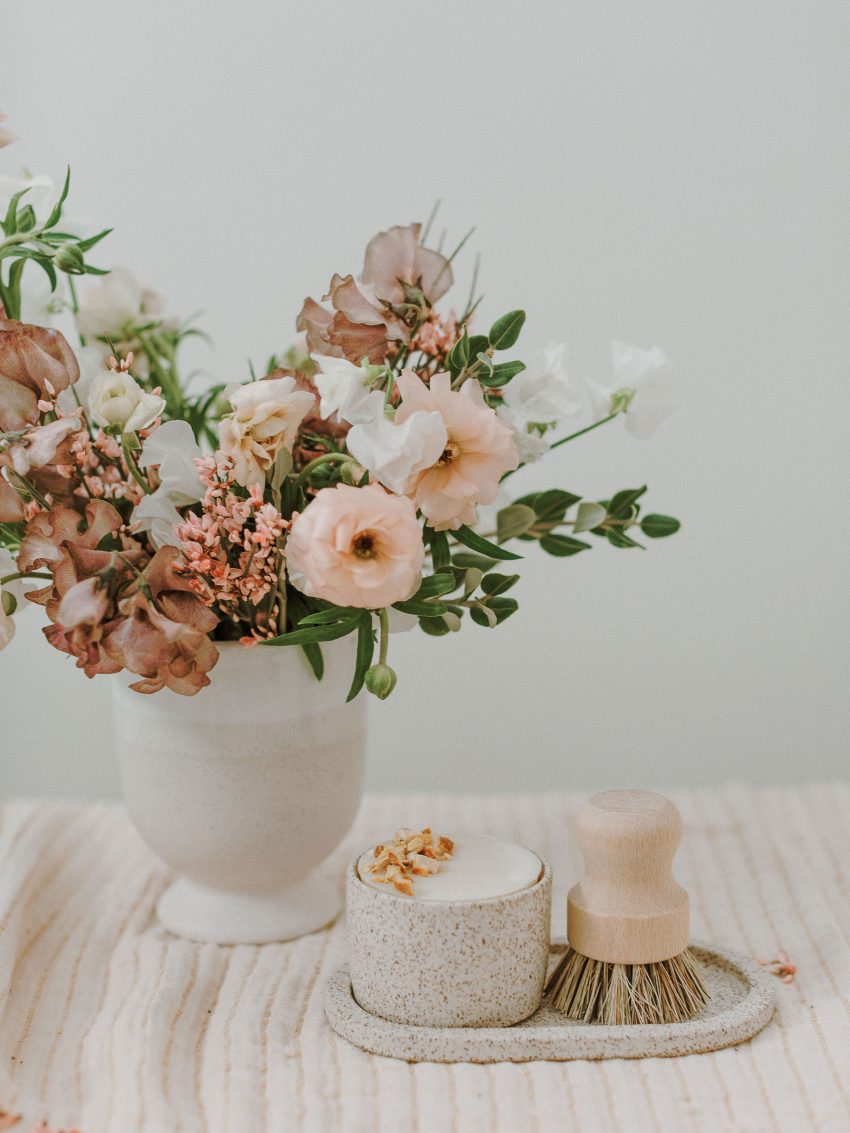 Finally, for those of you who missed out on dish soap pucks during the last launch, this launch is just for you!

There will be 10 speckled ceramic full dish soap sets available on Monday. A full set includes the ramekin and matching sink-side tray, bristle bamboo brush, and orange-lime natural dish soap puck. Then there will be ONLY five white ceramic partial sets, which includes a ramekin, bristle bamboo brush, and orange-lime natural dish soap puck. If a speckled or white ceramic set is on your radar and you'd like to custom order one along with a six-month supply of dish soap pucks, please email me to set this up! I realize the ramekins and trays are more attractive when the soap is readily available outside of my quarterly launches so I am working on a production schedule that will allow me to get more of the pucks into the hands of the customers who have invested in the ceramic pieces.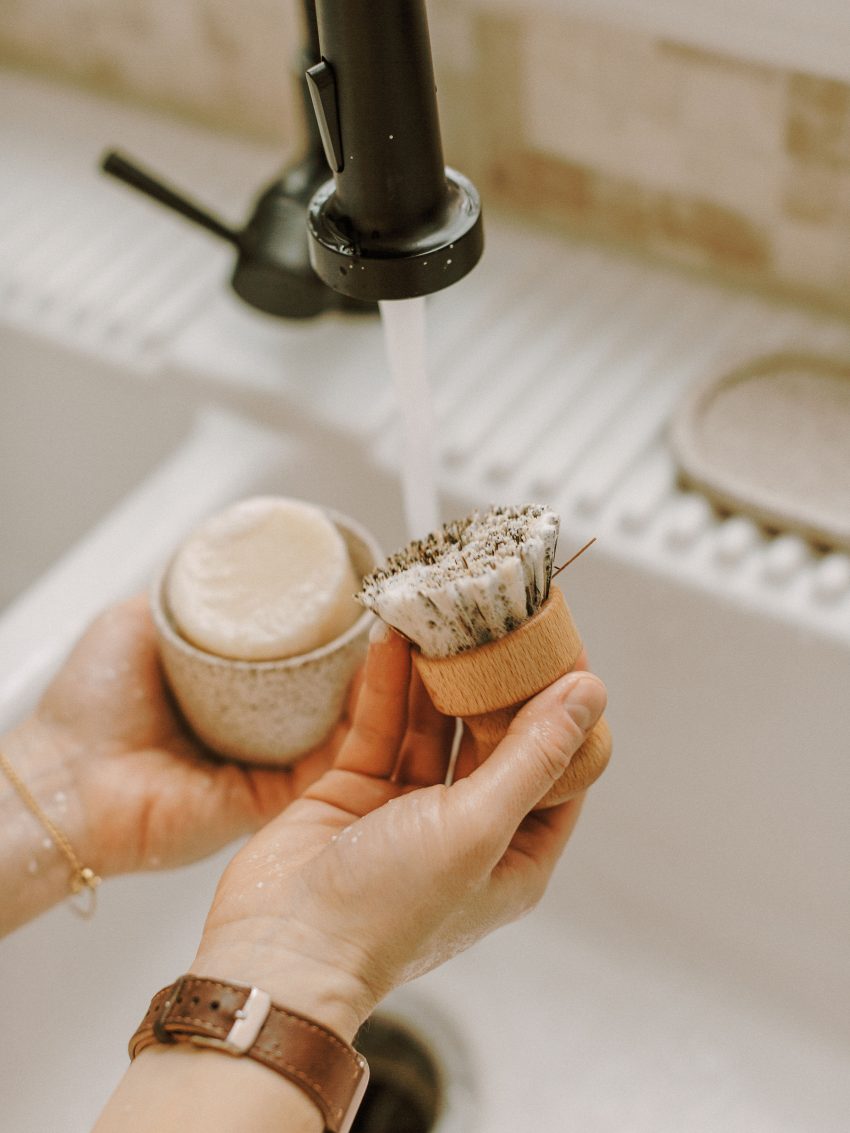 And another sentiment on solid dish soap: this type of dish soap is very different than liquid dish soap. It takes a little elbow grease to get a good lather off the puck, and when you DO get your lather it's not a fluffy and bubbly kind of lather. While you will get bubbles and get a nice thickness that feels clean on your brush, this is a lather that's natural, cleansing, and good for you, your dishes, and the environment. It's just different and I feel I have to repeat that here like I've done in the product listing. Different can be good though!

I only use my own solid dish pucks now for all our sink washing and have acclimated to the switch from liquid soap. I feel it's important to use the products I make not only because this seems like the best way to be an ethical business (it would feel dishonest to make these products and then not use them) but also because I truly believe in the things I create otherwise I wouldn't sell them.

And on a tangible note for those of you who do purchase the solid dish soap pucks and ramekins, I've found it helpful to flip my pucks upside down in their ramekins so I can lather up the tapered side first so that the sometime ashy flip side has time to moisten up from the water that will drip down in use. In the photo above you can see how I've flipped the soap puck to lather up the bottom side first!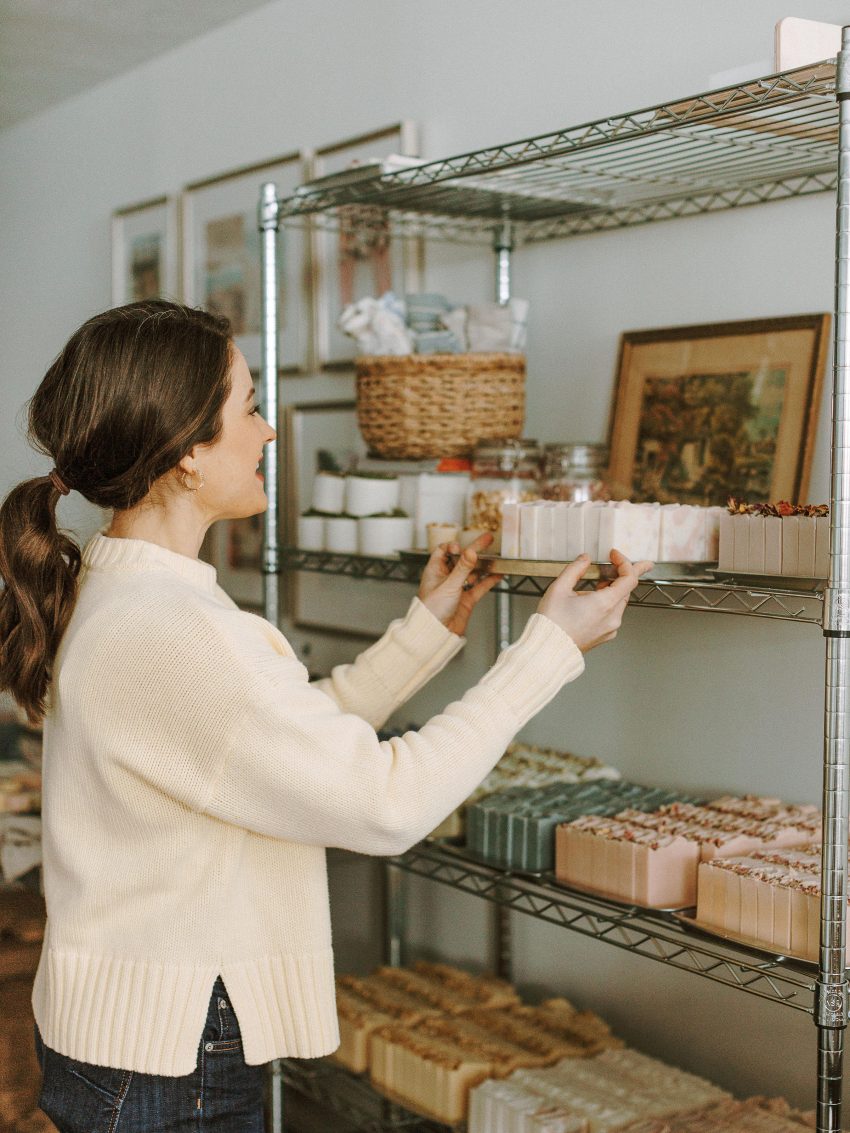 From my basement soap studio to you, thank you for joining me as I share this special spring 2021 soap preview! I hope to serve you as a customer next week, or in the very least, to have your support and excitement as I move ahead with what I hope to be is another successful launch and quickly sold-out inventory. If you have specific questions about this product line up please join the conversation below or send me an email at hello@rhiannonbosse.com (this is the best place to send custom soap order requests!). You can also get on my newsletter list where I send my readers special shopping discounts, coffee freebies, and other inspiring notes of encouragement every now and then. Now if you'll excuse me, I have boxes to assemble, soaps to label, and a launch to finish preparing for!

Xoxo