Since my spring 2021 soap launch is just around the corner, a month away to be exact, I wanted to share something related and hands on! Enter this easy all-natural botanical bath salt soak recipe. I've been using this every few nights in my own bath time routine and it's such an easy way to feel pampered and more relaxed before I snuggle into my bed to sleep. If you're intrigued by soapmaking but not yet ready to dive into the the mechanics and science, this could be a fun (and relatively affordable) place to start.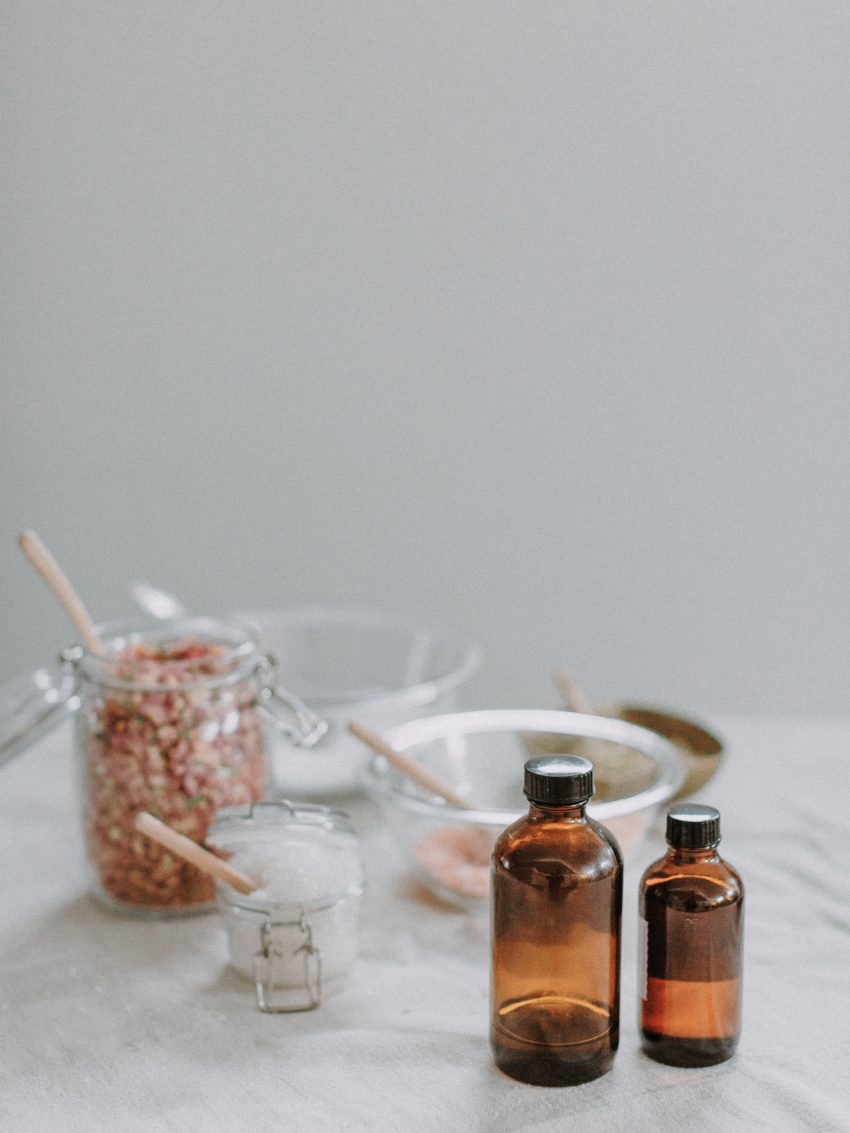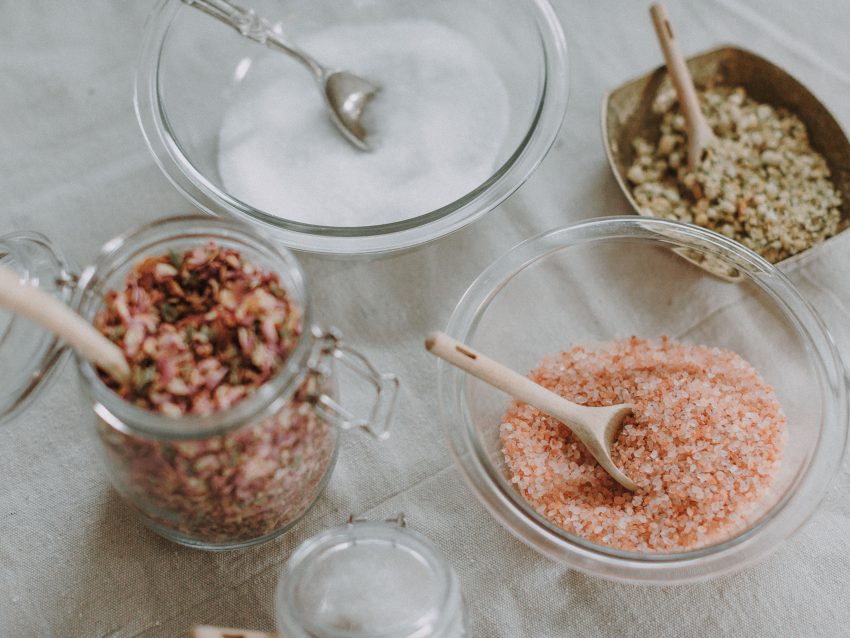 Whether you're like me and have a soak in the tub as a part of your daily routine or you plan to gift this to someone special in lieu of a big box store gift, this project is easy, affordable, and quick to make. Chances are you already have some of the supplies you need at home, too. But let's chat about a few of those first so you know more about the properties of the ingredients and how they are beneficial. More below after some of the beautiful images my friend, Sam captured for me.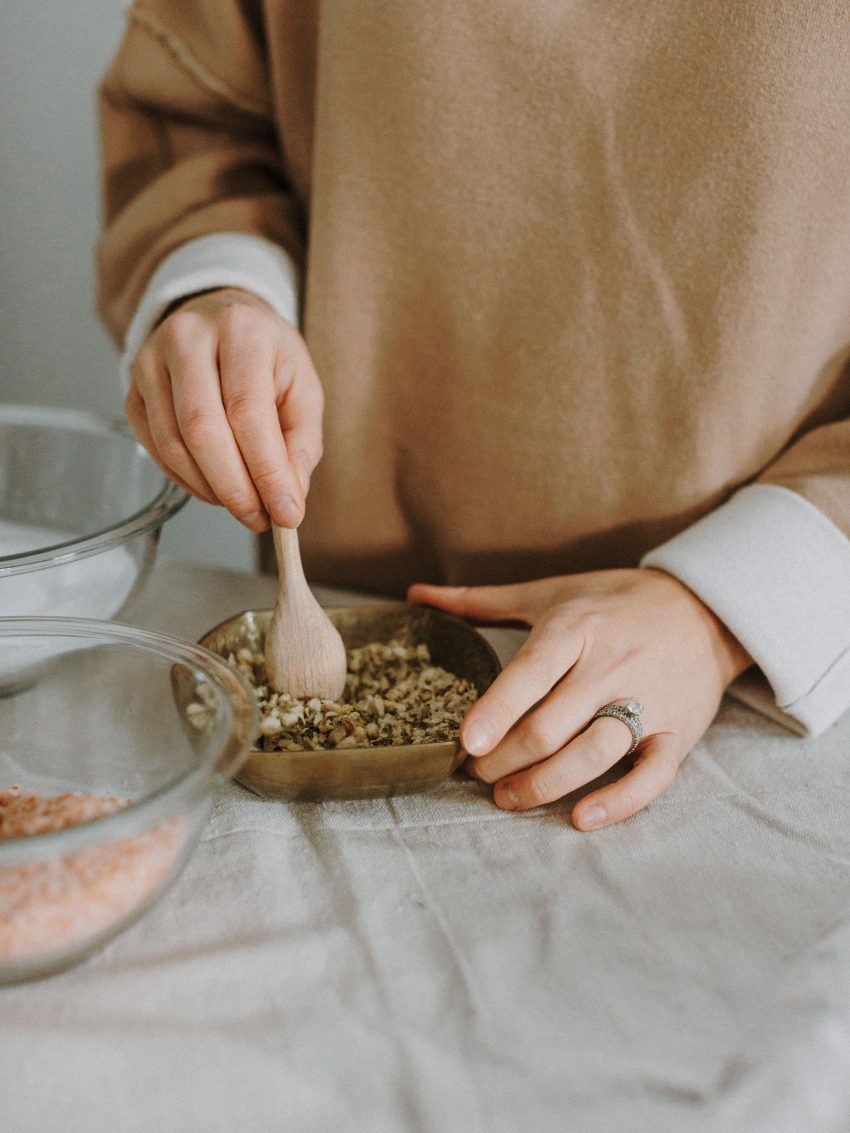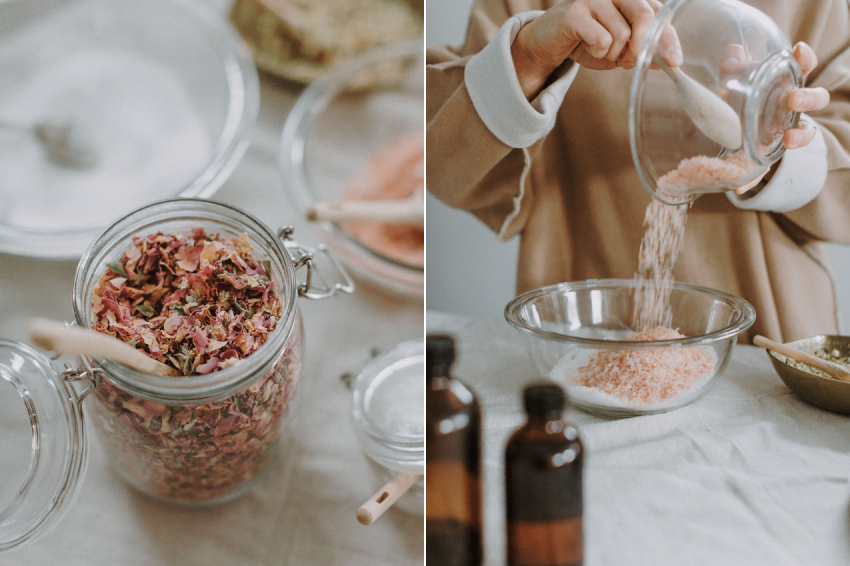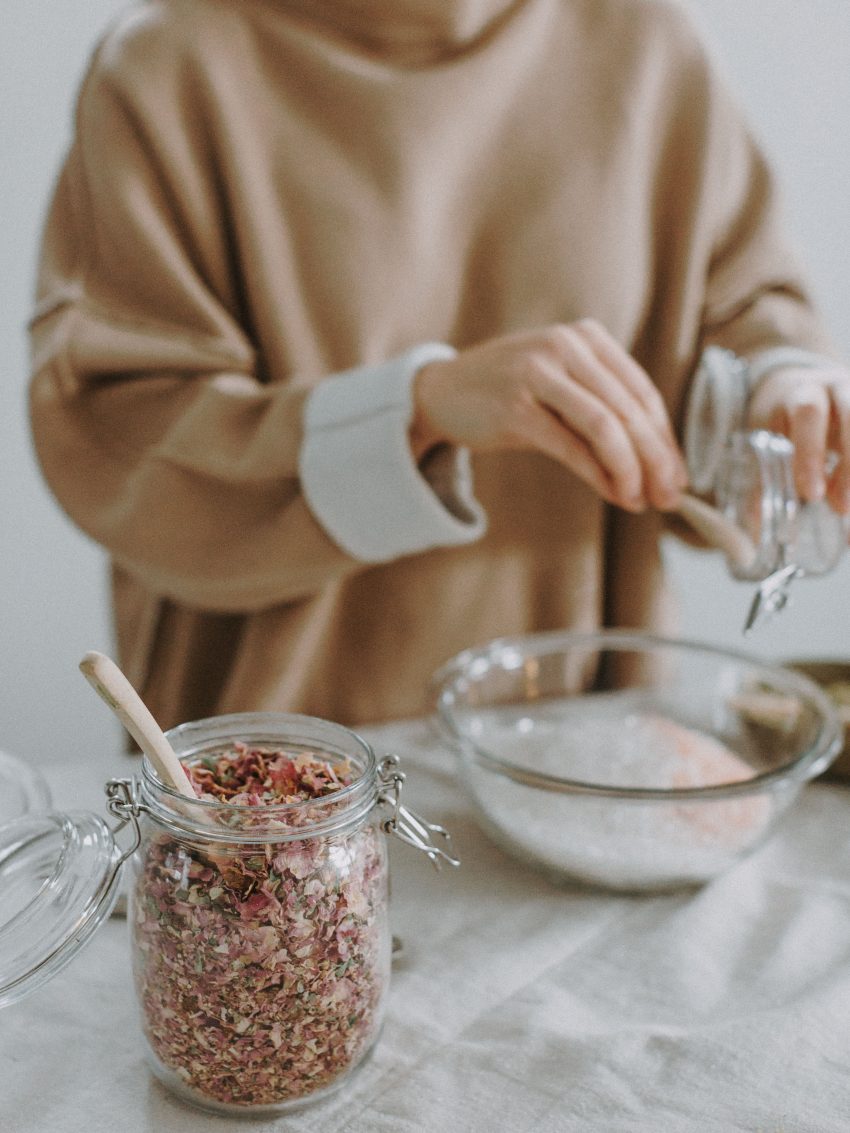 Known mostly for its range of beautiful pink shades thanks to a small trace amount of potassium, magnesium and calcium, Himalayan sea salt is a rock salt mined from the salt beds at the base of, you guessed it, the Himalayan Mountains. Because those mountains formed millions of years ago and ended up being covered by layers and layers of ice and lava, the salt is protected from pollution and impurities making it one of the purest salts available. Pink salt lamps, pink salt cutting board, pink salt grinders; pink salt is trendy.

Some promoted health benefits of pink Himalayan salt are believed to include helping tired dry skin retain moisture when added to hot bath or warm soaking water, aiding with insomnia and restless leg syndrome, serving as a skin exfoliator when massaged onto dry unbroken skin, and helping to reduce the stinging of skin flare-ups associated with psoriasis, bug bites, and eczema.
Epsom salt, on the other hand, isn't actually a salt but is commonly dubbed as one because of its looks and chemical structure made up of magnesium, sulfur, and oxygen. It certainly looks like table salt but it's extremely bitter so most people avoid consuming Epsom salts and err on the side of adding it to their soaking water in hopes of soaking up magnesium, a mineral most don't get enough of. Naturally occurring Epsom salts are also said to be an extremely helpful laxative and those looking for a natural remedy to fix feeling backed up can add it to their water as a short term solution (just in case, you know, you need this information! You're welcome).

Dead Sea salt is another salt you probably won't want to put on your food because it's that bitter but it's packed with good-for-you minerals like magnesium, calcium, sodium, zinc, potassium, and sulphur. There is so much helpful literature on Dead Sea salt in this article including where the salts come from and its royal roots in case you want to soak up (pun intended) more.
And essential oils? While I don't sell essential oils as part of a multi-level marketing company, I do use them in all of my handmade products and firmly believe in their properties over lab-created fragrances filled with harmful ingredients. I tend to select oils based on their scents and how they make me feel (e.g. fir needle and cinnamon are nostalgic Christmas scents, lemon and bergamot feel summery and fresh), confident that an intentional oil selection has strong enough rewards in the end product. In this soak I used bergamot and litsea cubeba for a feminine, uplifting, and floral aroma that feels like an indulgent treat when I take my nightly soak in the tub!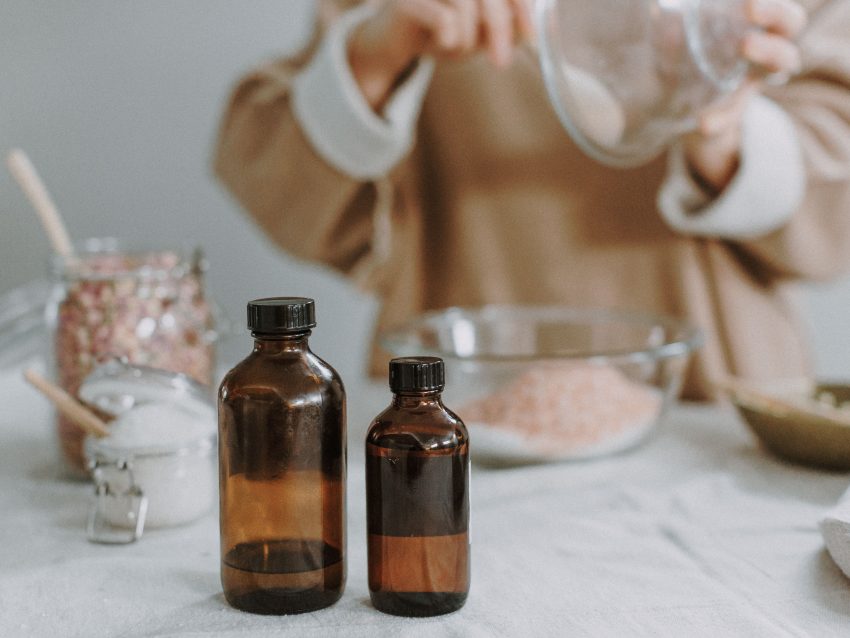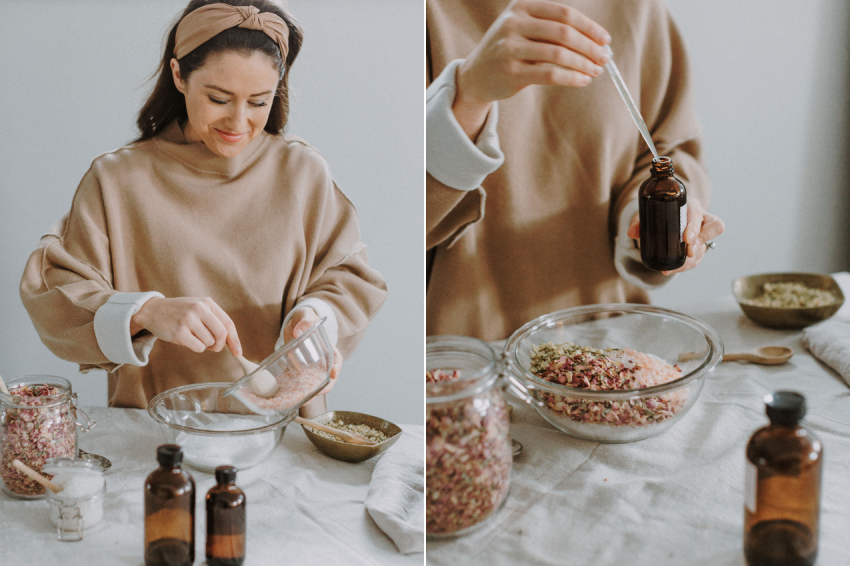 Here's what to use in your bath soak!

BOTANICAL BATH SALT SOAK RECIPE

• 1 cup pink Himalayan salt
• 1 cup Epsom salt
• 1/2 cup Dead Sea salt
• 1/4 cup dried rose buds
• 1/4 cup dried jasmine flowers
• 3 ml bergamot essential oil
• 3 ml litsea cubeba essential oil

MATERIALS & TOOLS

• Various mixing bowls
• Liquid pipette droppers
• Apothecary jars
• Mixing spoons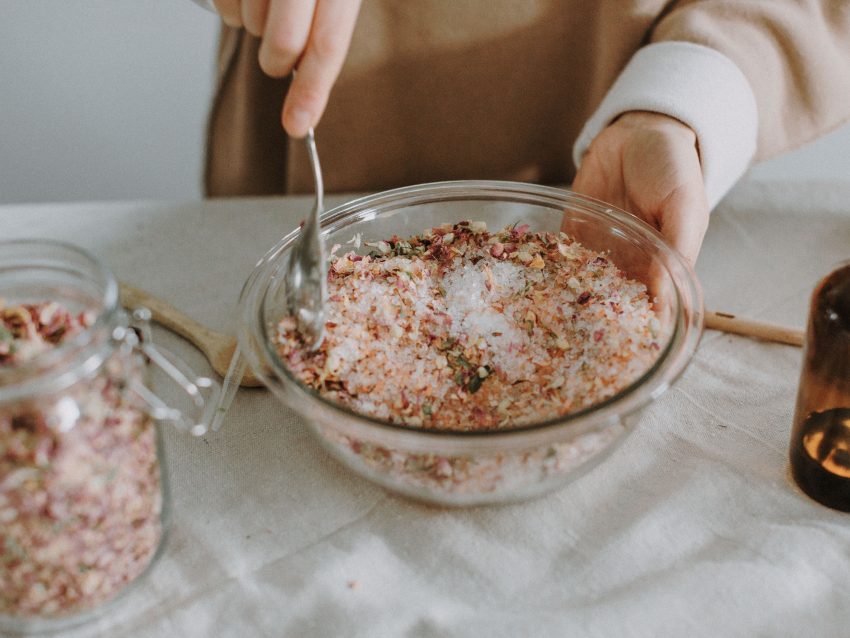 Making the salt soak is an easy as you'd imagine and takes just a few minutes. Simply mix everything into a large bowl, with the essential oils going in very last. Mix with a gloved hand or mixing spoon, ensuring the small amount of essential oil gets mixed in as thoroughly as possible. Store the mixture in apothecary jars to display on your bathtub ledge or bathroom sink, or divvy up the salt soak into smaller jars with handmade tags and give to friends as homemade gifts. I enjoy a few scoops into my tub, this entire recipe yielding enough to last me more than a dozen soaking routines or to be split between three to four different containers.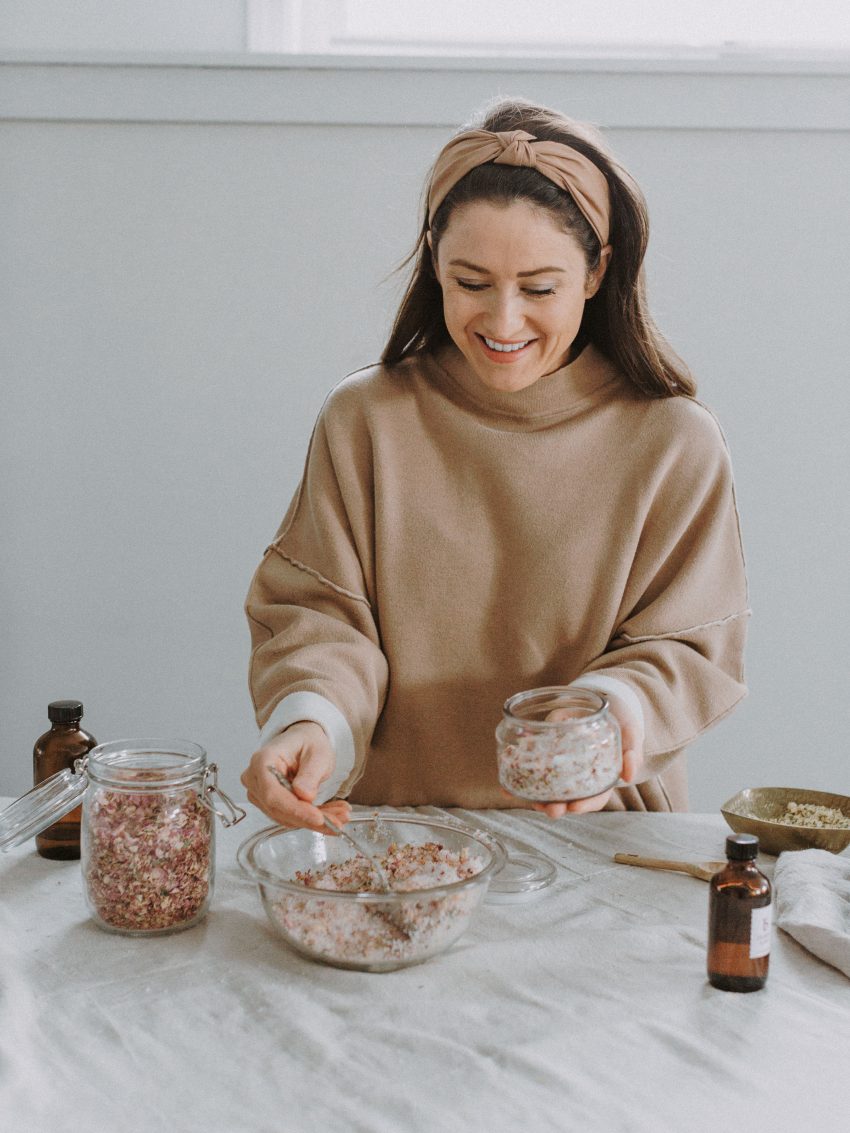 Here are some of my favorites tools, supplies, and more to make this yourself.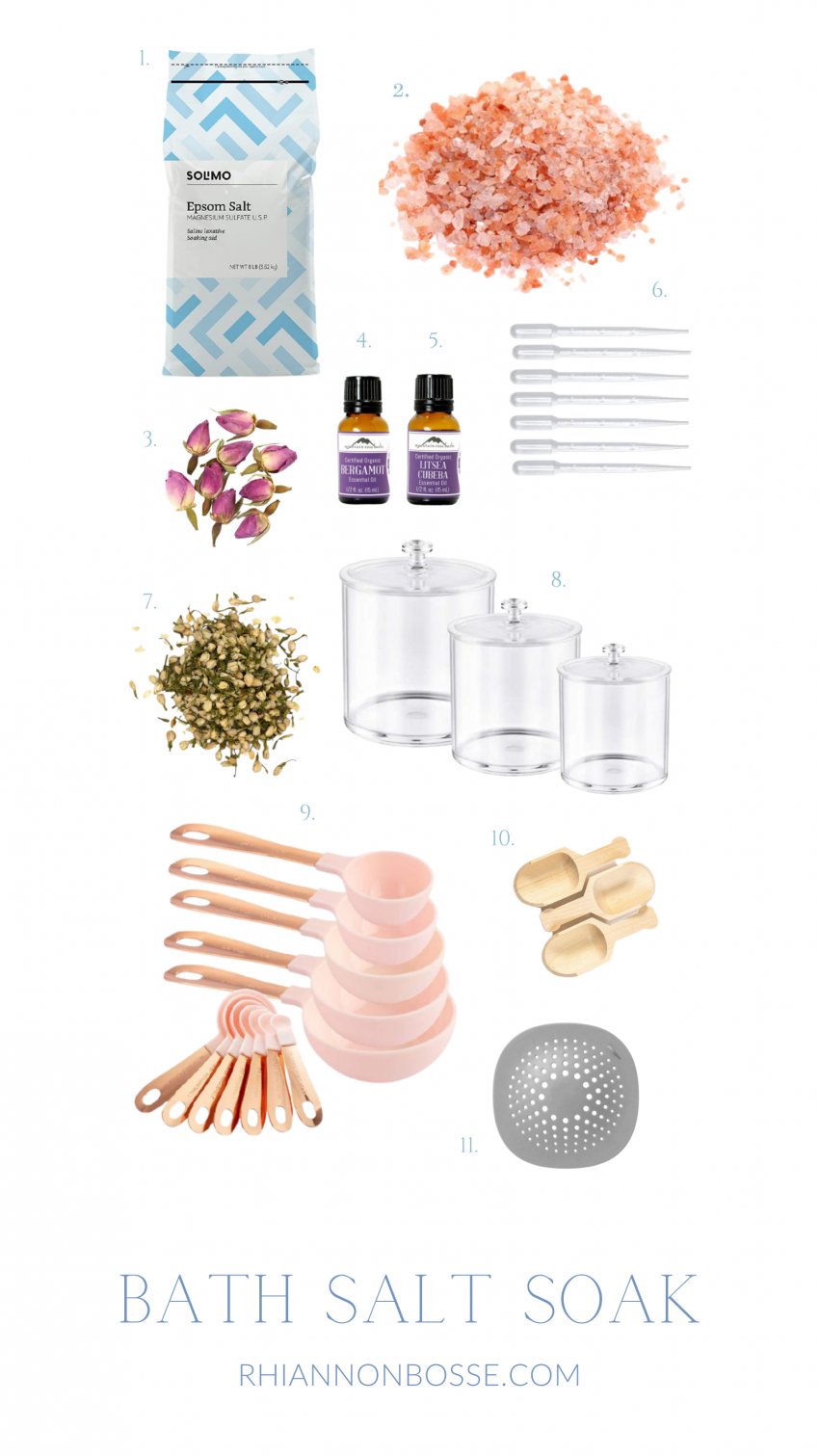 1. Epsom Salts / 2. Pink Salt / 3. Dried Rose Buds / 4. Bergamot Essential Oil / 5. Litsea Cubeba Essential Oil / 6. Pipette Droppers / 7. Dried Jasmine / 8. Acrylic Apothecary Jars / 9. Pink Wood Measuring Cups & Spoons / 10. Wood Scoops / 11. Drain Catcher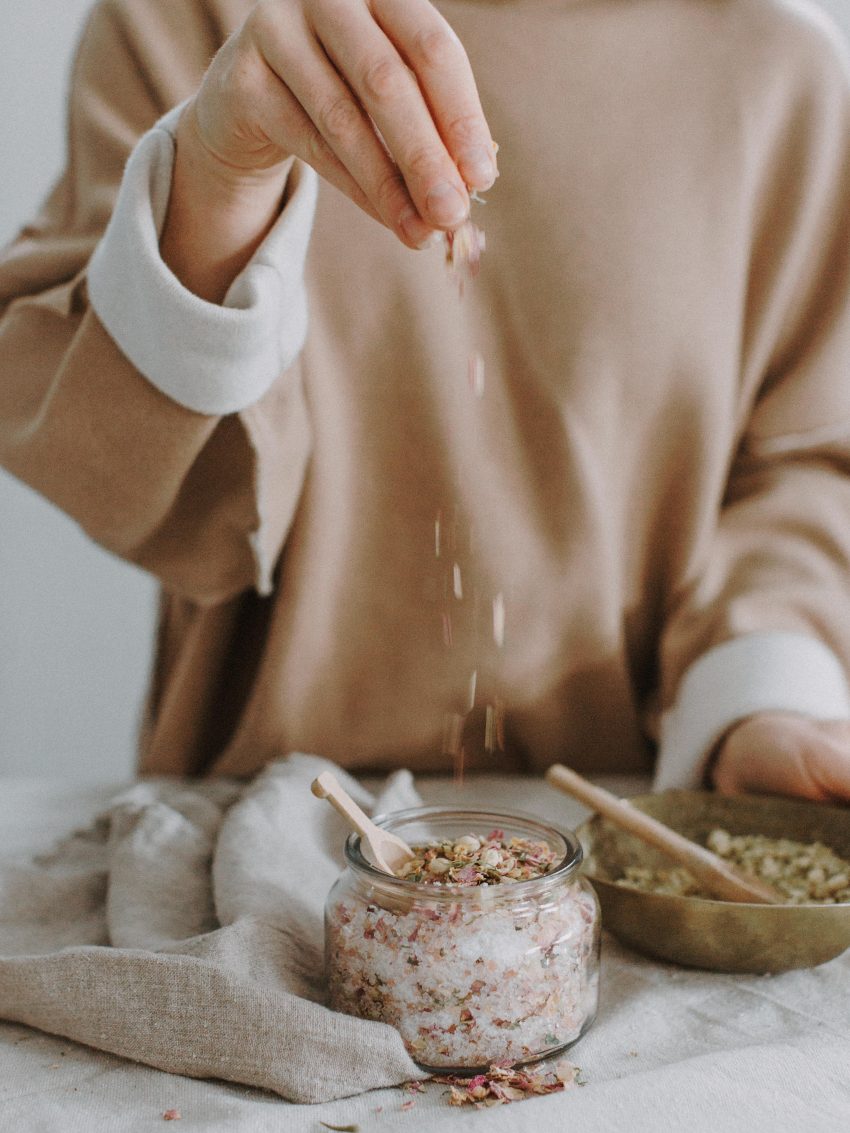 Enjoy your project-making, everyone!

Affiliate links are used in this post.