Most days, I feel so very far from fashionable. My first priority when I get dressed each day is to feel comfortable in my clothes, which means a lot of my attire choices err on the side of loose, stretchy, or worn in. I'm usually at home with the boys or making soap / getting messy with projects in the studio, especially so right now given the pandemic and winter season, so anything fancy feels inappropriate.

BUT!

Make no mistake, this girl LOVES an excuse to dress up and will gladly pull out dresses, high heels, statement earrings, and bags should the occasion call for it. I have a lot of pieces in my wardrobe that are for special occasions, some that I've had for almost a decade that's how cherished and timeless they are. The pandemic has made it trickier than normal to get good use of these items but I digress.

Moving deeper into 2021, I'd love to highlight some of my personal favorite ways to pair clothing and accessories together, using a lot of things already in my wardrobe. #rhigetsdressedup, folks! I think it's easy to get discouraged by the fast-fashion world where new outfits are modelled, it seems on the daily. While new items here or there is always a treat, and sometimes a necessity, chances are you, too, can pull together something from your wardrobe right now that makes you feel beautiful. I'm so excited to share with you today!
My first outfit is probably my favorite of the bunch. Classic, unexpected, and chic.

Unless it's Christmas or Valentine's Day, I rarely wear red. The color used to always makes me feel frumpy but lately it's felt classic and timeless. This red lace top has sat in my closet for years with tags still on it. Pulling it out for these photos was such a treat and made me realize how great the color is. And I thought the top would pair wonderfully with a pink lace skirt, the two different lace patterns playing off of one another. My classic red heels were the cherry on top, a cherished pink Kate Spade bag following suit.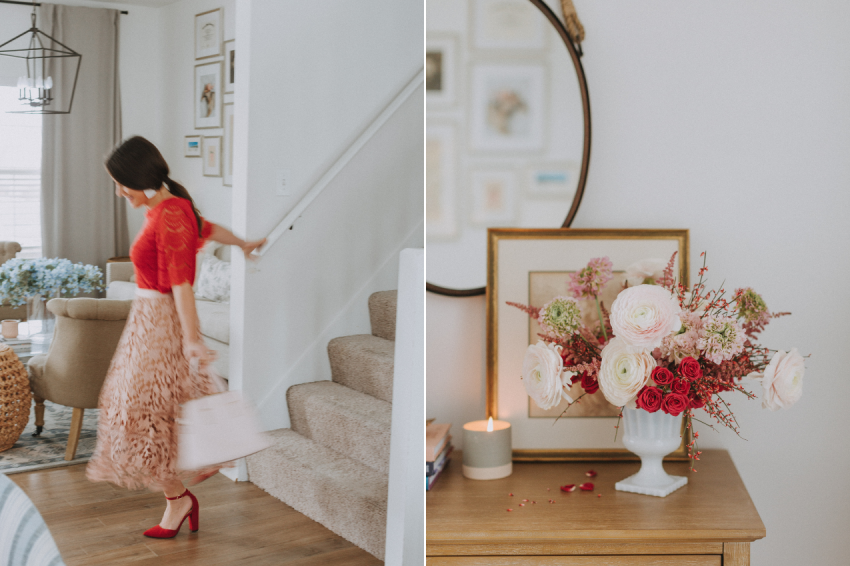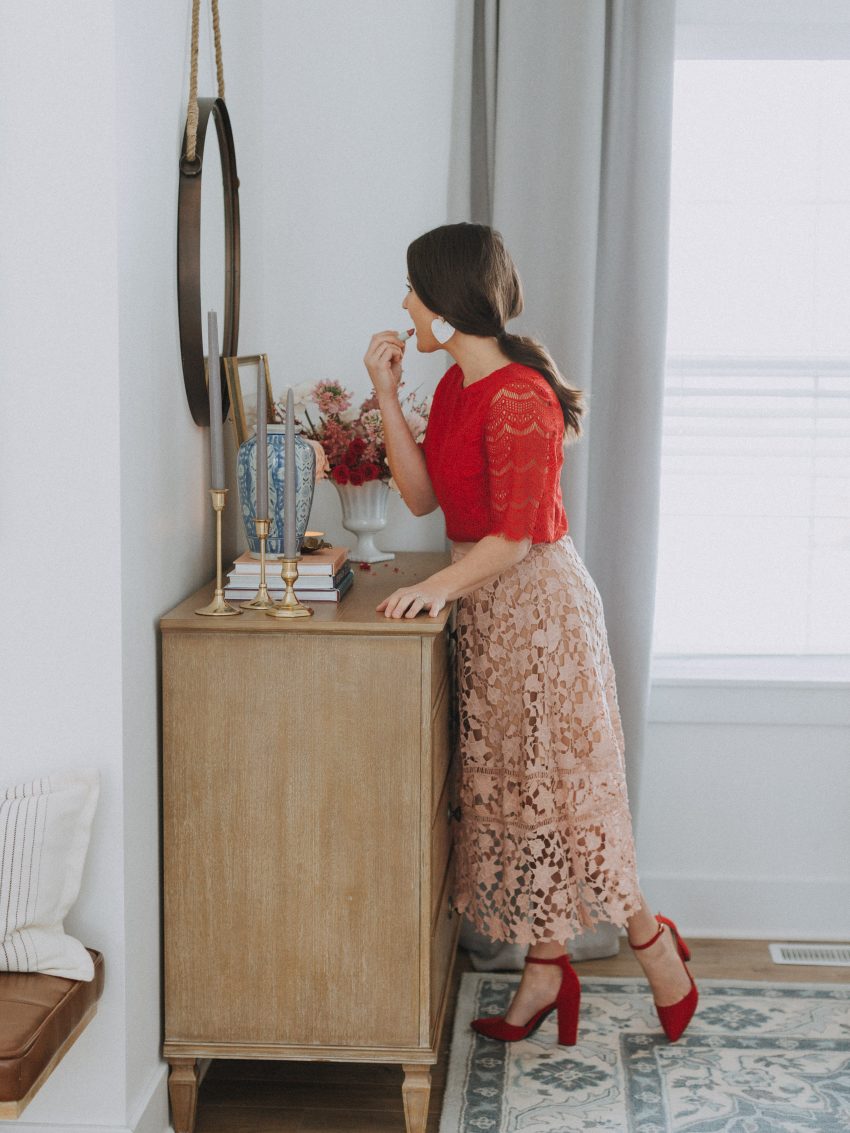 The next outfit I pulled together feels playful thanks to the heart pattern on my Cynthia Rowley sweater. I've worn this in the past with jeans but thought why not tuck it into a white skirt to dress it up a little. Nude heels, red statement earrings, and another a pink bag with a vintage scarf accent complete the look while letting the sweater star as the focal point. Bonus points to anyone who notices that scarf as my everyday belt last summer when I lived in jean shorts! It's a treasure I've had since college.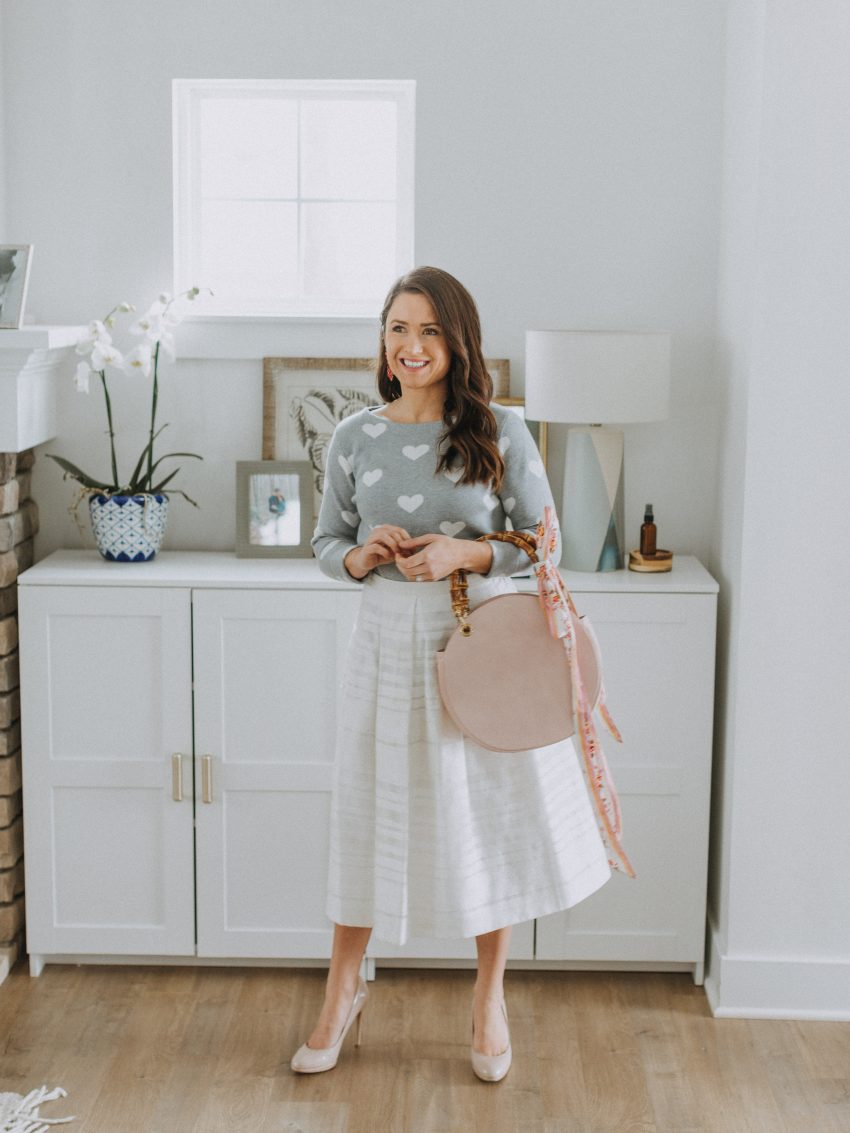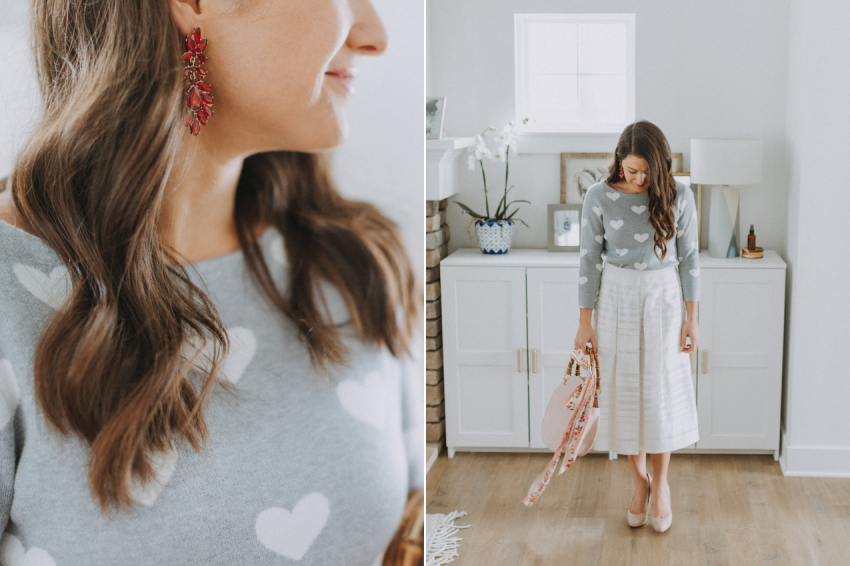 My Mark & Graham bag was a generous gift from a colleague and has my initials monogrammed on the side in gold. You can catch a peek of the RB in the photo below! The bamboo handles are so darling but the bag also comes with a cross-body strap, which you know I love! I can't wait to put this bag to use as we transition out of the diaper bag stage in our current season of life.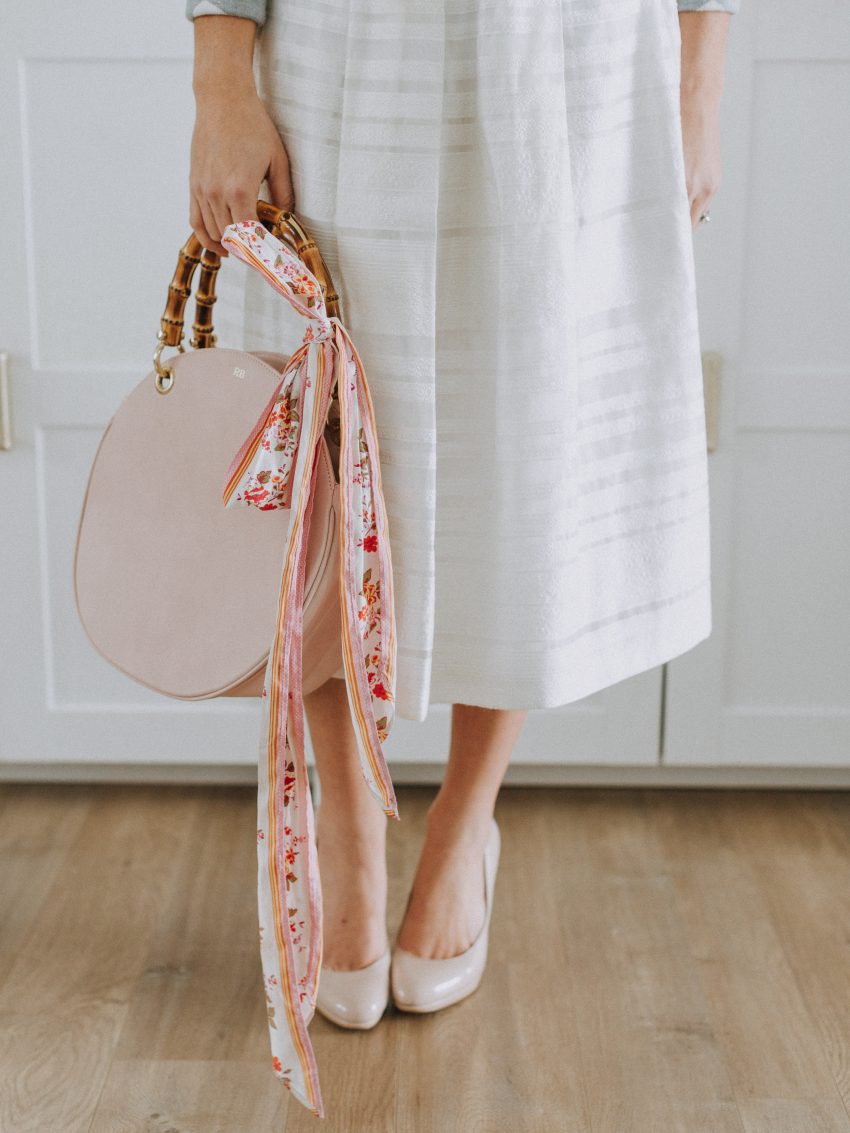 And finally, an outfit on cue with a traditional Valentine's Day color palette but a little more casual and less obvious.

I paired together a lot of soft pink pieces with my favorite pair of stretchy jeans. Pink Sperry sneakers, an old pink Abercrombie faux-wrap sweater, and a knot top headband to keep my hair pulled back and out of my face complete the outfit. Paired together with my striped backpack bag – another Christmas gift from my generous husband – this is something I'd wear to coffee with a friend if you know, we were doing those things right now! One day we'll resume those things, friends. And it's going to be so glorious.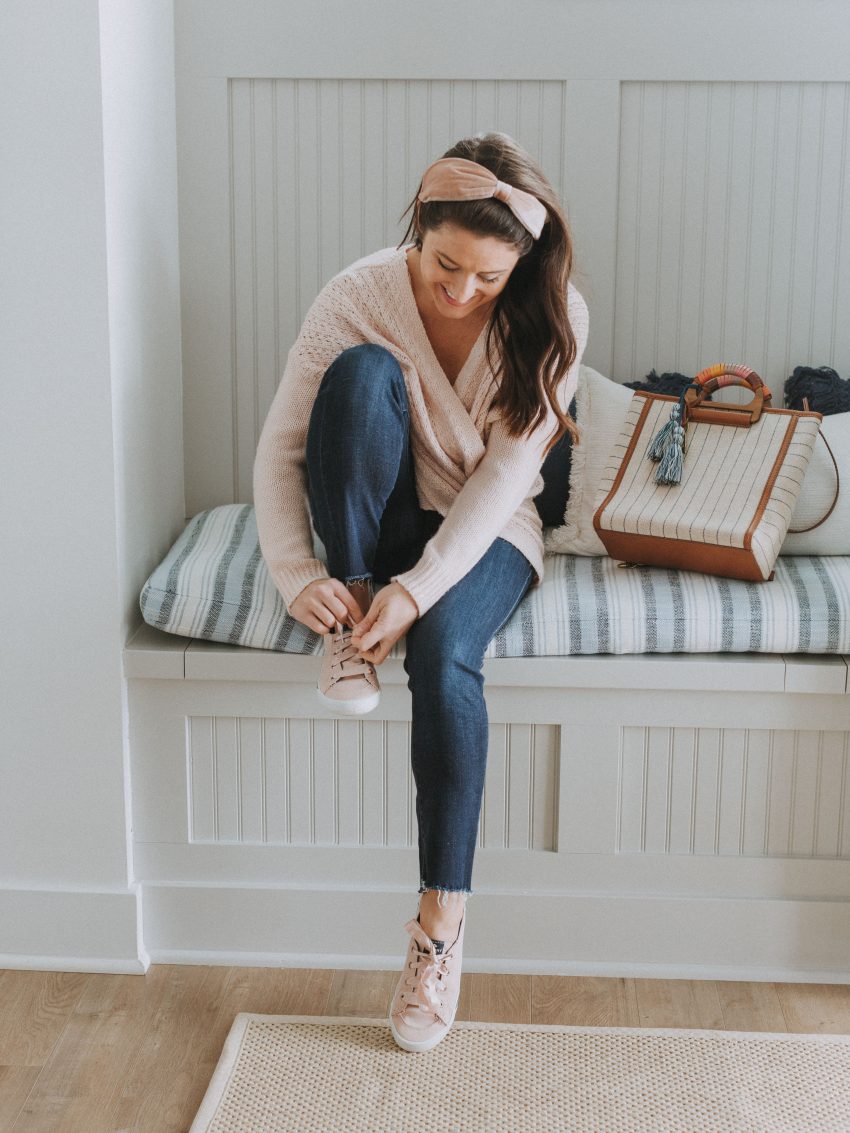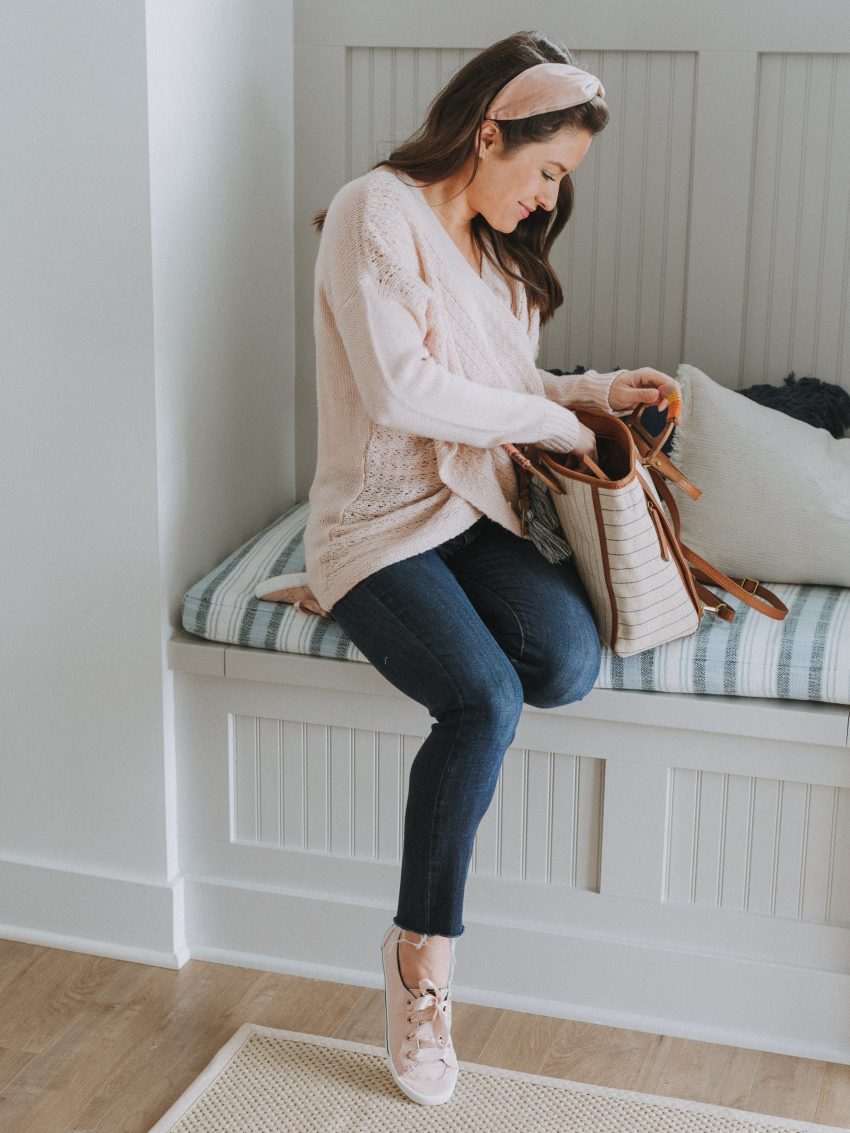 And finally, here are some of my favorite Valentine's Day picks pulled together for you!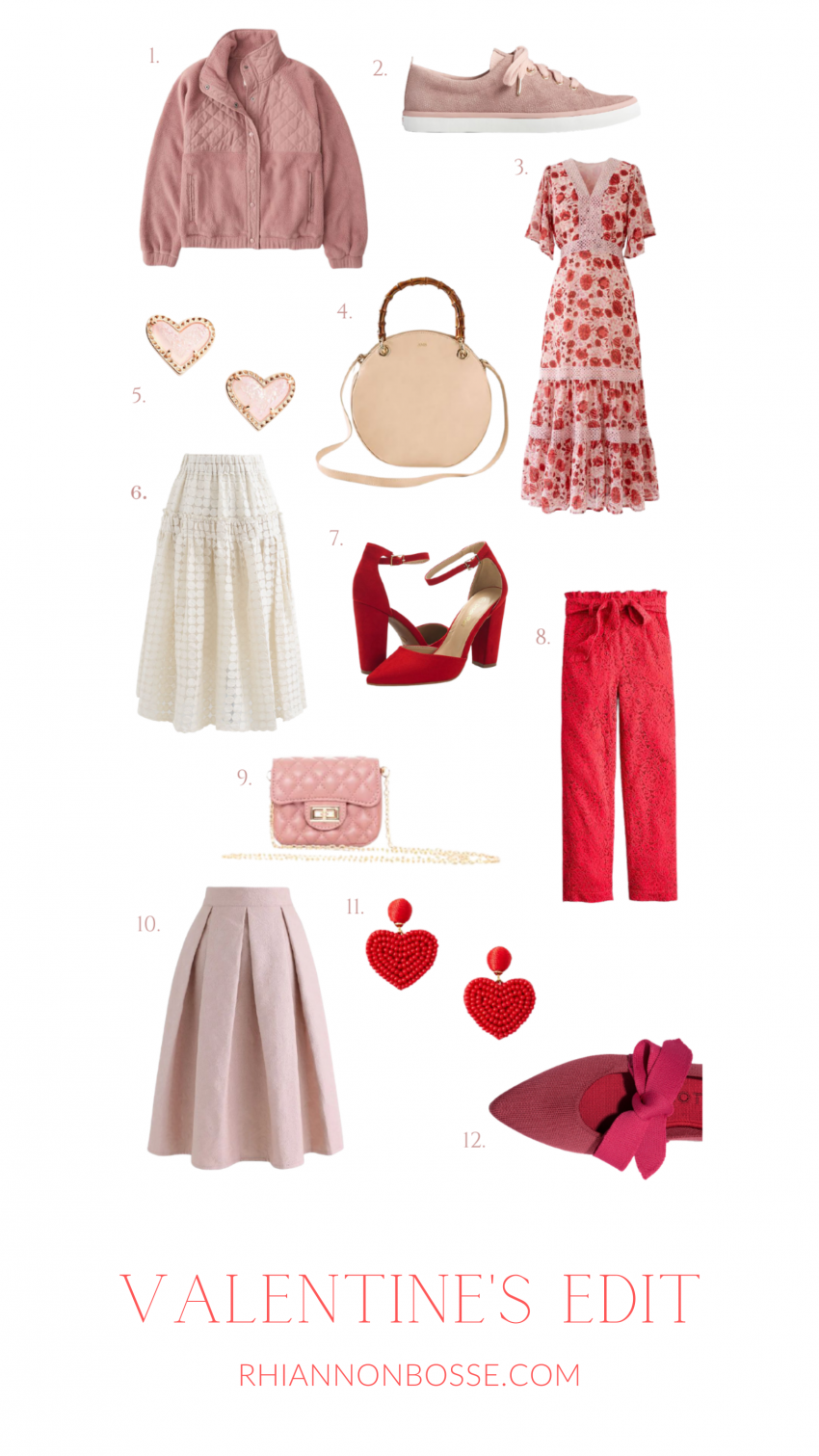 Abercrombie Pink Pullover Abercrombie has stepped up their game over the last few years with some really upscale pieces. Even my husband was surprised looking in the men's section during recent online shopping. This pullover looks delightfully cozy and that pink color is sweet without being saccharine. With a pair of jeans and sneakers this would complete a casual outfit!

2. Pink Sperry Sneakers These pink Sperry sneakers are both fun and practical. While they are a little different than the ones I'm wearing in the photos above, you could easily snag some blush silk ribbon and make your own silk bow ties! Or use a different color to create a look unique to you and your aesthetic style. Sperry's affordability has always been a selling point.

3. Floral Maxi Sundress I love a beautiful print sundress. Rarely do I throw on a dress like this and feel anything less than beautiful. Flutter sleeves are an added feminine touch, that red and pink color print a delightful twist on standalone pink.

4. Bamboo Handle Crossbody Bag This was a generous gift from a colleague and is such a special bag. The bamboo handles feel coastal and summery, while the round shape feels more fun than a traditional bag shape. And you all know how I feel about a crossbody bag! The cherry on top here is the delicate gold monogram detailing making the bag truly personalized.

5. Pink Heart Studs While the heart shape of these dainty earrings is perfect for February 14th, the understated simplicity makes this accessory appropriate for well beyond the holiday. I love a playful stud and think pink earrings look especially beautiful against blushed cheeks. Wouldn't these be the most darling galentine's gift?

6. Cream Midi Skirt My white midi skirt is one unexpected piece of clothing that's really gone the distance for me. I've worn it to conferences, dinner parties, photo shoots, date nights, and brought it on countless vacations, always pairing it up in different ways to reflect where we are and what's we are doing. White after Labor Day? I say yes.

7. Red Heels These are the same heels I wore in our Christmas card photos and also the ones I'm wearing in the photos above. They are not only chic but the closed toe style makes them appropriate for colder months, which we get many of here in the Midwest. And if you love the shoe style but not the color, they come in a variety of other hues like blush, nude, black, and blue.

8. Lace Trousers Remember those pink lace pants J. Crew had a few seasons ago? These feel like the red sister version and I think I actually love them more. The belt tie makes them more economical in my eyes and helps accent the waistline – something I often look for in pants or skirts given my less curvy (and shorter) figure. Also, these would be darling for Christmas.

9. Patent Purse Most of my bags and purses are large and able to hold many (kid-related) things. And my smaller bags are clutches. So I love the idea of a formal bag that's not only small but with a cross-body chain for hands-free ease. Sometimes all you need to carry is your phone, lip gloss, car keys, and cash. Can you tell I'm excited for post-pandemic social gatherings?

10. Blush A-Line Skirt I love a good a-line skirt. This style of skirt is such a universally flattering piece of clothing for women of all shapes and sizes. The pleats on this skirt are so darling and the ballerina pink color feels pink enough to be appropriate for an elevated special occasion (like a romantic night out!). I also have a soft spot for jacquard so this skirt hits all the right notes.

11. Red Heart Earrings If you're looking to infuse just a tiny bit of Valentine's Day into your wardrobe, a statement earring may just do the trick! These little red hearts are so charming and the pop of red ensures they stand out when you're wearing them.

12. Rothy's Bow Flats I'm a big supporter of Rothy's for both their form and function, but perhaps more importantly, their approach to sustainability (they use recycled water bottles to make their shoes). For years, Rothy's flats got me through tiring wedding seasons and 18 hour days on my feet without a blister in sight. While normally a bit more utilitarian in style, I love the bow tie style, which feels just a bit more dressed up.
Do you like to dress up for the holiday or to infuse any fun nods to the 14th into your wardrobe? Tell me below! Xo

P.S. I've gotten a lot of messages about our wood dresser. Here it is.

Affiliate links are used in this post!