Seaside.
Ahhhh. Even the mention of this magical little planned community along 30A in Florida's panhandle, is enough to make me take a deep breath and feel just a tiny bit more at peace. I was invited to a conference that took place in Seaside back in the early spring of 2017 and within hours of roaming around town knew this place was something truly special. Thankfully, both Andrew and a then-14-month-old Lachlan were on the trip with me so together we could fall head heels in love with the town. As such, we dubbed Seaside as our official family retreat, making it a priority in our budget and travel schedule every year since.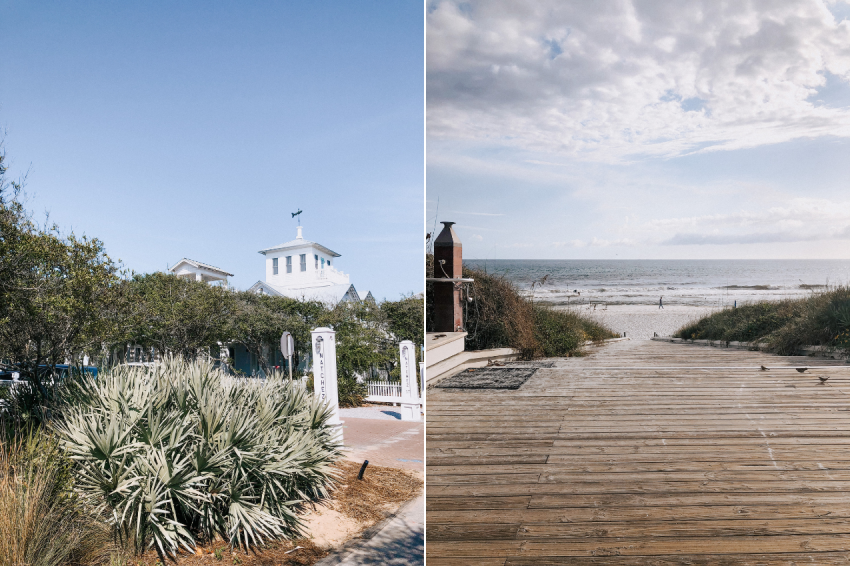 If you're not familiar with Seaside, or maybe you've heard about it and are curious about the hype, then this post is JUST for you! I've had many friends come to me, especially more recently, with questions about travelling to Seaside, their own desires to enjoy a little slice of paradise getting the best of them! And since we've spent a blissful combined total of seven weeks there as a family (once with a one year old, once when I was pregnant and with a toddler in tow, once with a colicky 6-month-old and 3-year-old, and once with two kids under five plus two other families, their trip duration staggered over the span of 8 days!) I feel I have some great insight to share.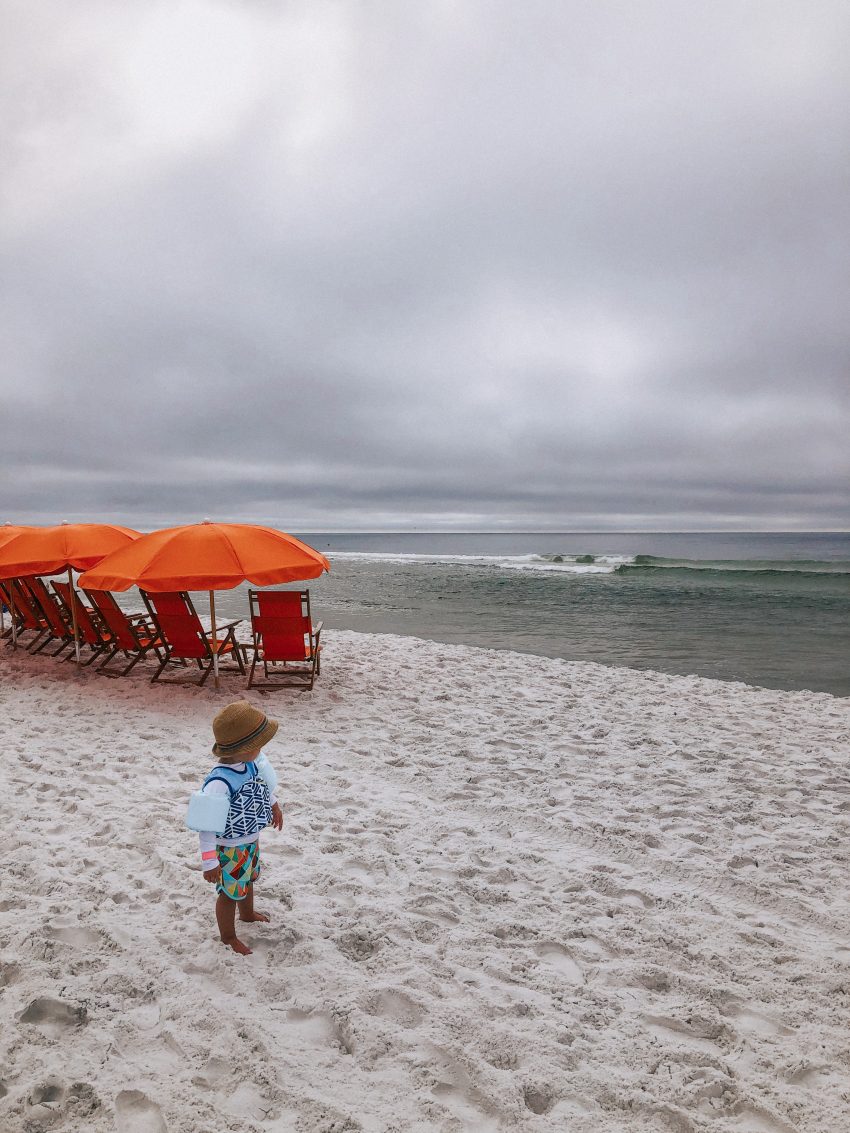 I'd also like to note that at the time of writing this (January of 2021), we are approaching the one year mark of a global pandemic. After our April 2020 trip was cancelled at the start of the pandemic, we were able to carefully consider our rescheduling options along with our responsibility to others and rebook our vacation for October of the same year. Our time in Seaside thankfully ended up being truly delightful despite some hiccups but there were certainly some changes to the area, both because of covid and also, because no place ever stays the same. That said, my notes below take all things into consideration with the understanding that Seaside will continue to change and things in this guide may require updating, changing or even removal (I'll do my best to update as necessary!).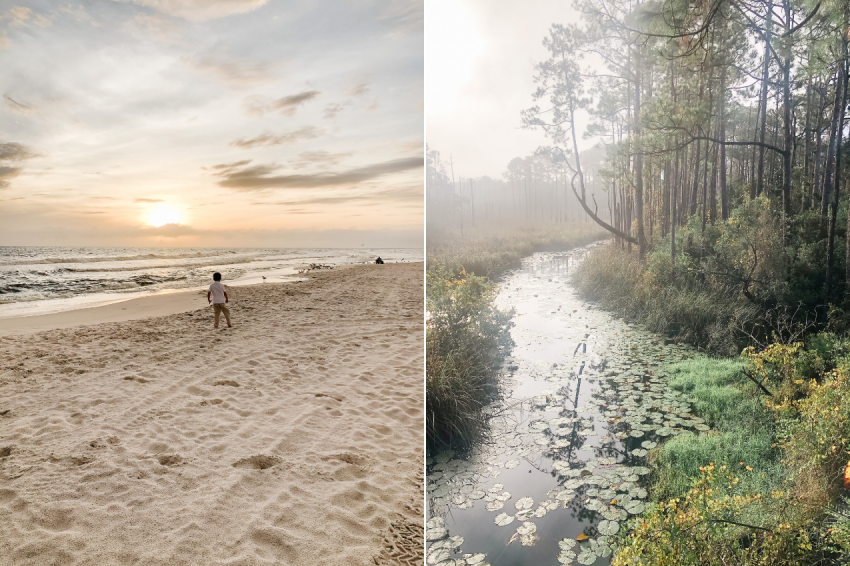 THE BASICS

The history of Seaside is quite fascinating. It's a master-planned community based on the principles of New Urbanism and one of the first communities in America of its type. If you've watched the movie The Truman Show you might recognize the filming location as Seaside! The Truman home is actually still in colorful standing on one of Seaside's main streets, a fun sight to see if you have seen the film (I have not, surprisingly). But there is plenty more to Seaside than one iconic home made famous in a major motion picture.

Tucked between Miramar Beach to the Northwest and Rosemary Beach to the southeast, Seaside runs immediately adjacent to the Gulf of Mexico on a strip of beachfront appropriately called The Emerald Coast. I've travelled to my fair share of tropical destinations and experienced countless pristine waters but Seaside's beaches are magical in and of themselves. The water truly is as delightful as it looks!

Perhaps even more fascinating is the quaint size of Seaside. The community was built on 80 acres, a piece of land deemed the perfect size to ensure all of life's necessities and pleasures were within walking distance of one's residence. Or biking distance, of course! Experiencing Seaside on two wheels is really a whole lot of fun! You can read more about the history of Seaside here and the intentionality behind the community, including rules for housing and how Seaside is purposefully so peaceful and enticing, here.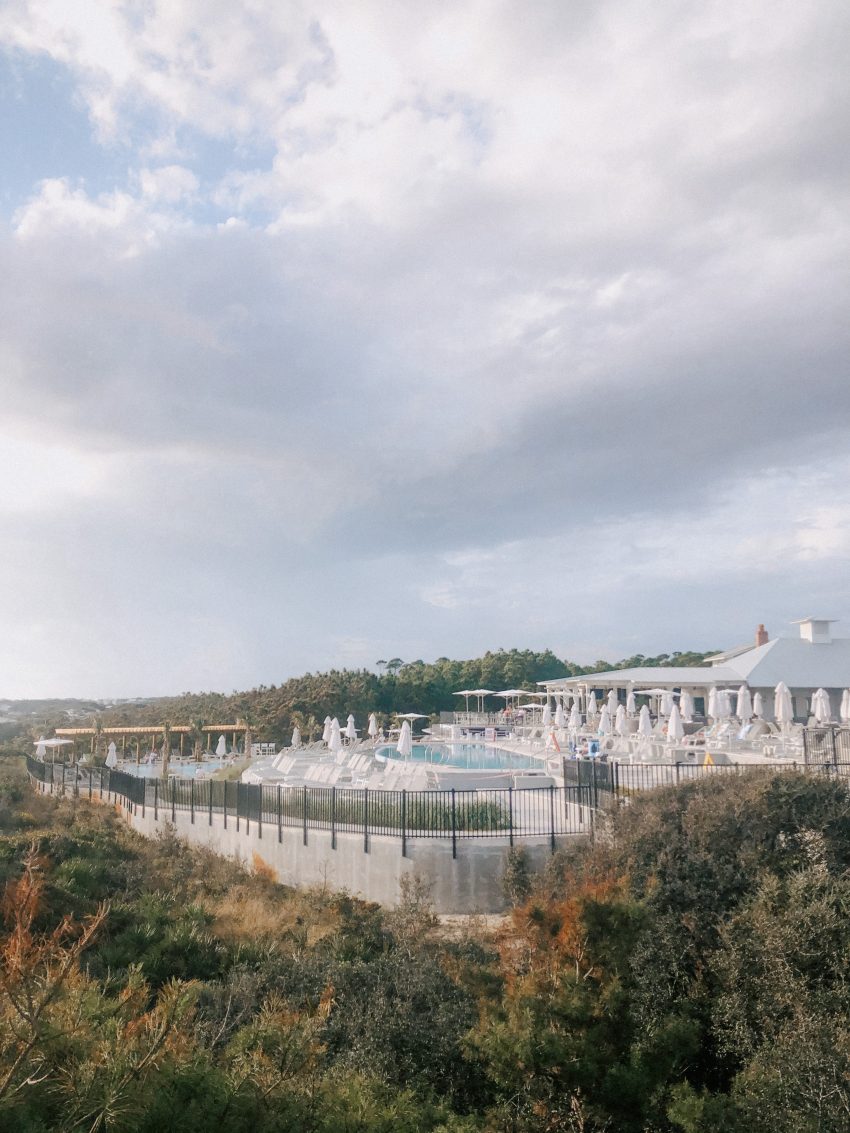 WHERE TO STAY

The WaterColor Inn & Resort is a beautiful option to consider for your accommodations, especially if you're coming in for a shorter stay or you want to stay as close as possible to the pool, beach, and your room. While we've never stayed at the resort, any 360 Blue Renters have access to the resort's pools and beachfront access, which is only one of two free beach access points as of spring 2020. The Resort also completed a massive pool area renovation just a year ago, making their outdoor space really spectacular and able to accommodate a lot of people without it feeling too crowded. A girl's weekend away? A couple nights together with your spouse? A business meeting in Seaside? The Resort would be most perfect for these types of trips. It's also one of the closest stays to the water.

However, if you're travelling with kids or planning to vacation with a large group, 360 Blue is the vacation rental company we rent with, our fifth 360 Blue rental on the books for April of this year. We cannot say enough about 360 Blue and our multiple experiences with them! What's fun about 360 Blue's website is you can search their extensive property list with a variety of different filter options.

For example, when looking for a place to rent for our spring 2020 trip, we wanted a home with a bathtub for the kids (and me, too, let's be honest), at least three bedrooms so that we could all have our own sleeping space or so we would have an extra room for any guests we might end up welcoming, airy and updated decor so we could feel spoiled, and most importantly, an ideal location close to Camp Watercolor (more on that below) and the grocery store, but also not too far to walk to the square where all of the action is. If the beach and the resort are a bike ride away, that's OK with us because typically we only spent a couple days there given that we have a kiddo who still takes day time naps AND there are a lot of stairs from The Resort to the beach (kids and stairs aren't always a good mix).

More importantly however, you can filter properties by price, which is a lot of times how we end up picking our ideal space over aesthetics or amenities. A trip to Seaside is an investment and vacation rentals like the ones 360 Blue offers are a premium experience with prices that reflect that. For that reason, splitting a rental with another family is really an ideal way to experience Seaside.

It should also be noted that 360 Blue's rentals not only include homes in WaterColor and Seaside but they extend to Rosemary Beach, Seacrest Beach, Seagrove, and Blue Mountain Beach. If Seaside isn't where you want your home base to be, or you've done Seaside and want to try some place new, 360 Blue probably has what you're looking for. And finally, there are always less expensive rentals out of 360 Blue's ownership and in surrounding Seaside towns that offer comfortable accommodations for a fraction of the price. Anywhere along the coast is going to have access to the same beautiful beach that Seaside has, so you can't go wrong!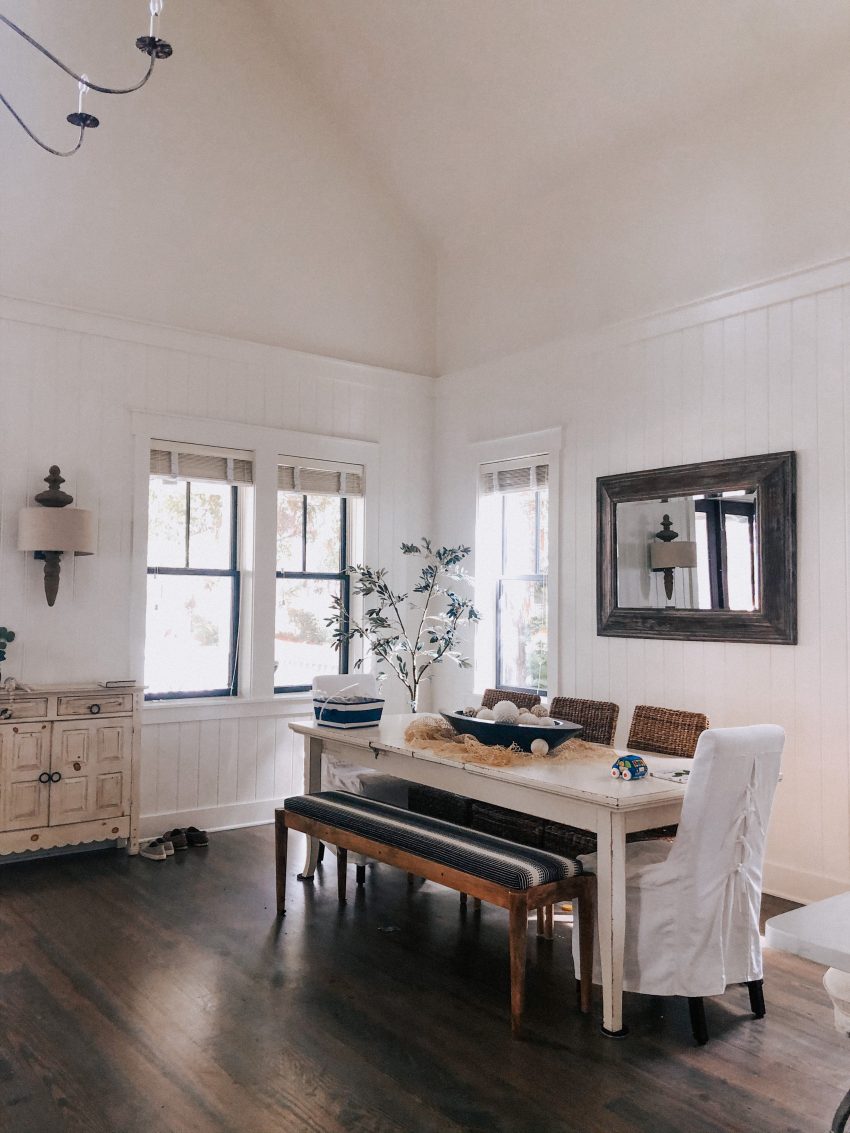 WHAT TO DO

THIS map shows a fun little illustration of the square in the center of town, highlighting the three Seaside Style affiliated shops. This is where you can get anything adorned with the word 'Seaside' on it, shop one of a kind decor and resort ware, look at art, or pick up a Christmas ornament to mark your trip to 30A. Almost every day we're in Seaside we make it to either the pool or beach and then the square for a blissful experience of eating, playing, and perusing together. The square is where most of the action happens and is really a fun space whether you're there morning, afternoon, or night. The photo at the top of this article shows the square with the ocean in the background. This should give you great context of space and scale in Seaside!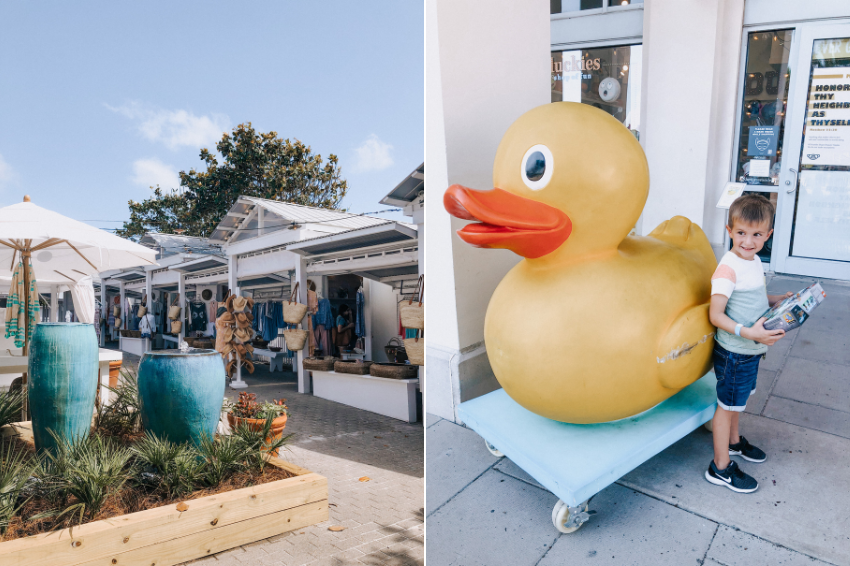 Duckies is Seaside's adorable toy store, conveniently located in the square. If the giant duck is pulled out onto the sidewalk, then Duckies is open for business! The store offers a robust mix of beach toys, baby and kiddo clothing, pool games, unique kids' things, dolls, blankets, and even LEGO kits. Duckies is where I purchased our beloved beach blanket, too many LEGO kits for Lachlan, and a couple of beautiful puzzles to keep us busy on the long lazy nights back at the house! A heads up though, parents: Duckies isn't a low-budget convenience shop and their eye-catching store displays can make any kiddo go googly eyed the second they walk in!
And not to be missed across from the square, is Cabana by The Seaside Style, which is Seaside's iconic open-air market right on the beach. The market offers an array of beach fashion, caftans, casual wear, swimsuits, accessories, and shoes. The displays are always so beautiful at Cabana and being able to peruse and shop under umbrellas in the glorious Seaside sun is a special treat! Also, note that in this covid era masks are required both inside stores and while in the open-air market so if you're travelling bring those with you.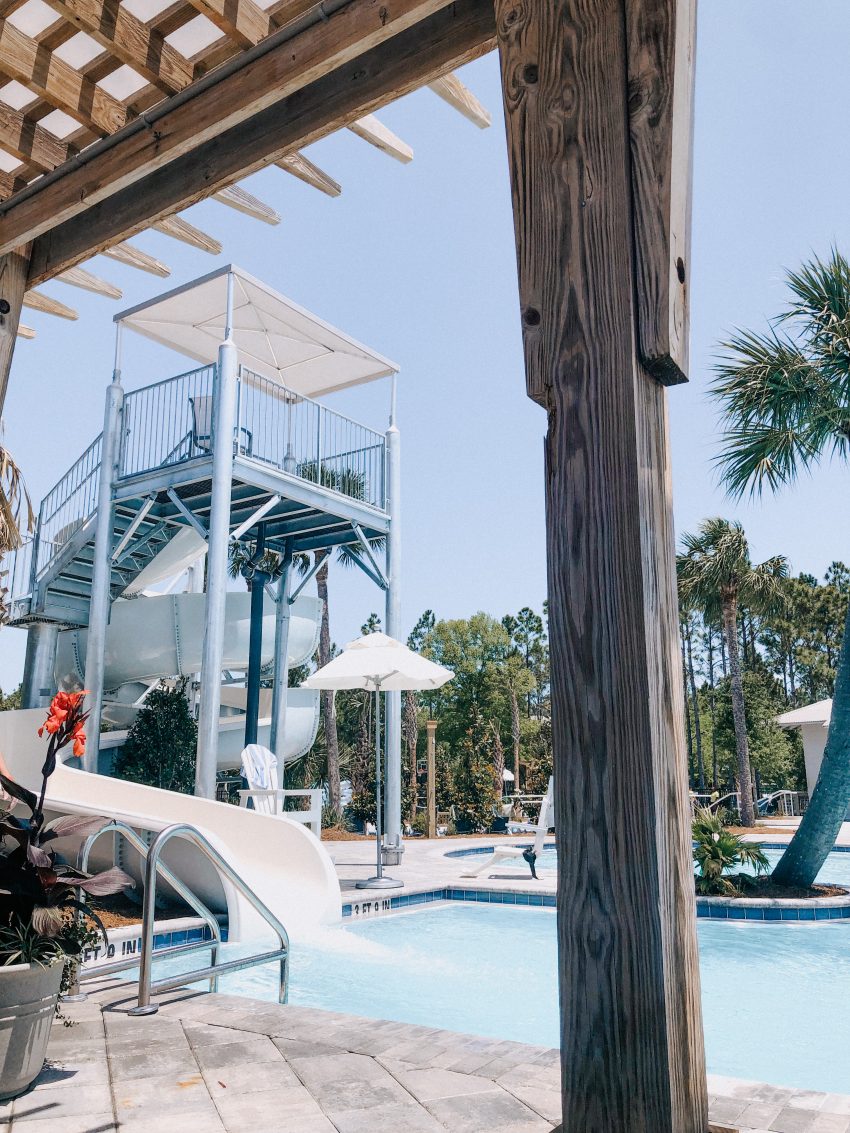 One of our most favorite parts of Seaside, is the brand new Camp Watercolor, a water park and restaurant community that's part of The WaterColor Inn & Resort. But! Camp Watercolor is tucked back away from 30A and the bustling square making it feel less crowded and more family-centric (in an already pretty family-centric place!). The water park has two pools: one for little kids with a mini water slide and water sprinklers at the infinity entrance and a second larger pool that's connected to the big swirly water slide. There's also a lazy river, and a restaurant and full service bar that allows you to eat and drink poolside. Our rental home last year, which is the same one we will return to this year, is a literal 4 minute walk to the doors of Camp Watercolor making it easy to go to and from our home as needed! There are both loungers and chairs and tables at the park along with complimentary towels and lifeguard services.

Should you want a break from the water, there is a lovely park with swings and climbing equipment right next to Camp Watercolor. Sometimes on our way to the square or when we need to get our sillies out, we head here to play. There is also the hidden Seaside Playground located near the northeast corner of the Seaside Swim & Tennis courts. There are wooden forts and and swings and slides for any mini explorers looking for a more private way to play (put 462 Forest St into your map to get as close as possible).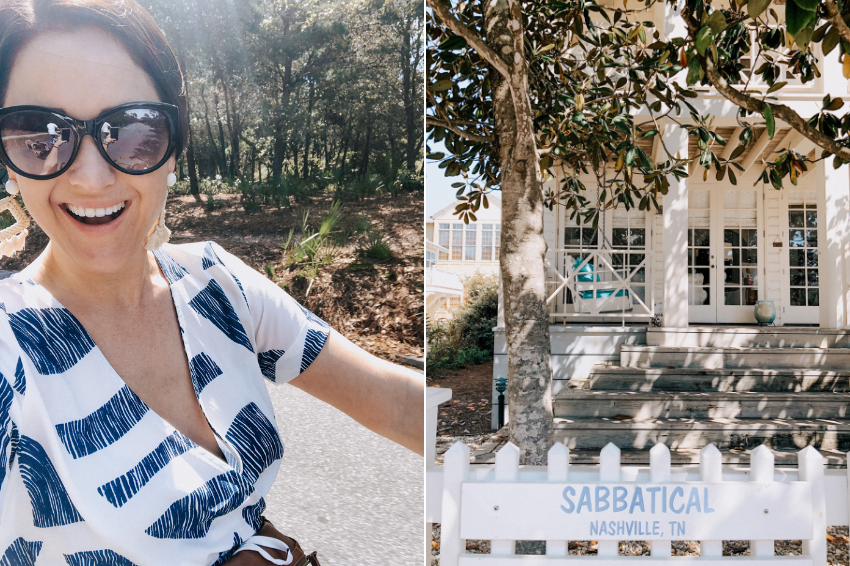 And my personal favorite and free way to enjoy the charm of Seaside when I steal away for treasured kid-free time, is to meander around town via the dozens of charming streets or pursue adventure by taking any of the endless sandy footpaths that run between and behind all of the homes. If you're new to Seaside make sure you have your phone on you to map where you are! It's easy to get tangled into dead-ends if you get really far into your adventure (especially around the tennis court area; it's a jungle back there!).
If walking isn't your style you can rent a bike for your daily adventures or use the free ones provided with your 360 Blue rental. Unless we are leaving Seaside for a neighboring beach or heading to the grocery store for a necessity, we use our bikes to get just about anywhere. The boys sit in the pull-along trailer and we zip around Seaside with no set schedule to rush us. It's really one of the most delightful parts of our trips. There are also kid sized bikes and pull along bikes for those who have that skill. Or you can invest in a golf cart rental, which I'll admit, is a super lovely and easy way to jet quickly around town without the hassle of a full sized vehicle.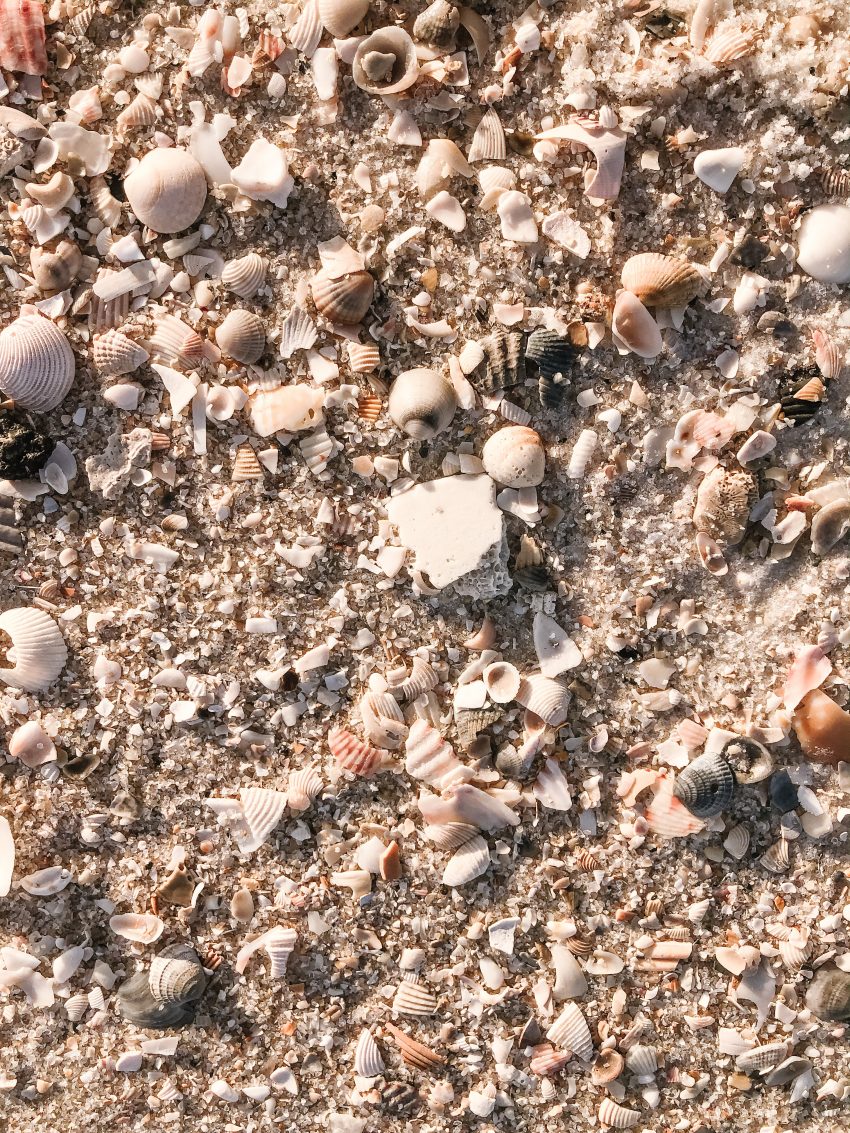 For shell hunting, visit Camp Helen. Research low tide days during your stay and plan accordingly for the drive out there. Bring $4 cash for the honor system parking lot and prepare for the rather long hike to the beach. If it's a windy day and you have littles with you, it's not worth the walk (sandstorm central!) but if you get a great low tide day, it's absolutely magic! Pack lightly because of the walk, bring a bucket or net for your treasures, and pack a snack or two. Oh! Take a bathroom break BEFORE you start your hike to the beach!

Raw & Juicy is another joint worth mentioning even though it's located in Alys Beach, which is another, more upscale planned community east of Seaside. Raw & Juicy used to be in one of the airstreams on the row but relocated about 20 minutes down the road to the old Fonville Press building (I miss my morning post-run juices but I digress!). Raw & Juicy has really delicious and clean food, plus the cutest outdoor space for kiddos with a hill slide and umbrella-shaded tables for outdoor enjoyment. Absolutely worth the visit.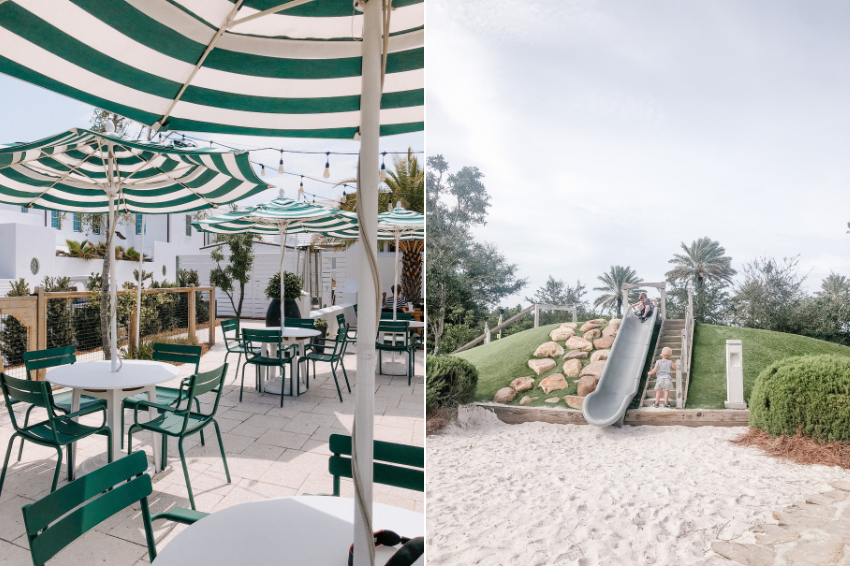 Finally, right behind the square is a fun little nook leading up to the stunning Seaside chapel (we hope to attend outdoor Easter service there this year) and this a great area to explore without getting too far away from the square. DiBicci Park, shown above, is a tree-lined area tucked back in this very nook along with a few art galleries and shops if you want to do a little window shopping, or even just rest.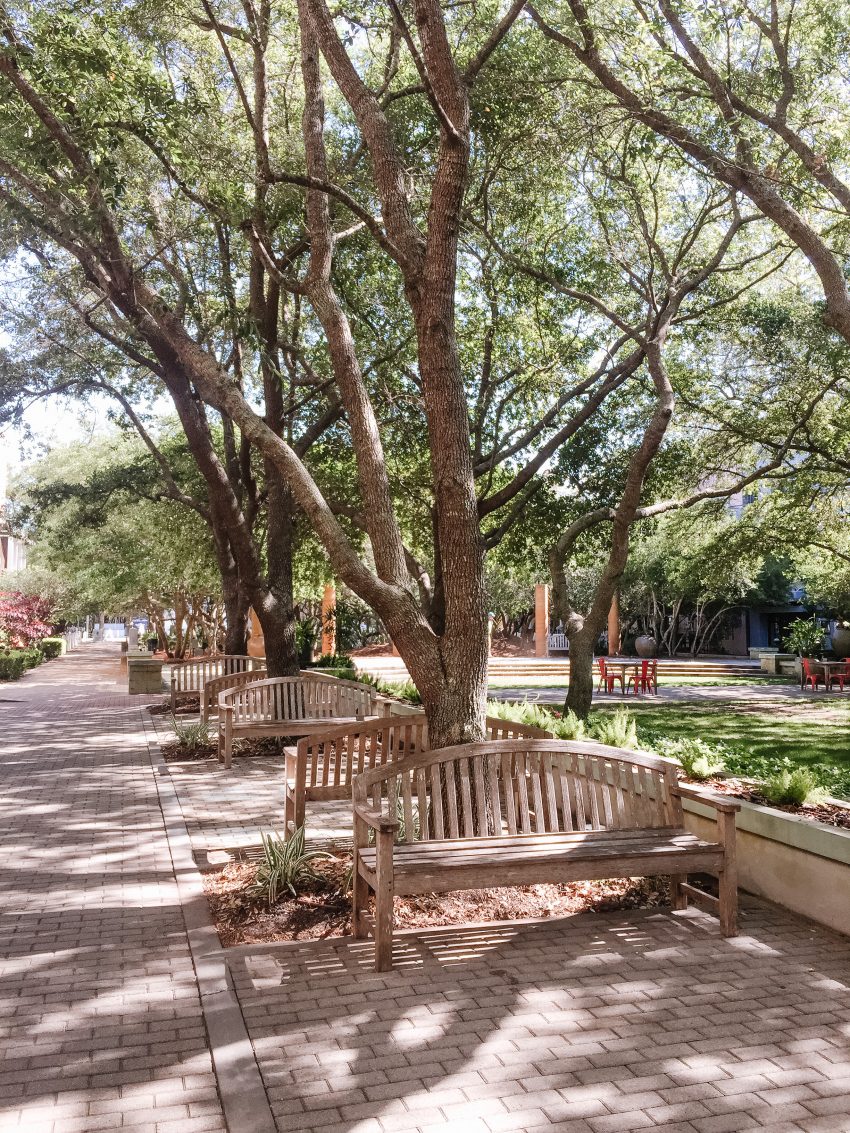 And finally, the most obvious thing to do where you're in Seaside or at any of the neighboring beaches of course, is to go to the beach! During the day, if conditions are appropriate (look for the flags at the access points), the beach is the perfect way to spend the morning, afternoon, or if your kiddos are older, all day. If you want the Seaside blue chairs for your beach adventure, you'll have to rent them via The Resort or The Cabana Man and they aren't cheap. But we usually bring our trusty beach blanket, a few towels, and find that works wonderfully in lieu of chairs. I wrote more here about our beach essentials and know everyone tackles the beach in their own way. Another nice part about the geographical position of Seaside is that you can experience incredible sunrises AND picturesque sunsets all on the same stretch of beach so if it takes you all day to get to the beach, it's still worth it at sunset.

Public access to the beach is offered in three places along 30A with different rules and costs. Be sure you are aware of the public beach access locations, times the beaches are open, what you can bring, what's not allowed, and any covid restrictions before you get to the beach. The rules are seemingly changing by the moment because of the pandemic so do research on your own beyond what's shared here!

1. The WaterColor Inn: FREE ACCESS for hotel guests and 360 Blue renters at the resort access (next to the Van Ness Butler, Jr Access).
2. Seaside Tower access by Bud & Alley's: PAID ACCESS via the Cabana Man.

3. Van Ness Butler, Jr access: FREE PUBLIC ACCESS for anyone, with ample free parking directly across the street from the access and the 30A highway stretch. There are also public restrooms here so be sure to use these before you get all the way to the beach (there are stairs and a wheelchair accessible ramp to get you up and down as needed). We find this access to be the easiest to maneuver.

And then finally, a fun activity for the kids once it's dark outside is ghost crab hunting on the beach if it's not too windy or cold. Pack a flashlight for the experience or snag one at the local grocery store, otherwise your phone's flashlight should do the trick. And if you want to catch a crab or two, bring a net. Just remember to release the crabs back onto the beach before you leave.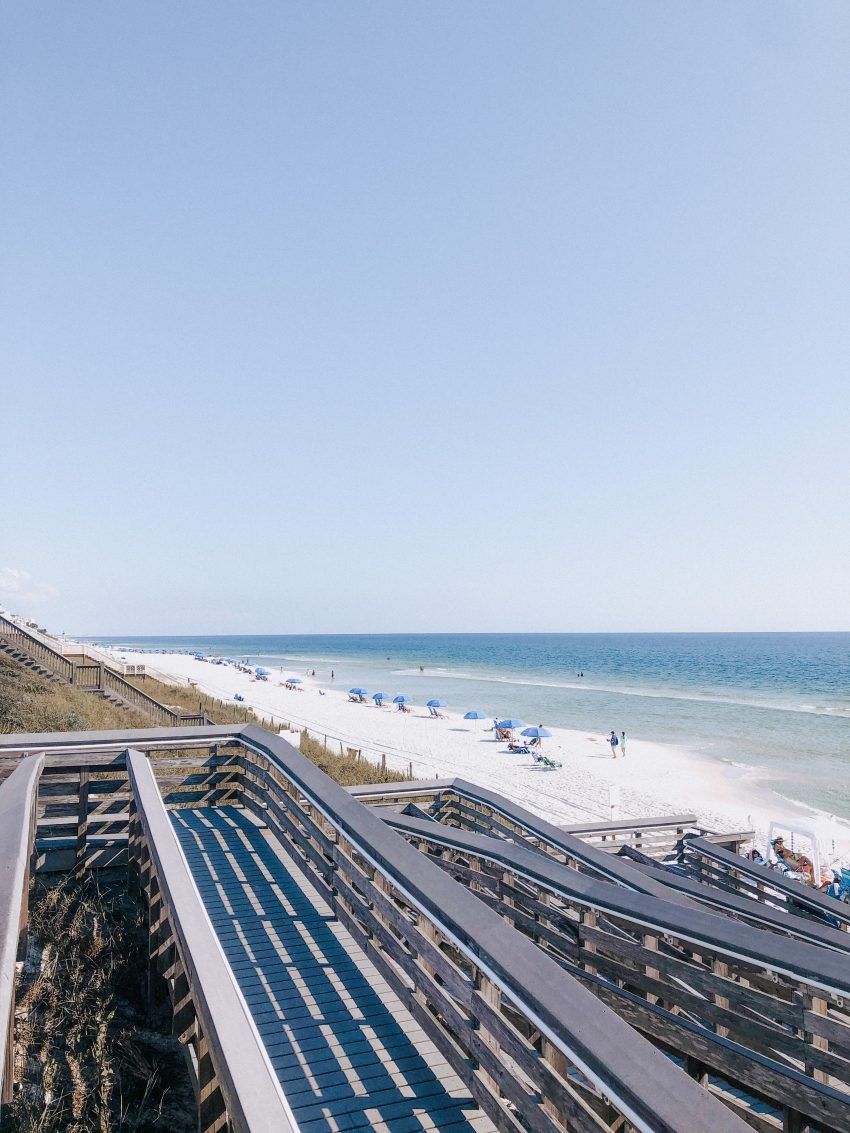 WHAT TO EAT & DRINK

Airstream Row is the row of airstreams along 30A that offer different food options for casual bites, take out meals, and desserts. The Gyro Hero truck, while new to the row, is absolutely delicious, and my first choice when picking where to eat at the airstreams! But there is also the original snow cone truck, a grilled cheese truck, a BBQ truck, a hot dog and pretzel truck, and a creperie truck that offers sweet and savory crepes. The trucks have such a nostalgic feel and are awesome for a quick hit-the-spot snack! If it's a nice day you can bring a blanket and eat in the grassy amphitheatre behind the airstreams, which is like the 'heart' of the Seaside square but there are also picnic tables in front of each airstream, and the option to bring your food back to your rental.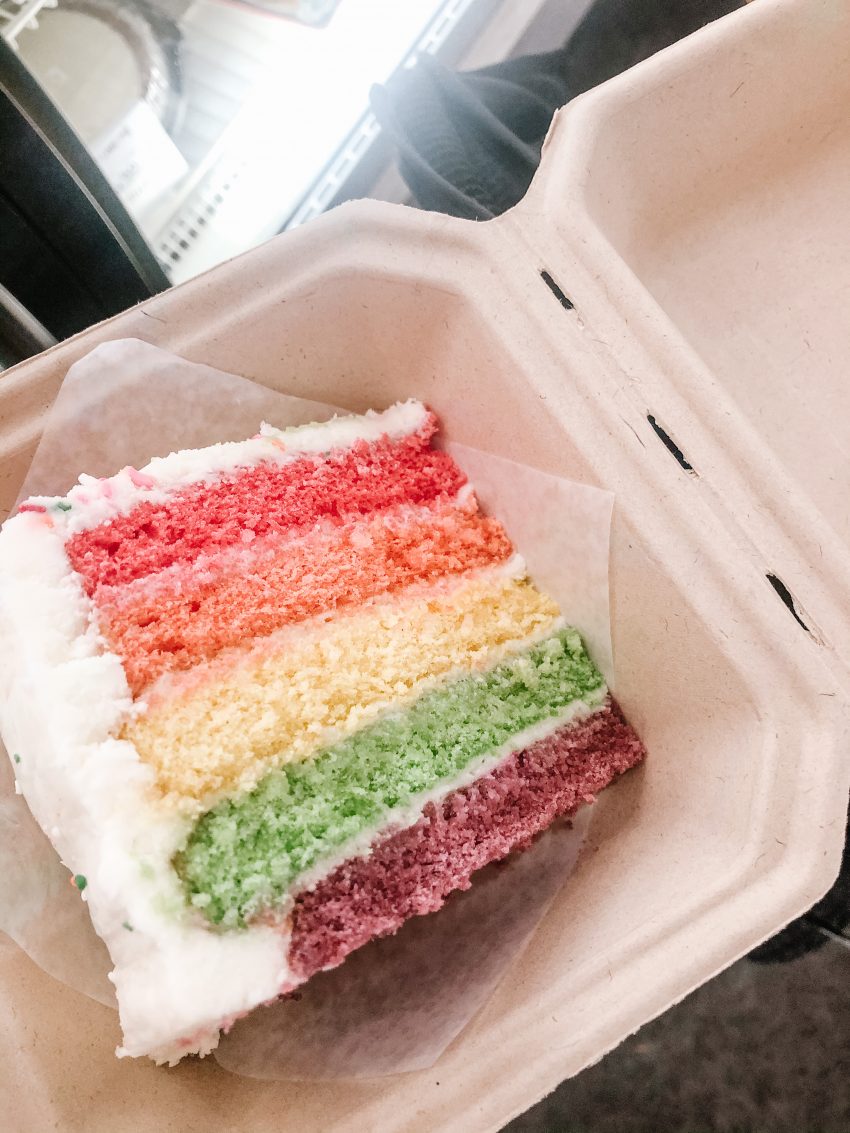 Modica Market was one of the first businesses to open in Seaside Square making it a staple to the area and a familiarity to many original residents. They carry delicious breakfast sandwiches, coffee, and giant cake slices in a variety of fun flavors (like the rainbow cake above!). Andrew loves the orangesicle cake, so much so, I ordered an entire cake for his birthday in 2020, straight from the bakery that outsources them to Modica. If you're looking for small grocery items, wine, or other snacks and necessities to bring back to your rental, this is a great place to stop. In the very least, stop in for a coffee and to support a Seaside favorite.
For coffee, Amavida is a great place to drop into. They also offer small breakfast eats and treats.
For hard ice cream, try Heavenly's. For soft serve, fudge, malts, and shakes try Dawson's. Both are in the square!
For the best pizza, Bud & Alley's pizza bar is divine! The Margherita Salami pizza – think: spicy salami, creamy cheese, and a drizzle of honey! – is spectacular. It's our tradition to eat here on our first night in town, something we've done for every trip we've made. When we were there in October 2020 the indoor seating section was unavailable but we were able to eat outside at a socially distanced table.

For a nicer sit down dinner, try The Great Southern Cafe, which you can now enjoy under the tent in what was the parking lot area pre-covid. This set up, while likely temporary, has actually proved to be much more efficient in my opinion, as the non-reservation policy this restaurant had in pre-covid days always resulted in hour+ wait times. Andrew dreams of their grouper yaya and the fried okra is delicious! Oh and mojitos! The Great Southern is known for their diverse mojito selection so pick your favorite.
And while it's not in Seaside but instead a quick drive (or long bike ride) away, you won't want to miss Black Bear Bread Co. This is Andrew's must-visit when we're on vacation and rightfully so; the avocado toast and breakfast sandwiches are out of this world! And of course, I'm a latte fanatic so I'm never one to turn down a creamy iced beverage! Be prepared to wait in line on weekends.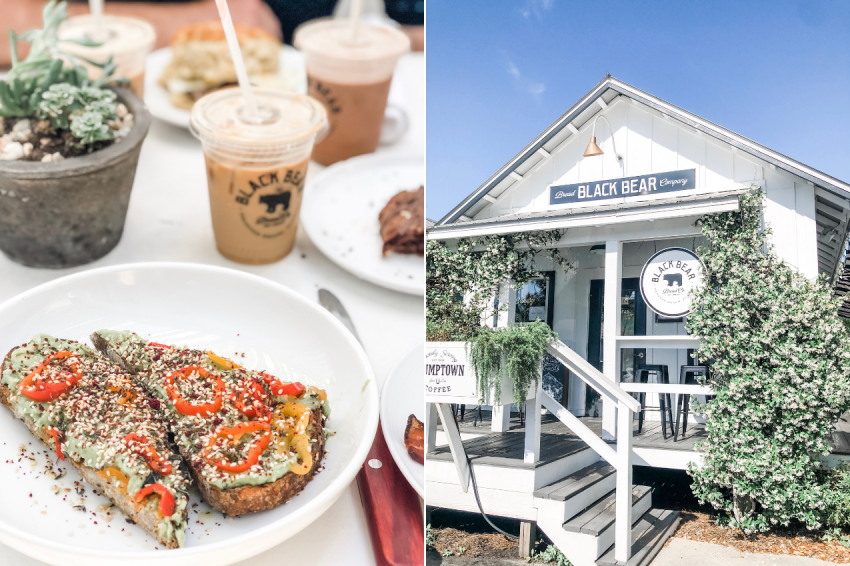 Finally! Don't miss the iconic and incredibly cute Seaside post office. It's tiny and architecturally beautiful (of course) making it the most photographed post office in the entire United States! The post office is next to an adorable old school book and record shop, Sundog Books. And maybe more importantly if you are perusing the square for the afternoon, there are public bathrooms right behind the post office. Bonus: in the fall and before Christmas, the post office gets decorated seasonally. It's really quite lovely. See?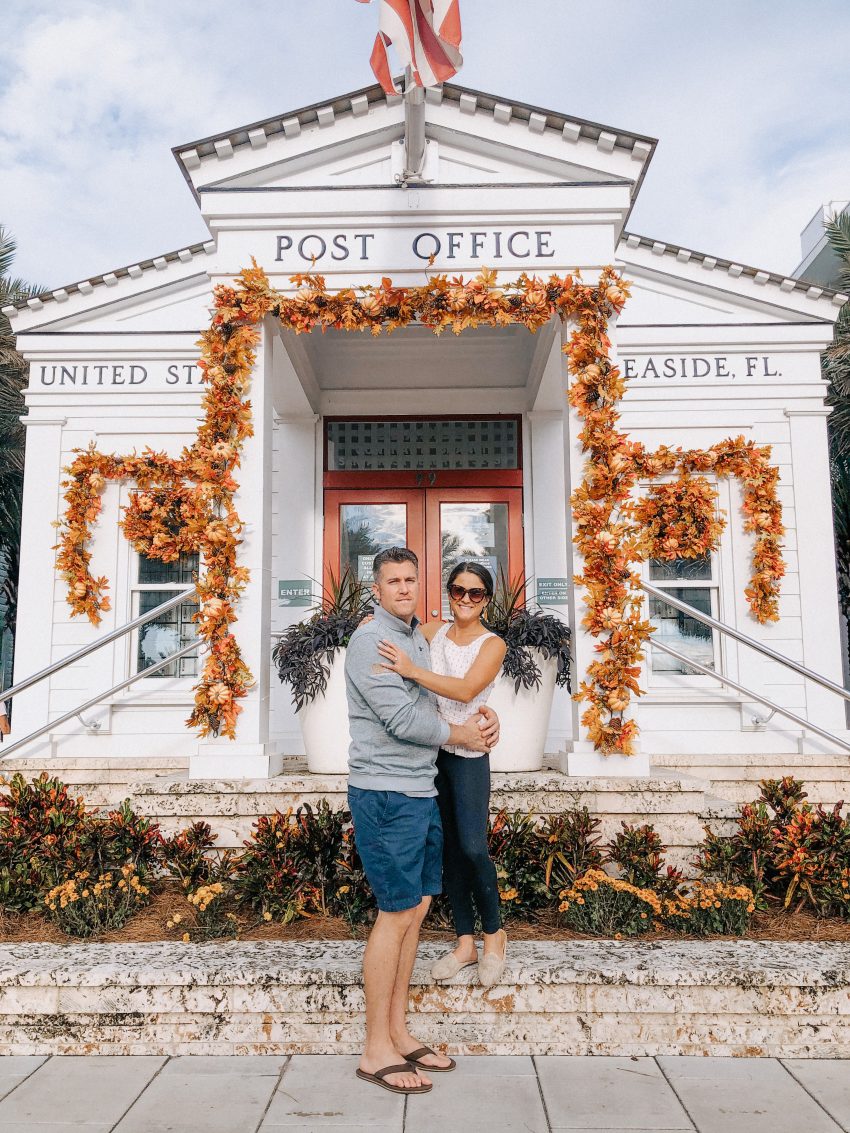 A FEW MISCELLANEOUS BUT IMPORTANT NOTES!

When we were in Seaside in October of 2020, they had closed the horseshoe shaped drive-through and parking lot surrounding the square, using the parking spots as overflow seating for relaxing and dining in response to covid. While I'm sure this made parking trickier for folks coming in from out of town we thought this was a nice unexpected bonus. Not only did we get to safely enjoy meals outside at a social distance from other parties (and also one night, in the rain), but we didn't have to worry about our excited kiddos running around and near many vehicles zipping in and out of spots at close proximity.
A biggie here! Due to an overwhelming amount of tourists (and reportedly, loitering kids) who bombarded the main square beach access during the spring break period of 2020, the Seaside community voted to lock up this normally main public access, keeping it exclusively for residents and those who pay for access, and beach chairs, via The Cabana Man. This was a MAJOR bummer to learn of when we were there in 2020 and couldn't figure out why there was a tall chain link fence blocking off the iconic Seaside beach tower. But I know too much of a good thing is never good and understand the boundaries and new restrictions are necessary (especially in a covid era). As I noted above, the public beach access you'll want to use is the Van Ness Butler, Jr access between Seaside and WaterColor on highway 30A or if you're staying with The Resort or are a renter via 360 Blue, you can use the Resort's access (it's a bit more of a hike).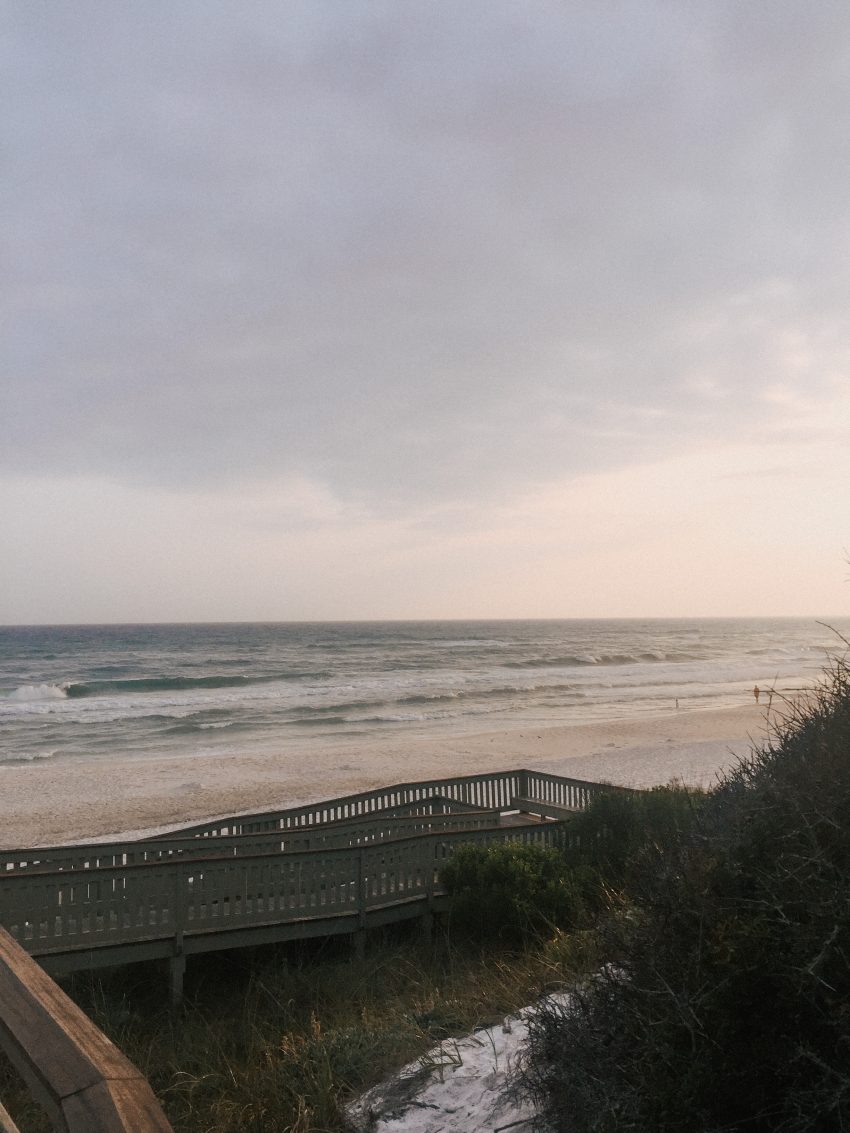 Everything is priced at a premium in Seaside so prepare accordingly for however you manage your finances and spending on trips like this! We like to set a budget ahead of each Seaside visit for food and drinks (eating out), essential groceries (which we stock up on as soon as we get into town via the Publix at WaterColor Crossings), and fun purchases (like a treat from Duckies for the kids) since those categories end up costing us the most (our rental is always paid for in full weeks ahead of our travels).

And to piggyback off my mention above on groceries, this typically includes: diapers, wipes, hygienic toiletries, laundry soap since nearly all of 360 Blue's properties have both a washer and dryer, or anything we would need that might take up too much space in our bags on the trip down. We also grab water, sometimes a bottle of wine, ample snacks for the kids, breakfast foods so we don't spend too much eating that meal out, and sometimes a treat or two, like cookie dough for late night treats or a frozen pizza to enjoy on our deck.
On the same note about things that take up space, we religiously use The Crib Connection for necessary larger items that would be a hassle or impossible to travel with like a jogging stroller, wagon, beach toys, and even a pack and play. When the kids were little we also rented highchairs through TCC, which made meals and snacks at our rental home so easy and seamless. It always feels like a luxury to have these simple items waiting for us when we check in and then simply left behind upon departure for pick up.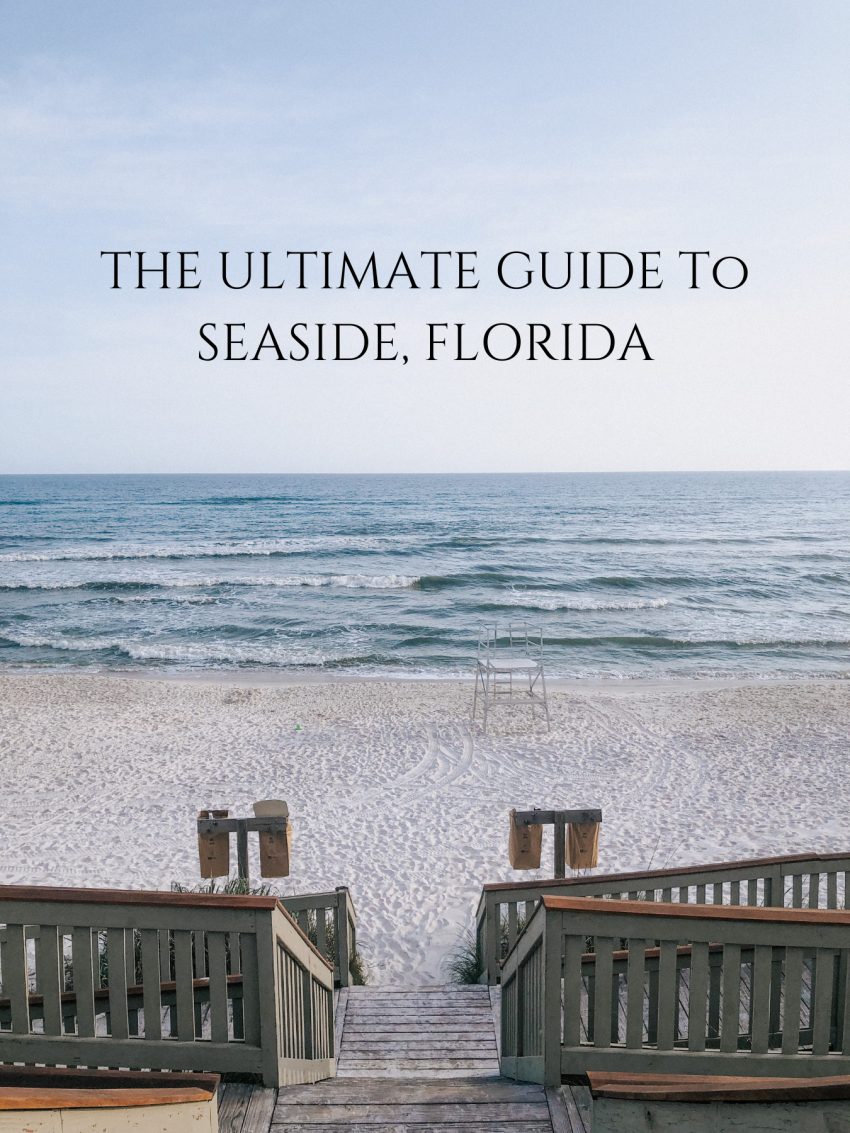 Phew! And that's it for now at the time of writing which is January 2021. I will be sure to edit and add to the post as time goes on and we add to our arsenal of Seaside memories. Feel free to add questions below OR to share some of your favorite Seaside tips, tricks, sights, and delights. And let it also be known that this is one of the first blog posts I've published in literal years that I've used exclusively phone photos in lieu of professional ones. I felt they best illustrated our Seaside experiences and how special this place really is. Xo

Don't forget to catch my Seaside essentials round up!

Affiliate links are used in this post.