Last September, we celebrated 10 years of marriage. This felt, still feels, like such a milestone now that we've reached it. I fall into the camp of people who believe marriage, like any worthwhile relationship between imperfect people, takes great effort and sacrifice. And while there was a season where celebrating a decade a marriage didn't seem likely for us, I sure am glad we fought for one another.

So a little backstory about how we celebrated a decade of marriage! After our 2010 wedding, I asked (told?) Andrew we'd be having a 10 year wedding anniversary / vow renewal celebration. Not only would this party be a chance to celebrate the milestone but we'd be able to 'make right' the things I felt weren't up to my then-perfectionist standards on September 24th, 2010. Ouch. What a heavy burden to place on my husband, and similarly so, a torturous weight to make myself carry over the next decade.

But then ten years ended up feeling like it was a lifetime away (ha!), and I thought a five year anniversary celebration would be a better pursuit instead. Perhaps we rent a home in California on the ocean? Hire a private chef for the feast? Have a beautiful dinner with our families and closest friends by our sides? That idea lingered for a while in our minds and conversations but ultimately we decided to save the money and enjoy our time together before our first child was born shortly after we celebrated five years of marriage.

And then our second son was born in 2018, just two years before we hit the decade mark. Our parents' marriages dissolved, and with it, much of the family structure and dynamics we cherished and admired. There was a job change for Andrew. Health struggles for me. Home offers that fell through. Talks of a move South. A closed business and new one in its place. Lots of travels. So many afternoons and evenings spent in Seaside, where we most feel at peace. A lot of life happened in nine years and the idea of a party felt, well, off.

So before the pandemic swept the world and 2020 threw her fury our way, we decided to do something special alone, just the two of us. I think that's really what this has always been about anyway. We decided to head to Charleston, South Carolina because it's both charming, romantic, and in my opinion a place worth visiting without little kids. We also tried to think of a place that felt accessible and realistic given our lack of family to manage childcare duties while we're gone (any long travel schedules were out of the question), was safe and socially distanced from large groups (so resorts and busy big cities were out), and somewhere that was a little out of our budget but for the sake of the experience, would be well worth the splurge. Charleston fit the bill perfectly and actually really excited my husband, which is usually a big feat! So I let HIM plan most of the occasion for a change.

We don't have one traditional side-by-side portrait from our wedding day and that's always tinged my memories a bit. I'm talking about the kind of photo you frame and give to your Nan only for her to display it proudly on her fireplace mantle. You know the one, right? Thank goodness for Sirena of Aneris Photography who not only joyfully celebrated us on the afternoon of our anniversary as we snuggled up for a quick photo session with her, but who managed to capture photos that tell a story and leave the kind of legacy we're working on building in our family. We're so thankful for her talents and how important her role was that day.

Here are a few of the photos from the session, along with my commentary sprinkled in throughout. I've included favorite highlights of the trip, sources for different things shown, some favorite places we visited in Charleston, and an intention for the next decade of marriage. Because apparently these 10 year chunks of time can go by quicker than anticipated!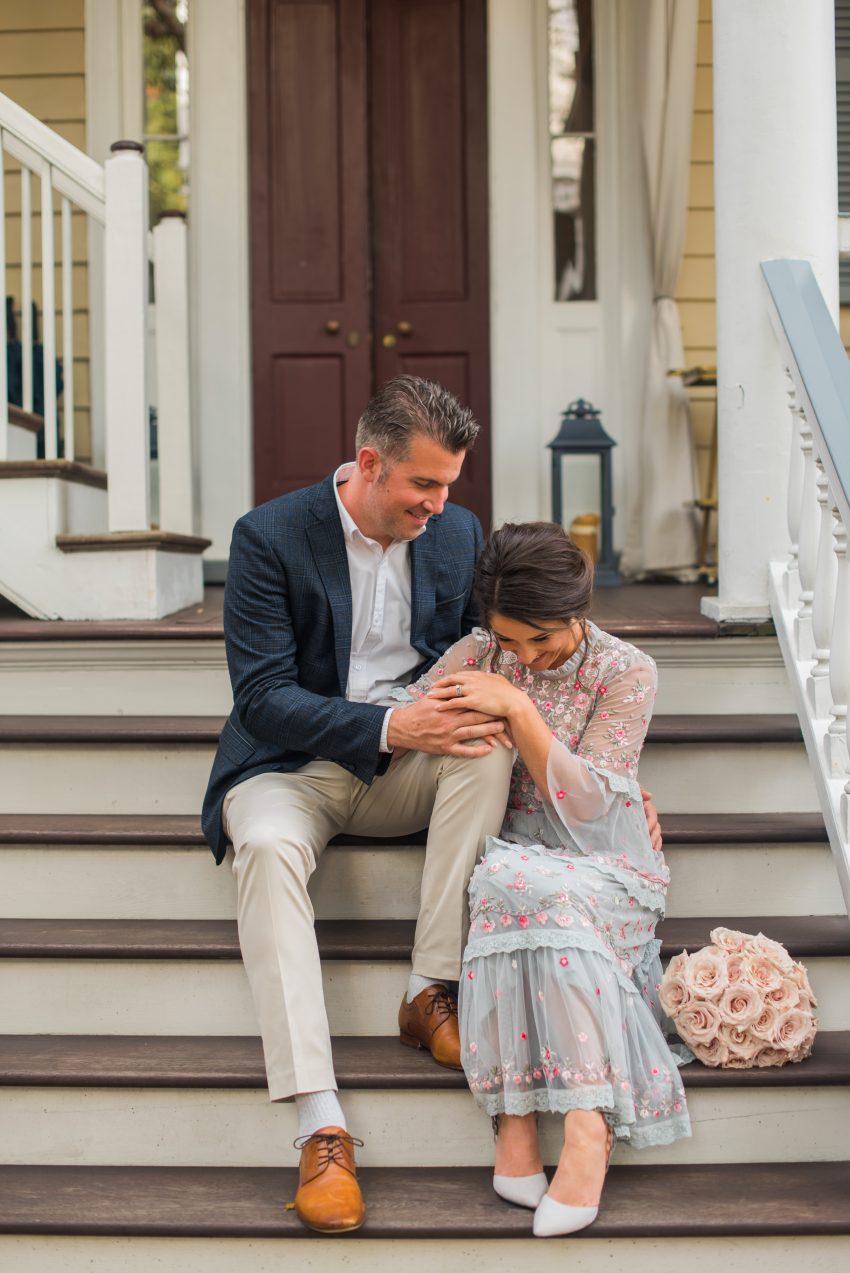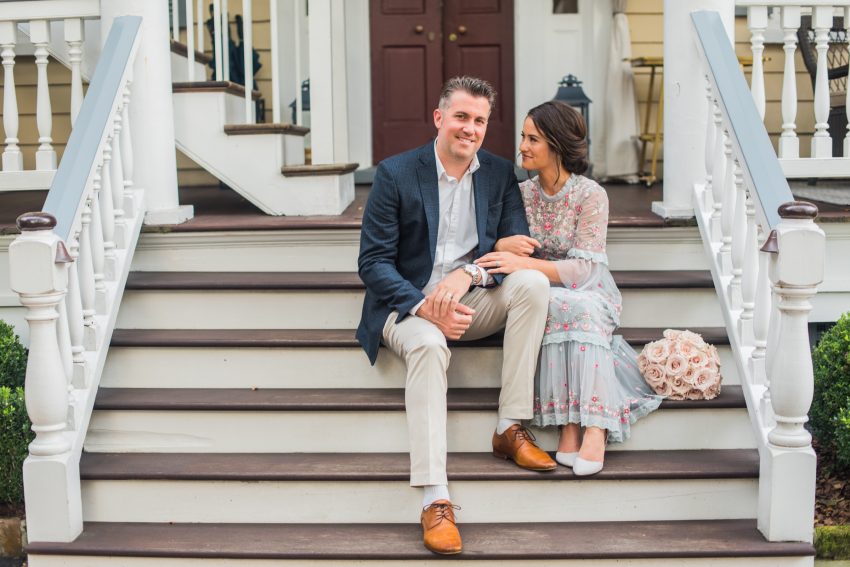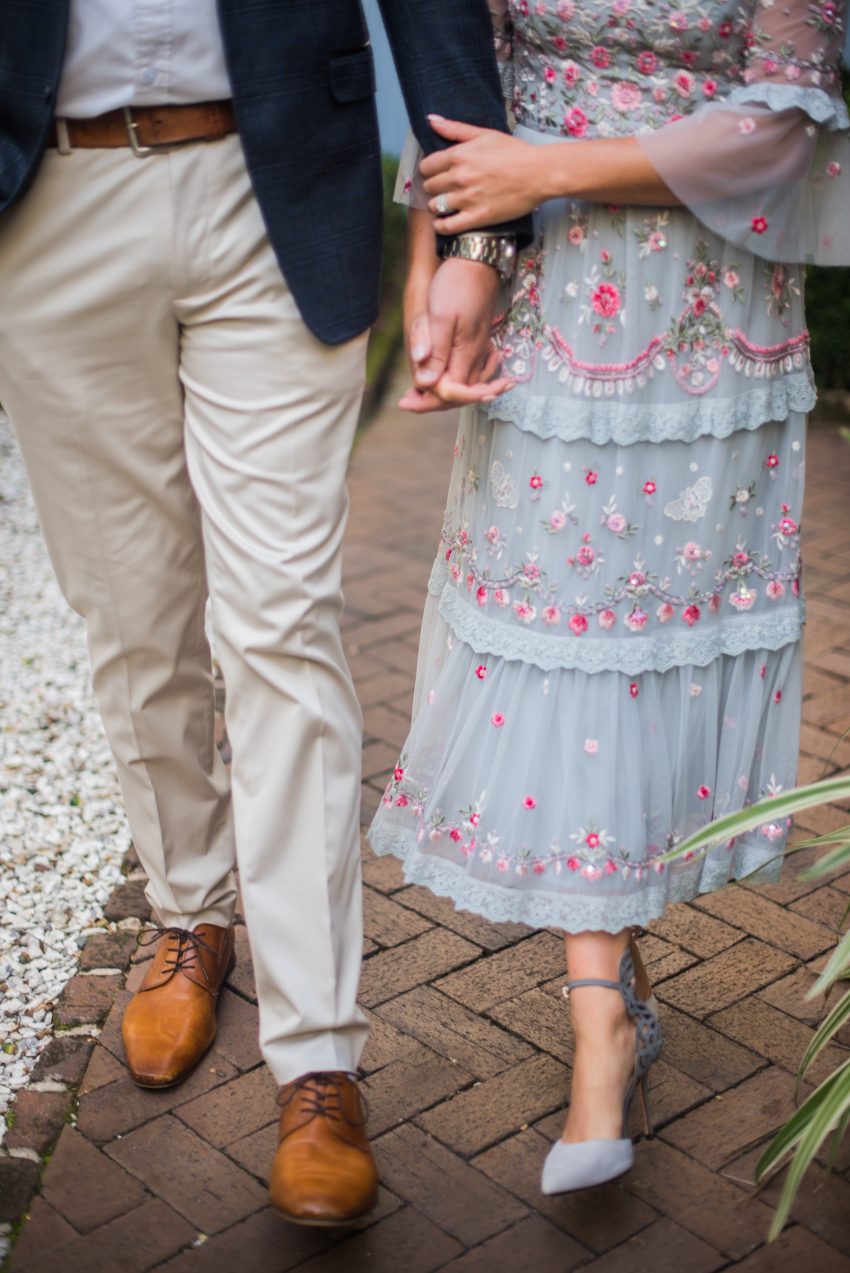 WHERE WE STAYED: We had been to Charleston before this trip and with Lachlan in tow when he was a little over a year old. We enjoyed our time but felt like for us, the city lends itself better to kid-free fun. We also knew if we ever had the chance to return to the city alone, we would stay at Zero George Street. A stay a Zero George Street comes with a price tag but we felt so safe and taken care of while we were there. We were attracted to not only the small upscale boutique feel of the hotel but planned to have our anniversary dinner at their restaurant, respectively named Zero George + Bar so the choice to stay there was a no-brainer!

The restaurant offers tasting menus only, with creative culinary delights I'm sure we won't ever experience anywhere else. Dinner took a couple hours to enjoy and sitting outside by candlelight in the September evening talking about the last ten years will be hard to beat! I still have blurry phone photos of each course we enjoyed, many times these courses still coming up in our shared conversations. I also have to note that most of the photos throughout the post were taken on the Zero George property. We didn't want to venture far from our room or dinner locale so Sirena kept us close as requested. Luckily, Zero George is pretty beautiful as you can see!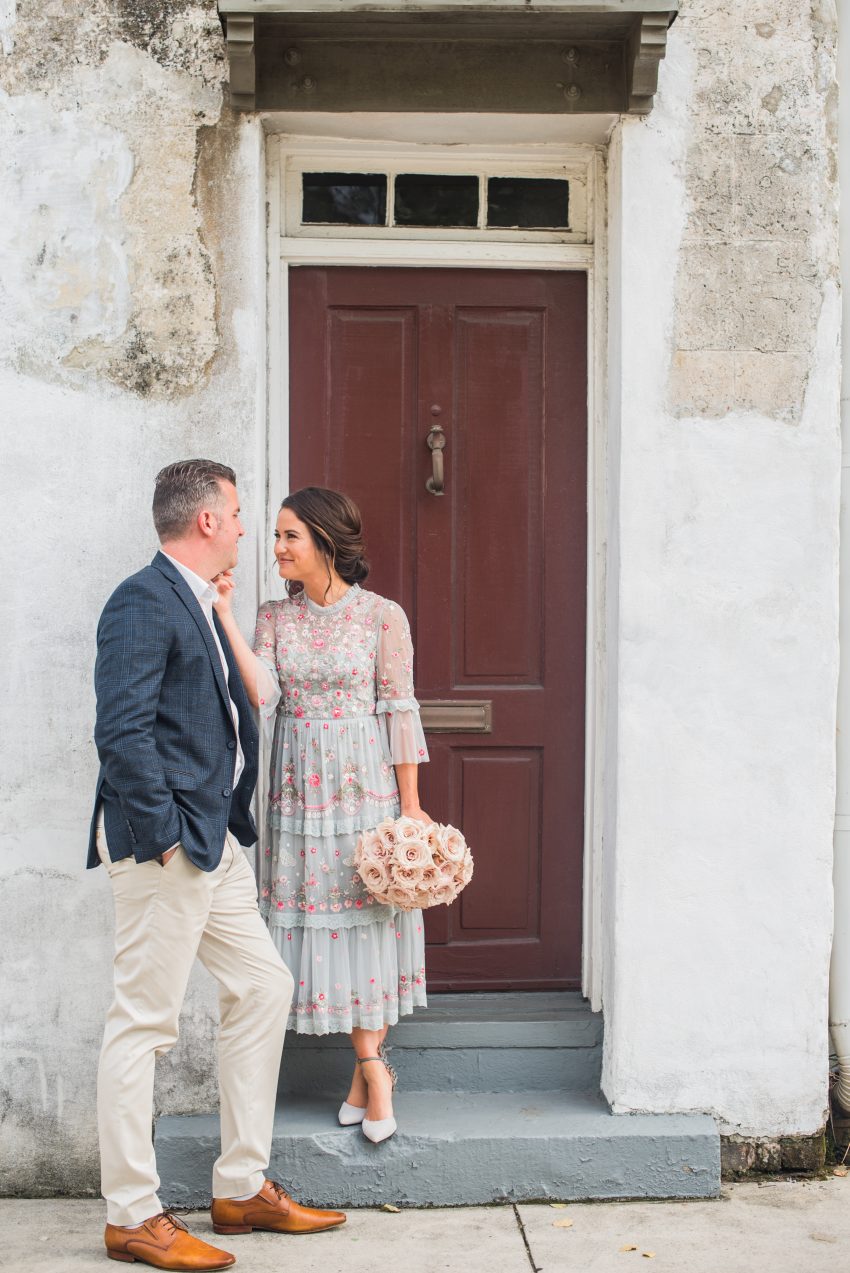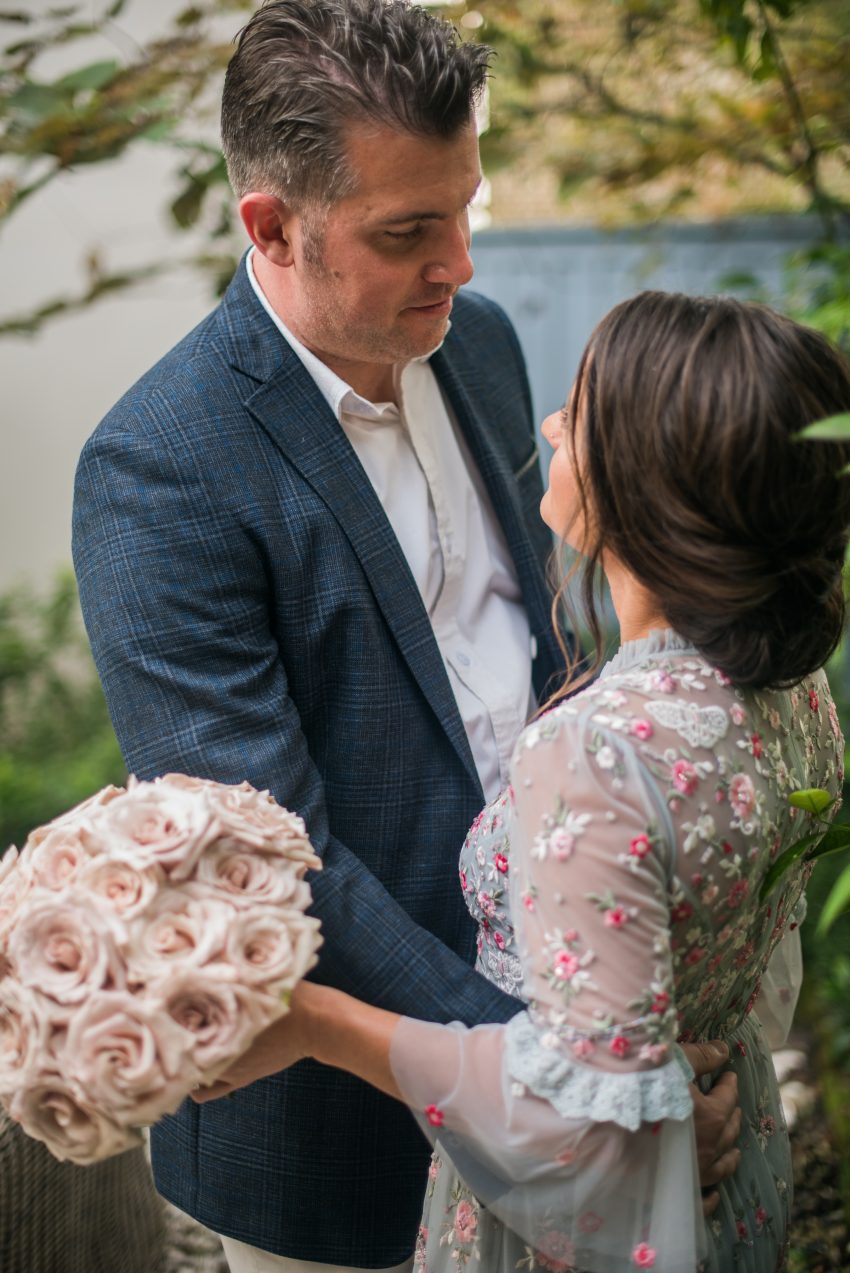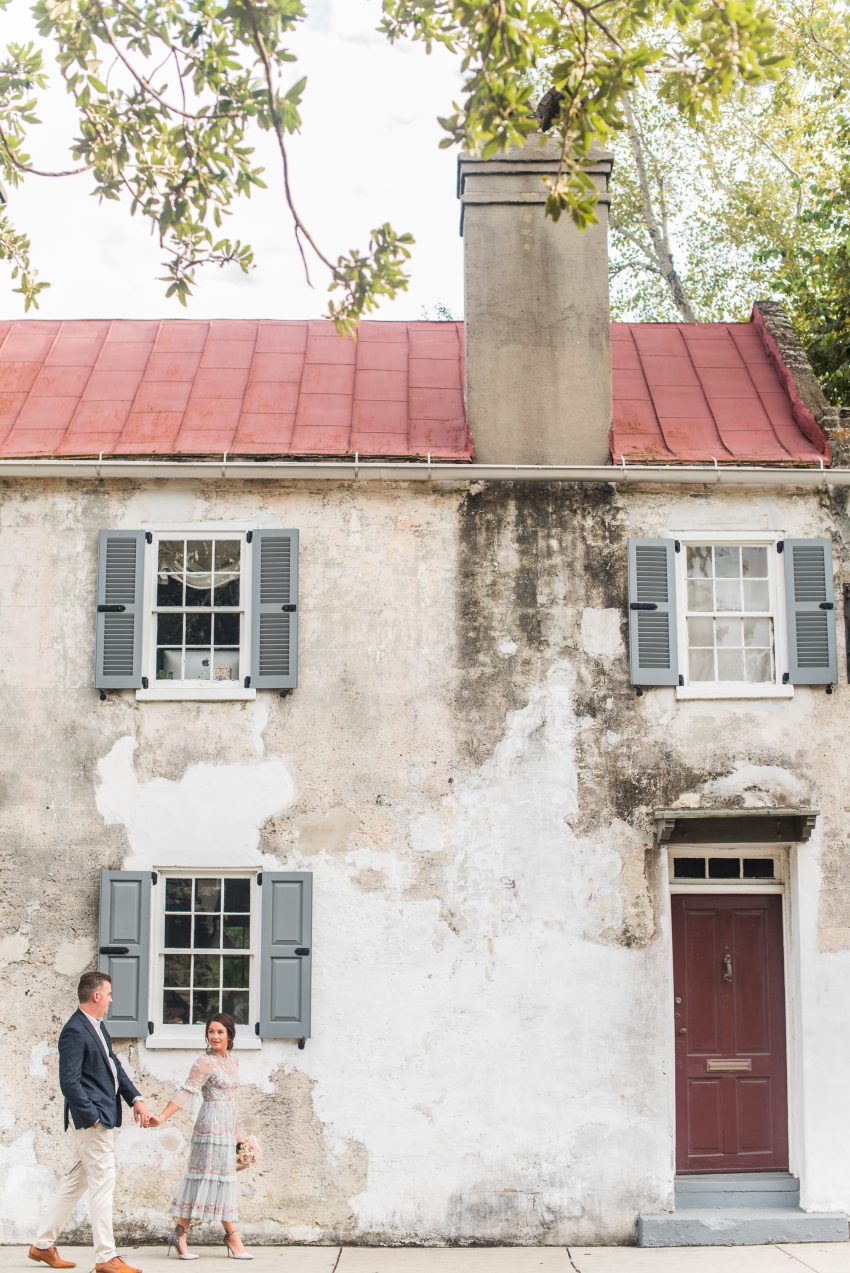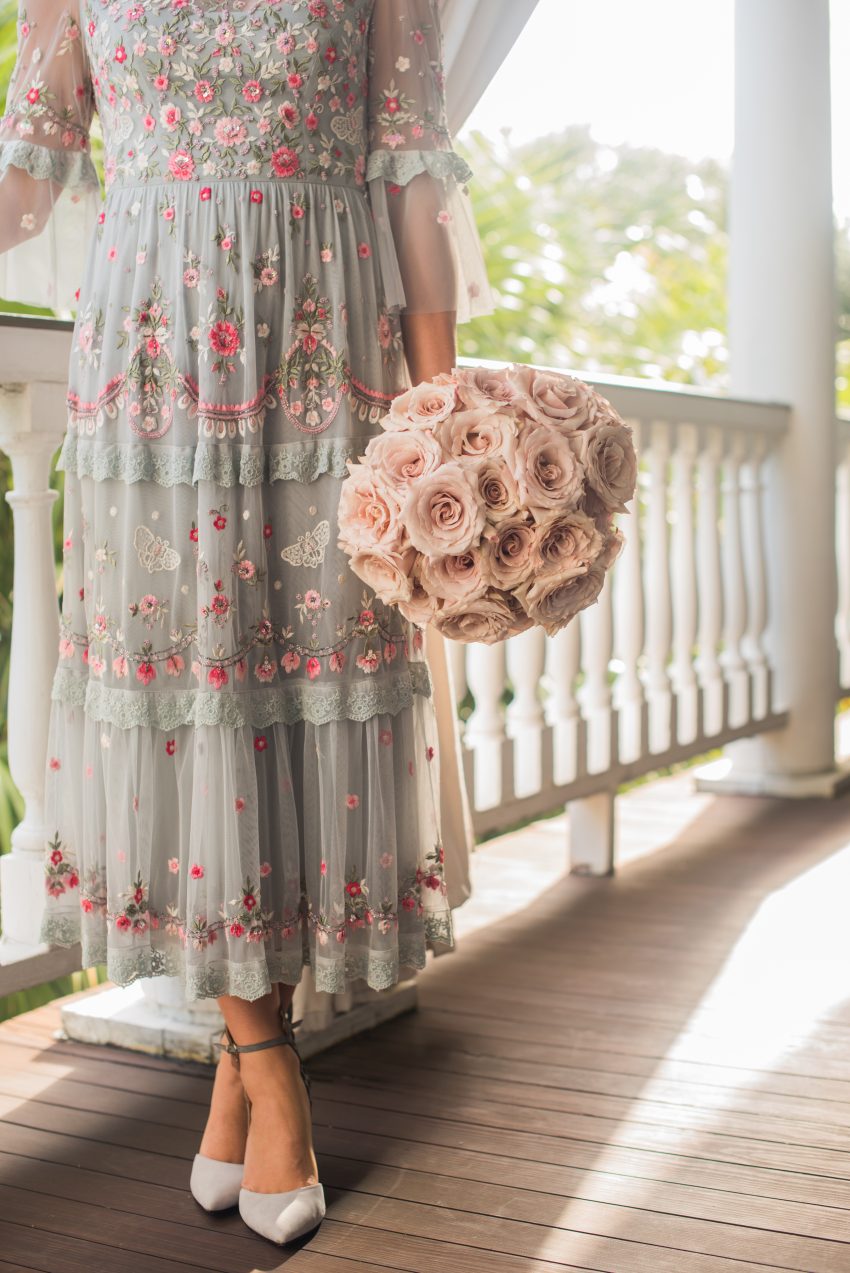 MY GOWN: Ok, while I don't mind paying for home decor with a price-tag, I dislike spending a lot of money on clothing. Since I work from home, half the year am usually inside because #winter, and also have two busy (messy) boys by my side, investing in higher priced or fussy clothing isn't high on my priority list. I knew though, that for this special occasion I would want something special to wear and everytime I searched for the perfect gown I would end up on Needle & Thread's site. For months I would close the window on my laptop and walk away, frustrated that the dresses I loved were hundreds of dollars.

Then, Needle & Thread had an end of season sale and one of the dresses I loved most, was reduced to a cost that felt realistic, if not still a splurge but one worth making. I snatched up what I hoped was my size (N&T notoriously runs small), knew I could lose a few pounds more if it wouldn't fit (I bought the gown months before our trip), and when it arrived literally 'ohhhh'ed out loud at how gorgeous it was in person. I stepped into it, asked Lachlan to zip it up for me (a sweet moment in and of itself), and kept it a secret until I asked Andrew to zip me into on our anniversary. The delicate embroidery and combination of tulle and lace is really quite remarkable. Will I ever buy another N&T gown? Absolutely. But it may be another sale snag!

I also have to add: this gown was originally a floor length style. I was going to have the bottom hemmed because even in my heels it was way too long. But when I got to my seamstress and we started to pin the hem up she proposed taking the bottom up to where the first tulle and lace tier break is. Not only did this alteration allow me to show off my Klub Nico shoes (older style but here is a similar style!) but it also helped me wear the dress instead of the dress wearing me. The new lace-trimmed hemline was so darling and made the dress feel customized to me!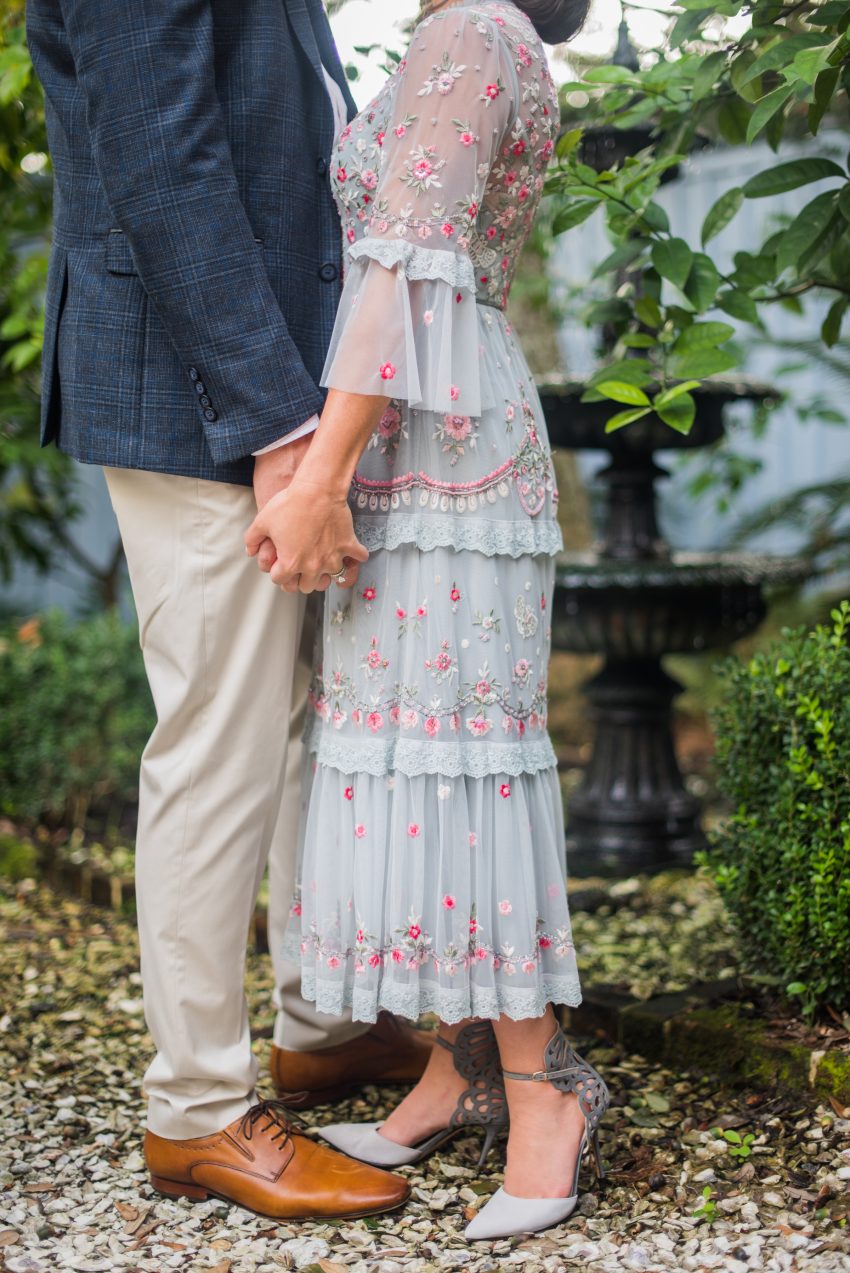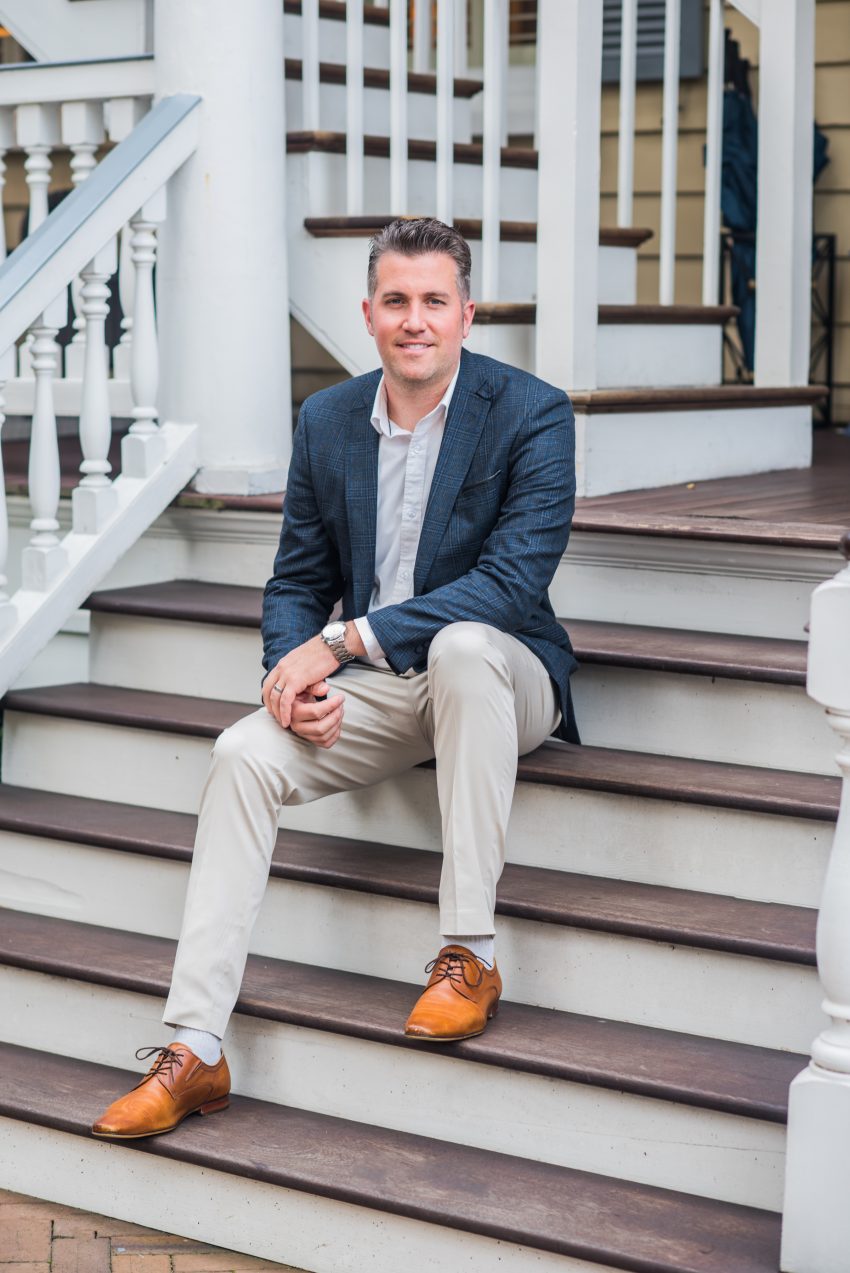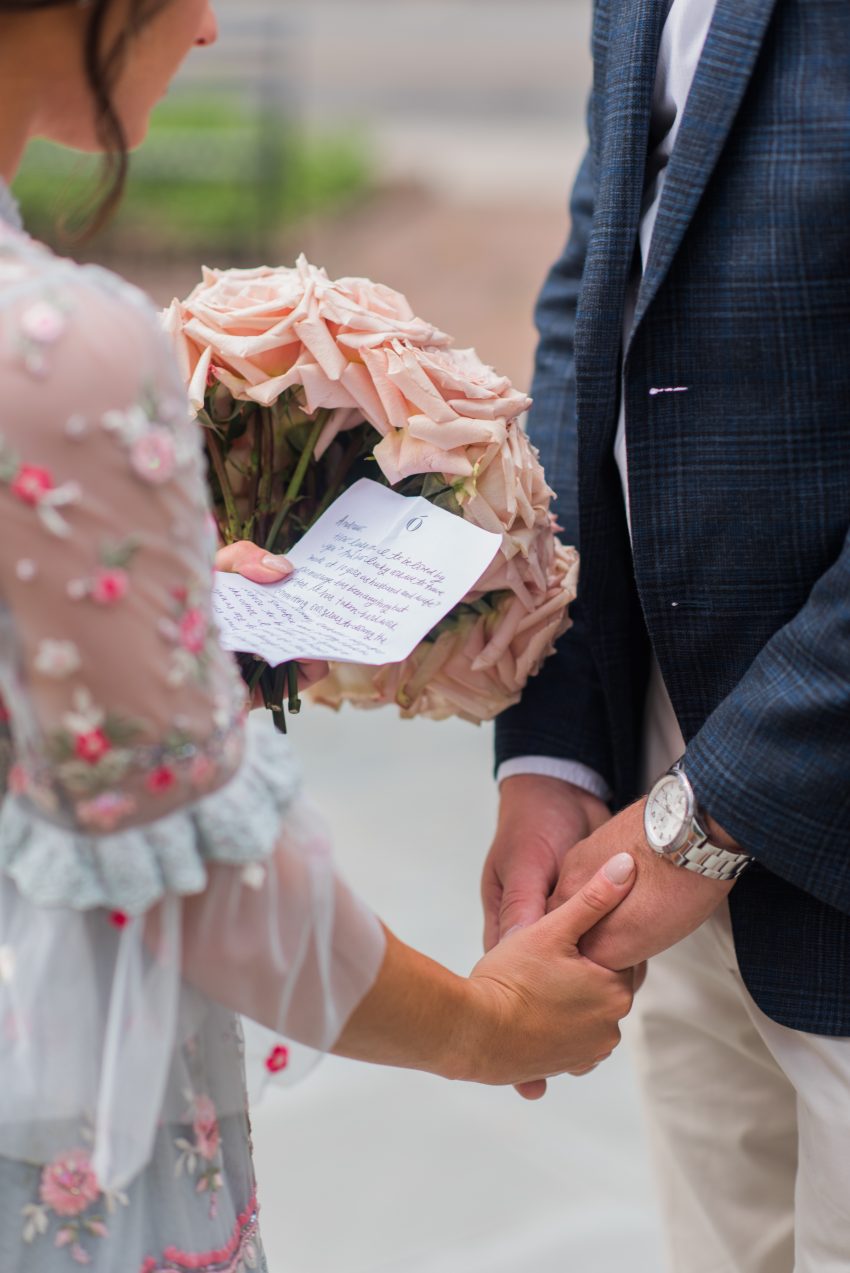 I wrote Andrew a note outlining the things I love most about him and how thankful I am for his lead over the last decade, and then read it to him during our session. I wouldn't call it this a renewal of our vows but instead a promise to pursue new commitments to one another as we grow in our relationship. Sirena stepped back a few feet and let us do our thing at this time, both of us tearing up just a little at the intimacy of it. I'm so grateful I fought the vulnerability and got to share these sentiments with Andrew.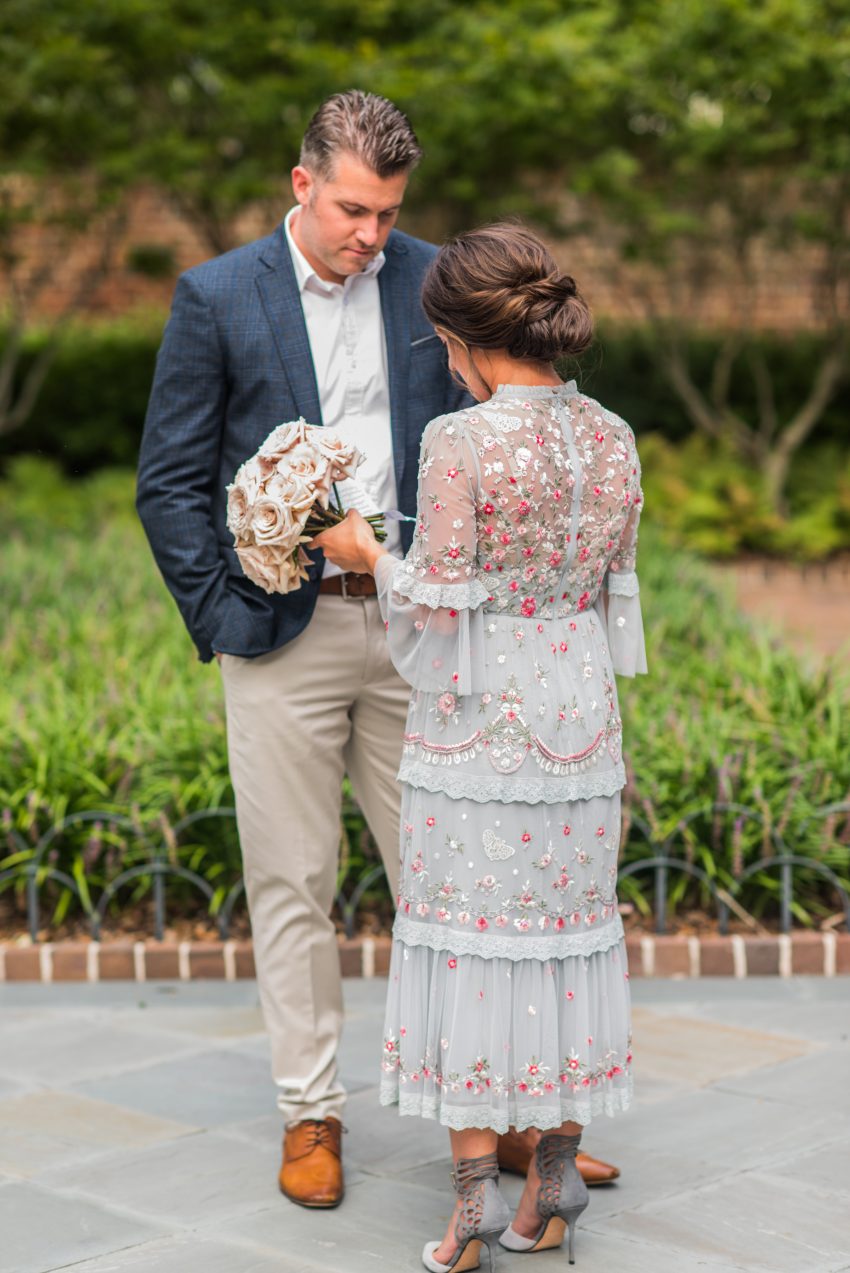 BEAUTY: I'm also so thankful for Beauty Asylum who came onsite to do my hair and make up for me. I went back and forth for weeks on whether or not I would have someone else do this for me and in the end decided to have it done professionally. The back of my hair design was so classic and striking just like the inspiration photos I had saved for the occasion. It was a little like how I wore my hair on our wedding day, but just a bit more grown up! And just like how on our wedding night we took out the seemingly hundreds of bobby pins stuck into my hair, we did the same at Zero George, a full circle sort of moment I loved.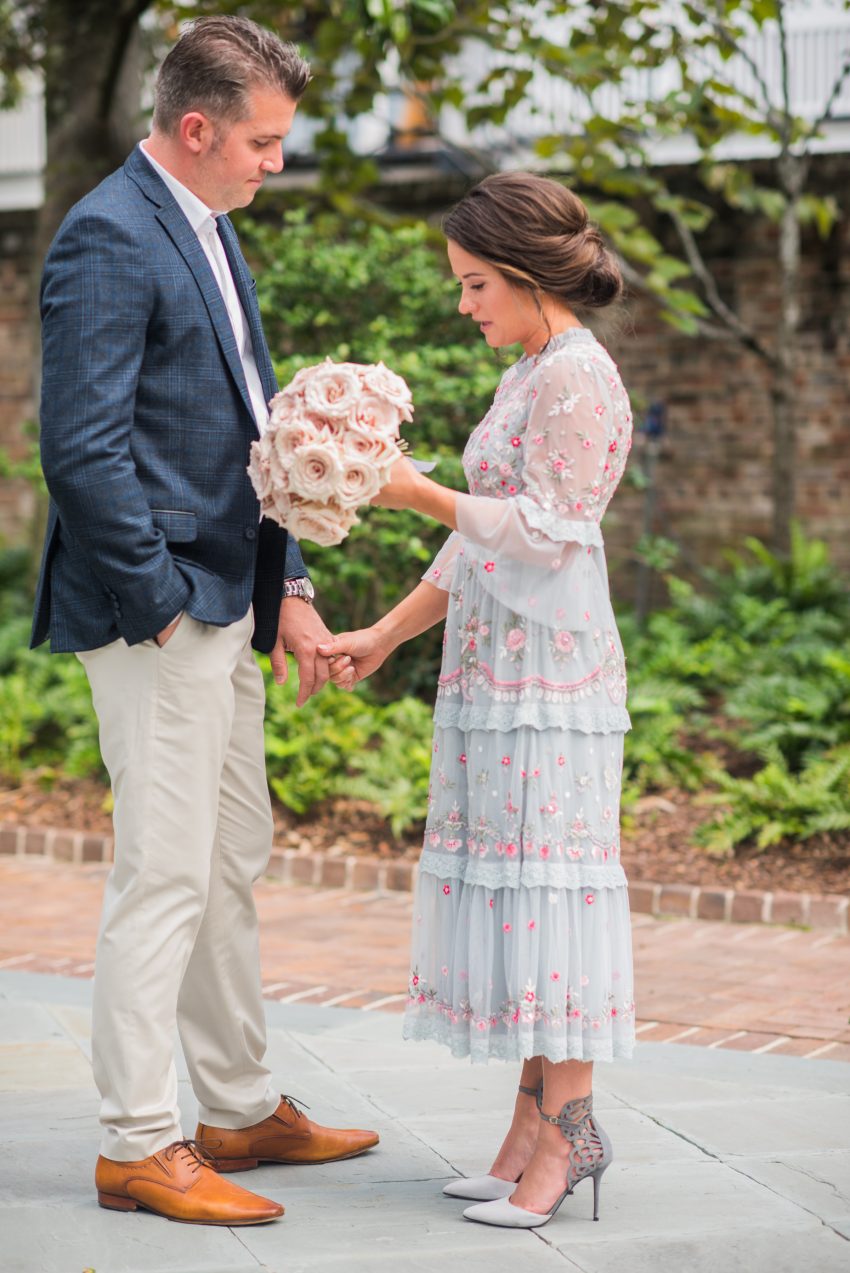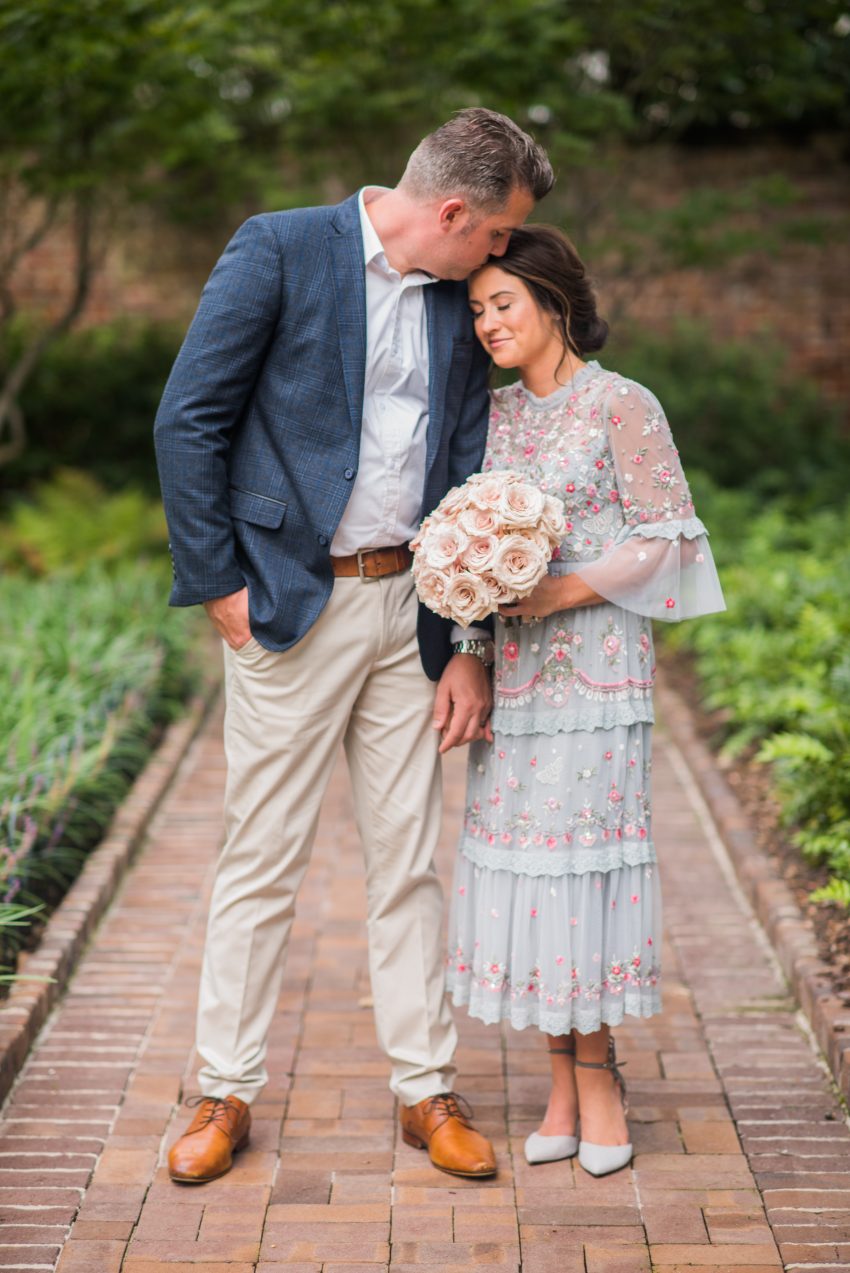 As for the bouquet? Adding that was a last minute decision. I felt like the bouquet would be a sweet nostalgic touch to our celebration and appropriate given that I've made bouquets for hundreds of women before but never one for myself. I had my local Grand Rapids wholesaler send me one bunch of quicksand roses via FedEx and I threw some clippers and floral tape in our suitcase so I could make the bouquet the day of our anniversary. I think the process took me about 25 minutes! I gave Sirena the bouquet at the end of our session as we parted ways and it was ten times better than any bouquet toss I've ever witnessed.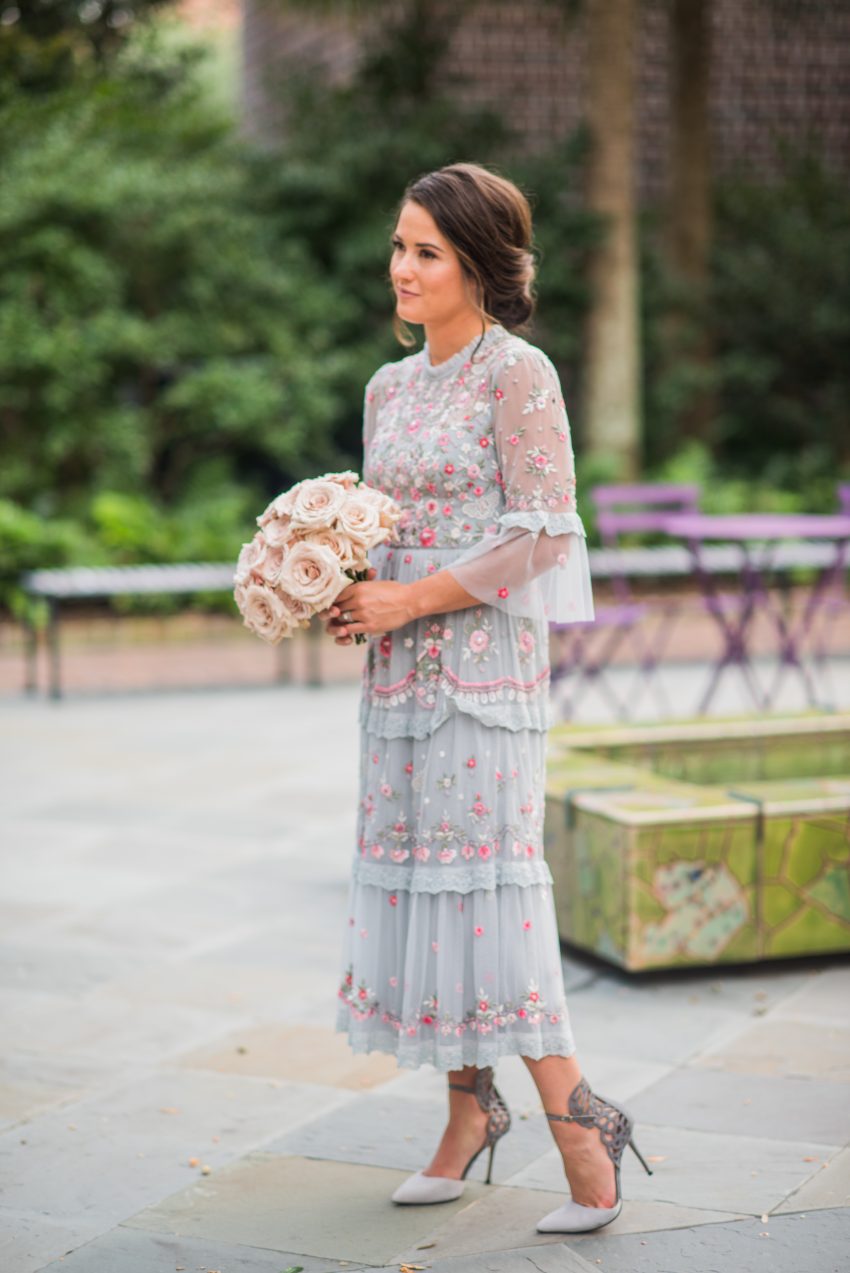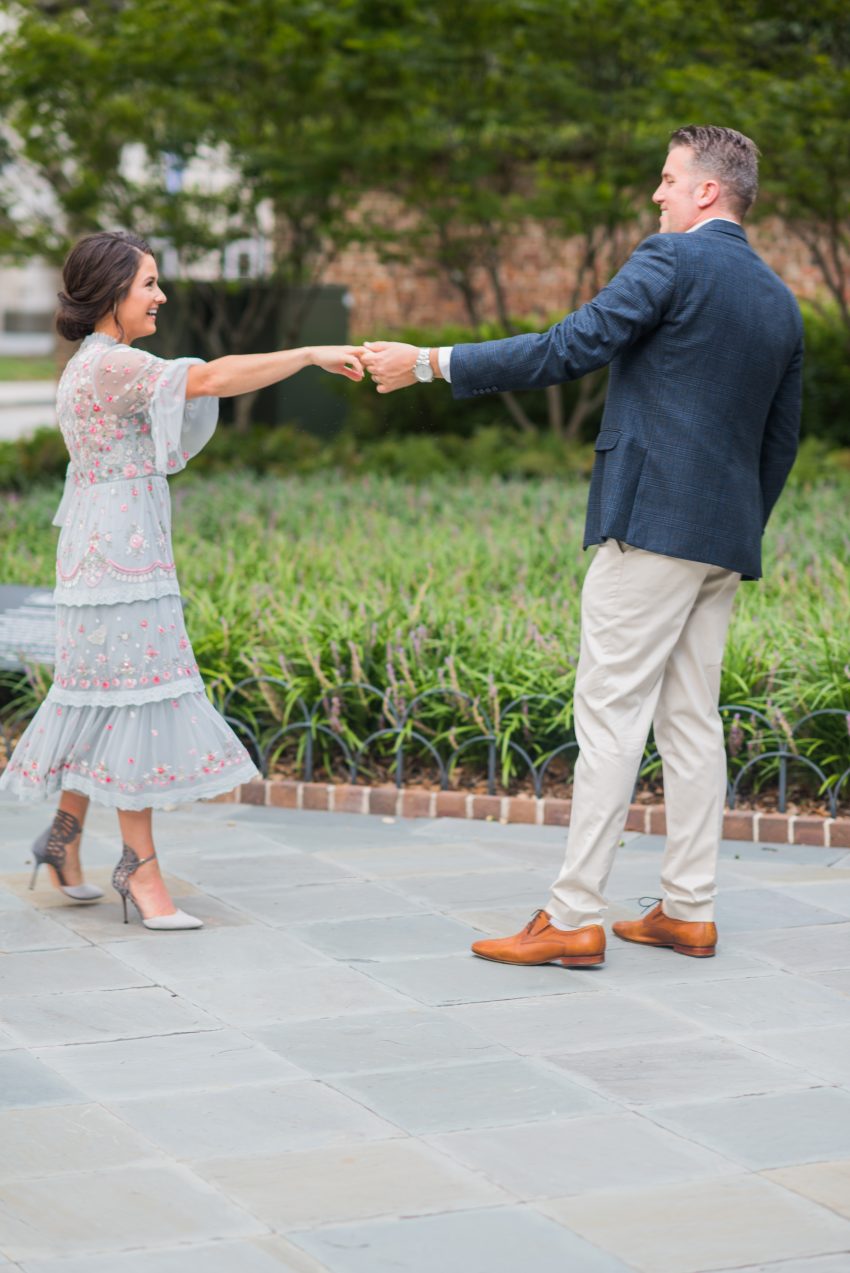 THINGS WE LOVED IN CHARLESTON: The city was very quiet when we were there, likely due to the pandemic and it being mid-week. As such, we spent as much time as we could outdoors either on our bikes or on foot as we explored various parks and outdoor nooks. Being kid-free is a treat we don't often experience in our day to day adventure so this simple perk was enough for us! For meals, some were grab-and-go style enjoyed back at our hotel on our semi-private porch, and some were enjoyed indoors in socially-distanced spots. Here are our dining suggestions but know there are endless delicious establishments to consider in the city:
FOOD & DRINKS
Zero Restaurant + Bar (make a reservation!)
167 Raw (delicious seafood, Andrew's highlight)
HUSK (we ate dinner here our first night)
Callie's Hot Little Biscuit (perfect for breakfast)
Poogan's Porch (enjoyed during our first visit in 2017)
Magnolias (enjoyed during our first visit in 2017)
COFFEE & SWEETS
The Rise (part of The Restoration hotel)
Clerk's Coffee (inside the Emeline Hotel)
Sugar Bakeshop (we did a preorder!)
Carmella's Dessert Bar (just delicious)

THINGS TO DO
Rent electric bikes and take a seamless cross-town trip
Visit Rainbow Row and admire the colorful architecture
Take an afternoon stroll through Riley Waterfront Park
Snag a souvenir from the Historic Charleston Market
Stop into the number of small boutiques on King Street
Stop into The Tiny Tassel and hug my friend Mimi!

The list of restaurants, bars, and sightseeing opportunities is truly endless!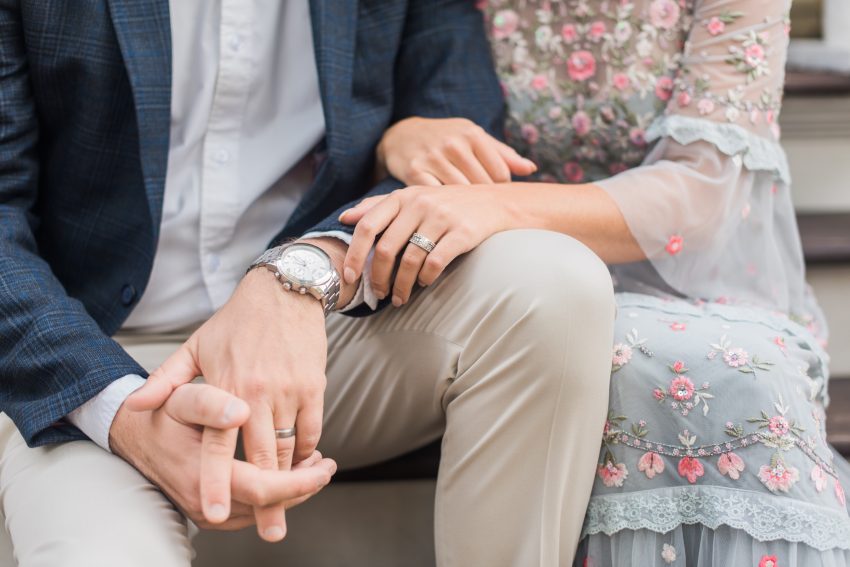 And finally? If my Nan were still with us today I know where this image would go: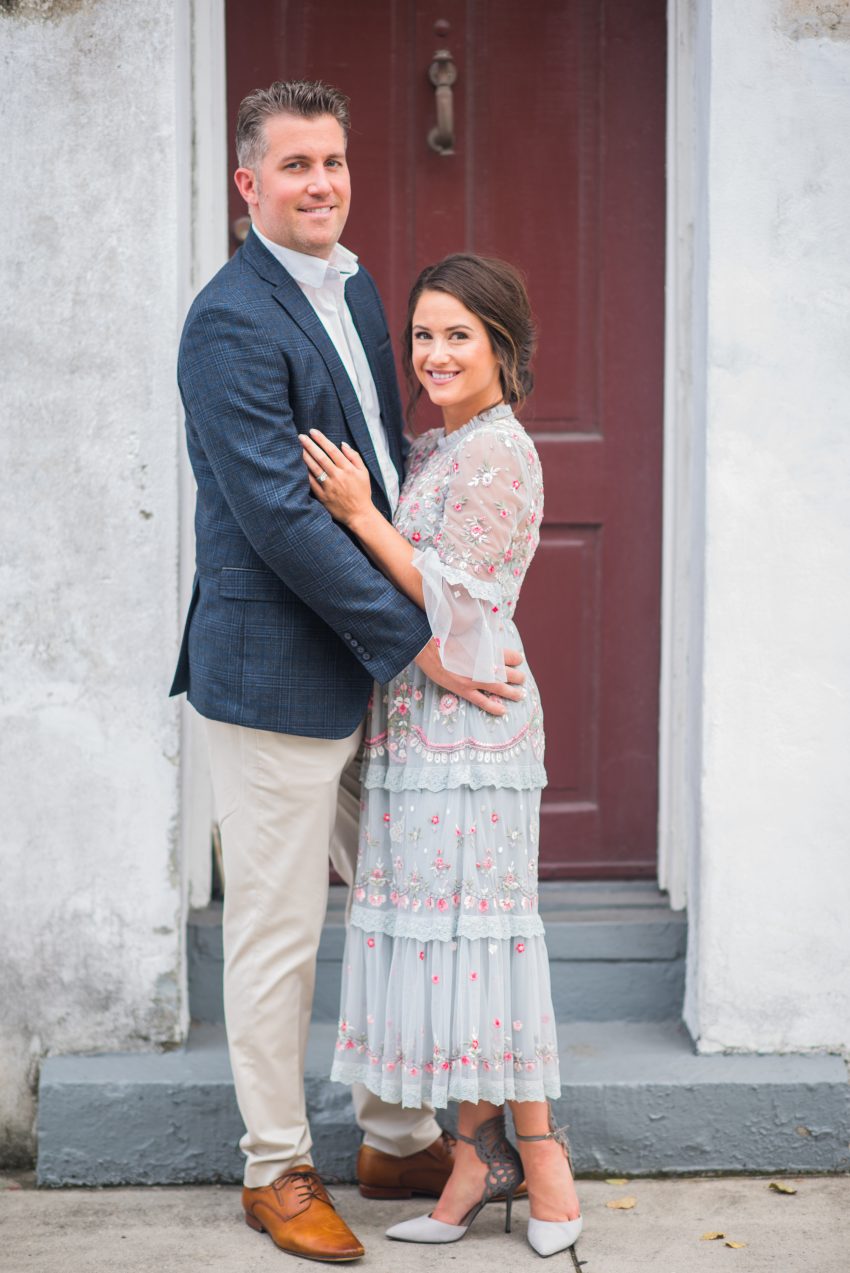 My intentions for the next ten years include: choosing to let go of my anger quicker than I might otherwise, remembering to always say goodnight even at the end of a long day, choosing legacy over laziness, always showing interest in my partner's likes and pleasures, making my gestures of love obvious for our children to witness, and remembering this is a partnership that's worth fighting for always.

Thanks for bearing witness to the journey we've been on, friends! Xo
Affiliate links are used in this post!