I think my first born's fifth birthday felt a little more emotional than his first. Maybe it's pandemic fatigue or maybe it's having another little boy who makes the passing of time just a little more obvious. But celebrating Lachlan as he turned five brought on an array of very different emotions. I wrote about all of those here though, so today it's all about his little celebration and the fun we had.

Since a large birthday party with all of his friends was out of the question – a bummer given that he's finally at the age where this is something he's interested in – we decided to make the afternoon really special even with a small guest list and having the party in our home. Sam and Emery joined us as a party of two and Andrew's sister and her kiddos came over. We've seen these two families consistently over the last almost year of the pandemic, and everyone felt comfortable and safe.

As for the theme of the party; you know we love a solid party theme in the Bosse home. In the past I've picked party themes based on Lachlan's general interests – dinosaurs, puppies, construction vehicles – and this year it was crystal clear what theme felt most fitting: LEGO! If you know Lachlan you know the kid is a die-hard LEGO fan. His favorite thing is building the LEGO themed kits according to instructions but then dismantling the kit creation to blend those parts with other pieces to create something totally new and creative. Like this LEGO cake? No longer is it a cake. He's so creative and curious, always very focused on making the best use of every piece.

Perhaps this is normal, but sometimes I worry about my kids and the pace at which they are progressing with their development and skills. Are they learning at the right rate? Is it normal for my kid to not want to color with more than one marker for more than 30 seconds? Is it OK if he can't read yet? He loves to scooter but won't sit on his bike without tears; is he doomed?! But then I see how Lachlan builds and creates, imagines and brainstorms, innovates and problem solves. And I know all is well.

Throughout this post are some of my favorite photos from the celebration and respective commentary. Also, it goes without saying, but having a best friend as a talented photographer has made these milestones ten times sweeter because they are captured so beautifully outside of my memories. I'm very aware of how big of a blessing this is. Thank you Sam for always being a part of these milestones.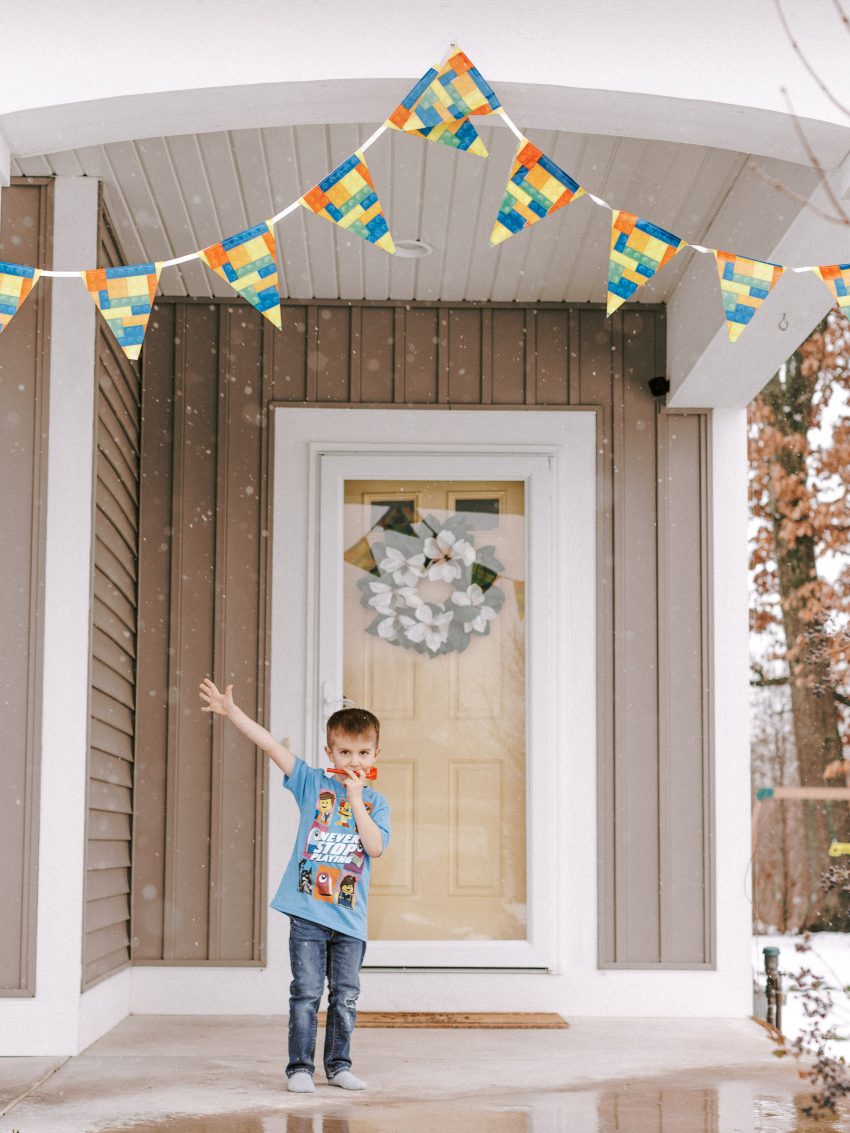 Of course it snowed on his birthday. Just like the night he was born.
Because there was a total of 10 people at the party, I wanted to challenge myself to keep the party on theme and meaningful but within a reasonable budget. I always invest a good amount of time and money into our kids' parties BUT a party with ten people on a snowy January Sunday felt like a nice opportunity to get creative with where I spent my money. I'm happy to report that so much of the decor was either found at the Dollar Tree, in my personal decor stash, or was purchased with the intent for those items to be used by the kids moving forward (more on that below). Food and drinks were kept very simple and to a minimum given our 3:00 pm party time – not lunch but not dinner – and the focal point of the party, the cake, was the one part we felt it was appropriate to splurge on.

Starting with some of the decor I incorporated into the party! On our front room dresser was my a letter board sign from my inventory with some important text and a display of Lachlan's recent LEGO creations he made leading up to the party. I wanted him to be a part of the 'decor' making so this was his contribution and how fitting because we already had all the LEGOS!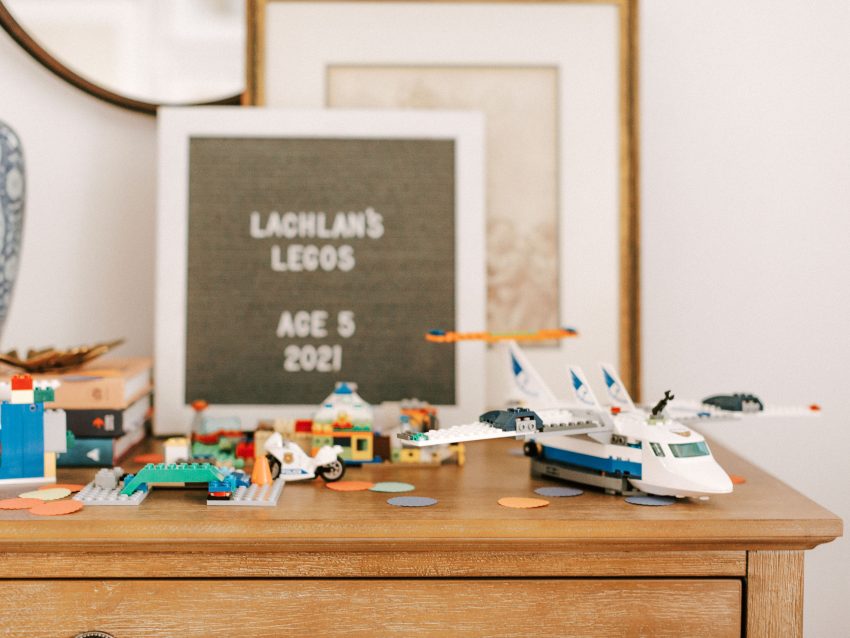 Using some construction party already in our craft bin and an old scallop hole punch, I made LEGO colored confetti that got sprinkled on just about every surface of our home. I made the confetti while Lachlan signed his name on the cards that went into his classmate's treat bags, making it a group effort to get the decor made. More on the friends' treat bags below!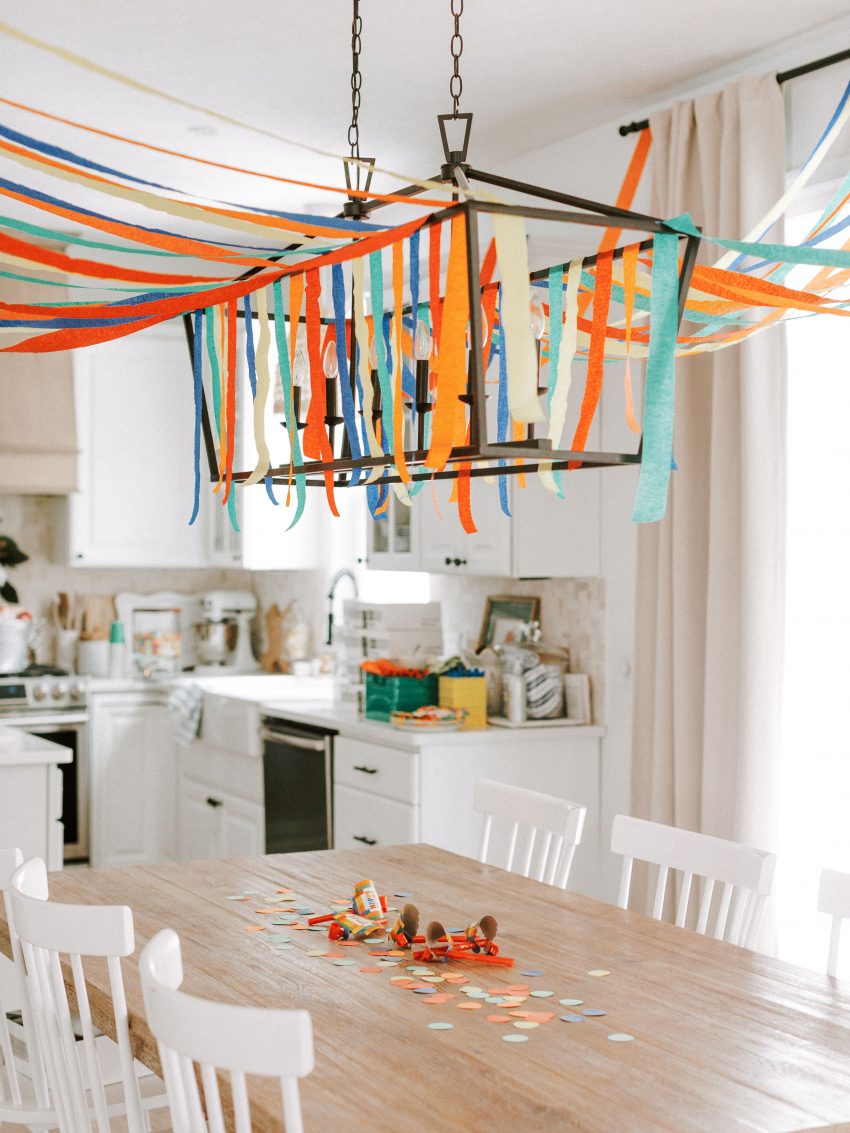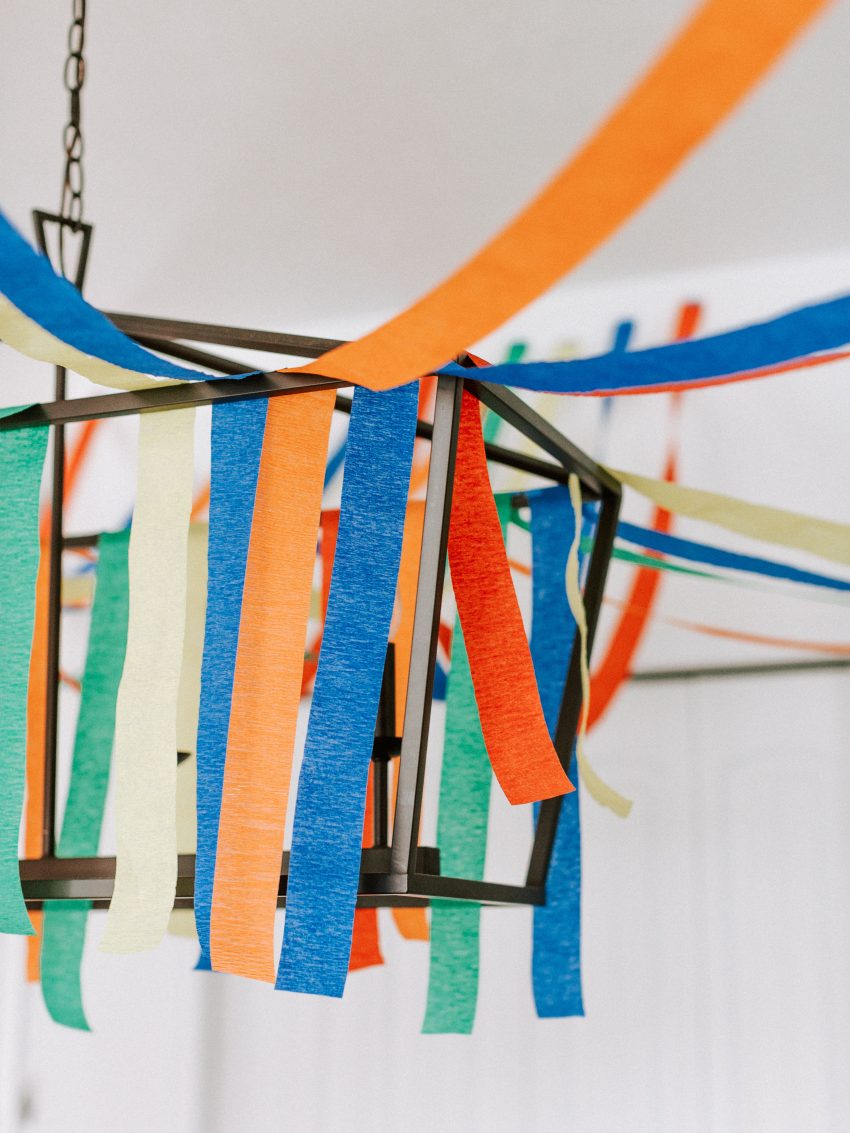 Let's talk about the most underrated party decoration: crepe streamers.

Last year I used some red and pink streamers to decorate for Valentine's Day and the end result was SO cute and memorable that I knew this way of decorating would come in handy again. For less than $10.00 I bought LEGO colored streamers, five rolls in total, and was able to decorate the main space over our dining table and the wall over our toy cabinets in a really impactful way.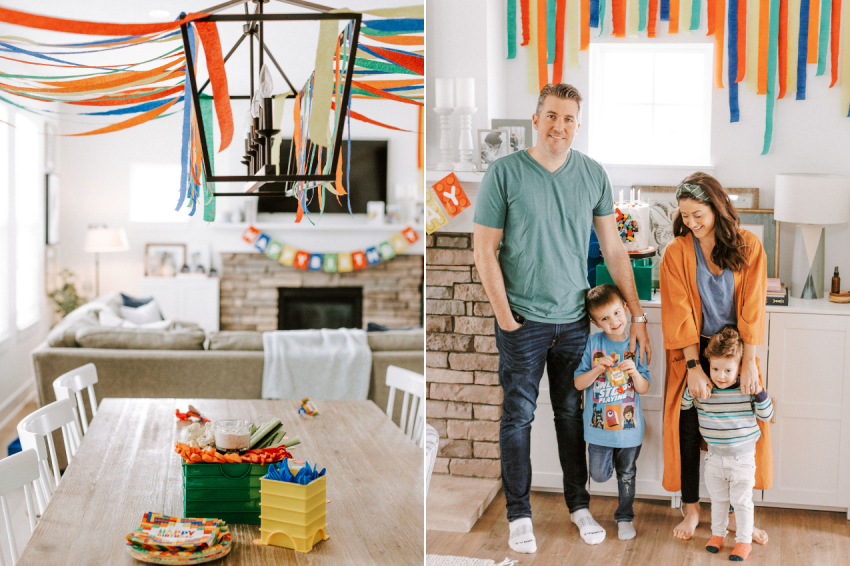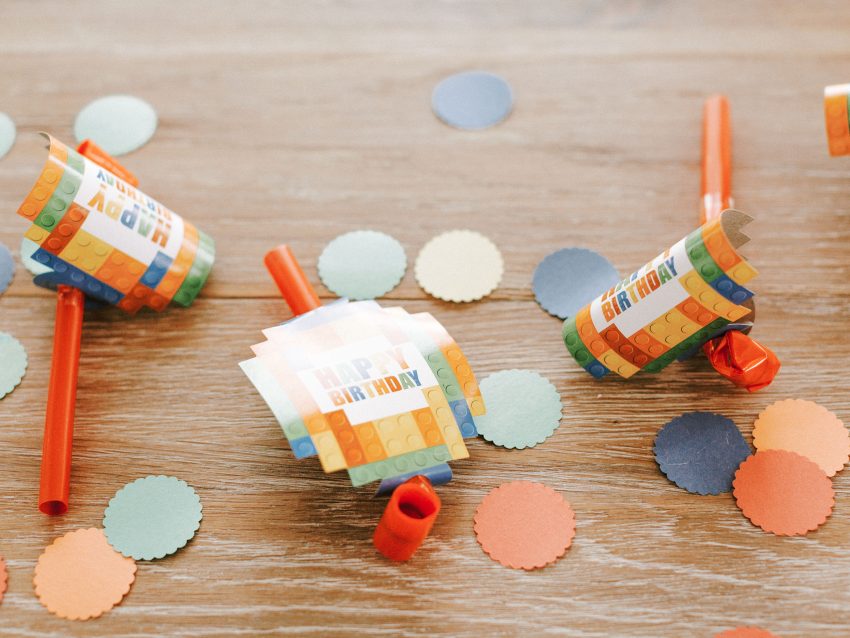 The Dollar Tree and Oriental Trading came in handy for a few standard party items like party blow outs, paper plates, napkins, paper cups, birthday banners, and favor bags. That's also where I found the LEGO banner we hung outside on our front porch. Turns out LEGO is one of the only themes that's not readily available on balloons (which I try to avoid using for eco-reasons anyway), or any other item at say, Party City. Luckily these 'block' themed pieces hit the mark perfectly and at dollar price-points to boot!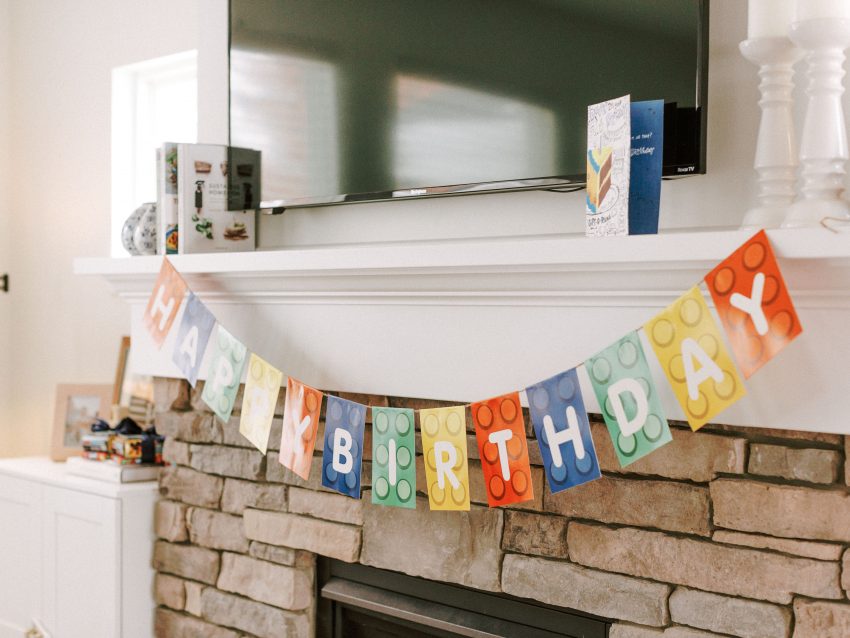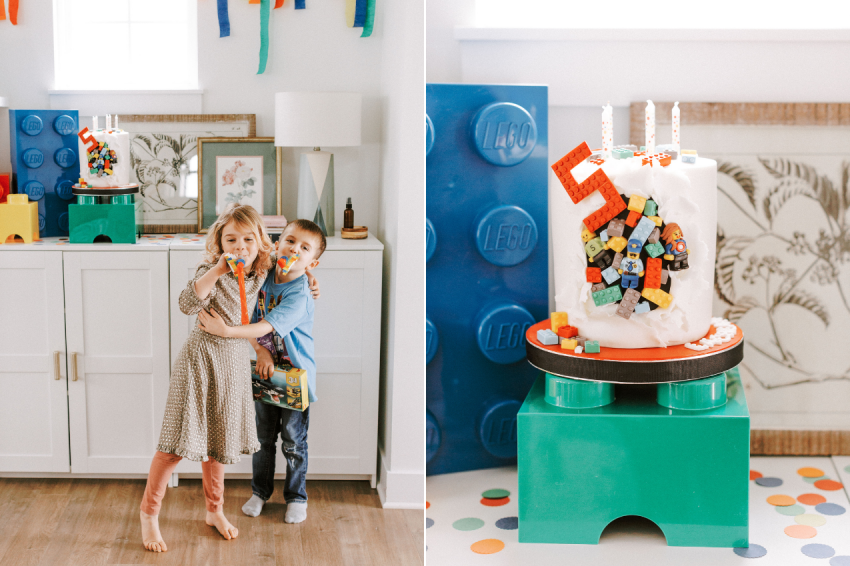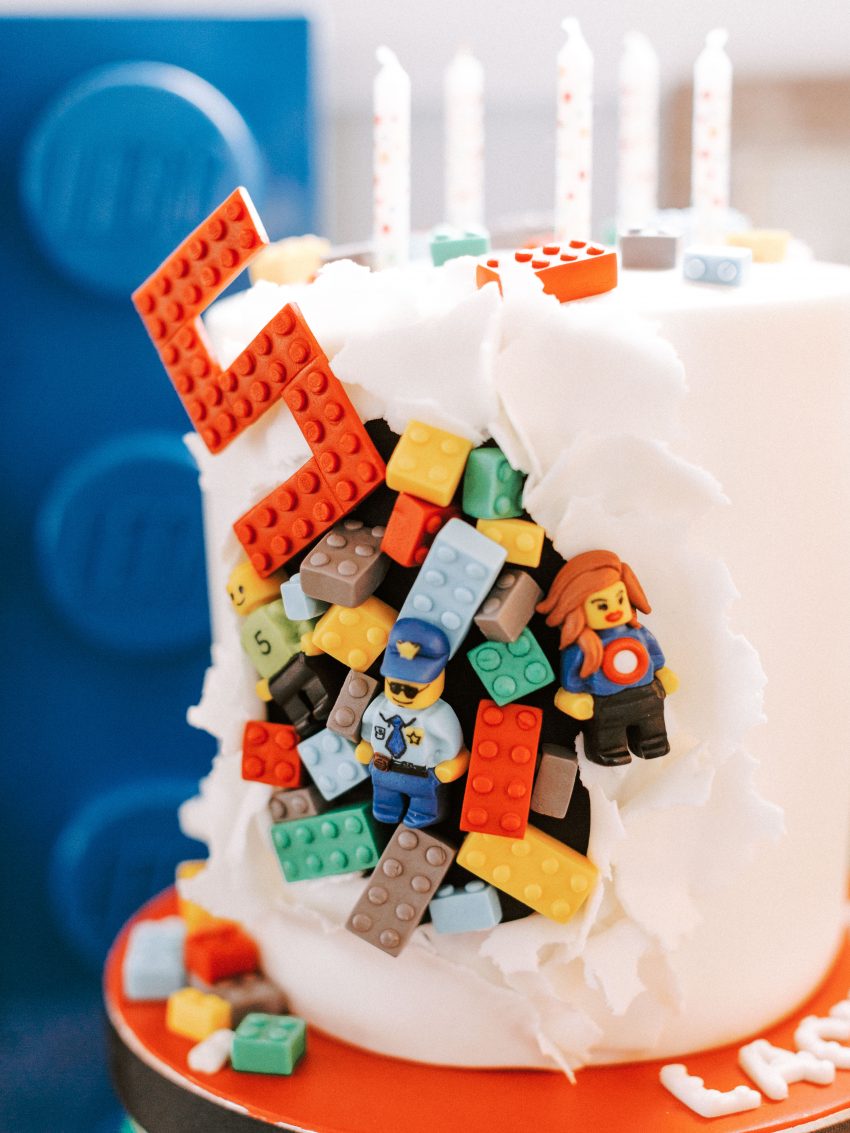 For all of Lachlan's other birthday parties we've gone with grocery store cakes. Definitely tasty options but not always the most creative in the aesthetics department. So for this birthday I knew I wanted to splurge on a designed (surprise) cake that would delight our birthday boy. Lincoln from Flour House Cakes & Co came through with the most incredible cake, edible LEGO pieces and all! Some of the LEGO pieces even had the company's logo on the raised parts of the blocks. The cake was certainly our pièce de résistance!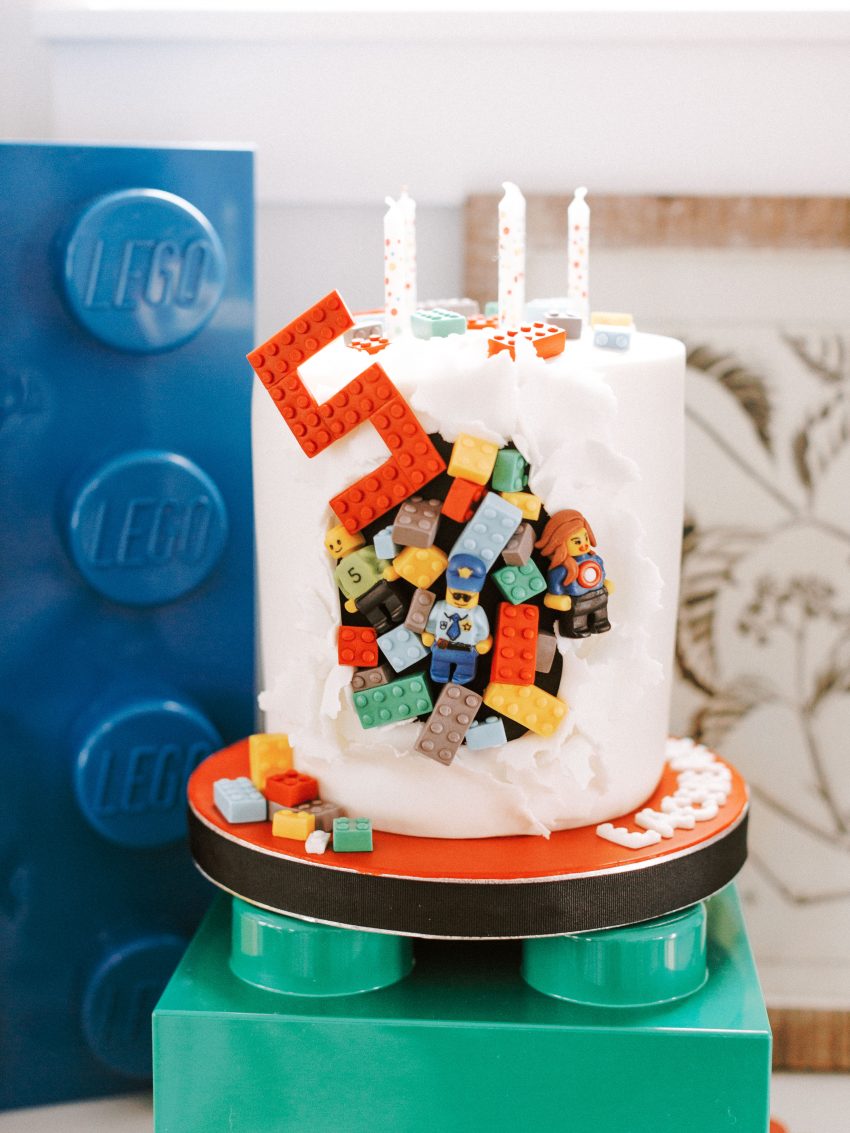 And those giant LEGOs? They are actually storage bins with large lids that slide on and off. I found them one day when I was at Home Goods and knew not only would the make for perfect party decor (that green four-notch LEGO bin was the perfect cake stand!) but they would be lovingly used for actual toy storage in our home. While L's LEGOs have always been pooled together in a large LEGO table in his room, the LEGO bins currently and neatly house things like magnetic tiles, another 'toy' we have a surplus of!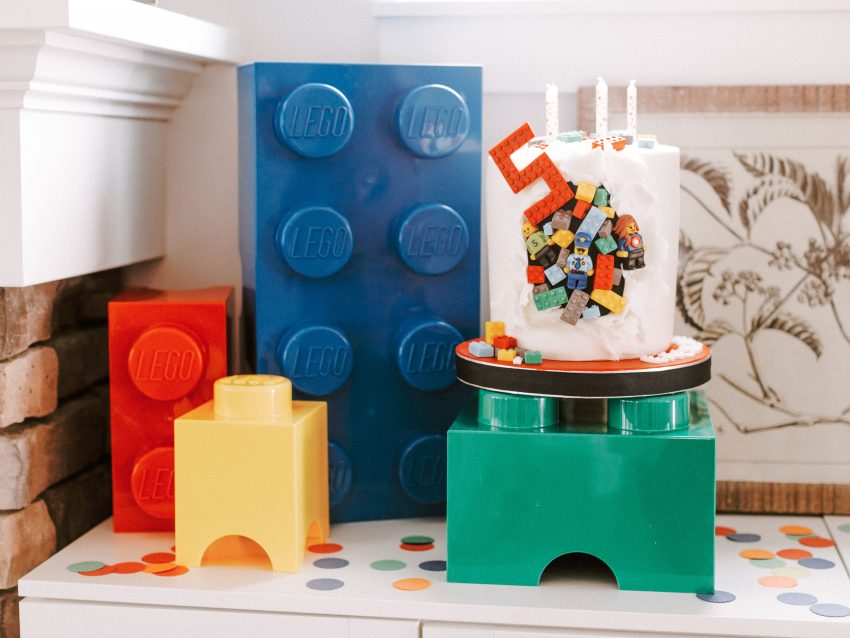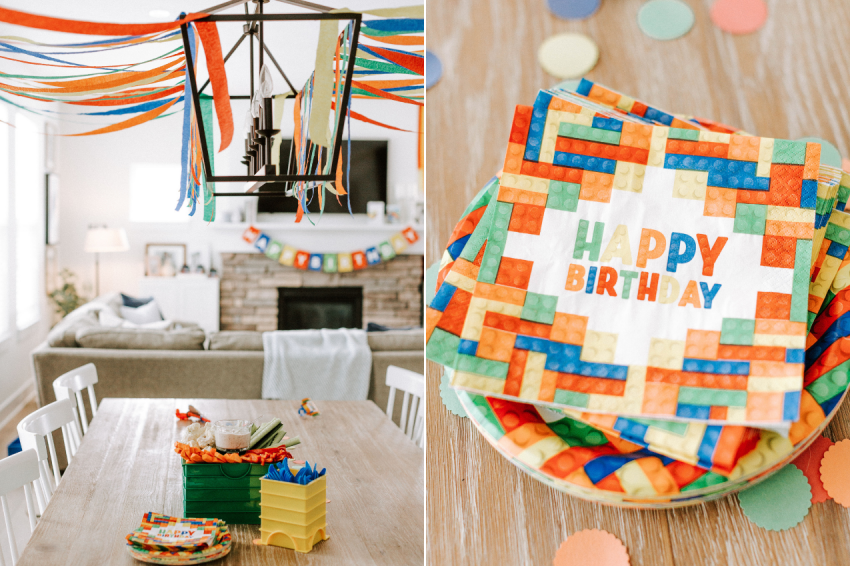 For food, we got everyone a Panera boxed lunch. Turkey and cheese for the kiddos and avocado BLTs for the adults. The meals were a hit and eliminated a lot of food prep and clean up I would have been stuck doing! Then we also did a small veggie platter and dip which fit perfectly in the underside wells of the green LEGO bin. Since everyone could fit around our dining room table, we kept the veggie tray in the center and then we sat with our box lunches and ate together. The world felt normal for a change and it was so nice.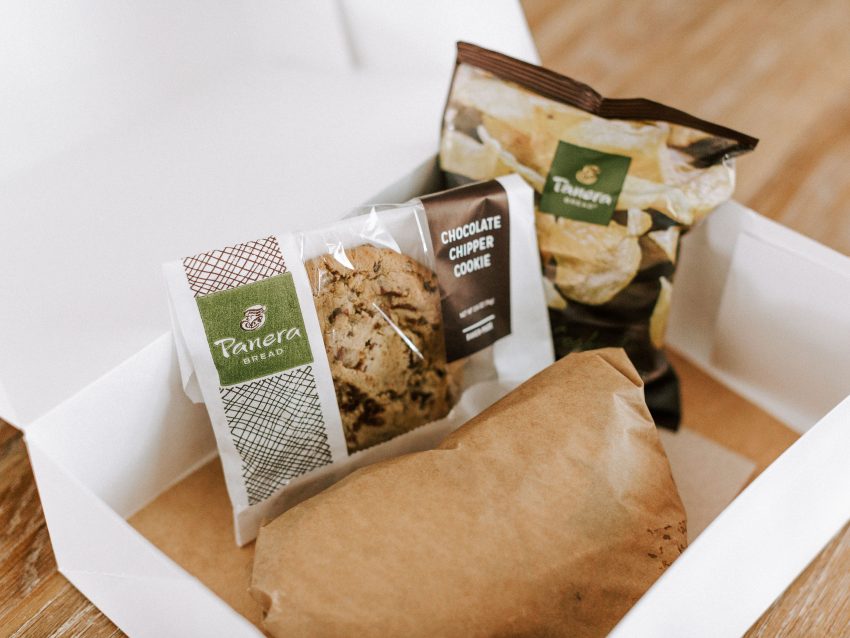 Drinks included Honest juice boxes and Bubbly in LEGO red and orange!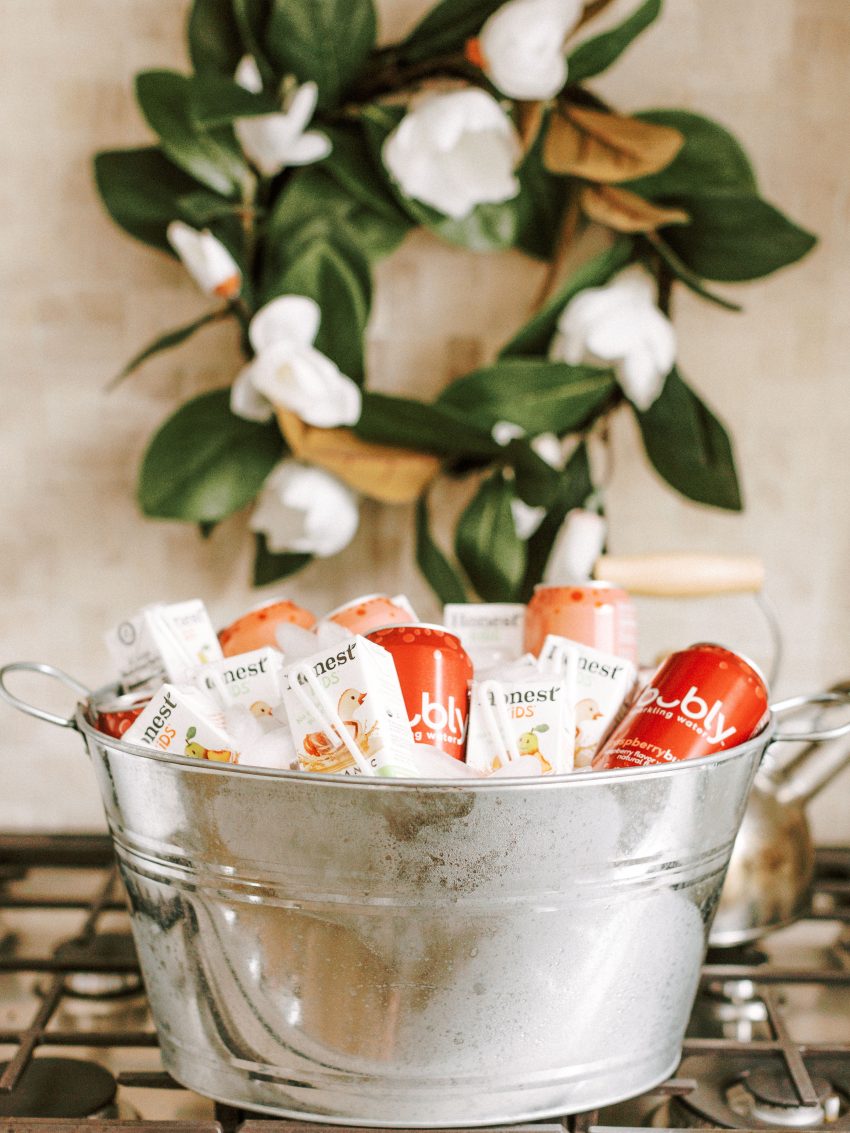 And my favorite detail? LEGO ice water!

Lachlan and I searched for all of the traditional LEGO colored pieces in his stash, soaked them in dish soap and vinegar for a good hour, then put them in an ice cube tray with water to make LEGO ice. The ice cubes went into this drink dispenser with water from our BRITA and voila! These little details are the things that I get most excited about and also the things the kids always get a kick out of.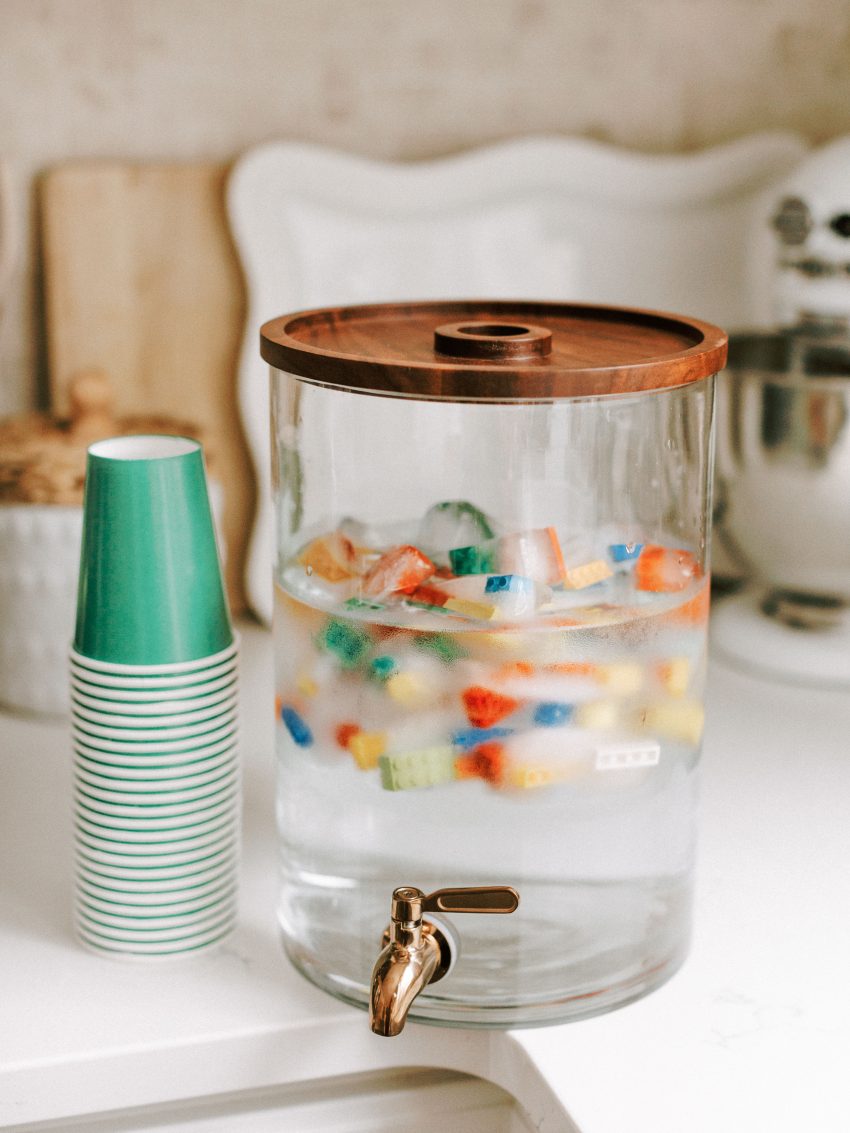 For take home treats, each cousin and E got a little stack of goodies; a pack of NERDS, a small building block set from The Dollar Tree, and a pack of metallic crayons (who knew The Dollar Tree carried Crayola!?). Each stack had a note from Lachlan thanking them for coming. The ribbon was from my inventory and not surprisingly was the closest color I could find to the primary LEGO colors!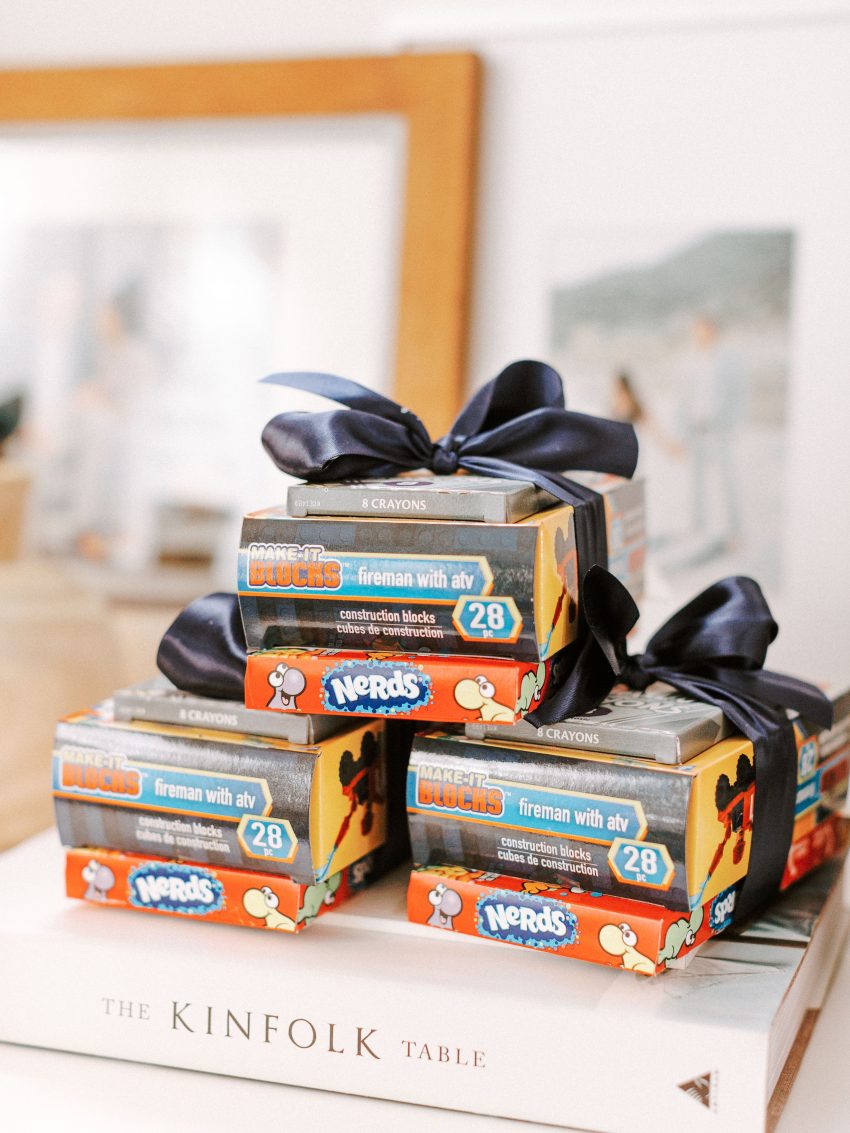 As for L's friends at school (all 24 of them!), we put together little treat bags that included LEGO-themed goodies. We've never done anything with school friends to celebrate past birthdays and some of these kiddos have been in the same class together since they were babies! Since L's actual birthday fell on a school day, we got to go into the school together and put out a treat bag at each friend's mailbox. Lachlan was so proud in his mask as a new five-year-old (masks are only required at our school when children are 5), matching up colors with certain friends' boxes, making the experience feel really special as his mama, too.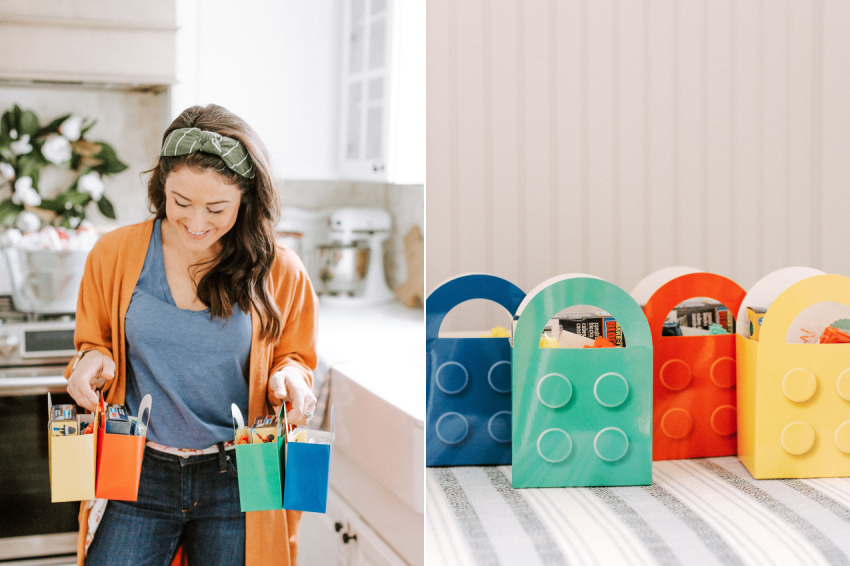 We used these favor bags and in each put:

• a building block set from Dollar Tree
• a LEGO lollipop
• a pair of LEGO glasses

And finally, a note that read, 'Lachlan is 5!'. He painstakingly signed each one.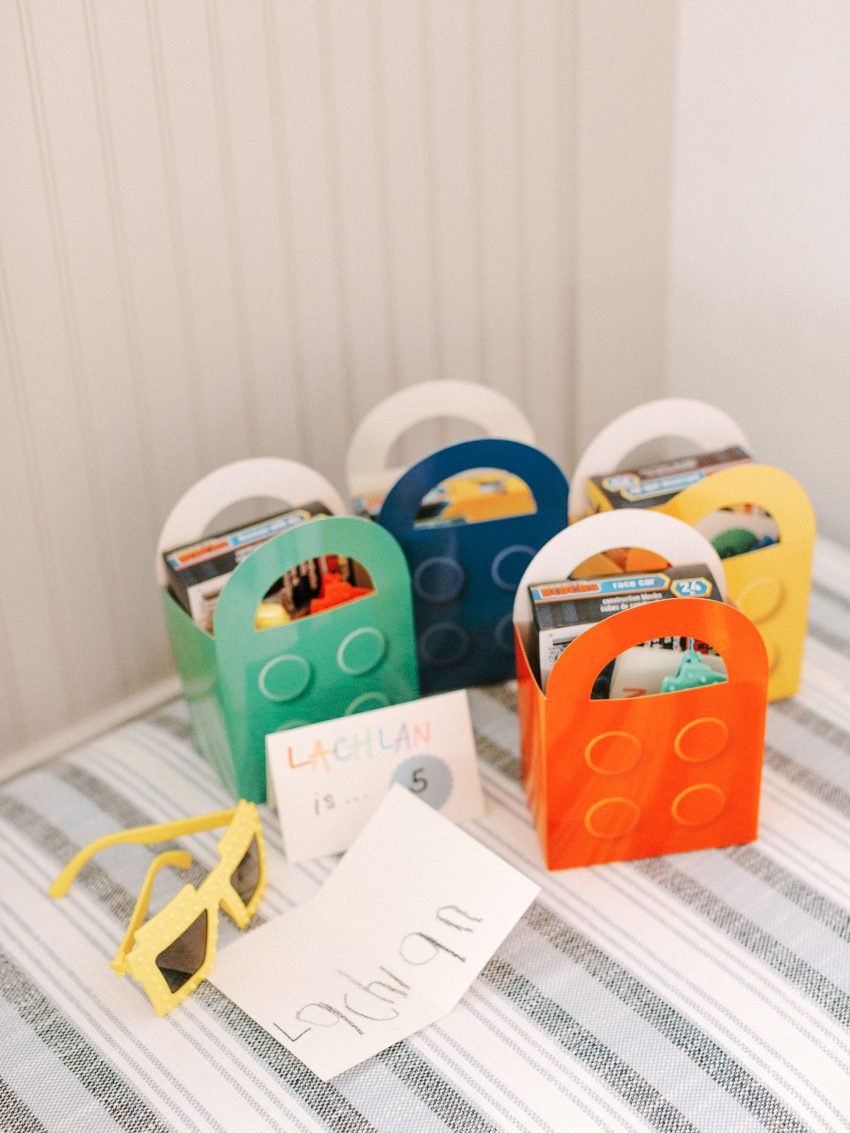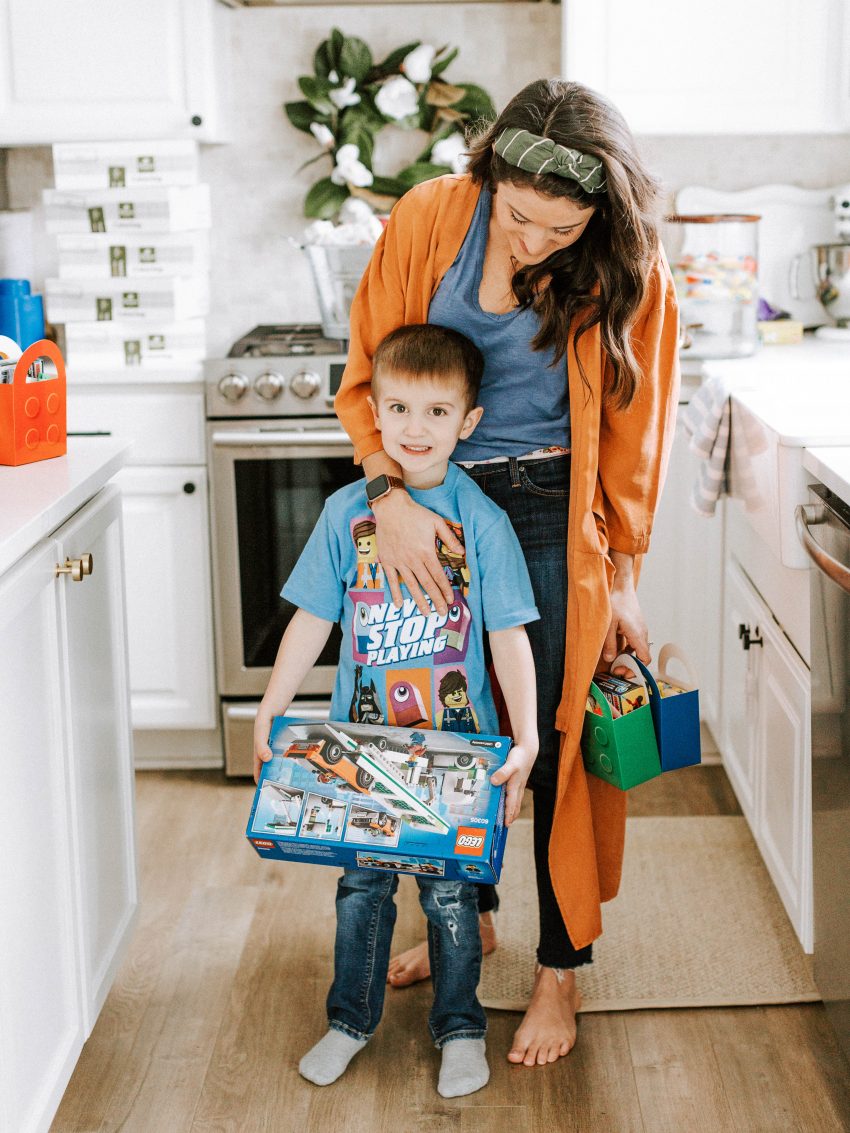 My curious, sweet five-year-old! I love you so so very much. Thanks for making me your mama and for always going along on adventures together. I celebrate you everyday and will build with you always. And to Andrew, who was in charge of getting our son an outfit for the party, thanks for picking out such a stellar t-shirt. Nothing says boy-mom status quite like this shirt, folks.
Affiliate links are used in this post!