One of my 2020 goals nestled neatly under the Add Delight to Our Home category was to upgrade our plates and flatware to something a bit nicer than the chipped Target plates we've been using for about a decade. In pre-covid days we're the family that hosts Easter, Christmas, and a bevy of gatherings in the form of sit-down meals, so the upgrade felt worthy of our time and money.

But more simply, being home for most of 2020 now and eating the majority of our meals around our dining room table, illustrates how a fancy occasion isn't always cause for a beautifully set table. Once-frozen chicken tenders sit pretty on blue cambria china and pasta noodles twirl beautifully around white-enamel, gold flatware. I also know a certain two-year-old who loves to blow out taper candles.

To help bring my china and flatware upgrades full circle, and bring a little legacy and symbolism into the mix, I incorporated monogrammed napkins into the tablescape, and more specifically, into my permanent holiday inventory. McKay from Oatmeal Lace Design is the talent behind these beauties and this holiday tablescape was greatly inspired by the heirloom napkins she's now offering in her shop. To tie in with our love of coastal tones and classic touches, McKay made up a napkin design for us with a dark blue, half laurel wreath framed around a light blue sole letter monogram.

While we likely won't have the chance for our extended family to sit around our table with us this year, you can bet I'll be recreating this inviting spread on Christmas Eve and Christmas Day, if even just for us four to enjoy our traditional gourmet mac and cheese.

Enjoy these beautiful photos from my friend Samantha James Photography and please be sure to note the sources at the conclusion of this past as many items like the flatware from Treasury Rentals and stationery from Nellie Sparkman are via fellow friends and colleagues (shop small this season; your investment always goes the mile when you shop small!).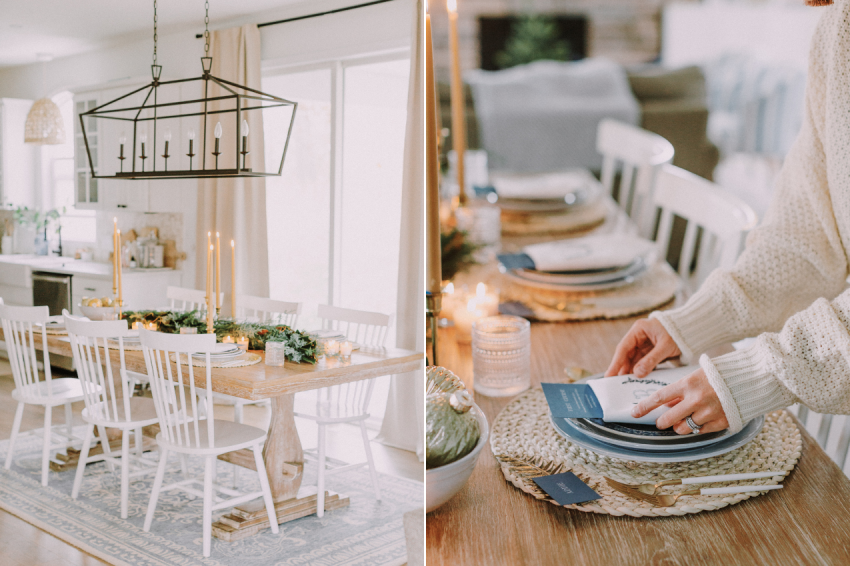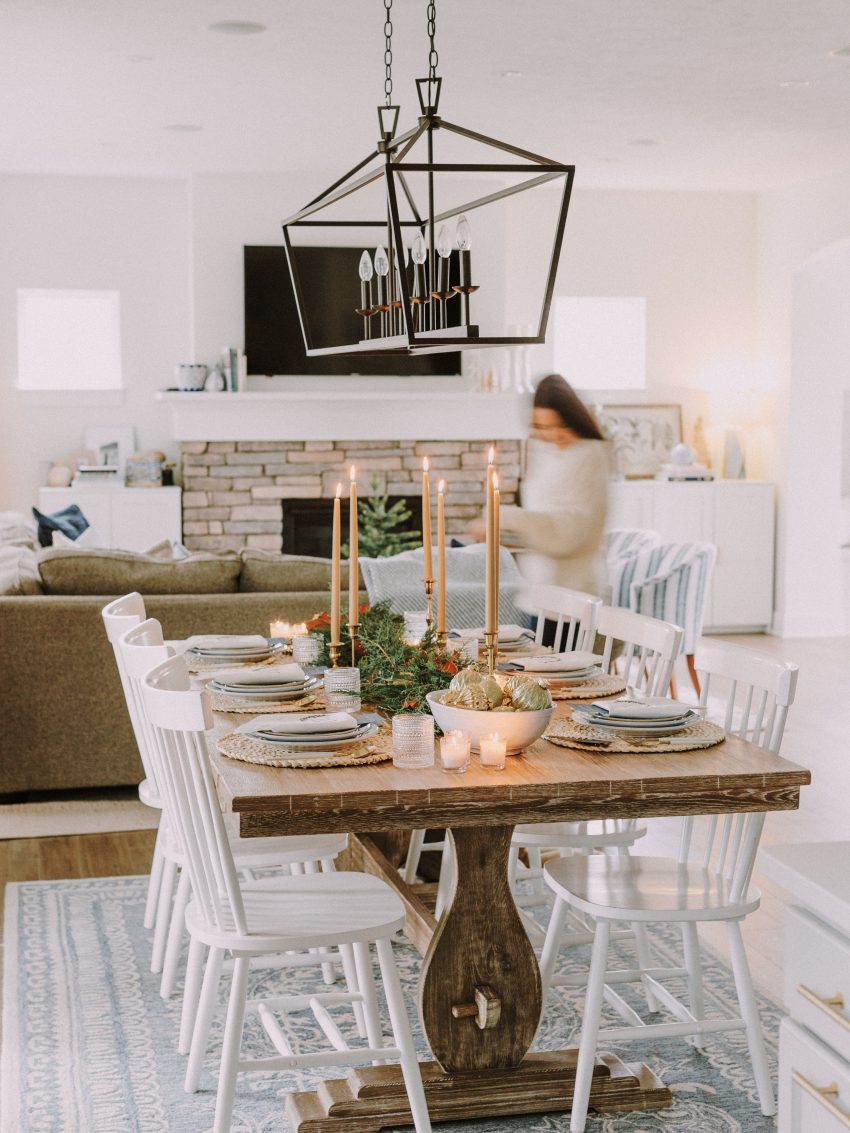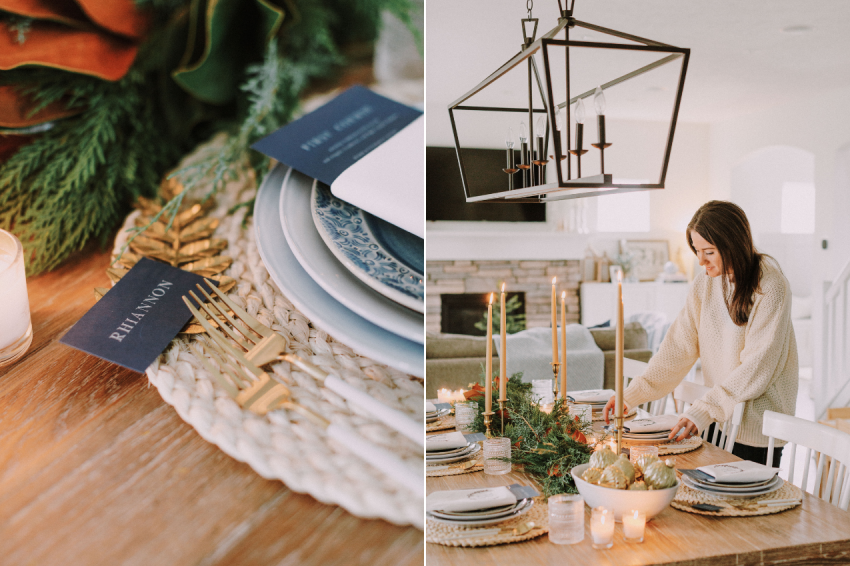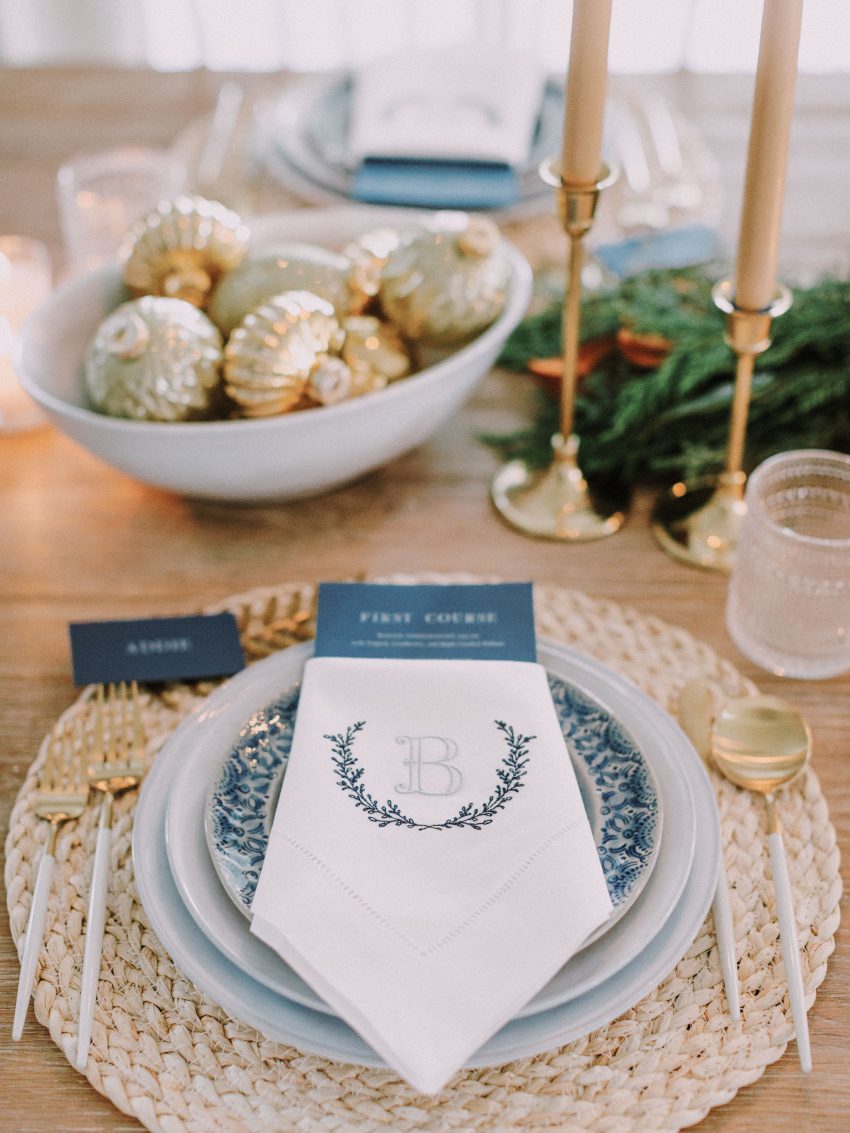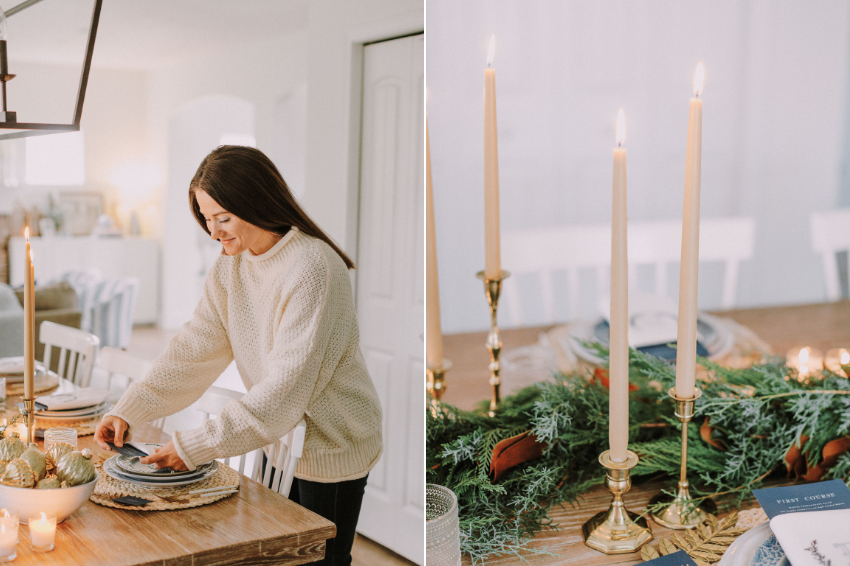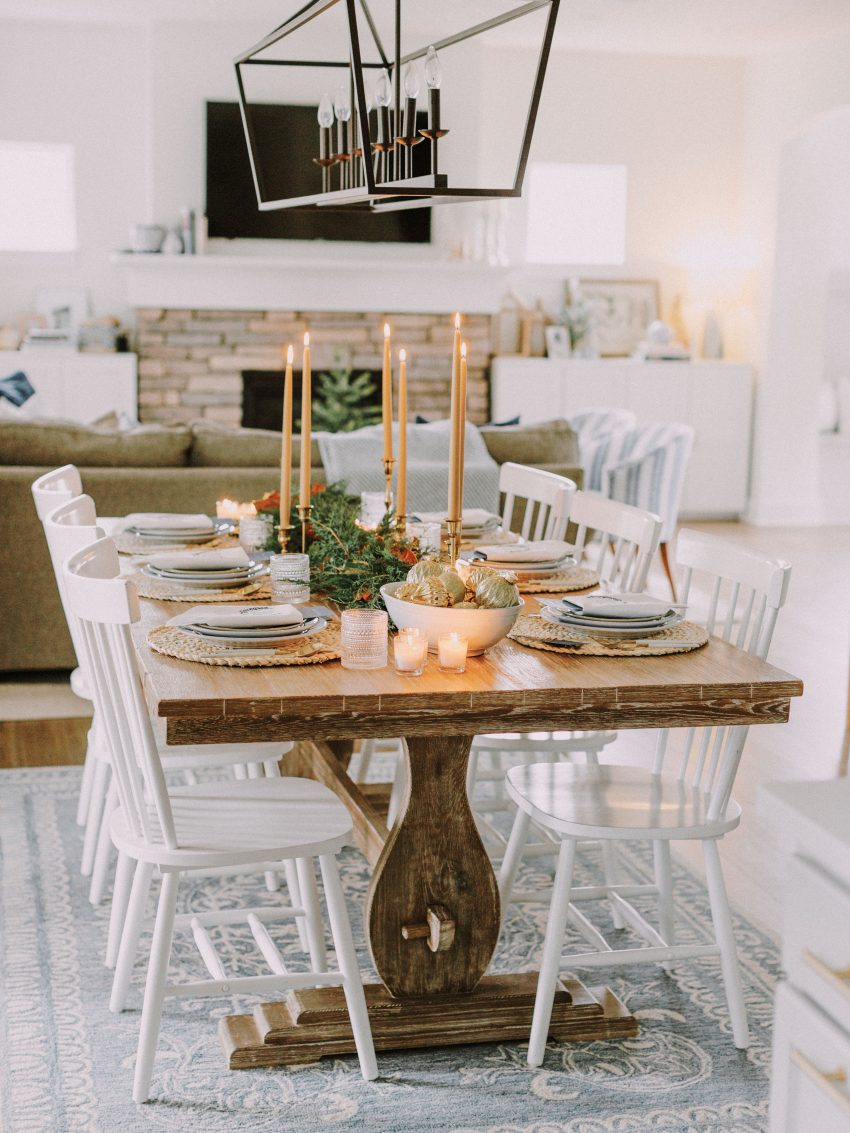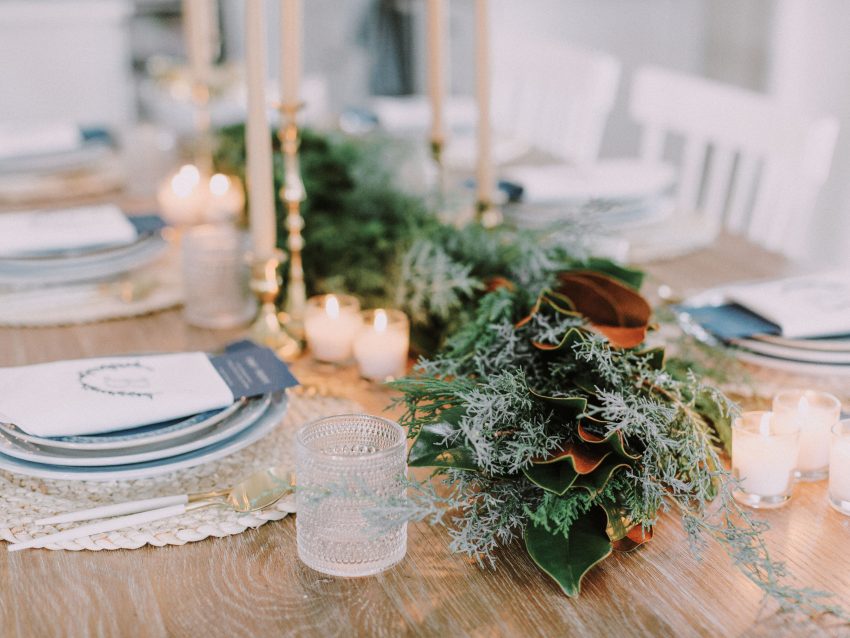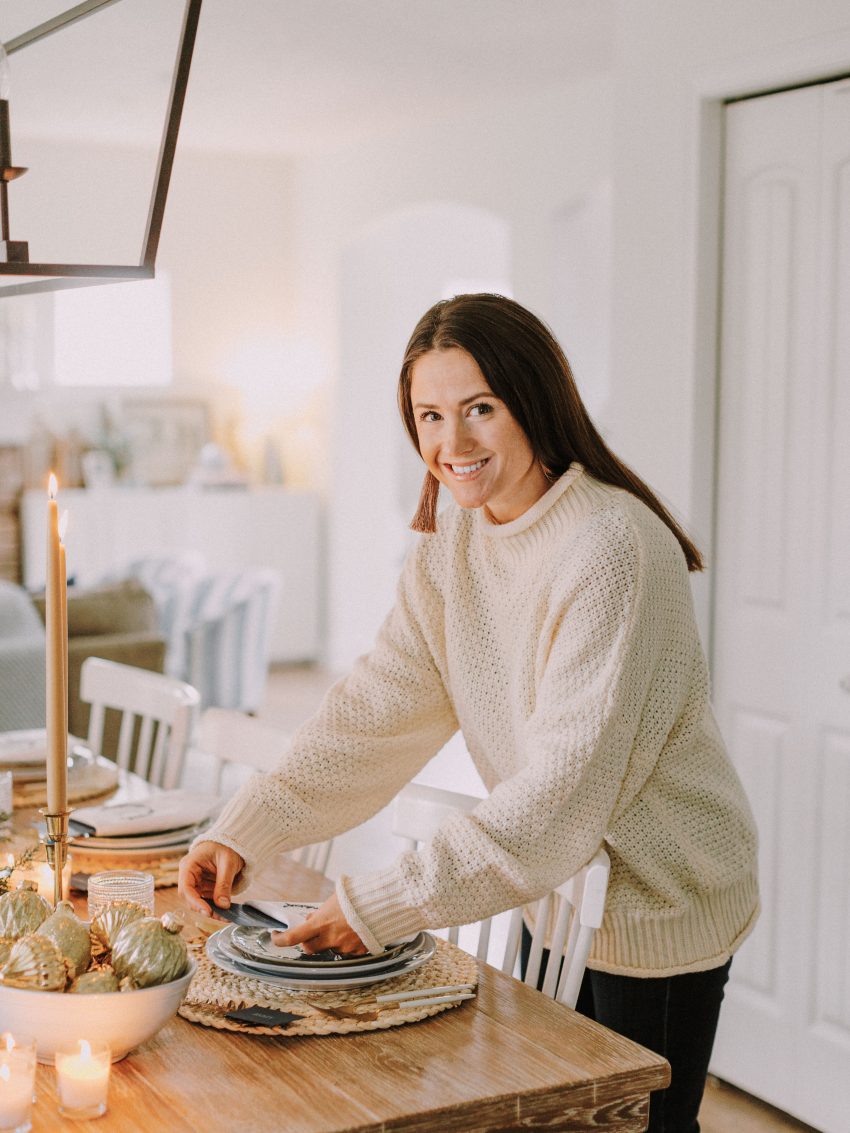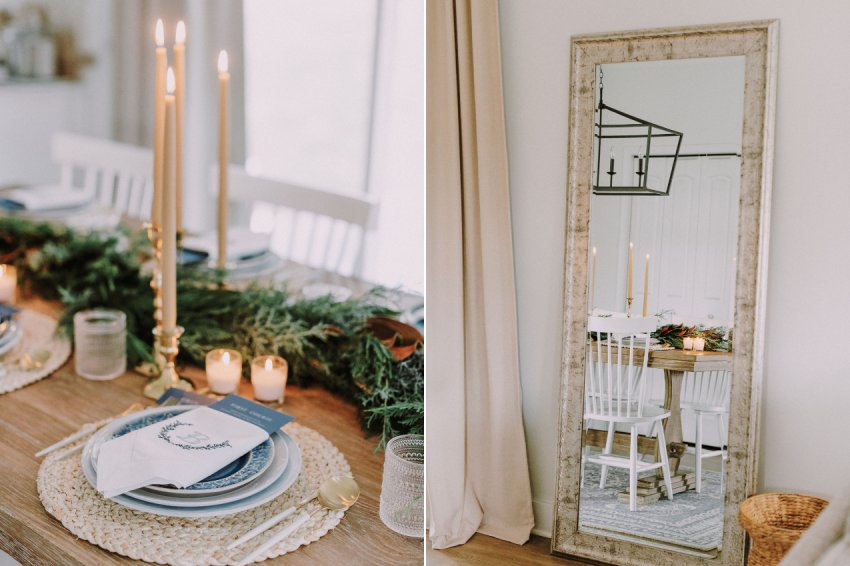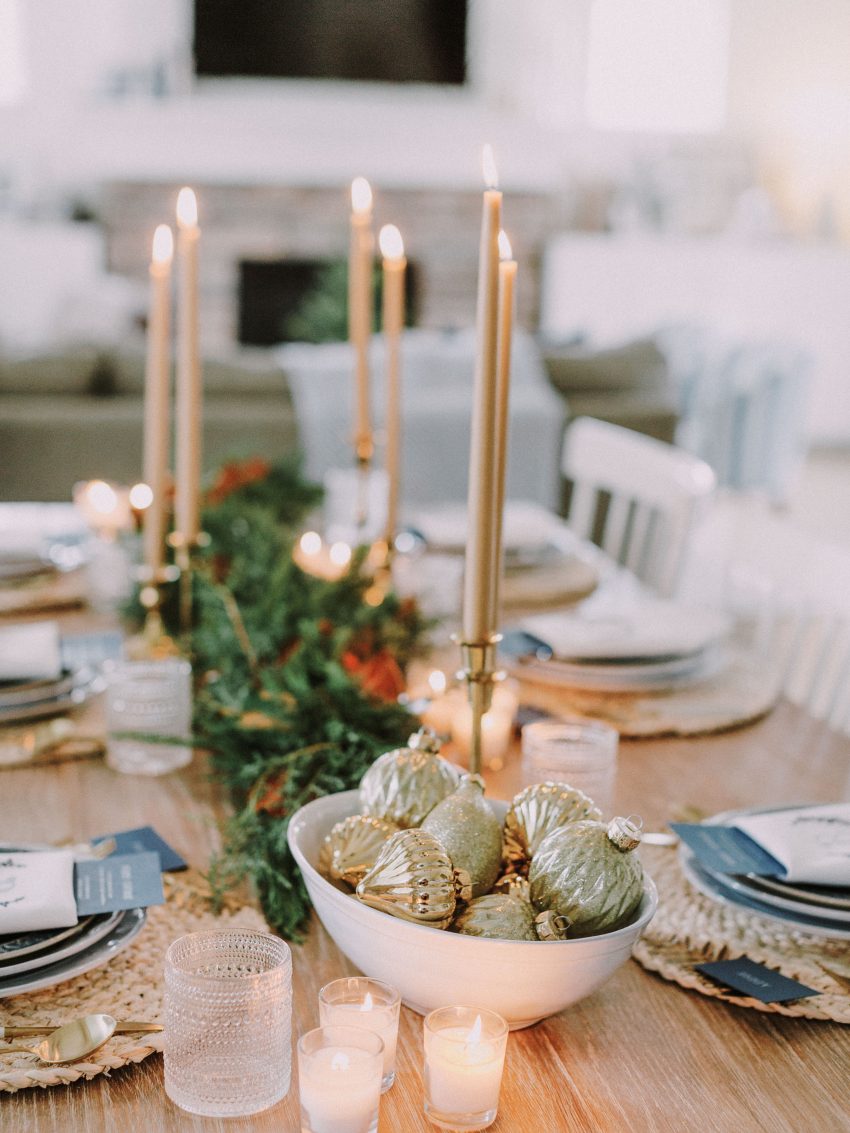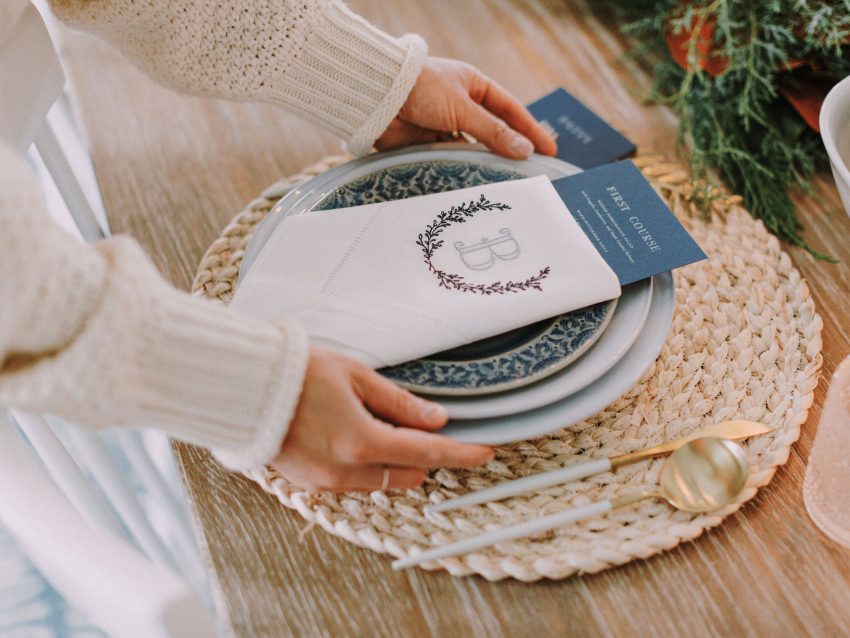 If you're curious about any of the items included in this post, here you go! Nearly everything is directly linked.

Photography: Samantha James Photography / Monogrammed napkins: Oatmeal Lace Design / Flatware: Treasury Rentals / Rattan placemats: Target / Dark blue salad plates: Anthropologie / Dusty blue plates: Pottery Barn / Hobnail glasses: Amazon / Dining table: World Market (similar) / White chairs: Overstock / Blue rug: Boutique Rugs / Stationery: Nellie Sparkman Stationery / Tapers: Creative Candles / Gold taper holders: Accent Decor / Curtains: Target but I detail everything about them here
Are there any special tablescape pieces you bring out for holidays and special occasions? I'd love to know below! Xo