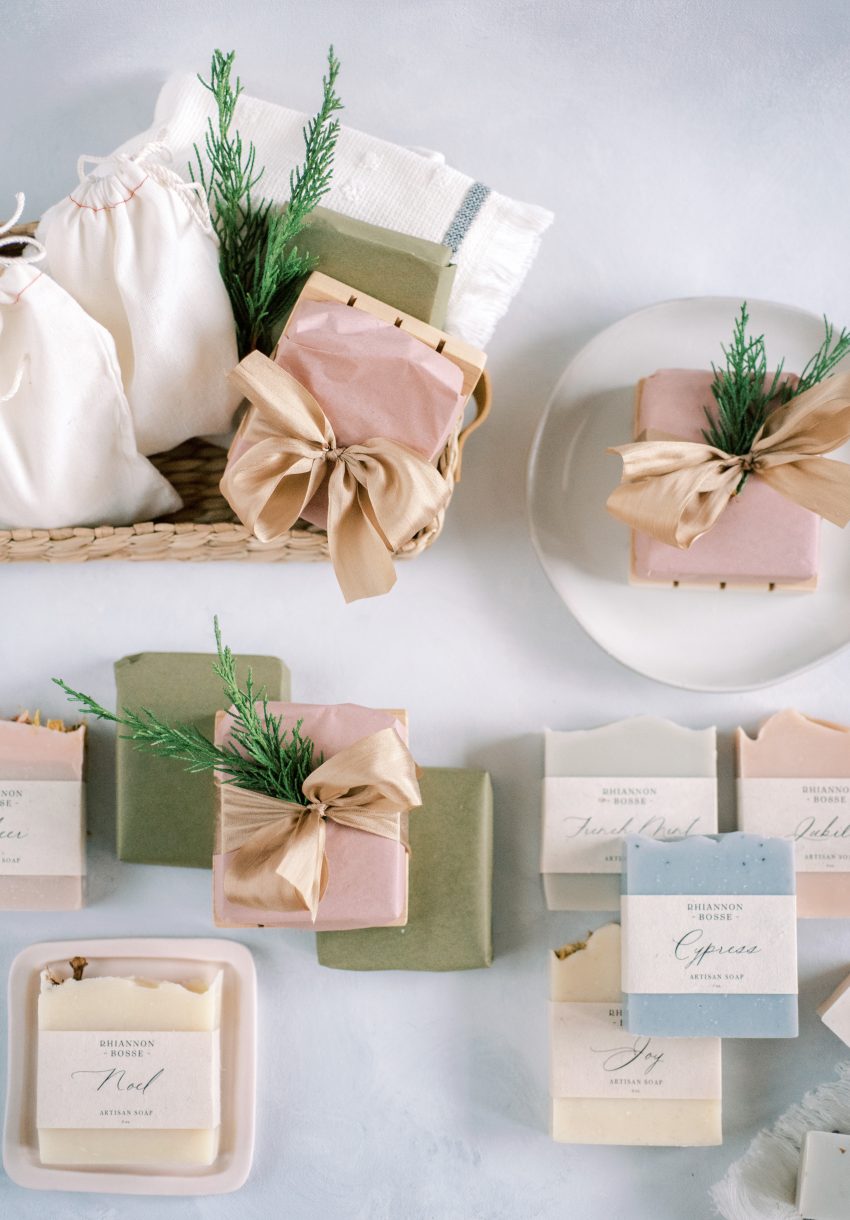 Friends! I am delighted to share this very special RB Soap Co. holiday 2020 preview in anticipation for my December 1st shop launch. Inevitable stressors aside, I've always imagined the excitement one must feel running a small product-based business around the Christmas holiday. And here I am swimming in literal boxes, bags, and bows. It feels quite festive! I'm really pinching myself.

I'm also pinching myself that this launch will be my fourth of 2020. A year ago I hadn't yet launched my shop and was uncharacteristically nervous that opening a shop online would be a poor business decision. Being in a season where I was grieving the end of an almost-decade long career of wedding planning, starting something very new and different, and then added to that, embarking on seven months of work with no child care (more on that later), it felt reckless. HA! But here I am. I feel like I'm thriving.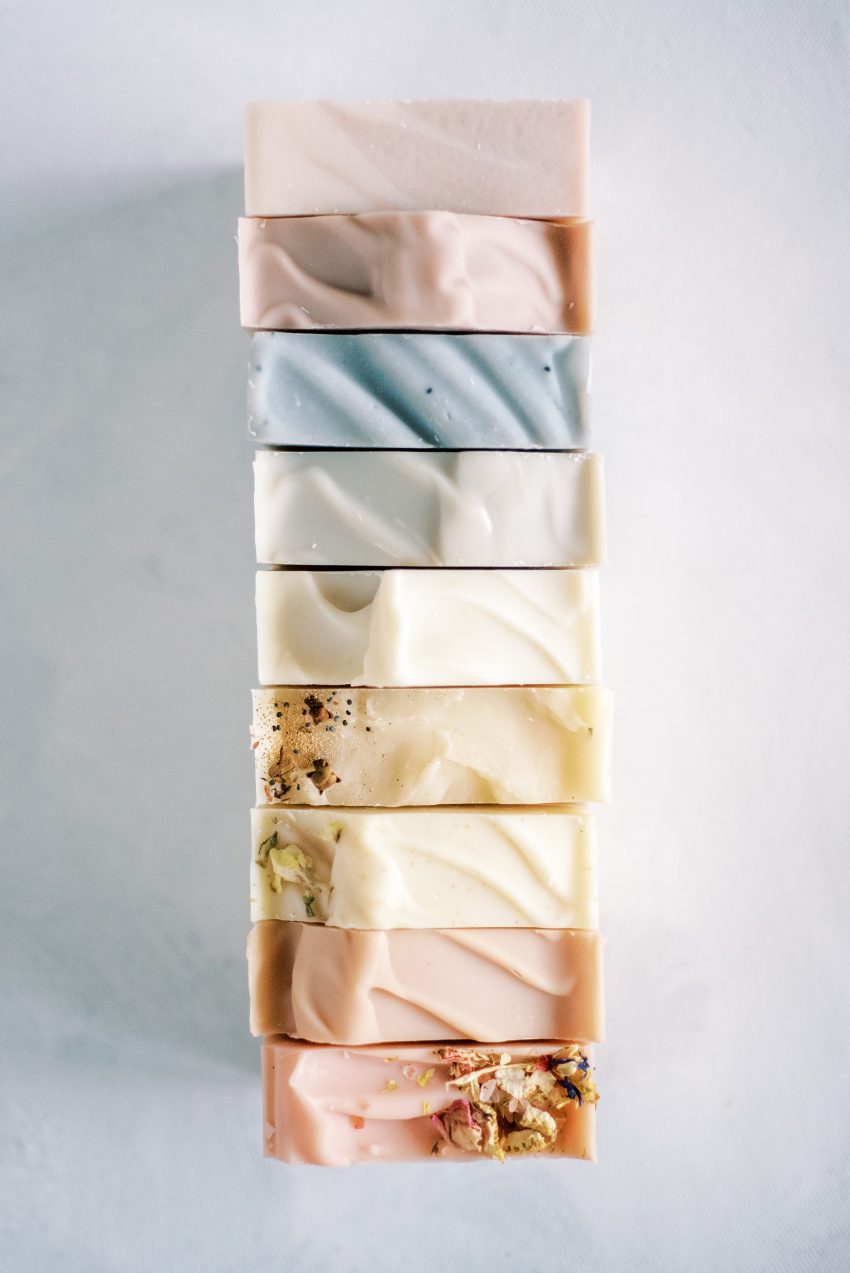 Emotions aside, I want to share as much as I can about this upcoming launch so whether you're a loyal patron or new customer, you can prepare to make your list and check it twice! I have many special products up for grabs on Tuesday and details worth noting about the bars I've created, packaging choices I selected for the holidays, and much more (like international shipping finally!). Read on for more below and in the very least, enjoy the beautiful preview images from my friend Kelly Sweet Photography.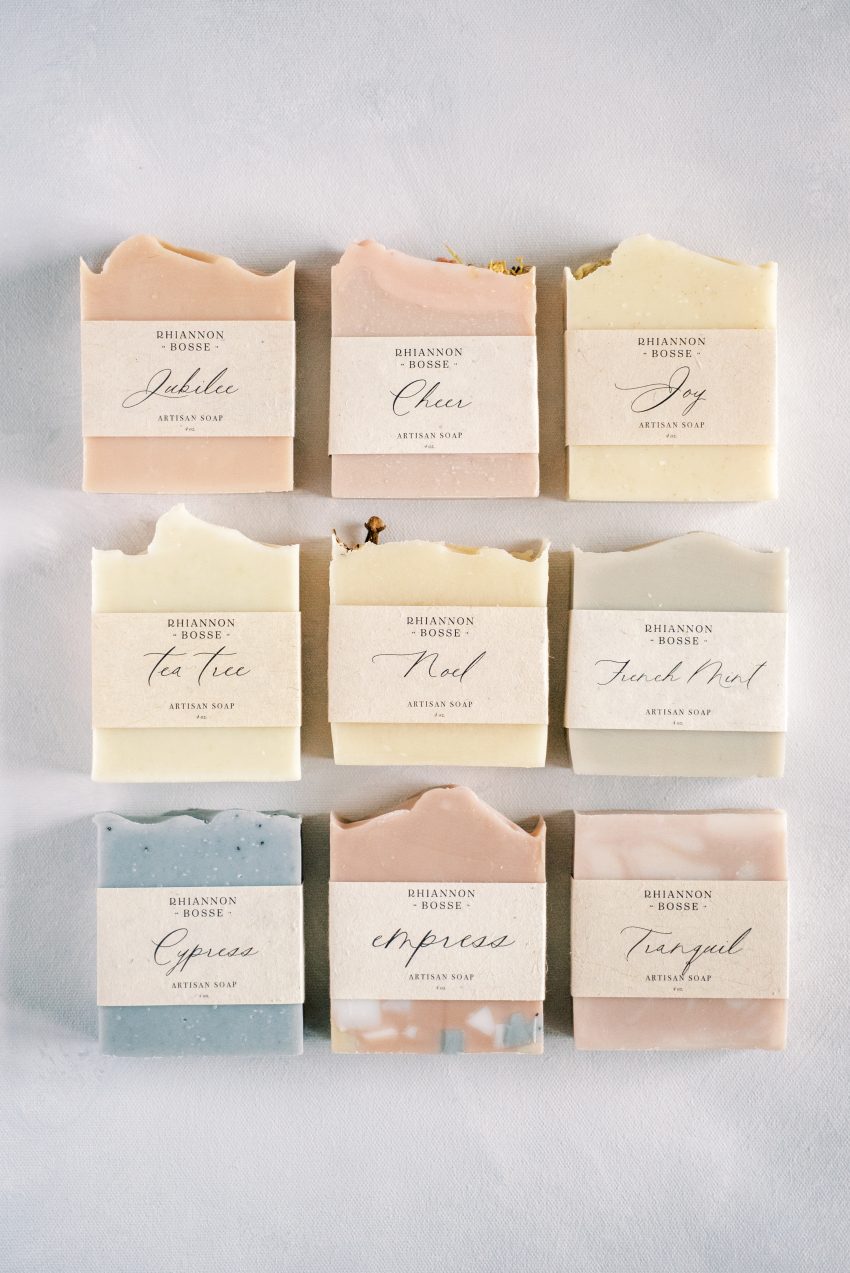 The scents available for the holidays are completely inspired by the winter season and almost entirely different from any of the soaps I've offered over the last three launches. They are so beautiful and for the first time ever completely mica-free! Some of my bars sold in the past have featured small amounts of gold mica on the soap tops but I wanted to be 100% natural in both soap scent and color from this season forward so this was a main driving factor behind the decision. Thankfully, nature has some remarkable colorant options!
Here are the full size soap bars I've created for the holidays, almost all offered at $9.00 a bar.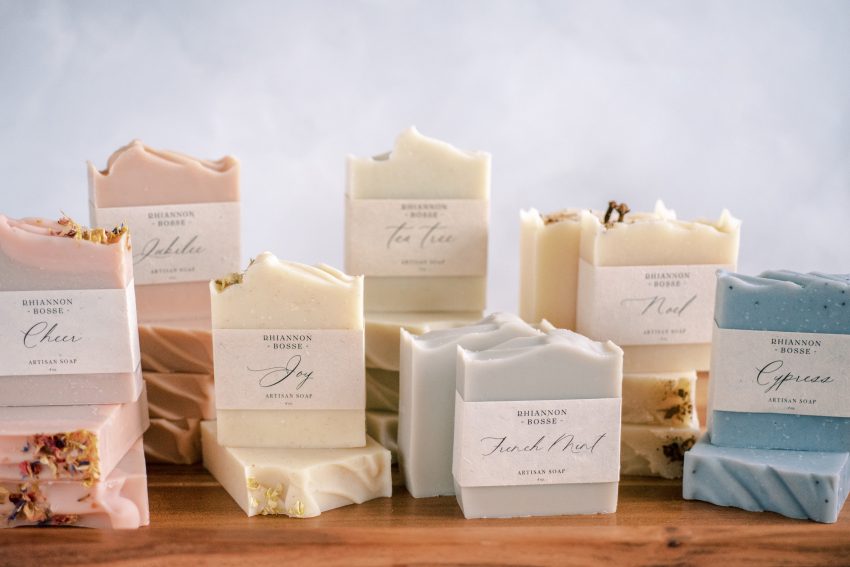 Cheer: This whimsical, two-toned soap bar is ever so lightly scented with lavender, ylang-ylang, geranium, litsea, and bergamot essential oils. Rose and purple Brazilian clays naturally color the soap, while rainbow-inspired seeds and botanicals add a burst of color and texture to the top.
Cypress: Earthy and fresh, this soap bar is made with a blend of woodland-inspired scents like fir needle, cypress, and rosemary essential oils. Poppy seeds add an exfoliating quality and activated charcoal gives the bar its bluish-gray hue. Whether you're shopping for a masculine or especially wintery soap option, this is the one!

French Mint: This soap bar is packed with eucalyptus, spearmint, and peppermint essential oils for a fresh and invigorating aroma. Sea clay gives the bar not only its beautiful sage color, but also its creamy and silky finish, which will nourish and delight your skin!
Joy: Uplifting and fruity, this ivory soap bar blends notes of litsea and bergamot with citrus and tea tree essential oils. Ground walnut shells add a scrubby quality to the bar, while dried jasmine blooms complete its botanical-inspired aesthetic.
Jubilee: This one-of-a-kind, nude-colored soap bar, accented with a Dutch cocoa pencil line, has a sweet aroma, reminiscent of a freshly baked batch of sweet almond biscotti. Rectified bitter almond, patchouli, and cedarwood essential oils are just a few of the scents blended in this delectable recipe. Because of the high cost of the oils used in this bar, Jubilee is $10.00 a bar.
Noel: This soap bar carries the true essence of the holiday season, thanks to a spicy and aromatic essential oil blend of clove, cinnamon, rosemary, and lemon. Poppy seeds, ground walnut shells, and whole cloves adorn the tops of the soaps for an elegant touch of texture.

Tranquil: Relaxing and fragrant, this soap bar blends together calming lavender and balancing cedarwood essential oils for a familiar, yet unique, scent experience. The two-toned color design comes from purple Brazilian clay, which helps restore softness and hydrate dry skin.
While included in some of the photos, please note Tea Tree and Empress will be available in late January / early February.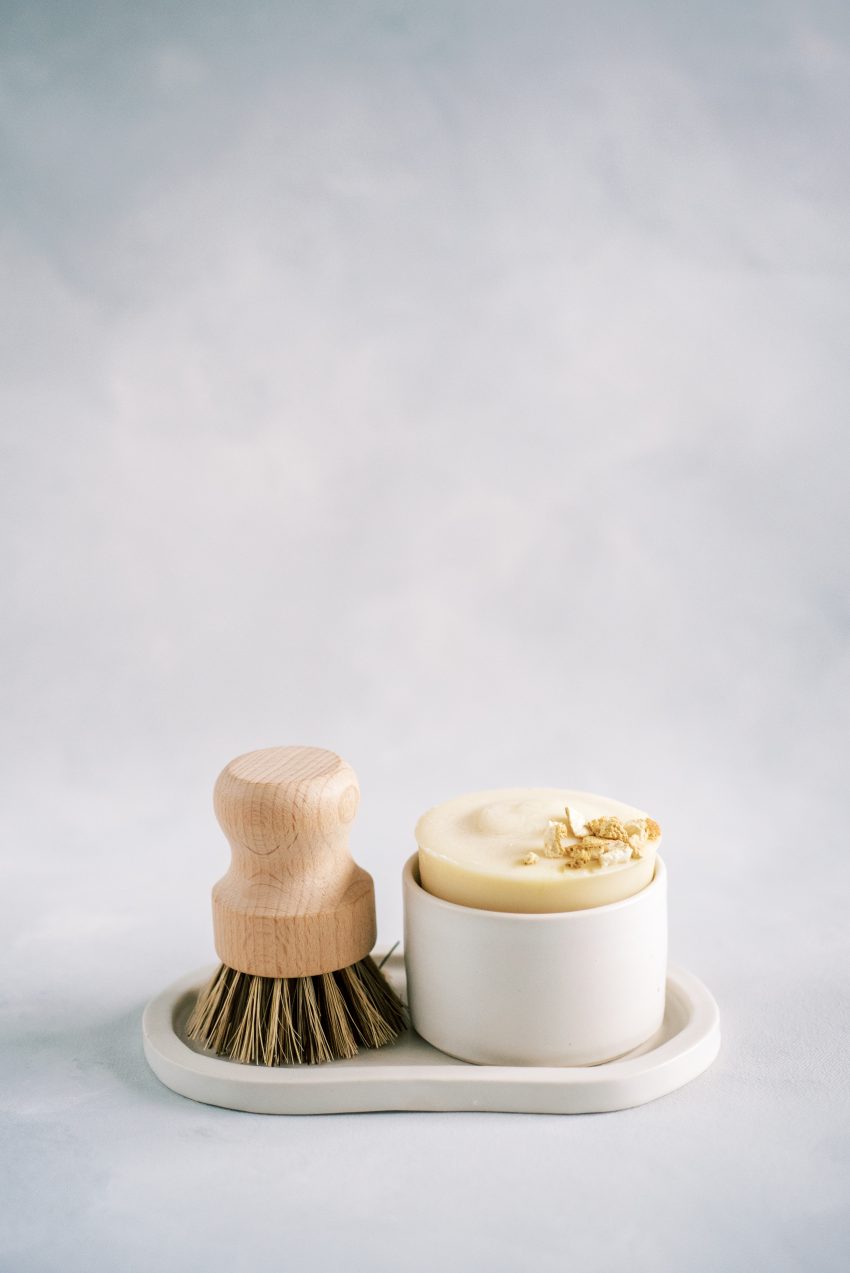 Another new product available for the holidays? Solid dish soap pucks!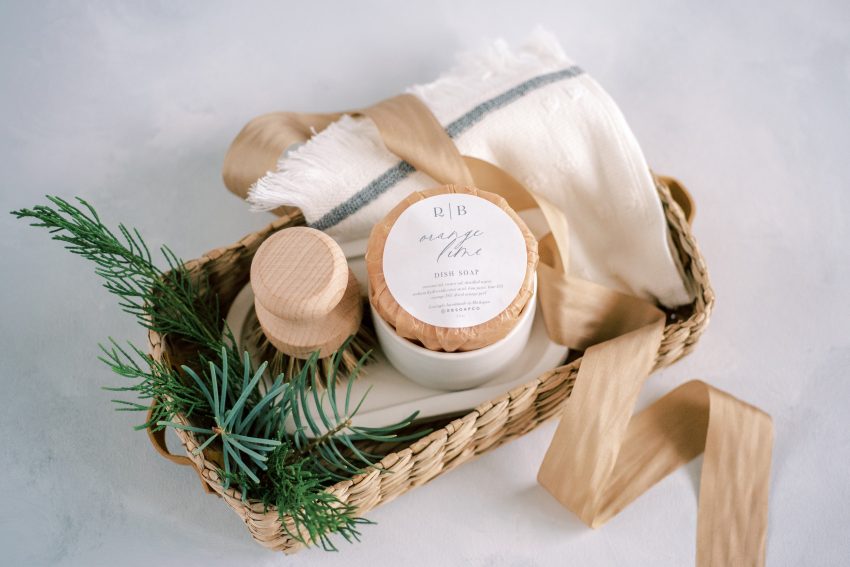 An environmentally friendly alternative to water-based liquid detergent purchased in plastic bottles (91% of these bottles end up in landfills all over the world), these handmade dish soap pucks help reduce waste and save costs in your dish-cleaning endeavors. Coconut and castor oil give this solid dish soap cleansing suds and thick lather, while the citrus juice and citric acid ensure the soap is effective on even your greasiest of dishes. Because each puck is scented naturally with essential oils, the soap scent is very mild and light, leaving your dishes simply clean, as they should be.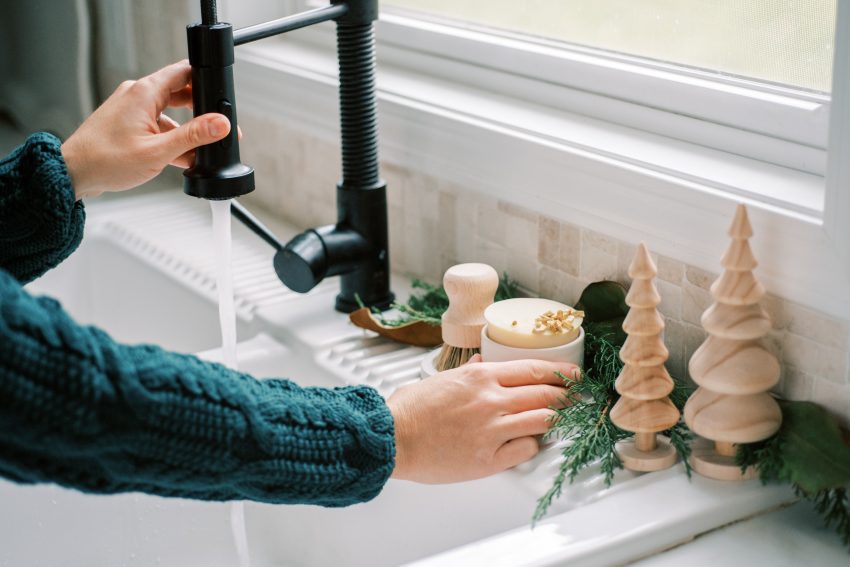 The Full Gift Set includes a stunning handmade soap puck ramekin and matching tray (created by fellow Canadian and ceramicist Kels in the Studio), an orange and lime dish soap puck, and a bamboo-handle bristle scrub brush. The Full Gift Set will retail for $65.00 and come carefully packaged in its own box. The Partial Pairing listing includes a soap puck ramekin, orange and lime dish soap puck, and a bristle scrub brush, which will retail for $45.00. The ramekins and trays are really quite beautiful and make for a gorgeous gift option but they are also perfect if you're looking to make a sustainable switch in your own home, one that's not short of style or function.

Supplies are limited due to the handmade nature of the clay pieces and the small batches in which the soap pucks are made, but more soap pucks and brush pairs will be restocked in late January / early February should you be interested in making the switch in your home! I'm also happy to take on custom orders for the soap pucks if this is something you're passionate about having in your kitchen.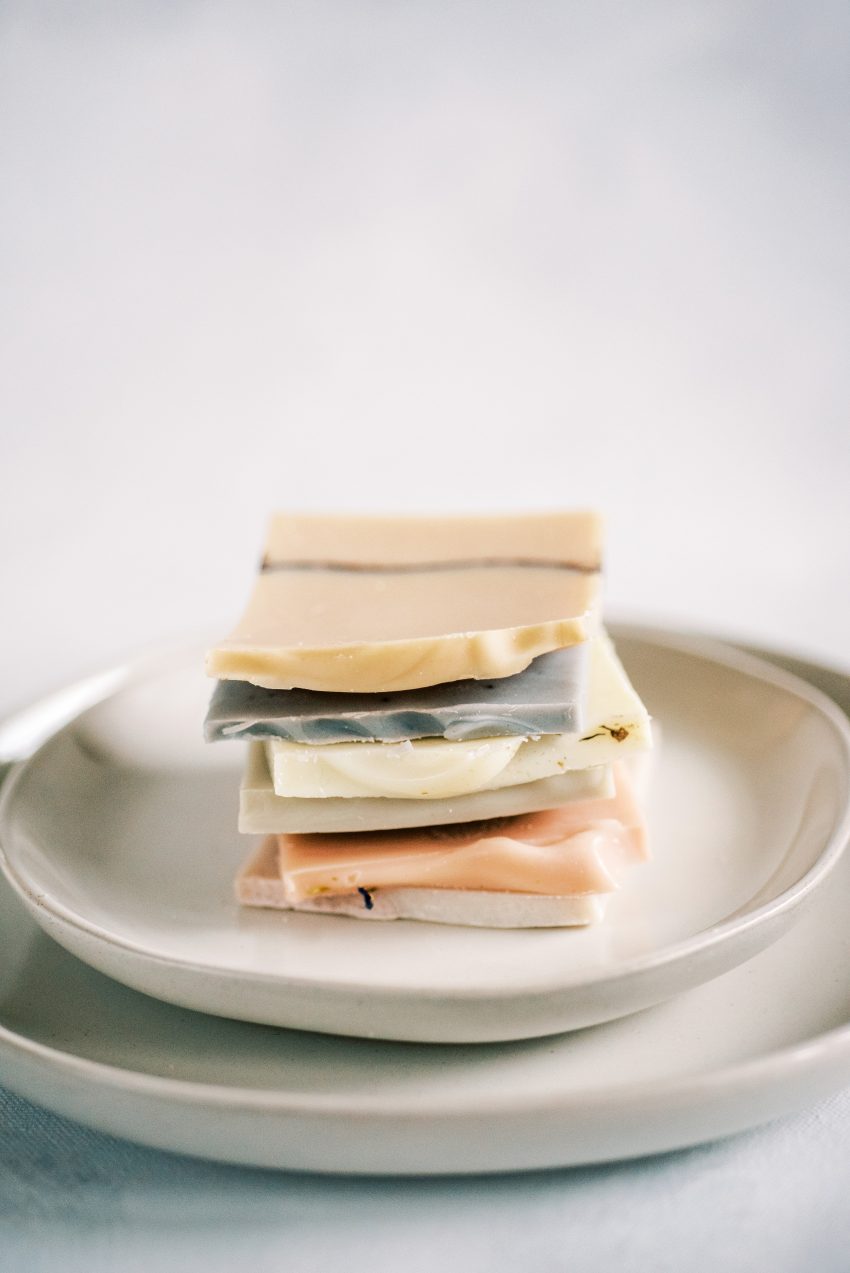 Other customer favorites making an appearance this launch?

ONE: Soap end bundles, sold for $15.00 and packaged in a brown paper bag I encourage you to recycle. The varieties of soap ends include those highlighted in the holiday round up above, but there are a few other ends that came from custom orders this fall so you may get a few surprises. Soap end bundles are unlabelled short use bars for those who love variety.

TWO: Petite Soaps, a lot of five mini square soaps sold for $15.00 and packaged in a drawstring muslin bag, which I encourage you to reuse in whatever clever was you can think of. Petite Soaps look darling in an apothecary jar on your bathroom counter and are perfect for your gym bag, suitcase, or guest bath. They also make for a great under-$20.00 gift or stocking stuffer.

And finally, bath truffles! Bath truffles will now be sold in same-variety pairs for $10.00, also packaged in drawstring muslin bags. There will be four varieties of truffles available in a bevy of different scents like coffee, mint, citrus, and clove. These always sell out quickly so I've done my best to amp up inventory here! Check back to the shop for exact varieties on Monday.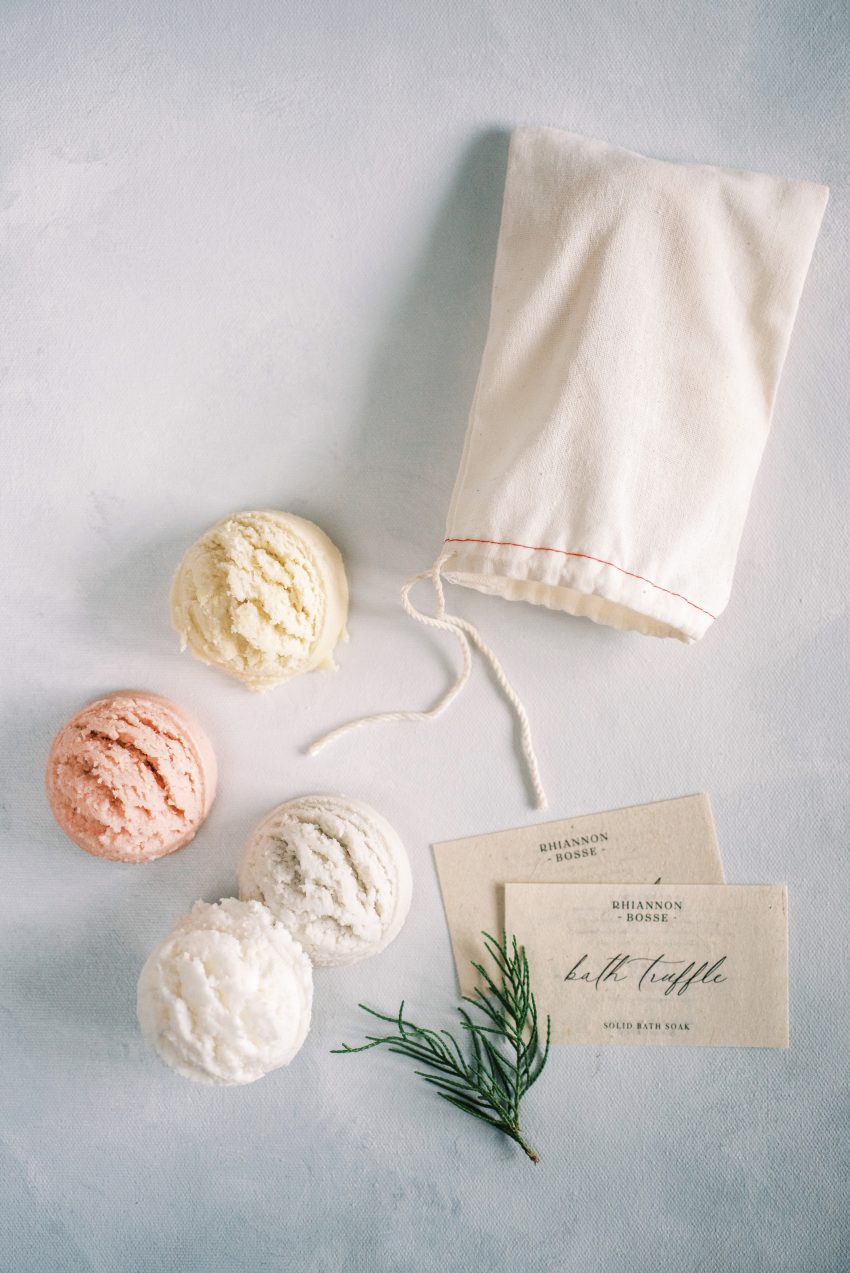 And I'd being doing a disservice to my customers not to mention my collaboration with Mimi from The Tiny Tassel. I blogged about this partnership earlier this month but wanted to share more here in this preview! These ready-to-gift boxes offer a soap bar and dish bundle with a pair of handmade tassel earrings. They are so thoughtful and sure to bring comfort and joy to recipients.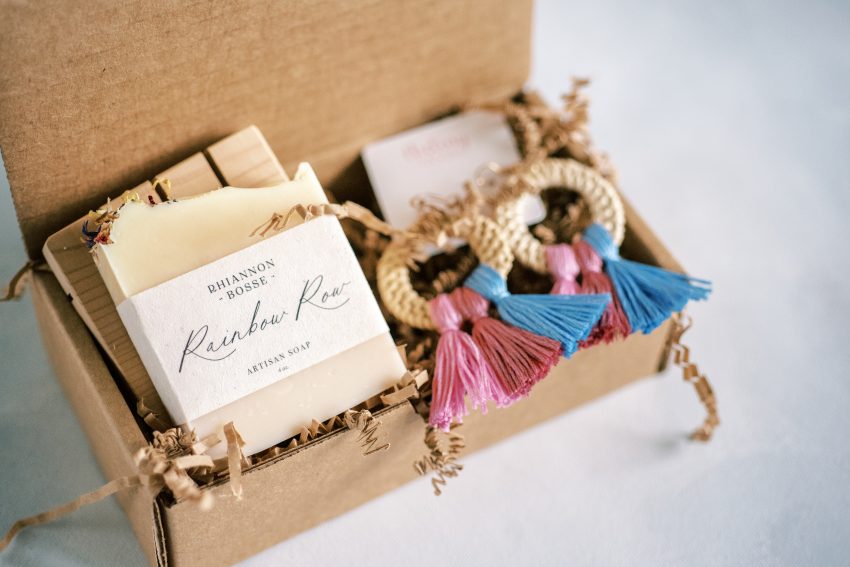 The boxes retail for $50.00 and come with a striking soft blush colored belly band sealing the box closed.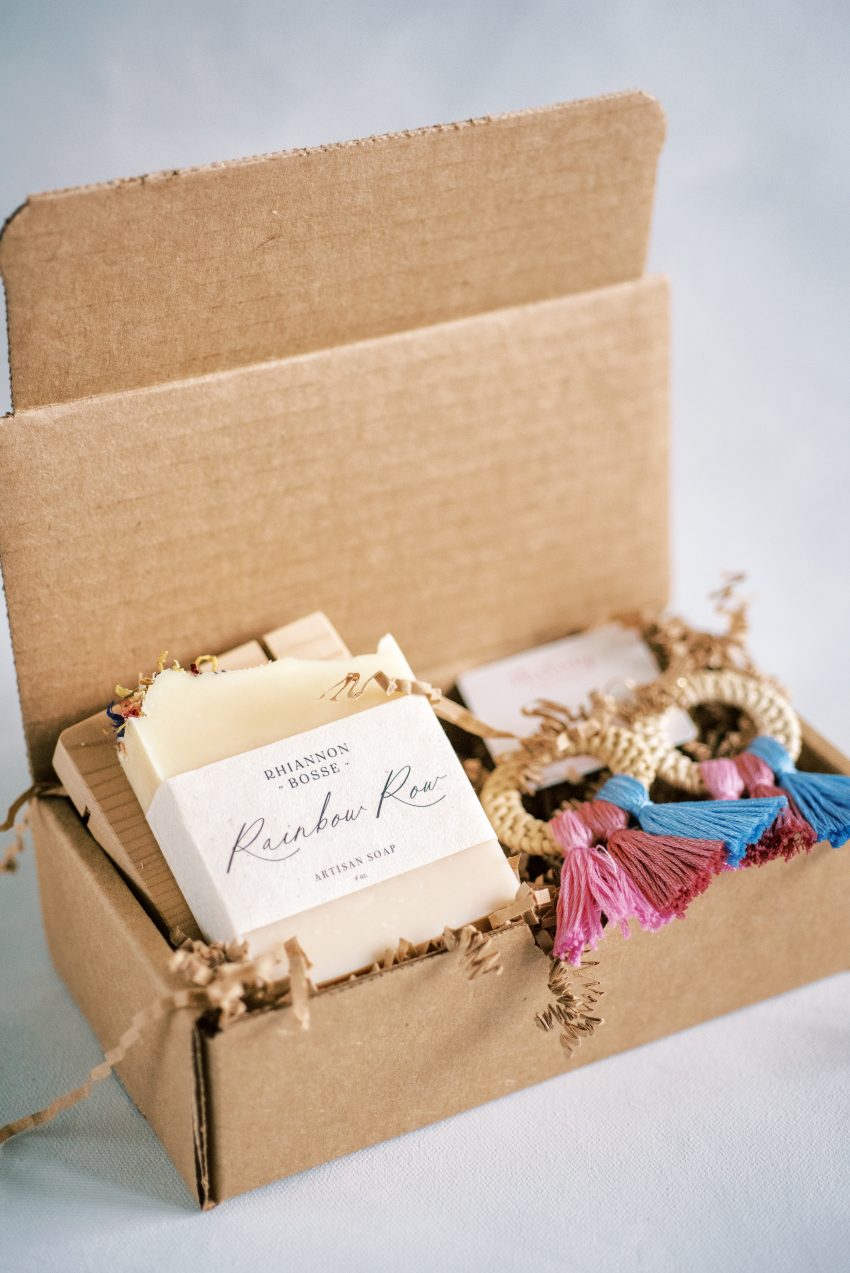 And finally! There will be a very limited amount of 3-bar bundles paired with a ceramic dish made by Kels in the Studio. The dishes are offered in a soft pink or dusty blue color and will go with one Cypress bar, one French Mint bar, and one Jubilee bar. The bundles will be fastened with white baker's twine and packed carefully into a gift box with Kraft crinkle paper. The soap bar varieties are not interchangeable with this option but I've selected my favorite bars to go in the trio and trust all recipients will be pleased!

Here are the beautiful dishes. The drainage holes are shaped like floral petals!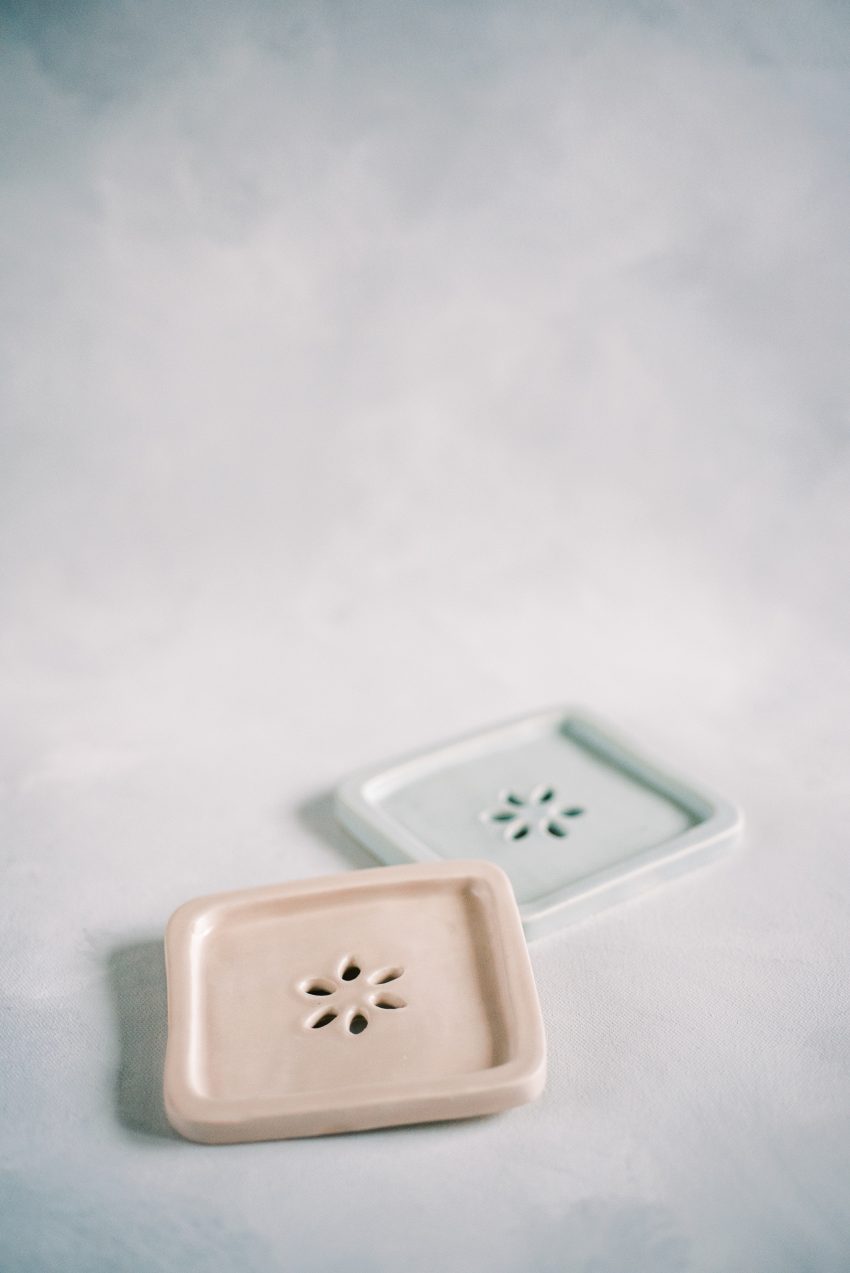 And one final nuts and bolts type note! This disclaimer is listed at the bottom of the shop's home page but I wanted to share it here as this stanza of text usually answers all the FAQ I get. You can also read this blog post but for the purpose or brevity here you go:

Due to the handmade nature of all RB Soap Co. products, the colors, textures, weights, cuts, and exact labeling and packaging may vary slightly from those shown in photos. All products are colored and scented naturally, resulting in simple and subdued hues and scents that differ from chemically fragranced products. Our products are vegan and palm oil-free. We offer international shipping, for which respective costs are tallied upon your checkout. Supplies are limited, so please check back in the new year to shop our next launch at the end of January / beginning of February!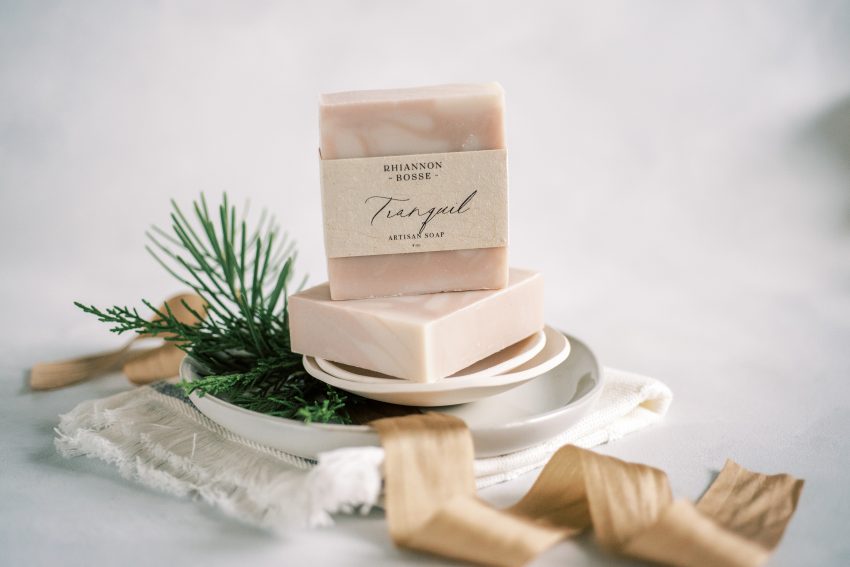 The holiday line up will launch on Tuesday, December 1st at 10:00 am EST. But I'd also encourage you to sign up for my newsletter list to receive my insider details, celebratory launch day coffee, and other good inspiring things about once a month to your inbox. If you have any questions about the launch or products being offered please send me an email at hello@rhiannonbosse.com. While I cannot accommodate any special orders for the month of December, I can answer questions and take custom orders for early 2021.

Enjoy your holiday weekend, friends! Grateful you're here. Xo