Our sweet youngest son Ev, lovingly called Broey, recently turned two. In classic Bosse Family fashion we celebrated with a small yet cleverly themed birthday party centered around one of Broey's most favorite characters, Peppa Pig! Peppa Pig is one of our favorite family-friendly shows around here and so much so, we often find ourselves conversing in Peppa-Pig-family British accents. I think the show writing is brilliant with a healthy blend of both educational content and mild sarcastic undertones in some of the conversations, but more simply it's just a cute clean show. It's easy to see why the show is such a favorite for many kiddos and families alike!
As always I had a ton of fun coming up with the details for this party. The popular television series is FULL of fun details I was giddy to incorporate into the party and you'll see those woven into everything from the decor and food, to the invitation verbiage and favors. If you or your kiddos are Peppa Pig fans chances are you'll notice some of these details right away.

But I won't let you guess which details reminiscent of the show because I want to share my ideas here in hopes they are inspirational to you! Birthday celebrations are the heartbeat of gatherings in our family, and these parties require time and energy that I will happily give over and over again until our kiddos say they'd rather skip the party thing (which I hope never happens but if it does, cool).

Enjoy my favorite moments and highlights from Broey's 2nd birthday. We are so lucky to have such a charismatic, sensitive, lively, snuggly, and fun-loving little boy as ours. We have really come such a long way from his first year of life! Happy happy birthday, Ev. We love you! Everybody loves you! (That's a Peppa-ism if you caught that).

All photos from my friend Sam of Samantha James Photography. Grateful for her!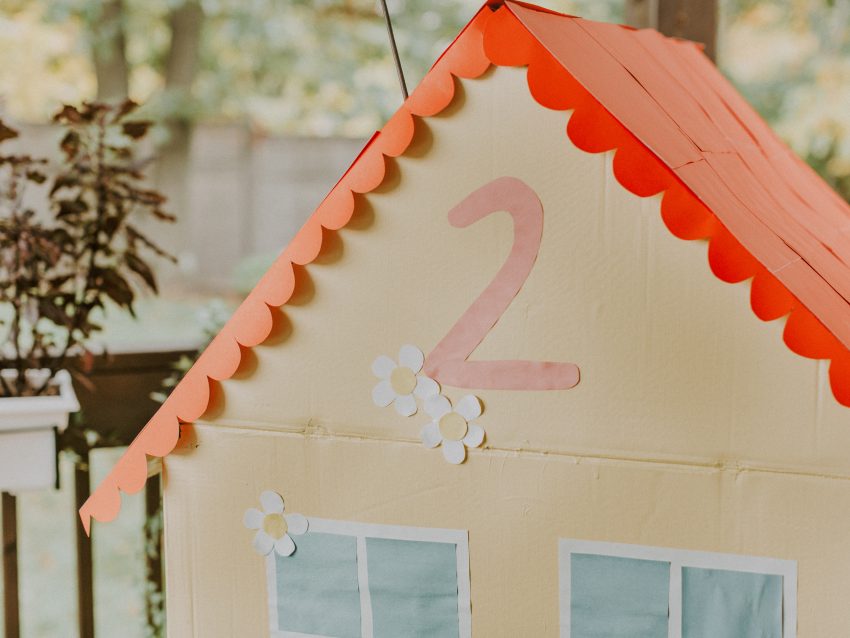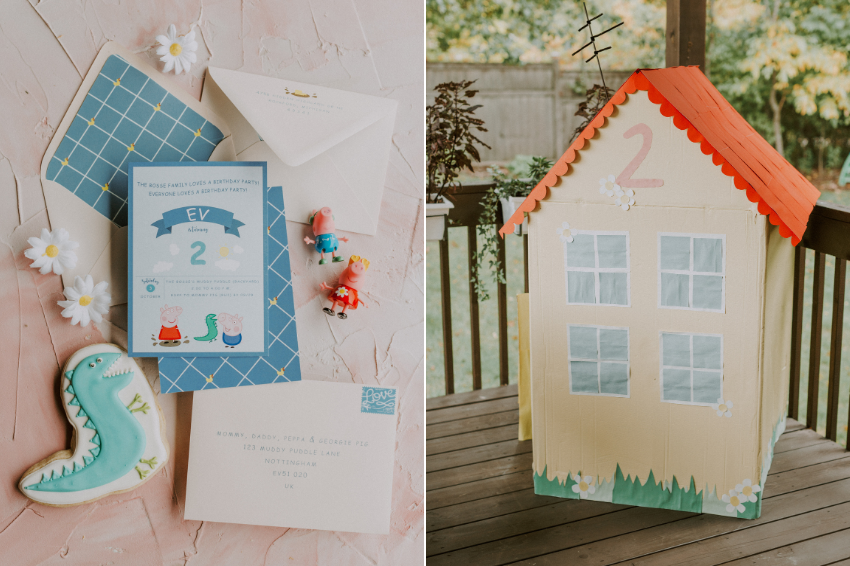 I was going to save details on the Peppa house for the end of the post but I'll share more here instead. We recently purchased a new stove and it came from Lowes in a giant cardboard box. Not one to look past the potential of such a large cardboard box, I immediately came up with the idea to create a kid-size version of the house Peppa and her family live in on the show. It took me a few evenings in the garage to create but it turned our darling and the kiddos loved playing in and around it during the party. Other than the yellow paint and red poster board I used materials and construction paper we already had here on our possession!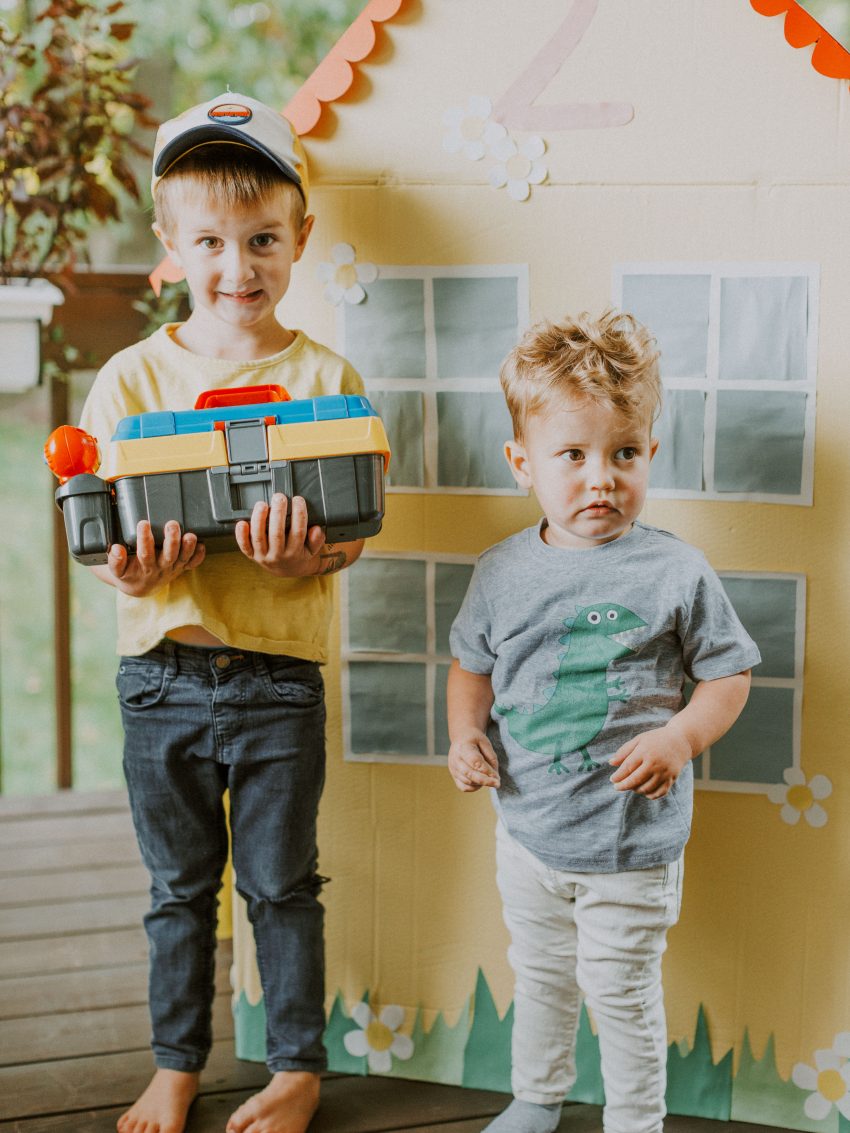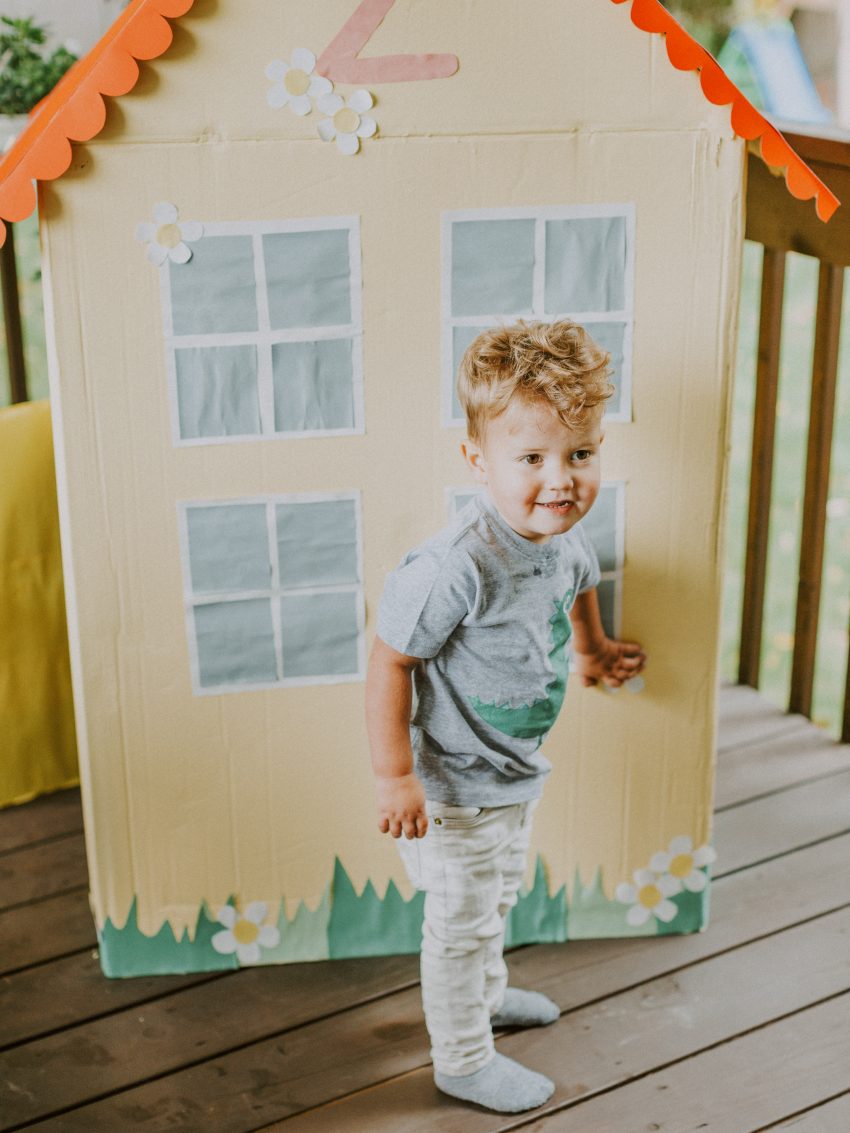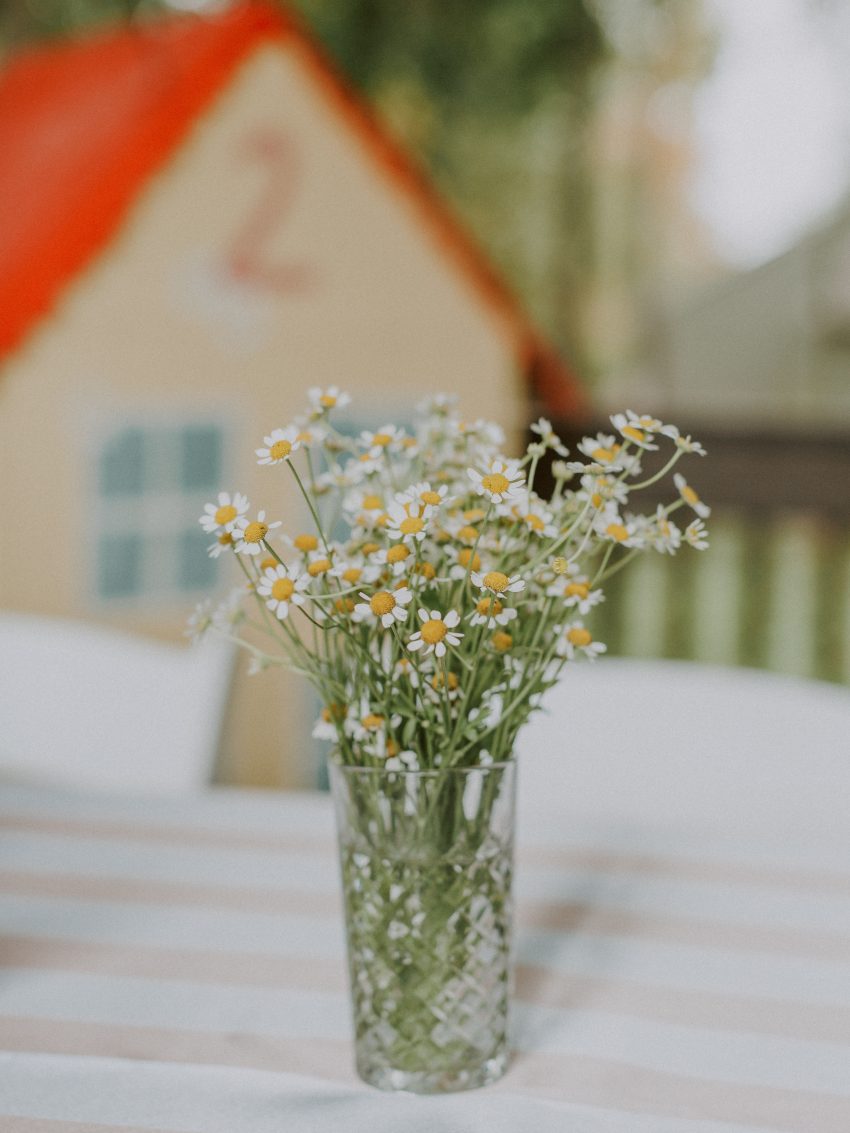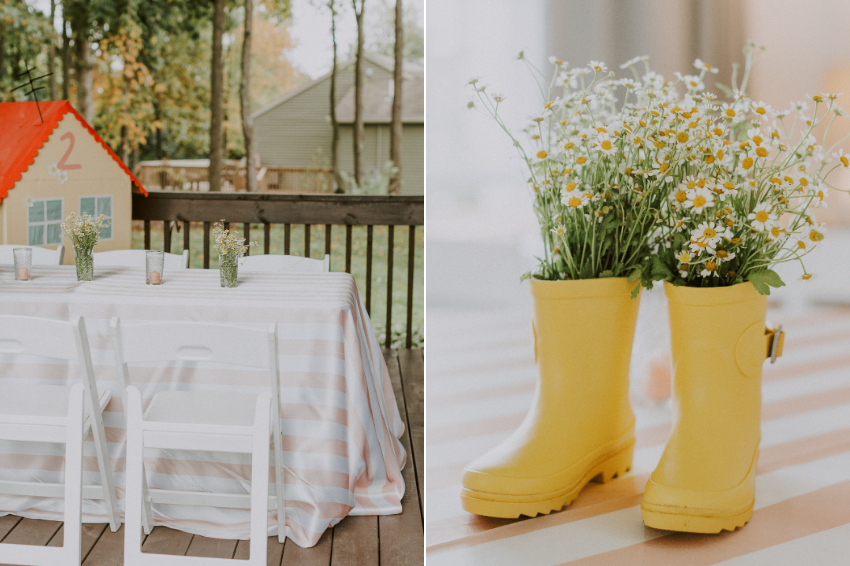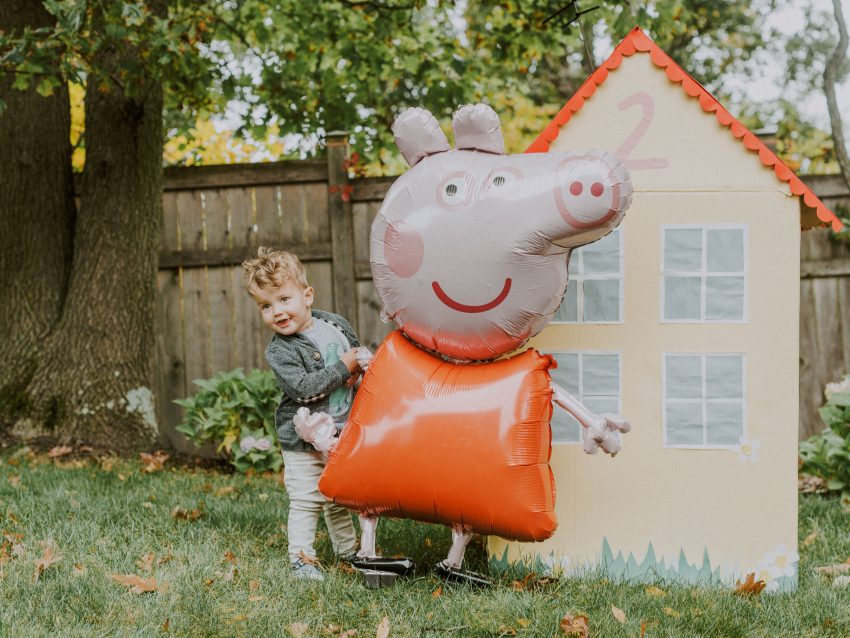 Keeping imperfect sustainability in mind, I also tried my best to avoid any latex balloons at the party. Instead we had one giant mylar Peppa balloon which was a huge hit with all of the kiddos and is currently floating on the ceiling somewhere in our home even now over two weeks later. I read somewhere that you can reuse mylar balloons and I am eager to learn more about how this actually works. If you've reused mylar balloons before please let me know below! Inquiring minds are curious.

I used five bunches of real feverfew flowers for small mini centerpieces in etched glasses from my inventory to mimic the daisies present throughout the television show. Then I tucked faux ones tucked into the paper honeycomb garland that was the focal point of the food table. One of my favorite ways to make a party shine is to find something small about the theme (a color, texture, pattern, word, or reoccurring item like daisies!) and then infuse that into the party in fun and unexpected ways.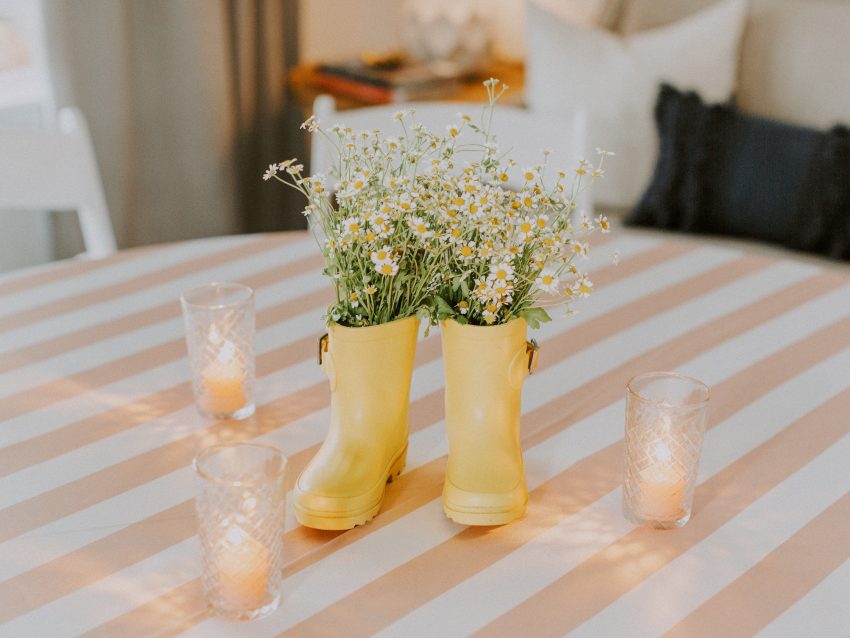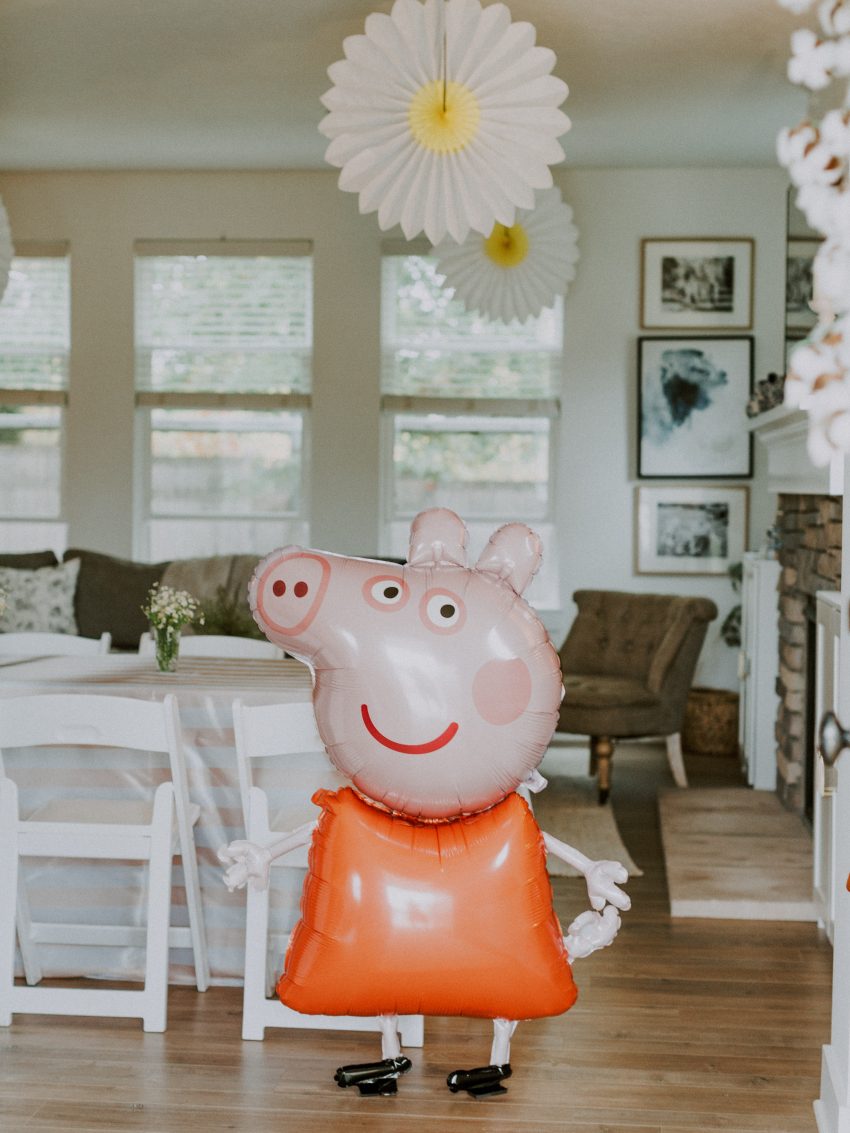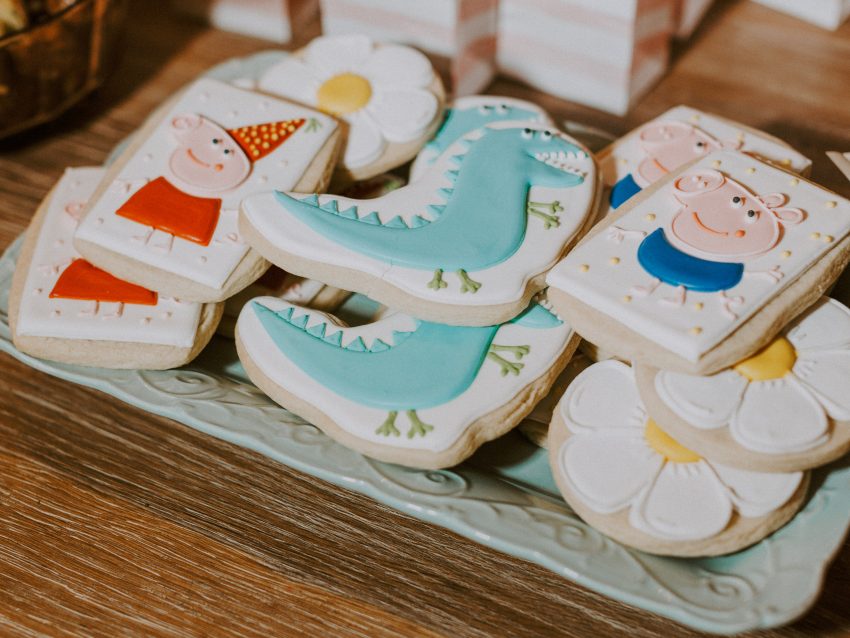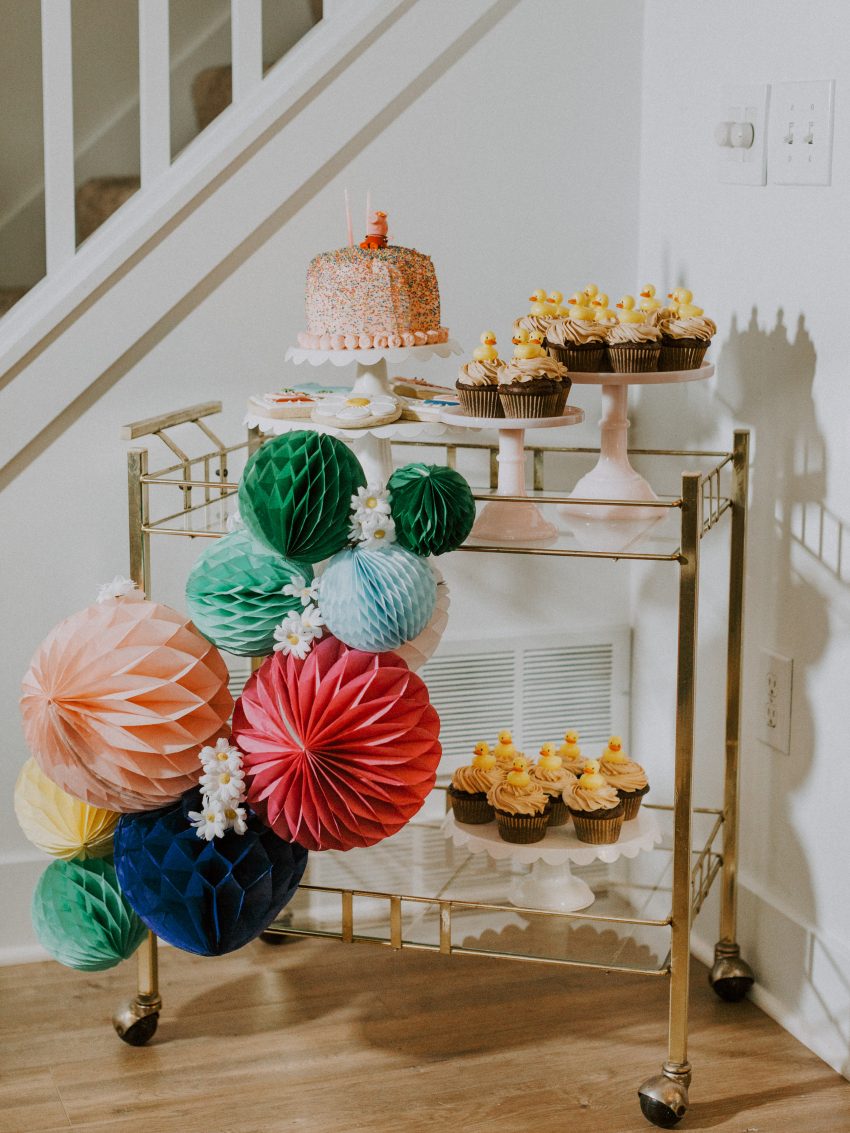 With the exception of the darling cookies made by our farmer's market friend Kara at Cyclops Bakeshop (you may recognize her talents from Bro's first birthday party) we tackled all of the food and desserts ourselves. Phew. That felt like a bit of an undertaking, especially with two boys running around the house while we prepared it all, but everyone left full and happy so I'll consider this a win.

I'll dive into the menu more below but the desserts specifically were Muddy Puddle cupcakes (chocolate cupcakes with peanut butter buttercream), and a pink-frosted raspberry and vanilla cake that followed this recipe here. The little duck toppers were the cutest little additions to the delicious cupcakes, while the Peppa figurine on top of the cake and the many show characters scattered around our home, are from our kids' personal toy collection.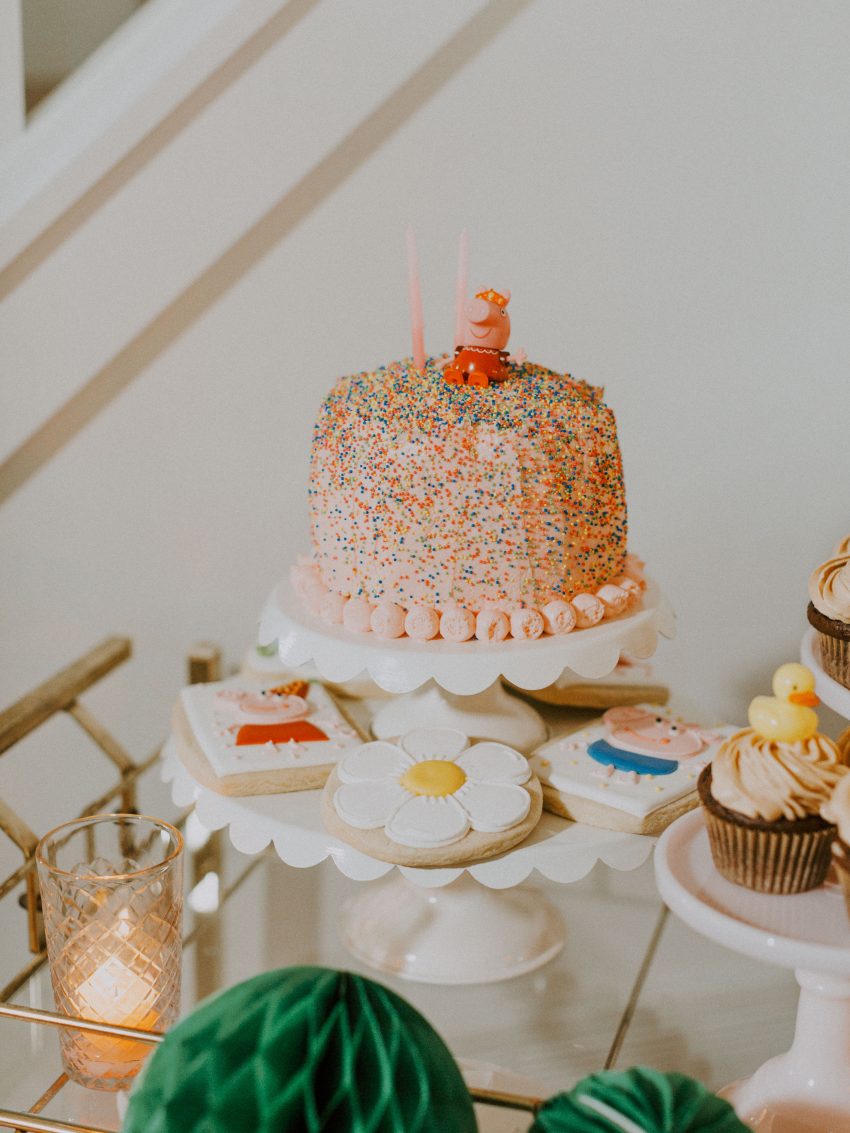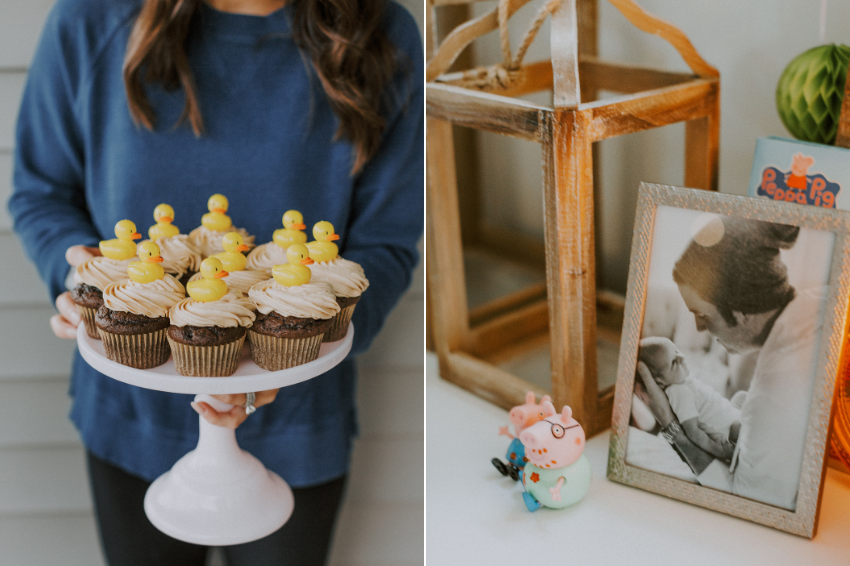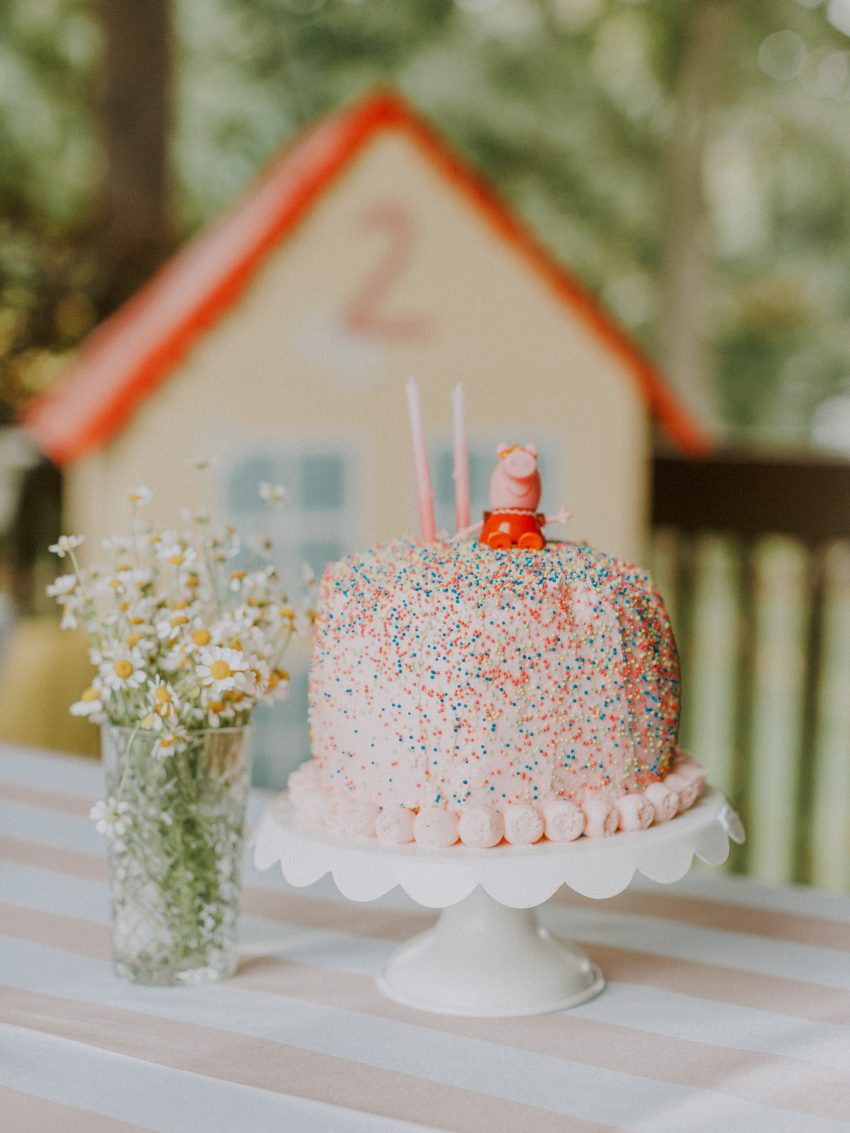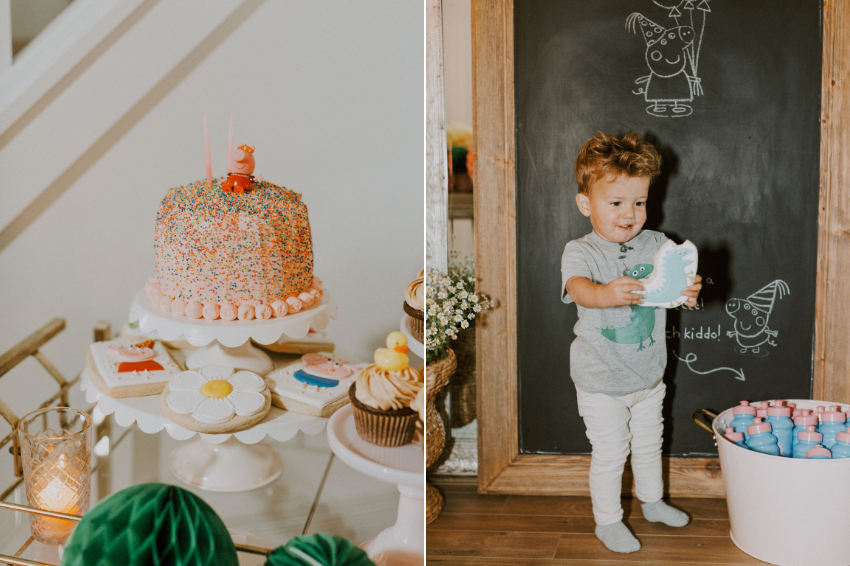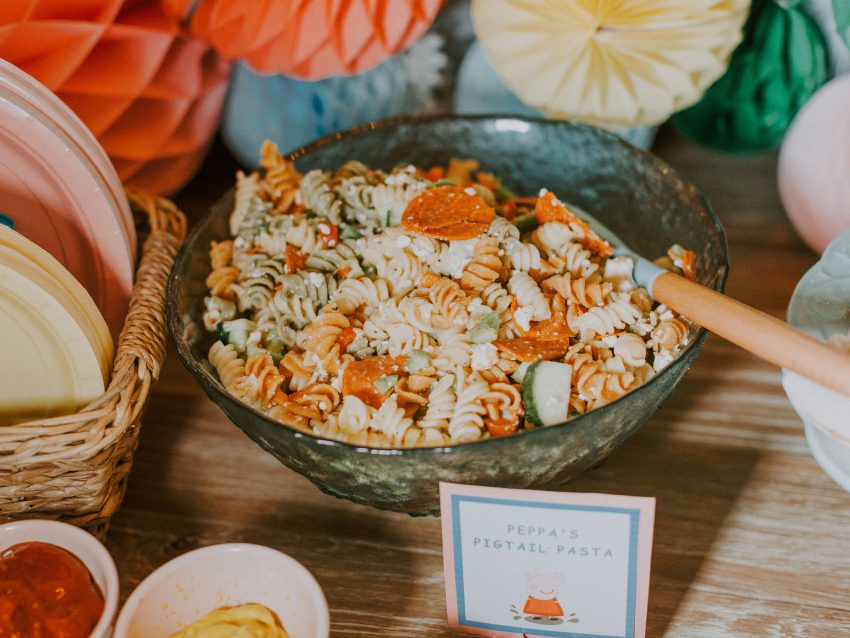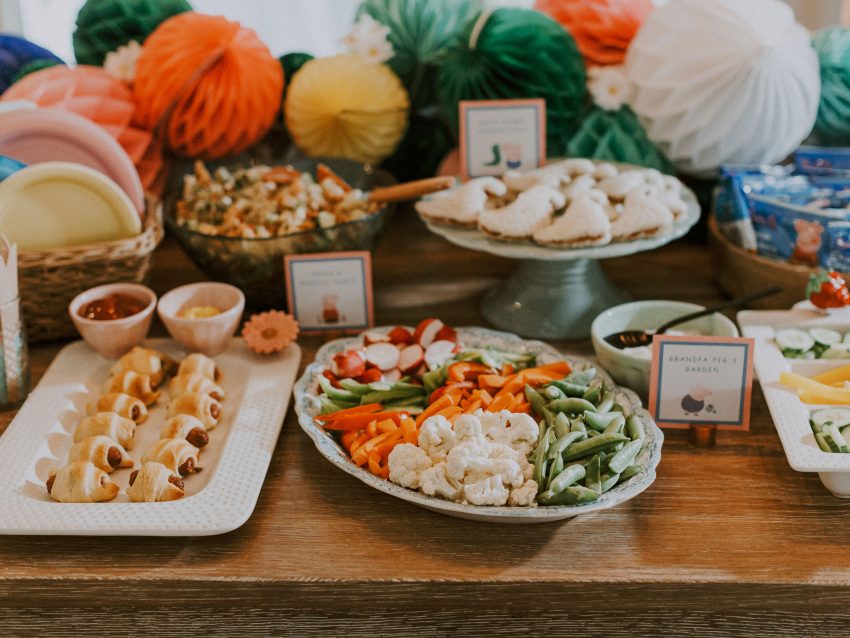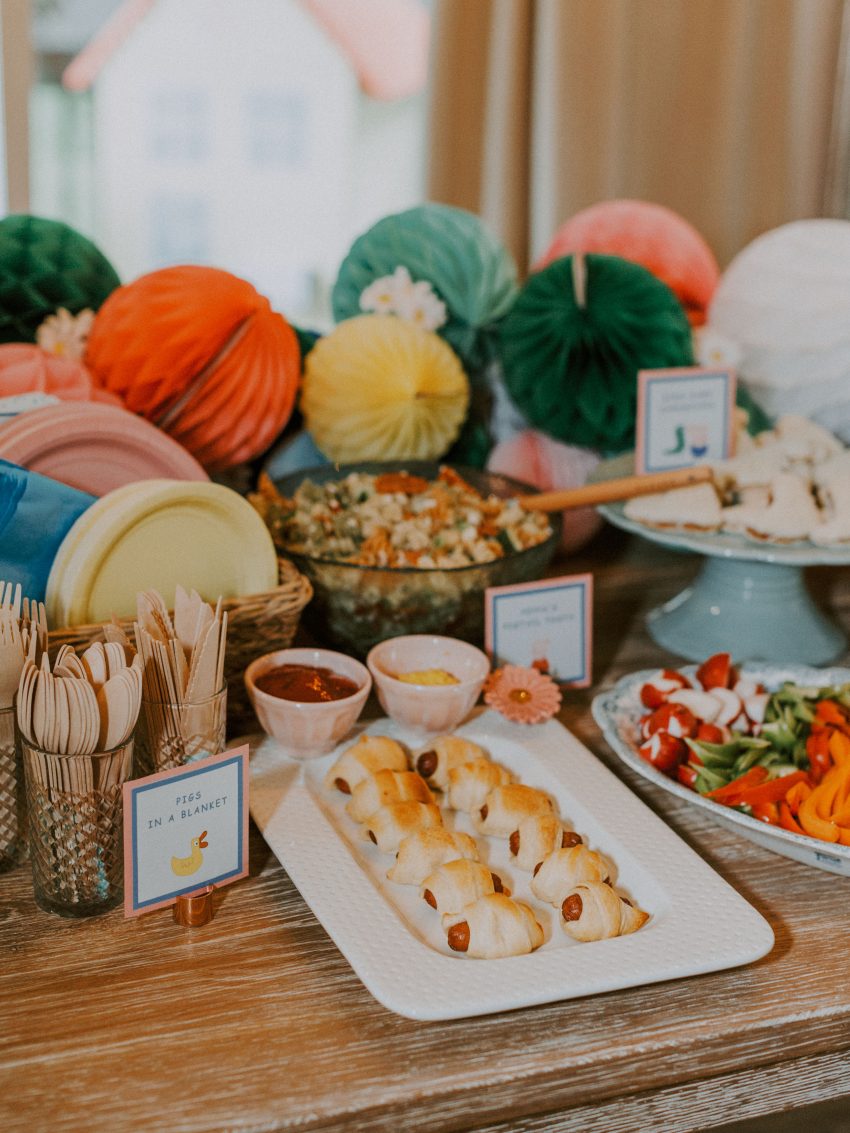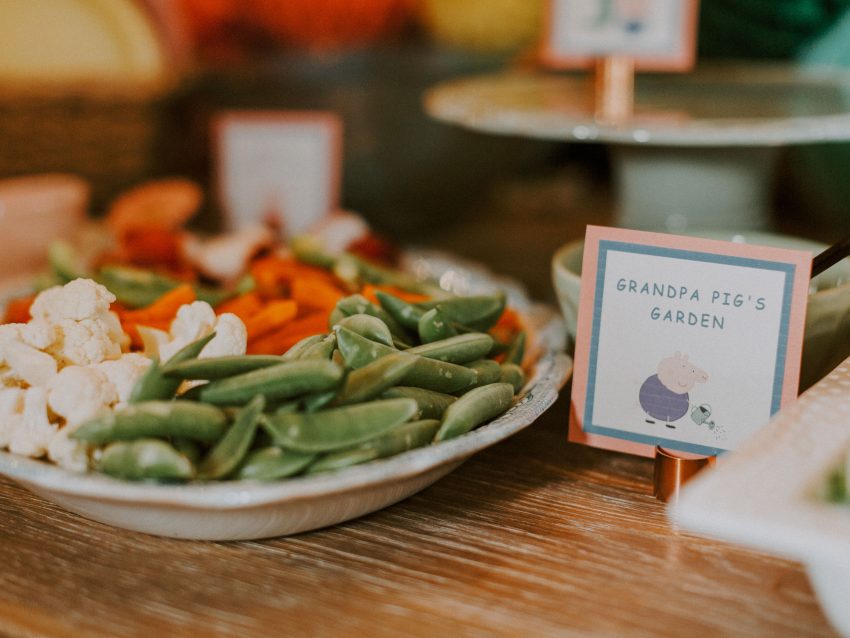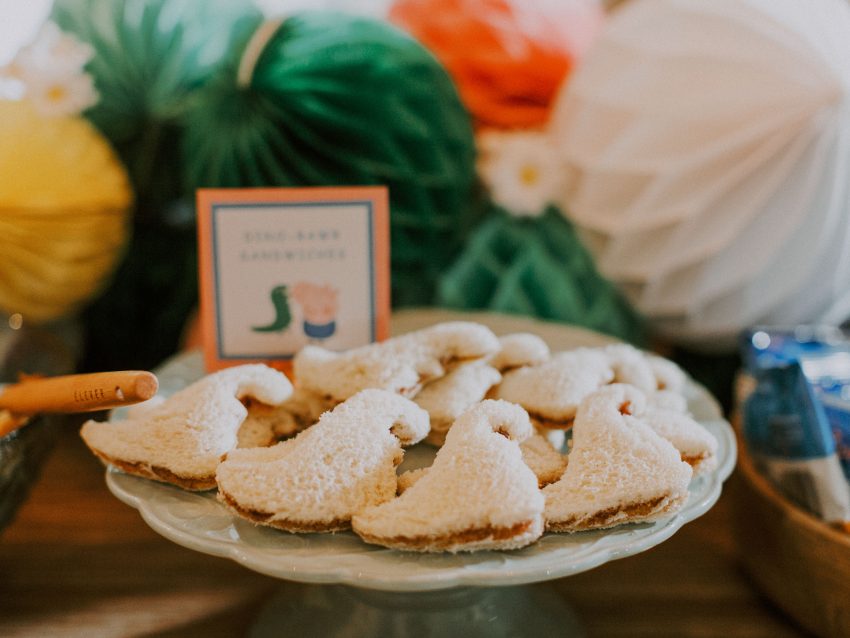 Alright! Let's chat about the menu.

In the past we've hired out the food through either friends that professionally cater events or our favorite small restaurants. But this year we wanted to save a little on costs and also eliminate having more people in our home than we needed to. We also had a much smaller guest count at this party than we have at past birthdays so we knew we could reasonably handle the food ourselves (LOL just a little here; mama was tired after everyone went home).

Our Peppa-themed menu included:

Peppa's Pigtail Pasta – a chilled Italian inspired pasta salad
Pigs in a Blanket – mini cocktail sausages wrapped in croissants
Dino-Rawr Sandwiches – pb&j sandwiches cut in dinosaur shapes
Grandpa Pig's Garden – a tray of fresh vegetables and dill dip
Potato City Salad – a family favorite shallot and herb potato salad
Suzy Sheep Says Cheese – pink striped bags full of cheesy popcorn

And as a last minute addition, hence the lack of a clever themed name, we had a crock pot of cocktail meatballs on the kitchen counter. You know the frozen kind tossed with grape jelly and BBQ sauce or something? I left that one up to Andrew! We also had Peppa-shaped cheese crackers in easy to grab pouches for the kids to snack on or take home with them. It was all delicious!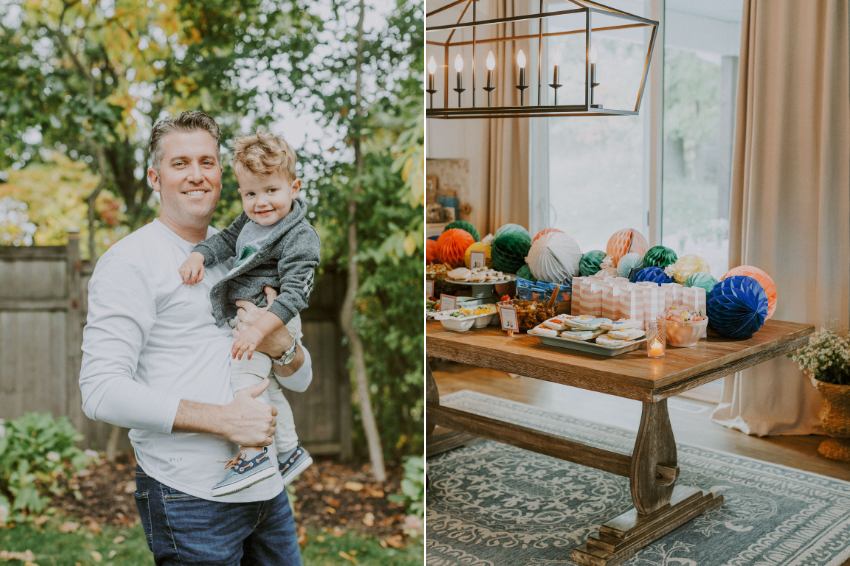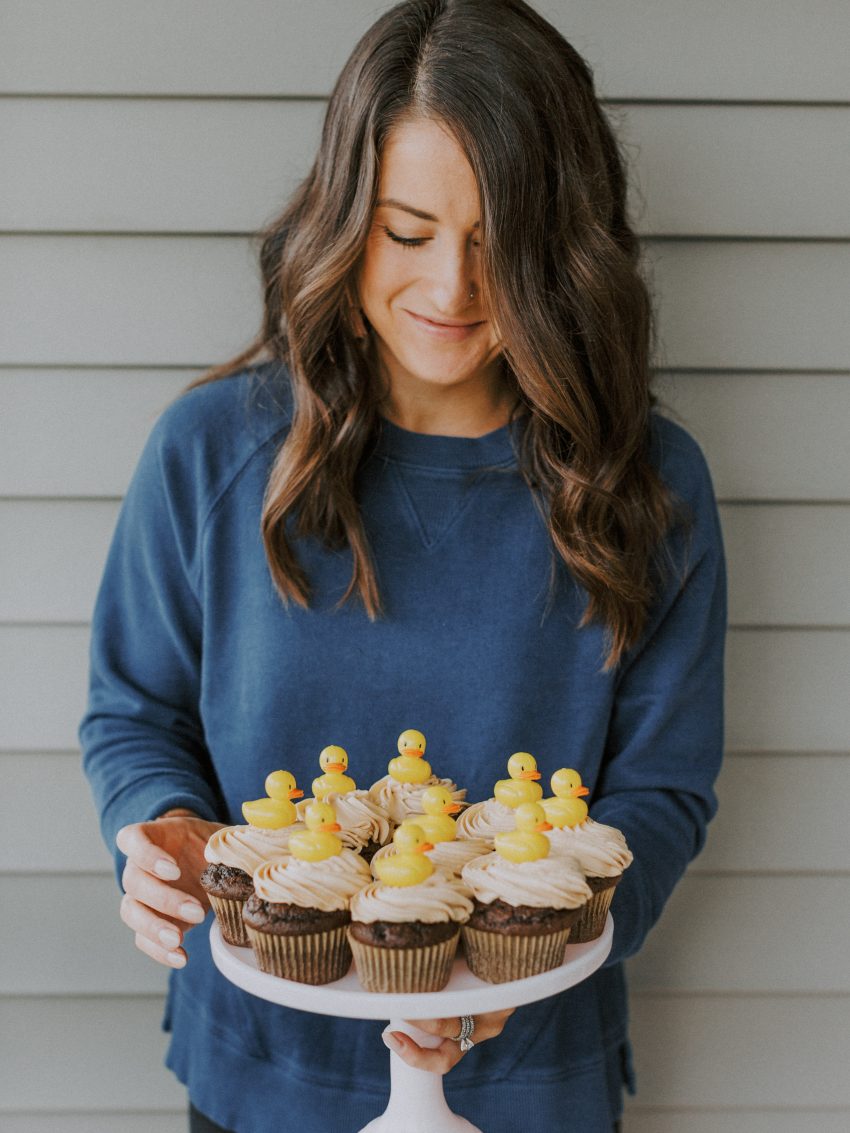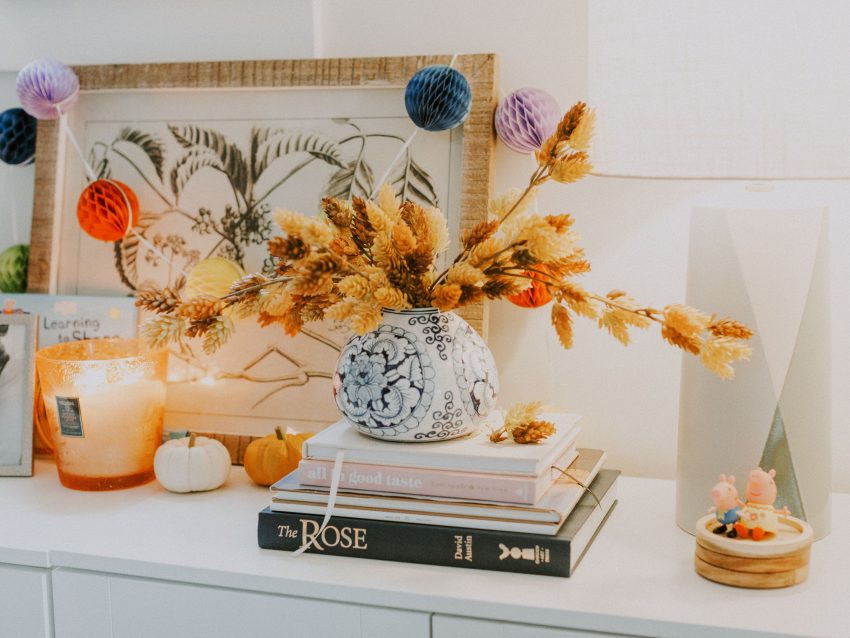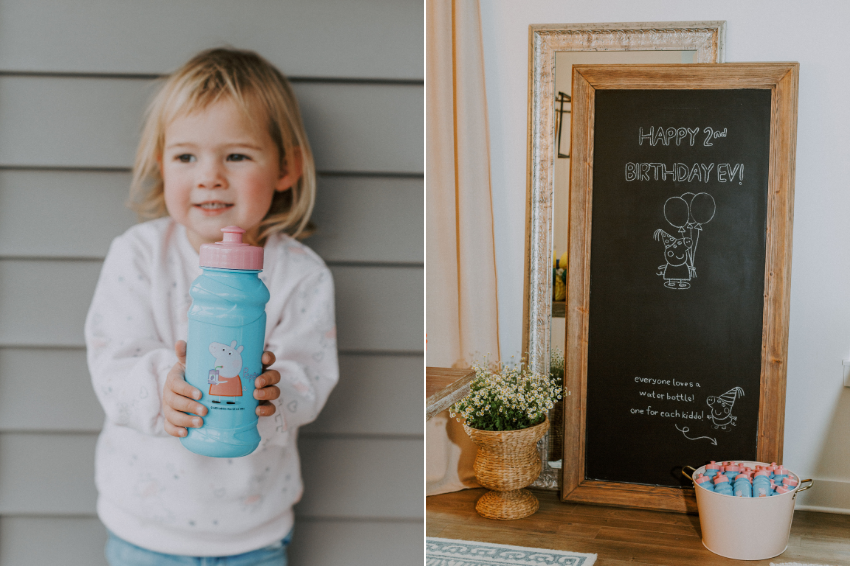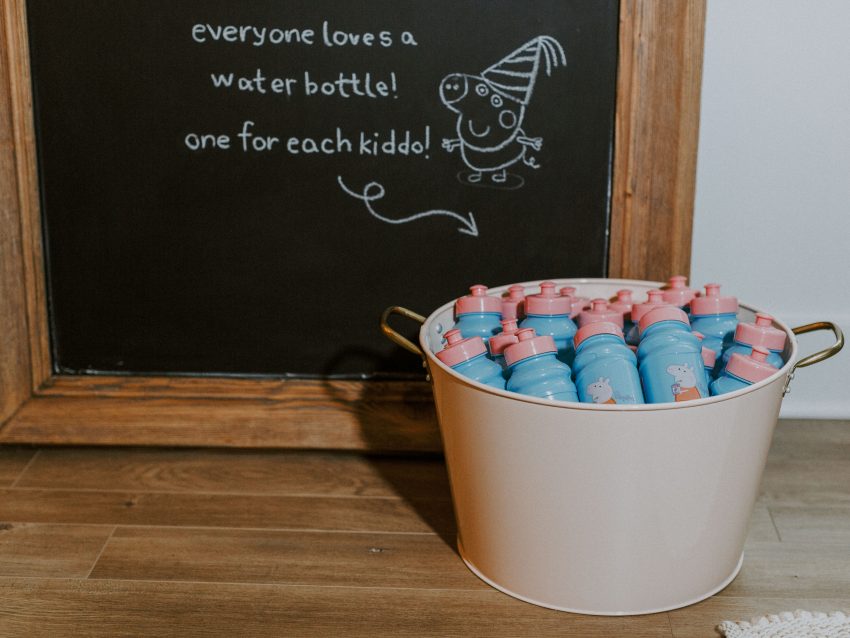 Can you spot the Peppa characters on Rowan's sweater? I love that Sam even dressed her kiddos for the theme!

For take home goodies each kiddo got to take home a Peppa pig reusable water bottle, most which were actually used at the party! I found these on Amazon and thought they would be a nice alternative to any little things that could be a chocking hazard or candy type items that I know some party dread their kids bringing home from birthdays. We displayed the water-bottles in a pink bucket and put them at kid height by our party chalkboard! They were a huge hit with the littlest party guests.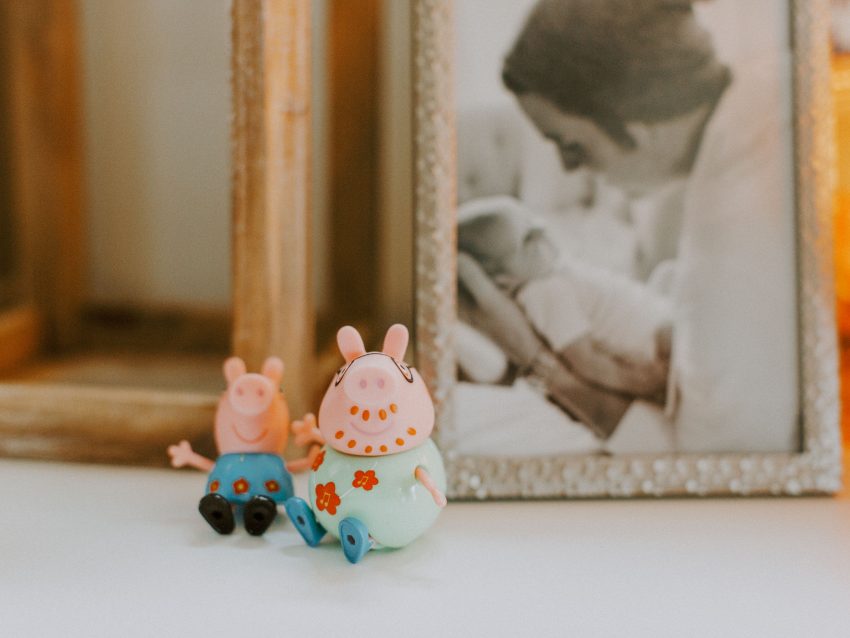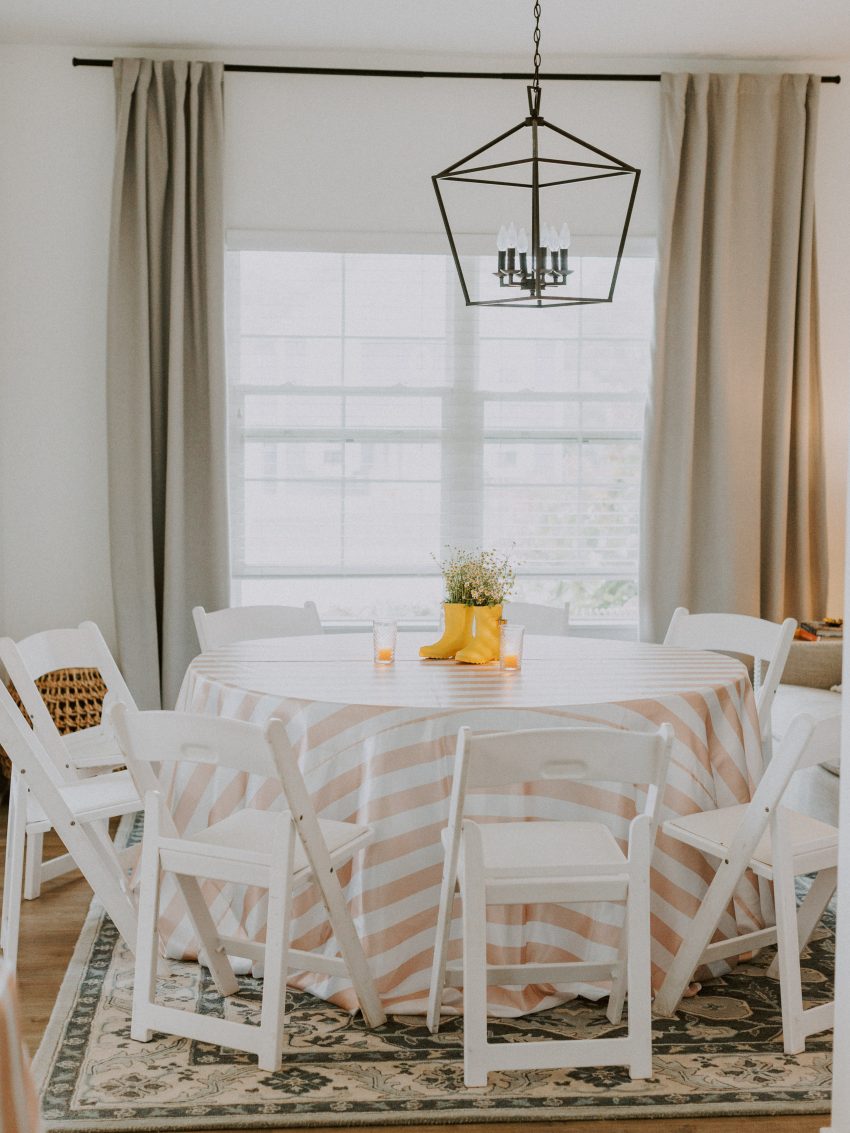 Golden boots filled with daisies! Bro will wear these boots once his feet grow bigger.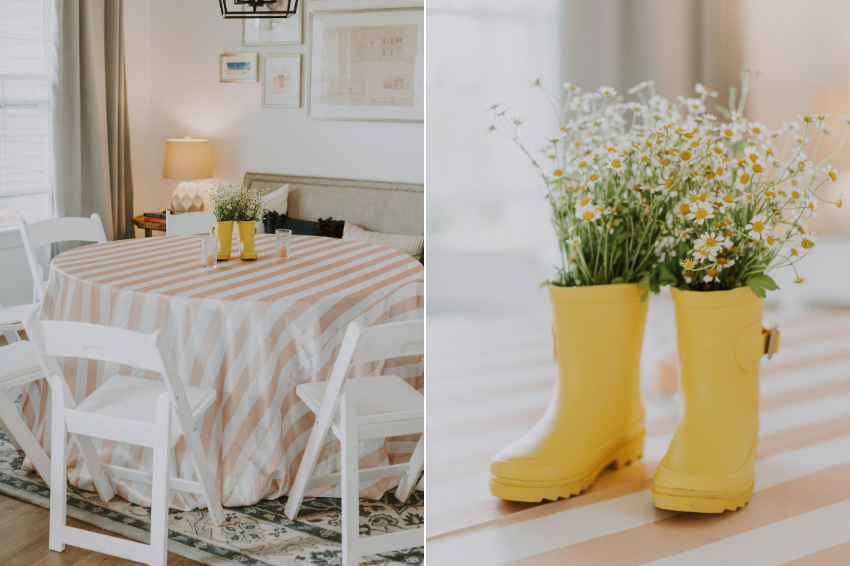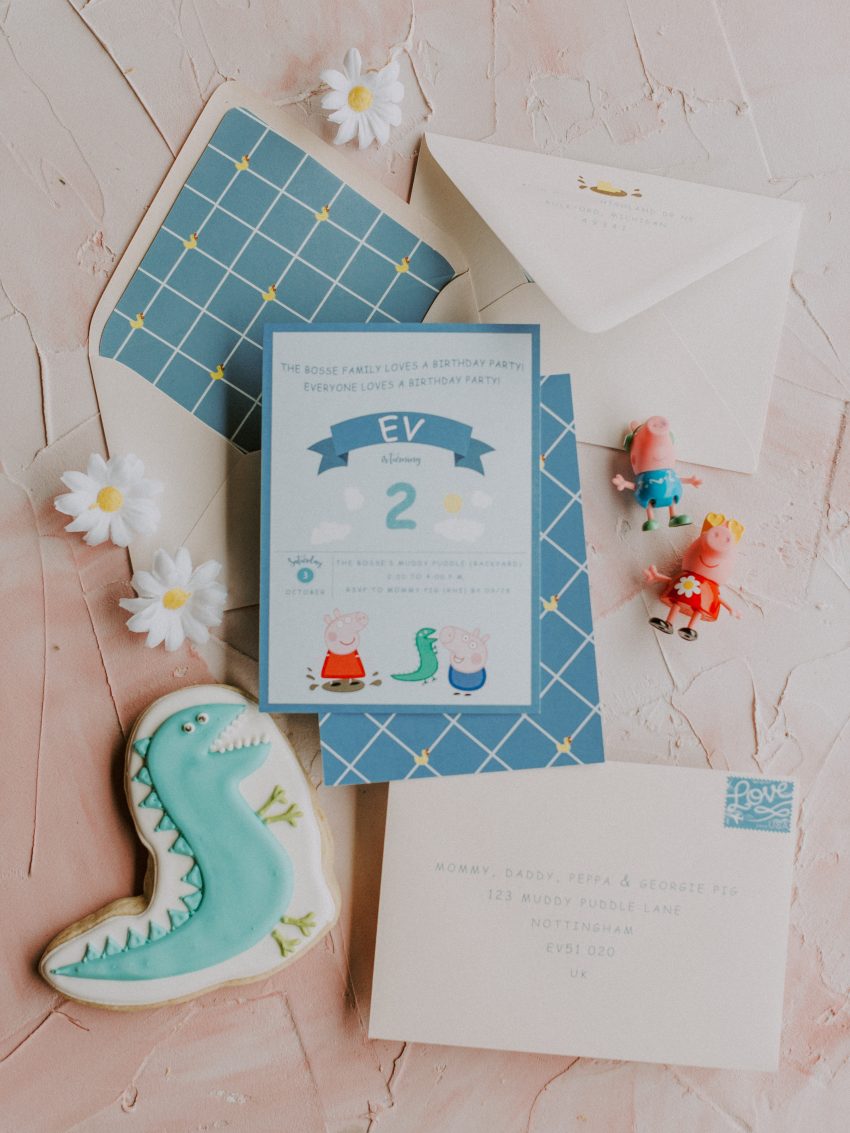 The invitations were designed by my friend Nellie of Nellie Sparkman Stationery and they were adorable to put it simply. The lattice and duck pattern on the back of the card and on the envelope liner was my favorite touch but the pale pink envelope was a close second. The invite read, The Bosse Family Loves a Birthday Party! Everyone Loves a Birthday Party! and I just loved this play on the popular closing line of each Peppa episode!

Keeping the dinosaur character fluid throughout the party, our birthday guest of honor wore a simple gray shirt with the character on front. I searched for days to find the perfect Peppa outfit for Bro and every thing I found was in the girl's section or had ruffles and sequins on it. Let's normalize character being loved by boys and girls, you guys! Little boys can loves pink female characters as much as little girls do.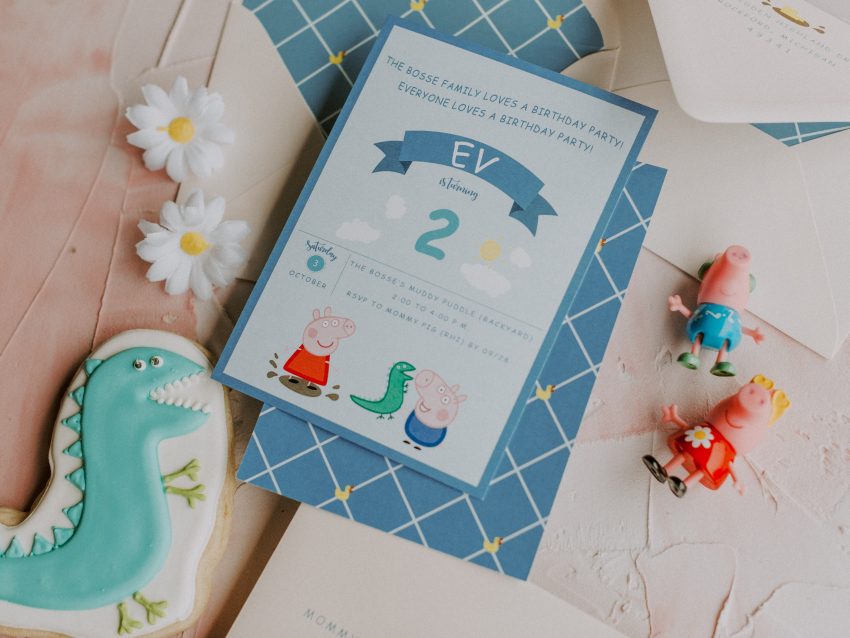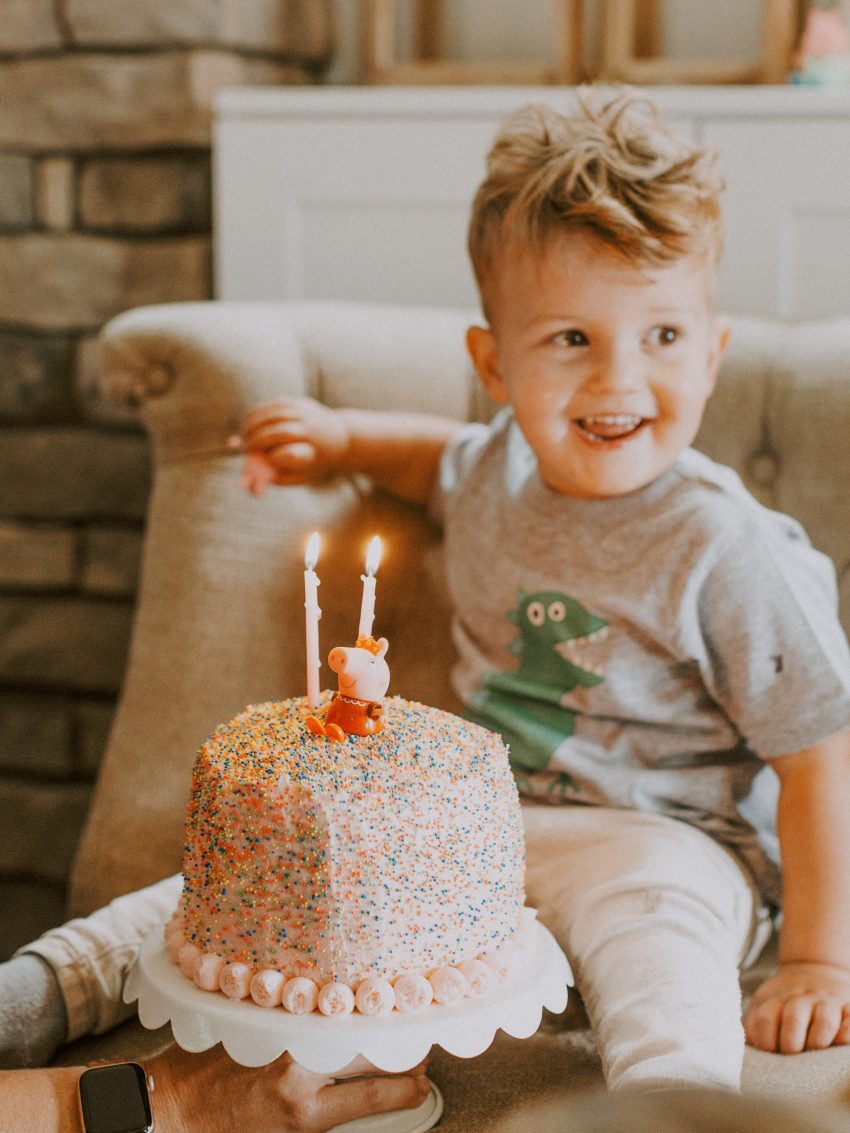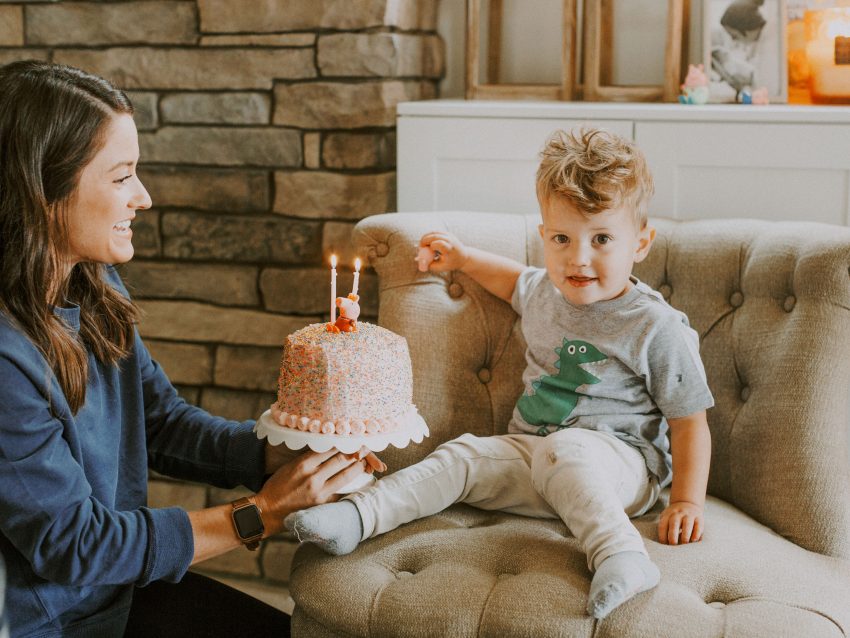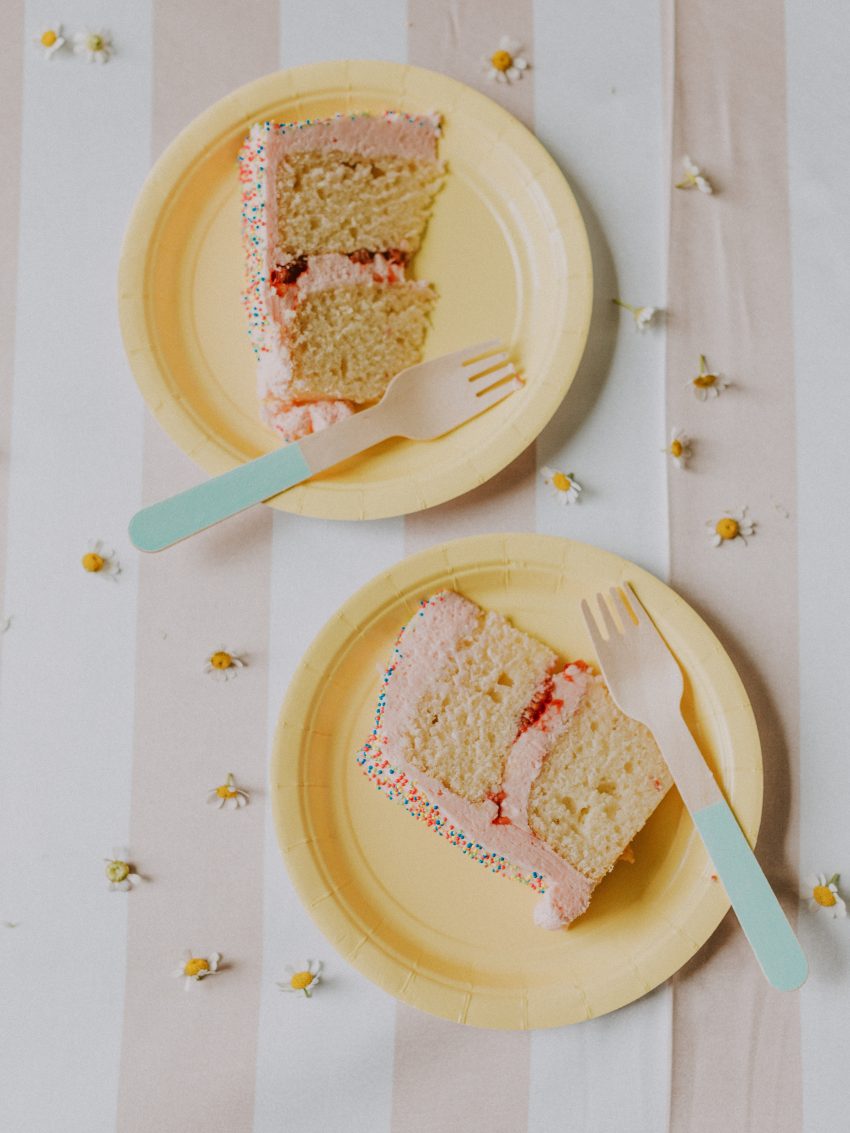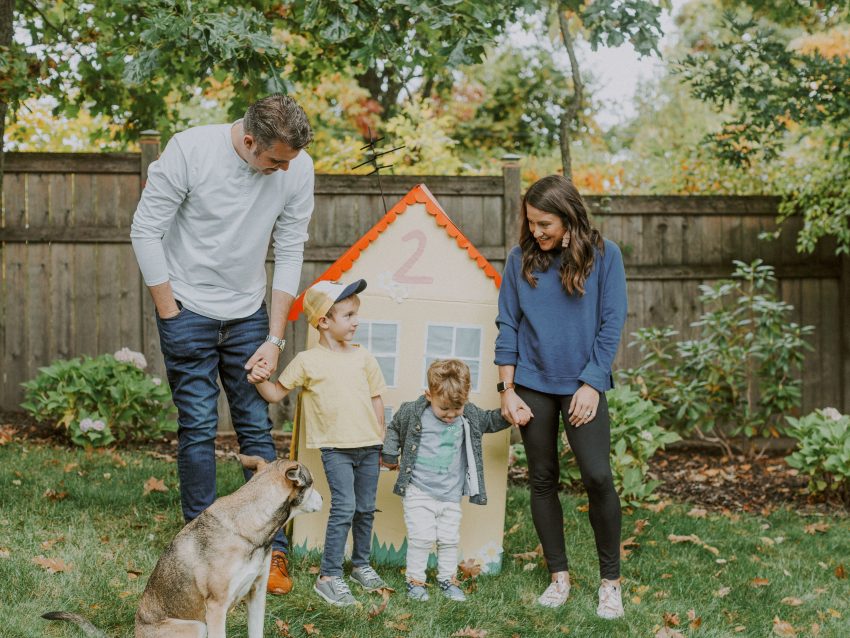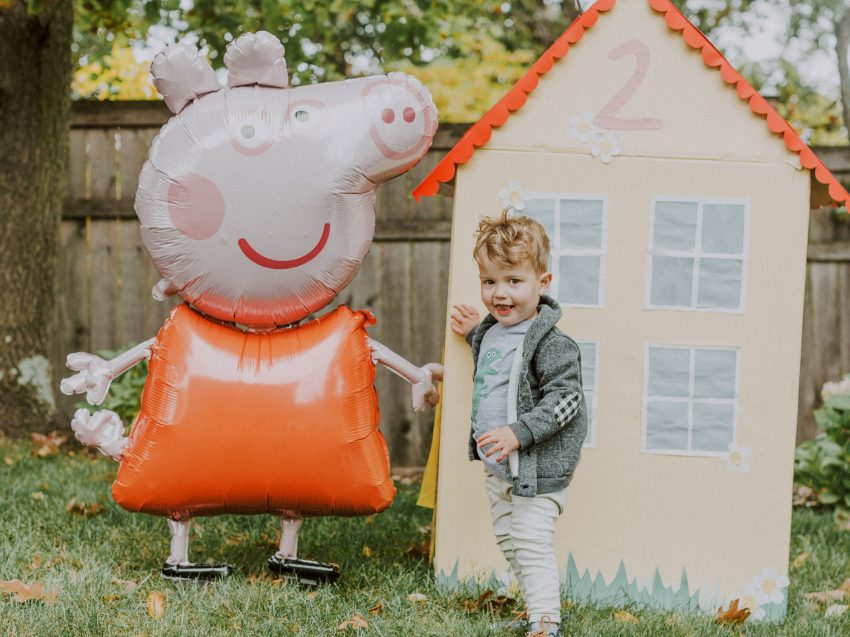 The more these children of ours grow, the more gratitude I feel for getting to build this life and legacy with them. Andrew and I often look at each other and ask, 'Did you ever think this would be our life?' and it always makes me catch my breath. The concept of time is sometimes weird; we mark it with occasions and milestones yet it's never truly stagnant. Just when I think I've wrapped my head around time, it seems to slip by again. Celebrating our kids, their unique selves, and the people we inevitable get to become as a result of our life with them, is an honor, pleasure, joy, and well, really a lot of fun!

Happiest of second birthday, Broey! We adore you from your head to your toes.

Also, please enjoy my Peppa Pig house creation one final time.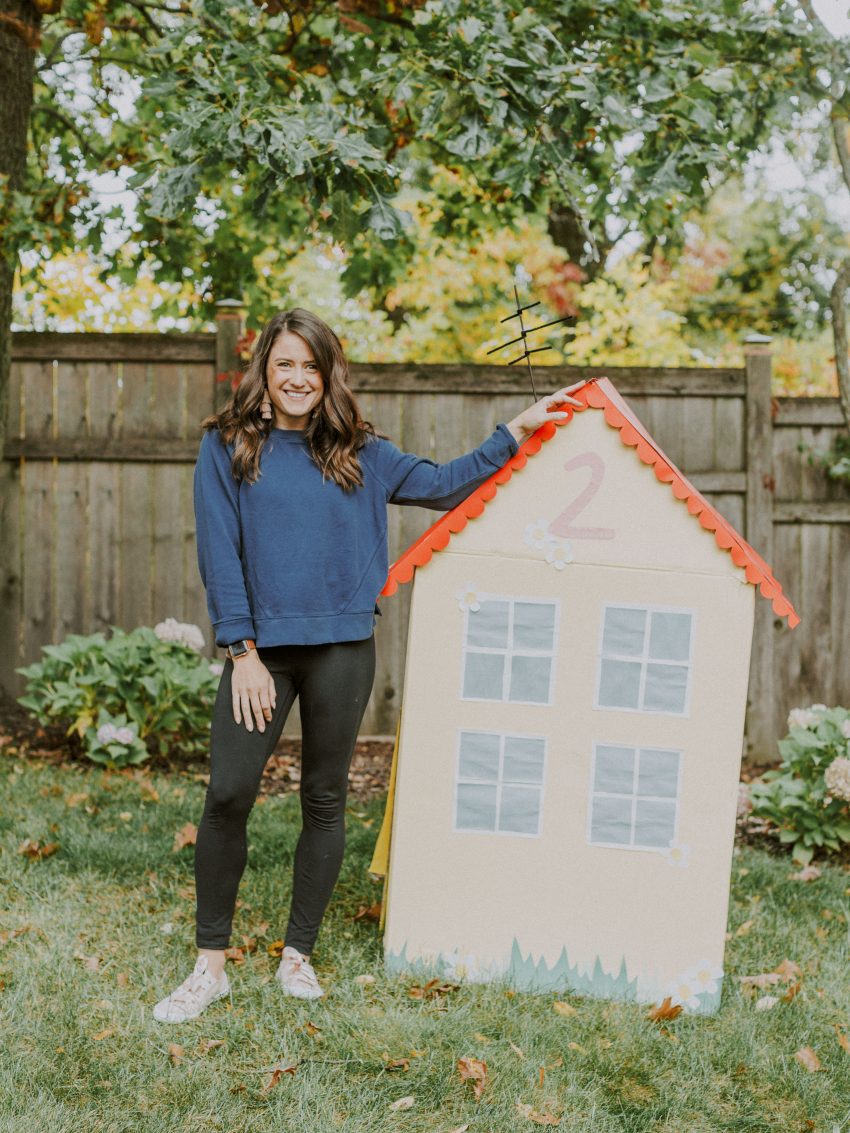 A covid-19-related note: Because of the pandemic, we only invited a small amount of guests to the party and all of them are people we have seen comfortably over the summer on multiple occasions in our home or theirs. Some people declined to come because of safety concerns and social distancing so we celebrated with those guests from a far! We also kept tables separated throughout our deck and home so people could spread out comfortably with their family and encouraged anyone to wear masks if they desired. It ended up being a chilly 52 degrees the day of the party so most guests stayed inside but we feel we celebrated safely and fully!