This post has been in the works since JANUARY! Guys, it's September.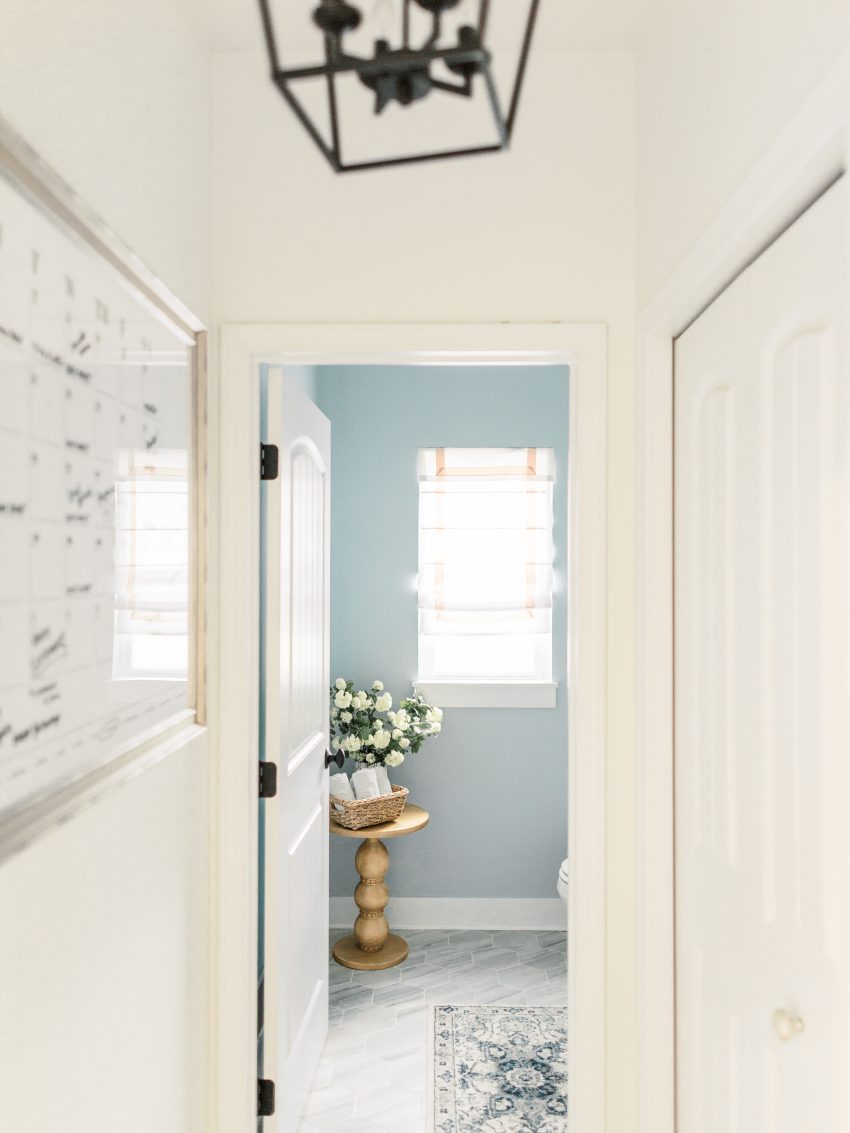 Little by little over the last NINE months we've been chipping away at our powder room refresh. And, I'm delighted to finally share the finished product! This crosses off the largest project under one of my 2020 goals, which is to Add Delight to Our Home.

Our powder room is our bathroom off the garage and the only one on our main living level making it the go-to for guests. It's also the go-to for our family whenever we are on our mail living level so this space gets used a lot. When we built our home I had a design vision for this space that apparently included eggplant-purple colored walls. This vision still baffles me because it was simply put, quite ugly and the fact that we kept it purple for almost a decade goes to show that sometimes life trumps an ugly paint color!

Here's a little before of the bathroom without the original mirror: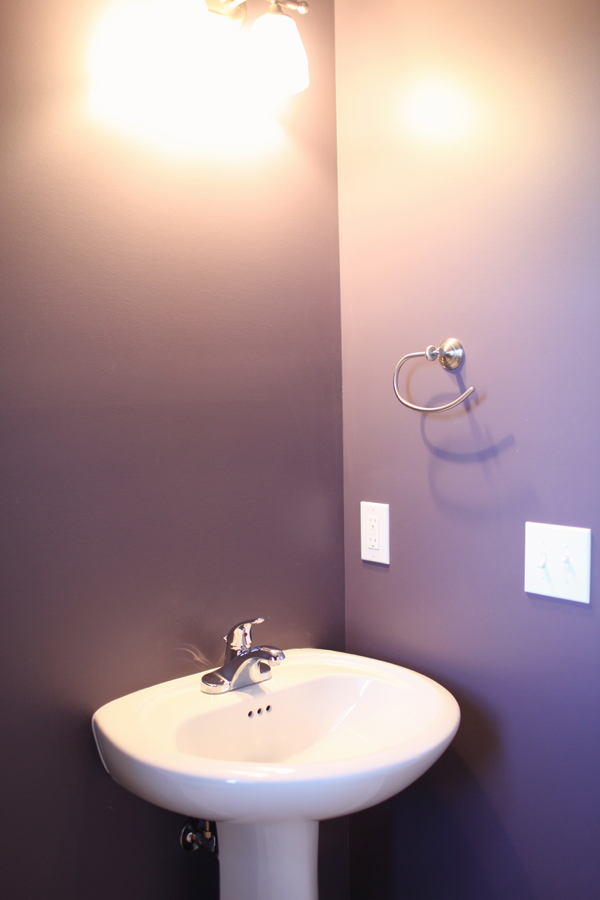 It was a dark, outdated space, even in a new build, and just never felt put together. I blame it on the purple paint, HA. The sink ended up cracking a couple years ago along with some of the tiles on the floor in the bathroom and out into the foyer, and I think I sort of kept the space out of sight and out of mind because it's one of the smallest rooms in our home. Thus it didn't feel worthy of time or effort.

But then some extended time at home this year inspired us to finally update the space, a process that moved along slowly but consistently until this summer, the space was finished. We now have a beautifully bright, seemingly larger, and stylistically personalized powder room that is one of my favorite rooms in our home. The before and after is so striking to me and perhaps it is to you too!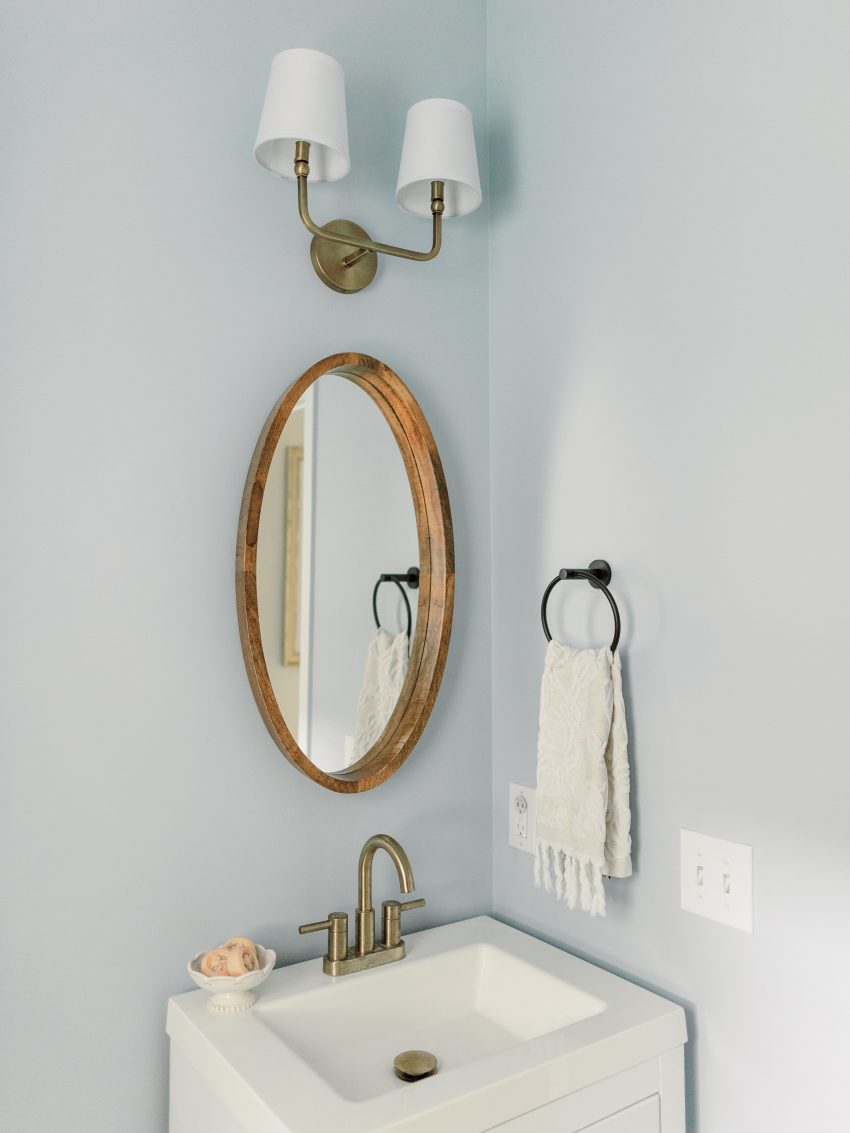 The two largest changes to the space included a fresh coat of paint (we went with 'Light Drizzle' by Behr) and updated floor tile that extends out of the powder room and into the foyer. I originally purchased a beautiful natural stone tile for the space but after being talked out of it by our tile contractor and pushed towards something that will stand up better to snowy boots and foot traffic, we settled on this marble-hexagon option. A less costly choice by far, so one Andrew was happier with! I suppose they call this a win win in marriage.

We also needed to upgrade the sink because the hairline crack was branching out into other smaller cracks that ultimately would have shattered the entire pedestal and I had nightmares of bloody little toes! Knowing that I wanted some storage built into the sink in a room that otherwise has none, we found this sink and vanity combination on sale and went with it! So far it's worked beautifully for us and makes the bathroom feel a little more substantial. While the vanity is advertised as 'white' it actually has a greyish tone to it next to the white sink and other white finishing in our home (like our doors and trim) so I love the slight contrast and visual interest.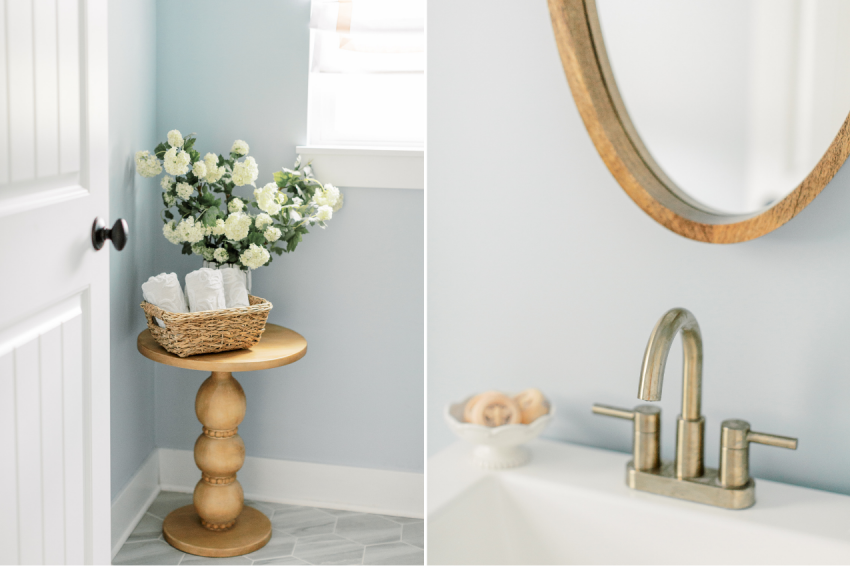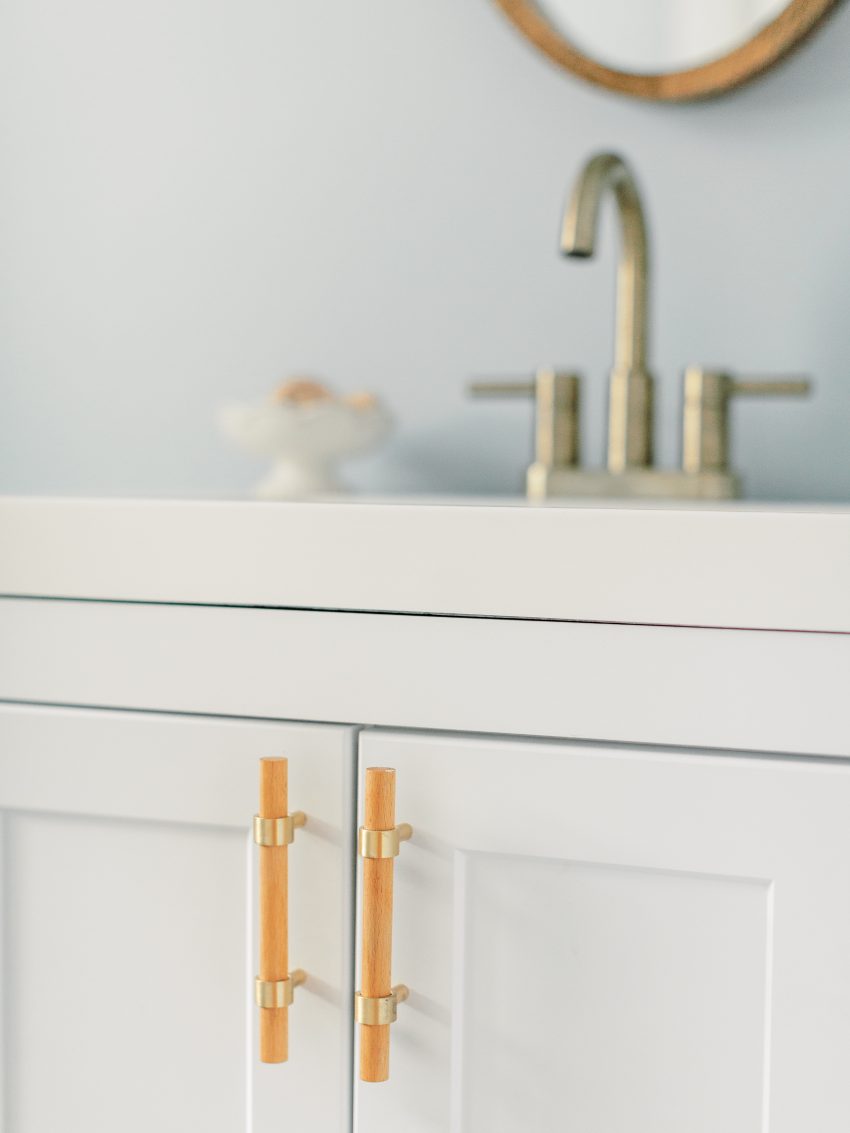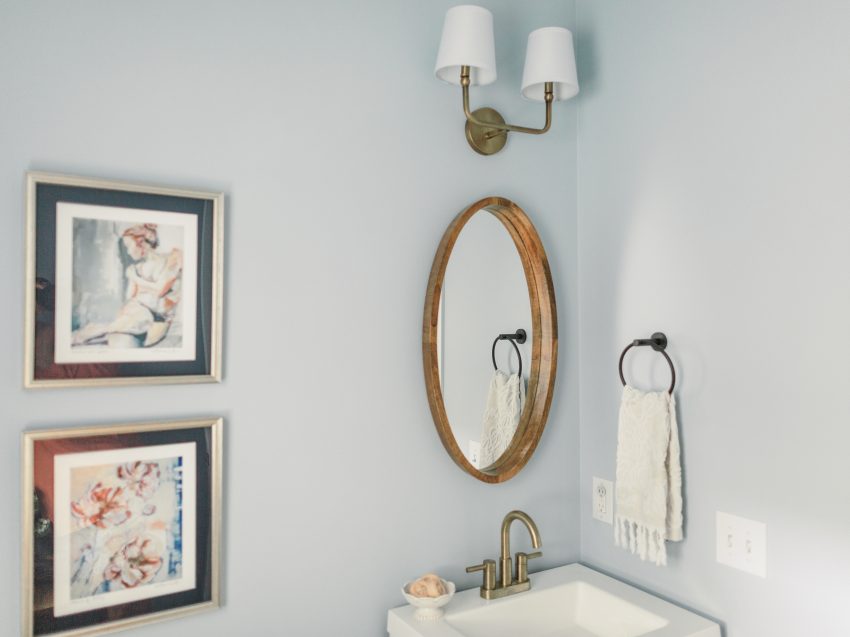 The faucet inspired the light fixture and after hours of searching we found gold finishes that nearly matched perfectly! The mirror is a World Market score and the towel ring is from West Elm. The toilet paper roll holder is from Lowes but matches the towel ring perfectly. We have a lot of black hardware in our home so I wanted to make sure this was carried through the space in small ways.

The pulls on the vanity are from this Etsy seller. It took THREE MONTHS FOR THEM TO ARRIVE. I shrieked the day they finally arrived after thinking they were just lost in Covid-land for eternity! The basket that holds the toilet paper rolls is from my wedding supply inventory and is a delightful toy for two little boys who sometimes get bored and make naughty choices. You can also catch a small peek below here, of a white and wood round step stool from this Etsy seller. The stool is helpful for little people who need to reach the faucet and was a nice alternative to a popular step stool version I had my eye on but couldn't pull the trigger on!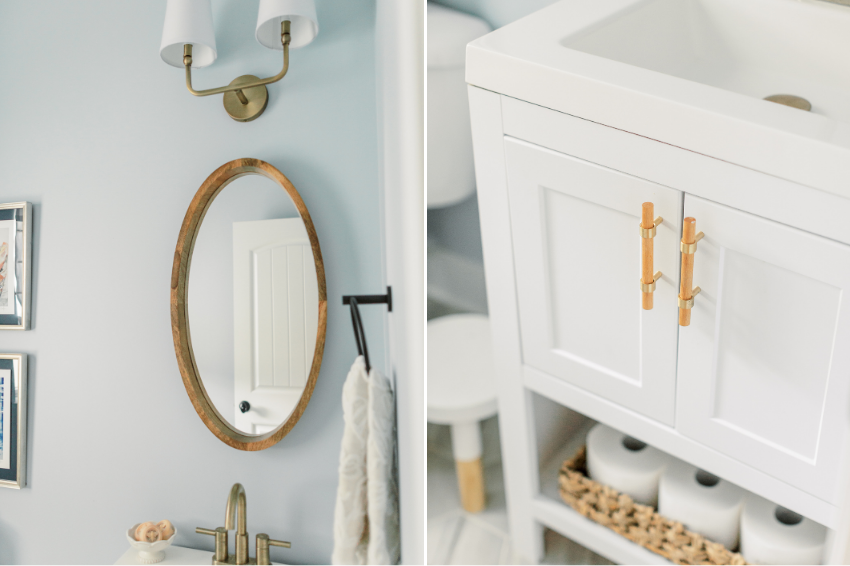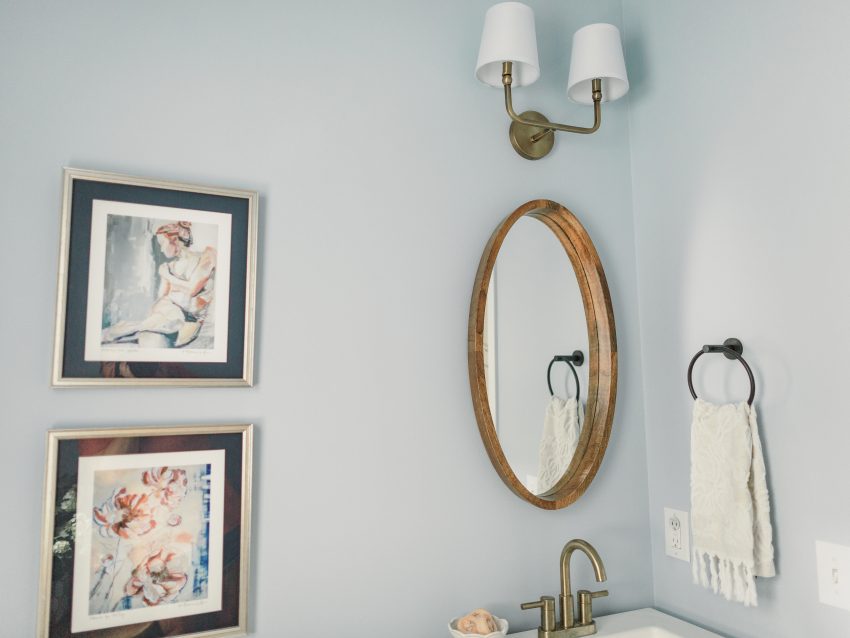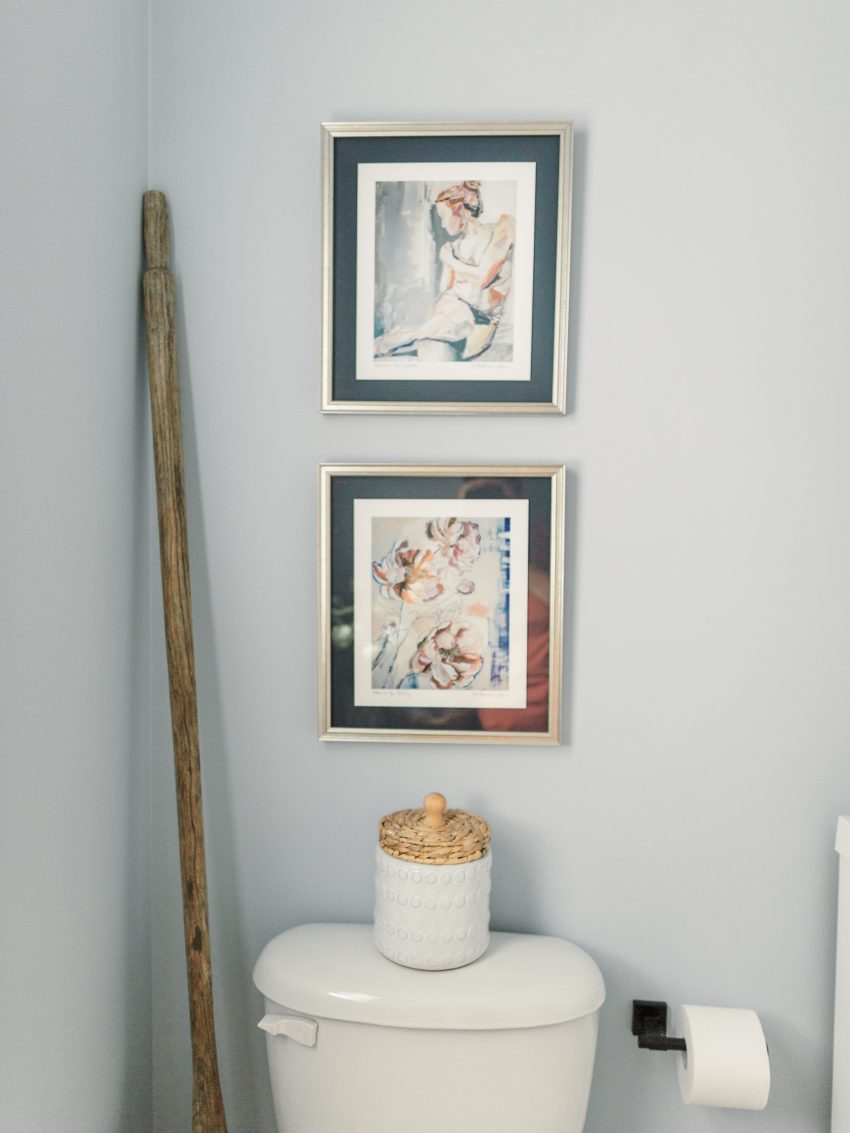 The artwork over the toilet is from a Michigan artist, Katherine Corden and I purchased the prints in mid-January knowing they would be a focal point in the bathroom. I had a vision of navy blue mats to make them really pop and Framebridge nailed the project, as usual. They are are beautiful against the soft blue walls! One of the prints is called 'Embrace this Season' and it felt appropriate purchasing that specific print at the time of great transition in my life.

The rattan top canister is from Hobby Lobby and now sits in our kitchen holding coffee pods for our Nespresso machine. The wooden oar was a vintage find and sits nicely in the corner of the room. And the soap dish is from World Market. I love the scalloped detailing which makes my handmade soap (of course!) look really beautiful.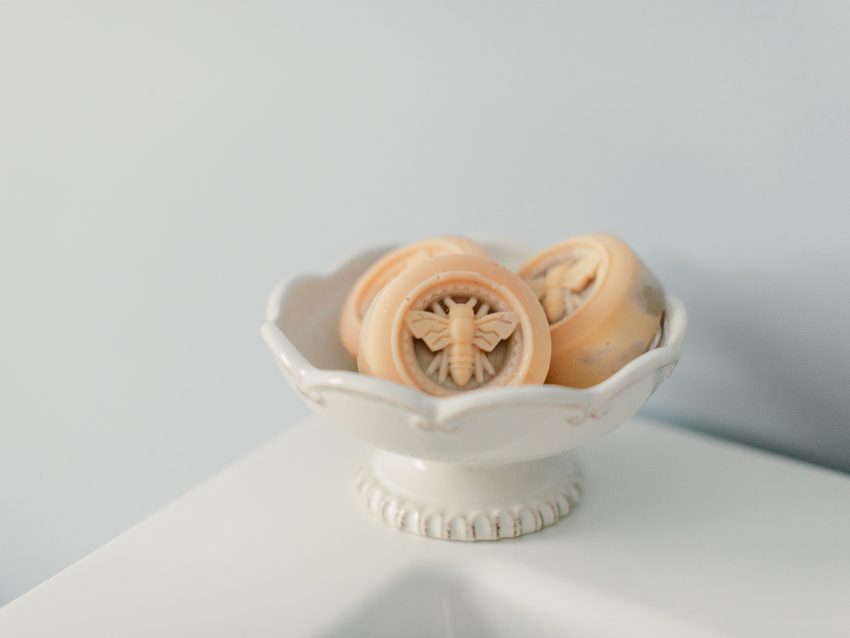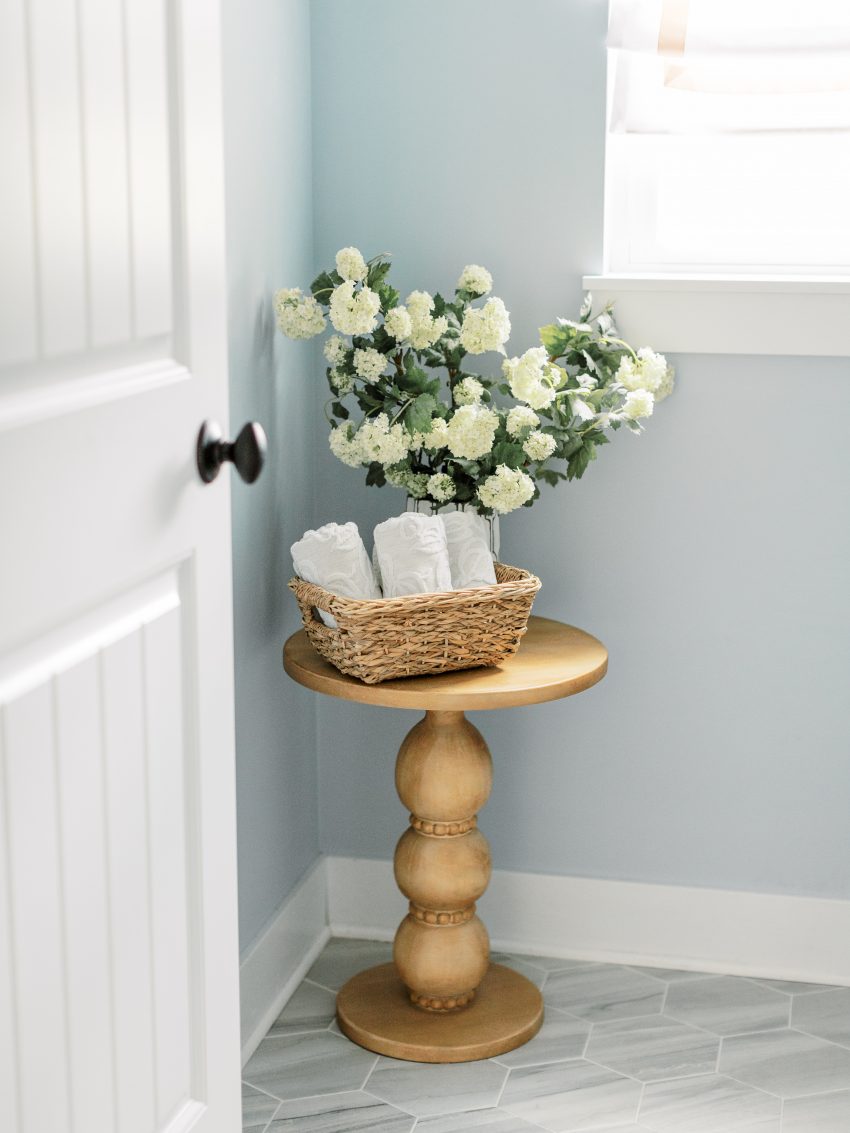 And finally! Two special details that I had my eye on long before we started this project.

1. That wooden pedestal table from Ballard Designs is everything! My style is just about everything Ballard Designs offers and when I saw this side table in their 2019 holiday catalogue I knew it would be perfect in our updated powder room! We used to have a cabinet-type table in there but it was sitting at an angle in the corner and looked funny, not to mention it took up so much space. So we sold the square cabinet and this table has been the perfect replacement! Faux viburnum branches sit in a West Elm vase on top for a pop of green and a little basket of hand towels from World Market complete the vignette!

2. I knew I wanted a Roman shade for the window because any other curtain style felt inappropriate for the space. And I knew it would probably need to be custom given the size of the window. I used Windows by Melissa on Etsy and was pleased with the end product. The fabric is a lined white linen material and then the ribbon detailing is a taupe grosgrain color which ties in nicely with the hardware on the vanity and the wood accent table. Roman shades don't feel super practical to me but they really are pretty.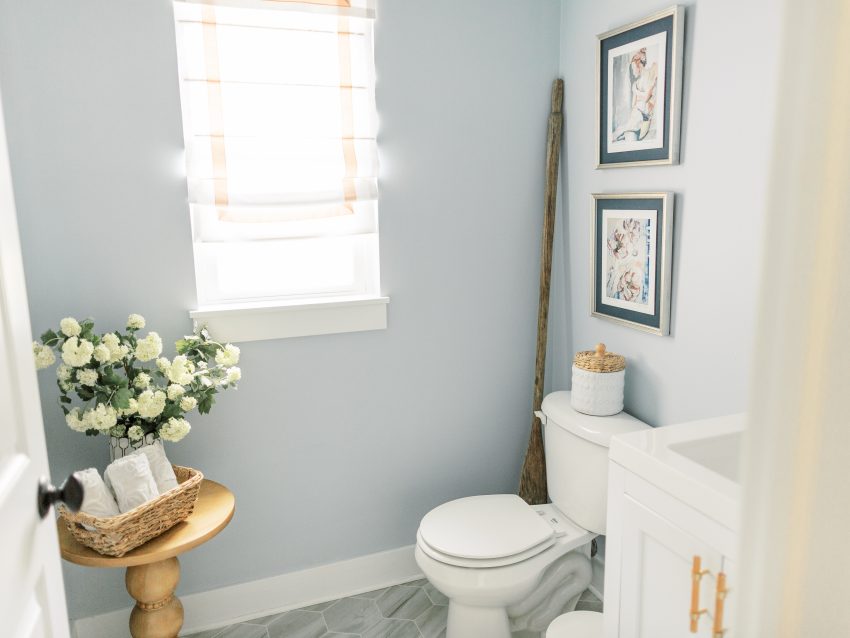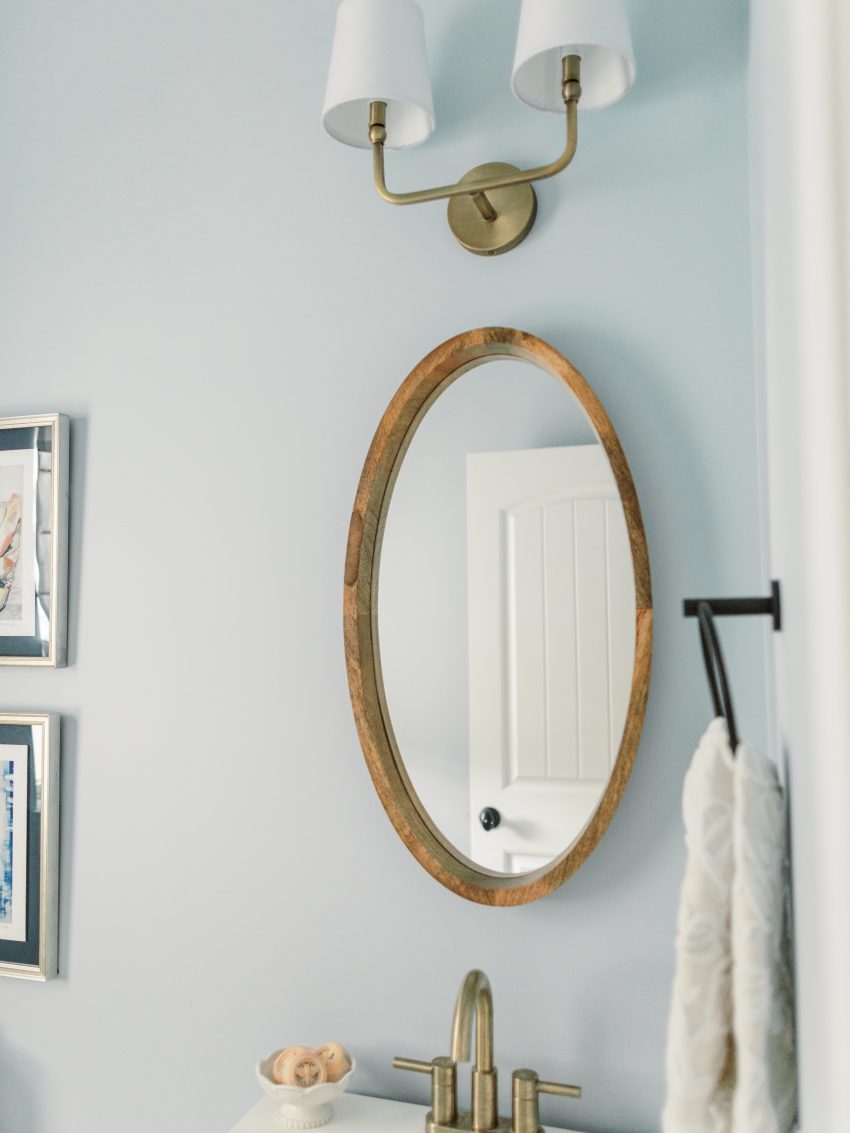 Thanks for joining the powder room refresh tour! Have you tackled any home projects this year? Xo
. . . . . . . . . .
Roman shades: WindowsbyMelissa via Etsy / Wood accent table: Ballard Designs / Artwork: Katherine Corden / Framing services: Framebridge / Wood framed mirror, hand towels, and soap dish: World Market (mirror, hand towels, soap dish) / Faucet: Lowes / Light fixture: Bellacor / Towel ring: West Elm / Vanity: Home Depot / Vanity hardware: StarHardwareStore via Etsy / Step stool: WestWarrenHome via Etsy / Rug: Boutique Rugs / Paint color: 'Light Drizzle' by Behr / Photography: Samantha James Photography