This blog post took me a little longer than usual to compile because I knew once it was done, then the end of this chapter would finally feel, and in theory, be complete. And while steadfast in my decision to end this particular chapter of my life, the goodness I leave behind still lingers rather strongly in my soul reminding me that in every season of life there are both peaks and valleys, highs and lows, sometimes two extremes existing all at once. What follows below is a recap of Steph and Paul's June 13th wedding celebration.

As I went through the images from Giving Tree Photography to select my favorites to highlight here, nearly every frame made me pause. More than I ever have, I stopped at each photo to admire the care and thought that went into planning this event. I recognized – because it was part of my job to spearhead them – the changes made to accommodate a global pandemic. I admired the smiles, tears, and embraces between each of the nine guests that made up this wedding and felt joy because I was there to witness these very things in real time and they were captured as genuinely as they unfolded.

But what really broke me is how I was fortunate enough to have had the final wedding of my planning career be this one.

In my decade of wedding planning for clients and couples around the world, with big and small budgets, large and intimate guest lists, feminine and colorful details, and romantic and polished visions, Steph and Paul's wedding checked every box on the list of what sets my heart ablaze. Betsi and I walked back to our cars that evening (at 11:00 pm mind you, a blessing in and of itself since larger weddings typically end for us wee into the next morning), both with tears running down our cheeks because we couldn't have ever predicted a sweeter end to this chapter and beautiful beginning to Steph and Paul's marriage.

I look over these photos and in the back of my mind there's a tiny voice that asks if perhaps I made the wrong choice to walk away from wedding planning. But there's another little voice, just a little louder than the first, that reminds me, a no now isn't a no forever. And so I smile knowing that this dot dot dot was as perfectly placed as it could have been.

Steph and Paul, curveball after curveball was thrown your way in this process, especially close to your wedding day unfolding, and despite your expected disappointment and sadness, you remained graceful and optimistic. You were the epitome of flexible and always willing to welcome a second, third, and sometimes fourth option for vendors, ideas, plans, and timelines. Leading up to the wedding, I often looked around me at colleagues working tirelessly with their clients to weather the literal storm of this pandemic, and then would look to you and thank heavens for the strong boat we managed to sail in together because it helped us take on the storm as a team. In my entire wedding planning career I have had countless highs and sweet spots. But this one quite possibly takes the cake.

My happiness is simply elevated because of yours, Steph and Paul.

Enjoy these remarkable photos from Giving Tree Photography, my friends. I have sprinkled in my commentary throughout the photos to illustrate how beautifully you can execute a wedding and celebrate a marriage even in a time of great restriction and unknowns.

Love is never cancelled. Here's proof.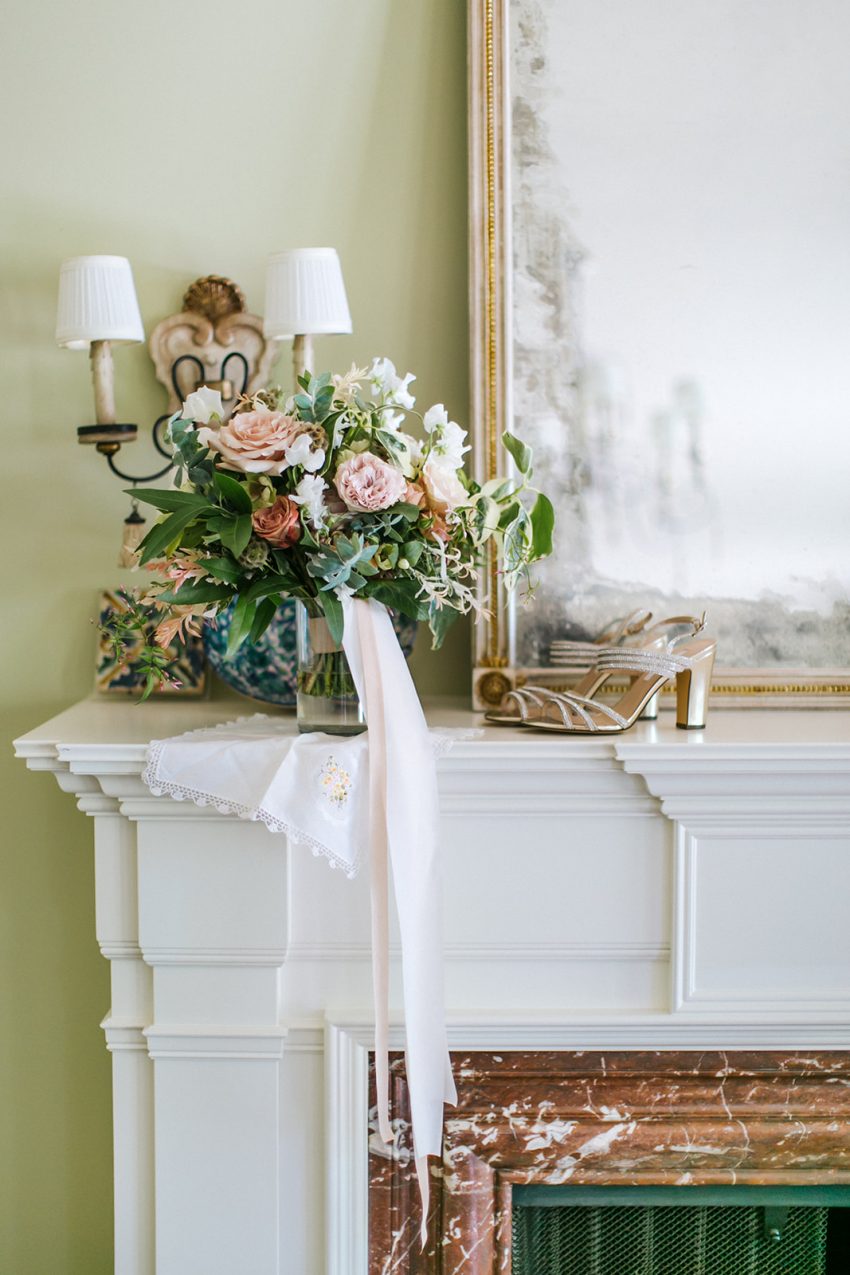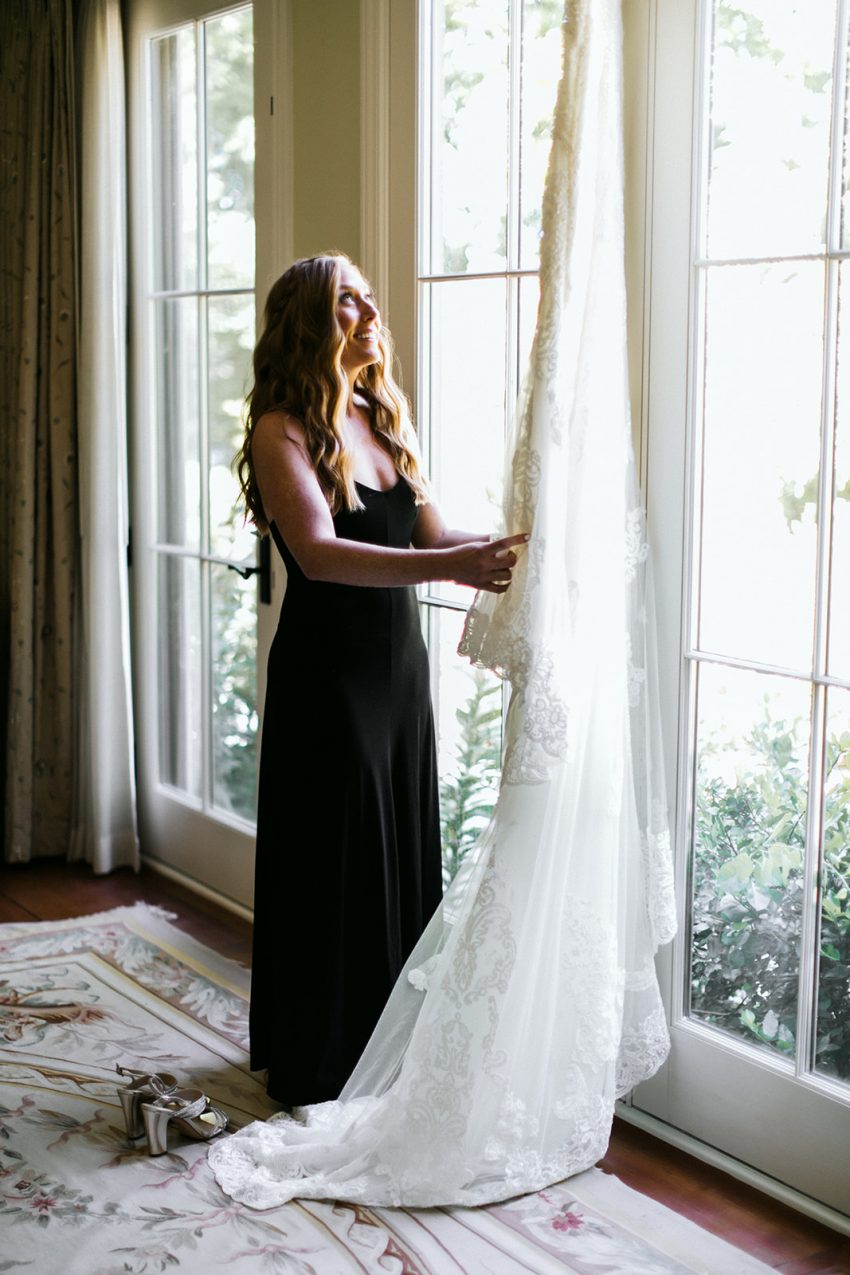 Ok buckle up! I have a lot of details to share about this wedding!

Steph and Paul hired me as their wedding planner in the summer of 2018. I was pregnant with Everett and about to go on my maternity leave. I took Steph and Paul on with the mutual understanding that before Ev was born in October we would nail down a venue to ensure the best wedding spot wasn't scooped up while I was out with a new baby. We secured a venue, got a few details in place, and then picked up with planning together again in January of 2019 when I was back in the office.

Our plans came together so seamlessly all of last year with minimal work to be done in 2020. As January and February of this year unfolded, we focused on simple timeline details and final decor choices, always keeping a close eye on the COVID-19 headlines in case the pandemic started to impact our plans in anyway. Beyond watching headlines and monitoring mandates, Paul is a physician and was and has been working at a hospital where he's had a firsthand look into the pandemic and how everything is really unfolding. Though it wasn't until the beginning of May, when at the time the wedding limit mandate was a maximum of ten guests, that we made the decision to massively change course with plans, while of course trying to keep as many original choices in tact as possible.

Some of the biggest changes we made?

• Changing the original 120+ person guest list to a guest list of only nine, which included both the bride and groom and their immediate families. This guestlist change required mailing wedding cancellation notices to all of the guests that received save the dates only months prior. These notices expressed regret for the cancellation but also made sure to note that a future party would be likely.

• Switching from an indoor venue in a location that was not extraordinarily special to the couple but instead served as a hot spot weekend hub for guests, to a private residence belonging to the groom's father. This location was not an option with the original guest list and therefore was never truly considered. However, with the change in plans we were able to now use the property in a beautiful way that not only felt extremely personal but allowed for various scenery transitions throughout the party.

• Considering how we can take each and every part of the celebration and make it pandemic-friendly but still special. The guest list and venue change obviously were huge ways to do just that but we also did things like require masks on vendors anytime they are indoors, personalized charcuterie boards for a seated cocktail hour, served drinks to order via a cocktail waitress instead of a walk-up bar, and serpentine tables for dinner to allow for ample space between parties / households without restricting conversation or intimacy.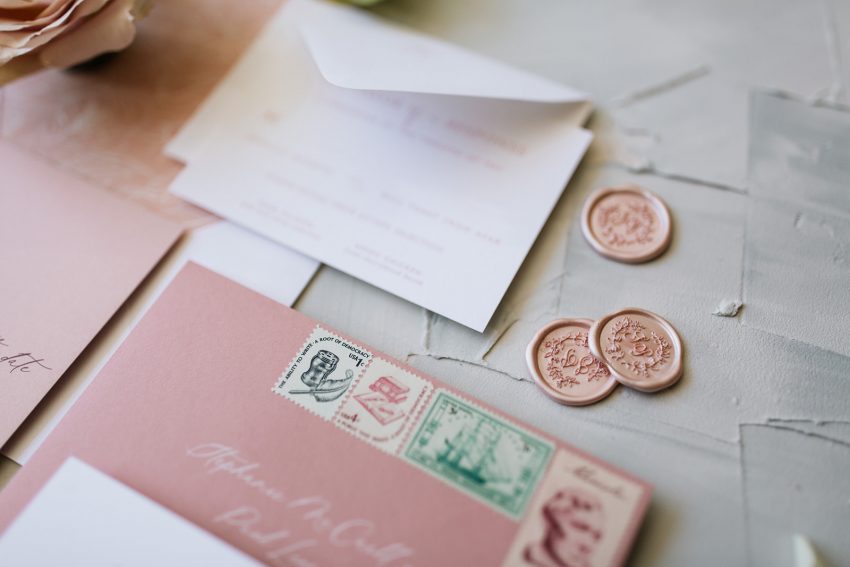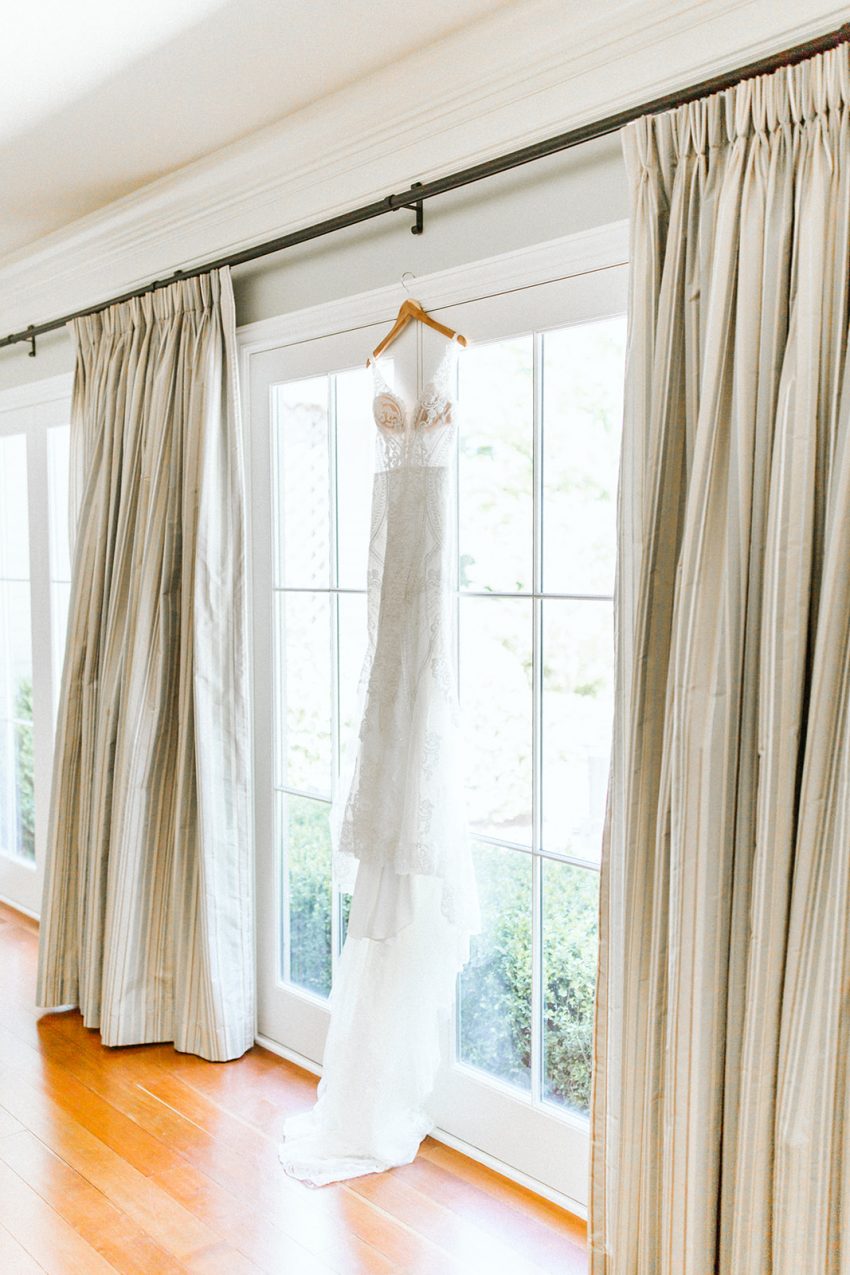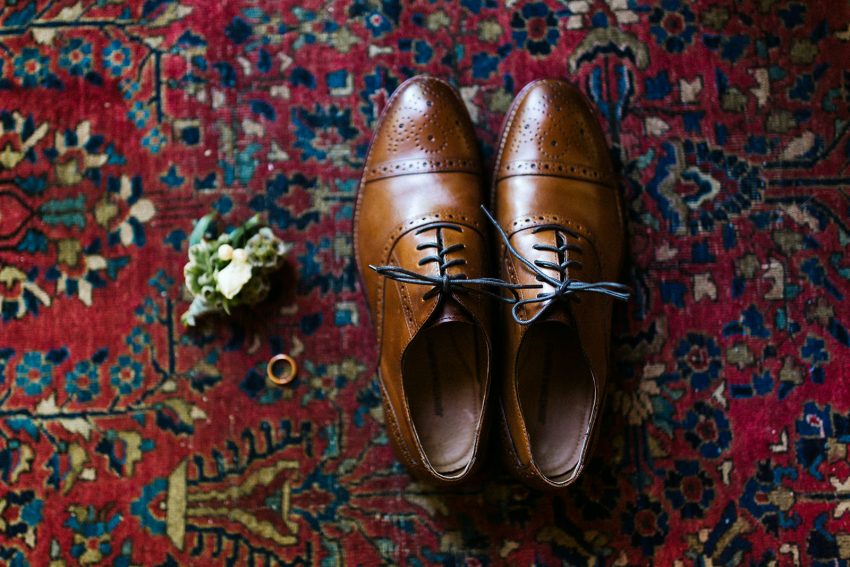 Wedding day stationery styling is always one of my favorite parts of each celebration but on this particular wedding day I was stumped on how to style so many different paper pieces into a cohesive end product. There was Steph and Paul's save the dates, the invitation proof that we signed off on but never printed for the masses (and this was slightly difference in style than the save the dates), and then the wedding cancellation notices to consider. Phew. So many pieces! But then Betsi and I figured all of these pieces are simply a part of the story that led to Steph and Paul's marriage and as such they should be styled together more for intentionality than aesthetics.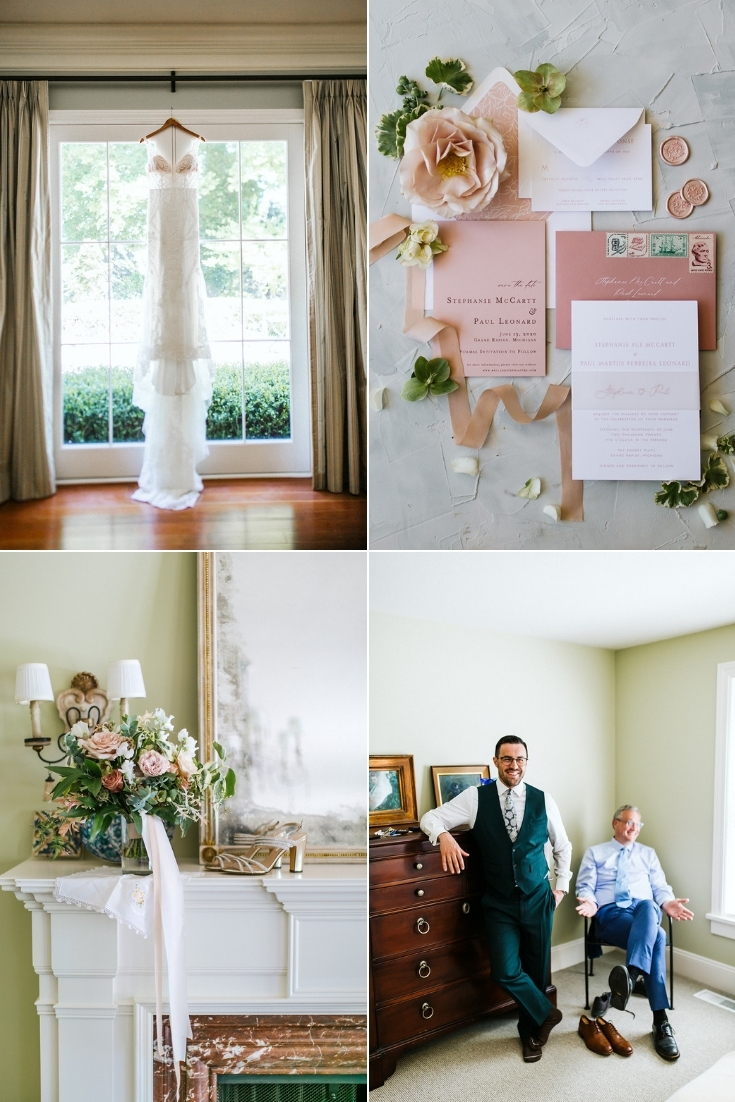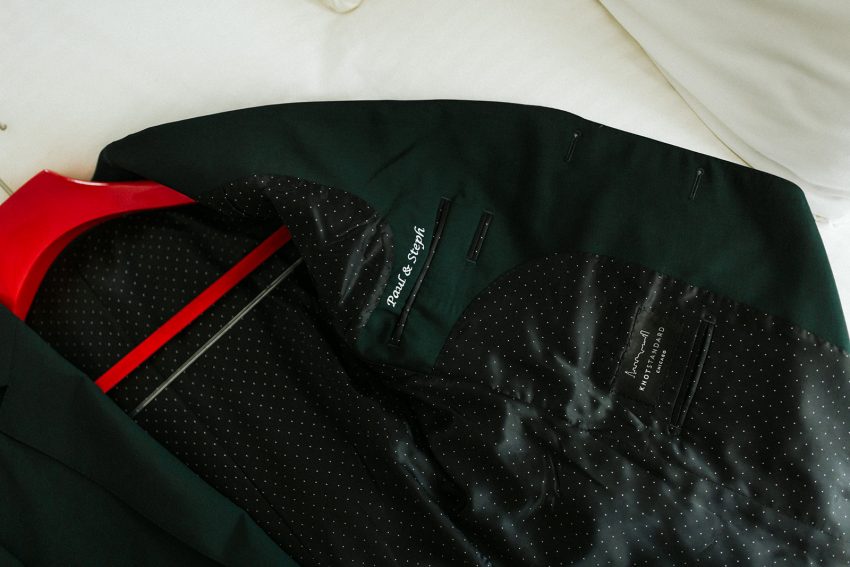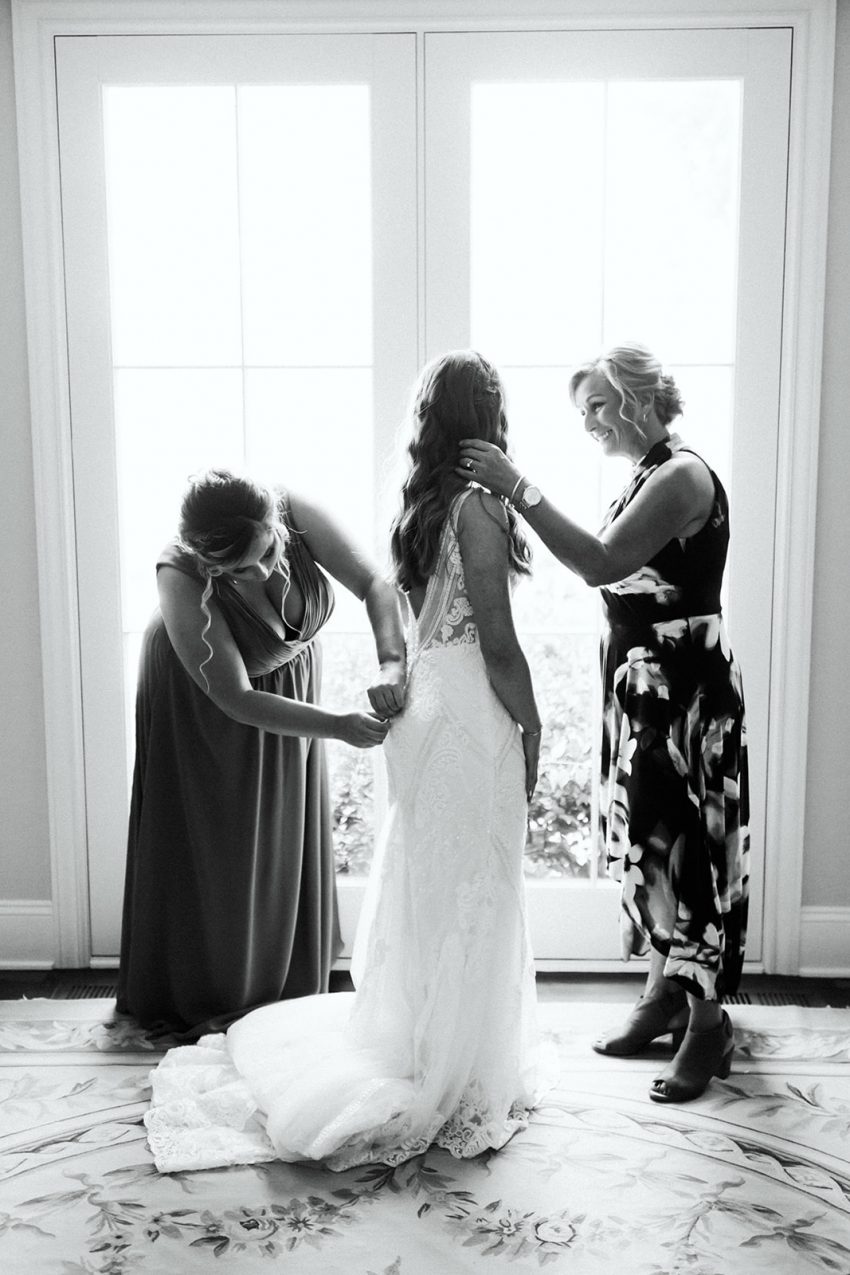 To help keep the guest list as small as possible Steph and Paul included immediate family only. This included Steph's parents, sister, and twin brothers, and Paul's dad and his dad's fiance. While it was bittersweet for the couples' friends to miss out on the celebration it did allow for ample intimate and treasured conversations and toasts – most of which would have not happened with the original guestlist.

After Hanna and Jana from Hanna Wagner Design finished beauty services (in full masks with disposable applicators and extra sanitization protocols) Steph got ready that afternoon with the women while Paul and the men got ready in the other part of his dad's home. Steph was an absolute vision in her stunning gown while Paul was incredibly handsome in his custom-made emerald green suit.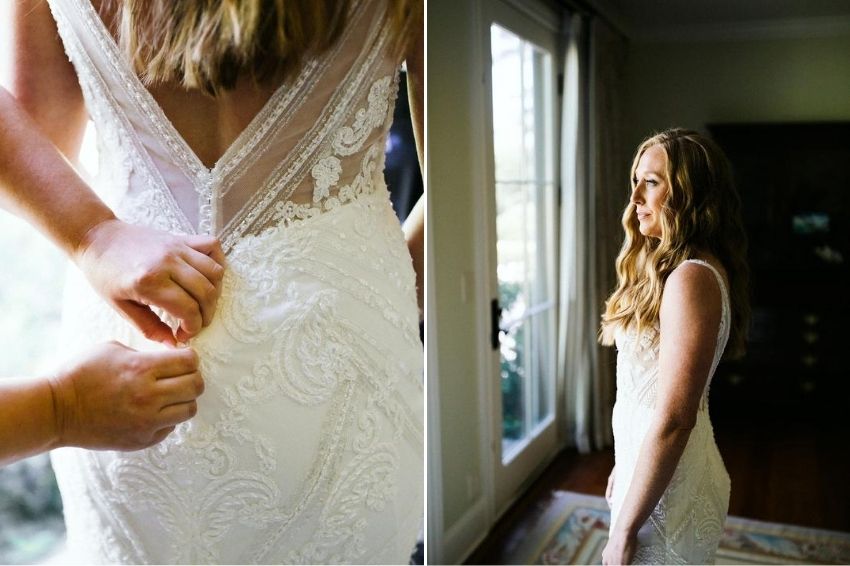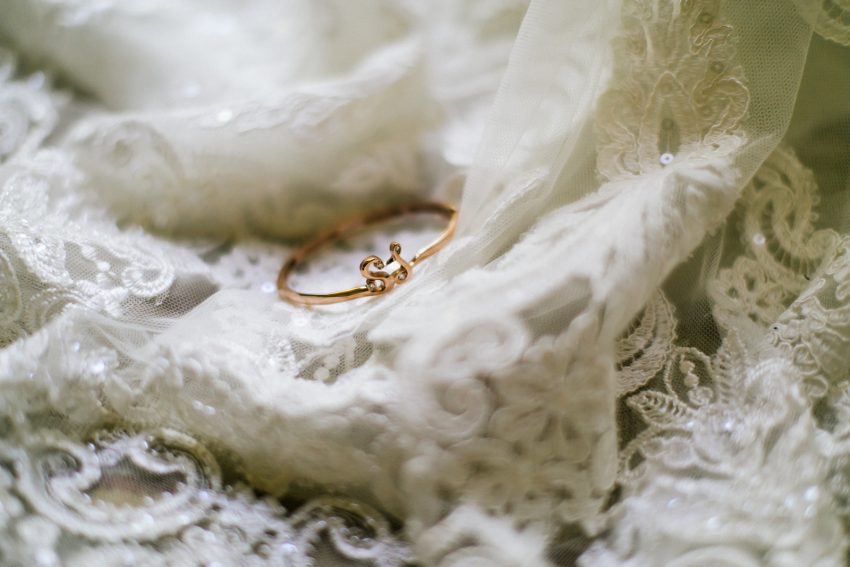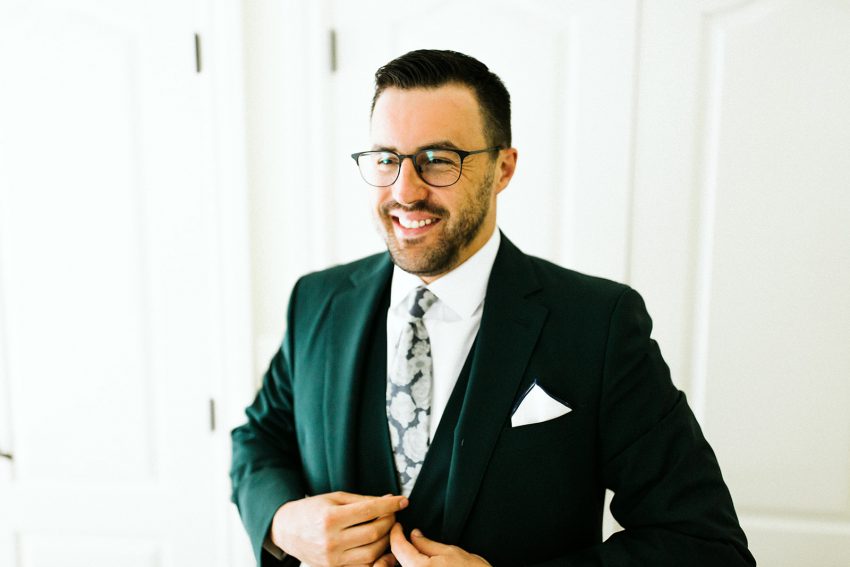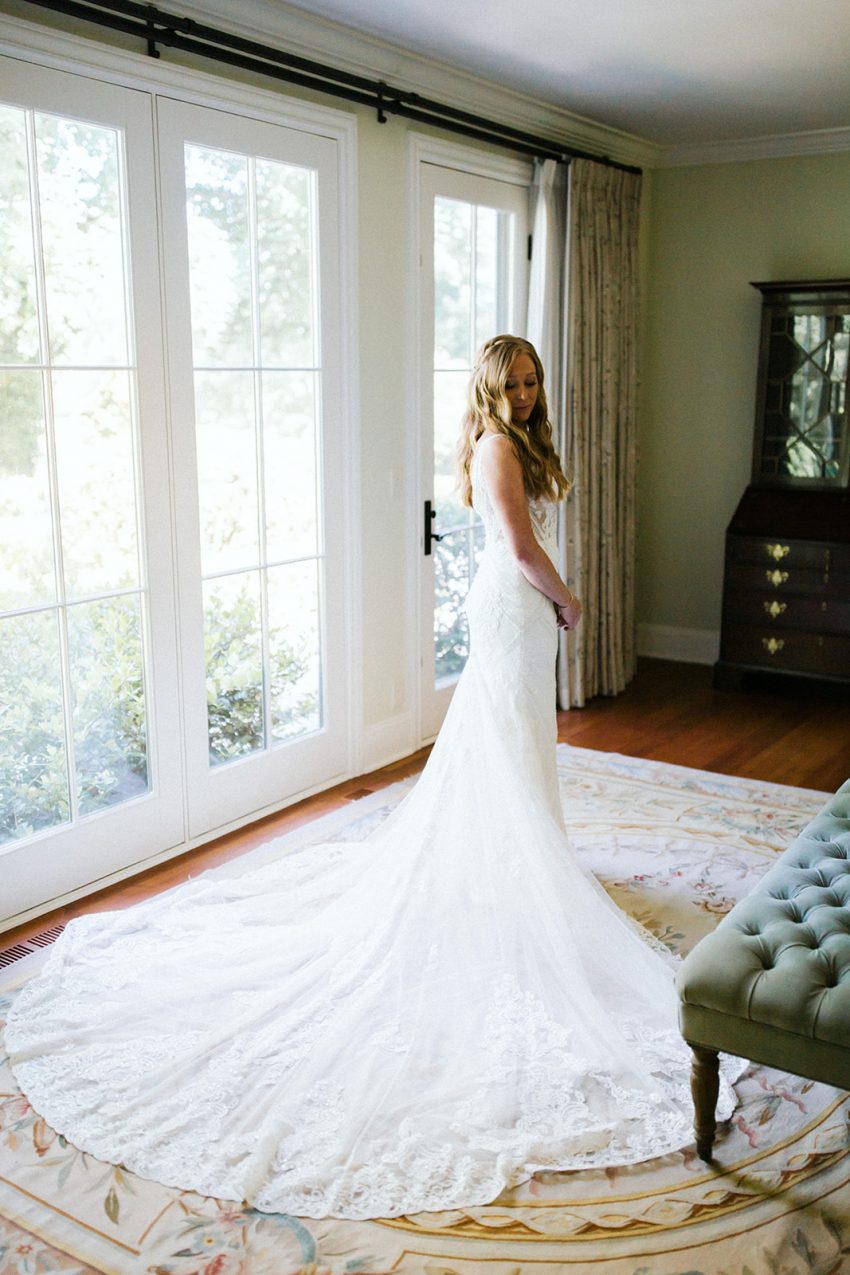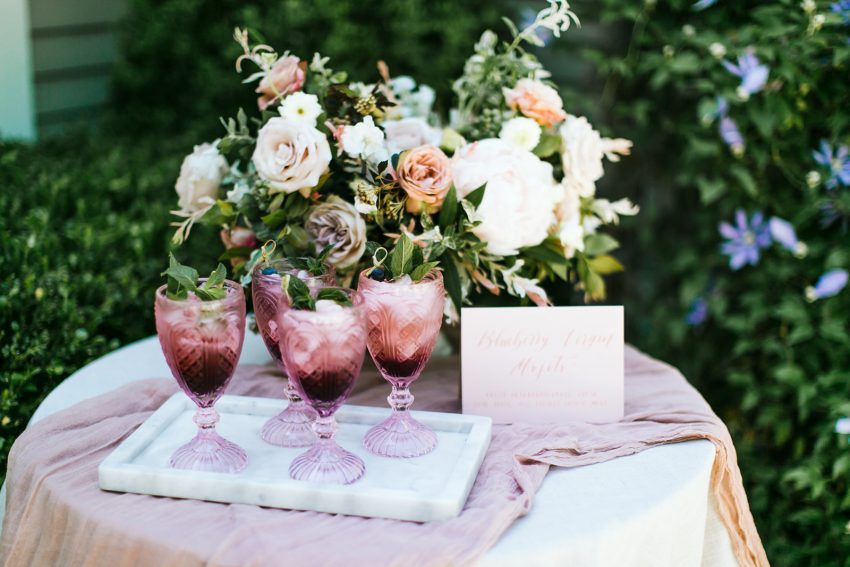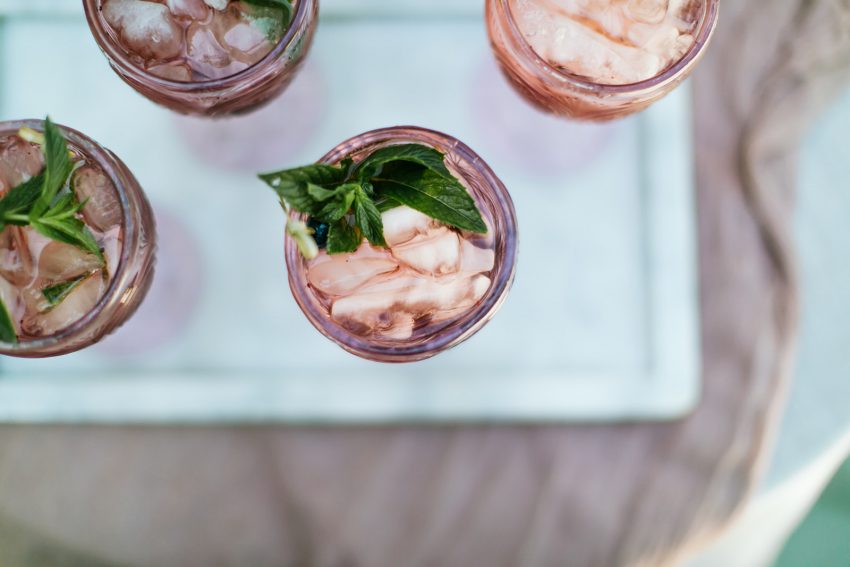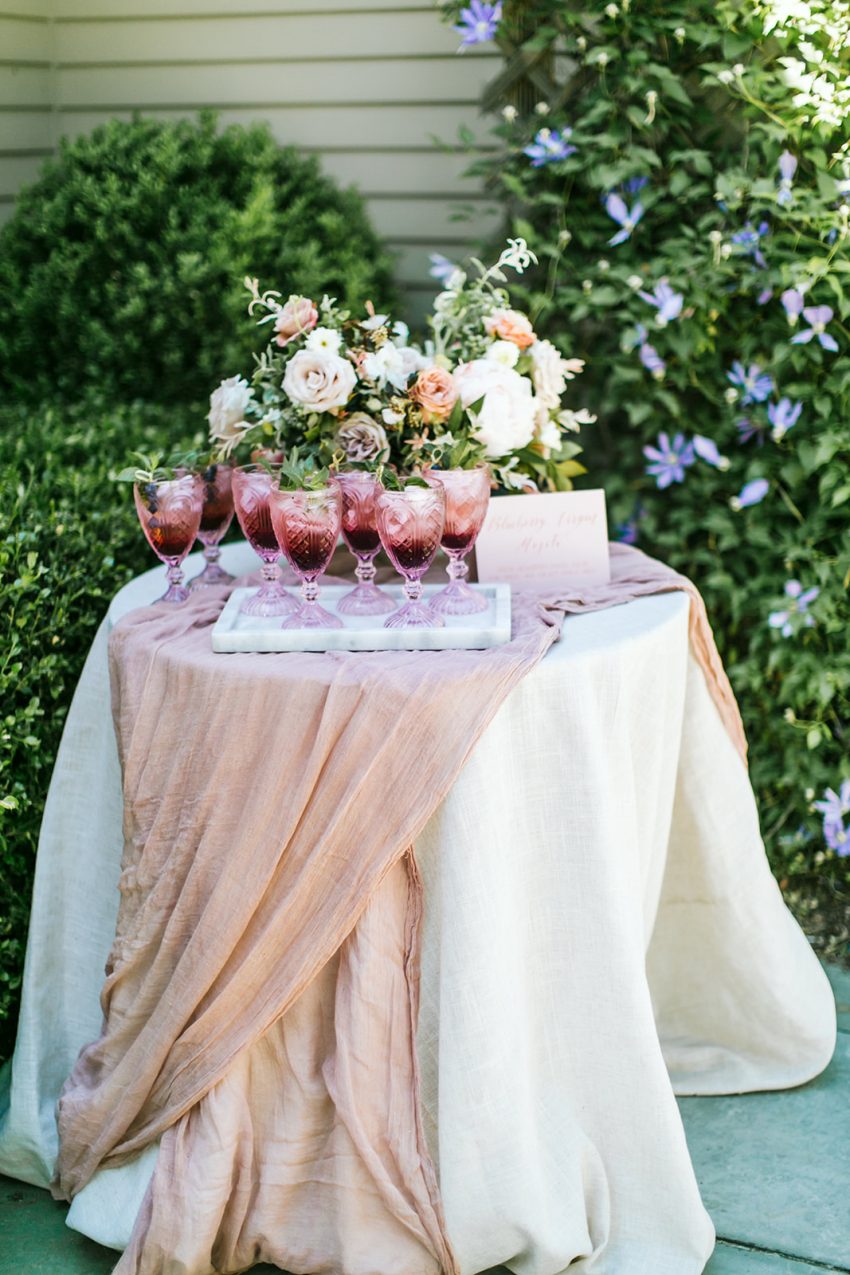 Before the ceremony started there was a small gathering between the two families complete with blueberry virgin mojitos. A small table was set up for the fresh drinks to be displayed on and this was a nice time for Paul to unofficially 'greet' the guests and probably get some of his nerves out, too. This is usually the time for prelude music and showing guests to their seats at a larger wedding so we used this time to again, focus on intimacy and connection between the two families.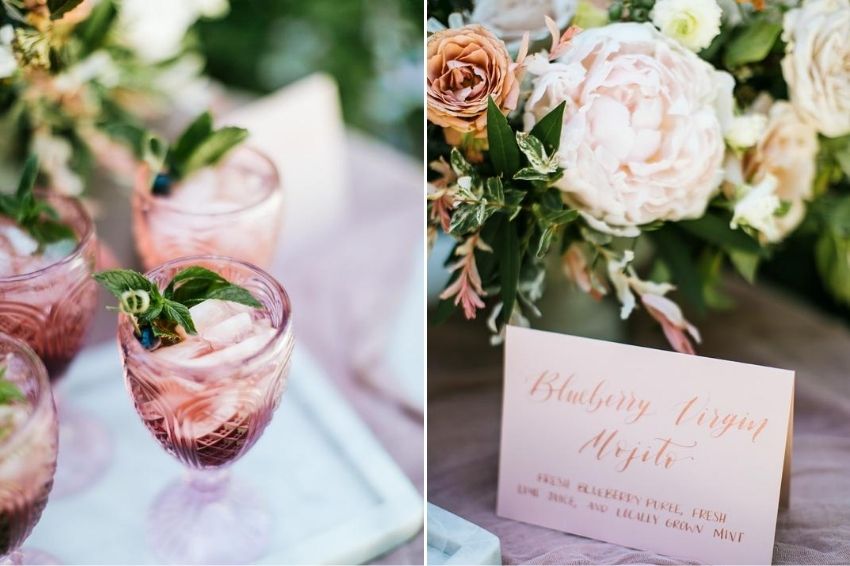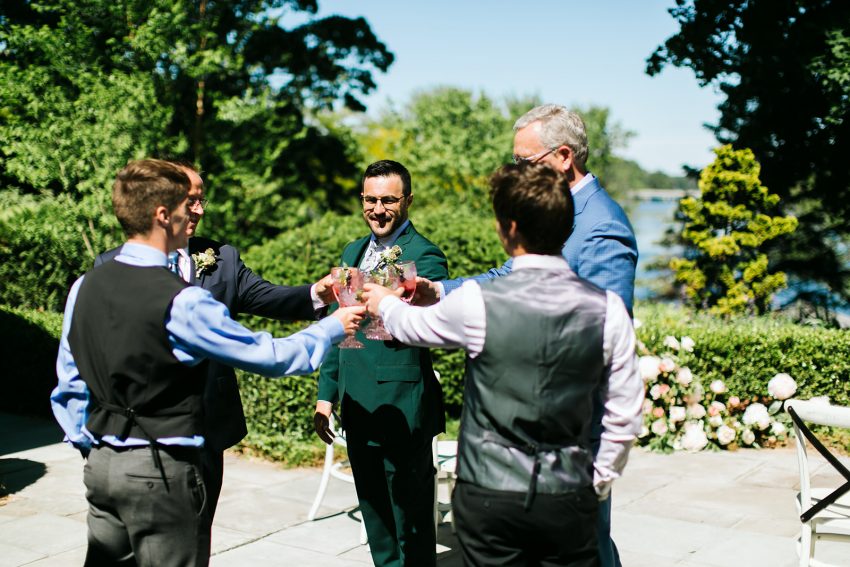 And then after some mingling it was time for the bridal processional. We kept things very simple with music (fun fact: Betsi and I make a great DJ team) and Steph's father was ordained for the occasion, not only keeping the vendor count as low as possible but also adding a personal touch to what is arguably the most important part of any wedding. There wasn't a dry eye during the ceremony with personal vows exchanged between the bride and groom, sweet stories shared from the bride's father, and the couple's adorable pups serving as ring bearers (the original venue doesn't allow animals so this was another perk the couple enjoyed with the new plan).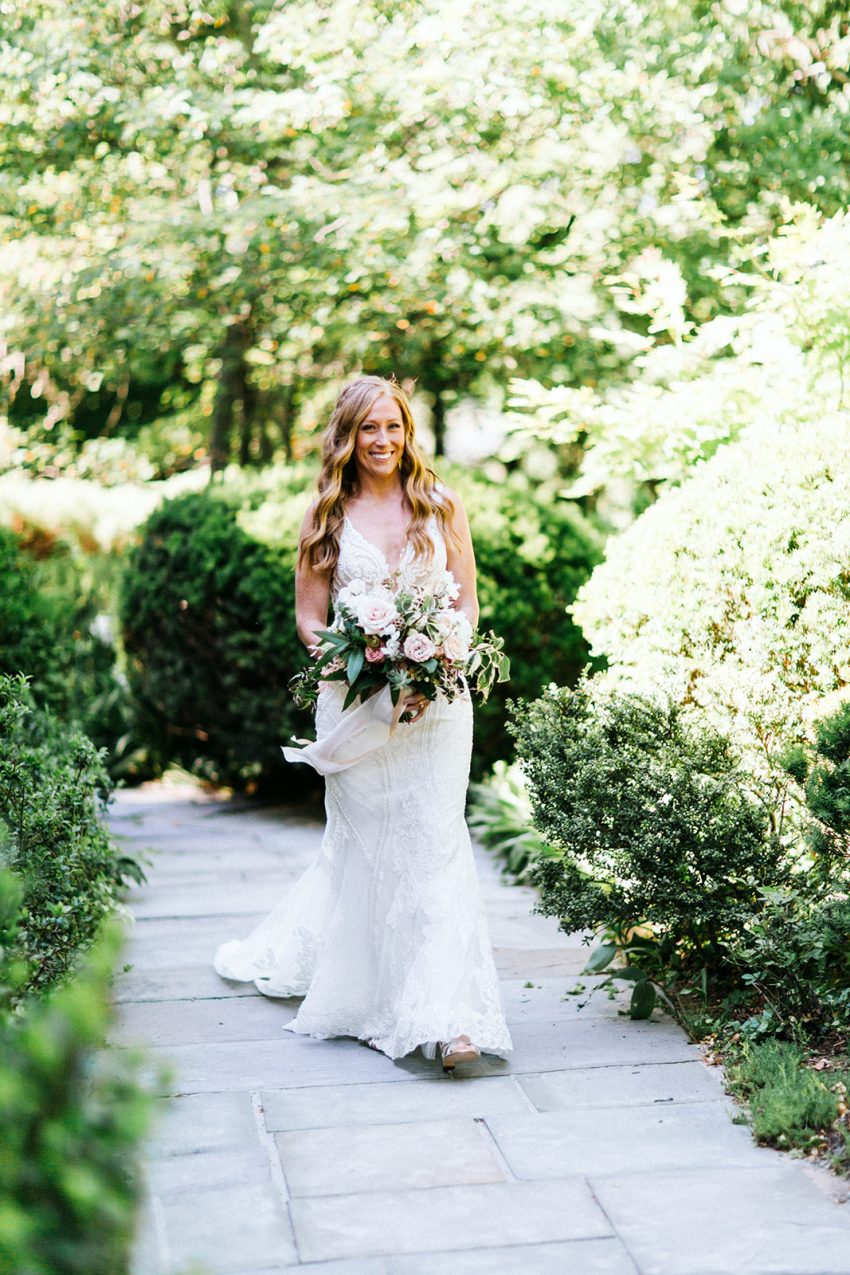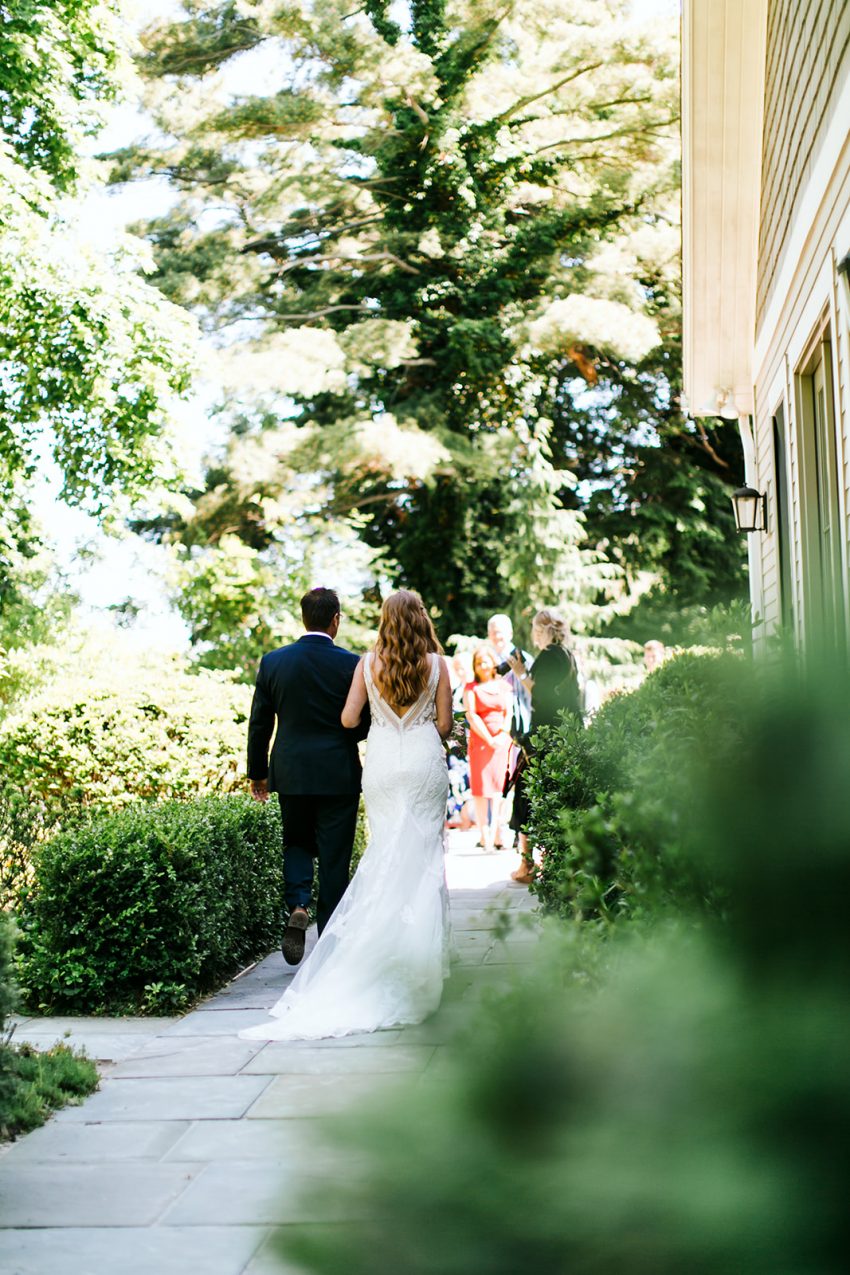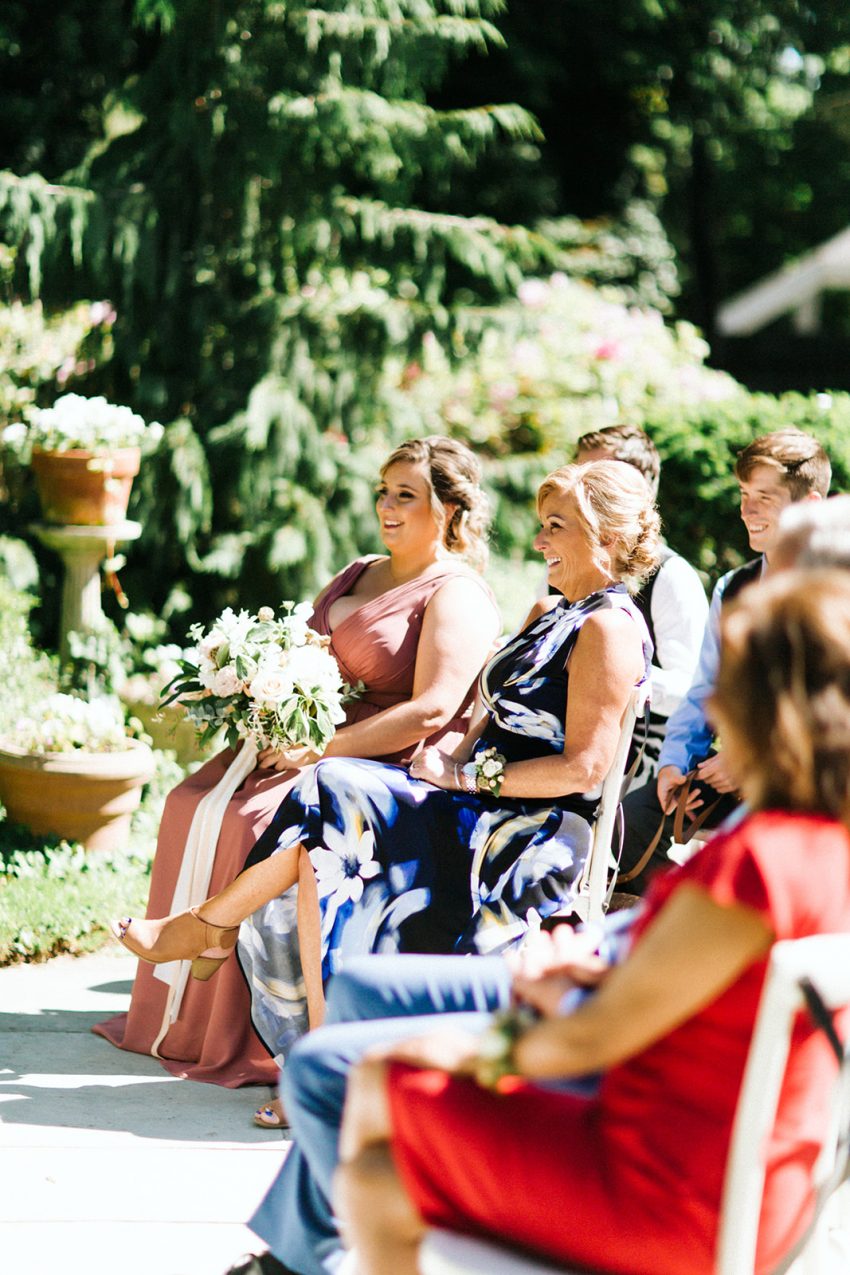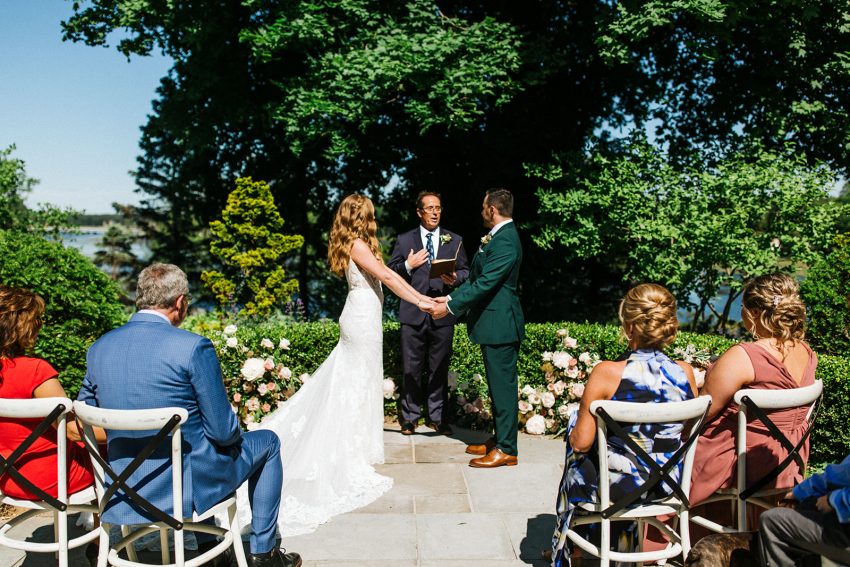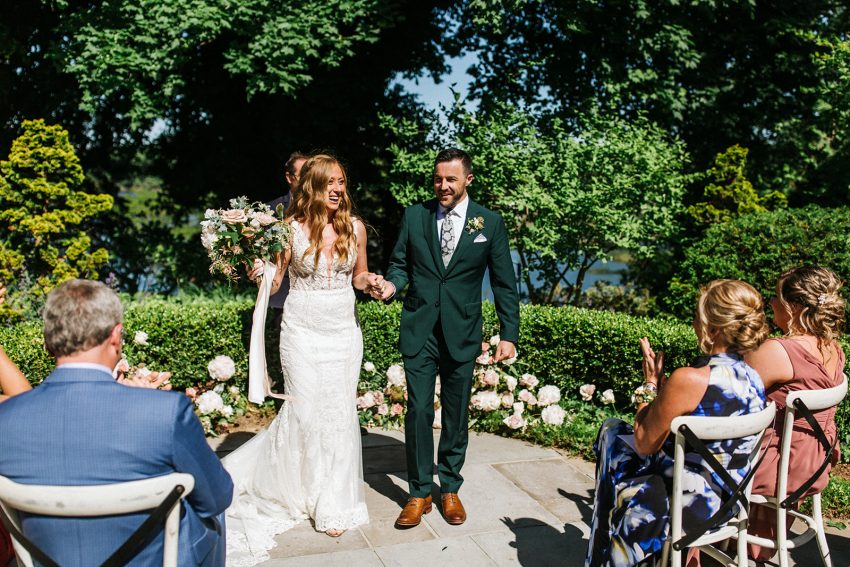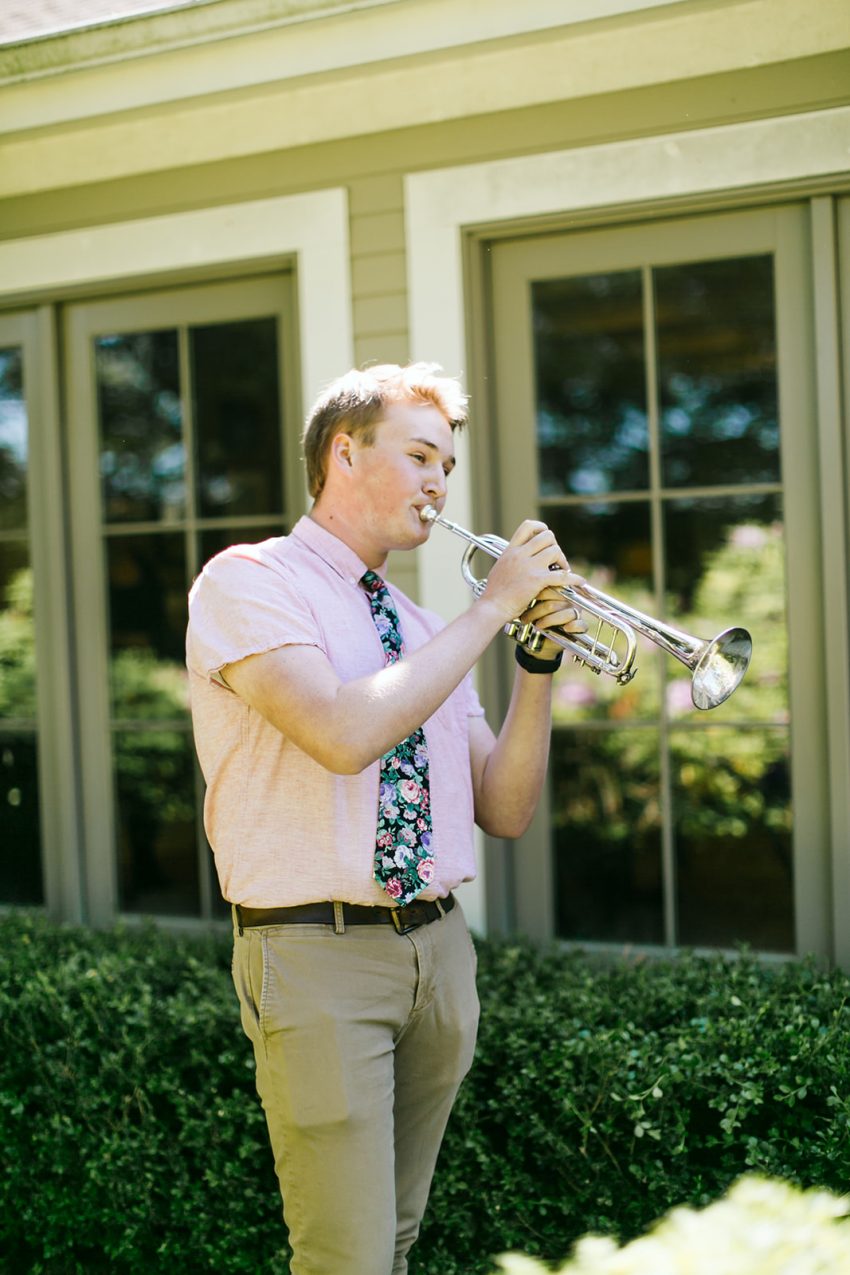 With every wedding I've ever done I have incorporated a small surprise into the wedding for the couple. Sometimes it's something noticeable but other times it's something simple and obscure like an extra arrangement somewhere or a flower variety that was thought to be unavailable. Keeping the celebratory theme alive for Steph and Paul, I hired a Michigan State marching band trumpet player to learn how to play Maroon 5's 'Sugar' so that he could join in during the processional and keep the energy high among only nine guests.

I can confidently say this surprise did just that and was loved by everyone.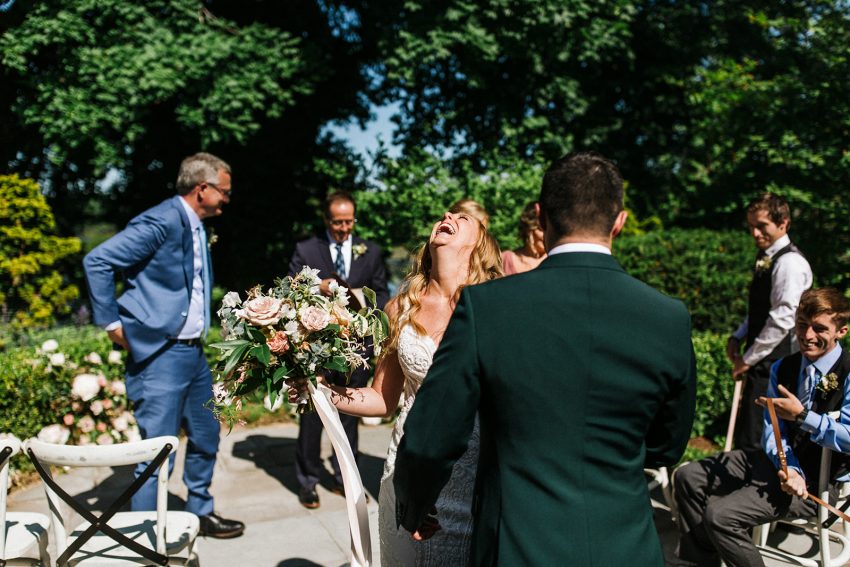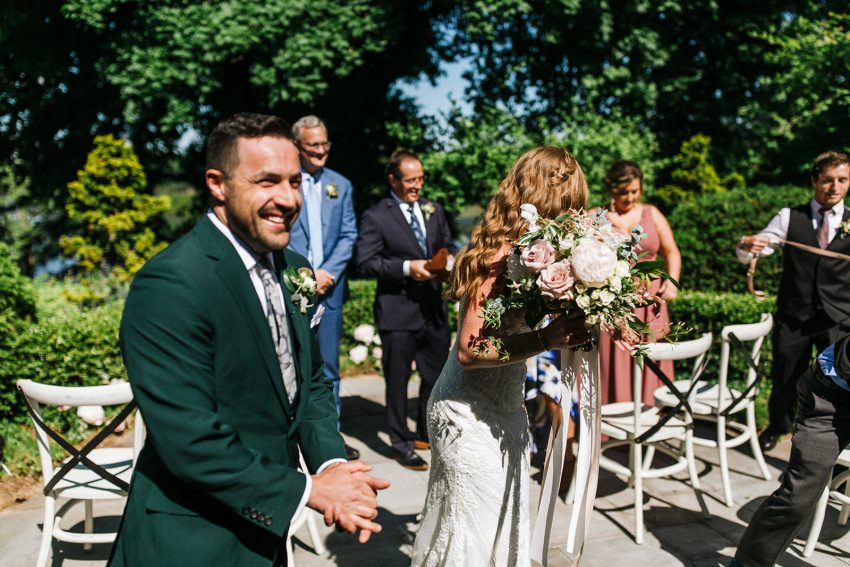 After family portraits guests were escorted to a social distant, assigned seat cocktail hour with pre-plated personalized charcuterie boards, easily one of my favorite details of the day. This event was my 10th wedding with The Farmhouse Deli and it was a delight to be able to watch Chris and Christina do what they do best with food and in a setting where they could do so with little stress and restriction (like prepping food for 200 people in a tent in the middle of an open field in 95 degree weather; we've been there before and that type of environment makes catering a really big challenge).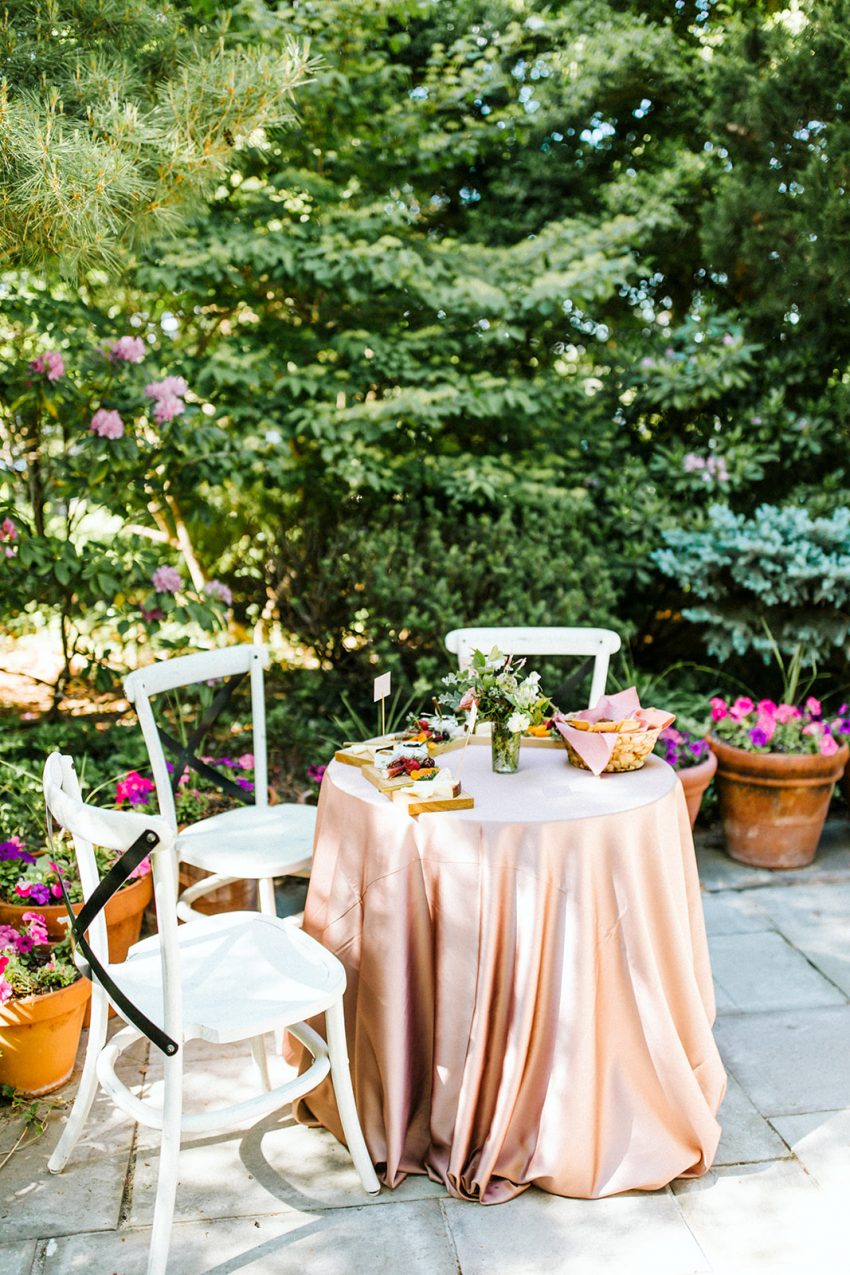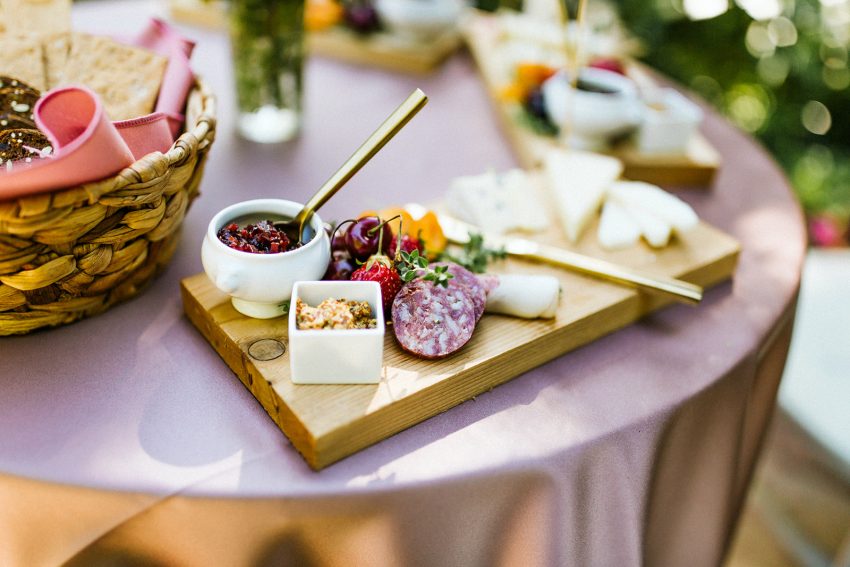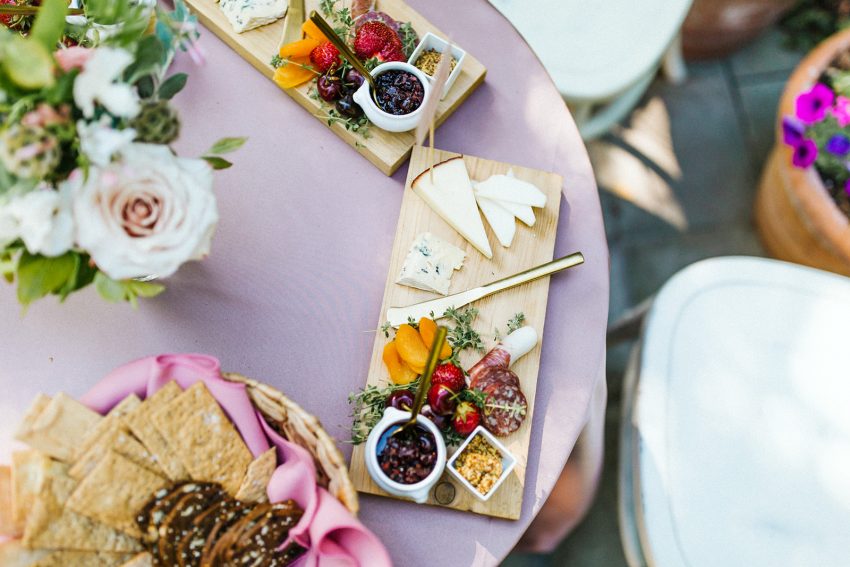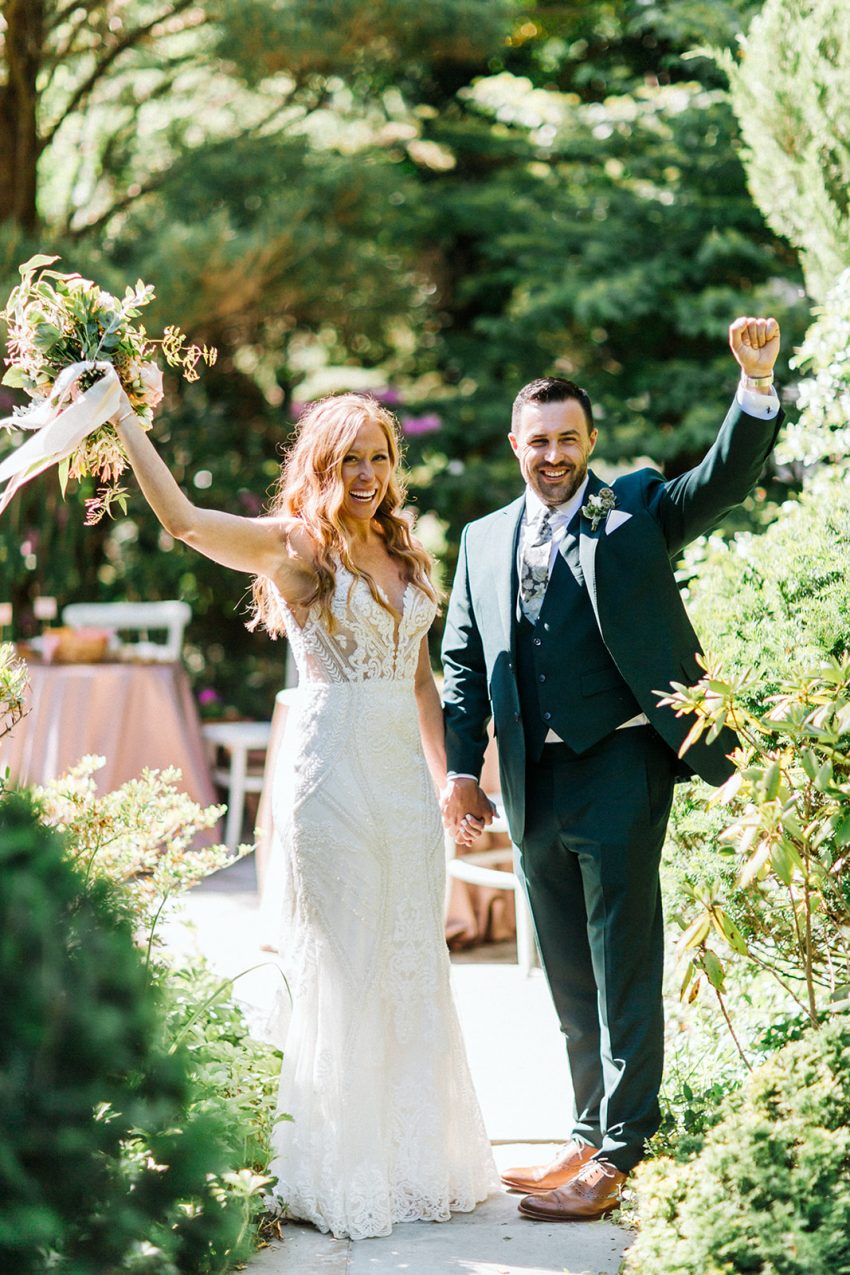 While guests enjoyed cocktail hour at the house with a cocktail waitress handling drinks to order, the newlyweds headed off to take some beautiful couple portraits. Without a wedding party to worry about or needing to make rounds to 120 guests before dinner, Steph and Paul had ample time to enjoy this time together and get some really spectacular images. Here are a few of my favorites.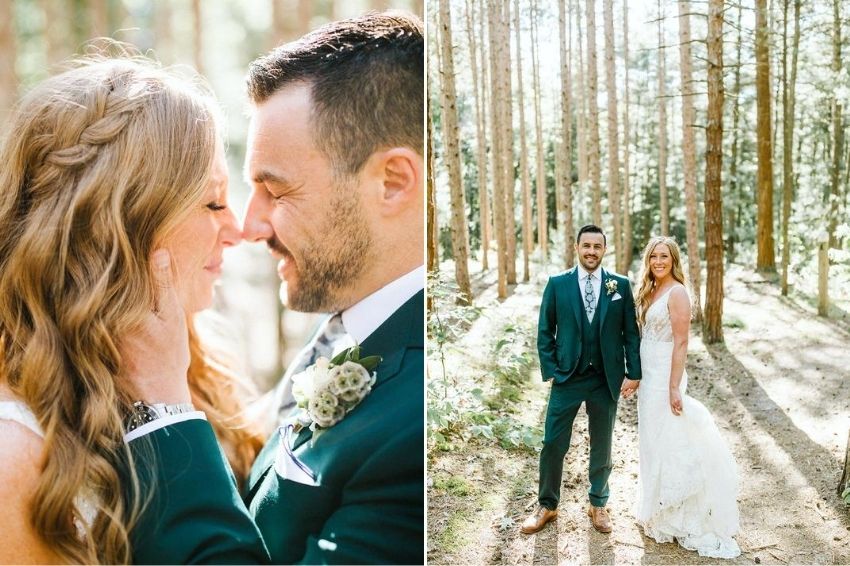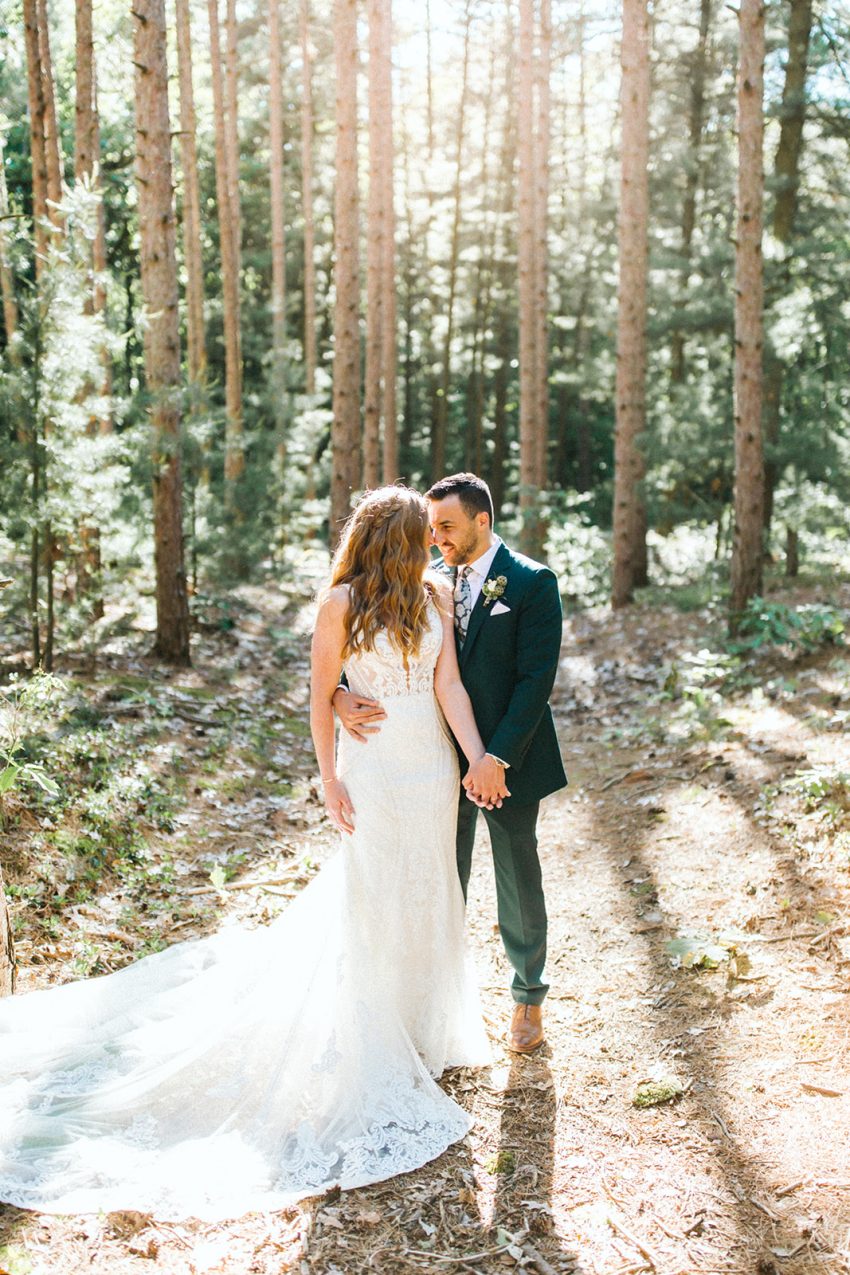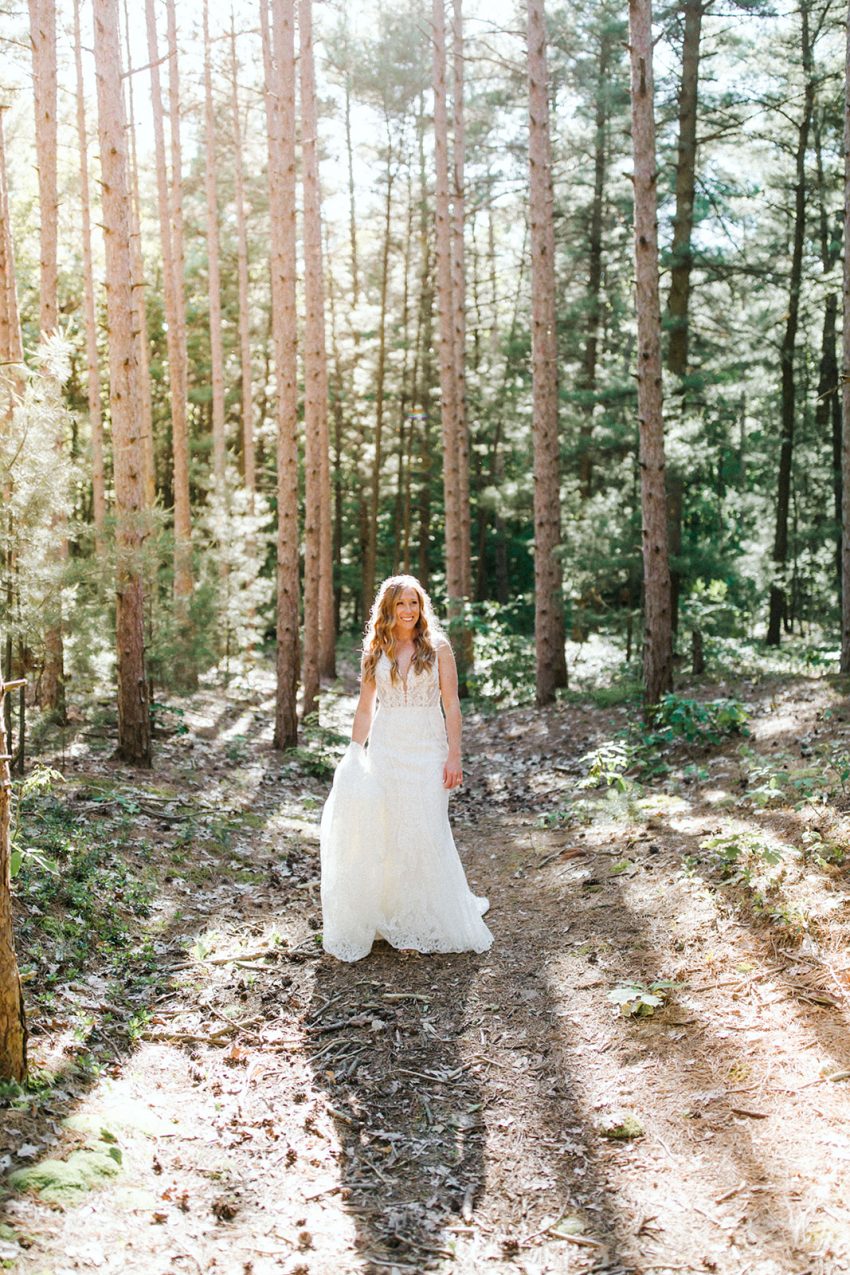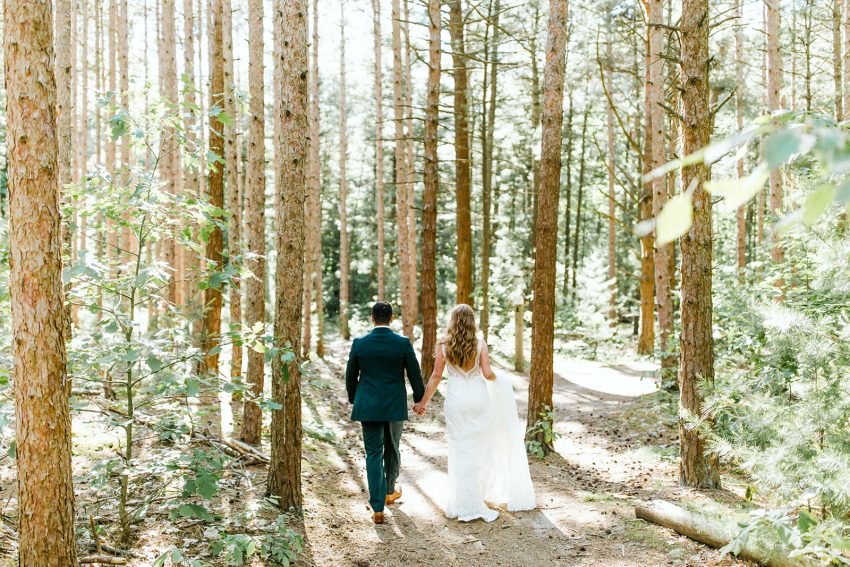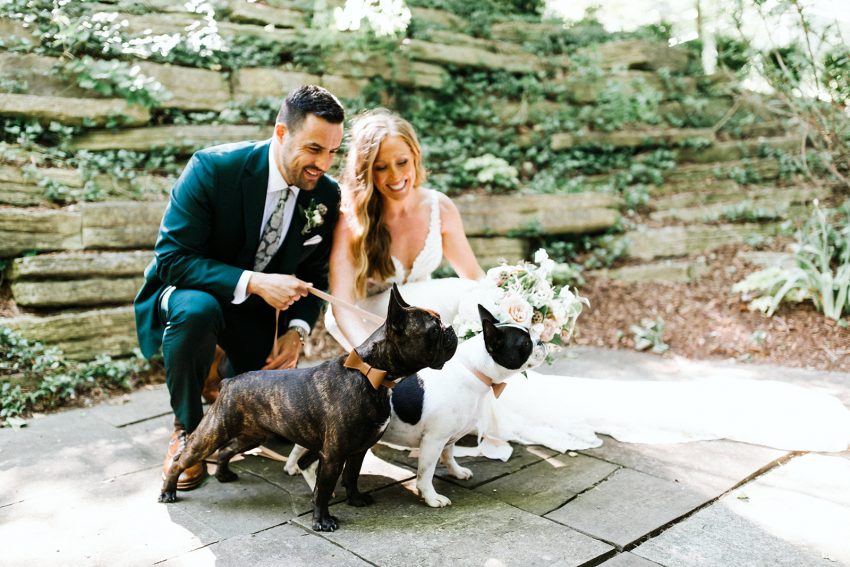 And then it came time for dinner, which hands down was one of the most exciting parts of the day and in my opinion, the part where the change of plans allowed for the outcome to be more curated and special than it may have been otherwise. Instead of spreading out a specific budget for food amongst 120 people and from a caterer they had to work with through their original contracted venue, Steph and Paul were able to hire the caterer they loved most and invest in a one-of-a-kind farm to table dinner experience.

Instead of taking a set decor budget and making it work for 15+ tables, we were able to invest in rental pieces, linens, centerpieces, and stationery that otherwise would have been far outside the budget. This resulted in an intimate dinner party that was not only meaningful but strikingly beautiful without any detail missed. For weeks I would close my eyes at night before falling asleep and picture what this set up would look like. The visuals that came to my mind, night after night, looked a lot like this: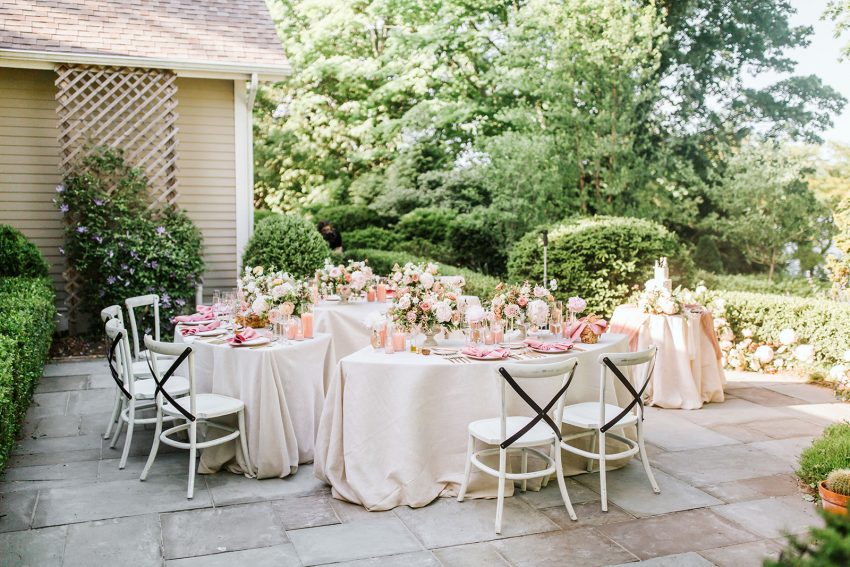 And the reaction from Steph and Paul, the one I imagined night after night, looked like this: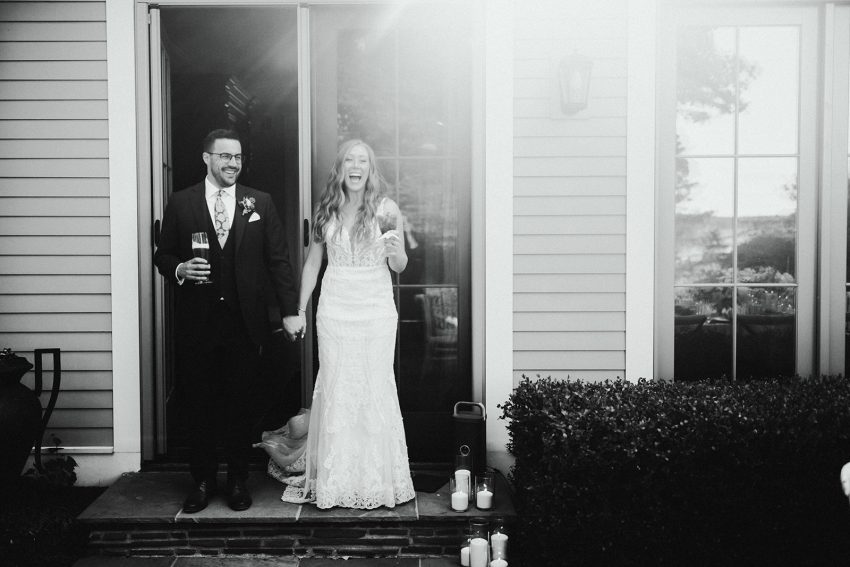 As guests were invited to walk from the garden where cocktail hour took place to the dinner space which was transformed from the ceremony earlier, Christina stood at the walkway with a fresh mint and cucumber gazpacho soup shooter to cleanse guests' palettes and also offer delight as they headed to the next part of the celebration for the dinner reception. Pillar candles in glass hurricane vases lined the walkway and dinner music drifted up into the cool summer evening air.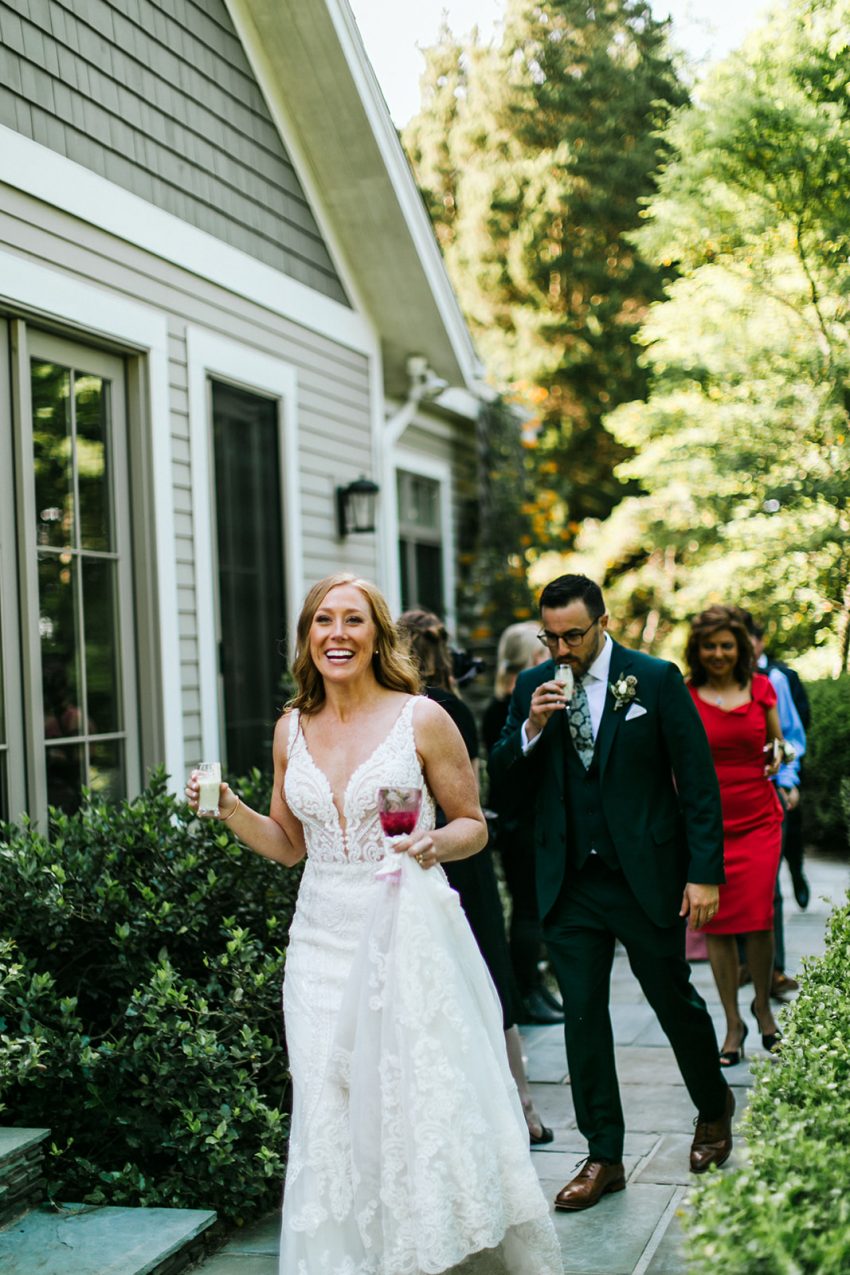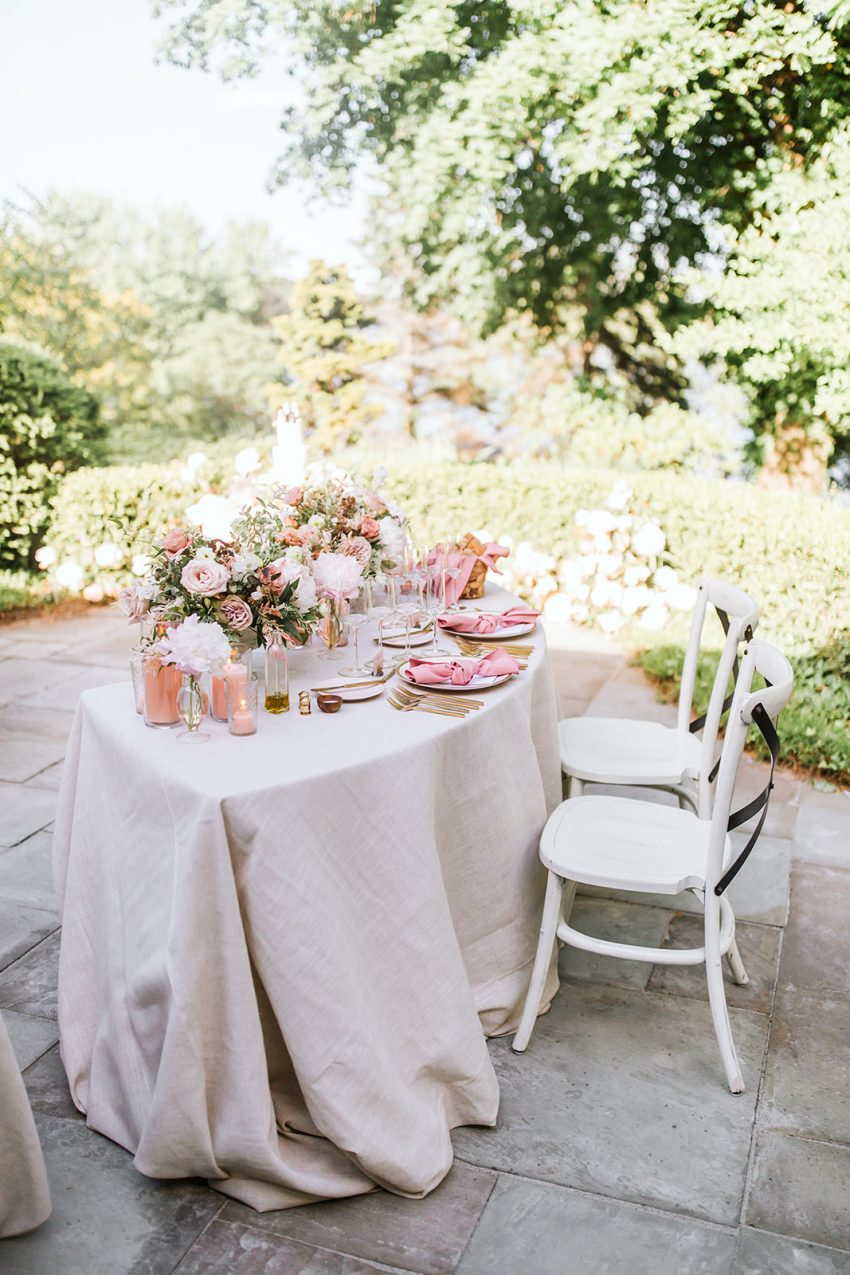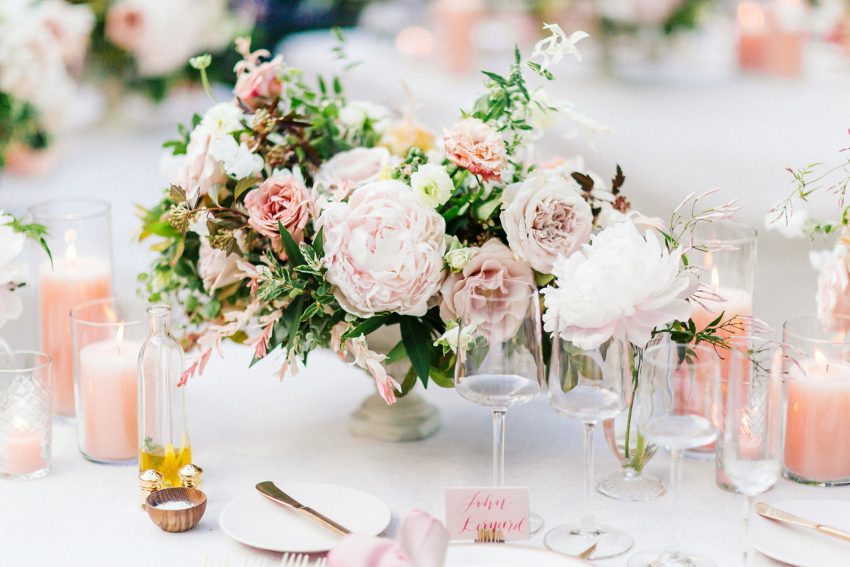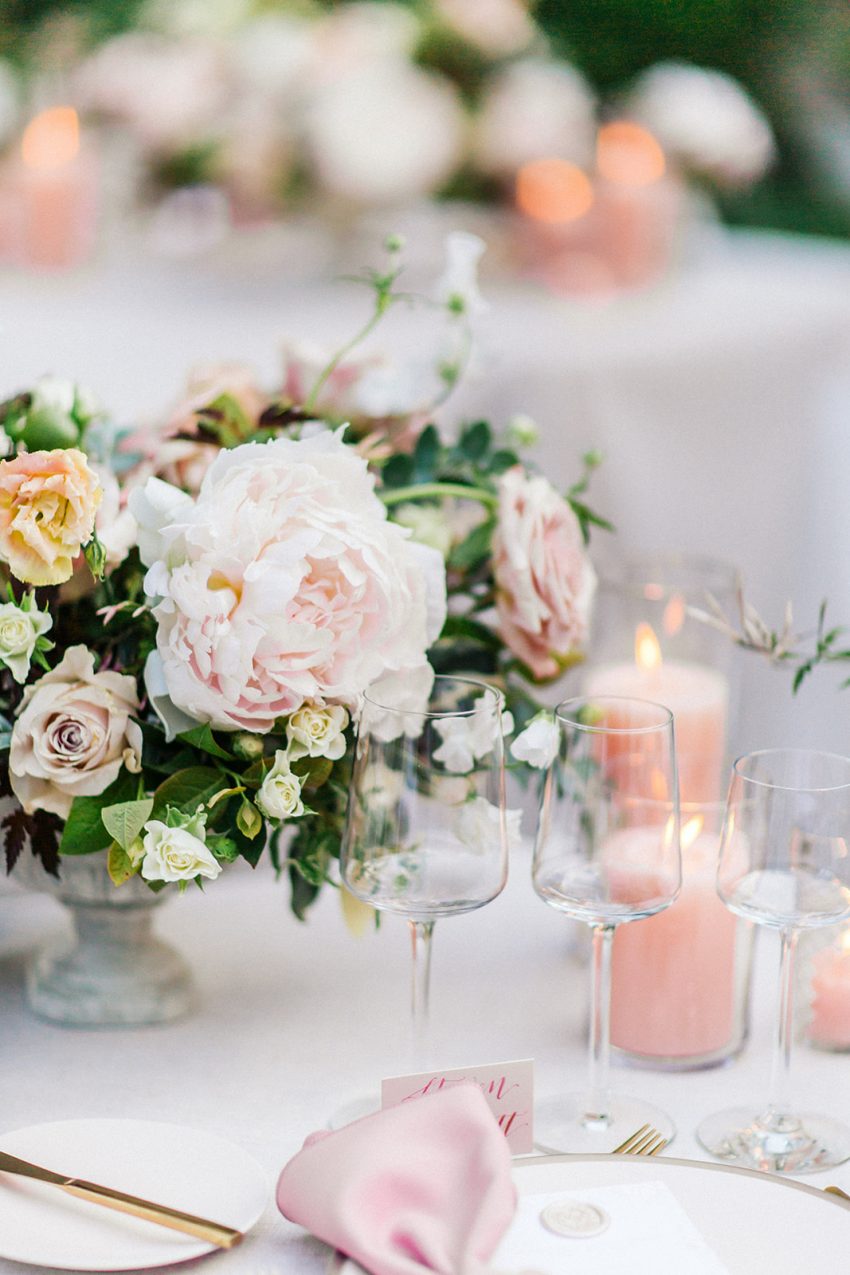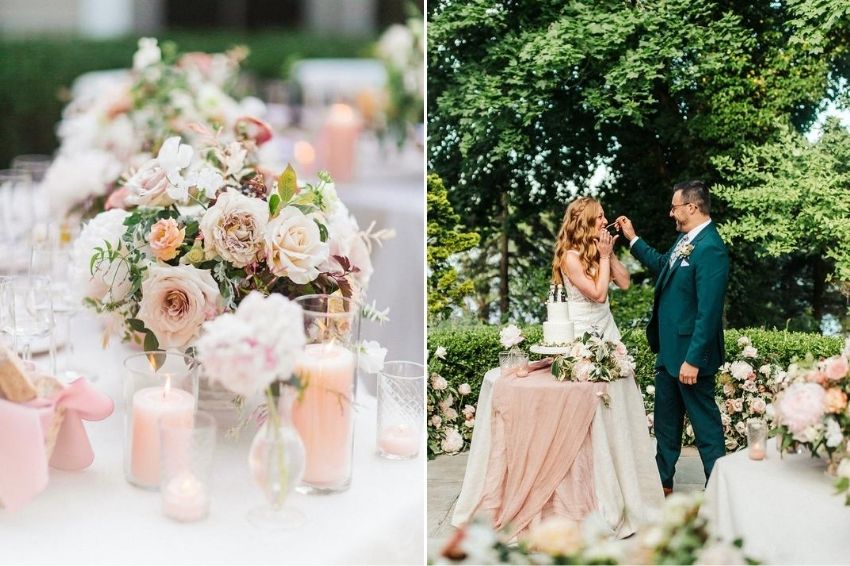 For a design, decor, and floral perspective, this wedding was everything I could have imagined it to be and will be a career favorite for many reasons. Not only were Steph and Paul general in their aesthetic vision leaving space for us to make magic happen, but they were also very trusting and willing to be surprised with the final look Betsi and I delivered. This makes the creative process and execution work feel like a creative adventure, not a white-knuckle sort of stressor, and as you can probably tell, is a pretty stunning way to celebrate your marriage. As we put every detail into place we couldn't help but remark at how gorgeous everything was, even before the final tablescape was set. Each and every part of the spread made the look even more beautiful and layered.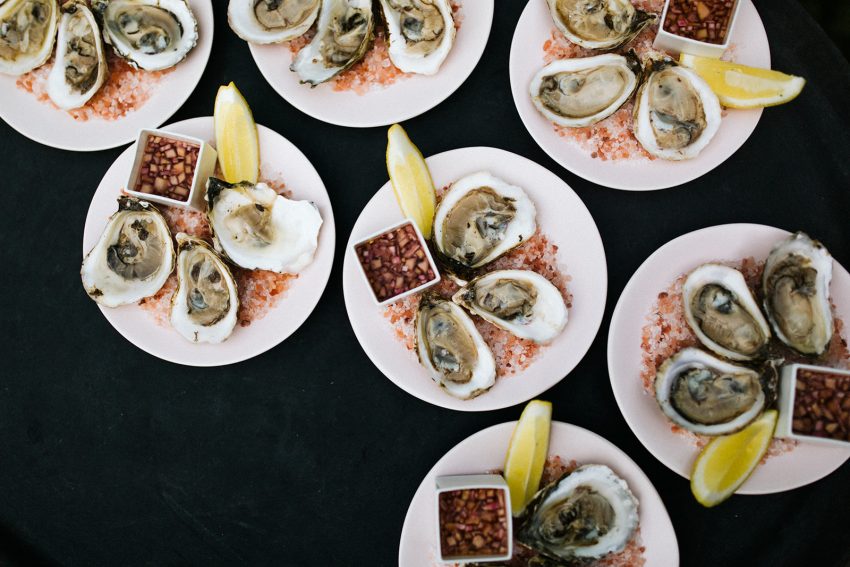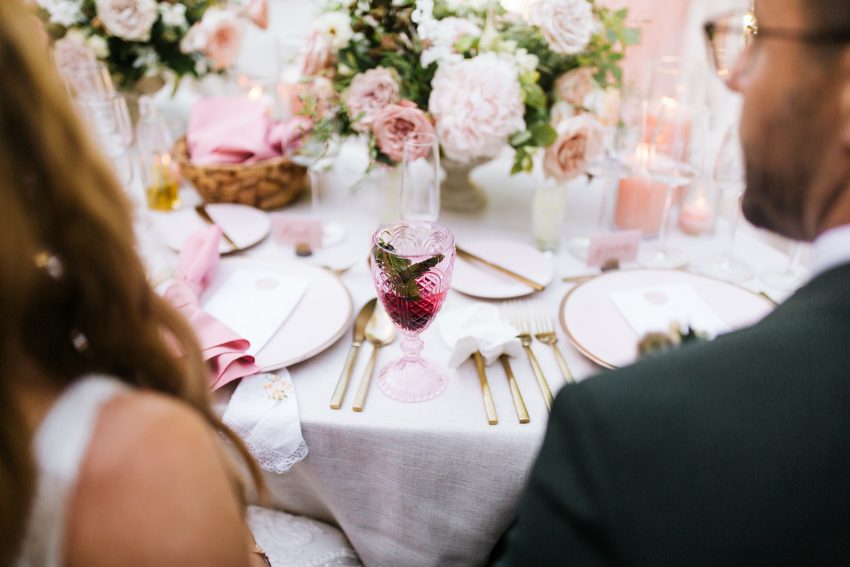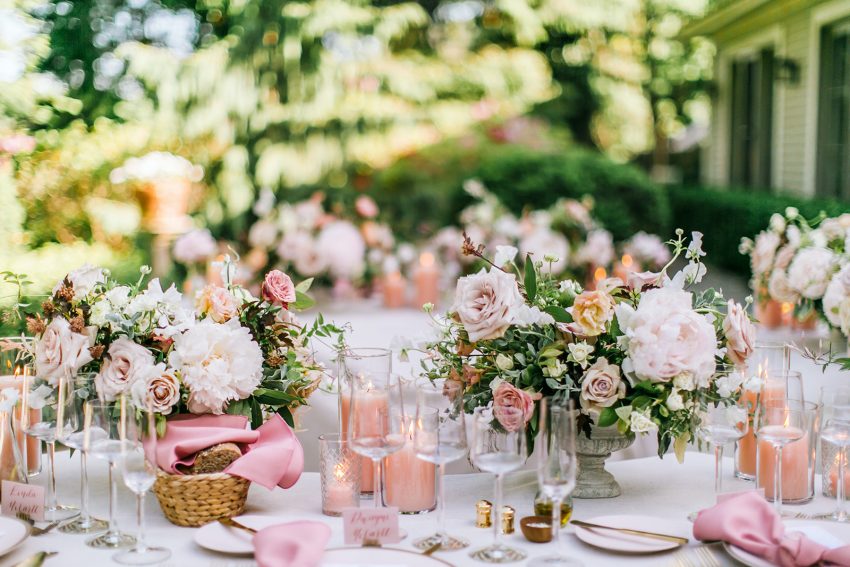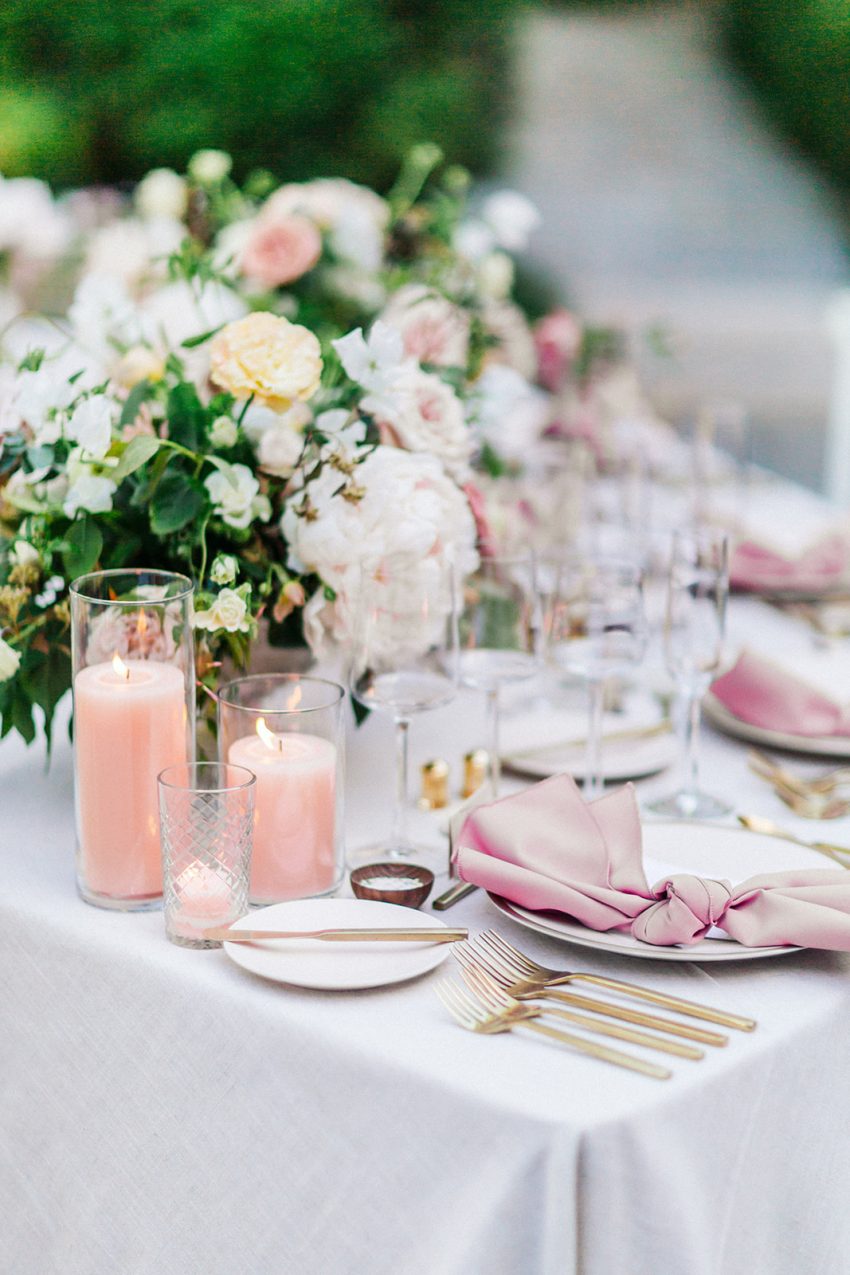 As I mentioned above the food was one element that changed tremendously with the switch of plans. While I'm not a wedding planner anymore let me give you this free advice and tell you that the food you serve to the guests on your wedding day should be memorable. More than your favors or beauty or linens or entertainment (those things are important but I digress) your food should be one-of-a-kind and remarkable. Steph and Paul served their families a seasonal and fresh farm-to-table, five-course tasting menu that included oysters, burrata and arugula salad, vanilla-seared scallops, filet, morel mushroom risotto, fresh baked breads, hand-rolled rosemary truffles, and I'm sure I'm forgetting more of the menu but it was absolutely the best culinary delight I've ever seen wedding guests experience. And as a vendor who was able to sample some of the offerings, it tasted like it too.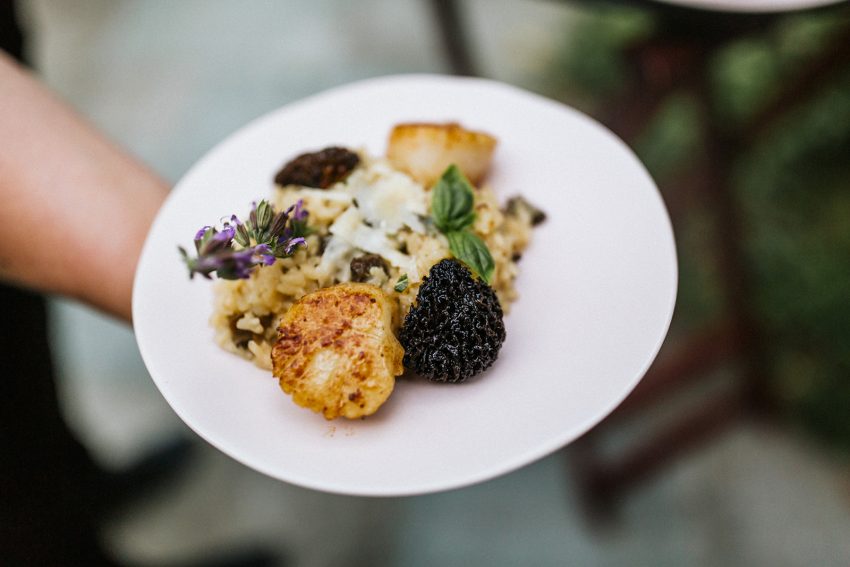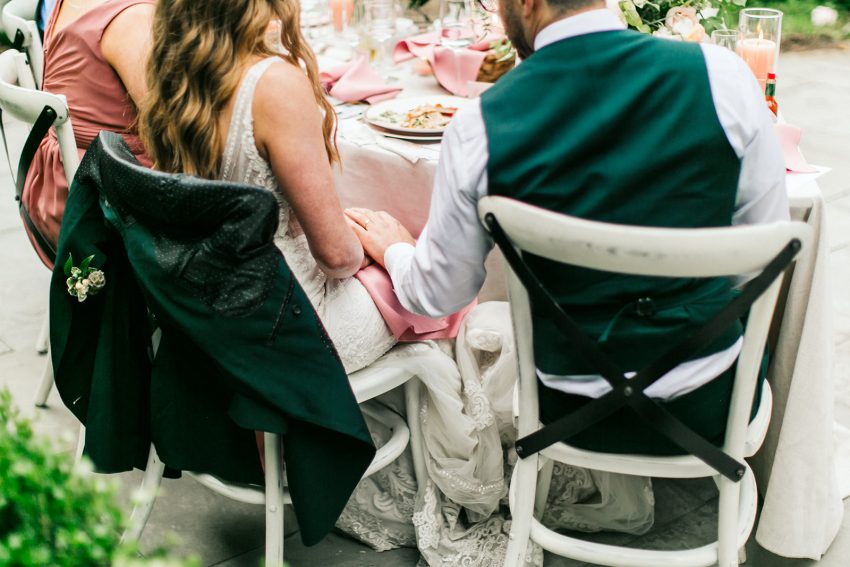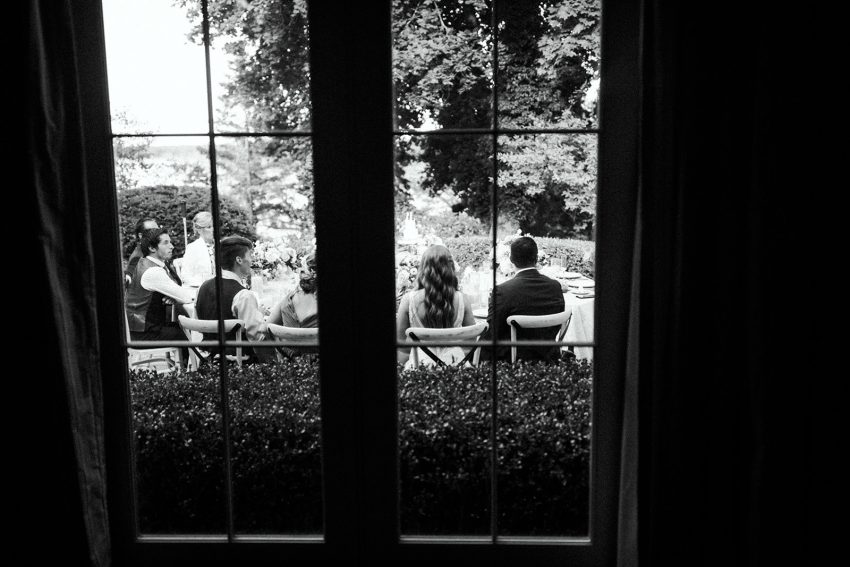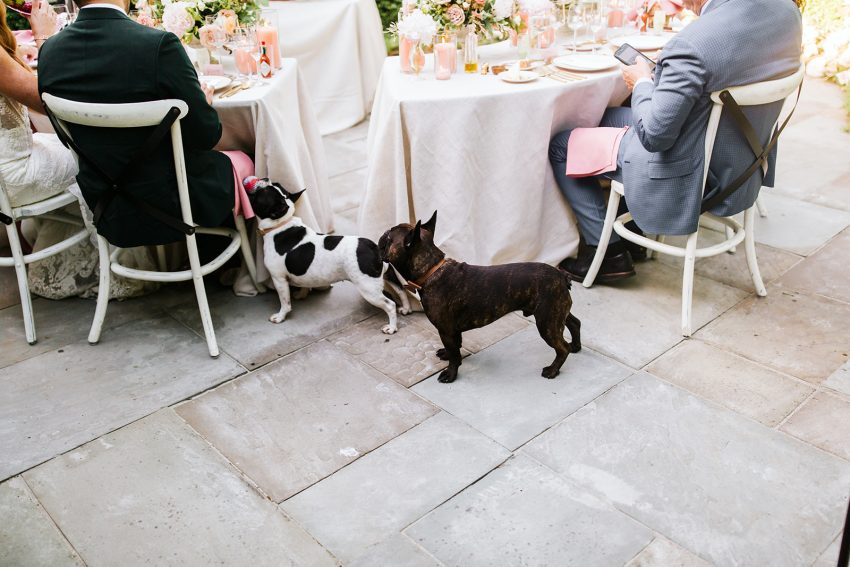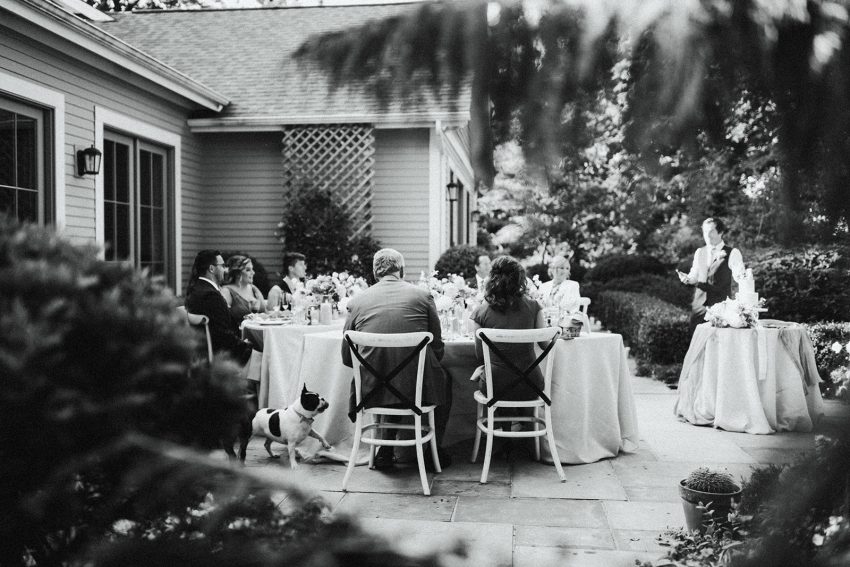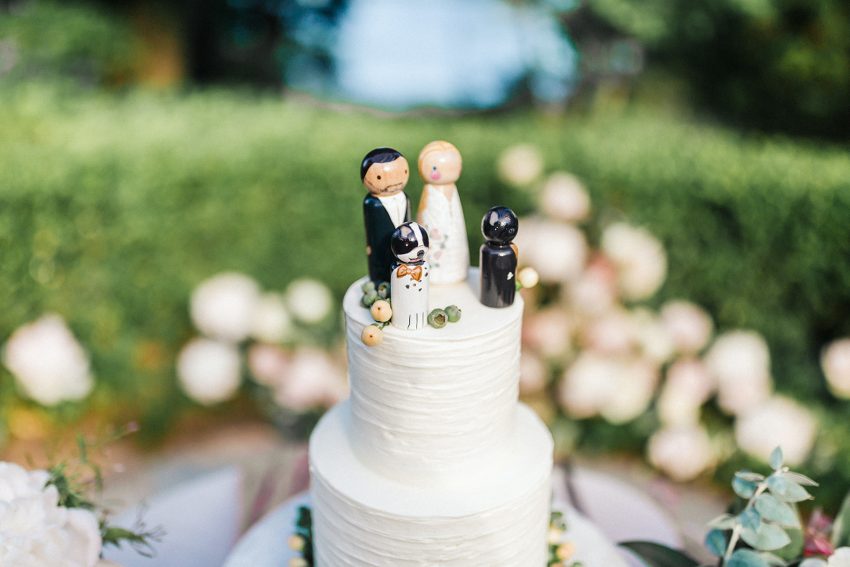 The cake toppers were another surprise at the wedding but one orchestrated between the groom and me. Betsi's cousin makes these darling peg people and I knew they would be a great suggestion for Paul to consider when he mentioned wanting to incorporate sweet and simple surprise details into the wedding for his bride. Abbie painted everything from the detailing on Steph's dress and her hair style to the groom's custom green suit color and facial hair. I love knowing that these little mementos will maybe one day be a treat for Steph and Paul's children to play with, like my kids love to play with theirs. Look at that detailing on the dogs too!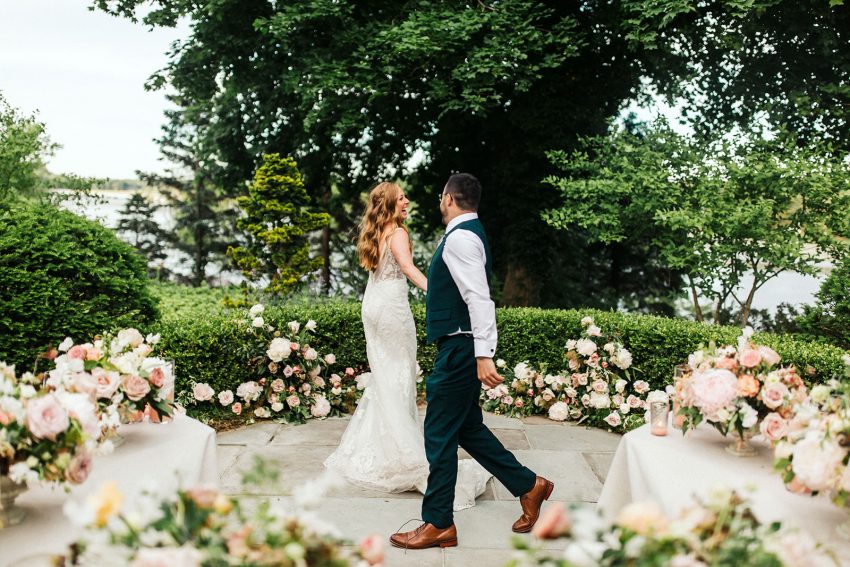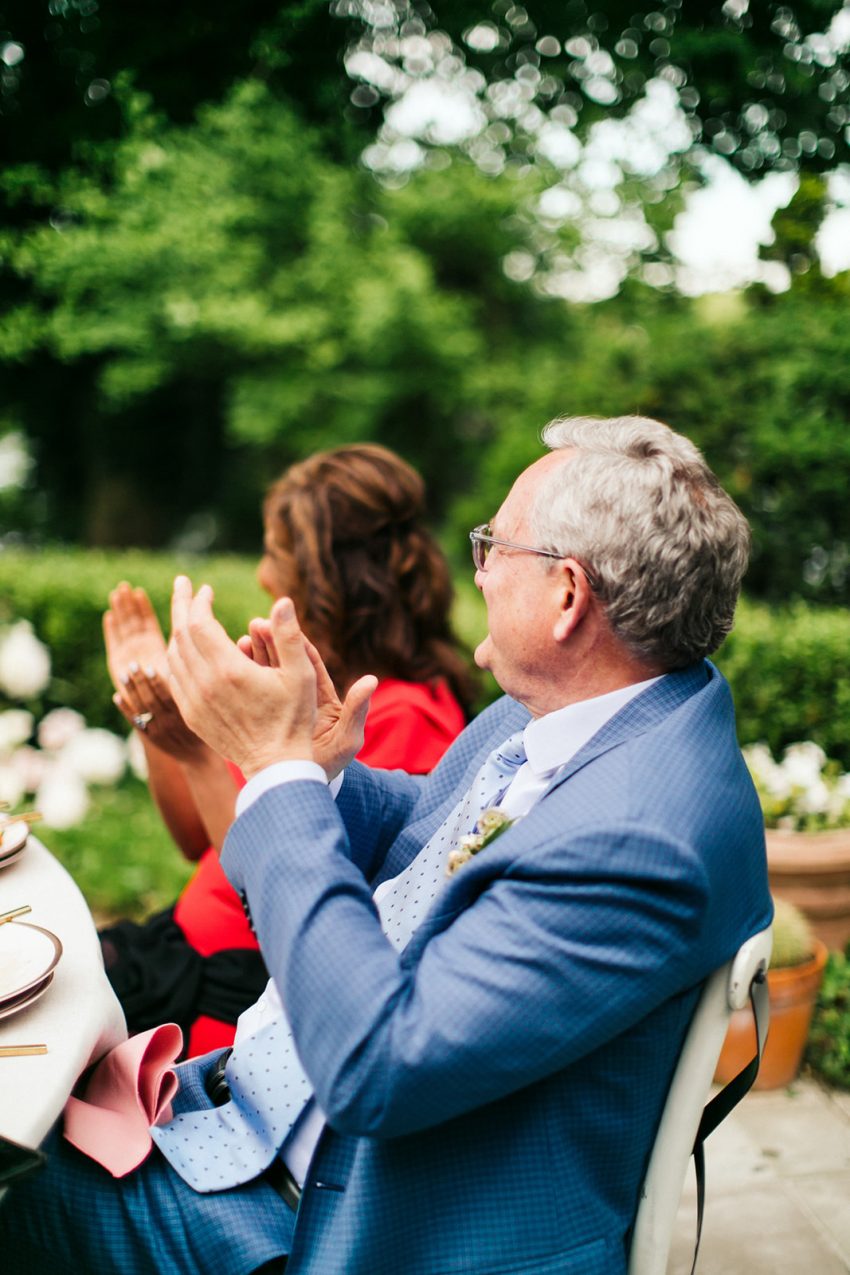 And then finally, after a leisurely and extraordinary multi-hour dinner service, wedding cake and coffee, and moving the party indoors to the much more comfortable couches around the fireplace, the bride and groom headed off to the beach for more portraits together as the sun set over Lake Michigan. Leading up to the wedding, everytime I called the couple to discuss a change, I would sense Steph's disappointment and her being between a rock and a hard place. And while she would always accept each change for what it was, she would end with, 'Well at least we will have lots of time to get beautiful photos of the two of us.' Yes, yes, yes. That you did, Steph.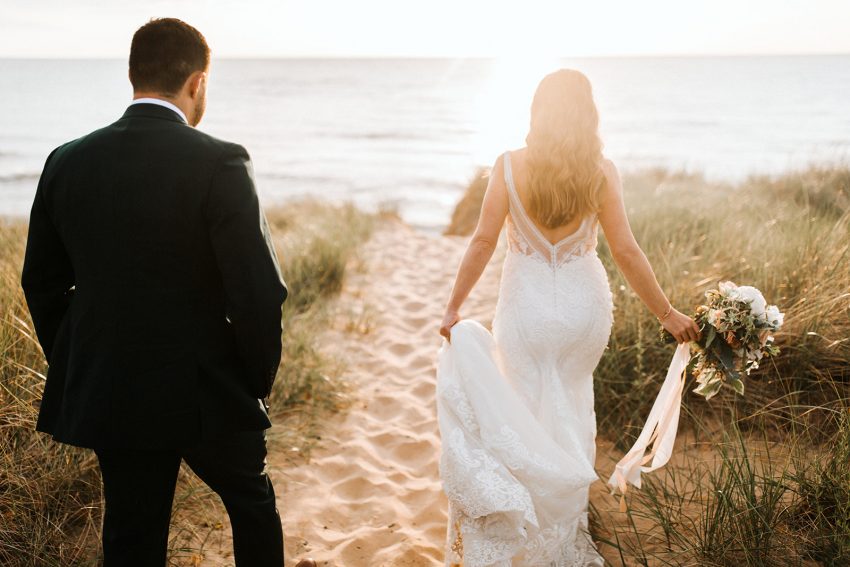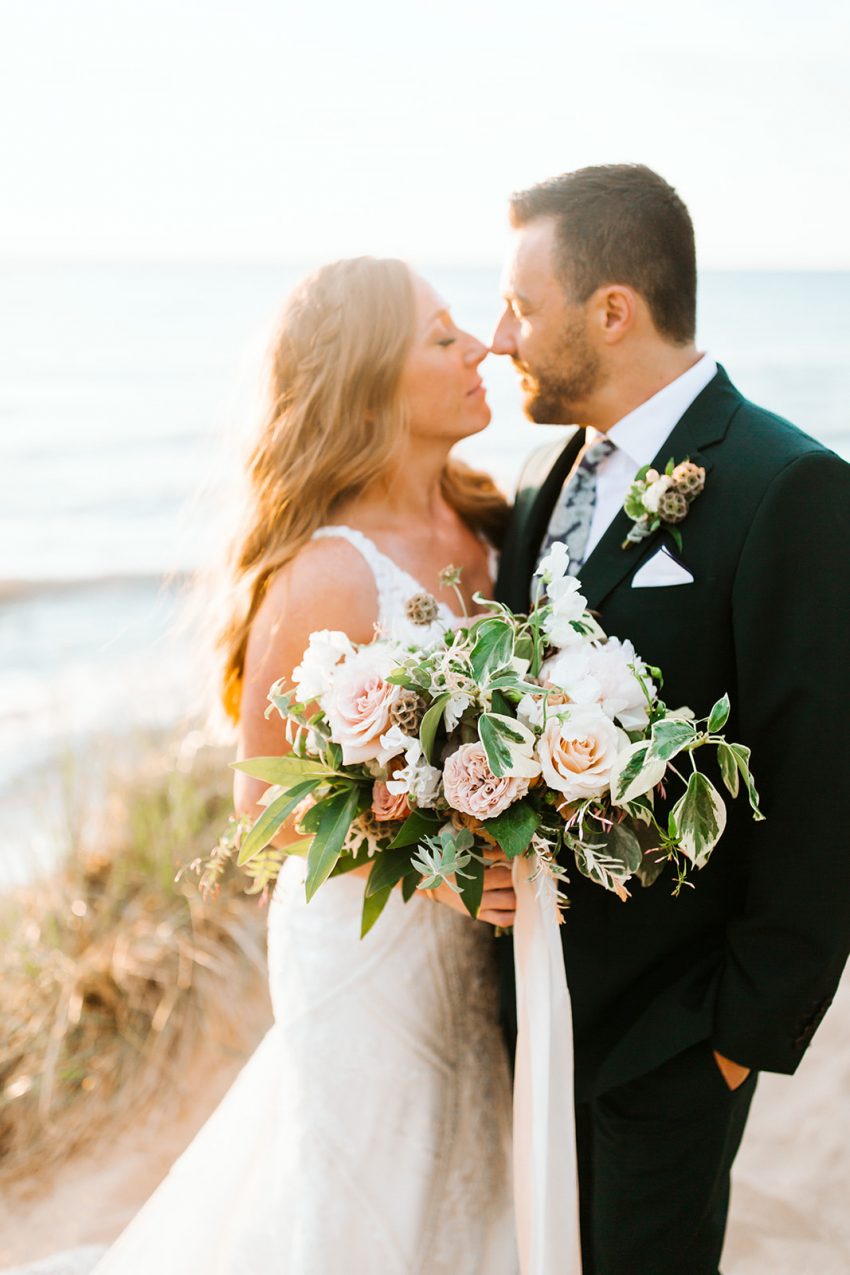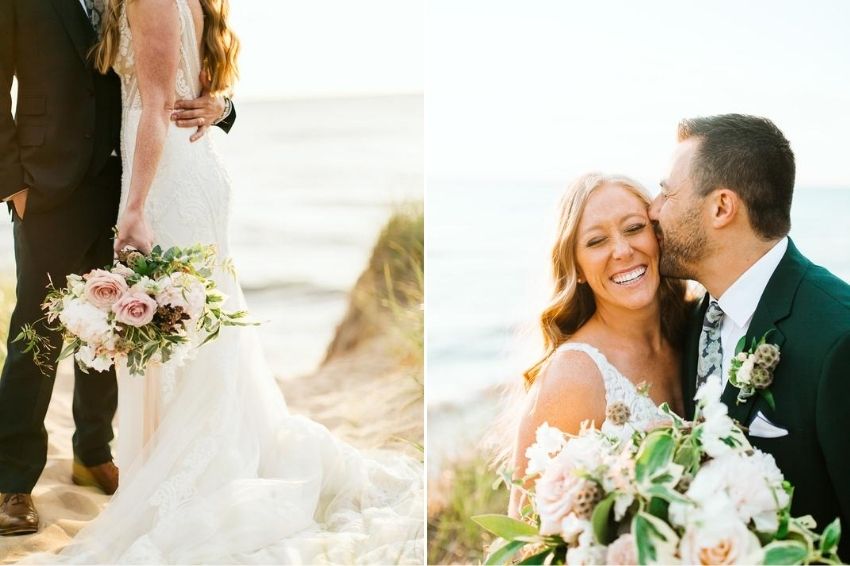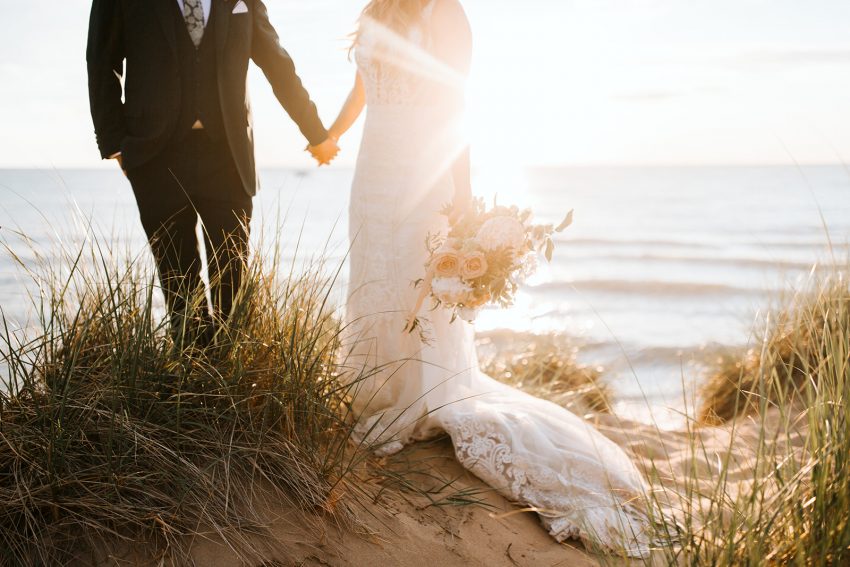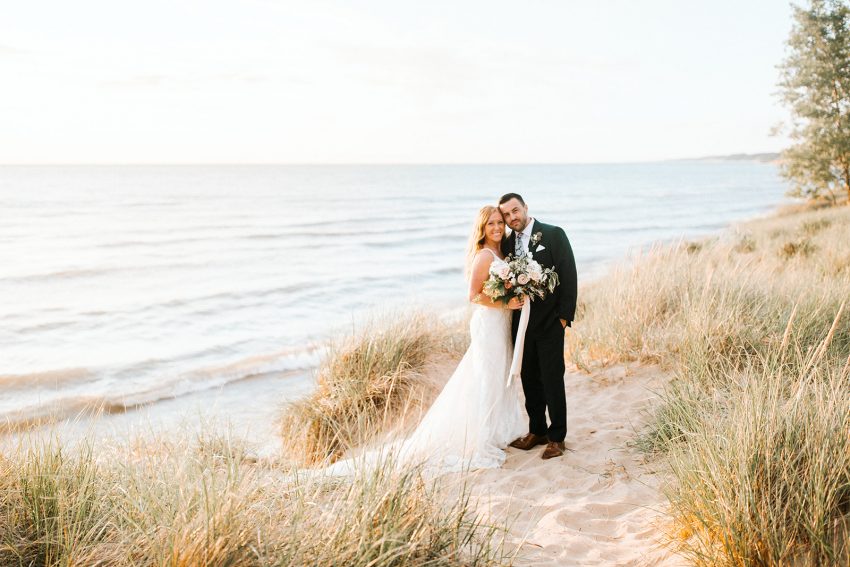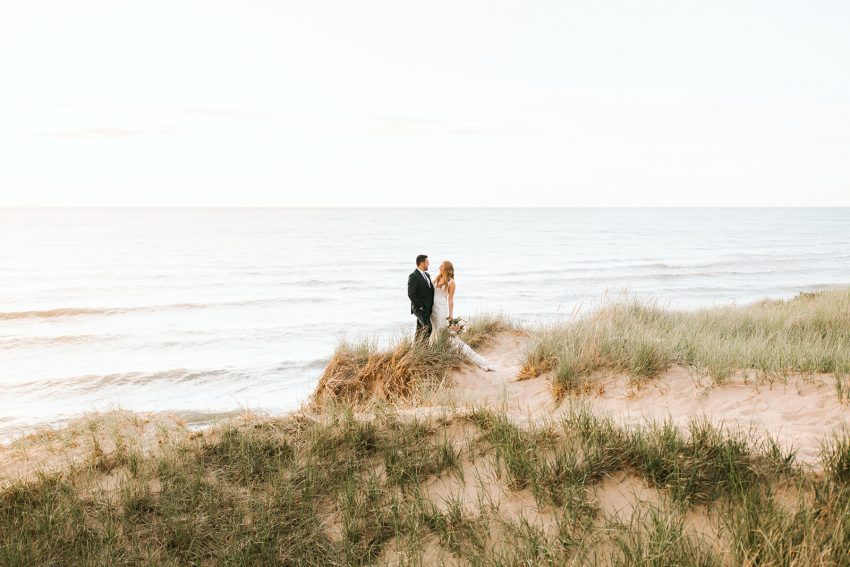 A few notable details:

• Betsi and I worked this event alone just the two of us. We didn't have to wake up at 4:00 am for load in, got to actually eat lunch at a decent pace, and were home in our beds before midnight. I understand weddings are not really the time for vendors to rest or move at a neutral pace but the gift to do just that was sweet and we certainly savored it on June 13th.

• While it may have been planned (if so, thank you Steph, Paul, Mr. Leonard and Rita), I was pleasantly surprised to take my first trip to the bathroom the morning of the wedding and to see one of my RB Soap Co bars sitting on the edge of the sink. This felt like a wink from God and a way to trust that this professional transition is one I am making with grace and confidence.

• Aside from Joel, our trumpet player for the surprise ceremony recessional, this entire wedding was executed by an entire-female team. While the wedding guests enjoyed their dinner outside, us women sat inside eating our dinner and talking more about motherhood (all of us are mothers), weddings and events, friendship, favorite foods, and so much more. Perhaps it was the significance of the night or maybe just the starts aligning but I'm grateful for that hour together with such talented and professional working mothers.

• I would hope if you've made it this far you've realized this by now but a beautiful and personal event is not indicative of following a checklist or timeline perfectly. Logistics and timelines are important but deeper than that, a successful event is built around a lot of flexibility, focus on what matters, and a healthy sprinkling of the unexpected magic. Maybe it's a custom green suit with your wedding day embroidered under the collar of the jacket or maybe it's including your beloved dogs into your ceremony. Maybe it's a dinner party instead of a dance party or letting your mom and sister get you into your gown instead of a room full of women grabbing at any part of the lace and satin they can touch. But either way, the perfection is up to the celebrationist to define.

It's been a joy, Steph and Paul. You're so loved. Xo
. . . . . . . . . .
Planning, design, and floral: Rhiannon Bosse Celebrations / Photography: Giving Tree Photography / Videography: Rebecca Dexter Visuals / Beauty: Hanna Wagner Designs / Catering: The Farmhouse Deli / Stationery: Nellie Sparkman Stationery / Calligraphy: Magnolia Pen & Paper / Rentals: Event Theory / Linens: Special Occasions / Cake: The Cakabakery / Cake toppers: PocketfulofPegs