As we've redone a good portion of our home this year, and not because of Covid although the pandemic has certainly given us some time to get things done, one home element I've found to be exceptionally overpriced is quality curtains. I'm not the most frugal person and believe in the whole 'you get what you pay for' thing but even I find $200 to $400 a panel to be too big of an overpriced splurge.

We have a lot of windows in our home that needed window treatments so perhaps this is where the costs seemed to add up quickly for me. Not counting seven square windows that would require a roman shade or something similar, we have on our main level both a large sliding glass door that leads to our covered patio and a big window at the front of our home that gets a beautiful amount of natural sunlight from noon until sunset. Both of these windows were in dire need of window treatments but finding something to meet my criteria for less than $200 a panel was proving to be impossible, especially when I had windows upstairs to consider.

My criteria included:

• A curtain length that would work for 9 foot ceilings on our main level. I wanted to hang our curtain rod(s) very close to the ceiling but still have curtains that kissed the floor ever so slightly. I knew this would make the room look larger and give a more tailored aesthetic to the space. I found a lot of beautiful curtains at big-name stores but many if not all, only came in 95″ options.

• A selection of colors that would exist with our existing decor. I wasn't set on using any type of pattern but was open to texture if I found something I loved. I knew if I found a curtain that checked off everything on my list I would probably use the same version upstairs in our bedroom so I wanted color options to pick from to avoid being too matchy-matchy.

• A pocket-back hanging option in lieu of top loop holes, rod pockets, or metallic grommets. Again, this was because of my desire for a more polished look as having the rod tucked back into a pocket behind the top seam felt clean and tidy. I found a LOT of curtain options has silver grommets or awkward top loop holes but only the really expensive panels had

• A lined curtain panel not so much for privacy and black-out reasons but so the curtain would hang heavy and again, look a little more tailored. For years we had sheer curtains hanging over our dining room slider and they always felt cheap.

• And finally, did I mention I wanted to spend less than $200 a panel?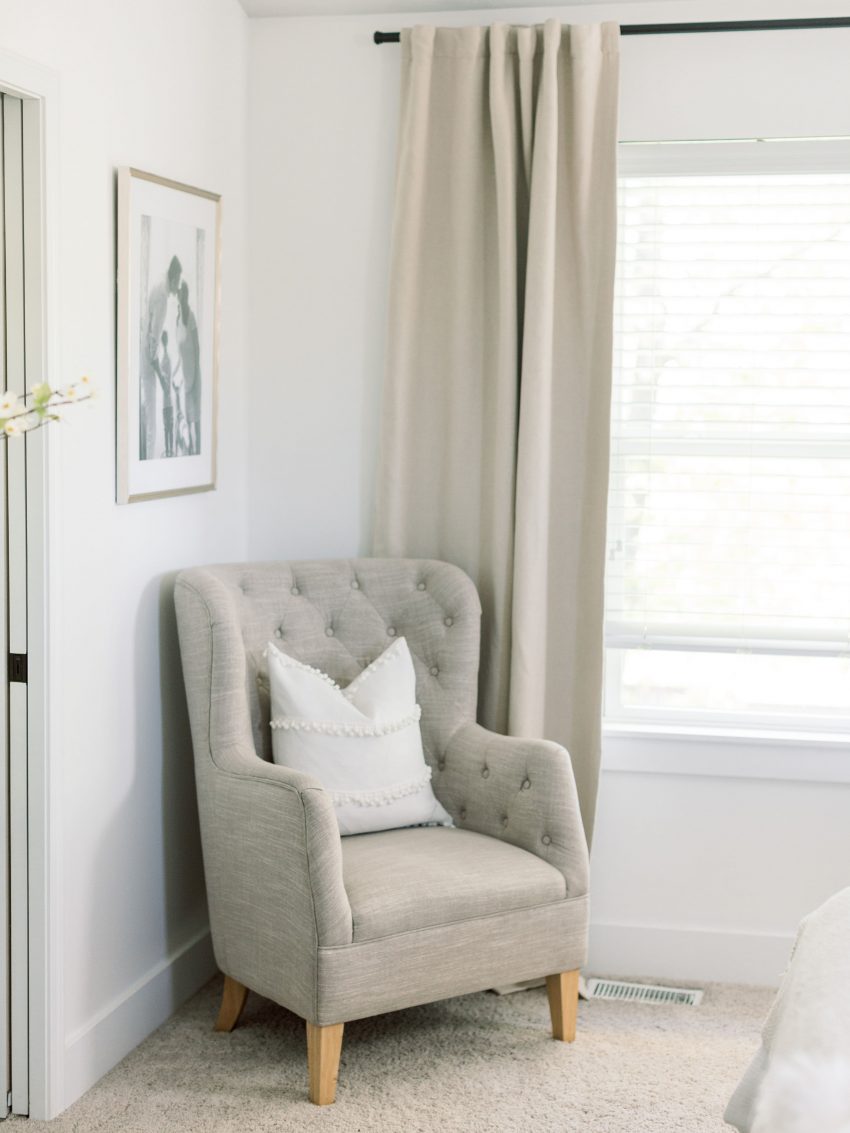 If you're here for the curtain source only, here you go! Threshold's Aruba Black Out Curtains.

But if you're here for more commentary, I have more to say!

• While perusing the curtain options in Target just before Christmas, I was intrigued by the linen-type fabric shown in one of the curtain swatch samples. The material felt high-end and the color options were really beautiful. Neutral and coastal, which is right up my alley! But the clincher for me was that even though the store only offered a 95 inch panel, Target online had the 108 size I needed. I ordered two panels right away and instantly fell in love once I received the package and pulled the panels out.

• The panels are lined making them not only an official black out curtain but they feel more aesthetically-made than utilitarian because they hang in such a polished way. If you are looking for curtains to hang in a nursery or bedroom where you need a darker space during daylight, these would absolutely fit the bill! Otherwise, based on the price alone the black out feature simply feels like a bonus.

• We haven't had to wash the panels yet but they iron nicely which in my mind makes these much more fuss-free than some of the higher end fabric panel options I was drawn to. If I DO ever wash or spot treat a panel I will report back on how those turn out.

• The color options are really beautiful. In both our bedroom (shown here in photos) and over the dining room slider, we used the brown linen color which is such a beautiful taupe hue. Then in our front room, where we have a gray couch and some darker decor pieces, we went with the gray color. It's equally as striking as the taupe! We had originally ordered the blue color for our bedroom but it was just a tad too bright for my liking even though it was a hard call to return them for the taupe.

• And my favorite? Each panel is $34.99. YES, RHI! It almost felt criminal to find these beauties at this price point.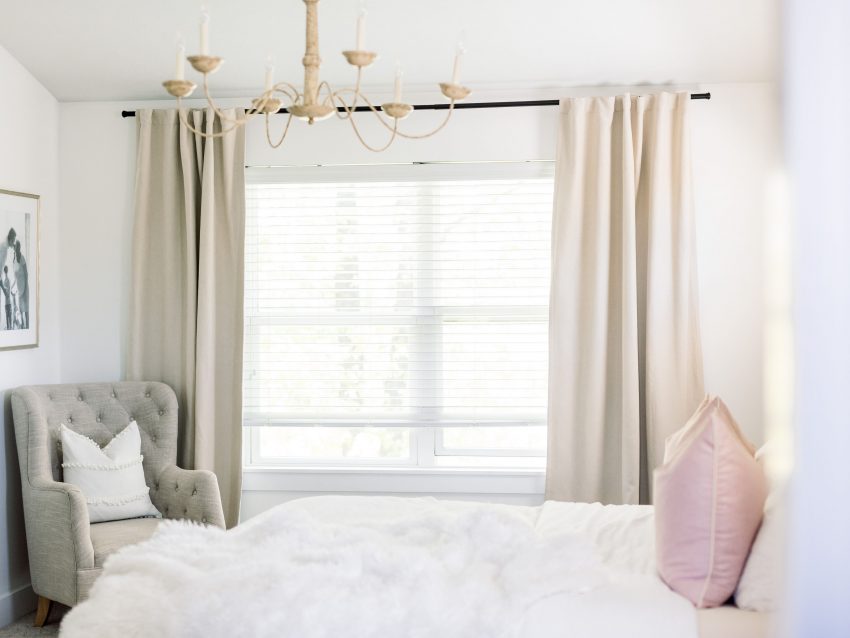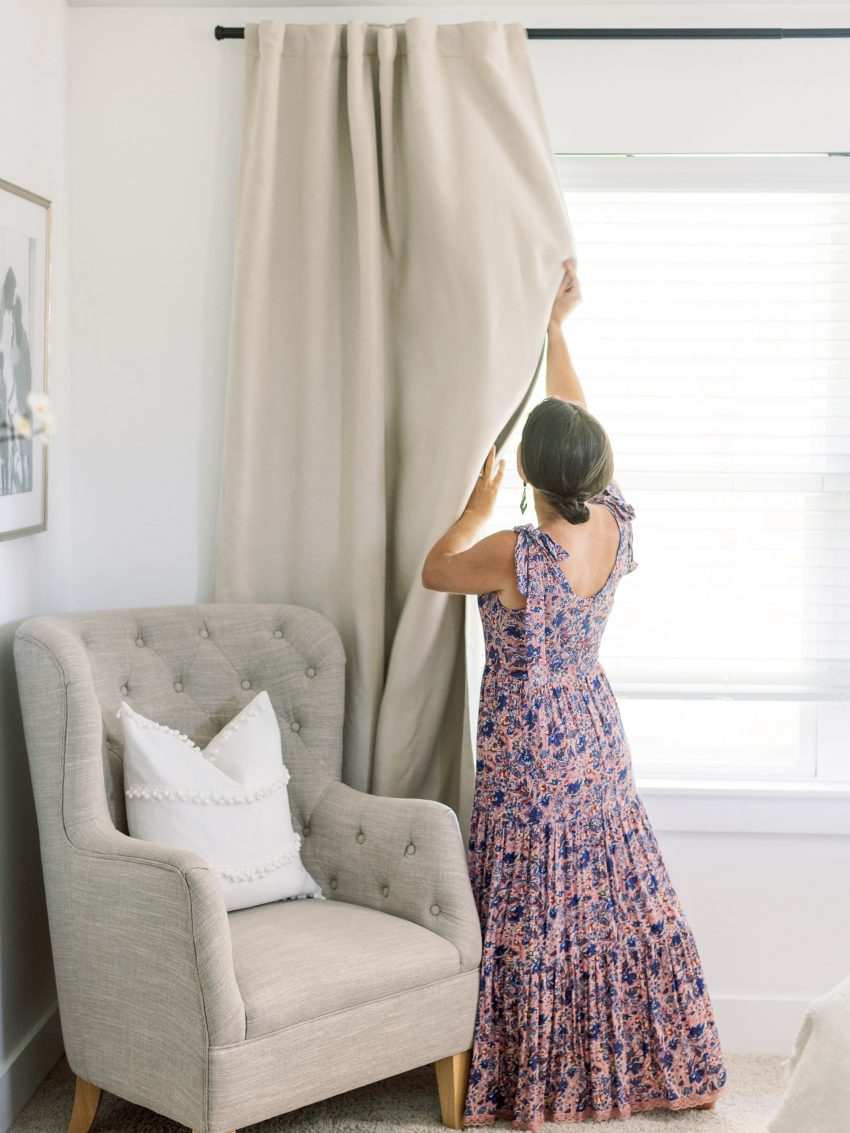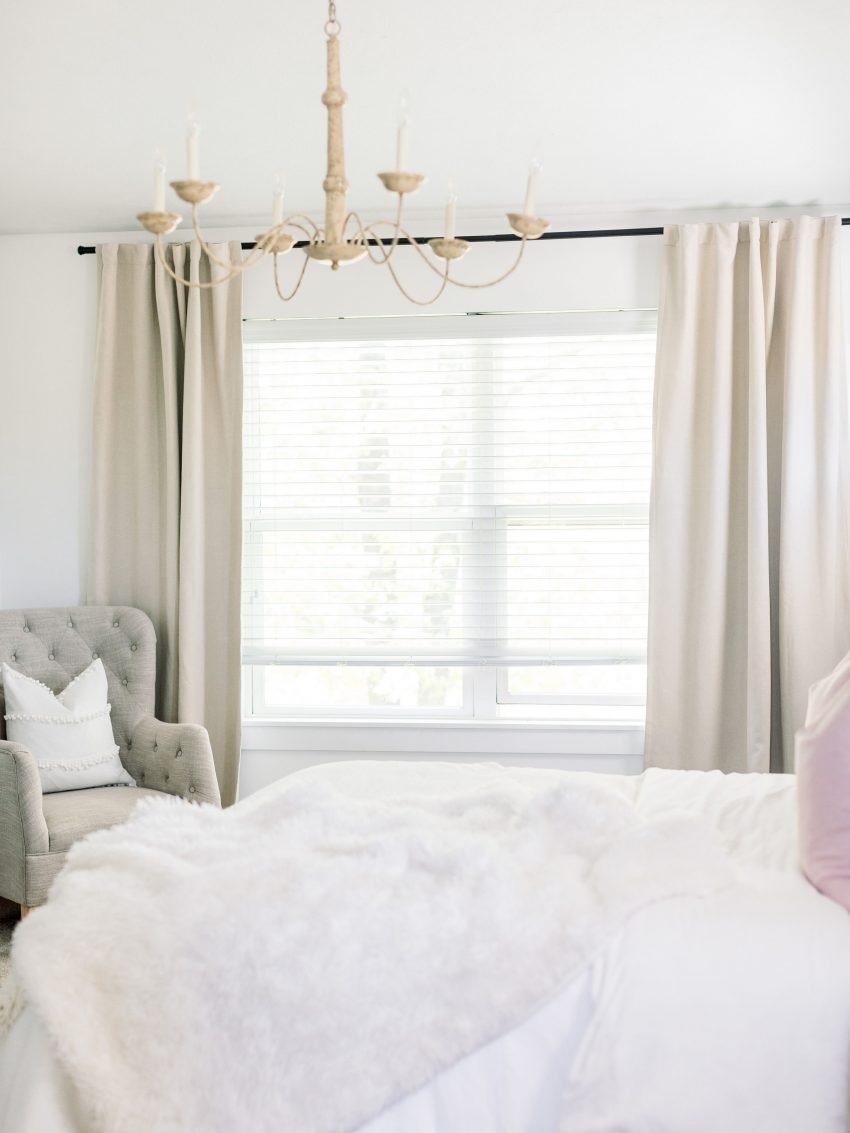 Have you done any home projects throughout this pandemic? I'd love to hear all about them below. Xo

Also! I also get asked a lot about the dress I'm wearing in these photos. It's a beautifully soft floor length summer dress from Altar'd State, a store I don't often shop at but this dress spoke to me. They only have plus size versions left but you can shop those here! Speaking of splurges that are worth it, this dress falls into that category for me (it was nearly $100), which I suppose illustrates the reality that everyone has different priorities and spending thresholds.

Also, also! I forgot to add a source for the curtain rod we love and was reminded of this by a reader. This is the curtain rod we purchased for all of our windows that the Target curtain panels are hanging from. They are affordable, stylish, and easy to hang. There were some beautiful options from a few higher end stores but again, I wanted something less expensive that still looked timeless and curated. This seems to have hit the mark!

An affiliate link is used in this post!