It's hard to believe, or actually really easy depending on how you've felt 2020 has gone so far, that the year is half way over. First quarter felt slow and unhurried, and then second quarter felt like a blur that came on really quickly, no? Without surprise, third quarter has also been a flurry of life lived out in both peaks and valleys so excuse my delay in sharing my second quarter goals progress because there has been a TON. But first! Both my goal setting plan (this post) and my 2020 vision board as a reference point: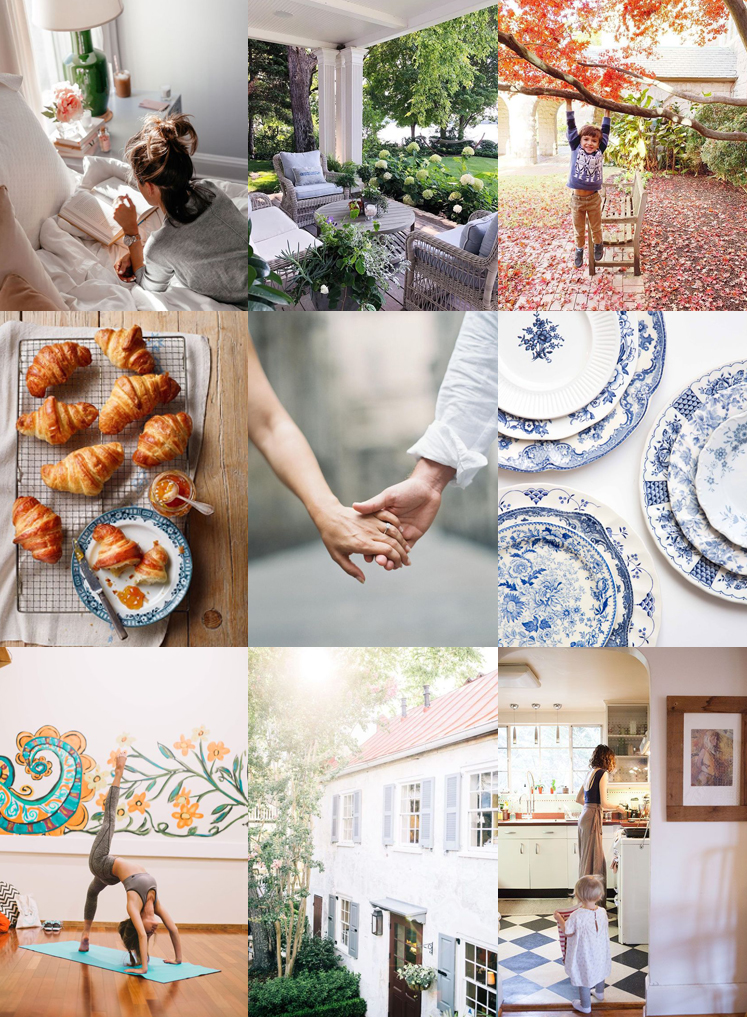 I love that board today as much as I did when I created it months ago.

Let's dive in to my second quarter goal progress.
Goal #1: Become a Family Who Loves Nature & Adventure
Summer has been such a gift. The beautiful weather has allowed us ample time to get out and play, explore, spend time as a family, and even get in exercise without it feeling like a hassle. Despite a lot of hard things unfolding in the world, this summer has felt very sacred. While many of our outdoor activities have not included intense nature-type exploration I feel great about the amount of time we've enjoyed outdoors and what's resulted from that.
1. Over Memorial Day weekend we purchased a yearly pass to our favorite Michigan day trip location, Oval Beach. Since then we've been about a dozen times for visits, sometimes as a family but mostly just me and the boys during weekdays when beach capacity is low and Andrew is at work. I've loved watching the boys get used to sand covering every square inch of their body, the cool lake water, and unstructured play. I love how we can be both a snow-loving and sand-loving family, able to be flexible with any sort of outing we decide to embark on. Also, it's a special triumph when I can get the kids to the beach, which is an hour away, and back again by myself with all of our gear, and no tears, fights or poopy diapers to change. Talk about a mom win!
2. We spent a lot of time at the start of the summer getting our yard in tip top shape for seasonal enjoyment. This included a huge post-winter clean out and mulch party, planting our seed garden and small vegetable plants, clearing out the back of our yard to make room for a play set, and investing in some small delights like a water table, water squirt tubes, and a gas fire pit for fires at the turn of a switch (which of course is admittedly more for nightly s'mores!). Our yard has become a beautiful space for gathering, play, worship, and relaxation and is used daily for these very things.
3. I still have not finished How to Raise a Wild Child (I've been reading other books from BIPOC authors that feel more important right now) but I have been thinking proactively about how to infuse nature-type lessons into our summertime activities. When we go to the park, can we walk instead and enjoy the wild raspberries growing off to the side of the road? When we go to the beach, can we collect rocks and shells instead of playing with beach toys? When we consider what plants to put into our garden, can we consider ones that will yield produce or flowers that the boys can pick and delight in? Can we go for a leisurely morning bike ride with the boys in the trailer instead of plopping them in front of the TV? If anything, immersing myself into the world of nature-loving practices in first quarter helped me to approach and enjoy second (and the start of third) quarter in ways I otherwise would not have.
Goal #2: Fill Our Home With Delight

This goal has been especially easy to work towards with more time spent at home the first half of 2020. And there have been numerous progressions made in this area! I hope to share more visual updates soon but for the sake of accountability here are the specific spots I have made progress in:

1. The caveat of doing one home update project is that the finished product often leads to wanting more home update projects done. It's a ripple effect and one we are no stranger to in the Bosse home! Our main living level was finally just about finished at the end of second quarter when I started thinking about some other small updates that would be easy and worth getting done. As such, at the time of writing we've have painted our front foyer bench the same color as our painted kitchen island, painted the ceiling of our porch deck overhang in the loveliest blue, plan to replace the old light with a fan, and are in the process of ordering shades for the three square windows on our east-facing wall. I suspect by the end of the year we will have a home that looks entirely different than the one we had in January of 2020! And a husband that says 'Please dear Lord, no more projects in 2021.'

2. We painted all of the walls of our main living area in December, which required taking everything off of the walls including our small dry erase wall calendar THAT NEVER GOT PUT BACK ON THE WALL. Talk about feeling disorganized and spaced out when it came to our family schedule these last six months! After finally taking the plunge and investing in a new larger version (we went with Lindsay Letters' The Hive with a champagne silver frame) I must say it feels really good to have our our schedule and priorities back up on the wall where we can see it. The final piece of the foyer puzzle is hanging the leather 'envelopes' to house our mail and other loose documents and then we will be officially done with this space.
3. If the photo of the croissants on my board had you scratching your head well then today is your lucky day! The photo was added to my vision board as a reminder to cultivate legacy in our family in 2020 – legacy that will be shared joyfully amongst future family generations. And what better way to share legacy than in the form of food! Food creates a great sense of comfort and belonging for many families across different cultures and I want to have grandkids and great-grandkids that love and live by a recipe that their grandma (me!) knew by heart and always made when family was around. As such, a croissant seemed like the perfect place to start. Croissants are perfectly fancy for special occasions, casual enough for any ordinary breakfast, and just a tiny bit more difficult than say a muffin or cookie, thus making it a great contender from Grandma Rhi to master! Plus, croissants are delicious so there's that.
I was signed up for a Saturday morning croissant making class at Sur La Table for this past May but unfortunately that was cancelled because of Covid. So while the croissant making goal is currently on hold I HAVE been mastering the art of biscuit making and that seems to be a nice substitute for now! My boys are not surprisingly biscuit-lovers, the neighbors have given rave reviews, and I plan to make a batch for everyone this weekend at the home we rented on the lake for a few days. If you want to try an easy and delicious biscuit recipe too, check out Joanna Gains' as that's the one I've been using.

4. The biggest change in our home and life this year, which was expected but just a little earlier than we planned for, was / is having the boys home with me full time for the summer. We had planned on taking Lachlan and Ev out of part-time child care for July and August but that plan kicked into gear at the beginning of April as daycare space became available only to children with parents in essential workplace positions. While this schedule change has required some special childcare considerations for the occasions where I have work responsibilities like events and soap launches, the decision to have the boys home has hands down been the best blessing of 2020 for me. The routines we have in our home, the sweet memories we've made, the new things I've learned about both of my children individually in having them so close but also the relationship they have formed together, has been a gift and one I feel I would have missed in not having them home with me in this season. While the trade off means there are things I've had to say no to in this season and I am a smidge more tired at the end of the day (!), I can't think of a bigger delight than time with my boys.
Goal #3: Redesign My Schedule, and With It, How I Spend My Time
This area has been the one focal space where there's been a bit of a step backwards with progress. But not necessarily in a bad way! I say it often but when we say 'yes' to one thing we say 'no' to another and with a lot of the 'yeses' I've been making, I've found myself in schedule conflicts; there just doesn't seem to be enough time in the day to do ALL of the things I want to do! Here's my best attempt at breaking this down into a summary:

1. Since I no longer have a daily structured chunk of time to fit in work related responsibilities, a lot of my work time is pieced together whenever the opportunity arises. This means working at night, working on weekends, and even working while the kids sit and watch an episode of Paw Patrol (gasp! yes, I'm that mom when needed). I'm finally used to this drastic change in my day to day schedule and feel like I can reasonably gauge what projects and clients I can say yes to given my bandwidth.
2. I haven't been diligent about a 10:00 pm bedtime but have been sleeping in until about 8:00 am every morning when the kids wake up, a blessing / miracle in and of itself if you're a parent reading this. So while I'm not currently pressuring myself to wake up at 5:30 am to bury myself in work and emails, I do take time at night now to work on the things I am passionate about while the event industry shifts under the pressure of Covid and my soap business rests before amping up for holiday production this fall. I'm sensitive to everyone's unique circumstances when I say this but my transition out of wedding planning was a blessing in the sense of timeliness.
3. This isn't so much an area we made progress in but is an area we made a realization about: Andrew and I will both agree that our strength in marriage is being an awesome parenting team for the boys and making sure the other has their individual needs met on the daily (showers, meals, rest time, work time, etc). However, we are consistently AWFUL at making time for the two of us to be alone without the kids outside of when they are asleep at night and this is an area we hope to improve upon in third quarter. Covid certainly made date night nearly impossible in second quarter but with some more flexible guidelines now and outdoor dining options that weren't available in April, July and August will hopefully see many nights out for us two!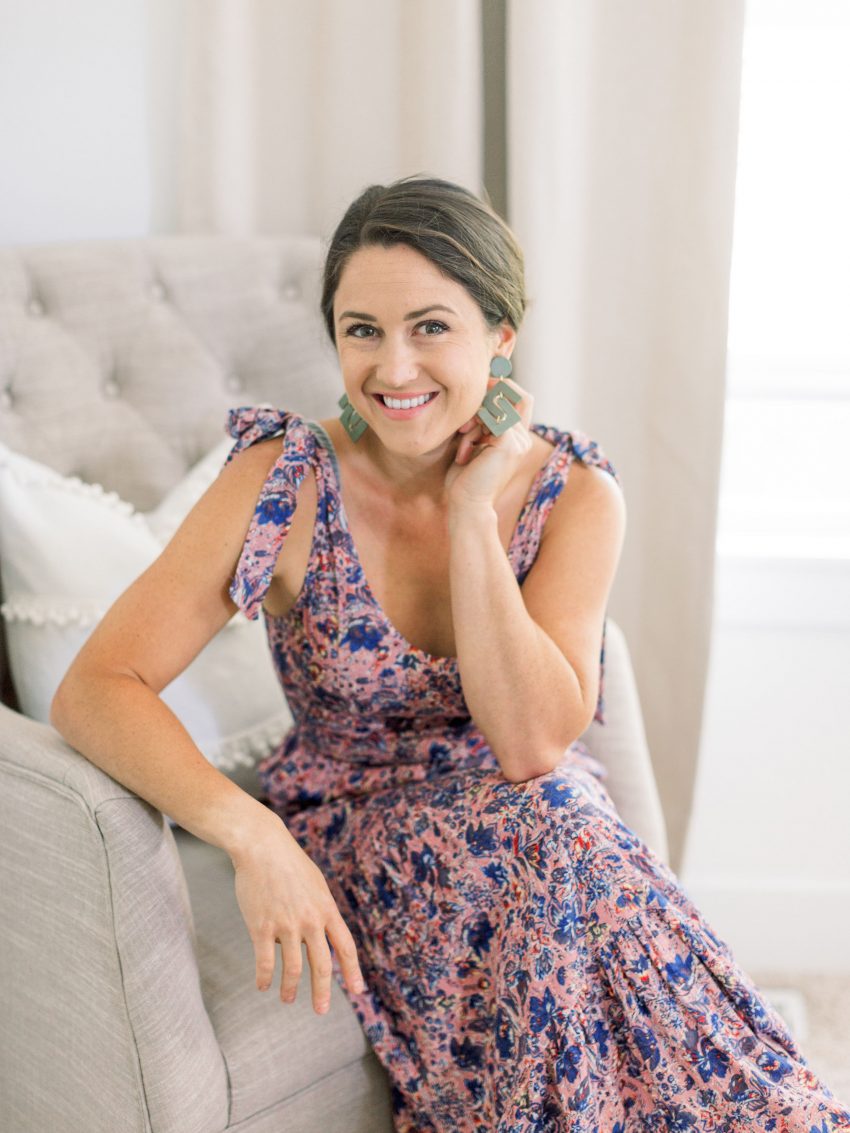 Goal #4: Become a Fiercer Version of Myself
Fierce Rhi showed up this past quarter. I'm proud of her.
1. You can read more about my journey to become fit and healthy here but I'm in the middle of week 11 of BBG 1.0 (via the SWEAT app) and it's been a really great program to help me balance healthy eating and moving my body in a way that's challenging but not too challenging that I put it off and become disengaged. I've lost ten pounds in 11 weeks but more than that have gained a sense of confidence and strength in myself that I haven't felt in years. The program ends at week 12, which for me is this Sunday so I am committing to continuing for an additional 12 weeks and then assessing my most ideal fitness plan from there.

2. I took a big plunge and invested in some skincare products that I probably should have purchased and started using years ago. Be kind in the comments section if you're a skincare connoisseur and feel inclined to comment BUT I don't think I've ever used sunscreen on my face aside from any moisturizers that may have had small amounts of SPF in it. I'm at an age where fine lines are showing and my freckles are starting to turn to sun spots in many places, and while I should have started a skincare regimen years ago, late is better than never. I've been listening and reading everything that Skin by Blair shares and am learning that protected skin is trendier than sun-kissed (sun-damaged) skin. Oh, and I bought a sunhat. I'm not a sunhat kinda gal but here we are!

3. This third bullet could become an entire blog post on it's own if I let it but I've been diving really deep into a lot of important topics with old friends and newer friends offline and face to face. These conversations aren't only related to racial equality and social injustices for BIPOC but include topics like politics and the upcoming election, privilege in every sense of the word, unemployment, pro-life versus pro-choice, human trafficking and the entertainment industry, anxiety and depression in motherhood, and oh goodness the list goes on. I've found myself to be emotionally exhausted after some of these conversations but always really inspired because in this vulnerable state I am learning, growing, and becoming a better wife, mother, and friend because of it. That feels fierce.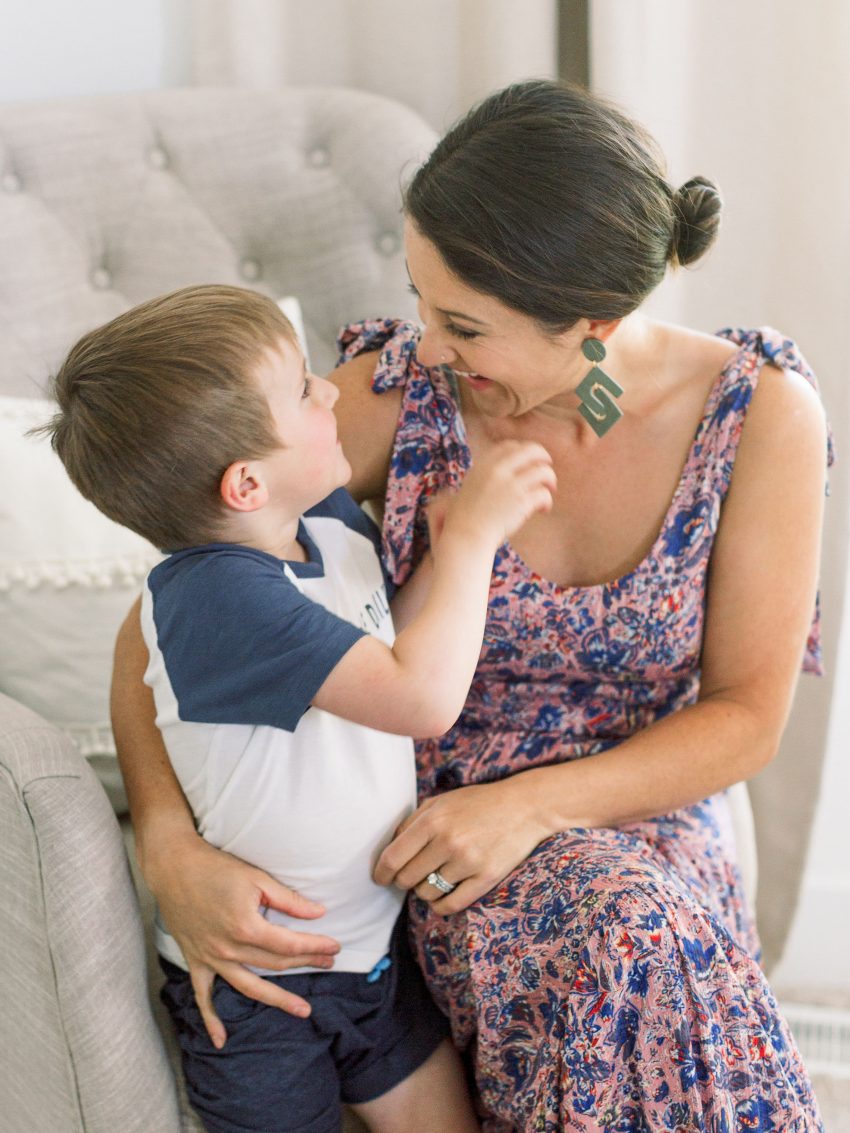 A few notable second quarter wins!

• We conquered quarantine with a bevy of projects, time in the forest building a fort, and lots and lots of baked goods. I took many photos from this season of life so that one day I can share them with the boys and remind them to always seek out the silver lining.

• I celebrated a massively successful spring soap launch! Product sold out within a week and I fulfilled almost 150 orders to customers nation-wide. I also did it all completely by myself as this was right at the start of the pandemic lockdown. It. Was. Hard. Oy!

• We managed to celebrate two birthdays and two holidays under quarantine without missing a beat. Andrew's 37th birthday, my 34th birthday, Easter and Mother's Day all fell under the lockdown period and yet these specific holidays will remain as some of my favorites ever. Probably because they were overly simple and spent with the ones I love most.

• I decided to sell Mother's Day flowers this year and delivered fresh blooms to more than 20 homes!

• After over four years of an egg-free diet, I took the plunge and succeeded at incorporating this delicious food back into my life!

• Without getting into a discussion on child-milestone comparisons, Lachlan learned to both write his name and ride his scooter this spring! The name-writing has not been his favorite activity (it's instead one I gently force) whereas the scooter riding has been a hit (and one he constantly requests; he went from not being able to do one foot pump to zipping around at an alarmingly fast speed). Either way I've loved watching him really grow and change in ways I wouldn't have noticed had he'd been at school these last four months.

• After three months with a rental vehicle, Andrew has a new (used) car!

• I've become close to my neighbor and her kids, which has created a greater sense of community in a way that I didn't feel before she and her family moved in last spring. From swapping household necessities (parchment paper for a magic eraser) to special treats (birthday cake for homemade cookies), and play dates between both connected backyards, almost every day this second quarter has been spent in some capacity with our neighbors. I've loved learning about homeschooling, adoption, teenagers, church, India, Keto eating, and thyroid issues from S! We have traded hair cut services for homemade soaps. I've also been VERY grateful for the gift of the Voxer app which is our way of constantly checking in with one another about our kiddos' whereabouts, playdate specifics, and even things like whether someone's car window is rolled down in the middle of a rain storm (you're welcome, S!).

• The finale event of my wedding planning chapter unfolded. Magic.

• After talking about this for years Andrew and I finally took an entire afternoon to purge our closet and switch sides in our walk in. My thought process was that the side switch would force him to get rid of the things he no longer wears but it would also allow my clothing (which is typically more organized and admittedly a bit more visually interesting to look at) be what you see when you walk into our room. I would be lying if I said I didn't feel total relief when I walk into our closet now.

• We finally got new bedroom curtains after 12 years. See the above photos for proof.

• We booked a last minute trip to Mackinac Island at the end of June and had an absolute blast being tourists so close to home. While travelling with kiddos in a pandemic to an island where bikes and horses are the only modes of transportation presents challenges, the challenges made for an adventure and us Bosses are all about the adventure in 2020. We look forward to going again next summer.

• I nearly completed my floral design module course to launch in third quarter. Wheee! More coming soon.

• We picked strawberries, cherries, AND honeyberries (don't ask).

And perhaps most notably:

• We tried to purge the garage one last time and realized we probably just need a shed.

Be well this third quarter, friends! Xo
Read more about my first quarter goal progress here.