Below is a running collection of FAQ regarding RB Soap Co.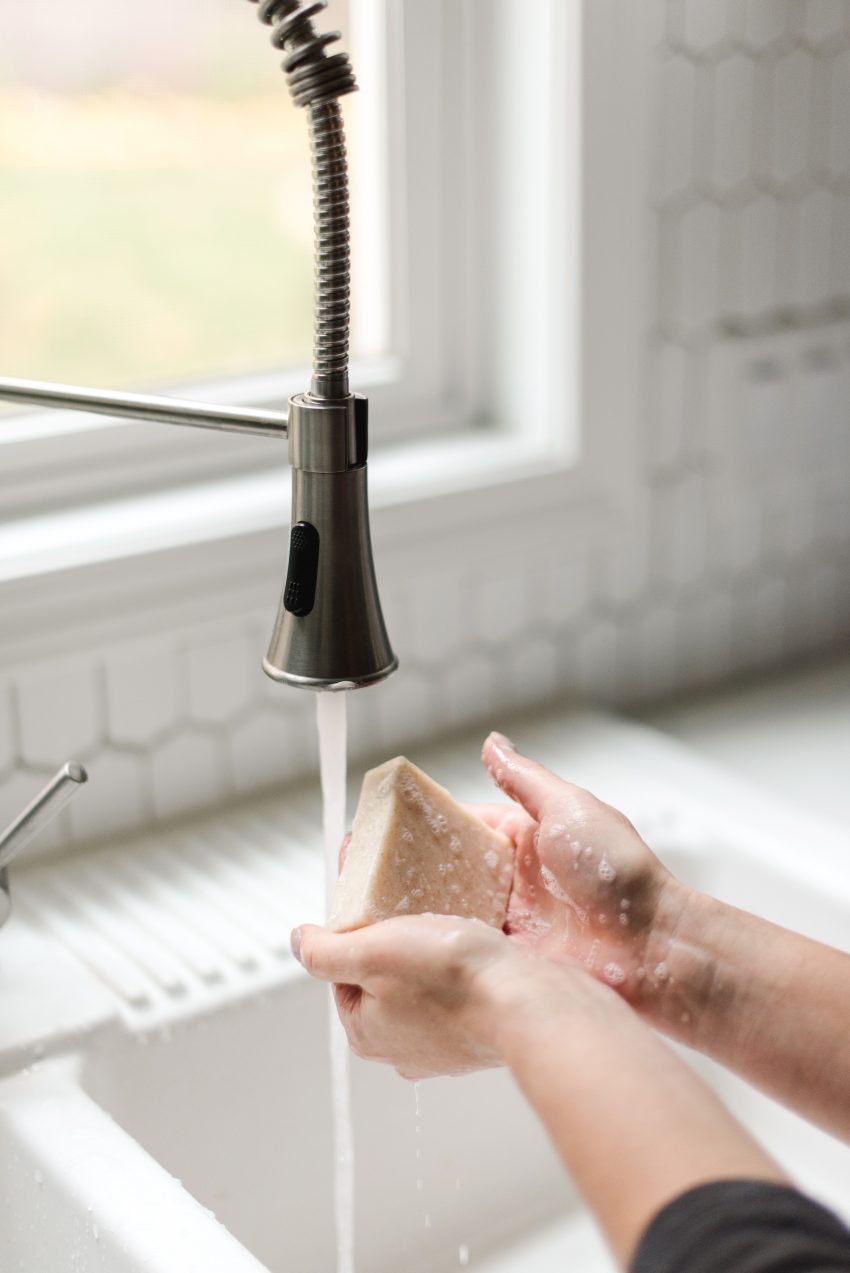 • What wholesale opportunities do you offer?
My current business model hones in on a curated capsule launch structure. This means that three to four times a year, I offer a limited quantity of artisan soap bars via my online shop. In addition to the capsule launches and my sole wholesale account at Stoffer Home, I participate in select craft shows each holiday season. As a mother to two small children, my current main focus and priority is being present to them, while also running a business with integrity, however small that business may be. Should wholesale soap accounts become an option in the future, I will share the announcement on the RB Soap Co. social media channels.
• Do you offer bulk or custom orders?
Absolutely—I greatly enjoy taking on custom orders! Custom orders are a lovely choice for bridal and baby shower favors, conference and workshop gifts, thank you presents, and even bed and breakfast sundries. My minimum quantity for a custom order that falls outside of any scheduled capsule launch is 40 bars, should the bar be a variety I've created before. If the soap requested is a new variety, a flat fee applies to cover the additional ingredients and/or new labels. For custom labels, a flat fee of $45.00 is added to the order total. Kindly note that all bulk and custom orders take a lead time of six weeks to ensure full soap curing time. Please email hello@rhiannonbosse.com for more information.
• How did you start a soapmaking business? Where can I go to learn more?
This is a longer story than I could fit here, so I invite you to read more about my journey over on my blog. I did a lot of reading (there are ample resources online that cover how to jump into the world of soapmaking safely), sharpened my science skills, got really curious, and tinkered in my studio for hours (and even years!) before I sold my first bar. Try starting with Soap Queen as a beginner's resource to all things soapmaking, join a few soapmaking groups to learn the lingo, and remember that making mistakes in soapmaking is part of the fun. Oh, and wear your safety glasses! Always.
• What is the best way to get information about launches and shop updates?
I share anything new or upcoming on the RB Soap Co. Instagram page. Additionally, I often funnel updates into my Rhiannon Bosse newsletter, which goes out every month or two and covers topics from floral design and events, to motherhood and marriage, to lifestyle and home, to, of course, soap.
• I noticed my soap scent has started to fade a little bit since I received the bar. Help!
Since essential oils are used in the soaps to ensure an as-natural-as-possible product, the scent may start to fade over time. The lack of chemical compounds means the scent doesn't hold as long as a chemically created fragrance oil. This is most notable with any citrus oils like lemon, lime, or grapefruit. To help with this issue, I do my best to blend citrus essential oils with other base note oils, anchoring them into the bar for a longer period of time. That said, I encourage all customers to actually USE their soap! The bars are supposed to look beautiful, but I aim to make them feel even better than they look. Here's your permission to go ahead and lather up so you can make the most of the delectable aromas at their best.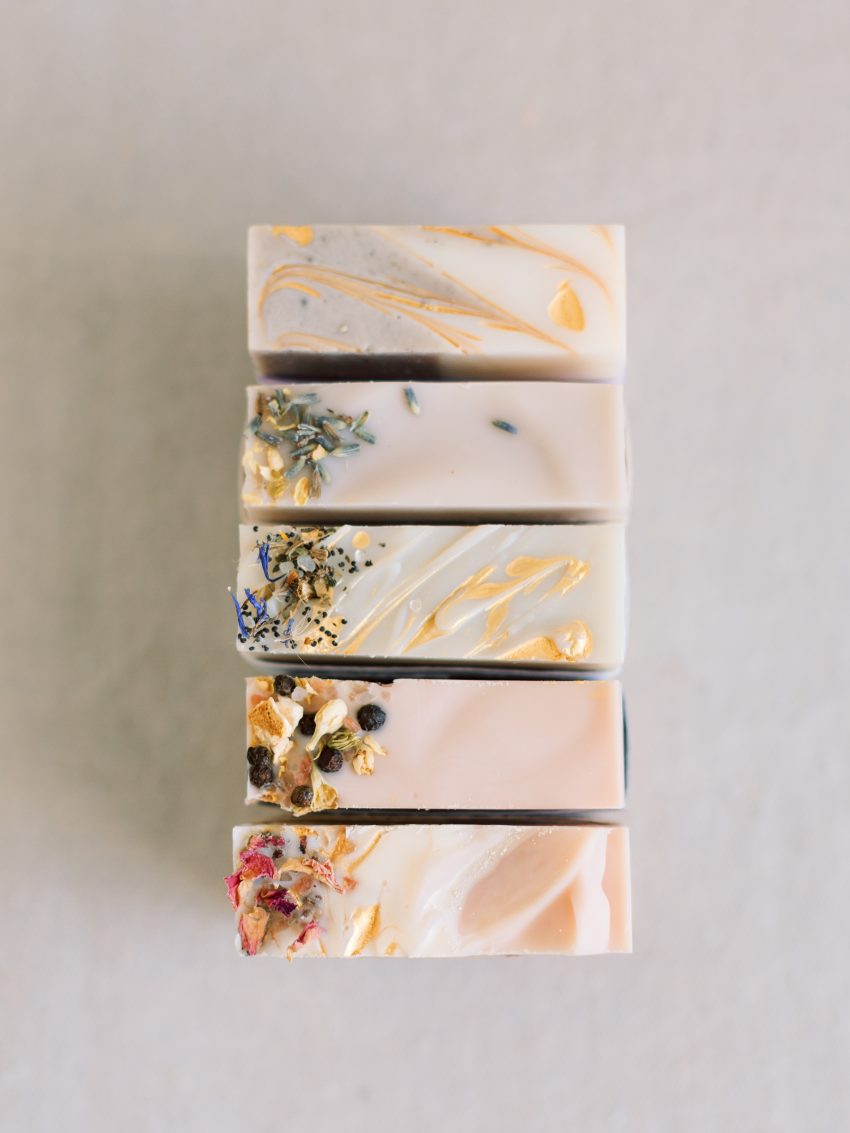 Special Features to RB Soap Co's Bars
Since each batch of soap is made in only 10-pound increments, RB Soap Co. is truly a small operations business with a handmade, artisanal approach. This means there may be slight deviations in the cuts of the bars, the way the tops of the bars are swirled and swooped, and sometimes even the colors of the bars, as they are created with oil infusions and clays.
Staying as true as possible to my no-waste mission, the labels around each soap bar are printed on seed paper made by artisans in Nepal. While not every customer may have the chance to get outside and plant their seed paper label, having an eco-friendly label option cuts back on the amount of plastic and non-recyclable matter that would otherwise end up in dumpsters. This is also why your soap goods are mailed in recyclable boxes with tissue, eco-friendly packing tape, and muslin drawstring bags.
The RB Soap Co. recipe used as a base for every soap bar is free of palm-oil, an effort to preserve the natural resources and environments that are destroyed daily for palm oil production. It's a small effort, but one that's important in my small business operation. Ironically, the silkiness of the soap I'm able to create without the palm oil (which some soap makers use to create a very hard soap bar) has become a feature our customers love most. There is a soap bar for everyone!
Did you know soap is categorized as a wash-off product, which means your skin should feel clean after use, but not scented like it would after using perfume or lotion? Since I use essential oils in my soap, you can expect your bars to smell light and refreshing, rather than overpowering. If your soap smells beautiful while you are using it, then it's doing exactly what it was intended to do!

If you have a question about RB Soap Co, we'd love to add it to this post!