Since I'm someone who makes and sells a product that's as naturally clean and earth-friendly as possible, it only felt right to work on switching up the products I use in my beauty regimen and home on a daily basis. So I've been doing that slowly at my own convenience over the last few years as I've immersed myself into soapmaking. I am happy to share the beauty specific ones here with you!

Clean beauty (and clean living in general) is a hard switch when you're comfortable and used to certain brands and products that deliver an expected result. But every little bit makes a difference in the quest to clean up our lifestyles and environmental footprint, whether it's changing out pump soap in favor of a bar that eliminates packaging or switching out synthetic candles for diffused oils.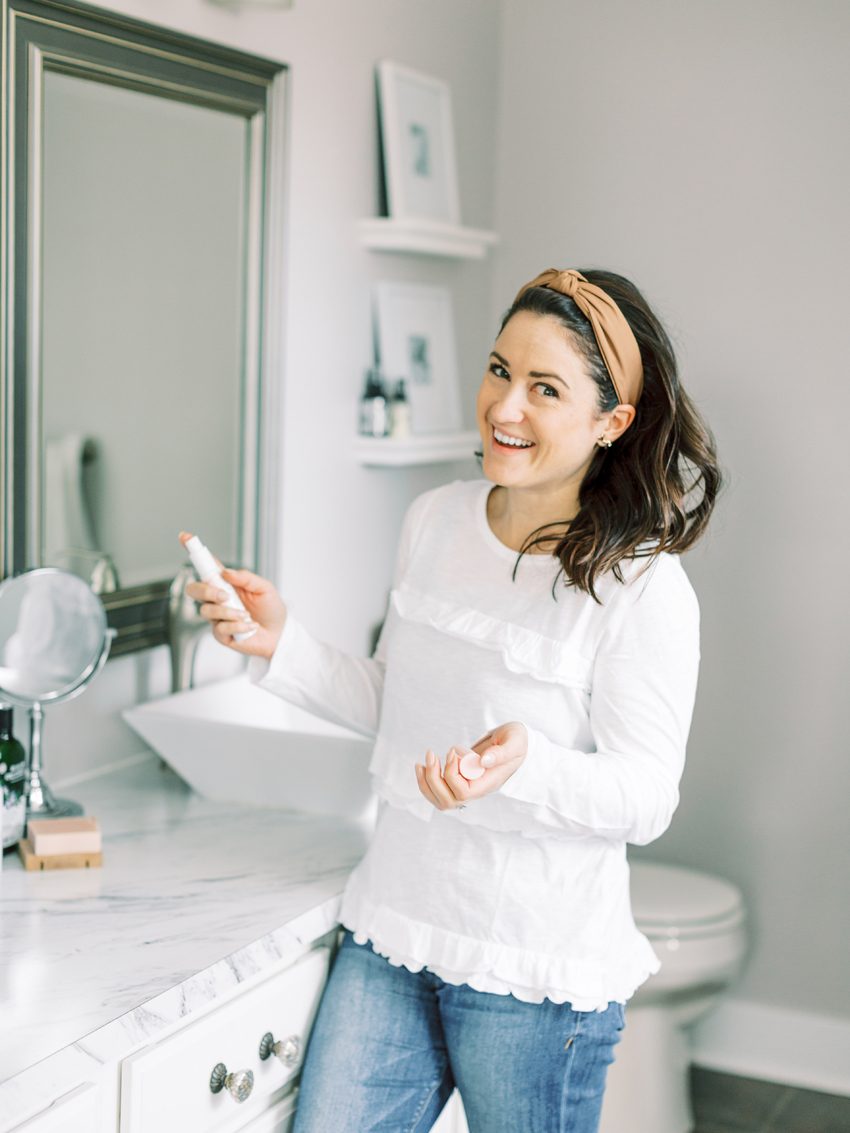 Also, a note on health and wellness and how my personal experiences connect with what I use!

I find that when the things I put INTO my body are cleanest, the products I use on the outside have the best payoff. For example, when I cut out dairy and greatly limit sugar in my diet, my skin is clearer and as such, I don't need to use as stringent of a cleanser or invasive skin care routine. When I eat less processed foods, my hair doesn't get as greasy as fast, reducing my need for dry shampoo or over-washing it. When I drink more water, my skin is dewier and my sweat smells different, requiring less moisturizer and deodorant. I used to look at beauty products as fixes to physical imperfections, whereas now I try to look at beauty in more of a holistic way, where every part of me is connected and the products I use are simply there to compliment my existing features.

And! I am not rigid with this kind of stuff. Sometimes convenience and indulgence trumps clean and natural, and that's ok.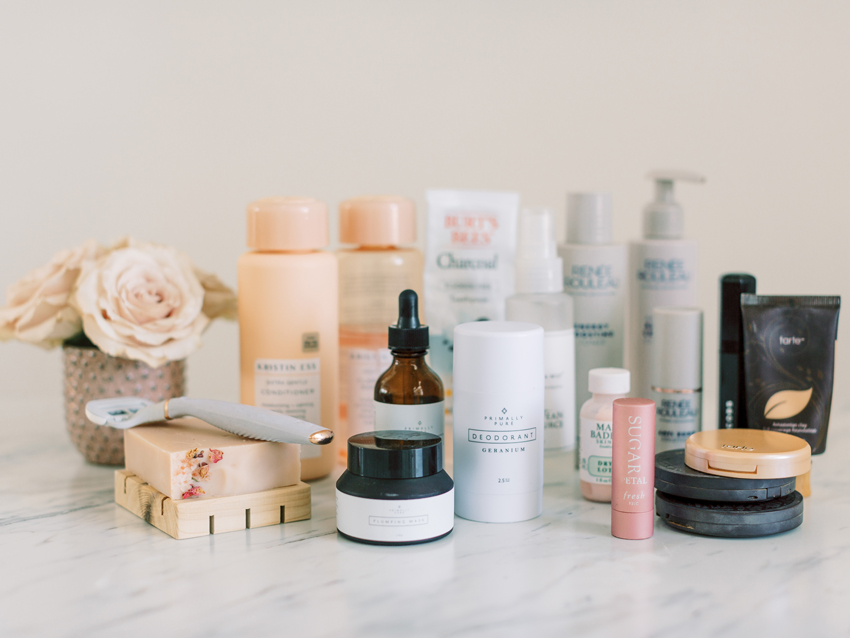 Here are a few of the products I love with commentary on it all as needed.
SKINCARE
1. Cleansing oil
I'm not entirely convinced on the benefits of oil cleansing only as a means to washing my face, but Primally Pure's cleansing oil is one of my favorite beauty products. I'm especially a fan of the dry skin version for drier winter months when my skin needs a little extra hydration. I find if I use this cleanser oil before I use my exfoliating cleanser, it helps remove any excess make up better than any other remover can (plus it smells so beautiful unlike some fragranced remover choices). Edited: I've also started using PP's plumping mask and so far it's a nice once-and-a-while treat that helps make my skin feel more fresh and indeed slightly more plump!

2. Soap and body wash
Call it a shameless plug but I use my own soap and won't ever stray! My soap bars are smooth, delicately scented with relaxing scents, and the package-free convenience of the bars being available just downstairs in my studio makes it a hard to beat cleansing option. We use the bars for both hand-washing, shower use, and I even use the bars on my face from time to time, they are that gentle.

3. Cleanser, toner, and moisturizer

Stacked against companies like Beauty Counter I'm not sure how Renée Rouleau compares on the clean-beauty spectrum but I've used their skincare line for a couple years now and am reluctant to switch because of how personalized their products are to my unique skin and skin goals. You can read more about RR products and the intentionality behind them all here Since I fall under the skin care #3 category, I am especially a fan of the this, this, and this. I use the cleanser multiple times a week, the anti-blemish cream when I feel a cystic break-out coming on, and the toner when I feel like my skin needs a freshening up.
4. Spot treatments

For cystic breakouts that are hormonal or often the result of indulging in too much dairy, I use RR's Anti Bump Treatment that I've found to be moderately helpful. If anything, the serum helps slow the growth of cystic blemishes which makes picking at my face less of a temptation. For any blemishes that are surface level I use a small dab of Mario Badescu's Drying Lotion on each spot either around the house when I am working or at night when I sleep. I use these items sparingly but find them to be helpful to have on hand.
PERSONAL HYGIENE

1. Toothpaste
I've tried many clean toothpaste options over the years and Burt's Bees Purely White is my favorite so far. It's sugar-free, foams enough to feel like I'm getting a good clean, and doesn't leave an odd after-taste in my mouth like some of the other clean brands I've tried. I love many of the BB's brand products and this is one I'll continue to come back to time and time again. I've also tried the charcoal version as an alternative to teeth whitening strips, but haven't used it long enough to report back with results.
2. Deodorant
Another product I searched high and low for a clean version of was deodorant! There are so many products out there, and many great ones too. But in my opinion Primally Pure's deodorant is the creamiest, most delicious smelling of the bunch, and I am hooked for life. It rolls on comfortably regardless of body temperature, smells delightful, lasts a long time, has beautiful packaging, and best of all, is aluminum and fragrance-free. I understand for many people eliminating sweat smell is a separate problem from shielding from sweat so I won't get into how my body works here but just give this deodorant a try! It's served me well on many long wedding days.
3. Shaving
The aesthetic of the Flamingo Razor is ultimately what enticed me to try it (how can a razor be beautiful you ask? I know) but the replaceable blades, smooth shave, and rubber handle made shaving feel easy and comfortable so I'm hooked. It also comes with a suction cup shower hook and I know this is a small novelty but it keeps the razor safe and out of the way from little fingers (2o little fingers to be exact!). Also, I wouldn't consider this product one that lends to the 'clean-beauty' category but nevertheless I wanted to include it because I haven't invested in any other razor for more than a few years now.

4. Hair care

This is an area where I haven't found products I love so please share any options below in the comments if you have them! My ideal shampoo and conditioner product would both cleanse my hair leaving it light and bouncy, but also frizz-free and healthy. A lot of the natural shampoos, conditioners, and dry shampoos I've tried have left my hair heavy, greasy and feeling unclean, so right now I use Kristin Ess' products, the packaging of her products most certainly an initial attraction. I use the clarifying shampoo and The Signature conditioner, hair spray, and dry shampoo. While I like how they perform I'd love to find a more natural line to consider.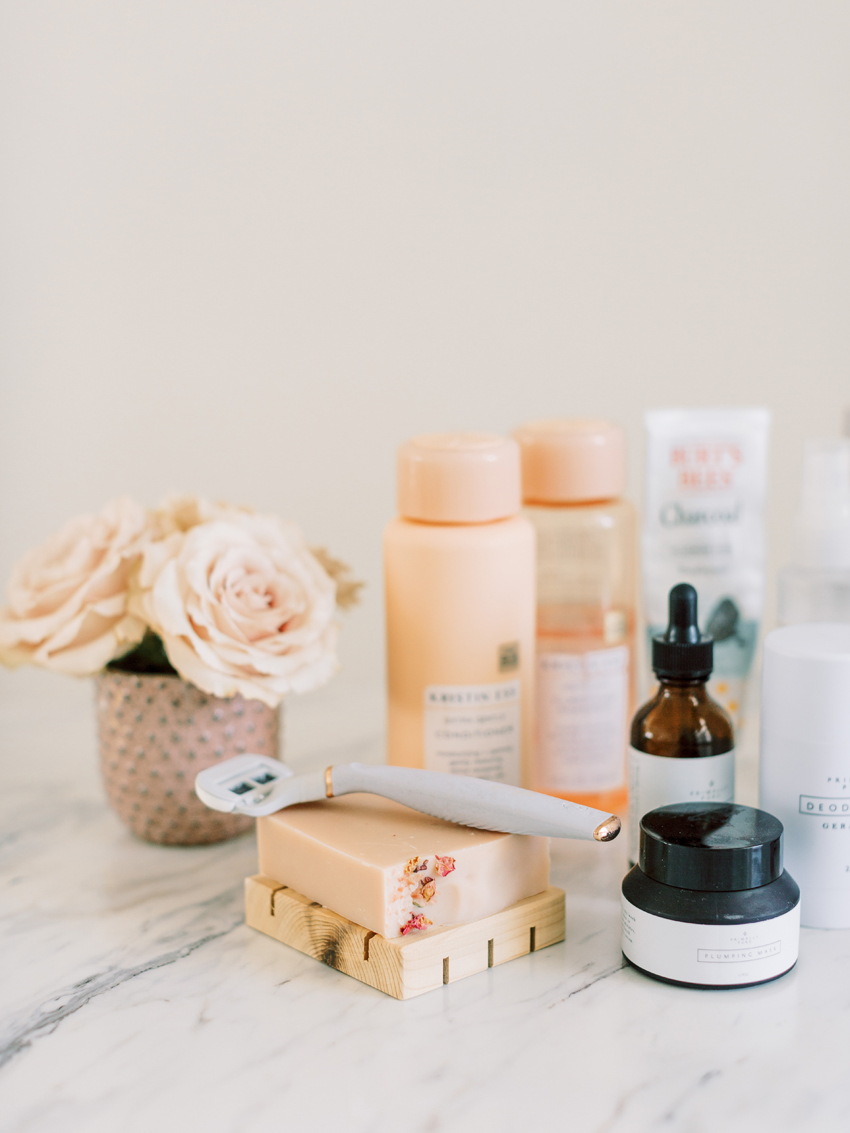 SCENTED PRODUCTS

1. Essential oils (any pure and verified brands)

Over the last year we've tried to phase out all of the half-burnt candles in our home while making it a point not to purchase any new ones. While the glow of a lit candle in a dim home cannot be beat, the difference of the air quality in our home when we diffuse oils in lieu of burning fragrance-scented candles, is impressive. Further, while I'm not 100% sold on the medicinal properties of essential oils, I do feel like I'm making a smarter choice to diffuse oils in select rooms of our home pending our family's needs and goals (e.g. diffusing Thieves in our room when we feel a cold coming on, diffusing lavender in Ev's room when he wasn't sleeping well, diffusing a refreshing blend in the kitchen after a stinky cooking disaster). Perhaps it's my close proximity to cold-process soapmaking but I have a sniffer that's extremely sensitive to synthetic fragrance and as such now have a heightened sensitivity to faux smells.

2. Perfume

If you haven't heard of Phlur, you're in for a treat. I actually had a phone call with one of the team members from Phlur in my season of figuring out health issues, and was impressed with their approach to fragrance and how to take something so synthetically-centric and make it better for you. They have an option to buy mini perfume tube testers so you can sample which scent is right for you, and what I love is how tiny these are making them perfect for stashing in your purse, diaper bag, or travel carry on. And if and when you're ready to commit to a bigger bottle, their packaging is beautiful and one of a kind. I will forever be a lover of Phlur's brilliance and really need to explore some of their candle options once my no-spend March is complete!
3. Aromatherapy
I mentioned this product in this post but it's worth mentioning again here even though it's not technically a beauty item. Mirival's essential oil spray mist has become somewhat of a simple luxury in our home, one that both Andrew and I use with delight on the daily. A few spritzes into shower steam or even hot bath water, does wonders and makes an ordinary part of my day feel a little bit more special. This is an especially helpful product when any of us are congested and looking for a way to naturally open up our sinuses!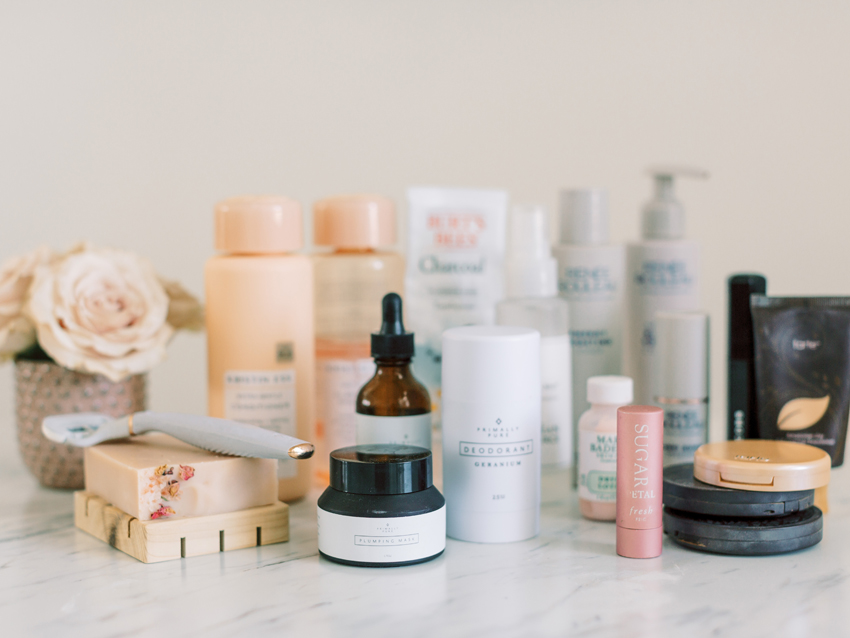 COSMETICS

While I wear make up multiple times a week and only feel physically 'complete' with it, I do yearn for a type of confidence (and skin quality) that would allow me to go about my day without it more often. I have a fair amount of freckles on my cheeks and jawline and have grown to love them in my adult years, desiring to show them off more. Yet, I feel like showing off my freckles requires me to also bare my skin imperfections which takes a bit of vulnerability.

A lot of my lifestyle choices like no gluten and dairy in my diet are to maintain a healthier complexion so that my make up choices can compliment my features instead of acting as a bandaid to things I don't love. While I enjoy make up I love the idea of not feeling like I need it. With that being said, I am going to pick only three of my favorite products in this category because I am not a make up guru and therefore haven't made time or space in the budget to explore the expanding market of clean make up.

ONE: I swear it makes my foundation blend in more seamlessly (plus it feels like a little luxury on my face, the idea of 'luxury' being somewhat of a trend with the products I love most) but I'm a big fan of using primer as my first make up step. This is an option I've used passionately in the past but right now I'm using Tarte's Poreless Mattifying primer and so far it's a winner in my books.
TWO: Tarte Amazonian Clay foundation, Tarte Smooth Operator pressed powder and a highlighting powder that I only use for fancy occasions, are the make up products I use on my face. While I normally skip eye make up and lip color, I DO enjoy the way foundation and powder make my skin look thanks to these products.

THREE: Fresh Sugar lip tint in Petal is my favorite way to add color to my lips. The tube is sleek and simple, the product is smooth unlike some sticky options out there, it glides on beautifully and feels moisturizing, and the color options are diverse making picking the right shade fun and easy for any complexion, style or occasion.

FOUR: This is one of the few items in this post that isn't considered clean or natural but it's one I get asked a lot about so it's shared here. Marc Jacob's Velvet Noir mascara has been my go-to mascara brand for years and years. It's literally feels velvety on my lashes and very rarely clumps. I believe accented lashes really brighten my eyes but I'd never want to get extensions because of the financial and time commitment it would require (plus the damage to my real lashes) so this is a nice non-committal substitute.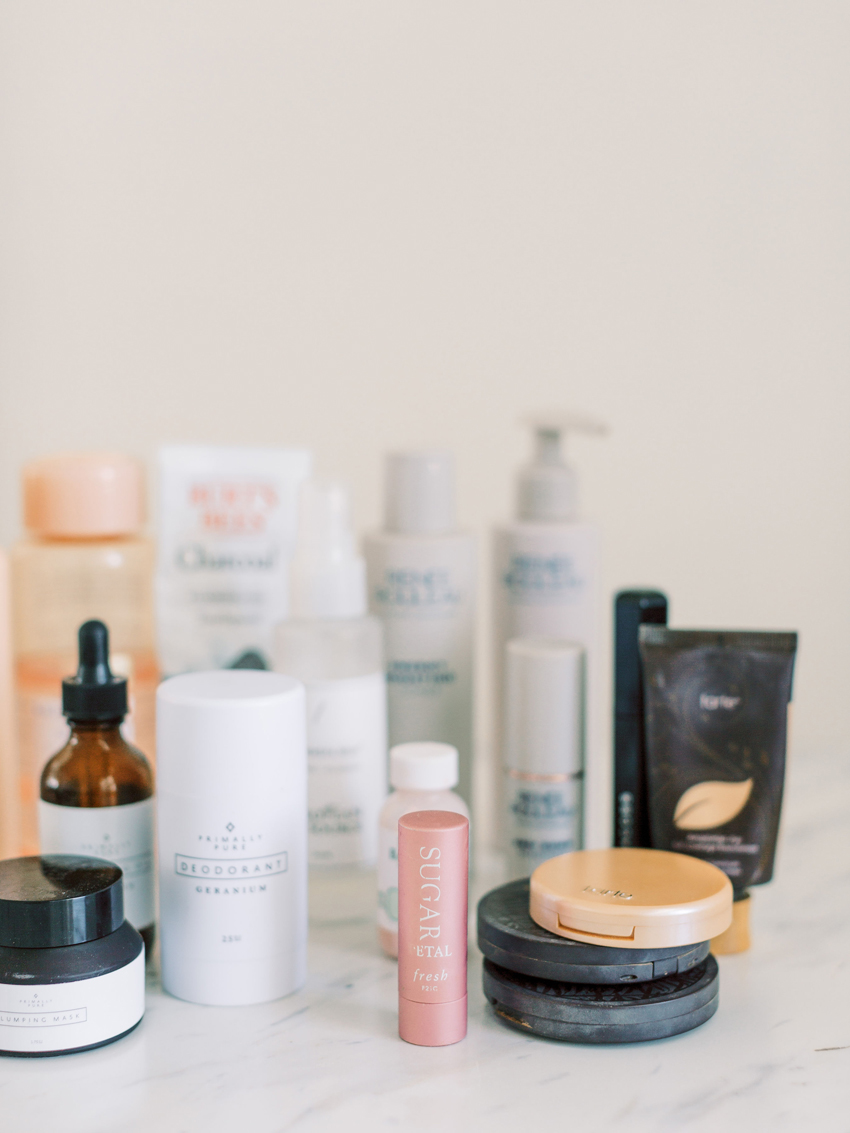 And there you have it! Feel free to share your favorite beauty products below in the comments. I'd love to learn about new products, specifically any wrinkle-reducing or black-circle eliminating products that you've found to work magic!