It's hard to believe this will be my ninth yearly recap post! SO much life has unfolded over the last near-decade, but especially so in just the last 12 months. The last few days especially have been really frustrating and hard (our car was broken into while we were in Canada and many things stolen on top of three completely shattered windows) so it's easy for me to write this from a sour point of view, but I want to remember the year for what it was; humbling, adventurous, challenging, and refining. I am so eager and ready for a new decade ahead!
Join me for a little review!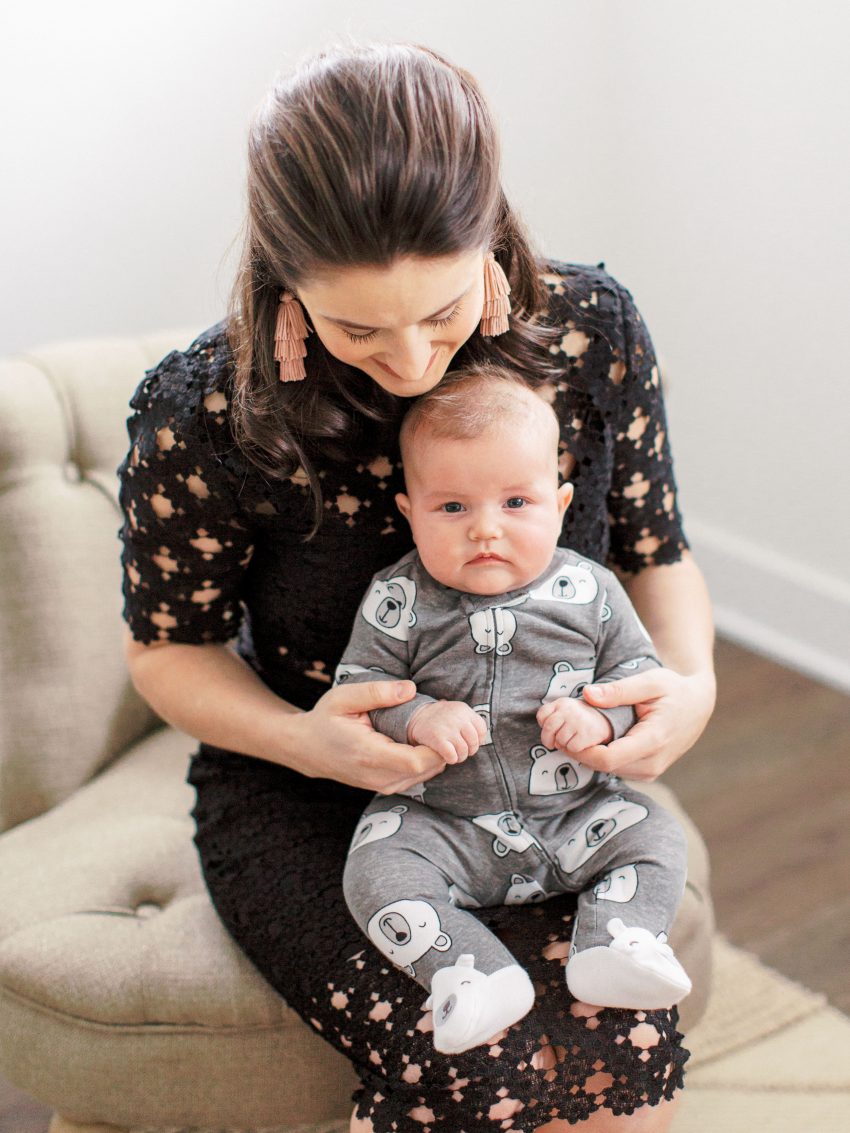 January marked my official return to work after Ev was born. Look at his littleness!

Running on very little to no sleep, we had an interesting transition trying to make sense of our new normal with two kids underfoot, a new and more demanding job for Andrew, and a business needing to still run out of our home. Despite the consistent sleepiness we all felt and the sickness that plagued our home (guysssss, 24 urgent care visits in four months!), there were many celebratory things that happened in January.
Lachlan turned three and we celebrated with a construction themed birthday party!
It started with dinosaurs. Then puppies. And well, we think birthdays are incredibly special in our home.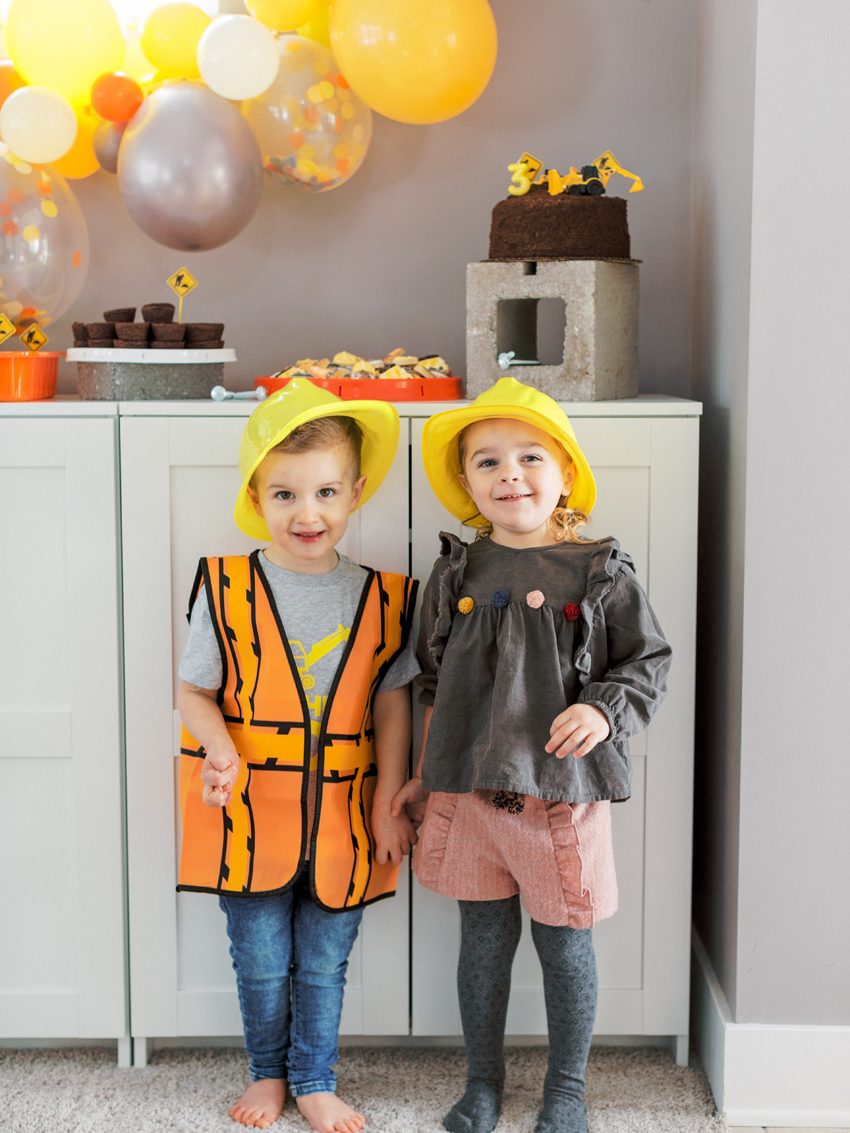 We celebrated 14 years of dating and began to plan out what would be our third annual trip to Seaside, Florida coming up in April. I also started working with Diana Kerr, an incredible Christian life coach, and have so much to say about that experience so I put it in a little blog post here.
I blogged about my word for the year, my 2019 goals, my thoughts on social media (which are still, nearly a year later, similar to what's outlined in the post), shared Dea and Chris' beachside wedding, and posted an updated collection of portfolio images from private workshop experiences.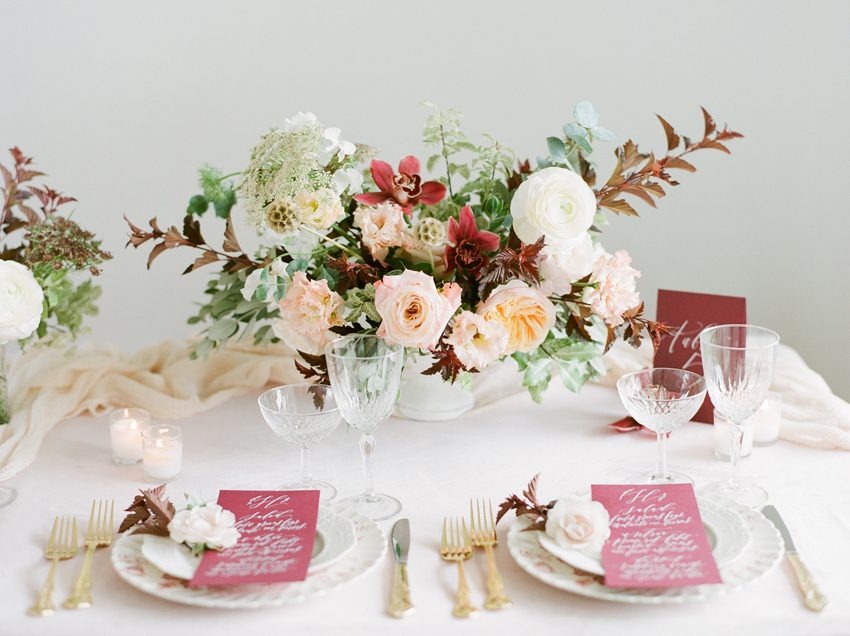 In February, I celebrated my 10th blogging anniversary! I hosted a big giveaway and was so touched by the kind messages from old and new readers. You can read more about my journey here.

Betsi and I joined forces for a Valentine's Day pop up shop at a local coffee house and had a blast!

I also spent time diving into mock ups with 2019 and 2020 clients, conceptualizing how I could sell my soaps to more people (since that was one of my big 2019 goals), and preparing for a bridal show where Betsi and I had a quite the lovely set up! Coming off of my three-day hospital stay in January, I started to ponder making healthier food choices again, and felt inspired to share my favorite speciality foods with you.

And for fun, I shared both a list of the things I do and the things I don't. Both lists are still quite up to date.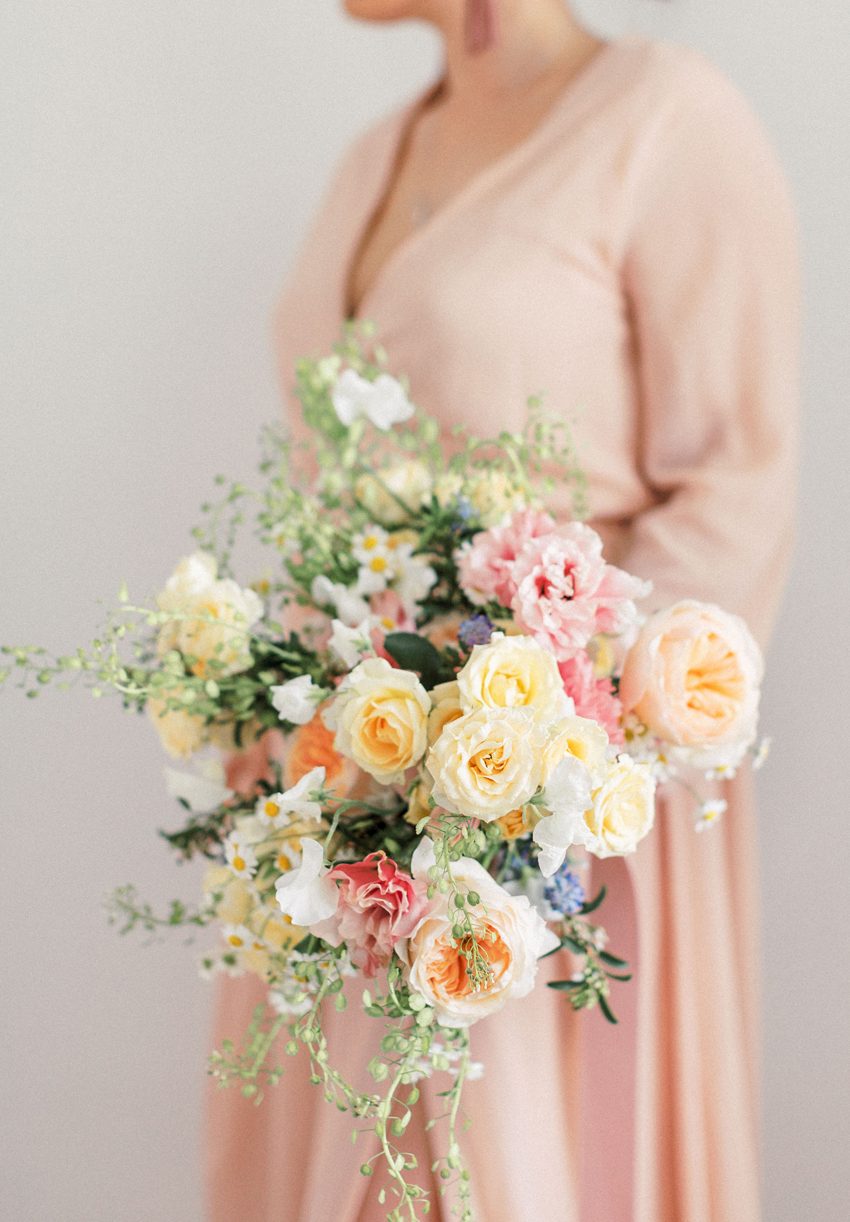 March came quickly (thankfully, as I always get a little antsy for warmer temperatures this time of year).

To celebrate I sent out Merry March wishes to colleagues around the country. I also blogged about the history behind my bouquet-making (don't miss me sharing the first bouquet I ever made), and shared professional photographs from the bridal show in February.

Lachlan was just about potty trained, at long last!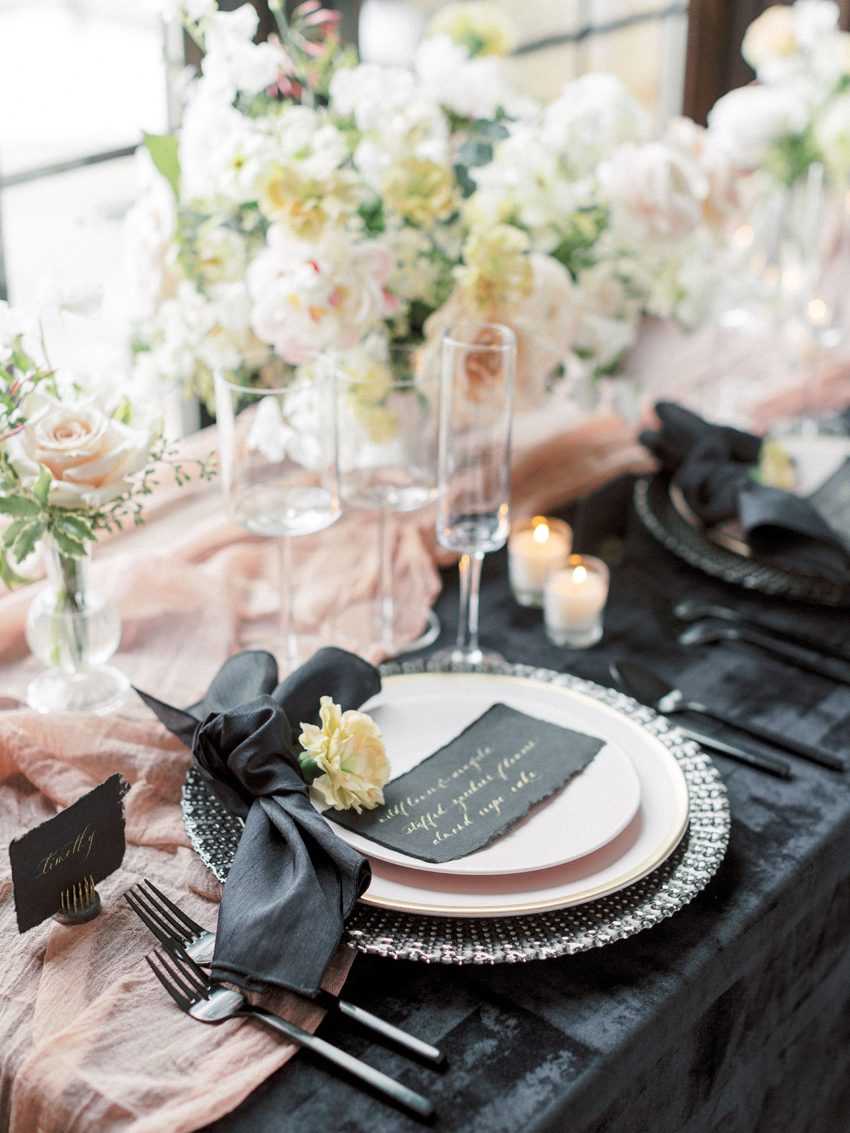 I dished on the Rhiannon Bosse newsletter for those who might have been on the fence about signing up! If you're eager to join the list, you can do so here.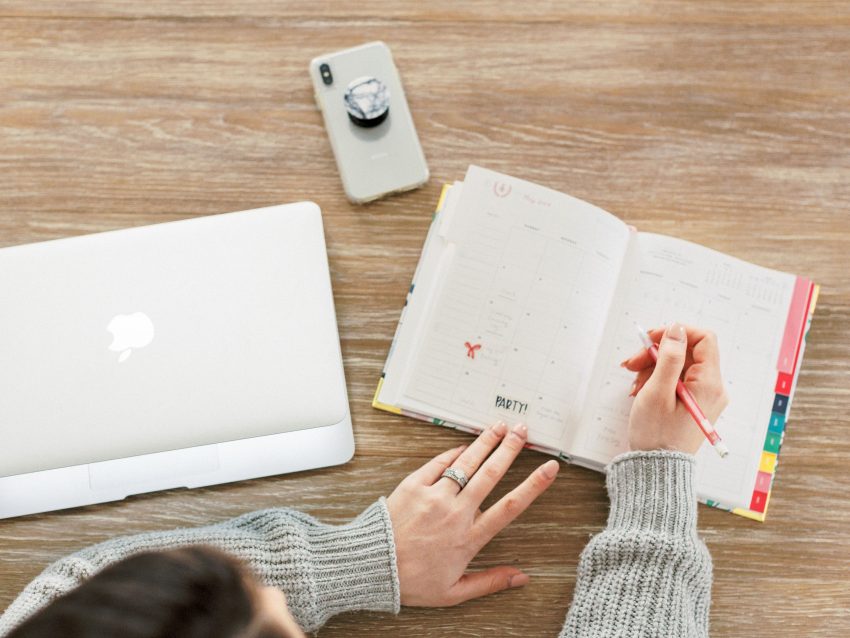 In March Ev started part-time child care and I felt a bit of structure come back into my life. Work-life balance started to feel a little easier, as did getting out of the house with two kiddos under three and a half. I didn't tell many people but at the time I was slowly (quickly?) falling into a deep dark state of post partum depression and anxiety. Looking back now, I see how helpful it was to just get out of the house! If you're reading this and you're a mama in the darkness, may I suggest you try some time outside your home just seeing and smelling different things than those within your usual four walls? You can also read this.

April was a sweet month! It was full of goodness and best of all, spring finally.

We celebrated Andrew's 36th birthday.

It had been a hot second since I had shared a hands on project so I pulled this one out from a few years ago just in time for Mother's Day and the season of self care. The colorful airy photos taken by Sam make me long all over again for warmer temperatures and sunnier days, two of my favorite things about the changing seasons here.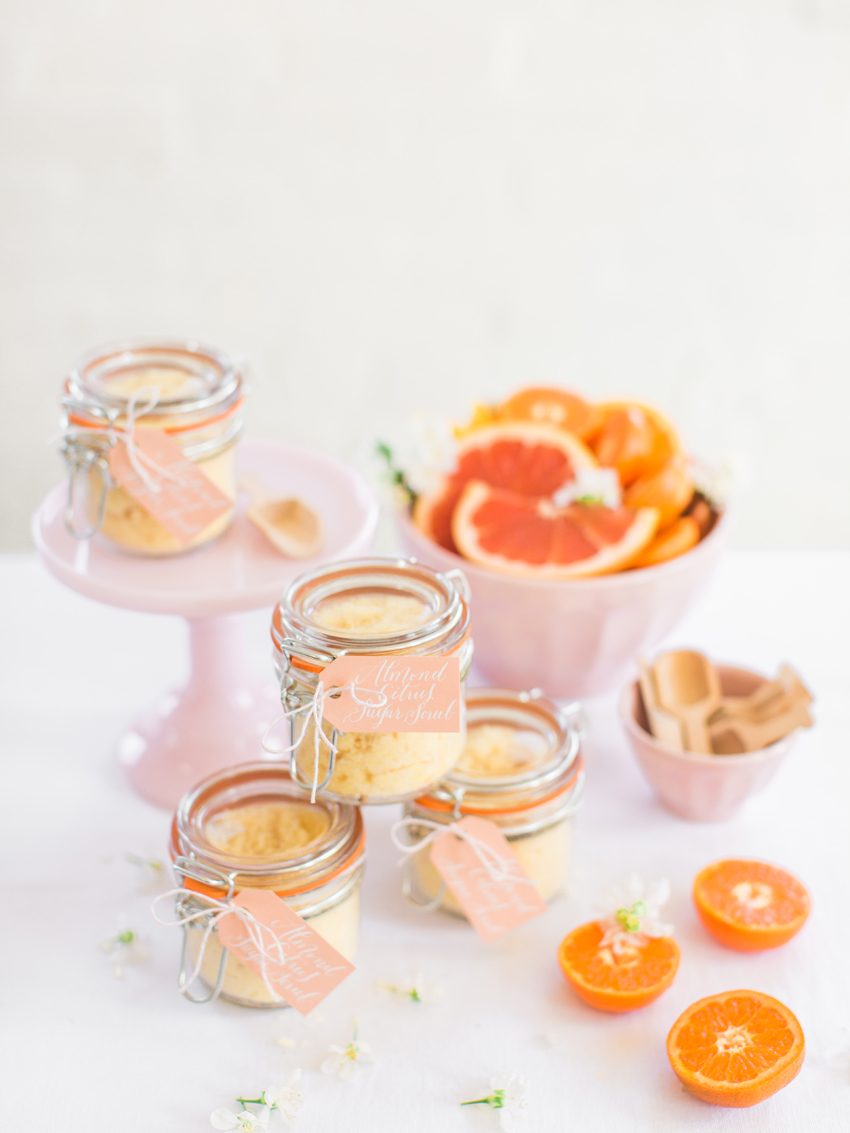 I shared my ten reasons for making soap! I just quickly skimmed this post and smiled because at the time of writing I very much felt like a hobbyist. And now, in less than a week, I will finally launch my online soap shop and officially be much more than a hobbyist. See? So much can change in a year, sometimes in much less time.

If you'd like to see what's in our boys' Easter baskets that's here.

If you're after a clean eating appetizer that's easy peasy, that's here.

I hosted my one and only 2019 private workshop with Andrea, a fellow Canadian-American. She hailed from Chicago for our two days together and it was a true gift. You can see more from her editorial tablescape here.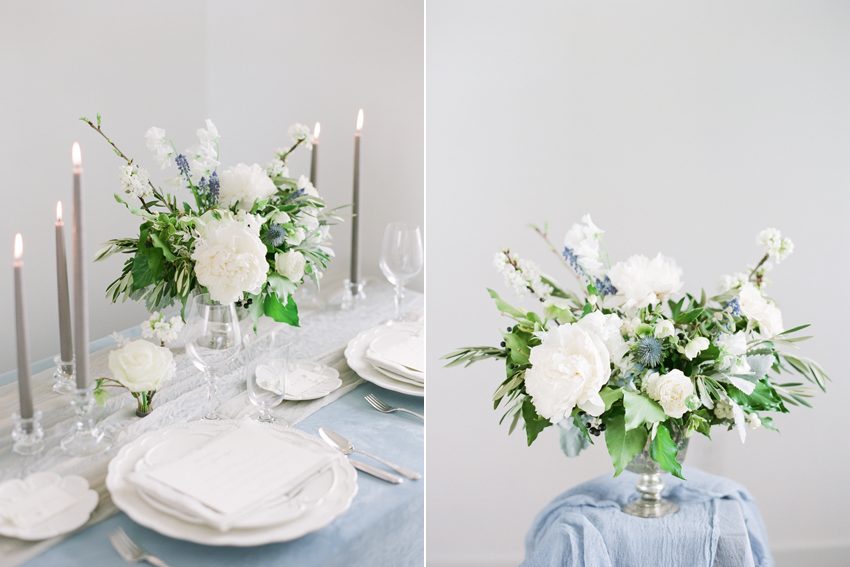 We finally made it to Seaside!

Andrew would wholeheartedly agree with that this is the place where we feel most at peace. So much so that I wrote a post about how I think it's possible to infuse those vacation feelings into everyday life (some things you just can't fake, like the ocean but you catch my drift). We did our traditional Seaside-family photo session but with Lily & Sparrow Photo Co and were so pleased with the results. Here's one of my favorite photos; the boys have grown so much since then! Already we are counting down the days until our next departure.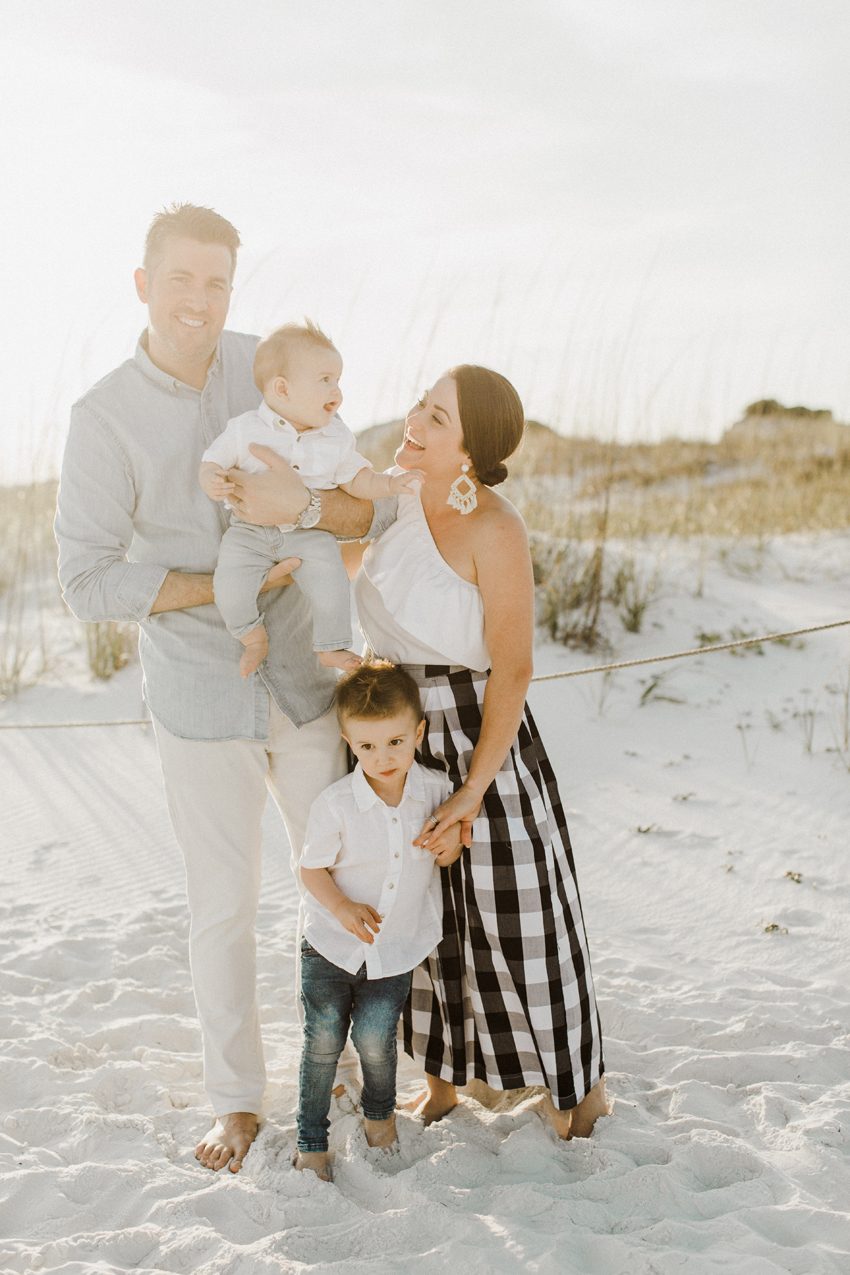 May was, and is usually, full of fun things!

I celebrated turning 33 years old.

I also celebrated Mother's Day with my boys at a new restaurant for brunch (we highly recommend Little Bird) before driving myself to a solo dinner and night over at The Amway Plaza Hotel; alone! Andrew gifted me with an evening of rest to celebrate my first mothers day with two kiddos, and it remains one of the most thoughtful gifts he's ever given to me because man, did I ever need that one night away!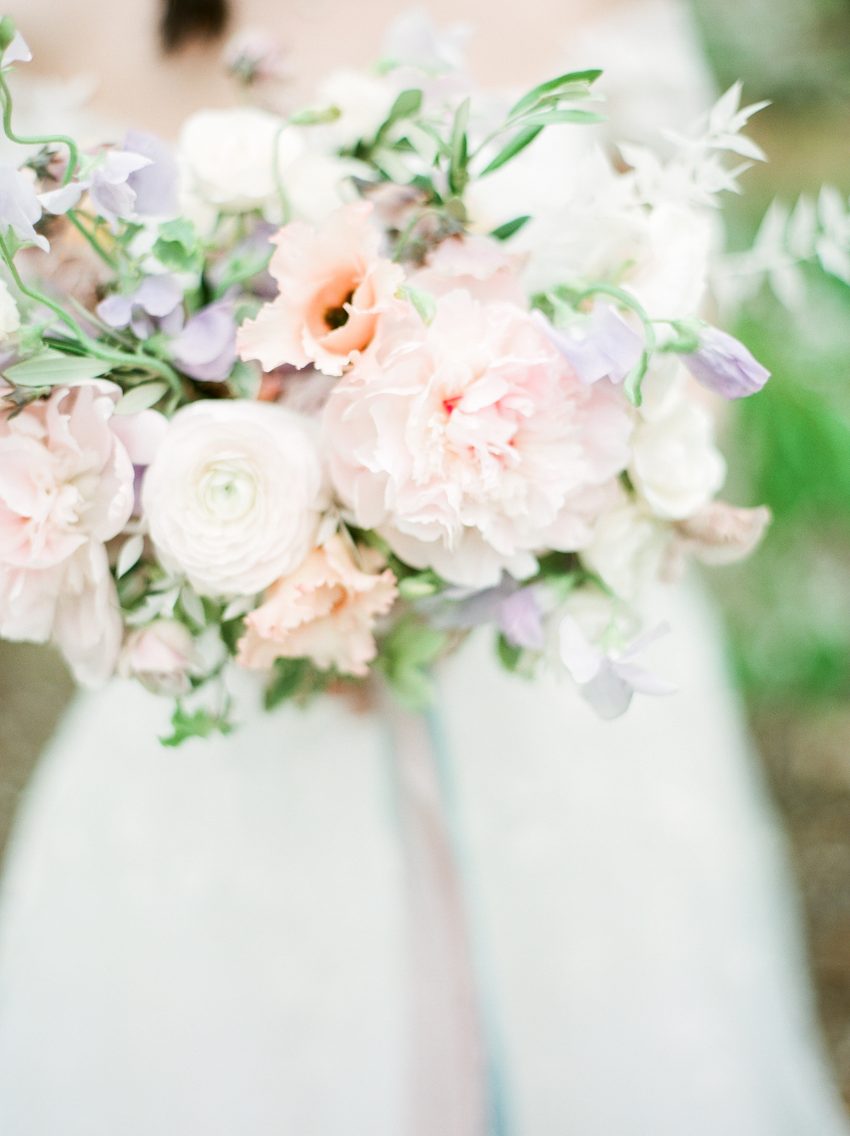 I designed flowers for an adorable one year anniversary session Kelly photographed.
Here's a post about one of my biggest goal-setting strategies and tools.

Here's a photo from a freezing cold walk through Betsi and I had at a client's private residence on Lake Macatawa. And here's a photo from the actual wedding which unfolded later in the summer. You can see the official blog post here. It was the longest wedding day I've ever worked but such a seamless production!

I also made this little piece of pretty happen.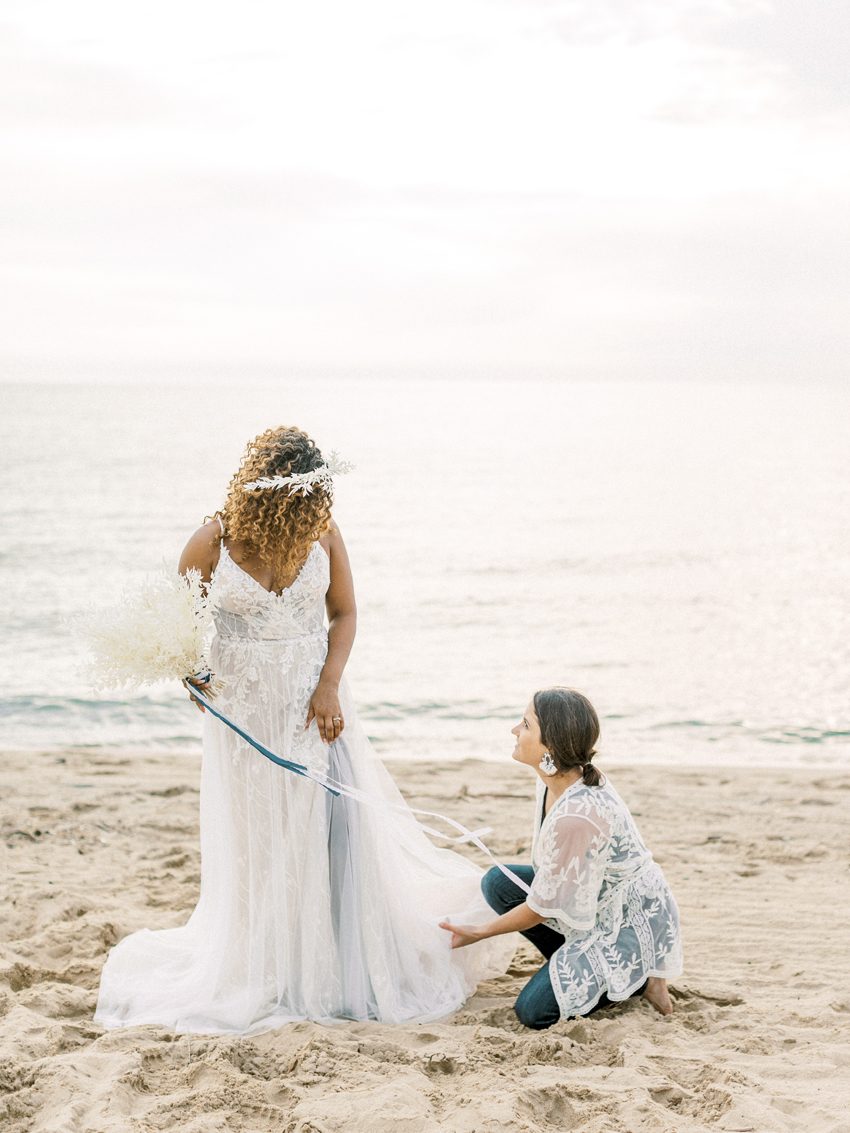 June was the last chunk of slow time we had before my wedding season officially started and we embarked on an eight-week travel schedule. A lot of Tuesdays and Fridays were spent at the zoo and gardens with Lachlan and Ev. We moved slowly but made sure not to miss any opportunities for outdoor fun and sun. We were thrilled to return to our Saturday farmer's market tradition and drank too many iced lattes as we always do. We frequented many new places, tried new restaurants, and had lots of adventures with the three cousins. We celebrate Father's Day with bells on and sent the best dad to the spa for the afternoon. It was a memorable, feel-good month.

I always say there's not a right or wrong way, but a best way.

Remember the wedding we did when I was 38 weeks pregnant?
On a more serious note, I feel like this is an important post to consider.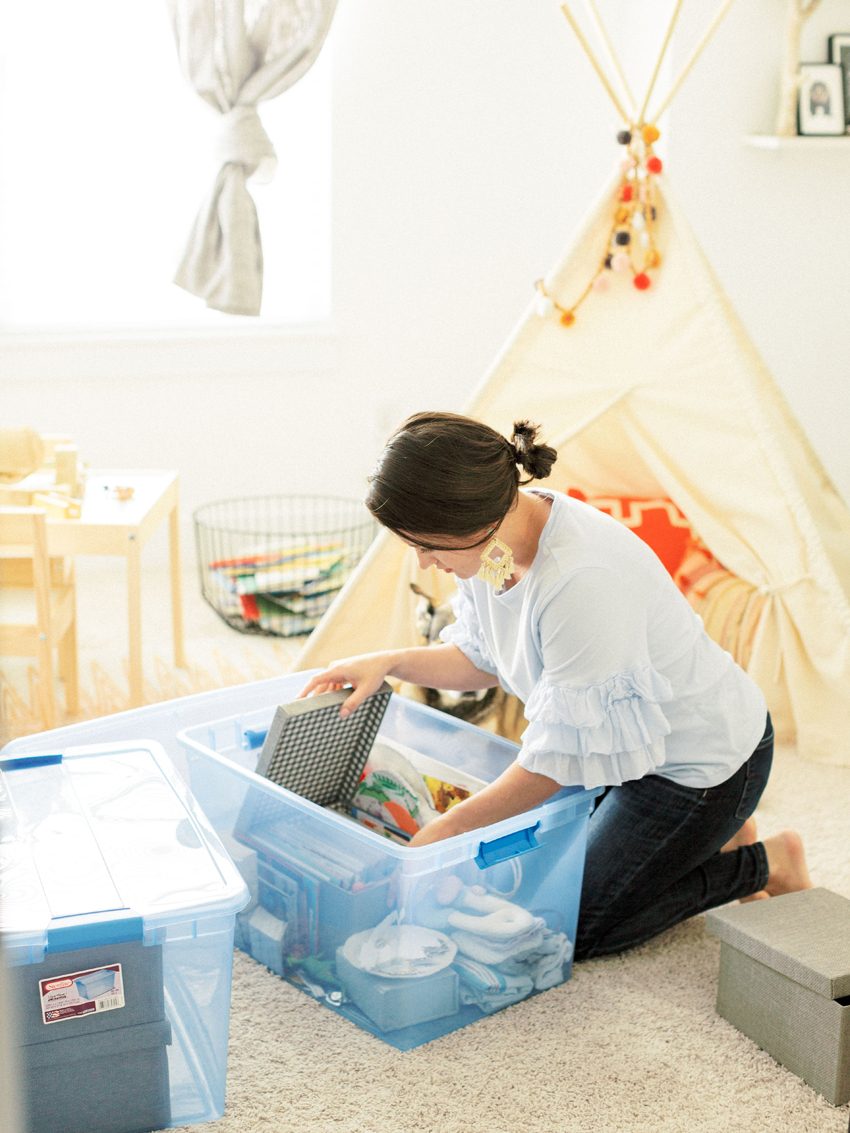 And flowers. There were so many flowers!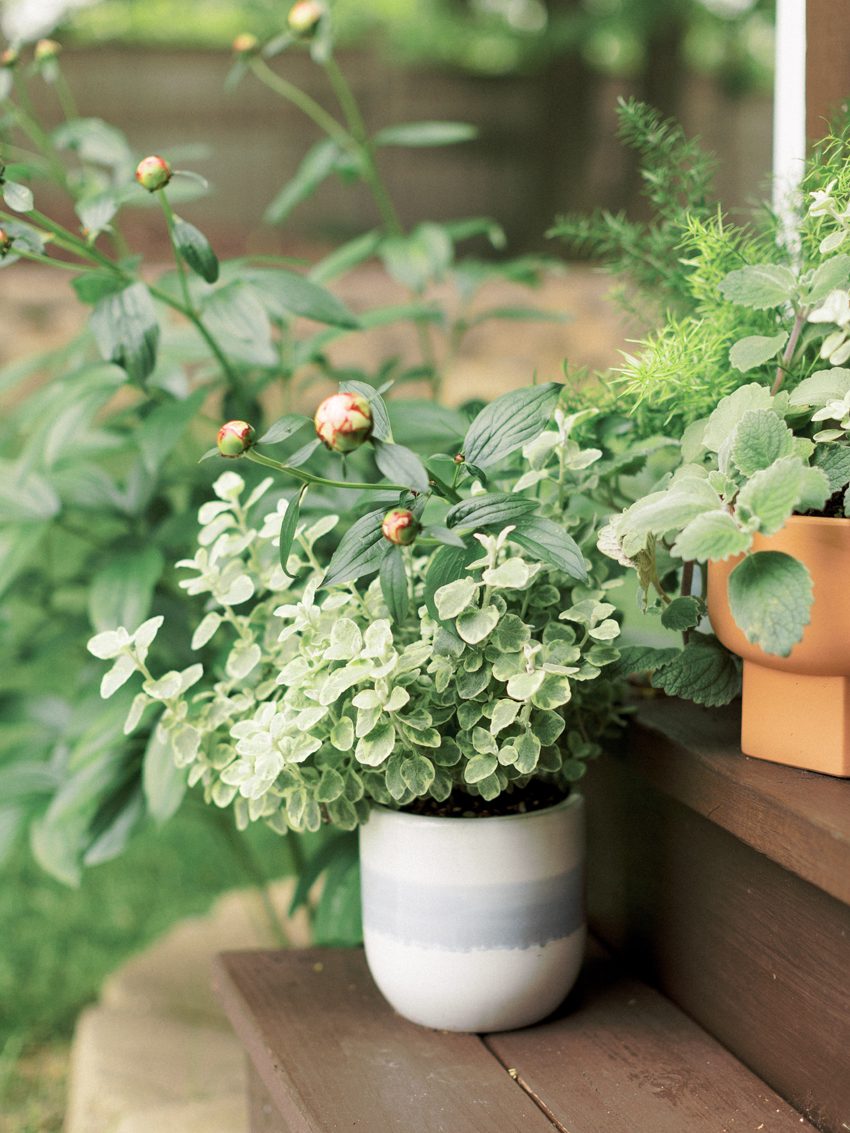 We freshened up a special part of our home just in time to share it here.
Then we kicked off wedding season, and the month of July, with a huge bang. We designed flowers for a wedding just down the road from our home, and it was all hands on deck for a day with a power outage, hail and wind storm, and 90+ degree heat. The wedding was supposed to be outdoors but we were forced to move to plan C due to so many obstacles. Regardless, Joel captured everything beautifully and I look forward to sharing more.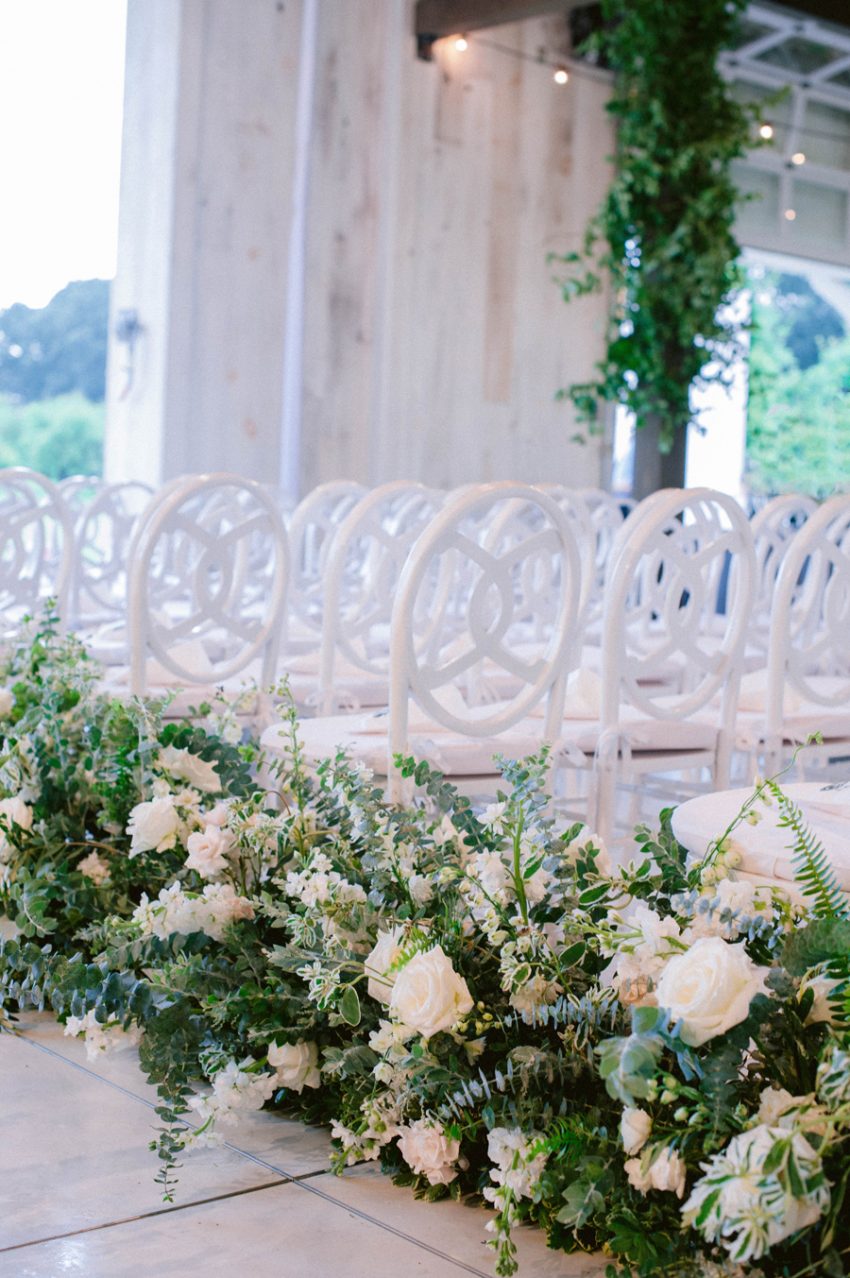 While the action in July mostly happened outside of my office (and our home) there was one sole blog post here and it's for anyone getting married.

My friend was married in Canada and I had the honor of designing her flowers. Her bouquet was my favorite. But her toned arms come in close second.

I also had the chance to travel to Greensboro to speak about business and teach floral design to a wonderful group of women. The color that week matched the cheery and inspiring vibe of the event and I greatly enjoyed all of the people who were a part of it (like Ally and Bobby who took this photo of me and the headshot at the end of this post). I look forward to heading back to The School of Styling again in March of 2020.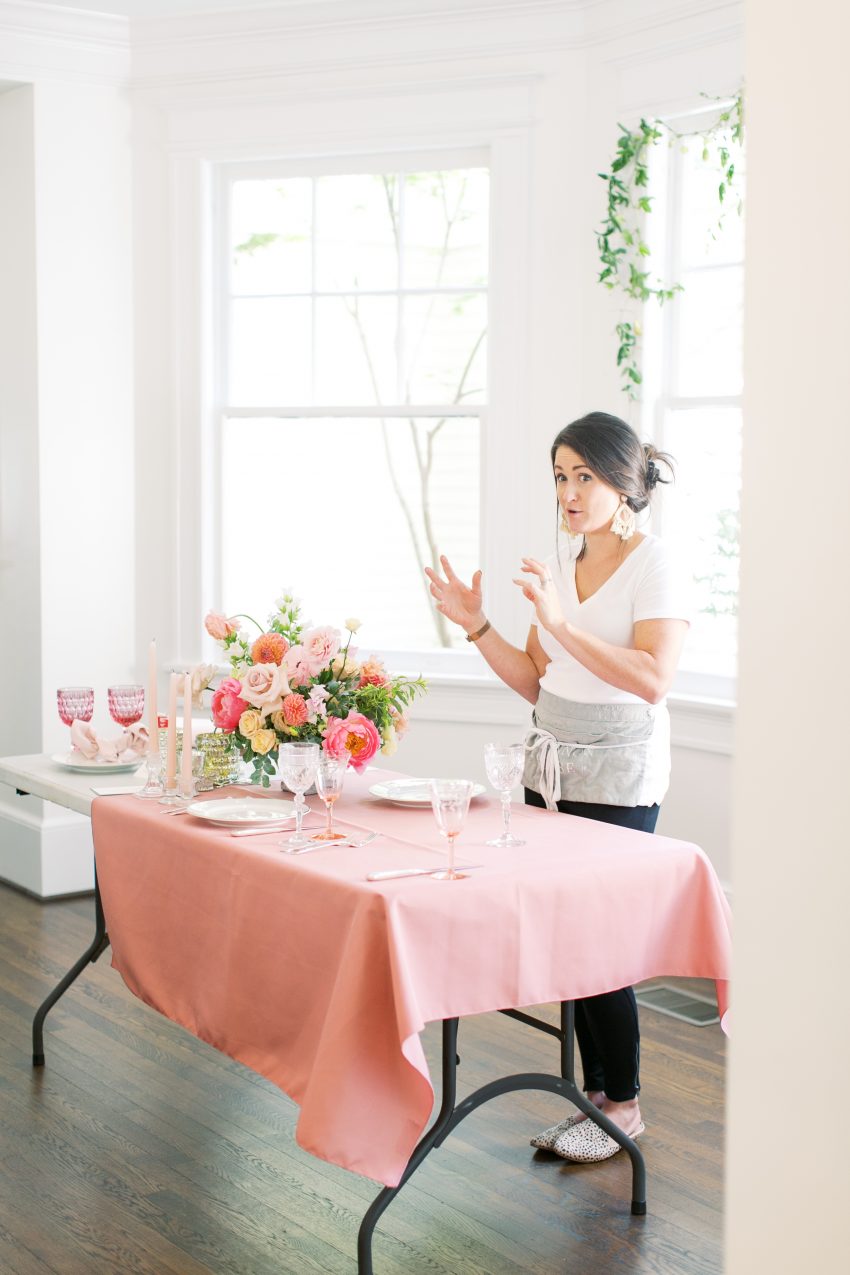 There were many meetings. And more coffee to boot!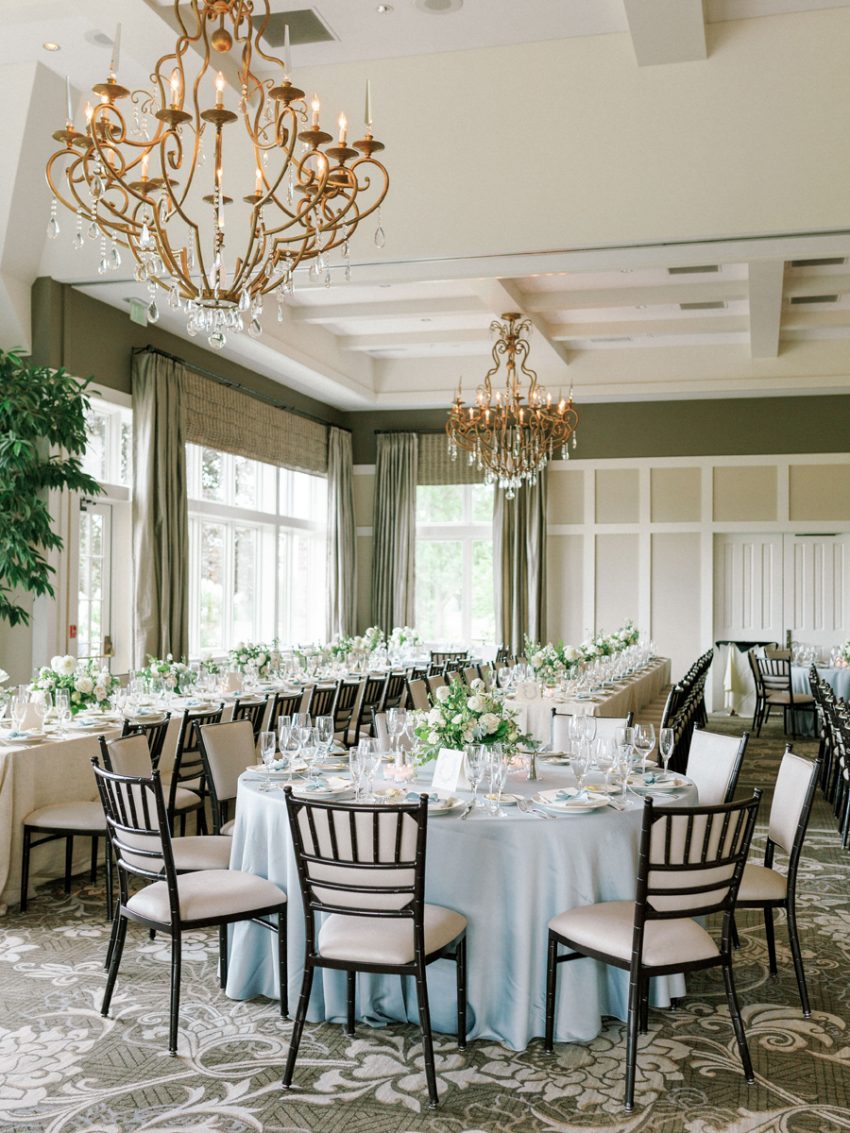 August brought two beautiful weddings to our schedule. Both had beautiful picturesque summer weather and blue color palettes (and when the church matches the color palette you know it's going to be special so you get a matching blue dress for the occasion). My usual team plus a handful of hard-working freelancers did a splendid job making these two events so successful and I was one happy lady. Even though it was a task keeping more than 1,000 of these alive and well.

You can see one wedding here. The second is here.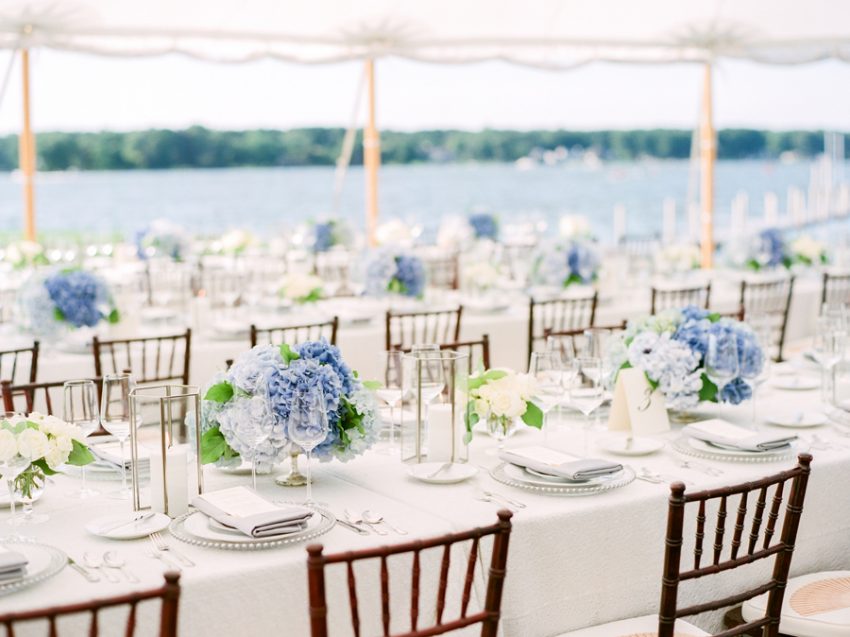 With wedding season over in August and a set date to finally launch the soap shop in January of 2020, much of my September was spent diving head first into everything new-soap-business. There were frustrations of course but a lot of curiosities as I got comfortable with being new to something again. We started working on the new RBC site (because of some changes I alluded to, or rather, right out shared, here) and the new shop thanks to the brilliance of the Blooming Pixel team. I soaped and soaped and soaped whenever I could! Then Kelly helped me capture all of that soap to perfection. Stay tuned for next week and the reveal!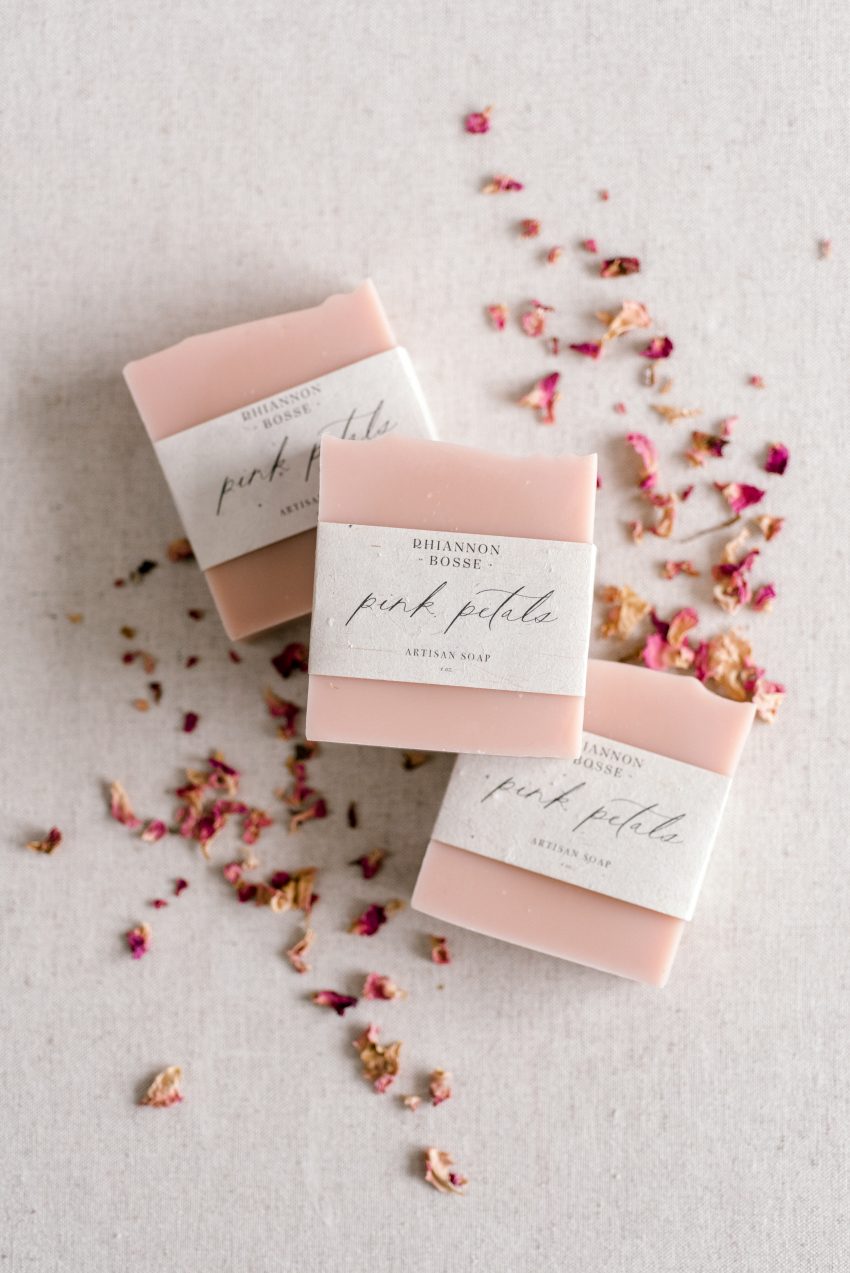 I also blogged about planning intentional styled shoots.
And how to be an imperfectionist. I'm still working on this.
And I started a book club!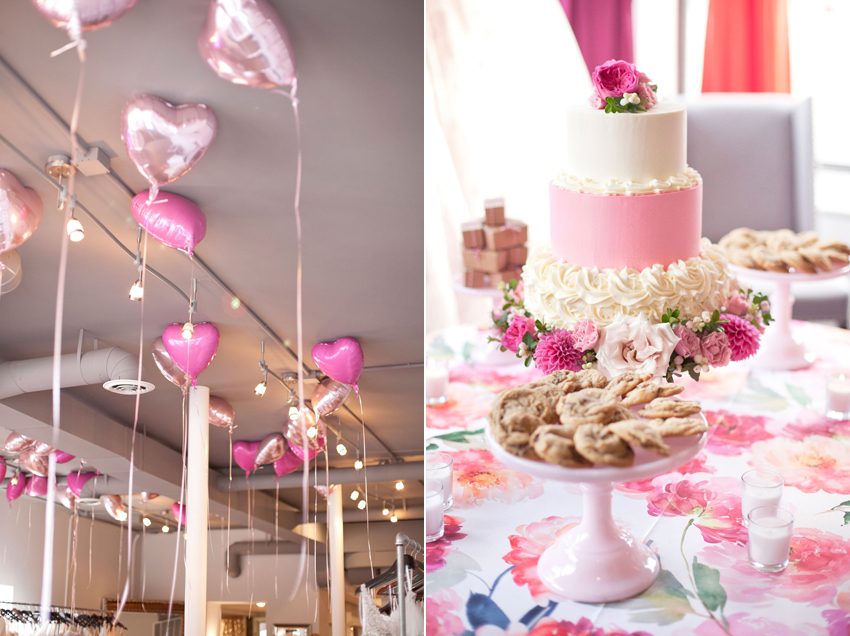 I helped celebrate a friend and her 10th year of business! What a treat!

And we celebrated NINE years of marriage!
Then September came to a close and we had a practically perfect first birthday celebration for Ev in October. It was one of the best days. Aside from the best gift of a healthy and happy little boy we had our friend Becca make us the sweetest keepsake video. You can see that here. Hold on for a moment while I dry my tears.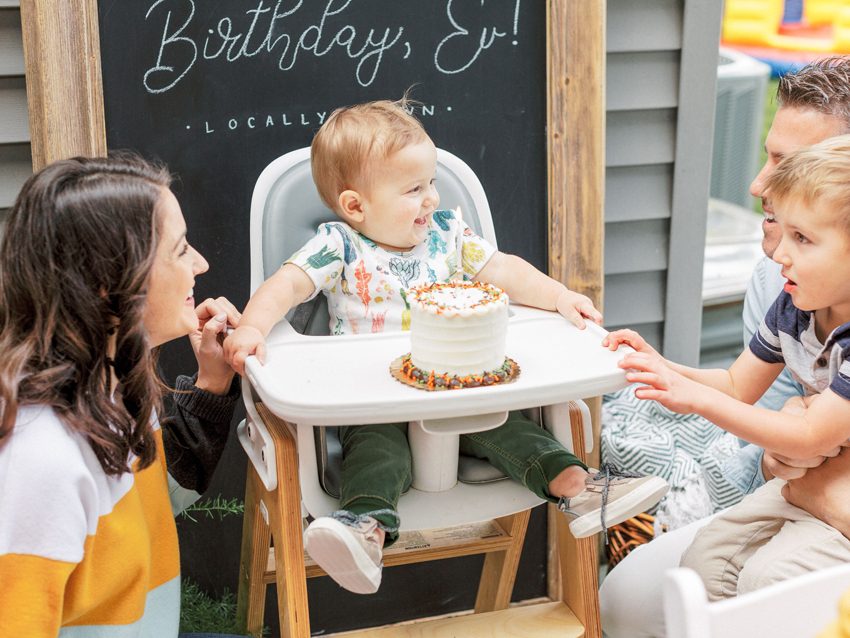 The weather started to shift slightly and the days got shorter. Trips to the zoo and gardens were being replaced with indoor activities or typical fleeting, fall-type outings like those to the orchard and pumpkin patch. We hit up a corn maze together as a family (and took too many shortcuts with the jogging stroller), ate still-warm donuts straight out of the bakery box, went trick or treating for a total of five minutes because it was too cold and snowing, and switched out home decor for some cozier fall pieces.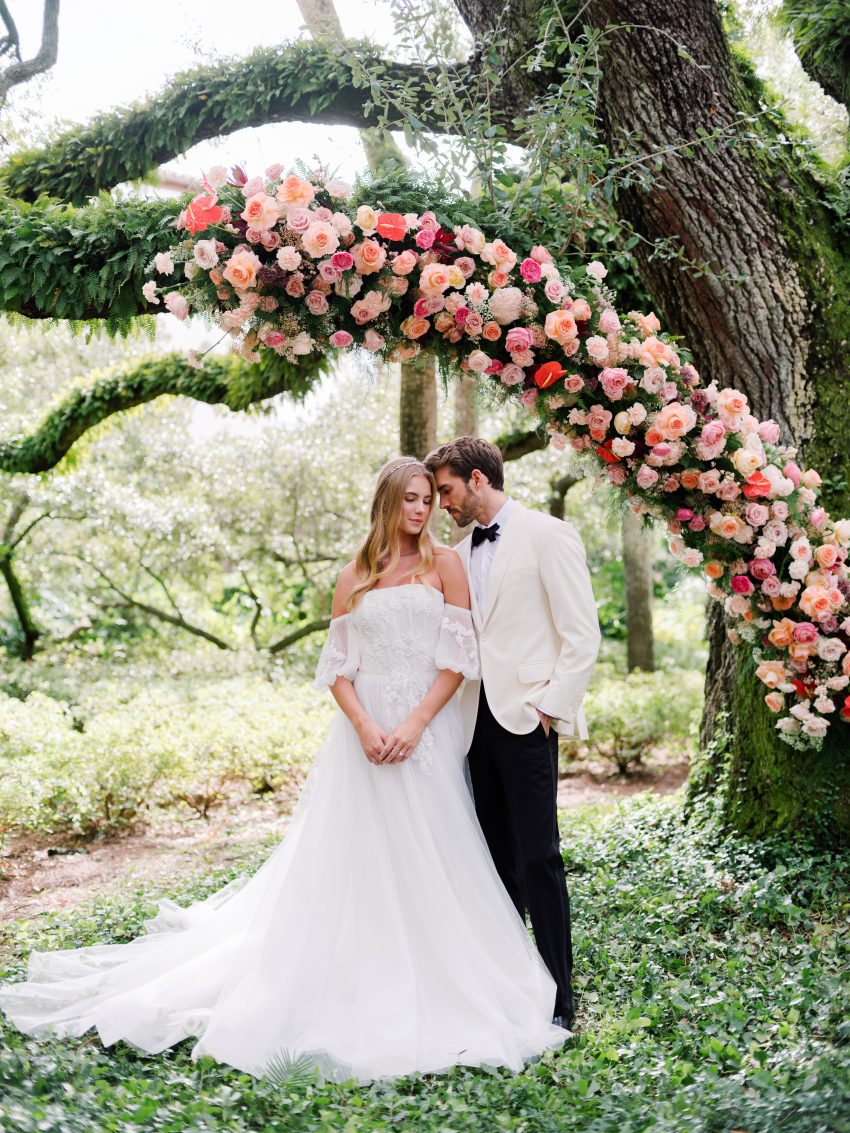 Then in mid-October Betsi and I had the honor and privilege of travelling to Sea Island to design flowers for a Kleinfeld Bridal campaign. This was certainly a highlight of the year both personally and professionally. Aside from the beautiful gowns and endless flowers, there was enjoyable company, delicious food, a few cocktails, and way too many laughs. I'm so grateful we had the chance to make this happen (Valerie, we love you!), and look forward to sharing more of Allan's stunning photos in the new year.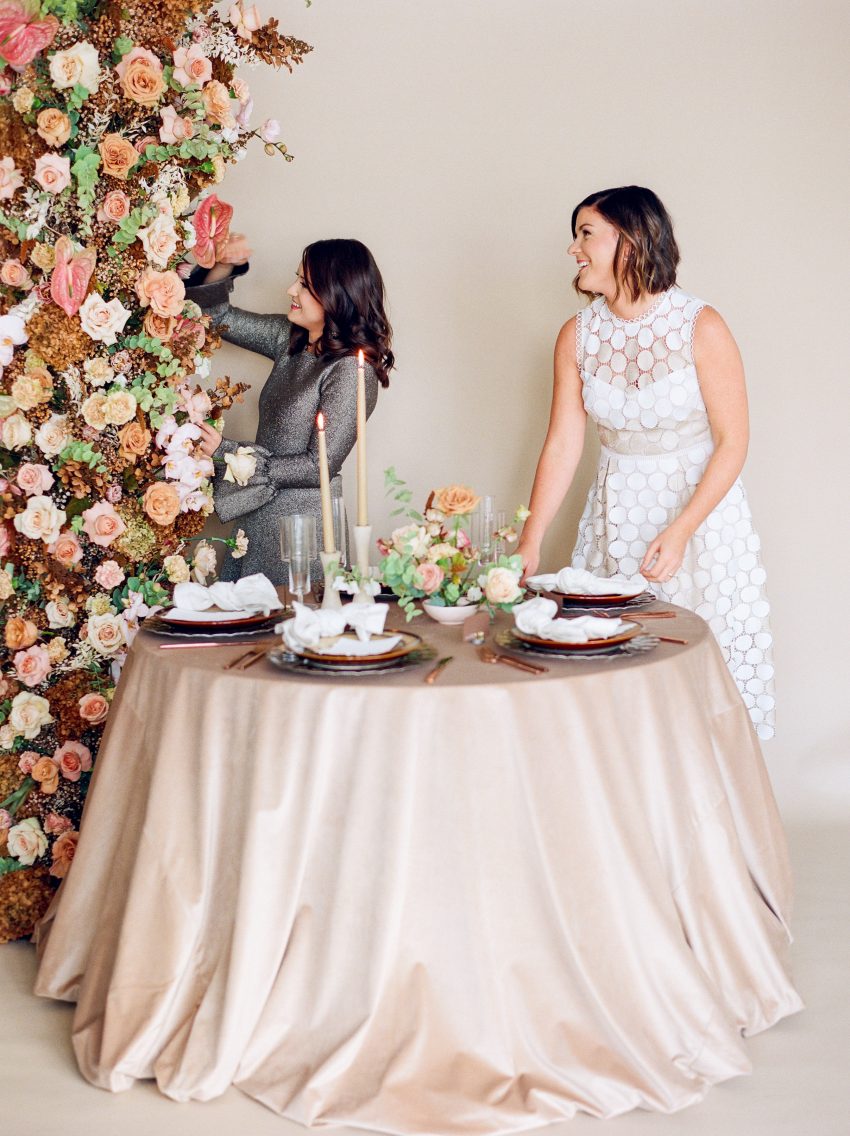 Speaking of Betsi!

In November she and I banded together to make a beautiful editorial concept come to life. The project was done to prepare for next week's big launch and the final results are perfection. I cannot wait to show you what I've been working on! Becca captured it all on video while Kelly shot her usual film magic, and I'm really so grateful for passionate women I get to both work alongside and call friends. Don't we look fancy?
November felt like both the quickest and long month of the year right behind January. With Thanksgiving falling later in the month and many shoots and videos on the calendar, plus two craft shows, life felt a bit like a juggling act.

But then Ev started to sleep through the night! Praise the Lord!

They say those who do this earlier, are happier. So we did it.

I was also all about being brave. And loved how one wise reader pointed out the correlation between bravery and peace. I started feeling like my year of big change (and what felt far from peaceful) had sort of come full circle with my word for 2019.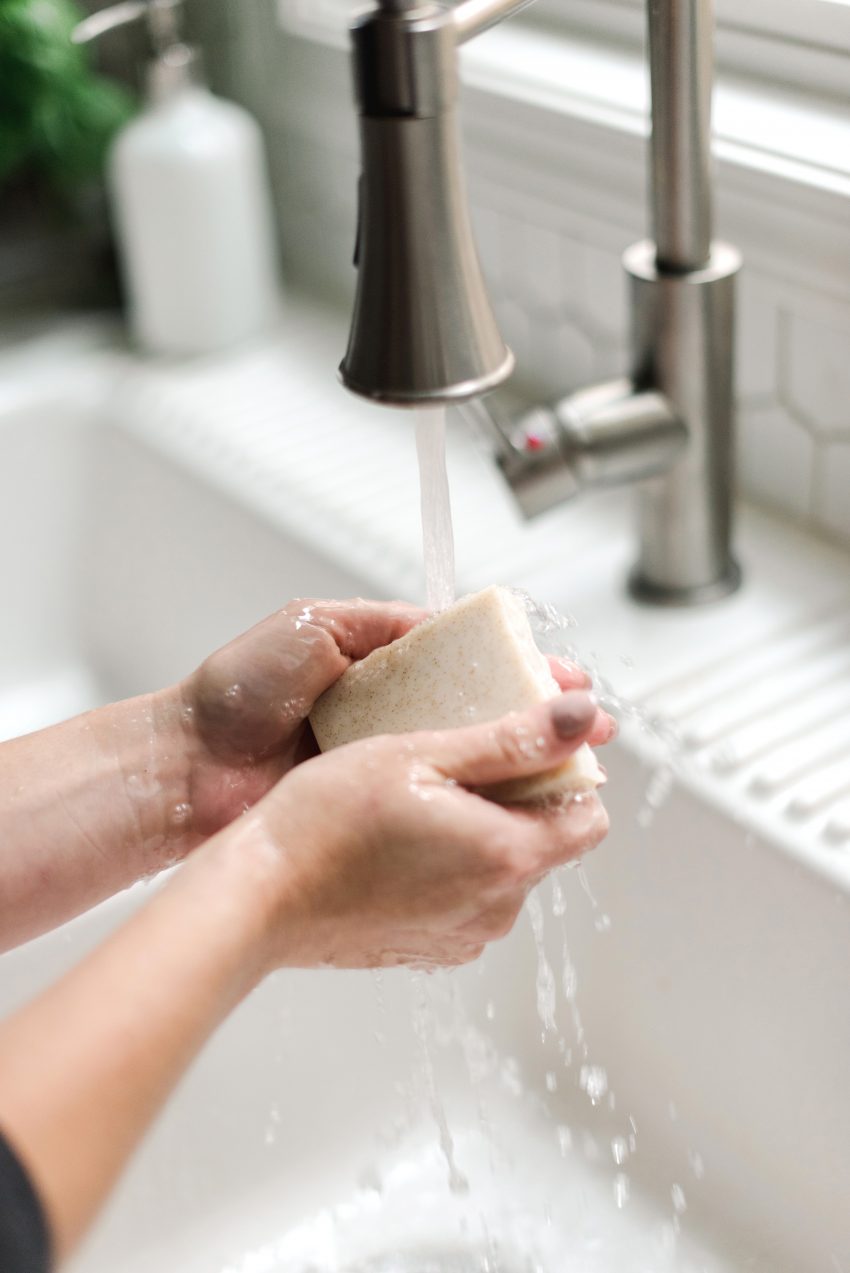 December arrived swiftly and with it a furry of excitement over the holidays!

There was the excitement over matching holiday pajamas. And excitement over this little bit of news. I am still pinching myself!

There was one client's home that needed to be decorated for the holidays and we were eager to do just that!

There was a trip to Great Wold Lodge where Ev decided not only to tolerate the water but to enthusiastically play in it! I was led to believe that my littlest boy would never love to swim or play in the water but our trip to GWL proved otherwise.

There were some exciting house updates that finally unfolded for us. And just a little bit of snow.

There was $100 in cookies consumed with 40 elderly residents at a local retirement home two weeks before Christmas. With of course, just a sprinkling of magic. Serious magic.

There was a stack of holiday cards all sent with a hand written message on the back. And this picture on the front.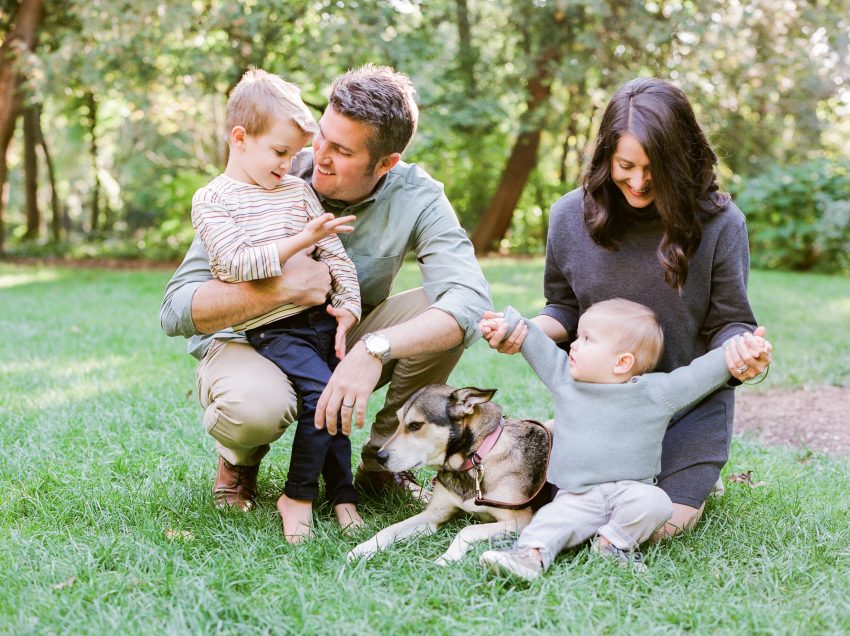 Finally, in December I blogged my Best of 2019 With Friends, which is a fun post highlighting my favorites from the year in collaboration with other blogging friends. And I highlighted all of the things that worked and those that did not over the last 12 months. There was so much loaded in those two posts that without writing them I am not sure I would have realized just how much growth and life was packed into the last year!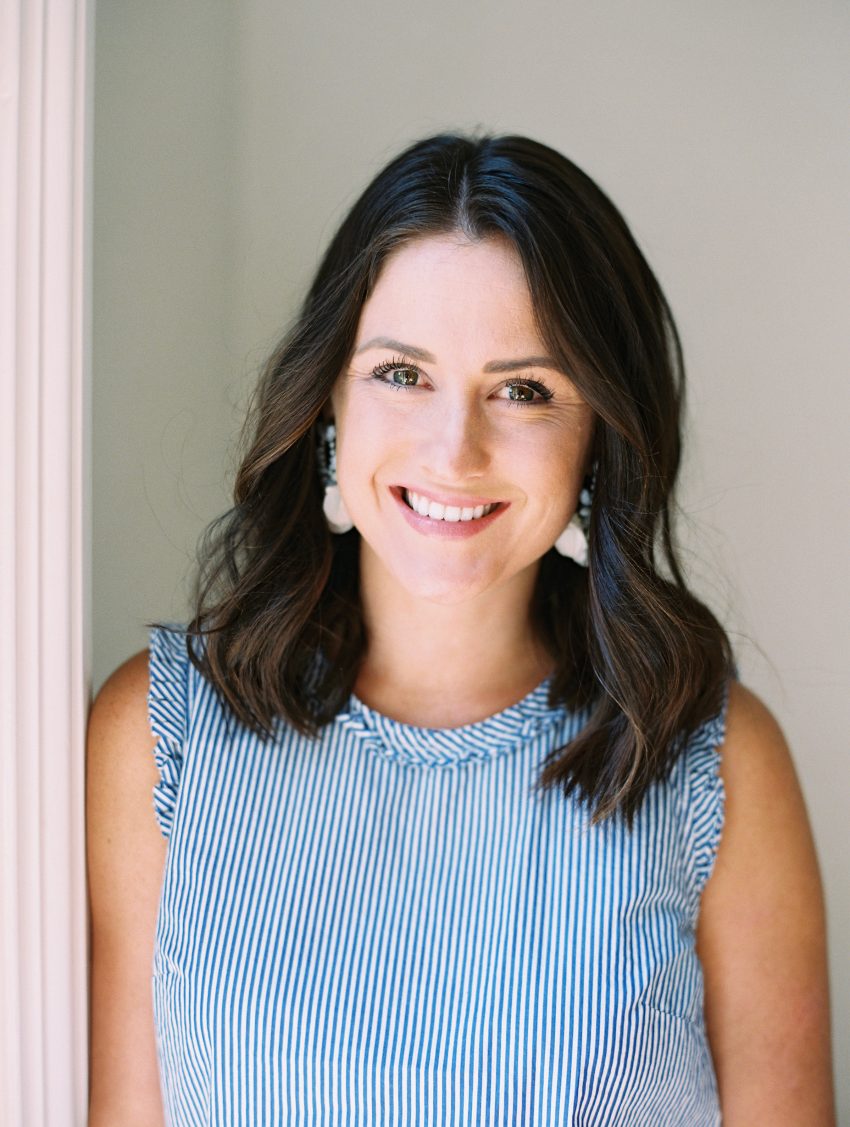 Friends, I'm really so grateful you're here!

I understand the great value of time and realize reading blog posts (especially my long-winded ones), let alone commenting on them, pulls from your bank. To know you're interested in what I say and support my endeavors with love and enthusiasm is really something special! It's especially touching heading into a new year that's to be filled with anticipated changes and transitions, to know you're behind me and eager to see what's next. It's makes the cannonball into unfamiliar waters feel just a little less scary and to that I say, let's do this.

Whatever is ahead for you, on your heart and schedule, I hope it matters greatly and brings joy to you and yours. I can't wait to see you in 2020 and share this ride together. As always, all of my love and encouragement.
Rhiannon
. . . . . . . . . .
Year in Review 2018
Year in Review 2017
Year in Review 2016
Year in Review 2015
Year in Review 2014
Year in Review 2013
Year in Review 2012
Year in Review 2011