We recently came home from our annual vacation in Seaside, Florida, which over the last few years is a place we've come to determine as 'ours.' I owe a lot of credit to my friend Lesley because without her I probably would have never made it to Seaside in 2016 when I was invited to speak at her Nourish Retreat hosted in Watercolor. Immediately we fell in love with the charming vibe of the beach town, almost always sunny and tropical climate, and way everything in Seaside makes you feel like you're home. We knew we were hooked.

So despite my best efforts to feel differently, every time I come home from a trip, especially those to Seaside, I feel very melancholy. And while it's expected to have vacation withdrawals when you're thrown back into the groove of everyday life (and laundry, meal planning, work, etc), it was this recent trip that inspired an epiphany. While we were IN Seaside going about our more relaxed day to day happenings I realized there are probably a lot of things we love about our special place and our time there that can be duplicated at home in Michigan.

While the differences between a small town on the turquoise waters of the gulf and the Michigan city we call home are vast, maybe they don't have to be. Here are my ideas for implementing more happy vacation feels into life in Grand Rapids, ideas I hope are especially helpful come winter when it gets a little dreary in the Midwest!

• Play music in our home with tropical summery undertones. This might include making a special playlist or maybe it includes playing a specific genre that we associate with our travels to Florida but music is an important way to inspire different feelings and trigger positive memories. For example, everytime I hear Whitney Houston's 'I Wanna Dance With Somebody' I think of the sleepy 4:00 am drive to the hospital to have Ev; that song was playing as Andy dropped me at triage and I remember thinking, 'I'm going to have a baby today!' following by, 'And this will be the song we dance to at his wedding!'. Music is powerful!

• Go for as many walks outside as possible, especially ones that are slow in nature and require frequent comments on the landscape, weather, and life in general. Make sure to stop as often as possible to take in our surroundings and strike up conversations with neighbors, something that the Seaside architecture prompts and encourages.

• Infuse our meals at home with as many foods and treats that are like the ones we often enjoy in Florida; seasonal produce, fresh seafood, homemade squeezed juices, and the occasional Southern items that my husband can amazingly cook to perfection like fried green tomatoes! Like music, food can trigger strong emotions.

• Create an outdoor patio space that allows us to enjoy early mornings and slow afternoons outside. In Seaside home porches are mandatory as they allow people in passing to feel like they are able to strike up friendly conversation with residents. These porches are usually on the front of the home facing wherever foot traffic happens. Then side or back porches are meant for afternoon naps, quiet reading time, or even more private meals with loved ones. I love this sentiment and hope to turn our back porch into our own summer retreat (look out for my June goals where this will be my top item!)
• Wear outfits that I might usually save just for special trips. While I mostly look at clothing as a way to simply cover my body, and especially so in a transitional physical period right now, there's something about a trip that encourages me to dress just a tinge fancier. I realized while we in Seaside that I felt a lot better about myself and had more confidence when I wore some less used clothing items that normally sit untouched in my closet. It sounds a bit trivial but already I've noticed a big difference in my mood each day when I take a little more time wear the stuff I normally reserve just for trips South.
• Sleep with the windows open and play 'ocean sounds' on our Alexa. You guys. This sounds silly, I know, but there's something very peaceful about fresh air blowing through our bedroom as we snuggle into bed, the sound of the ocean's waves crashing outside my window . . . (I mean, those waves playing from my husband's nightstand, HA). Jokes aside though, this has been not only a great way for me to decompress at night and fall asleep better but it always reminds me of how it feels to be on vacation surrounded with peaceful noises.

• Bring scents into our home that remind us of our favorite place. This may mean using saltwater or beachy-scented candles and oils that subtly infuse our environment with a different type of sensory experience. I have an interesting relationship with candles these days because the scented ones I love most don't burn clean but there are a few citrus oils that are toxin-free and seem to do the trick! Consider using beauty products that also inspire the same smells we associate with our favorite place; coconut, fresh fruits, and tropical floral scents top the list.
• And finally, have things in our home that are sweet reminders of our many past trips and the many we plan to take in the future. Every time we go to Seaside we schedule a professional photography session. We can't think of a better way to capture the joy we feel in Seaside than to have this documented in timeless images. From travelling to Seaside when Lachlan was just learning to walk, returning with a baby Everett in my belly (when we announced my second pregnancy), and this year's trip being our first as a family of four, we only hope to add to our cherished memory bank. This year's session was captured beautifully by Lily & Sparrow and as per my May goals there are already two prints already framed in our home. I hope to share more of my favorites photos soon!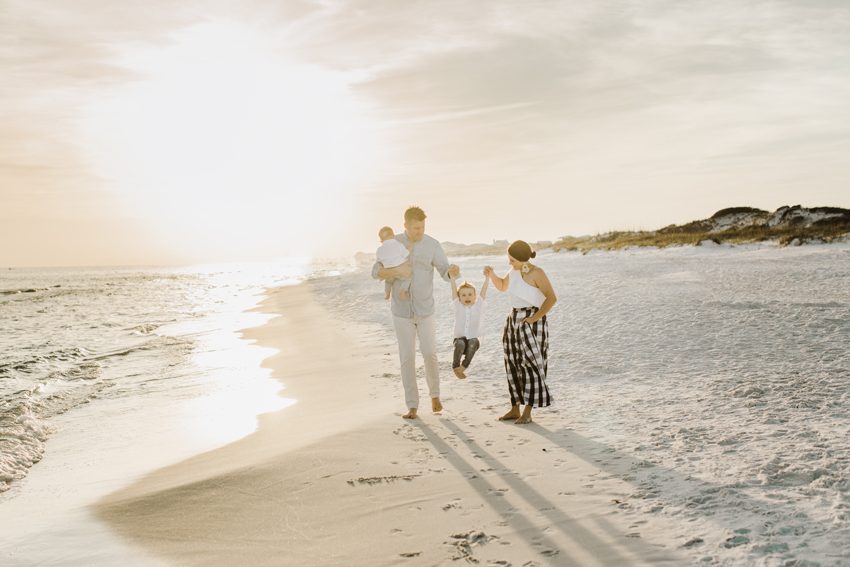 Does your family have a special destination you annually visit and if so where is it? What are your favorite elements of vacation and the things you most look forward to when you travel? I'd love to hear more below and encourage you to always join in the conversation and or share a link back to your own corner of the internet! Xo