I often write about my adventures in soap making and never shy away from sharing a pretty soap picture. But I've never done a deep dive into the how or why so I thought it would be helpful, and let's be honest, totally fun to share a bit more here on the blog. I'm sure some of you are definitely intrigued!

When I started making soap in 2017 my main goal was to make my own as-natural-as-possible beauty products. I was going through a physically trying season riddled with illness and while learning lots about what went INTO my body, I became interested in learning about what went ONTO it. I got my feet wet with an easy melt and pour approach only to realize how restrictive that route is when you want an as natural as possible product. So after a lot of hesitation, research, and watching lots of online videos of course, I decided to try my hand at cold process soap, an old fashioned approach that has a steep learning curve, but allows for a truly customized soap. What I didn't realize then, is how far down the black hole of soap making I'd go; not that I haven't had a blast doing it!

Here are ten reasons I love making soap, in no particular order: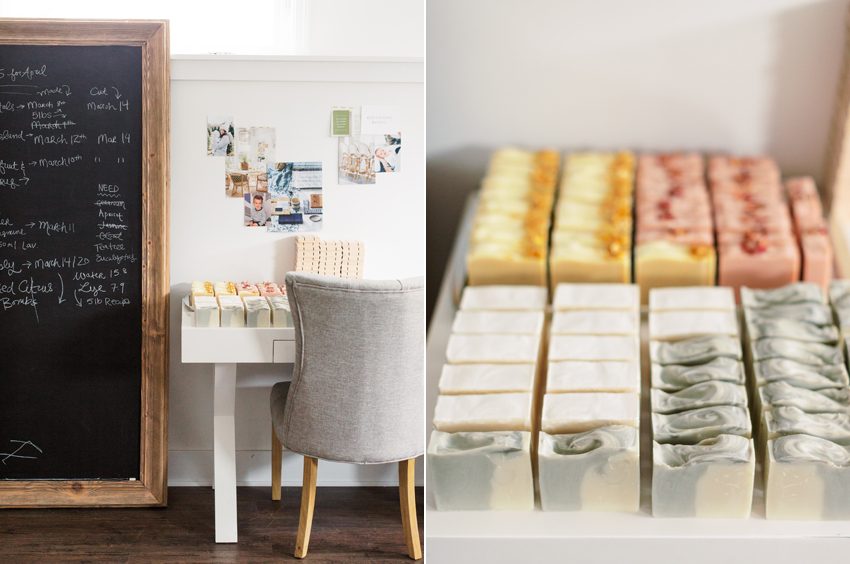 ONE: Math and science were not my best subjects in elementary and high school (or college either, if we take into account the mandatory class I had to take, twice, as a journalism student). And to make cold process soap there is a serious mathematical and scientific process required. Adult Rhi wishes she could go back to younger Rhi and let her know that YES, you can figure out hard equations and formulas! Better yet, I'd tell that yes you can take those formulas and turn them into something beautiful.

TWO: Being a floral designer requires the ability to work quickly since flowers are obviously perishable. I often feel like there is a race against the clock when we design for weddings and then paired together with our role as planners, I feel pressure and as a team, we inevitably just move.so.fast. Soap making requires a specific type of slow and patience, especially when the bars are curing for four weeks before you can even use them! Patience was once a desirable quality for me and now one I feel I am actively working towards attaining.

THREE: In making my own soap I'm able to create usable product that's good on the environment AND my body (and the bodies of those who use it). I love the simplicity of soap. In some of my soap bars there is literally four ingredients! Not 18 and certainly not anything that is harmful, synthetic, or toxic. I love standing behind this natural approach because I believe what we put in and on our bodies matter.

FOUR: When you're passionate about something, it shows. In making soaps, and gifting and selling them to friends, family, and even strangers, I've felt such support and love from everyone. Whether it's kind comments on my social media or small orders from my neighbor down the street, this support is monumental. And feels good.

FIVE: One of the struggles I face as a floral designer, is managing the amount of STUFF that my job requires. I have inventory, supplies, tupperware bins full of ribbon, work tables, candles, cake stands, and much more. So the joke's on me when I picked a hobby like soap making because this gig requires STUFF too. Molds, scales, immersion blenders, spatulas and spoons, measuring glasses, buckets and bowls, soap cutters, and whisks, phew! And that doesn't even include the ingredients like oils, butters, lye, distilled water, colorants, essential oils, botanicals, and the list goes on. I've had to get very reorganized as I've gone deeper into the soap world and determine what's absolutely necessary and what's not for both my business in weddings and my hobby as a soap maker.

SIX: There's a term in soap making called 'trace' and it refers to the thickness of the soap batter as you mix it. You can read more here but beware of the rabbit hole! Thin trace is the first tier of thickness and is great for swirled soap designs, whereas a thicker trace, like melted ice cream consistency, is awesome for making textured designs on the top of the soap loaf. Swooping the back of a spoon along my batter in what will become the top of my soap bars is such a satisfying treat! It's similar to how it feels to frost a cake and I quite enjoy frosting peaks!

SEVEN: Soap safety is so important. Gloves, eyewear, covered arms and legs, working in a ventilated space, and sometimes even wearing a light mouth mask is a must. Making soap in the company of my kids or the dog is not an option (unless it's cutting cured bars or wrapping them). Making soap haphazardly without paying attention to measurements or what I'm doing, is dangerous and wasteful. As I mentioned above, in addition to learning to be more patient, soap making has allowed me to become less rushed and more focused on one sole task instead of many at one time. The mindfulness I've learned through making soap has been remarkable!

EIGHT: On the flip side, soap making has also made me realize how big of a perfectionist I am. Woof. Sometimes I make a soap mistake or I learn something about soap making that can only be discovered by DOING, and I get really defeated. Throwing out a ruined loaf (like 10 bars worth of soap) is the worse! Or I'll look at other soap makers and think, 'Man, my soaps aren't that lovely!' and then I have to remember that the joy is in making! And I will not let my soap making hobby become a chore or a measuring tool for my success.

NINE: Since one can only use so much soap, I have a lot (!) of inventory sitting in my basement. And while I don't want to make this hobby become a hustle, it's not reasonable to just make soap and hoard bars of it. So I've become an active participant in the craft show and pop up circuit, and it's been fun! I've been meeting new people, learning a lot about selling product (which is SO different than marketing and selling a service), and making a few extra dollars; or at least just some of the money back that I've spent enjoying this journey so far!

TEN: And my final favorite part of soap making? Is the opportunity to work with my hands and be creative in a way that's separate from my wedding planning and floral design duties. I'm a highly creative person and find that this part of me permeates all I do. I feel good when I make soap, and walk away from a successful loaf feeling fulfilled, joyful, and excited. Sharing that with others and hearing people love my soap is truly the cherry on top. Also, I must add that when Lachlan asks if he can come make soap with me, I light right up (note: I don't actually let L make soap with or near me but I do give him cured soap ends which he joyfully destroys with his 'tools').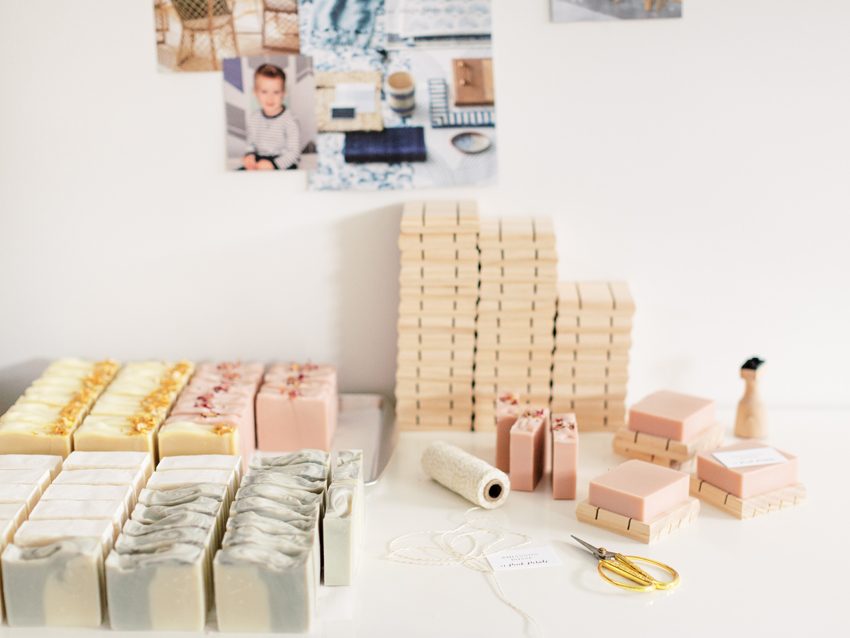 Big thanks to Samantha James Photography for recently taking beautiful photos of some soaps in the studio. If you want to follow along with the soap making adventures, you can do so here. Are there any special soap questions I can answer for you? Or better yet, I'd love to hear about any of your special hobbies below! Xo