One of the most memorable things I ate when we were in Italy two summers ago, was a beautifully green hued appetizer served atop a lightly fried slice of polenta. It was part of the hors d'oeuvres course at Kelly and Pete's wedding, and for what it lacked in complexity it made up for in taste and texture. I knew I'd regret not asking the chef how she made it, let alone what it was (all I knew is that little two bite diddy was GOOD), so it was one of my final questions of the evening for her when we were hurriedly packing up all out stuff for our flight home.
I never got an official recipe while in Italy but I think that's why I like this crowd pleaser so much. The main punch in the pesto comes from English peas, lending to a wonderfully crunchy texture and subtle sweetness. And then the raw almonds take the crunch up a notch while the simple flavors of lemon, olive oil, and garlic, make it perfect for crackers, crostini, crudités, or even atop a big bowl of angel hair pasta (thanks to Sam for the suggestion; she went home after photographing this for me and made the pesto for her own family).
So bear with me while I share the most unofficial measurements with you.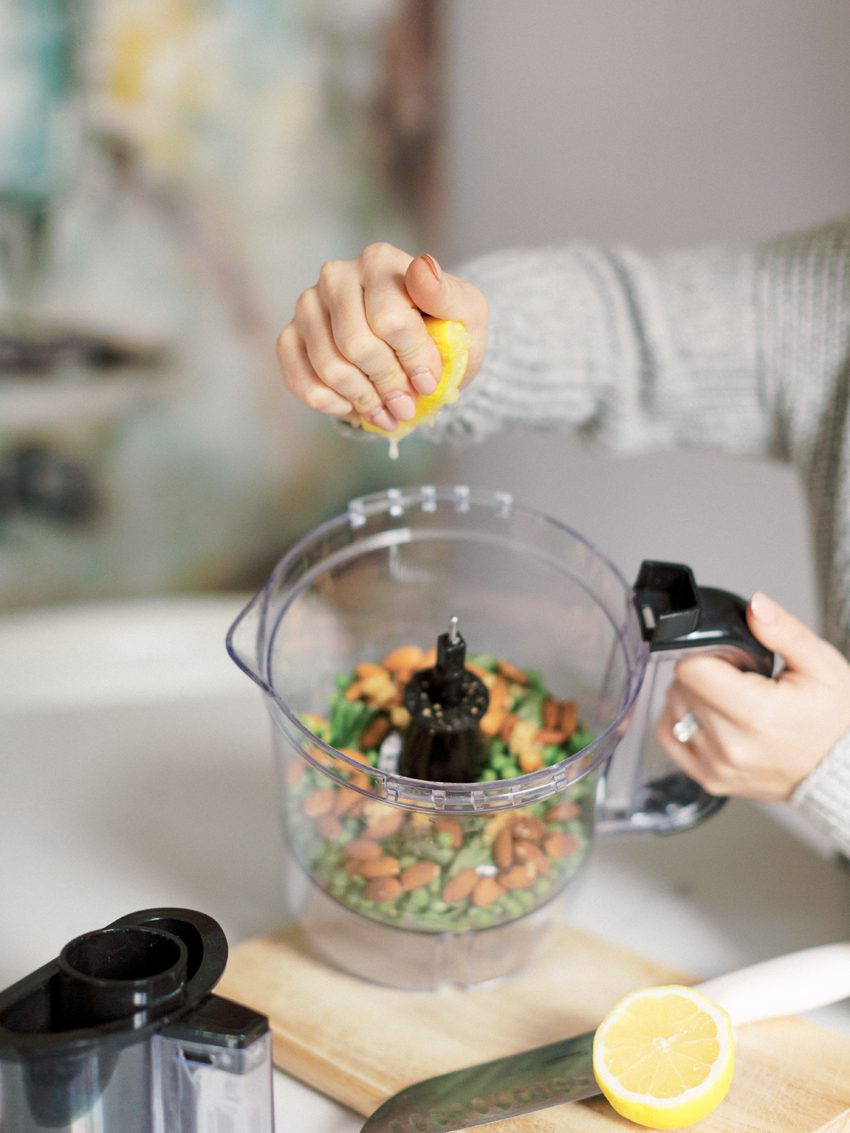 Toss in your food processor:

• About a cup's worth of English peas (Trader Joe's has lovely bags of these beauties year round but they are also a frequent summer farmer's market item). When I made the batch for the photos used throughout this post I couldn't figure out why the pesto was so chunky and dry. At first it was because I forgot the olive oil (ha) but a few days later I realized I also forgot the first step and that was to precook the peas ever so slightly that they were soft but still firm. Don't skip the pre-cook step and cook your peas until they are a bit tender.

• About one big handful of fresh basil or more depending on your palette and preference. I'm sure you could also throw in a little bit of spinach if you're like me and need as much iron as possible in your diet. If you grow basil in your garden and end up with it by the bowlful at the end of the summer, remember this recipe!

• About half a cup of whole raw almonds. Make sure they are unsalted!

• Juice from half of a lemon and whatever you do, don't skip this ingredient and use the fake stuff. The real stuff is the best! Also, watch out for lemon seeds. You get even one of those seeds in there with the almonds, and good luck finding it and fishing it out. You could use lime in lieu of the lemon but the lemon is best.

• Two to three fresh garlic cloves. I used the minced garlic from the jar because we had it already in the fridge but I'm a believer nothing beats fresh garlic. You pick how important your breath is to you on the day you eat this.

• A healthy splash of extra virgin olive oil. Or whatever version of olive oil you have on hand, I just like to sometimes pretend I'm a food blogger so EVOO sounds fancier here. Remember, next to the lemon juice, this is your only form of liquid and the more olive oil you add, the creamier the texture of the pesto. If you want a spreadable pesto or something appropriate to pour over or mix with pasta, then load up on the oil OR consider adding a small amount of water from the pot you cooked the peas in.

• Salt and pepper. The fancy kind like sea salt and freshly ground pepper.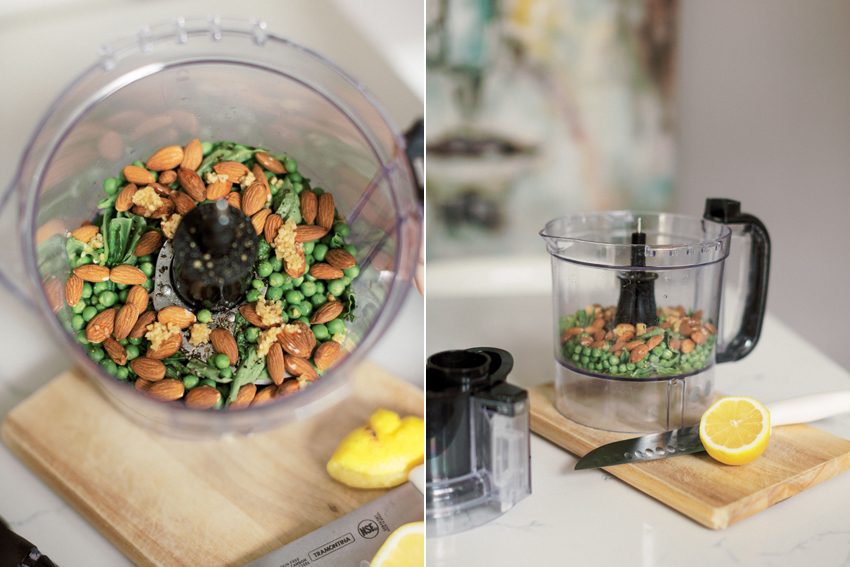 Give everything a good whirl into the processor until you get the consistency you'd like. Start with less lemon juice and olive oil and add as you go if you're nervous because you can always add more liquid but thickening this up is tricky. Scrape down the sides of the processor bowl before putting the pesto into a storage or serving bowl. You can top with freshly grated lemon zest or even a bit of grated parmigiano-reggiano if you're not dairy sensitive.
This pesto will keep well in the fridge for a couple days and the flavors become richer with time but the mixture because a bit harder so I always suggest using it as soon as possible (if it's not devoured right away!). It's the perfect party dip, holiday appetizer, or like I mentioned above, with more liquid, sauce to put over pasta. Plus it's vegan, dairy-free, and gluten-free, which is a huge win because the trifecta of food specific restrictions is hard to respect. Try tossing in some sun dried tomatoes or mushrooms for a delicious change of flavor too!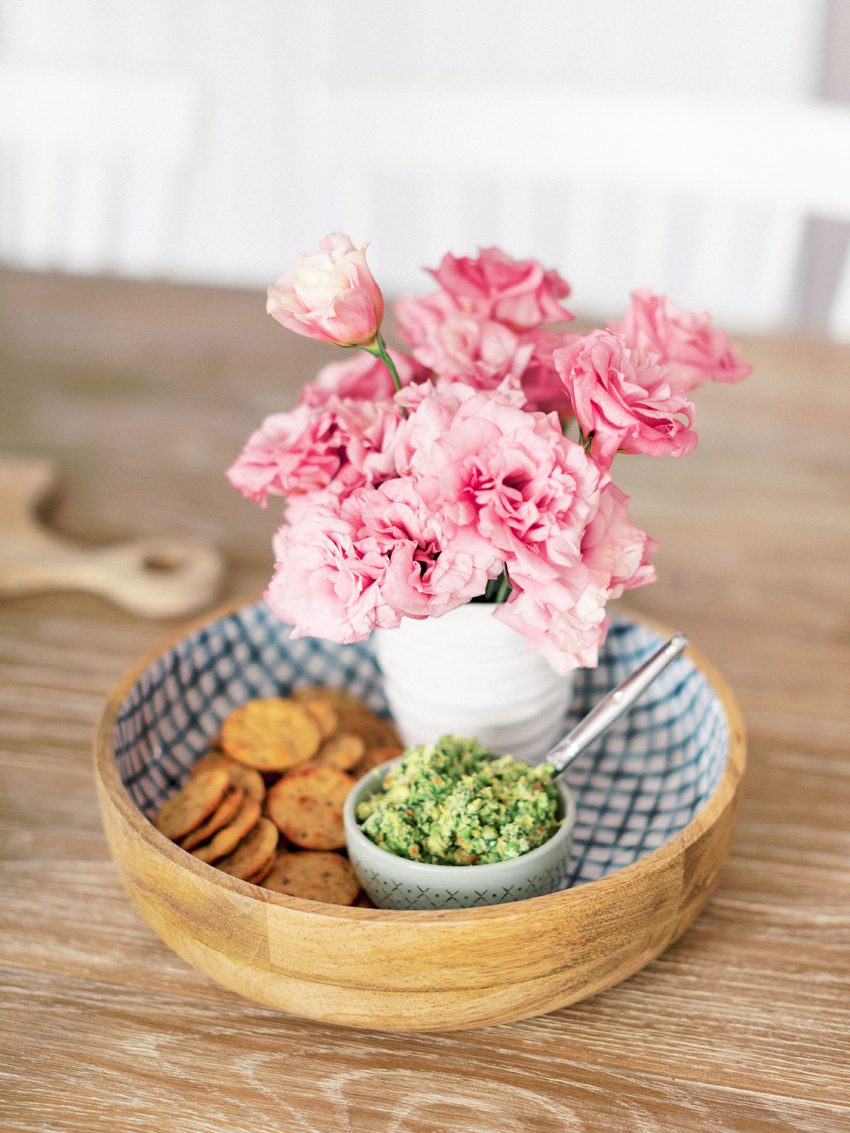 And if you're wondering about some of the items in the photos:

The blue bowl is from Hobby Lobby
Our dining room table from World Market
The whole wheat pita crackers are from Trader Joe's
Our charcuterie board in the background was a gift
And those pink blooms! Double lisianthus for the win!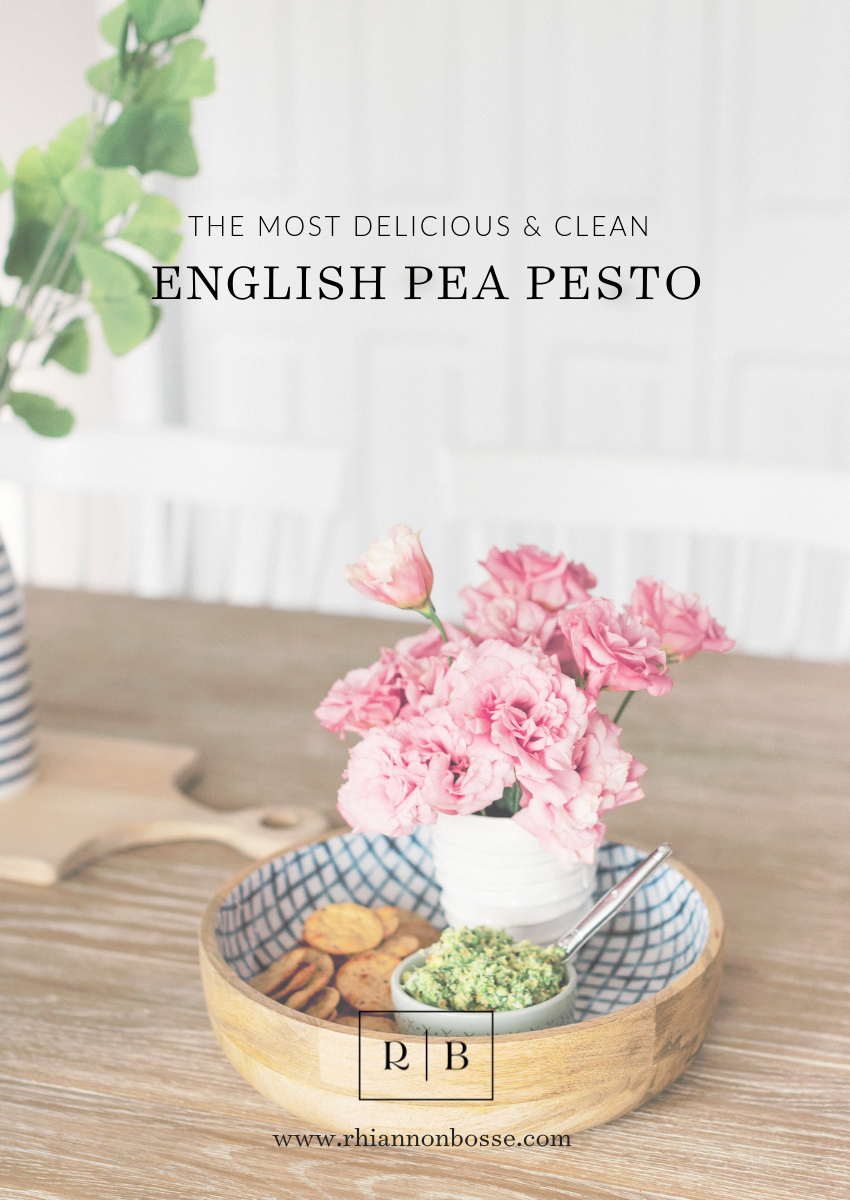 Enjoy! Xo