Have you seen that meme poking fun at food bloggers and their tendency to preface simple posts (like a recipe as an example) with long-winded stories that have little to do with the meat of the post? I have a soft spot for memes and burst out laughing when I read this particular one because, YES! Give me the pico recipe, Karen not a 20 minute ramble about your neighbor's uncle who loves to make guac using homegrown limes and blah blah blah.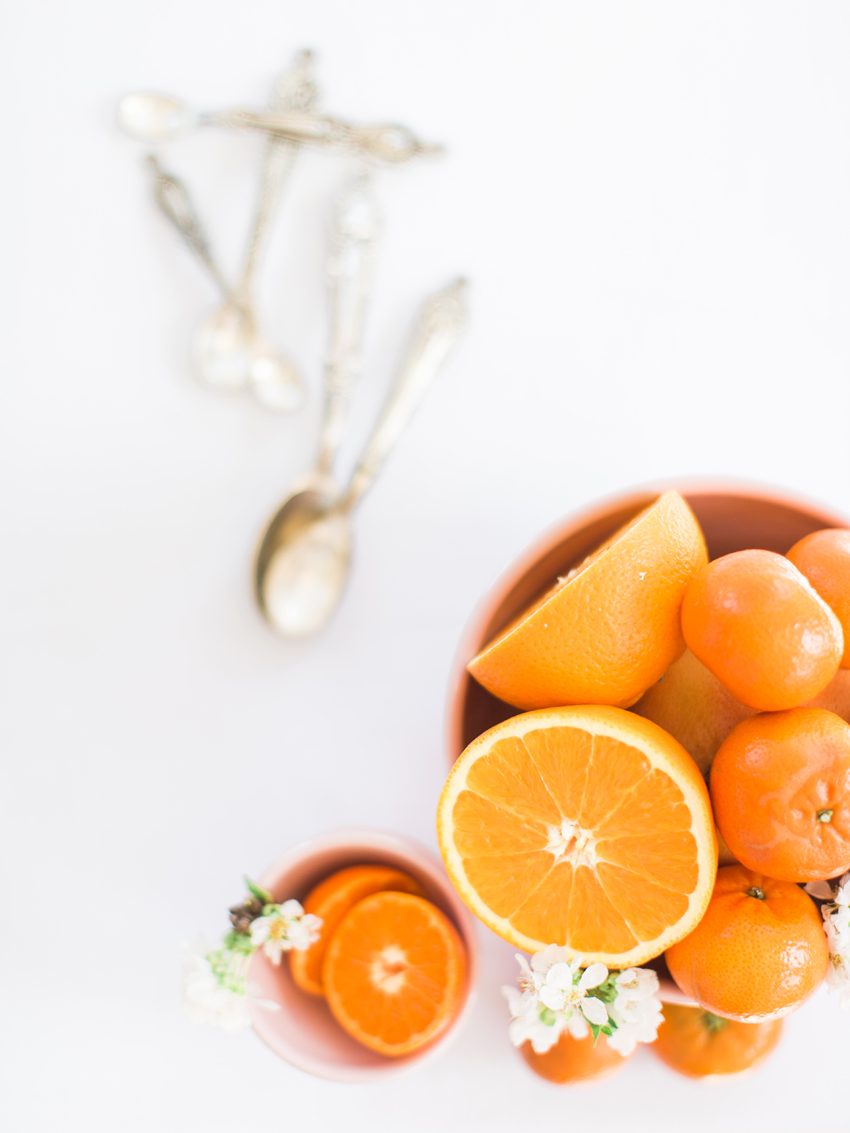 I don't think the long-winded nature is specific to food bloggers though.

I think instead, it's simply a way that bloggers in general write and converse with their audiences. It's a way to build a rapport with readers and a wonderful way to share more about yourself (as the author) to those reading (whomever they may be). In a world where we move quickly, digest information at the speed of light, and want instant rewards, I think it's quite lovely to sit down and devote time to reading about someone else's experience and passions! I'll read a good guac story any day especially if the finale is a good recipe on how to make it.
So I share everything above because originally I was going to preface this post with a little story about the idea behind making my own body scrub. But you've heard that story before. And if you have not, you can get caught up to speed here with a collection of posts all inspired by my efforts to live a healthier more robust lifestyle.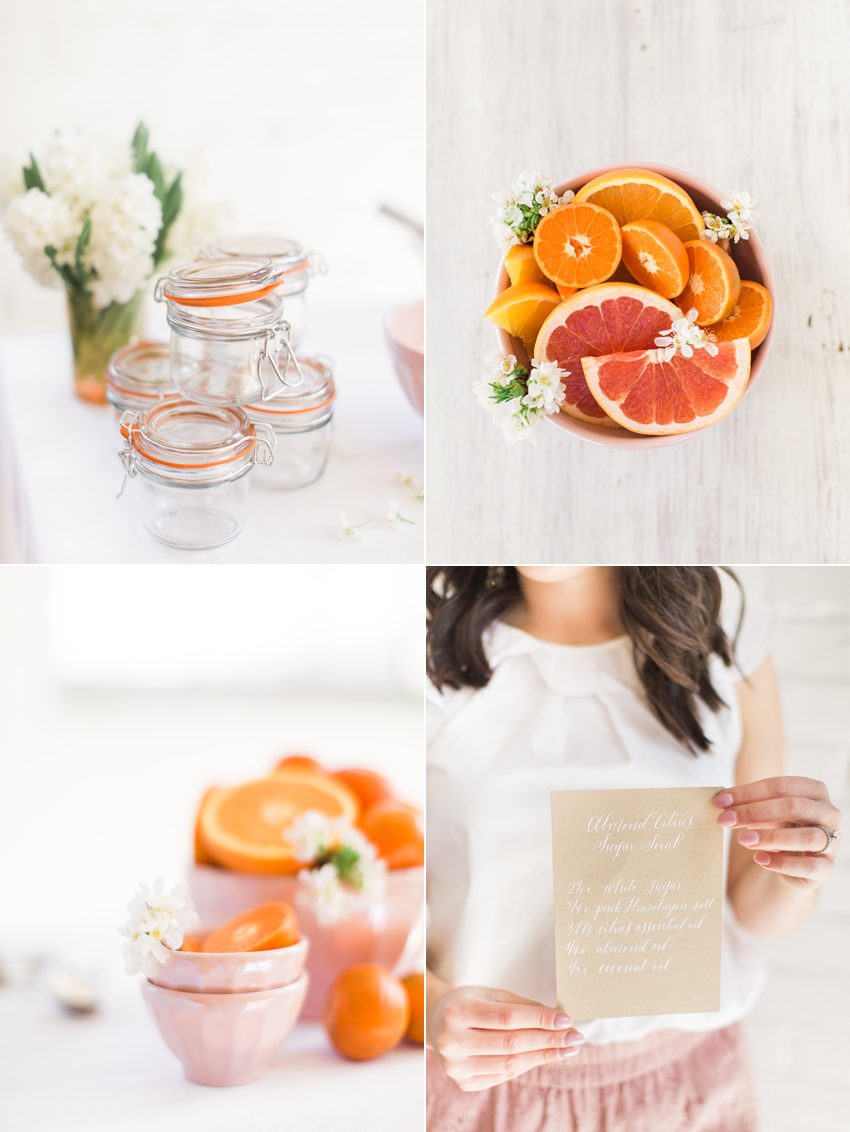 This project is perfect for anyone wanting to try their hand at an easy gift for Mother's Day, an upcoming shower favor, or to have a jar of handmade scrub next to a garden or kitchen sink. You could also try different essential oils blends based on whatever property is most appealing to you; lavender or geranium would be so beautiful.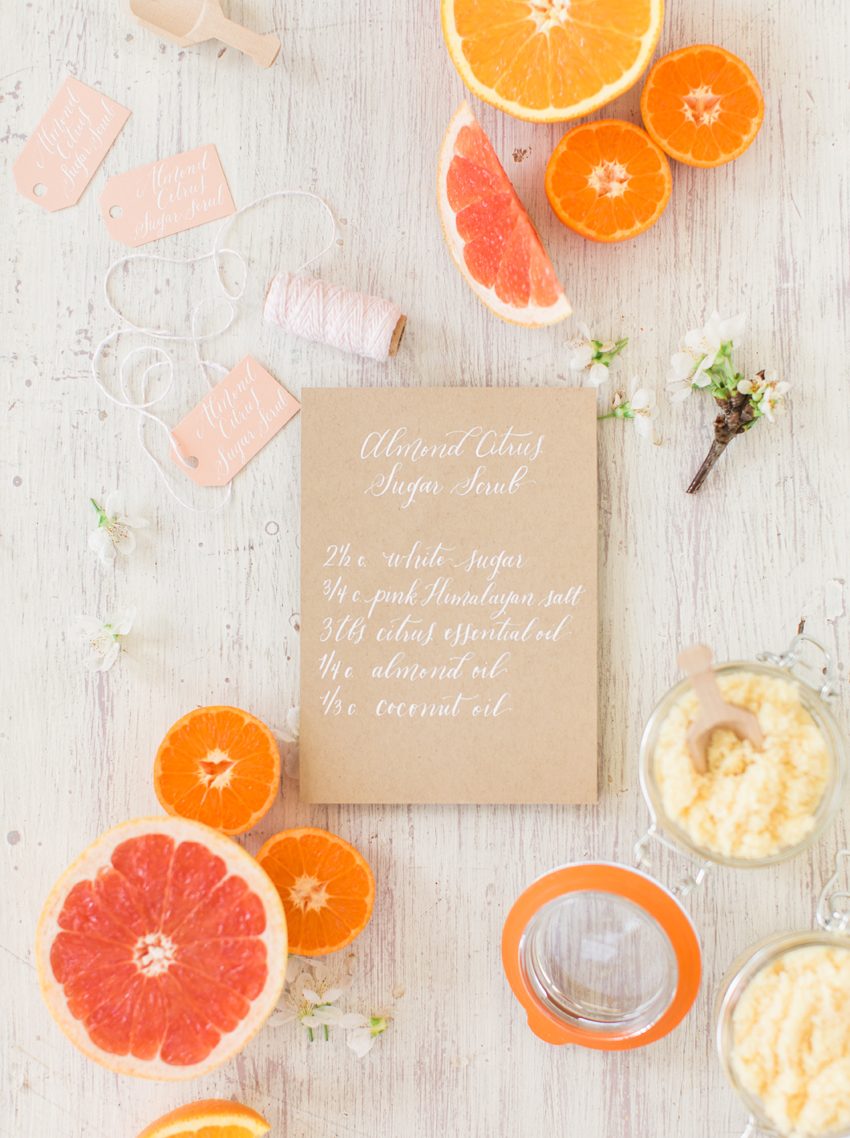 My final disclaimer!

This recipe is preservative-free. Meaning it is perishable and if left out for too long can grow mold. It's best to use it within a couple weeks of making it and to avoid getting any additional moisture or water in the mix. If you're really into making your own body products then check out this site and dive into the world of body care products.

It's a jungle out there, friends!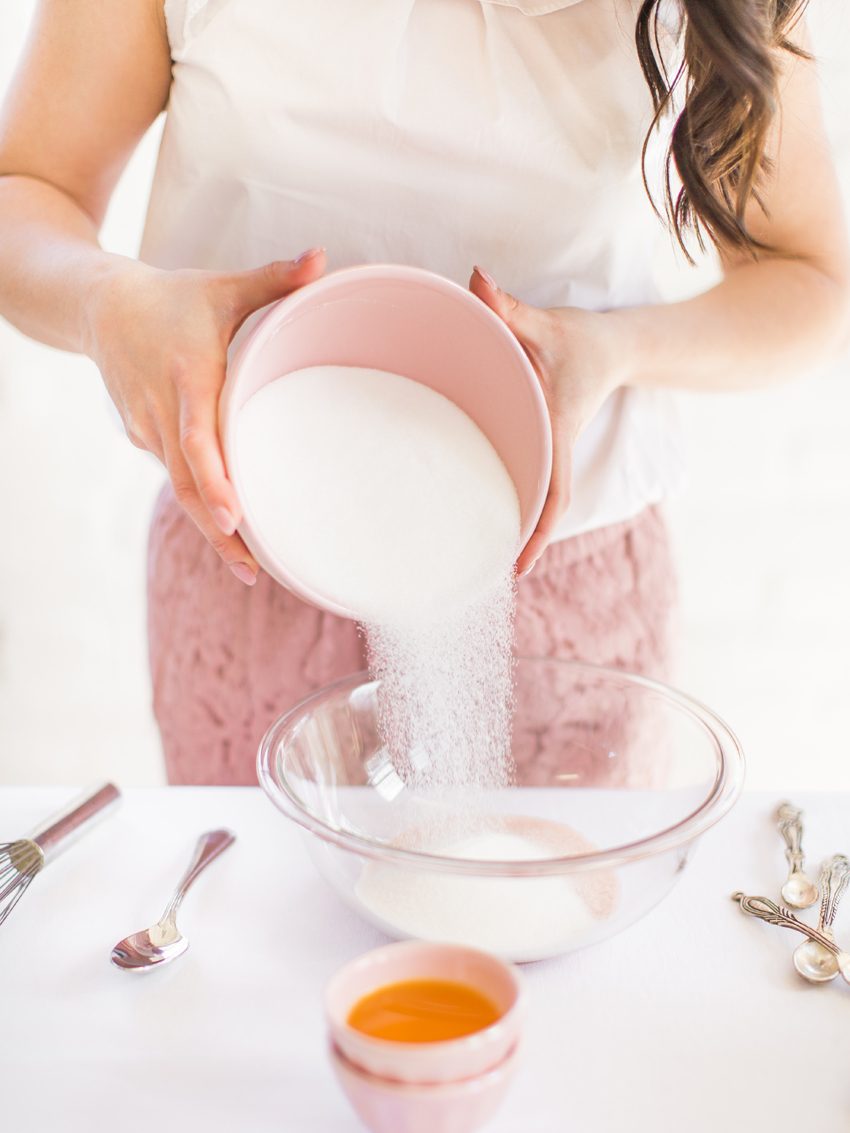 Just like you would with most baking recipes, you'll want to mix together all of your dry ingredients before adding in your liquids. There isn't a secret to making this scrub but the final product has such great exfoliating and moisturizing properties, along with a beautiful sweet summary scent, that you'll feel pretty fancy.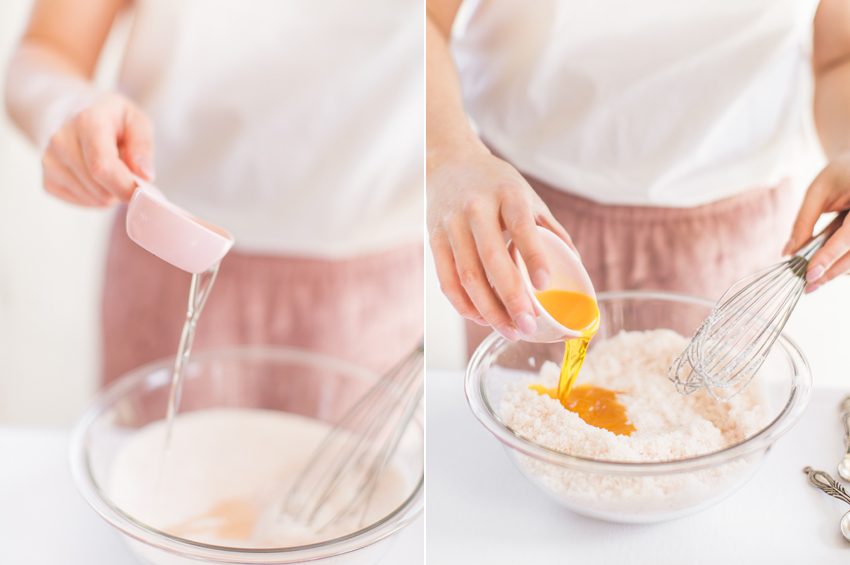 You can use a whisk to incorporate the ingredients together until everything is thoroughly mixed or you can throw latex gloves on and mix by hand. The final product will be the consistency of gritty and oily sand. If you've ever used a scrub you'll know just what consistency to feel for!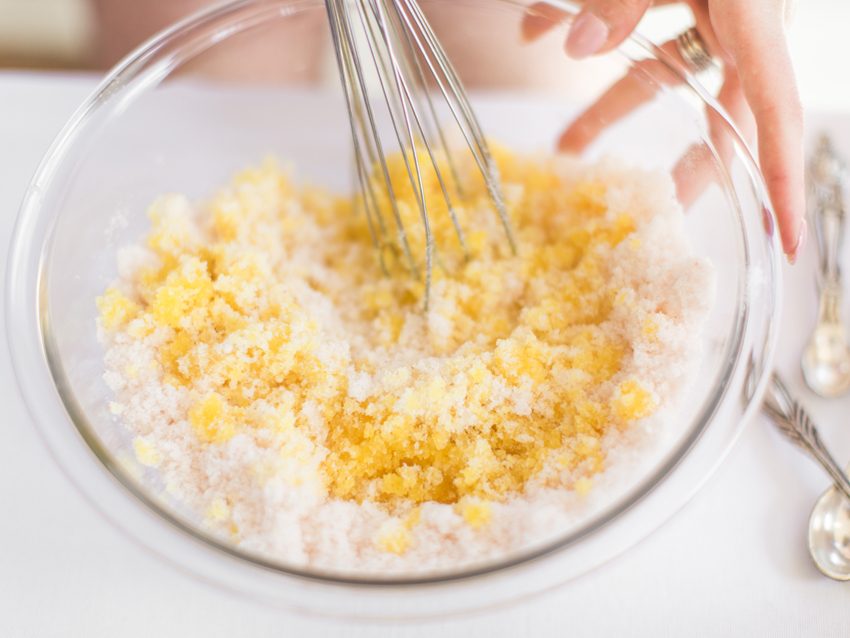 Once the mixture is thoroughly combined you'll spoon it into your jars. I found these latch top jars and knew the orange rubber closure would be perfect with the citrus-themed recipe. You could use any container with a lid to help keep additional liquid from sneaking in, especially if you plan to use this in the bath or shower.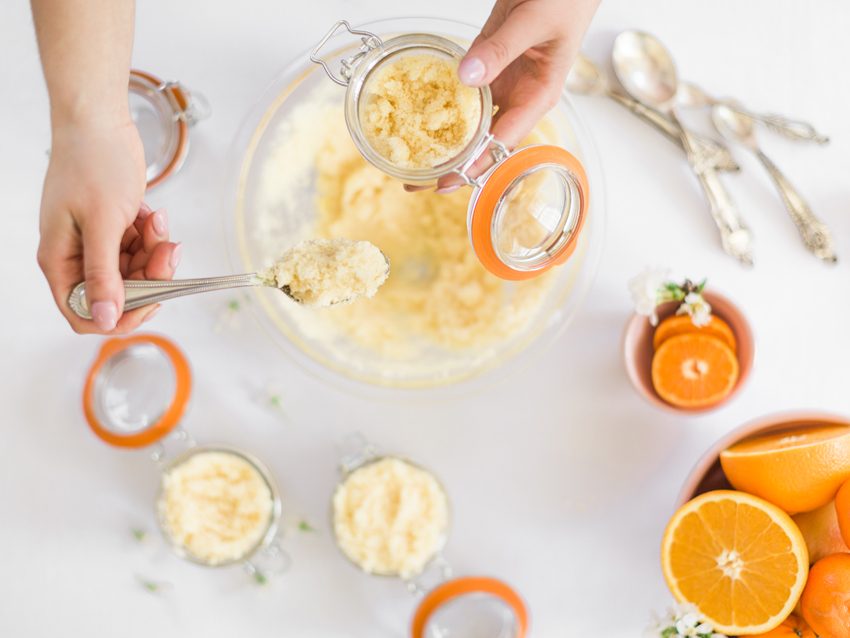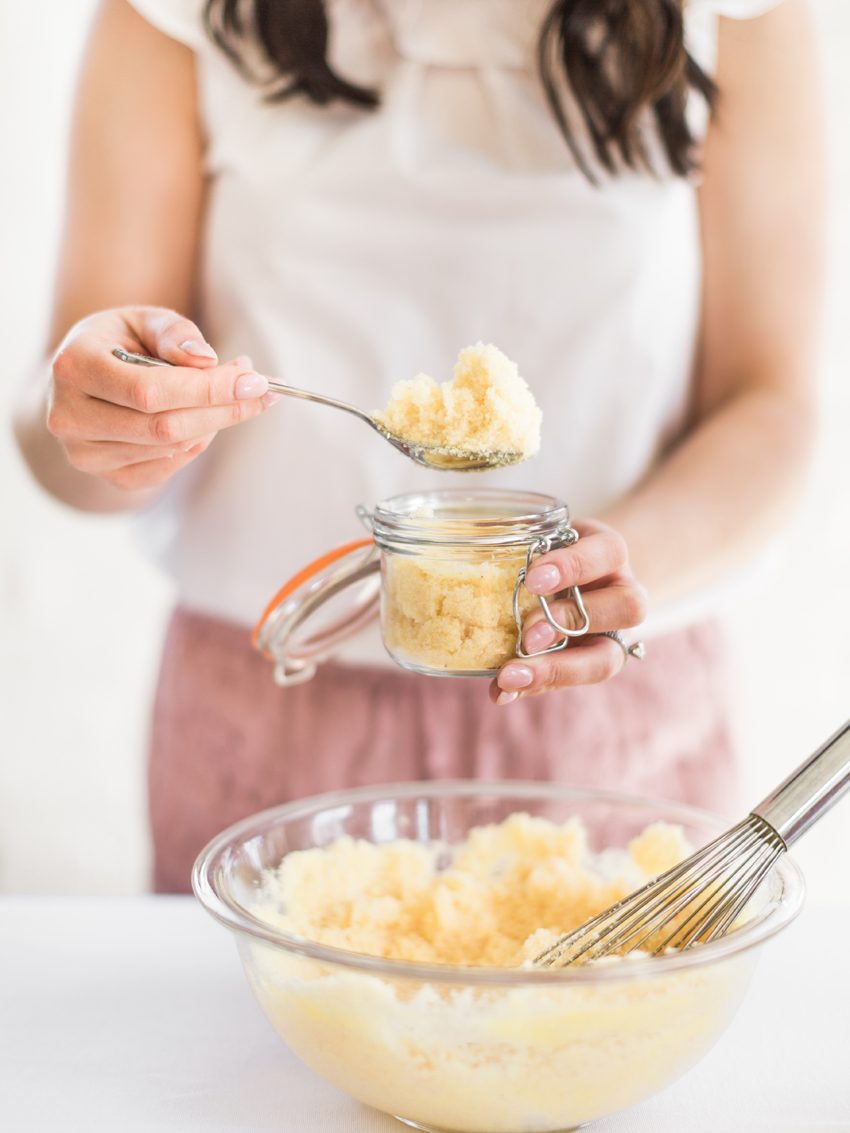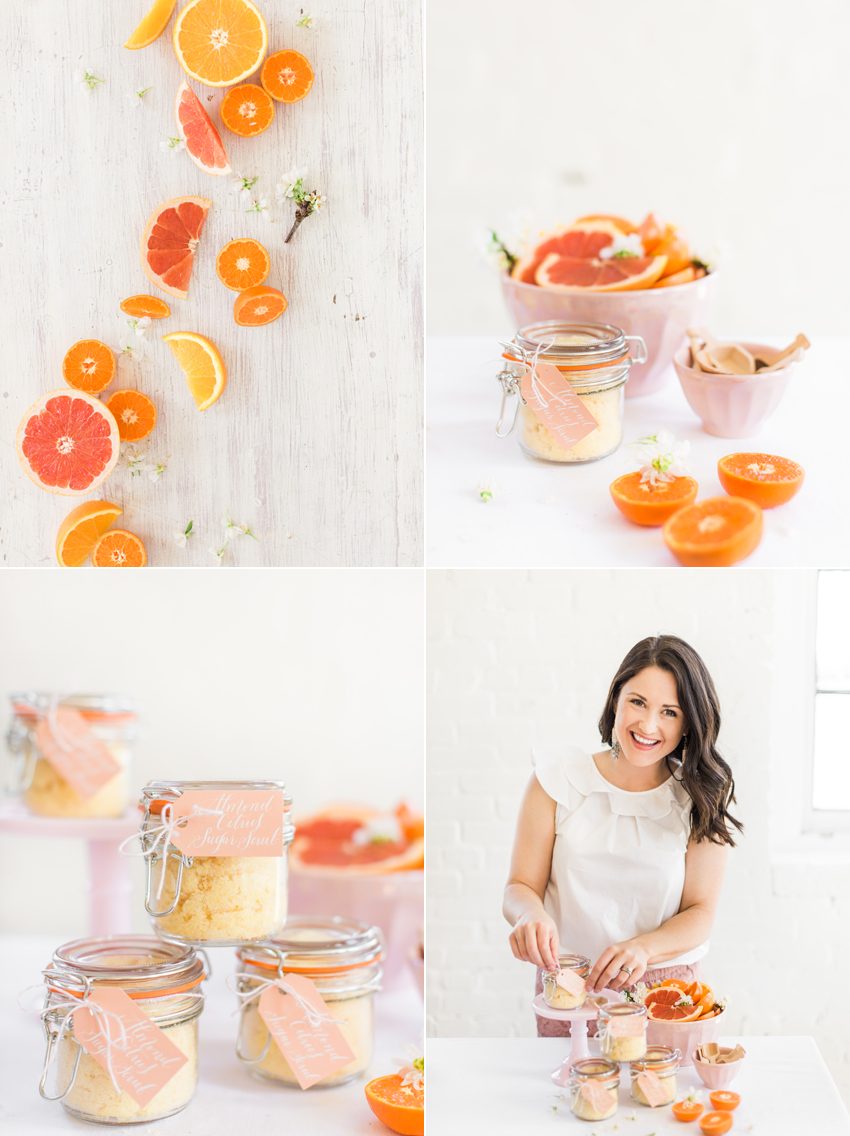 I added the sweetest little wooden scoops to the latch tops of the jars and a peach calligraphed tag from Alex at Prairie Letter Shop so recipients would know what was inside. You know I'm a sucker for sweet presentation (as I believe most people are) so I think this final labelling step is a must even if giving simply as gifts.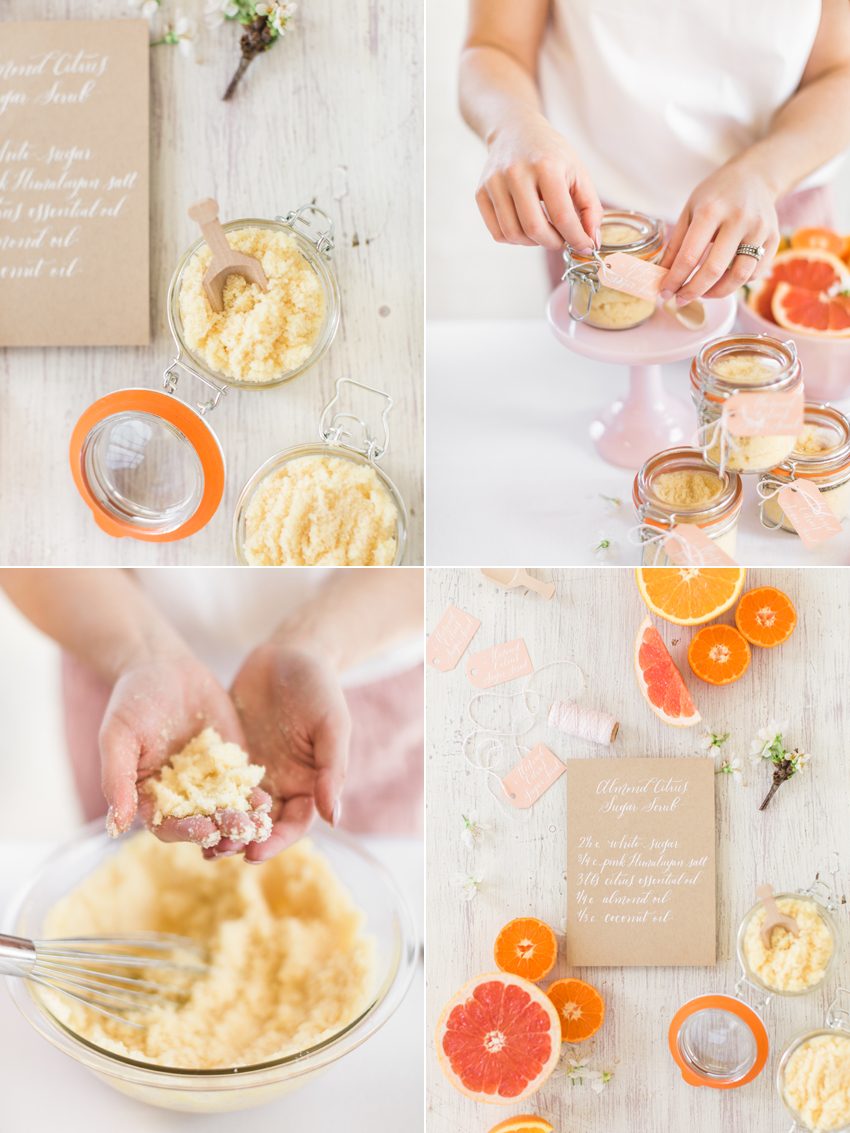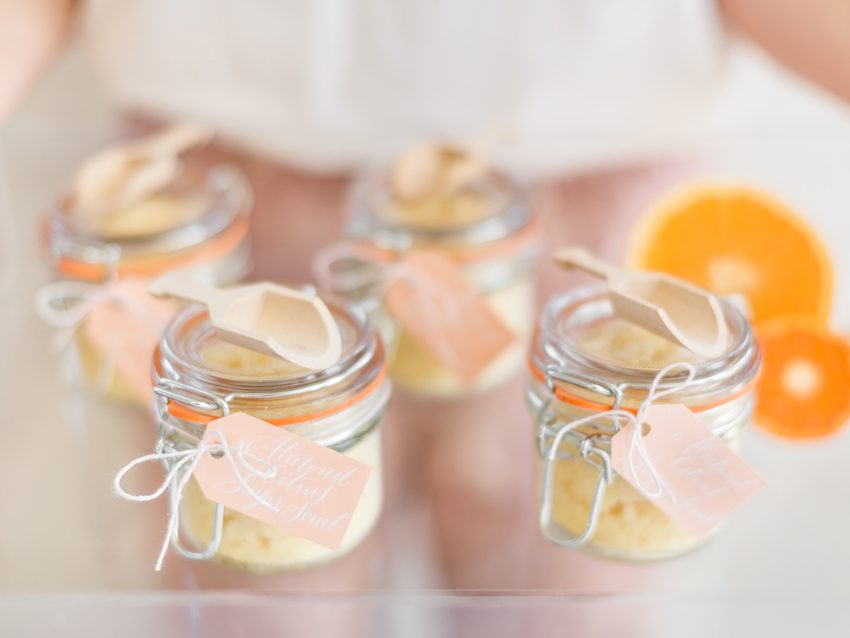 Here is the recipe for approximately 4 cups of scrub:

Almond Citrus Sugar Scrub

2 1/2 cups white sugar
3/4 cup pink Himalayan salt
3 tbs citrus essential oil
1/4 cup almond oil
1/3 cup coconut oil

1. Combine all the dry ingredients together in a big mixing bowl.
2. After melting the coconut oil, mix all the liquid ingredients together.
3. Combine the dry and wet ingredients together in a big bowl and mix well.
4. Spoon the scrub mixture into desired containers. Use within 3 weeks.
5. Enjoy!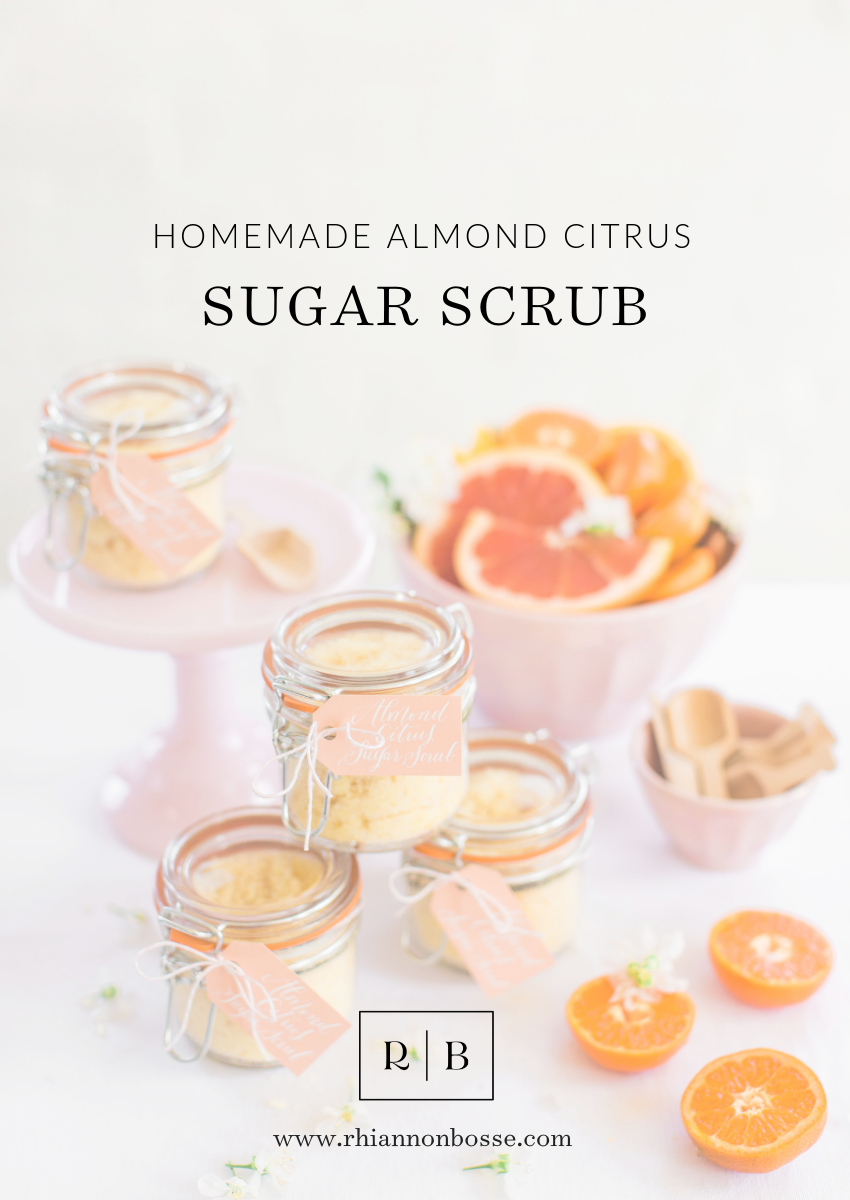 Photography by Samantha James Photography