So eight years ago I made this. Also known as my first ever hand held bouquet.

Now that you've collected yourself off the floor and I've swallowed my pride (but really), I want to take the time to write to you about the evolution of style and skill, or more specifically, the evolution of a bouquet.

When I made my first bouquet eight years ago, I had little to no flower experience beyond peonies plucked from the garden that were then plopped into a vase from the kitchen. I knew what colors were attractive to me and had a penchant (still do) for fluffier textured stems, but mechanically I was pretty clueless. My technique involved holding a first stem, adding to it, then adding a few more until I had what looked to be like a pretty good bouquet.

Some of the techniques I employ today in my design approach absolutely are a result of that first bouquet; we all start somewhere right? And while my process here in 2019 is obviously much more advanced and polished, there are some helpful and applicable takeaways I want to share with you as a result of this then and now analysis.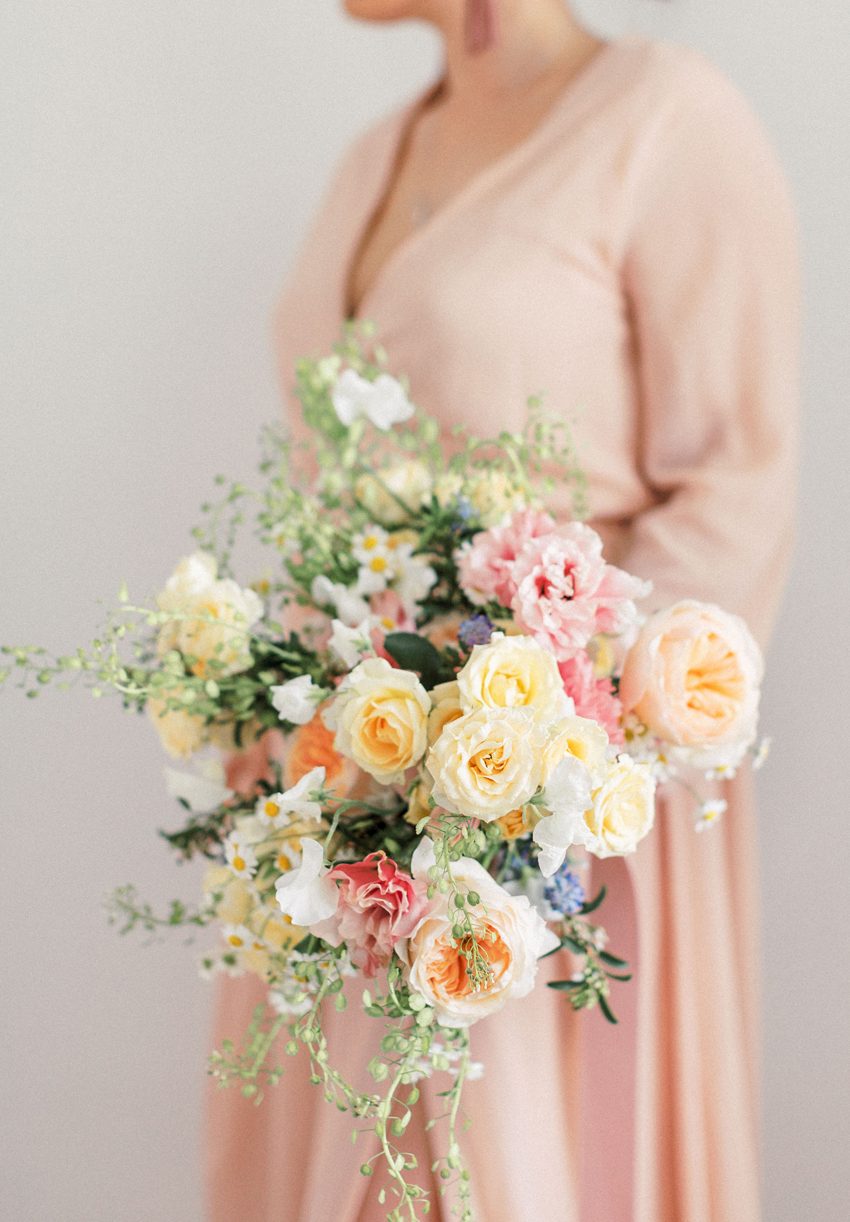 1. In my older bouquet there are a few stems (the solidago and snapdragon) that are sticking up higher than the bulk of the bouquet. In early 2011 the trend in bouquet design was still very tightly packed, round, European-style bouquets. A uniform round head of flowers was the popular look and in contrast, I was drawn to a looser style that was hard to translate into my fist few designs. While my first attempt illustrates more of an 'antenna' type look, I feel like my present designs beautifully highlight movement and texture in a way my 2011 self didn't have the skill to do. If you look carefully at some of the centerpieces and bouquets I've done, you'll see a more refined take on this shape where the left and right sides of my arrangements sit up higher than the center.

2. My color preferences and how I selected my ingredients in 2011, doesn't surprise me in the least! I've always loved softer, warmer tones like peaches, pinks, butter, ivory, and sage, while bolder, cooler tones like red, orange, purple, and blue haven't appealed to me. While we have worked with these cooler tones before, and greatly enjoyed those creative challenges, it's interesting to see how even eight years ago, the Rhi selecting ingredients from a grocery store market floral market, is very much like the Rhi who shops the cooler now for her designs.
3. My 2011 bouquet is one-sided. The side you're looking at in the photo is the prettiest and the one I intentionally made as such. Those first few years I was experimenting with my style, I started making sure my bouquets looked the same from every angle, a feat that is next to impossible if you've ever attempted it. What happens is you get one side looking the way you want it to only to realize a different angle has since shifted. Before you know it you're holding a VERY full bouquet in your hands that is either a) majorly tapping into your profit 2) taking away product you may have allocated for other designs and / or c) not what the client wanted or expected. You get a very lovely bouquet but again, sometimes bigger isn't always better.

So while this isn't a bad thing and tightly packed bouquets have their time and place, almost of all the bridal bouquets I now make have a distinct front face, two sides, and a back that sits against my bride's stomach; this is always something communicated to my brides, too. I'm sure my 2011 self didn't know she'd eventually create bouquets with one statement side, but I love seeing how that's translated over the years!

4. One of the biggest long-term hurdles for me as a designer was learning to let my flowers breathe. I used to cut my stems so short, nervous that longer stems would be too wild in arrangements. And in bouquets, I was sure that shorter stems (the bouquet handle), would be too risky, hence the overly long bouquet handle in the 2011 bouquet. Or, I was heavily influenced by what was popular at the time, and that was a look where flower heads were packed tightly together, petals against petals, everything positioned on one plane. So many of my first designs feel like they are holding their breath or like the flowers are competing for space. Now that I know what I do, I want to reach through my screen and literally pull some of the blooms up a few inches!


I think my understanding of space and composition has been my greatest growth as a designer. My bouquets today look like how I view flowers in nature; a bit wild, organically structured, and beautifully intentional. Learning to make space and composition work for me has been the result of many hours trying new things, pairing together different flower and foliage varieties, and being uncomfortable with fresh-to-me design and mechanical approaches.
5. Finally, two specific things about my 2011 that make me smile: the first is the middle flower, which is I believe a domestic rose called a vendella. If you've ever freelanced with me or done a private workshop you'll know I always have an 'anchor flower' in my bouquets and centerpieces. My anchor flower is typically a studier rose variety (like a vendella!) that's stuck low in the center of my design, to act as a base or a grounding piece, to the rest of the flowers that will be designed around it. While the 2011 design didn't quite get the spatial part right when it came to everything around the ivory rose, I love that I put that rose in the center regardless.

The second notable about my 2011 design is the way I used a spray rose stem at the hem of my bouquet. Again, if you're familiar with my current approach to flowering, you'll know I'm a big advocate for spray roses thanks to their affordability, flexible linear qualities, and fluffy petals / heads. I often use them to fill in spaces around the hem of my bouquets (when other flowers used here would simply snap or be too rigid), or they are almost always used in our recipes when we are making sure the rim of a vase is covered. My 2011 self probably didn't like the look of visible mechanics or the side profile of certain flowers so she put that peachy spray rose bloom in the front seat. 2019 Rhi high fives her.

So let's look at my most recent bouquet, a spring-inspired creation photographed by Samantha James Photography. This bouquet is shown a few times through this post but knowing the evolution of skill, and more personally, my own evolution as outlined above, can you see how the 2011 bouquet naturally translated to this today?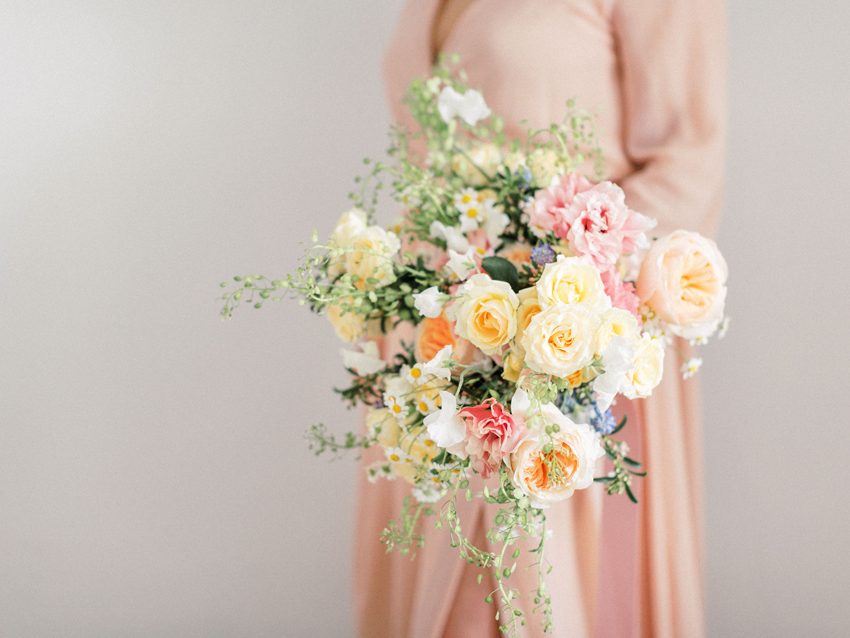 I hope this was a fun and insightful post! Reflecting on how far we've come is always a helpful and motivating exercise as business owners so take some time to look back at your first piece of work, whatever that looks like, and see how much you've changed and improved! Xo