Well! We officially have a three year old!
Lachlan's birthday party was this past weekend which worked out nicely since his official birthday landed on a Friday this year. Despite some mild sicknesses lingering in our home for the last eight weeks, I prepared as much as I could in advance of the event, a feat I owe to our home being the party headquarters (less to load up, unload, and repeat). This was also the first year Lachlan had a big say in choosing a theme for his celebration so it felt even more special to bring his digger, construction vehicle, and building interests to life.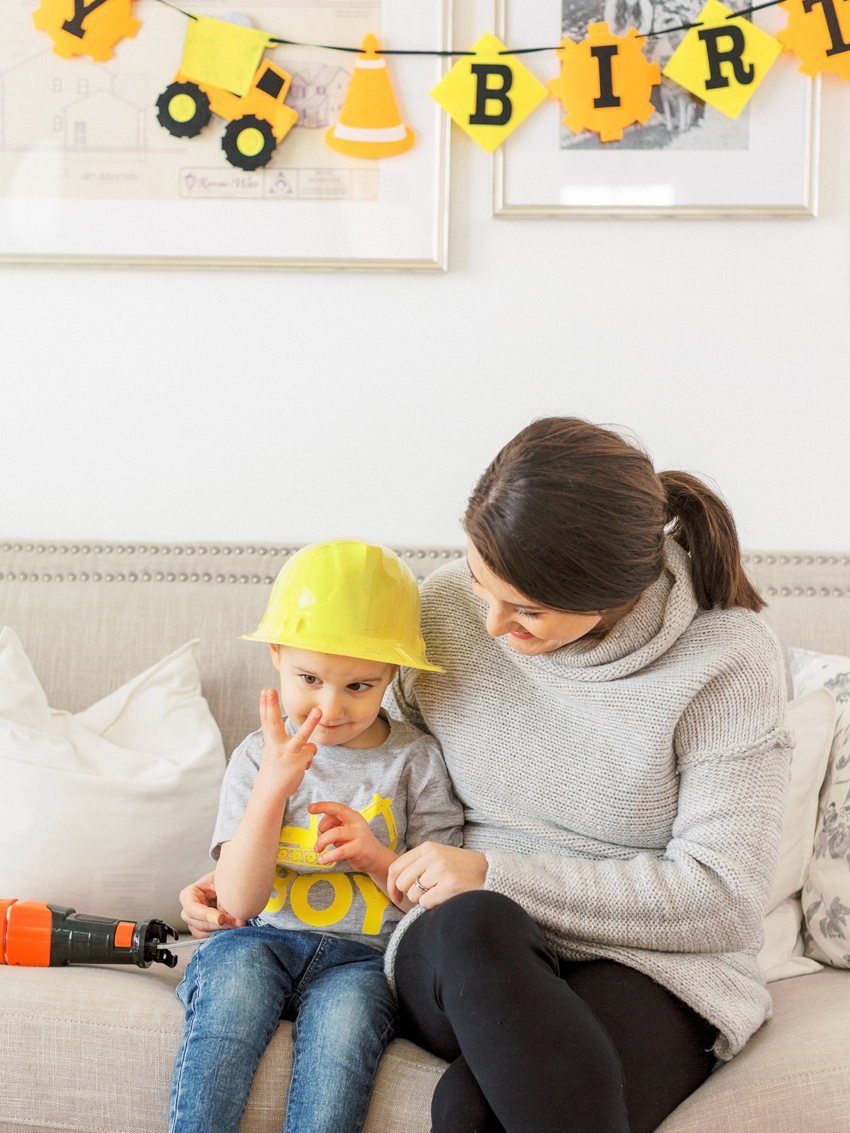 In the days leading up to the party I kept thinking how lucky we were that Lachlan was feeling healthy. I read my friend Em's post about her little being sick for her birthday just two weeks before and I thought it would also make my mama heart sad if the birthday boy had to suffer through his. So I went to bed Friday grateful and ready until midnight. I woke up with body aches, a very sore chest, and an awful fever. I knew it before I even whispered it to a half-awake Andrew. Mastitis. And just as soon as I started to fret about when I'd have time to get to urgent care before finishing set up in the morning, a crying Lachlan burst into our room, having a hard time breathing, making these awful barking cough sounds.
When it rains it pours.
This is it, I thought! I'm going to have to call all our guests and we're doomed to eat 150 boneless wings and a giant party-sized bag of mini broccoli florets for the next 57 days! After having to cancel last year's surprise birthday party for Andrew thanks to an ice storm and downtown power outage (mind you in APRIL) and now this, maybe I'm not meant to throw cool parties anymore. God is telling me to just book an hour at a trampoline park and be fine with the dang party pizza and e-vites package. I cried during that 1:00 am feeding, partly because of the miserable pain and I was worried about Andy taking L to the hospital in a snow storm, but mostly because even the most perfectly planned circumstances end up being so very out of our control.
Turns out L had croup which most likely was passed through brotherly kisses with Ev. And it turned out I did indeed have mastitis, likely due to my weak immune system and constant breastfeeding. To make an already long story less long, by Sunday night (after Lachlan woke up with pink eye, I just can NOT make this circus show up!) I ended up in the hospital. Exhausted, frustrated, weak. But if you can believe, I felt oddly content and happy knowing our little guy had the time of his life at his party being celebrated by so many loved ones. Maybe that's how marathon runners feel when they cross the finish line. The marathon of motherhood. I feel victorious!
. . . . .
Birthday parties are incredibly special in our home. From the fun in brainstorming themed ideas with Andrew, the experience we hopefully provide to our guests (kiddos AND parents come to our parties), and of course the joy on Lachlan's face as he encounters each and every fun detail, I find these endeavors to be fulfilling and far from tedious or time-consuming. Maybe I'm a so-called Pinterest Party Mom. But I'll wear that badge with honor!
As a courtesy to our more private guests the photos in this post are of our immediately family, party details, and L and E glued at the hip as usual. I also wanted to be sure Sam was a friend first that day, photographer second, so most of the photos were taken before guests arrived so she too, could celebrate with her family.
Enjoy the digger fun, my friends!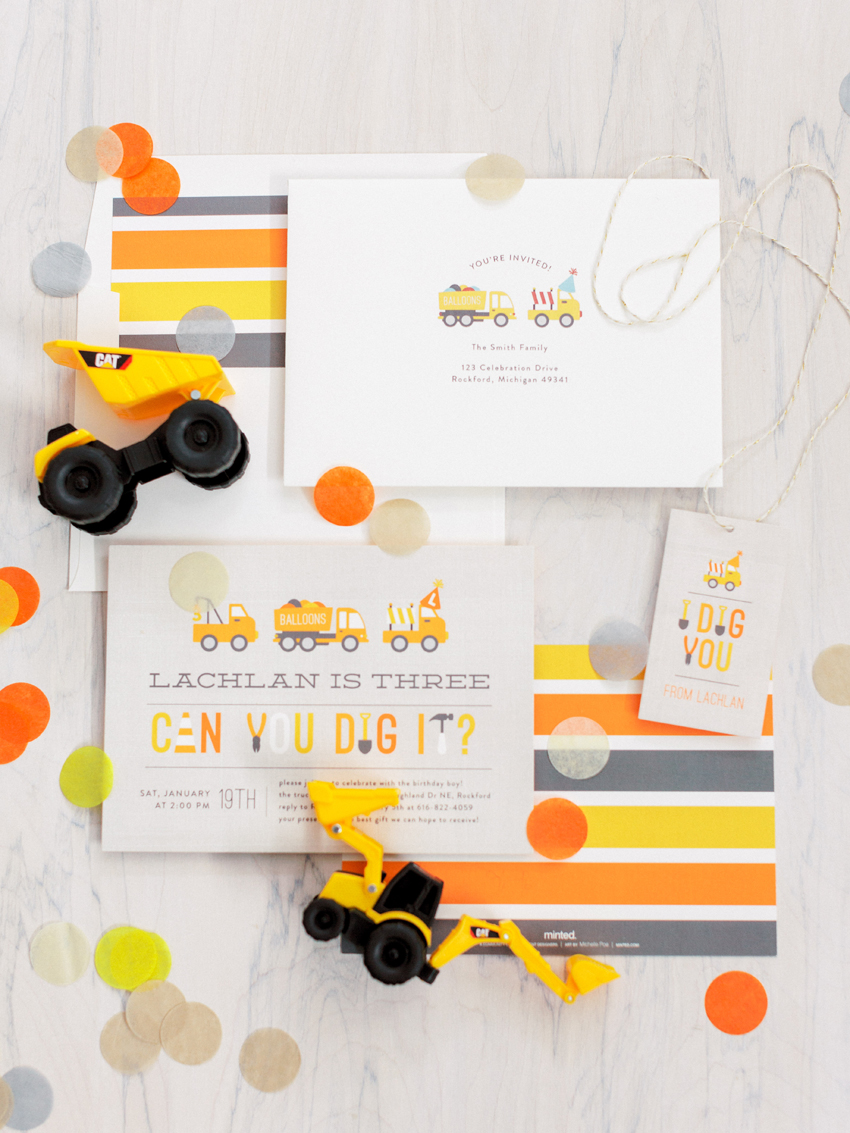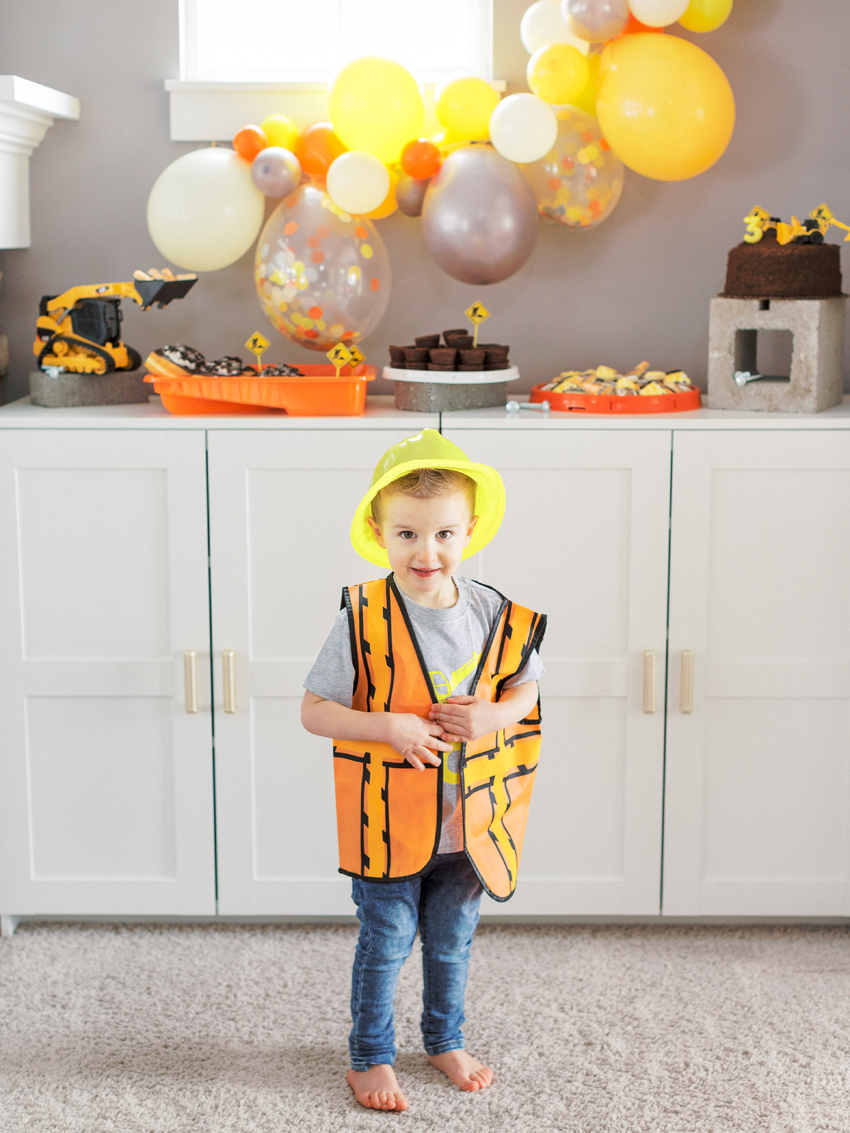 This boy. He had a smile like this one on his face all day long and would excitedly yell each guest's name as they walked through our door. And there were a lot of people who walked through our door! With 18 kids and their parents in tow, we had close to 40 people in our home for the afternoon. Talk about making good use of our space!
And if you can believe it we didn't have ONE spill!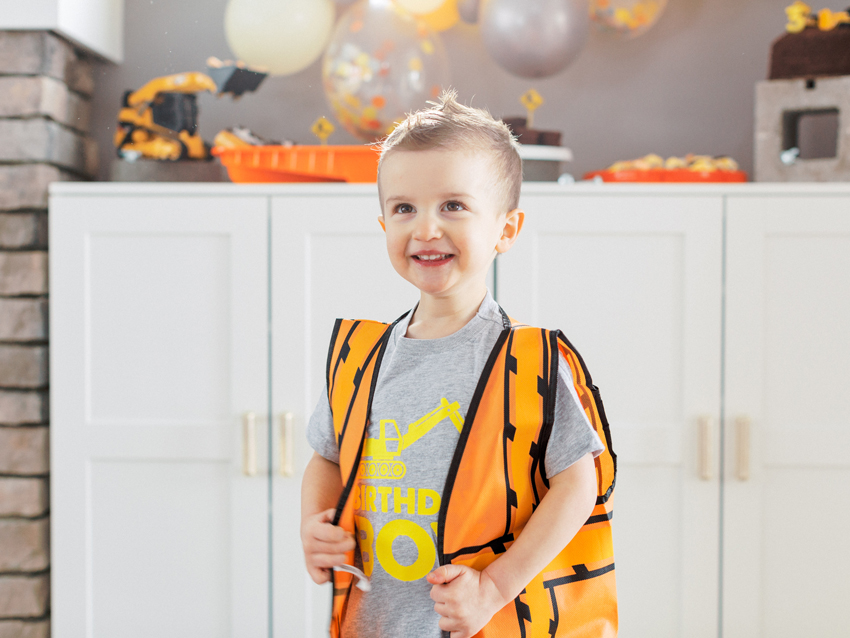 What was fun about a digger theme is the versatile colors and the endless ways to get creative with all things construction. Lachlan has an impressive knowledge of construction vehicles and is quick to correct anyone who can't tell the difference between a road grader and a Bobcat, an excavator and a cement mixer. So knowing his interest on the subject, and also realizing we already have so many construction type toys in our toy cabinets for decor, this party actually cost us very little! I'll give some party saving tips below too.
The impeccably decorated cookies from Madri's Cookie Kitchen were a huge hit! And quite delicious too.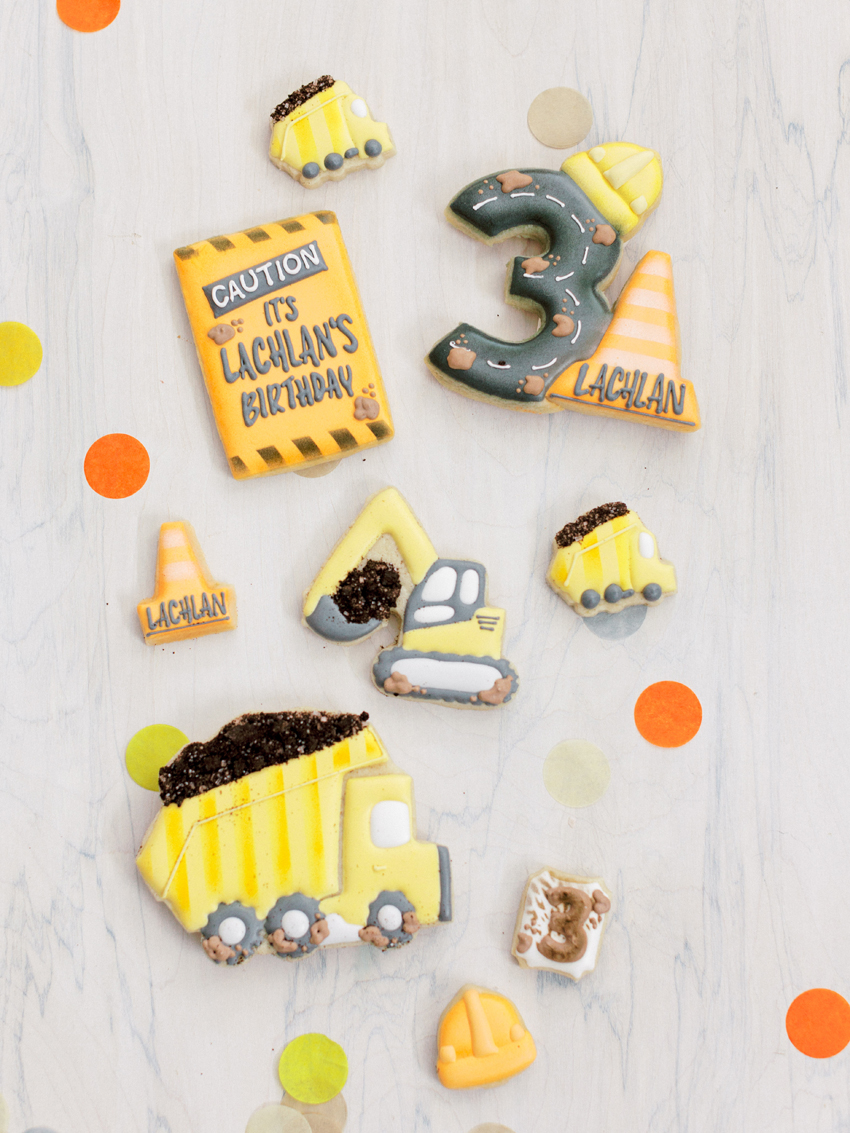 If Rowan isn't a mini-Sam and Ev a mini-me then my goodness. It's not lost on me that it's an enormous blessing to have both of my kids be so very close in age to hers. Since Ev was born we've been waiting to catch the littlest of our four kiddos in a giggly smiling snapshot, so this two photo sequence is just the best. Also, a serendipitous moment worth noting: when I was making my last minute to-do list the week of the party, I wrote 'construction themed onesie?' on my Target list. Perhaps the party Gods gave the list a once over because that my friends, on Ev, is the cutest onesie with cement mixers and bulldozers on it!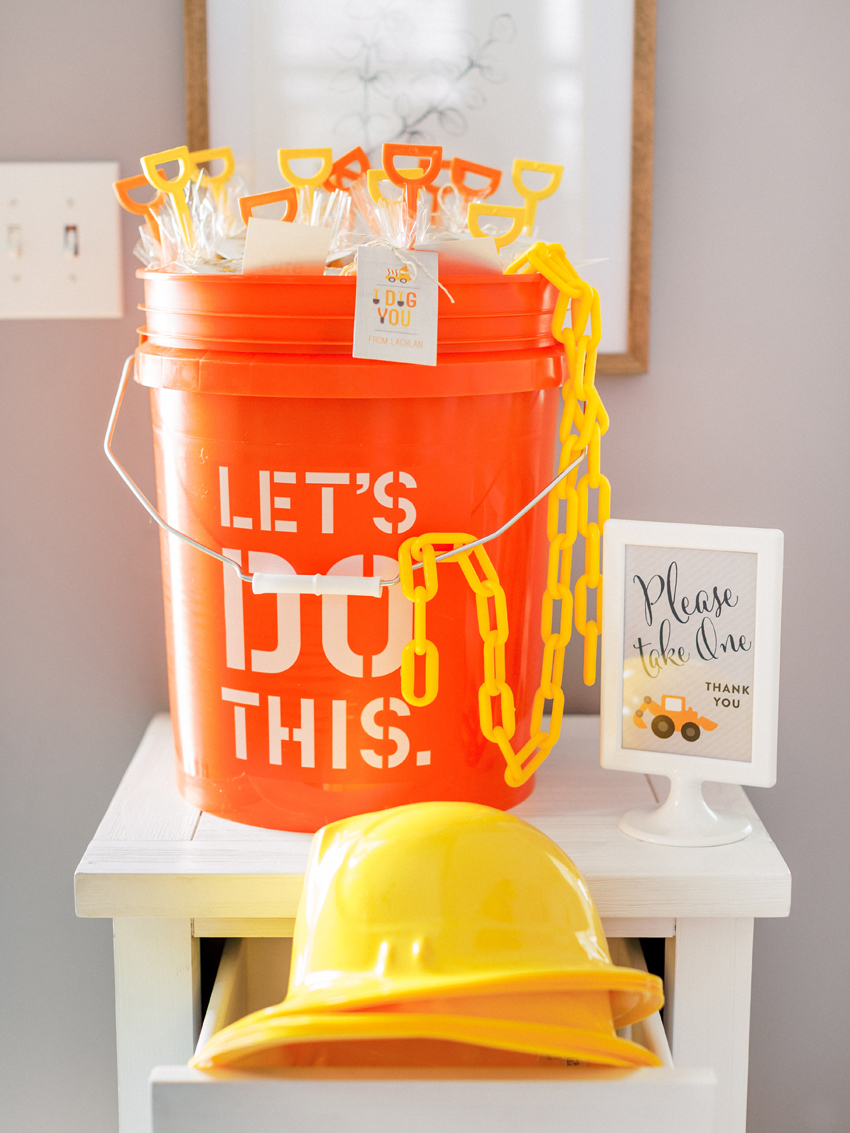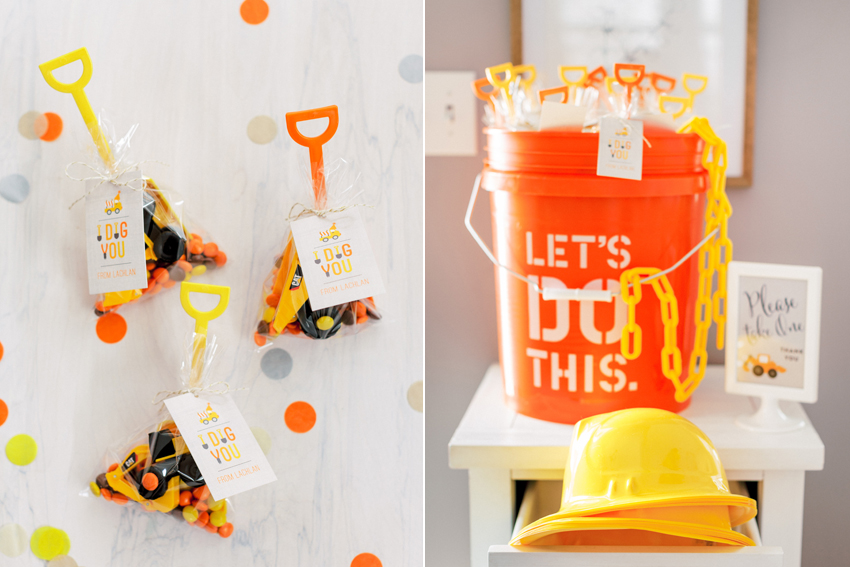 The kiddo's goodie bags were a twist on the traditional and included a sand shovel, handful of Reese's Pieces, and a mini toy construction vehicle. They were tied up with twine, adorned with a tag that matched the Minted birthday party invitations, and then displayed in bright orange Home Depot bucket. Every kiddo got to wear and take home a yellow construction hat too. Let's just say the hats and the balloons were a big hit!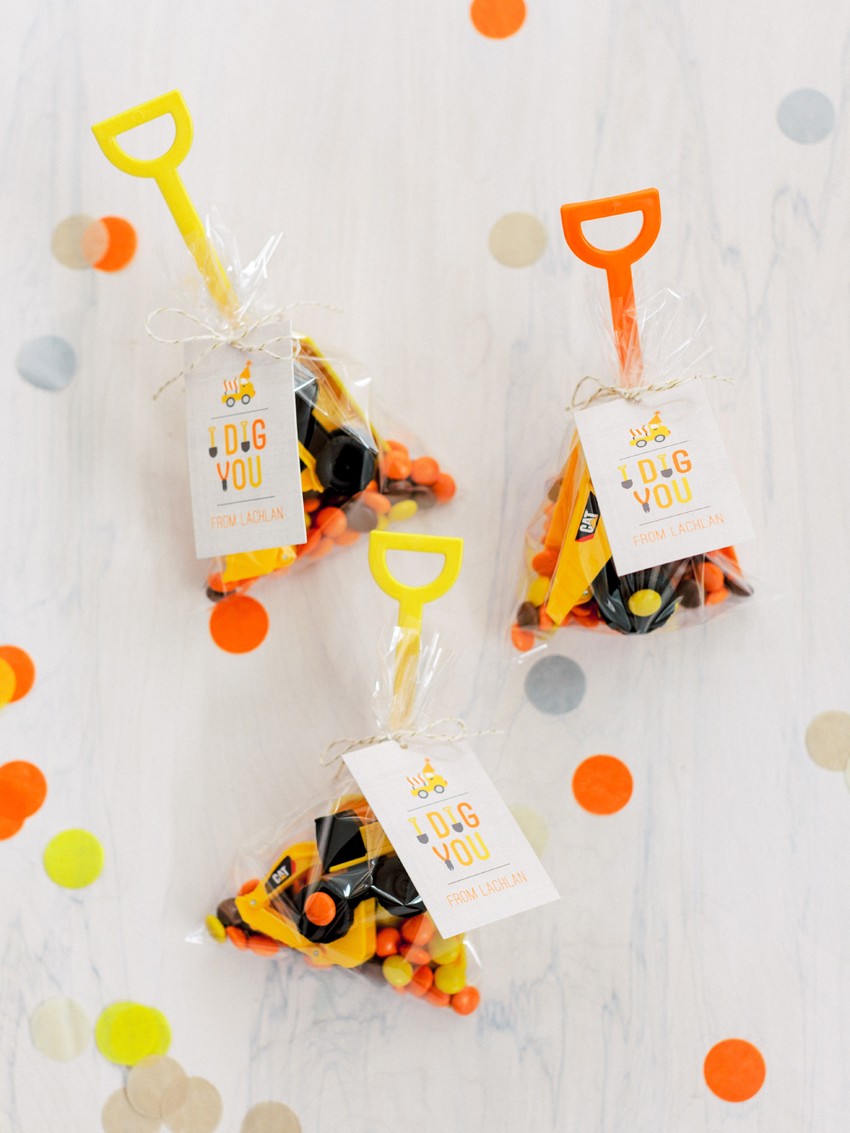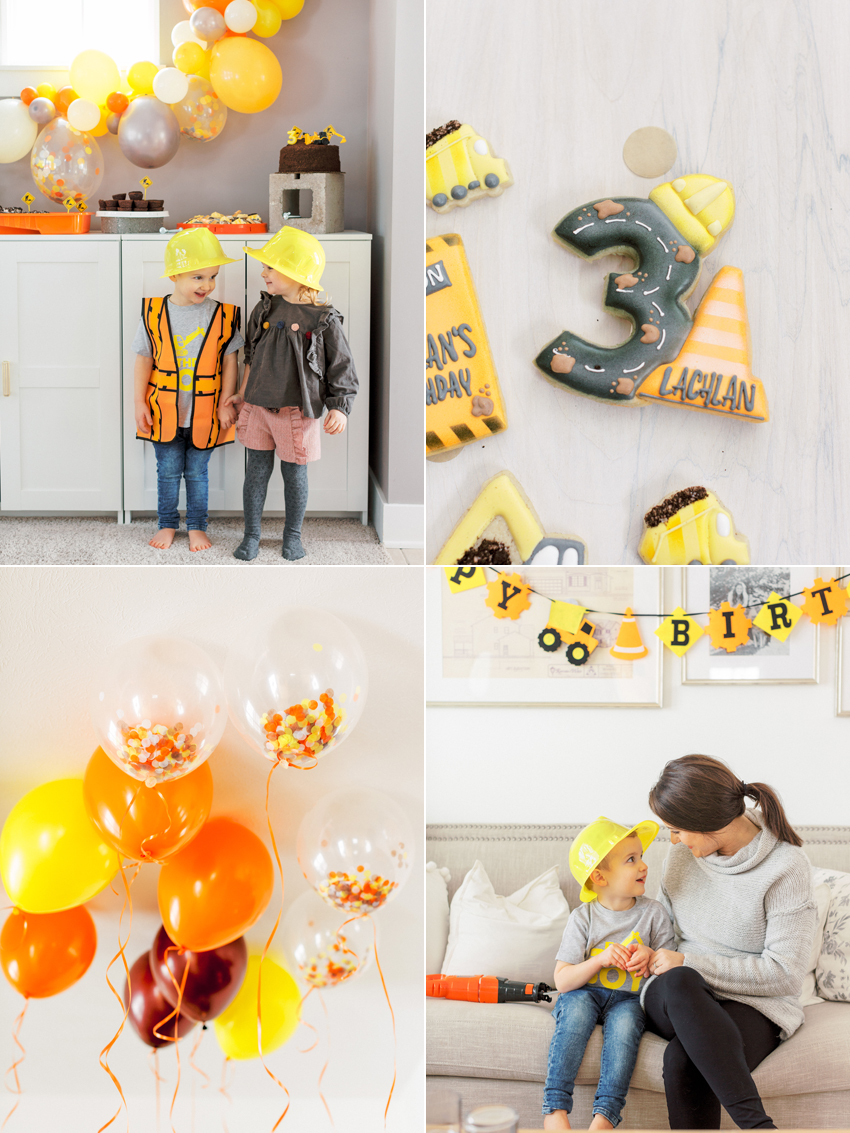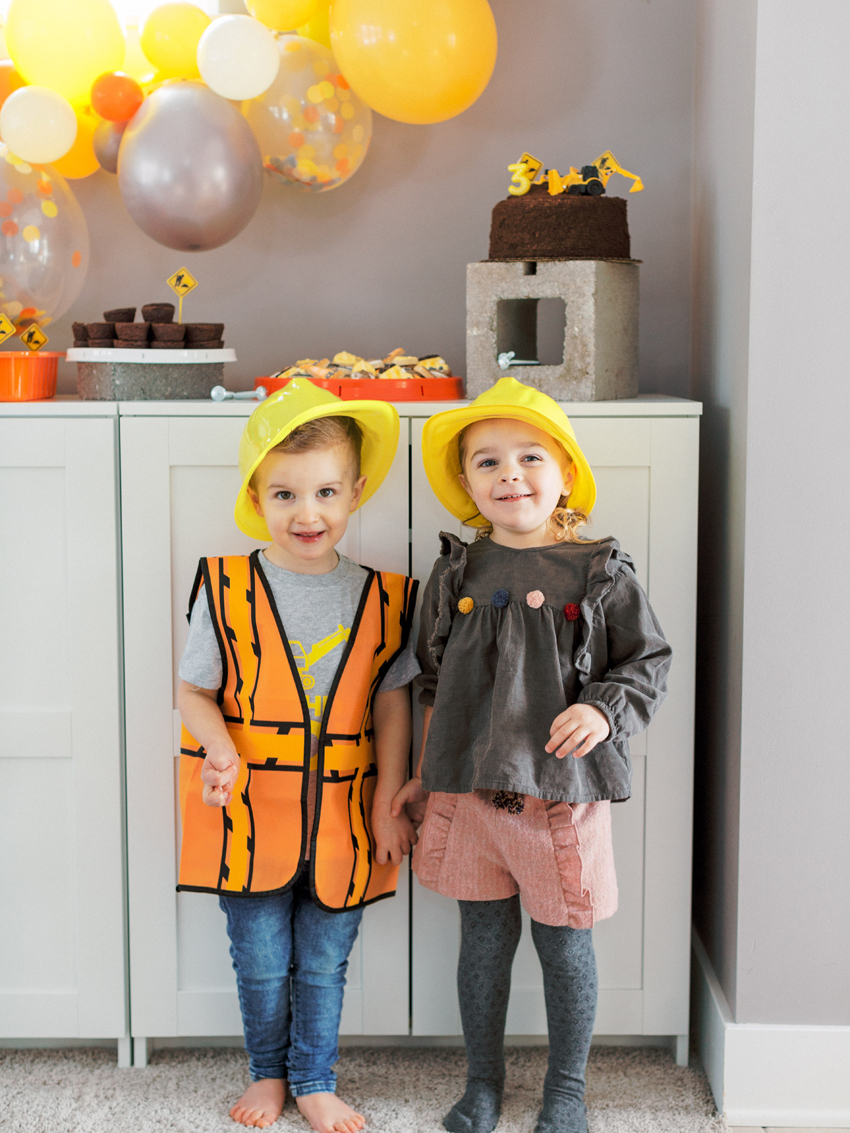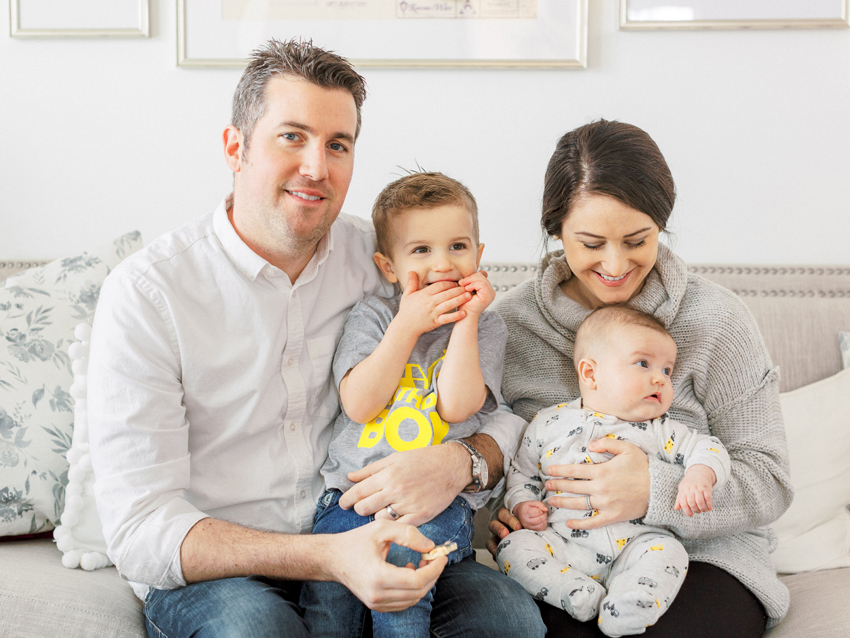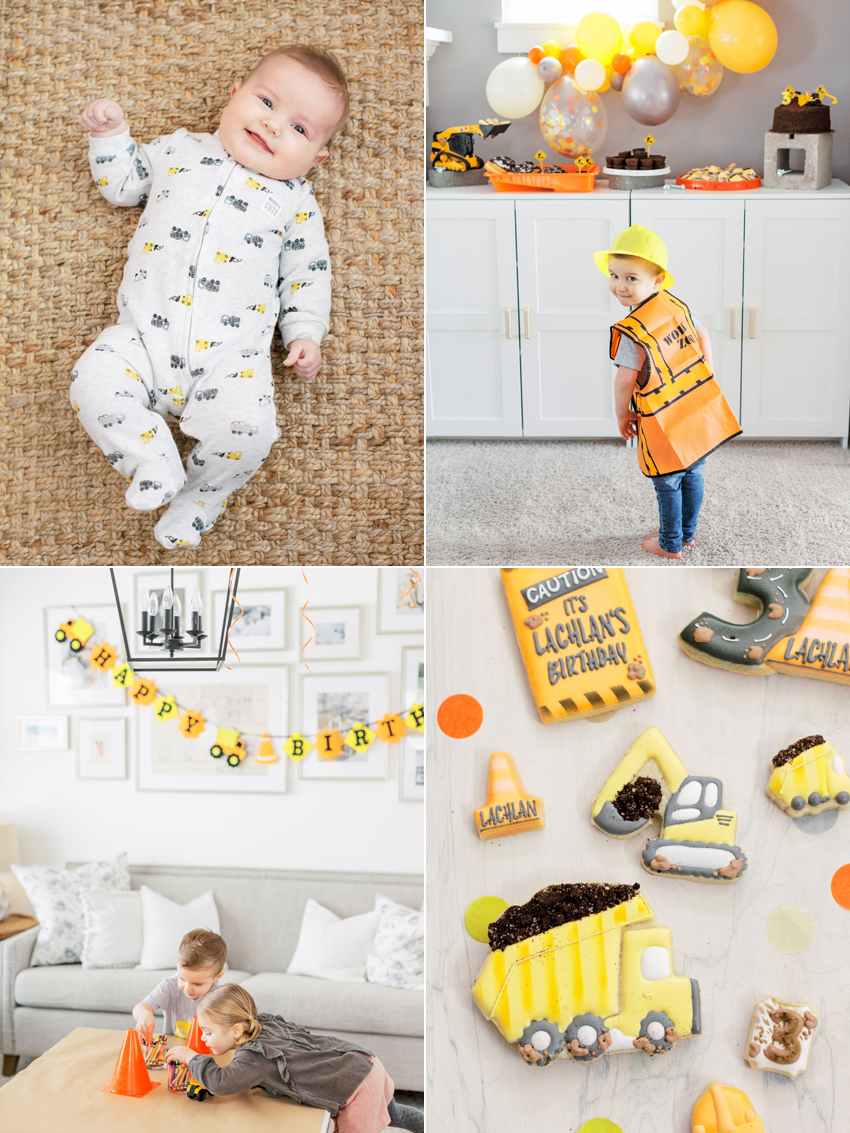 In addition to the birthday banner, confetti balloons, and balloon garland I made with this kit for over the dessert display, we had two other areas of decorations. The first was a handful of construction themed signs hung around various parts of our home. Our front storm door sign read 'Crew Entrance,' and the drink station by the sink had a 'Yield' sign. The second half the party decor were all things I found from simply walking through Home Depot and getting inspired. A cinder block for a cake stand, bricks to lift up pail lids for dessert trays, painter trays for veggies, buckets and shovels for chips, dips, and salads, bolts to put out as a festive little touch. And of course lots of pylons and orange bubble wrap everywhere!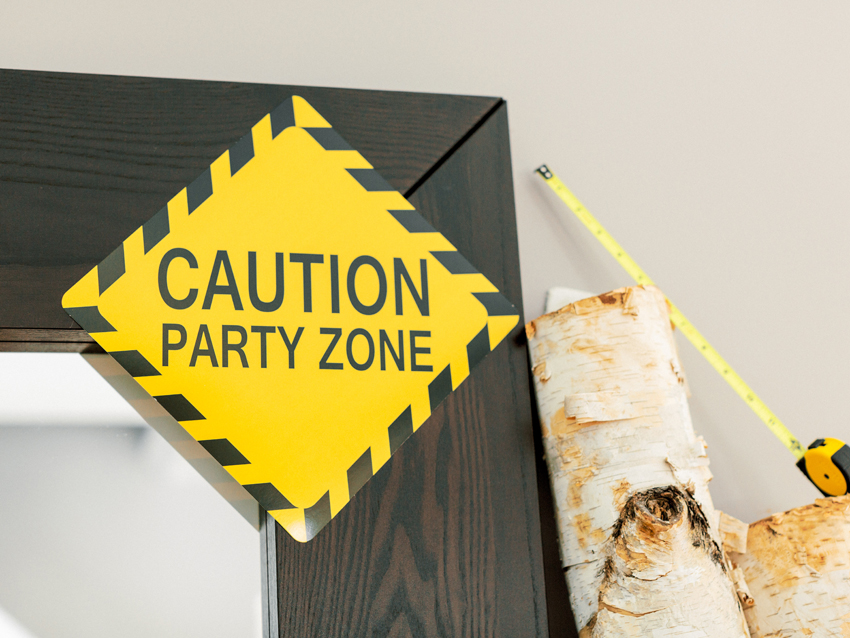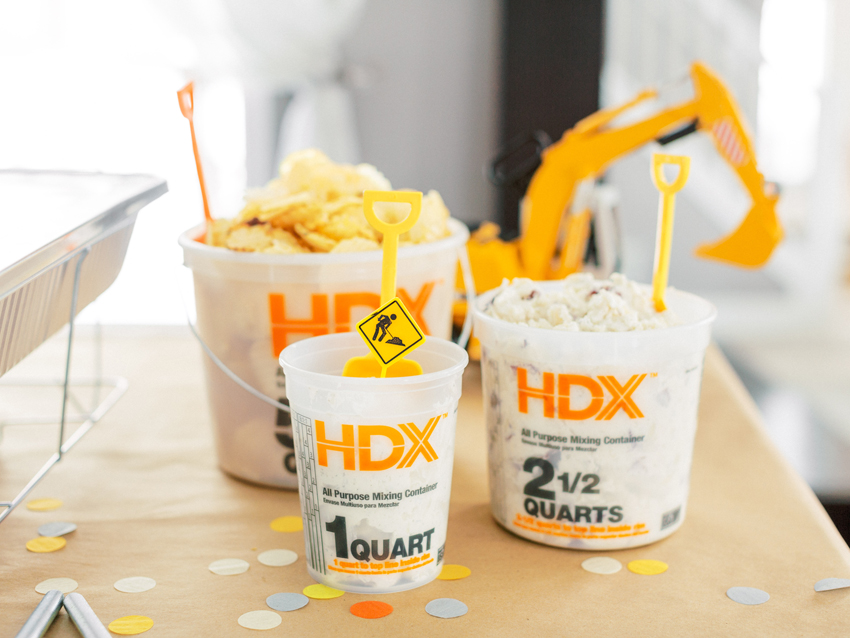 Food was simple, affordable, and delicious! For the main spread we offered:
• Boneless wings, undressed, with a selection of four sauces for guests to pick from
• Cut up fresh veggies including cucumber, carrots, broccoli, and red pepper
• Cubes of cheese (which we unfortunately forget to put out in the excitement)
• Red skin potato salad and a rotini pasta salad with an Italian-type dressing
• Ruffled potato chips and French onion dip
For dessert we offered the following treats:
• Donuts from the grocery store, special ordered to look like 'dirt' on the top
• The beautiful cookies I mentioned above, served on a nice orange pail tray :)
• Two bite brownies straight out of the box (and right into my belly, so good)
• And marble birthday cake with chocolate frosting and Oreo crumbs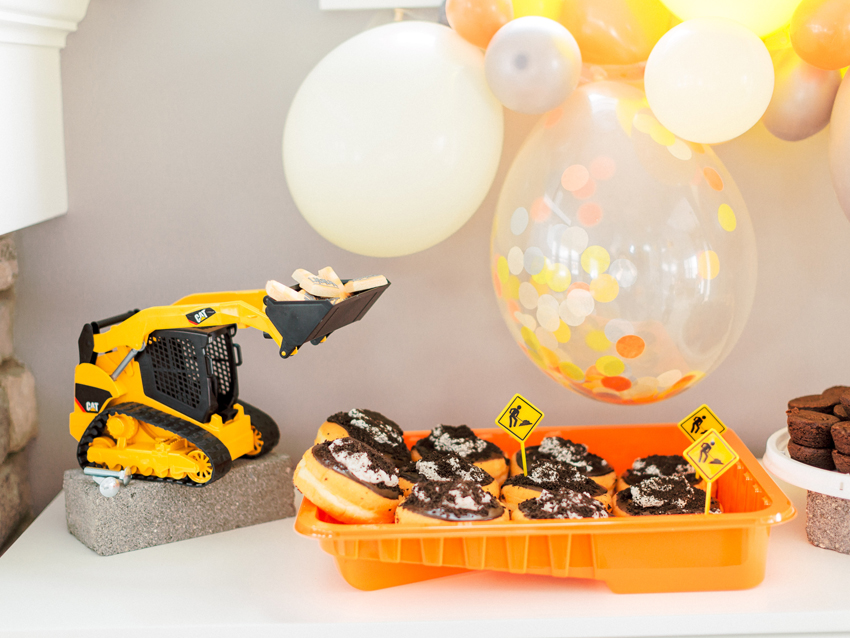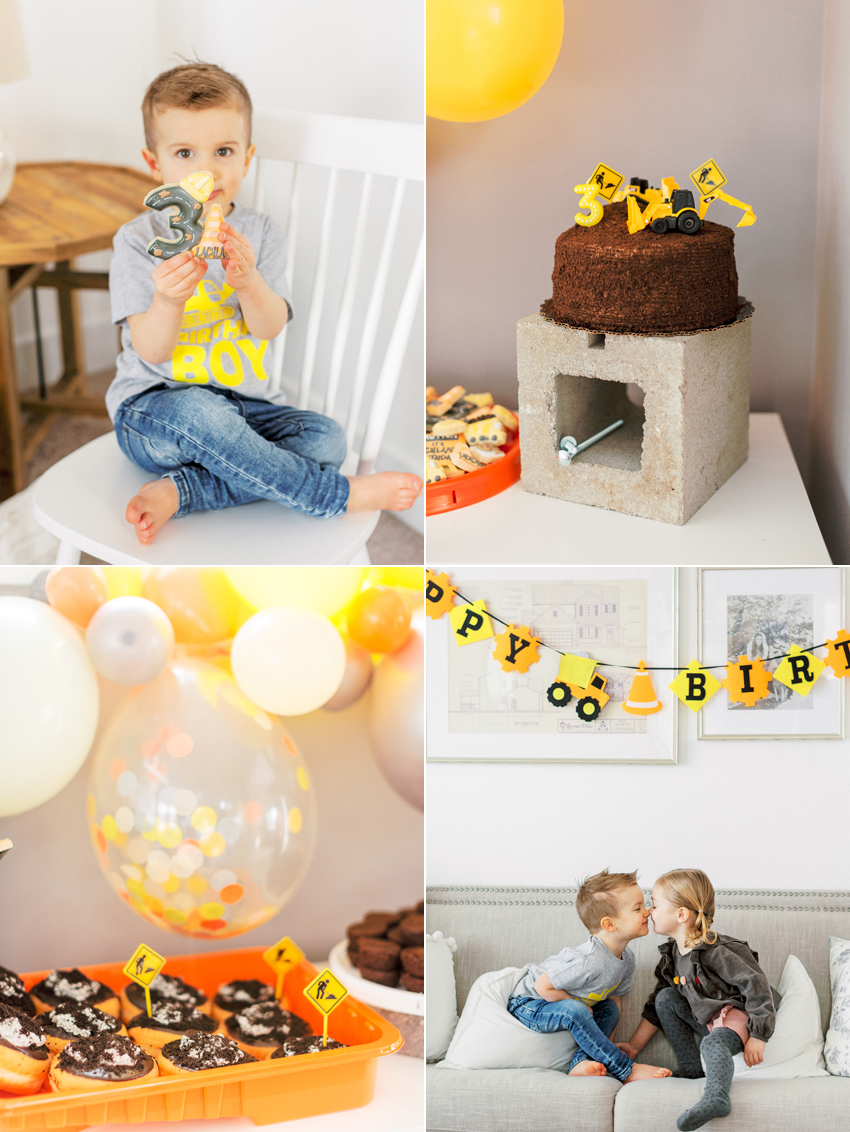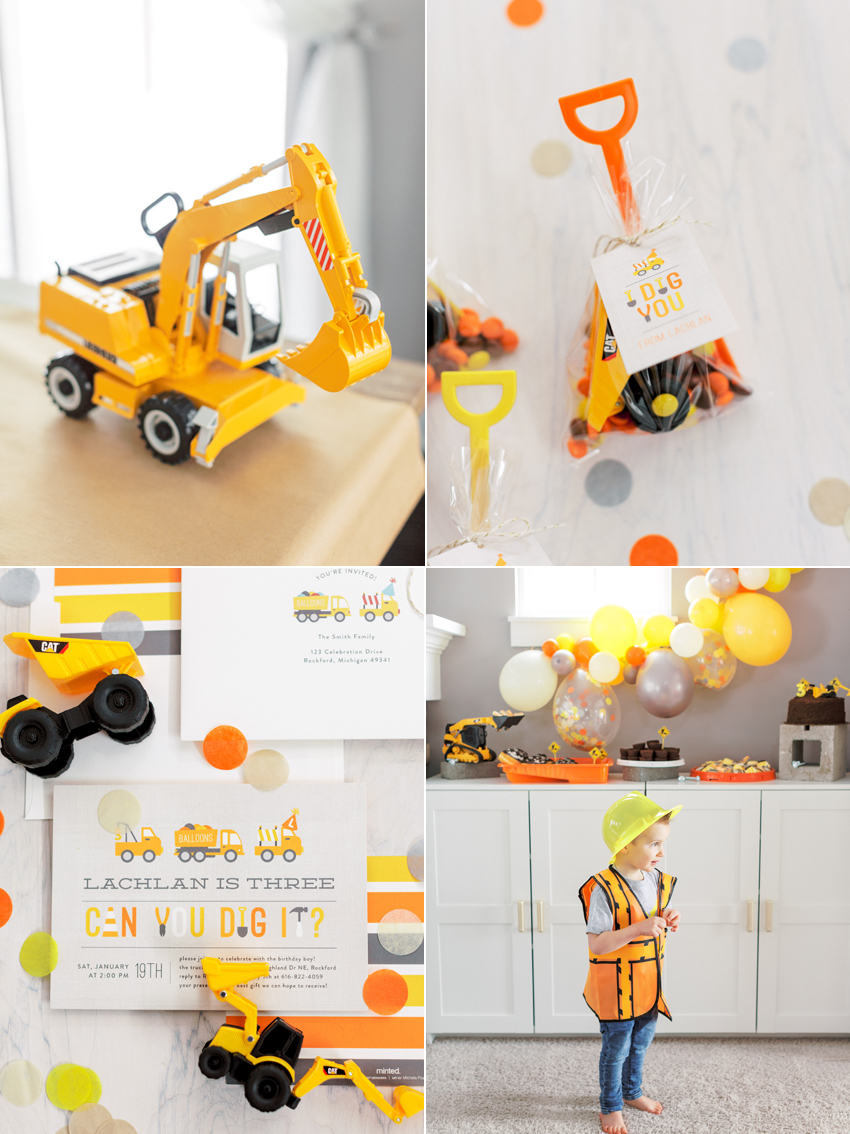 Some ways we kept this party within our budget:
1. We hosted at our home. In the past we rented spaces for both L's first and second birthdays, and while I don't regret those choices they came with price tags. Those two parties had bigger guest counts so an appropriately sized space was needed but this year we knew we could make our space work. Also, being home where we have a routine with Ev, his nursery, our room where I could sneak away to catch my breath while I was feeling so sick, was such a blessing.
2. Most of the things I snagged from Home Depot will be repurposed. The buckets will be used for flowers this wedding season (smaller buckets are perfect for shorter stemmed blooms like anemones, ranunculus, and astilbe!). The cinder blocks were given to my brother in law. The paint trays will be saved for future home jobs. The bubble wrap will be used in endless ways. And the rest of the decor was photographed as a lot and boxed up to be sold to any other mama that might be on the look out for some digger goodies!
3. We ordered invitations through Minted and skipped the fancy calligraphy and vintage stamps. I'm a sucker for a beautifully presented invitation sent the old fashioned way but I kept it simple this year in favor of saving money especially seeing as I ordered these about six weeks after Ev was born (I needed simple and fast). I also skipped out on having any signage at the party, like tags for the food and drinks, which helped manage costs.
4. We did juice boxes, La Croix, and cans of pops instead of renting or buying bulky drink dispensers, straws, flags or cups. While we did have some cups as a backup, those were for water-drinking guests who were welcome to our Brita filter instead of water bottles. We also invested in compostable plates and flatware from Amazon that came in bulk. My theory was if we're producing waste from the party let's have it be good waste. The cost savings was snagging a bulk lot on Amazon and knowing we have leftover pieces to use for future dinner parties, holidays, and events!
5. We bought the cake from the grocery store. It was $14.99 and absolutely delicious! With a little creative direction ('Can you make it look dirty?') and some festive decorations thrown on top it was perfect! It's hard for me not to get the best of all the things given that it's my job to do that for clients (and I have so many talented friends who can do these things!) but with two kiddos now, the party budget has to stretch a little further. And cost effective doesn't always mean less quality.
6. In lieu of renting anything like chairs, tables, and linens we got clever with our existing furniture, and then of course the bubble wrap and an old roll of Kraft paper from my studio. Our kitchen chairs were brought to the living room so people could sit there around our coffee table and eat. This allowed for more space to access food around the dining room table. The benches under our sofa table were put in the front room for extra seating there, and then some dining room chairs were tucked under the sofa table for more eating-friendly seating. The favors were set up on an end table in our foyer and the desserts placed on our toy cabinets. The drinks went in one our of sinks with a bag of ice poured overtop. We really used what we had and it helped us save big time!
. . . . .
We feel lucky to be parents to such a colorful, loud but equally shy, tender hearted, and always keeping us on our toes, three year old. Happy third birthday, Lachlan Rue! May you never lose your adventurous, curious, and imaginative ways, sweet boy.