My favorite holiday tradition is one that feels far from festive but without it Christmas wouldn't feel the same!
And because every tradition deserves a backstory . . .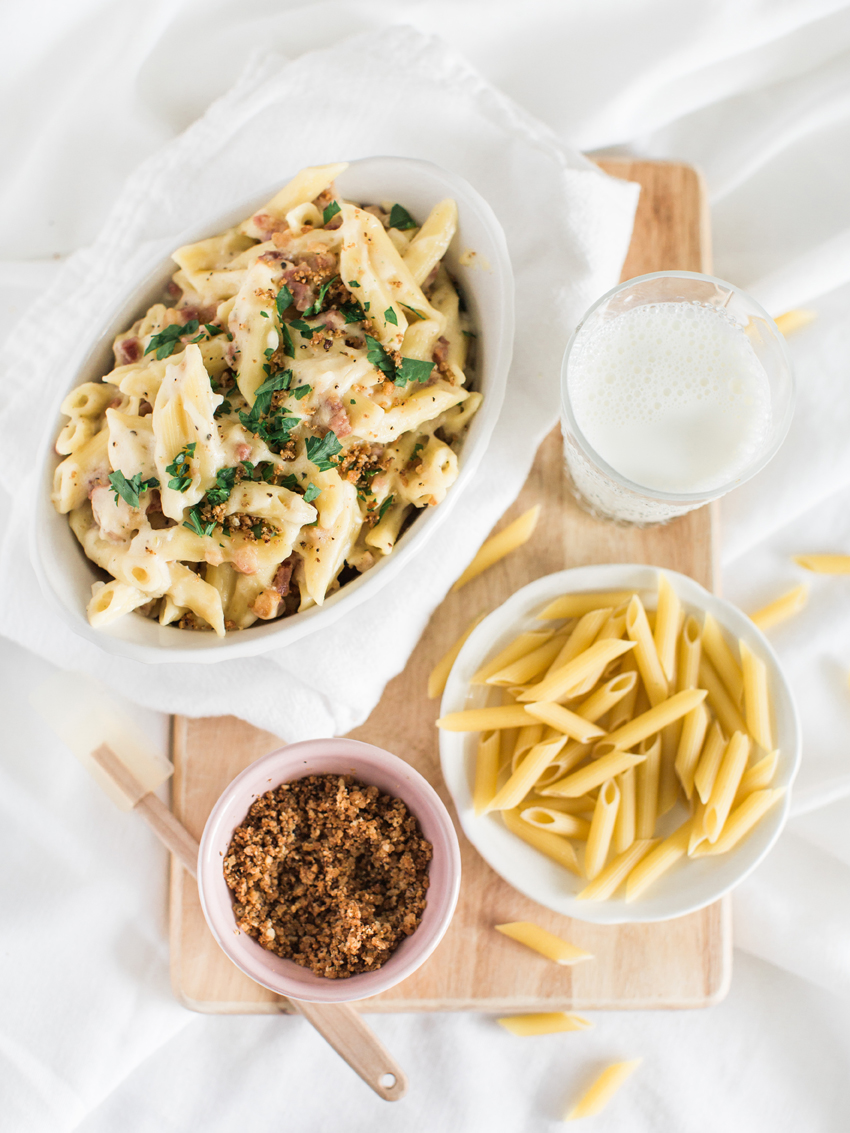 During the week of Christmas in 2006, most of the route from Lansing, Michigan to Toronto, Ontario was hit with an awful snowstorm. The kind of snowstorm that keeps people inside curled up with eggnog and holiday movies.
For me, this meant that instead of driving back to East Lansing from Toronto the day after Christmas to get there in time for a mandatory gymnastics practice, I would need to drive back ON Christmas Day to ensure I didn't miss it. I celebrated Christmas with my family on Christmas Eve that year and then woke up early on Christmas morning to drive nine slow hours alone back to Michigan in my trusty Jetta. I played holiday music the entire time and even waved to a couple of people out on the road that day, consoled by the fact that others were also out braving the weather, not back inside with family and all of the things I loved most about the holiday.
Once I crossed border that morning with just a few hours left in my trip, I called Andrew to ask him if he had Christmas plans that evening. I explained the incoming snowstorm (which was now making its presence pretty clear as I tried to drive through a whiteout on the interstate) and how I would be back in East Lansing later that day. At the time, we had only been dating for about a year, but Andrew and I both knew we'd eventually get married and start a new life together.
Which is probably how we ended up having such a pivotal night in our relationship.
Being the incredible man he is, my then boyfriend decided to drive from his parents' home on Christmas day to join me at my little college house and ensure I didn't spend the rest of my holiday alone. I was so happy to see him that evening! And even happier to have made the decision to get back to campus when I did because by evening, the snow was so thick that getting in and out of the driveway was proving difficult.
Soon after he arrived, it dawned on me: I wasn't just missing out on my beloved eggnog and holiday movies. I was missing out on my mom's epic Christmas dinner spread. Juicy turkey and homemade stuffing, cooked to literal perfection. Homemade roasted potatoes and freshly baked loaves of French bread. Colorful root vegetables with bundles of torn herbs. Creamy shortbread made just the way my Nan used to, with one quarter of a maraschino cherry baked into the top. My mouth still waters thinking of how thoughtful and truly scrumptious those holiday dinners were.
Since the weather meant there was no chance of driving out to the store that evening, and the entire campus was on holiday break, we decided to check in the fridge and cupboards to see what we were working with.
In the fridge? Some Frank's hot sauce.
In the cupboard? One lone box of Velveeta Deluxe macaroni and cheese.
And in our bellies that night? I'll let you guess what ended up there.
That night, we ate our meal with such joy and happiness, knowing at least it was a meal enjoyed together on Christmas Day. And we laughed knowing that one day we'd look back with fondness over how things unfolded that night. We talked about making Christmas macaroni and cheese a holiday tradition for many future Christmases to come, one that, in the future, our kids would totally love just as much as I love my holiday eggnog.
I went to bed with a full belly that night … a full heart.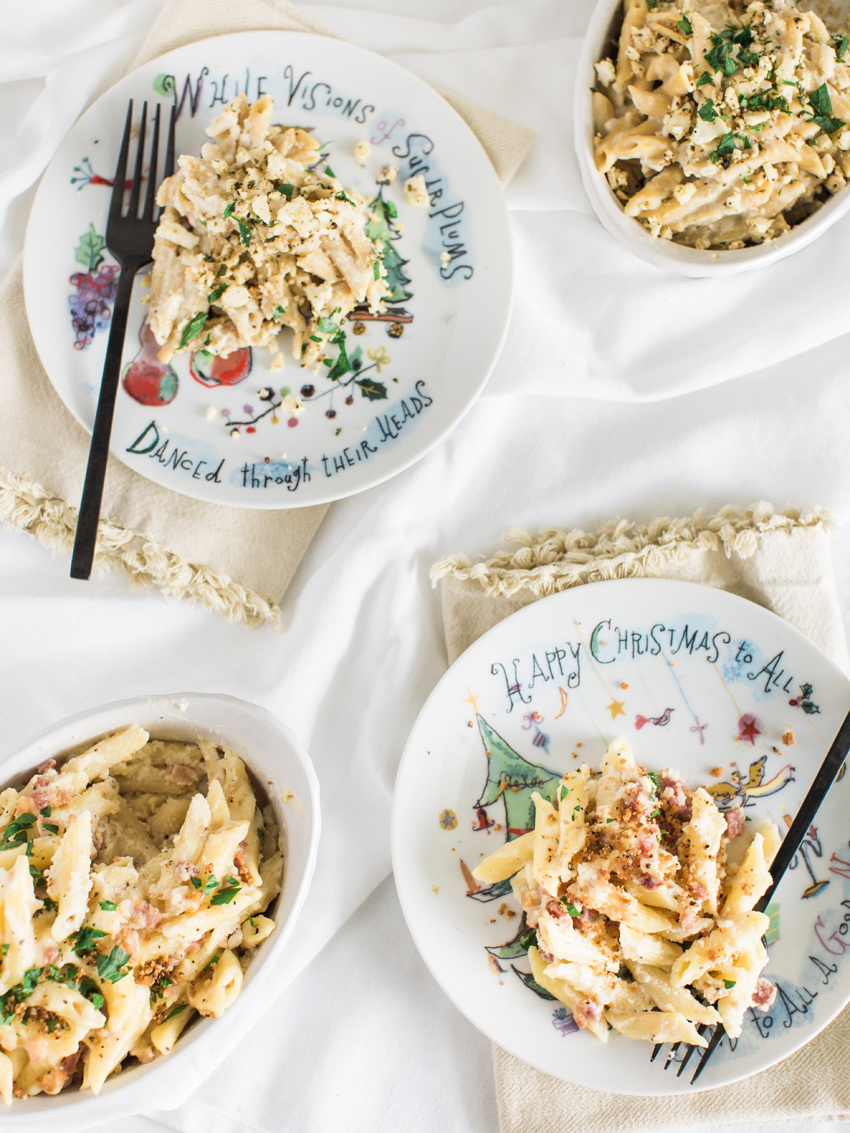 In our own home now as husband and wife (and mama and daddy), we proudly make macaroni and cheese for Christmas dinner, and have done so every year since that snowy evening in 2006. Except now, we've traded in the Velveeta Deluxe box for much more delicious homemade versions with expensive gourmet cheeses and protein inclusions like butcher-cut bacon and spicy chorizo. I set the table each holiday with our Crate and Barrel Christmas plates while Andrew makes homemade buttered breadcrumbs. Together, we now share this tradition with our son (our littlest is too small still!), who can't get enough of the cheesy goodness that his parents enjoyed while they were first falling in love back in college.
While homemade macaroni and cheese may not become your Christmas day dinner tradition I share this story to show how unexpected and simple things can hold such significance and ultimately become cherished traditions in your family too. If you read this post you'll know this year we're hunkered down and in for a slow savored kind of holiday. You know, the perfect kind of season for a warm bowl of homemade cheesy perfection!
If you'd like to get our homemade mac and cheese recipe I invite you to join my mailing list where I'm sending it out this week. Consider it a treat from me to you this holiday season. And tell me below, what's your most favorite holiday tradition either from your childhood or now as an adult with your own friends or family? Xoxo