I asked my husband what would be an appropriate title for this post.
"I need a word to go after, 'Celebrating Christmas In A . . .  Season,' what's a politically correct fill in the blank?"
"Uh, in a struggle bus season?" was his response. Without even missing a beat.
I married up, you guys.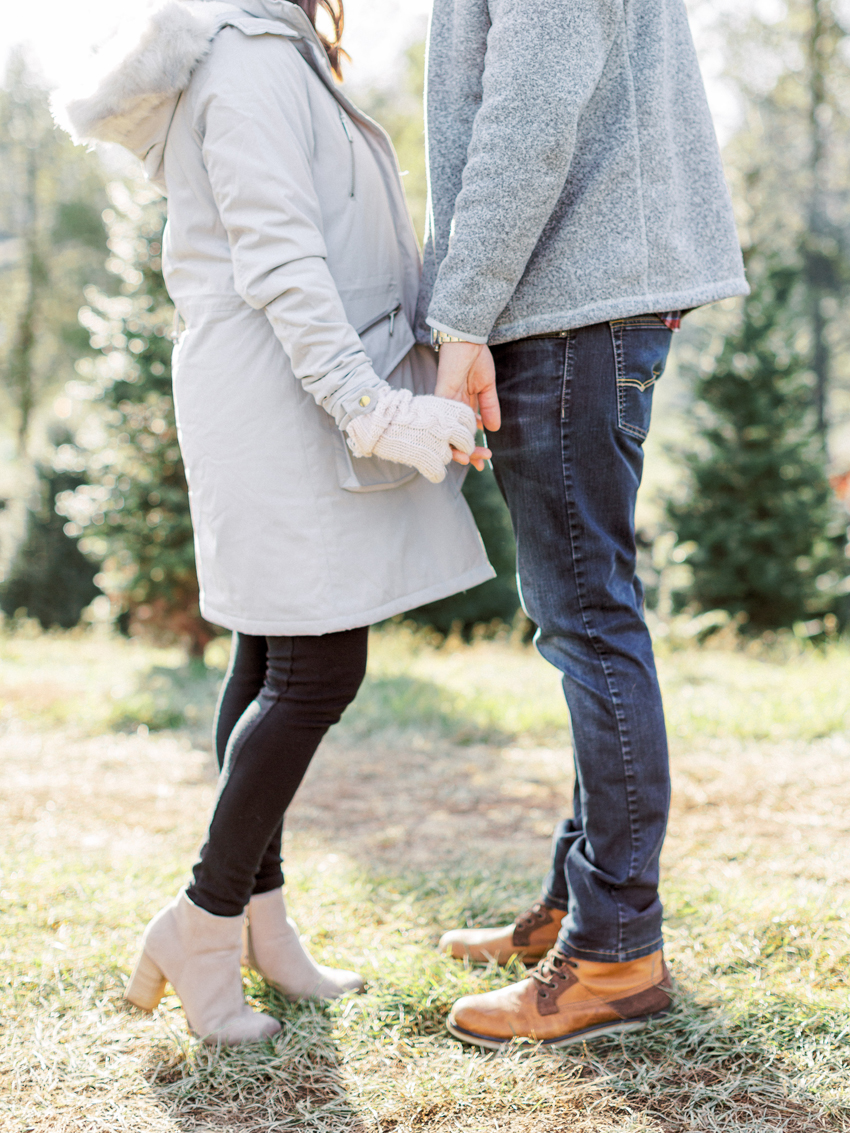 Humor aside, while I wouldn't necessarily consider this season we're in to be struggle-bus calibre it's certainly been a challenging one and one with well, a lot of transitions! With a sweet new family member added to the mix two months ago, a toddler with big emotions, continued (failed) potty training efforts, professional changes on the horizon for Andrew, a return to work date for myself following the holidays, plus physical changes for me and inevitable emotional ones that come as a result, the holidays have felt different than usual for us.
As a purveyor of all things celebratory, I've felt like a celebrating failure.
See, one thing that usually most excites me about Christmas is the first time seasonal music comes on the radio. The lyrics in many traditional holiday songs reminisce about things I always yearn for each holiday, things we don't admittedly actually do (lol-ing here) but things that the mere thought of make me look forward to the holidays with eager anticipation and a sense of nostalgia; sitting by a roasting fire, riding in a one horse open sleigh, holly on our front door, and visions of sparkling snow blanketed everywhere come (which, we usually DO have a ton of snow here in the Midwest except it's not as sparkly as it sounds in a catchy holiday tune). Goodness, the sheer sense of festivity and inevitable magic of the holidays gets me to my core.
So. When real life happens and circumstances take over sometimes the magic can subside a little.
But, and here's the big but, one I was reminded of when reading this post by Diana, the sadness I might feel celebrating the holidays in a different current season may be the result of missing the whole point of the holiday to begin with. Whatever you believe in, whatever faith values you have, I suspect this entirely misses the mark! And to that, I say amen and bring you a very real and timely collection of ideas to help celebrate Christmas in a season of transition. Just in case you too, are going through a season where less feels best.
Unapologetically Take An Off Year
As I mentioned above, we decided to do lights only on our Christmas tree this year. Lachlan's in a stage right now where I find myself continually asking if every item in his hands is a toy or decoration. Spoiler: it's usually a decoration. And while some would argue perhaps there are too many decorations in our home for this to be true, to that I say we are simply in a season of what feels like boundaries being pushed and typical three-year-old behavior becoming a big part of our day to day navigations. Lachlan's learning more about his world just like Ev is.
So instead of constantly running around keeping all the things we usually have out in perfect order (or exerting extra energy and money on things that feel like too much), we decided to leave some things put away or on the back burner this year. Decorating the tree fully, putting lights and garland up outside on the house, sending business holiday cards, making cookies from scratch for the neighbors and garbage truck men, staying up late to watch holiday movies instead of precious sleep and snuggles as a family, and doing gift exchanges with immediate family are all things we'll skip this year to revisit next. What a relief and wonderful way to have time and resources left in our tanks to focus on a few other, more important, celebratory avenues.
Which leads me to . . .
Make Time and Budget For a Couple Special Traditions
Discuss with your spouse, and kids if they're old enough, which holiday traditions matter most. Is it sledding in the snow or cutting down your own tree like we opted for? Perhaps it's a trip to see grandparents and stopping for hot cocoa on the way. Maybe your kiddos love their Elf on the Shelf, or having cousins over for a holiday sleepover. Or is it that you look forward to making handmade glitter bombs for the four trees in your home and you cherish your annual neighborhood cookie exchange? Be sure to communicate with everyone in your family, what traditions you WILL make time and resources for, and ensure everyone's unique desires are considered.
Even better, take it a step further and share your seasonal priorities with friends and relatives. Letting friends know you can't join them for their holiday gathering because sleep training your baby is a bit more important right now, or sharing with family your plans to give physical presence and love in lieu of tangible gifts (and that you'd appreciate the same in return) is a great way to take even more of a load off your shoulders (and wallet) while gaining the support and understanding of those you love and care about most.
Blinders ON, Like Rudolph 
I hate to feel like so many of the solutions I give to problems presented here on the blog are to not compare but here me out in case you don't understand. For me, when I go online without a specific goal (e.g. to support someone on instagram, find a particular recipe on pinterest, wish my aunt a happy holiday on facebook) I end up mindlessly scrolling and find myself down the black hole, namely around the holidays, of complicated party projects, glittery Christmas-scapes, Hawaiian holiday beach photos, and you know where I'm going.
The things on our phones and online aren't problematic, for many these things are actually quite joyful and inspiring. Our phones can indeed connect us and even alleviate common day communication conundrums. But in a season of transition when you may be overcoming hurdles and intentionally focusing on the meaningful treasures around you, your head buried in your phone doesn't help cultivate gratitude. It leads to feelings of discontent, the lie that we do not have enough, and can make a refining season feel like a poorly dealt hand.
I have a lot more to say about this particular subject and want to further work through my thoughts for a blog post in the new year (new babies always inspire new thoughts!). So much of our online culture, the way we share and communicate, has evolved over the last couple years. I've found myself wanting to continue sharing and connecting since that's such a heartbeat of what I love and do. But I have wanted to redefine the ways I do this instead of contributing to what I think has become problematic. I want to cultivate a sharing strategy in a way that feels a bit more healthy, productive, and simplified for myself, family, and work.
Should this strategy inspires others too, then that's simply a bonus.
If this Christmas you feel conflicted by the flocked trees and decor section at Target, clever pregnancy announcements and sweet proposals, and endless parties, cards, sweets, travels and tinsel, shut it down. You're not a sour person. Put on your cozy winter socks, or sandals if you're a Southern friend, turn off your phone, and relish in the true meaning of the season in whatever way feels healthiest and best for you (for me, I find this often at church or in my bed snuggled up with my three boys).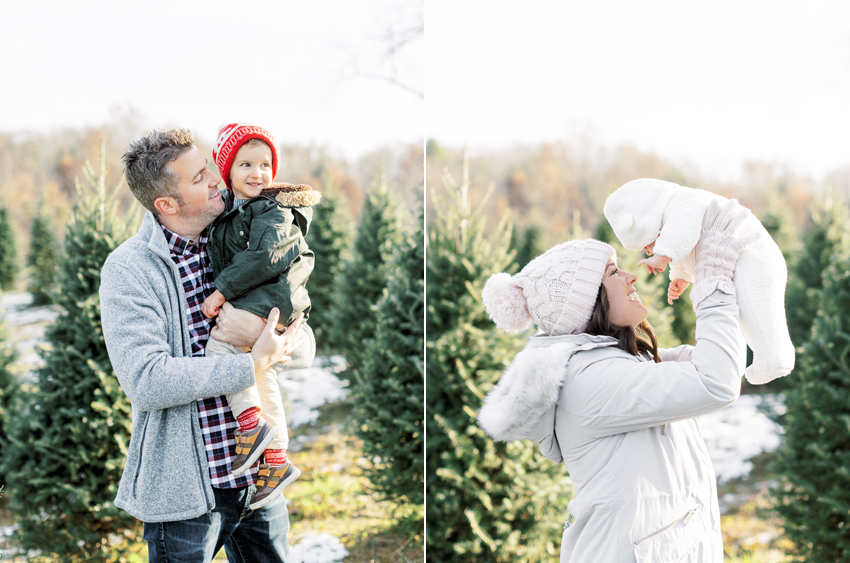 On a more personal note: As I mentioned above, one of the traditions we did decide to stick with this year was heading out to find a fresh, pre-cut Christmas tree at our favorite tree farm. For the past few years we have stuck with a Thanksgiving weekend tradition of going to find our tree, followed by cheeseburgers and fries at Jodi's, and a slow day back at home decorating, drinking Silk nog, listening to holiday music, and savoring a slower pace. It's a fun day I always look forward to with great delight, especially with children of our own.
Our friends joined us this year in their own tree hunt and Sam snapped a few photos for us. You can't tell but Ev was intensely crying the entire time we had him out of his carseat for five minutes of pictures. Sam kept encouraging us (well, me) to smile and roll with it. "This is just our reality right now!" I kept telling Andrew through our helpless smiles and pleas with Lachlan to not run through the trees out of sight, which we let him do anyway because #toddlerlife. We didn't stay for our usual hot cocoa at the farm and my cold cheeseburger was consumed over a nursing baby back home only 30 minutes after these photos were taken.
While I might remember that day as one marked with two exhausted parents, an inconsolable baby, and a toddler with his own agenda, I'll certainly remember it as a day filled with the people I love most in a season I'll remember always, that won't feel so hard in hindsight. We got out! We're together! We're lucky. That's the best celebration.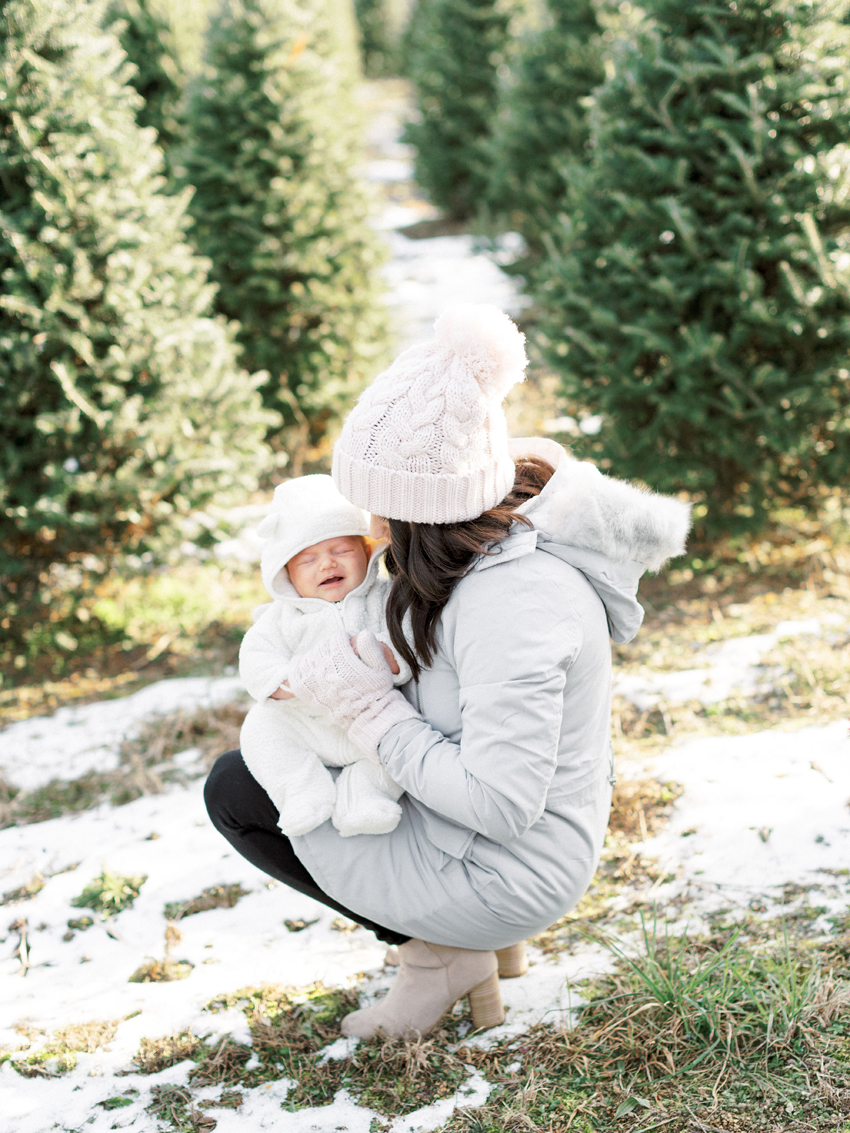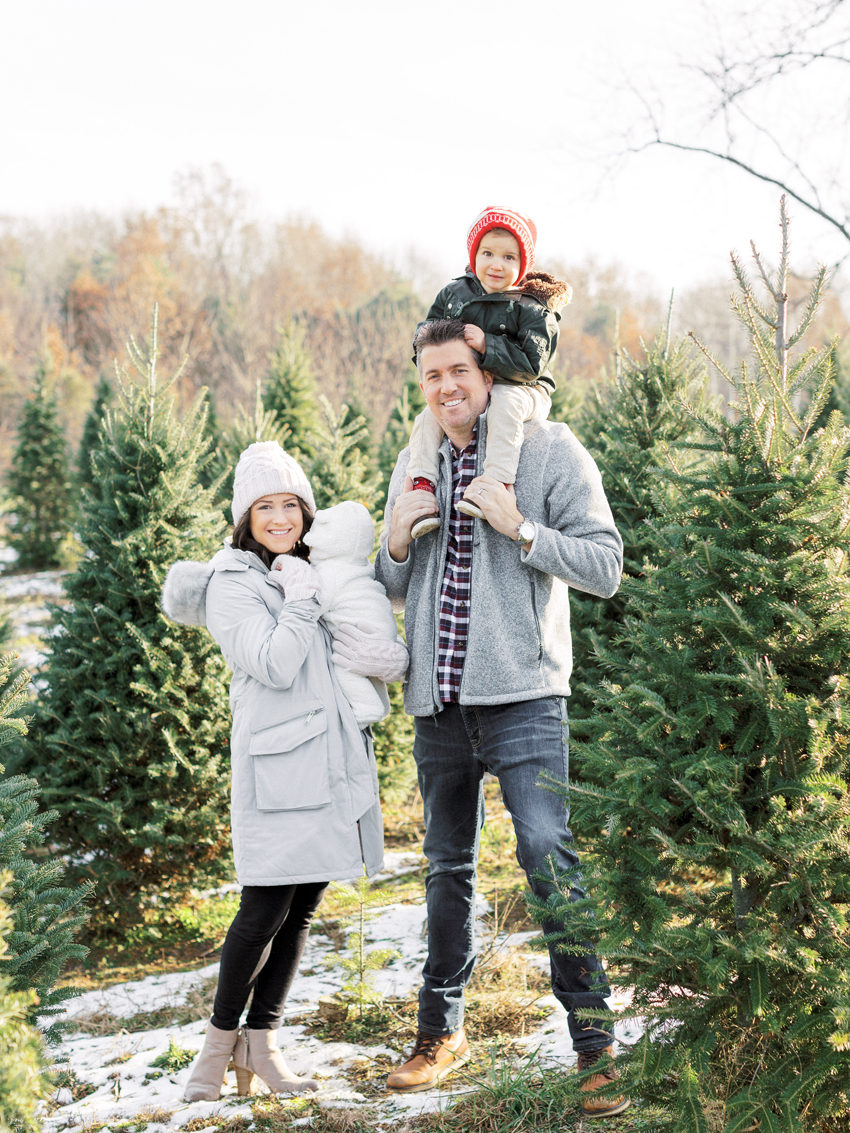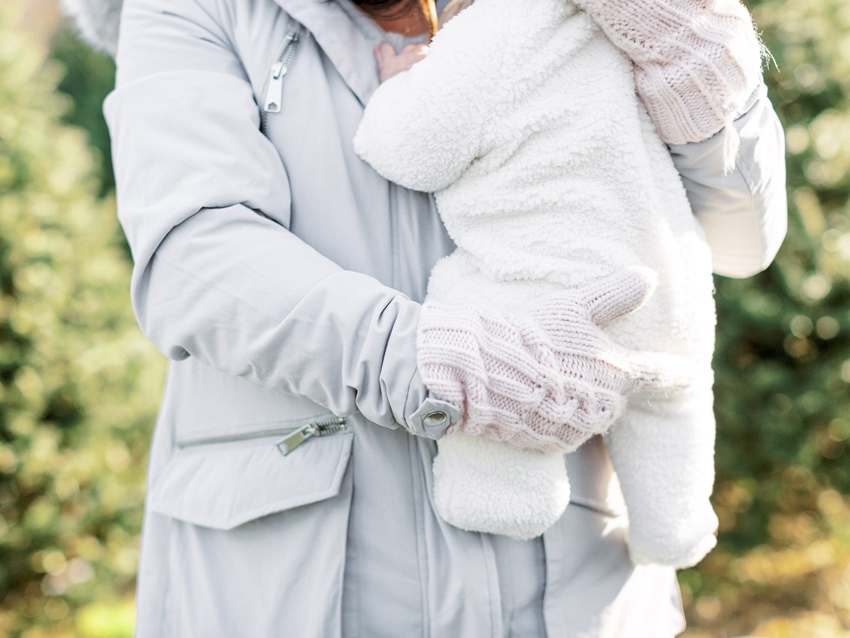 I'd love to hear about some of your favorite holiday traditions, especially some of the more simple ones! Xoxo