To catch the joyful circus of managing a business with busy toddlers, click here for a behind the scenes video. A lot of the content I share involves having my son and Sam's kiddos at our feet. While we both believe we get our respective jobs done really well, it's usually (and sometimes unknowingly) with the extra work of simultaneously keeping our littles happy and busy. My hope is this video will show not the perceived perfection of my life but instead how my way (and Sam's) is the best for us in this season of running businesses and raising our children.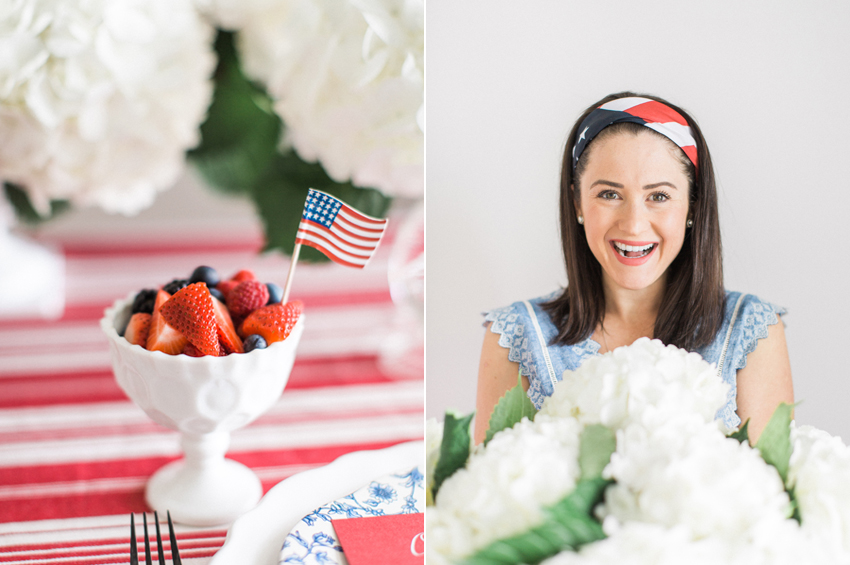 As for today's lifestyle post, I'm excited to share these gorgeous images and attainable and patriotic Fourth of July ideas. Although I've lived in the United States for nearly 15 years now, I still feel a little funny being overly patriotic come July. Part of my hesitation is I didn't grow up celebrating the Fourth of July (obviously!) so it feels a little foreign but the other part is because July 1st is Canada Day and here in the USA it's not celebrated (again, obviously!) so I always feel a bit like I'm ignoring where I DID come from.
Does that make sense? Good!
However, backgrounds aside, I do love any reason to celebrate and moreover, any celebration with a theme, food, and festive touches is a worthy cause in my books. As our son grows and our family expands, I feel an increasing need to not only ensure every holiday is celebrated because society says so, but because it presents an opportunity to bring together the people we love most in ways that feel best for us.
Enjoy a few of my Fourth of July party ideas below as photographed by Samantha James Photography. The goal here was to create something easy and effortless that could be adapted in a plethora of different ways. Since Sam and I are both passionate mamas to little ones, there are a ton of kid friendly (and cost effective!) ideas throughout this lifestyle post for you. We both hope you love them as much as we loved bringing them together.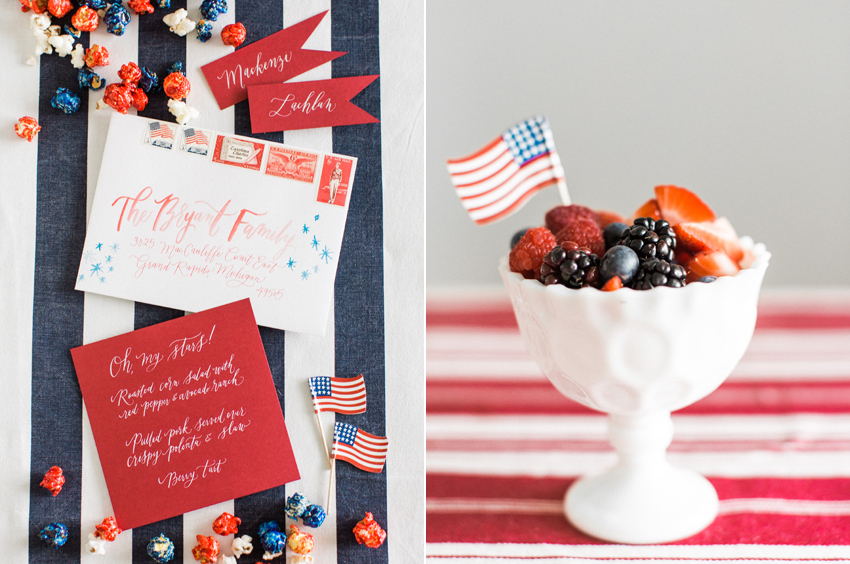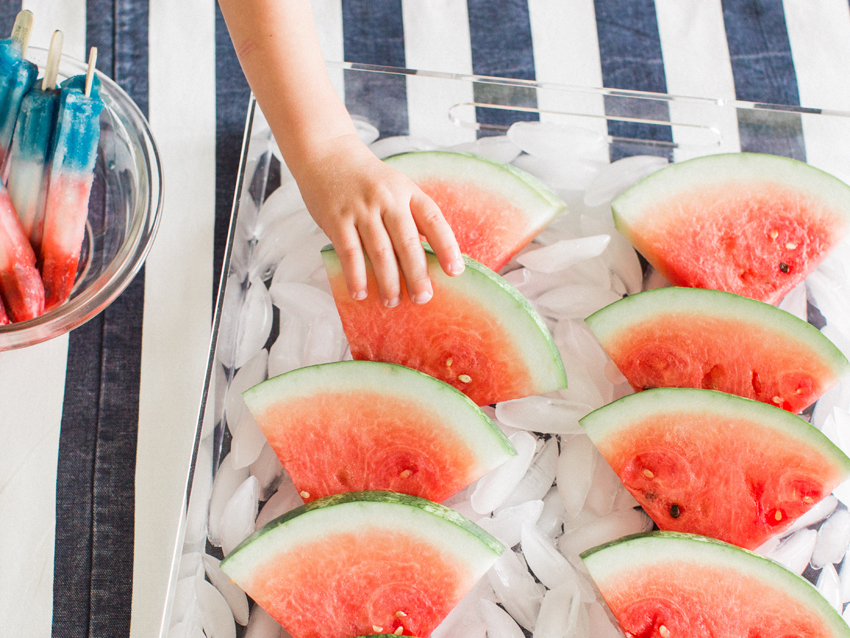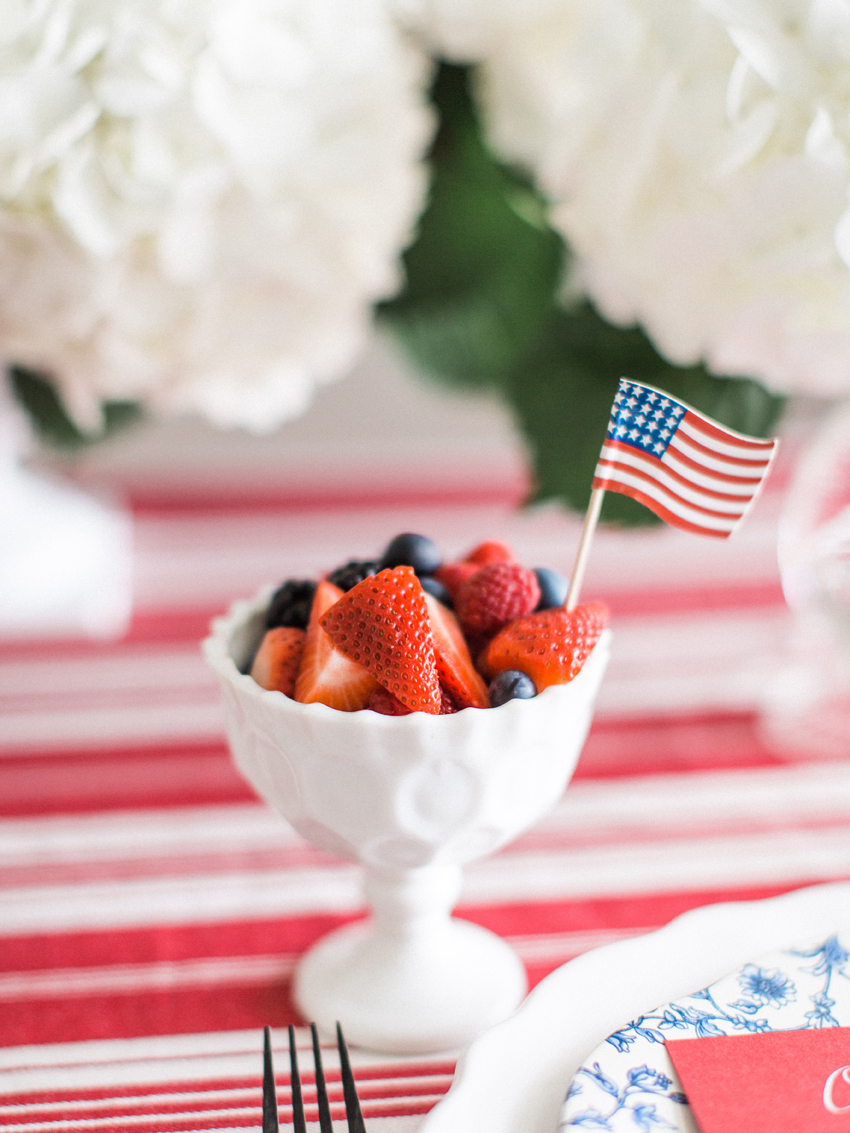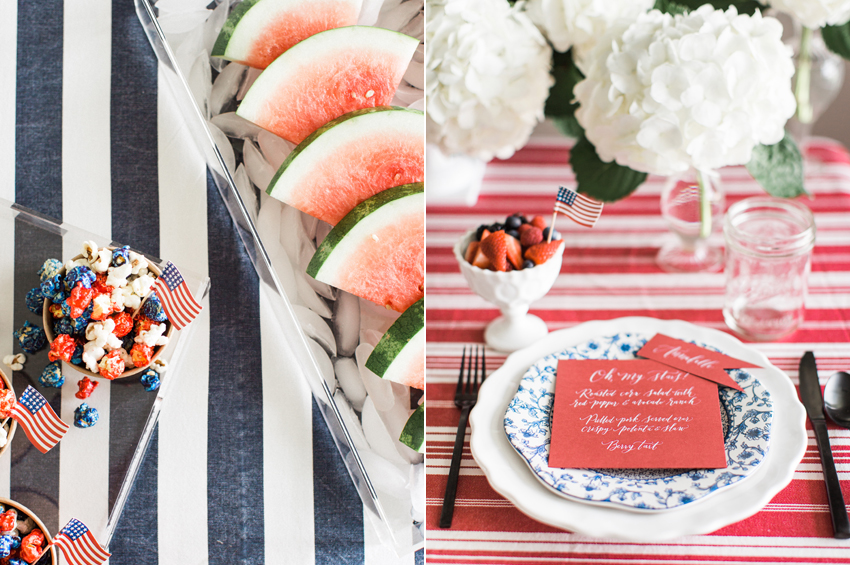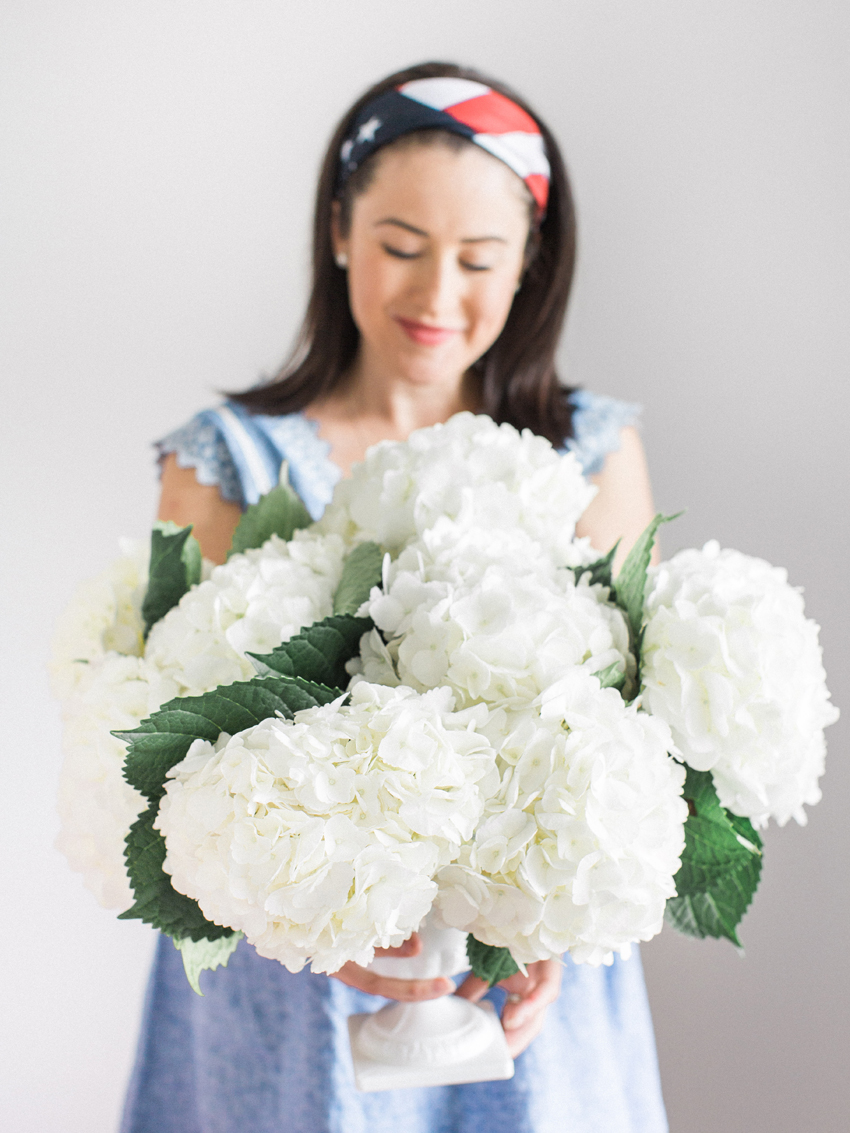 When it comes to food and drinks, the nostalgic red, white and blue color palette can be incorporated in such easy ways. Again, keeping in mind simplicity, affordability, and ease, some food we very easily put together include: fresh slice watermelon served on a bed of ice so it stays cold, red and blue rocket popsicles, patriotic popcorn (sold at a speciality popcorn store this time of year), and anything involving blueberries, strawberries and/or raspberries. Whether you're hosting a brunch, lunch, grill out or dinner, there are so many creative ways to put a patriotic spin on what guests will consume OR what guests can bring if you're hosting say, a potluck.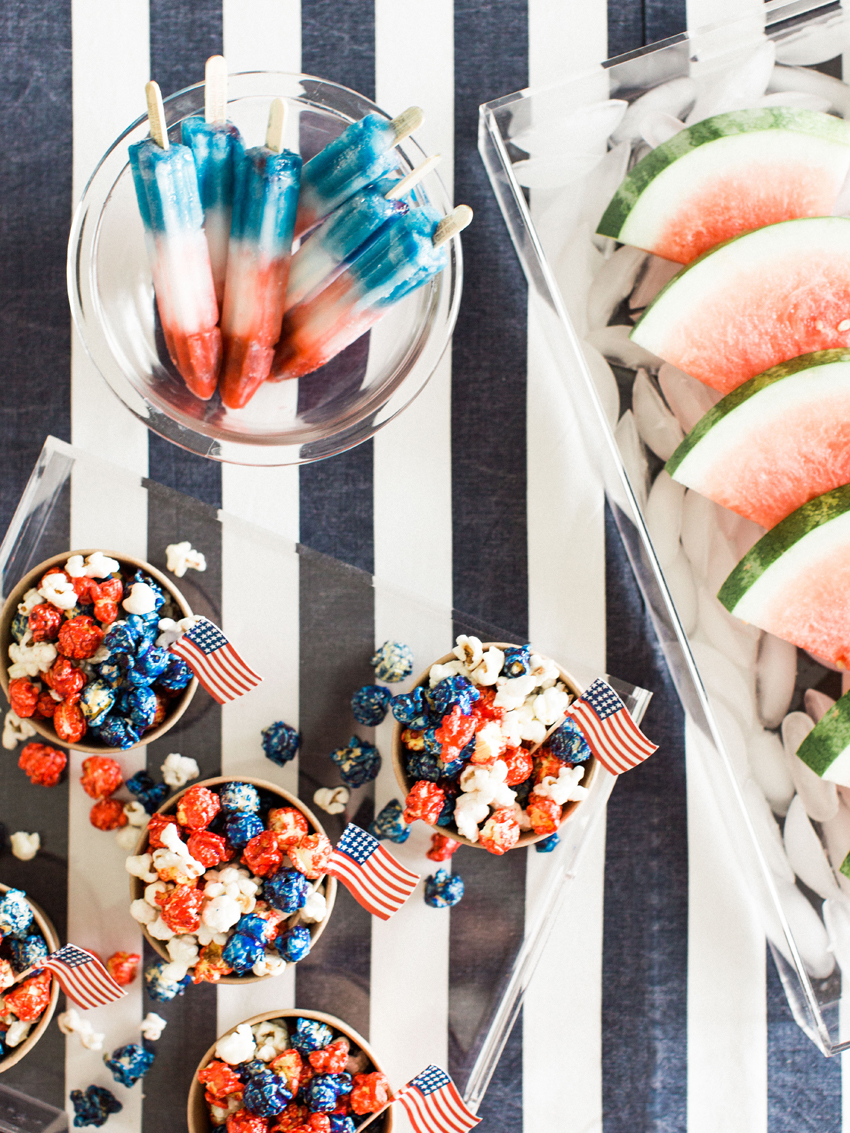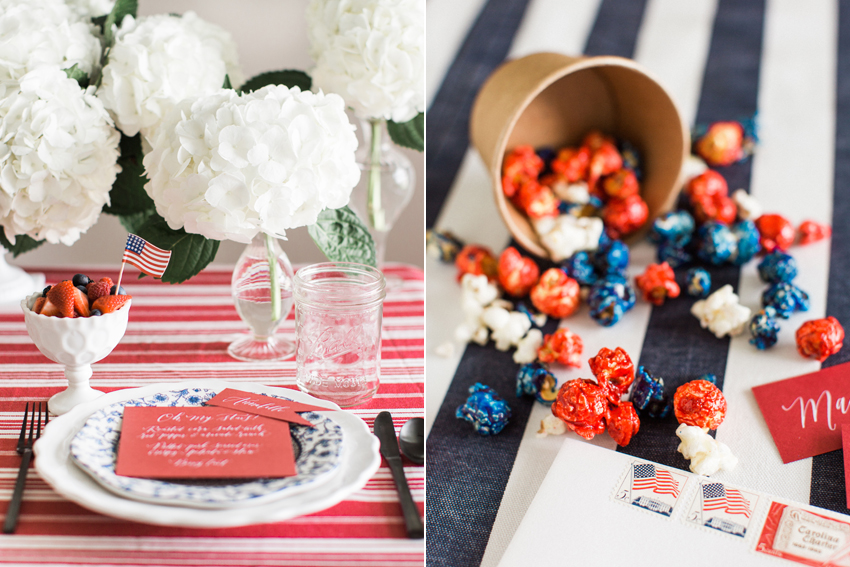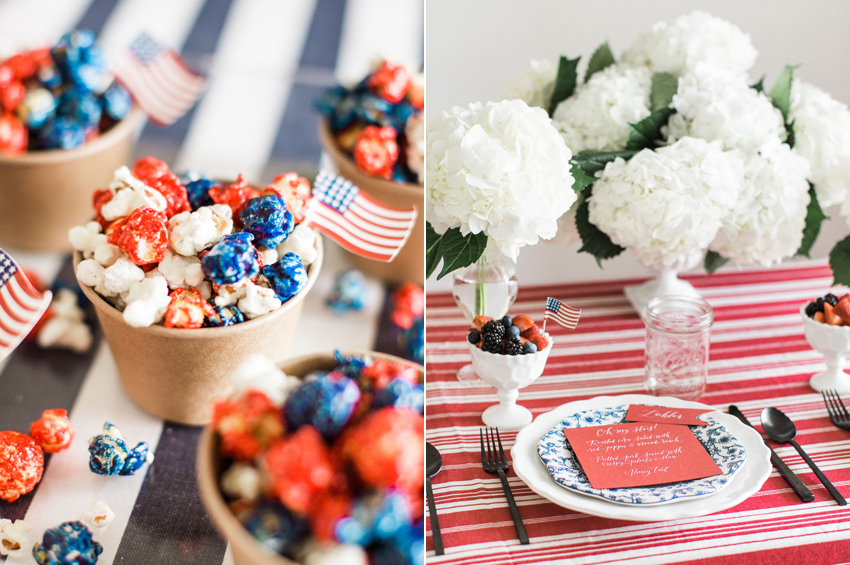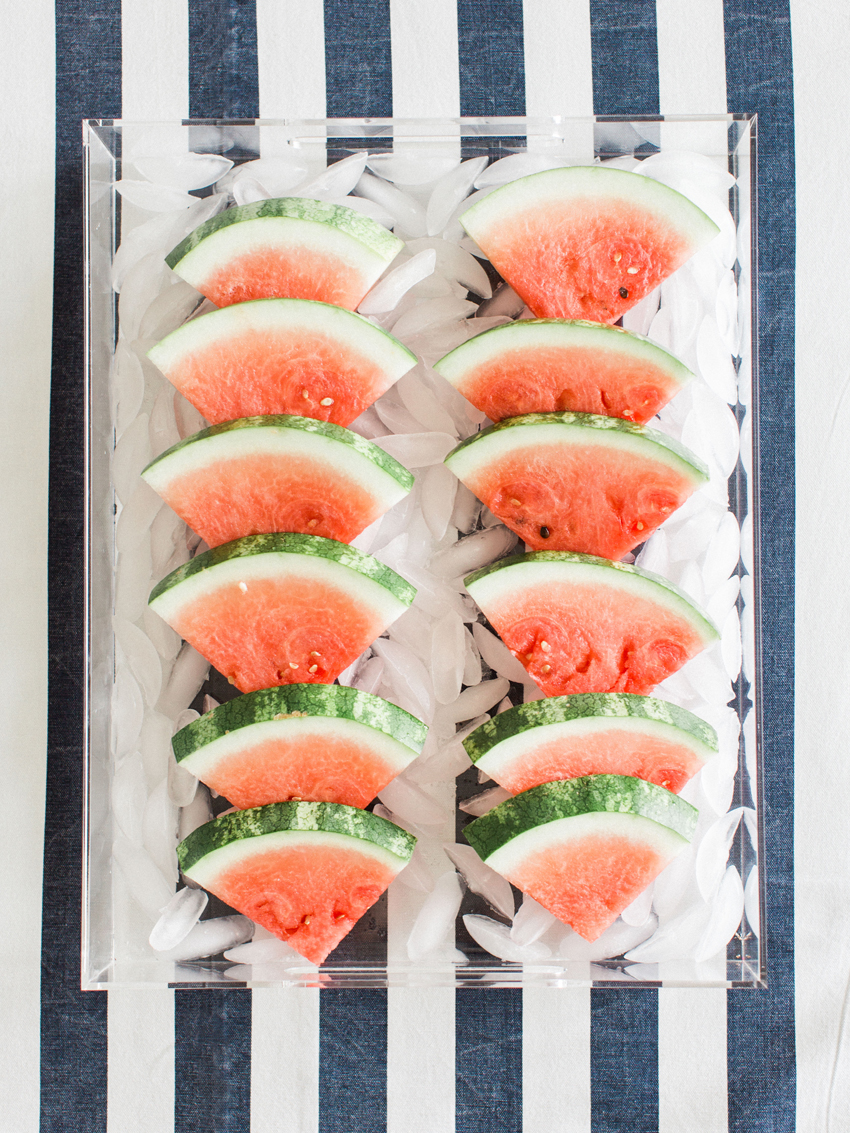 About a month before every holiday, most stores, craft stores especially, will begin to put out decor, crafts and other themed items. At a recent trip to Hobby Lobby I was able to snag American flag cupcake toppers (which I put into the fruit bowls), Kraft paper cups to hold the popcorn, and the blue floral patterned plates. Some others items I found but didn't use included red, white, and blue nonpareils and star-shaped, foil cupcake toppers which would have been darling in the tops of mini s'mores cups! Even your local grocery store probably has a few goodies in their seasonal section to help add the perfect dash of spirit to your efforts.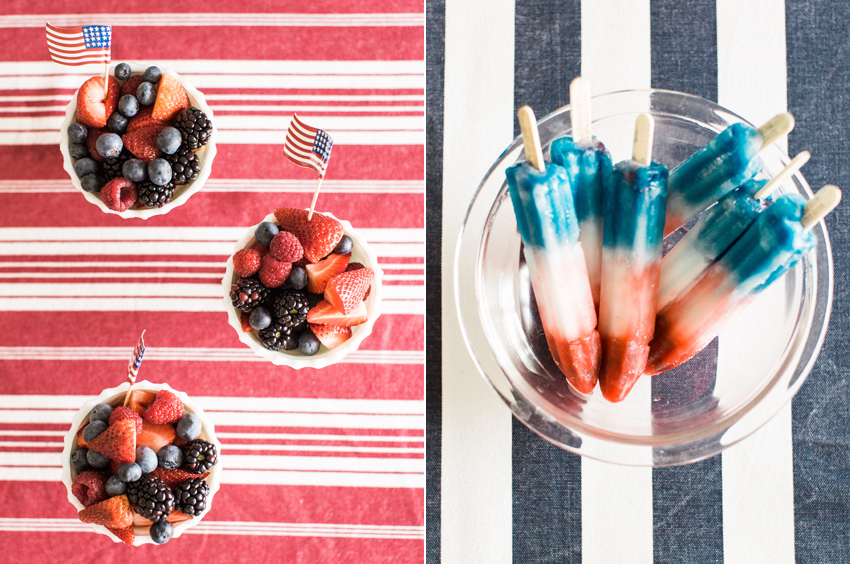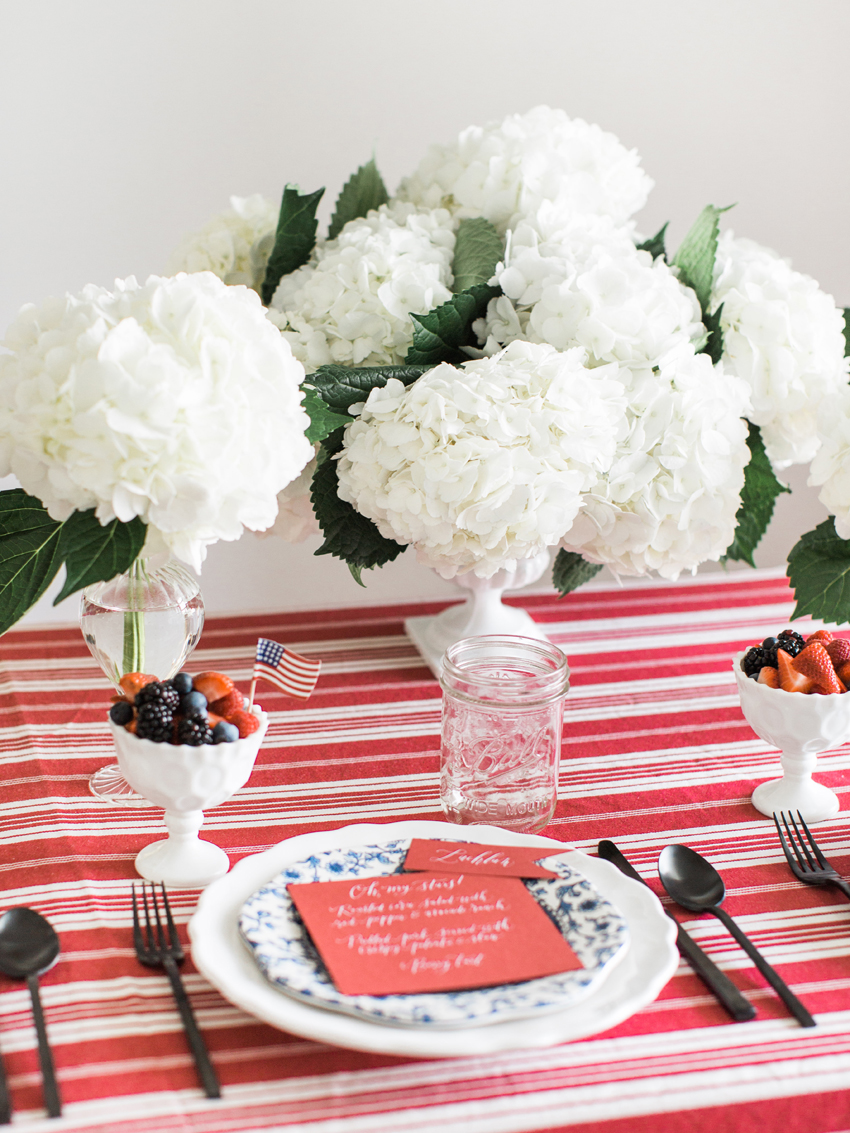 While custom stationery may not be worth your efforts (or in the budget), I loved this festive twist on an invitation suite as done by Alex of Prairie Letter Shop. I try to host one event or holiday every year where guests are invited via a beautiful, snail mail invitation and really think it sets the tone for a special gathering! Everything from the location, time and date of your party, to the attire code or suggestions on what to bring, can be included on your invite. Vintage Americana stamps are optional but pretty awesome.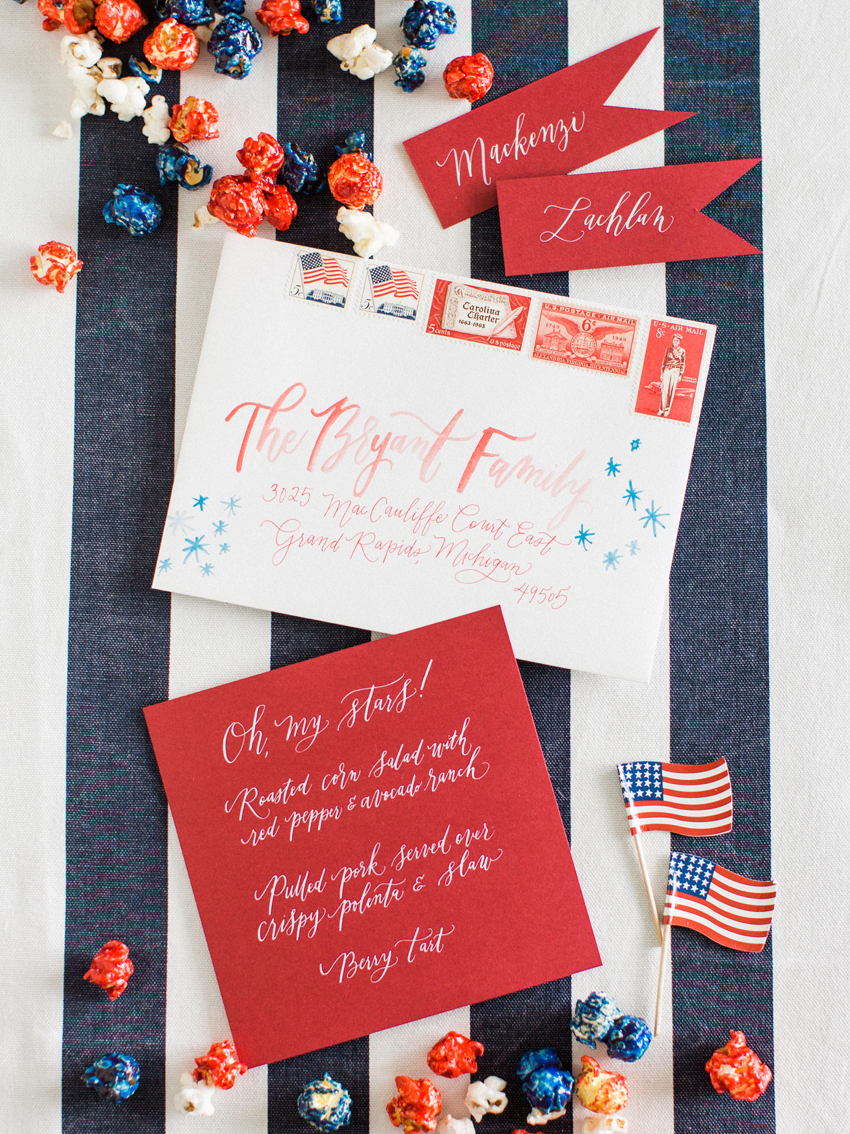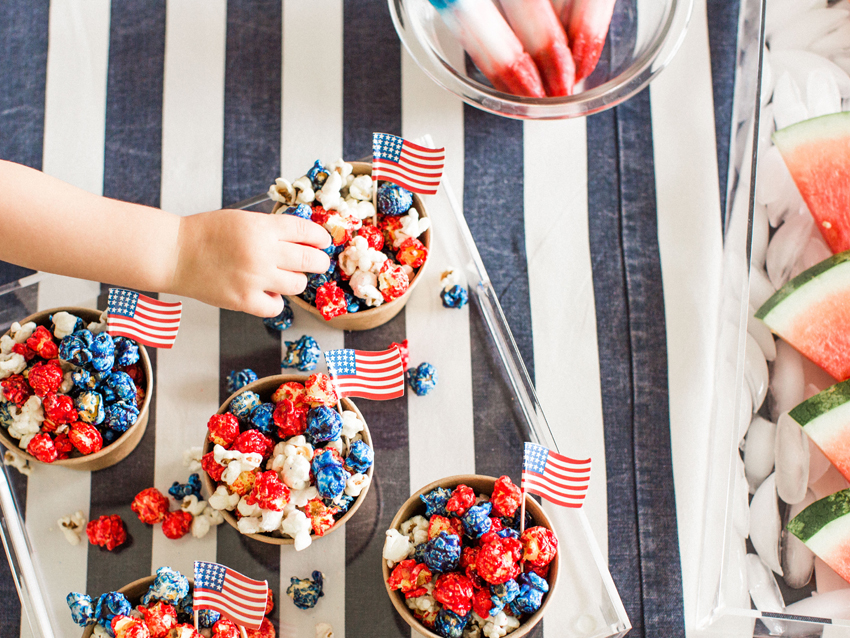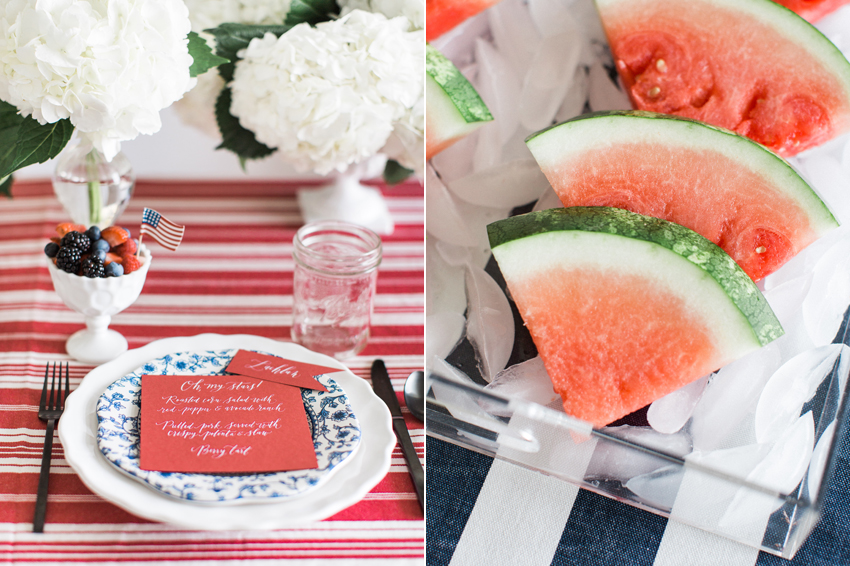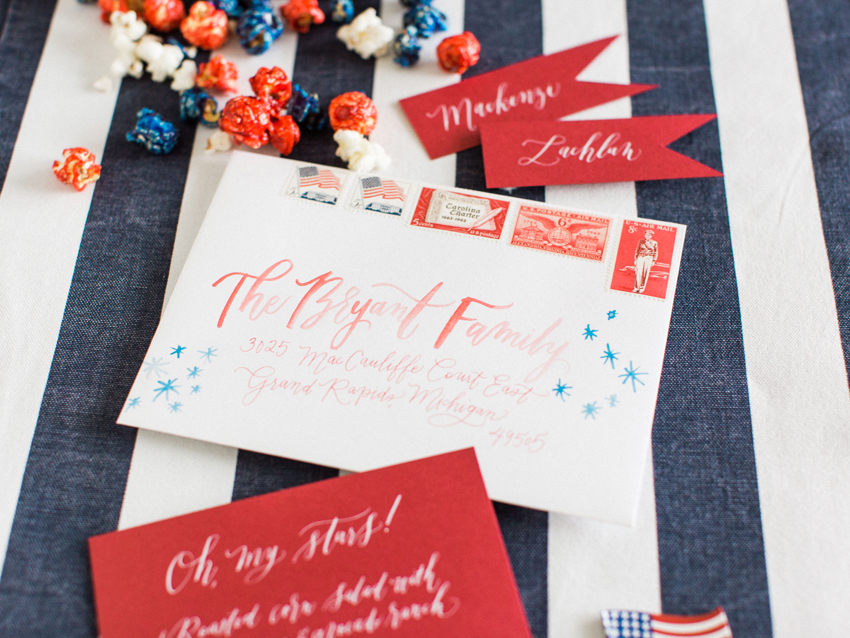 Because of my job as a floral designer it would be out of character to set a tablescape sans flowers. So while these beautiful large white hydrangea from my wholesaler are quite lovely as centerpieces, you could easily create something similar using different resources. Many grocery store flowers can be beautifully and simply arranged or your backyard garden (or a friend's or neighbor's) can be foraged from for some eye-catching goodies. Our hydrangeas are starting to bloom now and I know many of the white snowball varieties are already in full bloom so July is a perfect time to find many things outside in nature. Instead of large centerpieces that feel time consuming opt for little bud vases clustered down your tablescape (like that of a small branch or piece of a bush).
I shared these same ideas in this post too which is proof of how lovely this can look!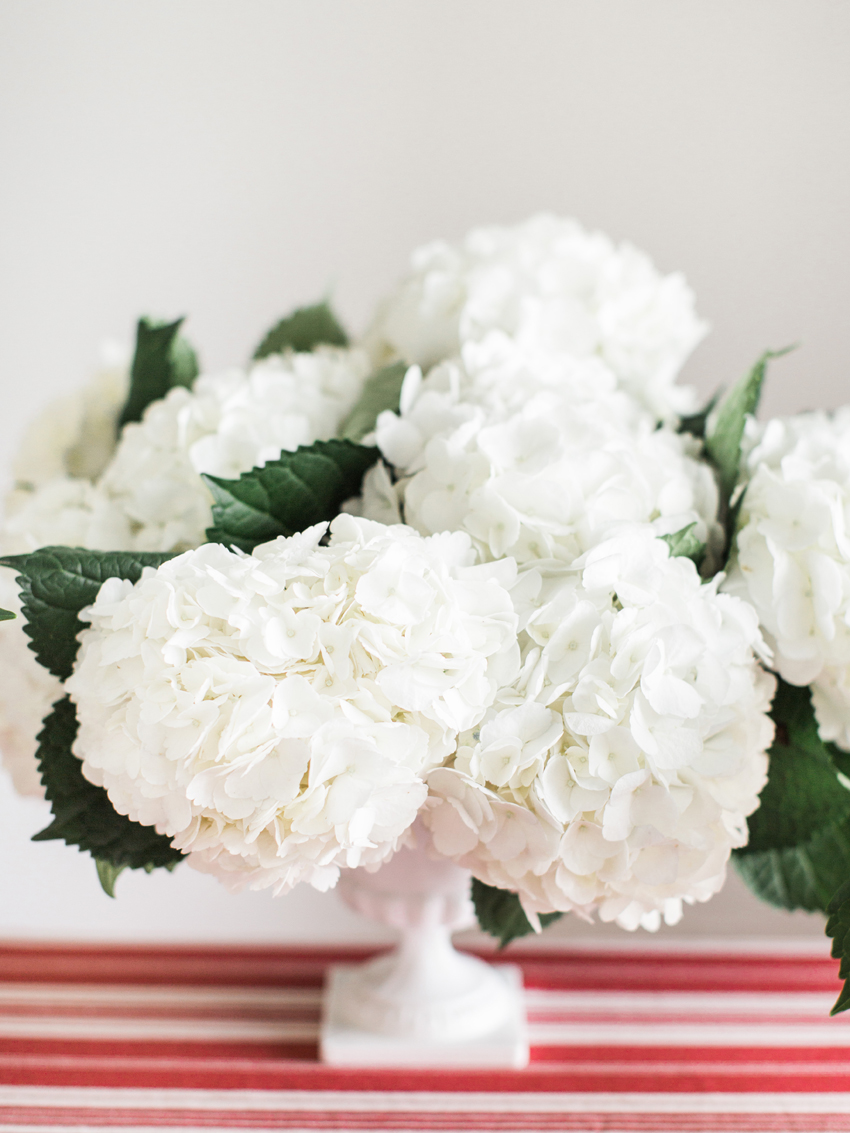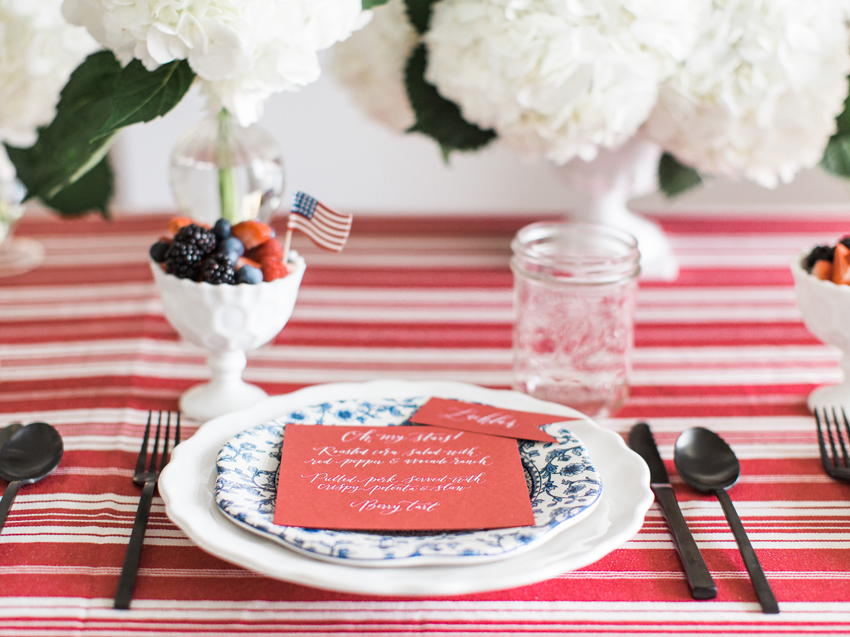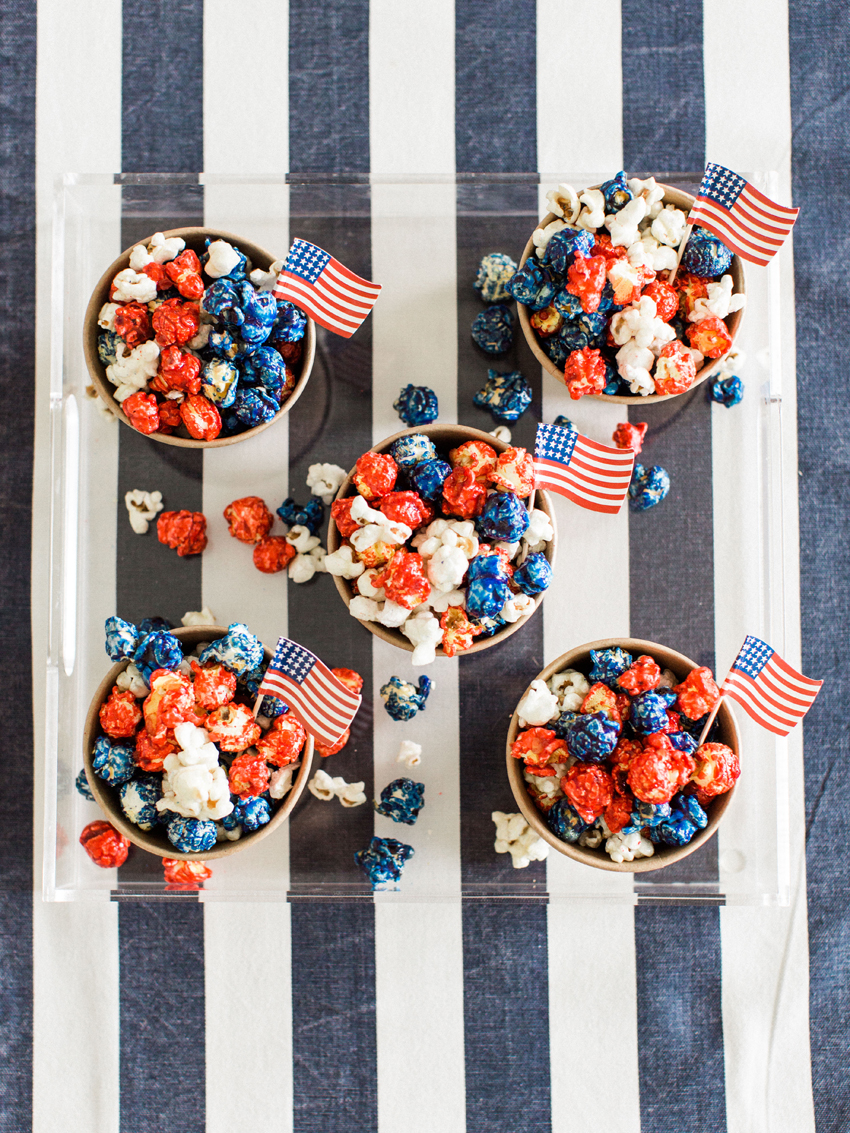 We will be celebrating our Fourth of July with an incredibly amateur fireworks show from the comfort of the driveway Wednesday night. We invite a few neighbors and their children over to join us and it's always a fun time watching the kiddos delight in the different kinds of fireworks and sparklers. Paired together with homemade s'mores from our firepit and good company, it's the perfect way to celebrate! From us to you, happy happy Fourth of July (and to my Canadian friends and family, I hope Canada Day was something fierce yesterday!)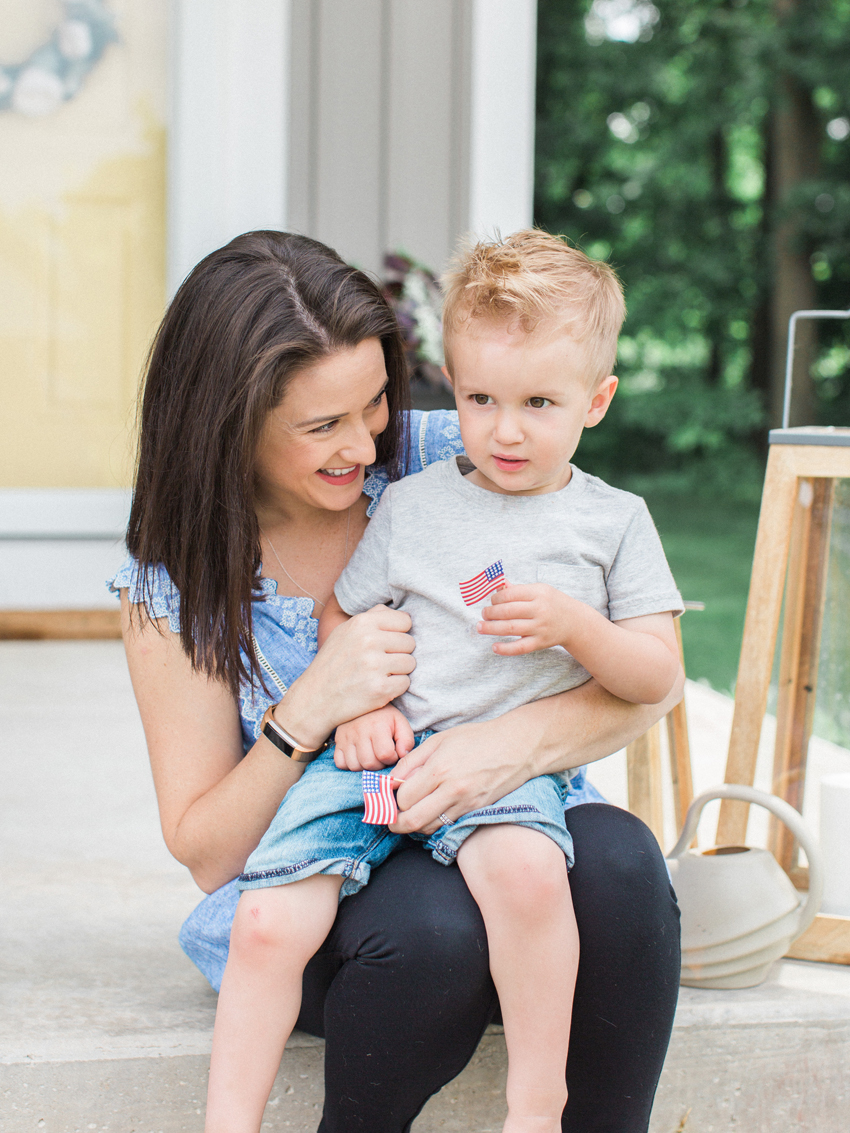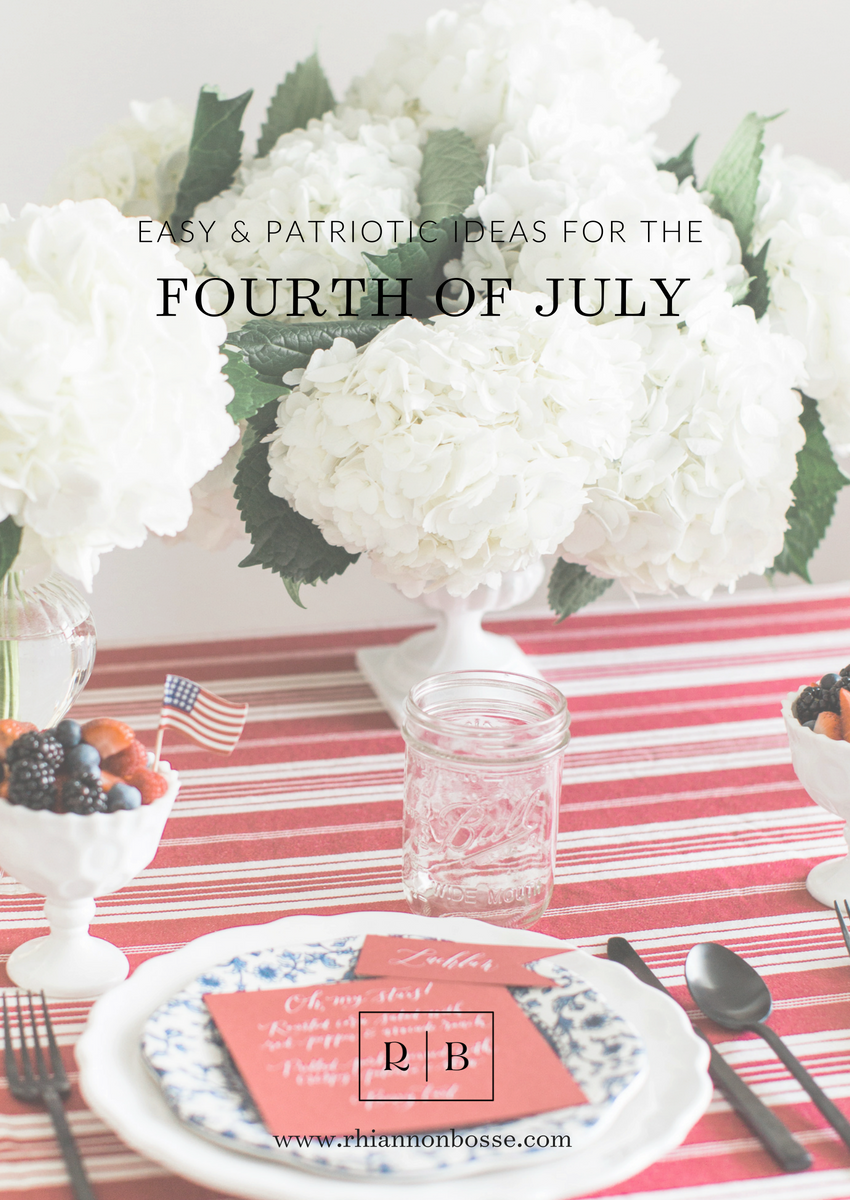 What are your plans for this week? I'd love to hear more about how you plan to celebrate the Fourth! Xo
. . . . . . . . . .
Styling, flowers, concept, white charger plates: Rhiannon Bosse Celebrations / Photography: Samantha James Photography / West Michigan Wedding Videographer Coastline Studios / Stationery and calligraphy: Prairie Letter Shop / Linens: Special Occasions West / Flatware: West Elm / Plates, cupcake picks, Kraft cups: Hobby Lobby / Rhi's maternity top: Target / Popcorn: Grand Rapids Popcorn Company