I'm so delighted to share this special wedding with you!
And truthfully I wasn't quite certain where it would be best to start this post. When the couple first contacted me just nine months prior to their wedding I was eager to dive into the planning process with them. Helping couples with destination weddings is a heartbeat of mine and travelling to the South for work is a passion because I so love that region. Sarah and Albert's initial contact alone left me feeling so hopeful and excited!
But after meeting Sarah and Albert on a late night facetime call (we live in two different states) I was enamoured with their warmth and kindness. Sure, the typical wedding related questions were asked during our time together but also among those questions were conversations about our Lachlan who had just turned one at the time and also from Albert himself, what my most proudest business accomplishment was. I loved how insightful and interested both were in not only what I could do for them as a planner with my team in tow but how I could fit into this process with them as Rhiannon the person.
If you've already read my post about the Southern themed welcome party which preceded the wedding, you'll know Sarah, Albert and their families have a knack for treating their guests with top notch, love-centered experiences. They do celebration in a big way that's unparalleled. As Ohio natives they selected a one of a kind location for their wedding weekend, taking the opportunity to treat everyone to a one of a kind experience. From the welcome party on Thursday, wedding celebration on Friday, farewell brunch on Saturday and everything else in between, it was what felt like an endless celebration for nearly 200 of the couple's family and friends.
Sarah and Albert, you are so loved and cherished by many. The way others care about you was and continues to be more evident than any of the beautifully elaborate details that made up this milestone for you. Being able to spearhead your wedding with my team was a special highlight to 2017 and we're grateful you let us join you in beautiful sunshine drenched Georgia. Albert, the way you love Sarah is inspiring. And Sarah, your genuine zest for life is the best part about you. I personally can't wait to walk through this next chapter of mamahood with you as we both welcome sweet baby boys just two weeks apart this fall.
Enjoy some of my favorite images from Ashley and Coty of Henry Photography!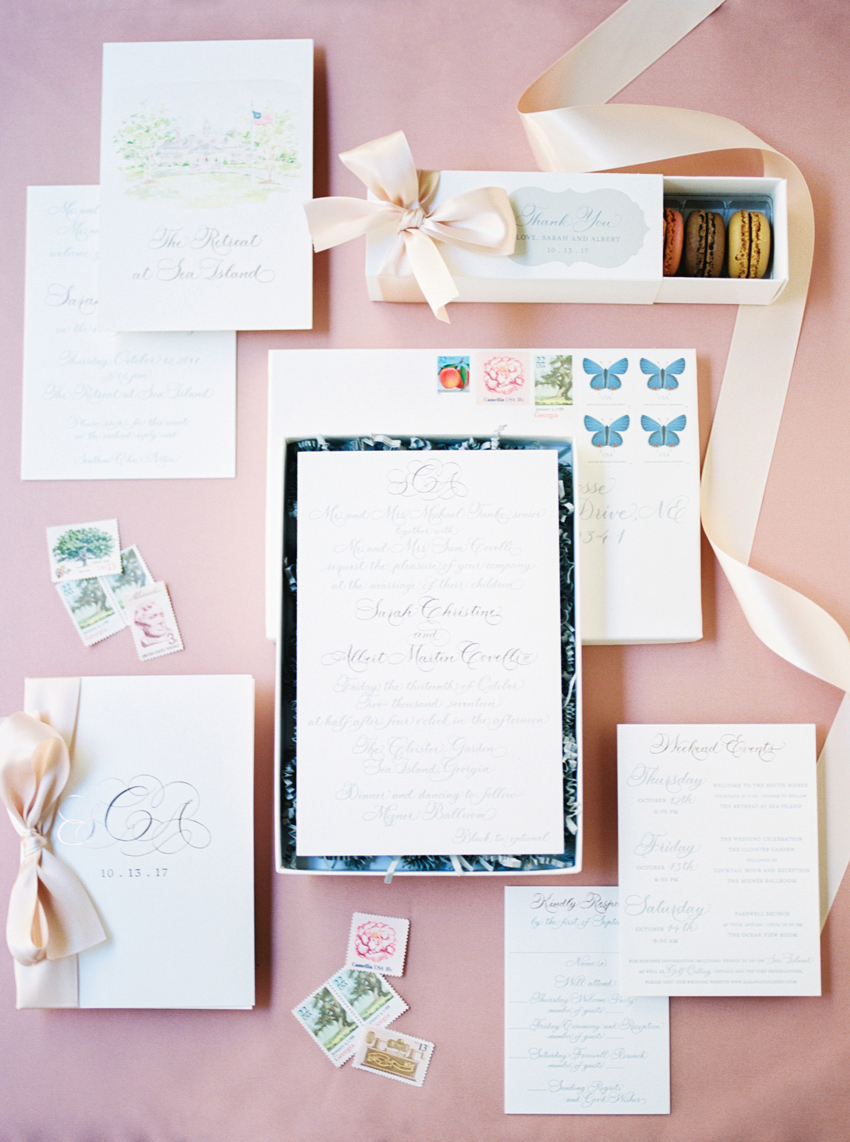 One of the first details I'd love to highlight would be the stunning invitation suite designed by Moya of MM Ink. These were a true labor of love and came with so many bells and whistles! From the rose gold engraving, letterpress printing, custom monogram and fully calligraphed suite with multiple coordinating pieces, custom envelope enclosure with a blind embossed magnolia illustration, linen wrapped box mailers, custom illustration from Jessica at Simply Jessica Marie, and of course the most perfect vintage Georgia stamps we hand placed on every box; I loved getting screenshots from Sarah showing how excited guests were to receive their package! They surely set the tone for the event that was to unfold.
Moya's work was carried over throughout the entire event from the wedding program booklets and oversized dance floor decal, to the menus, table number, and sen- off macaron favor box labels all shown throughout the rest of this post. Moya's calligraphy is so classic and timeless so I knew she's be the perfect fit to serve Sarah and Albert for this special milestone.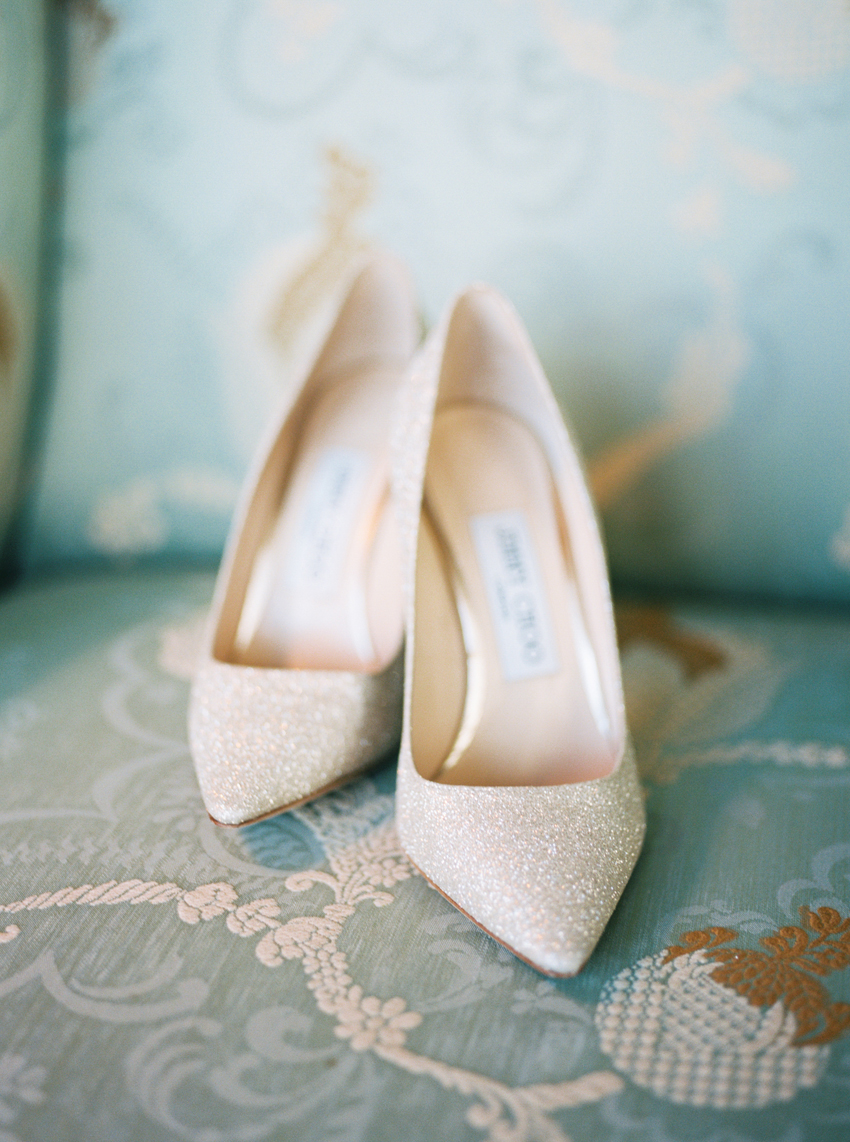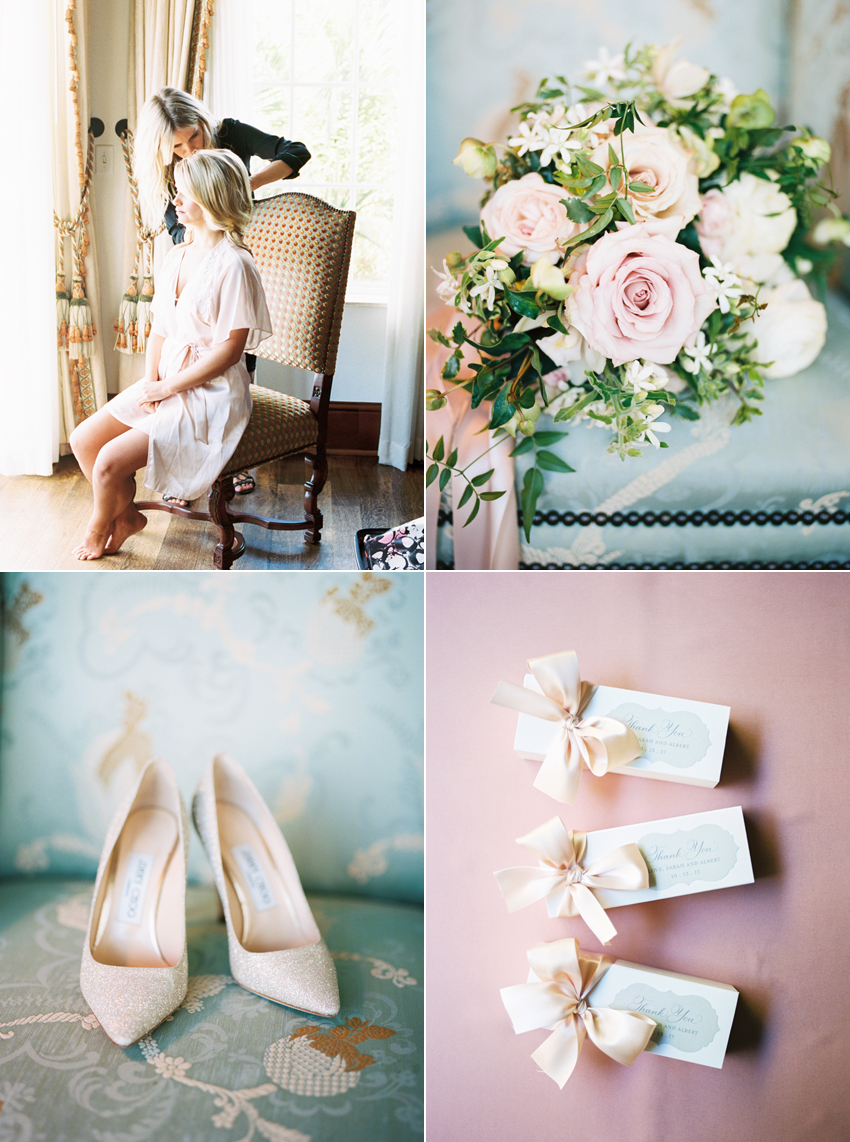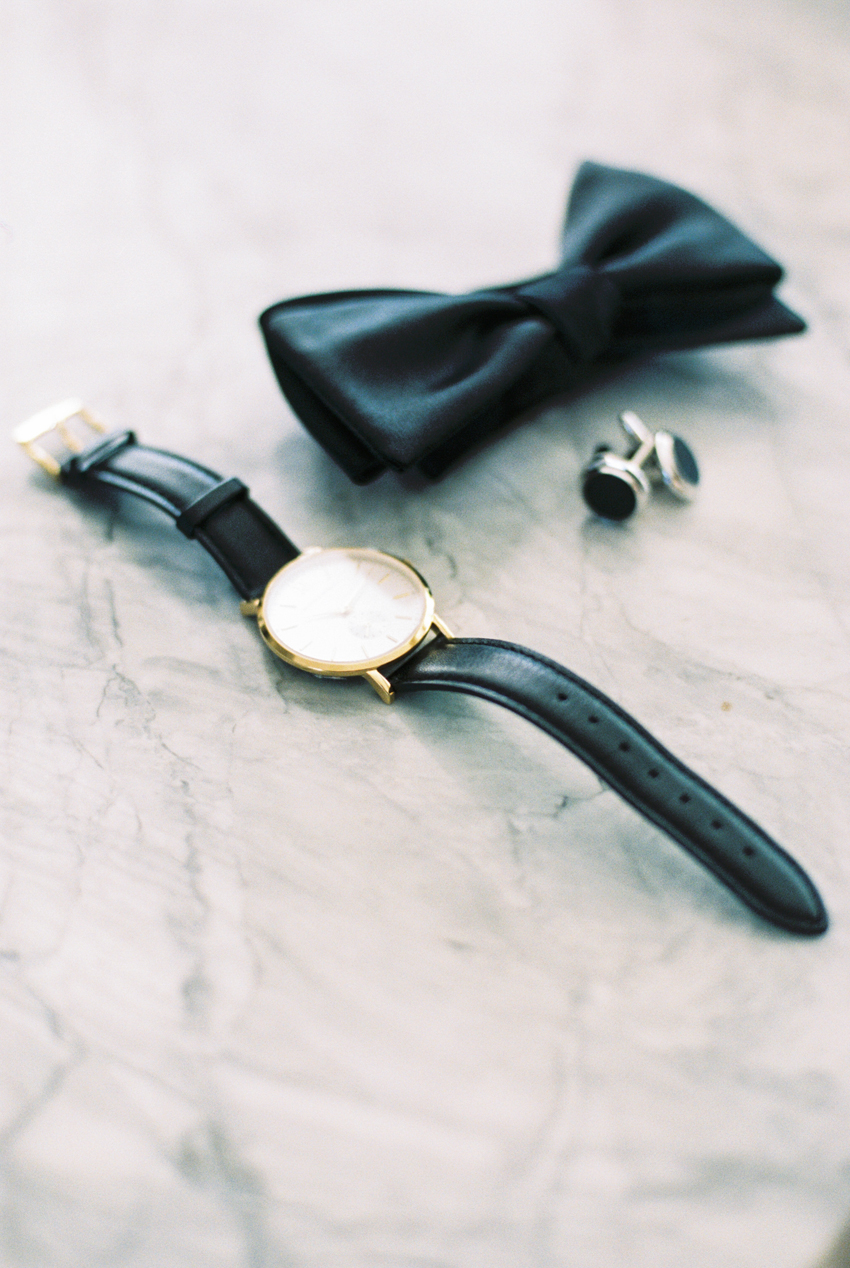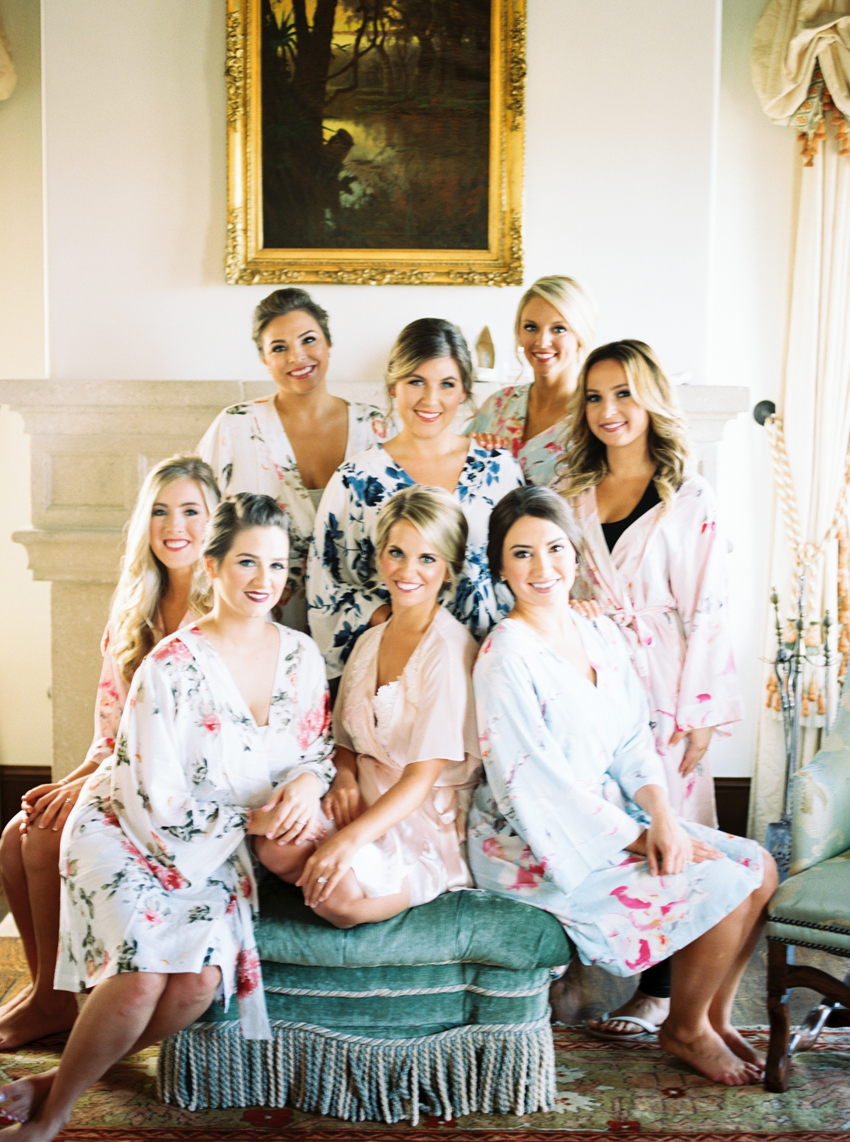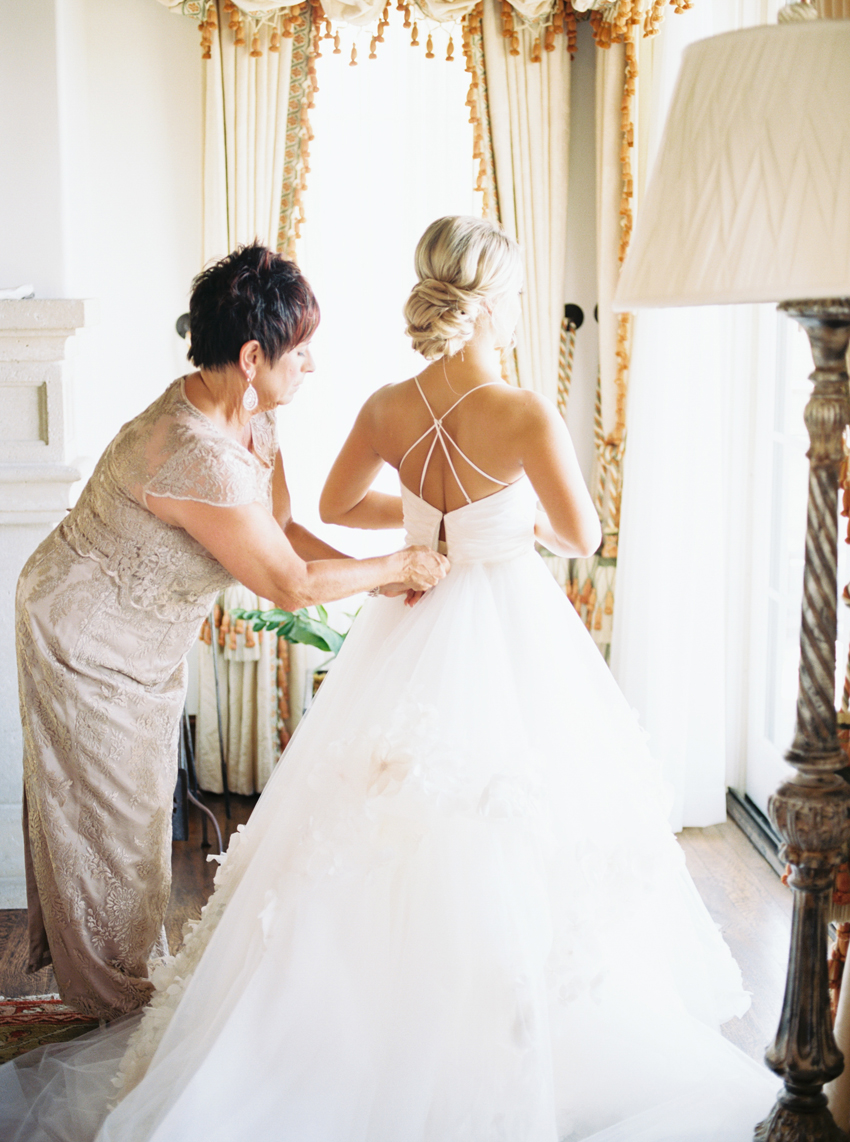 Sabrina and the team from Be Pretty LLC were magical with their beauty services and contributions.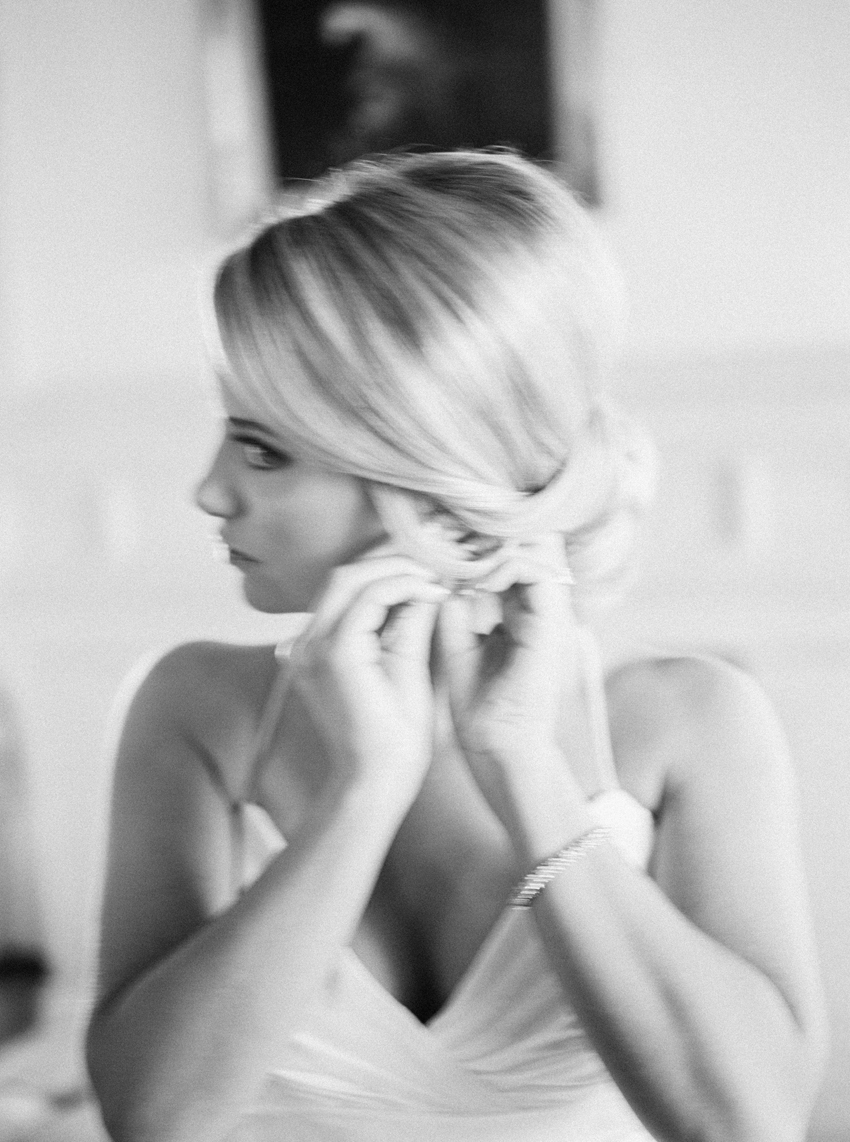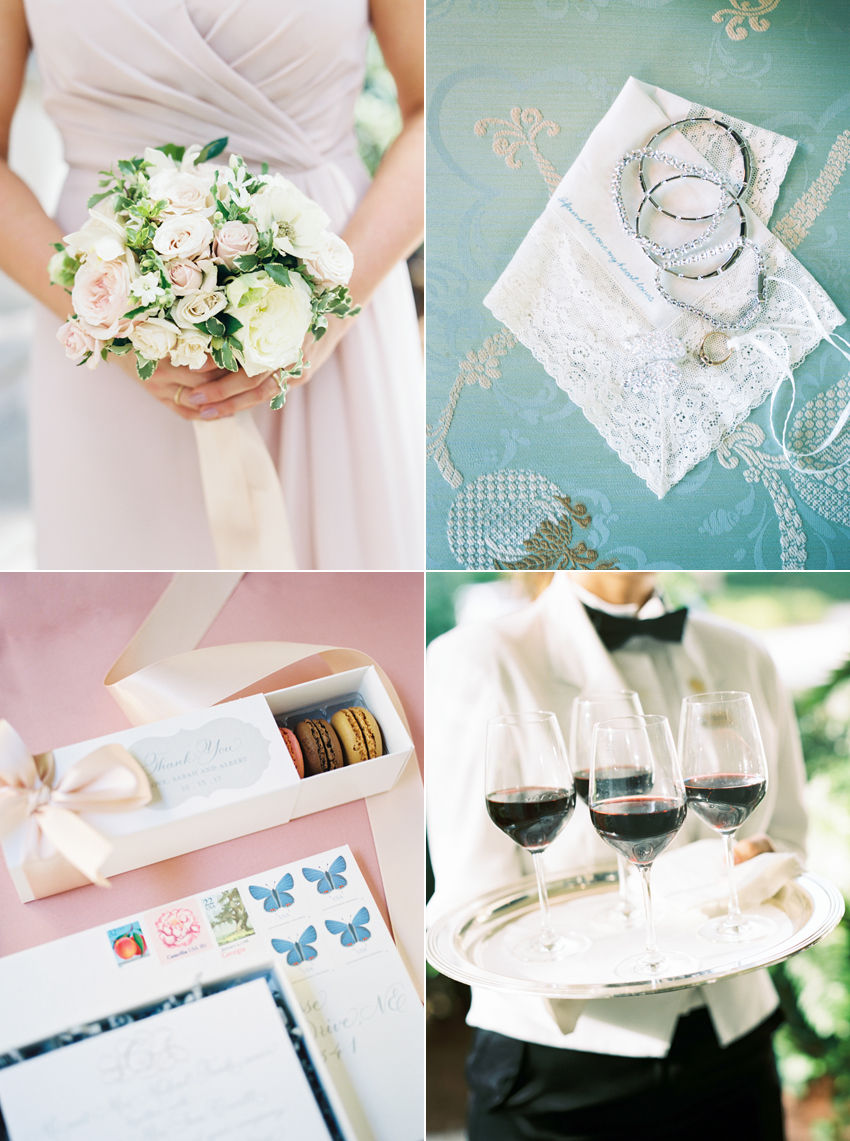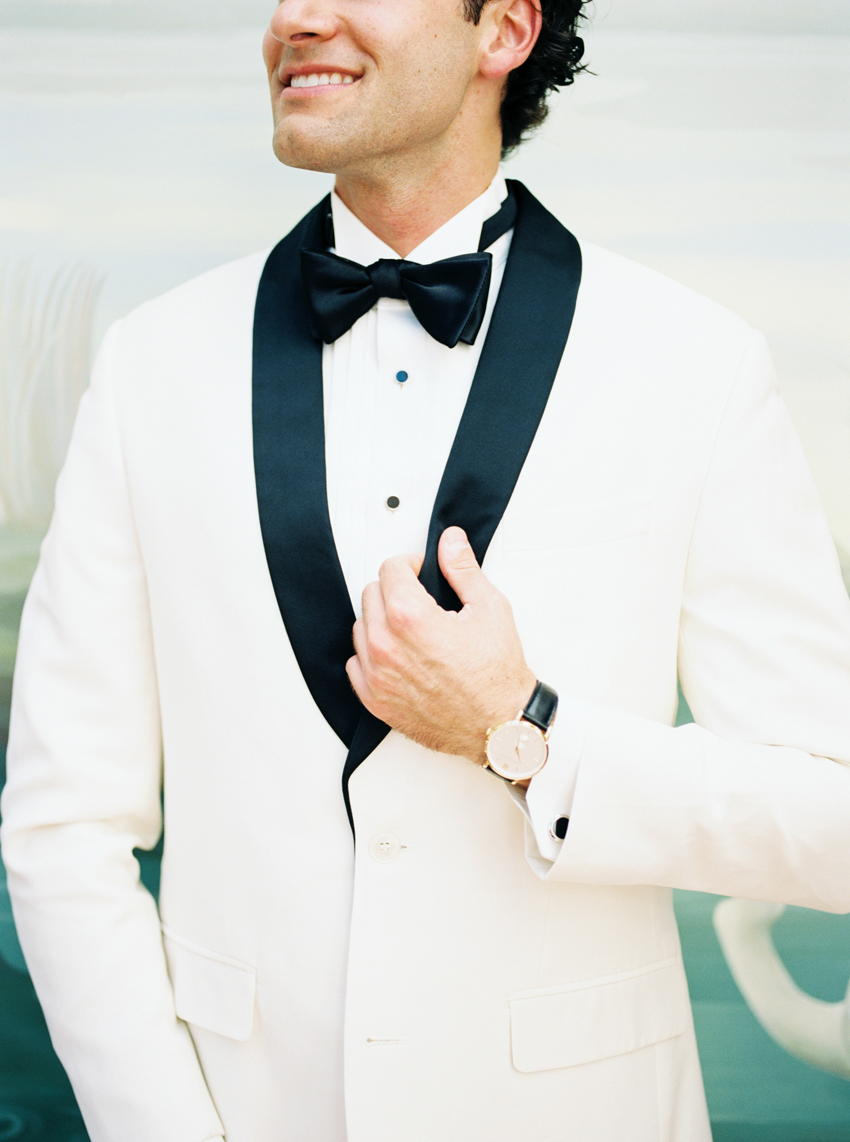 A classic Southern gent! Is there anything more dapper? Albert looked incredibly handsome as a groom!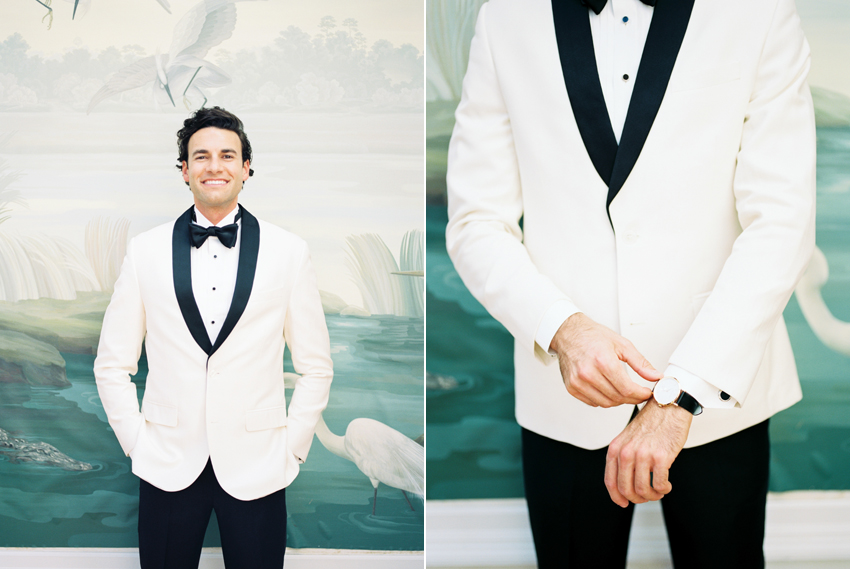 Sarah and Albert opted out of a first look but instead had a first look moment where they both read letters to one another; Albert's back to Sarah so he wouldn't she her done up as a bride but Sarah facing Albert so she could walk up to and embrace him. It was a tender moment to watch and witness. I also know how nervous both were waiting for one another and having this moment at long last which made the experience so endearing and sweet.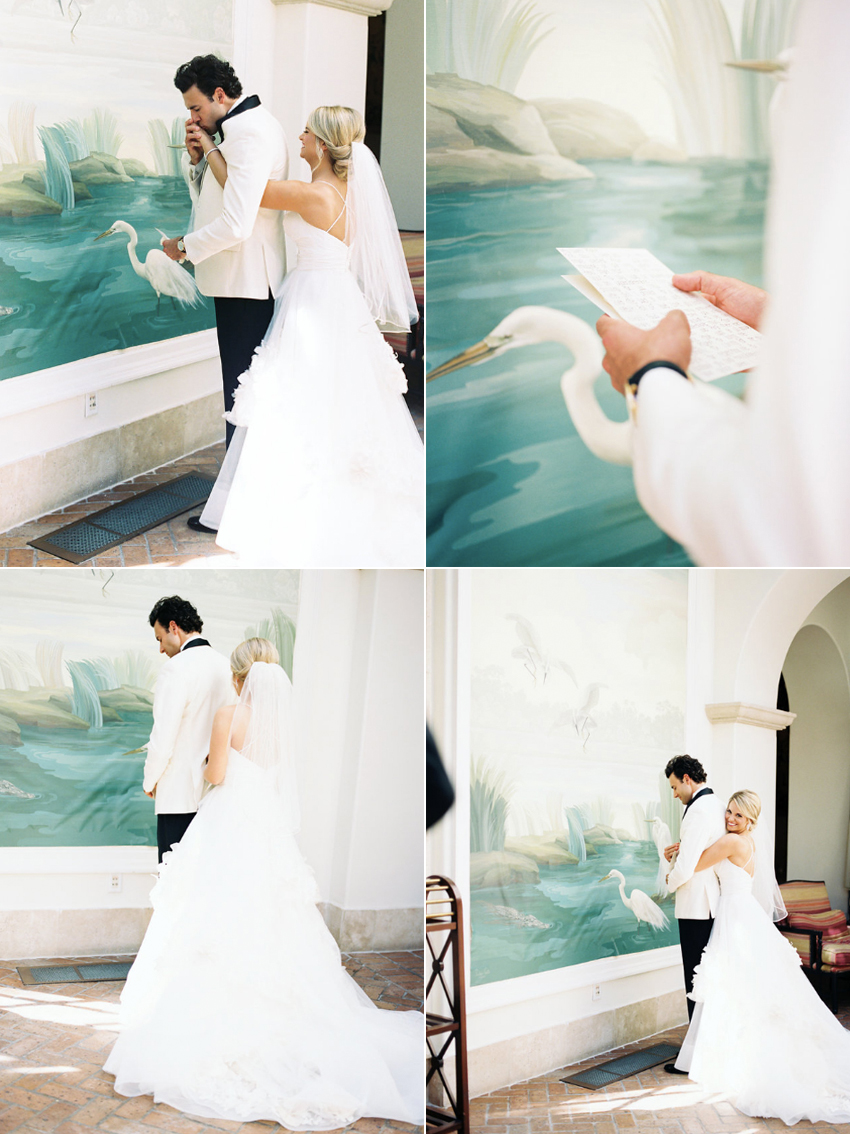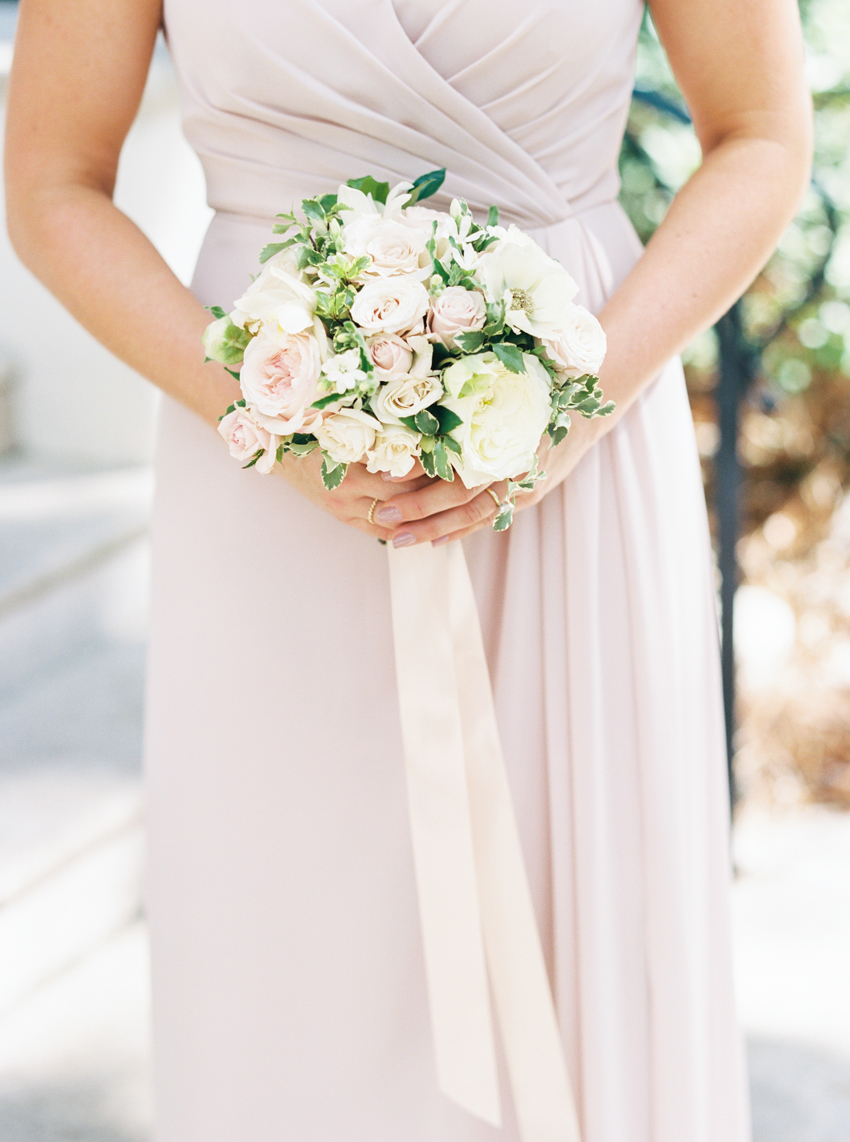 The bridesmaids carried small hand tied bouquets with ivory, blush and pink garden roses, sweetheart roses, white anemones, hellebores, and a little bit of variegated pittosporum. Together with the varied styles of blush gowns the gals were the epitome of Southern class and looked so beautiful together as a group. There's power in numbers right? With such a big bridal party the softer hues and feminine textures worked really well. Long pink silk streamers finished off their beautiful creations and added a bit of movement to the structured bouquets.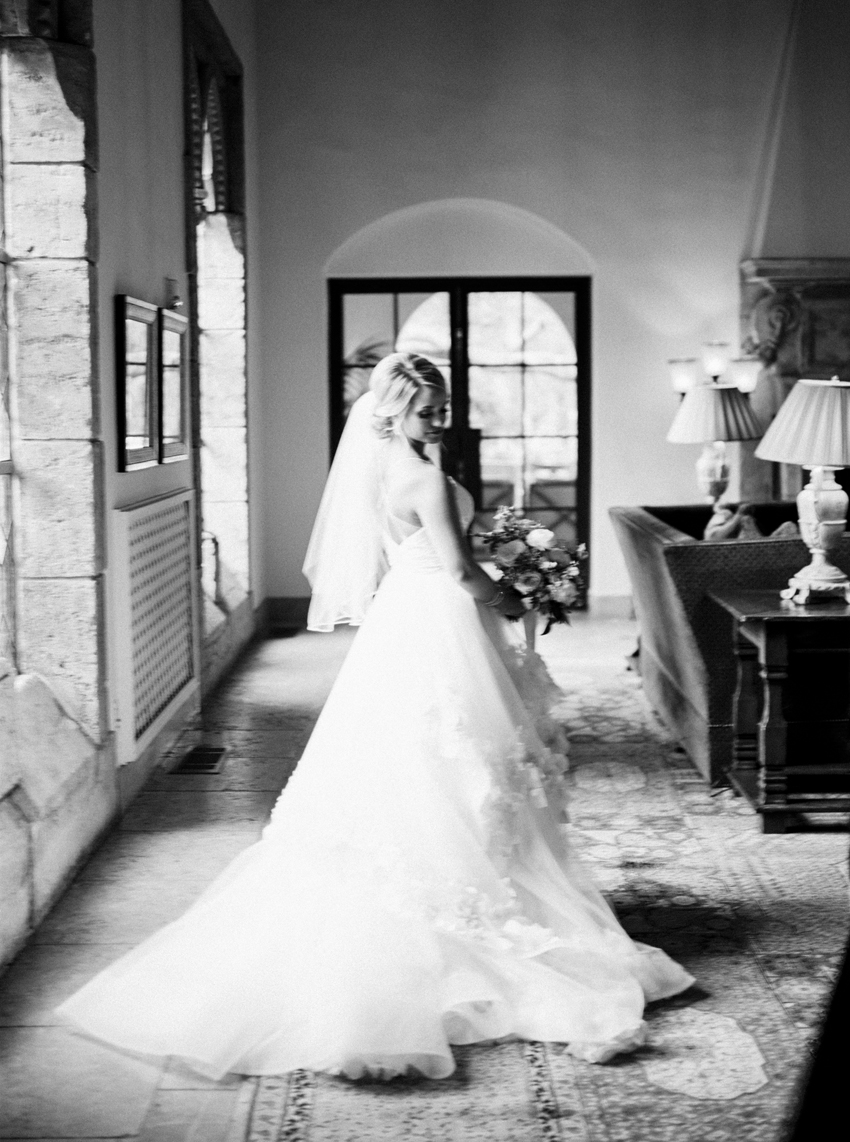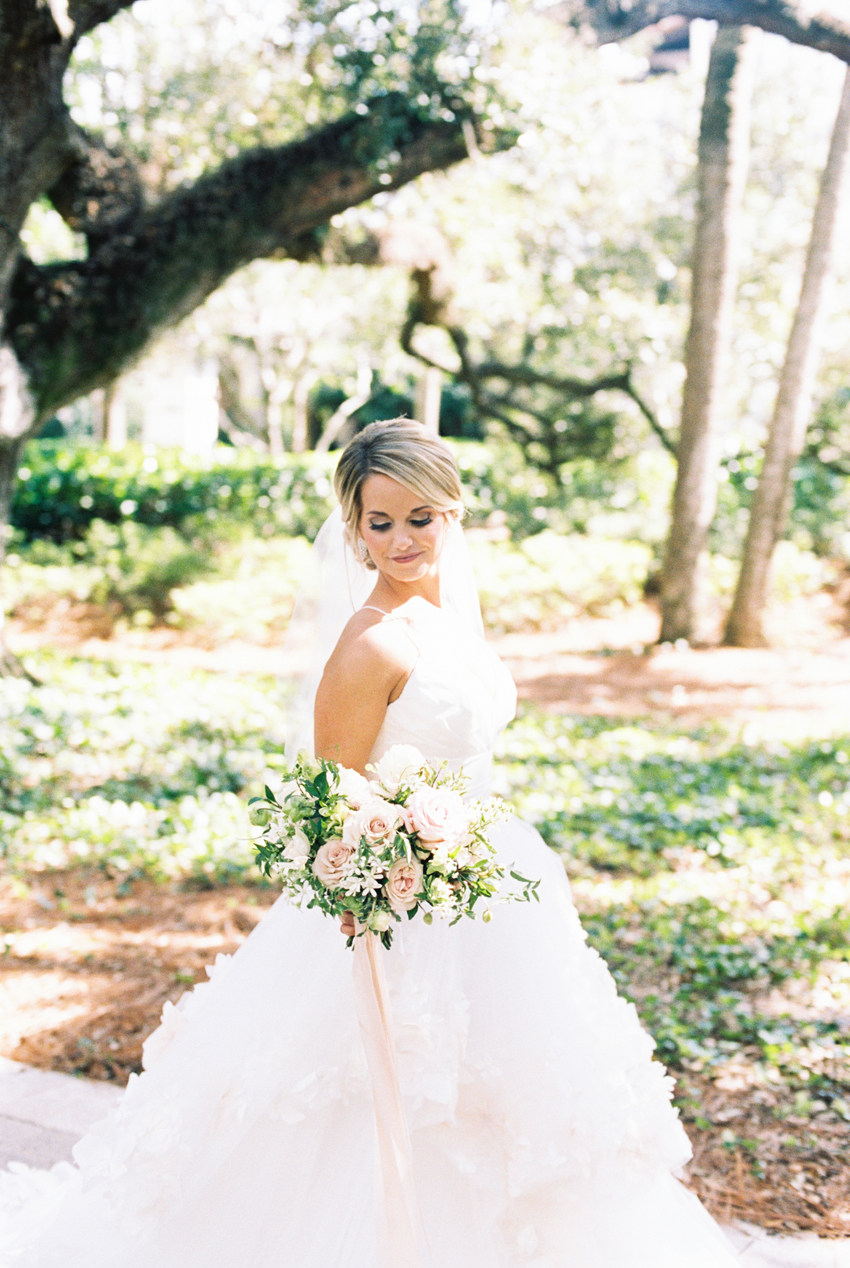 As mentioned above, I personally had the pleasure of designing all of the bridal party florals including Sarah's bouquet. And it was one of my greatest honors! She wanted something appropriately sized to both her tiny physique but also her very full Hayley Paige ballgown, and I wanted to also be cognizant of creating something similar to what the floral team would be providing for the ceremony and reception decor. The bouquet came together beautifully, as did the 10 bridesmaids' handhelds and it was one of my favorite details in a sea of many.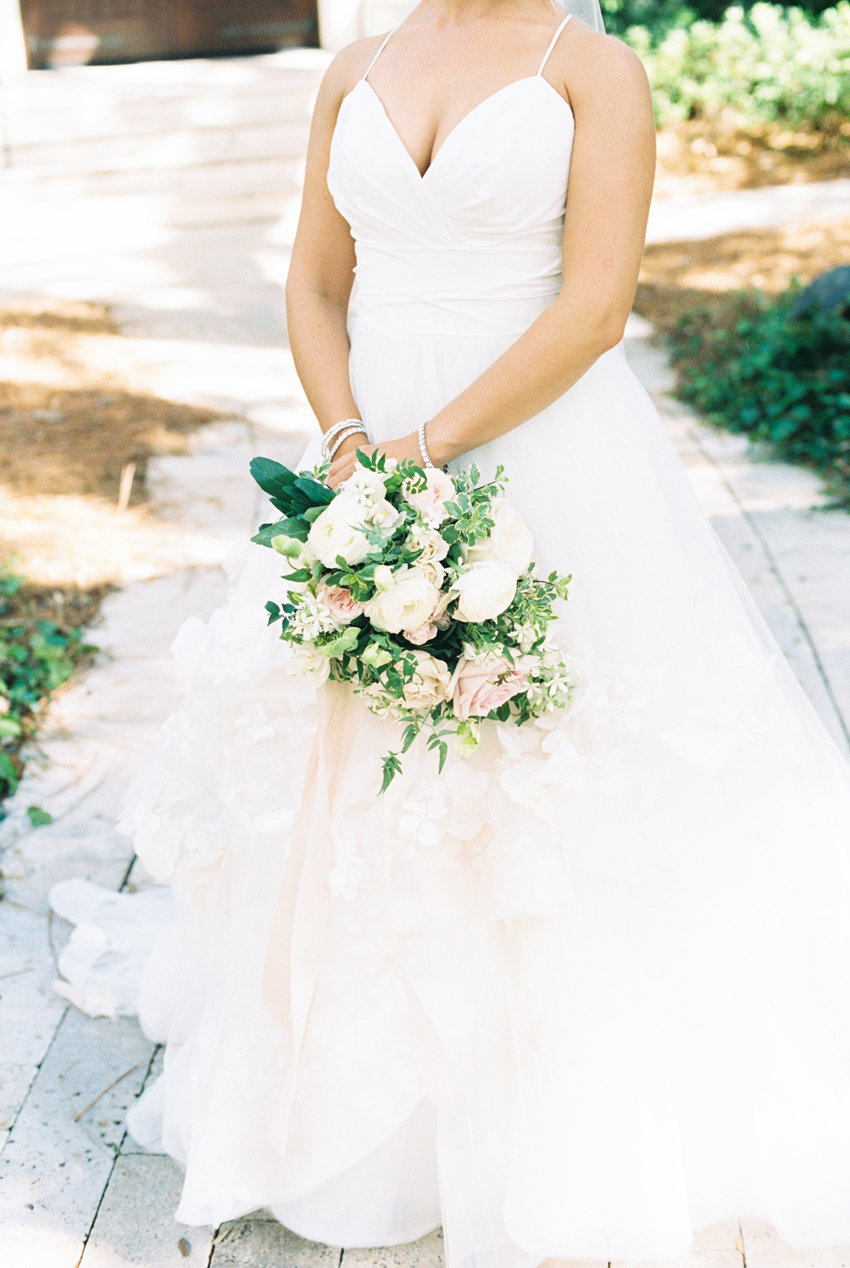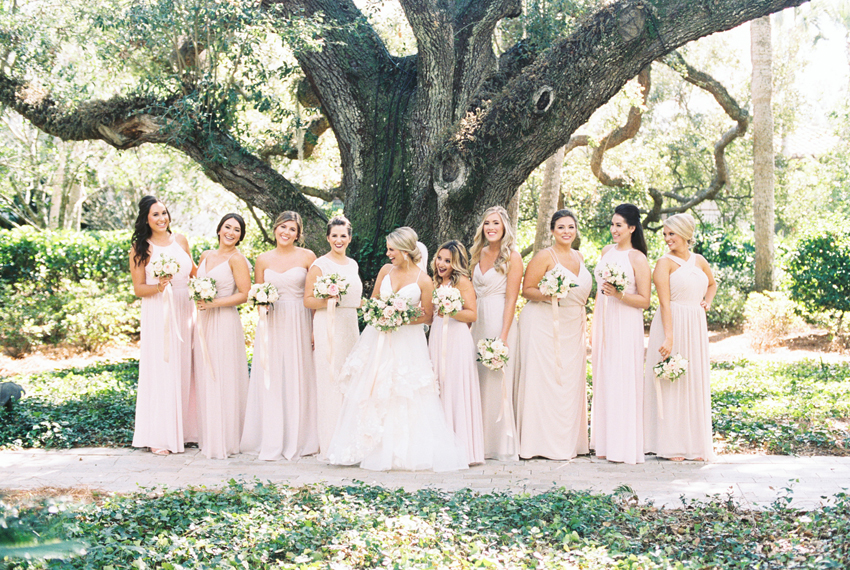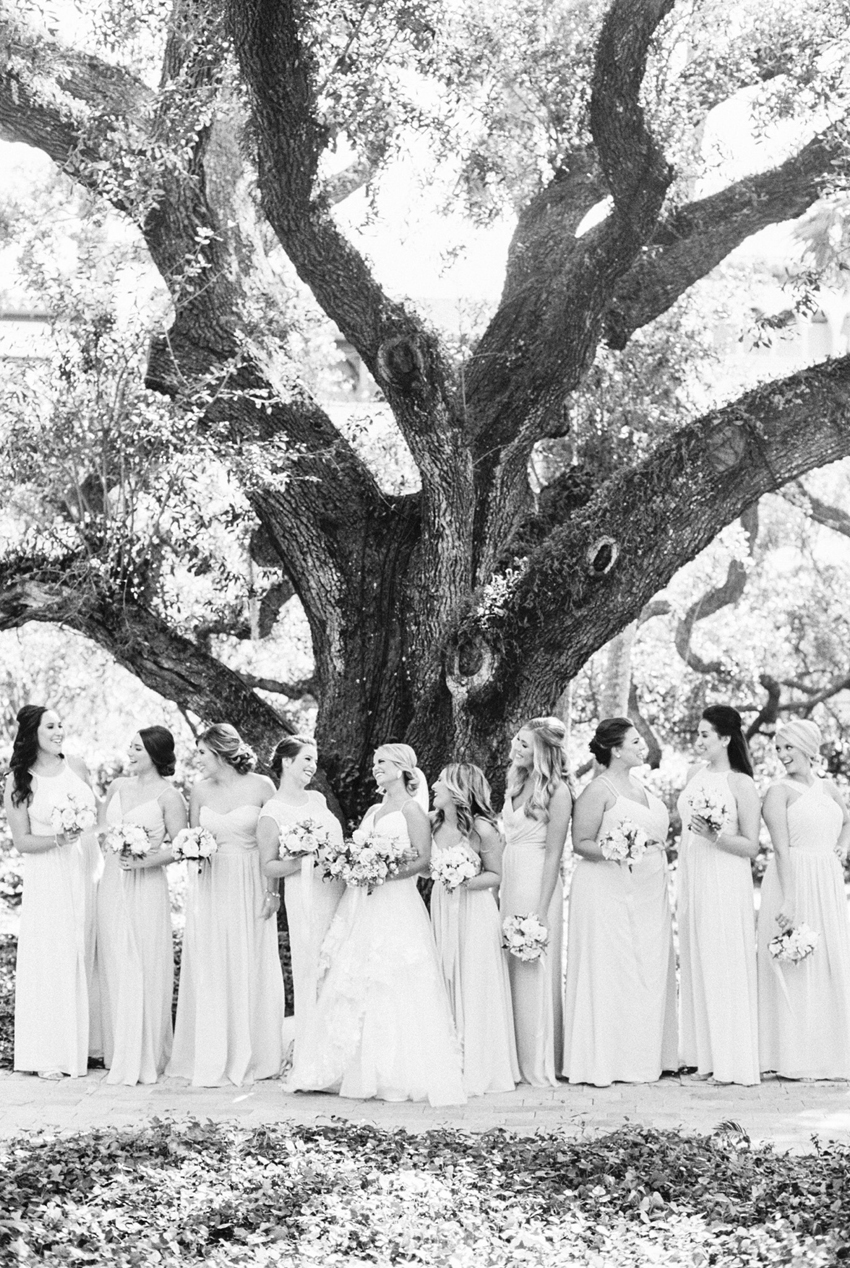 Ready for the best groom reaction of all time?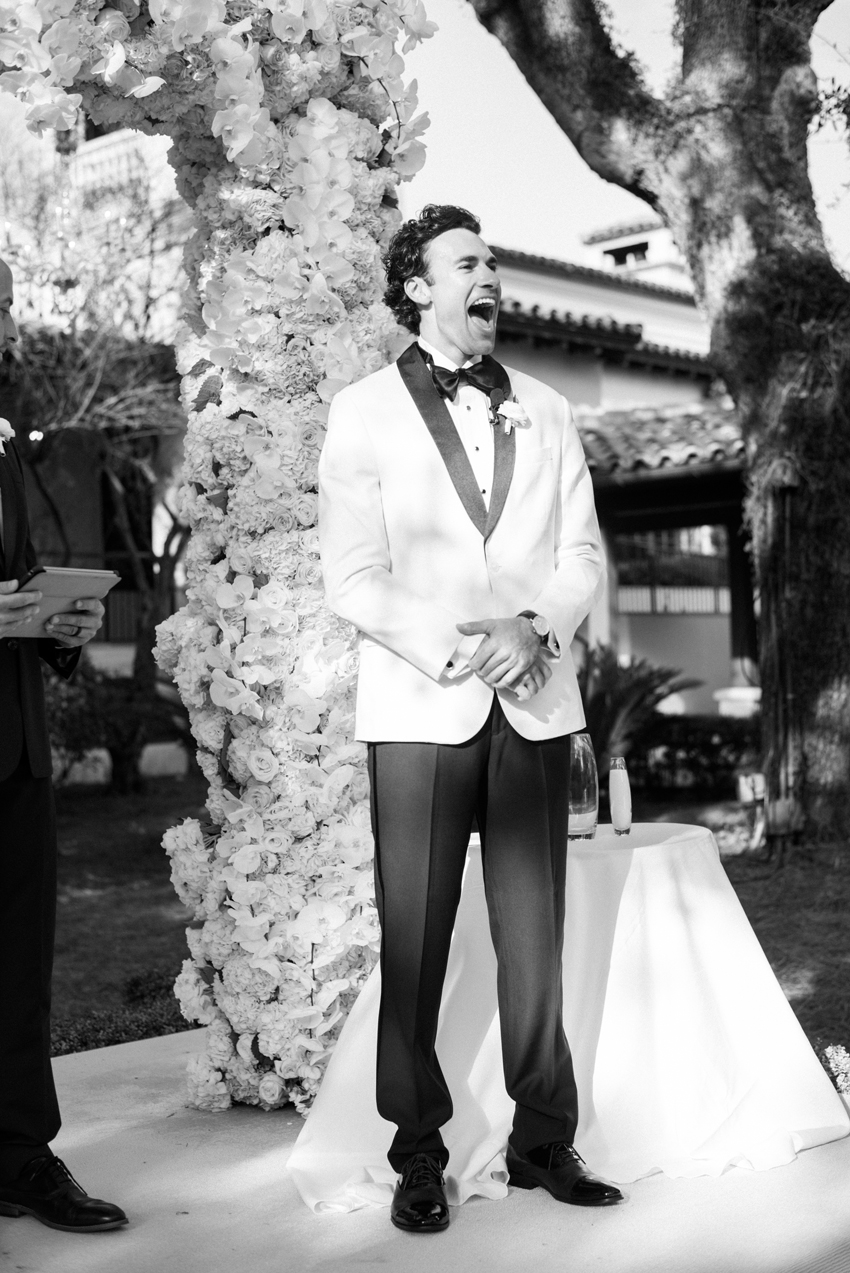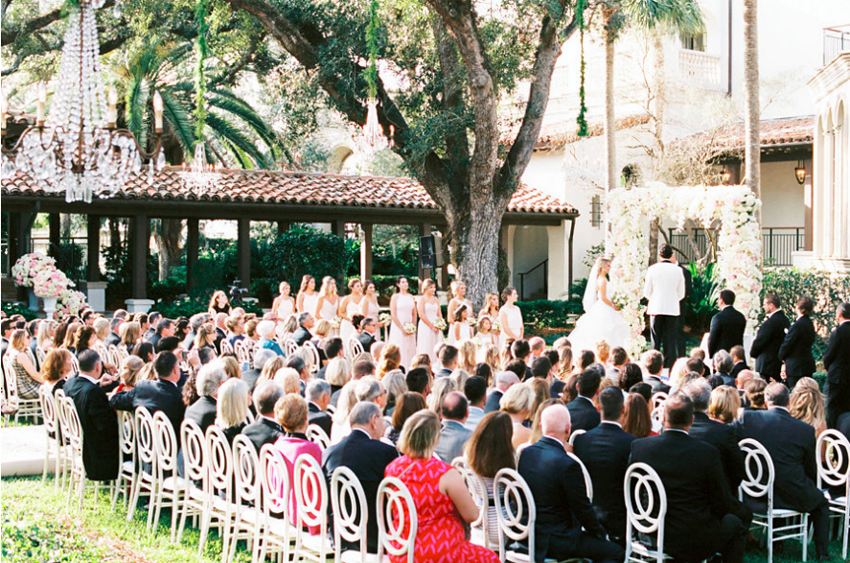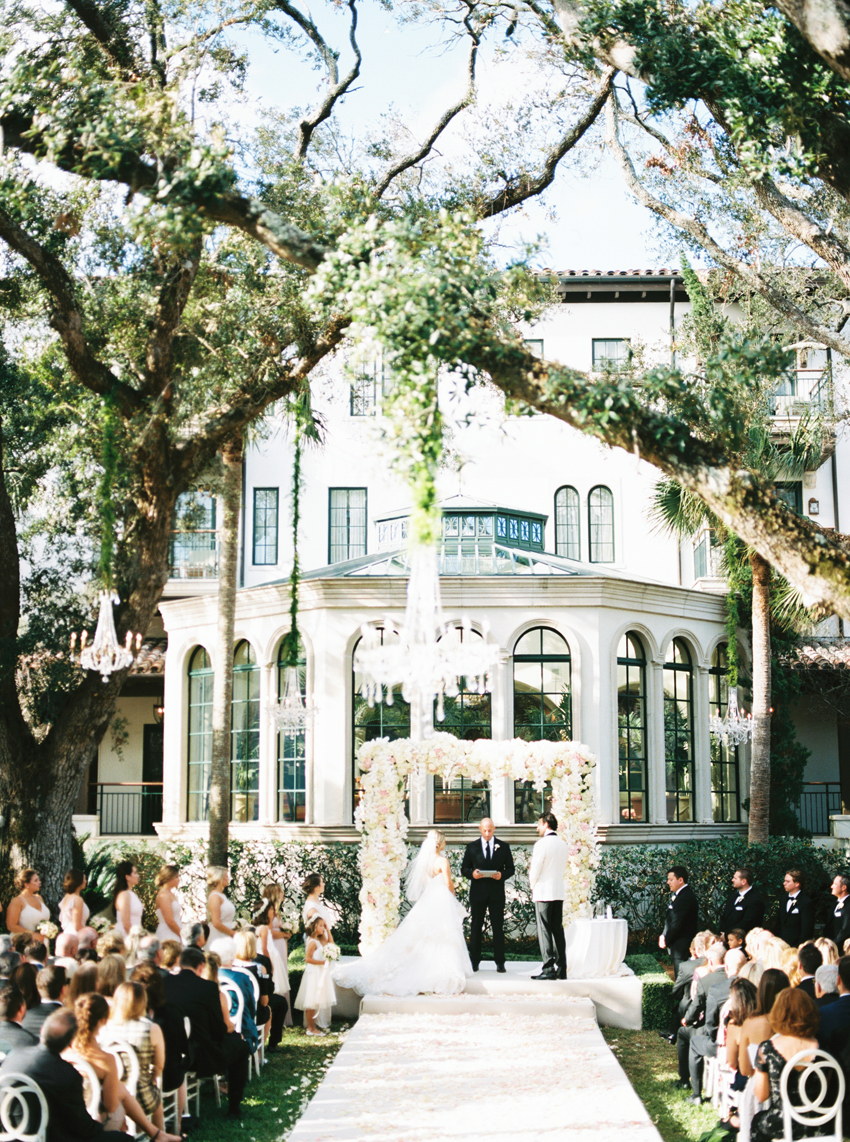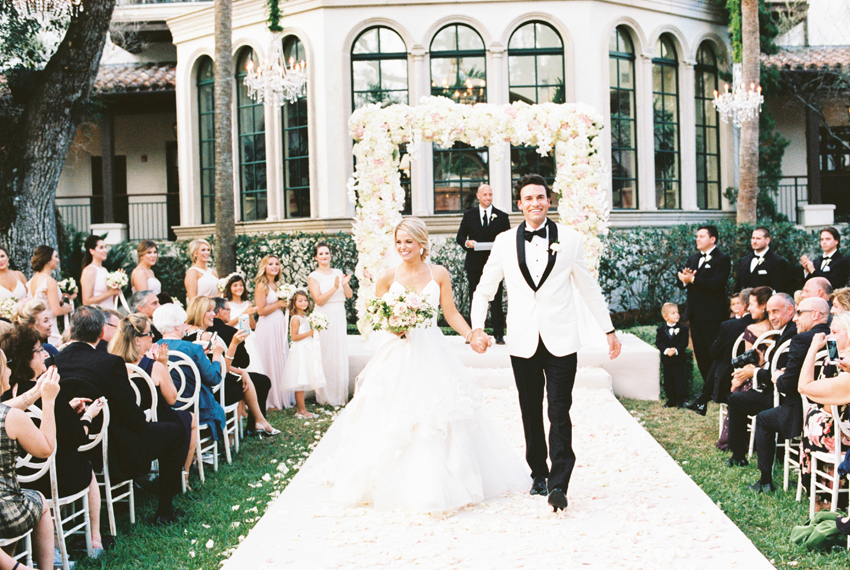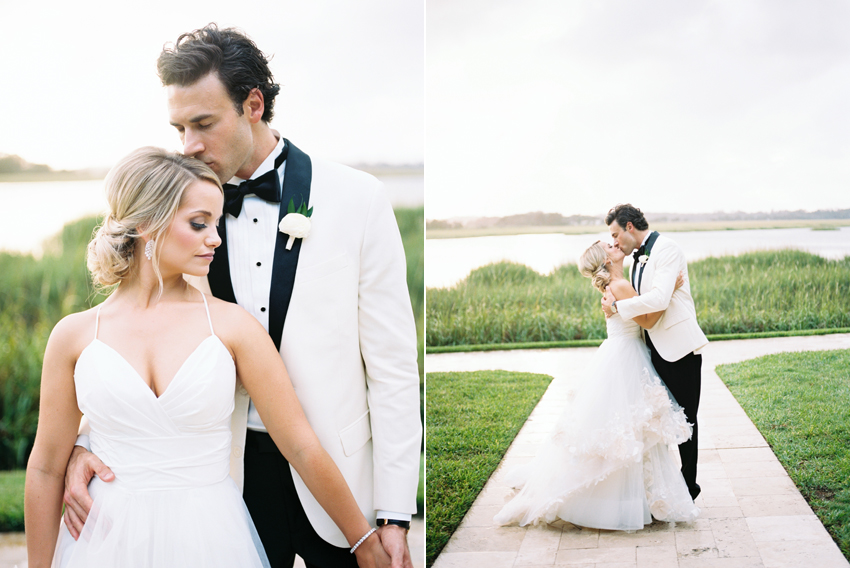 How THIS for a portrait?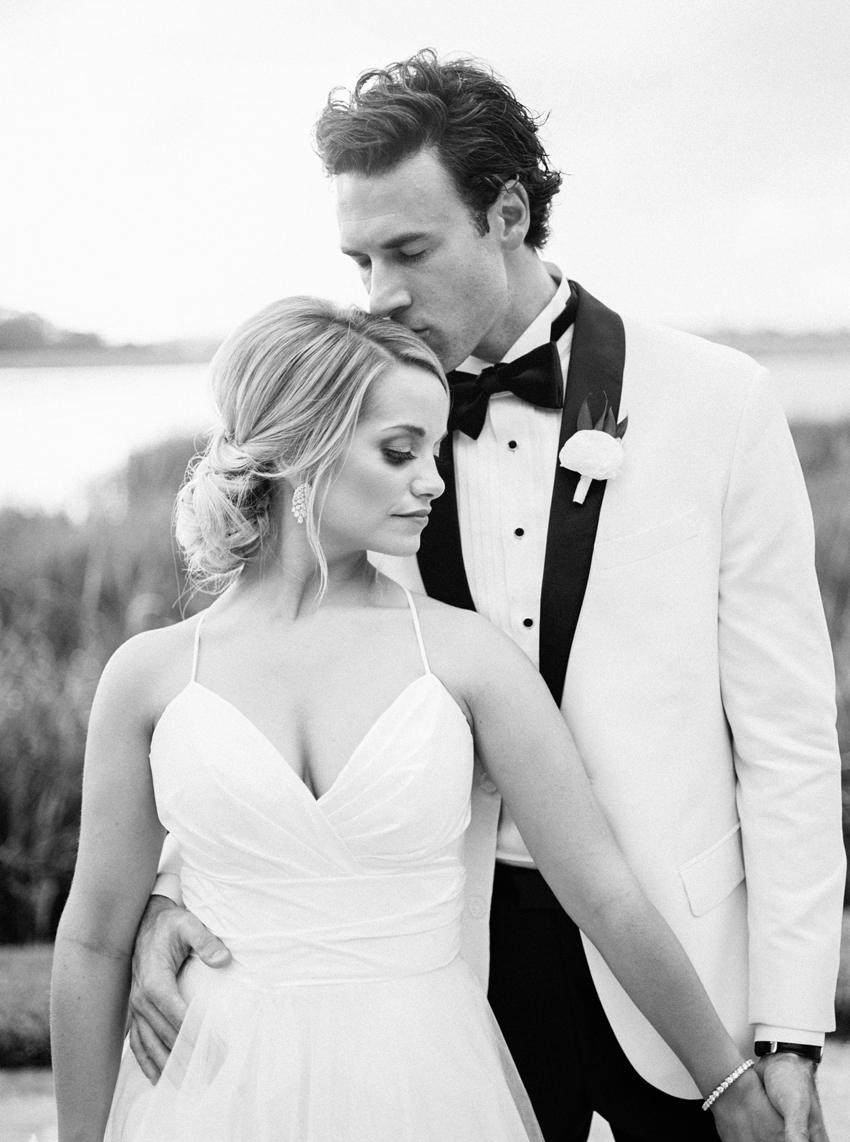 Behind our champagne tower is the most magnificent gospel choir!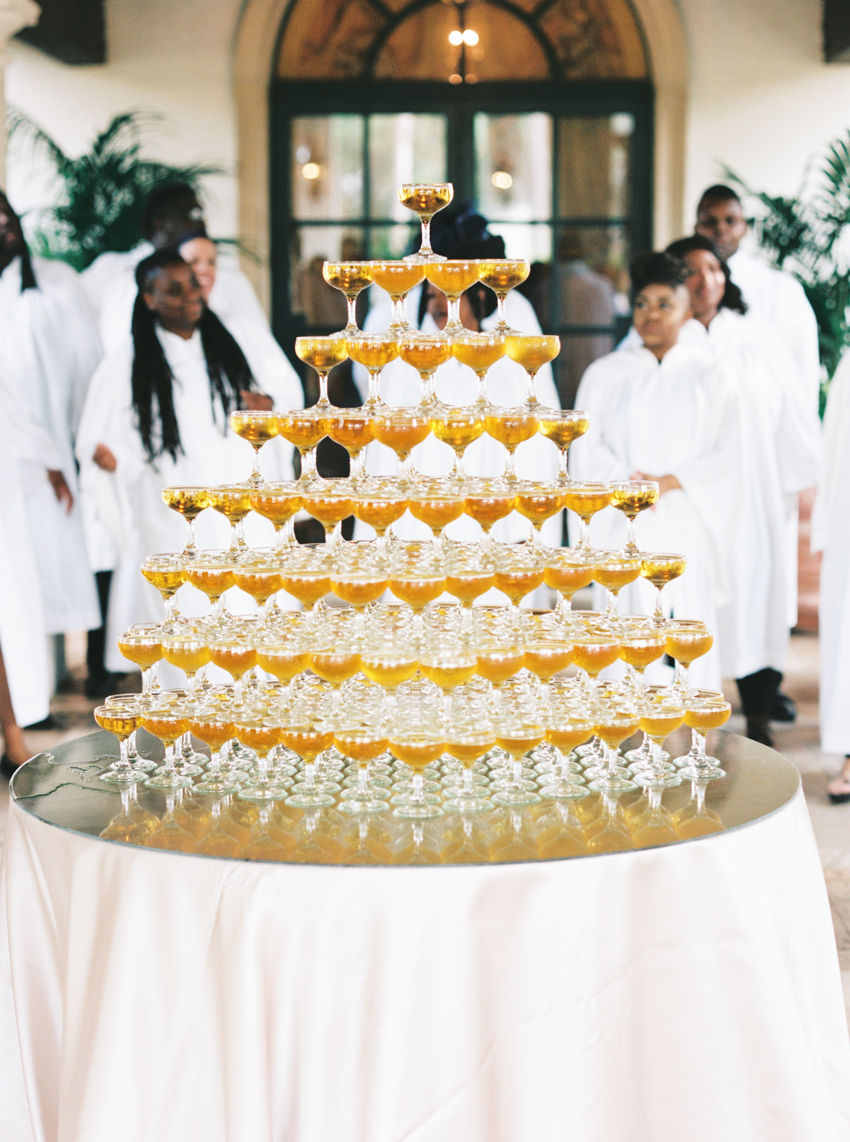 And welcome to the reception ballroom!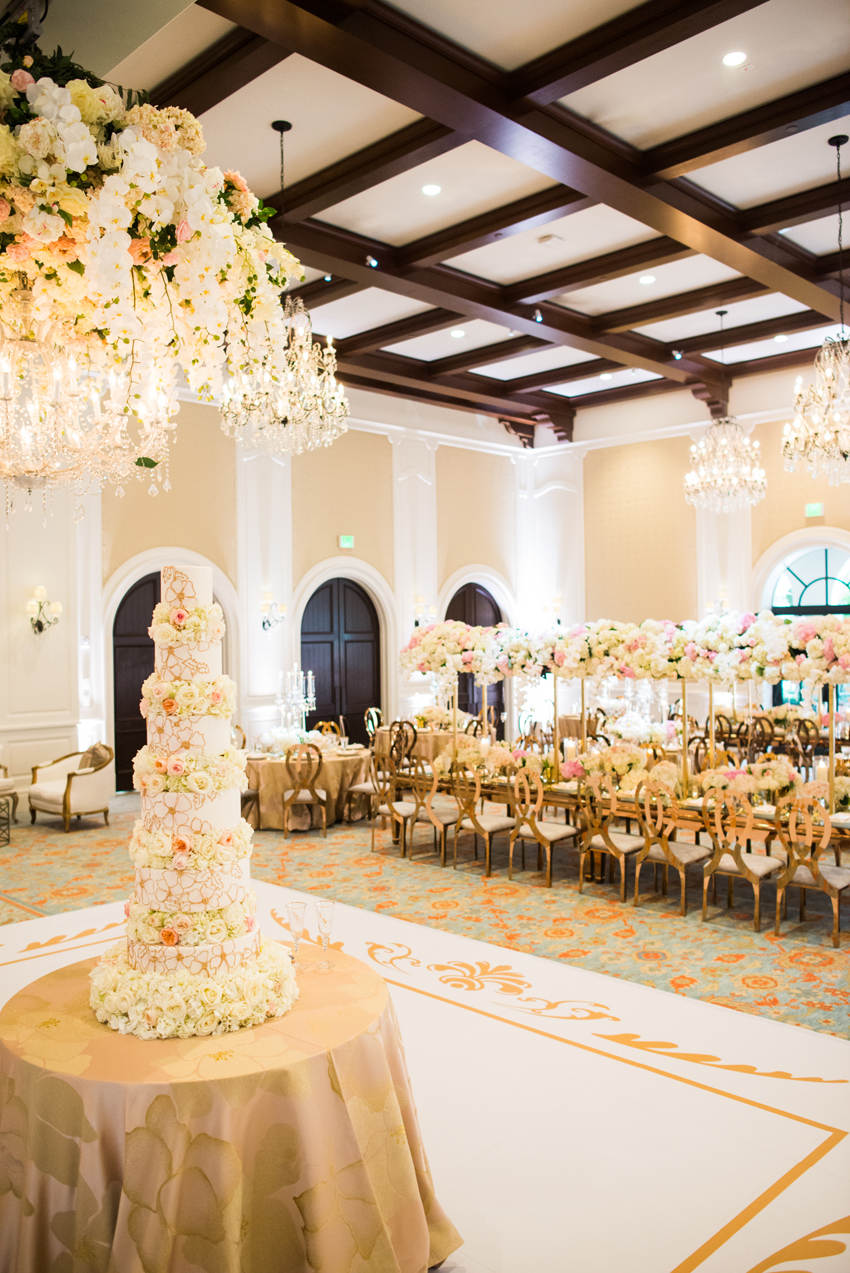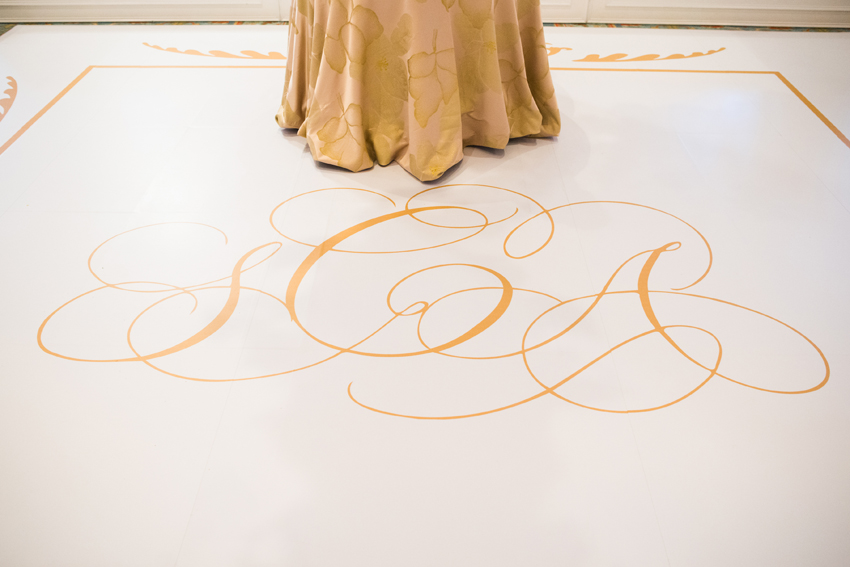 The all white dance floor with gold accents and the couple's custom monogram, again, in the center of it all, was such a statement to the grand ballroom at The Cloister. Also central to the room was the most stunning six tier wedding cake and gorgeous floral installation over the chandelier in the middle of the room. Working with The Vine, Beachview Rentals, Sea Island's team, and the pastry team at the venue was a collaborative effort and came together so beautifully. It was a delight revealing the room to Sarah and Albert after their ceremony.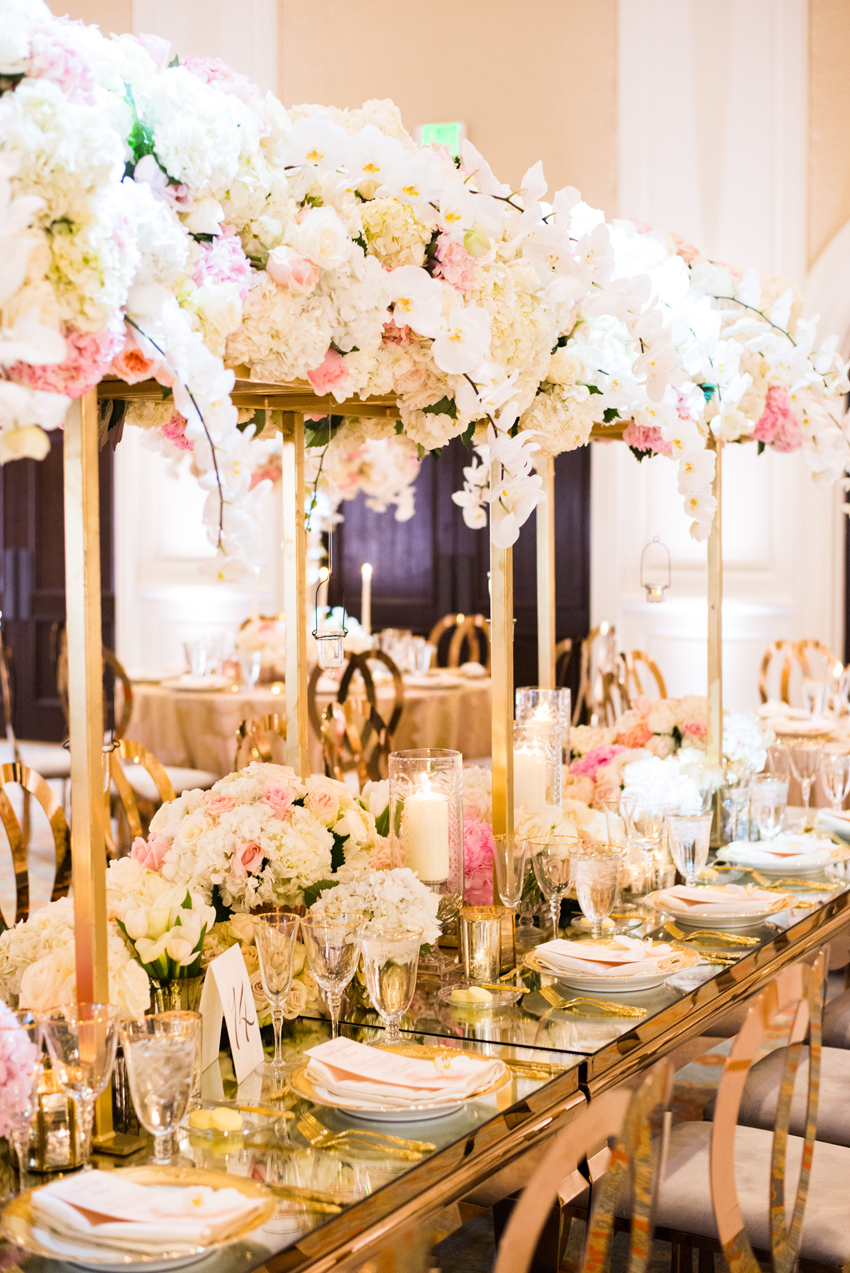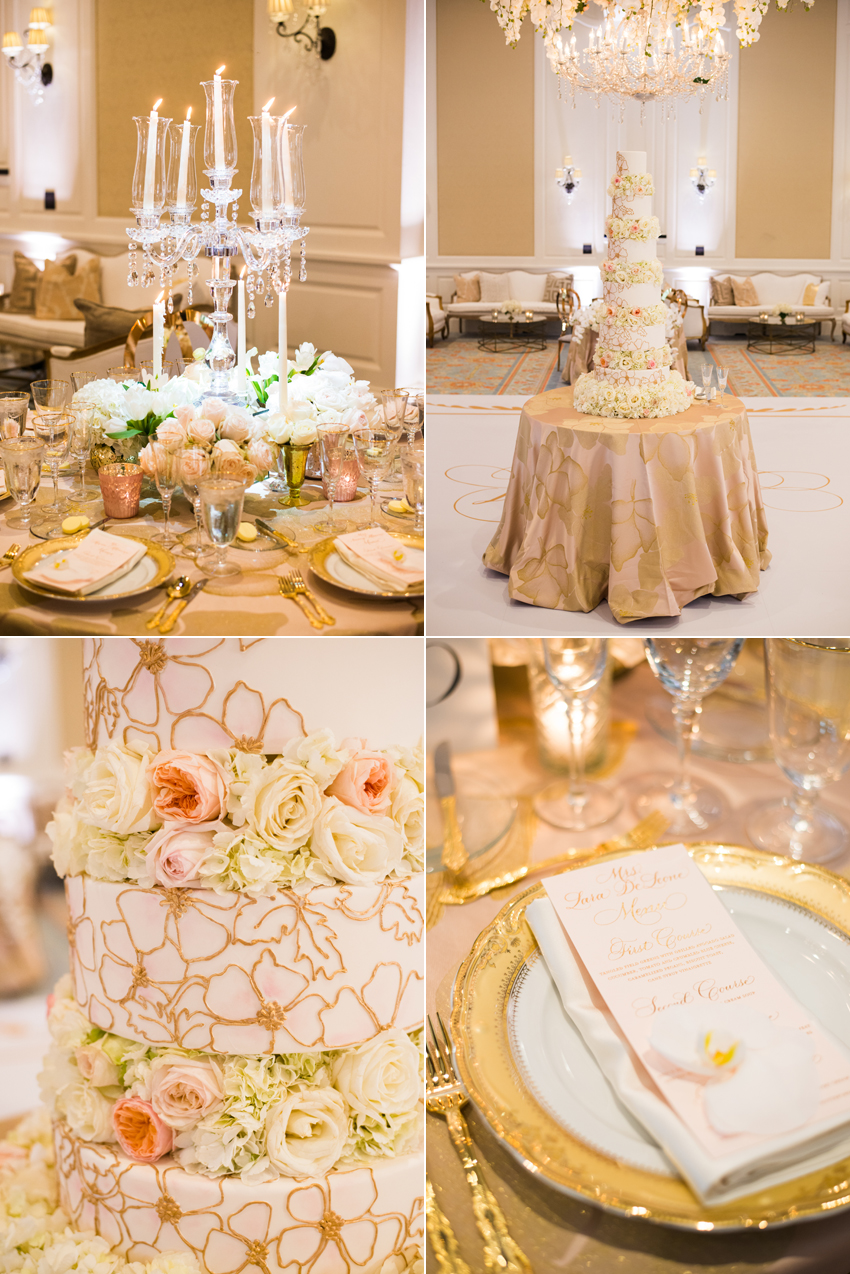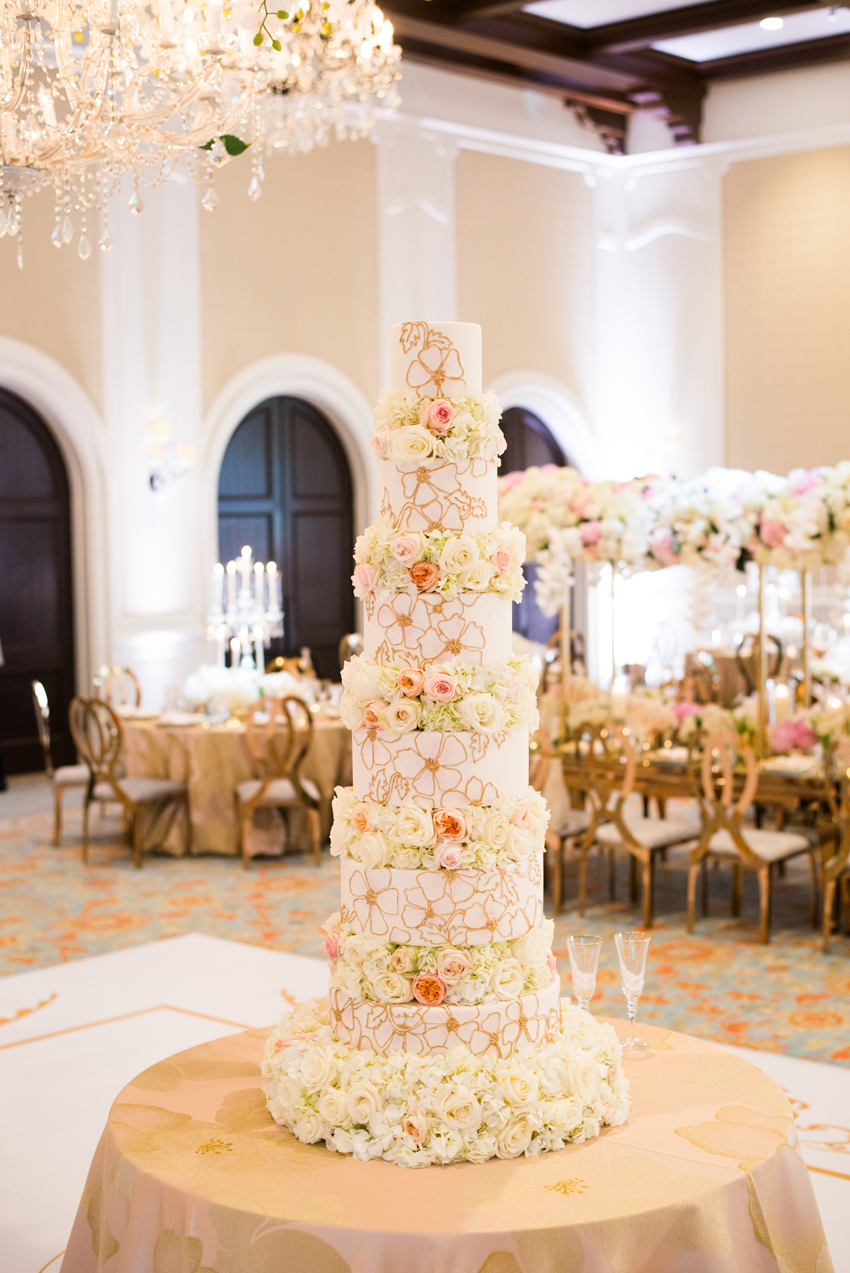 At the end of the night each guest took home a parting favor handed out personally by my staff. The favor was a delicate box of various flavored fresh macarons tied up with double faced satin ribbon (in a bow of course) and a label customized by Moya of MM Ink. After such a full two days of celebrations, food and entertainment, you can bet this was yet one more way to delight guests as they headed outside for the newlyweds send off.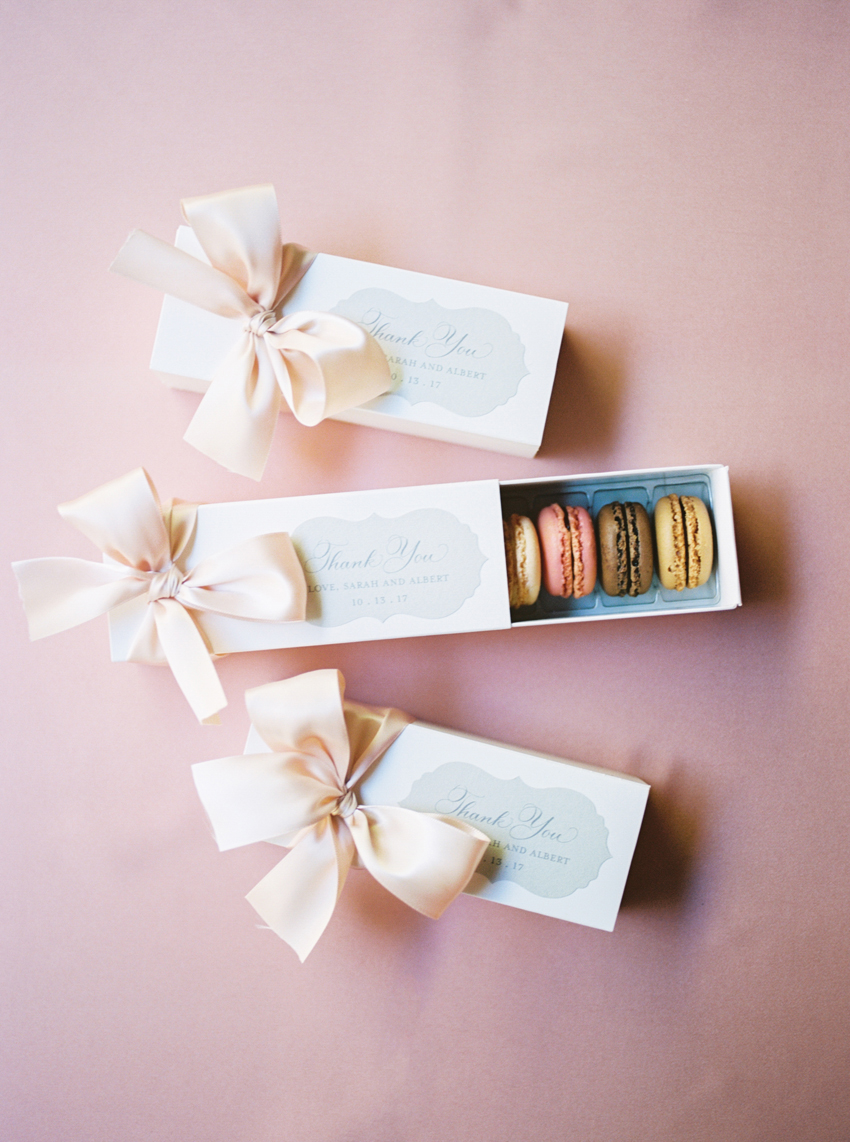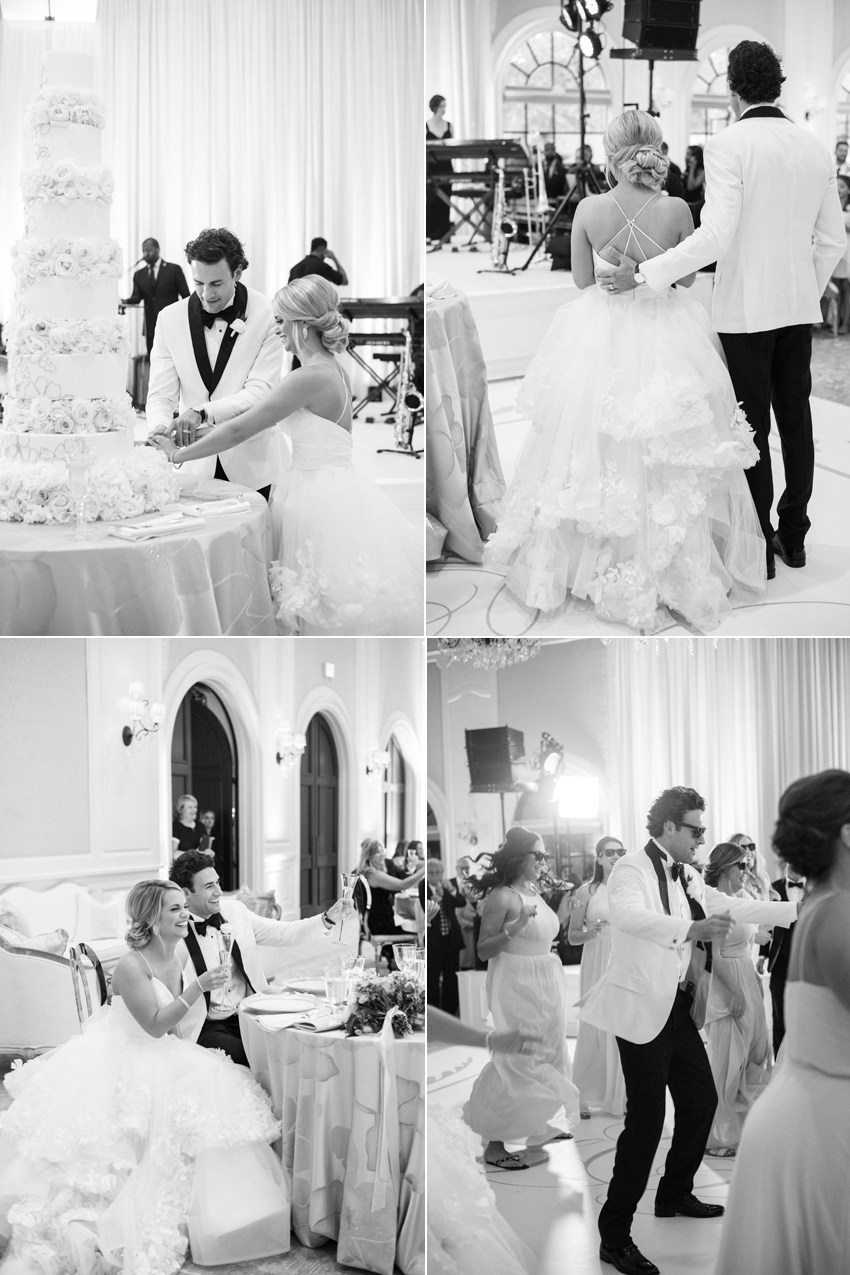 I also have to add that East Coast Entertainment's Sol Fusion rocked the party literally all night (with no breaks!) and is one of the most incredible entertaining groups I've ever worked with. It can be tricky to find performers and especially entire bands that work well with other vendors in a wedding environment but this group far exceeding any expectations. Sol Fusion's professionalism, talent, maturity, and showmanship was one of a kind. As you can tell, they sure know how to keep a group of excited guests engaged and excited!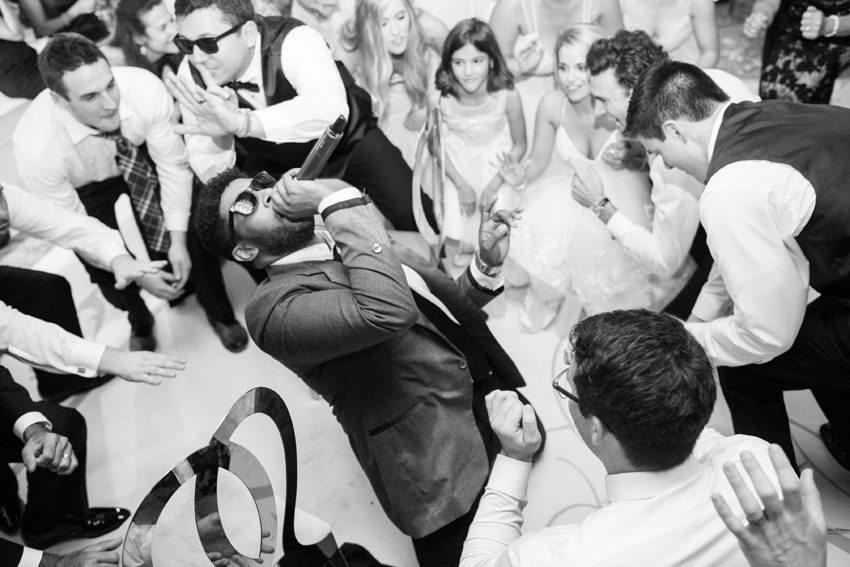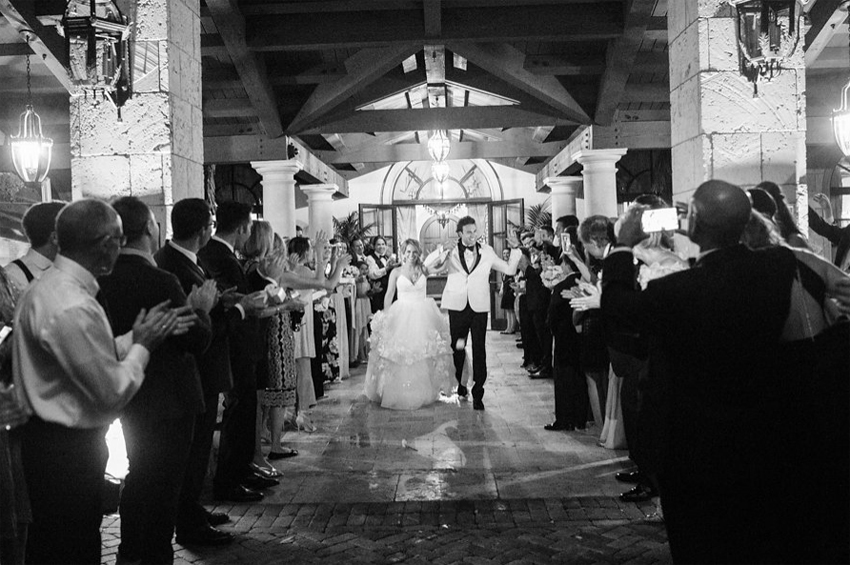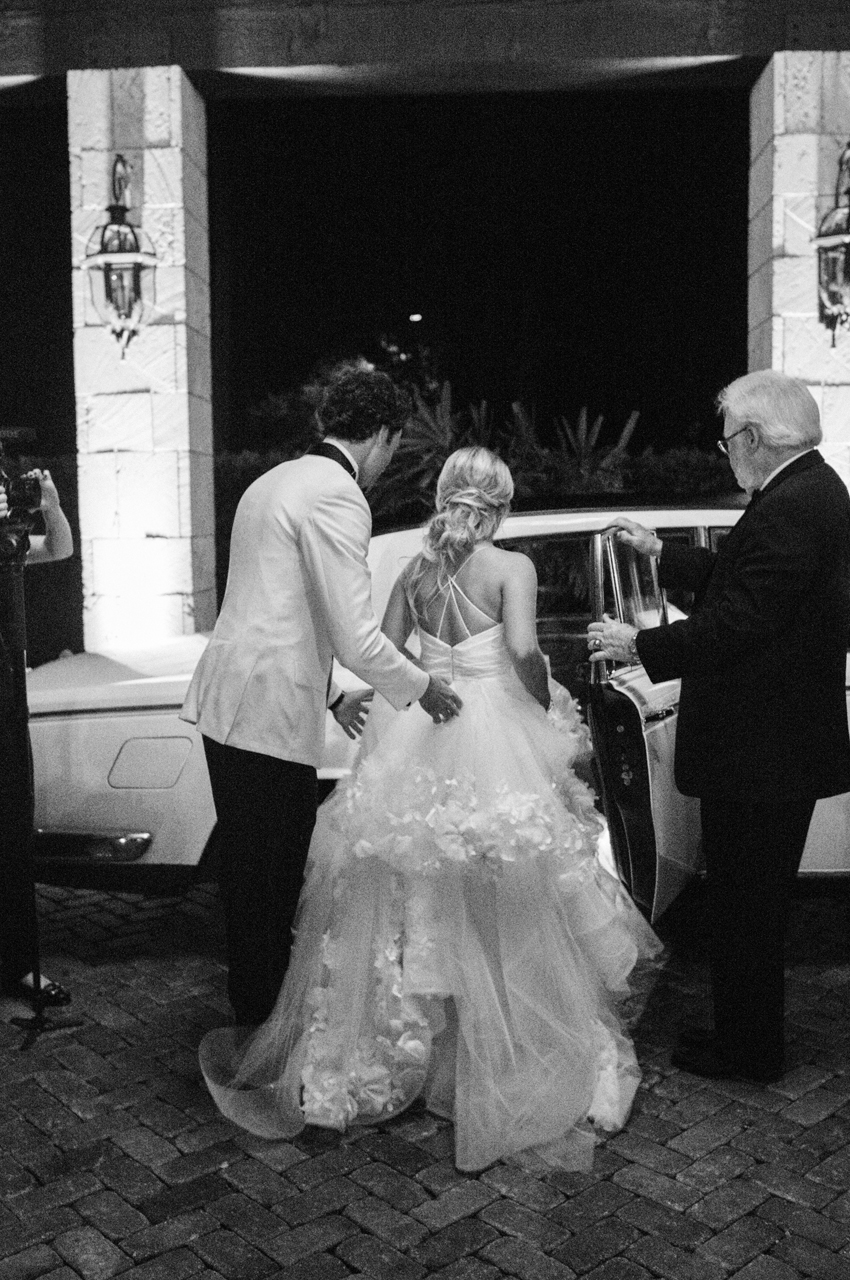 And what a more perfect way to send off our bride and groom than in a vintage car as sparklers fired off from the driveway of The Cloister? Just one last time, guests were delighted with one more surprise as the first sparkler ignited right when the car reached its location. The cheers and claps lasted for minutes long after the car had left the property for a quick drive around the island. What a magical way to end a magical weekend!
Congratulations Sarah and Albert! May the rest of your life together be as sweet, tender, and magical as October 13th, 2017. We look forward to watching you grow as husband and wife, parents, and partners. Thank you for letting us play a part in your forever! And thank you to everyone below who played a part of making this day possible. Be sure to also catch the welcome party from the night before in this post here.
You can also see the stunning wedding video the crew at Heart Stone created here. Just wow. Xo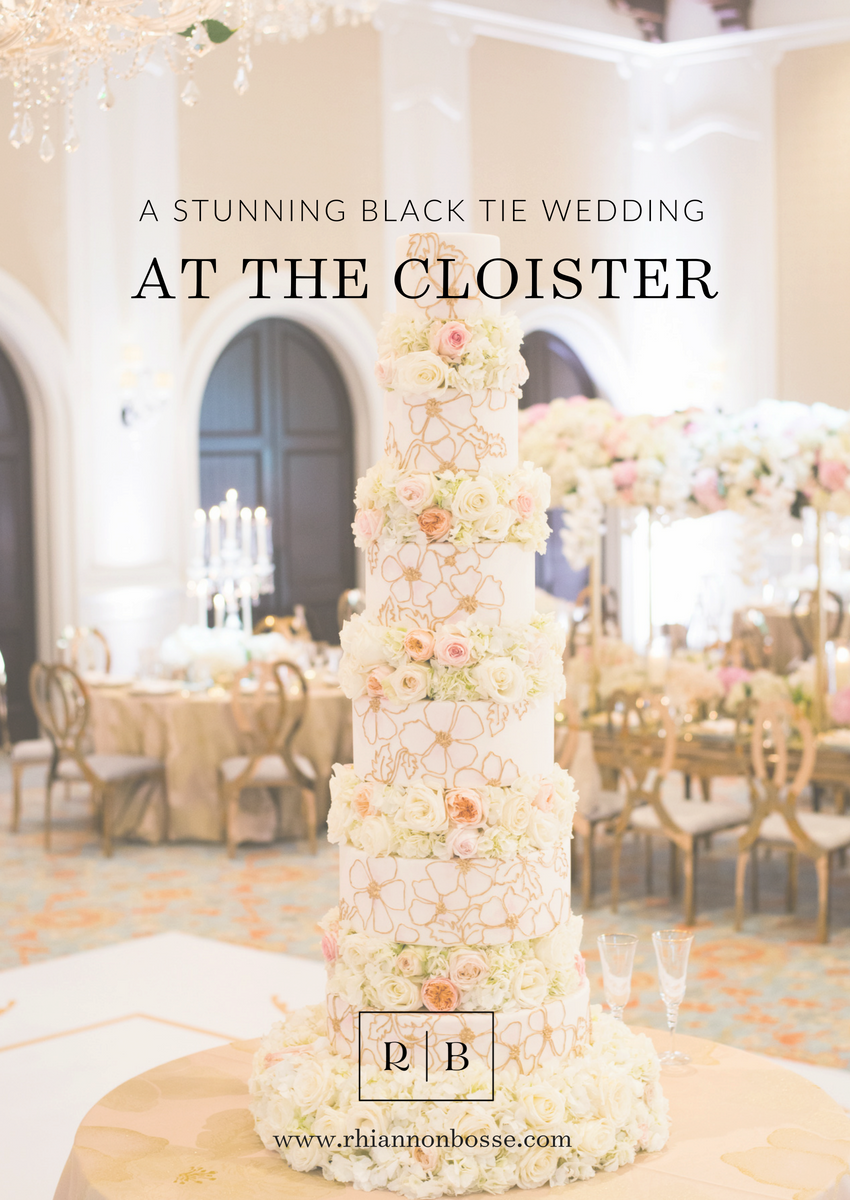 Photography: Henry Photography / Planning, design, coordination: Rhiannon Bosse Celebrations / Videography: Heart Stone Films / Venue: The Cloister (ceremony in the Spanish Garden) / Catering, alcohol, design execution and pastry goods including the wedding cake: Sea Island / Floral: The Vine / Entertainment: Sol Fusion, East Coast Entertainment / Beauty: Be Pretty LLC / Stationery and calligraphy: MM Ink / Welcome gifts: Marigold & Grey / Linens: Nuage Designs / Watercolor illustration: Simply Jessica Marie / Bride's dress: Hayley Paige / Rentals: Beachview Rentals & Event Design / Bride's shoes: Jimmy Choo / Accessories: Saks Fifth Avenue / Groom's tux: The Black Tux / Groomsmen tuxes: Jos. A Bank / Officiant: pastor from the couple's home church