Welcome to our home! Well, the part of our home also known as the yard!
If you're just here for the photos, well then check this out first. In the very least I'd love to share a simple before image with you because I'm a total sucker for a good before and after. And if you have about ten minutes then read on because today's post is jam packed with a lot of good stuff I've been very eager to share with you.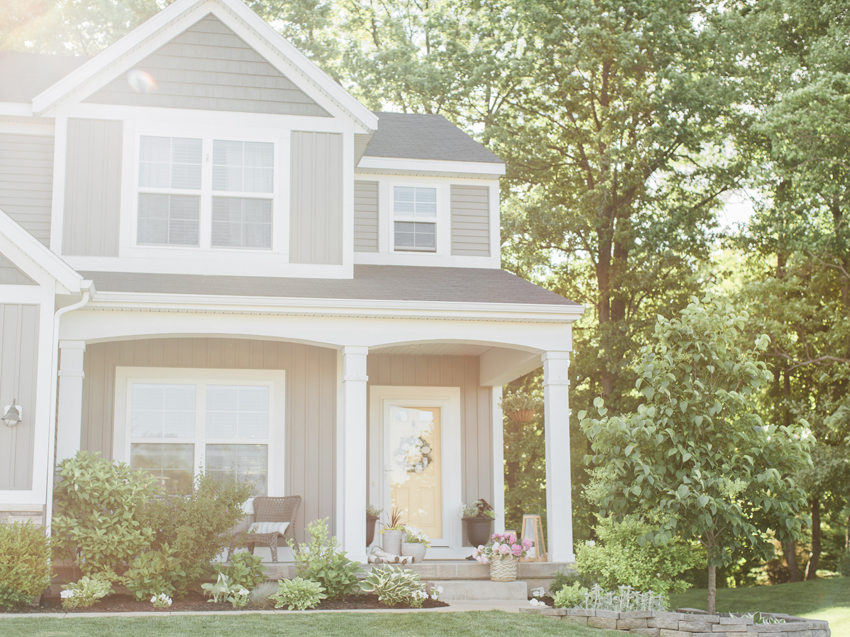 About eight years ago Andrew and I made the decision to build our first home. Not only did we calculate a mortgage payment which would rival our rent cost per month at our then small apartment, but a move to our own home would mean more living space, our own yard and garage, place for me to run my business, and ultimately, space to grow our family. We broke ground in the summer of 2011 almost a year after we got married, and moved into our new home just a few weeks shy of Christmas that year. Our new home was the best holiday gift of 2011. And ironically my very Instagram post was sharing the news of our closing on our lot which you can see here.
The funny story is after blogging the inside of our new home prior to our move in, my naive thought would be in 6 to 9 months I would have a fully decorated and landscaped home and yard to share here on my blog. I'd take the winter to get everything in shape and by summer would be settled (landscaped, with winters like this?!) and ready for our home's big debut. To that I offer up one big fat LOL. It's been eight years and we still have so many projects and dreams for this home! But it has certainly come such a long way and sharing it with you is a pleasure.
And speaking of sharing, I have a lot to share. Some items throughout this post are tips and tricks for landscaping since we have done every single thing ourselves and for the most part have done it well. Every bush, flower, brick, and piece of landscaping has been done by us. We've done it slowly and intentionally, learning lots along the way and sticking to a modest budget. We have had to work hard to find balance between my flower farm dreams and our reality of living in a suburban Michigan home surrounded by average (but awesome) neighbors, while also considering VERY cold, long, and dreary winters. There's been a lot of hard work poured into our yard combined with unique circumstances, but it's been worth every single effort.
Further, a lot of what I share here includes beautiful photos by my friend, Sam. Even though this is our home and has been for some time, these photos really illustrate to me how incredibly lovely our abode is and how we are tremendously lucky and grateful to call it ours. There's something very special about having a home no one else has lived in, but also in cultivating a business, family, marriage, and so much more under one roof that's as every bit lovely as I make it out to be. We've lived so much life here in eight years! My inner perfectionist has let her hair down a lot in recent years and with that has come a better appreciation for my blessings.
But I also have to be honest and say there have been many times where I've been caught up in wondering if the grass is greener somewhere else (mostly in the winter). I'm an passionate open houser and often feel like there's so much that could be different and better about the space we call home so I look elsewhere for something better when what's in front of me is so beautiful.
If anything, these photos show a small piece of my life and what my husband and I have worked hard to build for our family. These photos represent a piece of my life I've fallen in love with, especially so over the last couple years in what's felt like a two year transition into a wiser more content state of existence. This is our home and I wouldn't have it any other way.
I'm so happy to show you around, new baby belly and all!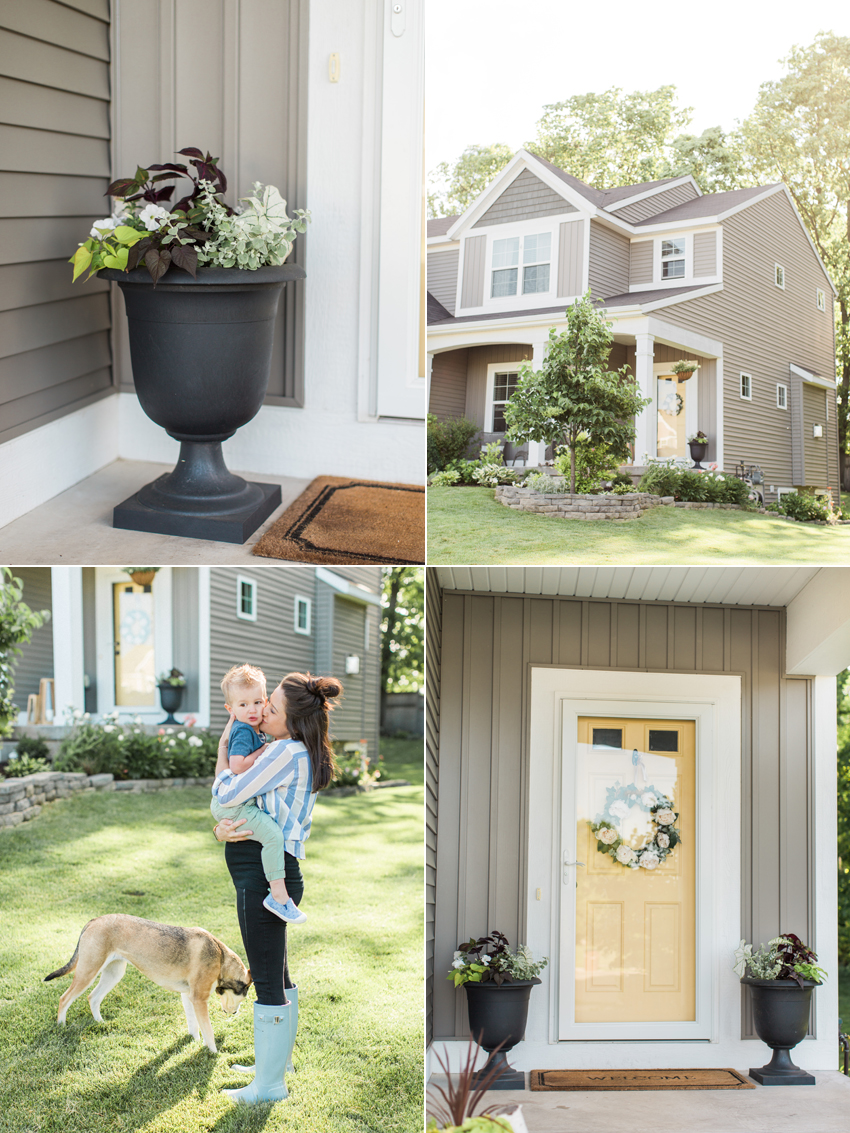 First up!
Our yellow front door. Painting it was a decision I made very early in the home building process and one Andrew easily agreed along with. It's been somewhat of a signature of ours and an easy marker to explain our home to new visitors ('second home on the left, gray with a yellow door'). It's a place where we take a lot of photos and has become a favorite home vignette. For those who ask about color we used Sherwin Williams' Evening Glow.
Secondly!
I like to think our yard is made up of a few different parts:
ONE: The items that get replaced every year. This includes the items planted in our front porch urns (which change seasonally), hanging flower baskets or ferns which no doubt die from the hot summer sun sooner than I'd like every single year, the small pots of goodies on our front porch (the photos in this porch were taken right after I planted them and then this photo shows how BIG they got by the end of summer), and our tomatoes and herbs on the back porch. These are things we plant, enjoy all summer and early fall, then when they are done for the season the pots get repurposed or put away until the following year. I usually stick with a neutral color palette and like to gravitate towards greenery over flowers.
FUN TIP: Save the little paper tags that come with your annuals so you can remember what you love or don't like come next year when you go back to the nursery for new goodies. This is helpful when asking or looking for certain products. Make a note of what grows well where so you can repeat efforts time and time again.
TWO: The items in our yard that are meant to be more permanent and simply pruned, tended to, or left alone from year to year. The includes trees, bushes, and some floral items like our hydrangeas, peonies, and lilacs (to name a few). Over the years we have had to pull out a few things, replace others, split hostas, replace a dead stubborn tree, and fill in holes around our home yard and perimeter landscape. But these things are what you see in a lot of the photos and are meant to find a balance between form and function (e.g. we want our home to fit in with our neighbors' but we also want it to look like we really value our homestead and take good care of it).
THREE: The items that are decorative and may change based on style, expected wear and tear, or family changes. This includes the fence we put in during our second summer here, the deck we stained then restained, our bird feeders, patio furniture (which we bought from Target last year), string lights, storm door (my favorite), brick retaining walls, and to come soon, a small poured patio off the back deck which will help battle a yucky moss problem we run into every summer (update on that very patio is over here).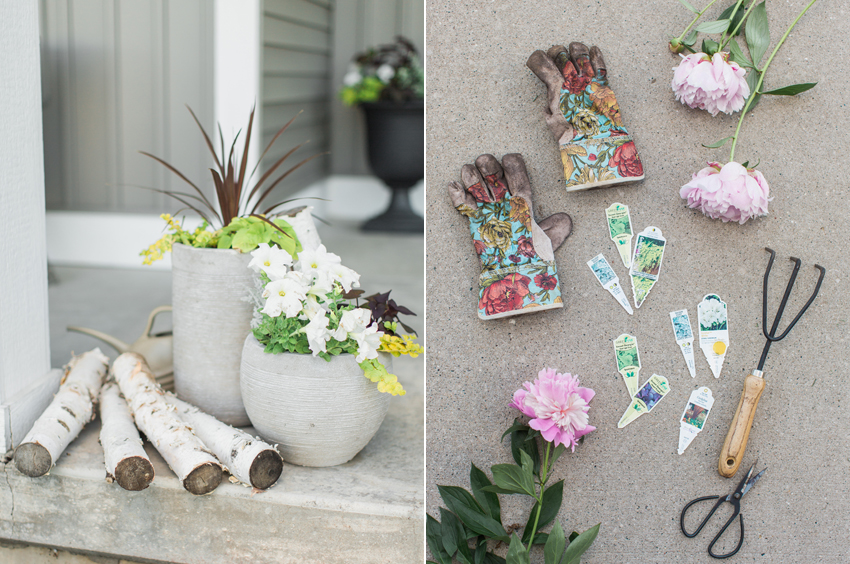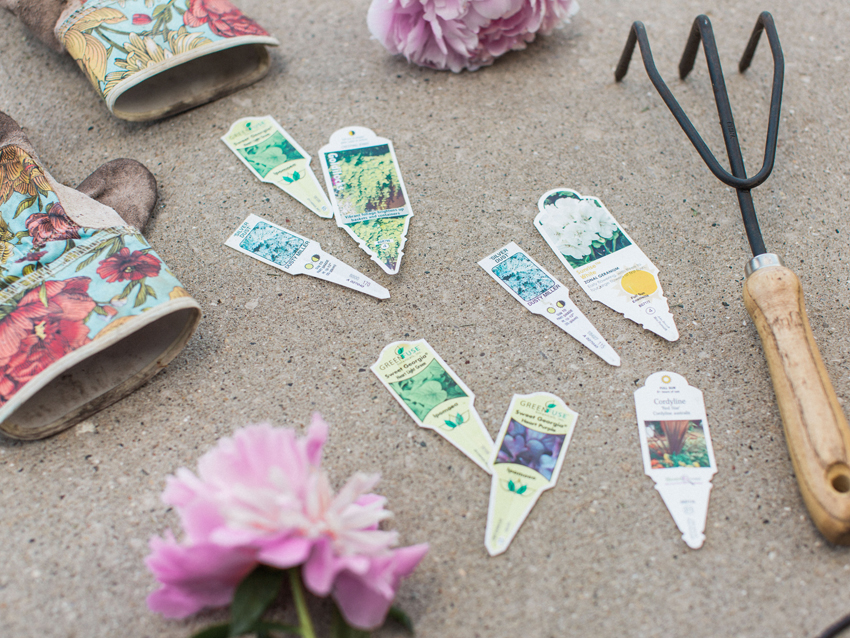 The sun rises behind our house and in the summer spends the whole day making its path almost directly over our home. Meaning by 11:00 am forward the south side and front of our home is in complete direct sunlight. I've had to be cognizant of this when picking out my annuals and perennials because some things just don't like that much heat and sun! For example, we used to have these two beautiful hot pink hydrangea bushes flanking our front stoop but the sun just zapped the life out of them so we recently moved them to the back where it's a bit more forgiving in the sunlight department. I'm hoping they will come back to life next season.
HELPFUL TIP: Many of you asked on Instagram how to know where to get started with landscaping your yard. And to that I say good luck AND pay attention to the pattern of sun you get in the warmer spring/summer months so you can be intentional about what you plant where. It's wonderful to want to make a moat of peonies around your home (guilty), but if the sun keeps most of your home in dark cool shade all day long, your plants may not yield as many, or any, of those beautiful blooms you're after! Landscaping is SO different than decorating the interior of your home so have a different mindset when 'decorating' your landscape beds.
Similarly, while far from glamorous your soil has SO much to do with your yard's landscape potential. For example, the soil around our home in our beds in great for growing thanks to a mix of luck, and fertilizer and mulch we've mixed up over the years. At the back of our lot line however, near the fence, the 'soil' is nearly pure sand. Sand with weeds. Yuck! I've wanted to grow so many things back there like climbing roses and bushes of lilacs but have come to accept that that space is more so just meant to be kept simple. So this year we mulched over the sand to keep it tidy looking and I will continue to add more throughout the summer until that whole sandy area is covered. From here on out it's a matter of managing it and staying on top of weeds.
Also, try and think ahead about your yard goals. That sounds SO silly but think about it!
Do you want your yard to look really amazing regardless of how much work it takes?
Do you want to landscape your yard on a budget?
Is landscaping something you want to keep to a minimum or are you ready to work?
Are you away most of the time and unable to keep up with work?
Are you a homebody with time to devote to your space?
Will you be moving anytime soon? Will you get to reap the benefits of your efforts?
I've thought of all these things and then some every time we've made a trip to Lowe's, the local nursery or garden center because I never want to do anything without any intentionality. If you can give the slightest bit of thought to what you're planning out for your yard whether it's redoing what previous owners have done (or not done) or starting from scratch like we did, you'll be able to work more efficiently towards that goal.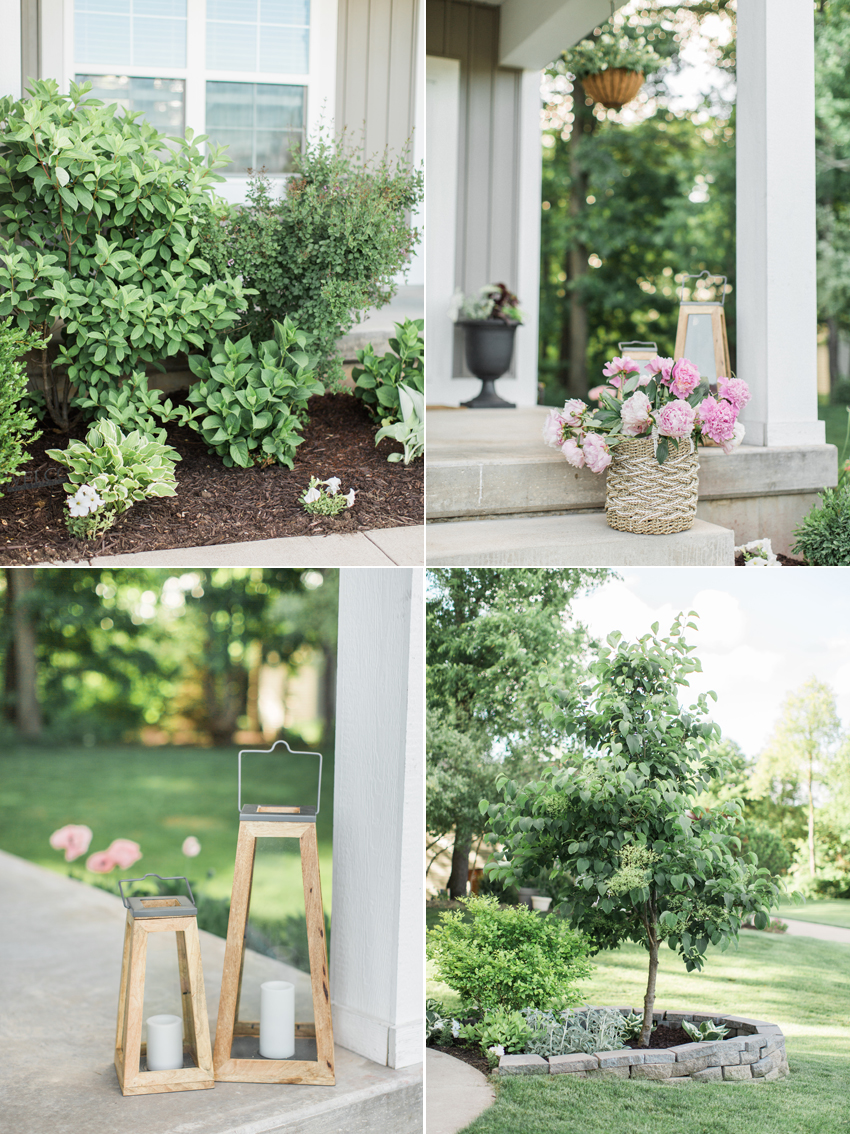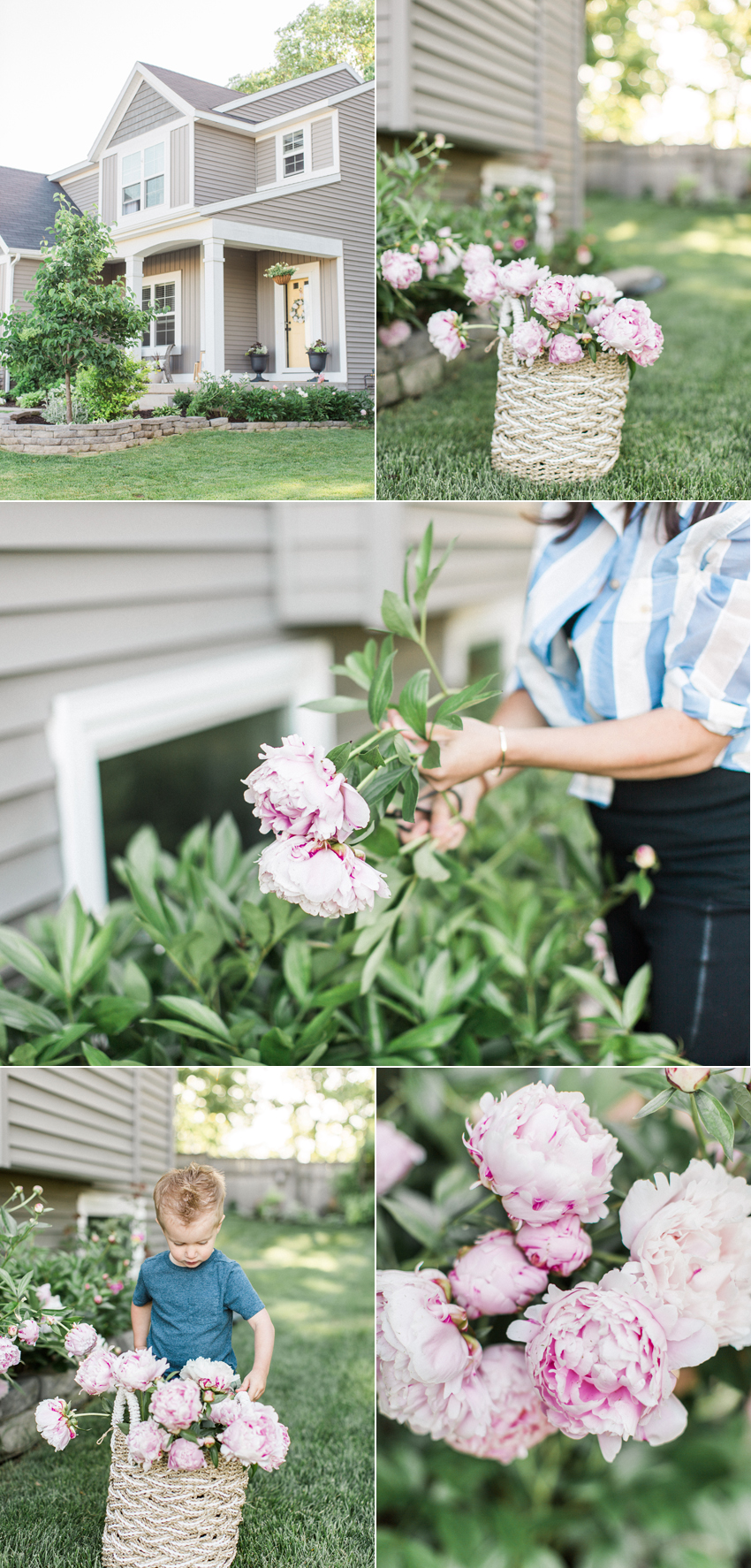 My peony bushes were one of the first things I planted when we moved in; well, those and two flanking boxwood bushes near our garage which have quadrupled in size. I can't recall when exactly the bushes went in (winter or spring) but they took a good two seasons to flower. I believe they do so well each year because of the full sun they receive every day and because they are in good soil that doesn't get overly soggy after rain. Michigan has SUCH great climate for growing peonies! It's one perk of living here, one I fully embrace!
If you look at the photo below, which shows the side of our home opposite the garage, you'll see all of my peony bushes nicely in a row. For about two weeks every late spring, they burst open into brilliant blooms! White 'Claire de Lune' peonies with yellow stamen centers, bright pink fluffy 'Sarah Bernhardt' peonies, and a bright purple tree peony with brilliant yellow centers gifted to us from my Grandpa, all show up for a short time each year. Once the peonies die or are cut (usually the latter), they are deadheaded and then we have full bushes of foliage that look really nice along the side of our home until we trim them down to ground level in November.
Also tucked into my peony bushes are four to six pink oriental poppy plants which look beautiful when they bloom but are unfortunately terrible vase flowers. Those require SUCH little care and always look really impressive so I enjoy having them in the garden even if the foliage part of the plant looks like a giant prickly weed. Look at these blooms. Stunning right?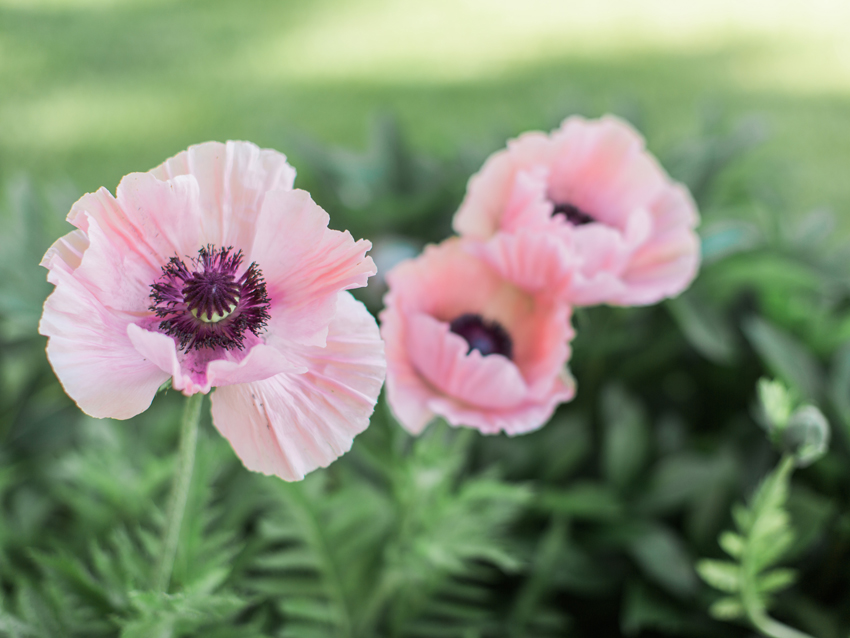 FUN TIP: My two potted black urns (also from Target) along with my one hanging wrought iron basket, both on our front porch, are flipped back and forth every few days through summer. This is to ensure they get equal light and aren't burnt too quickly sitting in hot sun all day. We can never keep ferns alive in the front of our home so we keep those to the back (where the birds love to make their nests). By the end of the summer, those front two urns and pots are just OVERFLOWING with my selection of vines and grasses. It's fun to watch them consistently grow from week to week even if my impatient self just wants them bursting the day after they're planted!
Also! When we were finalizing our home plans our original model did not include a front porch. It was simply a 'stoop' with a couple feet of space off of the front door. We extended it further beyond and to the right so we have a little covered sitting area in the front and it's one of the places we love to sit the most. Especially at the end of the day when the sun is setting. An investment well worth it!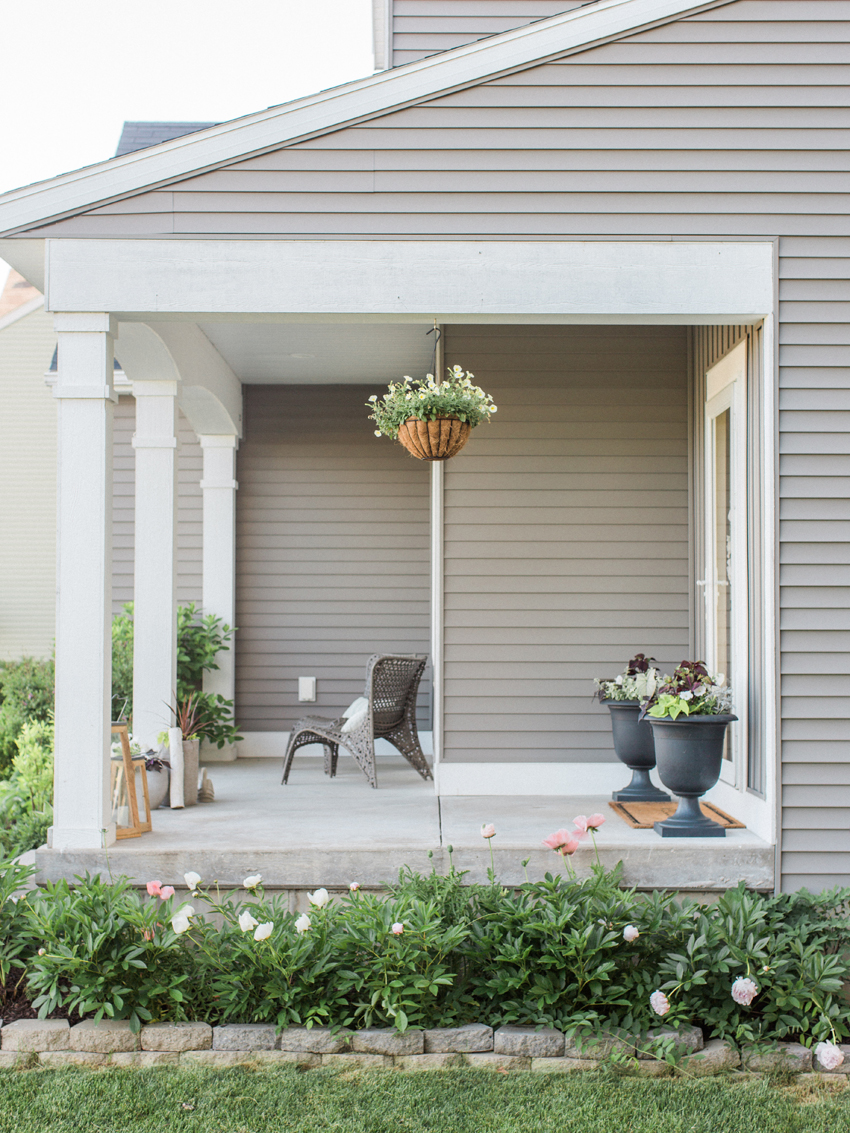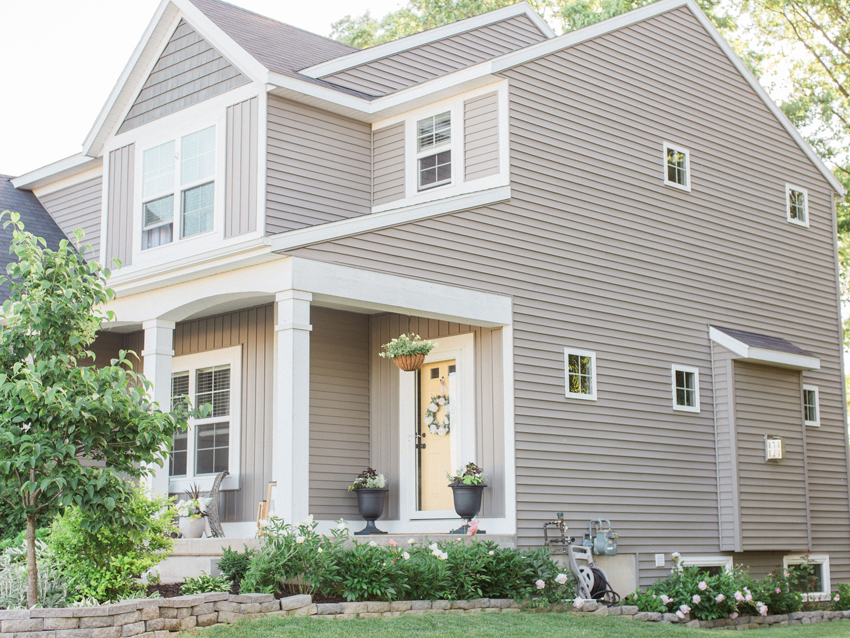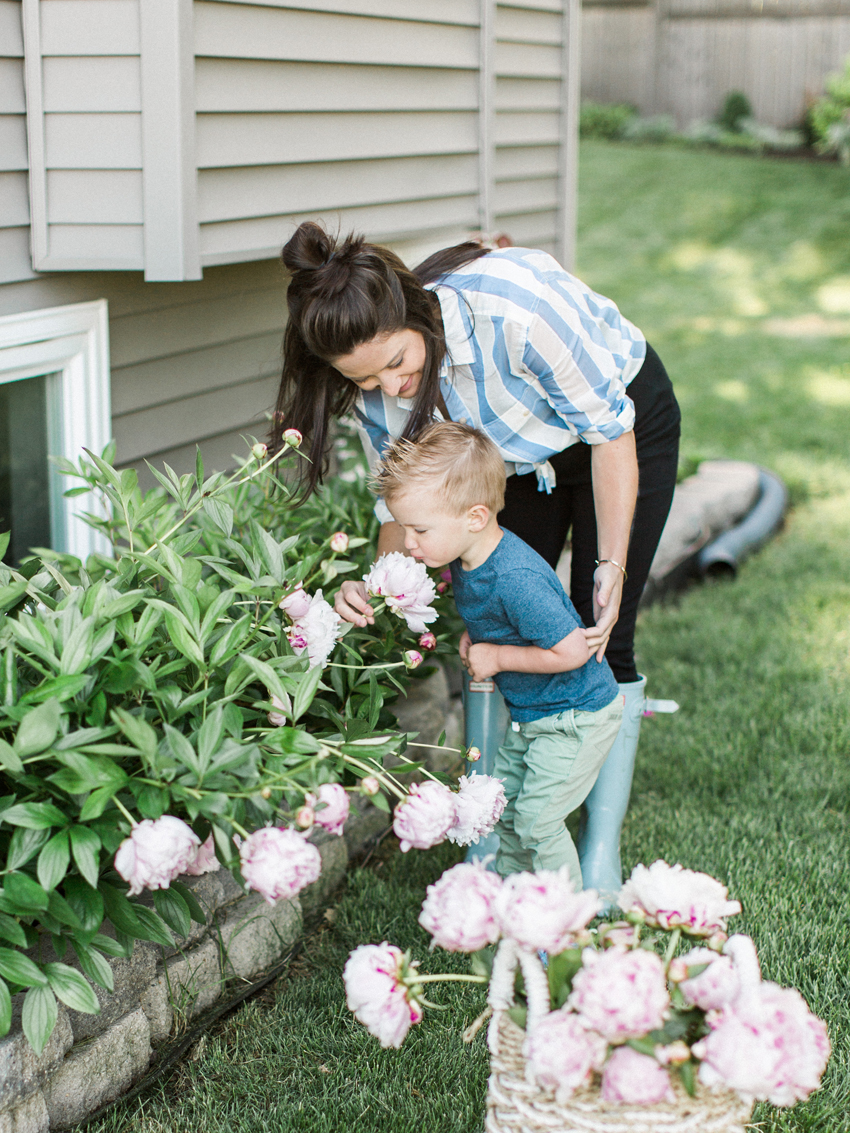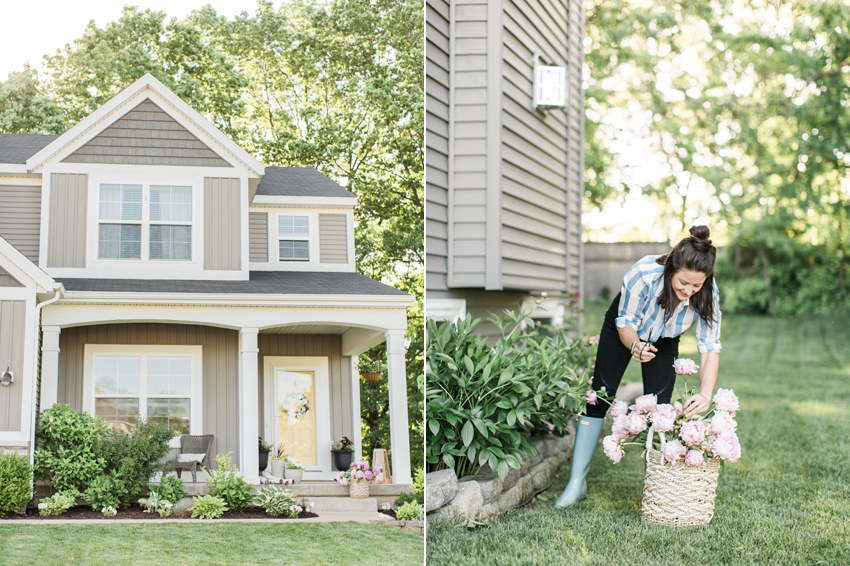 My beloved peonies! This year, one plant nearly did ALL of the work. Incredible right?
And below is the fence I mentioned at the beginning of this post. It's nearly the length of our lot which is more narrow than it is deep, and helps create not only an 'edge' to our yard but is a semi border between our yard and the not busy but high speed limit road behind us. The fence is made of wood that's meant to naturally get worn with time so we won't have to ever stain it. Remind me one day to tell you the story about how we tried to literally put the fence in ourselves only to get one hole deep (very very deep) and call in help from the professionals! Sometimes you cannot DIY everything and sometimes you really shouldn't try.
Also below, is that back area I mentioned with the sandy soil. The sandy part is to the left of that photo on the other side of a big oak tree. The part shown here isn't too bad so we have planted some things in there to see how they will do in a not great soiled area. We have two varieties of hostas (one which is not performing too well but I'm giving them one more season), a smoke bush, a variegated dogwood with the most beautiful foliage, ground cover (which may be a weed but it's super pretty so I am leaving it), and two hot pink hydrangeas which I hope fare better in more shade than their original location in the sun at the front of our home.
Ultimately, I am hoping next year the area BEHIND the fence can be cleared out and readied for a cutting garden, and then sometime not far down the line we would love to have a swing set or something back here for the boys but for now we try to balance a bit of organization in this part of our landscape with the wild left over from the overgrown lot when we purchased it. To think the builders cut down more than half of what used to be here!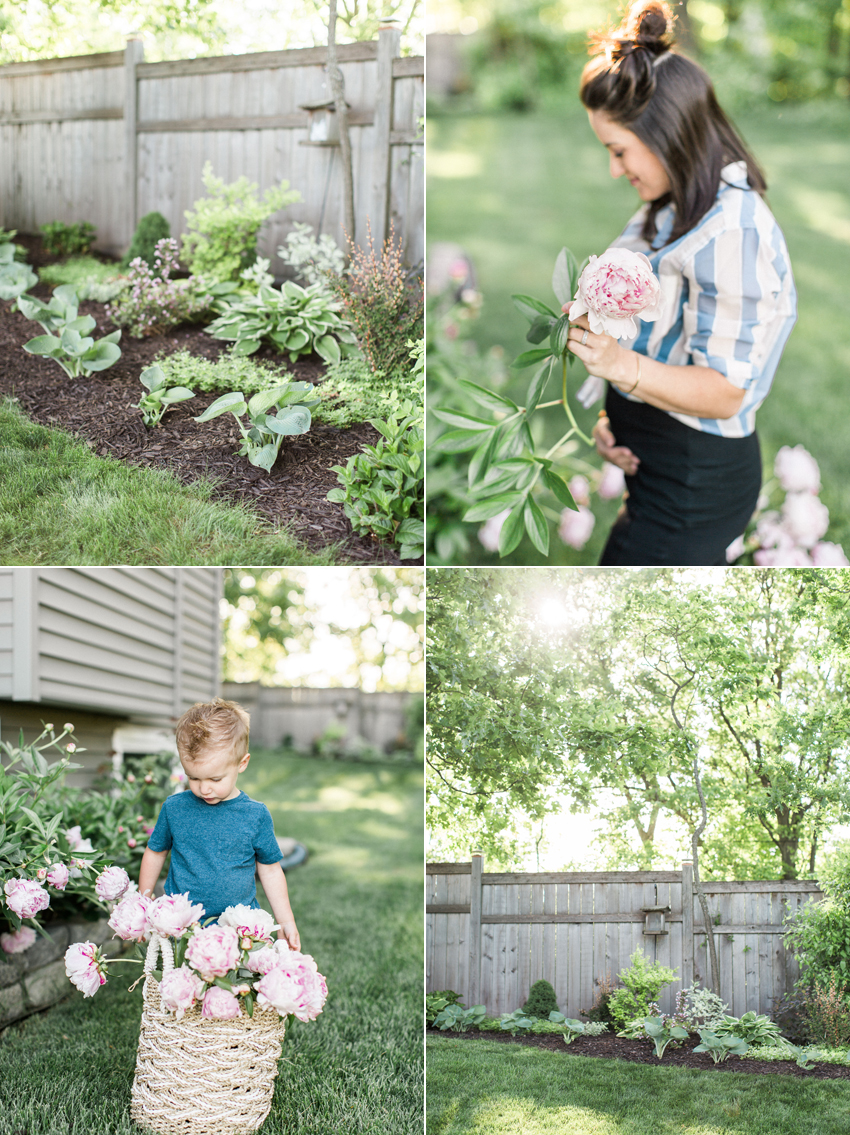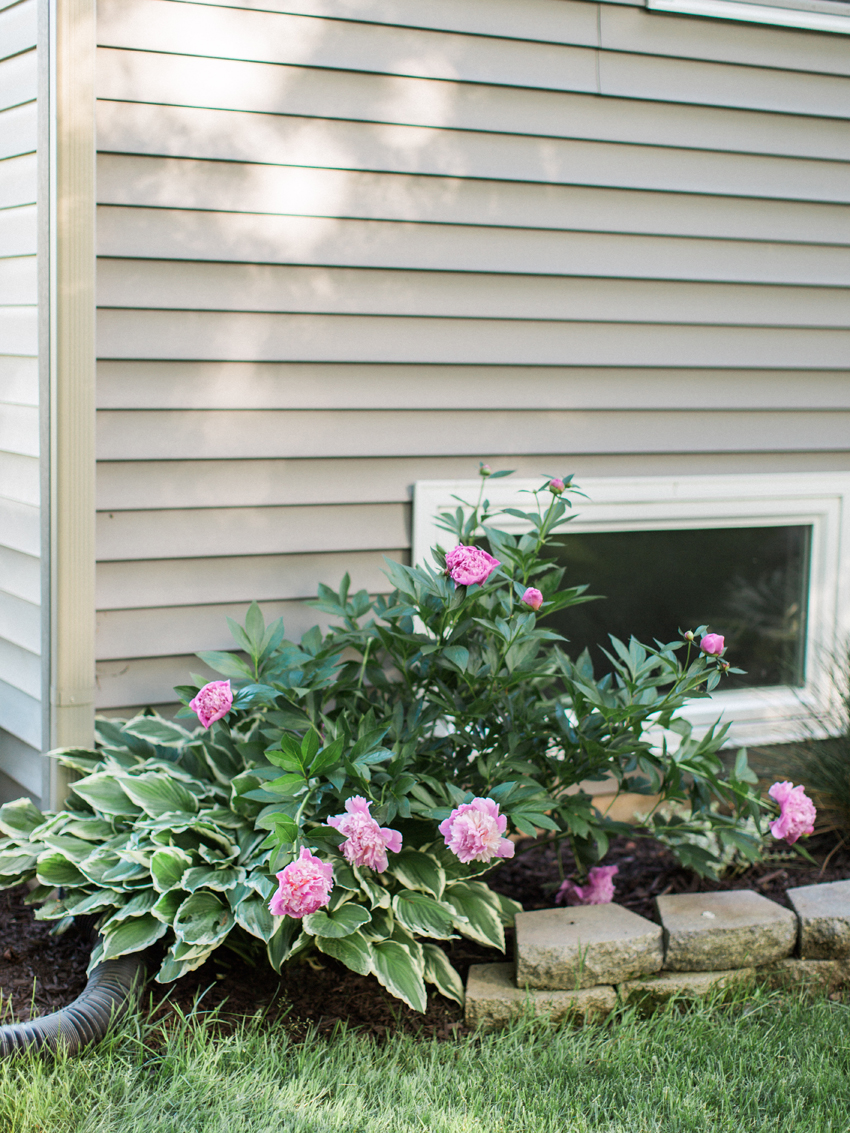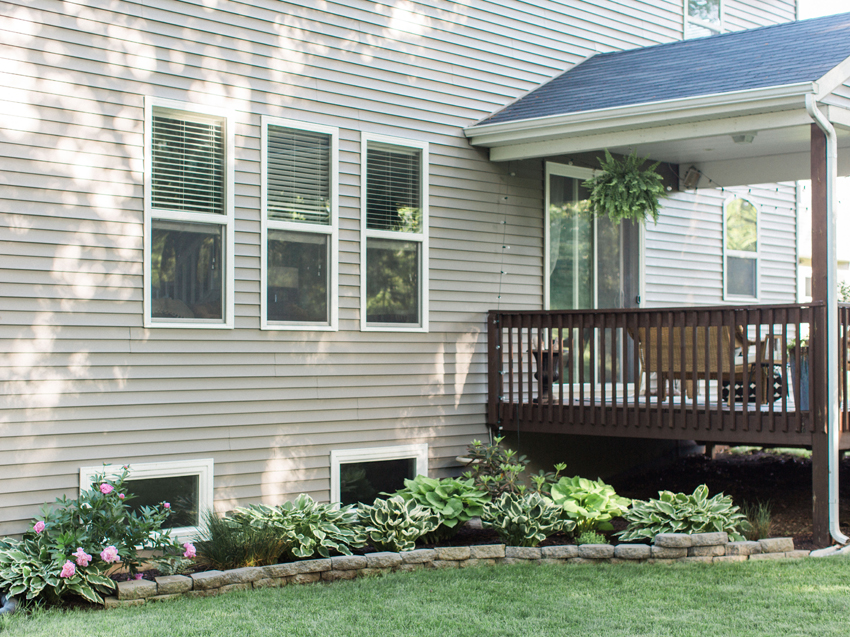 The very back part of our home and yard is shown above.
Some things that have done well in this all day, very shady area include hostas, a 'Julia Rose' Japanese hybrid peony (which JUST bloomed and it's magnificent), a 'Monsieur Jules Elieand' peony plant which I am holding stems of below, and two types of fresh mint. The mint smells so good and comes in hand for some of our favorite summer salads. It grows like a weed though and a lot of it needed to be trimmed back and discarded this spring.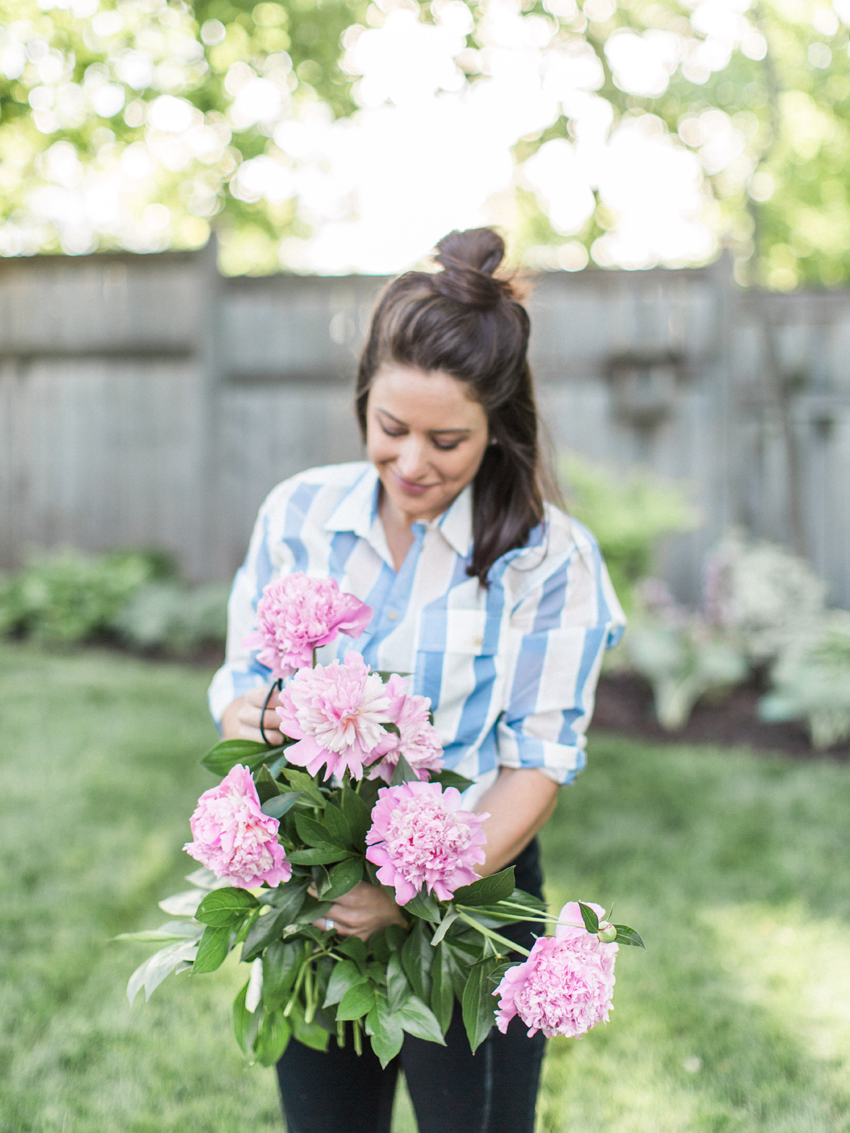 In this back area is also a struggling and soon to be moved rhododendron which probably needs more light to really flourish!

Future projects here include blocking the underside of the deck where each fall all of the oak leaves fall and somehow collect under there, and also redoing those bricks so they are a little bit more uniform. For now though this area is really quaint and private. I love our bird bath, deck string lights, and sitting area which connects to our kitchen. We often bring out Lachlan's high chair and have dinner together on our back deck.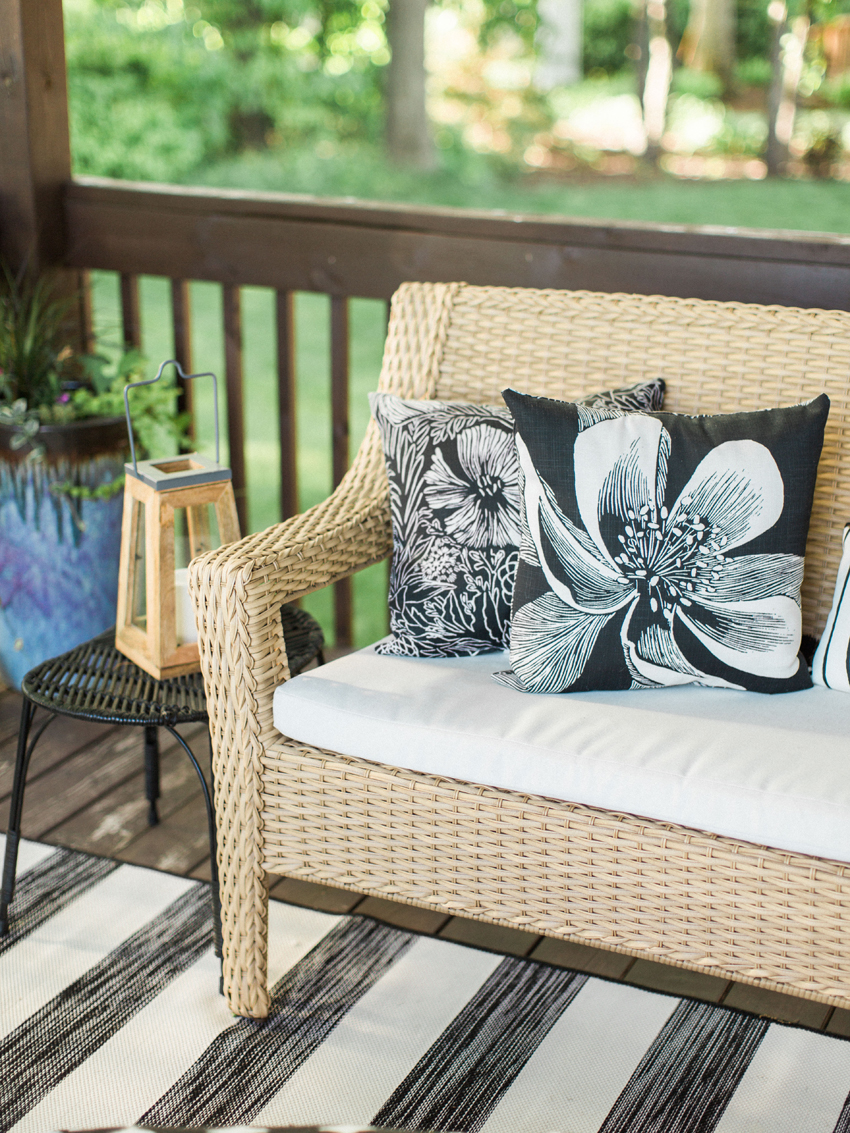 Everything on our back deck is from Target which we scored on sale last summer. The furniture, outdoor pillows, black end tables, lanterns, LED candles, and string lights. Even the outdoor rug is last year's Target stock. While I don't believe Target's products are made to last forever, in this season of having little kids running around (ours and family's) and not being able to keep things in pristine shape, we cannot beat the price!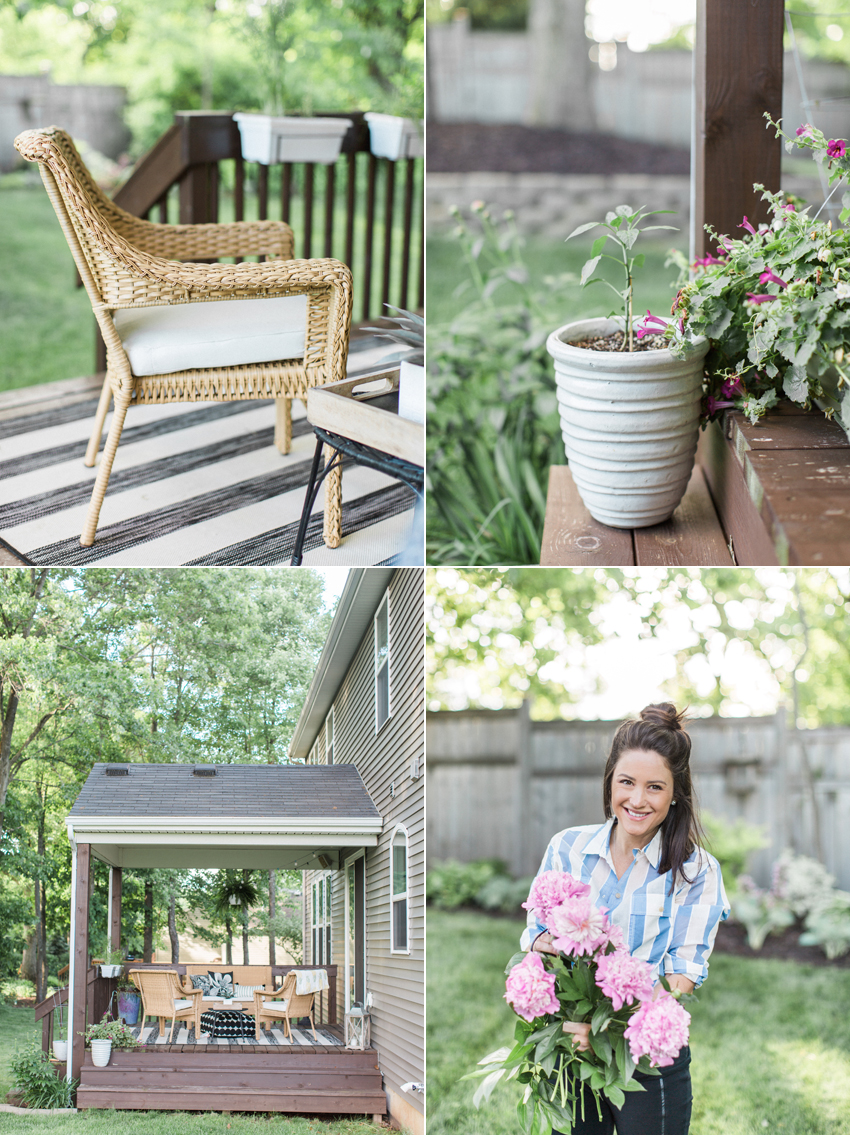 And here's our covered deck from a different angle. I love the view of our yard here because of the trees!
Our back deck was supposed to be uncovered but at the last minute we decided to opt for a covered space so we could enjoy the deck in the rain. It's one of the many upgrades I'm glad we splurged on for both personal enjoyment and one day, for resale value. Andrew and his dad wired in Bluetooth speakers out there so on weekends when we are out enjoying dinner together or working on the yard we can listen to music.
You can also see how the grass is slightly lower on the right side of the deck near the house. What you cannot see is the moss, mushrooms and crazy weeds that have taken over the grass. Our poured concrete patio will hopefully go in that 20 x 20 space and we hope to have an umbrella, outdoor table and chairs there for dinner parties! And this again leads me to tell you how I can't stress the importance of doing things little by little over time. From the endless hours of hand spreading mulch, bigger projects like staining the deck and putting in the fence, planting and weeding, and saving up to buy patio furniture, there is no way our yard could have ever ben done quicker than it's taken us; especially when we have just a few months of the year to get it all done AND enjoy it!
Also, while I love the idea of a full fledged vegetable garden (and would love to have a cucumber patch like my Grandpa) right now we stick to a couple varieties of tomatoes (cherries always do well for us), as well as two small troughs of herbs: chives, rosemary, oregano, and our favorite, dill. We keep these on our deck where they are easy to access and monitor, and always get sad at the end of the season when it's time to clip off the last little bit. This year we also planted yellow wax beans, a pepper plant, and jalapeno plant to see how those do. They're on the back deck in their own respective pots where Lachlan can help tend to them (he picked out the peppers).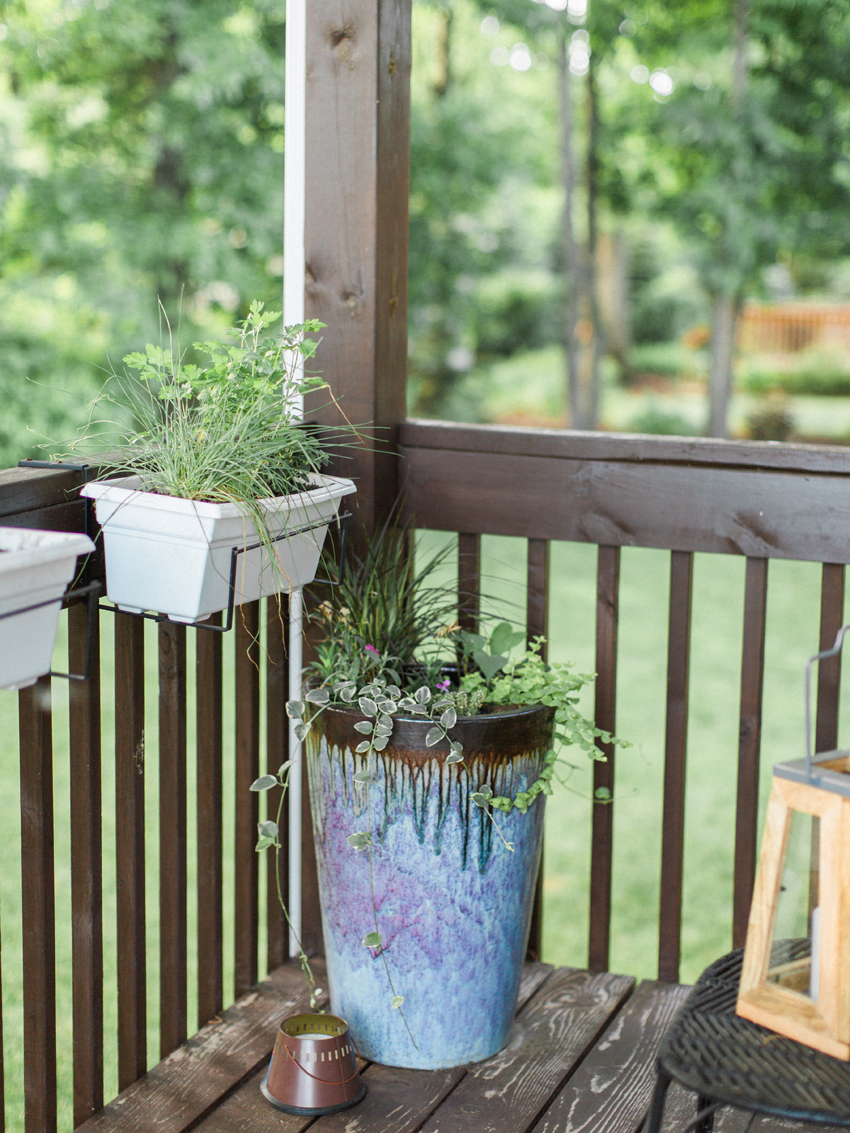 That large blue urn is not my favorite but Andrew loves it so every year it's his special little project. He picks out what he wants in it and then plants it himself. Ironically it always seems to do really well with little to no maintenance. I mention this because should he read this post he'll be pleased with proper credit.
A couple other notes:
Just like how we typically divvy up household chores (I do most of them with the exception of loading and unloading the dishwasher, putting Andrew's clothes away in his dresser, and managing electronics), we have set roles when it comes to yard maintenance. Andrew mows the lawn and handles tasks like fertilizer, weed whacking, and setting out the mole traps (ick). If our underground sprinkler or front irrigation system goes down, he's fixing those things too. He also typically handles putting out the trash and recycling.
When it comes to sweeping, picking up leaves, weeding, spreading mulch, updating decor, planting urns and pots, or hand watering plants, those tasks are mine. We have a pretty good rhythm here of who does what and my favorite weekends are when we're outside working together to make our home a beautiful space.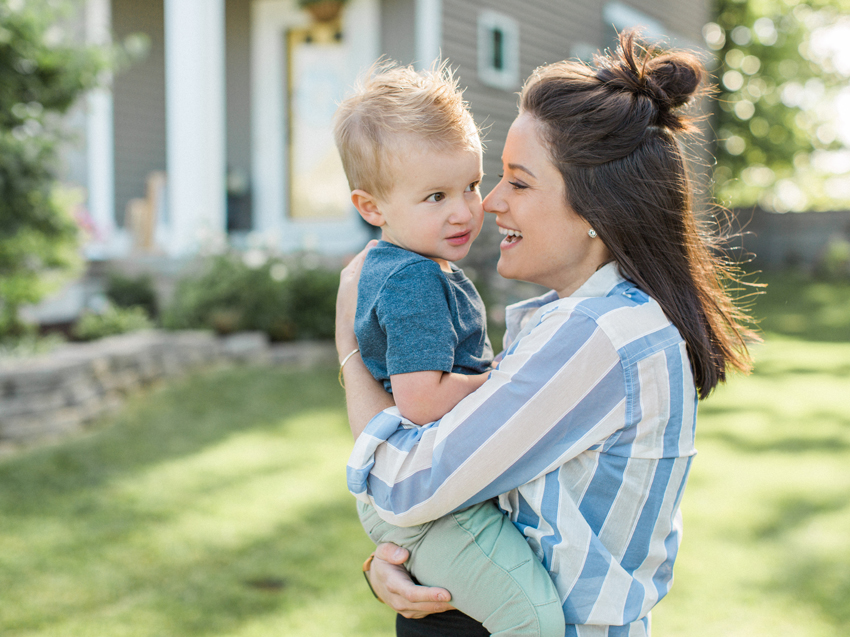 Finally, I want to point out a couple more things (I received so many questions in my IG post!)
1. With another baby arriving in 15 weeks and a home we've poured such love and care into, I don't foresee moving anytime soon. But if we ever did, I feel like we have done our due diligence as home owners to put value back into our house via not only the inside but the landscaping outside. If I look at the before photos of our yard I am simply reminded of the beauty in little by little and how good things really add up over time. Should we ever move, the new owners will surely be gifted with a wonderfully cared for indoor AND outdoor space!
2. Trial and error is a good thing! We've tried a lot of things and made a lot of mistakes with our yard. For example, see that big green hydrangea bush to the left in the photo below? There won't be beautiful pink and white blooms on it until mid summer but to the right of it is a lilac bush I planted years ago. It gets bigger and bigger every year and ultimately will need to be moved somewhere else where it can grow; somewhere else being NOT the front garden bed which will no doubt obstruct the view of our home. I knew it would get big but stubbornly planted it there years ago because I was just desperate to fill our front bed with pretty things. If you can be cognizant of what a plant label says a plant will grow to, take that seriously when planting from an early stage!
3, Also. We tried this one year because I had visions of growing wisteria up the side of our house. One wind storm later and me nearly blowing off the side of the house holding on to a half dismantled sail-like trellis piece and that idea went out the window along with my wisteria dreams. I only pouted for about two days. You win some you lose some! You figure out what works and roll with it. A future plan MAY include some sort of wire structure on the side of the house which something can grow up onto. I use the word MAY because I married a very practical and perfect for me man that says there's no way he'll let this idea fly :)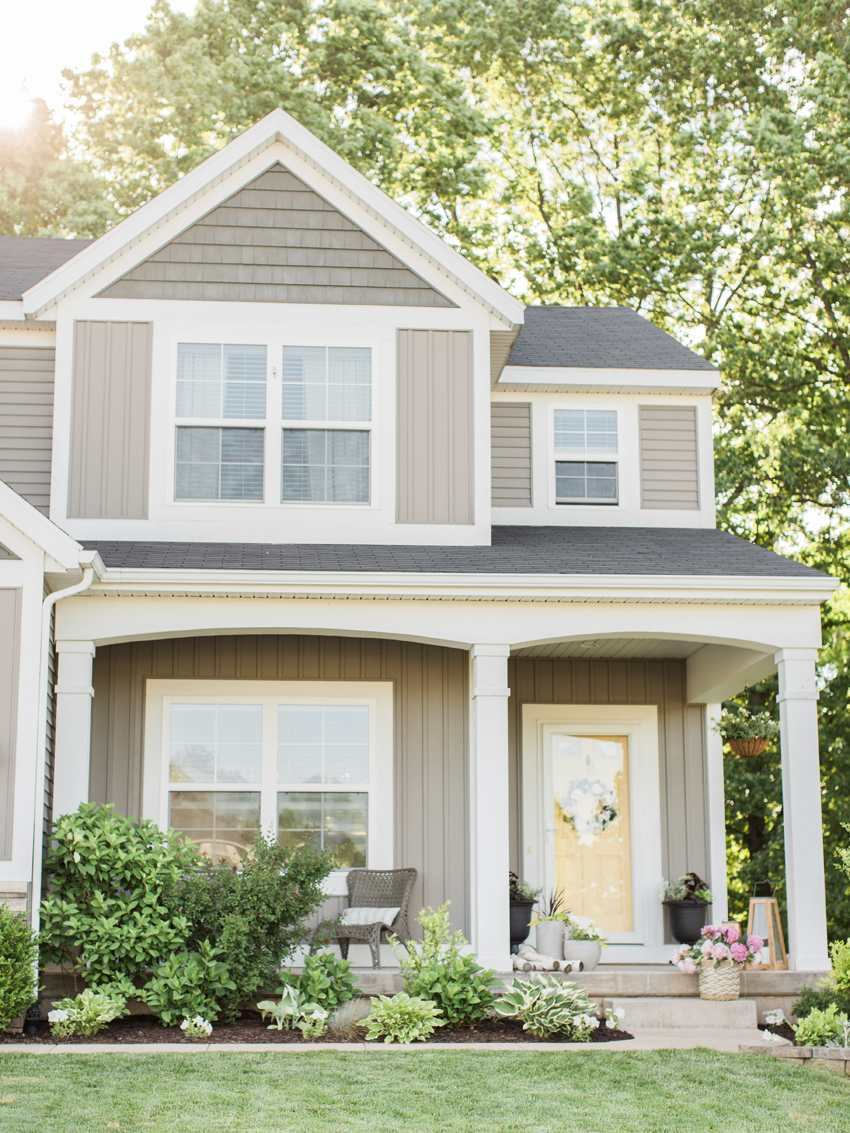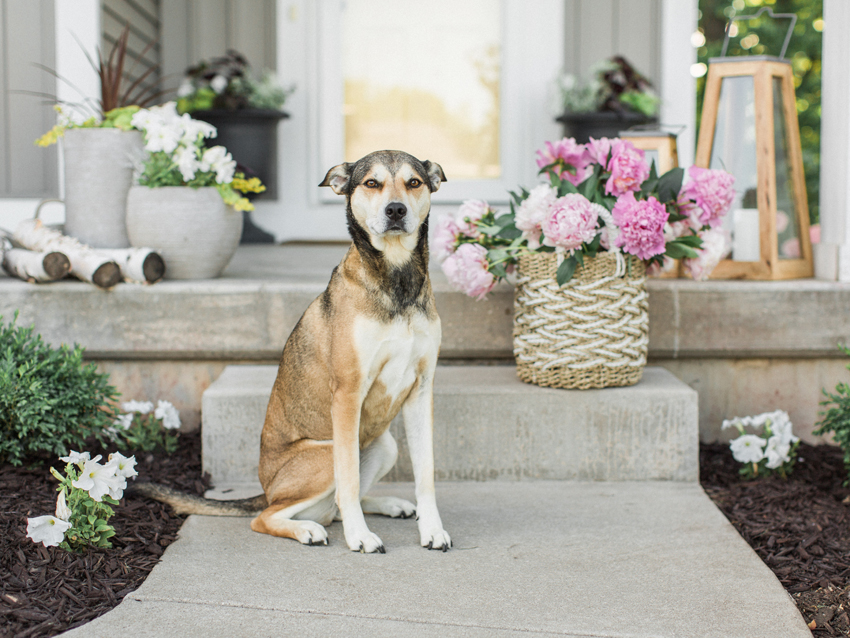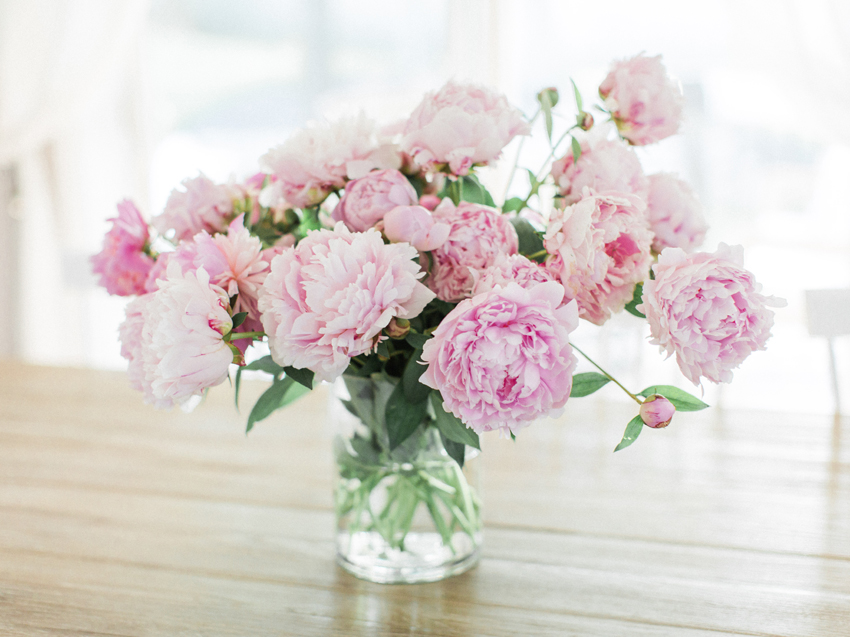 And while it's another post for another day, we've also made some changes to the inside of our home which are much more reflective of our current style and season. Being able to have a big vase of freshly cut peonies from my own yard is everything! This image below is the kind of photo I dreamed of years ago when we were newly married in a small apartment together thinking ahead to what our life could be like.
Thanks for joining me, friends! And thank you to Sam for being so wonderfully talented.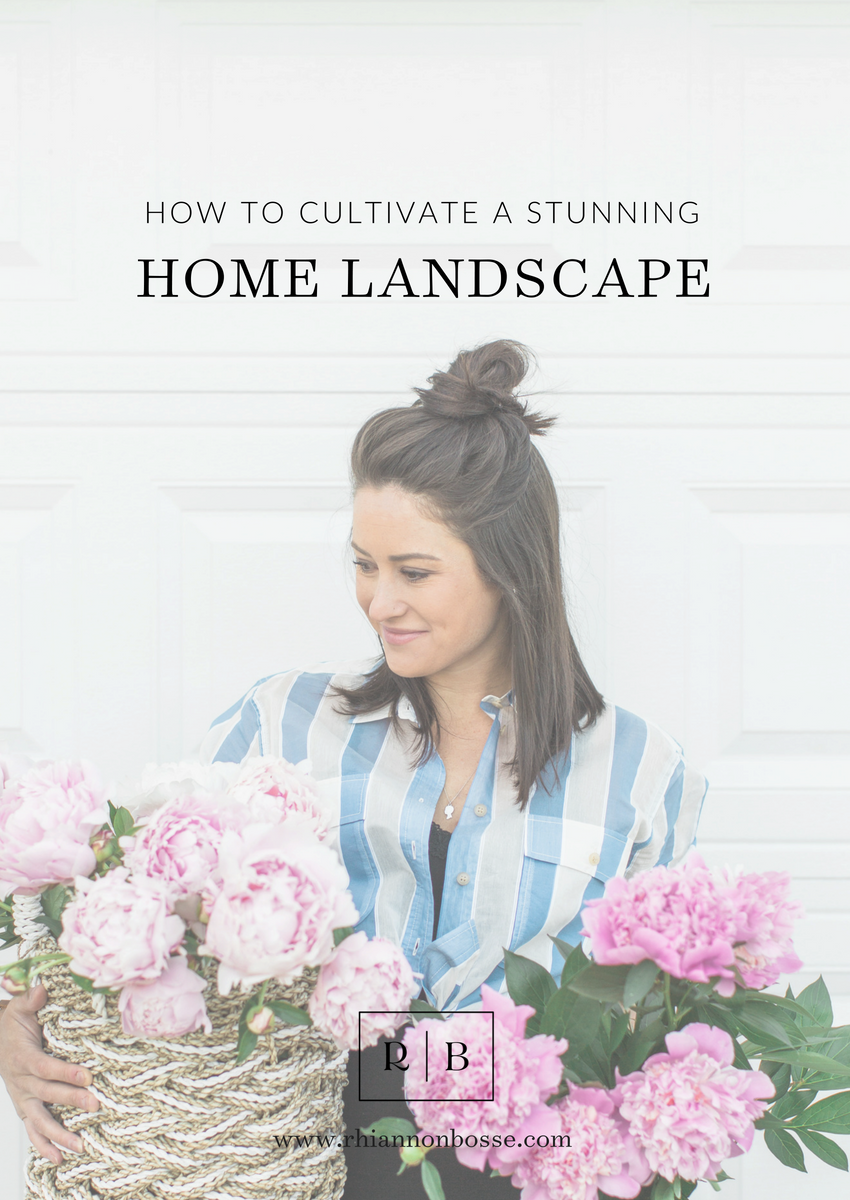 If you have any questions let me know below and I'm happy to answer away! Xoxo