I've get many private messages on Instagram asking for sources on random things I share in my day to day. But admittedly it's really hard to personally answer everyone let alone give back up commentary on WHY I use and love the things I do, so today's post is hopefully a solution to my little (but good to have if you read this post because I'm a Helper!) problem. With a goal to make these Favorite Finds posts routine in the future, I present to you volume 1 with some of my current favorite items along with a breakdown of the season I'm in for context.
CURRENT SEASON: 20 weeks pregnant (second pregnancy), middle of a hot spring/beginning of summer, busy work season with two weddings in the next three weeks, daily battle between healthy eating and succumbing to the cravings of pregnancy, few days into wearing maternity clothes, loving less time on my phone and more time outdoors thanks to the welcomed change in weather. Feeling: motivated, rested, joyful, and lucky.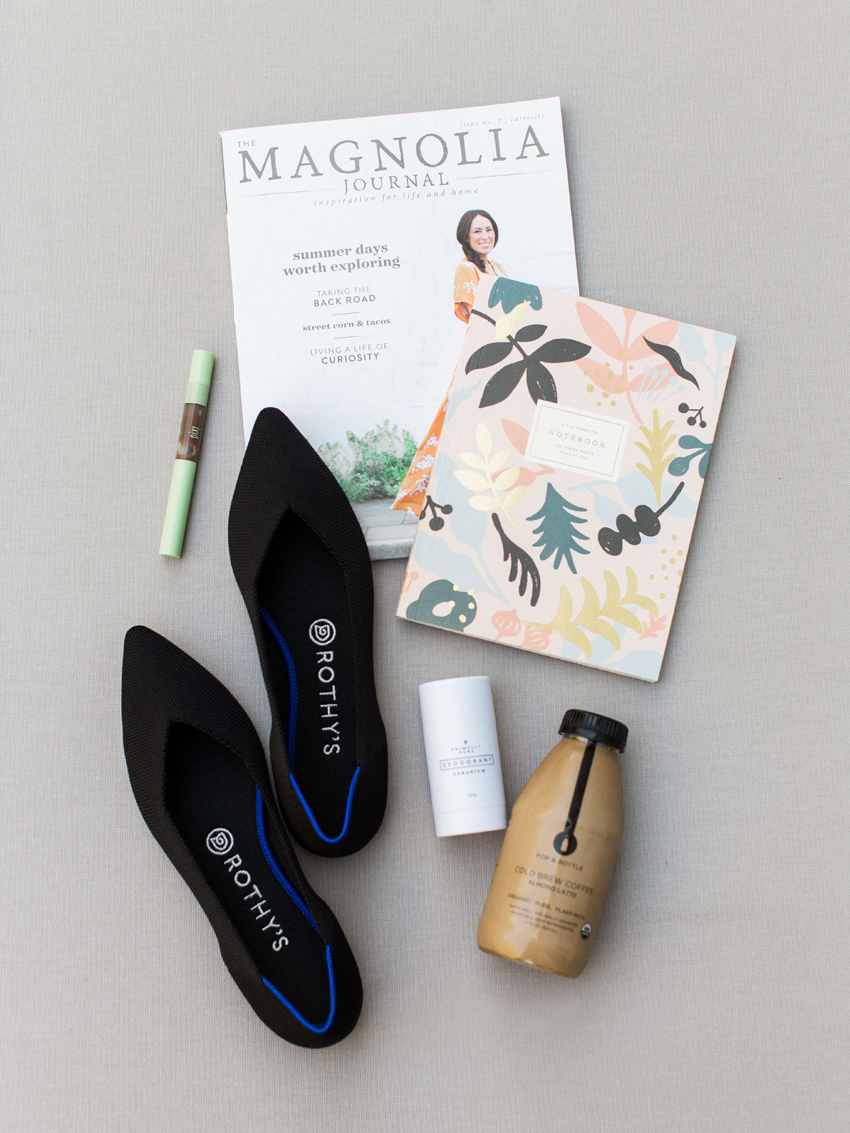 FINDS
01. Rothy's (pointed toe flats, size 7.5 black)
For years I've wanted to find a signature shoe; something stylish, comfortable, and fuss free. Bonus points for something I could wear both for an entire wedding day without concern or on a play date with Lachlan. Extra bonus points for something created responsibly. And what I also really wanted was something without a round toe (it makes my short legs look shorter) and without obnoxiously bright colored features. Tall order right?
Enter Rothy's! And my footwear game has been changed forever!
The price tag is steep but the payoff is huge. Rothy's are made from recycled water bottles and are nearly weightless (only 9.3 ounces per shoe). They offer a blister-free seamless knit and my favorite part? They can go right into the washing machine for a quick cycle only to come out brand new on the other side. I'm excited to have snagged a black pointed pair to wear throughout wedding season, especially given feet and ankles that will most likely get a little bit bigger throughout the second half of my pregnancy. I am a Rothy's ambassador for life!
You can snag a discount here through an affiliate link if interested. Order half a size up to be safe!
02. Pop & Bottle (plant based cold brew coffee)
I discovered Pop & Bottle sometime in the middle of my plant based diet last year but at the time they were only based in Australia. Since then they've expanded to the United States so I jumped at the opportunity to snag a sample box and give the brand a try. The sample box comes with all six of their flavors which are outlined here.
The cold brew coffee is my favorite and tastes like a latte but with a slightly thicker consistency thanks to the almond milk. Plus the sweet taste (thanks to dates) is a nice little kick. While I've been eating more sugar than normal these days, I know these drinks would be an incredible guilt-free treat for when I go back to my candida free diet once our second baby is here. And since I'm allergic to milk and processed sugars are off limits on a candida free diet these will be perfect come fall when my hands are full(er) than they are now.
03. Primally Pure (geranium scented deodorant)
Last summer when I uncovered a bevy of my health problems, I started to switch over many of my beauty and hygiene products. One of the products I changed was my deodorant and I started used Schmidt's. I didn't know what I was missing until I learned about Primally Pure via my friend Emily. One use and I'm hooked forever!
Not only is the geranium scent light and fresh, but the texture of the deodorant itself is almost creamy and soft – a much welcomed change from Schmidt's which is admittedly a little abrasive on soft underarm skin. Best of all the deodorant actually works! And it doesn't hurt that the branding and packaging is on point. I actually look forward to putting on my deodorant each day and feel like it's now a staple in my daily routine (not that deodorant wasn't before but I really love this stuff and get excited to put it on, ha! Moving forward…)
04. Rifle Paper Co (lined journals)
This item isn't so much a find or a fancy one at that but I've been trying this new thing at church (as per my PowerSheet goals) where I bring a notebook and pen and sit in the front row to soak up as much as I can. I've also been trying to have a mentality that church is a mixture of both joyful worship time and focused school lecture where I am the student and the opportunity to learn is vast. So my notebook has become a helpful tool to jot down things shared in service that can inspire or motivate me through my week ahead.
As an aside: I recently read about how some Jewish folk view their evening as the start of the day so that their evening of rest (sleep) is essentially preparing them for the rest of their day versus the traditional way of viewing the moment you wake up as the official star. I think this is tremendously intriguing and something I'd like to explore a bit more while also applying the same thought to my week – where Sunday is the start of my week with our church's sermon being the catalyst for how I live and operate throughout the rest of my week versus the dreaded Monday morning blues; I hope to come back soon and explore this more!
05. Pixi Natural Brow Duo brow pen
Last winter I took the plunge and had my eyebrows microbladed. Years of over plucking had left me with sparse brows and pencilling them in every day was a feat that proved to be difficult and tedious (I'm far from a make up artist). While the microblading helped fill in a lot of the holes in my brows, unfortunately a lot of the fullness has since faded and the cost of the procedure (hundreds) paired together with my pregnancy (pregnant and nursing women cannot undergo microblading) means I needed to find a solution for when I needed touch ups.
I've tried no less than 5 different brow pens over the last year and finally I think I've hit the jackpot! This pen is exactly what I've been looking for; a subtle and thicker type of pencil that gives a subtle fill in effect versus a pencil-thin pen that looks unnatural. And at the other end of the 'pen' is a gel solution with a brush wand that helps stray hairs stay put and smooths everything nicely into place after you've filled in your spots. I was sold from the first application especially considering the various shades offered, and my overall lack of interest in make up and actually applying my own (it's really not something I enjoy doing but more so something I enjoy once finished).
06. Magnolia Journal (summer 2018 edition)
I feel like a really good magazine is hard to come by these days. I'm not one to read gossip magazines anymore and some adult lifestyle magazines feel a little too flashy and sexualized (?) for me. But as a 32 year old working woman and mama with a love for her home and zest for life, I'm certainly not a prude or a bore so where does one turn for inspiration and tangible take aways? While I love Better Homes & Gardens, the occasional food magazine, Oprah's publication and a select few others, one magazine always goes right into my cart the minute I see it at the store.
The Magnolia Journal is beautifully styled, full of content that is applicable to the various roles I have in my life, and admittedly is a feel good kind of read (e.g. lots of personal essays and text heavy stories). Maybe I won't ever build a fancy treehouse like one of the ones in the recent issue but I can still be inspired by the art of play and try to infused more creative forms of it into my time with my son. I also love that in a far fetched way, the magazine inspires me to spread my brand message in powerful ways much like Joanna and Chip have done so with their own brand. It's a good magazine and the quarterly issues always have me yearning for more at just the right time.
Tell me below, friends! Do you love any of these same things or think you'll try any new-to-you ones?
Photo by Samantha James Photography