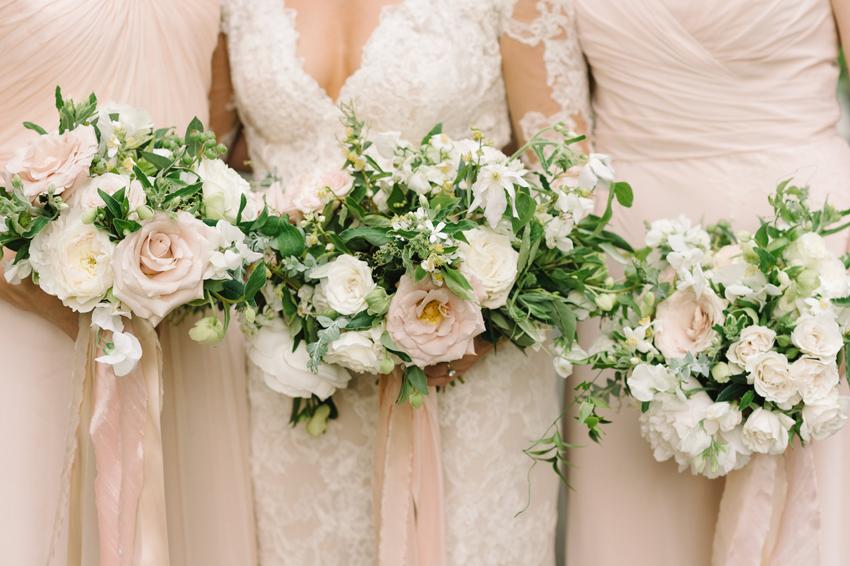 As I say with every wedding we have the pleasure of being a part of, Beth and Alex's was certainly no exception.
Beth was one of the first vendors I reached out to when I officially started my business in 2010. I had stumbled across her photography just weeks after our own wedding and immediately fell in love with her work; beautiful no doubt but polished in a way that inspired my young, creative, and new business owner heart. Over the years we've spearheaded projects and served clients together but best of all have built a friendship. While her work was what initially attracted me to her, I have fallen in love with Beth as a friend because that's what she's been since our first interaction together. We may live countries apart but I will always feel a deep sense of respect for her and her art.
A few years ago when she told me about her then boyfriend Alex and how charming, respectful, and lovely he was, I knew Alex would become the man she'd marry. And last July that's exactly what happened much to my delight. Handsome Alex with the Scottish accent and the kind eyes couldn't look away from his radiant bride, Beth as the two exchanged vows on a stormy summer day. Surrounded by their closest friends and family in a stunning Pennsylvania Estate, Beth and Alex became husband and wife. And I was able to finally play the role we've been mentioning off handedly in conversations since we first met in 2010 for an editorial project.
Beth and Alex, I know I say this on behalf of my team but the love and joy we feel for you both is tremendous. We'd spend a stormy Fourth of July weekend away ten times over again if it meant being able to bring your day to life. Hurdle after hurdle magic unfolded on your wedding day. But hurdle after hurdle you two found one another and such is the magic of a love like yours.
Tara McMullen captured everything so beautifully. I've admired Tara's work for years now and being able to work with her in Pennsylvania of all places was an honor. Her work captured the details of this wedding so beautifully but even more so, tells a story through her candid images and ability to catch things when no one else is watching. I feel lucky to have this wedding as part of my portfolio.
Enjoy some of my favorites images from this special celebration!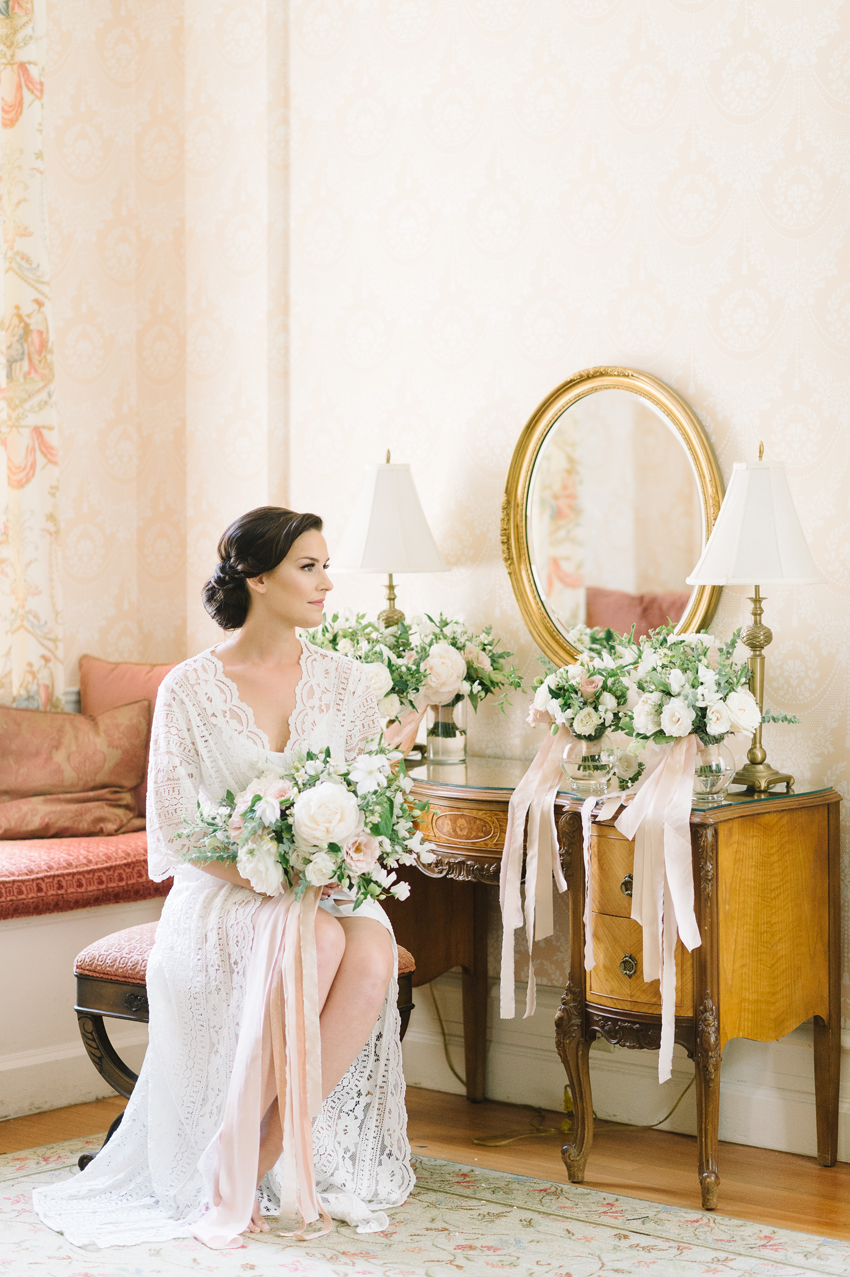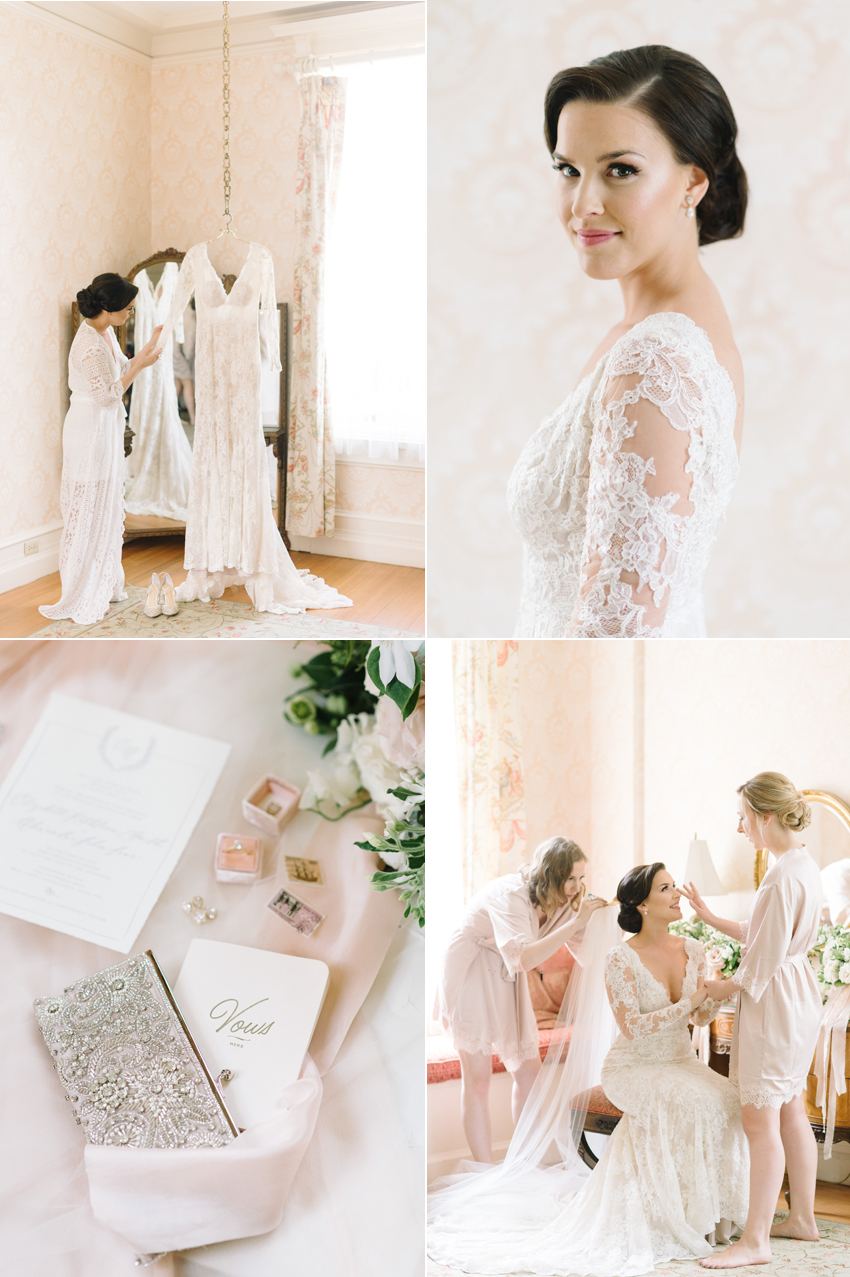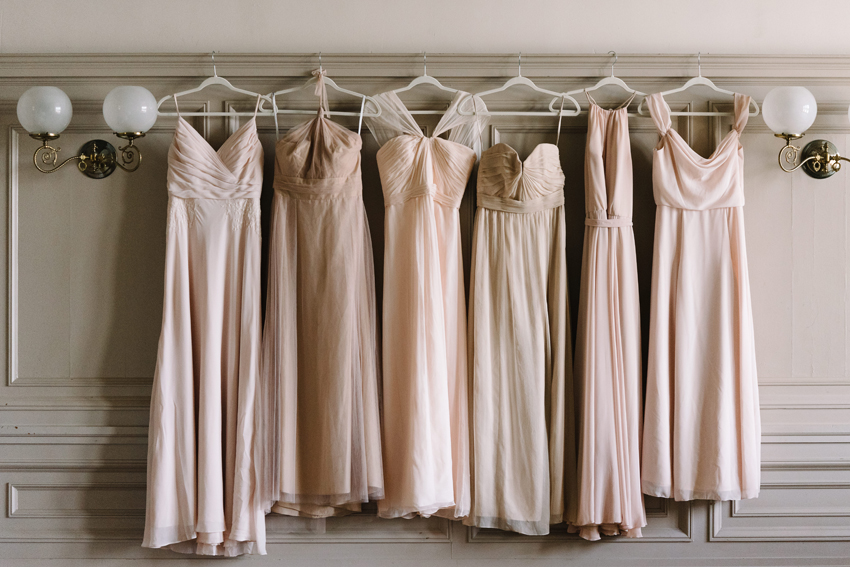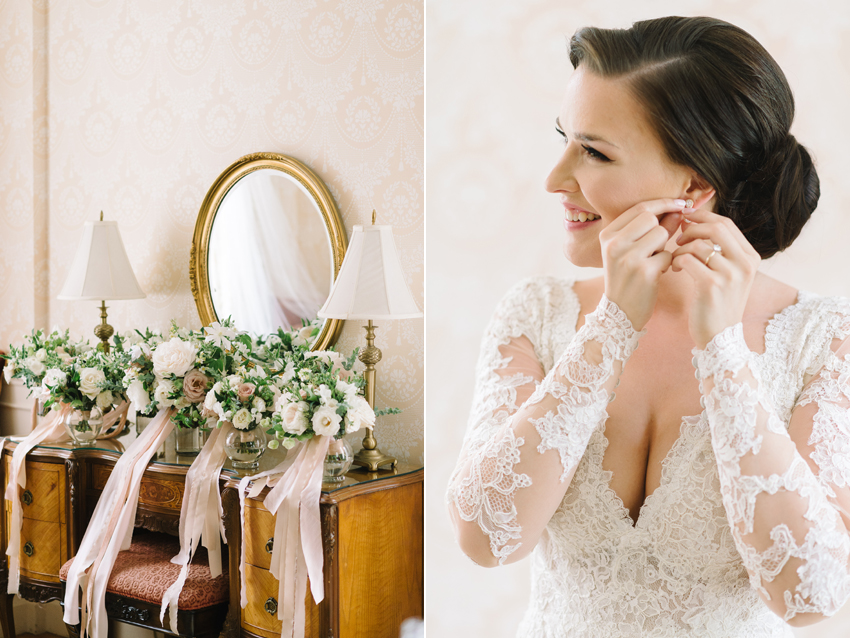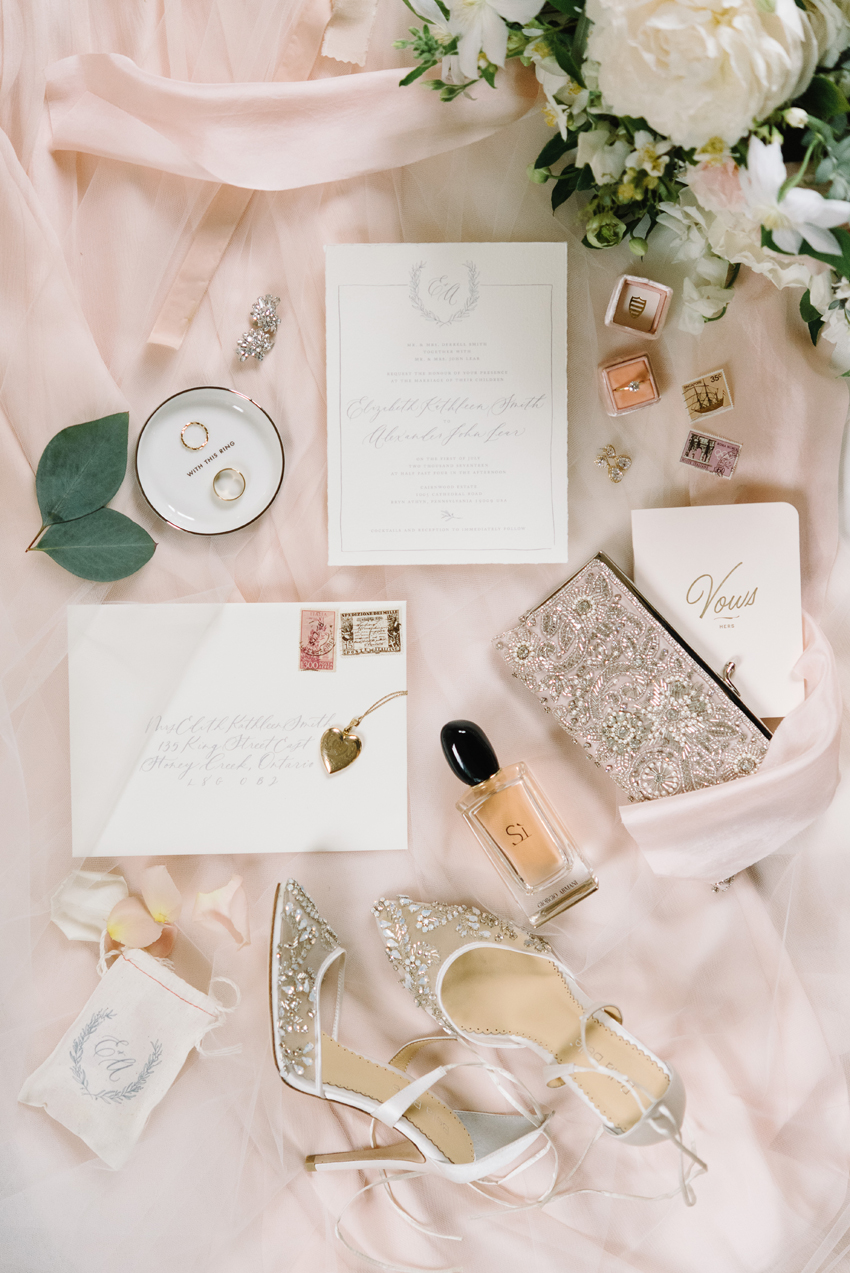 Again, as with every wedding, there is a story to be told about the behind the scenes and the process that brings together the pieces you end up seeing in photographs. It's one of the parts of our jobs that my team and I mutually feel most fulfilled about event after event. We have to always challenge ourselves, think on our feet, roll with punches, and learn to be flexible when plan a, b and c go right out the window.
If you're familiar with Cairnwood Estate you'll know there's a big beautiful terrace off the back of the home. With Beth and Alex's wedding we had decided the terrace would be the perfect place for an alfresco dinner experience, intimate tablescapes set underneath a canopy of string lights. With a guest list of a little under 100 people the space was small enough to feel cozy but big enough to allow for other necessities like a dance floor and bar. The ceremony would take place on the front lawn under a large oak tree and the inside of the estate would be a beautiful backdrop for special milestones like the cake cutting, first dance, and of course portraits.
But then the rain!
My goodness, the rain! We see rain a lot as wedding planners. Which is ironic given the small amount of events we take on each season. But the rain on Beth and Alex's wedding day was the kind of rain that turns the entire sky dark and you're forced to turn on your indoor lights. It's the kind of rain that knocks out power and goes hand in hand with booming thunder and flashes of lightning. The kind where one step out into the rain leaves you looking like a drowned rat. THAT kind of rain which no doubt is called a summer storm.
I remember climbing the stairs to Beth's bridal suite that morning because I had to have a conversation with her about the weather. Since the rental company had just arrived there was no logical way we could begin to set things outside as planned and then have ample time to move things INDOORS when (not if) it rained in just a couple hours and the rental company had left. There were too many moving parts and we had to also worry about where the reception tables would now go since the outdoor dining plan would also need to change. Every room and nook and cranny we had allocated to SOMETHING now needed to be shifted to something else. And I hated being the one to share with my A type bride that everything she had been imagining would now have to change.
But as you'll see from these images, our change of plan may have worked out for the best. I always stand back at every wedding and assess our work from various angles and vantage points. When you're working ON something it always looks different than how say, a guest might experience it. And I have to say we made this back up plan shine brighter than what I think the outdoor plan would have ended up looking like. There's a sense of intimacy the inside of Cairnwood provides and romance oozes from the architecture everywhere you look. Trust me when I say Beth and Alex's had one remarkable ceremony to witness even as a vendor.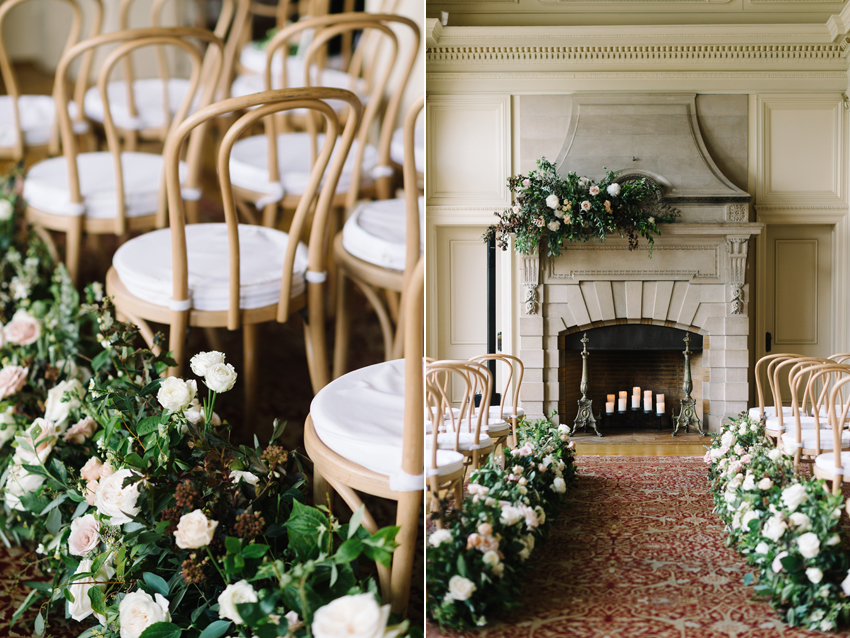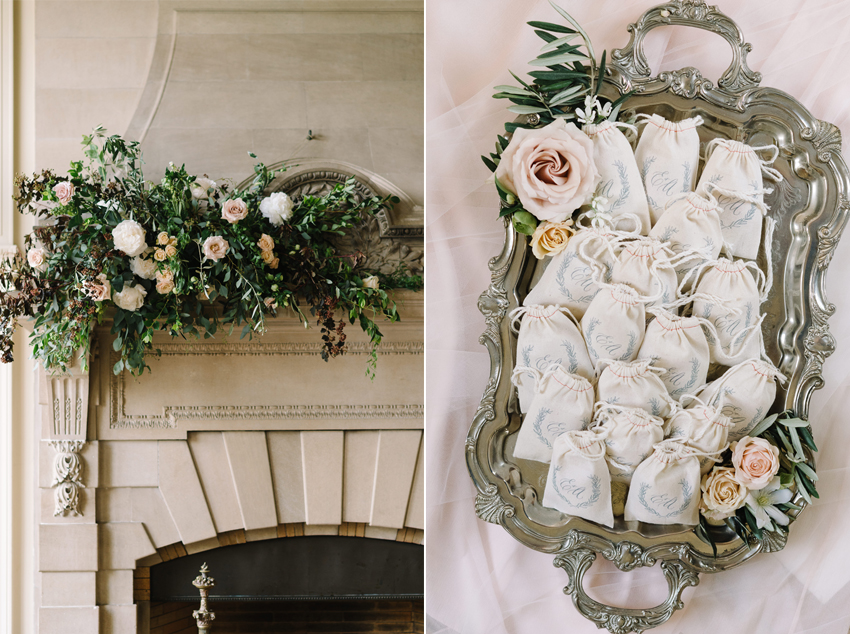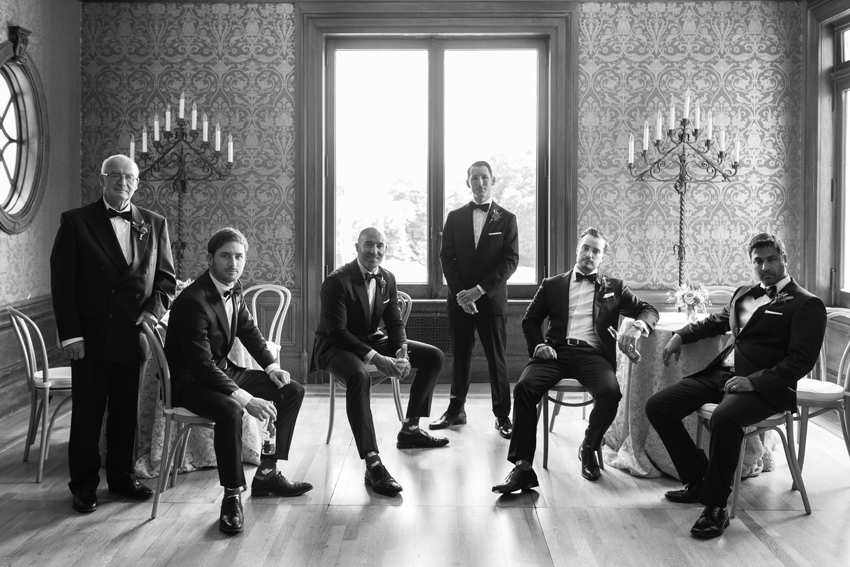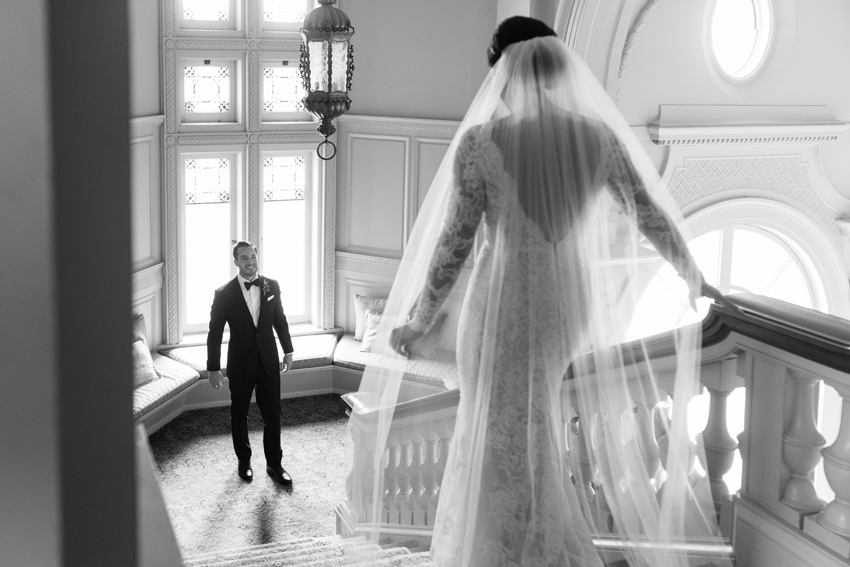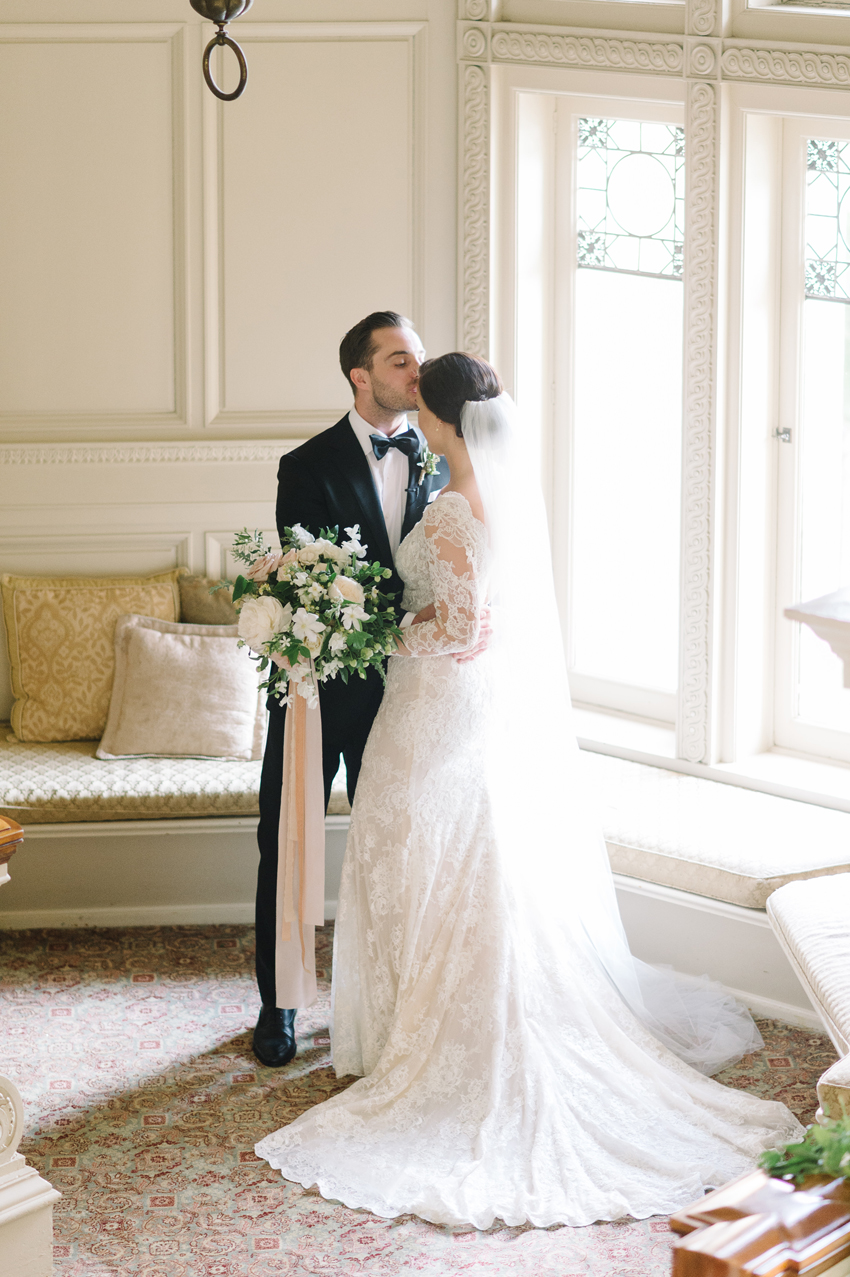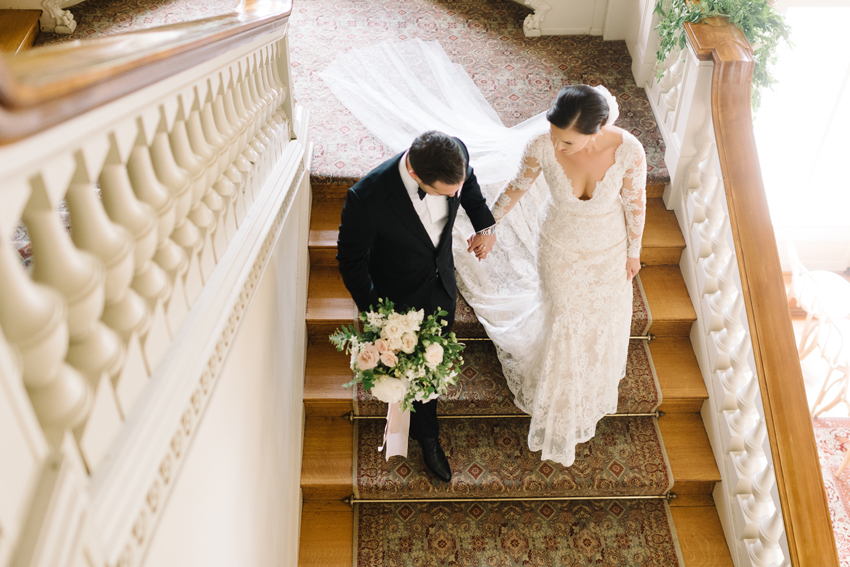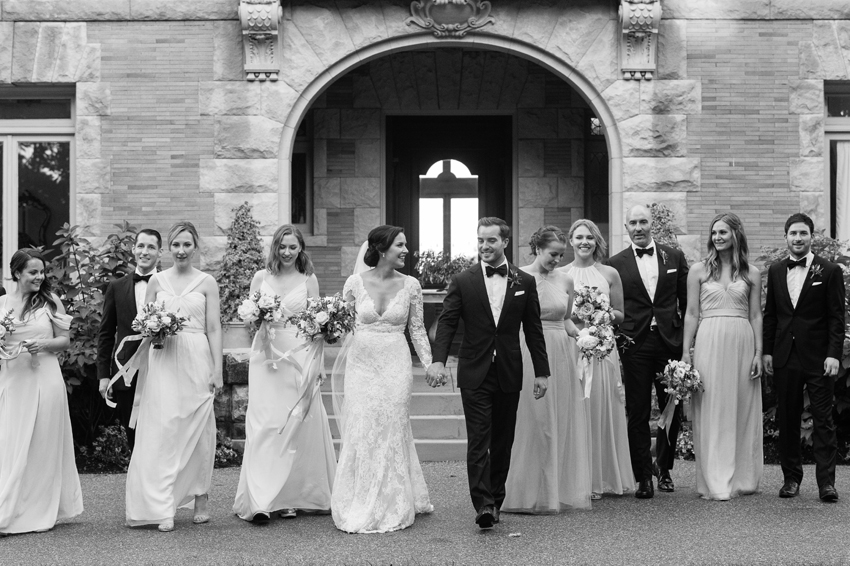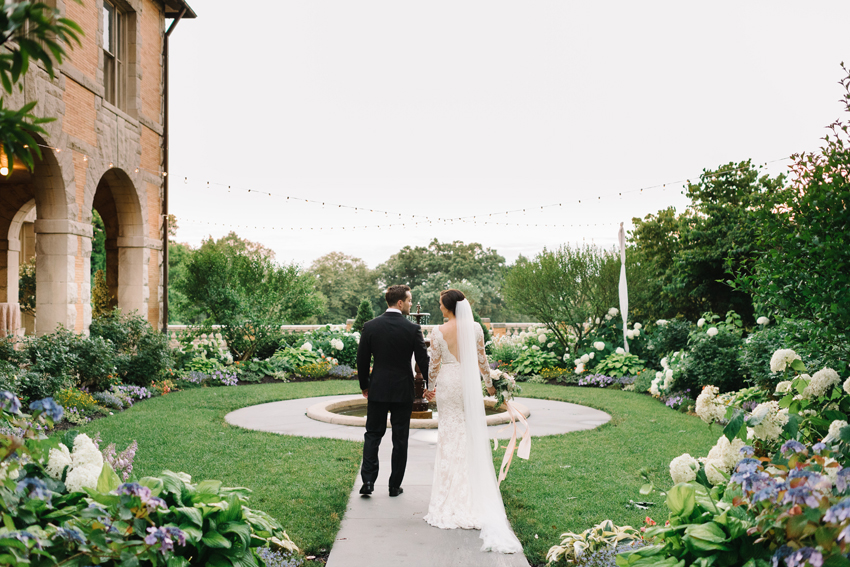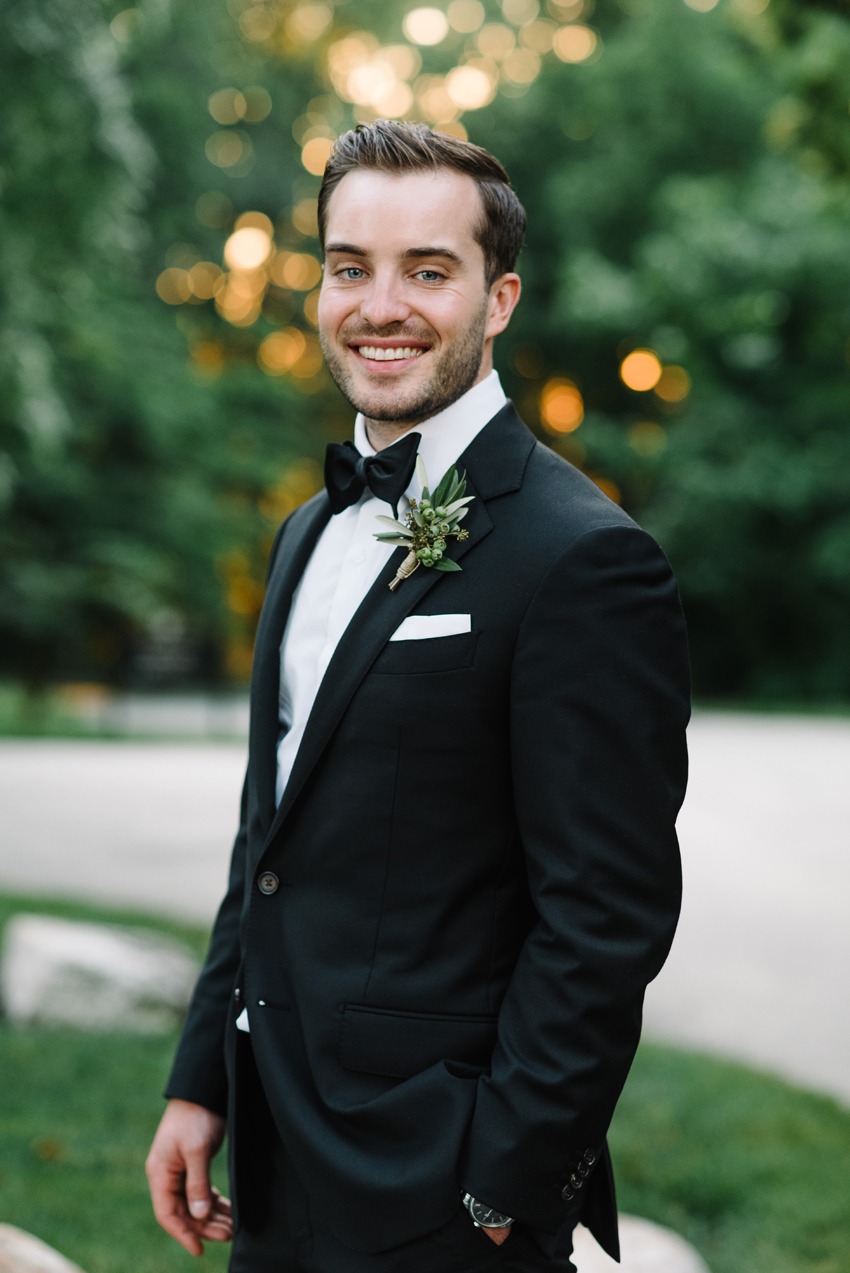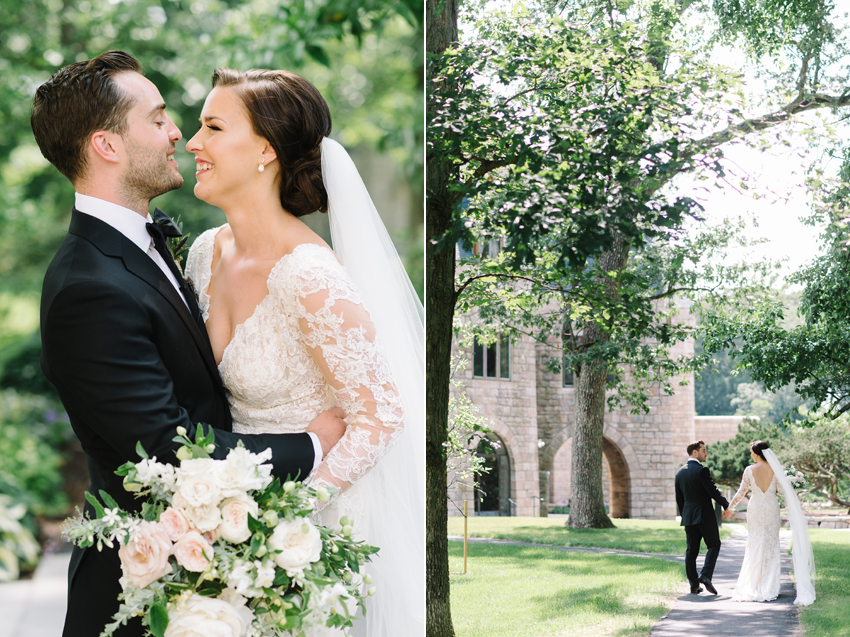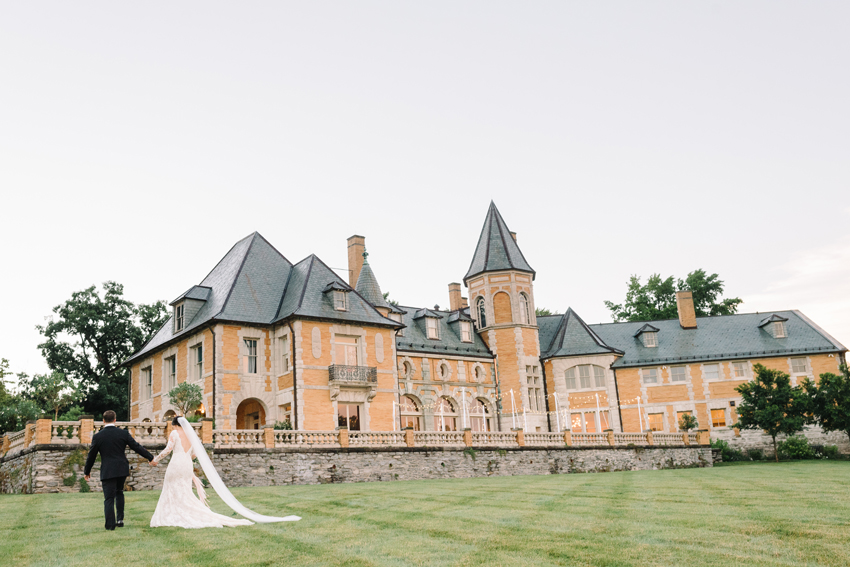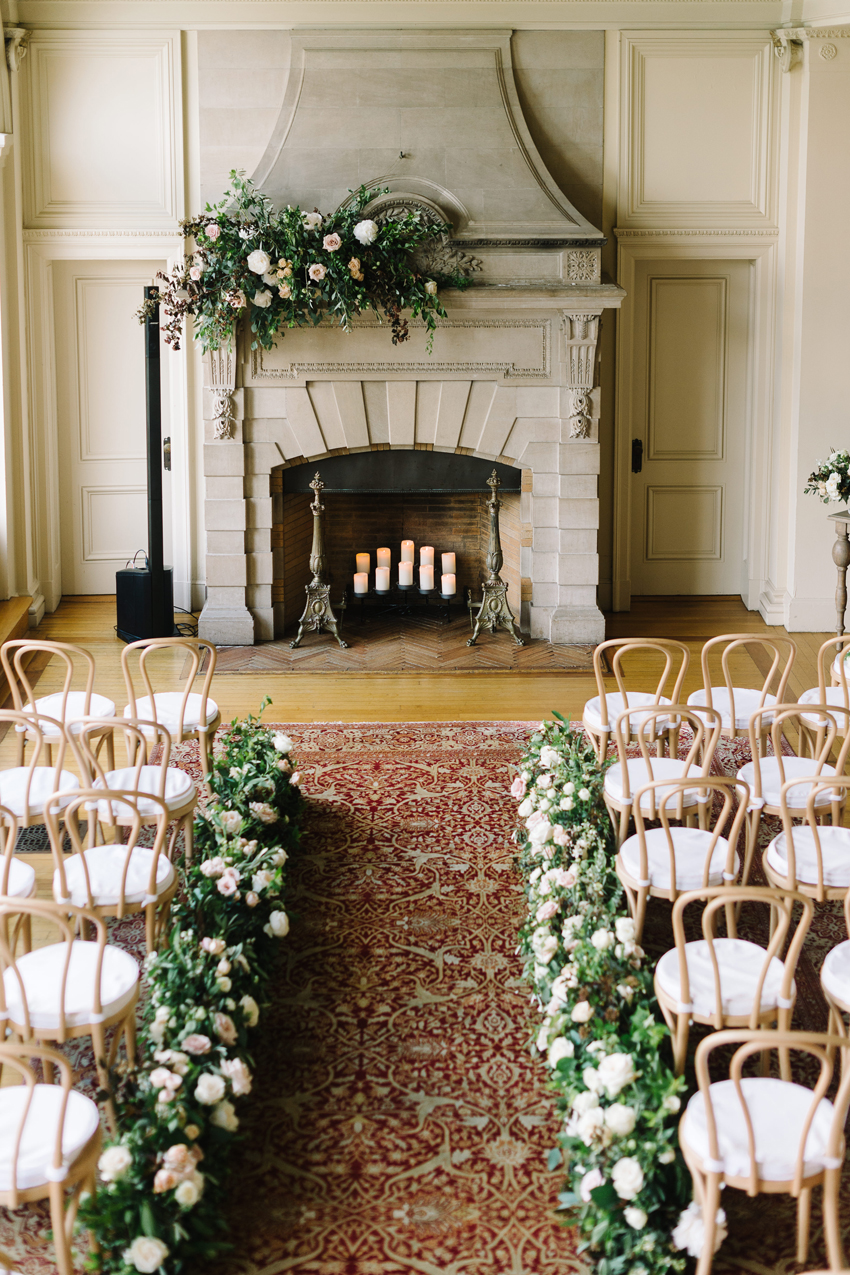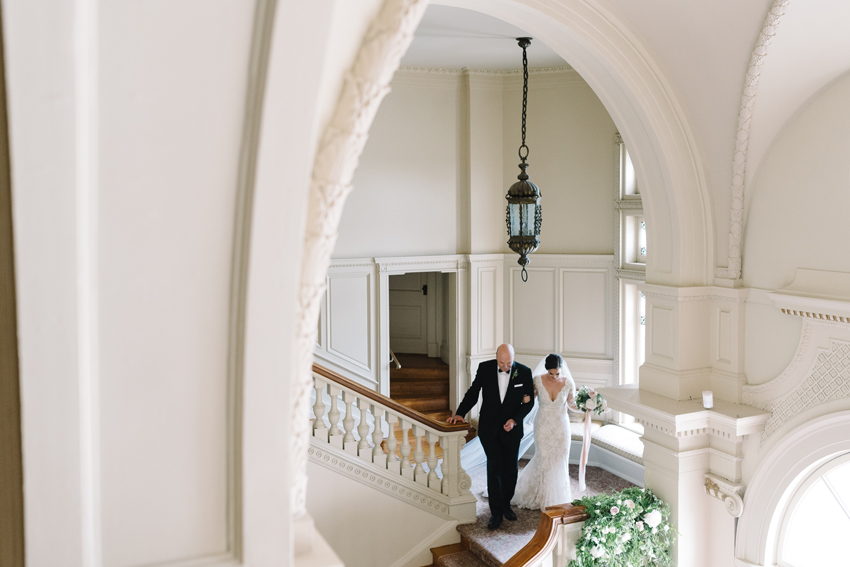 I don't think there was a dry eye in the house during Beth's processional with her dad. Beth is one of three girls, two of the Smith girls being twins (Beth and her sister Sarah). Her sisters were both included in her bridal party and contributed to the wedding in respective ways; Sarah's make up skills and Allison's singing talents for the couple's first dance. Alex's sister served as best woman and stood next to her brother with her new daughter, the couple's niece. And next to Alex's sister was Allison's husband and next to him, Alex's brother in law. Are you following me? This was a closely knit celebration that really exemplified the beauty of family and love.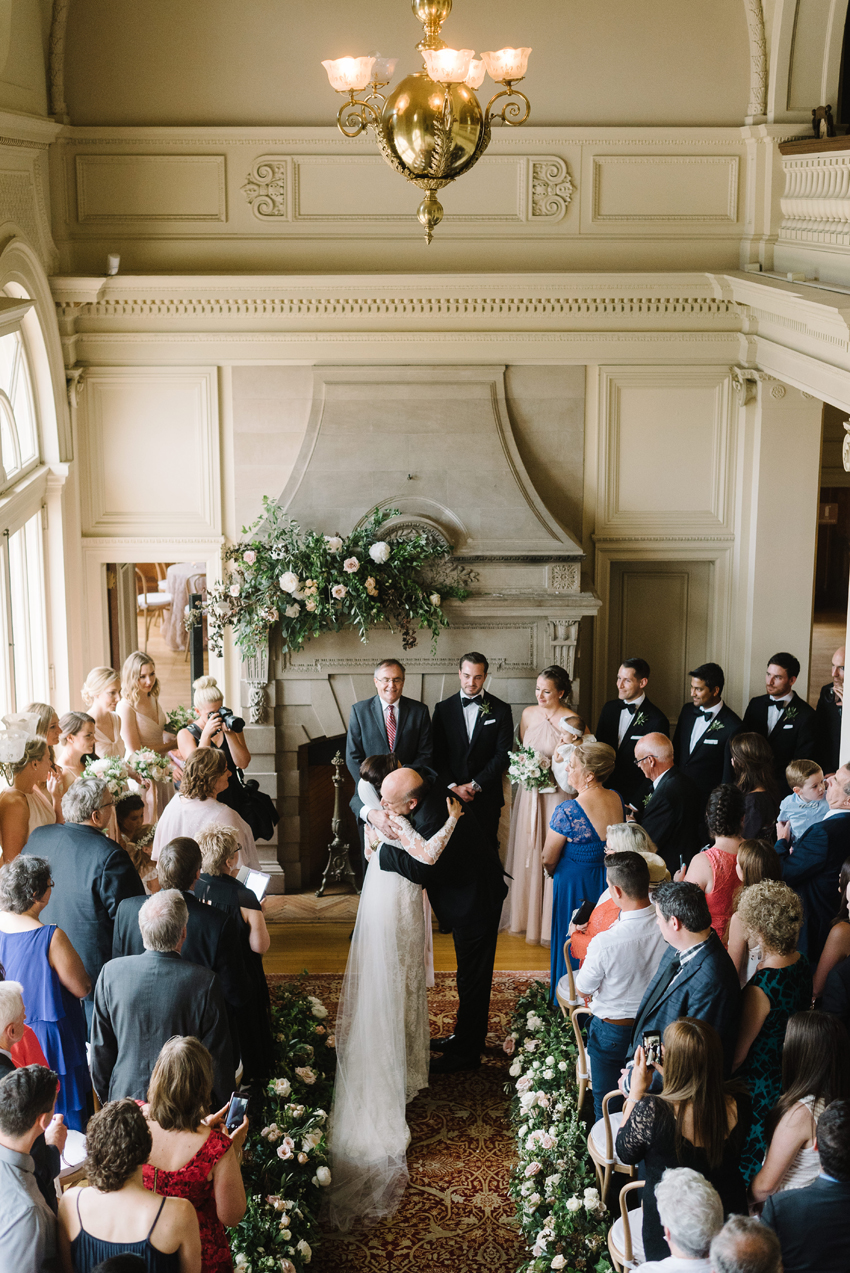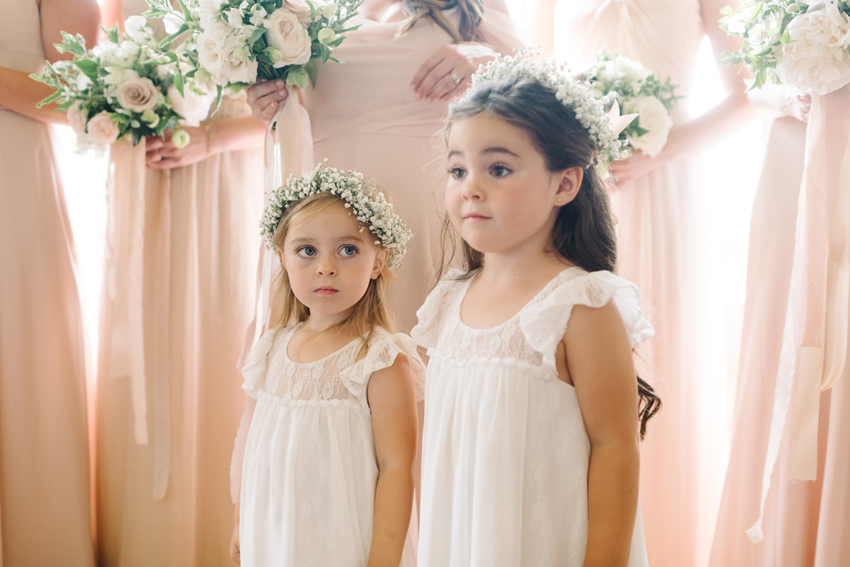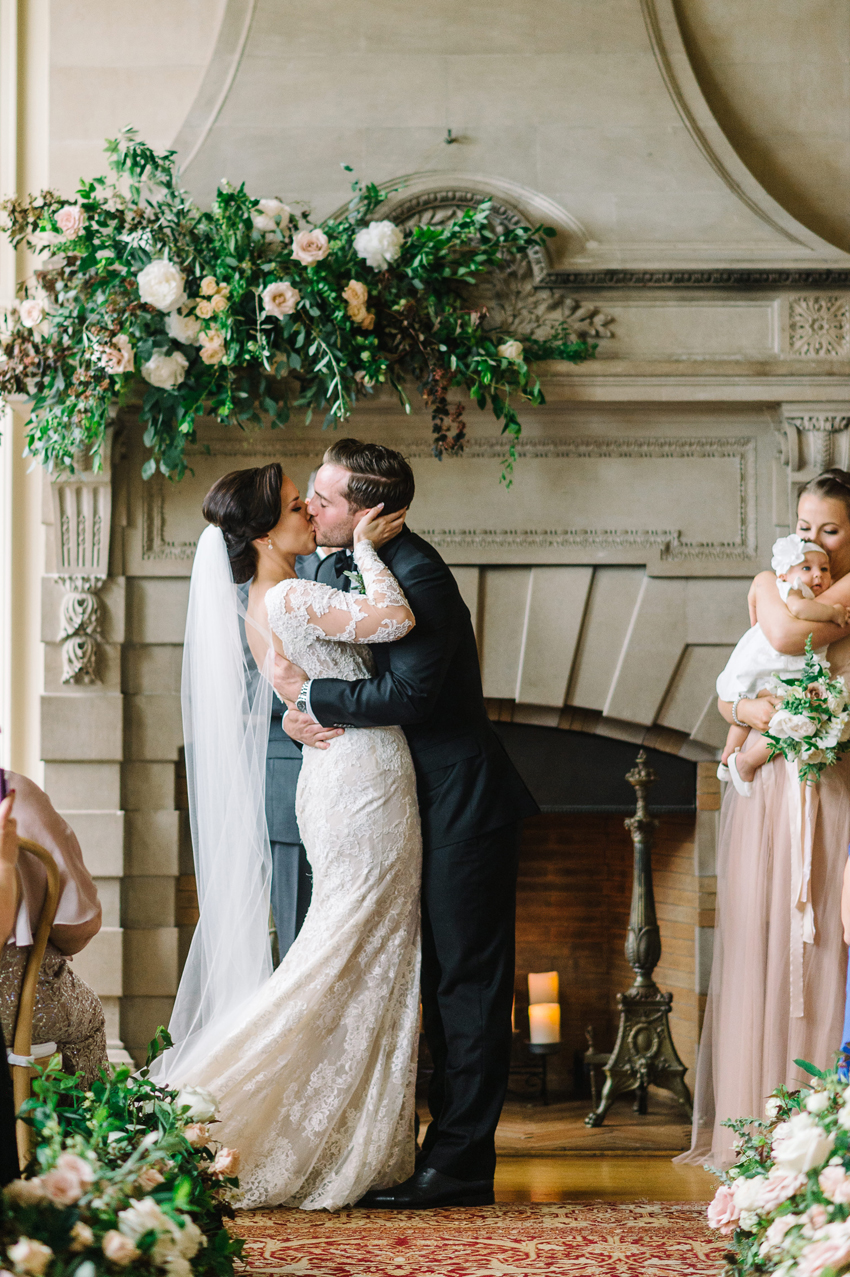 Pure joy.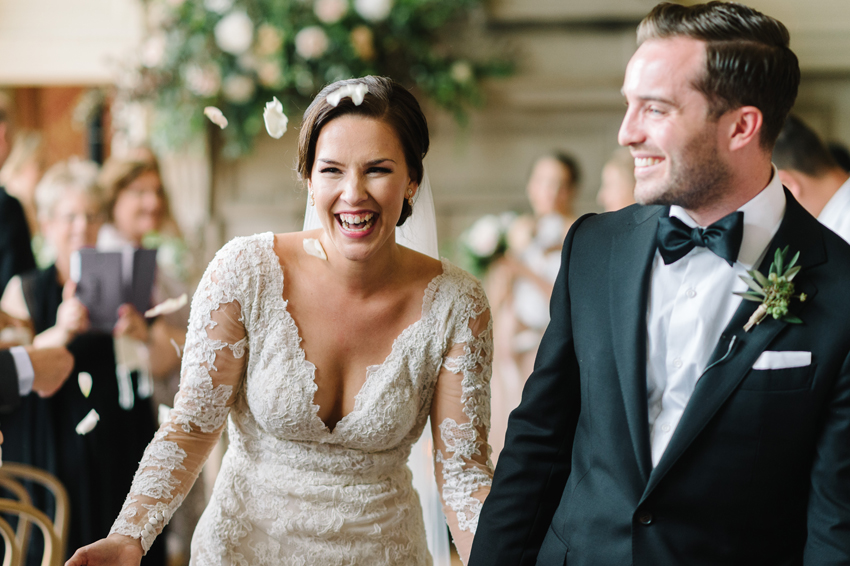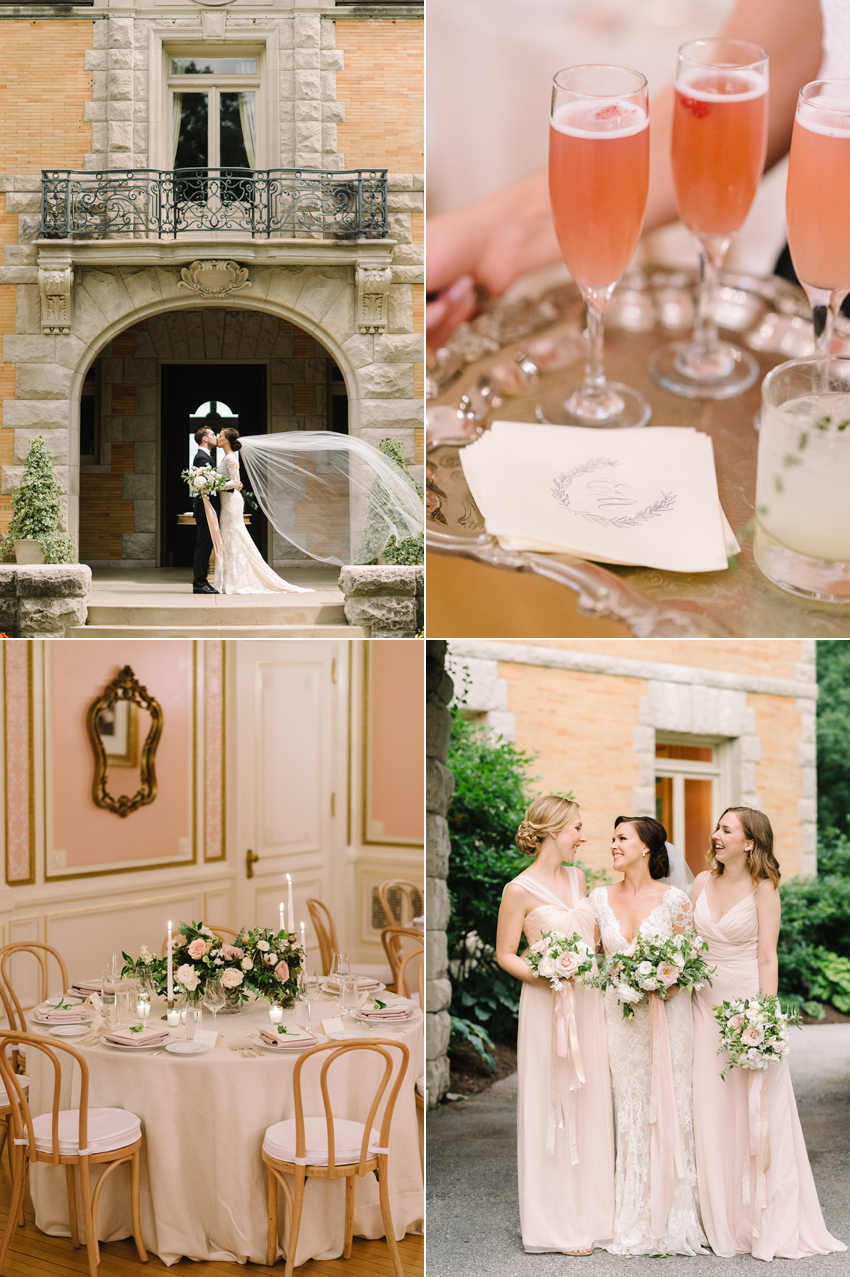 One of the unique features of Cairnwood is that the indoor space only allows for very small guest list sizes. Since the larger rooms were devoted to the ceremony and cake portion of this event and the library would be where the bar and dancing would take place post dinner, we had to break down the dinner tables into rooms and then help direct people to respective rooms following cocktail hour. We kept toasts in the main hall area so everyone could be a part of them, and then guests enjoyed their Italian inspired meal in the comfort of their respective room.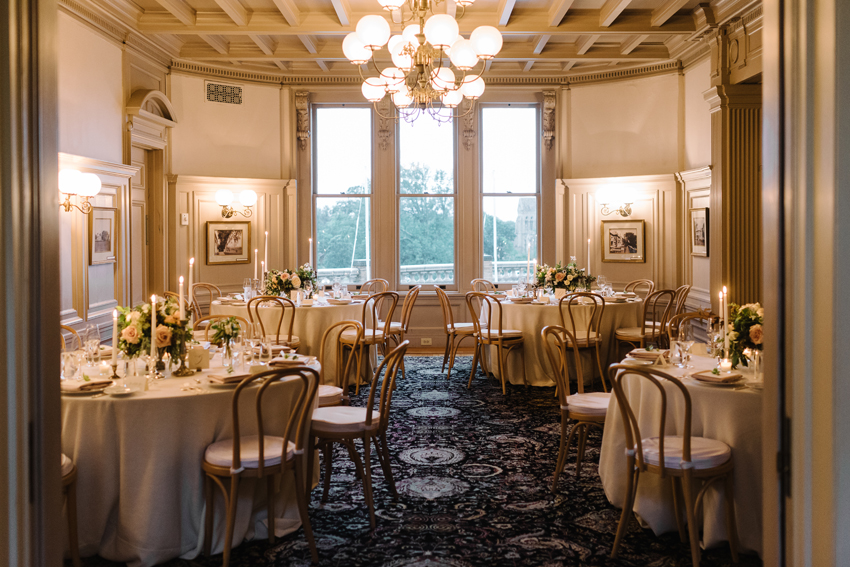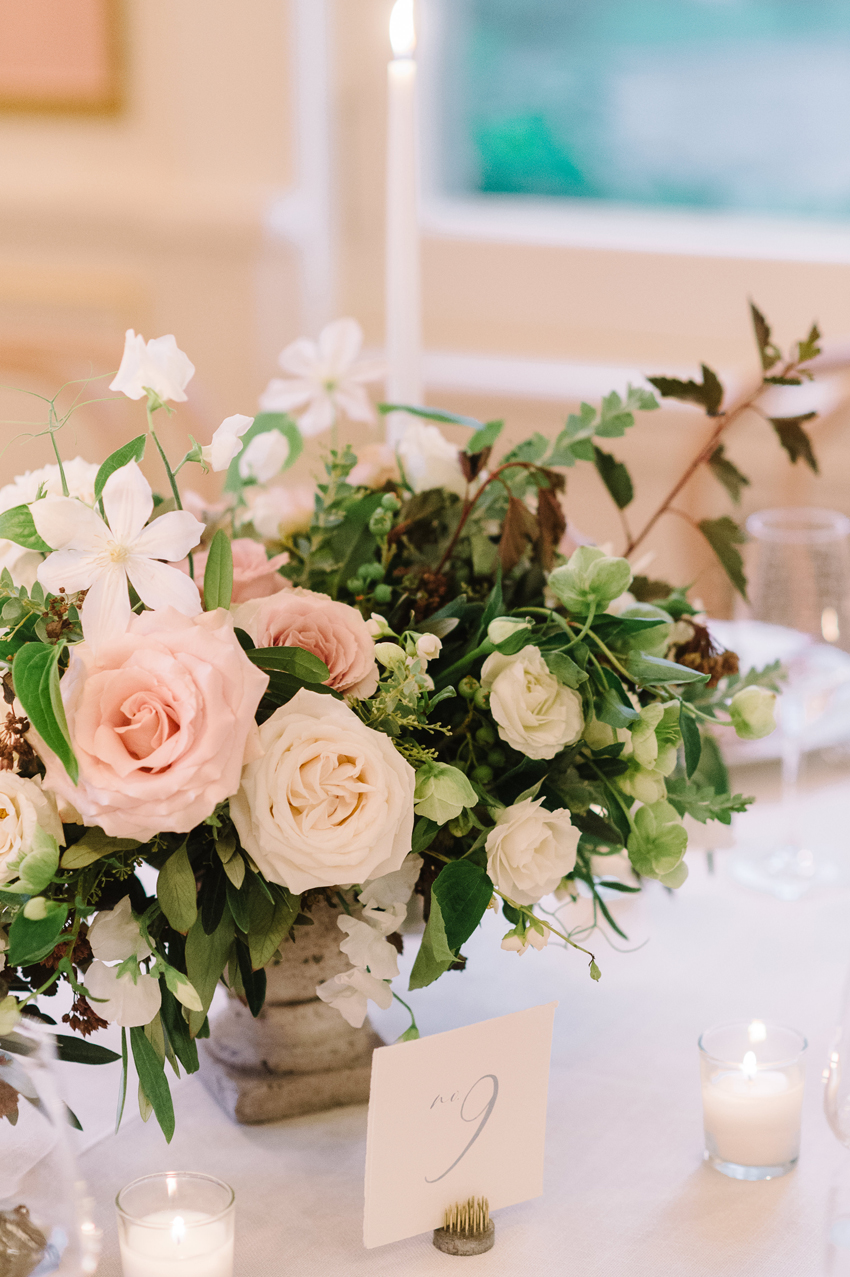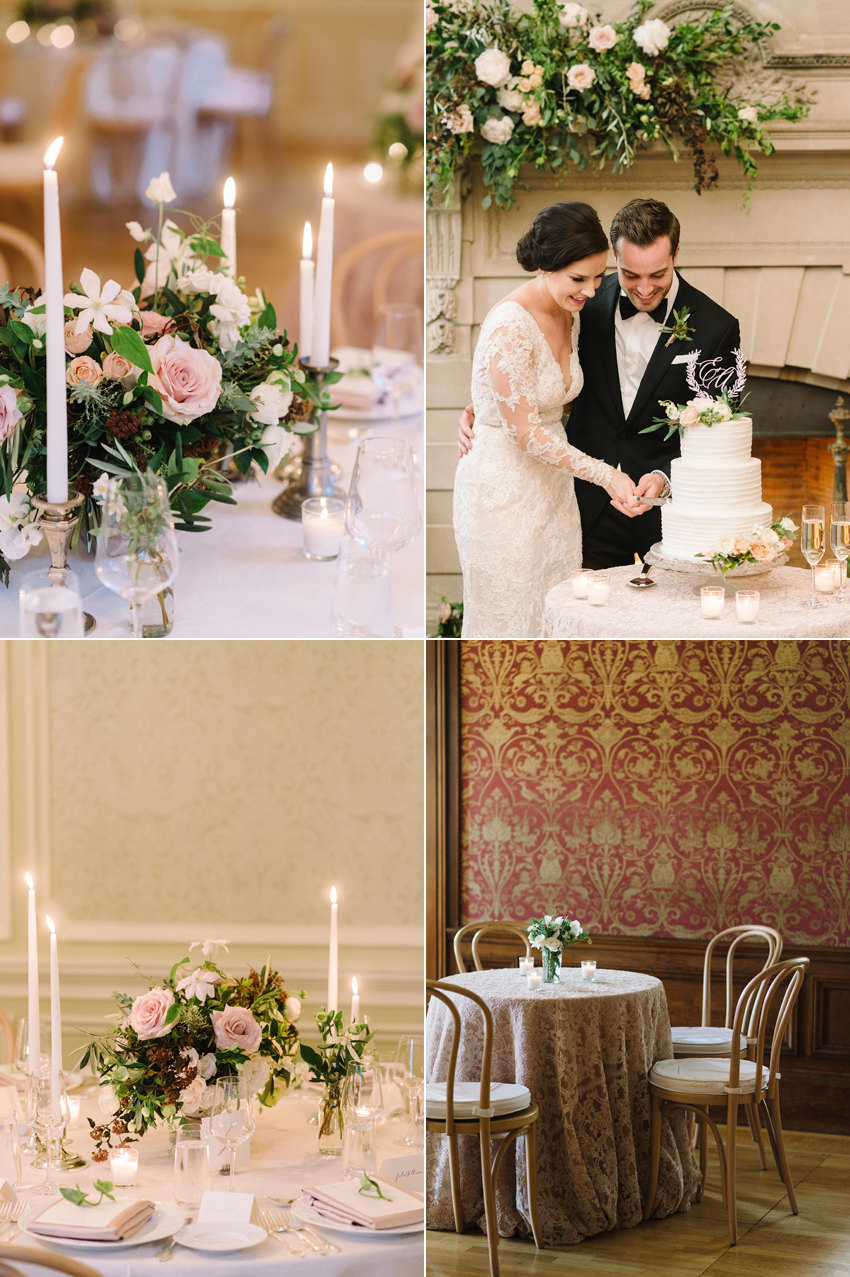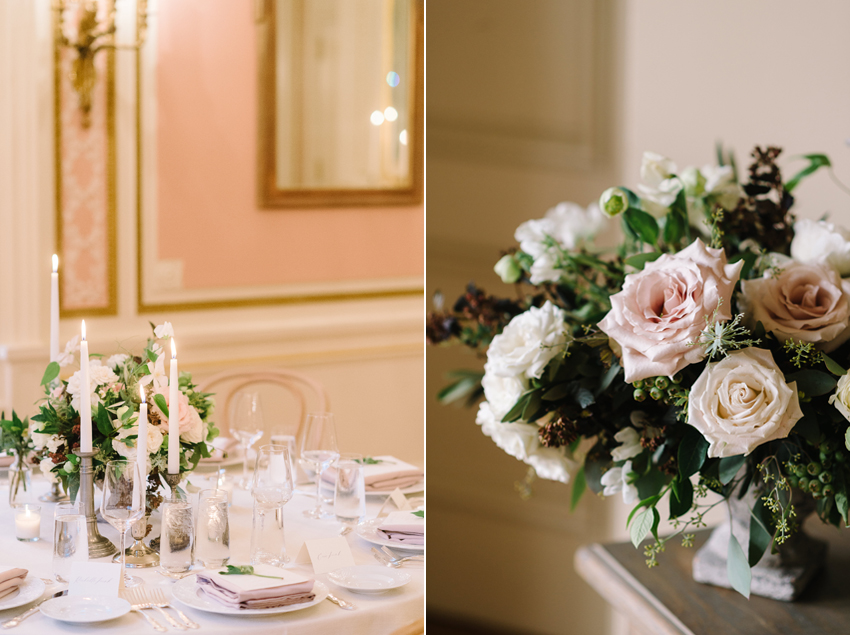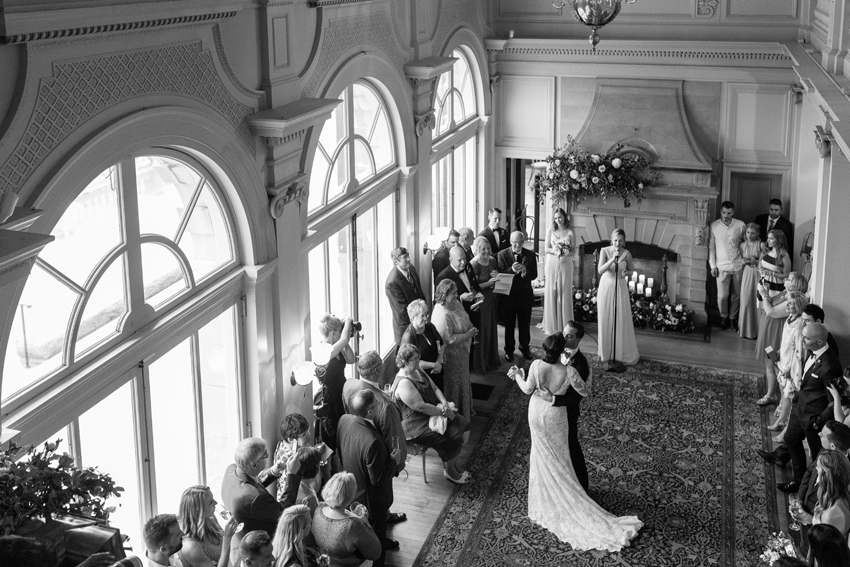 I'll close with two of  my favorite images:
1. This stunning portrait of my friend, Beth. I've never seen her so happy.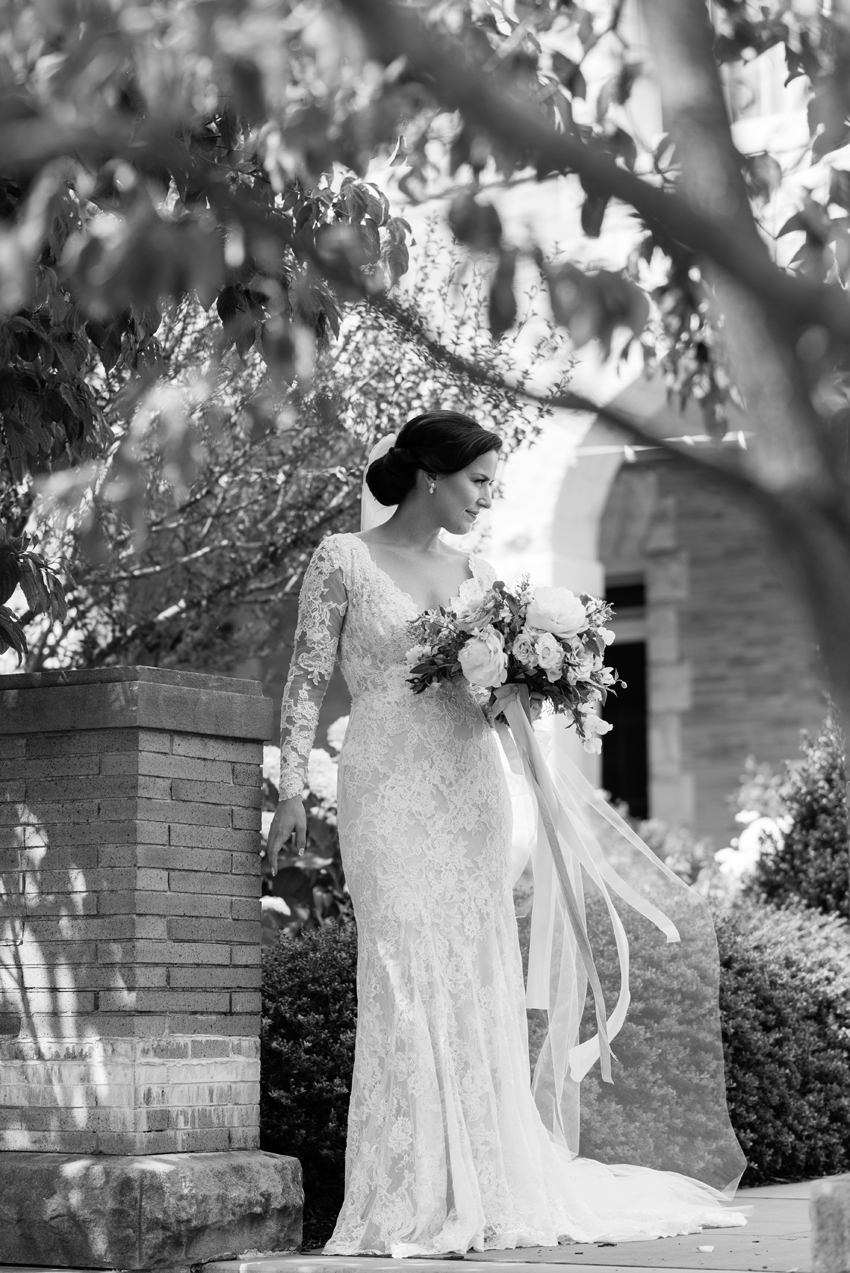 2. This equally as stunning image of the rainbow that delicately draped over the venue following dinner. It was actually a double rainbow which is even more exciting than just one. I remember looking out the windows after dinner to check on the weather and doing a double take because of the rainbow that was so bright in the sky. I found Tara and asked her if she had looked outside yet. Without saying a word she turned her camera around and showed me on the back of her camera the image she had just ran outside to capture.
What a perfect ending to this sweet day.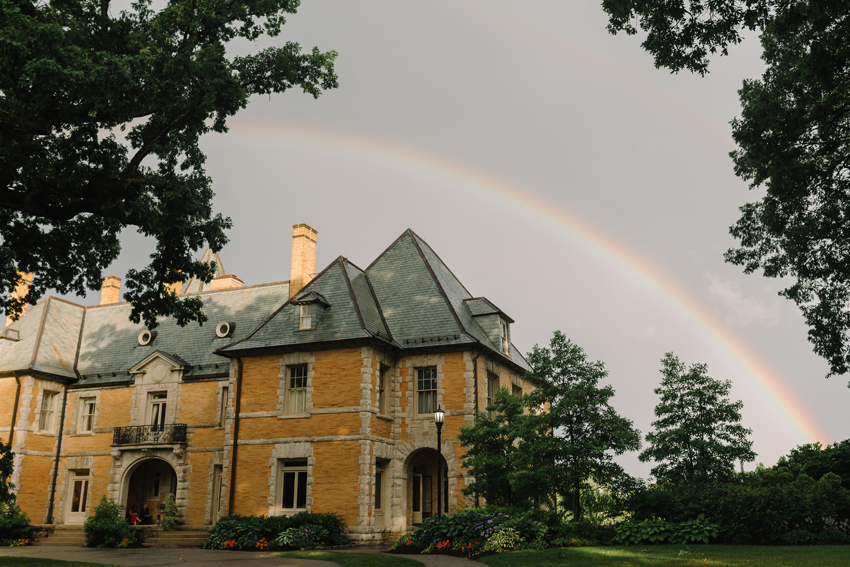 Here are all of the vendors that made this wedding possible.  Xo
. . . . . . . .
Planning, design, and floral: Rhiannon Bosse Celebrations / Photography: Tara McMullen Photography / Videography: Dave Tebbutt / Stationery and calligraphy: Plume Calligraphy / Cake: The Master's Baker / Entertainment: Lovesick Inc / Rentals: Party Rental Limited / Catering: Sage Catering / Linens: Nuage Designs / Bride's gown: Annasul Y through Ferre Sposa / Bridesmaids gowns: Monique Lhullier and Amsale / Groom's suit: Spier & Mackay / Bride's shoes: BellaBelle / Make up artist: Sarah Smith Make Up Artist / Venue: Cairnwood Estate