If you missed it, over the weekend there was a milestone event that unfolded in the United Kingdom.
Being that the Royal wedding also happened to fall on my birthday, I didn't get up too early to watch the festivities unfold as sleeping in a Saturday certainly sounded more restful. But I did get up early enough to catch the end of the ceremony between the now new Duke and Duchess of Sussex and it was a beautiful part of history to witness (especially so beside my husband who had some hilarious commentary about everything from the Queen's neon outfit to the twin page boys who look just like, in the words of my husband, a young Macaulay Culkin).
For those who have any knowledge of what happened on May 19th, 2018 you probably have your own thoughts and opinions like I do! So I wanted to share some of my reflections here as a both a wedding professional and purveyor of celebration. There's lots, to my surprise, that I'd love to touch on. In no particular order here are my thoughts:
1. For as awful as some may believe the world to be there's also a lot of good. And people flock to the good. People cling to things that are true, good, and joyful, and an event like a Royal wedding has all of those elements and then some. As mentioned above, while I spent most of my early morning catching some birthday shut eye, there was, and is something unifying about the eagerness and excitement millions across the globe have/had for this event. Good and joyful things, in my opinion, can help sustain society and for that I toast to the Royal wedding!
2. As a floral designer, I admittedly wasn't initially impressed with Meghan's bouquet. Sure, it was simple and certainly not the most awaited element of the day, but I had expected a larger bouquet of white peonies or roses (her supposed favorites). But then! I read about the significance of her posy, along with the part where Harry picked some of the ingredients himself, and everything changed. All of of a sudden that little measly bouquet looked much more beautiful, and as such, I'm reminded that as artists we're often meant to create from an emotional space versus one based purely on form. Trends don't always dictate beauty and if we can learn a thing or two from the Royal wedding it's that tradition and sentiment carry much value.
3. Speaking of simple, those floral installations at St. George? I tip my hat to Phillippa Craddock and her team for creating such a striking contract between the cathedral's rich historic architecture and the fleeting beauty of a perishable medium like fresh flowers. The entrance to the ceremony location was what wedding professionals can only dream of, the sheer scale of the vignette even admirable from the screen of our television. The floral work alone from the Royal wedding will be inspiring brides to be and artists for years to come.
4. The bell boys! As a soon to be mama of two; heart melted. Their poise carrying the bride's delicate and probably overwhelmingly obtrusive veil, was very endearing and sweet. This photo is probably one of the ones that will always pop into my head when asked about or thinking back to this wedding. What a photograph!
5. I've heard mixed commentary about Meghan's gown (my husband jokingly/seriously referred her gown shape to that of the gowns in The Handmaid's Tale). While the gown wouldn't be my personal choice and considering I did not marry into Royalty, I think it blended together perfectly what would be considered tasteful by the church (and Royal rules, whatever those may be) with a bit of classic personality. In different circumstances perhaps the gown would have been tighter, or with a different neckline, or a more forgiving (less matronly?) fabric but there's a lot of other more in depth, fashion focused articles like this here and here. I think we can all agree that there were many, many factors for Meghan to consider when selecting her gown and many of those are none of our business.
SIDE NOTE: I have to mention, the afternoon before the wedding I shared some of my Royal wedding fashion and general wedding predictions on Instagram and they included: a form fitting gown made entirely of silk or satin fabric, something with a neckline that would reveal her collarbone, and hair styled completely up and off of Meghan's neck and back (check, check, check!). Not being one to follow much of the wedding beforehand I was pleasantly surprised to find so many of my guesses were spot on!
6. I always tell clients how important it is to cater to their guests' senses. I think this is what makes styled shoots hard to connect with (another post for another day) because the visual aesthetics of anything can only be enjoyed so much. I believe to feel an experience fully it's crucial to hear, taste, touch, see and smell each and every element. So on the topic of sound, I hope you at least have seen this. I'm not sure if the newly married couple felt the same goosebumps I did here in Michigan but even a video recording of the choir's rendition of Stand by Me was pure magic. I can only imagine how electrifying that was hearing it in person.
7. If anyone has details, I'd love to hear more on Meghan's hairstyle and her make up. I'm not saying I didn't like it but I was surprised it was so natural and dare I even say, casual for the occasion. She had more fly aways than expected and it looked like some of the front layers or strands of her hair were left out of place. Or was that purposeful? Either way, I didn't dislike it just found it to be an odd choice if not an intentional one. Maybe it was a little bit of Meghan's carefree spirit and natural beauty coming into play. . .
8. The blending of families, backgrounds, and cultures at the Royal wedding was really touching. I loved seeing different races and beliefs and cultures coming together in the spirit of love. There was so much beauty in the words spoken over the couple throughout the ceremony (and I hear in the toasts given at the reception), and like mentioned in my first point above, this was a feel good stand out moment of the day. It made for a unifying experience that everyone felt they had access to. And it sets a precedent for future Royal weddings and non Royal unions too. Looking at photos of Meghan's mom on the arm of Prince Charles, Prince Charles walking down the aisle with his soon-to-be daughter in law, the musicians of different color, the different faiths brought into the church that day; this is what inclusion looks like and I hope we see a lot more of it in the near future.
9. Opinions and personal preferences aside, my favorite part of the entire celebration was the undeniable joy and happiness that radiated from both the bride and groom. It was as if the two were in their own world that day, smitten with one another and the new chapter in their relationship. I read an interesting piece on Meghan's body language and how experts said she stood with such strength and confidence from the moment she arrived to the church to the second she and her husband ducked inside for their post-ceremony lunch reception. And not because she was strong and confident (she probably is and was) but more so because she wanted to be a source of strength for her husband to be who was visibly nervous from the second he arrived to the church.
I believe marriage is a special union and anyone lucky enough to be married to someone they love unconditionally will probably agree. So to that I say Meghan's best accessory on her wedding day was her joy, and I find it hard to believe anyone could disagree. It was no doubt a beautiful, fairytale inspired, inclusive part of history regardless of if this whole thing interests you. Congratulations to the newly married couple! May married life bless you richly.
Finally, the photos shown here are obviously not from the Royal wedding but instead are from this Southern Weddings editorial I had the pleasure of planning and designing in 2017. The bouquet I created entirely out of lily of the valley reminded me of what a Royal bride might carry so it felt fitting to share with this post. You can catch the entire project here captured by Jake + Heather.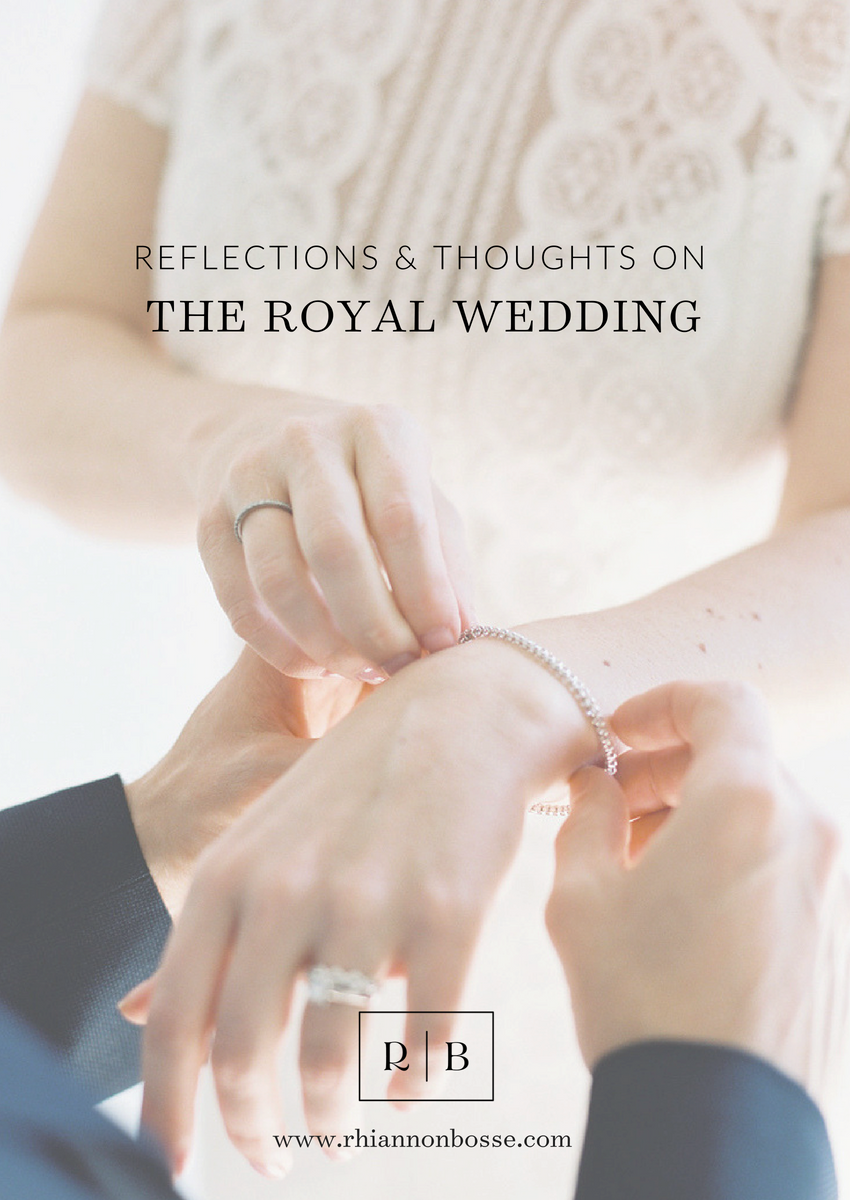 Xoxo