I've always anticipated Valentine's Day with fierce eagerness and sense of excitement. Whether it's the nostalgia of a flirty red and pink color palette, the sweet gestures centered around love, or the way the holiday often makes the dead of winter feel a little bit more warm, I stand behind February 14th as an official holiday and one meant to be fully celebrated! I have fond memories of receiving sweet Valentine's Day 'baskets' from my mom and feel those gifts from my childhood instilled a love of gifting, packaging, and beautiful things.
While Valentine's Day often gets looked down on as a holiday strictly for people in serious relationships, I'm a believer there's something there for everyone to celebrate. Love is love and whether you have a lot or a little to give, and people in your life to receive it, then you get to celebrate too. And more so, I bet if I challenged you to make a list of five people in your life who could benefit from a kind gesture on Valentine's Day you would be hard pressed to stop at just five. When we view others from a lens of compassion and love we feel more compelled to treat others in a more positive way. So if you feel like the commercialization of Valentine's Day makes the 14th of February a little too sweet for you, start with those list of five people.
Whether you're hosting a cocktail party for your best girlfriends, dining in with your significant other, or starting the morning off with your kiddos and a simple breakfast at the kitchen island, there's infinite ways to celebrate. Here's my take on Valentine's Day party inspiration photographed beautifully by Samantha James Photography. My tips are tucked in throughout because while a tablescape like this may not be feasible for you (please remember I do this for a living!) there are many bits and pieces to take inspiration from.
Stay tuned for tomorrow's post featuring a vegan pasta recipe and Wednesday's with last minute gift ideas!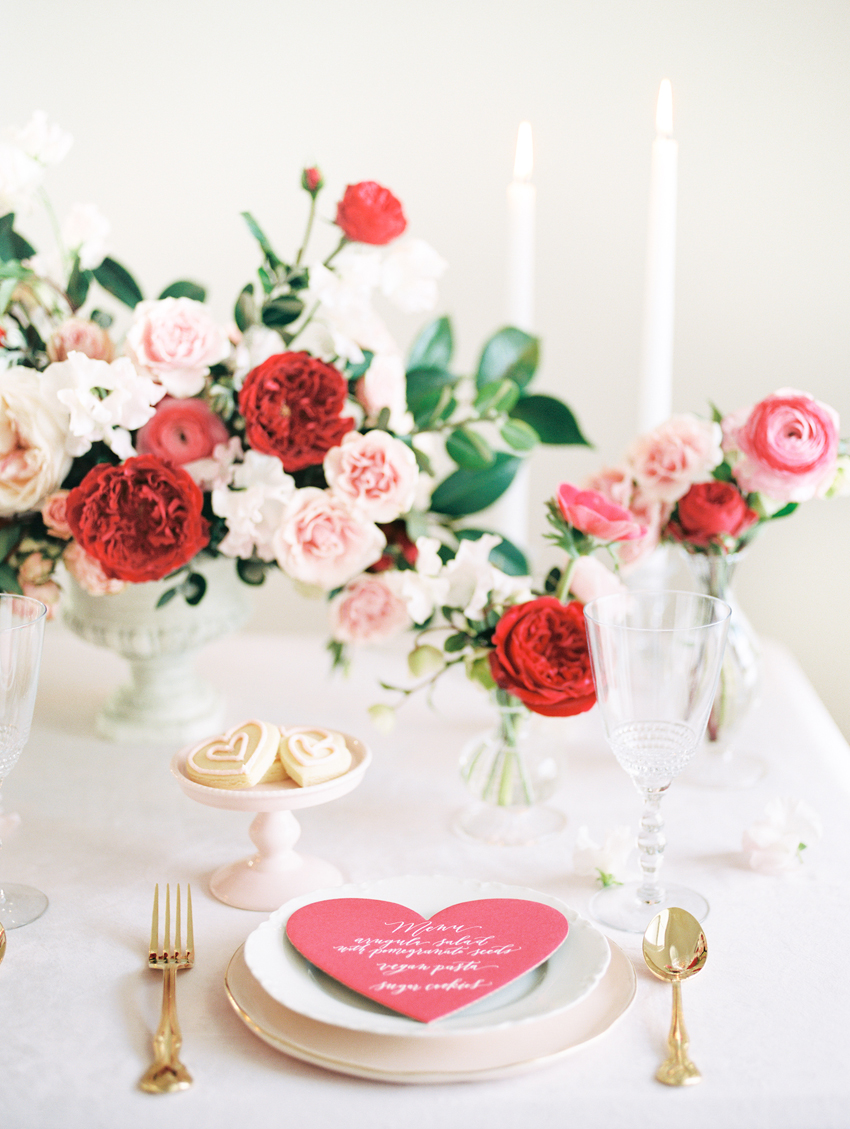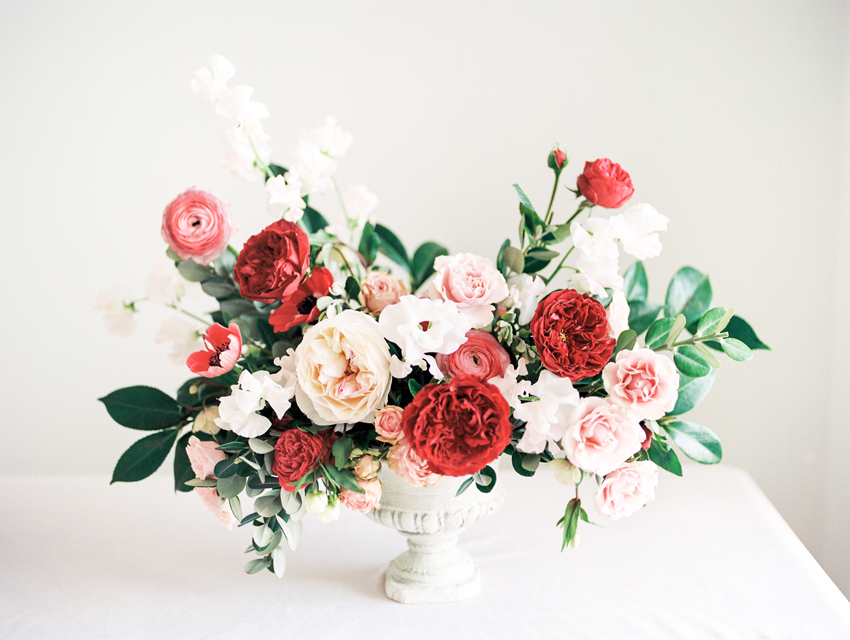 ONE: It's Not About the Things Themselves But More So About the Presentation of Said Things
For hosts and hostesses on a budget or tight schedule (or for those who don't have a knack for baking), you have the permission to buy store bought goodies for dessert! But instead of serving your selections in the container they come in, focus your efforts on kicking up the presentation a notch. A beautiful platter, thoughtful arrangement, and couple inexpensive loose blooms, take any boring cookie platter and make it look like an artful masterpiece. Try this with cookies, cupcakes, truffles, mini tarts, cheesecake slices, or even fresh fruit.
My favorite cake stands come from Home Goods, Target, Shop Sweet Lulu and Save On Crafts.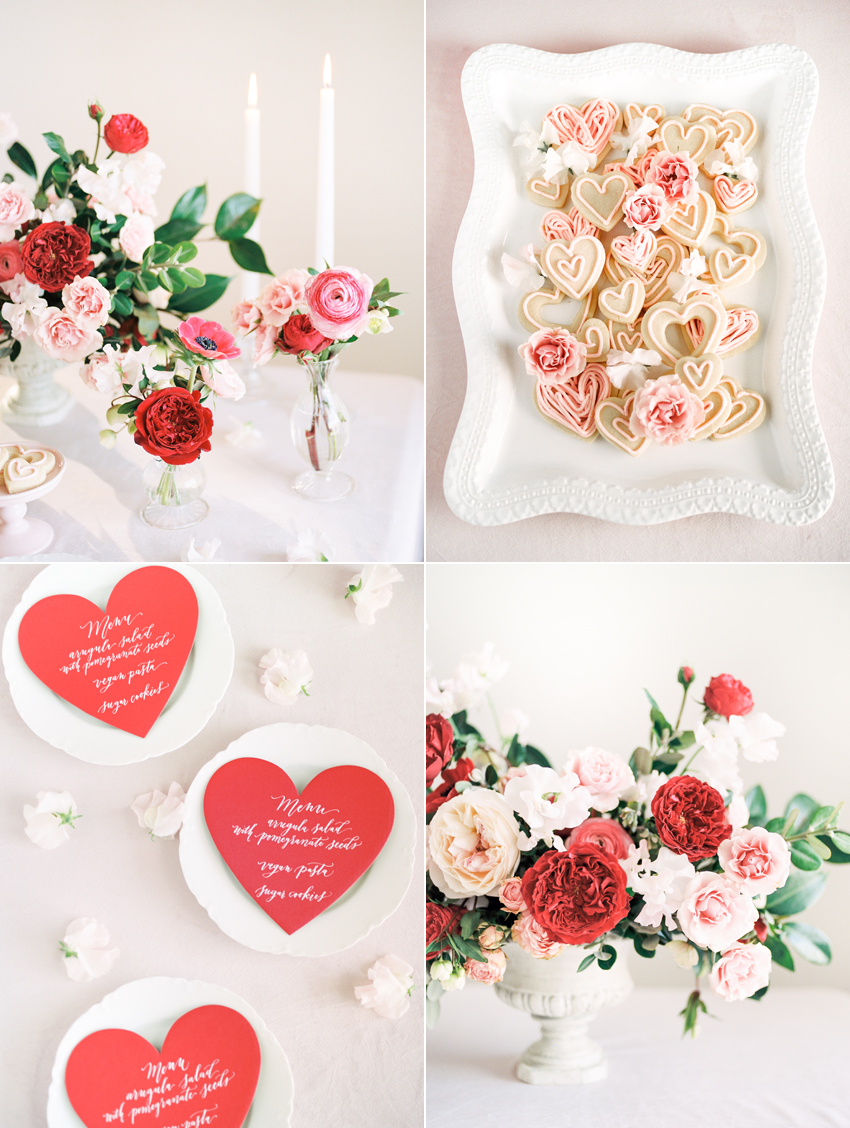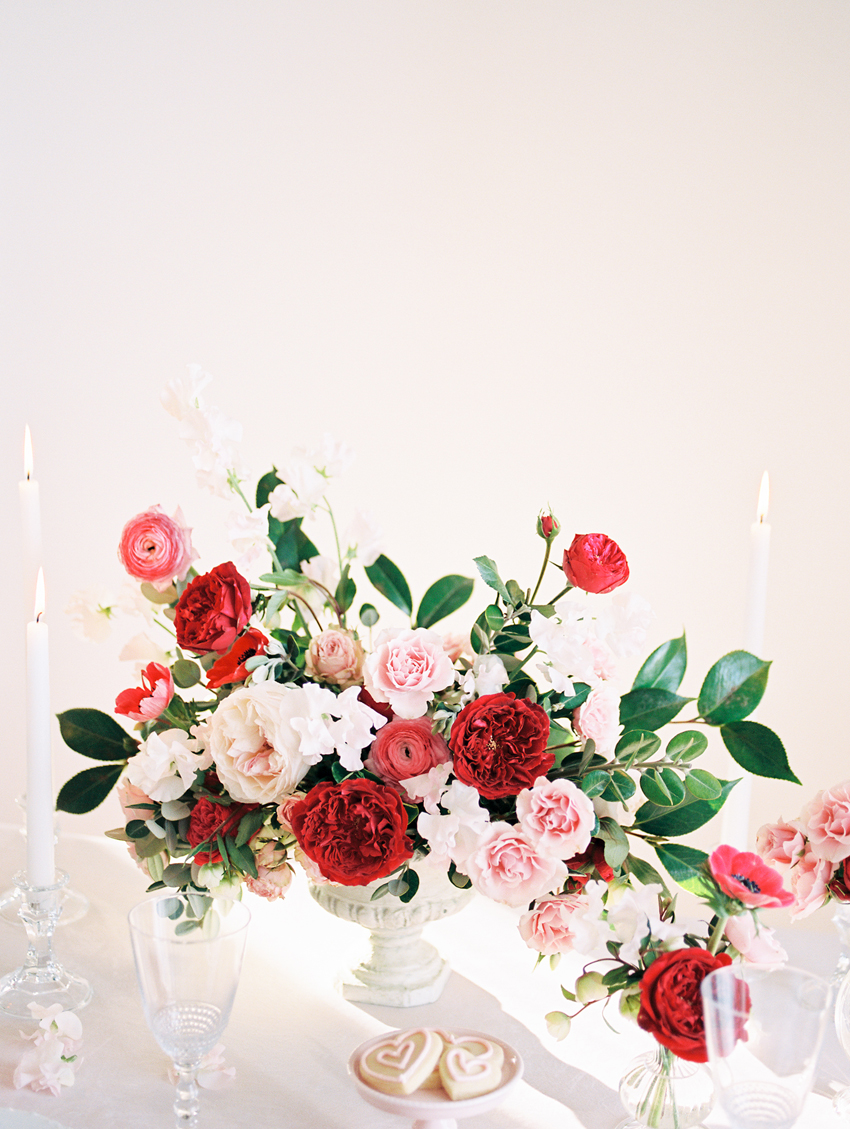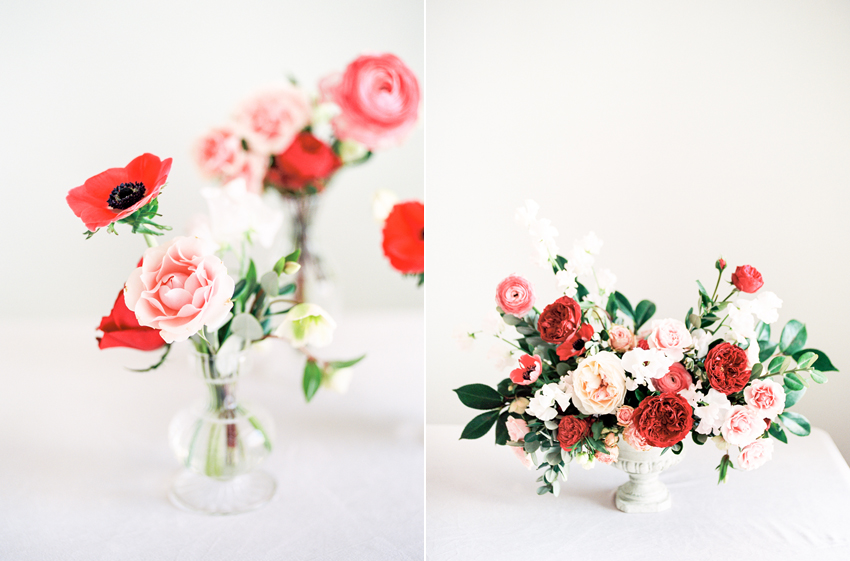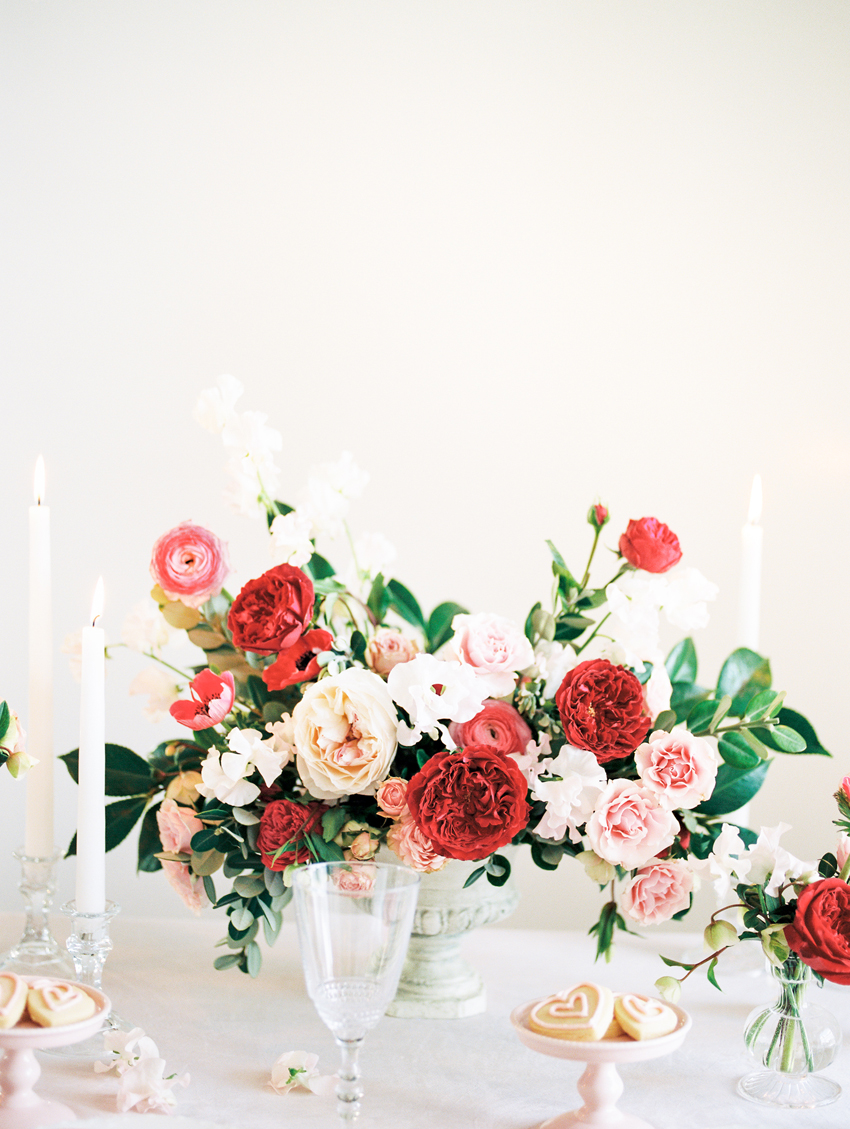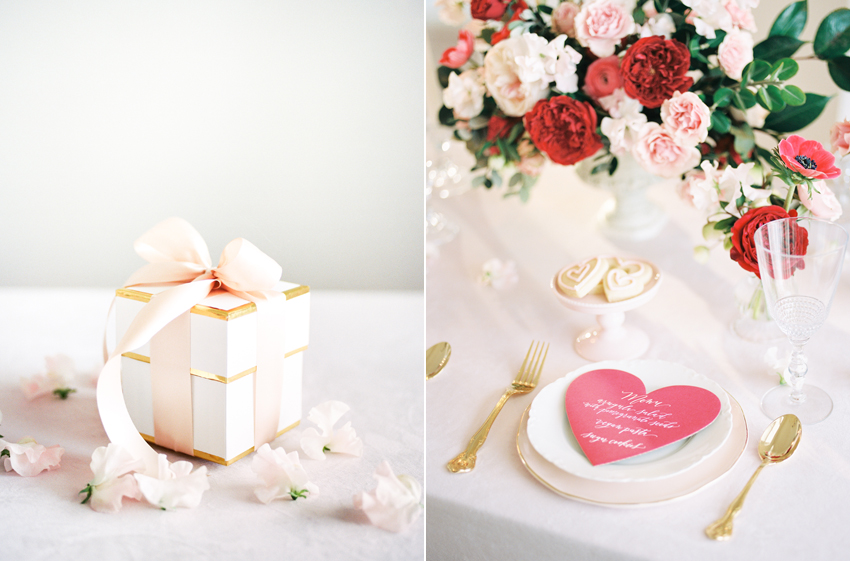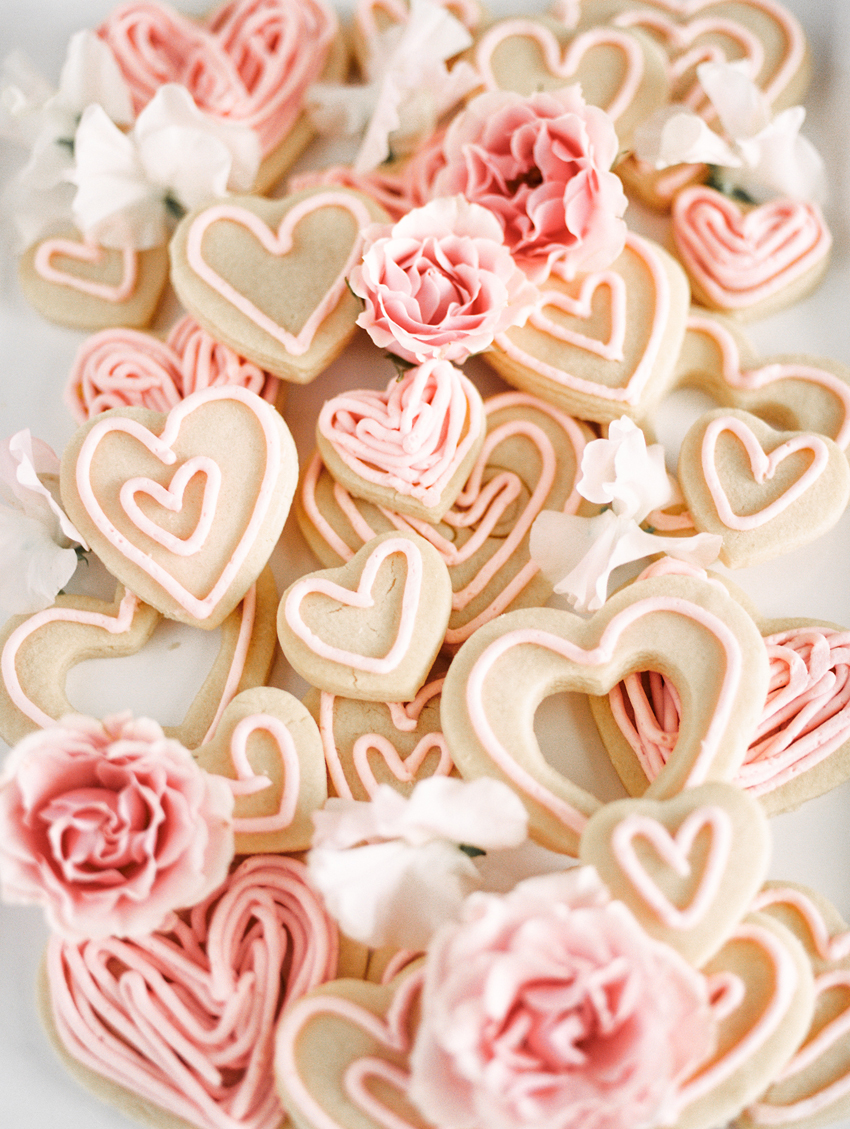 TWO: Simple Decor Can Pack a Serious Punch; and You CAN Do It Yourself!
If a big flower centerpiece is out of the budget or not in your wheelhouse of skills don't fret! Consider breaking down a larger design like the one shown here into something more manageable by grabbing some bundles of flowers from your local market. Small bud vases from a local craft shop or even the dollar store look stunning with small clusters of blooms in them dispersed down the center of your table. And never underestimate the power of candles. Whether it's different sized taper candles or a cluster of pillars, the look is always beautiful.
And if you're feeling adventurous check out this post on the process behind largescale arrangement.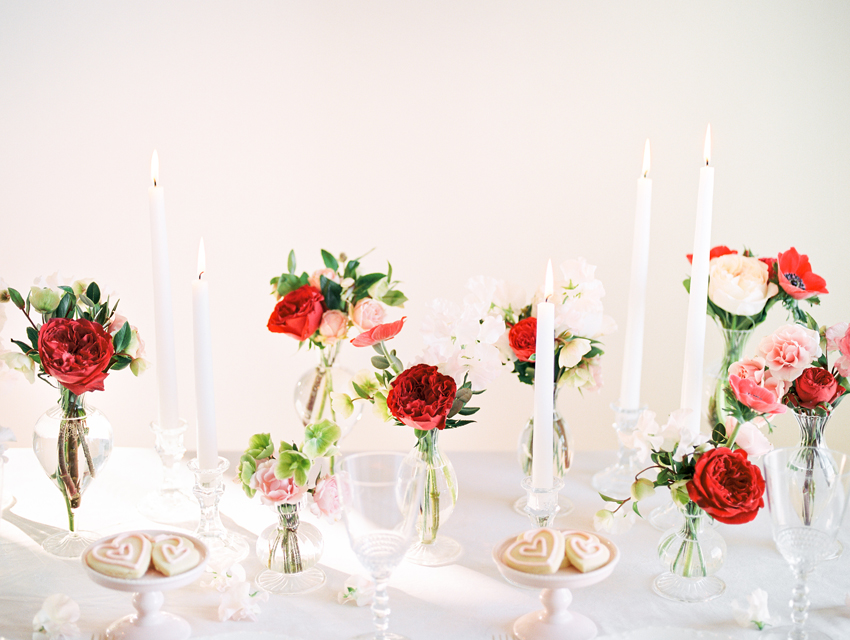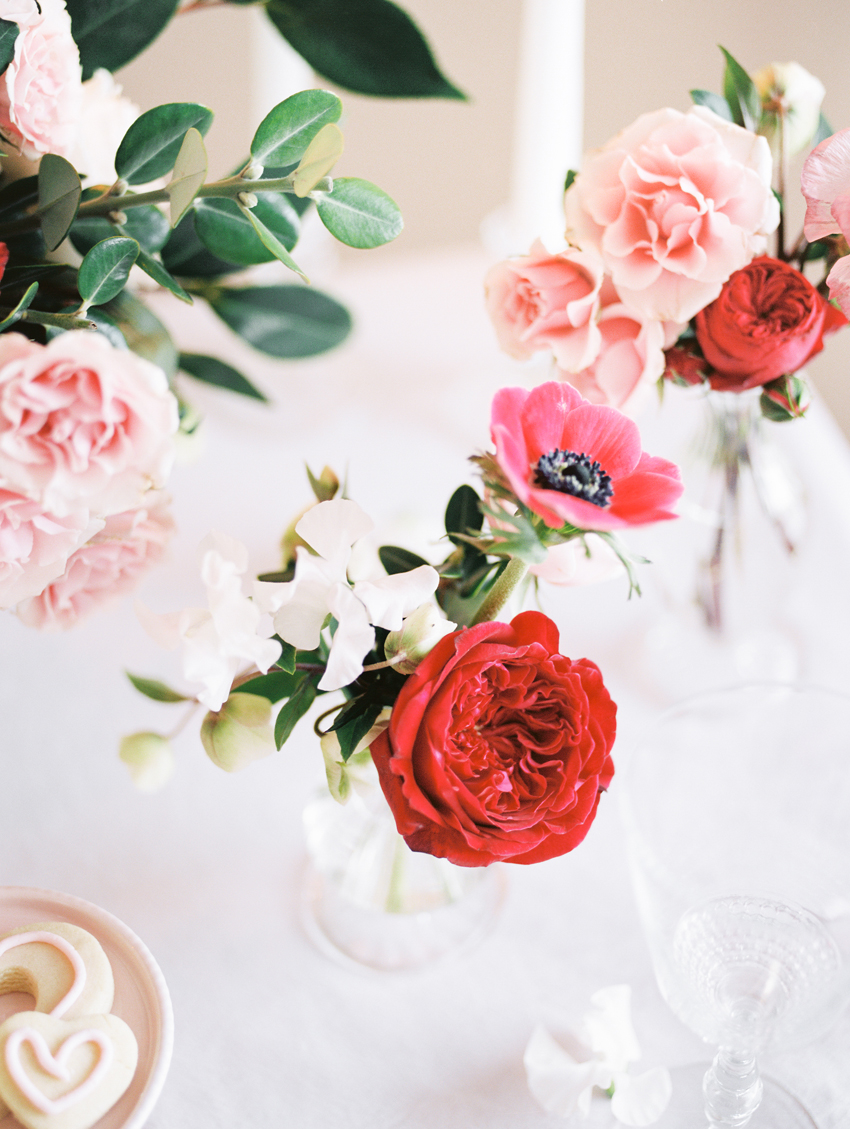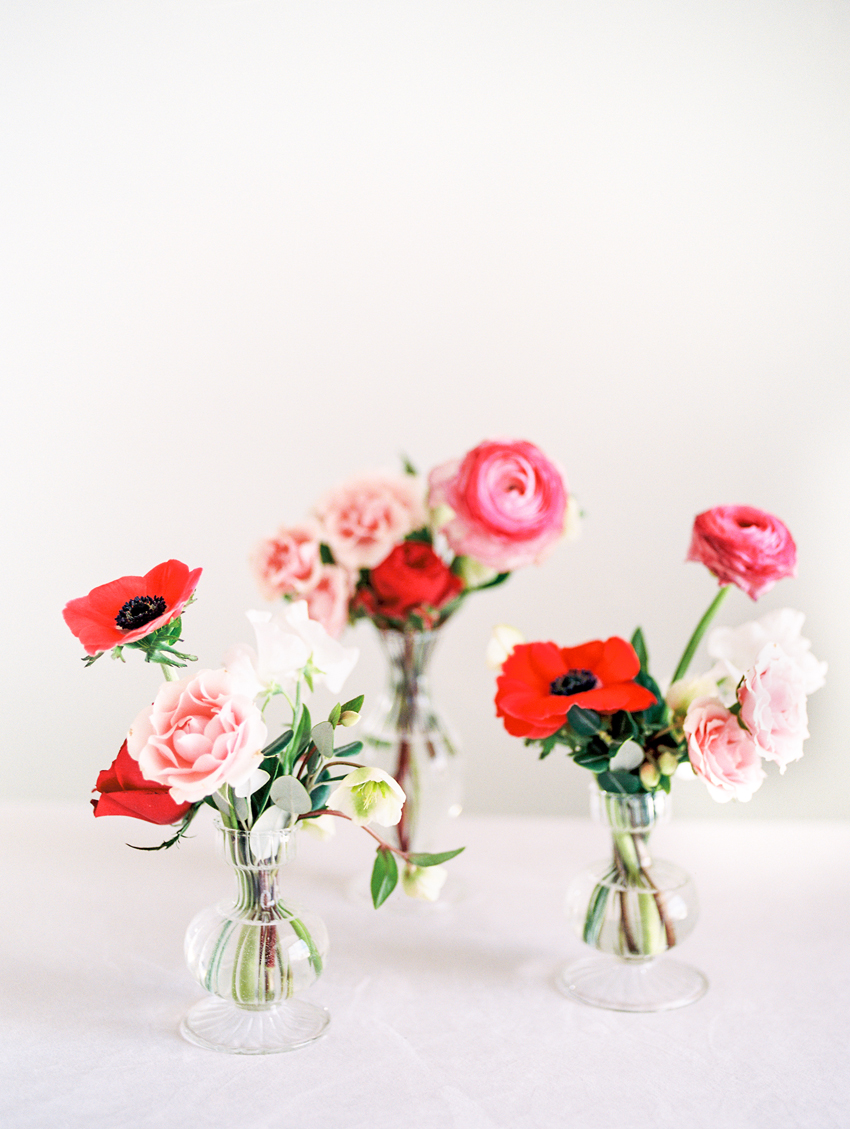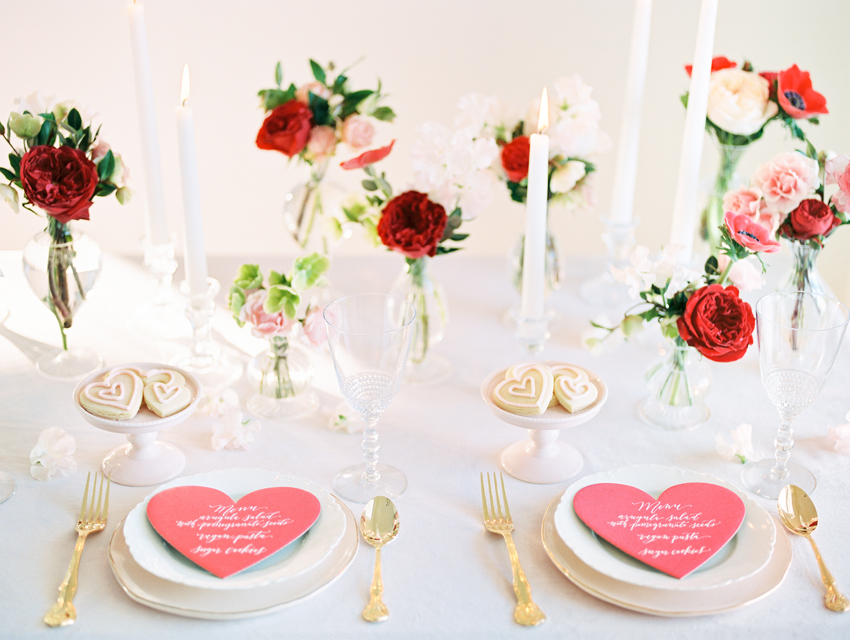 THREE: Serve Mini Desserts to Each Guest and Be Sure to Impress!
This year at your Valentine's Day gathering or dinner, instead of offering one large dessert that requires extra cutting, plating, and serving, consider mini cake stands like these sweet pink ones placed at each guest's placesetting. Homemade and festive bitesized sugar cookies piled on the mini stands not only offer the perfect amount of post dinner sweetness but they add an extra element of design to the table without a lot of extra effort or money. I made my cookies and frosting from scratch but you can skip a step and buy pre-made cookie dough and your frosting from any grocery store.
Here is my favorite, fuss-free cupcake recipe from last year's Valentine's Day!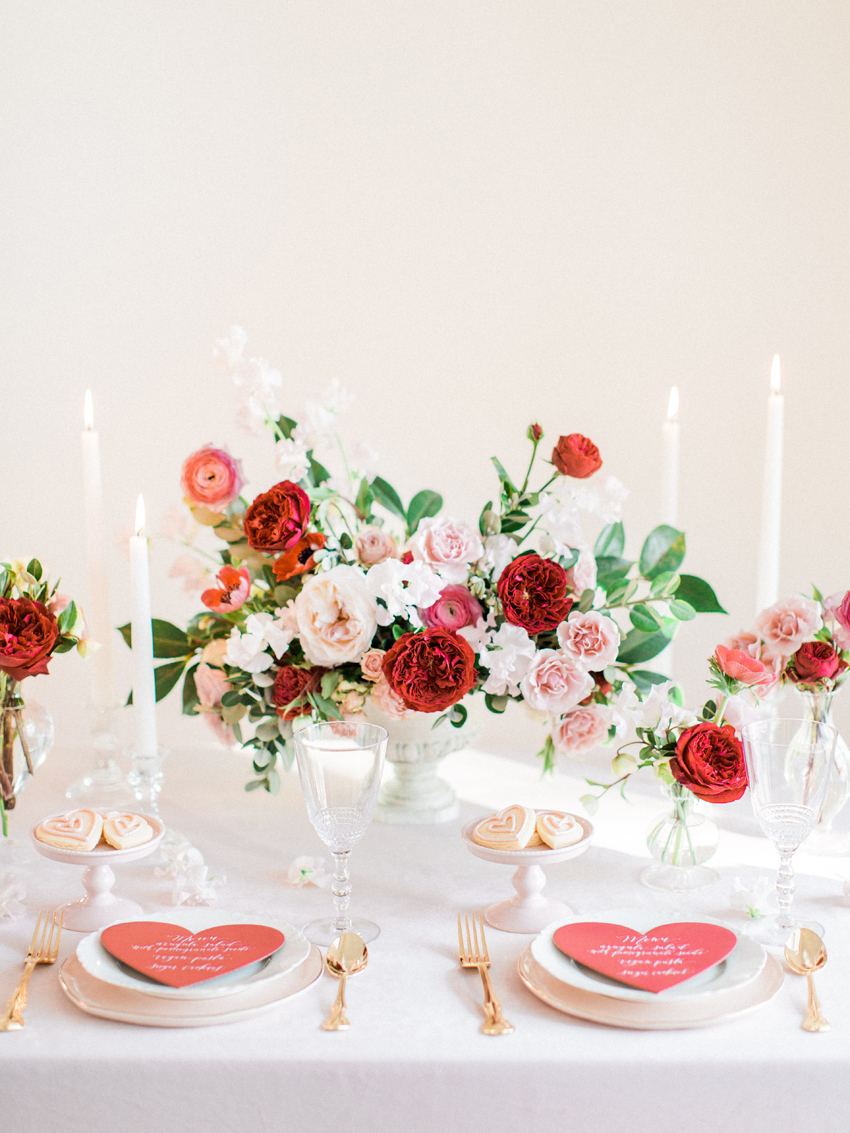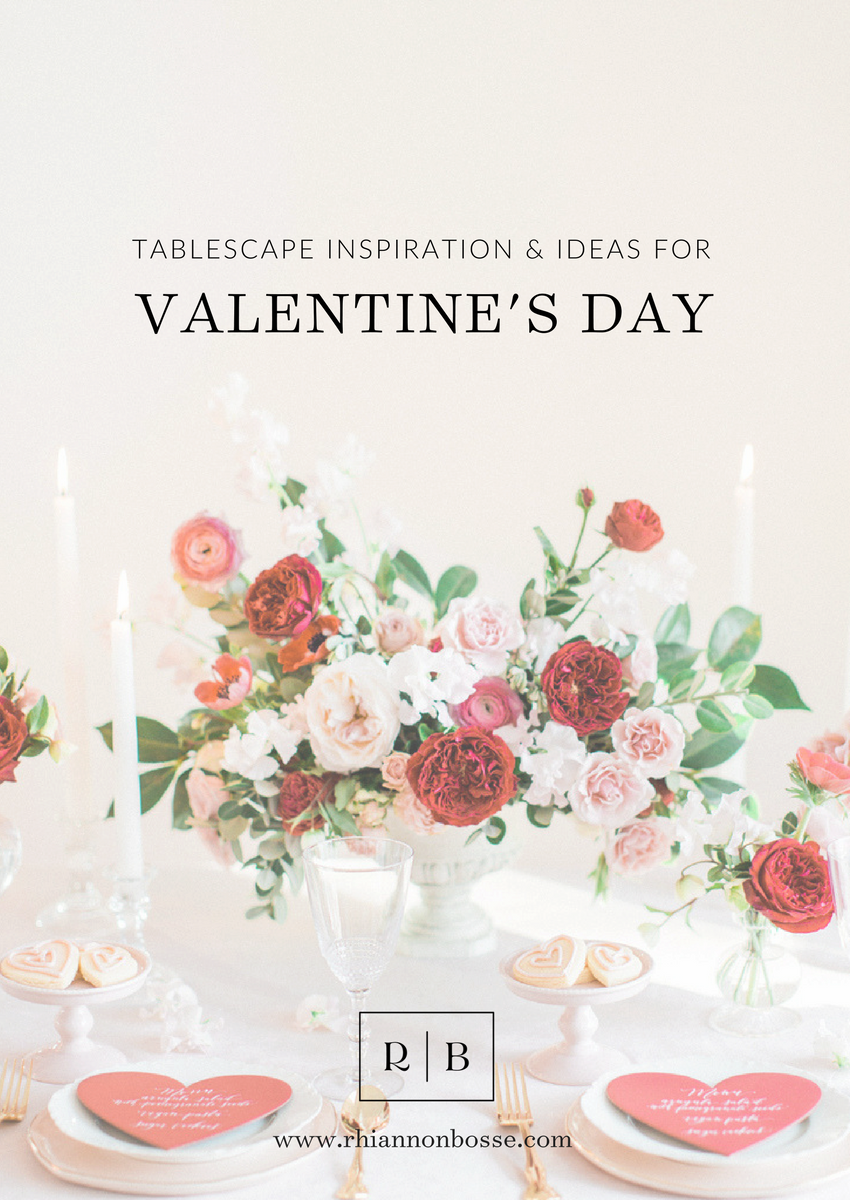 How do you plan to celebrate Valentine's Day this year? I'd love to know below! Xo
. . . . .
Concept, styling, floral, desserts: Rhiannon Bosse Celebrations / Photography: Samantha James Photography / Linen: Special Occasions West / Stationery: Prairie Letter Shop / Pink plates: Hobby Lobby / White plates, gold flatware and glassware: Gigi & LaClede / Mini pink cake stands: Shop Sweet Lulu / White and gold gift box: Sugar Paper LA for Target / White platter: Home Goods