What's one thing you most looked forward to when you moved into your first place?
For me, I remember very clearly what that one thing was. Well, there were actually many things revolving around my new found freedom, but my most welcomed new ability was the chance to have my own dinner parties (or rather to more concretely dream about them). Growing up I loved reading about fancy dinner parties hosted by celebrities or even royalty. I loved the notion of readying your space for guests, preparing a home cooked meal, breaking out the fine china, and having your guests meander around your mansion in their best cocktail attire with martini glasses delicately hanging out of their hands.
Clearly my dinner party visions were VERY specific. And quite unrealistic considering my first place at age 19 didn't even have a dining room table let alone space to house nonexistent martini glasses. Did I mention I don't even like martinis? Ha!
That was almost 13 years ago my very real imagination came up with this vision of what a dinner party should be. And while one day I'll host a fancy type of event where just maybe we serve fancy made drinks, these days our dinner parties are a little more casual and fuss free. We have a toddler, a lot of our friends have kids, and I've learned especially so in the last few years that it's not about the magnitude of the thing you're trying to do but instead the heart behind it. So dinner parties in The Bosse Home are not as fancy as my 19 year old vision but still incredibly heartfelt, made up of delicious food, and centered around conversation and community.
I'd love to build on my love of dinner parties with commentary below, intertwined with some beautiful candid images from my friend Samantha. Sam, her husband Brad, and their daughter Emery are a family we make a point to get together with once a month. We flip flop houses, tag team on menus, and usually end up with a really awesome evening in together. Sam captured our last dinner and it's the perfect way to provide context behind why I believe the fuss free dinner party can be incredibly rewarding.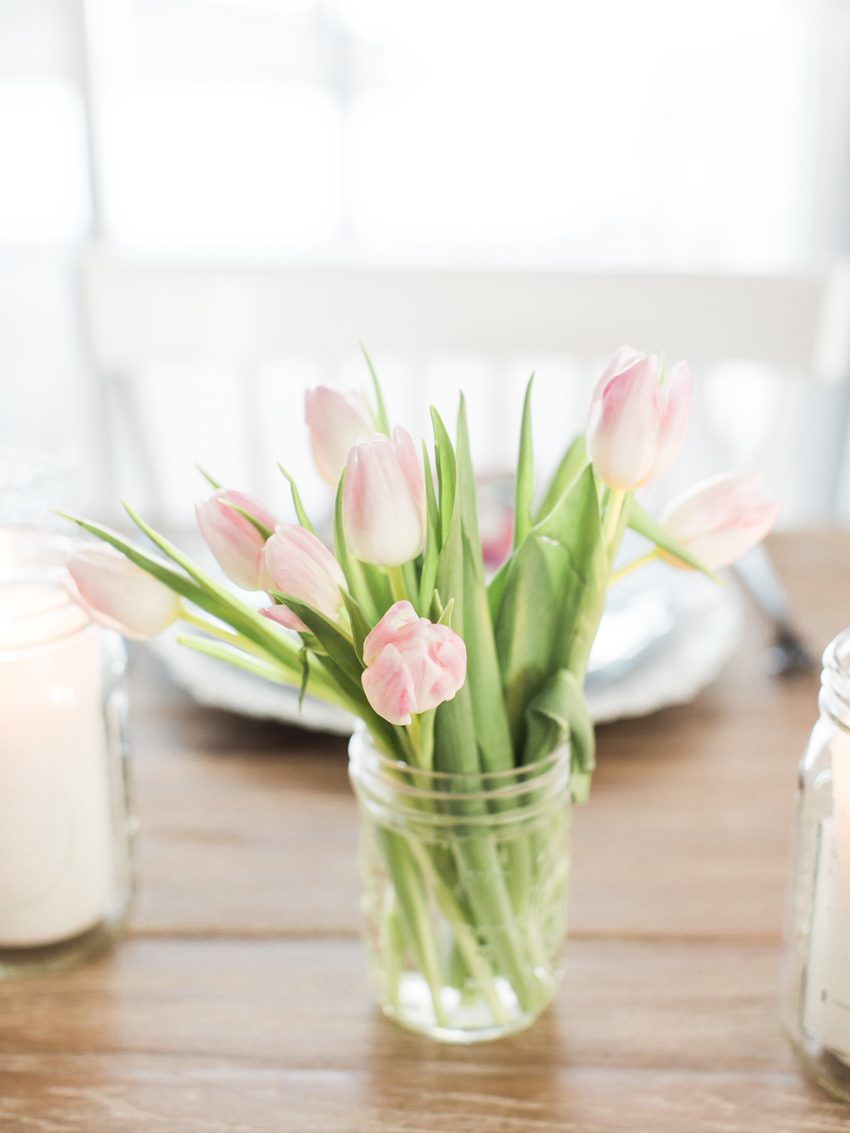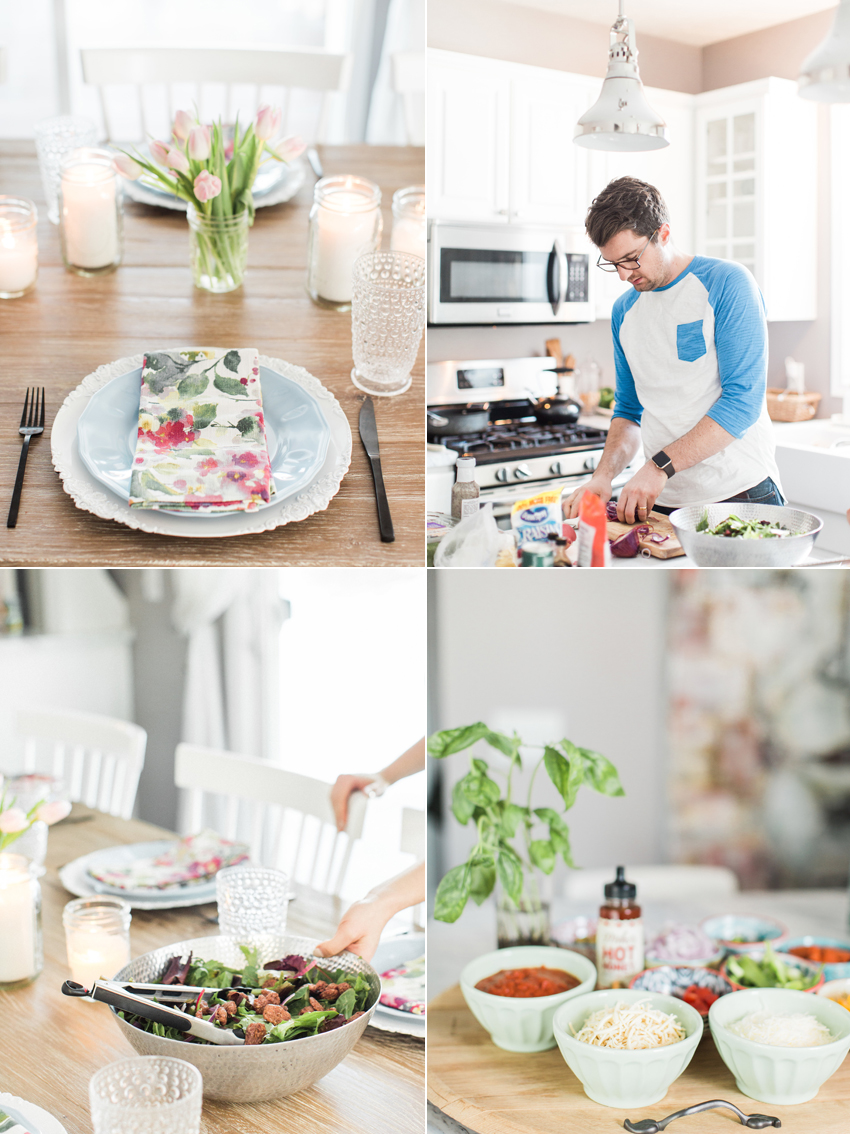 Pick a Fool Proof Menu & One That's Customizable, Too!
Because I eat vegan, Andrew usually eats vegan with me, and we have a toddler who exists purely on bunny crackers and mini pancakes, finding a meal the three of us love can be a challenge. Add in another family with particular eating habits and likes, plus another toddler, and things can get tricky! So for this particular dinner party we went with a build your own pizza bar. We had a variety of crust options (pre-made Trader Joe's pizza dough in white and whole wheat because my go to gluten free crust was sold out), selection of toppings (everything from fresh veggies, vegan cheese, and vegan pepperoni!), and the opportunity for everyone to build their meal the way they like it. Bonus: the kiddos had fun making their pizzas and while they baked in rotations we were able to enjoy our salad course!
I try to avoid a dinner party menu that's going to leave me stressed out as the host, require me to purchase something crazy that I'll never use again, or worse, involves a dish that I have never tried or made before. Dependability and cost are always important to us, as is taste and ensuring guests will be happy. Which is why I also encourage you to connect with your guests ahead of time about the menu. This way you can really ensure everyone will be well fed and happy!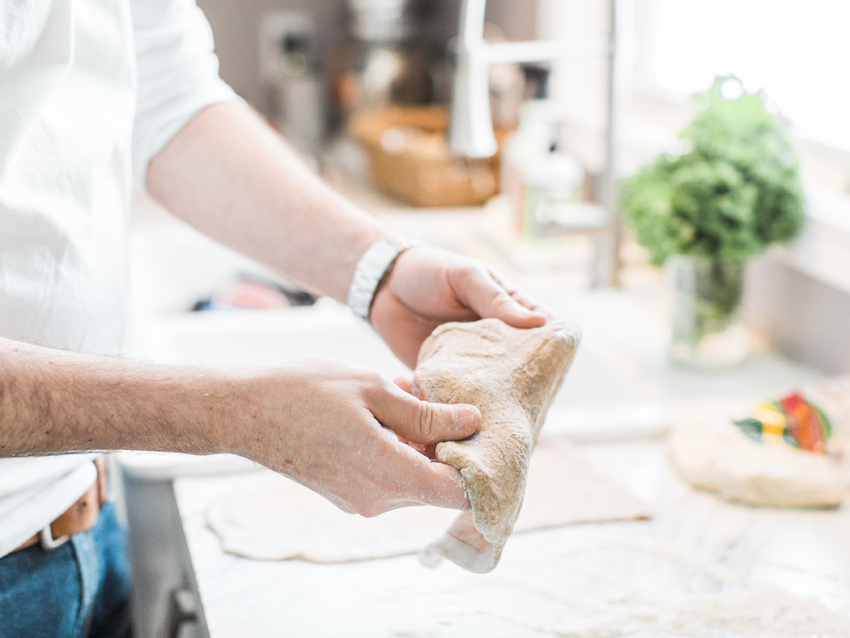 If you ever want to see a child's true creativity come out let them pick out their own pizza toppings!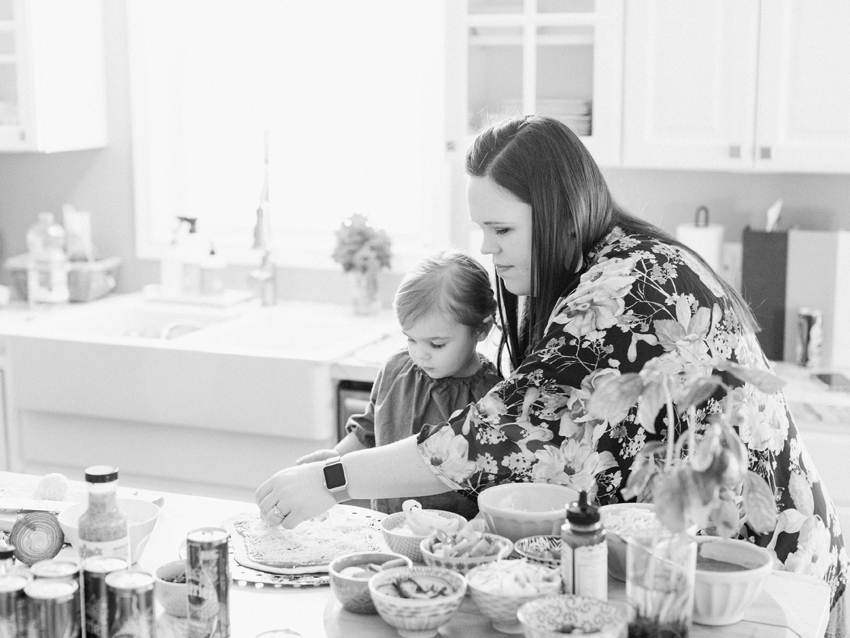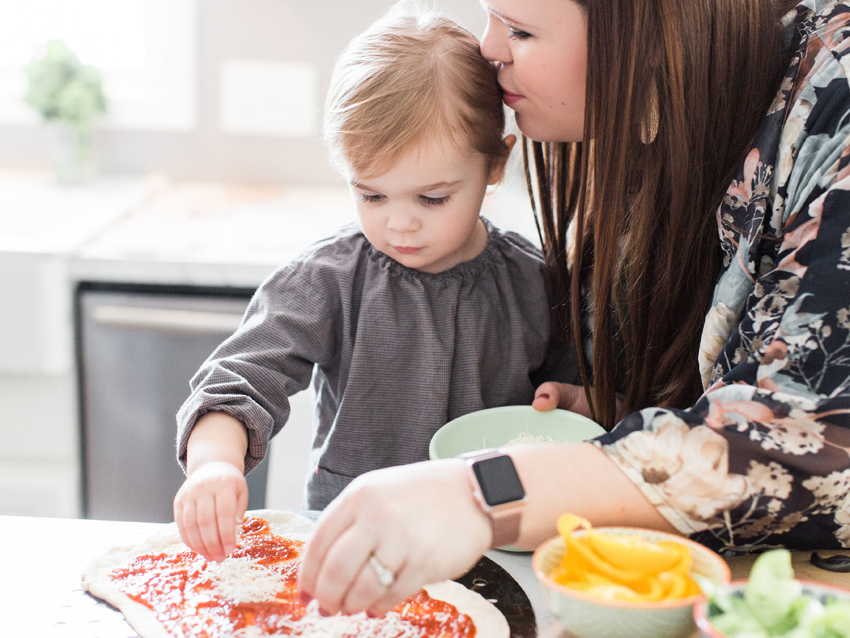 And please note the amount of cheese in my child's hand here! Ha. It was a mountain of cheese on his side of the pizza.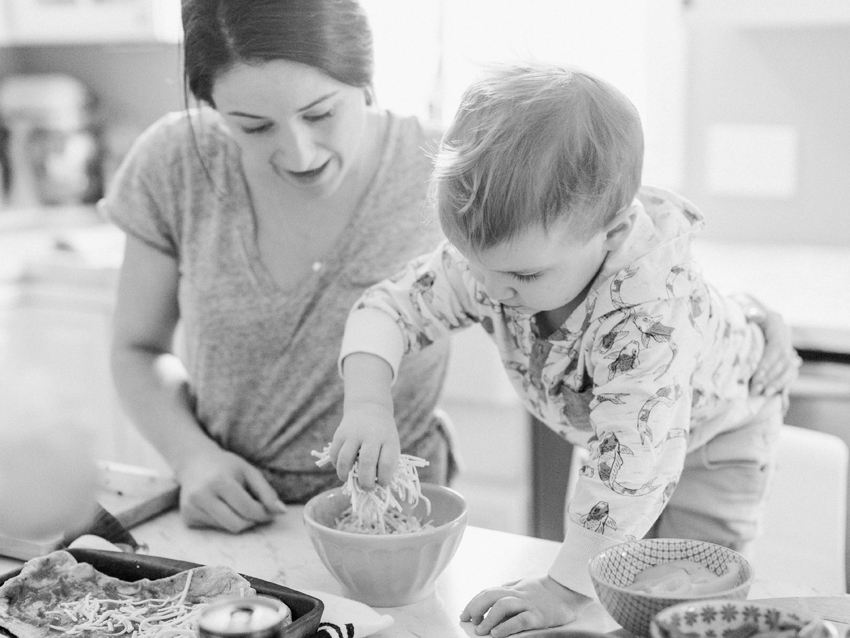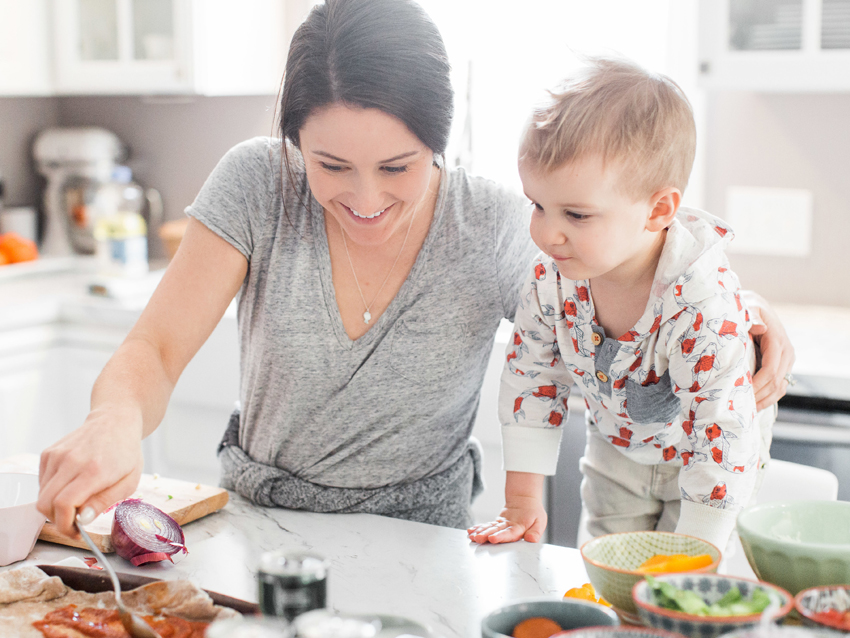 Some of our favorite pizza toppings include:
• green and yellow pepper slices
• sliced raw and pickled jalapeños
• pickled banana peppers
• pepperoni and sausage (we used vegan)
• a variety of cheeses (and fresh grated parm!)
• diced cherry tomatoes
• fresh tomato sauce
• red onion slices
• green olives (my fave!)
• fresh basil
• chile infused honey (the best final touch!)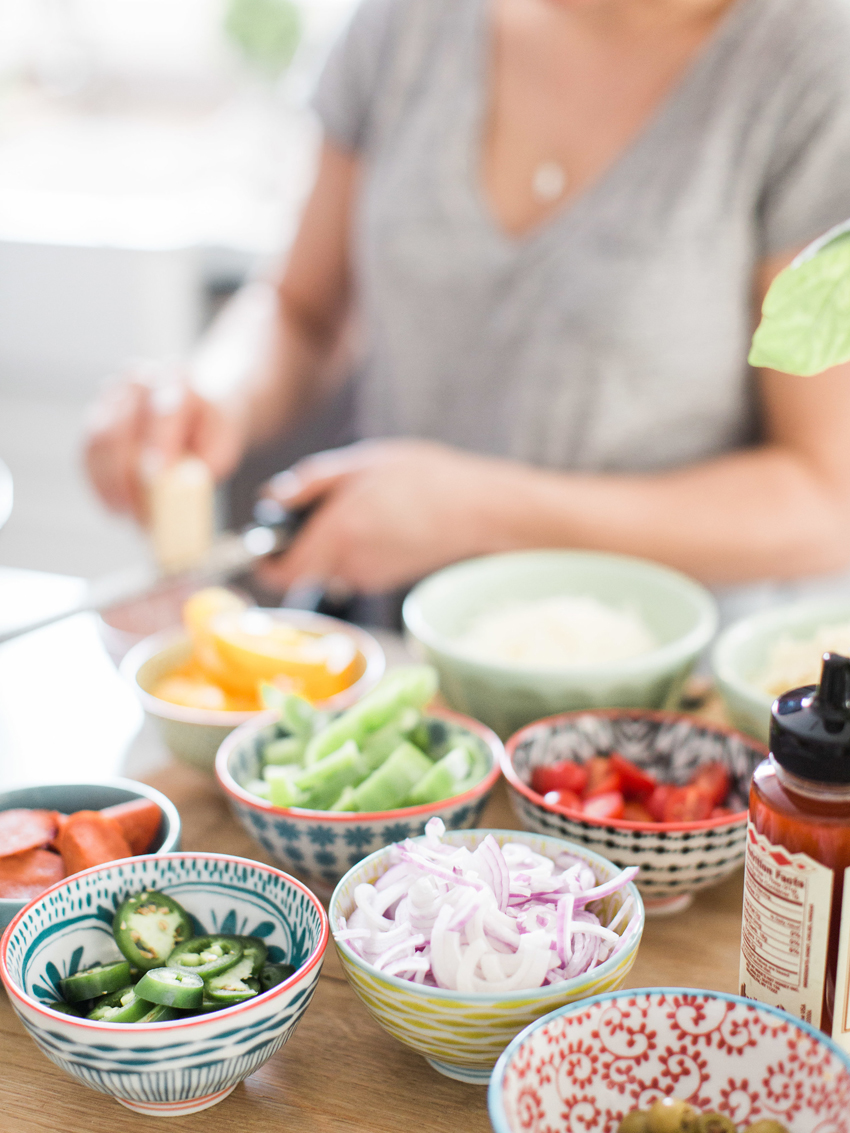 If Someone Offers to Help, Let Them!
This was a lesson I learned when I was a new mama in the throes of newborn exhaustion/bliss/newness. When someone offers to help they mean it and the best thing you can do is let them. To make this easier on you as a hostess consider a small list of tasks that you would feel comfortable delegating to your guests. It can be things like putting out plates, dicing lettuce, filling glasses with ice, or even manning the grill, but be prepared so when they ask you can gratefully reply with direction! You can even set aside a few small tasks for your littlest guests if you want to keep them busy or involved.
This same lesson applies to the question, 'What can we bring?' In some cases the best answer is, 'Nothing!' if you're, say, hosting a friend for their birthday or cooking for a family passing on through town during a multiday road trip. But for anyone else that presents such a question, again don't be shy! A salad or dessert is an easy thing to throw together and bring. So is a couple of board games you might not have, or a bottle of sparkling cider or wine. What I love about people contributing to the dinner part is it feels more like a group effort, lightens the load for the host, and usually introduces everyone to something new they can then cook and serve in their own home.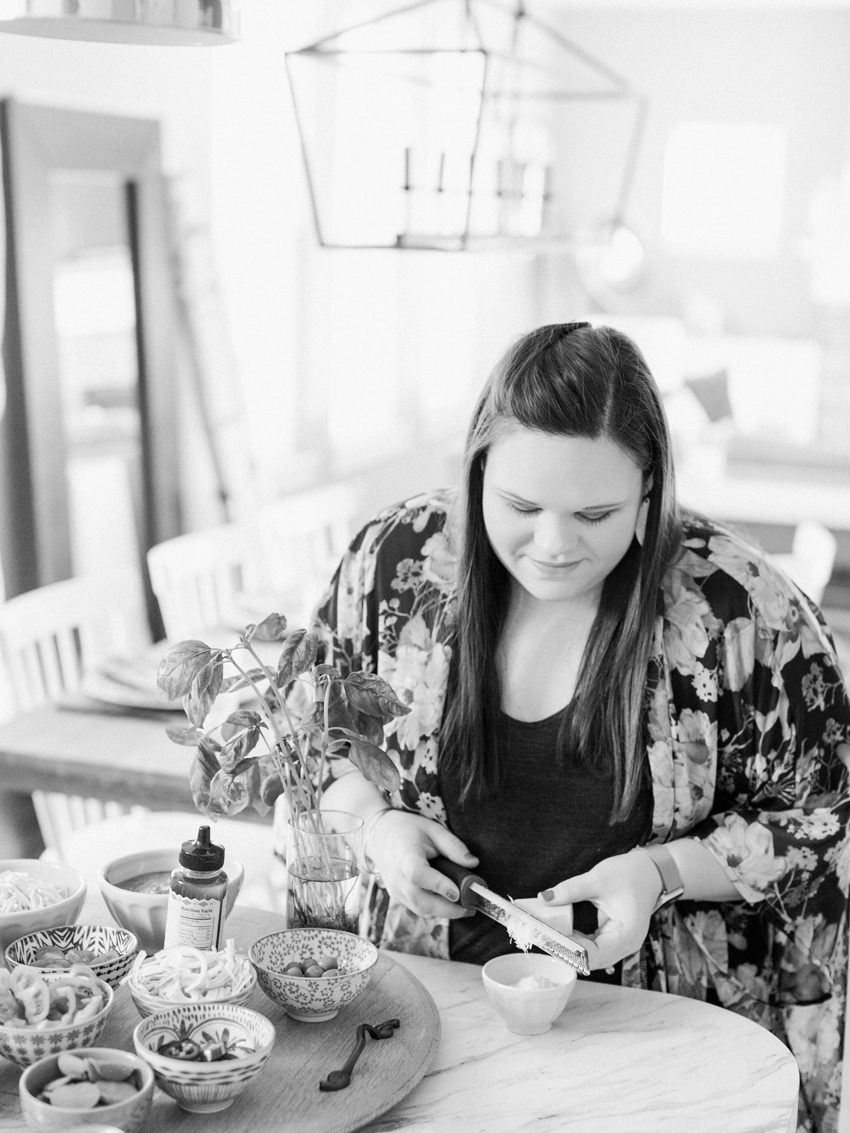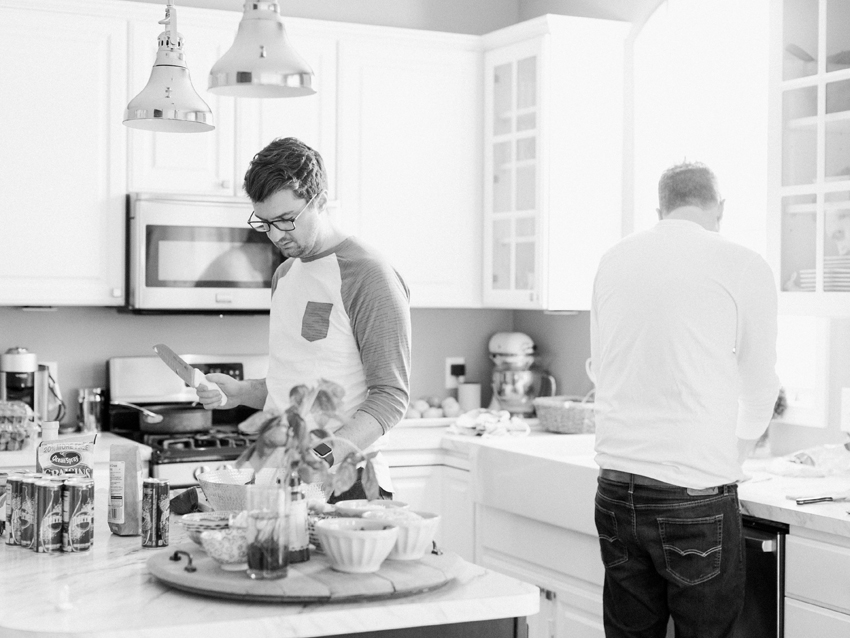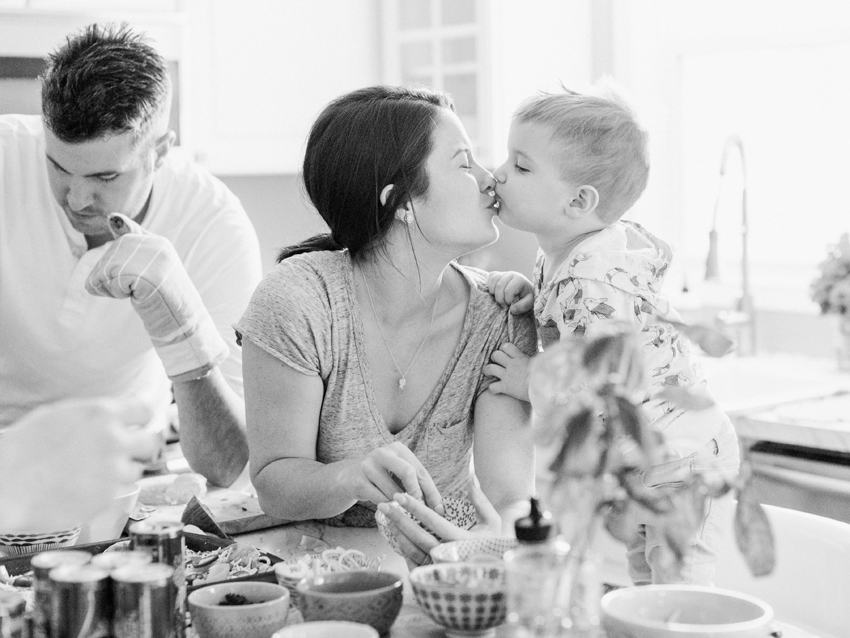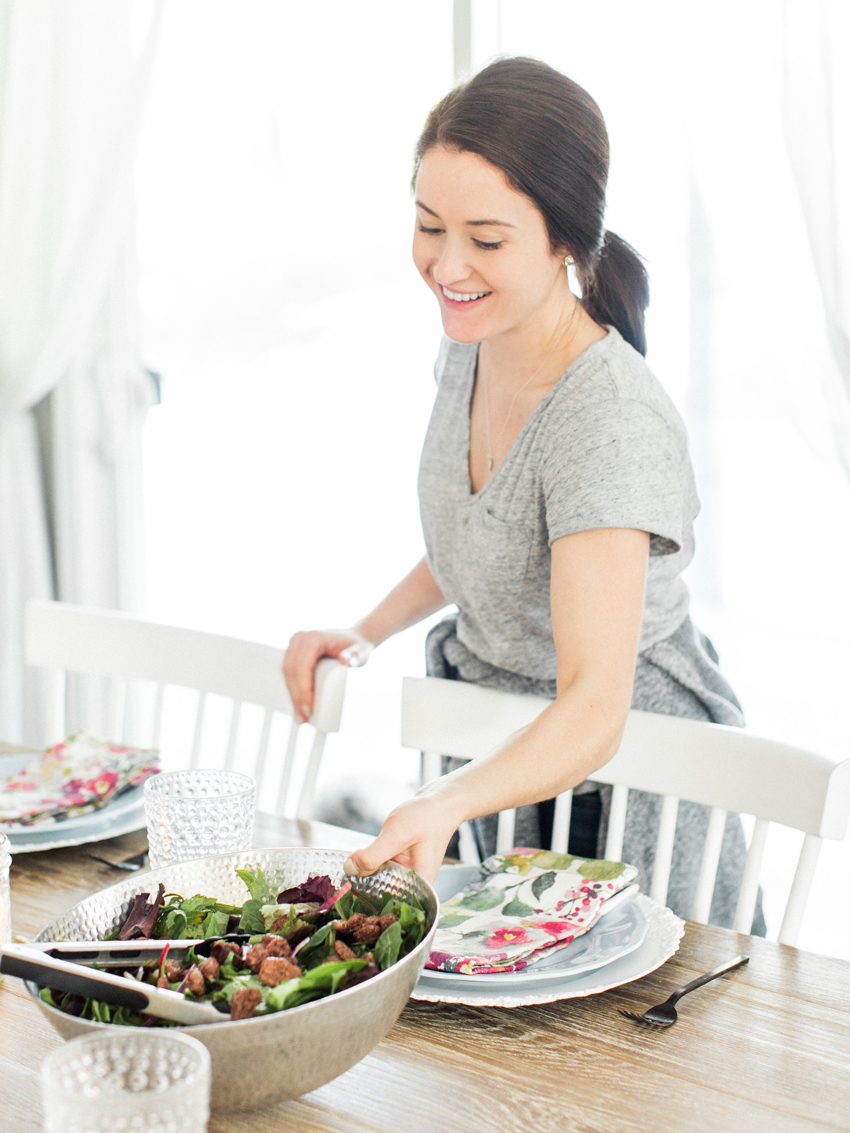 Instead of An Evening to Eat, Consider Your Party An Evening of Community
One unintentional pattern we have found in our dinners with the Vandersons is we cook our dinners together so that the time we spend prepping our food is also time we get to converse and catch up with one another. Because we both have very busy and curious toddlers (both in a stage of claiming everything to be theirs with constant, 'MINE! MINE! MINE!'s) the cooking together part means that any of us can be prepping and cooking at one time where as the other(s) are handling kiddo issues but hey, this makes it all the more fun! It also means when they arrive to our home or us to theirs, there may be a small appetizer out, toys to play with for the kids, drinks to start on, and food to chop, dice, and cook.
Try to view dinner parties as a way to have an experience with loved ones versus a chance to get people through your door and into your dining room chair as quickly as possible. That's the beauty of keeping things fuss free; there's so much more to consider than just the food being cooked and presented to your guests.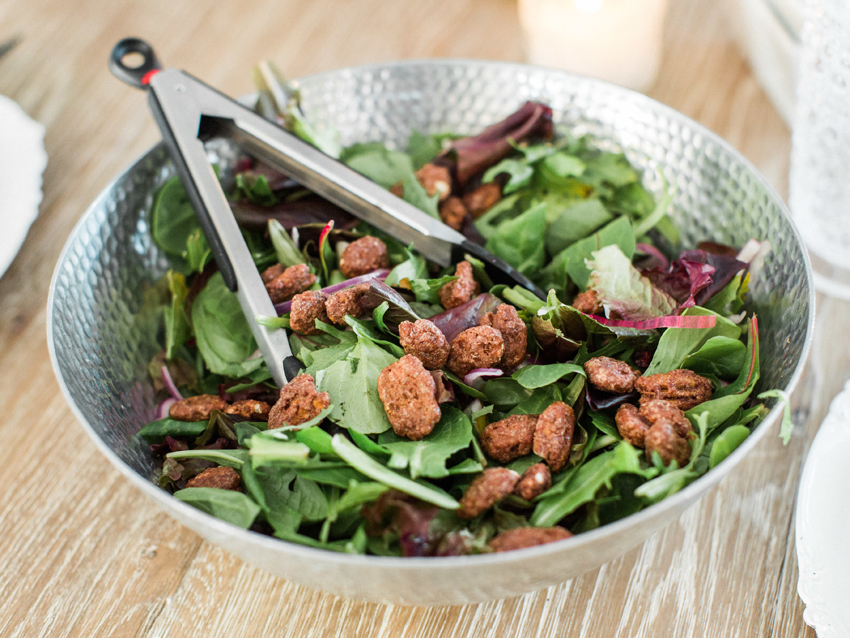 Your Guests Will Not Judge You for Simple Short Cuts
Let me tell you a secret. My job as a wedding planner can be equal parts thrilling and exhausting! If I were to emulate the things I did for my clients at home with my family, I'm afraid there would be little left of myself at the end of the day. While the weddings I help execute are intentional and beautiful, they are appropriate for many reasons respective to the milestones they are. And fuss free dinner parties in my personal home are simply different and require different pieces to come together for my desired outcome.
That means I have given myself permission to take a few shortcuts that no one will notice or mind, that in turn give me the ability to enjoy myself and my company. A few years ago we invested in cheap outdoor plates and cups from Home Goods and we have loved using them indoors for dinner parties (especially when it comes to little fingers handling everything). The plastic washes easy in the dishwasher, doesn't break, and if something were to happen to a piece, it's easily replaceable. Sometimes dessert comes from a box, sometimes dough is pre-made, sometimes the salsa is from a jar, and sometimes we drink water out of a bottle versus a cup because that's just easier! And most fuss free dinner nights the floors have not been mopped and the flowers are a $3.99 bunch of tulips thrown in a mason jar but no one notices those things. They are simple smaller details in a big picture.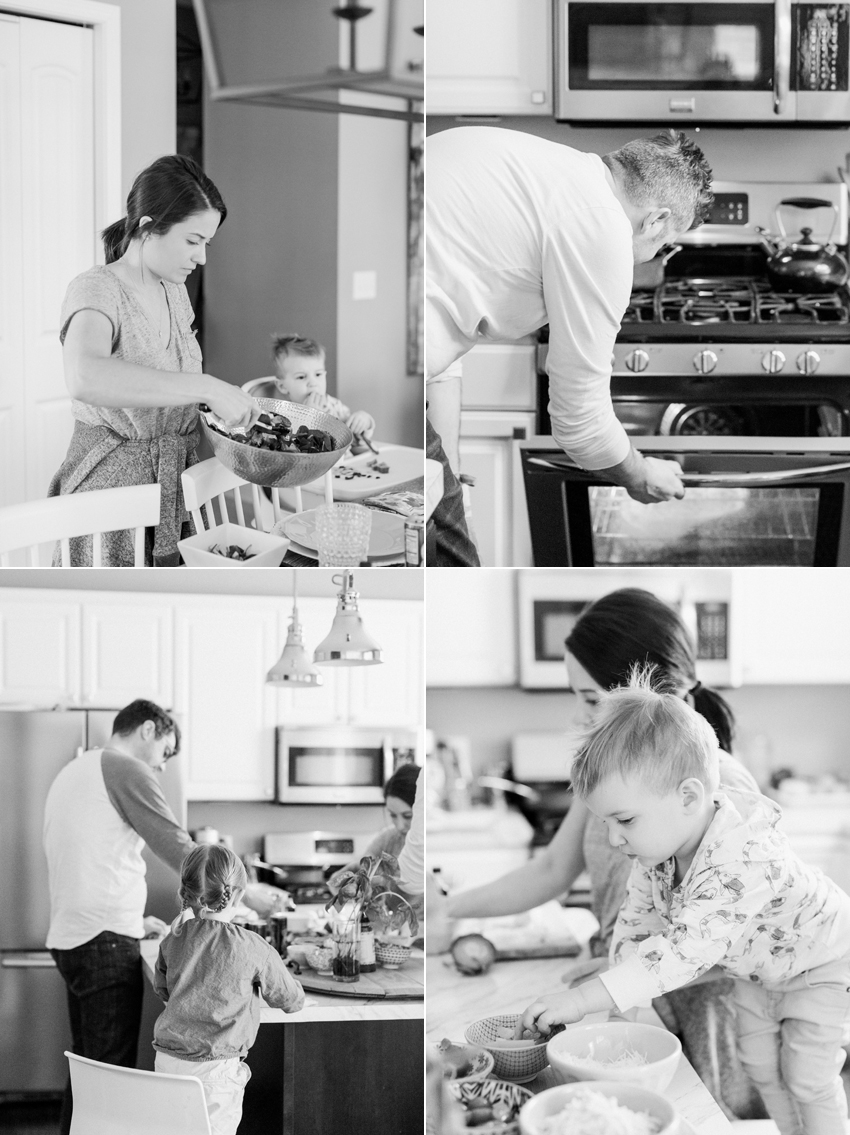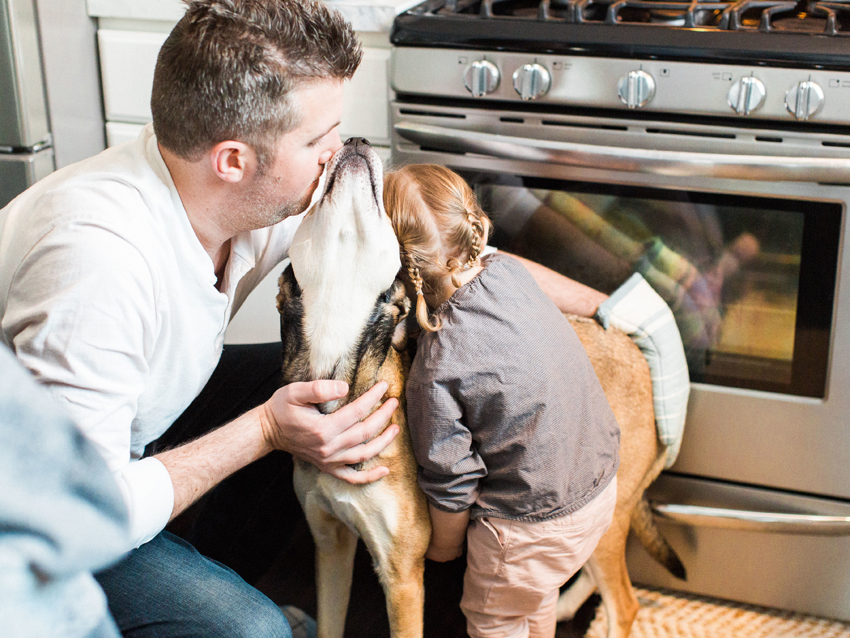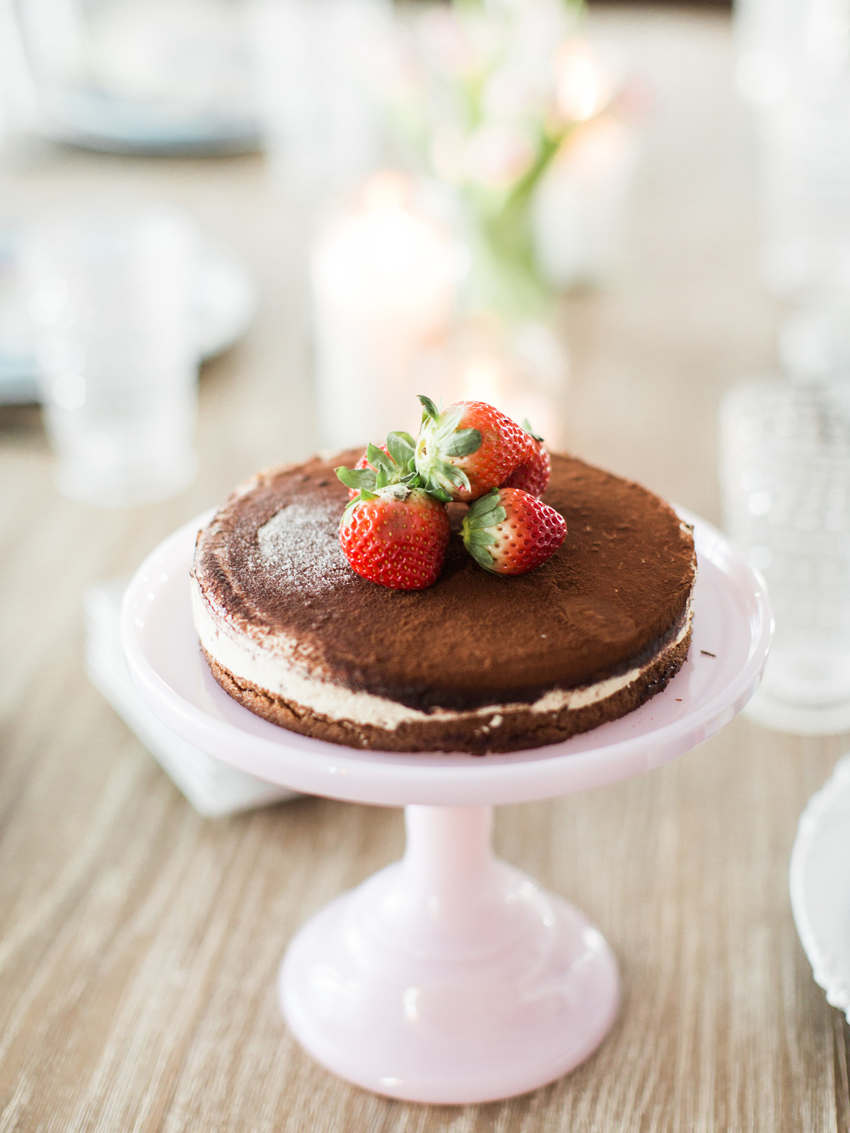 And sometimes the kiddos don't even notice the fancy Nuage Designs napkins you set out!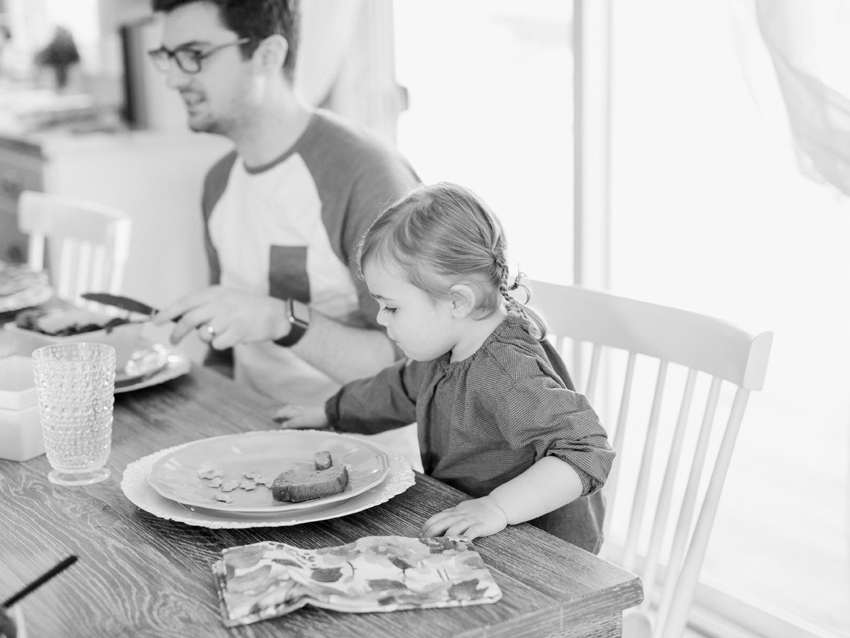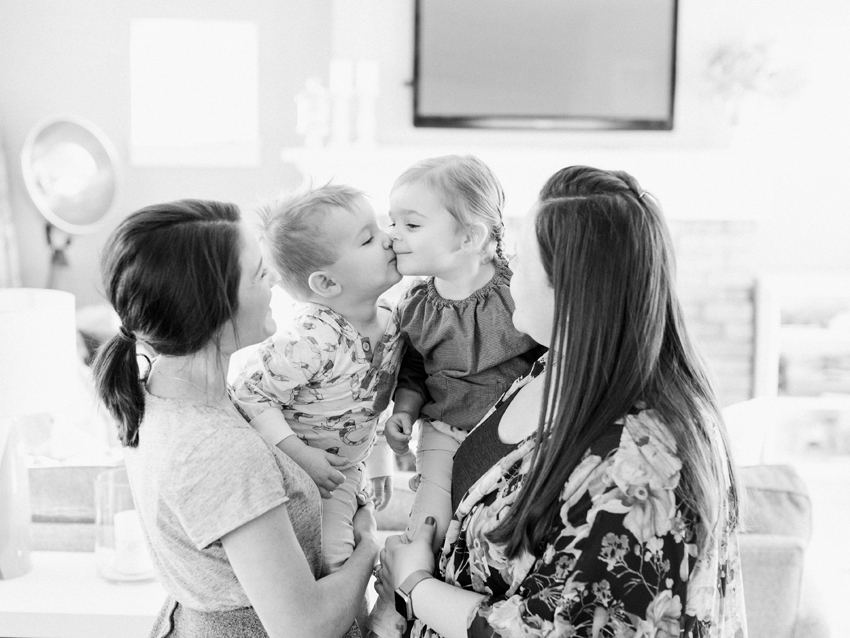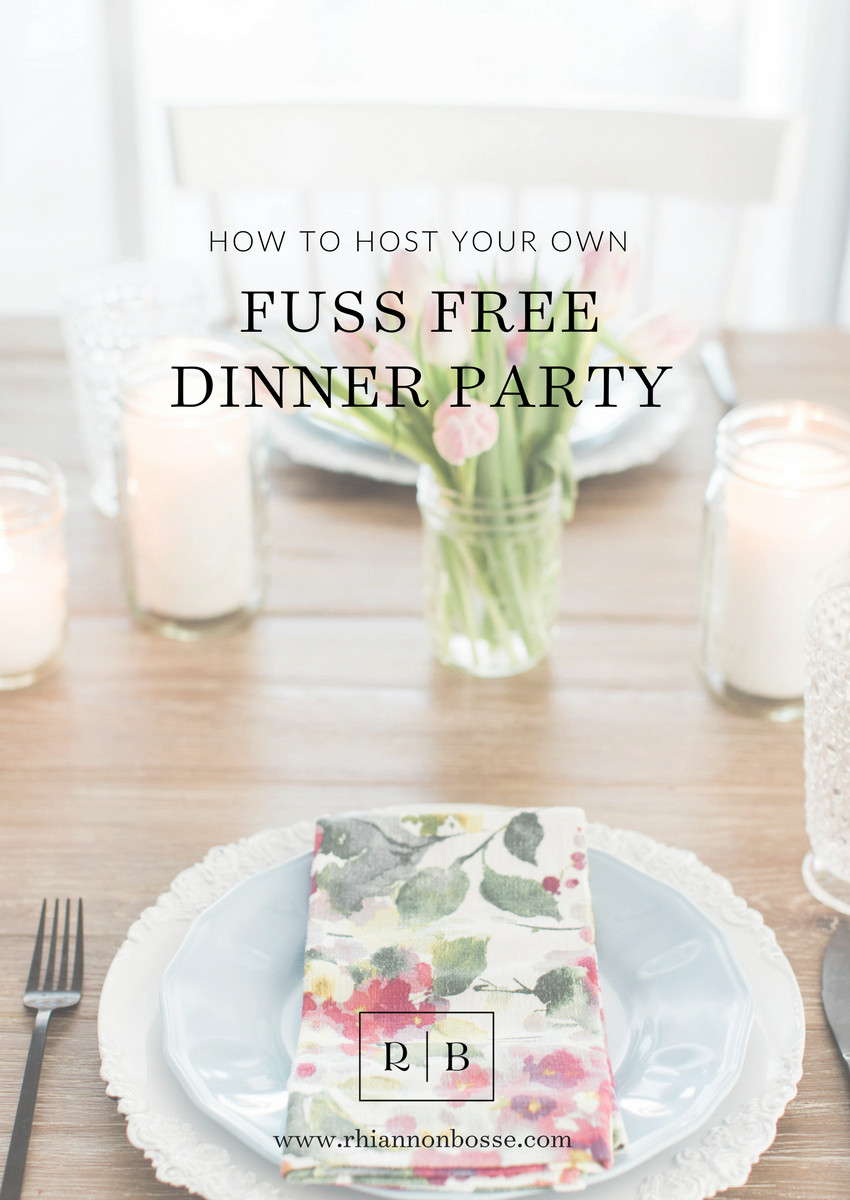 Are you a fan of the fuss free dinner party? I'd love to hear some of your tips and tricks below! Xo