Home sweet home!
Six years ago last week we officially moved into our home. About a year after we got married (and after spending 2.5 years living in two different countries!) we spent three months overseeing an exciting home building process which started in the summer and ended just before Christmas of 2011. What a sweet holiday gift to move into your very first brand new home just days before Christmas Eve. And to think last month we almost moved!
The funny thing is in my mind I thought within two to three months of moving in that winter I'd have the whole place decorated and ready to go for an official tour. But now 'present Rhi' laughs at '25 and a half year old Rhi' because like all great things, cultivating a home (one that's lifegiving, approachable, functional, and of course beautiful) takes time, careful thought, and yes, even money. But I do want to point out it doesn't take a lot and our home is proof. Money can't buy you all of the things that matter (or so I've learned this year).
Our home isn't really that fancy despite what you may gather from photos. And if you've ever been in our home you'd probably agree that sure there's lovely things here but for the most part our space is so well-lived in. I also want to note we've done so much shopping at places like Target, Overstock, and Home Goods because we value financial responsibility, and while, yes, we love beautiful things there is so much more to this blessed life.
So here we are! In no particular order: we've added a sweet little toddler to our family since the day we moved in. And an adorable rescue pup named Zoe. We've finished our basement which is now my home studio for a business that has grown intentionally and with such heart. Our guest room is ready for our next guest. Our yard is finished and the landscaping mostly complete (one more peony bush can't hurt). We've invested in furniture pieces we love and use. We've hung art and photos on the wall. We've made messes and most days only half heartedly pick them up. I say a home is never really ever complete but for now I truly enjoy the present state of ours.
Enjoy this little peek into the parts of our home we decorate and love most around Christmas!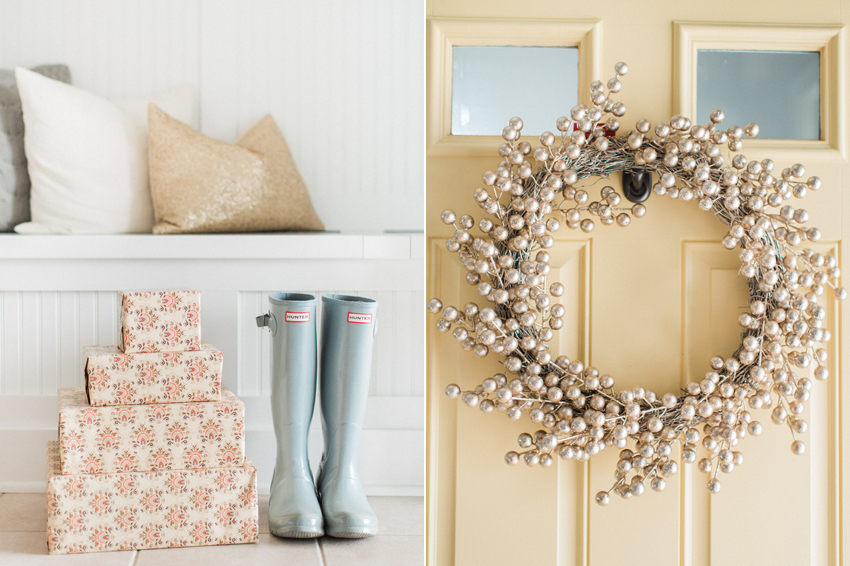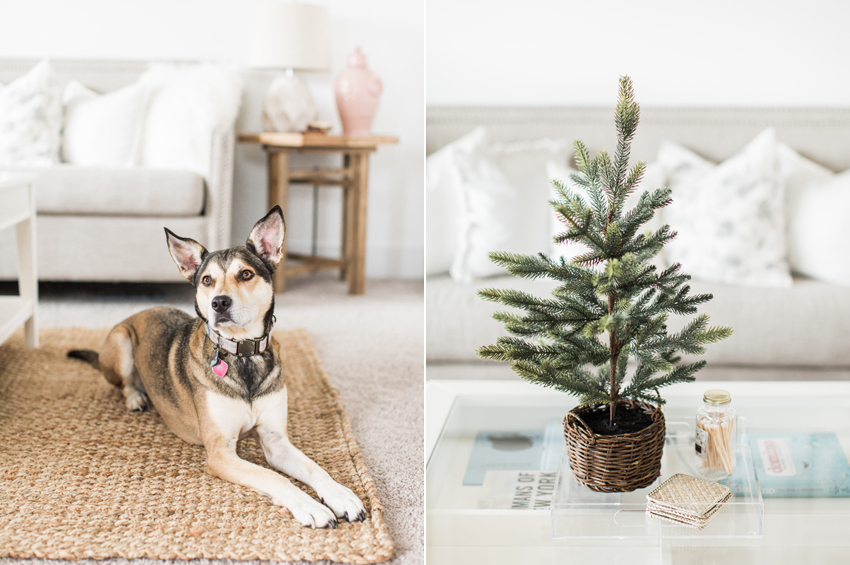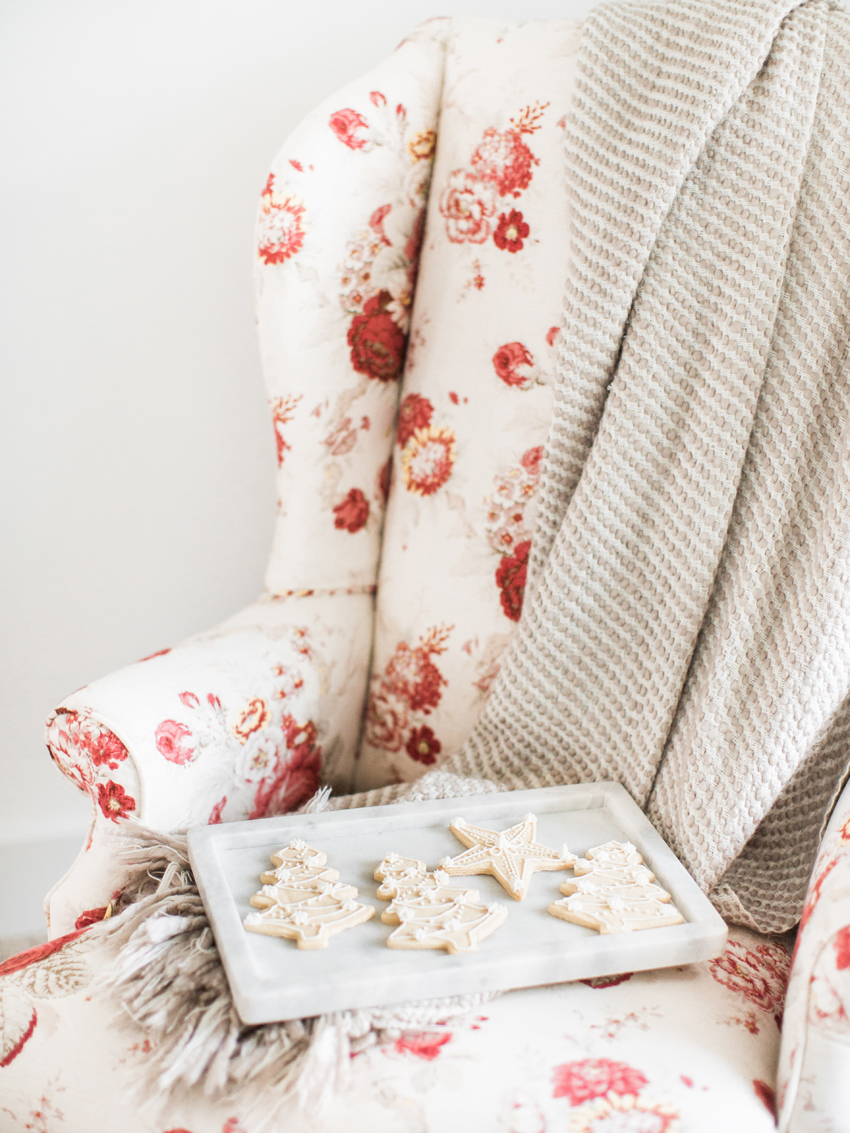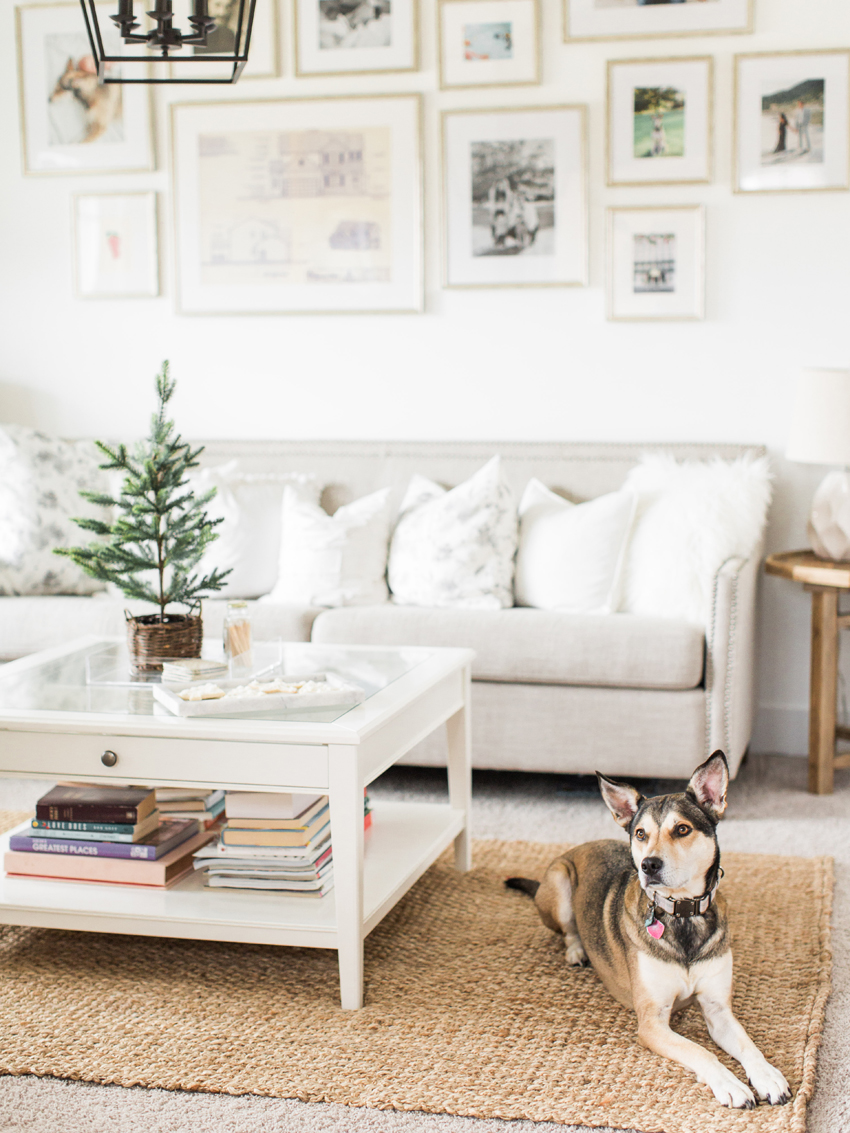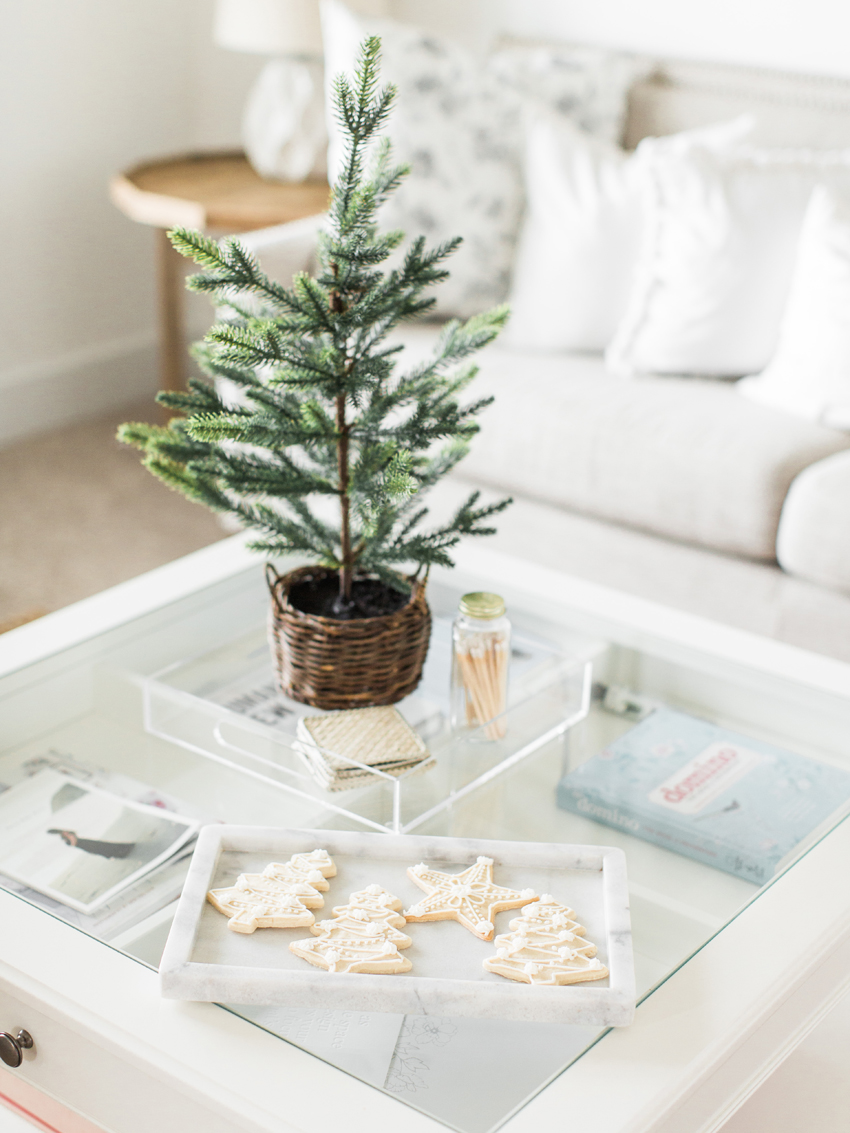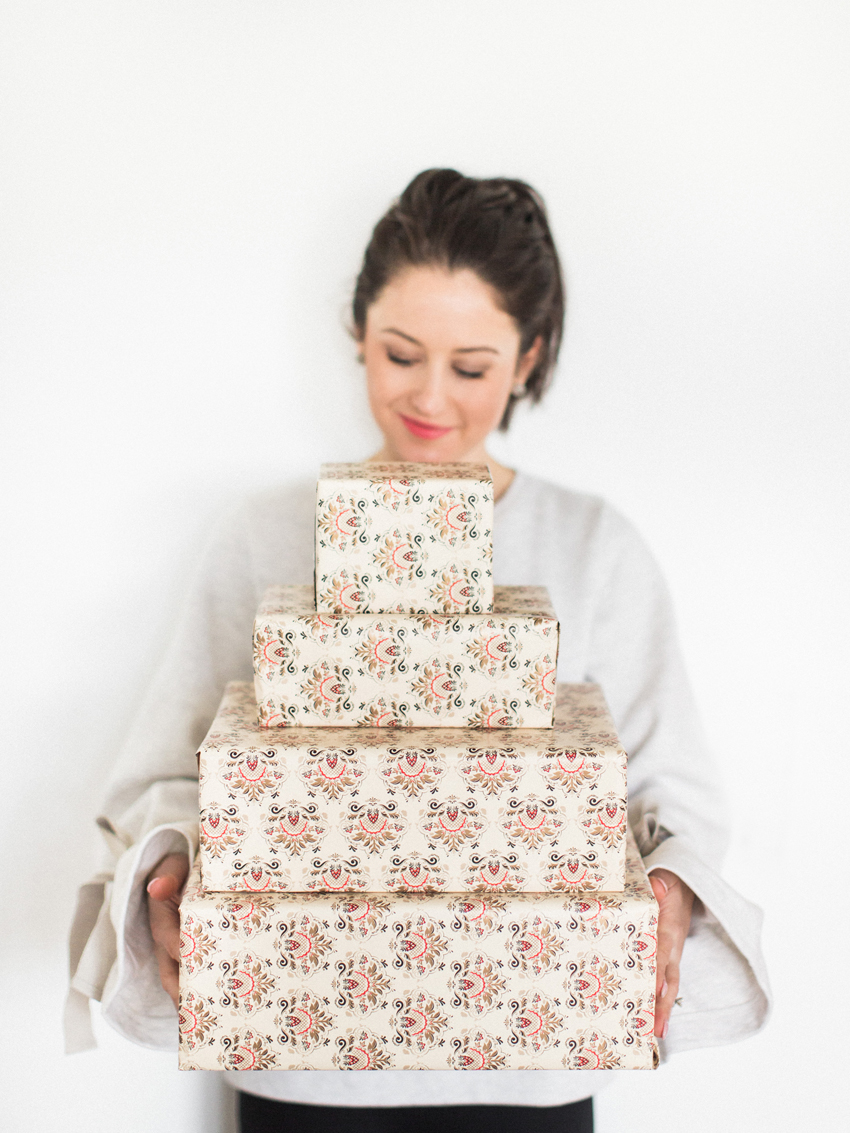 I get asked a lot about this coffee table of ours and I have bittersweet news for you all. It's actually a dining room table my dad bought my mom years ago for $800.00 at an antique auction. I remember coming home from gymnastics practice as a young girl (I trained 4:00 pm to 9:00 pm most nights) and eating my dinner at that table well after my family had eaten theirs. Eventually my mom moved onto a new table so my grandpa cut down the dining room table legs and made the dining height table become coffee table height.
I was lucky enough to inherit the table my final year of college and it's travelled with me every since from college to Chicago, from Chicago to our first apartment, and then finally here to our home. We've had so many dinners on this table! So many spills, boardgames, food spreads, toddler feet, puppy treats, and the list goes on. It's one of my most treasured decor pieces and such a great conversation starter when new guests come into our home!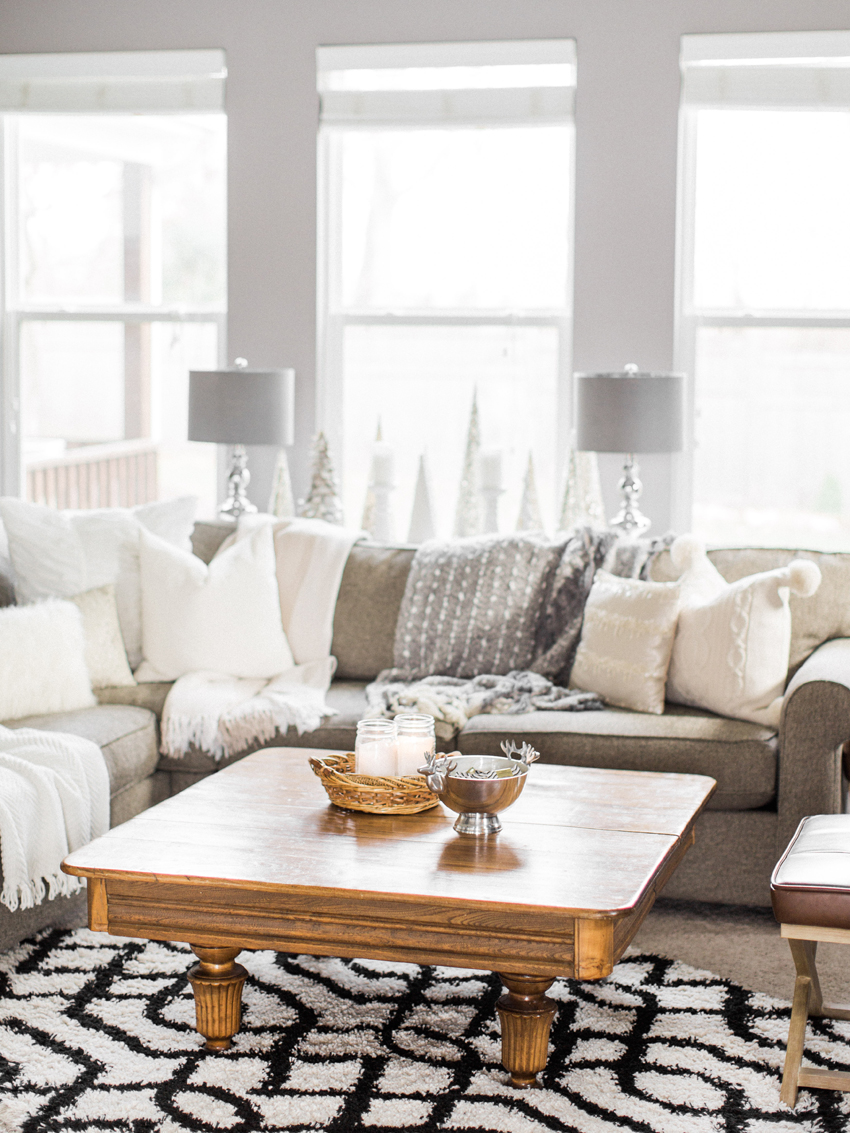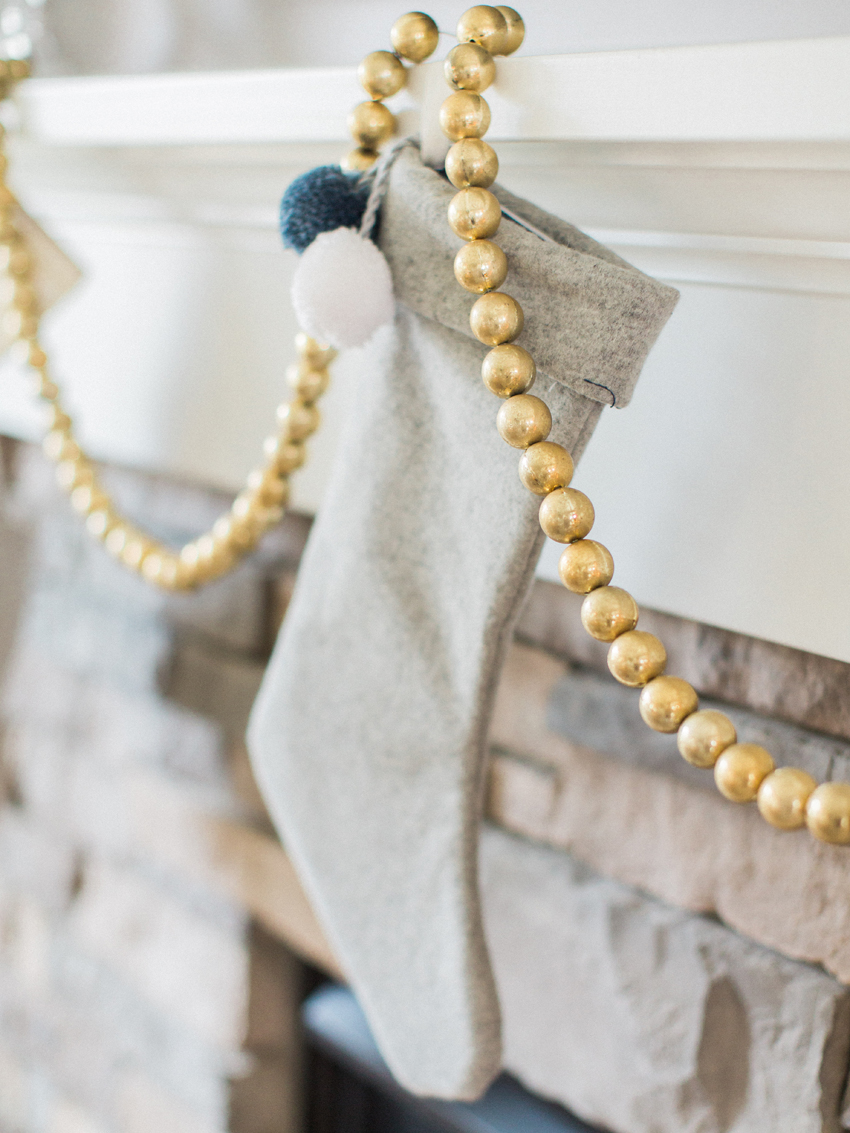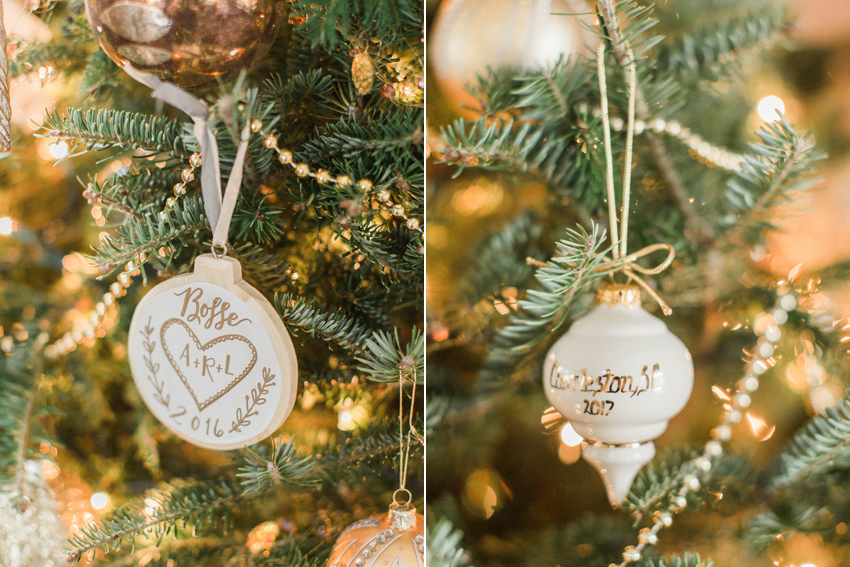 Another fun tradition we have in our home is our day after Thanksgiving festivities! They include going to a local tree farm to find our favorite tree, grabbing burgers and fries afterwards (this year it was a veggie burger and a side of sweet potato fries), coming home and listening to Christmas music while we decorate, sip egg nog (Silk for me), and make cherished memories. Our tradition includes lifting up Lachlan to put the angel on top of the tree and it's my favorite part of the entire day!
We have a faux tree that like most of the ornaments we own, was also a hand me down from my mother. We were going to put it in our bedroom this year since the nostalgia of the real one can be beat, but my mother in law was feeling a little sad about the holidays this year without grandma around. So we decided to surprise her and showed up on her doorstep with ornaments, pizza, all of the grandkids, and of course the faux tree. We decorated it together and I think that may just become a new tradition for future holidays.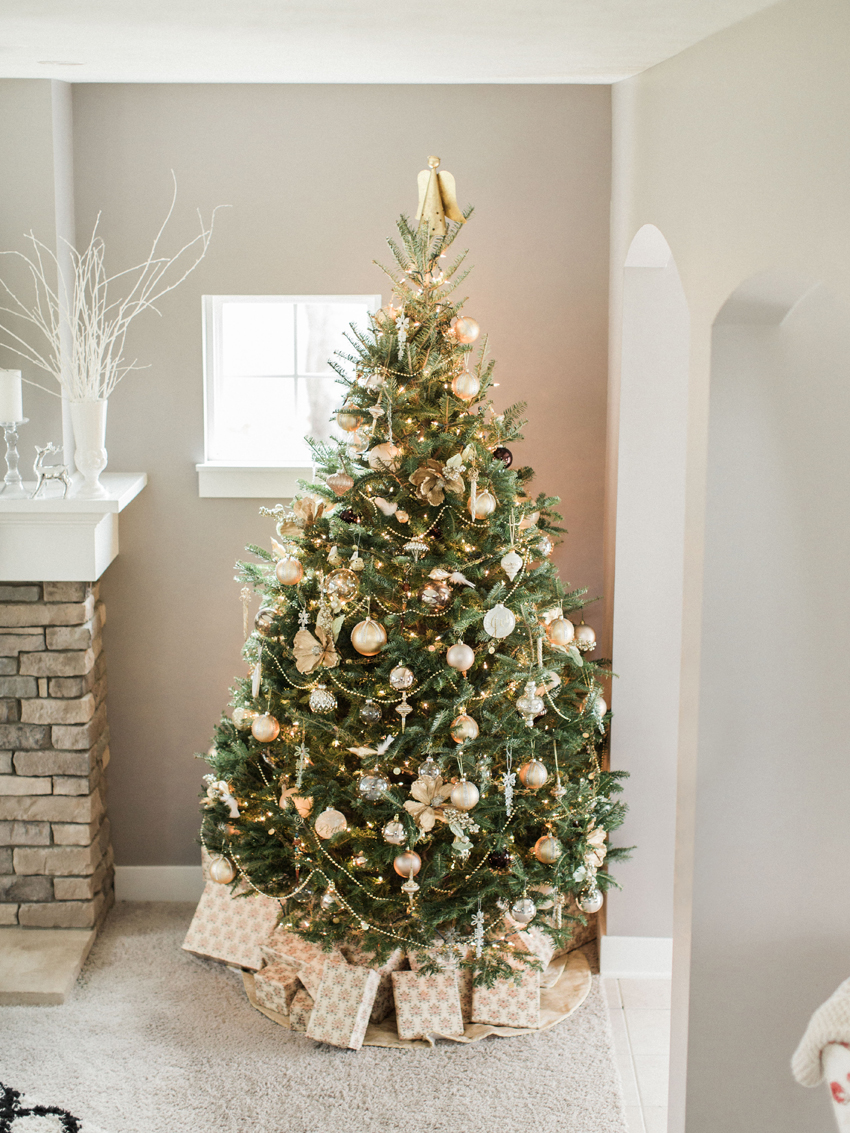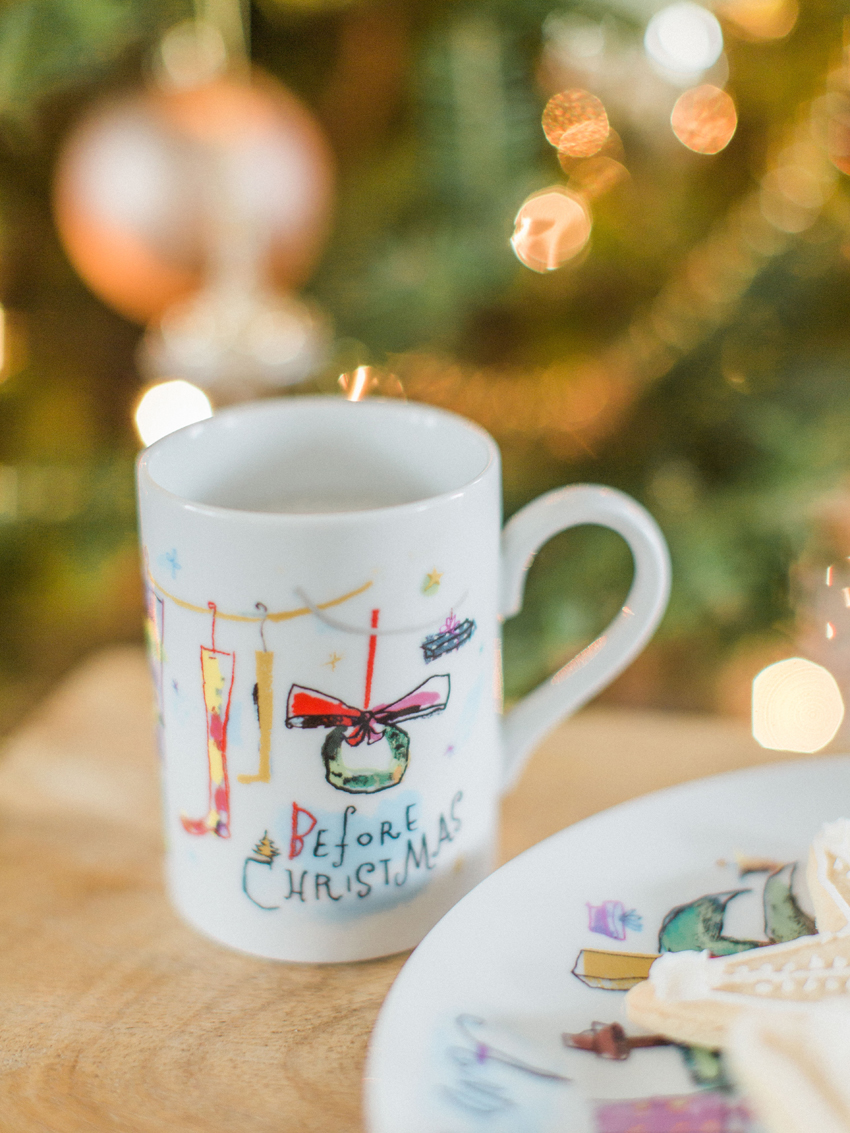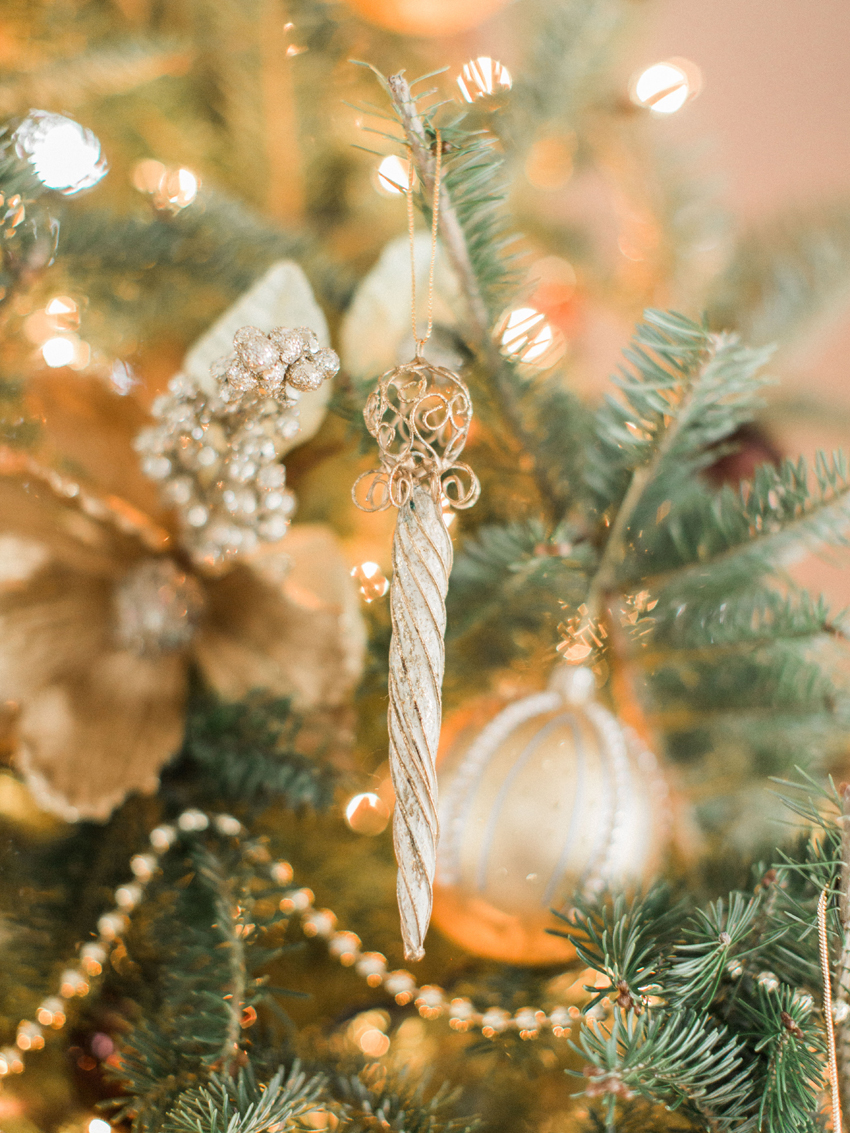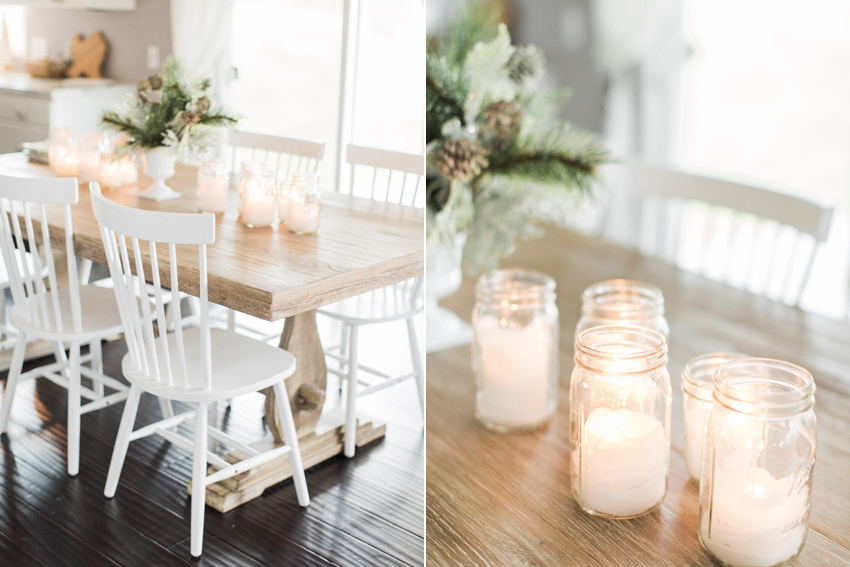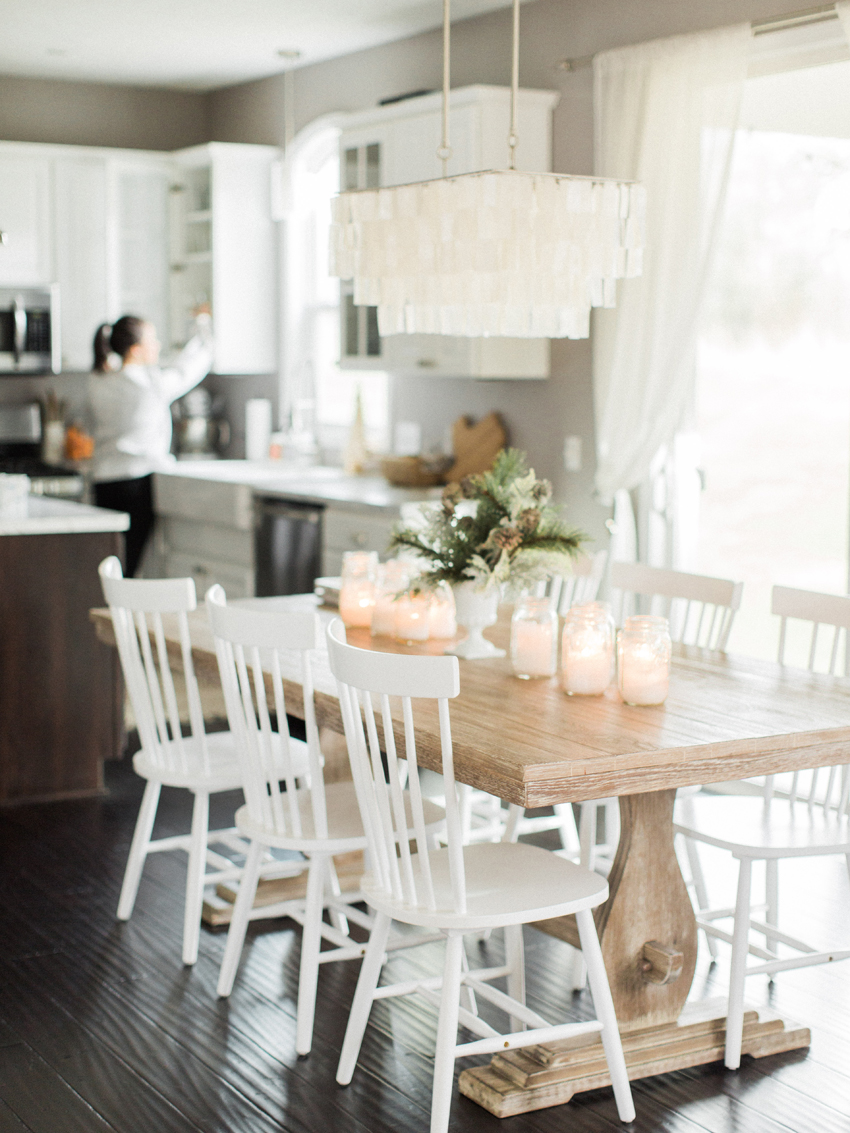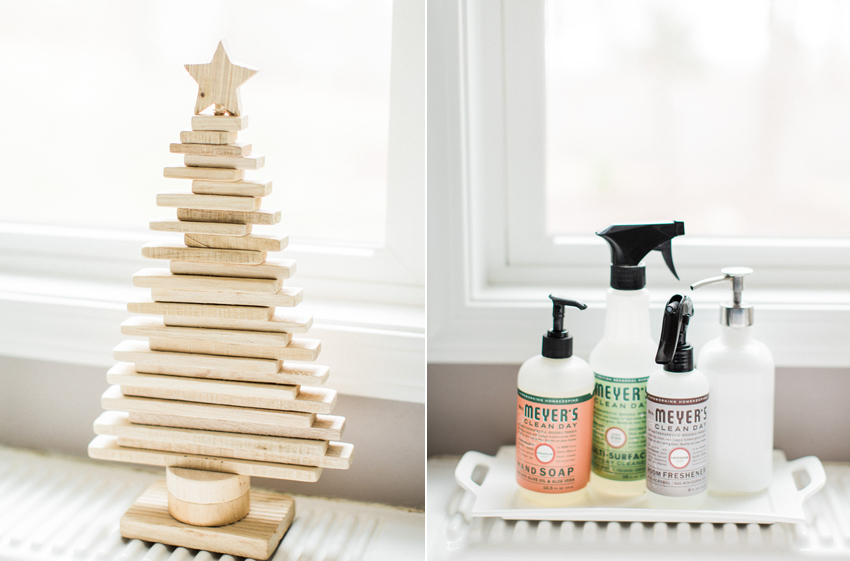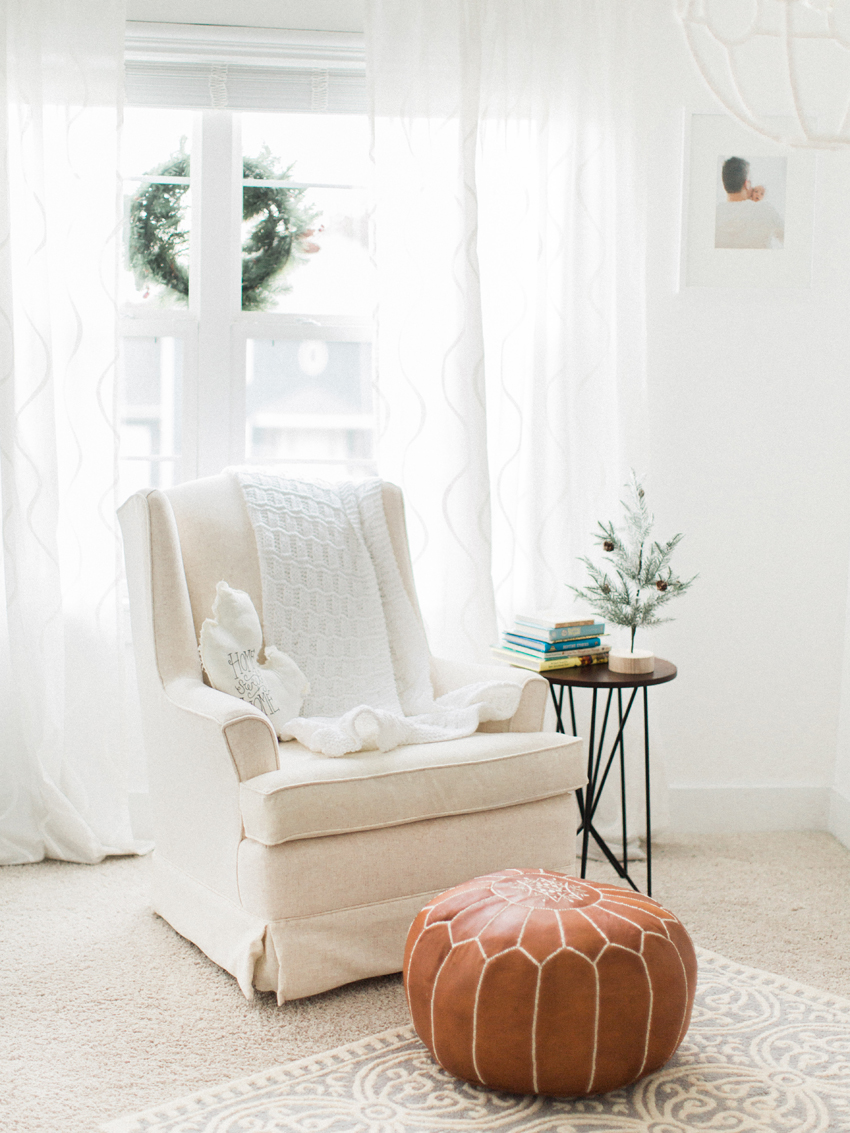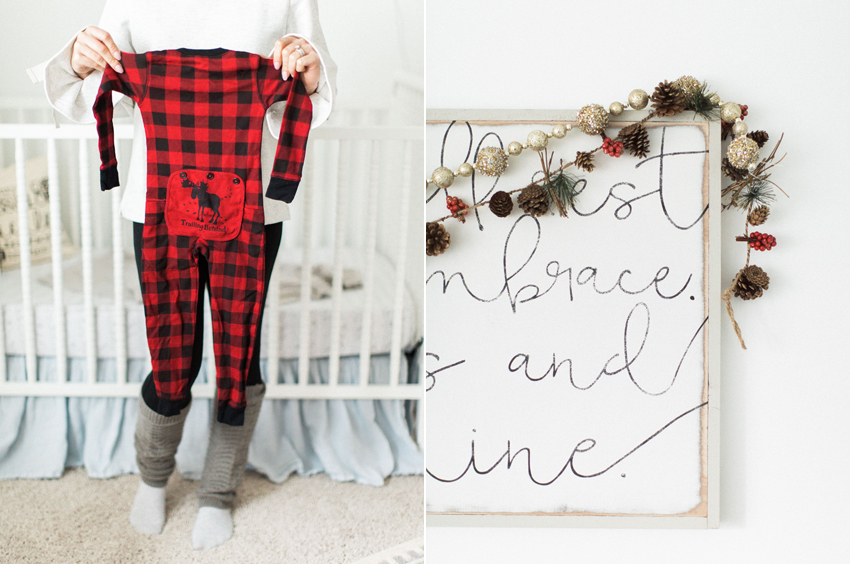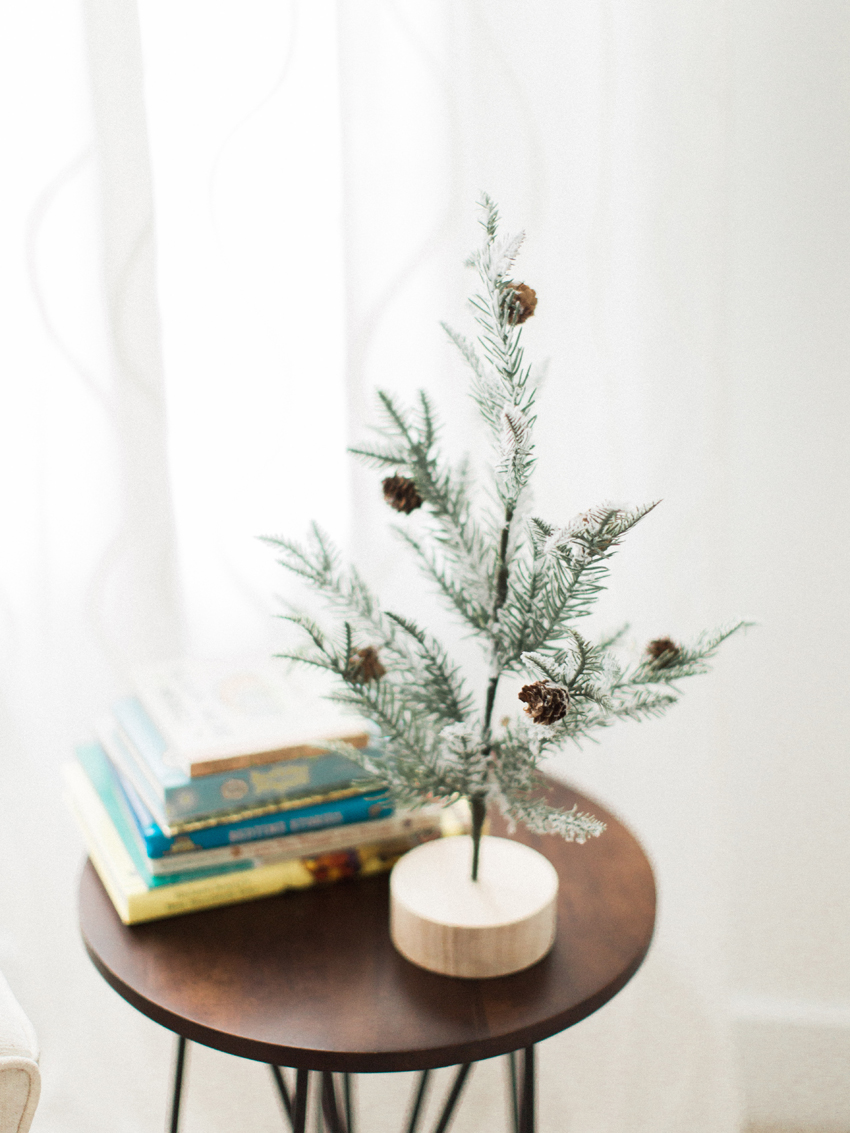 One of our most treasured holiday traditions is to find two ornaments each year for Lachlan. One is more of a family ornament that is somehow dated and representative of our travels and adventures. This year we bought a beautiful cream and gold ornament from the market in Charleston which we visited in the springtime. Then the second ornament is representative of a fun experience or quirky thing/part of our year. Last year's fun ornament was a dinosaur in celebration of L's dino themed first birthday. This year's was 'Cocoa' our elf on the shelf holding a banner with 2017 on it (this is our first year having our elf and L LOVES looking for Cocoa each morning).
My plan is when Lachlan creates a home of his own and one day marries a woman who loves decorating as much as I do (haha) he will have a beautiful set of ornaments to treasure and use as he pleases. Each will hold a unique story which he can share with his own kids. To me legacy and tradition are what matters most in our family and this is a simple way to honor both. We currently keep the 'fun' ornaments including a few food related ones, one a smaller faux tree in our upstairs hallway.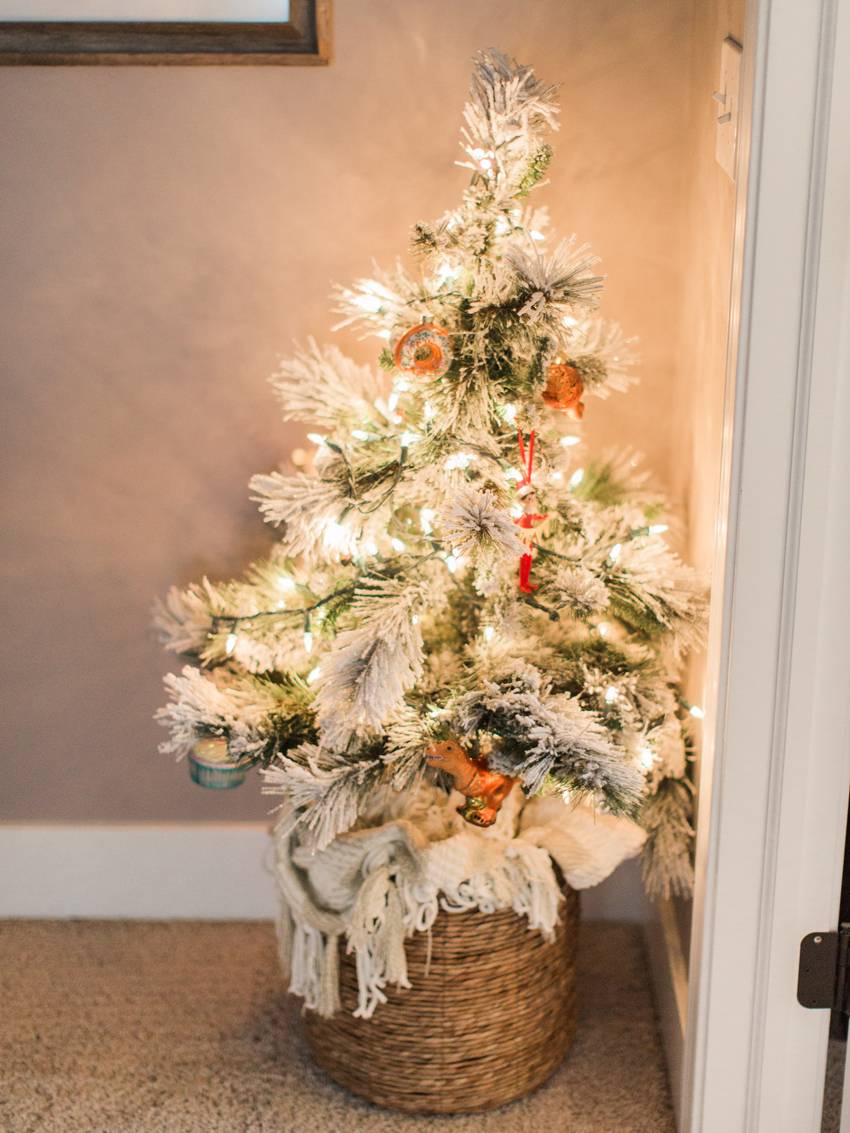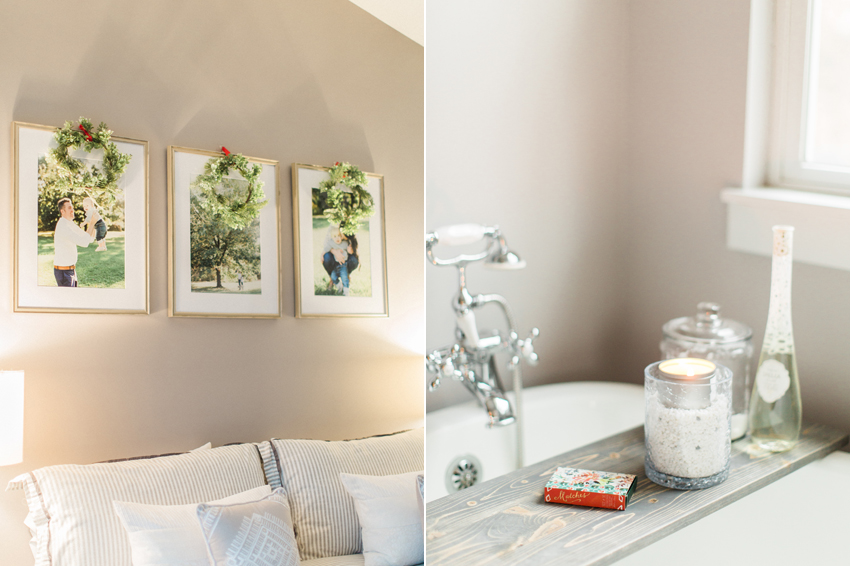 A big thank you to my friend and colleague Samantha who captured these photos for me while we had three little and very busy and curious kiddos at our feet all morning. If you subscribe to my newsletter you probably saw most of these photos already and also received the recipe for the best sugar cookies ever (along with my holiday tips and tricks; don't worry that's exclusive for those of you on my list!) It's not too late to catch the newsletter if you're interested in diving a little deeper into some of my thoughts on the holidays. And below is a list of sources and paint colors for you!
Xoxo
Sources
FRONT FOYER & SITTING ROOM
front door wreath and faux tree: Target
hanging (black) pendant lights: Wayfair
front door color: Benjamin Moore 'Morning Sunshine'
legacy wall frames: Frame Bridge
white glass top coffee table: IKEA
floral chairs: custom done (fabric from Joann)
jute rug and wood side table: Overstock
gray nailhead couch and wrapping paper: TJ Maxx
various white throw pillows: Home Goods
watercolor pillows: Caitlin Wilson Textiles
LIVING ROOM & DINING AREA
pom pom pillows: Indigo (Canada)
tripod lamp and dining room chandelier: West Elm
grey l-shaped couch: Art Van
large wood coffee table: hand me down
couch pillows and black and white rug: Home Goods
Rhi's beige bow sleeve sweater: J. Crew
'forest' of holiday trees: collected over years
dining room farmhouse table: World Market
white dining chairs: Overstock
pom pom stocking and wood tree: Target
wall color: Benjamin Moore 'Stormy Monday'
tree ornaments: hand me downs from my mother
monogrammed round ornament: Prairie Letter Shop
holiday mugs and coffee marble tray: Crate and Barrel
black framed floor mirror: IKEA
birch logs: cut down from the yard of my childhood home
UPSTAIRS SPACE
nursery glider: Buy Buy Baby
brown pouf: Lula & Georgia
blue and ivory rug: Overstock
art print: House of Belonging
garlands and faux wreaths: Michaels
faux tree and bed duvet: Target
frames above bed: Frame Bridge
red and black xmas jams: Indigo (Canada)
hanging drum light: West Elm