If you read this post last week you'll know I'm on a current quest to live my life in the most well rounded and healthy way possible. While the quest started off with a massive overhaul to my diet, a quick dive into Phoebe Lapine's The Wellness Project opened my eyes to so many other ways we can be better to ourselves. What really struck a chord with me is that our skin is our largest organ, and that if we are careful with what we put INTO our bodies it would be a disservice to be ignorant to the things we put ONTO it.
I downloaded the Think Dirty app (do it!) and went on a scanning spree of ALL the things I use in my already minimal beauty routine. It turns out half of the 'natural,' 'green' and 'pure' products I use on my face, body and in my hair, are actual pumped full of chemicals and really scary things I wouldn't ever want to touch let alone have sinking into my pores on a daily basis. Then I scanned my beloved 'natural' make up wipes, made by a well-known company that prides itself on their natural approach might I add, and I was shocked to see the laundry list of toxins, fragrances, and other naughty things that went into the remover pads. I thought to myself, I'm trying to take make up off, not remove permanent marker from the walls in my home! It was mind boggling.
In my pursuit of researching more about the products we use ON our skin, I discovered thankfully, making all natural make up remover that works AND is good for your skin, is actually pretty simple.
So with that, I dove headfirst into being a better advocate for my skin and daily routine. I picked up most of the supplies from my local Target (or try Amazon and you don't need to leave your home) and am happy to say this is one less product I need to worry about applying to my skin. Below is the easy recipe, beautiful step by step photos from Samantha James Photography, and of course, some commentary and notes from yours truly!
As I mentioned above, the ingredients needed for this project are both easy to find and all natural. I know a lot of health-savvy people who like to use straight up coconut oil to remove their make up but the added benefit of this specific recipe is the healing properties of the tea tree oil (for problematic skin) and the cleanser (which takes cleaning your skin one step further). The hot water helps everything liquify and blend together (whereas coconut oil on its own is more of a solid), and then we can't forget the witch hazel! Witch hazel does all sorts of awesome things for our skin so I threw some of that in here for good measure.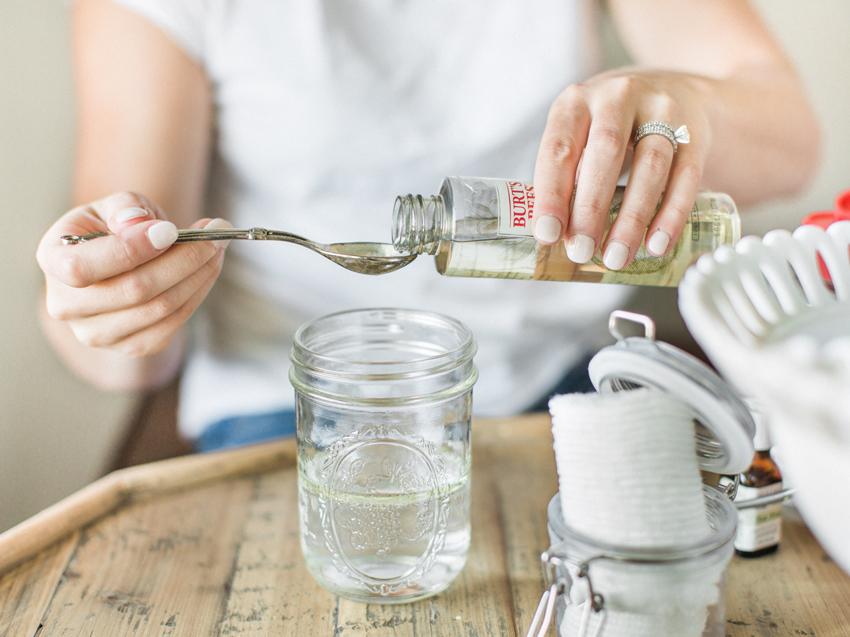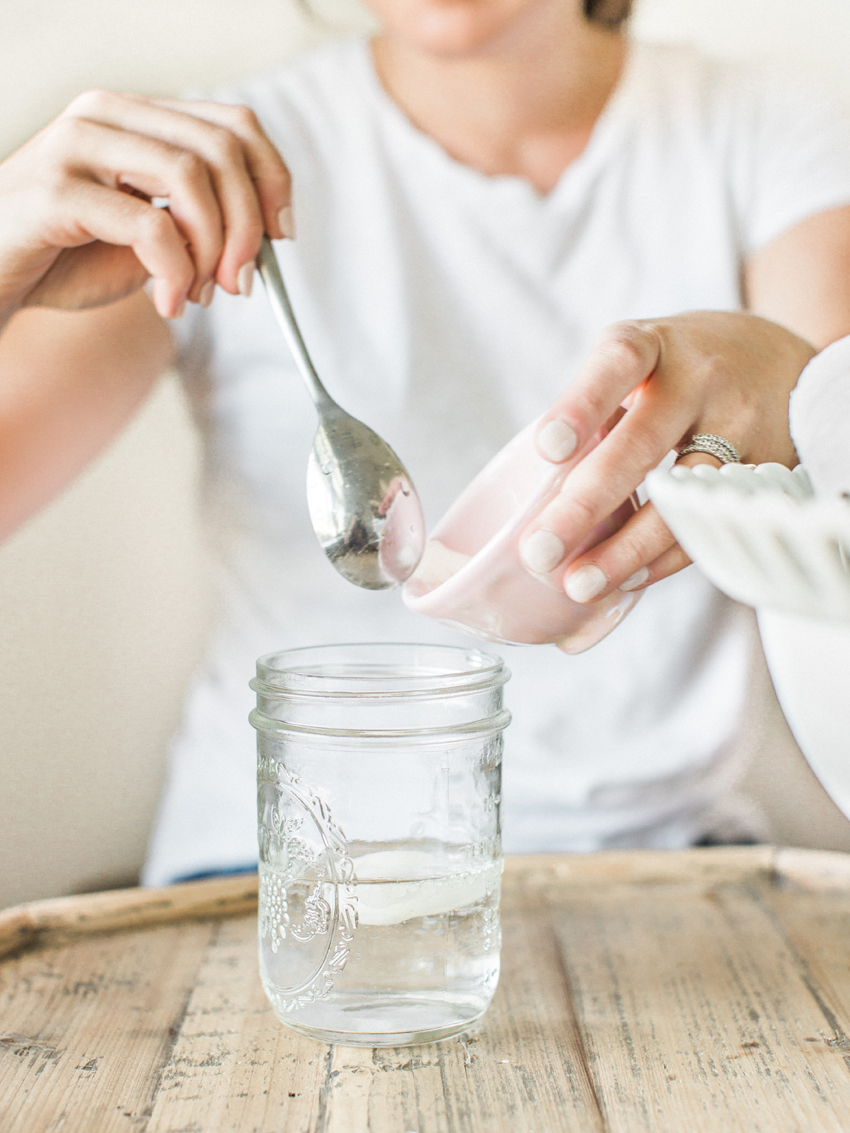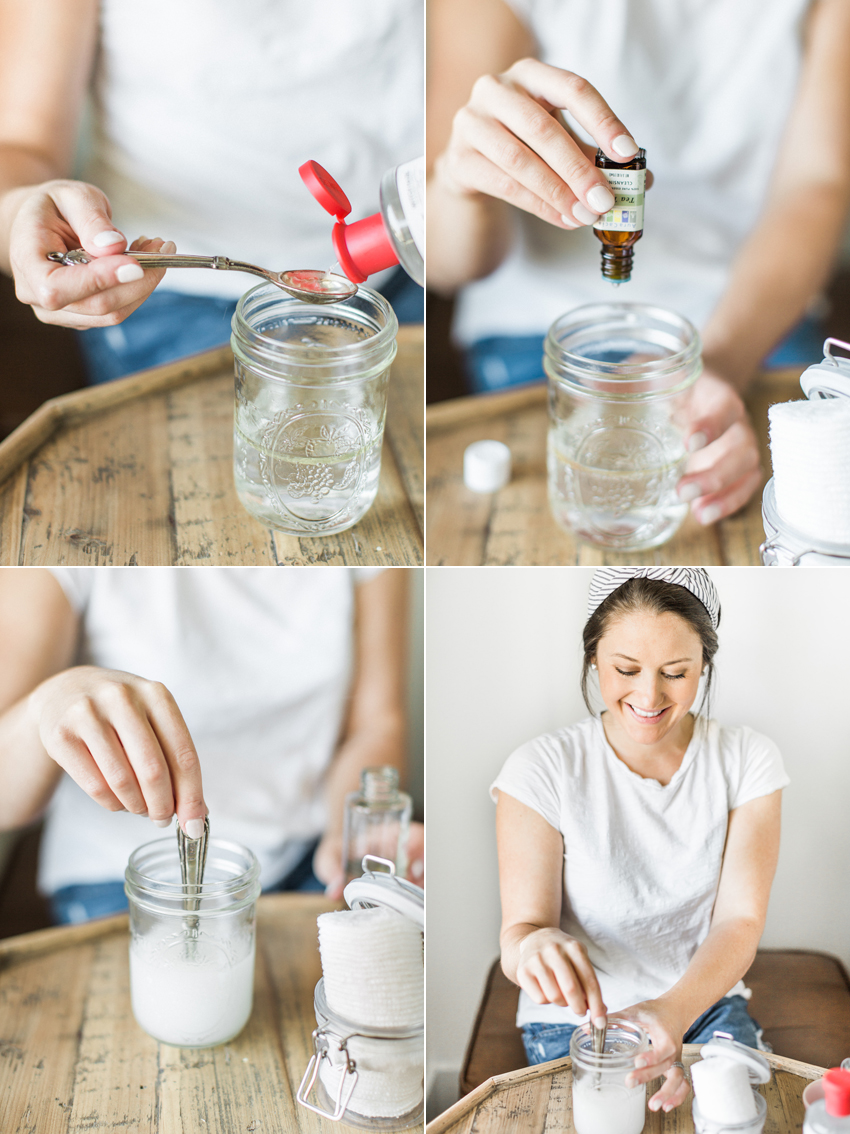 Here's the recipe to make your own all natural make up remover pads:
1 cup of boiling water
2 tbsp organic coconut oil
1 tbsp witch hazel (this brand is great)
5 – 10 drops natural tea tree oil
2 tbsp natural cleanser (I used this one)
cotton rounds (I use these)
a jar or container with a lid
In a glass mason jar or large container, mix together the cup of boiling water with the coconut oil, stirring until the oil melts. Add in the remaining liquids (witch hazel, tea tree oil drops, and natural cleaner), and stir until combined. The mixture will look a little cloudy. Take your cotton pads and whether you'll keep them in a mason jar with a lid or in a plastic latch top jar place them in a stack within the container. Very carefully pour the hot mixture overtop of the stack of cotton pads letting them soak up the liquid. I would suggest pouring a little bit at a time and then stopping to push down the stack to ensure everything gets soaked up. The above measurements of ingredients resulted in a bit more liquid than I could fit into my latch top jar so I would recommend a larger container OR making two batches of remover (and start using the batch with less first!).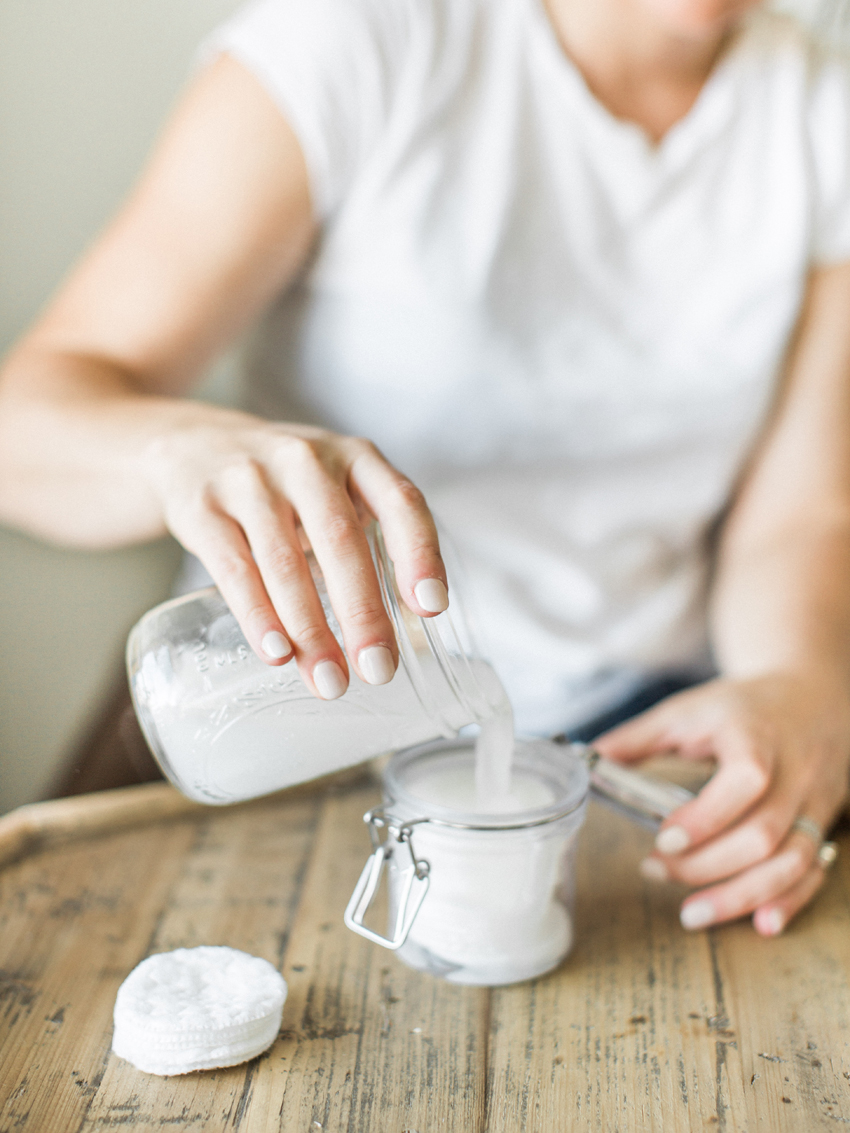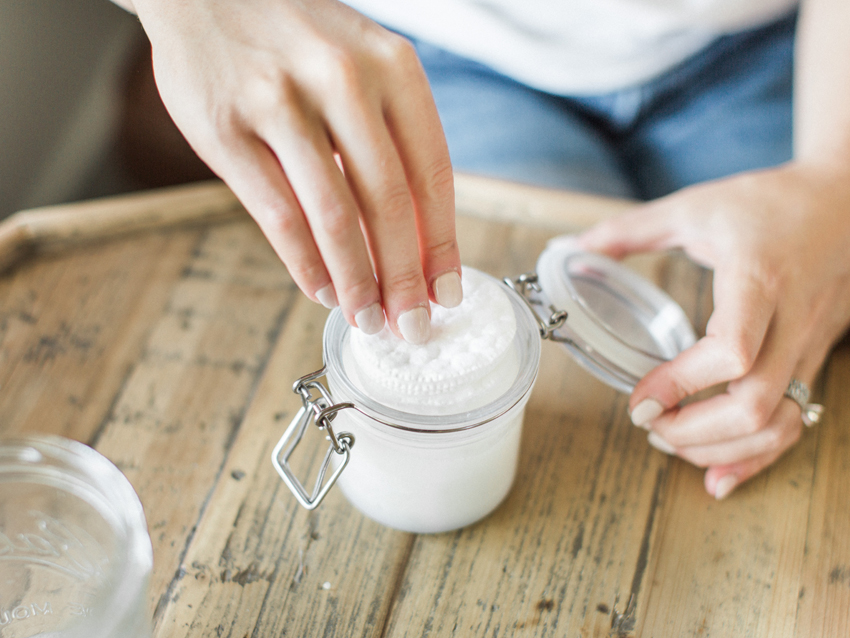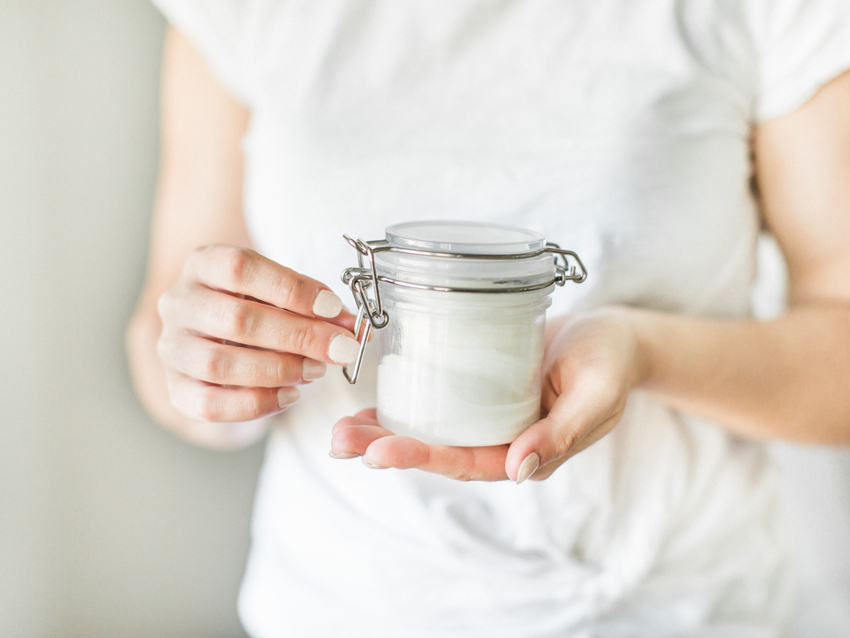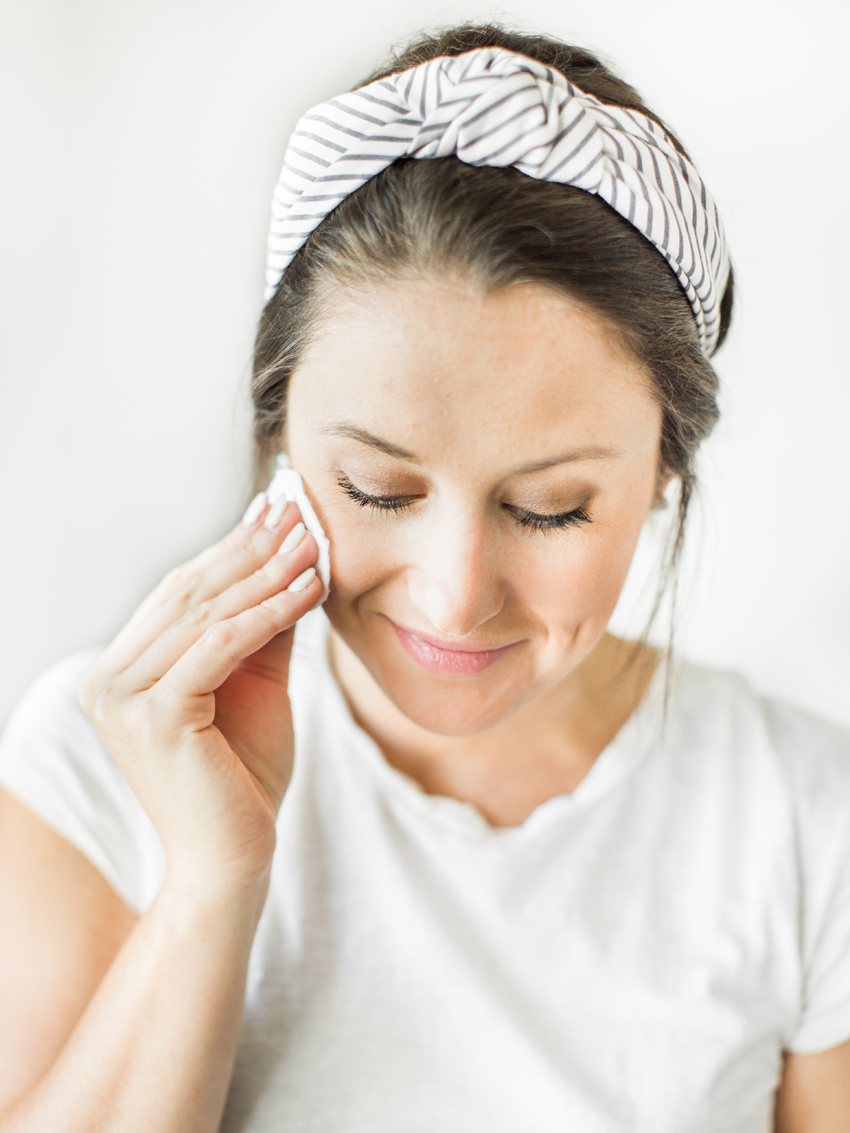 One note! If you wear HEAVY eye make up and feel like you could get the mixture into your eyes, you may want to reconsider putting the tea tree oil in your removers. I wear more foundation and powder than I do eye make up so I haven't found this recipe to cause irritation in my eyes but I would imagine this could be a trigger for some.
A second note! The more cotton pads you can push into your jar to soak up the mixture, the less 'wet' they will be. I typically take my make up off when I am in the bath or shower at night because I feel like I make less of a mess when I use my make up remover pads, or I squeeze out each cotton pad before I use it to help make it a bit more 'dry' and less damp on my face. But know the texture of these will feel much different than that of a traditional, packaged make up remover 'cloth'.
A third note! You could try grapefruit oil instead of tea tree oil. That's another great essential oil for skin benefits.
While I'm not sure what the shelf life would be for these, I would imagine anything longer than a couple weeks would be risky (or worse, end up with traces of mold). If you don't run out of removers before the end of the month, I would start a fresh new batch each time to ensure you have the freshest quality possible.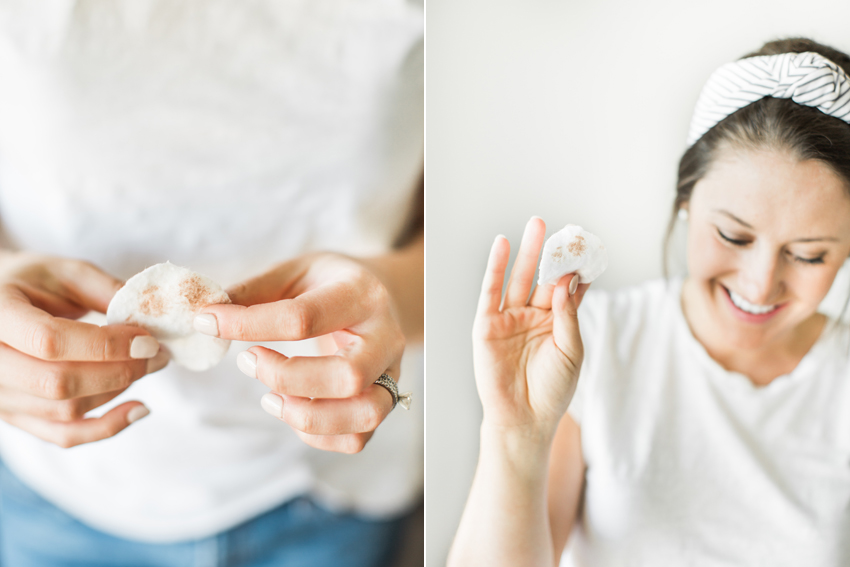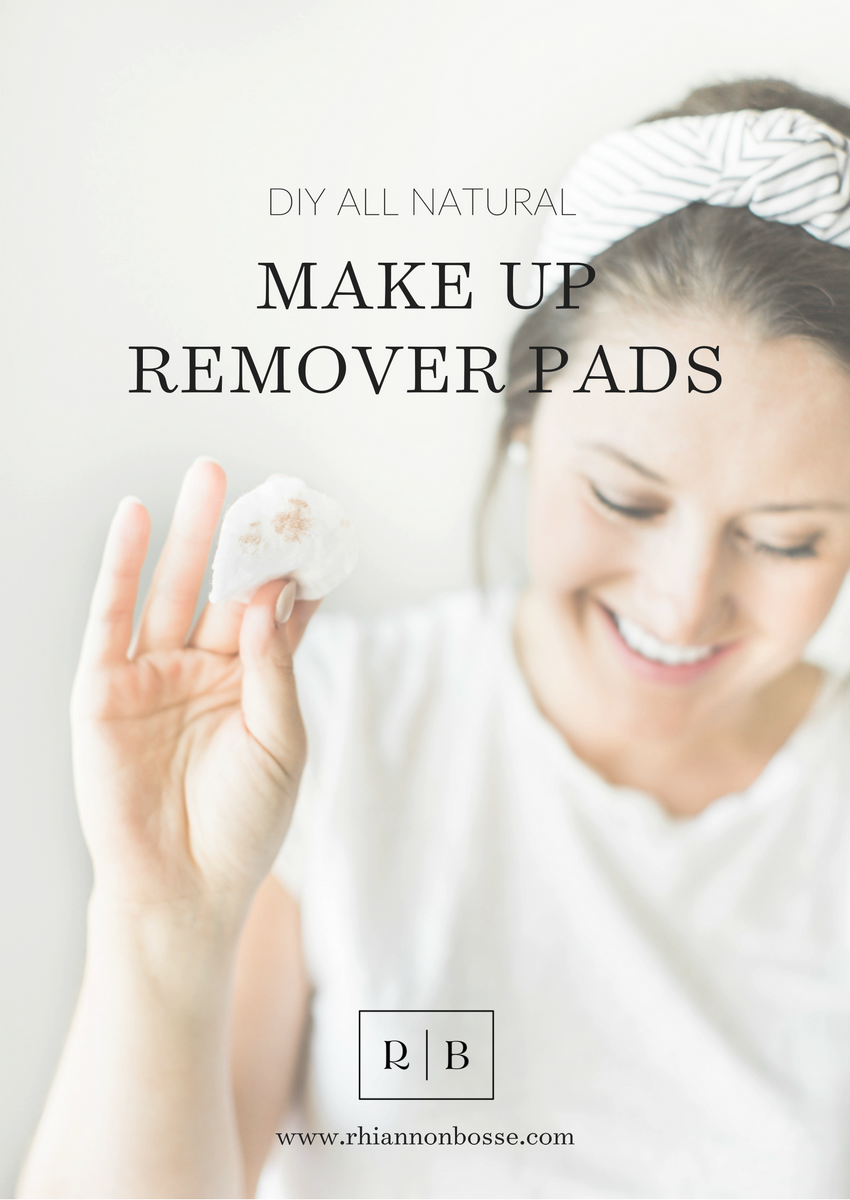 I'd love to hear from you below! What are some of your favorite natural body and skincare products? Or perhaps you have a go to remedy that's a part of your daily routine. Either way, sound off and comment below!