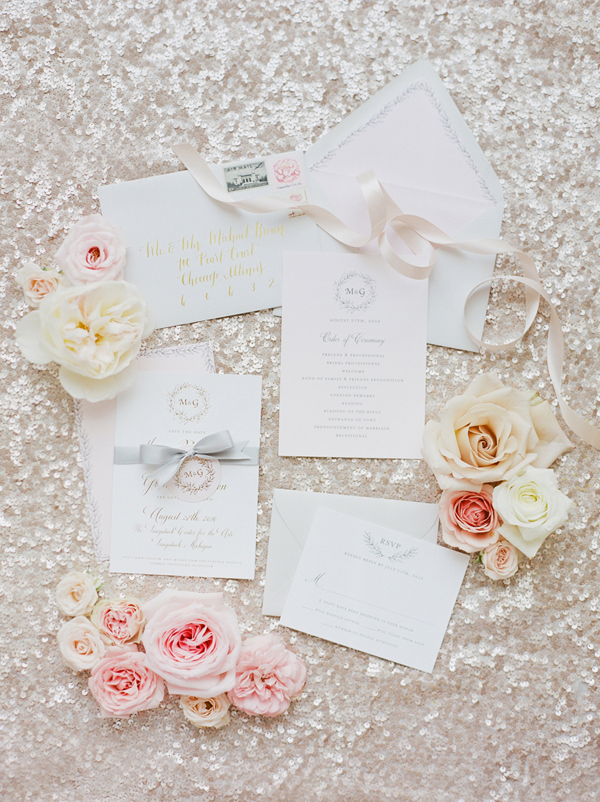 I always say I get to work with the kindest clients and I would imagine many wedding vendors say the same.
But such is undeniably true with Megan and Graham. I knew immediately from the second I heard Megan's voice during our first phone consultation that we would grow in a friendship well beyond her celebration. Her colorful and gentle personality, wit and intelligence, and complete admiration for Graham and their marriage together, inspired me daily throughout our planning process. Our phone calls each morning while Meg commuted to work became highlights, and our meetings always a complete adventure. As you might imagine, this couple would go on to provide me with one of the most pleasurable planning experiences of my career, and more so would delight and charm every single person who had a hand in making this celebration possible.
On August 29th, 2016 Megan and Graham finally became husband and wife in the quiet small town of Saugatuck, Michigan. Their celebration unfolded at the Saugatuck Center for the Arts which is in the town where Megan attended summer camp as a little girl. With a small and intimate party of 90 people, an elegant wedding design of gold, champagne, and gray, and endless delicacies for guests to enjoy, this was truly a magical day with a very gracious guestlist. While the morning started out with awful monsoon type rains, we ended up with a beautiful sunny Michigan day almost as bright and warm as the couple themselves.
Megan and Graham, we do what we do so people like you two can start a marriage with joy and excitement. Thank you for hiring and trusting me as your planner even when our second call together was so I could tell you I was eight weeks pregnant. Thank you for your gentleness, sense of humor, and ability to bring light to every meeting and situation even in the tricky ones. You are loved by many and always treasured.
Kelly Sweet Photography captured the day perfectly. Please scroll down for more details and vendor details!
You can also catch this wedding on Carats & Cake which is one of our favorite online wedding sources.


The photo below is one of my favorite first look moments ever captured. Megan's joy!
The trio of cakes was one of my favorite cake vignettes to date.
The Cakabakery created three delicious cakes with a simple buttercream finish and then adorned each with a few loose blooms to tie in with the other floral elements used throughout the day. The cakes sat on matte gold stands on a table covered in a champagne sequin linen. The best part was the green laurel detailing surrounding the laser cut monogram topper. The couple's monogram which was used throughout the stationery products had a laurel type illustration to it but we thought it would be an unexpected touch to actually make that detail out of real greens for the topper. Since Megan wanted to avoid greens throughout all of her arrangements this was the one place where we were free to incorporate any foliage and I think it turned out perfectly.
A single blush rose was tied with a gray double faced satin bow and placed at each placesetting.


This photo below shows the underbelly of the center's outdoor space and what we were working with from the start of planning. The SCA is primarily an arts space with a unique outdoor space for events and farmer's markets during the summer so the aesthetic of the venue isn't so much a priority for weddings. My first reaction when we walked through the space the summer before the wedding was that this was not a space appropriate for a formal, elegant summer wedding. Those red beams (which are from the building's original use as a pie factory!) are very intrusive and noticeable from every angle; you can imagine my reaction when I first saw them!
However, thanks to the team at The Rental Company we were able to cover them in a way that complimented the space but still allowed some of the history of the building to shine through. The cocoa, ivory, and champagne drapes hung everywhere creating a really intimate and airy feel to the otherwise industrial space. Then we had huge chandeliers from Event Theory hung over the dining tables to create a romantic glow once the sun started to set over the lake. The venue was completely transformed for Megan and Graham and showing them the finished product is a memory I will have forever.
Congratulations Megan and Graham! We love you.
. . . . . . . . . .
Planning, design, floral: Rhiannon Bosse / Photography: Kelly Sweet Photography / Ceremony and reception locations: The Saugatuck Center for The Arts / Draping and event rentals: The Rental Company / Event Rentals: Event Theory / Linens: La Tavola / Bride's gown: Monique Lhullier / Bridesmaid gowns: Rent the Runway / Bride's shoes: Jimmy Choo / Desserts and cakes: The Cakabakery / Beauty: Hanna Wagner Design / Entertainment and videography: 27 Entertainment / Catering and drinks: The Farmhouse Deli & Pantry / Stationery: Smitten On Paper / Calligraphy: Prairie Letter Shop / Laser cut goods: Endash