'These streets will make you feel brand new…" – Alicia Keys, New York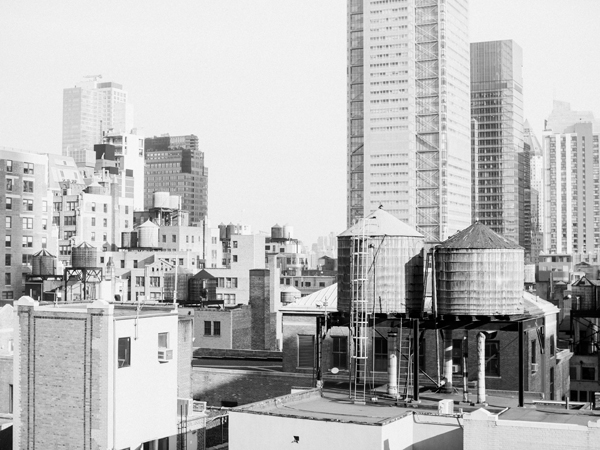 At the end of January I had the pleasure of travelling to New York City for a quick yet full two days. My friend Sam was my travel partner for the weekend and our schedule priority was the annual Martha Stewart Wedding Party held at Gotham Hall. While our time at the party was fruitful and exciting, we made sure to squeeze in as much city time as we could when we weren't soaking up the event. With more than 35,000 steps logged in just two days, we certainly walked (and ate!) our way through New York City.
The above photo is our view from our room on the 19th floor at the Renaissance Midtown Hotel. Our hotel was hip and affordable at just $130.00 a night which was a win for these two travelling mamas. Our room also came with that awesome greyscale rose print wallpaper you see below. While I knew staying at a fancy hotel would be out of the budget for us, my husband and I worked hard to find a place close to the party location (so we could walk) and within our budget for two nights. This place hit all of the marks and then some.
Since we arrived early on Saturday morning and were able to check into our hotel immediately, we decided to ditch our bags, grab a quick lunch at our hotel's greenhouse inspired restaurant deck, and hit the pavement.
From finding beautiful goodies in MJ Trimming, which was just a block from our hotel, successfully navigating and laughing through the subway together, and then spending a good chunk of time at Chelsea Market people watching while we munched on six different flavors of donuts from The Doughnuttery (highly recommended!), it was a refreshing break to be diaper bag free and without a schedule for the day.
We ended up walking the entire way back from Chelsea Market to Eataly for dinner where we enjoyed a glass of Moscato with a simple cheese and charcuterie plate. We had the pleasure of sharing our table with a very sweet older couple with Swedish accents but hailing from nearby-to-Michigan, Ohio too. You can bet once we returned to our room, we passed out that night at 9:00 pm eager to get some good rest before a big Sunday!
Sunday morning started with a quick stop at Starbucks and a walk around our hotel soaking up those rare winter sunbeams. This former Toronto-and-Chicago native sure loved being in the city even if for such a short time! Can I also mention how many times I was checking my pockets and crossbody bag thinking I was missing something because the weight was so much less than my normal load? Sam and I were chuckling the entire time in the city because we felt we could move so much quicker without any strollers or bags!
We got over to Gotham Hall for the party at about 10:30 am and already things were busy and underway. After listening in on Martha herself sharing wedding planning tips with eager brides, we walked around all the tables soaking up fresh inspiration and saying hi to a few familiar faces (Hi Shira and Matthew!) Elan Artists performed the best music throughout the party, as they always do, and the designer and floral showcase was a real treat, especially for me as a designer and florist myself.
After we said our goodbyes at the party, it was time for lunch so we walked to Mercato as per our friend Shira's suggestion. We must have hit the jackpot dining on a Sunday at 12:00 pm as the front of the restaurant was completely empty and all to ourselves. Sam and I both ordered the fettuccine al funghi, and while we could have left happy with just those entrees in our bellies, I figured we couldn't eat at an Italian restaurant and not order a piece of tiramisu. We left maybe a little too full but very satisfied as we made our way to our next stop!


As an aside, I'll admit I don't really mind playing tourist when I travel. There's certainly some select tourist things I'll say no to and I'm all for experiencing places like a local would but there are always exceptions. Sam had never been to the Top of the Rock at Rockefeller Center and given the rare sunny Sunday we were blessed with, and the fact that I personally think it's a pretty awesome must-see in NYC, you can guess where we went after lunch that day. We scheduled a visit time online so we could skip the lines and then hustled (read: ran) all the way from Mercato to Rockefeller making sure to run THROUGH Times Square and the Theatre District so we could snap some quick photos and take in the sights.
We made it there at about 2:03 pm and after a quick elevator ride up to the top, saw this:
Sam set me up to take a few photos of her too. Isn't my friend, beautiful?
After facetiming both of our husbands and kids back home from the observation deck, we decided to head back down to Fifth Ave and find a place for a coffee before heading back to our hotel to rest before our client meeting at our hotel lobby. We watched the skaters at the rink for a few minutes (how fun!), Sam took a bunch more photos, and then we were off. I think we were both starting to feel a little tired at this point from all of our walking and sightseeing!
If you look carefully you'll see me standing at the bottom of the American flag pole below!
We popped into St Pat's cathedral on our route back, lit a candle together, and then hiked back to our homebase to prep for our meeting and pack up for our early departure on Monday morning. And I must add we made sure to wrap up our trip with a late night run to a Shake Shack, which was conveniently just a block away from our hotel. While I regret not ordering a milkshake with my meal, I went to bed a happy gal that night, eager to head back to my family in the morning.
Thanks for the fun weekend, NYC! And Sam, thanks for being such a life-giving and wonderful friend.
Xo