2021 Goals
January 6, 2021
I've always been a goal-driven gal. But last year when I switched my goal-setting approach to a quarterly goal-setting focus, I was blown away at how motivated I felt and how much I was able to accomplish. Even in the middle of a pandemic with no childcare, a loss of social events, and a general anxious sense of 'what-obstacle-comes-next?' that permeated 2020, it was a really good year.

I don't say this to boast but last year, hard times aside, was truly delightful for our family because we really dug into what matters, a feat that was made easier because of our time at home, and the blessing of both our jobs and health. There were hard moments, disruptions to our life, and challenges, but when I look back on 2020 I mostly see a lot of joy that marked our experiences. As such, I wanted to set goals in a similar style to 2020's process but also build off of those actual goals since they were so life-giving and pointed toward my big life picture (where I want to be in 5, 10, 50 years). I'm so thrilled to be sharing this here with you today.

So like last year, let's start with my vision board! I love a good vision board.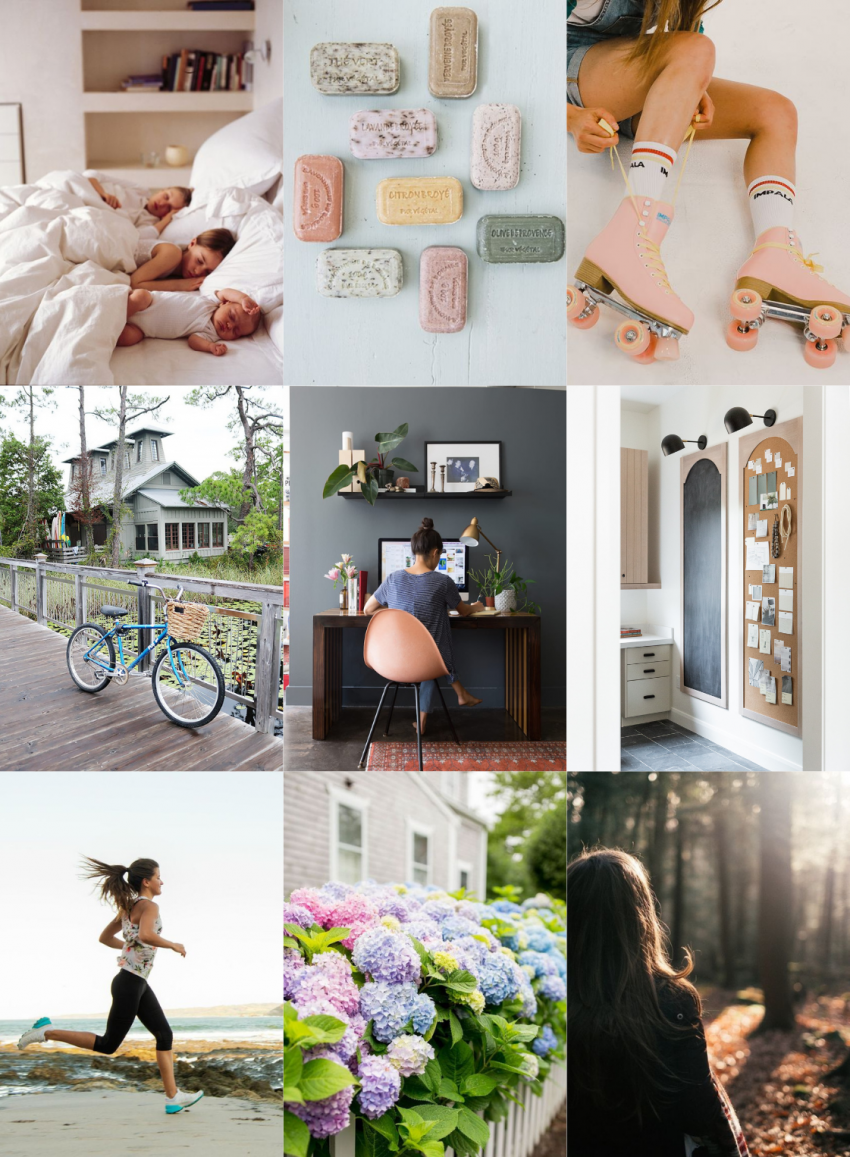 Which leads me to my word of the year: ADVENTURE!

I felt called to this word many times over 2020's fourth quarter, probably because a lot of what went well last year was the result of trying new things and being adventurous. And let me tell you, friends. I really resisted this word the first few times it crossed my mind as a contender for 2020 because adventure feels a tiny bit tiresome and this mama doesn't have time for being tired in 2021! Ha!

But! Despite the amount of focus I had last year there was also a lot of having to adapt a go-with-the-flow attitude. For example, last year alone I let go of a business, started a new one, became a runner, led my kids on a quest to become outdoor lovers which inspired me to love nature too, celebrated 10 years of marriage (there was a season when this didn't feel possible for us), grew a garden, prepared differently for a speaking presentation that I ended up nailing, worked with two kids underfoot for six months, launched a successful educational resource, started a writing proposal, AND survived a pandemic with no family around. Last year was about delight as hoped for, but pursuing that delight ended up being a true adventure and well, I really want more of that.

So I'm leaning into adventure this year and choosing to look at change, unknown circumstances, new things, discomfort, growth, and all of the things I know I will inevitably experience along the way as I pursue my best life, as a chance to embrace the spirit of the journey. In the past I've picked words like, 'intention,' 'discipline', and 'content' as my yearly words. And those very attributes have become a part of my core now. I'm so grateful for that! But adventurous Rhi? I can't wait to get to know her better.
Here are my 2020 goals along with first quarter small goals and action steps!
ONE. Further Refine My Schedule

Without a firm grasp on my schedule, thought for how I spend my time, and intention driving what I give my attention to, setting goals means nothing. I've learned a lot about time management, first as a high-level athlete in my adolescent years and now as a business woman with two little kids, and while I strongly believe some people are better at managing time than others, I also think there are ways to flex our muscles and continually find ways to be better at it. My 2021 goals, and my life vision, isn't going to just happen if I don't prepare well and refine my schedule so this is where I'm starting to ensure my foundation is strong for 2021 and beyond.

Small first quarter action steps and mini goals: transition Ev back into school on Wednesdays for more consistent care and an additional chunk of time into my work week (this is a huge step to making all of the pieces fit together for us this year while also being sure I can take the summer off with both kids again), trial 'themed' days each week to see how much time I save, commit to educational and holistically-giving podcasts in lieu of rap music when I cut soap and try new recipes (LOL but yes), continue building solid phone boundaries by keeping my phone charging out of the bedroom and out of my hands by 10:00 pm, check email only twice on my three work days a week, once in the morning and once an hour before the end of my day, trial run Monday.com and Trello to see which fits my needs better, book mark my favorite blogs and people I want to keep up with so I can easily access them each day, and slightly unrelated here but finally, have a special LEGO-themed birthday party for a very excited almost-5-year-old boy!
TWO Part 1: Reach My Financial Goals – HOW I'LL MAKE MONEY

This goal is vague in my sharing because the actual numbers don't need to be shared, but shutting down the planning side of my business and starting a new e-commerce, product-centric business gave me a new perspective on business operations. So much so, that I felt inspired after my holiday soap launch to dig into strategy in a way that didn't quite apply to the business model I previously had as a services-based company. I also want to be a little less fly-by-the-seat-of-my-pants in 2021 even if that means I might fall short of sales goals or miss opportunities. I want to focus on the process more. My thinking is if I don't have a business strategy and plan, I'll be less likely to hit targets so planning out how I will financially be successful this year is a big goal of mine. Consider this a work goal!

Small first quarter action steps and mini goals: announce first quarter soap launch date and map out soap making quota for January and February, set first quarter soap launch photo shoot date, ensure all soap labels are ordered with Nellie and insert card text is proofed with Lisa, get deliverables to Payge in adequate time for the launch date, prepare marketing boxes, nail our first floral design virtual mock up of the year, send off a large custom soap order to a special team, trial new solid lotion tubes, undergo test scents and new color combinations for summer soap launch.

Part 2: Reach My Financial Goals – HOW I'LL SAVE MONEY

Which leads me to the second part of this second 2021 goal! Making money is wonderful and liberating, but the important part is deciding what to do with that money – or as my pal Dame Ramsey says, 'telling your money where to go.' We love our home, so much so that an entire 2020 subgoal was dedicated to it! But this isn't where we want to be forever and we've encountered a lot of disappointing dead ends over the years with failed moves, lost home offers, and other wrong timing-type situations with our forever home dreams. We know there is an adventure ahead, a place where we can continue building legacy for our family, and to do just that, we need to meet some financial goals as a working husband and wife duo.

Small first quarter action steps and mini goals: set monthly bank transfer from business account to our emergency fund account to meet year end goal, continue monthly deposits from the business account into my retirement fund with Ameriprise, email Pat my questions about paying myself via paycheck in lieu of unscheduled bank transfers, get January and February sales goal and budget meetings with Andrew on the calendar, finish organizing 2020 purchase receipts, get quote back for laundry room cabinets and determine if this fits into our first / second quarter budget.
THREE. Lean Into My Overall Holistic Health & Wellness

One part of goal setting that's always felt like a disconnect for me is the pressure of setting goals that are uniquely different from year's prior, all in the name of goal diversity and 'new year, new goals!'. But this was the first year where I had the rather simple but incredible epiphany that new goals can simply be extensions of old ones as long as the why behind the goal stays present and intentional. In 2020 I learned to love myself in some new ways and I want to continue to dive into that in the coming 12 months, with of course, an adventurous approach to holistic health and wellness. Like my first goal of strategizing how I spend my time and taking control of my schedule, if I can't be the best version of myself, I won't be able to use my time wisely and enjoy the fruits of my labor.

Small first quarter action steps and mini goals: commit to my x3 a week date with our spiffy new treadmill in the basement with my spiffy new running shoes (finally got fitted for correct shoes!) and x3 a week strength circuits on my spiffy new buffalo check yoga mat in my spiffy new work out shorts (laughing at myself), research roller rinks and skating classes in town to put these Impalas to good use, use Tuesdays to meal plan and Thursdays to grocery shop so we can execute a successful Whole30 in January, clean out the fridge, pantry, and kitchen island to help make our Whole30 more pleasant, continue with biweekly virtual counselling sessions for my mental health, turn off work related tasks by 9:00 pm once Ev returns to school on Wednesdays, switch over my face care products and see how they perform together with better eating habits.
FOUR: Focus on My Three B's

A minor disclaimer: I am not currently pregnant! I'm sure the top left photo in my vision board may cause assumptions otherwise. But that photo has been on a Pinterest board of mine for more than six or seven years now and I felt called to include it into this year's vision (assume what you will!). So this disclaimer correlates with my first B, and my second B pertains to a behind-the-scenes writing project I've had that I can't quite yet share more about yet out of both superstition and obligation. But it's going here to help me stay accountable to that project and for the sake of getting all goals out in this post! Phew.

And the third B, one I can and will gladly share with you all, is for my blog! I've been blogging for just about 12 years now, you guys! While this space has certainly helped my business in profound ways, it's not a monetized facet but instead a place where I feel I can be my best self in ways that other, newer forms of social media just don't allow for. Call me old school but those blogger.com days were some of my most treasured and I'll always remember them with fondness.

It's also possibly assumed (correctly) that blogging takes amble time and while I love this outlet I want to explore ways to have writing generate revenue and / or opportunities relating to my non-blogging goals, even if on a small scale. I'm not sure what this looks like right now as my approach to the blog has always been to just 'write' but I do know an updated aesthetic, fresh user experience, and more robust content are three separate areas I hope to dive into over the next 12 months. Ultimately, come 2022 I hope to have this space in a beautiful new elevated position, an example of two consecutive yearly goals piggybacking perfectly off of one another.

Small first quarter action steps and mini goals: (these are very scattered because they are mini-goals umbrella-ed under three bigger B's!) call Spectrum to schedule my annual exam since my doctor retires this year (ugh now I HAVE to do this because it's here in writing haha), continue on my writing project as planned, start working in wellness material to my blog content schedule, flesh out content shoot dates with Sam for the year ahead, begin new blog design inspiration board and google document wish list for Payge, have call with Em to discuss affiliate opportunities, commit to my Writing Wednesdays to meet my posting goal for the year (50 blog posts), and test out Clubhouse.

And there you have it! Tell me below, friends! What are your 2021 intentions, your vision, and goals? Xo

VISION BOARD CREDITS: kids / soaps / skates / bike / desk / wall / run / hydrangeas / nature