One of my biggest indulgences is an iced almond milk latte from Rowster Coffee, an independant coffee house here in Grand Rapids. Rowster is hands down my favorite place to grab coffee and I've never had an almond milk latte that compares to theirs. Part of the deliciousness is, I believe, in part to their almond milk being made in-house, but regardless it's really the best non-dairy latte ever.

A $5.00 latte however, is not a sustainable daily habit. And making lattes at home, an easy feat when using full-fat dairy milk, is out of the q thanks to a milk dairy allergy that triggers cystic acne on my face (major bummer). So I've been searching for years to find a non-dairy milk alternative that will heat up in my frother without tasting burnt or overly nutty AND rival my beloved Rowster beverage.

I've tried nearly everything, friends! Canned coconut milk, almost every nut milk imaginable from hazelnut to almond and macadamia to cashew, soy milk, oat milk, homemade nut milks, unsweetened and sweetened options, coconut milk, blends of all the above, Nutpods. Ripple's sweetened milk came close to meeting the mark and only lacked in thickness and texture. But nothing truly compares to dairy milk or Rowster's in-house, homemade almond milk when it comes to my ideal latte.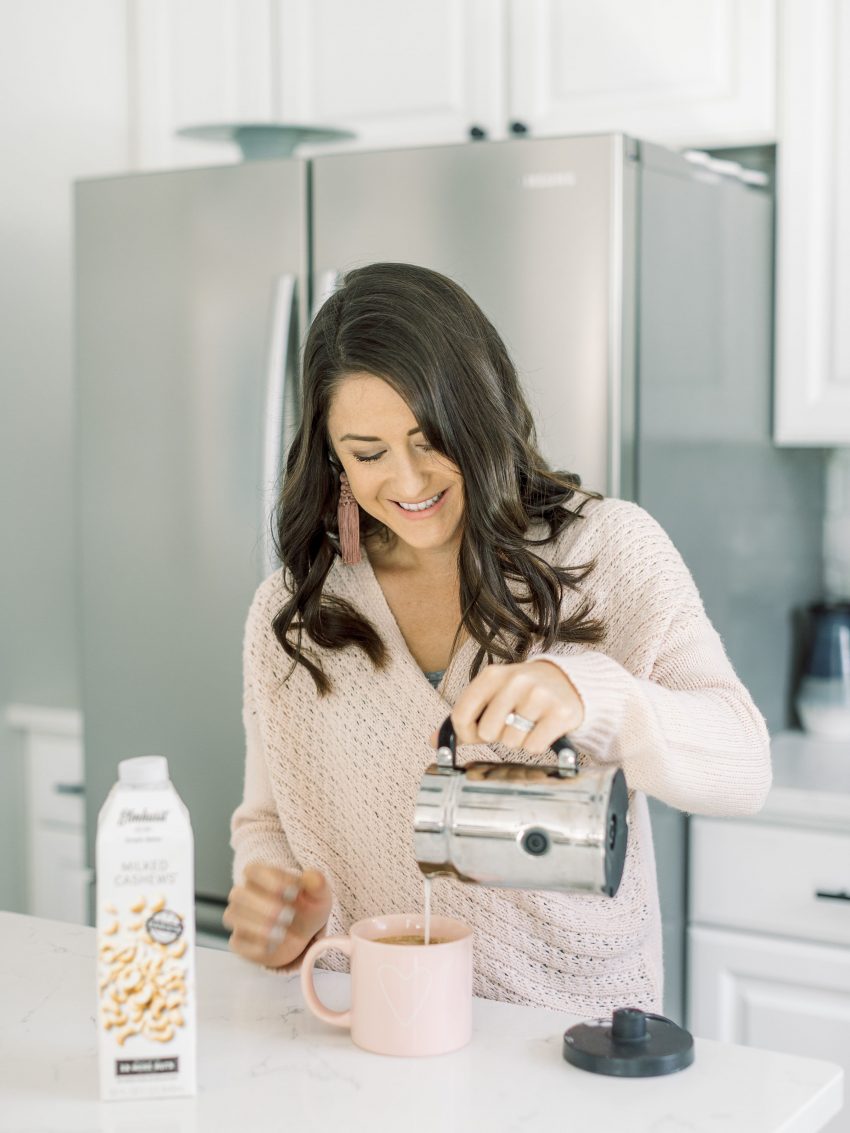 But! The Milked Cashews barista blend from Elmhurst is pretty darn close. I did some research earlier this year to see what new non-dairy products were on the market and was happy to see not only non-dairy options I hadn't heard of yet, but ones specifically formulated for coffee beverages. I snagged Elmhurst's barista cashew version at our local specialty store and was hooked! The cashew barista blend is a neutral flavored non-dairy substitute for milk that heats up without any icky nutty aftertaste and stays thick unlike coconut milk which feels too watery. What a simple luxury to now have a guilt-free non-dairy option that doesn't feel like a settle!
Lattes aside, when it comes to enjoying a regular cup of coffee with say, a splash of creamer there are endless non-dairy options we mutually love in our home. Some are more cost-effective and some are easier to find in mainstream stores but we've tried them all. They include: Califia's Better Half Creamer, Silk's Original Soy Creamer, So Delicious Coconut Creamer, Ripple Plant-Based Half and Half, and Coffee Mate Natural Bliss Unsweetened Creamer. Some of these creamers have more sugar and artificial ingredients in them than others so you have your pick, but a little splash of any one of the above mentioned tastes almost like the real deal.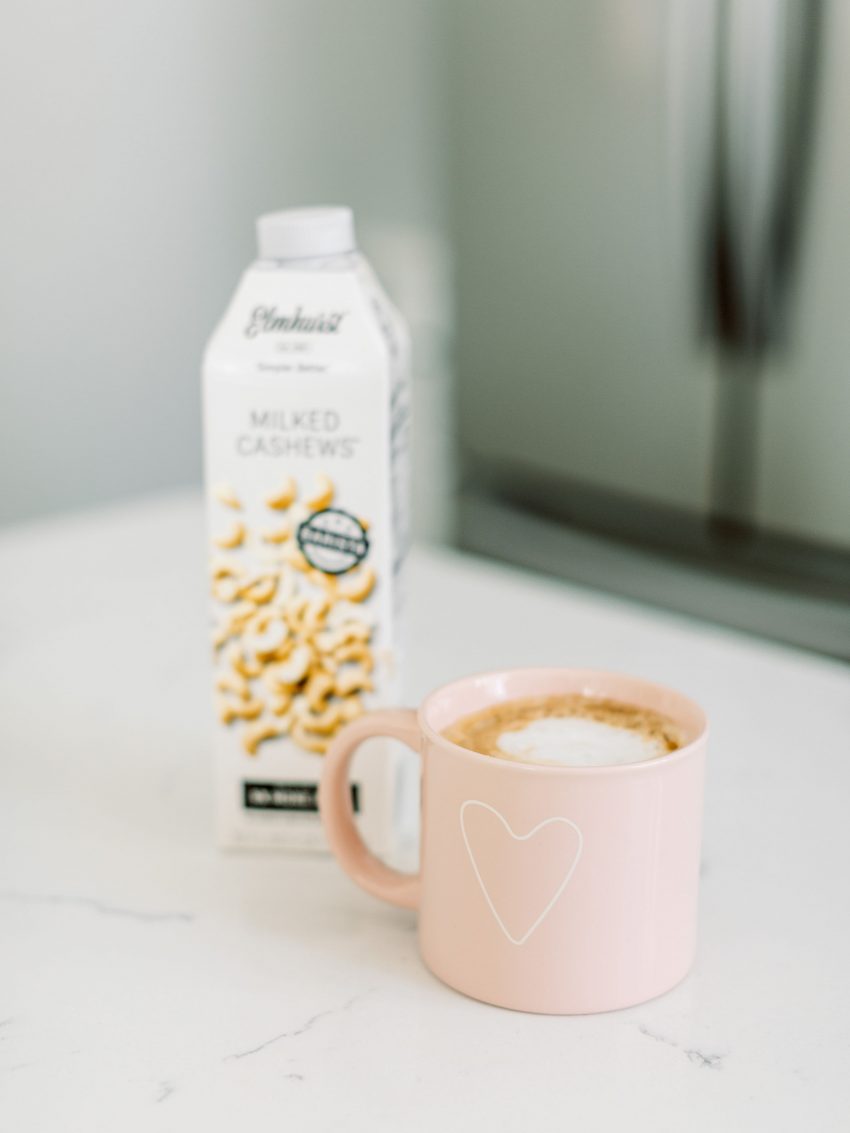 And a few notes on the machine we have because it often makes an appearance on Instagram!

We have an older version of the Nespresso Vertuoline machine which makes both espresso and coffee via a mental pod system. When we first started using the machine we primarily used it for the espresso functionality to make homemade lattes. But then we switched to regular coffee once I was diagnosed with a dairy allergy and I couldn't find a similar milk-substitute. The machine has served us so very well for years now, and especially so in a season where we cannot leave our house to go enjoy coffee elsewhere.

We buy our pods off of Amazon for quick turnaround and recycle them when the Nespresso recyclable bag is packed full (this is usually after a couple months of consistent coffee drinking). I bought a frother with the machine and that's what we use to make lattes, usually only on special occasions now or when guests are over and we offer up the treat. We also recently invested in a reusable stainless steel pod which we put our own coffee in to use the machine as we normally would, and what a fun switch to try out! Our hope is this will cut down on the pods we accumulate as a two-coffee-drinker household even considering that we recycle the tin ones. Considering we don't drink much alcohol in our home, our big picture goal is to eventually purchase a high end espresso machine from a brand like Miele and to really become coffee connoisseurs!

Alright coffee-lovers and non-dairy consumers! Let's hear it! What non-dairy creamer or coffee-milk do you love most for thickness and taste? Do you consume dairy? Are you a black coffee kind of gal or a creamy latte lover? Perhaps you're like my friend Em and love the smell of coffee but not the taste. Join me below on all things coffee! Xo