How I Approach Snail Mail Greetings
January 9, 2020
I wasn't sure what to call this blog post, hence the awkward title above BUT I had a few thoughts about snail mail greetings that felt like they'd go well with the photos Samantha James Photography took for me recently.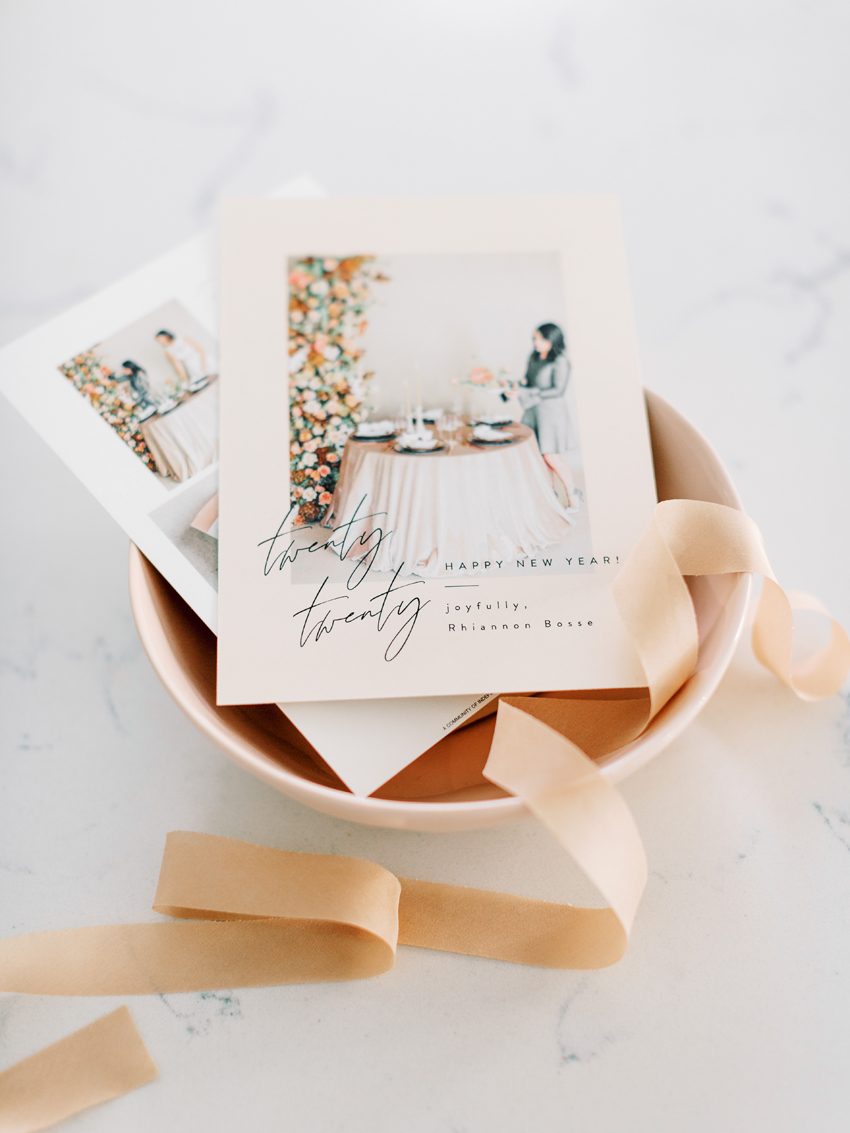 In this post I alluded to a possibly surprising confession that sending out holiday cards in 2019 didn't work well for me. This is actually something that in January I told Diana I wouldn't do, then did it anyway come November, and I felt quite dissatisfied so folks, trust your gut! But in all seriousness, I think I felt this way about our Christmas cards because our holiday season was so too jam-packed. The cards seemed like one more formality on the list of to-do's and as someone who handles the process surrounding them, it was just a meh task.

I also dug a bit deeper on the topic and my feelings around it because who doesn't love holiday cards (?) and I didn't want to feel like a total scrooge about it all. And wouldn't you believe I uncovered a few reasons why sending our holiday cards felt less than joyful this past holiday and how I may tackle these somber thoughts in the future. More on it all below!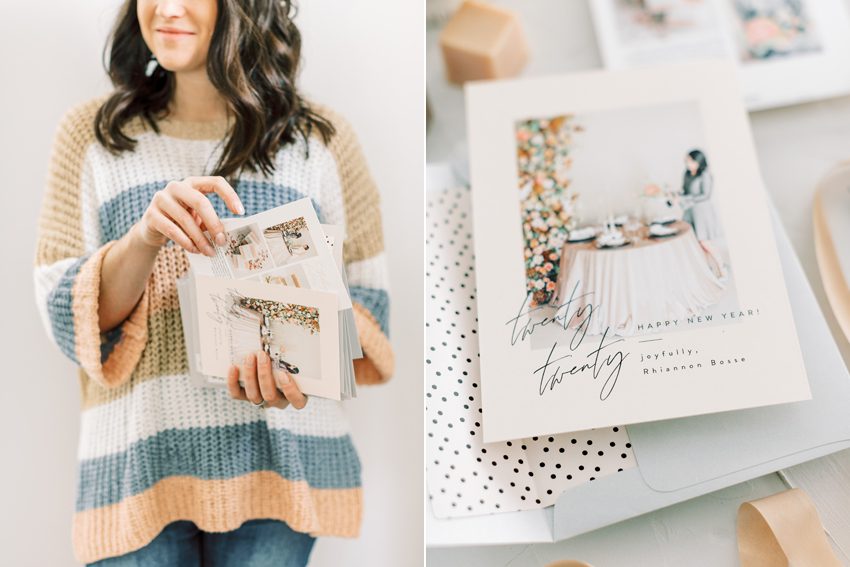 • Many of my gloomy feelings were thanks to the expectations I placed on myself to make holiday cards a big fancy 'thing'. Scheduling a photo session (do we go festive or casual!?), receiving the photos back and finding the perfect one (why isn't everyone smiling?), skimming through all of the templates and designs on Minted (which are beautiful by the way), considering the tempting bells and whistles (guest addressing! Envelope liners! Custom postage! Gold foil! Vellum overlays!), tracking down people to update addresses, ordering and receiving, penning a note on the back of each, and then posting them at last, felt like a LOT of work from start to finish. And I must note that a big driver behind these feelings of exhaustion had to do with a guest address spread sheet glitch that held up production, making the whole process rushed. But nonetheless, this year, shall we decide to sent Christmas cards, an earlier start is not premature but in fact very worthwhile.

• As I mentioned above, I pen a personal message on the back of each card. As such, this takes a great deal of extra time versus ready-to-stuff cards. And in case you're thinking, 'Well, Rhi, no one made you pen a personalized message on the back of each card!', I think this is part of my dissatisfaction with the whole card thing. While I LOVE receiving cards from my friends and family each holiday regardless of what they look like, sending a beautiful photo of ourselves in the mail, a photo likely seen on one of the many social media platforms I keep, just feels a tad off-brand without the personalized message. Realizing that this feels like the truest way to celebrate the season, not only do I need to decide on and order cards sooner in the future, but I could also afford to tailor down my list and make sure the recipients on it are people we love, know, and connect with often. It's OK not to send a holiday card (or wedding invitation) to every single person who sends one your way!

• Which leads me to tell you, again, that I love receiving holiday cards, and perhaps my friends and family loved receiving ours too, so pretty please don't remove us from your mailing list next holiday season! I'd be sad not to see my friends' faces, and for those that include them, exciting stats about their year and life. I simply know for holiday cards to feel right and true for our family, they have to have a purpose bigger than spreading our curated photo through the mail system at a time of year when it's already bogged down. Perhaps the purpose is a birth-announcement-holiday card in one, a Happy Easter card announcing a change of address, or an other unexpected form of a greeting, but a little heartfelt effort goes the distance.

So keeping in mind that:

• A purpose behind any of my snail mail greetings is key for maximum benefit

• Building in time to my schedule to prepare the greetings feels more joyful

and . . .

• Doing something because it's uniquely best for me / us . . .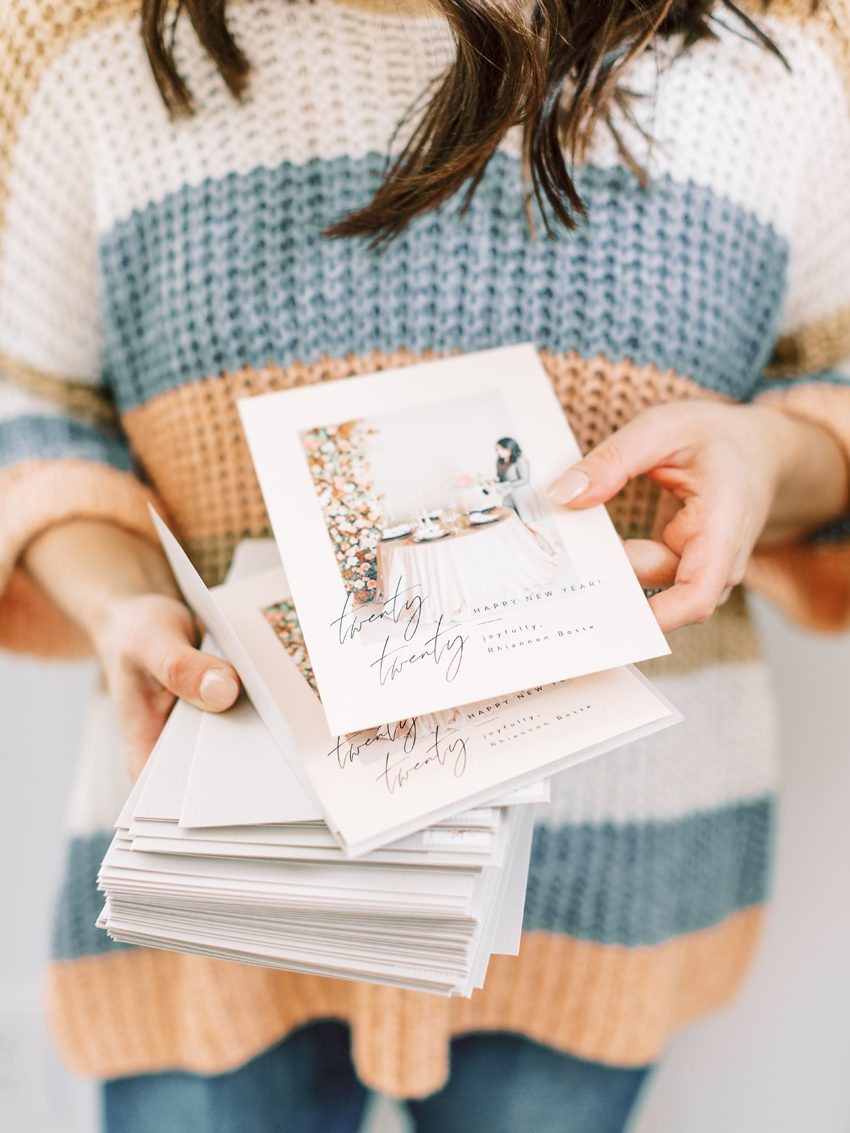 . . . inspired me to share this!
In lieu of business holiday cards, I sent out happy new year cards to 50 colleagues and professional connections. The cards not only served as a kick start hello to the new decade but they were also a chance to formally (and beautifully) announce the big business changes I recently made. The people who received the cards are ones I frequently work with, admire, and / or who would otherwise possibly not see the announcement I made on social media. The cards felt special and celebratory, and while there was not a penned message from yours truly on the back, there was a small (read: concise; shocking, I know) message outlining what's ahead for me and my business. The gesture felt similar to this one and I felt satisfied with the sentiment.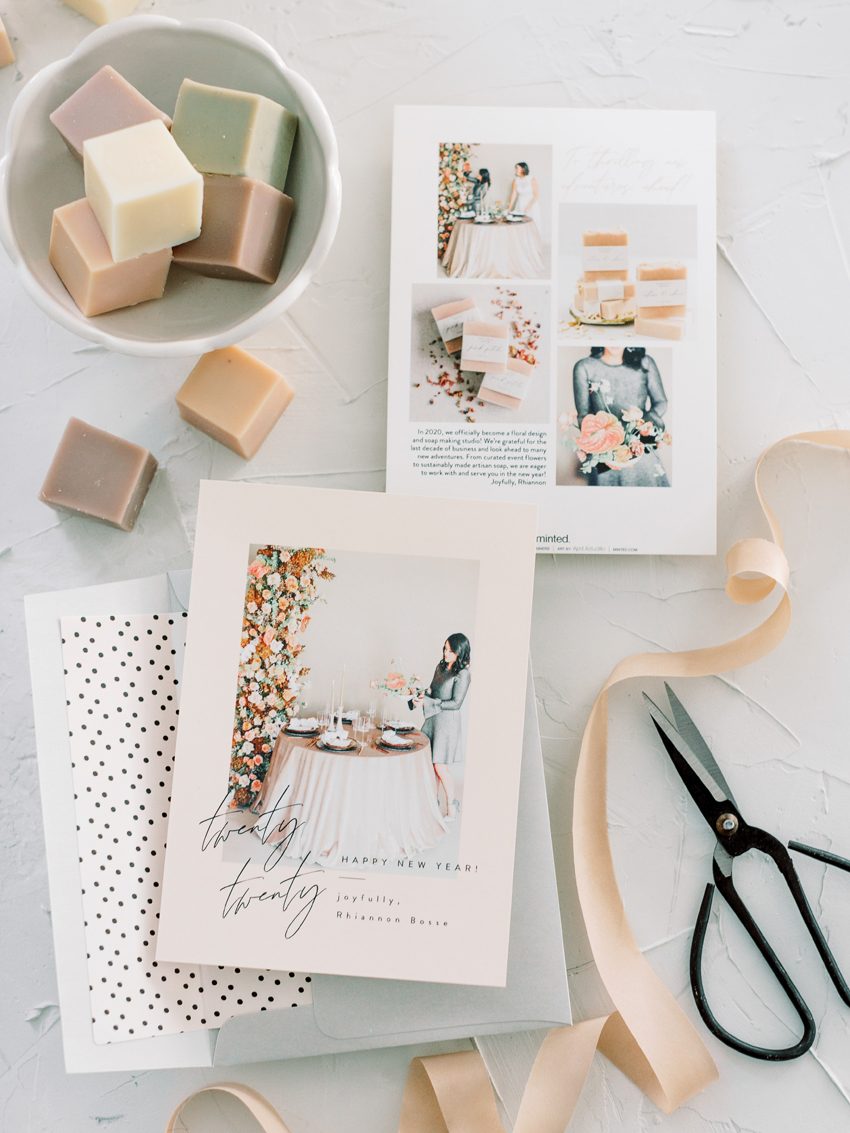 Some more thoughts on such a small-potatoes sort of thing:

I greatly admire the art of a handwritten note and believe formal invitations, penned thank you notes, and other posted stationery items have a type of nostalgia to them that I want more of in my life. Some of my favorite pieces of mail are unexpected notes simply saying hello, cards of gratitude where a friend thanks me and lists very specifically what they are thankful for, and invitations with special features like letterpress, vintage postage, calligraphed addresses, and so on. I hope I can continue to merge my love for these details with the types of greetings I / we send in the future!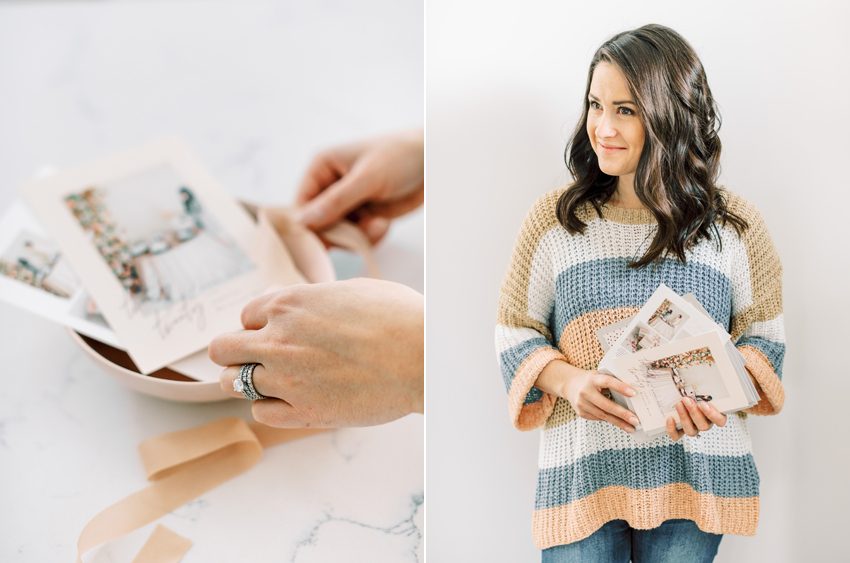 What are your thoughts on snail mail greetings, specifically Christmas cards? Do you enjoying sending or receiving more? Do you have guidelines for what and how you share within your family? I love my friend Emily's philosophy on Christmas cards which is to always include a short handwritten hello and pass along her and her family's steadfast faith – their 'reason for the season' if you will. I also love my friend Diana's perspective which is a bit different. You truly need to consider what works best with your values and schedule, then roll from there! I'd love to hear your thoughts! Xo
. . . . .
Oh, and this is not a sponsored post in any capacity. I truly love Minted's products and have used them religiously for the last seven years to print holiday cards, birth announcements, birthday party invitations, and now 'happy' new year business cards. Their vast selections, customizable options, customer service, and unbeatable price makes it very hard to ever consider other shopping options! I will always think of them first for stationery needs.