What Worked and What Didn't in 2019
December 26, 2019
My friend Lara has always done a kick you-know-what goal planning series at the end of each calendar year, and ONE of my favorite parts is where she shares the things that worked and did not work for her over the previous 12 months. It's easy to be motivated by other people's successes but I happen to be most inspired by people's hurdles and obstacles because those are usually rich in learning lessons and provide good reflection.

As such, I've been particularly attune to the things that have worked and the things that have not throughout my 2019. Easily disappointed by failures, I'm starting to look at my misses as opportunities to grow. Perhaps sharing those here will help you too do the same!
Here's what didn't work well in 2019
• Not making time for regular dates or kid-free adventures with Andrew. Movie night on the couch after the kids go to bed or day time dates are only so replenishing. We had so many grand plans to find a regular babysitter and get out for alone time but it rarely happened and we found ourselves missing one another more times than not.
• Feeling lost and confused when faced with hard decisions because the obvious answers didn't look like what anyone else was doing. So let's summarize this bullet point as comparison. Comparison never worked well in 2019.
• Not working in my studio because multitasking felt easier if I worked from the kitchen table. In theory this worked well when I went back to work in January and Ev hadn't yet started school; I was closer physically to him and things like diapers and toys when I worked at the table. But once he started school I sort of stayed on the main level of our home working from work-space to work-space and this made me feel like a hamster spinning on a wheel.
• Using food and sugar as a way to fill emotional voids.
• Staying up late which lead to groggy mornings and grumpy moments when I could have been rested and grateful. A VERY big challenge in 2019 was navigating Ev's needs, with Lachlan's needs, all while tending to 2 to 4 wake ups a night for the first year of Ev's life. A lot of this past year was running on E, and while very much out of our hands, it didn't work well.
• Ignoring my mental health. I struggled with awful post-partum depression and anxiety this past year, and things hit a low point in the middle of the summer when I was deep into wedding season. I chalked up my emotions and resulting physical symptoms to exhaustion and circumstances (partially true) but decided to be tough and just make it through. But no one should tackle their mental health alone and my efforts to be my own hero backfired.
• Blogging my goals every month. While the accountability was nice I often found myself avoiding my monthly goal work because I knew I had placed the expectation on myself to share them here. It's much more realistic for me to share yearly goals or posts here and there on the subject, which I hope is just as motivating and inspiring as monthly updates.

• Picking at my face and scalp after each shower. Guys, this sounds crazy but you know those double sided mirrors where one side is magnified like 20x and you can see the diameter of your pores? Yeah, I can kill a good 30 minutes in front of that with my tweezers. I spent too much time picking at imperfections, tweezing gray hairs (that's happened already), and usually feeling like a disastrous I-am-asking-for-Botox-for-Christmas mess. Spoiler: I did not receive Botox for Christmas.
• Eating out when there was perfectly good food to cook at home. Laziness and / or exhaustion was often the culprit here but regardless it felt like we ate out a lot and usually at places that were unhealthy OR expensive.
• White-knuckling my way to perfection. I always failed.
• Trying to justify too many pick-me-up purchases whenever I felt like it. Things like a Starbucks latte anytime I went grocery shopping or new toss pillow for the house to brighten my spirits, only ever filled a very short term need. I feel a longer separate blog post may be helpful on the subject, but as my business massively shifts so too are my views on money and 2020 will require some different financial approaches that don't involve frivolous purchases and meaningless pick-me-up investments.
• Not having the best grip on my allotted time each day and week in tandem with the responsibilities and expectations I have of myself and Andrew. Grossly overextending myself in many areas and trying hard to always go above and beyond when just enough would have done fine.
• Christmas cards. I will elaborate on this next season, promise.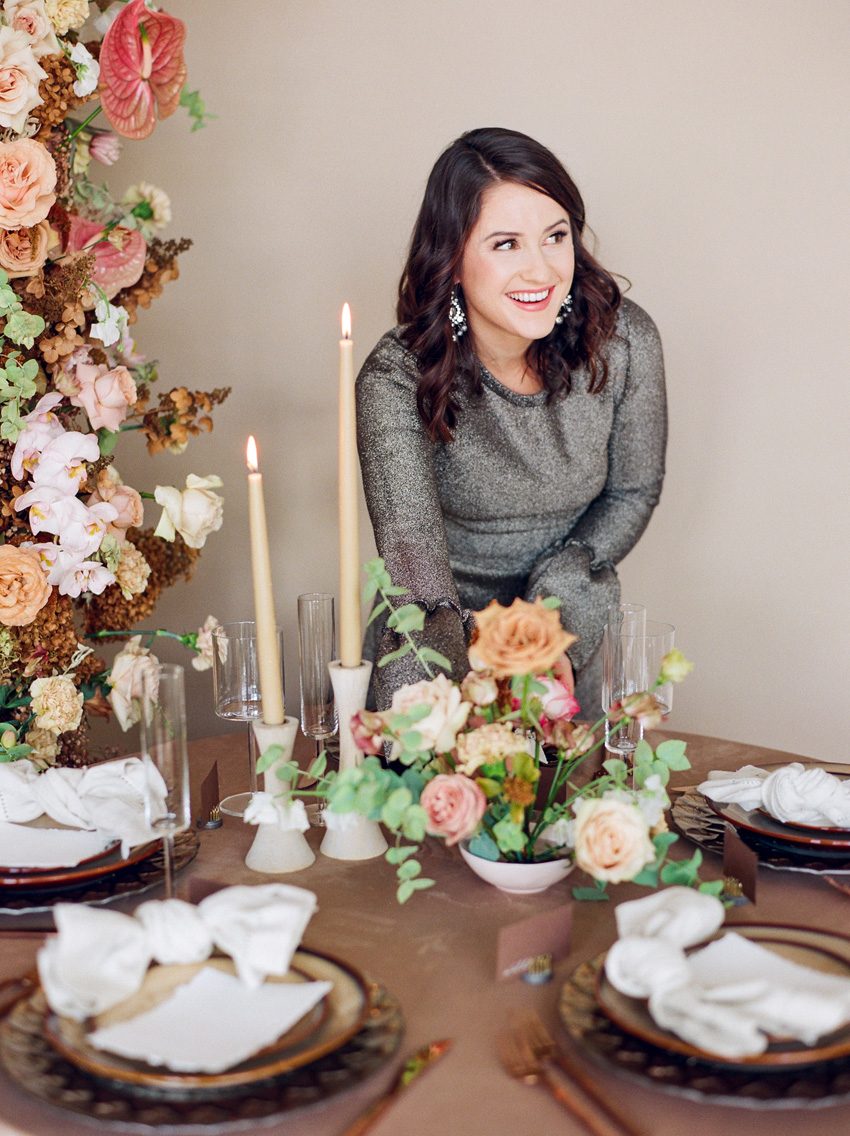 And NOW! Let's celebrate the good too!

Here's what worked well:

• Sending our boys to school three days a week. We talk A LOT in our family about whether part time child care is good for our boys or if being home with me full time would be better. And while the consensus is often close to being split down the middle, we always end up feeling confident that part time care is best for all of us. Three days a week where our children are nurtured by others and engaged with peers, and where I can run my business and do the things that would otherwise be impossible with kids underfoot, is a perfect rhythm for us.

• Learning to be flexible. With a messier than normal home these days, temper tantrums and blow outs that strike at any moment, running behind because of no gas in the car on our way to church, cancelled plans because of sickness, and so forth. Flexibility was key in 2019 and helped make a happier mama and wife in me.

• Hiring a life coach! Diana, I am so grateful for you! More here.
• A job change for Andrew. He switched jobs at the beginning of the year and while the adjustment was tricky with a new schedule and new (colicky) baby, he's much happier there and this ripples into out marriage and home.
• Reading Chasing Slow and Grumpy Mom Takes a Holiday.
• Downsizing our diaper bag to a $30 TJ Maxx find. My shoulders thank me.
• Pouring into Andrew's sister, her husband, and our nieces and nephews. Both our parents have gone through not great divorces, the most recent one from earlier this spring. Divorce is incredibly painful and often ripples from the two people involved, down to their families. Hardship aside, this situation made us want to cultivate stronger relationships with my sister and brother in law, and our kids' cousins. This involves attending early Saturday morning soccer games, impromptu pizza dinner nights, and more play dates than normal, but the closeness has been staggering and rewarding for everyone involved.
• Switching my diet to a healthier, modified version of my 2017 candida cleanse. While the cleanse didn't last once the holidays hit, even one week of revised eating had remarkable effects and I'm eager to dive in once 2020 starts.
• Voxer and Marco Polo which were wonderful ways to nourish some of my mom-to-mom relationships (especially those with two of my next door neighbors!) when and where texting and phone calls weren't always possible.
• Purging our home of items we no longer love or need. When I say purge, I mean a deep dive into ALL of our belongings, and getting honest about what we do not need or love. Sometime in the middle of summer, after feeling like our stuff was running our lives, I developed a routine that involved selling things in various facebook groups and scheduling porch pick ups with customers. As a result, our home feels a bit breezier and our bank account a bit fuller thanks to the garage sale approach I took in lieu of donating.
• Ditching scented candles in favor of diffusing oils and cedar sticks.
• Saying goodbye to the wedding planning side of my business. I haven't officially announced this (well, I just did, LOL) so consider this a lucky little surprise if you're an avid blog reader. There's a lot more to say on this and that will come January 6th when my new site and soap shop launches, but after getting over the initial sting of walking away, all I felt was a giant sigh of relief. Saying no to one thing always leaves space to say yes to others. I am living this out right now in a really new and exciting way.
• Realizing perfection is a game I'll never win….
• Investing in services that help make our family move about life and cultivate joy easier. These services include a monthly home deep clean, having groceries delivered every now and then, paying our teenage neighbor to cut our lawn so summer days were not spent being a slave to the mower, and hiring small business owners to make updates to our home like our new painted island, freshened up wall paint, and new floors. There has been a lot of cost benefit analysis happening in the Bosse home this year!
• Purchasing memberships to the zoo and local gardens where I spent almost all of my Tuesdays and Fridays with the boys this summer. Summer was SO sweet which is hard for me to process because it was also the height of my PPD and dark emotions. But I have thankfully have many fond memories of staying busy and getting out of the house this summer with two kiddos in tow. We will be renewing many of our memberships for the 2020 summer.
• Pouring into friendships that enriched my life greatly. Time with Betsi and Jodi was life-giving and special. Work projects with Kelly never felt like work (she photographed our relaunch shoot which you get a peak of here in this post!). Monthly catch up calls with Emily and Haleigh always felt like treats. Building a friendship with Nellie on facetime calls. Sending video messages and prayers to Lara and Shay. There was a lot of offline connection in 2019 that felt really good.
• Continuing to work with Payge and the BPC team! Love you, Payge!
• Saving all of Lachlan's clothing so that Ev could benefit from hand-me-downs! I'm not sure this would have worked well had we of had a daughter but the Lord blessed us with Ev so this is filed under 'What Worked Well'.
• Marriage counselling and joining a marriage-centric small group at church. While we didn't do well with carving out time for date nights, we DID do exceptionally well at making time for marriage counselling and small group, which to me feels like perhaps a bigger win as it illustrates a commitment to working on the things in our marriage versus simply spending time together (which is important, but you get my point). Our biweekly time with Melanie and then Kris and John, has been so sweet and life-giving.
• Monthly manicures. When my nails aren't done I bite them down to bloody stubs and my fingers get infected and it's gross and I am 33 years old, how do I still do this?! But I do so I get my nails done once a month and I feel confident and beautiful (my hands feel beautiful?) and that's important to me.
• Our IKEA cabinets for toys. This isn't a 2019 thing but it's still one of my favorite tidying hacks, even with two kiddos now and a few more toys than we had a couple years ago.
• Travelling as a family for my work trips. This isn't a luxury everyone has nor is it one that everyone wants, but in 2019 my prerequisite for any travel obligation was that my boys come with me or I sit it out. This required me turning down some of my favorite opportunities like being a part of Making Things Happen and travelling for weddings, but it allowed us to make sweet family memories and show our boys that mom has passions while dad is just as capable of caring for and having fun with his children.
• Creating a book club! Which not only held me accountable to reading more but it's helped develop some special relationships with others I would have never gotten to know otherwise.
• Speaking more of my husband's love languages (physical touch and words of affirmation) which are NOT my preferred ways of expressing love but nevertheless, this meant more hugs, squeezes, kisses and remembering to tell him things that I feel and know but don't always vocalize. This created a closer connection.
• Trying my best to be a better listener AND make more eye contact in conversations. So eye contact with others makes me very uncomfortable not because of the required vulnerability but because I have limited vision in my left eye and a slight lazy eye that I'm very self-conscious of. It's very noticeable in conversations and after too many people thinking I was not speaking to them, when in fact I was, I started to hold conversations with my face thoughtfully turned away from others. I've been trying very hard over the last year to revert this habit, listen carefully, and make eye contact with others even if my imperfections are noticeable.

• Random things that were helpful for us: visiting the chiropractor monthly. The nose Frieda. Having an Alexa in the kitchen AND one in the bedroom (dance parties and wake up songs instead of alarms, respectively). Switching BACK to our home church after deciding to try a new one (which didn't work out). Our Nespresso machine which has cut back significantly on the money we would spend on coffee purchased outside of the home. A new automatic floor vacuum that was a holiday gift but the last 24 hours have been stellar.
. . .
Phew! And I could go on and on with what worked in 2019 and what did not, but this list feels pretty in depth as is. If you're looking for more of the good stuff, you can also catch this post here which is a fun Best Of series I was a part of with some special blogging friends. As always, if you have any goal-setting posts or thoughts to share, post them below so I can encourage you too! We're in the final leg of 2019, friends. Make it count! Xo