2019 Goals
January 8, 2019
I haven't publicly shared my goals in years but I'm inspired by many to do just that with you here today!
Last year I set 10 goals. One of those goals was to continue trying to grow our family again which we gratefully did! And because of that very addition and my desire to be present with my two littles while they are so young, I only made six simple goals for this year. As stated here I have a tendency to overcomplicate things so I wanted to be concise and intentional with this year's vision. Most of my main goals have subgoals under them, little things to strive for as the the year unfolds, but everything points back to my big picture, the vision of where I see myself and all facets of my life over the next however-many-years-I'm-blessed with.
But first!
My 2019 Vision Board to help set the tone. I went with this virtual board in lieu of my usual cork board.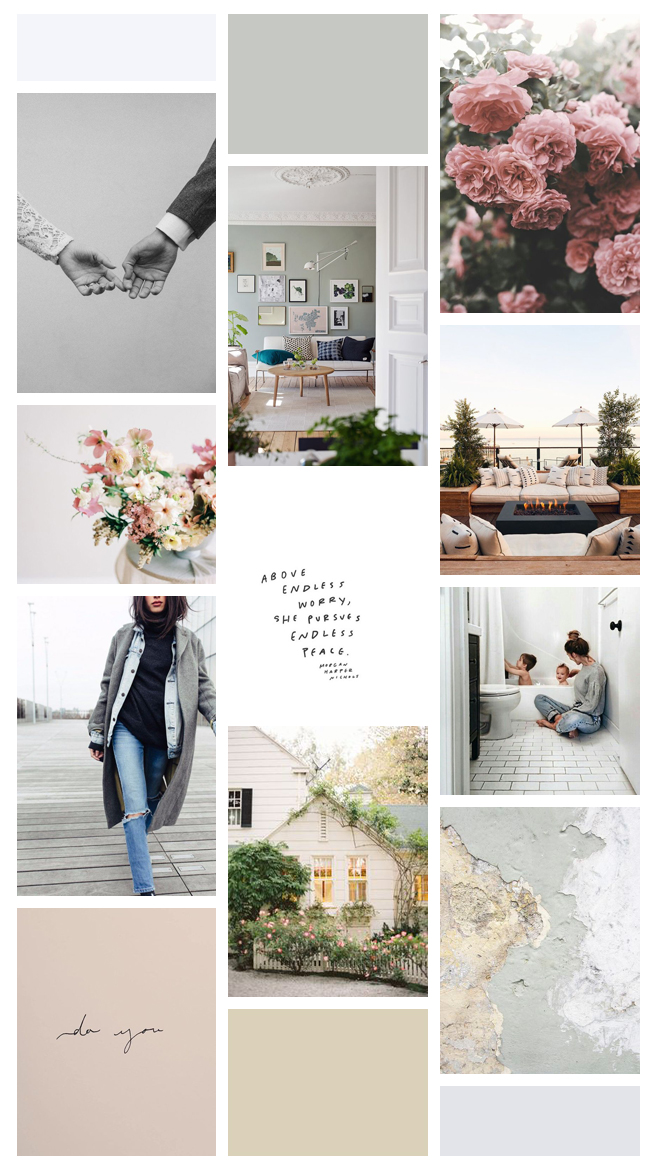 2019 Goals
.01 To learn to love myself. Two babies in less than three years, nursing a high needs baby around the clock since he won't take a bottle, an evolving business, marriage, lots of health changes, work and personal travels, a job change for my husband, the holidays, and all the in between of life has left me feeling like I'm on the back burner these days. But more than that, and more than this being about any kind of self care, which is a certainly an important part, I need to learn to accept myself. Through that acceptance I hope to find love.
Action steps and subgoals: This will mean less negative self talk, getting rid of clothing that I'm keeping for when I am 'skinny' again, believing my husband when he tells me I am beautiful and thanking his instead of rolling my eyes, committing to alone time at the YMCA where we have new memberships, ditching any SLIVER of mama guilt when it creeps in, and taking pride in my appearance each day, even on the ones where I am home with the boys.
.02 Create and implement a radical new social media strategy. This one has been a long time coming, friends. And it deserves its own blog post, a task on my tending list for January. Essentially, social media has become a place where I find it hard to cultivate joy, contentment, balance, and connection. While I recognize it's an important tool as a business owner and valuable resource as a friend and colleague, I need to rework how it can serve me rather than be a hinderance. I hope to get back control on my phone use, but more so, I want to step into a new rhythm in my business and life that involves a much different approach to connection and sharing.
Action steps and subgoals: This will mean less time ON social media regardless of if I'm posting or simply engagement, and let's be honest, much less time scrolling mindlessly out of boredom. It involves asking my new life coach for accountability and making sure the time I do spend online is calculated and done with purpose and love. It also involves being flexible and allowing myself freedom to share on special occasions or work weekends. This is more about retraining my brain, and heart, to view, and ultimately use, social media differently.
.03 Become the peaceful steward of my blessed life: Being the joyful conductor of our lifegiving home in 2018 was a game changer. SO much so, that even into 2019 there are things from last year that are now habitual. Simple things like doing laundry every day so our weekends are not spent in front of the washing machine or family dance parties in the kitchen while we cook dinner have made a big difference in our home. Building off of my personal word for the year, I hope this will spill out into our home in profound ways too.
Action steps and subgoals: The subgoals under this main goal delight me so! After 8:00 pm we keep phones out of our bedroom and have play time with the boys before bed. When the boys go to bed I too, go to bed so at 4:00 am I can do Ev's morning feeding and then start my day with a few uninterrupted hours of work (getting out of bed this early is HARD you guys). This also means I am committed to dancing with Lachlan around the house, drawing huge bubble baths for him, keeping our home as clutter free as possible, disciplining with soft words and leading with a soft heart, snuggling with Andrew in the morning hours, staring into Ev's eyes as he smiles back, nursing him in the dark without the bright light of my phone but instead engaging in prayer, being outside in the quiet of nature, delighting in family traditions like our yearly trip to Seaside, celebrating everything, and fighting for joy.
This goal is so near to me!
.04 Focus on three specific numbers connected to my bigger picture. This goal is one I recently tweaked a little bit because I wanted at least one goal that felt a little more concrete with clear measurable success. So I have three important numbers for 2019: $5000, 5000 and 75. The first number is the amount of money I'd like to have saved in an account for our spring 2020 family Disney World trip (!). The second is the amount of people I'd like to have on my newsletter list by the end of 2019 so I can continue spreading my message of beauty and intentionality, and the third is how many blog posts I'm aiming to share over the next twelve months.
Action steps and subgoals: On the financial front, this means sticking with a 2019 payment plan to ensure I have $5000 saved by the end of the year (when we hope to purchase flights to Florida). In light of these saving efforts, I'll be giving up Starbucks in favor of home made coffee, eating out in favor of eating at home as per our meal plans, and keeping business expenses to a minimum with guidance again, from my life coach. In the marketing realm, I'll be tapping into my team to help guide my efforts strategically and in areas where my ROI is highest.
.05 Launch Rhiannon Bosse Soap Co. After careful consideration I'll be offering my soaps online for sale! I want to make sure this doesn't become a massive undertaking or anything that takes away from my family or wedding planning clients, but I do want to share my creations with the world, especially after many, many requests from friends and colleagues online. My hope is meeting this goal will not only allow my lifestyle brand to continually flourish but I'll also have an additional (and small but nevertheless) revenue stream.
Action steps and subgoals: To make this goal a reality I'll need to schedule a meeting with gracious friends who have offered to give a crash course on Shopify, build up inventory to prepare for a launch by using my spare Saturday afternoons to soap, nail down pricing with Andrew after my new packaging arrives, and have a successful pop up shop on Valentine's Day as a way to promote the new RB soap bars (bigger and with more beautiful scent and color combinations). Finally, and most importantly, I'll need to let go of the idea that this venture needs to be perfect to be successful!
.06 Head down, work hard, and maintain momentum from 2018. While last year felt like a whirlwind and one that left me feeling a little tired by December (partially because of life with a newborn!), there was a lot of good cultivated in my personal and professional life. So rather than starting 2019 completely fresh, I'd like to use the new calendar year to simply carry over momentum. To be cognizant of the good things I want to continue working on but also aware of what can stand to change. To serve our clients exceptionally well, continue making beautiful things, and inspiring others with my words and thoughts. To infuse joy and celebration into our home, be a present and fun mama, and loving and selfless wife.
Action steps and subgoals: Bringing this goal to life will require strategy with my time and the 24 hours I have each day. It will require discipline and making sure I am present with my many responsibilities so every role and thing in my life doesn't meld into one big chaotic blur. It means turning off my phone on weekends, taking risks on projects I've been fearful of, connecting with new professionals to build fruitful relationships, connecting with my faith in deeper ways like reading The Word every morning, continuing to pursue counselling for myself and our marriage, and committing to what matters most.
2019! It is so nice to see you.
I'd love to hear from you in the comments, friends. What are your goals this year? Or do you have you big picture mapped out? If you have a 2019 goals post I'd love to read it and cheer you on!
CREDITS: hands / living room / pink roses / outdoor space / bathtub / marble/ house / jacket / flowers / do you / middle quote