The Commercial Side of Easter in Our Home
April 1, 2018
Happy Easter, everyone!
It's an early morning here as we prepare for a sacred and celebratory morning at church and a full afternoon of family, food and fun at home. I've read a lot of blog posts about the reason for celebration today and want to be clear this part of Easter is at the forefront of our hearts. But as someone raised in a home where the commercial side of each holiday was a foundation of celebration, I love being able to instill similar values now with my own home and family. Celebrating just about anything is the heartbeat of our life so we're pretty unapologetic about it.
Below is a bit more on the commercial side of Easter and the way we approach festivities in our family!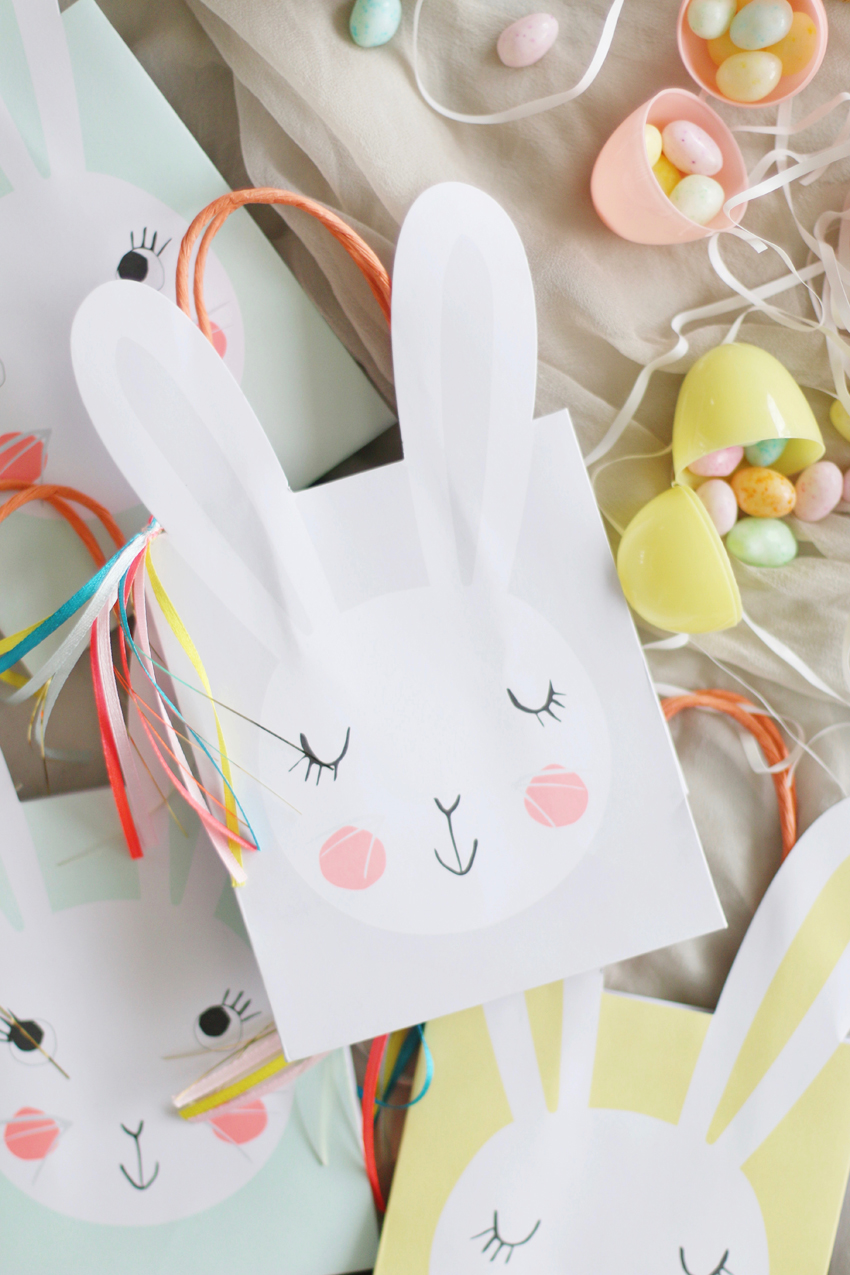 The Easter Bunny
I've read many sentiments about the Easter bunny being creepy but I find the notion of the bunny to be endearing in a Beatrix Potter kind of way! If we're talking about the life-size cartoon looking bunny perched at the mall for photos then yeah, I think that's a bit too much. But I tend to believe in a nostalgic approach to how those eggs and trinkets get into our home. We've been teaching Lachlan about the glory of Jesus and his resurrection but also that the Easter bunny is going to come into our home and bring him some small treats on Easter morning. It's a day full of excitement celebrating two ends of a spectrum. He's obviously a little young to fully wrap his head around both the Jesus side of things and the whole bunny concept but for now the wonder and curiosity over everything ('Thank you, Gesus") is enough for us!
Egg Hunts
We keep the Easter egg hunt game pretty simple. Today Lachlan will wake up to a simple trail of plastic Easter eggs leading from his room to his basket downstairs. Each egg has a couple jelly beans in it. Since it's usually a bit chilly for an outdoor hunt here in the Midwest, we do a more challenging search inside with the cousins (four kiddos in total to date) when they arrive before dinner. The eggs are sometimes filled with candy, sometimes with pennies and nickels, and each kid gets their own color so they can search for their own eggs without conflict and leave the easier-to-find ones for the two little kids. I'm secretly (not so secretly) hoping that one year Andrew will organize an egg hunt for me too because I'm going to go ahead and admit that hunts of ANY kind are pretty exciting even for me as an adult. But for now it's all about the kids and I quite enjoy hiding the eggs!
Easter Baskets
Speaking of baskets! Gifting to others is one of my favorite love languages so this is the area where I feel I indulge the most. Lachlan's basket is from Target which you may remember from this post. This year it was much more fun to fill it since Lachlan's a bit older to actually have concrete interests. This year I included: Annie's bunny gummies, a book about Easter (with flaps, his favorite kind of books to read), a Paw Patrol sticker activity book, a new t-shirts and pair of pants (which had to be purchased anyway because #growthspurt), a pair of kid's gardening gloves for Mother's Day when we take our trip to the local nursery, and some mini chocolate Lindt bunnies. I also threw in a mini stuffed lamb, which is an existing toy from Lachlan's room but hey; no shame in my game! I don't see the point in buying another new stuffed animal when he's been gifted with them since the time he was in my belly! In Andrew's much smaller basket is a Men's Health magazine, charcoal soap, car vent fresheners, a charcoal face mask, and large dark chocolate Lindt bunny. Simple stuff he'll love and use!
New Outfits (or lack thereof!)
This isn't really something we're doing but instead a thought I wanted to share: we're halfway through Financial Peace University right now and the principles of the class have been playing a big part on how I approach a lot of things. For example, being an active part of the blogging and social media world, I found it was hard this year not to feel like I needed a new church outfit, matching shoes, accessories, etc, and not just for me but the whole family to make our church visit complete. But what we have is enough so we're going to service today in some beautiful clothes that already exist in our closest. I like to think Dave (Ramsey) would be proud. I also think Jesus couldn't care less about what we wear to celebrate Him today right? Carrying on.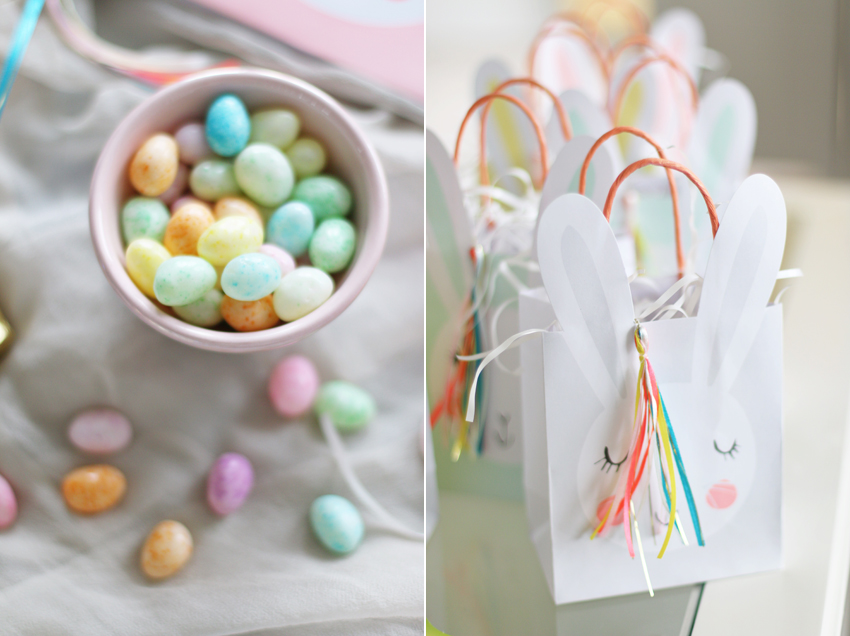 Hosting Dinner
Andrew's sister usually hosts Thanksgiving. Since my brother in law's parents attend that holiday at their house, it's typically a bigger undertaking than hosting for 10 (the combined total with our two families and Andrew's parents ). So we usually host Christmas and Easter to divvy up the costs and responsibilities. We plan for a mid afternoon dinner (2:00 pm meeting time) so that everyone can go home with ample time to not feel rushed preparing for the week ahead. We've gotten a bit better over the years at minimizing the plethora of leftovers that typically comes with family gatherings, and I'm happy to report that I think this year's feast will be much more appropriate for the 10 of us.Which leads to my next thought on helping to minimize too many leftovers . . .
Delegating Duties
We have a simple text thread where we exchange who will bring what. Again building off of my point above, this feels like the first year where we're collectively taking a simpler approach towards holiday collaboration. The Bosses are hosting and providing drinks (water, peach ice tea, soda) and dessert (homemade chocolate fudge cake with peanut butter frosting). The Baughns are bringing a veggie tray with spinach and artichoke dip and a homemade cheese ball (their usual contribution!), and Andy's parents have the biggest job, preparing the honey ham, cheesy potatoes, and pull apart rolls. Again, it's an easy trap to feel like, 'there will never be enough!' but we've finally learned to trust we will celebrate in abundance.
A Little Fun
Early in January while shopping at Home Goods (pre-Financial Peace University) I found the adorable Meri Meri mini bunny gift bags pictured above. I immediately grabbed them knowing we'd be hosting Easter and they'd make really cute surprises for everyone at dinner. So while I splurged a little on filling them for everyone, they're still pretty simple and thoughtful – the perfect place card for each person gathering around our table today. Andy and I don't get bags but my mom and sister in law get a mini Lindt bunny, some eggs filled with jelly beans, and a vanilla flavored EOS lip balm in theirs. My father and brother in law get the same candy breakdown but with a pack of TicTacs instead of lipgloss. The older kids get a pack of stickers and a bath fizzy with a novelty surprise inside, and Lachlan and Tatum (the toddlers!) each get a animal figurine and pouch of food. I know the bags will be an unexpected but appreciated gesture to everyone, and I'm secretly most excited about them.
Phew. That's it! Hopefully you made it this far. I'd love to hear how you celebrate festivities today, too!
Have a happy happy Easter my dear friends!
Xo