Last Minute Valentine's Day Gifts
February 14, 2018
Happy Valentine's Day, friends!
Andrew and I started the morning out nice and early with sweet surprise gifts for another and shared coffee before Lachlan got out of bed. Ironically, part of my gift presentation for Andrew included pink heart shaped balloons scattered all over the dining room, and Andrew's gift to me included helium filled red and pink balloons! I guess celebrating more than a decade's worth of Valentine's Days together means we go back to festive basics.
Speaking of, if you're a last minute kind of gal and need a few ideas for that special someone in your life, I've got you covered! Head to your nearest Target (bonus if it's one with a Starbucks inside) and use the following ideas to build a thoughtful gift that doesn't feel like it was an afterthought. Whether you're gifting a roomie, sister, friend or neighbor, spouse, boyfriend or even your toddler, there's fun ideas for everyone that won't break the bank.
Thanks to Samantha James Photography for capturing all of these fun ideas for me. And if you missed any of the other Valentine's Day content shared this week catch yesterday's vegan pasta recipe here and Monday's pink and red tablescape inspiration here. Oh! And the best part is the fun giveaway being offered this afternoon with Le Papier Studio. Join our mailing list to get the details delivered straight to your mailbox this afternoon!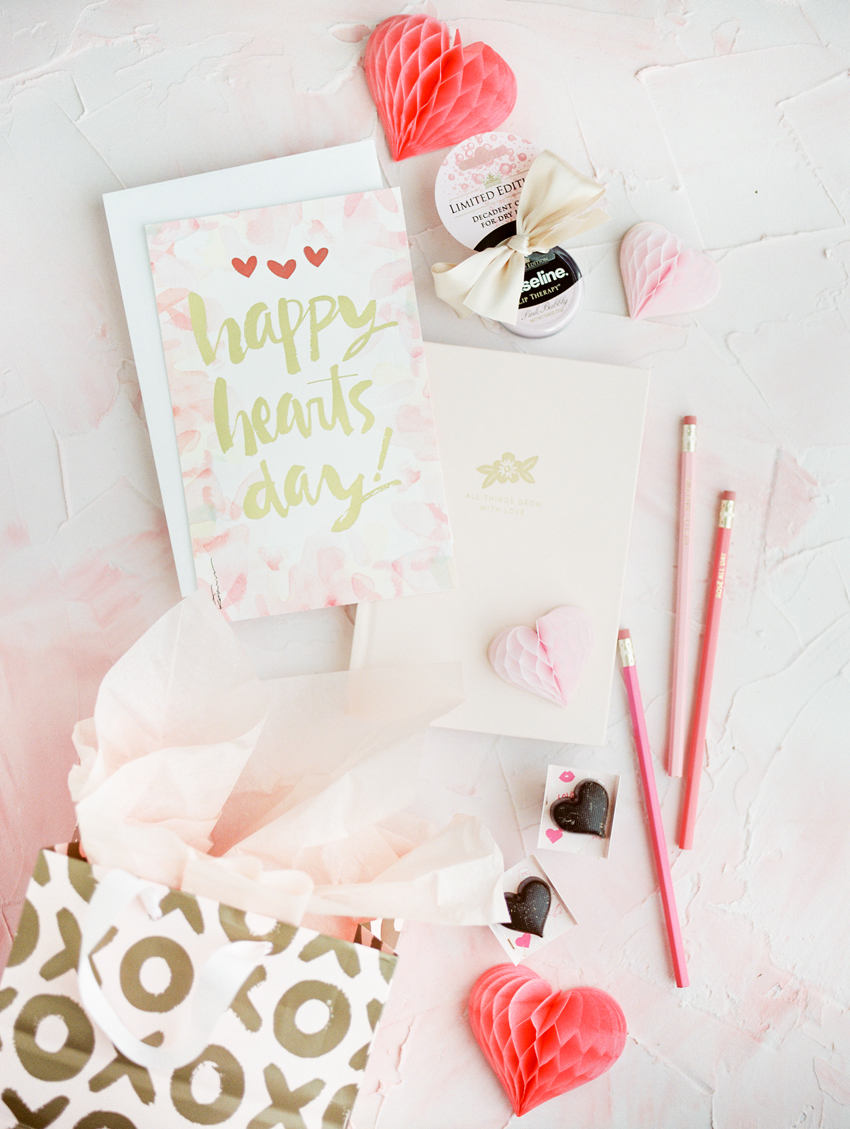 For less than $20.00 you can gift your best friend or sister with sweet items you know she'll love and use, like all the things pictured above. I opted for a new notebook for to do lists, a tried and true lip balm because this Midwest cold can be brutal and result in constant chapped lips, cute pink pencils, a couple bitesized chocolates from the Starbucks check out counter, and of course a sweet card with a note of gratitude and love inside. A festive gold foiled gift bag and soft pink tissue is sure to pack a lasting punch!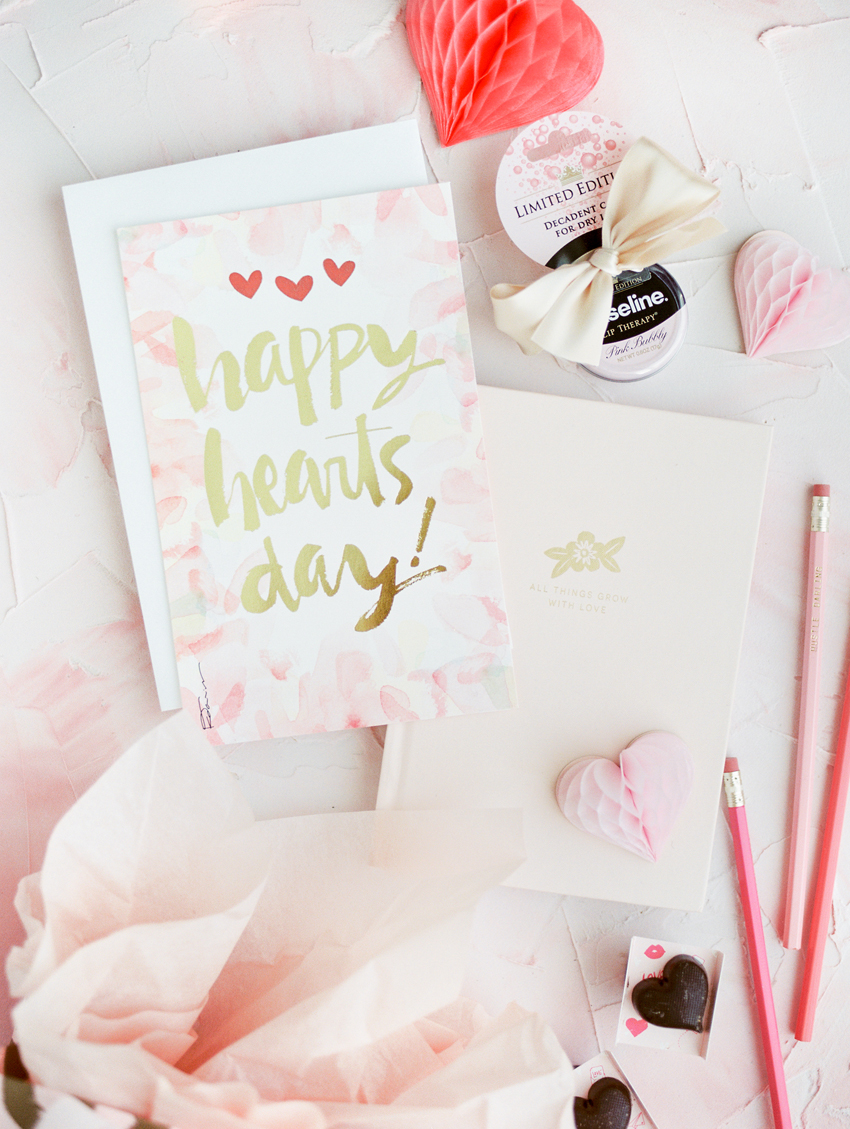 For your significant other or spouse, Starbucks has inexpensive and festive treats up for grabs that won't get thrown in the back of the junk drawer. For my husband who loves food and tea, I picked up a $5.00 gift card, Teavana bottle of tea, and Swell bottle for his coffee on his long commute to work. The rest of the items were scores from Target including a big bag of mini Kit Kats (rewrapped in a glassine bag), Things I Love About You book with my thoughtful messages penned inside, and adorable heart shaped hat box.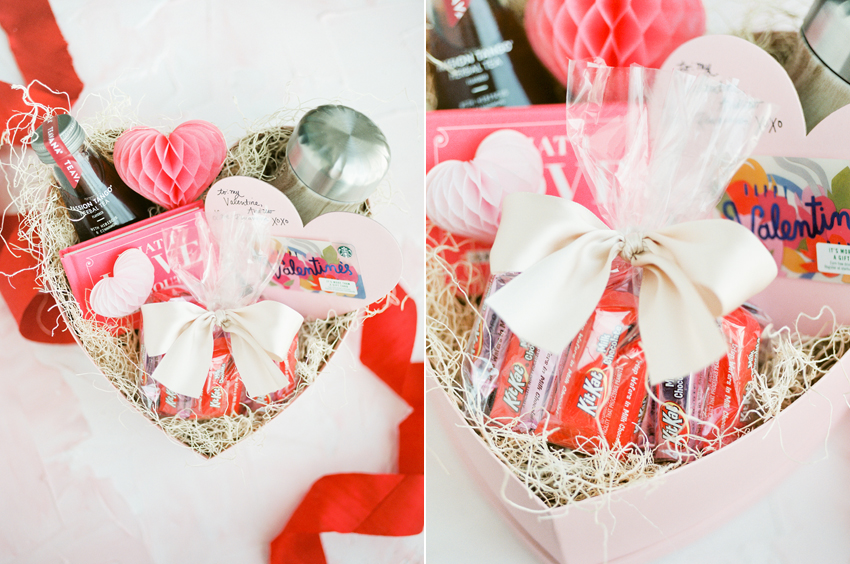 For the kiddos, instead of a new toy, consider making Valentine's Day breakfast or lunch festive and special. Use different sized heart-shaped cookie cutters to make a meal full of cheer and love. Sandwiches, waffles, cheese slices, and even some fruits hold their shape well when cut. Alternatively, you may be able to find a lot of your go to items offering limited edition Valentine's Day products like heart shaped fruit snacks (a favorite in our home).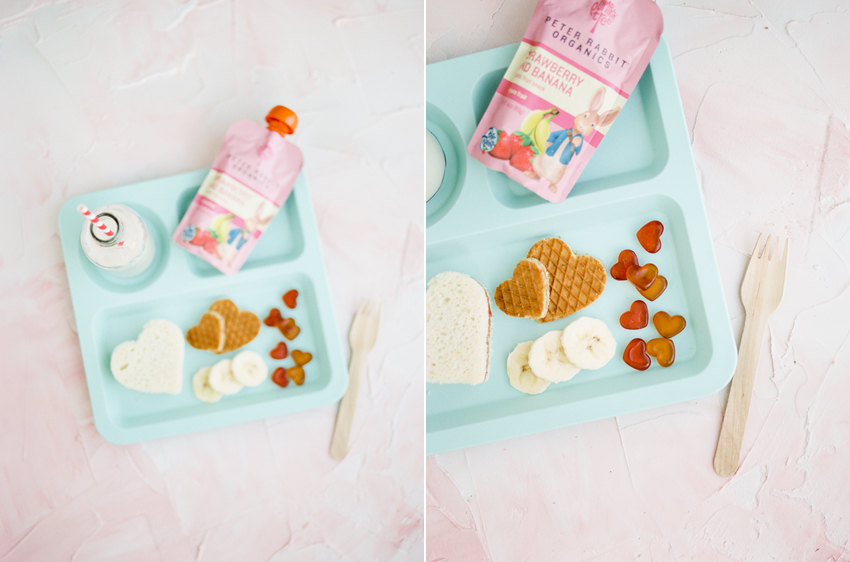 A note placed next to the meal is the perfect finishing touch even if your kiddo might be a little too young to make sense of it yet. I also want to add, in an effort to make today a little more fun for Lachlan I made a spur of the moment decision last night to turn some empty cardboard boxes into a fun tunnel in our living room. It was very sweet to see the dude's reaction this morning when he realized what was waiting for him at the bottom of the stairs! In short, kiddos are easy to please so keep it simple and have your efforts come from the heart.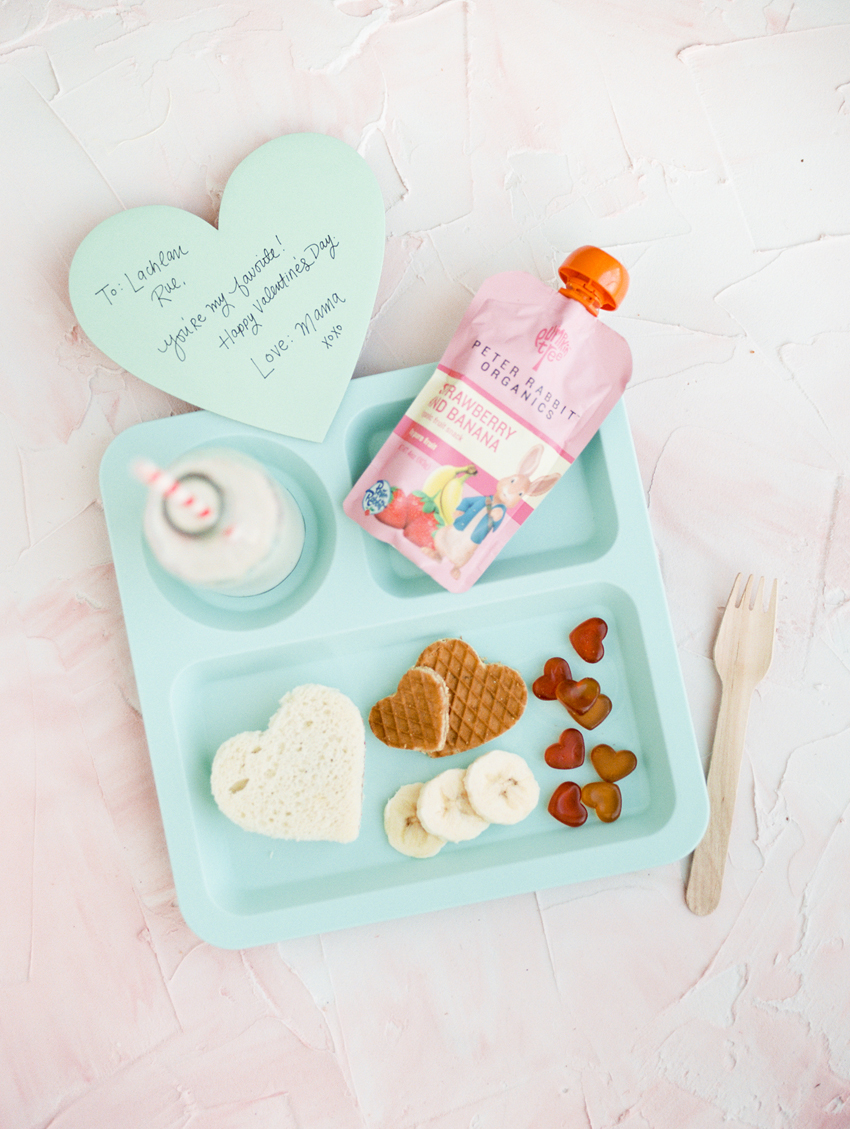 Finally, for mamas looking to DIY their kiddo's valentines at the last hour, check out hobby stores for festive, gender neutral, and cost effective crafting supplies. I scored packs of cardboard hearts from the craft section at Target which came in a fun array of colors and metallics. In the same section were also affordable packs of mini pastel-hued rulers, perfect for schools like my son's where food allergy rules prevent students from bringing edible treats to class. Since my son is still too little to write, I addressed each heart myself, signed my son's name, and then using a small dab of hot glue, adhered the rulers to the coordinating colored heart.
The process was as easy as can be, materials extremely cost effective, and big heart size will surely excite the lucky little recipients tomorrow when they celebrate their Valentine's Day party as a class.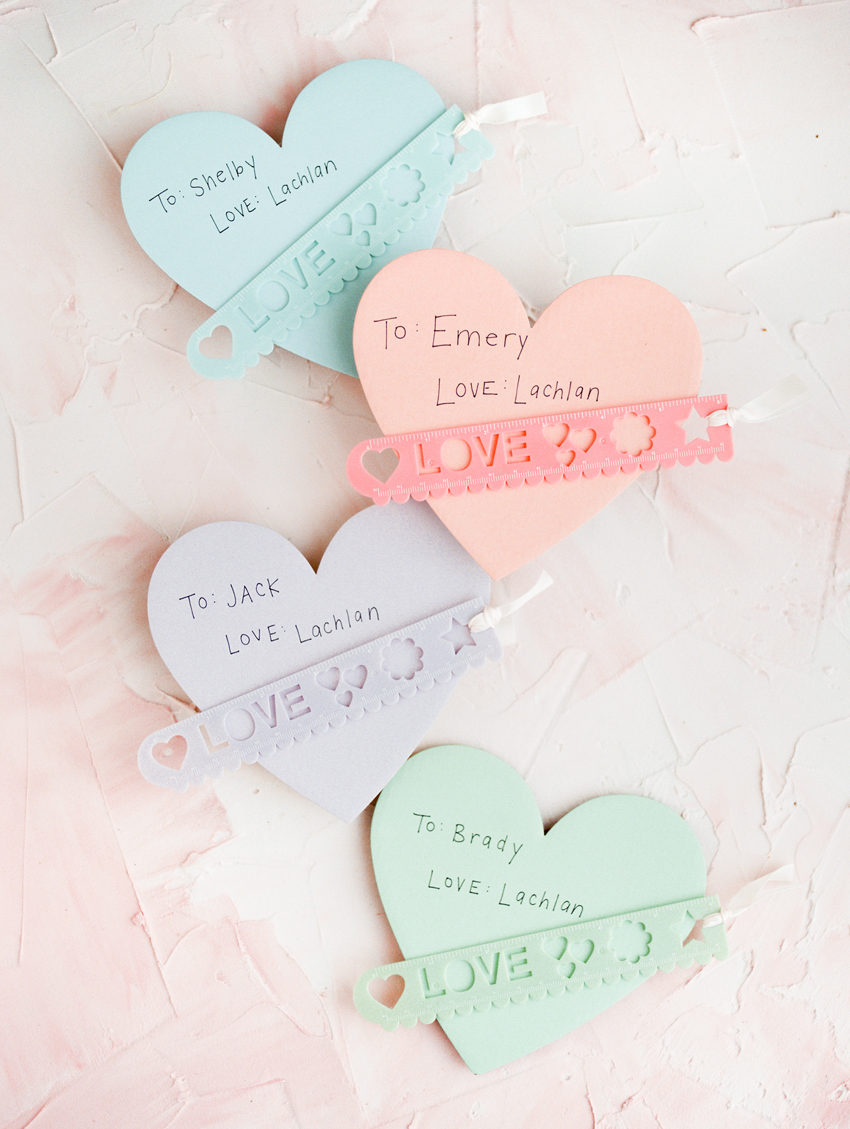 Now if you'll excuse me, I have a macaron date with a handsome little two year old!
Have a sweet day, everyone! Xo