2018 Blog Reader Survey Results
February 5, 2018
First things first. I am SO grateful for you guys! I knew that before last Monday but I know this even more so after reading your feedback from the blog reader survey last week. At first I was very nervous to hear what you all think (especially since the survey was anonymous, a decision I made very intentionally) but it turns out a lot of you are just as encouraging as I'd ever hope for. Inspired by my friend Em who helped me set up the survey, I wanted to share the responses here with you and how your feedback is helpful with creating future blog content.
When Did You Start Reading the Blog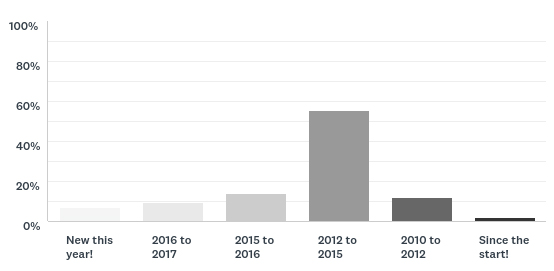 My NINTH blogging birthday is on Valentine's Day! I remember how different the blogging world was back then and how much has changed even over the last couple years. Social media on our phones has seemingly replaced people taking time to soak up longer format content to engage with on their desktops. While I don't have many readers from the beginning days in 2009, I DO have a lot, if not the bulk of my readers, who have been tuning in since 2012 to 2015, which is pretty cool. Over the last nine years so much has changed in my life and a lot of you have remained as faithful readers through it all. That means a lot.
A Snapshot of You!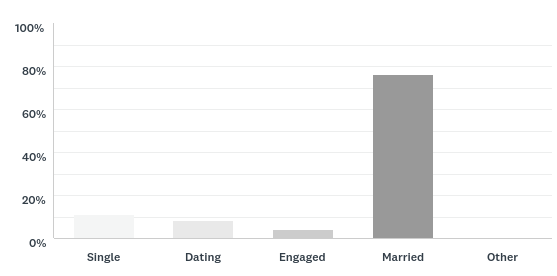 Learning more about all of you was really interesting too. Beyond a telling comment or link back here and there, I'm not often given the opportunity to know much about my readers. This was helpful to do just that! The majority of you are married (which wasn't too surprising) but what was, was seeing how your ages broke down. For some reason I always think my peers are the exact same age as me (because once you get older it seems everyone blends into one age group) but that's obviously not the case. The biggest percentage of respondents are in the 26 to 30 years old category, which was the part that surprised me. The second biggest demographic is the 31 to 35 year old group. And I especially love that I have a handful of others in younger and older age groups too!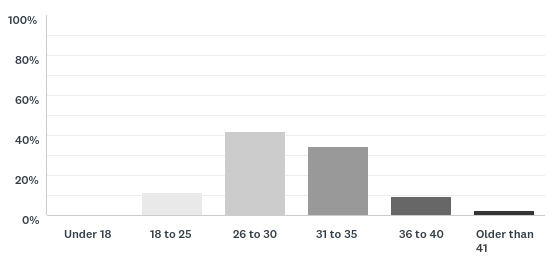 And then finally, in learning more about you, it was helpful to read about the sorts of work that take up your day to day. Whether it's a wedding related gig (which 27% of you have), creative business/position, traditional job (which was the highest percentage at 36%), school studies, or working full time at home as a mother and homemaker, this was fun to read. I think more than anything, these numbers showcase the want for content diversity because so many of you are spending your days doing very different things from one another but likely with a similar end goal; to live life with intention, fill it with beauty, and find lasting contentment in all you do (#handraisedhigh).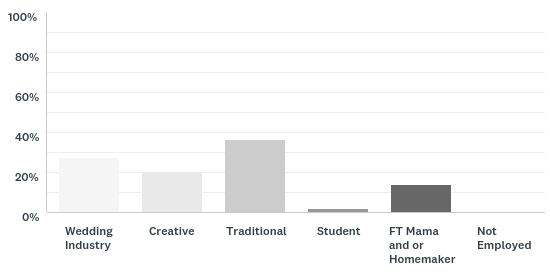 What You Love Most Around Here
Here's where things got fun for me! I asked you what content you love most on the RB blog and the options involved my main categories of posts along with an 'Other' option where you could type in other kinds of content you may like. As I expected and hoped, the lifestyle (and projects) category took top place, followed closely by the family and motherhood category in the second place spot, and in third place was your preference for any and all things inspirational like my Pep Talks and Heart to Hearts. I really didn't think you guys LIKED the inspirational content so this was encouraging! And sometimes talking about motherhood feels fruitless because I'm not an expert (well, I suppose I am in my own home but that's where my expertise ends) but I know how I love reading about how others live their life in an effort to feel inspired myself so this was good.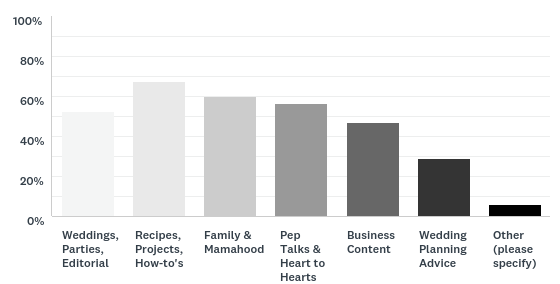 I then asked readers to share specific examples of posts that really resonated with them. And the feedback was awesome! While this question was open ended and required more effort than a multiple choice option required of participants, I did have more than 50% of readers take time to fill this out. In no particular order here are some of the answers I received the most of, and things you all love and want to see more often on the blog: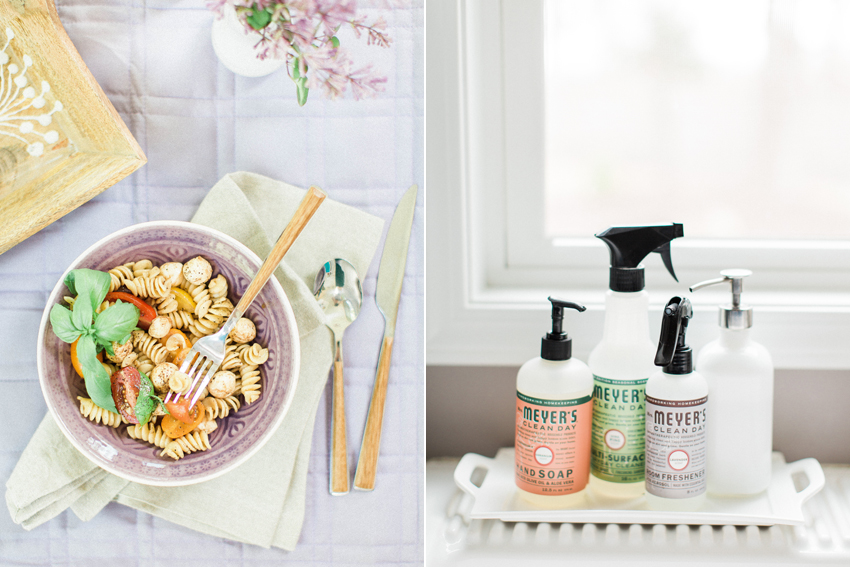 Health & Wellness (more specifically, Rhiboot Rhi) You guys love Rhiboot Rhi stuff which includes vegan recipes, health and wellness tips, insight behind why I made the changes I did, etc. I have a post coming soon which is sort of a long awaited update on where I am in my personal journey these days, and why I closed down my IG account but now that I know how many of you like this type of content I will be happy to share much more. I am NOT an expert on cooking, health, wellness, nor am I a dietician, naturopath, doctor, or fitness trainer. BUT I do have many things I can share from personal experience and I plan to do just that.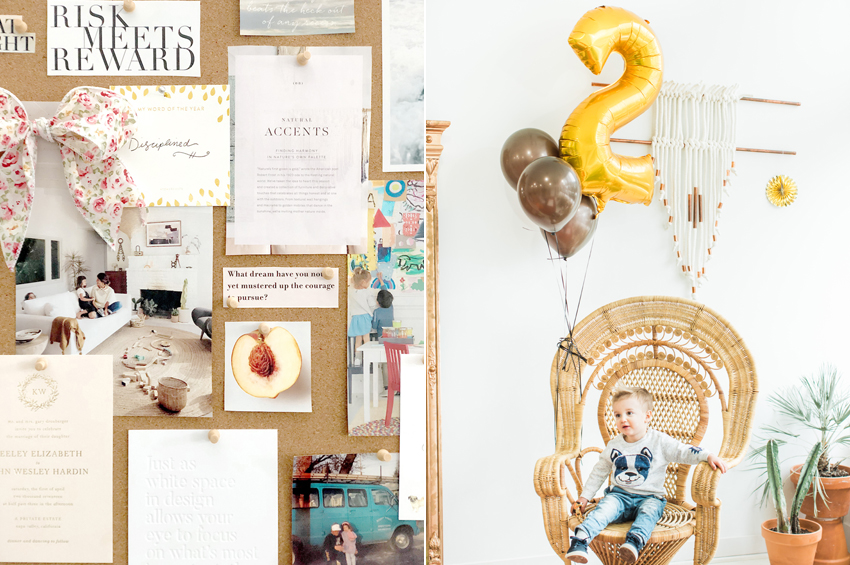 Motherhood (more specifically, managing motherhood with running a business) As expected, a lot of you are also mothers or soon to be mothers and this type of content really interests you. I'm pretty unapologetic about how much I adore being a mom and as a result share a lot of my experiences freely here, so if anything this is encouragement to keep doing what I do! One gal wrote that she's expecting her first baby soon and would love a post on products I loved in the newborn stage as a first time mama. Lucky for her (I hope you're reading this, mama to be!) I already did that. You can read those posts here and here.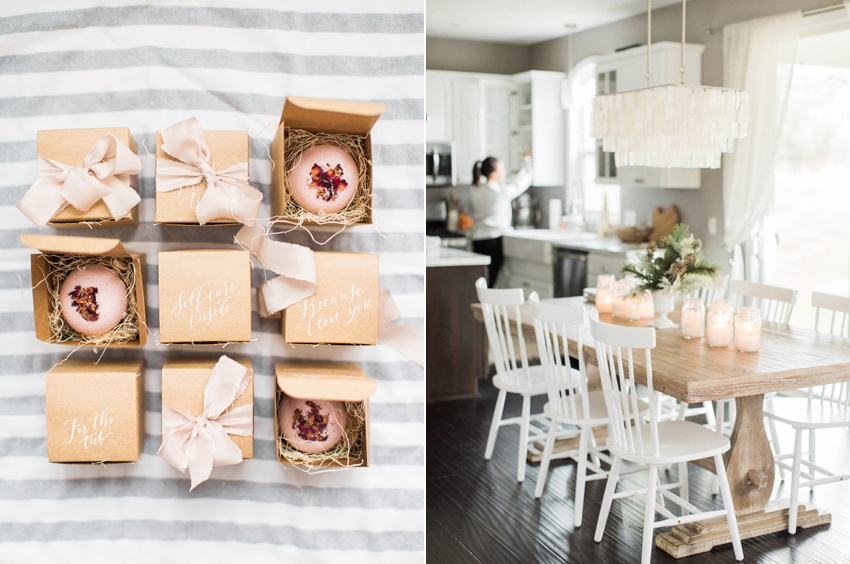 Lifestyle & Projects (more specifically, home decor, organizing strategies, projects, and even goal posts like this one) This was SO good to read! One of my 2018 goals is to intentionally nourish the lifestyle facet of my business which is done here on this very blog (and many of you have messaged me to say you've noticed an increase in content which is causing me to virtually high five you!). I've been so vague for so long now about why these efforts are important to me, beyond loving this part of my business of course, but my efforts truly point towards a bigger picture goal and I'm really eager to share that with you all.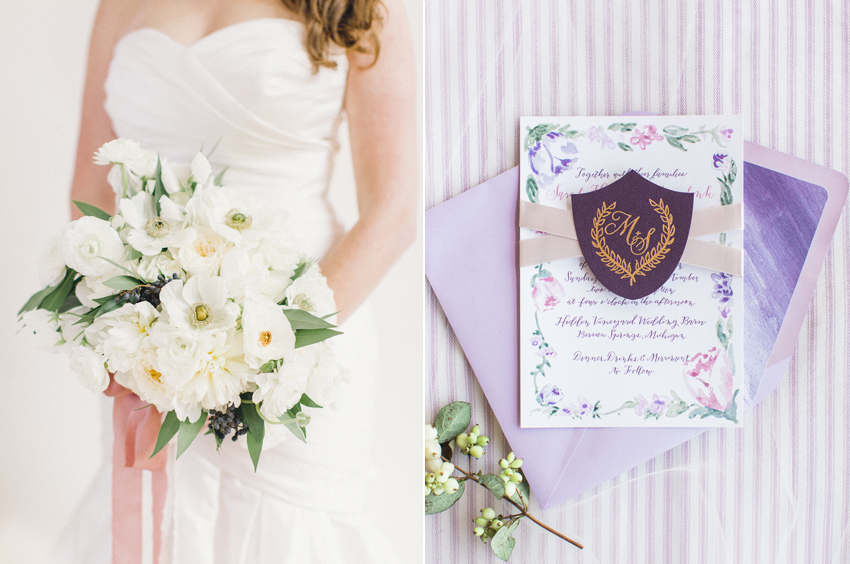 Wedding, Parties & Editorials (more specifically, sharing the imagery, details, and inspirations behind the work we/I do) I had to laugh when someone said they love seeing Lachlan's birthday posts! Not to point out the obvious but those parties only come around once a year! The good news though is that the other side of my business which includes planning and designing events, is very much in operation and I will continue to share those weddings and events here. I will also continue to share editorials and even work from my private workshops which is a newer offering as of last fall, and quite honestly, one that's been tremendously lifegiving.
And then finally, I asked readers to share a little bit about what keeps them coming back to the blog.
#cuethewaterworks
Some consistent themes/threads:
– my honesty and willingness to share things a lot of others won't talk about
– my inspiring words and ways of living a life that's best for me and my family
– my style and how that's evident in everything I do (work and personal life)
– my mix of beautiful images/styling with thoughtful/conversational writing
Some favorite highlights included:
'I love that you are real! I feel like you're a good friend I've known for a while and I look forward to seeing what's new with you. I appreciate that you are authentic; that doesn't seem to be the case with most people in today's world.' (thank you to the person behind this comment!)
'Everything I wrote above; you more than so many others just seem approachable, which is really what we all want. We don't want to see female entrepreneurs and personalities that aren't welcoming, we love seeing people who inspire us and make us believe we can also do great things!' (this one had me saying, 'Yes yes yes!' to myself; we CAN do great things even if we are all different from one another!)
'The authenticity and real-ness and heart behind your why keeps me coming back and inspired to keep building my own legacy even on the toughest days.' (this one really hit home for me because I am all about building legacy.)
'I love the beautiful photos and inspiration your blog brings. I also love how you wear your heart on your sleeve and that shows so much with your commitment to being a great advocate for your client's needs. I love the advice you give for other female business owners because Lord knows I need all the help I can get!' (this one made me laugh a little; we can ALL benefit from the help of others, my friend.)
'The way you write is unlike any other blogs. You have such a way with words that feels honest and genuine. Your content is always helpful or inspiring (not just posting to post) which I really like and your overall aesthetic (visuals) are great!' (this one also made me tear up a little because writing is my first love and I really put a lot of time into each and every thing I share. For others to notice means the world.)
And finally this comment was really special:
'You are an inspiration to me. As a student I think we get carried away in what our future may look like. You put it in perspective and aren't scared to show the dirty work. You are Wonder Woman and your posts inspire me to hopefully be that awesome' (and this comment isn't awesome because this very kind reader thinks I'm Wonder Woman, spoiler alert I am not, but because her comment tells me I am doing good work and that's always my first goal. This tells me I am helping to make the next generation of business owners, employees in the work force, mamas, wives, friends, neighbors, foster parents, whatever these young women may decide to do with their lives, stronger, more encouraged, and free to live a life that feels best for them. This is everything!)

Here are some of the other blogs my readers enjoy, too. It looks like I am in great company!
The EveryGirl
Em Henderson
Lara Casey
Jillian Harris
A Cup of Joe
Em for Marvelous
DesignLoveFest
Cultivate What Matters
Southern Weddings
And before I forget! I ended the survey by asking participants how they prefer to catch up on new blog content. To my surprise a lot of you checked off that you already subscribe and actually really enjoy my bimonthly newsletter! I've been working so hard on the content that goes into the newsletter and to get this kind of feedback is really encouraging (you can sign up here if you're still interested in having me pop into your inbox with all sorts of inspiring and helpful things!). And most of you said your preference was to follow along on Instagram either in posts on via my stories where I post a lot of videos and images. So the good news is this is how I will continue to share new content moving forward.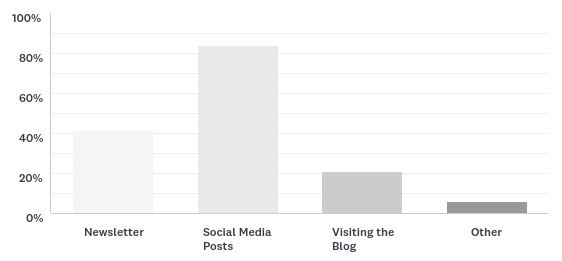 From me to you, THANK YOU, friends! You make me happy and give me the stamina and encouragement to keep this blog rocking and rolling for hopefully the next nine years too. And finally (I mean it this time) the winner of the Amazon gift card is Candi Jerkins. Email me your details, Candi and I will get you all set up.
Thanks for being a part of this adventure, friends! Xo
All photos in this post by Samantha James Photo (minus my vision board photo taken on my phone).